Looking for free crochet scarf patterns that you can use to make your own winter gear, enhance an outfit, or give as a thoughtful gift? Have a hankering for a cute new scarf this winter? Free crochet scarf patterns are abundant on the Internet. From beginner to hard-to-crack, you can find them all online, and often they're FREE! Scarves are always in style, so why not make yourself one or several so that you can coordinate with your wardrobe throughout the year? We gladly offer you the best selection of tutorials that will have you crocheting in no time!
Crochet Scarf Patterns

Whatever length, width, or technique you're searching for, we've got it here. Whether you're looking for a beginner idea or searching for a specific pattern to suit your needs, we've got you covered with these 25 free scarf patterns. We've created a list of the most popular and favored free crochet scarf patterns that we found online. We hope you enjoy reading through our list and find one or two patterns to help you with your next project! You can also draw some inspiration from our series of Crochet vest patterns to make some full-length cardigan-inspired accessories to layer-up around you all the year.
We've created a list of the most popular and favored free crochet scarf patterns that we found online. We hope you enjoy reading through our list and find one or two patterns to help you with your next project! Make a statement. Accessorize your outfit. Or, if you're like us, do both with a stylish and fashionable scarf that's just for you! Scarves aren't just made for the cold winter months, either. They're also super trendy with spring, summer, and fall outfits, too. Take a look at our round-up of free crochet scarf patterns below and discover more ways to wear your scarves throughout every season.
Other Patterns
Biscotti Scarf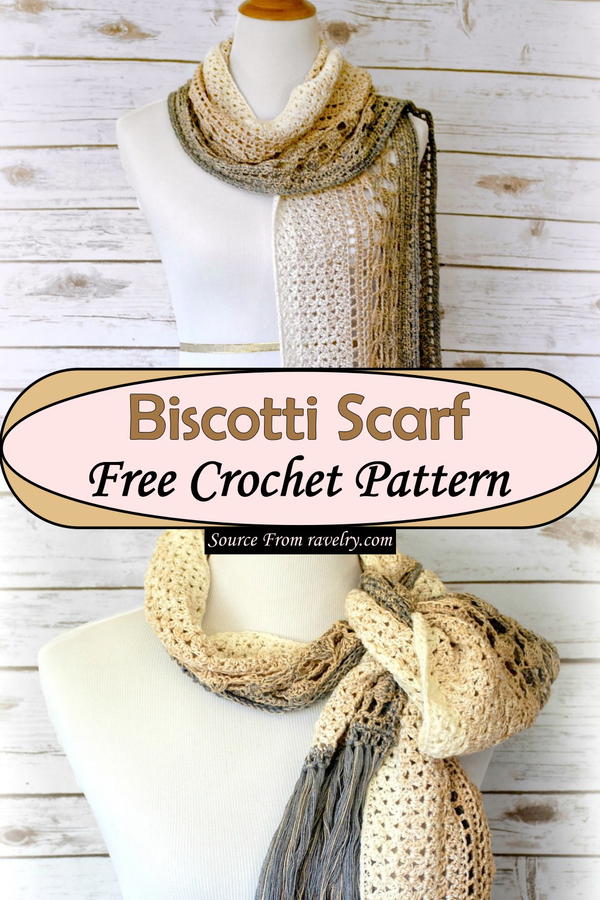 The Biscotti Scarf is a fun project for the adventurous beginner. This lovely accessory is soft and warm but not too bulky making it perfect for spring and fall wear. This scarf utilizes different stitches (clusters, shells, and more!) along with beautiful color-changing yarn which makes for a perfect blend of visual interest and sophisticated style.
A scarf has never been so interesting. This scarf is made using a wide variety of stitches and color-changing yarn. The result is a work of art that is not only beautiful but also useful in blocking out the winter chill. It knits up fast, will last forever, and makes a perfect gift for everyone on your list.
Heartbeat Scarf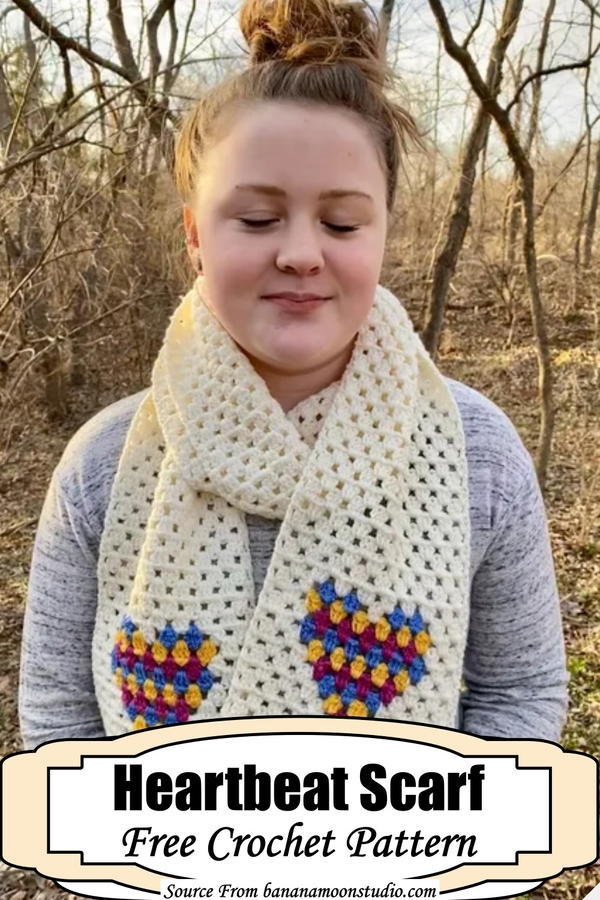 Heartbeat Scarf is worked in a rolled-edge granny stitch. If you've never used that technique before, here's the scoop: work double crochet clusters separated by chain stitches. Then on the next row, work subsequent rows of double crochet into the chain spaces previously created. This makes for a seamless transition between color changes as well as a unique color block effect. Matching stitch markers are included so you can stay organized on the first row. A simple and stylish granny stitch scarf, created in offset double crochet clusters that give the illusion of a heart.
2. Merino Ruffle Scarf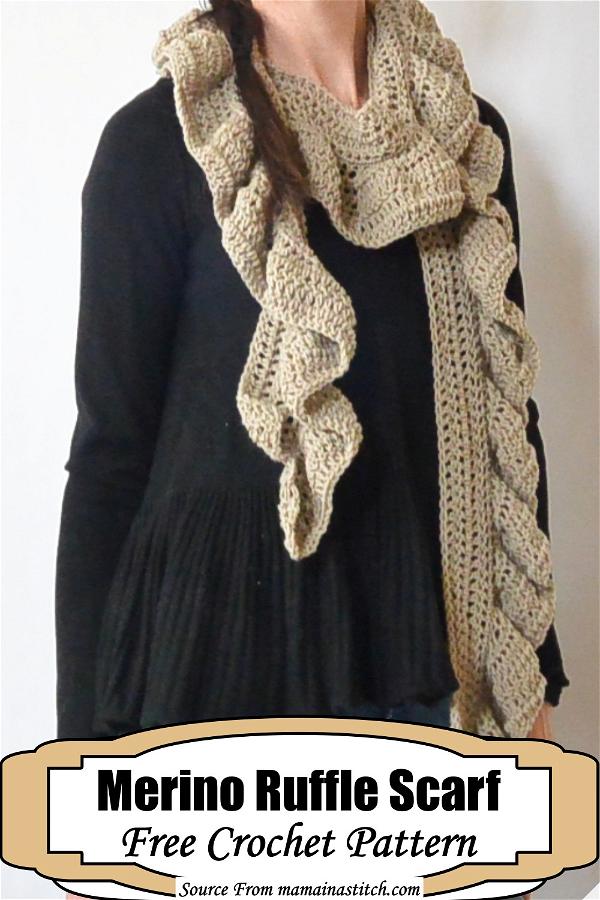 The Merino Ruffle Scarf is a versatile scarf design. Soft, cascading ruffles make this scarf an easy way to add a playful touch to any outfit. This design actually has two layers: the bottom has a chain stitch outline that resembles the look of lace, while the top features soft merino wool. The neutral color of this scarf helps bring your outfit back down to earth, and its universal appeal means it will work with many different looks. Cascading soft ruffles add a romantic touch to this cozy scarf. Wrap yourself in feminine details with this gorgeous and versatile design.
Color Pop Super Scarf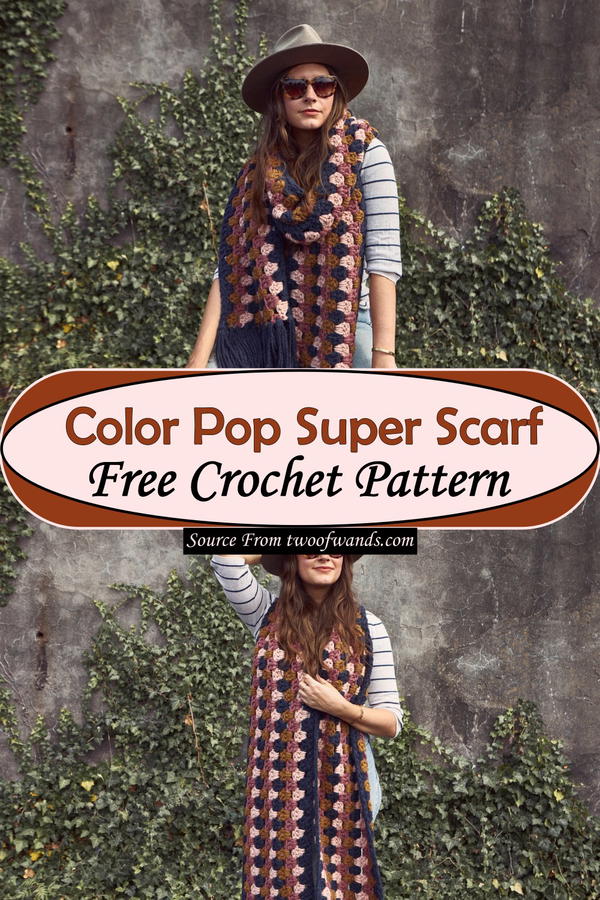 Color Pop Super Scarf is a crochet lover's dream. Crocheters enjoy the challenge of making the next row more fun than the last. With each new row, there's a new color and a new pattern. And then there's the fringe. A little light sewing gives this scarf a dramatic look that will have you turning heads whenever you enter a room. One of the advantages to this type of pattern is that it can be made in a sofa throw, duster, or neckerchief depending on how many stitches you use. The choice is yours. Wear it wrapped around your neck or let it flow behind you.
Go With The Flow Super Scarf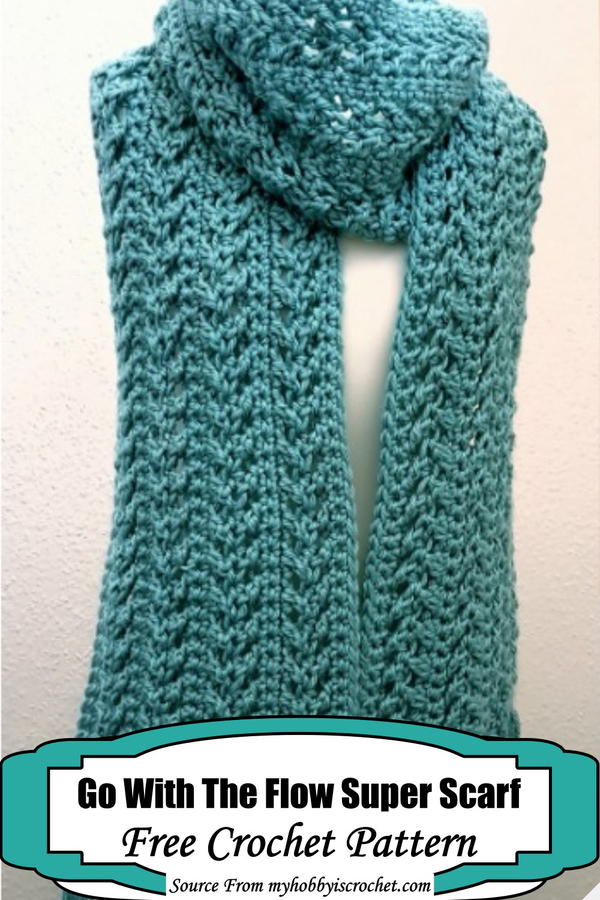 Go With The Flow is a crocheted double crochet scarf made with alternating rows of crossed stitches and rows of simple double crochet stitches. Whether you are a beginner or advanced crocheter, this scarf will keep you interested as you learn new skills and zen out on the easy-to-work texture created by the crossed stitches.
This project was incredibly fun to make. In the end, it really doesn't matter what size hook or yarn you choose for this project—the effect remains the same. And the best thing about working a scarf lengthwise like this is that you are only picking up and dropping stitches—no extra turning necessary.
Mint Twist Scarf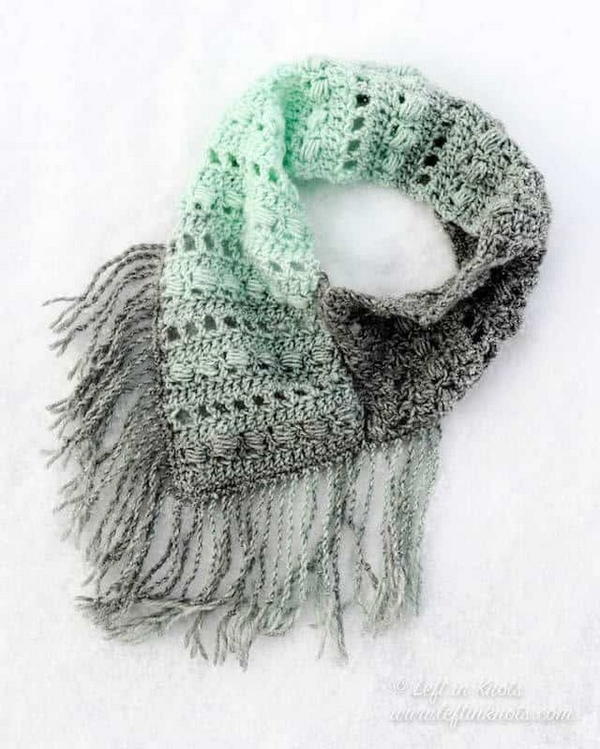 With the Mint Twist Scarf, you get a great accessory in an instant. This scarf is chunkier than a basic bandana-style scarf but just as easy to make. With time and hook, you will have a lovely accessory to add to your wardrobe. With the Mint Twist Scarf, you get a great accessory instantly. This scarf is chunkier than an essential bandana-style scarf but just as easy to make. With a bit of time and hook, you will have a lovely accessory to add to your wardrobe.
This quick knit scarf is easy to make and stays soft and snuggly for the whole season- no matter how many times it's worn. Short or long, this design works up quickly in bulky yarn. This scarf is a cheerful one-skein, multi-color cowl. Feel the texture of the chain spaces and bead stitches as you wrap it around your neck.
Rustic Lace Scarf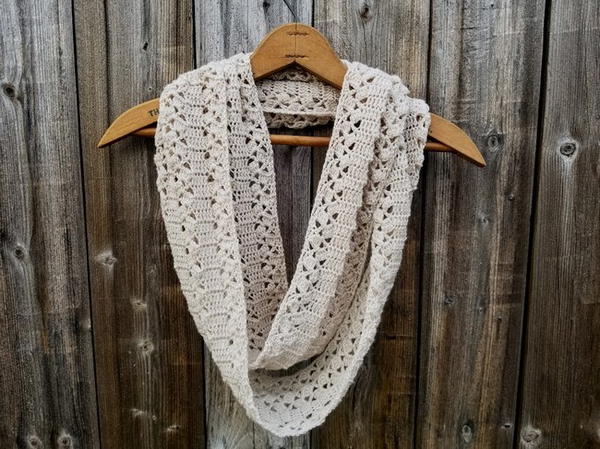 This lacey scarf has the same look as a fine, delicate lace shawl but it's easily achievable with a crochet hook! The stitchwork looks fancy but they're mostly single, half double and double crochet stitches. So if you know how to make those, you have everything you need to get started! You can even add a tassel if you like.
This off-shoulder scarf is the perfect combination of elegant and cozy. The lace stitch used to create it is simple, yet adds just enough detail to make this accessory your new favorite. The pattern includes instructions for creating either a traditional infinity scarf or a shorter, over-the-shoulder style. It's lightweight and can be worn all year round, making it the ideal layer for chills in the fall and spring, or as a cover-up when you need to warm up in a chilly movie theater.
Cappuccino Triangle Shawl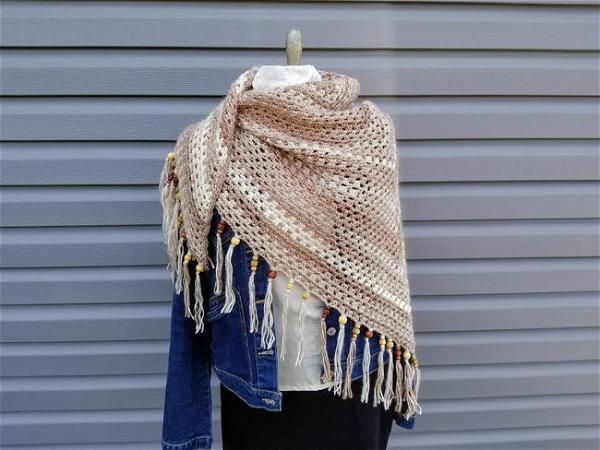 This attractive scarf can be made with a single skein of self-striping yarn, so it's a great project to work on while watching TV. This "triangle shawl" is worked in the round and is surprisingly quick to make. Using a modified granny stitch, this pattern is an absolute dream. You will love how soft, warm and cozy this shawl feels wrapped around your neck.
The Cappuccino Triangle Shawl is the perfect winter accessory! The minimal cord edging added to this classic, shawl design, creates a unique and rustic look. This scarf uses double-stranded yarn that is then pulled through itself to create the scallop edge. A beaded fringe adds the final touches needed to make it a surefire attention-grabber.
Colorful Cotton Scarf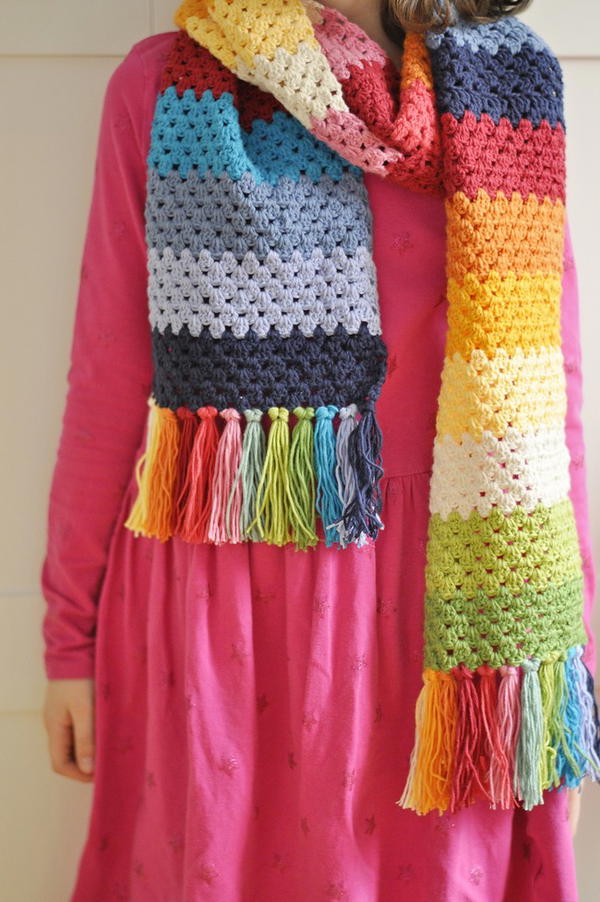 This scarf is worked up in an easy double crochet stitch with colorful yarn and loose fringes on all three sides. This project will use up your stash of leftover yarn as well as help you clean out your stash! This scarf is the perfect accessory to add a pop of color to your outfit.
With lots of fringes and fun colored stripes, this scarf is perfect to add some color and vibrancy to your chilly days. It's a great project for using up that leftover yarn or stash. The simple double crochet stitches make it easy to learn the basic stitch pattern and are a great beginner project. Plus, it's a flat rectangle that can be folded up and put into a pocket or purse.
Braided Infinity Scarf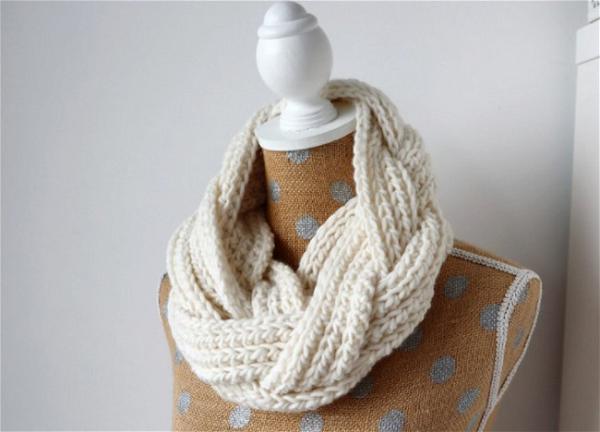 This lacy infinity scarf turns out so pretty, that you might have trouble parting with it! With its braided ends, it could be a special gift for someone, or a treat for yourself. Choose two colors of bulky weight yarn and go wild! The pattern is written in full picture format with lots of shots step-by-step to help you achieve the best possible results.
Let the magic of crochet infinity scarves inspire you to reach for your needles. The classic look of half double crochet will humble your experience and skill level, and the Braided Infinity Scarf is just a starting point for unlimited things you can make. The future of your crochet is so bright.
Tunisian Crochet Scarf
This Tunisian crochet scarf pattern is easy to follow, especially with the picture tutorial included. This scarf is so much fun to make, and it becomes so beautiful with this unique stitch that you'll be tempted to want one in every color. You've crocheted a scarf, but now you're looking for something more. You want something light, airy, and luxurious. A reversible scarf is an answer. Get ready to make a reversible Tunisian crochet scarf with the whole stitch.
This scarf is a fabulous pattern to learn Tunisian crochet design in a very sophisticated look. It is easy once you get the hang of it. Tunisian crochet stitches produce fabulous texture and fullness and make the projects look like completed fabric items.
12. Honey Bird Triangle Scarf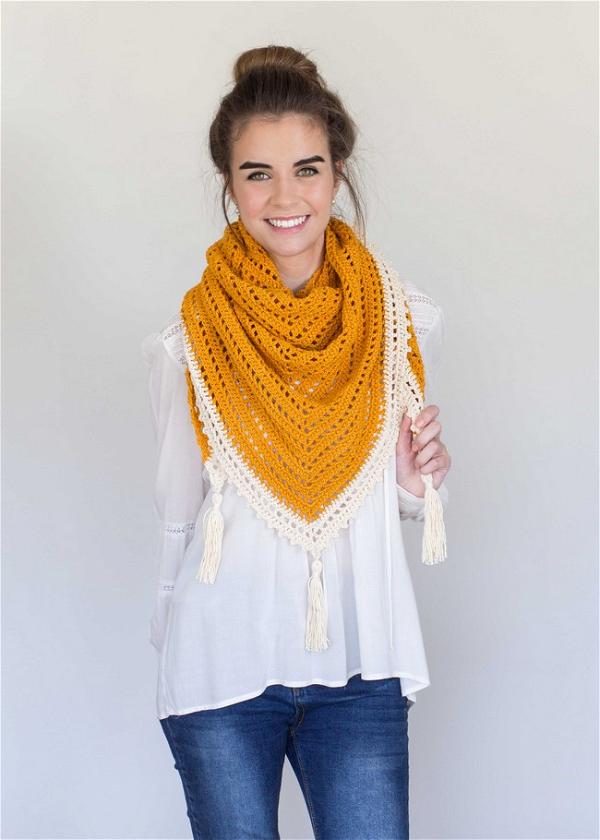 Honey Bird Triangle Scarf is a trendy and sophisticated scarf pattern that can be worn in a variety of ways. Wear it as a cowl, loose neck warmer, or even wrapped neatly around your neck within one knot. This fresh triangle scarf design is modern and made with luxury yarns. Double crochet and chain stitches are all you need to know for 95% of this scarf. Stretch your crochet skills with the picot stitch edging. 3 stunning tassels complete your masterpiece.
This triangle scarf is the perfect travel buddy and pairs well with jeans, leggings, and dresses. It works up quickly with a double crochet foundation. If you have never done a picot edging - this is a great time to learn new techniques! Tassels are an extra bonus - they can be made on any long straight edge.
 Sierra Scarf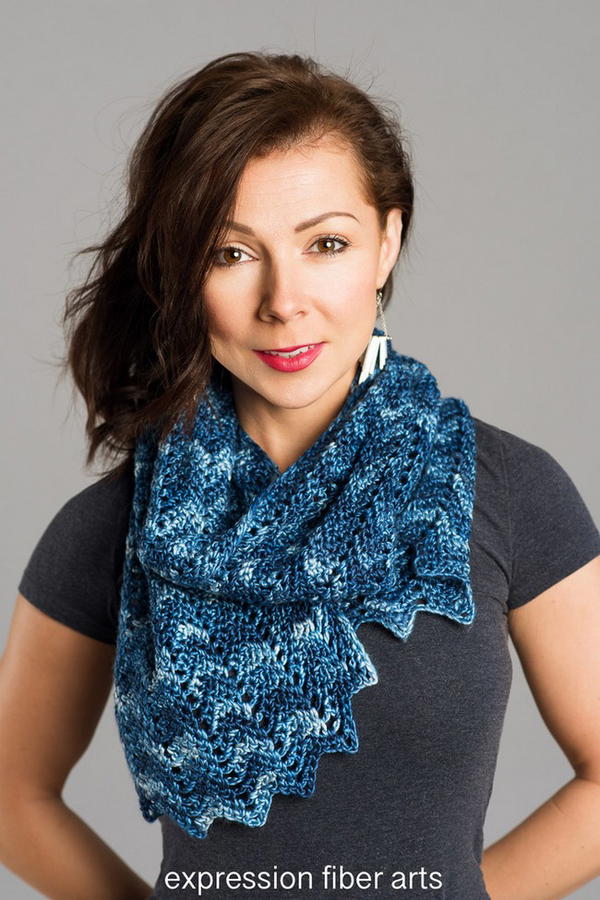 This scarf was designed with a repetitive pattern and a small number of stitches to make it an easy weekend project. The reversible design and bright striped yarn give it lots of character.  You can easily make it shorter by adding or subtracting repeats, or longer by increasing the width. The Sierra Scarf pattern is an elegant and simple chunky scarf. Crocheted in repeating zig zag edge, with a pop of orange linen stitch hidden inside.
14. Fiona Button Scarf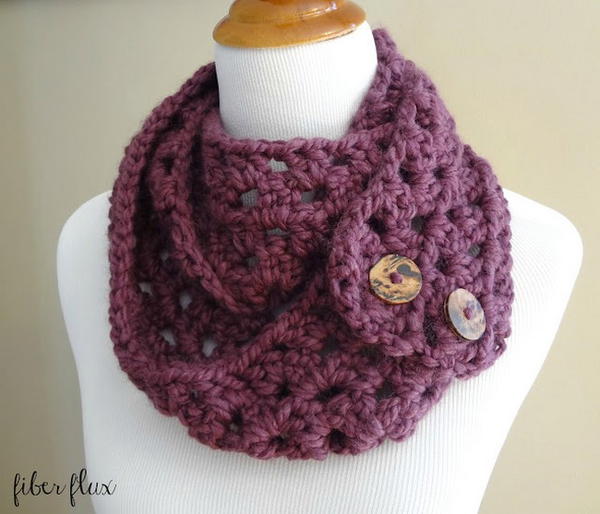 A bulky weight whopper of a scarf that's perfect for cooler weather and worn alone or as an excellent layer. Worked on circular needles, Fiona is a very easy design made with modified granny stitch. The scarf is extra-long with a super soft and squishy fabric for snuggling up in. No special buttonholes are needed because there are natural holes in the granny stitch design.
Everyone needs a go-fast scarf, and this one takes the cake. The modified granny stitch design is infinitely flexible for fun knitting, and the natural holes in the design can work with any size button. You'll have to be careful if you choose to drive with this scarf around your neck or police may take you for a speeder.
1Mint Julep Scarf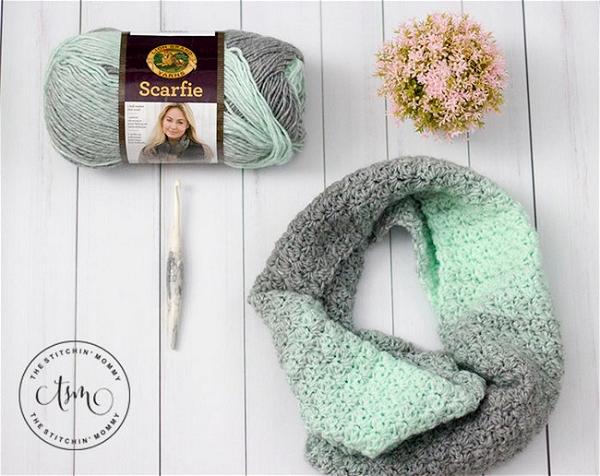 A smaller textured scarf with a classic look, the Mint Julep Scarf will keep you cozy on chilly spring days or even in autumn. The classic design uses only single and double crochet stitches, so it's definitely going to be a go-to pattern for beginners to learn. Wrap up in the dream of spring with the Mint Julep Scarf. This sleek design showcases a textured-stitch pattern that changes every row, giving it a delicate look. Bring some warmth and style to your wardrobe with this easy-to-crochet scarf.
Color-blocked Infinity Scarf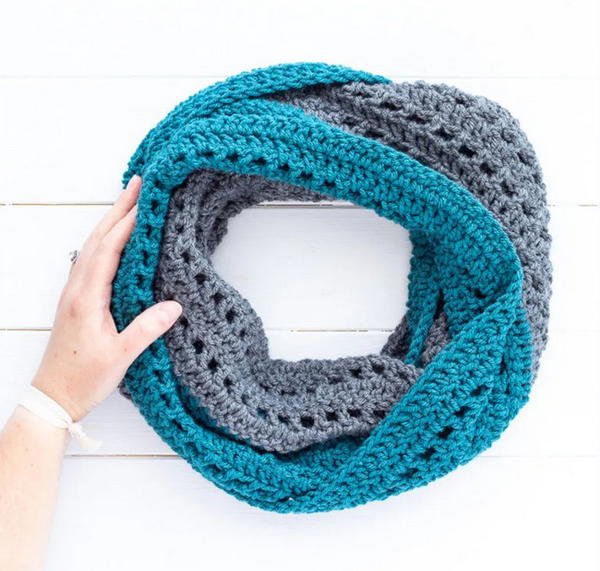 This infinity scarf is the ultimate stash buster. Made with just two skeins of your favorite worsted weight yarn and a J hook, it works up quickly into a soft, squishy accessory that you'll want to wear all winter long.  In alternating rows of solid dc and filet crochet, this scarf is a beautiful display of colorwork - both with colors A and B. But choose more than one set of colors (or partial skeins) for extra pop.
This scarf is a beautiful, light, and airy accessory that combines solid double crochets and filet crochet to create an interesting visual texture. The alternating colors provide a rainbow-like gradation of shades that complement each other for a beautiful project. This pattern contains both a photo tutorial, as well as detailed videos to guide you through the process.
The Tempest Scarf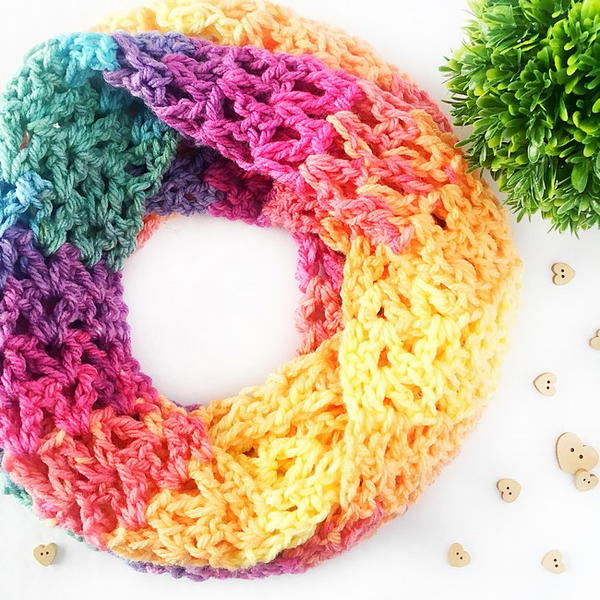 Dive into the world of crochet with this easy-to-work scarf. This cake yarn is great for beginners because you won't have to keep track of multiple strands of yarn. The scarf features a double crochet V-stitch that looks great and is simple to create. Make it in whatever colors match your style.
Whether you are on the lookout for a new pattern that is fun and quick to work up or like making stuff to sell in your shop, this is the perfect crochet pattern for you. Easy enough for beginners and flawless in its simplicity, everyone loves this item to give as a gift.
Infinity Houndstooth Scarf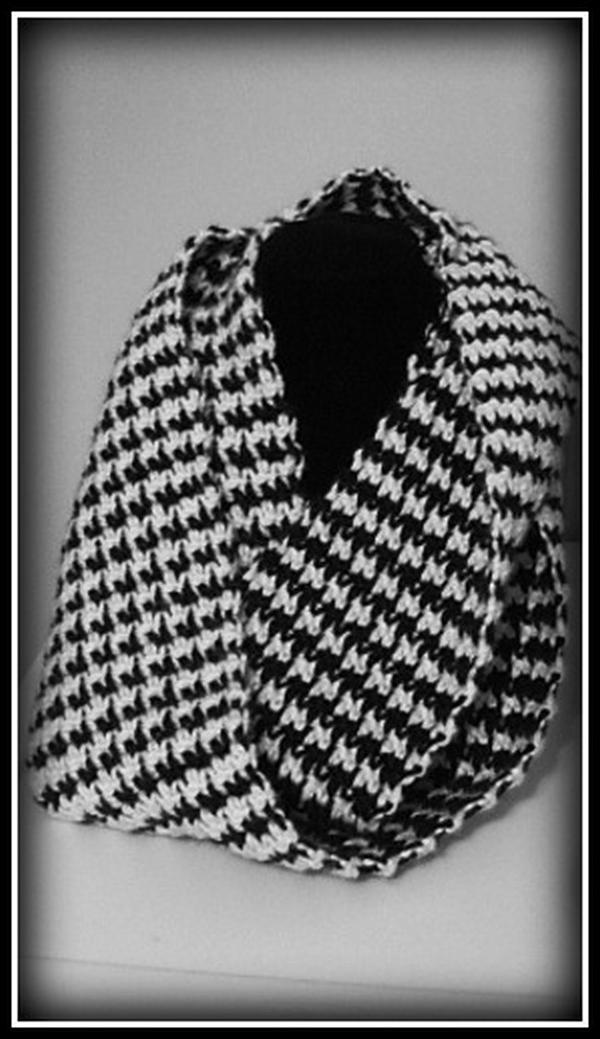 Crocheting a scarf is one of the easiest ways to create a fashion-forward accessory in no time. It's also a great way to practice some advanced crochet stitches and techniques, like creating beautifully textured fabric by mixing up your single and double crochet stitches. This infinity scarf pattern by  Kathy Merritt shows you just how easy it can be to make an impact with your new favorite style.
This infinity scarf is a wonderfully stylish accessory for fall. It's easy to make and perfect for beginners looking for a project that is both rewarding and portable. It is made in two long pieces, then crocheted together, it uses just one stitch: single crochet.
Scarf Of Personal Growth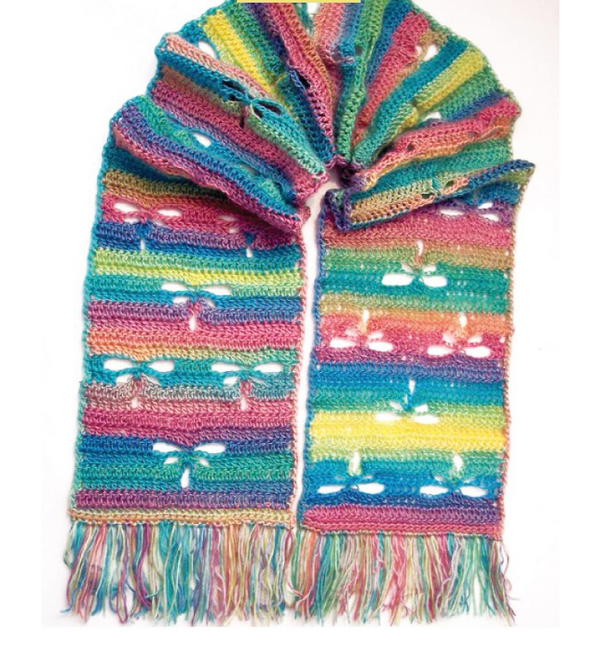 The Scarf of Personal Growth is an openwork crochet project designed to help you reflect, change and evolve – both in your life, and within. The spaces between the motifs are intentional and illustrate how each person's personalized meaning of the symbols in this design will be unique. Whether you want to leave space for your own thoughts and feelings to come forth - or are just looking for a project that will keep your hands busy during a long winter's night; the Scarf of Personal Growth is the perfect companion.
Central Park Scarf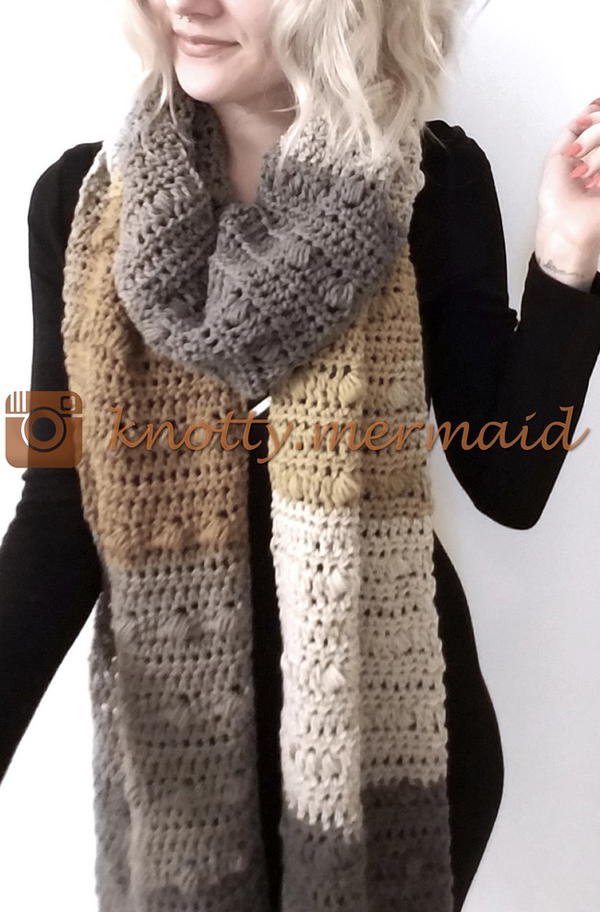 Modern and lightweight, this scarf will dress up or down and go with anything. You can wear the fringed ends for a fun twist, or tie it in a simple knot and get the same look. The soft texture is delightful to touch and feel – it's made possible by combining puff stitches with basic half double and double crochet stitches.
There is no better time to cast on for a gorgeous winter scarf! This pattern uses a classic stitch combination and yarn that is soft, warm and has a beautiful sheen. Worked in sections, you can create a scarf to fit any outfit or occasion.
Mermaid Triangle Scarf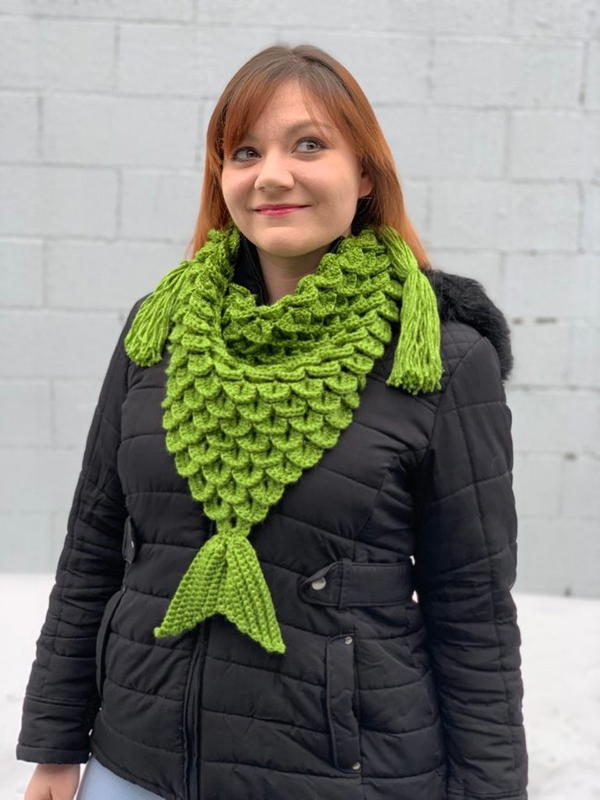 This unique scarf is warm, squishy, and makes a great gift. This stitch pattern is perfect for using up leftover yarn. The pattern is written using US terminology but there will be a conversion chart for UK knitting terms included. It's my first pattern so any feedback would be greatly appreciated.
This textured mermaid triangle scarf will add a little sass to your look. The secret to the scales is the crocodile stitch which is a little tricky at first but well worth the effort. Use this pattern to learn the basics, then move on up to more advanced stitches.
Skyline Bias Scarf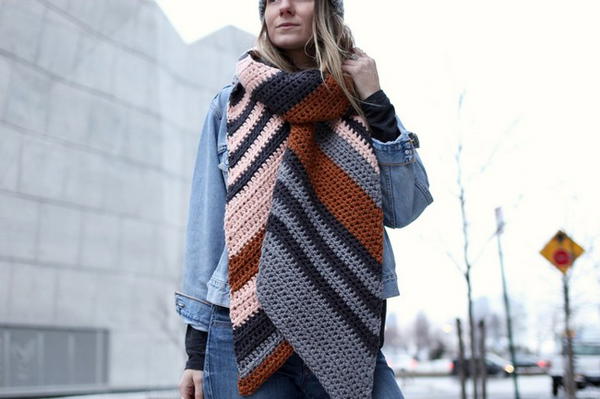 Take your fashion up a notch with Skyline Bias Scarf. Inspired by the film "Adventures in Babysitting", this scarf features an eye-catching diagonal design. The pattern is created in super easy half double crochet stitches, increases, and decreases for an added effect.
Make yourself a piece of modern art inspired by a city skyline with this Skyline Bias Scarf. With half double crochet stitches, increases, and decreases, you will learn a new scar pattern that is versatile and easy to make.
Desert Sands Scarf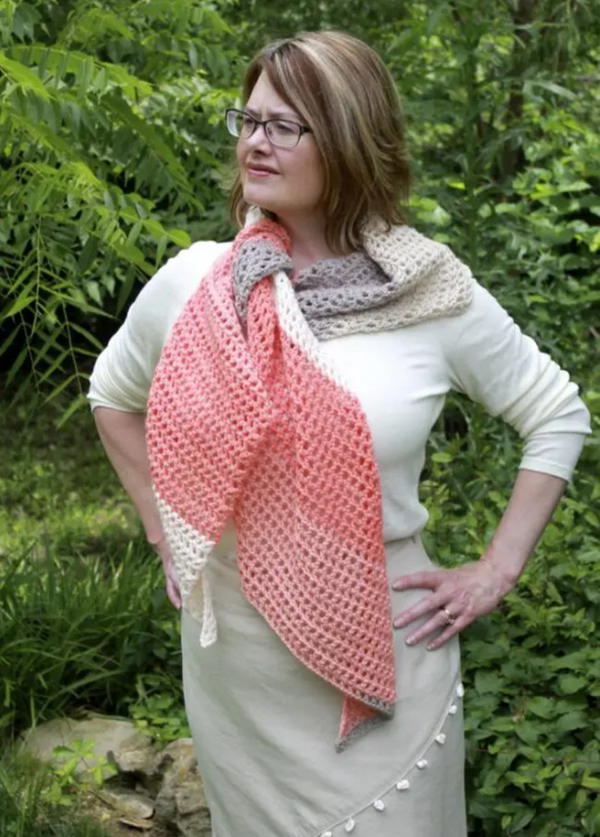 This easy-to-crochet scarf will be an instant favorite. Try this lovely pattern with fabulous Cake yarn to create a striking beveled edge. Each cake contains 15 yards of super bulky yarn, easy to work with, and is completely machine washable. This pattern also reverses easily for a chic new look.
Desert Sands is a beautiful, easy-to-crochet scarf made with the famous cake yarn. This pattern has all the texture without the headache of changing between skeins every color change - just work through the cake and you're done. This scarf features a simple beveled edge, and diagonal lines, and is made with cake yarn for a no-fuss color-changing experience.
Winding Cables Scarf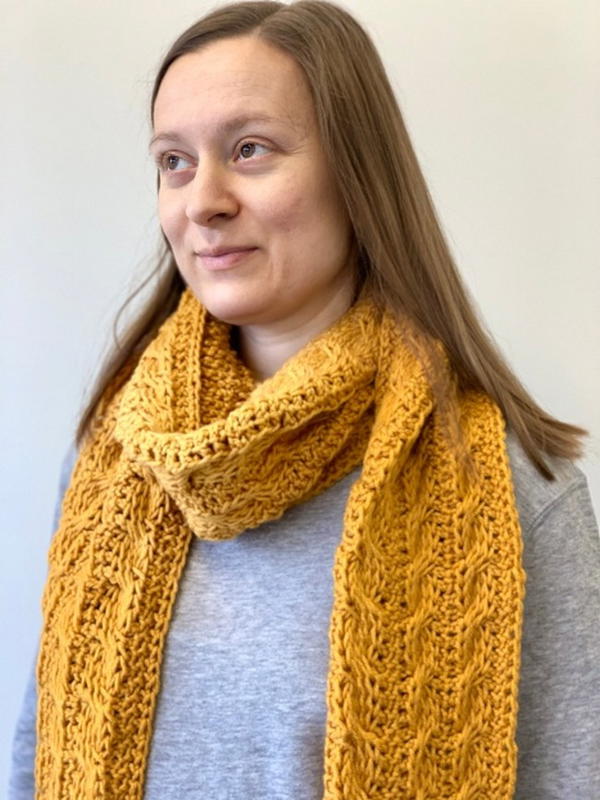 You'll love making this scarf because the stitches look very much like cables, yet are crocheted using the Tunisian crochet technique. The result is a lovely design that is visually appealing and yet easy to complete. The Fabric Winding Cables Scarf is a crocheted find for which your wardrobe will thank you. Using the Tunisian crochet technique, this scarf creates dense ribbing that would otherwise be unavailable in crochet work.
Puff Stitch Scarf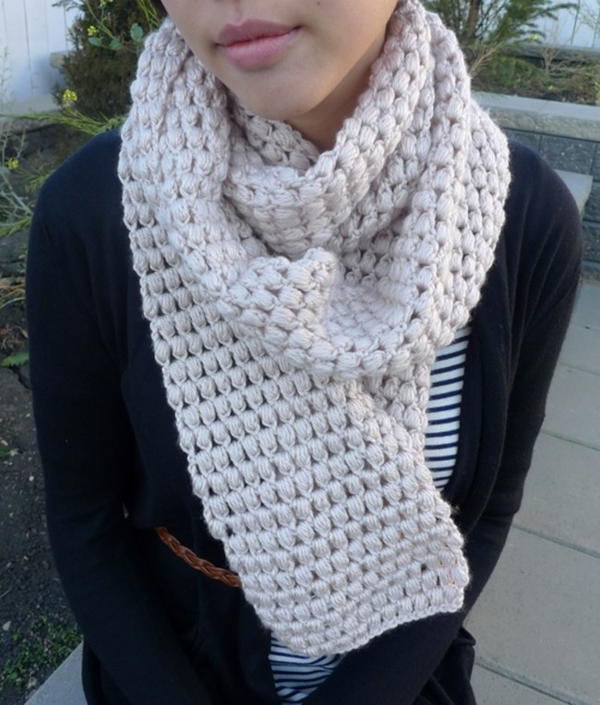 This Puff Stitch Scarf is worked using the puff stitch, a super easy stitch to learn. It is worked flat so there are no seams to sew up. The scarf features a combination of simple crochet and puff stitches giving it a fun and textured look and feel. Complete the look with a cozy pair of long, chunky cuffed gloves.
A beautiful scarf to add some interest to your winter outfit! The Puff Stitch Scarf is warm, fun to make, and quick to work up if you know how to work a puff stitch. Worked in a fun cotton blend yarn it will keep you warm even if those cold winter winds try to steal you.
You can also see: Best Sewing Patterns For Scarfs