Crochet is a wonderful way to make some great projects. You can quickly whip up whatever you want if you are familiar with the basic stitches. Vests are a great transitional piece that you can wear in the winter and spring month. There are many different ideas you can try out there that can guide you through your projects. If you want to start learning how to crochet but are unsure of where to start, then try these 40 free crochet vest patterns for beginners.  Most of the instructions will begin with chaining, which means choking the thread first.
Crochet Vest Patterns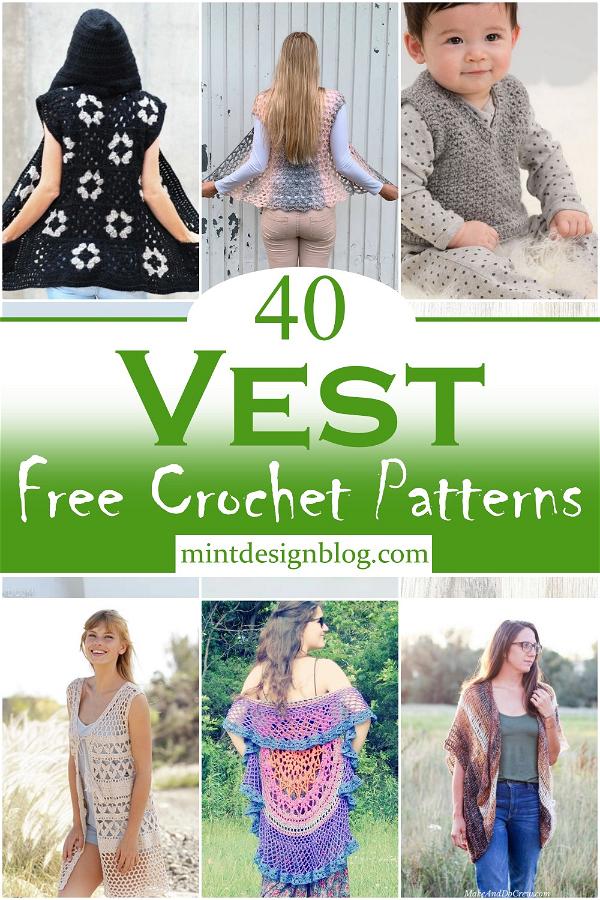 The most common thing about all the crochet vest patterns is the wide range of sizes available in versatile garments, perfect for layering. It's soft and comfy to wear, and you can easily dress it up or down. There's a lot of crocheters and crocheter-hopefuls out there who want to start crocheting a vest but aren't exactly sure where to begin. So, what's stopping you? The more you know about these vest patterns for beginners, the more confident you will be when it's time to begin your latest project. Trying a new pattern can be a little bit intimidating at first, so here are 40 free crochet vest patterns for beginners that are simple and basic.
How to Crochet a Waterfall Vest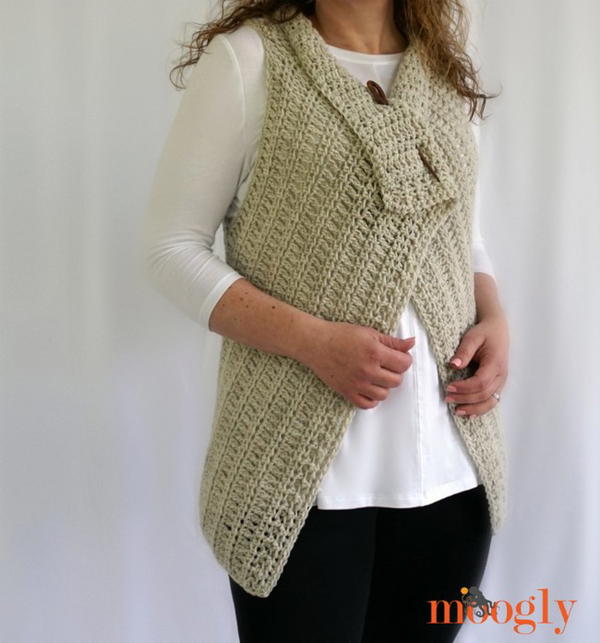 A waterfall vest is a great way to keep warm during the colder months. You will look gorgeous in this vest. This crochet vest has an eyelet-lace trim that crochets up beautifully. It is made using an easy crochet stitch. For this vest pattern, you will be using a single stitch. There is no need for any other complicated stitches for this pattern.
The design of Crochet a Waterfall Vest is simple yet very elegant. This pattern is a good choice to try out when you're new to the art of crochet. It is made using an easy stitch. The beautiful design and the color combination give you a lot of options to choose from. You can wear it on top of any outfit of any color and still look cool. mooglyblog
Crochet Hook: 9.00mm hook
Yarn Weight:  600-900yards Lion Brand Wool-Ease- Natural Heather (197yards/180 m; 3oz)
Finished Size: small- 5XL (32"-38" bust – 56"-62" bust)
Bohemian Vest Pattern Free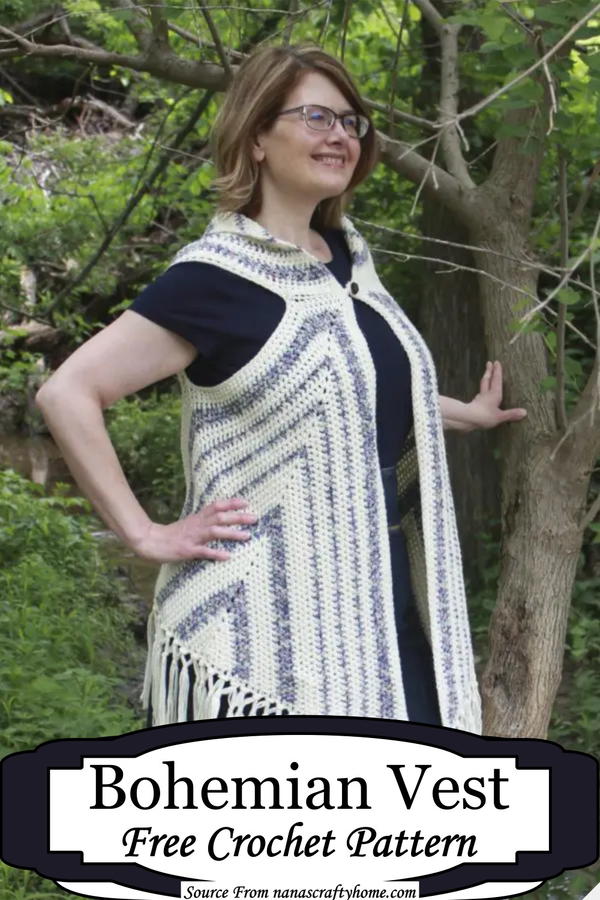 There are so many options out there that you could easily get overwhelmed when it comes to crochet patterns. When you start looking into them, you will probably find that they are not just beautiful, but they also come with a wide variety of stitches. So if you're interested in learning Bohemian Vest Pattern, this tutorial will be a great place to start.
This is an amazing vest pattern you will want to make for yourself or give as a gift. If you love the color white, then this is a perfect choice for yourself. You can show off your arm muscles by wearing them without sleeves. It doesn't look bad either way and will be comfortable. nanascraftyhome
Crochet Hook: 6.0mm/ size J
Yarn Weight: 2 Lion Brand Comfy Cotton Blend Whipped Cream, 1 Lion Brand Comfy Cotton Blend Cloud Nine
Finished Size: Small-4XL (27" x 20" – 39" x 32")
Circular Vest Pattern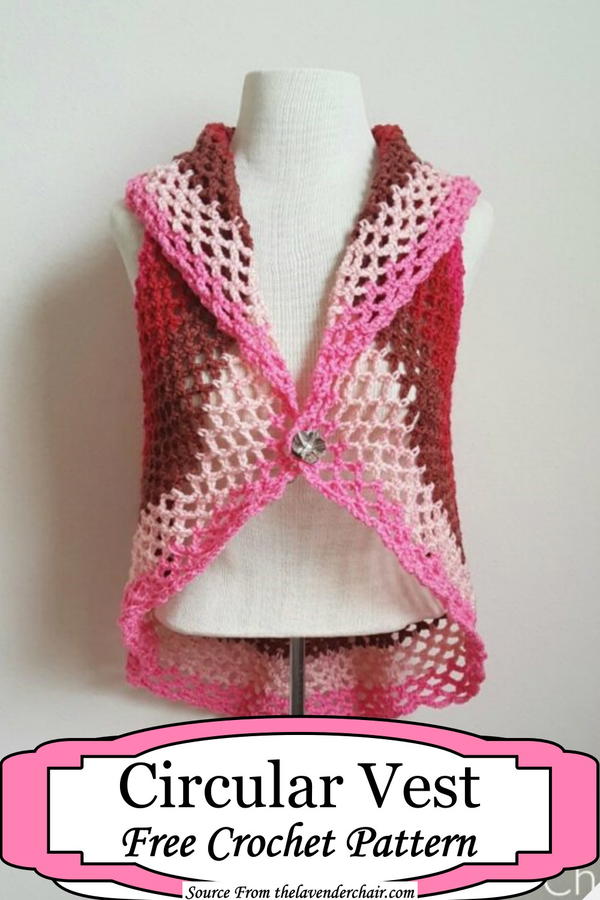 This Circular Vest is part of a collection of free patterns for beginners and experienced crocheters alike. If you are looking for something different in this vest patterns category, then you should check out this pattern. This pattern is simple yet very elegant. This pattern is a good choice to try out when you're new to the art of crochet. It is made using an easy crochet stitch.
Free vest patterns are not hard to find. There are many different styles and colors of them to choose from. You can make your own. They come in many different shapes and designs, which makes them a very versatile piece of clothing. If you need a tutorial of clothing that will keep you warm during the colder months, then this Circular Vest is the perfect choice for you.
Crochet Hook: 5.00-6.50mm hook
Yarn Weight: Worsted weight yarn (Caron Cakes 1 skein)
Finished Size: small-XL
Spring Sun Mandala Vest Pattern
This mandala vest pattern is a one-piece vest. The pattern is easy enough that you can make it in one day. This pattern has a beautiful mandala pattern on top of an all-over lacy pattern. It is made with cotton crochet thread and you will be making the entire vest at once, so it works up pretty fast. This mandala vest is perfect for the summertime.
The vest can be made as long as you like and you can adjust the size by adding or not adding rounds between the increases. You can make smaller or larger sizes by changing the hook size and using a different weight of yarn, just make sure that you use a hook size that gives you a good result with your yarn. yarnutopia
Crochet Hook: 6.00mm hook
Yarn Weight: Red Heart Super Saver Ombre in the color Cocoa, Red Heart Super Saver Yarn in Cafe Latte (100yards in total)
Vest With Shawl Collar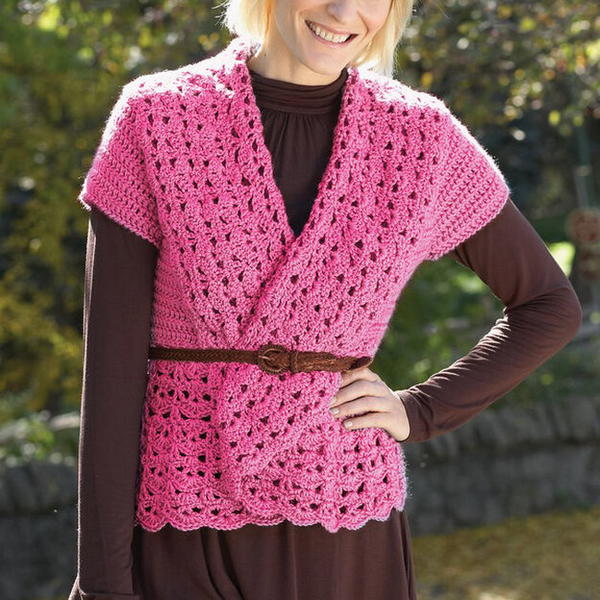 A crochet vest is an excellent addition to any wardrobe and a must-have for all of you crochet lovers out there. This Crochet Vest With Shawl Collar is pretty, feminine, and classy and will look great both on casual wear or on fancy occasions. This is a really easy project and you don't have to be an expert at crocheting to make this sweater. It has a very simple design that makes it perfect for beginners. The crochet vest in this pattern is made with a shawl collar and has sleeves.
This Crochet Vest With Shawl Collar can be worn both on top of a dress as well as a dress on its own. The finished size is a one size fits most. If you want to add some fancy details to your vest, such as buttons or flowers, you can do that before joining the two sides together. You could also add some color changes or stripes – have fun with it. yarnspirations
Finished Size:  44″ [112 cm] wide x 24″ [61 cm]
Crochet Vest for Babies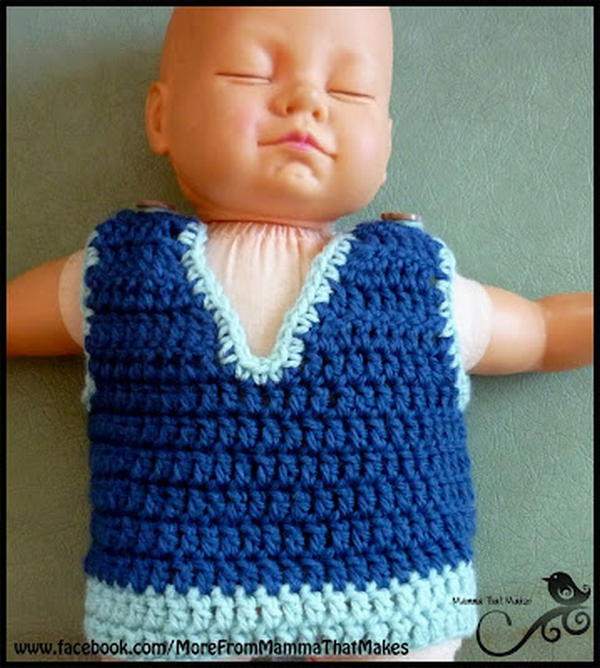 This Crochet Vest for Babies is a lovely combination of light blue and dark blue. The soft texture will keep your baby's skin cozy, and the pattern is easy to make in the perfect size for your baby. It requires only basic knowledge of crochet. It's perfect for beginners. You can use a thicker yarn if you want it bigger or thinner yarn if you want it smaller. You can also use different colors and make the pattern more colorful.
This pattern has a lot of instructions and is very detailed that can help you along the way. It's very easy to follow and understand. If you have never crocheted before this is a great first project! Keep in mind that it will take some time to complete since there are a lot of rows and stitches taken up by this vest but it will be worth it when you see your baby wearing it so beautifully. mammathatm
Crochet Hook: 4mm hook
Yarn Weight: DK weight yarn in main and contrasting colors.
Crochet Vest Top
Everyone loves to show off their feminine side. This crochet top will help you. This crocheted vest top is an excellent way to look beautiful. Vest tops are one of the hottest crochet patterns that are popular these days. If you are looking for something cute, trendy, and flirty to wear at work or on a date, this is a good idea.
This crochet pattern is also appropriate for beginners since it is made with basic stitches and relatively fast as well. It's the perfect top that can be worn all year round because it's light enough to wear in the summer. If you're looking for an easy outfit, this crochet vest top is perfect! youtube
Crochet Hook: 3mm hook
Size: Small, medium, large to XXXL
Vintage Collared Vest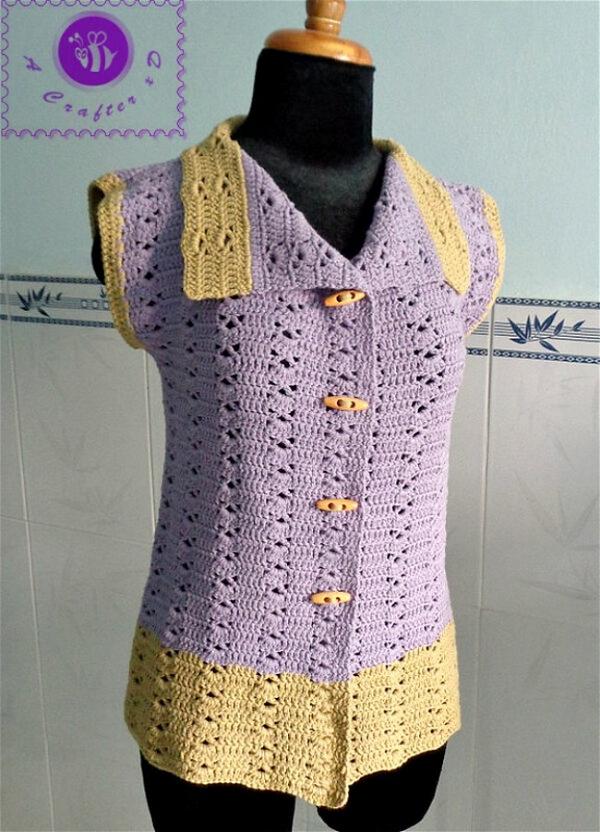 A crochet vintage collared vest will make a great addition to your wardrobe. It's the perfect piece for any casual outfit, especially if you work in an office. A vest like this one will add a splash of color to your boring outfit and make you look very professional.
You will need some basic knowledge about sewing seams because you will be attaching the final rows together. This is a great pattern for beginners. You may use any type of yarn you like, so feel free to improvise. Also need to know how to crochet in the round, as this vest is worked seamlessly in one piece. Wear it on its own or under a coat for some extra warmth in winter. beacrafter
Crochet Hook: 3.25mm hook
Yarn Weight:  Lightweight/ DK yarn: lilac and beige (328yards per skein )
Lotus Mandala Circular Vest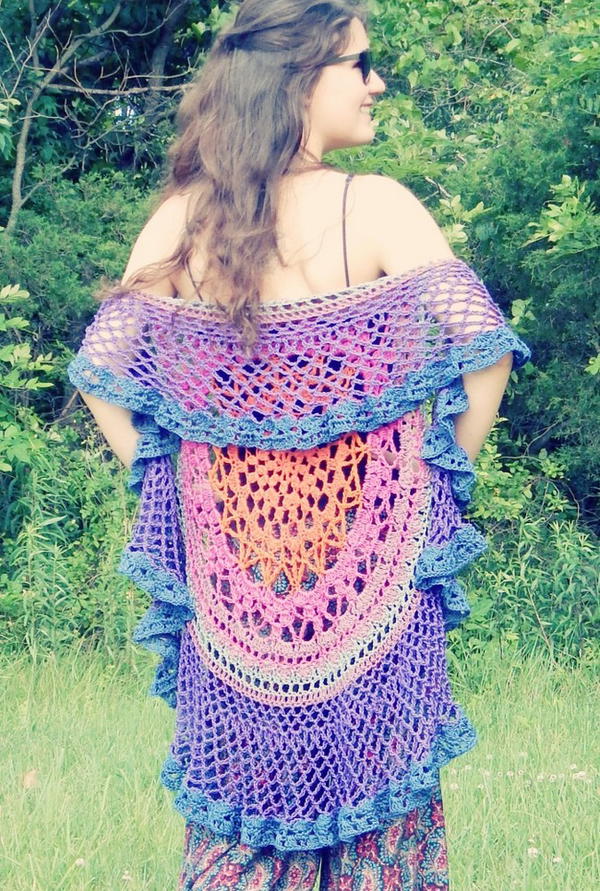 The Lotus Mandala Circular Vest is a free crochet vest pattern. It is made in a circular style and has a bohemian and slightly hippies feel to it. It has an open style that you can adjust by adding or taking away rounds. This would be a great beginner project because of its simple design and the fact that it's a circular pattern.
You can use different colors than the ones in this free crochet vest pattern to make unique designs for yourself. It's also a great way to personalize your garment. It's very easy to work up and make your own lotus mandala circular vest using this free crochet vest pattern. This is an intermediate level project because it's not as simple as just making squares and joining them like some other projects out there. . moralefiber
Crochet Hook: 5.5mm hook
Yarn Weight: Lion Brand 24/7 cotton (8 skeins)
Crochet Granny Square Vest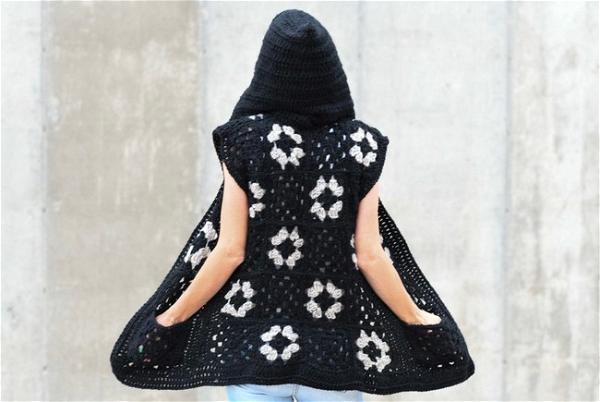 This crochet granny square vest is actually a modification of the original crocheted jacket, which was an even bigger hit. The Granny Square Vest is made of the most basic crochet stitches, and it's a great pattern for beginners looking to expand their skills. This is yet another basic pattern for beginners to crochet.
The vest is designed in a classic granny style and comes with a hood. It's a very warm and cozy piece you can wear throughout the year. It is crocheted in two colors – white and black. Even though this is a beginner pattern, you will be able to master it in no time. This is the perfect pattern for you if you want to try something new! mamainastitch
Crochet Hook: 5.25 hook
Yarn Weight: Lion Brand (6 skeins in total, 417g yarn used in total)
Finished Size: small-XXL (26"-18" – 52"-26")
Shawl in a cake patterns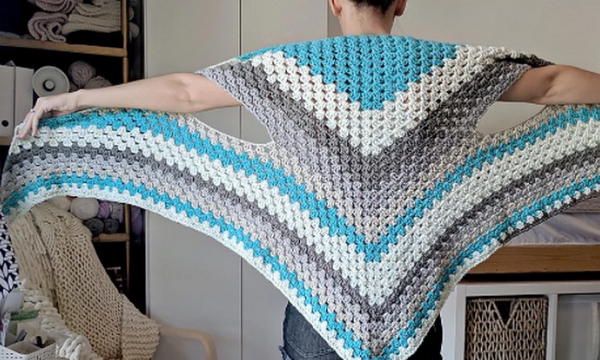 This is a shawl that has been designed by women for women to make them look elegant and beautiful. Are you looking for a perfect crochet triangle shawl pattern? This one is the best of all. In order to follow the striping pattern, you need to have the cakes in different colors. Since the pattern focuses on making this shawl with the yarn cakes of Carson, you will have to buy 2 cakes that have different colors in order to get this color-changing triangle shawl. It is made from Caron cakes, which are considered to be the best yarn for this. . thesnugglery
Yarn: Caron cake yarn
Hook: 6.5mm (k)
Easy Crochet Vest Pattern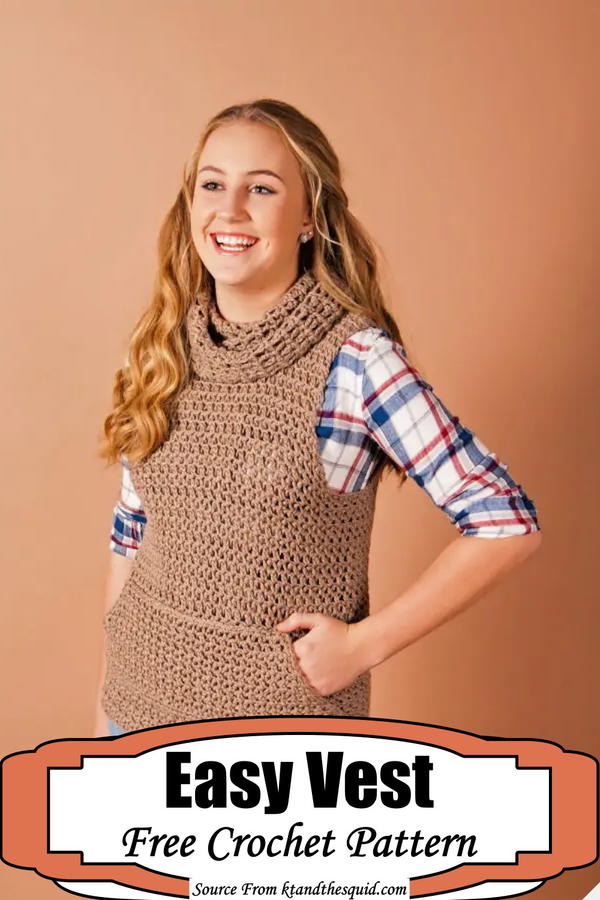 This crochet vest pattern is perfect for the beginner crocheter. It is easy to follow and should take you 1-3 hours depending on how fast you can crochet. This vest is worked from the top down in one piece without any seams. There is no shaping, only a turtle neck at the top. The neckline can be adjusted according to your body style. The armholes are finished with a crochet bind off that gives a nice finish to the garment. You can make this easy crochet vest pattern in any size you want.
You could wear this over a long-sleeved shirt or under your coat if you wanted to layer it up while out and about in the winter weather. The material used for it to make this vest is yarn weight. It is best to use because it would be warm enough for you in winters.
Crochet Hook: 6mm hook
Yarn Weight: Cascade 128 Superwash (100g/3.5oz; bulky/5 weight yarn)
#1926 Doleskin Heather – 5 balls
Finished Size: 36" bust in size M
Crochet Pumpkin Sweater Vest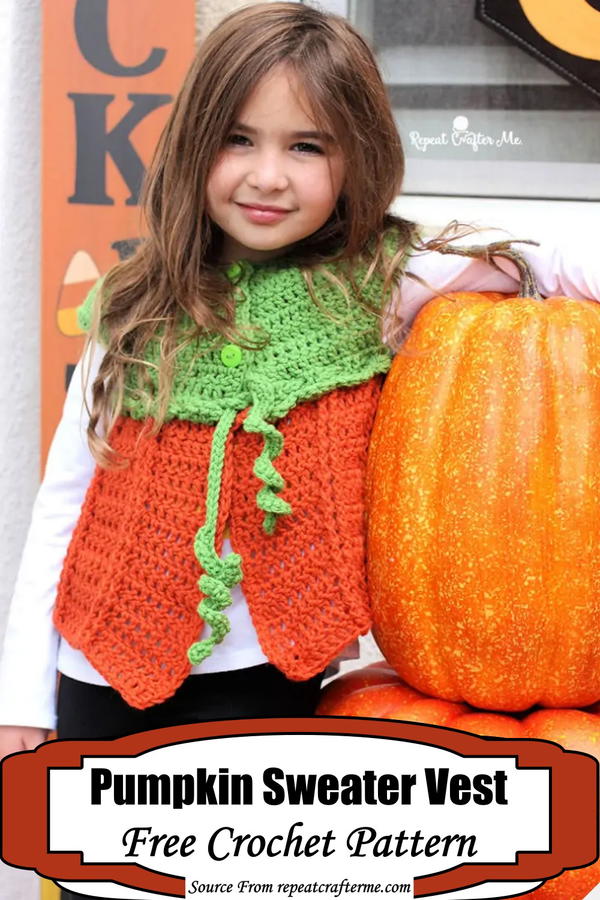 This crochet pumpkin sweater vest is a great addition to your fall wardrobe. The green and orange combination is just so beautiful and makes this sweater so stunning while being comfy. This pattern works up quickly and is suitable for any skill level. It uses basic stitches and has detailed instructions to help you through your project. This can also easily be customized to any size by using thicker/thinner yarns.
Now you can make this pumpkin sweater vest for your kids for the upcoming fall season. This vest can fit any child around the ages of 3-5, but for kids who are bigger or smaller than that, you can just adjust the pattern accordingly. This pumpkin-inspired sweater vest is so simple to make, but it's absolutely adorable. Start by making a base out of orange, green. You can choose any colour combination. repeatcrafterme
Crochet Hook: size H
Yarn Weight: Bernat Super Value (pumpkin orange and lush green)
Girls Crochet Vest
Everyone loves a cute crochet vest, but the crochet can be hard and time-consuming. But this Girl crochet vest sweater only takes one day to finish and will look great. This crochet vest is a great way to let her show off a unique style that's all her own. This cute vest will make your girl look like she stepped out of a fashion magazine. It comes in sizes 6 months through 10 years.
Young girls are always excited about new clothes to wear, especially when they are feminine colors like pink and white. The spiral design of the vest complements the overall girly look that it has to offer. It comes in pink and white colors and has a very cool spiral design. The sweater is made of a soft material, so it's not uncomfortable to wear. This pink and white sweater makes for a very thoughtful gift.  crystalized
Crochet Stitch: This crochet magic circle tutorial allows you to crochet a tightly closed center instead of a large hole in the middle.
Crochet Hook: size H/ 5.0mm
Yarn Weight: Worsted Weight Yarn (Red Heart with Love Yarn) (285 total yards – 95 each)
Finished Size: 22" x 10.5"
Free Vest Pattern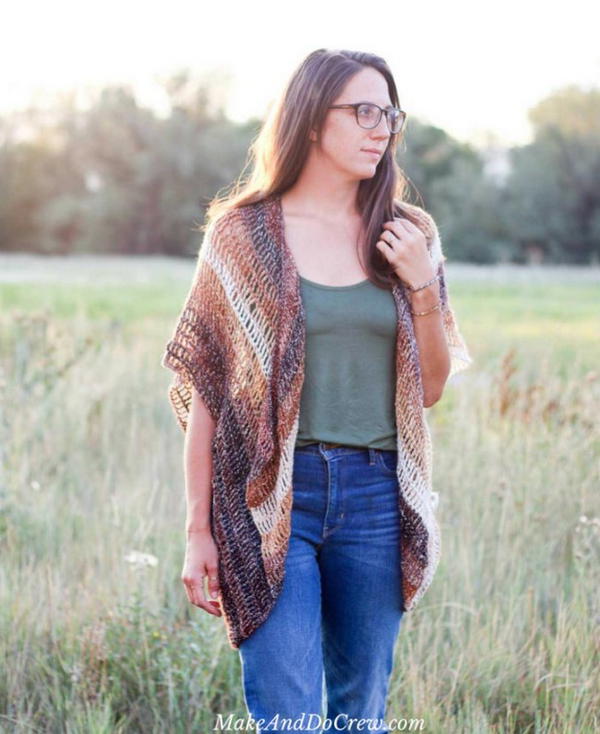 This crochet vest pattern is an amazing addition to your spring wardrobe. It is airy and lightweight, perfect for those warm spring days. The vest itself is made using different stitches, but all of them are easy enough for even beginner crocheters.
The usage of simple stitches makes it a perfect and appropriate supply for the project. To give the vest an airy feel, the tutorial suggests using seed stitch throughout the pattern.It's made of worsted weight yarn and is worked in the round so once you have the pattern memorized. It's made of worsted weight yarn and is worked in the round so end, it is easy to make one. makeanddocrew
Yarn: Lion Brand Shawl in a Ball
Hook: J (6.0)
Gauge: 9tr= 4'', 4 rows=4''
Crochet Poncho Vest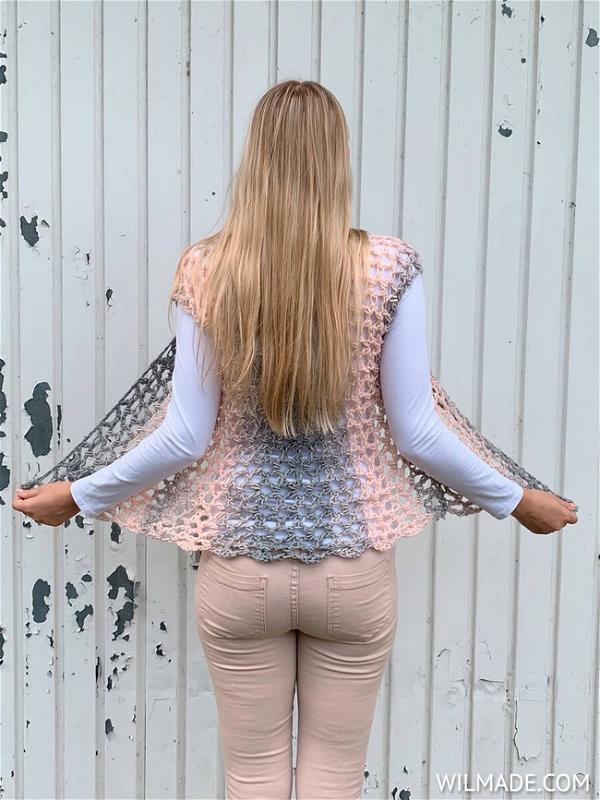 Poncho is one of the most popular garments amongst fashionistas. This Crochet Poncho Vest enables you to make a stylish crochet poncho vest that you can wear with a pair of jeans and boots. There are no difficult stitches involved in this poncho vest. You just need to know how to work basic stitches like chains and double crochets.
The poncho can be made in different colors and you can add beadings and other embellishments if you want to make it more stylish. It's time to make something that can keep you warm while you're outdoors or just hanging around the house. This crochet vest pattern is made of a fun and easy stitch, and it's pretty quick to finish - all in one day!. wilmade
Yarn: Lion Brand Scarfie 312 yards
Hook: 10mm
Gauge: 2.8 ch-sp x 5 rows equal 10 cm / 4''
Crochet Red Heart V-neck Vest Pattern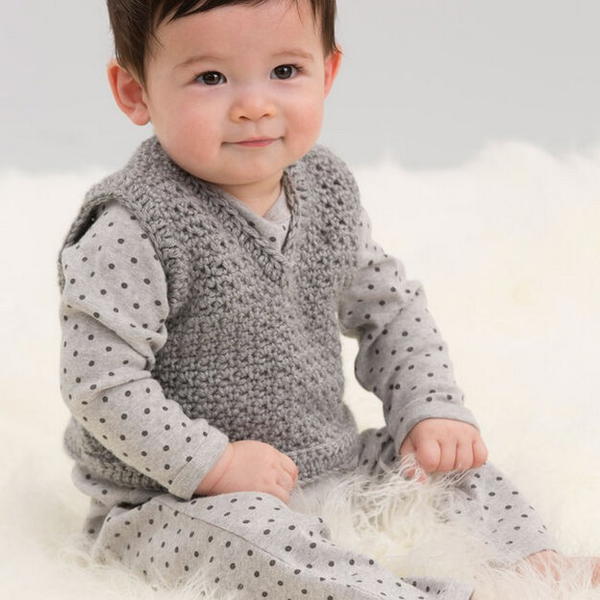 The Crochet Red Heart V-neck Vest Pattern is the best way to get the perfect and stylish vest. The best way to make this seamless vest is considered as one of the easiest patterns. An easy pattern will give you the desired results in no time with minimal efforts. Even a beginner can also make it with ease. The pattern is simple and elegant, which will give you a chance to create something unique for your little one and also for yourself.
The crochet patterns are highly functional as they can be worn on almost all types of occasions. If you are looking forward to designing some cool outfits for your child, then this crochet patterns are just going to help you out as they are perfectly designed for your little ones. All these Crochet Red Heart V-neck Vest Pattern are very easy to follow and can be learned easily by even amateurs. So get started with these tunic crochet patterns for adorable looks for your toddler. yarnspirations
Yarn: Red Heart Soft 1 (2, 2, 2) balls
Hook: 4mm (US G-6)
Gauge: 16 sc = 4'' (10 cm):20 rows = 4'' (10 cm) in pattern st.
Crochet Sweater Vest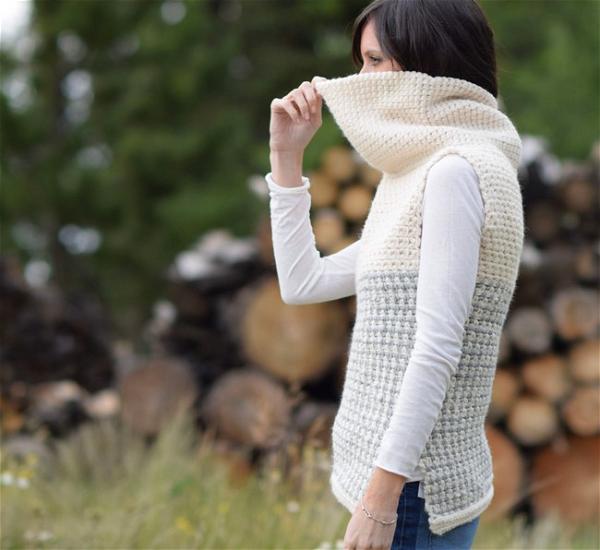 Crochet Sweater Vest is a very lovely crochet pattern. This vest is a beautiful piece of clothing, and you can wear it in all seasons. It will keep your body warm and cozy during the cold season. You can wear it when you go for shopping or any outdoor activity. This vest will also make an attractive gift to someone on birthdays or any other special occasion.
This free crochet pattern requires skill level intermediate. The stitches are easy to learn, but it may be challenging for beginners. You should be familiar with basic crochet stitches before you start working on this project. The pattern consists of single crochet edges and double crochets in the middle of each round. This vest has cowl neckline with ribbed trimming at the hemline of the garment. mamainastitch
Yarn: Lion Brand Yarn Wool chunky yarn
Hook: Size K 6.5mm and size L 8.0mm
Gauge: 3 stitches per inch and 2.75 roes per inch
Crochet Sleeveless Vest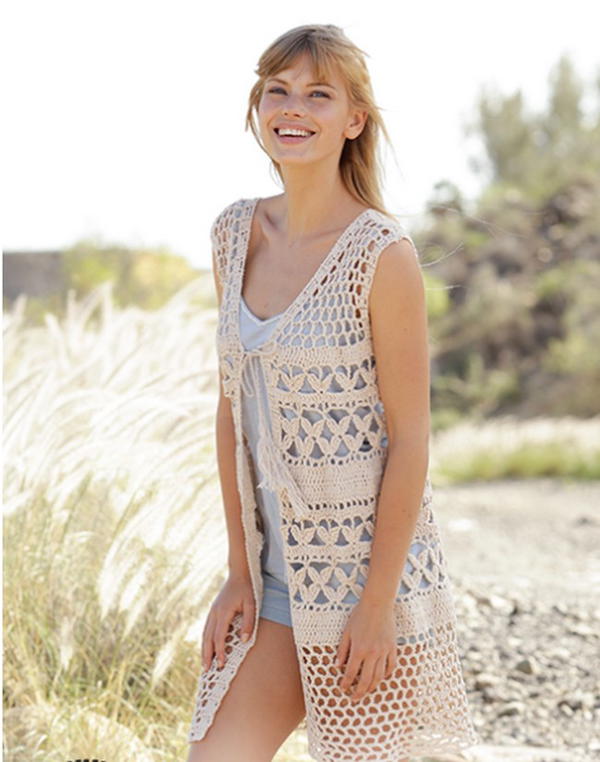 Have you heard of drops belle yarn? This is a lovely cotton yarn that can give you a sweet treat. It's so easy to work with and the stitches are made in such a fluid manner. Crochet sleeveless vest is the best choice for spring and summer wear. The design is really simple and the instructions are really easy to follow. You can adjust the size according to your wish.
The pattern is worked in the round from top-down. This sleeveless vest is crocheted in one piece with no sewing required. Check out the free pattern below! The pattern includes a step-by-step photo tutorial for each round so it's easy to follow along. garnstudio
Yarn: Drops Belle from Garnstudio 500g
Hook: Size 4.5.00mm
Gauge: 16 dc x 8 rows = 4"x 4"
Granny Square Cocoon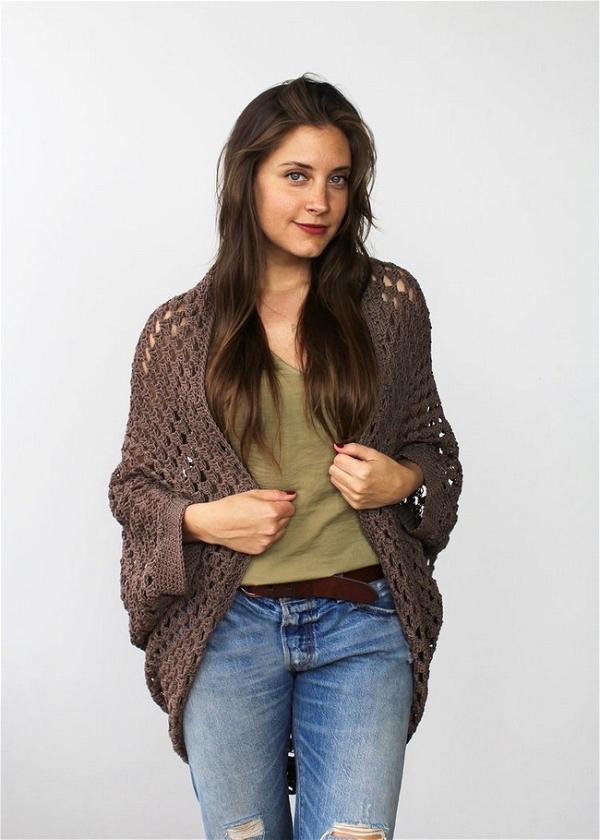 Here is a cute crochet pattern for a Granny Square Cocoon. It would be best to use Lion Brand yarn for this project. You will have to work in the round with it. If you want, you can adjust the size accordingly. The color scheme given in the pattern is great, but you can pick your own combination of colors.
One of the hottest trends in crochet is the granny clusters. Granny clusters are not just popular because they are easy to make, but they can be used to create some beautiful products. This crochet pattern involves only granny clusters along with double and single stitches. If you're new to crocheting, but want to learn how to make this vest, then this pattern is ideal for you. twoofwands
Yarn: Lion Brand Yarn 24/7 cotton 1020m
Hook: J 10/6mm
Gauge: 13 dc + 6 rows = 4"/10cm
Vintage Crochet Vest Pattern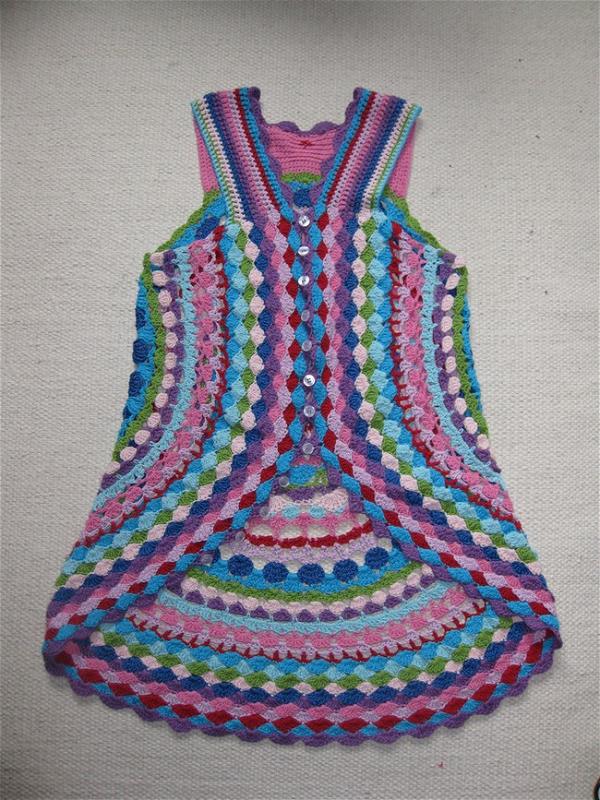 This vintage crochet vest is an easy and classic pattern to make. It can be made by both newbies and experts. You just need to follow the pattern carefully. This vest is a one-size-fits-all garment, which means it will include size changes if you go for larger or smaller sizes.
This vintage crochet vest has a round neckline, while its bottom hem is straight. This gives you an additional advantage of wearing it with crochet skirts of different lengths as well as pants of different lengths. This crochet vest can be made out of any yarn for this project. The hook used for crocheting this vest is 3.5 mm E so that you can easily create those eyelets at the end of each round. ravelry
Yarn: any yarn (cotton, wool, stash, acrylic) 180-240 yards
Hook: 3.5mm (E)
Crochet Baby Vest Pattern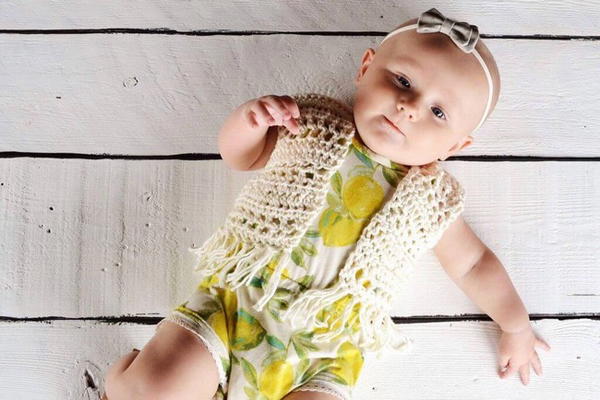 This Easy Crochet Baby Vest Pattern has been designed with the purpose to help beginner crocheters. It offers you a colorful and lively vest that looks adorable on a little one. The classic vest pattern is perfect for summer as it can be worn with shorts or pants.
The crochet baby vest is made using soft cotton yarn. Make use of the colors of your choice. An easy crochet baby vest pattern is a perfect choice for a first-time crocheter. This type of garment is also quite easy to adjust according to your baby's growth and size. So, if you want to make something different this time, try this stylish crochet baby vest pattern. sweeteverly
Yarn: 1 skein of ''I Love This Cotton in Color Ivory'' yarn.
Hook: 6.50mm
Gauge: 11 sts – 4."
Atta Boy Vest for Baby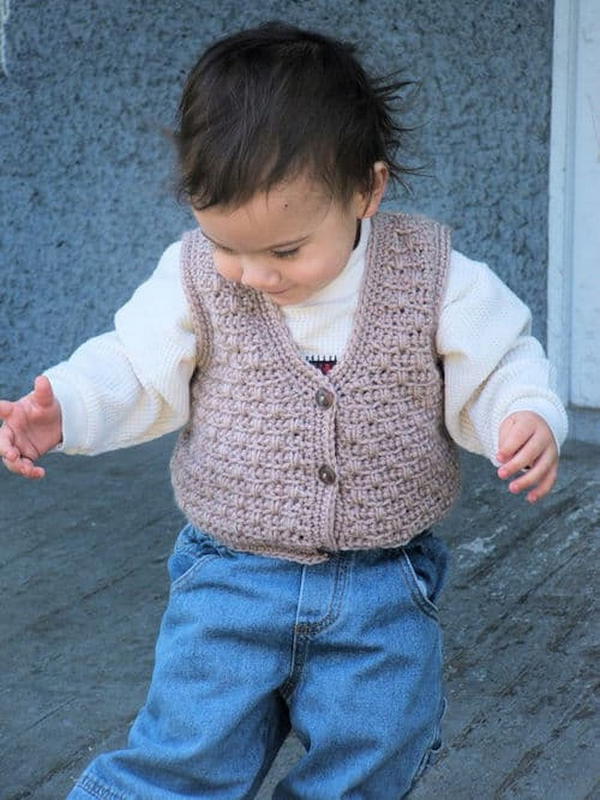 Babies grow up so fast. Even if you have a knack for sewing, chances are you won't have the money to buy your baby a new set of clothes every time he grows out of his old one. So if you're looking for something that is simple to make and easy on your wallet, this Crochet Atta Boy Vest for Baby is the one for you.
It is important that you choose the right size of the vest for your baby, so as to avoid any hassles later on. This vest is an intermediate-level project, and it requires you to know how to work in single crochet stitch. You should also know how to make a foundation chain and how to end it with a slip stitch. crochetkim
Yarn: Plymouth Yarn Encore Worsted 100g
Hook: Size J-6mm and I-5.5mm
Gauge: 13 sts for 19 rows = 4" square
Crochet Vest Patterns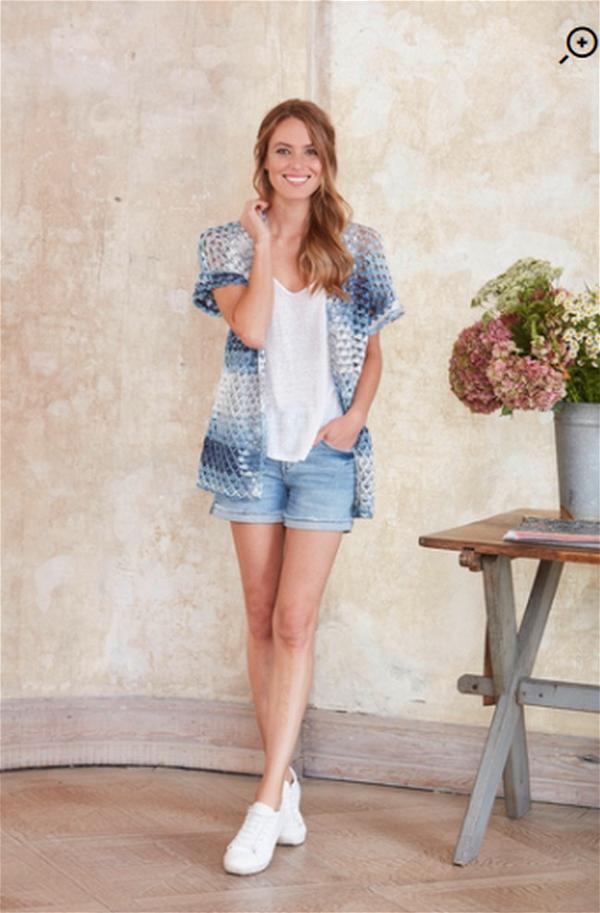 Vests are very versatile garments that are almost always in style. The beauty of a vest lies in its simplicity and easy wearability. Crochet Vest Patterns are one such pattern that you can use to create your own customized vest. If you have not tried to learn how to crochet, start with this pattern and it won't be hard at all. It will help you become more confident in crocheting and trying new patterns.
Crochet vest patterns can also be made in different styles. If you want to look classy and elegant, opt for an open crochet vest pattern. To add more appeal to your outfit, opt for a closed crochet vest pattern that leaves the back bare. Here's a free crochet vest pattern that will help you get started with your new project schachenmayr
Yarn: Schachenmayr Micro Summer Trend color 725m
Hook: 3.5mm
Gauge: 24sts and 12 rows = 10 x 10 cm
Pegasus Mandala Crochet Vest Pattern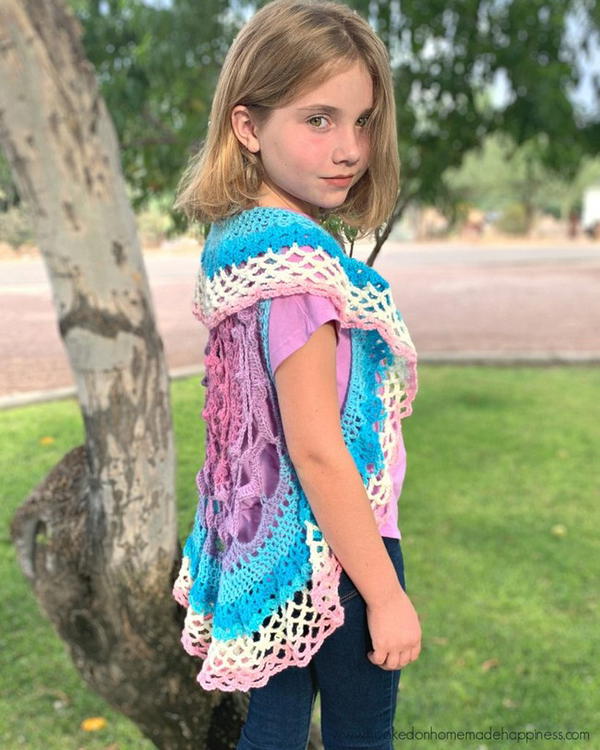 This crochet project is wonderful and helps you to get a trendy look in seconds. The pattern is very easy to memorize, but it will still take a while to complete. You can pick your favorite color and add some accessories to the vest. It is suitable for all occasions.
The only thing that you need is a simple vest pattern that you can find here. Just follow the instructions and enjoy wearing this lovely garment. The vest has an open front, so it is easy to put on and take off. It looks great with jeans, skirts or shorts. You can make one of this for yourself as well as for your friends and family members. They will love it! hookedonhome
Yarn: Lion Brand Mandela 590 yards.
Hook: 5.0mm
Crocheted Vest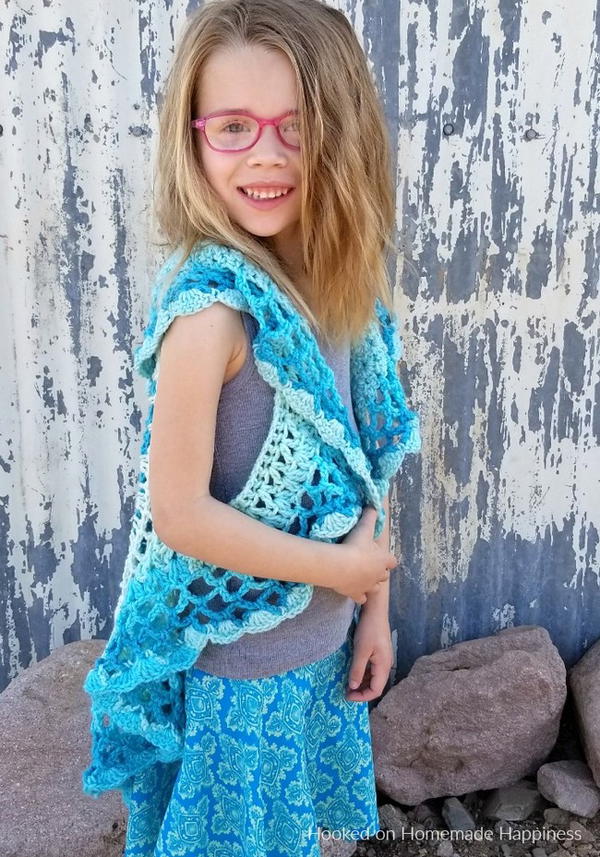 This crochet vest is a simple project that will be an easy way to add a little color to your wardrobe. The pattern is easy enough for anyone to follow, and the vest comes in one size, so it's great for beginners. You'll need an H hook and two skeins of Caron Cake Yarn for this crochet vest. The simple vest is crocheted in single and double crochet stitches.
Once you make this vest, wear it to a party or out with your girls. This crochet vest will keep you warm in the fall and winter months and will look good with any outfit you put together. If you have a basic stitch pattern under your belt, you'll enjoy making this crochet vest because it's a quick project that you can complete in just a few hours. This is one of the best patterns for beginners, so get started today! hookedonhome
Yarn: 1 skein Caron Cake in Faerie cake
Hook: 5.5mm
Crochet Lace Vest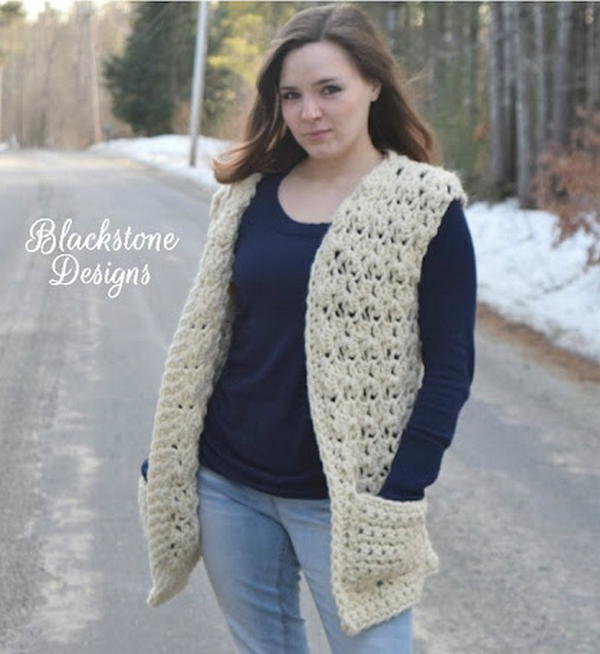 This crochet lace vest pattern is a must-have for every woman. You will be able to use this idea and make it in any size you want. Even if you have never done this type of project before, you will find that this crochet lace vest pattern is straightforward to follow and complete. The steps are well explained, which is very helpful for beginners.
For most people it might seem that making the crochet lace vest pattern is very difficult and time-consuming but this will not happen because you have all the instructions written on your hands and you can easily complete the project without getting confused with any step. You can make the vest to any size by altering your choice's yarn and hook sizes. blackstone
Yarn: Super bulky yarn 1300 yards
Hook: P/Q 15.00mm
Gauge: 5sts x 4 rows = 4 inches.
22. Crocheted Vest Pattern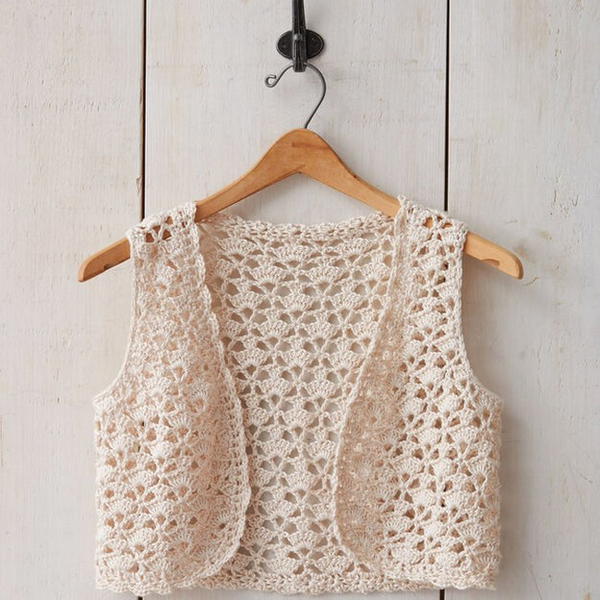 A crocheted vest is a must-have in any woman's closet. It's so versatile, you can wear it to work, to play or on any special occasion. You can also adjust the length and width by changing the gauge and the hook size. You can adjust your vest according to your taste by making it longer or shorter or by using different colors and materials.
The crochet vest is not a difficult piece to make and does not require advanced techniques. However, this process will be fun as you learn. The material only you need is 4 mm crochet hook, and 3 balls of Patons silk bamboo yarn. The Patons Silk & Bamboo yarn adds the perfect touch to this crochet vest. It's so soft and silk-like, it will feel like you're wearing a cloud. yarnspirations
Yarn: Paton Silk Bamboo 102 yards
Hook: G/6 4.00mm
Gauge: 16 sc and 20 rows= 4", 19 sts and 7 rows= 4"
Girls Crochet Vest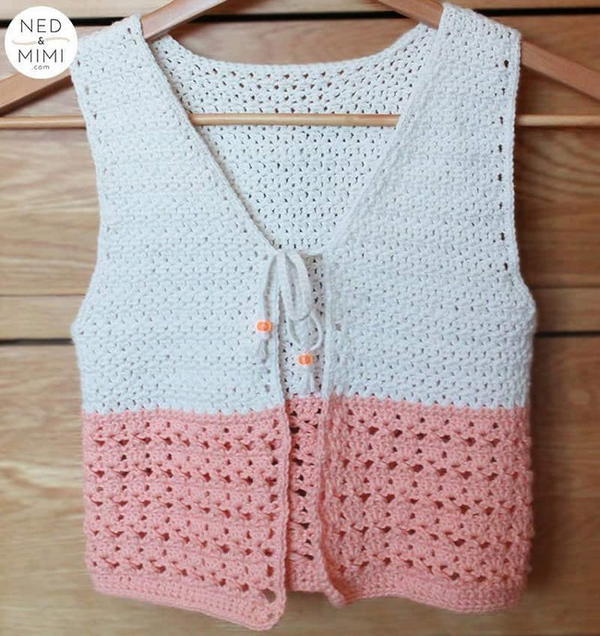 This Girls Crochet Vest is a simple and easy crochet pattern. The vest is crocheted using basic stitches such as single crochet and double crochet. You can use any size of yarn and any size of hook. Girl crochet vest uses simple shapes to help you create this beautiful crochet piece.
Girls Crochet Vest is a perfect complement to your favorite summer tops and looks beautiful when worn with jeans. This vest is soft and warm for your kid's sensitive skin and will make them enjoy wearing this vest. It is a beginner-friendly pattern, and you will love it for sure. Follow the pattern and make this cute crochet piece for your little girl. nedandmimi
Yarn: Paintbox Yarns Cotton DK
Hook: 3.5mm/ E-4
Women Crochet Vest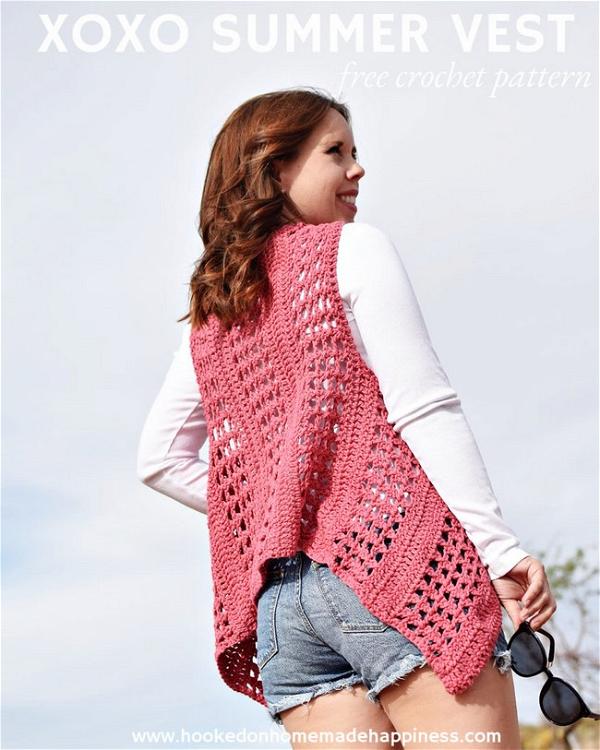 Women's crochet vest will be perfect for the fall, as the weather gets colder at night and warmer during the day. If you're looking for an easy project that you can finish in just a few hours, this cotton crochet vest will be your go-to item all season long! This crochet vest is a perfect addition to your existing fashion wardrobe. This vest is so beautiful and stylish. You can wear it as outerwear during the spring and autumn seasons.
Women's crochet vests will be worn by women of all ages, sizes, and shapes. As these are made with basic crochet stitches and using the right materials. Just follow the tutorial step-by-step, and you will be able to make one for yourself or someone special in your life hookedonhome
Yarn: Cotton yarn 3 skein
Hook: 5.00mm
Finished size: length 22.5 inches, width 44 inches, shoulders 14.5 inches.
Hooded Vest Pattern
The hooded vest pattern gives you a chance to create something that you can wear in any season. It is warm enough to wear during cold days of winter and also cool enough to wear on hot summer days. This crochet hooded vest pattern has pockets, which will come in handy when you need to carry small items with you. The pockets are big enough for carrying your cell phone, keys, and even your camera.
The hooded vest pattern is designed for women. It has the perfect length for wearing your favorite pair of jeans and other bottoms below it. This crochet vest pattern is made from cotton yarn, which makes it lightweight and perfect for spring weather or for wearing indoors during the winter months as well. If you don't like bulky winter coats that are too warm to wear indoors, this crochet vest will make a great addition to your wardrobe. lifeandyarn
Yarn: Worsted weight cotton or Acrylic yarn 1070 yards
Hook: 6.50mm
Gauge: 6 Rows X 12 sts in DC is 4'' X4''
Women's Vest Patterns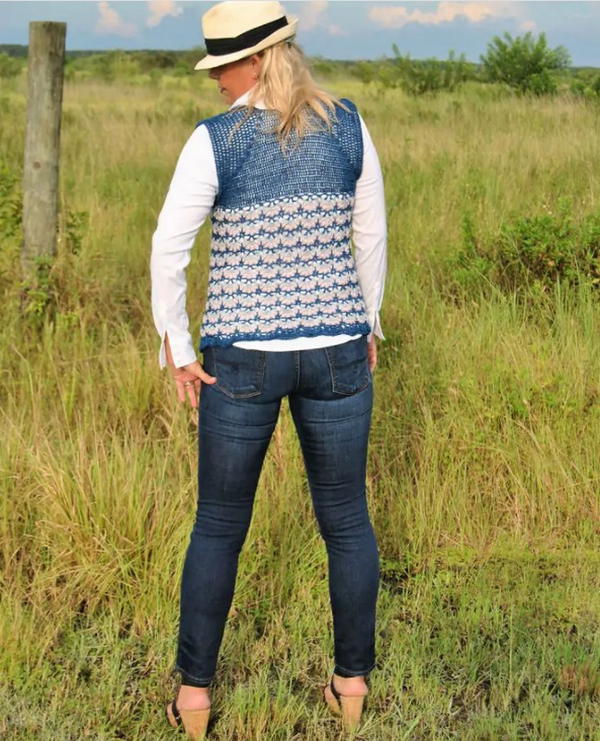 You can use the free crochet vest patterns to create your very own vest. This lovely crochet pattern comes in many beautiful designs and colors. The design of this vest is simple but elegant and timeless. The free crochet vest patterns are offered in various sizes, from small to large. You can choose any size for crocheting with no problem. The patterns are available in simple and complicated styles.
These free crochet vest patterns are very trendy; you can choose any one of them to crochet. These vest patterns are designed with a special color combination that is awesome and stylish. All these crochet vest patterns have different variety of styles and it's easy to enter a new world of crochet by just crocheting these stunning crochet vest patterns kristinomdahl
Yarn: Kristin Omdahl 115g/ 650 yards
Hook: 4mm
Gauge: 16 dc and 6 ½ dc rows = 4'' (10 cm)
 Summer Vest Pattern
Vests are a great way to give your wardrobe a stylish but functional boost. Thanks to its wonderfully simple design, this crochet summer vest pattern does that and more. The pattern uses the half-double crochet stitch and slips stitches to create a mesh effect that looks like open holes.
The vest is made out of a lightweight yarn ideal for the summer. It is worked from the top-down, seamless. The vest looks great for women, as it has a loose fit, so choose your favorite color. This vest pattern is fun to make, but it is challenging. If you are a newbie in crocheting, read the tutorial carefully before starting the project. desertblossom
Yarn: Knit Picks Stroll Fingering 3(3, 4, 4, 4, 5) skein.
Hook: F (3.75mm)
Gauge: 4 shells and 8 rows Blocked= 4."
Crochet Triple Cross Vest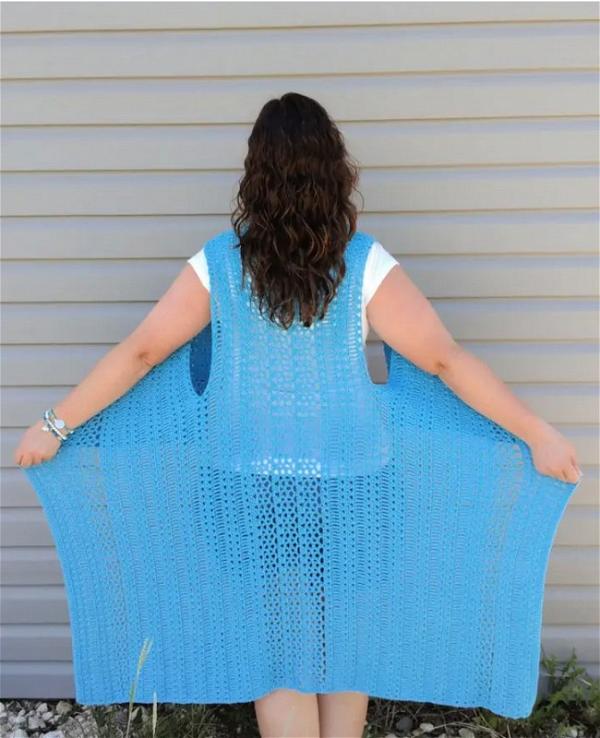 Making your own crochet vest can be an amazing project to do, not only because you have a chance to customize the color of yarn to make a piece of your own but also its design. How it looks depends on you and what sort of look you want it to have. If you would like a long fancy-looking lacy vest, this Crochet Triple Cross Vest is for you. It's all in a single size which makes it really convenient for any size person as well.
Crochet Triple Cross Vest includes instructions for measuring yourself and choosing which size fits you best. You will need some basic supplies to make this crochet vest, including yarn, a crochet hook, and scissors. This pattern makes a great gift for any special occasion or yourself. ineeditcrochet
Yarn: Nob Hill Yarns Casual Cotton
Hook: H/5mm hook
Gauge: gauge swatch (4" X 4")
Wildflower Vest Pattern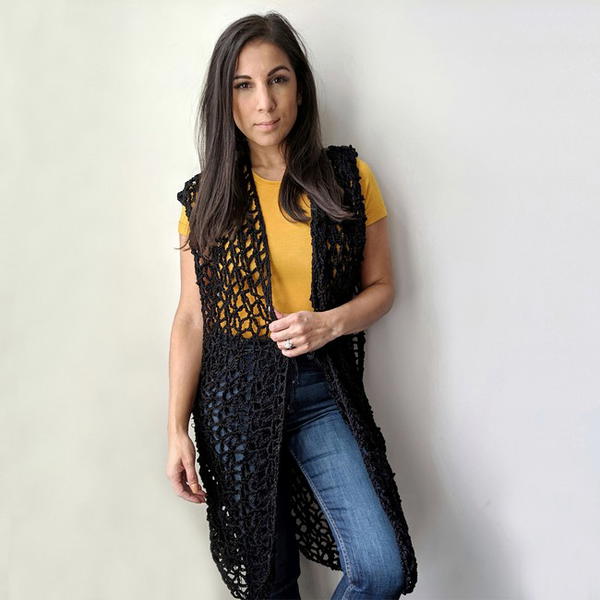 There are a lot of unique patterns you can find today, and this Wildflower Vest Pattern is one of them. This vest pattern is available in all sizes, from extra-small to extra-large so that it will fit perfectly on your frame. The process is easy; you just need to be familiar with the stitches like chain, single crochet, and treble crochet. You will finish this vest off in one day and then it's ready to wear.
The good thing about this Wildflower Vest Pattern is that it can be worn in any season, but mostly during spring or autumn. In winter, you might want to wear a sweater underneath, while in summer, you can wear this vest without anything underneath. yarnspirations
Yarn: Patons Grace 12 balls for extra small, small, and medium-size.
Hook: G/6 (4mm)
Gauge: 16 sts and 6 rows = 4'' (10cm)
 Lollipop Vest Adult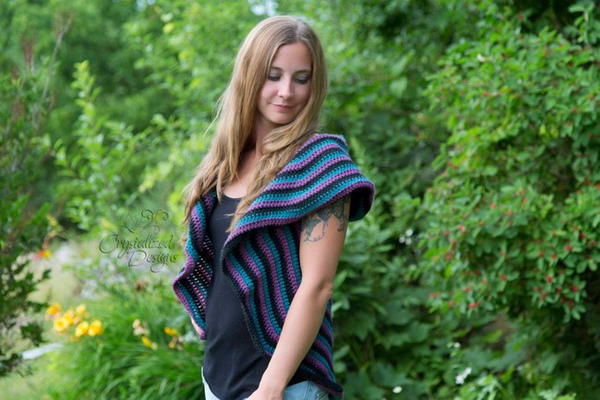 A crocheted vest is a perfect gift for someone you love. The crochet lollipop vest looks gorgeous and can be worn at various seasons. This pattern is easy to follow, but the pattern has different shades of colors. So, it may confuse you with the color changes. If you are having trouble with the color changes, you can use different variations of the same color to make this design look stunning.
You can use worsted weight yarn to make this crochet vest. You will need an H 5mm hook to complete this design. There is no doubt that you will enjoy crocheting this pattern once you start working on it. It is a very simple pattern with easy instructions that will help you make your own lollipop crochet vest with ease. crystalized designs
Yarn: worsted weight, 940 yards.
Hook size H 5mm
Medium size: 37.5''*15.5''
Boho Vest Pattern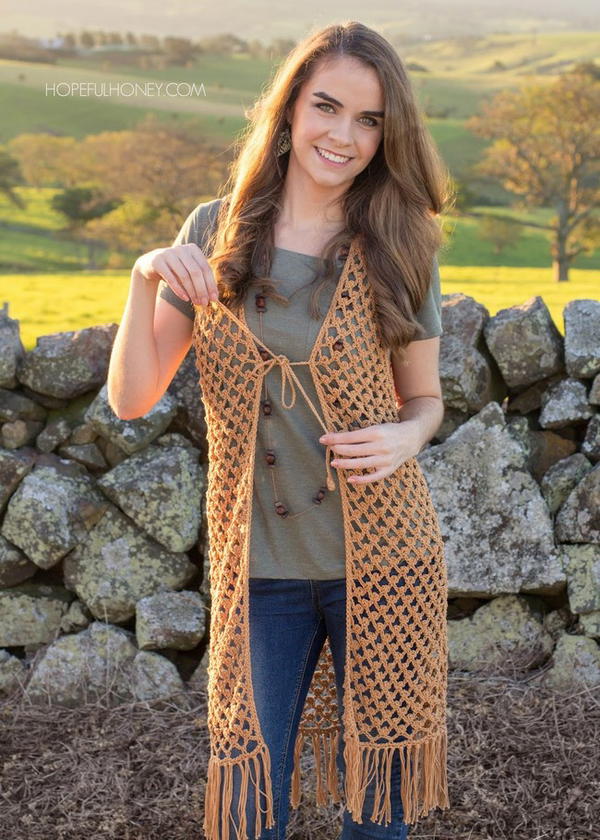 The boho style is the latest trend in fashion. The boho vest pattern is a new addition to the list of summer clothing trends. The yarn is extremely lightweight and is perfect for summer wear. The gauge directions are; 18 stitches in 20 rows. Enjoy crocheting this easy-to-carry vest that is sure to make heads turn! The color combination is perfect for the summer season. The criss-cross pattern in mustard color is something you can wear over any dress.
The pattern is available. You can crochet it for your wardrobe. The pattern includes complete instructions that are easy to follow. This pattern also explains the techniques of crochet in a straightforward manner. It is extremely lightweight and can be worn over any outfit. hopefulhoney
Yarn: worsted weight yarn (Lion's Brand)
Hook size 3.5mm E
Lacy Vest Pattern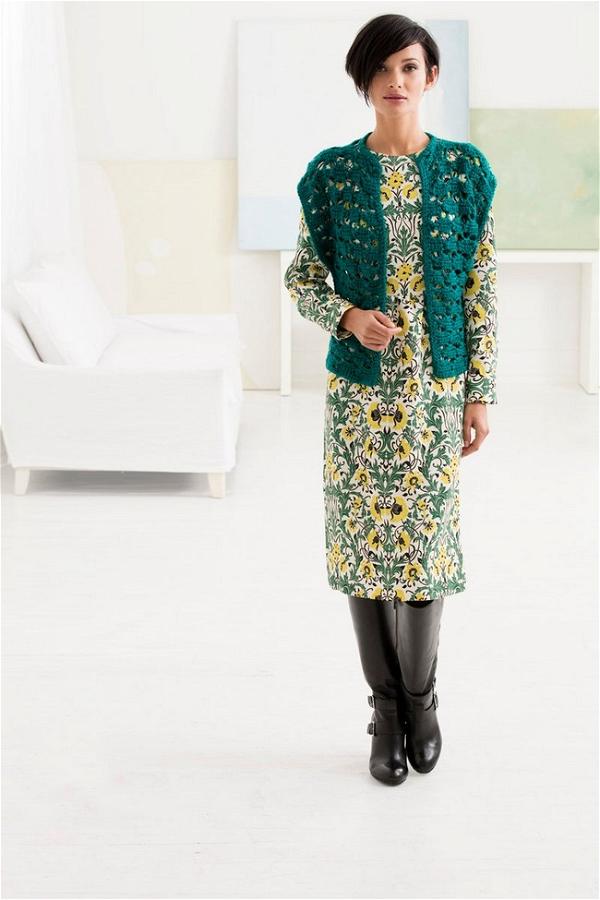 Lacy Crochet Vest Pattern is a really trendy vest pattern and it is easy to make. The lacy crochet stitches are easy to learn. So people can use this pattern for making their own lacy vest according to their wish. The vest pattern is available in different sizes. It fits almost everyone who wears it and looks beautiful on them.
You can choose a different color as per your personality demands. The vest adds extra grace to your dress. It will add elegance to your personality. Also, you can wear it over a boring dress, and the vest will make it look beautiful. This vest will look beautiful on any woman because it is very feminine and delicate. The lace design will add extra grace to your dress. lionbrand
Yarn: Heartland (136)
Dimensions detail: 36''*17.5'
Crochet Sleeveless Cardigan
A sleeveless crochet Cardigan is a fantastic item to wear during the summer. It's simple, and you can make it in any color. It is excellent for those who are advanced in crochet skills or just beginners. It isn't difficult to make. Below, you'll find the instructions to make a sleeveless cardigan. You can also choose between different types of yarns such as cotton or acrylic. However, the yarn should be soft to bring comfort to you when wearing it.
It is suitable for your daily, party, evening, and beachwear. This Sleeveless Cardigan has an openwork pattern that makes it beautiful and unique. This pattern is available with step-by-step instructions. hearthookhome
Yarn: any yarn (cotton, acrylic, wool, worsted) 1200 yards for small size.
 Vest With Fringe
Free Crochet Pattern Vest With Fringe is the perfect choice whenever you want to spice up your outfit. It's a great way to show off your style and personality, and it adds a fun pop of color to any outfit. This is a free crochet pattern vest that is designed using different shades of colors. So, if you want to stand out in the crowd this season, then this vest is the perfect addition to your wardrobe.
Free Crochet Pattern Vest With Fringe is versatile and helpful in making you look stylish. A vest is considered a piece of clothing with no sleeves. It is lightweight and free from bulkiness providing you with comfortable wear for the whole day. You should follow the instructions carefully. So you can create this unique vest easily with those instructions. hookedontillylife
Yarn: Medium (4) weight yarn
Hook: 6.00mm
Gauge: 13 sts = 4". 10 rows = 4"