What type of clothing is perfect for hot weather? I'll tell you it's crochet halter tops if you ask me! That is just the sort of top that gets a girl through these summer months. Sure, there's no way to beat the look and style of a cute halter top in any weather, but in summer, like the one, you can create by following one of these five great easy crochet halter top patterns or using your creativity, this is a must-have summer item. Crochet halter tops are the perfect addition to your summer wardrobe because they are light, airy, and flowy. One of the best parts about these tops is that you can wear them loose or tie them into a halter top.
Crochet halter tops are a popular summer wardrobe staple, and you can make your own with the help of this collection. These patterns make crochet halter tops look great on women of all ages and body types, so get ready to be the hit of any party. These tops are the perfect addition to your summer wardrobe. If you're fond of making impressive softer accessories. In that case, these halter top patterns will surely be a great hit, follow these patterns and have some unique accessories for warm weather with minimal effort.
Crochet Halter Top Patterns

Separates are fun to wear. What if you could make a halter top look so good that you feel like strutting down the beach? Many women have big bellies and breasts. However, they turn into a beautiful butterfly on their upper body once they slip into these stylish crochet tops. Moreover, this will enhance your waistline, cover the bulges in your tummy, and hide your flabby arms. You can even dress it up with designer accessories or skirts for corporate or formal occasions. And all these qualities have been combined in superb crocheted halter top patterns. Here we have enlisted a decent list of impressive halter top ideas to follow to have some stunning outcomes and make your summer more exciting.
Flower Top
Crochet this crocheted top for your loved ones, friends, or yourself. Even if you are not a good crocheter, this pattern's photos will help you make it, and ladies, we'll show you how. For example, an image of a flower must be applied to the top of the triangle. You can apply any color and change the shape of your flower heart or make your pattern. In addition to that, you can use any yarns regardless of their thicknesses. What is important - the thinner yarn you use, the more delicate result you get!
Remetop Brilliant Top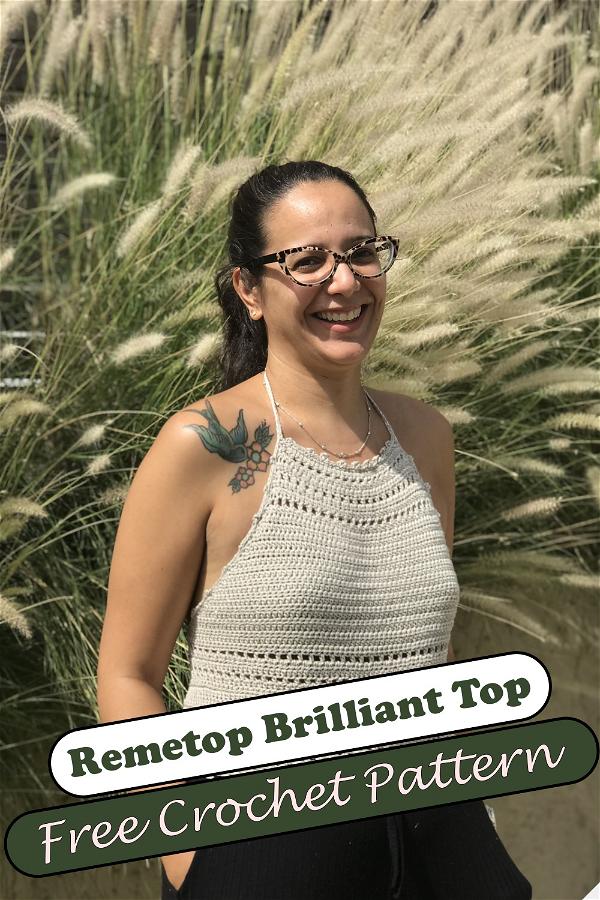 The remetop is perfect for a night out, a summer tea party, or a short trip. I like it because it can be combined with leggings and boots, but if you want to go a little fancier, you can pair it with a skirt and some shiny accessories. This garment is developed for summer with its lightweight and airiness—the best for a little girl. Elegant, playful, fluent, and easy to wear, this summer top will be one of your favorites from season to season!
Daisy Halter Top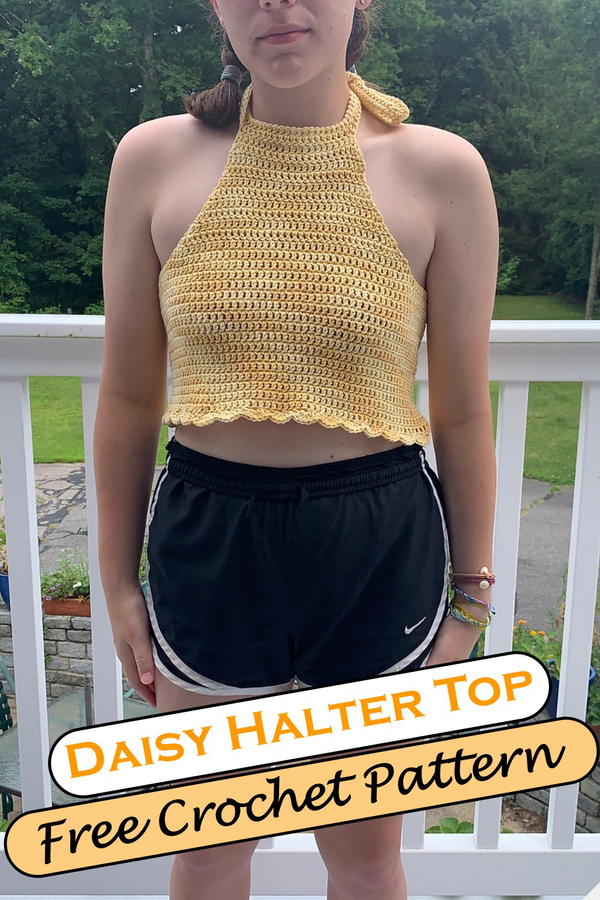 The Crochet Daisy Halter Top is worked top-down, with the shoulder straps formed by a series of crochet chains. The stretchy nature of the crochet gives a different drape to the fusible-webbing lined neckline and at the sides, creating a wide scoop that flatters every body shape. Worked in cotton yarn and perfect for warm-weather living, this openwork halter-top might even tempt you to show a little midriff. Worked from the top down; it turns inside-out! No seaming to be seen!
Kismet Halter Top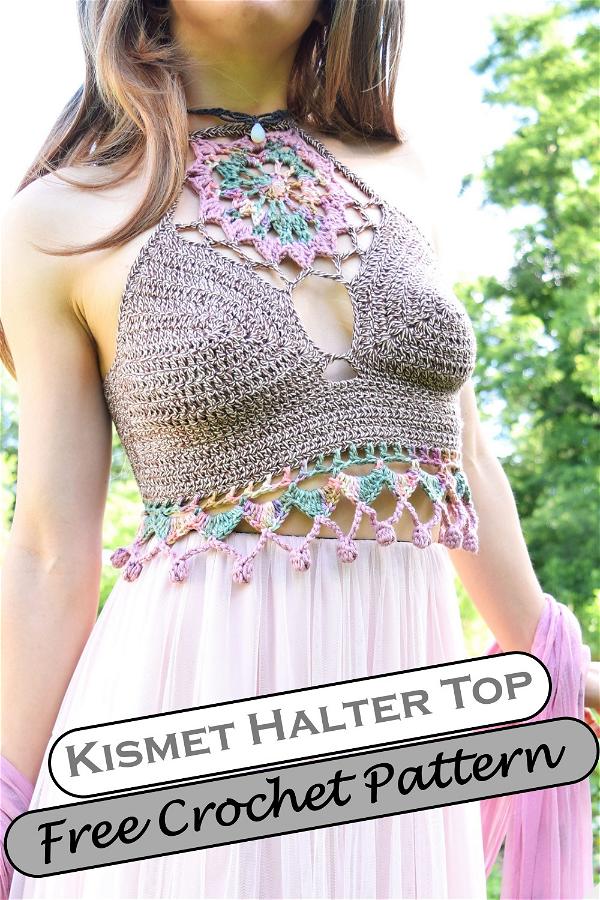 The Kismet Halter top draws aspects from many of my other favorite halter top designs - a sturdy, wide construction around the ribcage for good coverage and good support, criss-cross lacing ties that don't pressure the neck, and an eye-catching central mandala that looks perfect layered under tanks and low-cut tees. The optional Mehndi Border across the bottom can add extra coverage and turn up the festival fanciness factor! It looks great worn with a pair of dark wash denim shorts and slides, but it also works well under any short sleeve shirt.
Tulip Square Top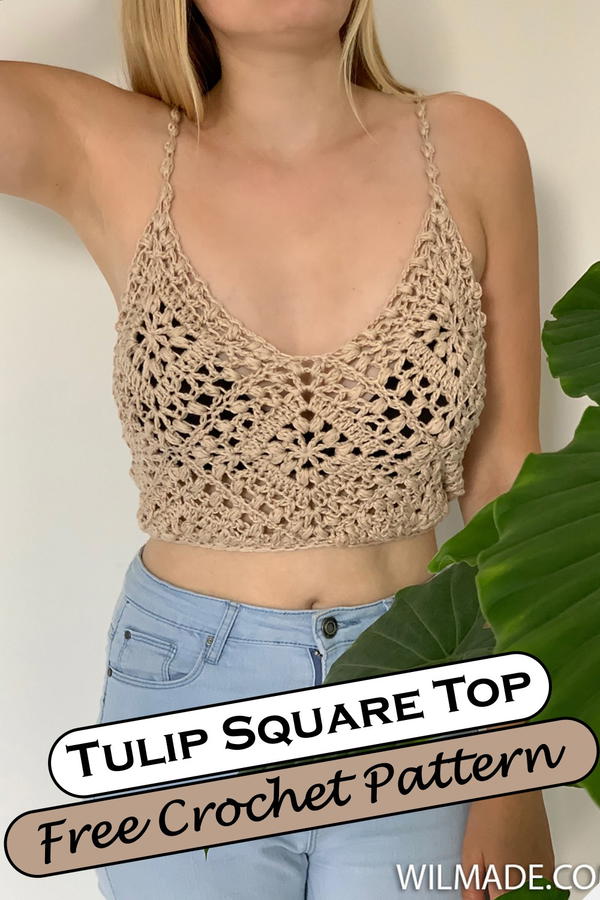 Are you looking for a versatile, easy-wear top? Look no further than this simple pattern that can be dressed up or down. This crochet top pattern has a special cut, giving it a classy look. It suits everyone and is the perfect summer outfit. You can make this tulip square top in any size you want. The top is easy to wear and is best suited for cool weather. This pattern includes sizes from XS to XL. To make the top in plus sizes, you can simply increase the size of the front and back panels.
Heartbreaker Crop Top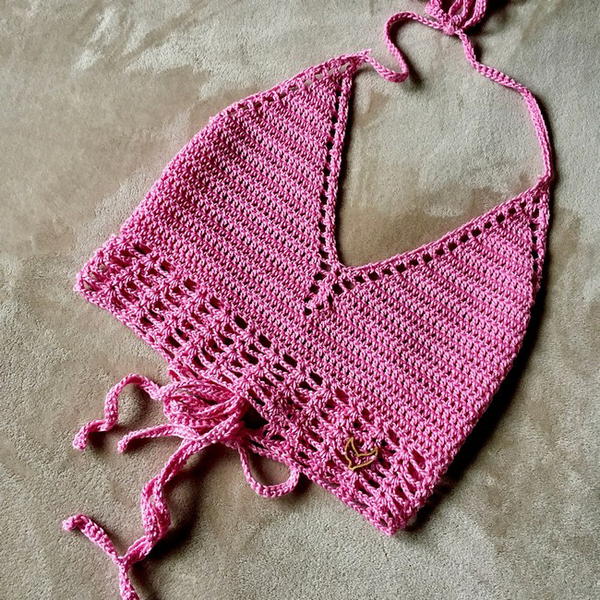 Crochet Heartbreaker Crop Top is a crocheted triangular crop top featuring two small front holes. It begins with the bottom neckline and increases to the top of the bust at a rate of one stitch every row. The pattern provides full-length instructions and tips, tricks, and knitting shortcuts to make knitting your first garment a breeze! The Crochet Heartbreaker Crop Top is so easy and fun that you can work on it while watching TV or even forget it's on your needles and bring it with you everywhere for instant photo opportunities.
Gucci Inspired Top
If you're looking for a gorgeous crochet top, look no further! Crochet this stylish Gucci-inspired top, worn with denim shorts or a skirt for a stylish daytime look. This top is worked in three pieces - the front/back and two lace sleeves. The width of each pattern repeat is reduced to maintain the lace detail as the pattern progresses top down. It can be worn with a camisole underneath or on its own with high-waisted shorts or jeans.
Halter Dragonflies Top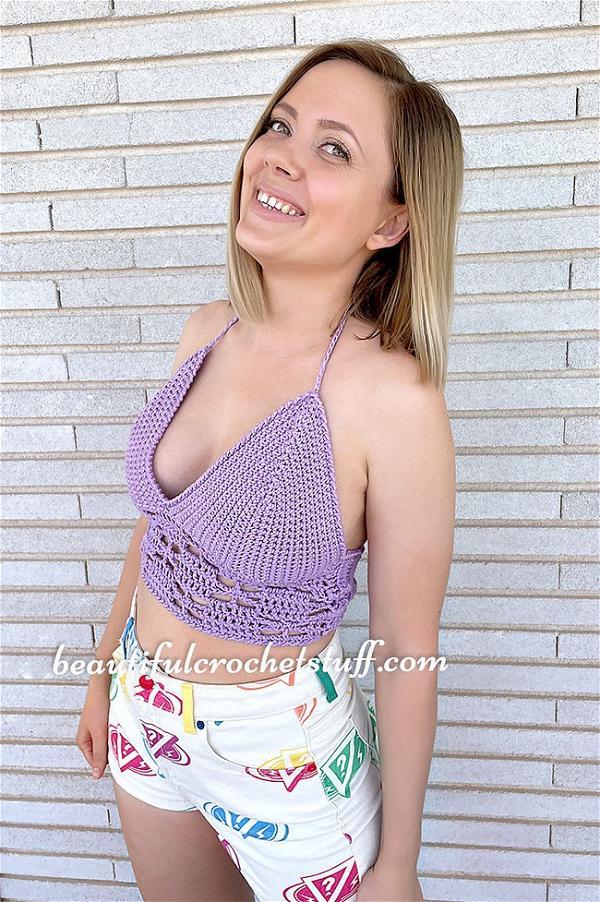 This halter top was crocheted with 100% cotton in dragonflies' gorgeous black and white pattern. It is perfect for warm, humid summer nights. This top looks best when worn large. It is a lightweight and comfortable top, perfect for the hot summer weather. The top is ready to wear. It's 12 inches wide and fits the bust circumference of 30.5 to 40 inches, but it can be adjusted. The pattern is made of cotton thread, and you can also go with other quality yarns to make this top more admirable.
The Simple Square Halter Top
The Simple Square Halter Top is a simple and classic stitch that can put a vintage retro spin on your wardrobe. This crochet tank top has ice-cold shoulders and will keep you cool while also looking hot. Even experienced crocheters will love this crochet pattern. The top is worked from the top down, so there are no seams and virtually no sewing. This pattern calls for worsted weight yarn, either acrylic or cotton. Use a four on the yarn label for both yarns to get the correct gauge.
Light And Breezy Tank Top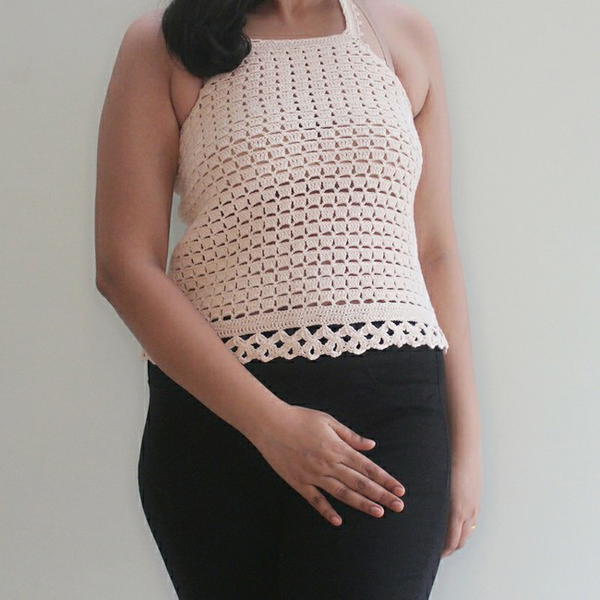 Crochet this style tank top that will be the perfect addition to your summer wardrobe. This crochet halter top is light and breezy, with a fun fringe friendship bracelet around the neckline. The pretty crochet halter top is easy to crochet; no pattern is needed. It's made with soft cotton yarn and other yarn materials listed below. This free crochet pattern uses single crochet and chain stitches only. The total skill level for this project is easy. It will also be great for layering or wearing alone with some jeans.
Striped Halter Top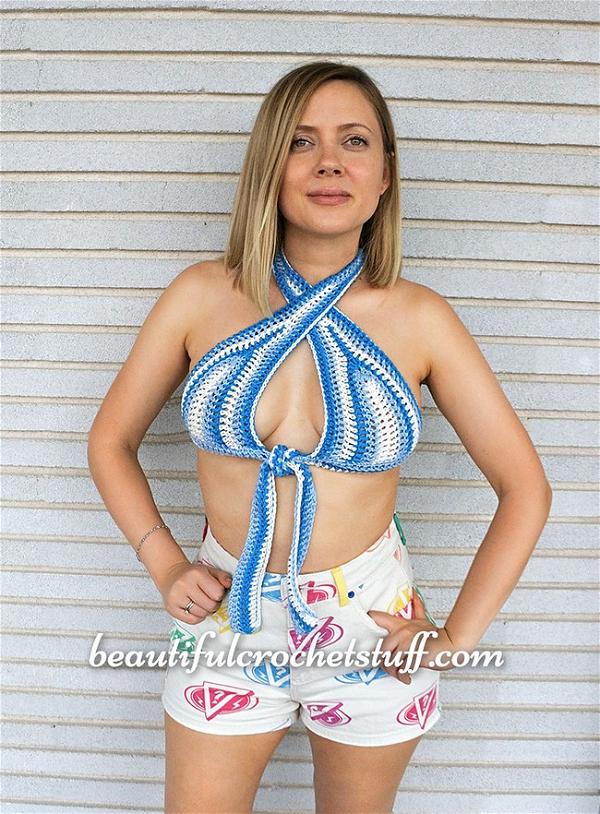 This striped halter top will be made in a trendy crochet stitch that forms wide stripes between two narrow stripes. With this gorgeous pattern, you can create a stylish top to wear as often as possible, even in the hottest weather. Very popular with teens and twenty-somethings, this convertible top can be worn in two different ways: halter style and strapless. Both options are easy to wear, comfortable, and guaranteed to keep you cool throughout the day. It is really easy to make, and the pattern includes a tutorial with pictures for every step, so it's perfect for beginners.
Pucker Up Halter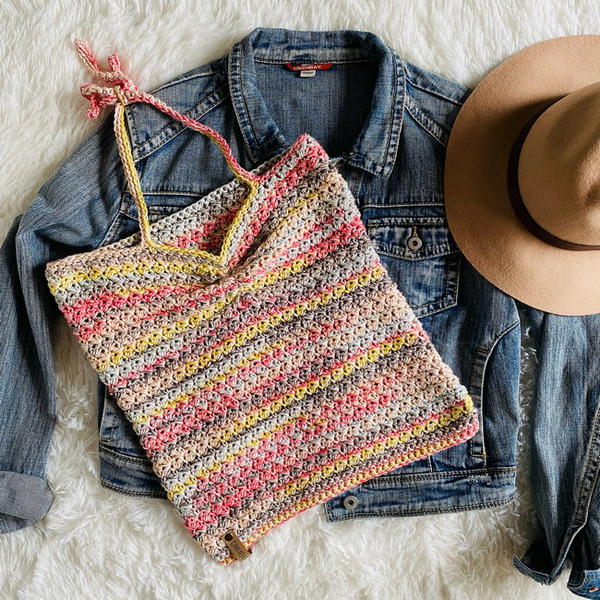 The Pucker Up Halter top is the summer's must-have! This simple and sexy sleeveless crochet halter top introduces a sporty and feminine look. If you are in between sizes or want to wear the halter without straps, try a size down in this top for a form-fitting "crop" top. This wraps around the design, slips easily over your head, and is trimmed with fancy-looking crochet stitches. This beautiful little crochet top would also make a terrific crop top with the addition of a few rows and some spaghetti straps.
Coastal Cove Top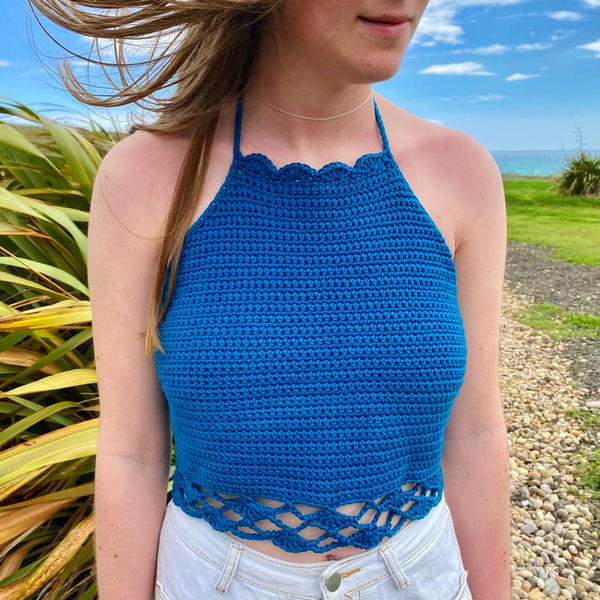 A cute halter crop top with a lace-up back, made from a soft cotton blend yarn. This top is fully lined, so it is easy to wear and looks good styled casually over shorts or as a cover-up with denim shorts. The crochet pattern makes it look both stylish and elegant. As it is lightweight and sleeveless, this top is suitable for summer or all year round, depending on your climate. This crochet crop top features gorgeous detailing and a lace-up back closure. It is a sleeveless design. The top can be easily adjusted to a variety of shapes and sizes.
V Distressed Halter Top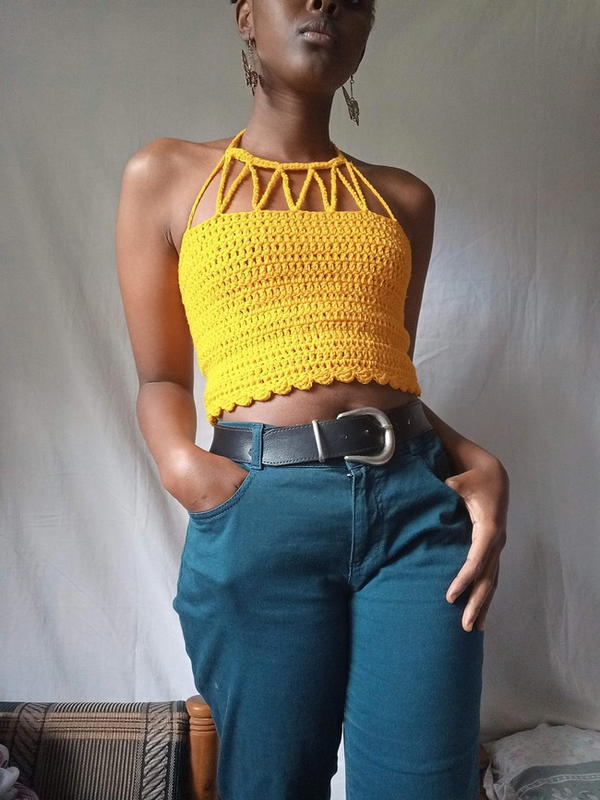 This crochet top looks chic, and one could wear it with any bottom. It would look quite fashionable in the summer. This halter top is long enough to look decent but not so long to cover your thighs, making it comfortable to wear. The texture of the pattern highlights your skin and helps conceal imperfections. The shoulder straps are loose but stay in place as you move. Adjust back pieces accordingly, or wear it without buckling it UP! A person who crochets can easily stitch this easy pattern for summer wear. This crochet top is an easy design that anyone can make as long as they know how to work with a crochet hook.
Hanna Halter Crop Top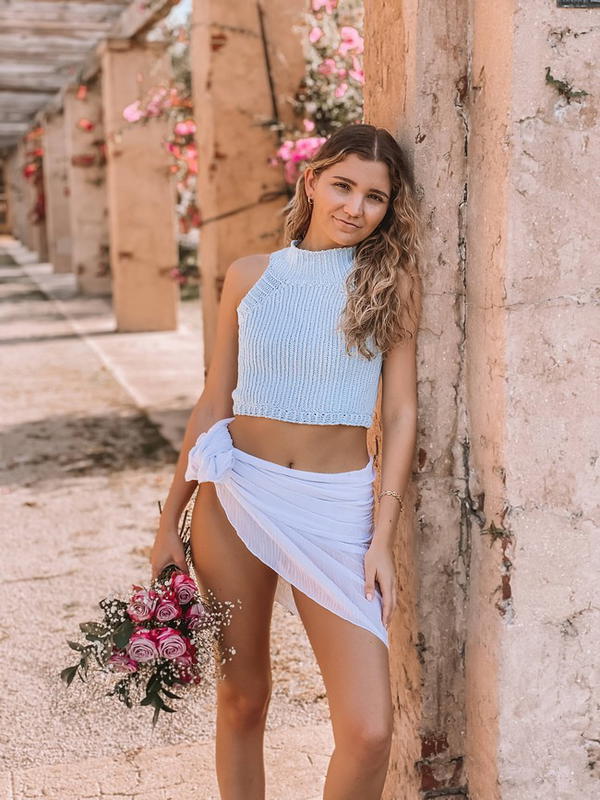 Crochet Hanna Halter Crop Top is the perfect summer fashion wardrobe essential. This top is both lightweight and form-fitting. It comes with a mock neck collar, sleek halter sleeves, cropped nicely at the midriff, and is light and airy. It works well at any special event. It's made of soft-to-touch yarn and will serve as a great conversation piece at all your summer events. Its mock neck collar and halter sleeves offer versatility and high style--perfect for a day at the office or a beachside sunset picnic. With its cool, lightweight weave, it's sure to become your favorite summer top.
Zen Halter Top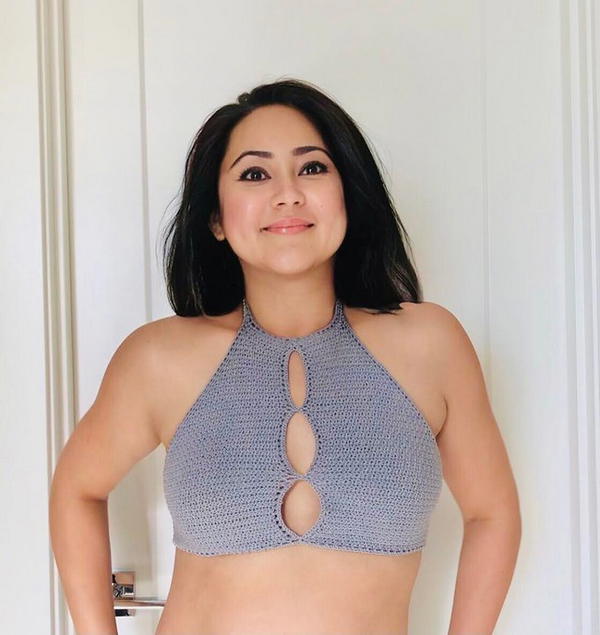 This stylish and sophisticated crochet pattern is creative and free-flowing, perfect for hot summer days. This is a beautiful, professional-looking crochet Zen Halter Top pattern. It features a halter neck and an open back, slightly gathering around the waist. It's made from hip-length fabric with a loose fit, which means it adapts well to the figure and is especially flattering for pear-shaped figures. The material makes it durable and easy to clean. Crochet Zen Halter Top features super detailed instructions to help you create this playful design whenever you like.
Bahama Mama Halter Top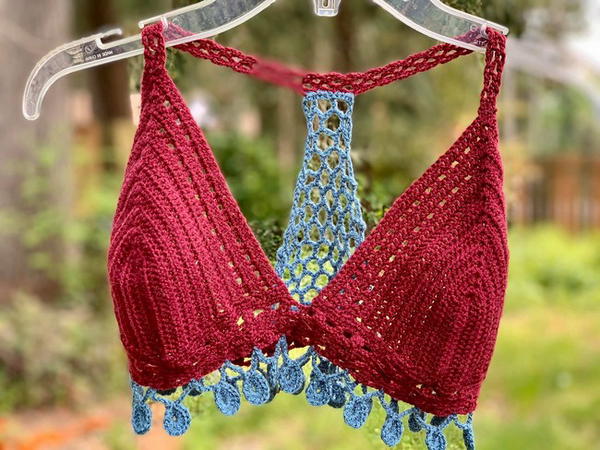 If you are looking for the perfect crochet bikinis sports top this summer, you do not need to look further than the fabulous crochet Bahama Mama Halter Top pattern. Easy to learn, it features a unique cross wire yoke that adds a sexy and trendy touch to your figure. Created using only the finest materials, this top will become a staple in your wardrobe. Crocheted with style and love, the Bahama Mama Halter Top is a seafarer crochet pattern that would make a one-of-a-kind swimsuit cover. This design features a crochet halter top and a low-rise bikini bottom. Each detail is carefully illustrated to incorporate them into your designs easily. This pattern offers comfort, style, and function all in one design.
Granny Square Halter Top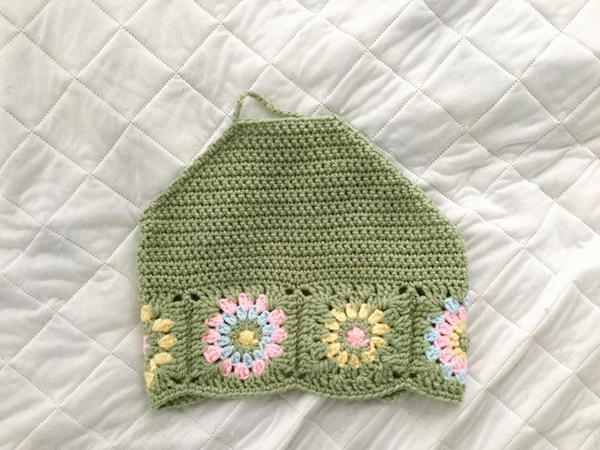 The crochet Granny Square Halter Top is an excellent piece for the summer season. It comes with a spectacular design that will surely make you fall in love as soon as you spot it in the market. This top comes with a crochet halter strap that keeps it consistent on your body while giving a glamorous look. As this design combines both crochet and yarn materials, there is no doubt that it is more than affordable even for beginners' level of expertise. Using a crochet hook and the basic stitches, any fashion designer and clothes lover can create this beautiful Crochet Granny Square Halter Top in no time.
Halter Top Pregonda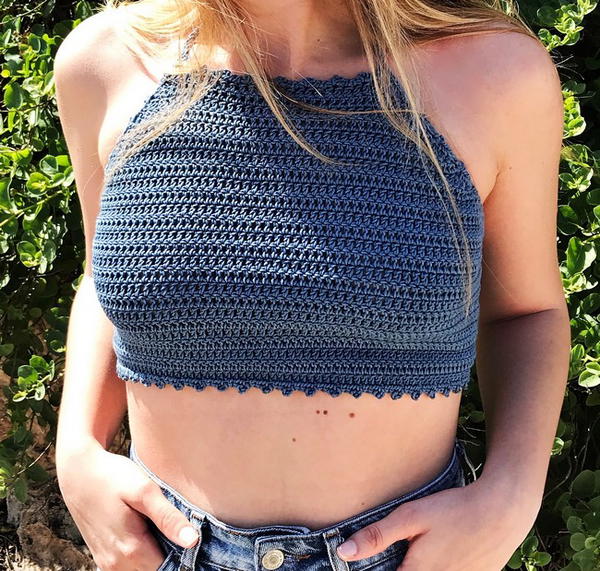 This halter top pattern is perfect for the summer months. It is made with only one skein of Pregonda's cotton yarn, making the top breathable and lightweight. With a simple, romantic, and youthful design, this top can be used in any part of the year, ideal for any occasion. The top is formed by two triangles, with a straight edge on the shoulder and an inverted triangle below to create an A-line shape. The sides are joined to create the front and back panels, embellished with macramé fringe.
Country Festival Top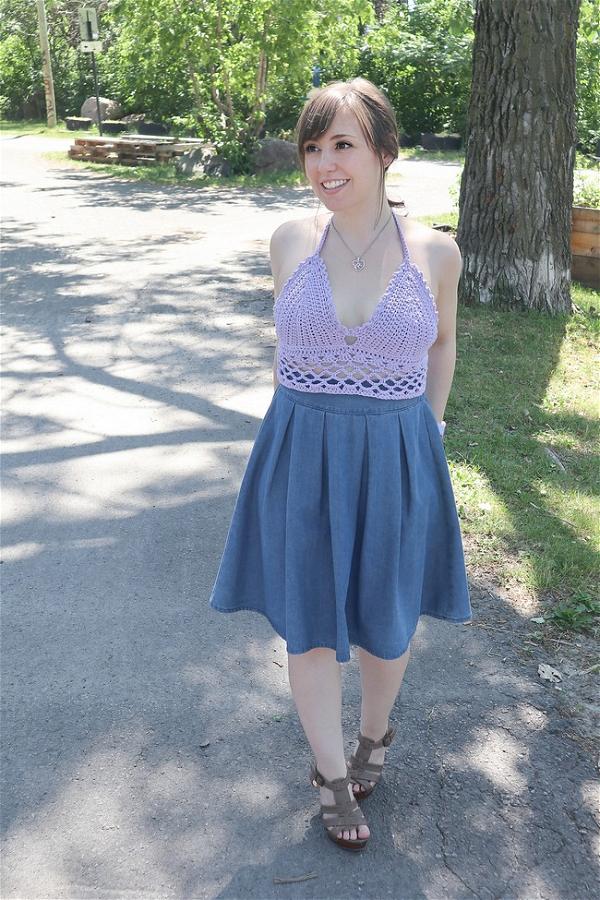 Crochet this adorable halter top. It is perfect to wear as an outfit for a night out or just lounge around the house! This top can also be worn as a bathing suit cover or shorts and a high-waisted skirt. You could wear the straps long and loose or tie them up in the back to make them shorter. This top is made with cotton yarn, but you could use any yarn and hook size to customize it for your needs. This garment is perfect for girls on the go! Great for the festival season. Looks great with high-waisted shorts or a skirt and a bathing suit top for the pool or beach. This shirt can be worn in various ways to create stylish outfits!
Rodeo Halter Top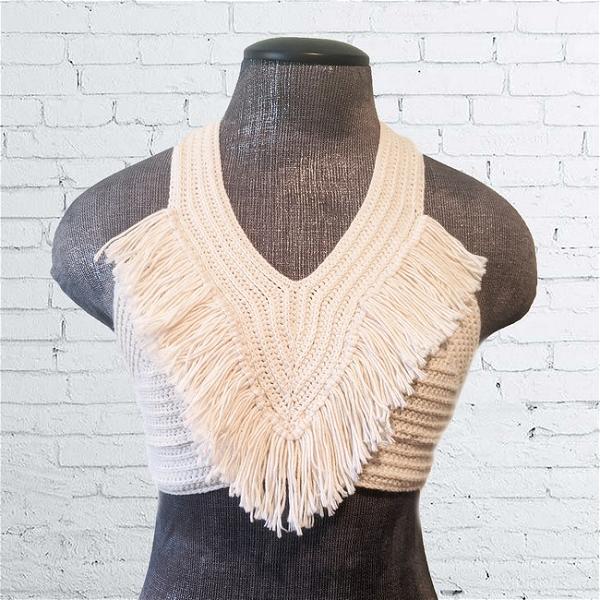 This crochet halter top is perfect for wearing at rodeos and festivals during the summer. It's designed with a thick neck and under-bust straps to support and comfort. These tops are designed to flatter many different body types with various sizes available. Designed for movement and comfort, the Cotton Rodeo Halter Top is a festival favorite. With under-bust straps for added support and thick neck straps for all-day comfort, you can dance the night away without worrying about your baggy tee flopping around.
Boho Halter Top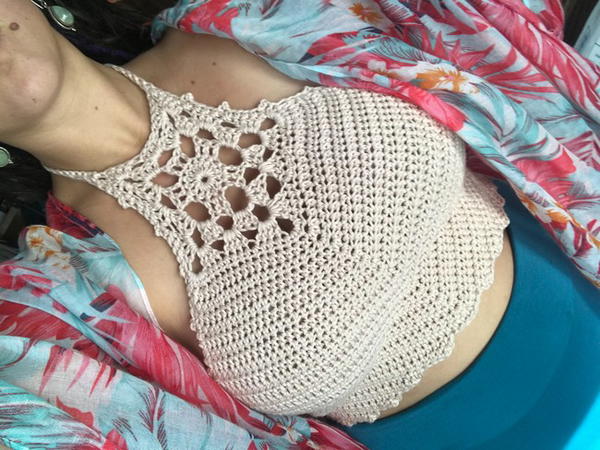 Crochet Boho Halter Top is a beautiful halter top highlighted with a unique crochet design and sweet bow knot. It flaunts your beautiful collar bone and stands out from any simple plain shirt. Besides, when the weather gets chilly, you can adjust the inner tie on the collar to make it more hollow and warm. This incredible halter top will be a great fit for you to try this season. Show your taste and make yourself more charming and attractive with this exquisite crochet Boho Halter Top.
Rojas Summer Top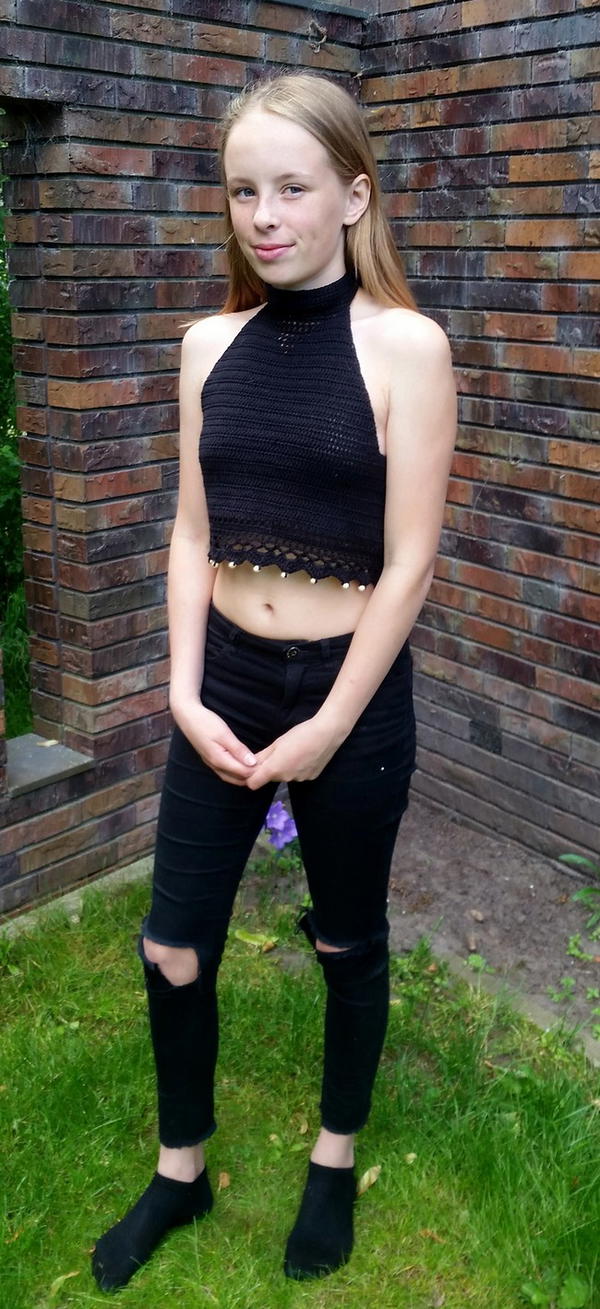 The Crochet Rojas is a chic and elegant summer top for young girls starting or already in high school. The cotton fabric and the design details make this top stand out from others. This Halter Neck with lace trim cotton features a simple scalloped pattern on the front and back to add interest to an otherwise plain blacktop. Its allure is further enhanced with beads that shine on the neckline, at the end of the body, and down the center of the sleeves. If desired, beads can be added and pop dots. It was designed to fit 3-6-month-old babies, but feel free to adjust the size according to your gauge and child's measurements.
Diamond Mesh Crop Top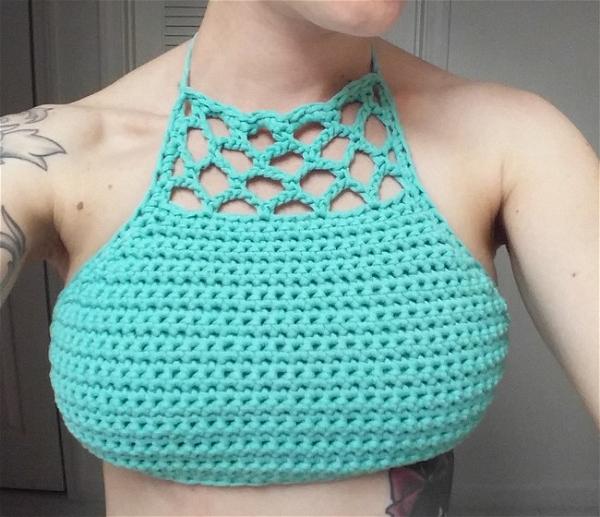 A Crochet Diamond Mesh Crop Top (and the matching skirt) using just two skeins of Red Heart Boutique Unforgettable is the perfect way to make a statement this summer! Make it your own by adding more rows and adjusting the pattern for a fitted look or even a cute crop top without a skirt. This project is easy enough for beginners and small enough that you can whip it up in an afternoon! You can make any occasion more memorable with just a few more hours and an inexpensive stockinette tank top. This graphic free tutorial includes two variations for texture.
Summer Halter Crop Top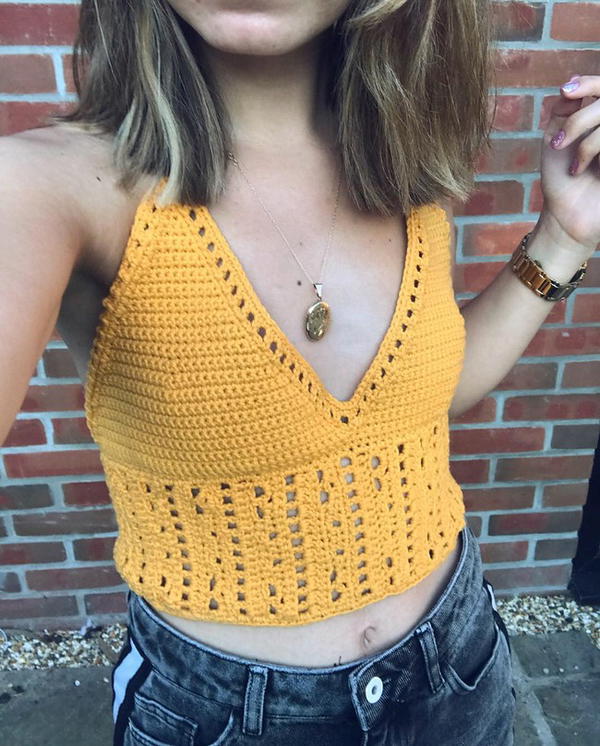 Crochet this easy halter top pattern to wear alone, or add a cute tank underneath. Make it fashionable with various colors and mix it up with your wardrobe. This crop top pattern is perfect for the hot summer days and can be worn as a bikini or beachwear top. This crochet Summer Halter Crop Top is an adorable and trendy summer project. Wear it as a dance halter top, a swimsuit top, a tank top, or even a night-out top. Pair it with shorts or jeans for that perfect everyday look.