Crochet jacket patterns are fun projects that you can take with you everywhere. These light, versatile jackets will become your new favorite from the office to dinner dates. These patterns take only a few hours and very little time since they're crocheted in one piece and do not require finishing, so even a beginner can put their hands on them.
This collection of crochet jacket patterns is perfect for every season. Whether you want something light and airy for summer or a cozy, heavier crochet accessory for winter, you can find them here. Add your flare to these basic designs with color and embellishments to make them unique and loveable accessories for your wardrobe!
Free Crochet Jacket Patterns For Beginners

As the spring and summer seasons get closer, we're all eager to start dressing for it. Because the weather tends to heat up, the fashion world is full of crochet jackets this season; with many great options available here, many of these crochet jacket patterns are crocheted without sleeves and with an open front. You can add buttons, as shown in the photo above, or leave it open for a relaxed fit; if you want to make some loveable accessories, scroll down and explore to have fun.
Simple Crochet Jacket Patterns
These superb crochet jacket patterns are the best way to show off your talent if you love crocheting. Crochet jackets are a great way to add warmth and style to any outfit. You can wear crochet jackets all year long, but they are particularly easy to layer during cooler months. Choose the right yarn and hook size, then use a few basic stitches like single crochet and double crochet to create this wardrobe essential. You can make one for yourself and wear it any season in any weather.
Crochet Ladies Jacket With Pockets
If you love to crochet, you must make this easy crochet men's jacket pattern we found. You will be pleased to see its unique features. This type of jacket works very well in the winter season. When you wear it with jeans or trousers, then definitely it gives a masculine look. This Jacket can be your valuable book to learn how to crochet. This timeless design is sure to be an heirloom if passed down through generations, a staple in your wardrobe.
Easy To Crochet Baby Jacket
Create this wonderful Easy To Crochet Baby Jacket in beautiful colors with minimal effort, and enjoy the process. Offering a wide range of necklines, this easy-to-crochet baby jacket can be worn in many ways and looks adorable with many different outfits. Using only half double crochet stitches, this quick project has only a few crochet rows per row but can easily be made for your favorite little one. The pattern includes instructions for sizes 0-3 months and 3-6 months. With many pictures, you will be able to follow along easily. This is an excellent gift for a baby shower or a new mom.
How To Make Crochet Jacket For Ladies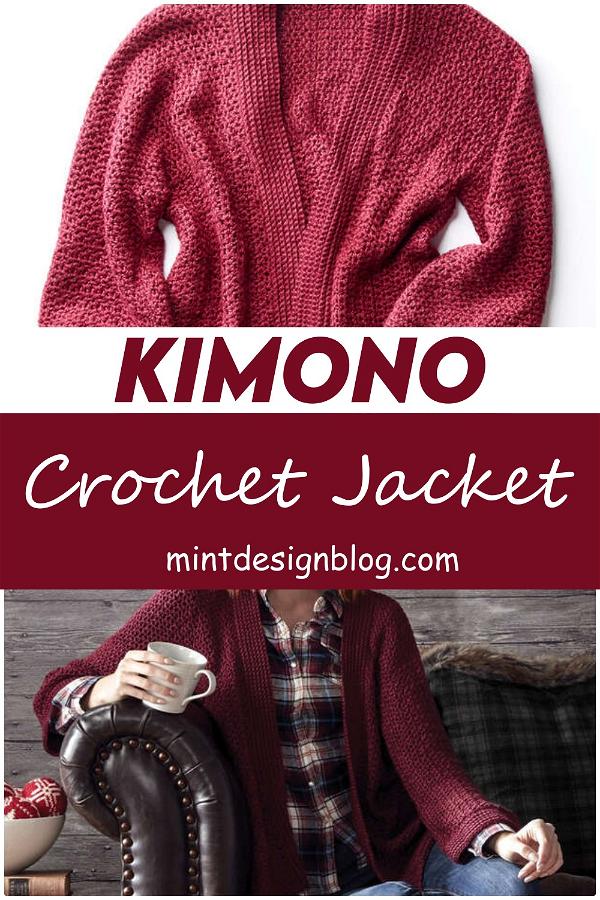 This lovely crochet jacket is just what you need to start your new year in style. If you love the elegance of a kimono and have been craving a lightweight layer, this is your pattern! The lightweight layers of this jacket are perfect for keeping cozy when temperatures drop and give your favorite outfit a touch of effortless chic whether you're wearing it for work or play. With this versatile crochet kimono jacket, you can create an amazing homemade gift for any occasion. The pattern is so easy to follow even beginners can make it!
Teddy Crochet Jacket Free Pattern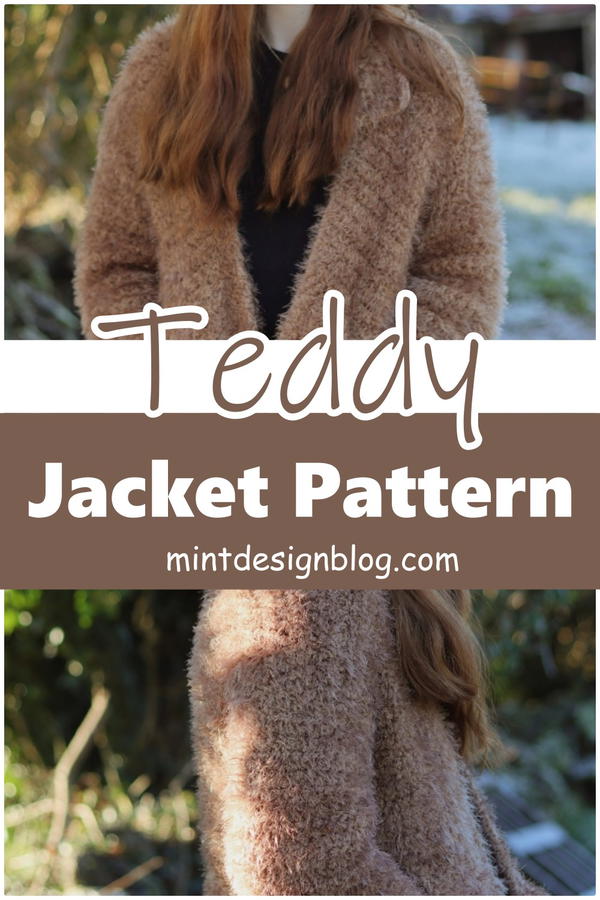 This super cozy, modern, and stylish crochet jacket is the perfect garment for the chilly Winter months ahead. The gorgeous design is easy to make using the softest faux fur yarn, and detailed step-by-step pattern instructions are included. Using simple stitches and a basic pattern, you will have this snuggly favorite finished up in no time! With the sleeve cuffs made from a thick band of fur with a mitten-like hand opening, you can keep your hands nice and warm even on those chilly days. The Teddy Crochet Jacket is perfect for staying warm this winter, whether you wear it over a dress or pair it with trousers for an extra cozy layer.
Baby Crochet Jacket With Hat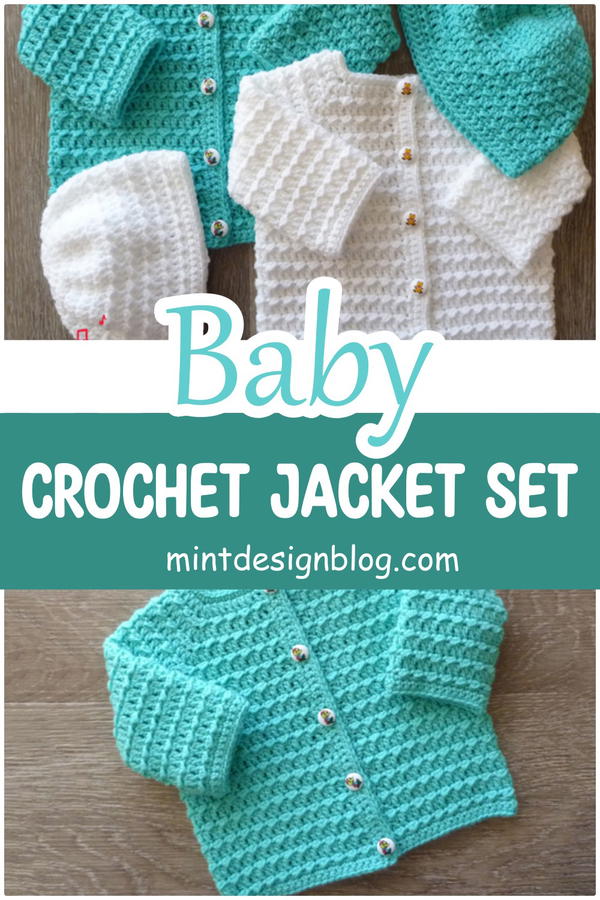 Watching your little one grow up is one of the best parts of pregnancy. If you're expecting a baby girl or boy, why not start your closet with this adorable crochet jacket and hat set? The cardigan is fast and easy to make and features an eyelet border at the neck, adorable puff stitches at the sleeve edges, and a lightweight feel for warmth. Accented by a coordinating crochet hat in the same all-over motif as the cardigan, your little one will love this cozy outfit. A perfect DIY project for grandma, aunt, or friends!
Two-Color Granny Jacket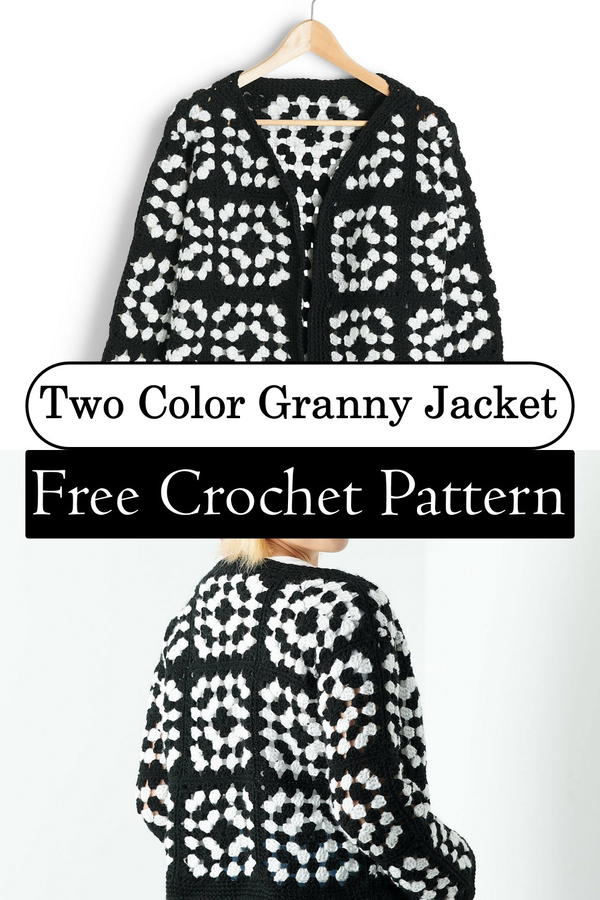 Turn some heads with this cozy crochet jacket featuring the beloved granny square. A single crochet edging makes it simple and completely customizable in color. Add more luxurious details with ribbon or embellishments. With clear instructions and helpful photos of every step, both beginners and advanced crocheters will delight in making this timeless piece! This beautiful wearable art will turn heads no matter what color combination you choose! With clear instructions and helpful photos of every step, both beginners and advanced crocheters will delight in making this timeless piece!
Jacket For Spring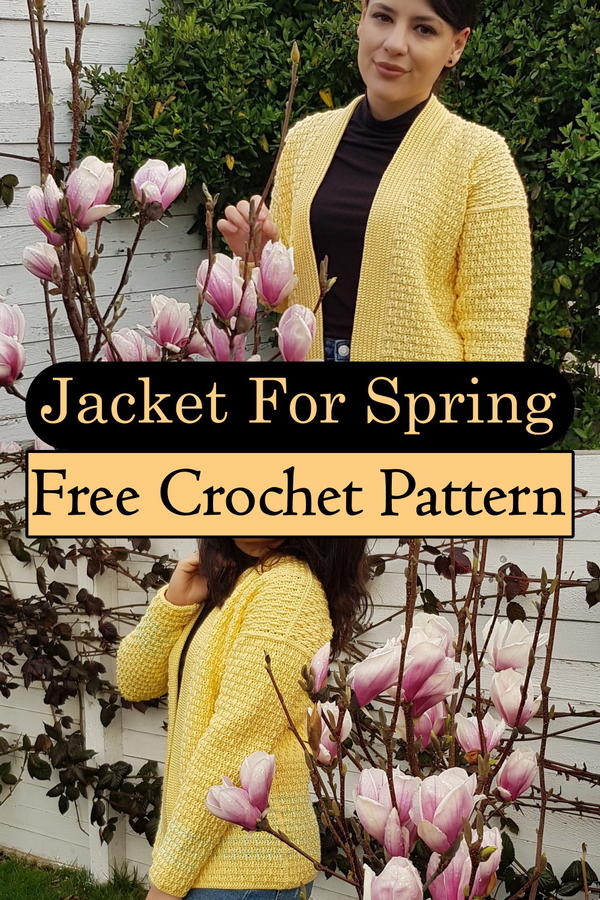 Here we come with a modern, feminine look with a touch of vintage-inspired styling. Using a variety of stitches and techniques to shape, this crochet jacket will add style to any outfit. Sizes from x-small to extra large are included, so it can fit almost anyone! Follow the directions and use your imagination; this project will surely not disappoint you. The shawl collar and the fit are designed to flatter all shapes. It can be worn in Spring, Summer, and Autumn.
Blooming Bomber Jacket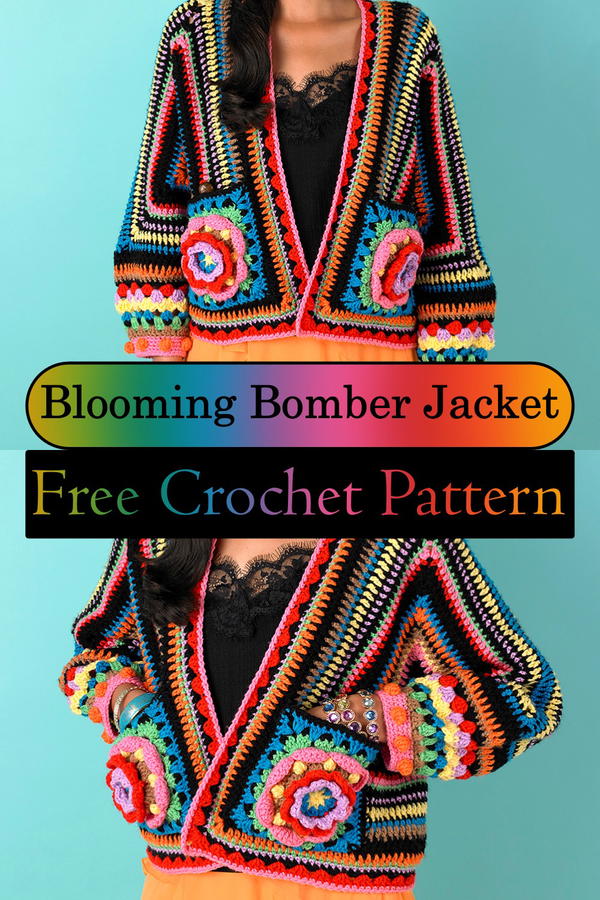 Crochet this vibrant jacket with bright pops of rainbow colors and a huge granny square pocket. The unique design of Katie's Blooming Bomber Jacket is ideal for fall weather when the days are colder, but you still want to wear a stylish jacket. This stylish jacket is made from chunky yarn and a granny square pattern with easy slip-stitch edging—a perfect crochet project for any season and the perfect gift.
Ribbed Baby Hooded Jacket
This quick and easy crochet jacket pattern makes it an excellent choice for tight deadlines. The ribbed detail adds interest and fun without too much complexity, so you can easily make it part of your collection. The simple design of this hooded jacket makes it ideal for wearing on cool days that turn breezy, for visiting the grandparents or just popping out to visit friends. It features a lovely ribbed texture to keep little ones warm and includes straps to pop it on baby hands-free!
Crochet Matinee Jacket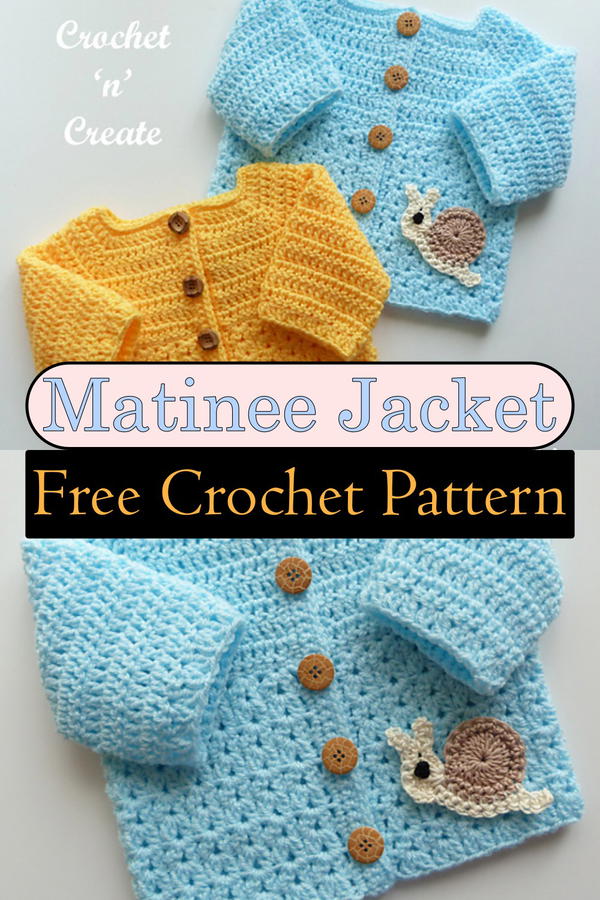 Crochet this stylish jacket to keep you warm on days out in the pram, at Christenings, or for everyday wear. Worked from the neck down, this design features a cluster V stitch for the skirt. The pattern is written for sizes 6–12 months and 18 months. This traditional matinee jacket is crocheted from the neck down. The skirt is worked as a cluster V stitch and creates a lovely wide empire waist that perfectly accommodates a pregnant belly. Perfect for everyday wear or occasions like christenings or days out in the pram.
Crochet Granny Jacket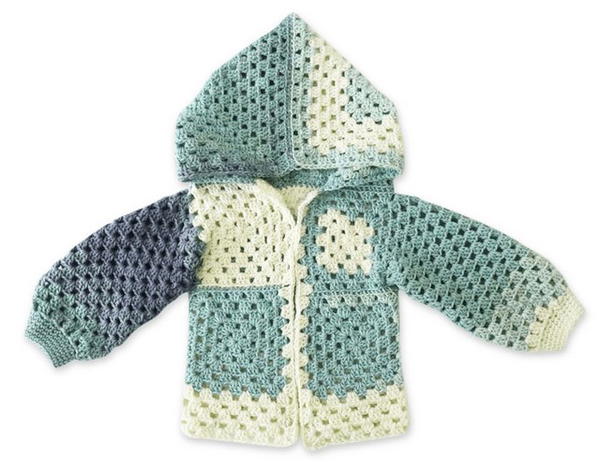 Crochet Granny Jacket is a comfy, cozy, and cute jacket that will keep your kid warm and happy during cold days. Made up of various small to medium-sized granny squares, it's super easy to put together. It's quick to make, fun, and cozy. The jacket comprises various small to medium-sized squares and simple seaming, making it great for kids of all ages. Make this crochet pattern yourself in whatever colors you choose!
Baby Jacket Set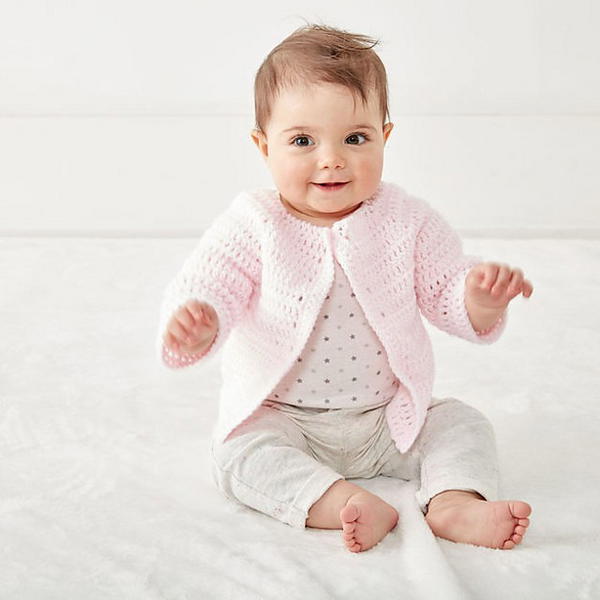 The Crochet Baby Jacket and Hat Set feature an adorable jacket with cute straps for your baby to look like a true fashionista. This crochet pattern includes everything you need to create a jacket and hat set perfect for your baby. Patterns are made for three different sizes and can easily be adjusted to make a larger or smaller size. The jacket features raglan sleeves and ties at the shoulders, so the baby stays comfortable even when it's chilly out. The hat has an adorable bobble on top, so no one will mistake who owns these cute duds!
Crochet Vintage Smock Jacket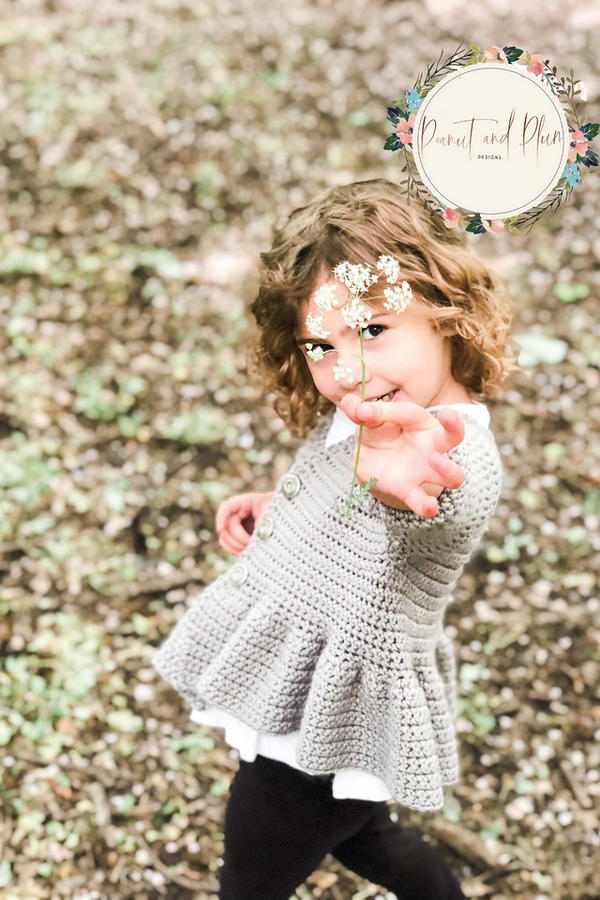 This vintage smock jacket is worked bottom up with raglan shaping and features a rounded neckline. It's worked in the round but can easily be made in rows if you want to work it in different yarn weights. Depending on your taste, you can use this pattern to make a cropped or long sleeve version. It's the perfect project for beginners because it's worked from the top down in one piece and requires minimal sewing! The stitch options and modifications make this perfect for beginners and advanced crocheters.
Buttoned Jacket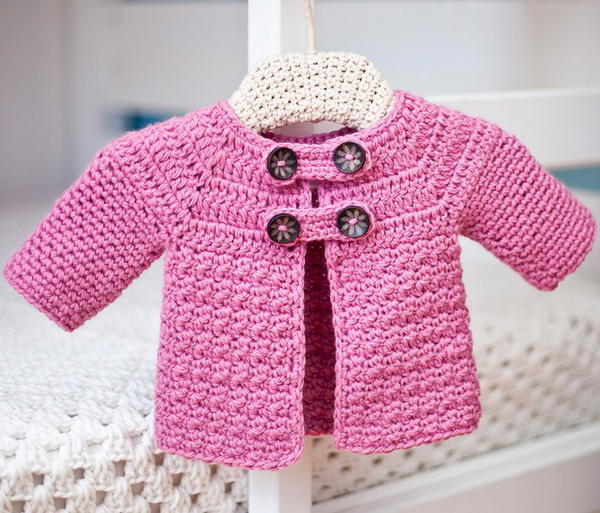 This crochet Buttoned Jacket pattern is a perfect design for spring and summer. The pattern is easy to follow and beginner friendly. You can make this fashionable jacket with a lovely design and basic skills. This stylish Cardigan is perfect for everyday wear or a holiday party. You can create it in any color you like. Try it out today and see how good it turns out!
Crochet Granny Square Jacket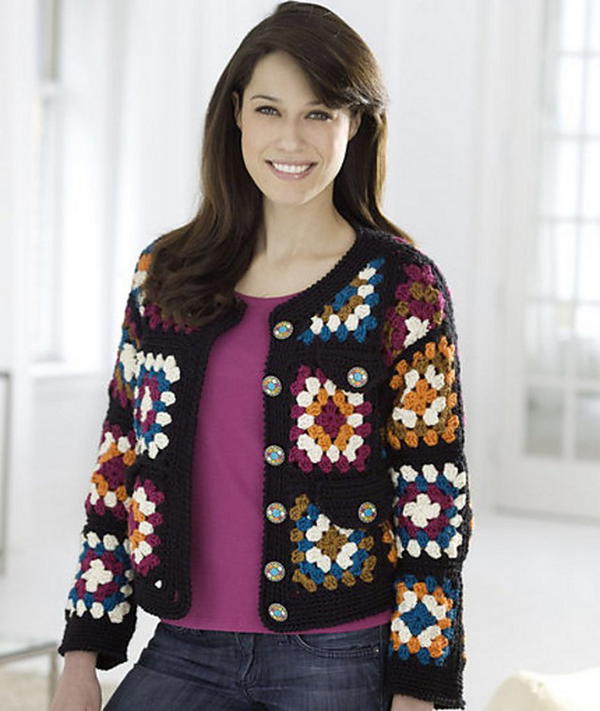 The attractive crochet granny square motif on this fashionable jacket is an attractive alternative to a plain old jacket. Featuring vibrant colors, granny squares are stitched against a black base to achieve the designed look. In addition, this warm and casual layer can also be worn during casual get-togethers and weekend outings. Create your unique style with one of these five sizes, and make any occasion feel even more special. This piece can be worn casually over jeans or paired with a skirt to create a more formal look.
Applique Letters Cardigan Jacket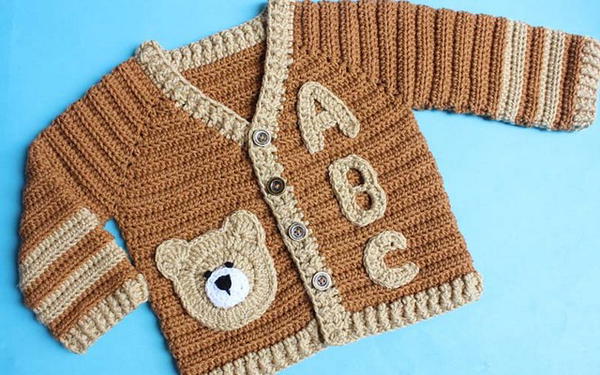 Are you ready to create the sweetest accessories for your little ones' feet? Crochet this super cute Letters Cardigan Jacket crochet pattern! This is a great pattern with all those alphabet fabrics you've been saving. The letters are just appliqued onto the front of the cardigan to create an adorable look. You can even use different letters on each sock if you want! It is so easy to make using crochet letters and colorful yarns. You can use any color for the jacket and decorate it with a set of letters in any pattern you like.
Crochet Spring Jacket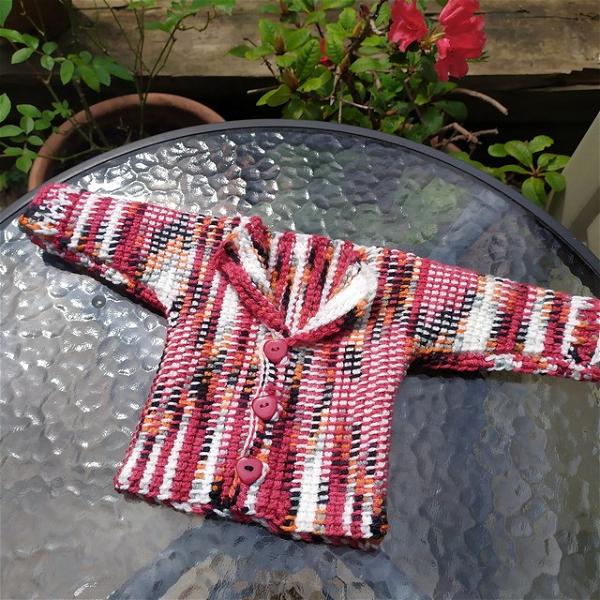 The Spring Jacket is a Tunisian Crochet pattern that creates a nice dense fabric perfect for spring and fall wear. Tunisian crochet is easy to learn if you know how to do a single crochet in the round and double crochet in the round. This pattern requires no shaping, so it is perfect for beginners. All the shaping is done using increases and decreases. The fabric created by Tunisian crochet is similar to that of Fair Isle or intarsia but without changing colors. This means you can make all of your garments in one color!
Burchell's Zebra Jacket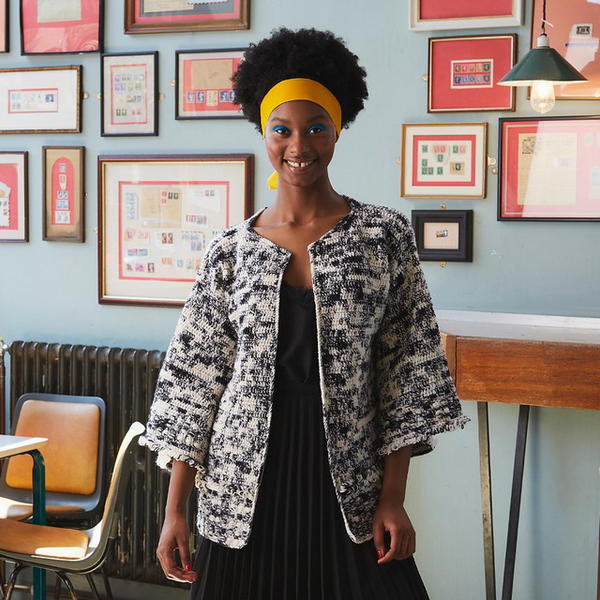 This is a crochet pattern for a zebra jacket. The jacket is worked in one piece from the bottom up and then divided into sections so you can easily finish the sleeves. The Burchell's Zebra Jacket is a great project for beginner and experienced crocheters alike. It takes advantage of double crocheting so that two layers are knitted simultaneously to give the stripy effect. The deep sleeves, ribbed edges, and looping rows of detail make this really glamorous but fabulous to wear daily!
Sigulda Tunisian Jacket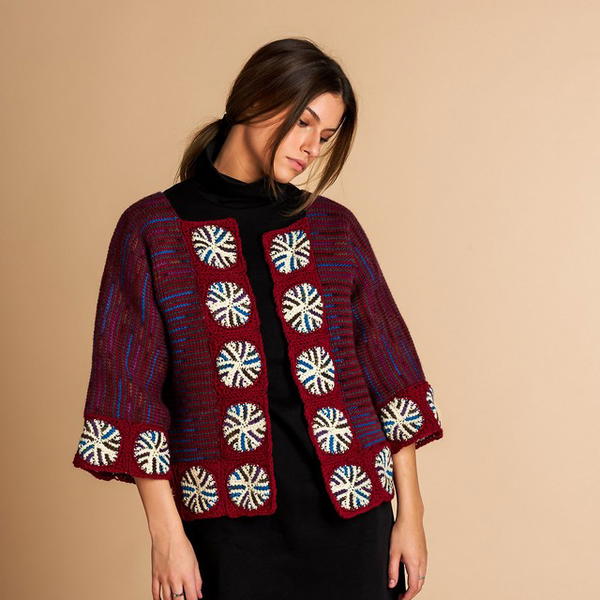 Let the colors of the sunshine in with this fun crochet jacket. This colorful crochet jacket is a stylish way to warm up your look. Crochet it in Patons Classic Wool DK Superwash, and the unique construction features short rows and Tunisian crochet to create a modern look, while the simple stitch pattern makes it easy to make this jacket your own. This cozy and stylish jacket will keep you warm no matter how cold it gets. Pattern includes sizes XS, S, M, and L.
Crochet Lace jacket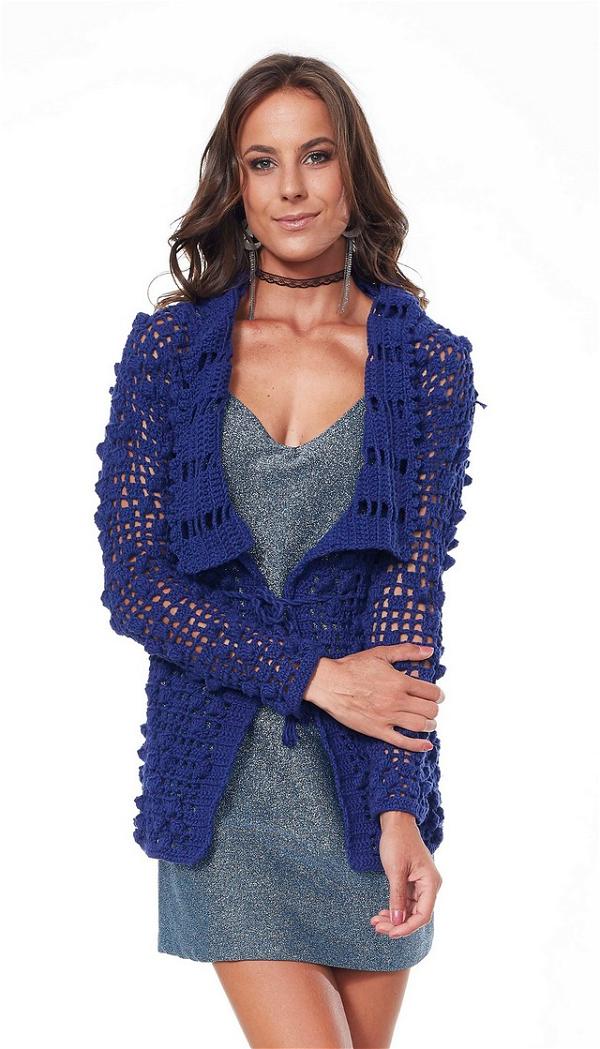 The crochet lace Jacket is one of the warmest and most cozy accessories you can make this winter. This crochet lace jacket pattern is not only stylish but also very comfortable. You can make a lot of different designs by using this pattern. This beautiful crochet Lace jacket pattern is perfect for cozy days over a t-shirt or dress. Not to mention, this is an easy project to take along with you anywhere! This pattern comes in sizes XS-L and features a zip closure at the front and long sleeves.
Pistachio Amid Rocks Jacket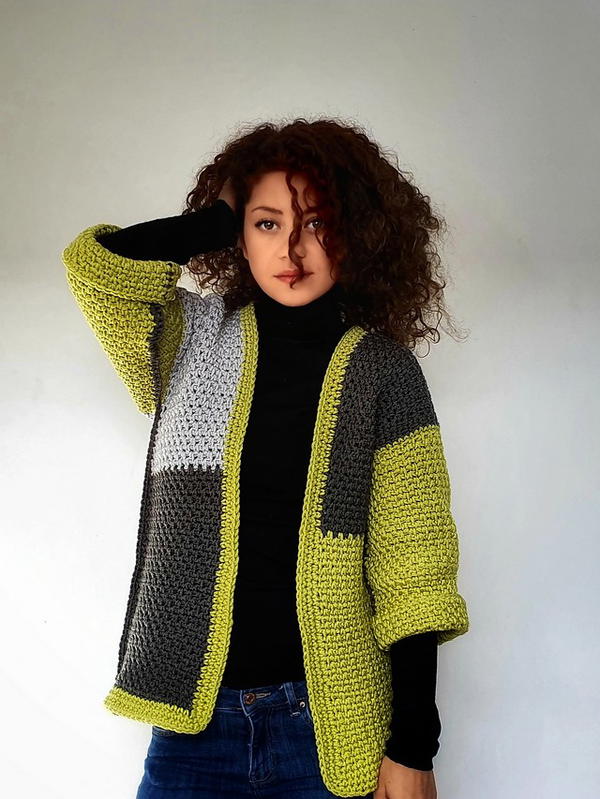 This jacket is worked with simple stitches, is great for beginners, and is quick to crochet. Complete it on the weekend, or make it a gift for your family and friends. The jacket is worked in the round, from the top down. The pattern starts with the back panel, followed by the front panels. There is no shoulder shaping, and we avoid increases/decreases along the sides. The sleeves are worked horizontally, starting at the bottom and finishing just before the underarm.
Baby Girl Jacket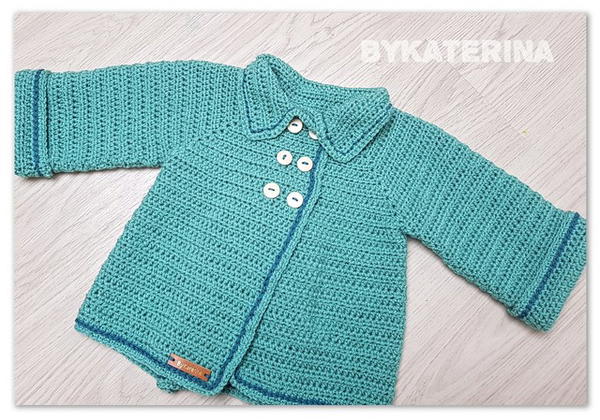 Crochet Baby Girl Jacket Pattern is a versatile and beautiful pattern with a stylish silhouette. This crochet baby girl jacket can be worn by a newborn to a grown-up child. This is a must-have item for all fashionable moms who care about style, quality, and comfort. It is very pretty and a great way to use up your stash! This Crochet Baby Girl Jacket Pattern also gives instructions for two different sizes: infant (6 months) and toddler (1 year).
Crochet Mossy Jacket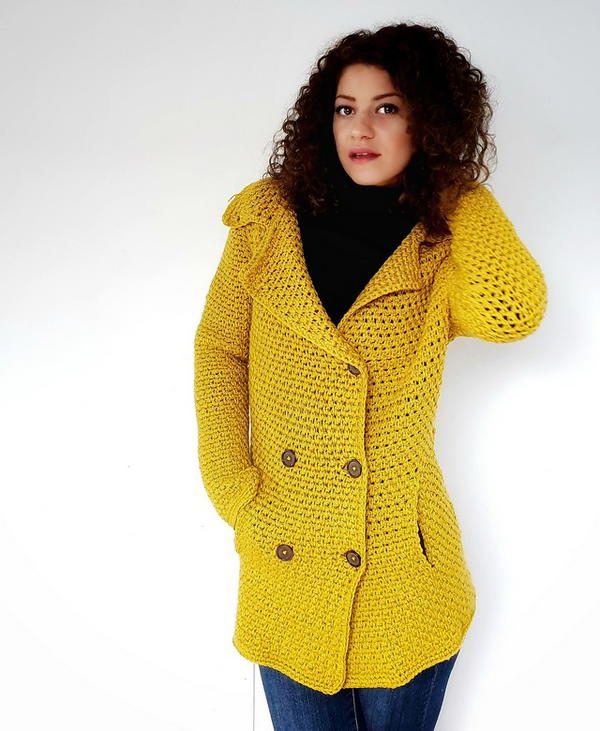 You can make this stylish Mossy Jacket with a closer fit to your bodywear following this easier pattern. You can try out different ideas, like the placement of the buttons, and adapt your work accordingly or choose between a wider or narrower fit, depending on which garment you want. This jacket is worked in one piece from the bottom up; the base is with garter stitch, the sides are knitted sideways, and the front and back are worked tog. Because only two parts of the body will work at once, there is no need for sewing seams. The crochet edging works as an edging or button band.
Crochet La Jolla Cove Jacket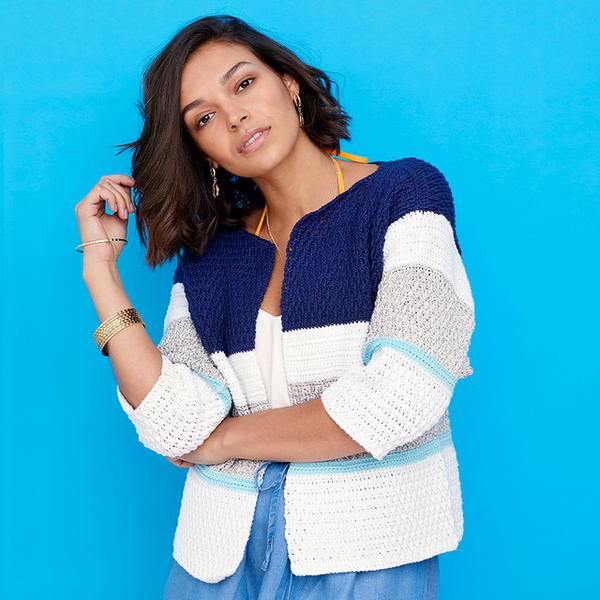 This crochet pattern is for a cool little jacket to wear over jeans and other outfits on cool days or evenings when you need a little more protection. A long time ago, this was an ascot or a decent bolero. The body is based on a simple rectangle that is easy to adjust for any size or shape (including plus-size designs). It works with chunky yarn, which works quickly and easily but has lots of texture and interest without being too bulky. This is the perfect cover-up for those warm summer evenings when you need protection from the sun and breeze.
July Hoodie Vest Jacket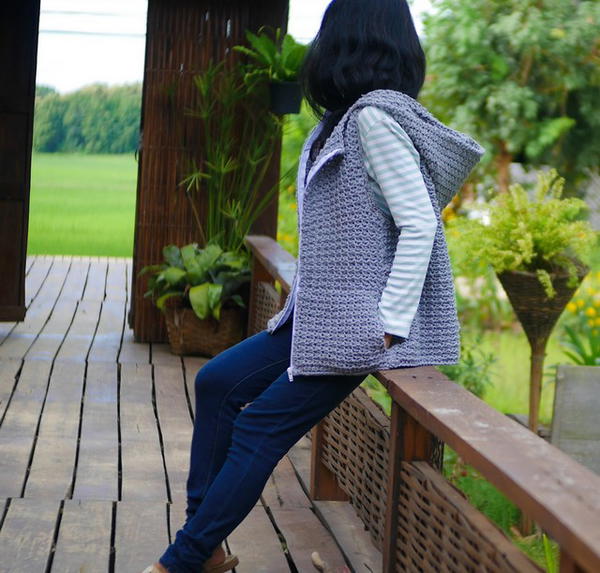 Looking for a fast and easy crochet pattern that's perfect for beginners? Crochet this free hooded vest jacket pattern to make loveable accessories for your wardrobe. An experienced crocheter and creator designed this crochet hoodie vest jacket beginner's pattern. The free crochet pattern is easy to follow and makes a loveable wardrobe item. You can create the designs in any color you prefer – choose the size you need, hook, and yarn color, then start the work!
Also, Try Our Series Of Hoodie Sewing Patterns