These crochet boleros are very versatile and fashionable accessories for any woman. It can be worn on numerous occasions, and there are many ways to style it up. You can wear these as an overcoat on a spring or summer day, or you can also layer them on top of your favorite dress for a more up-to-date look. These projects are really simple and easy to do and can be done by crocheting boleros in just a few hours. Here are some free crochet bolero patterns that you can try!
If you want to try classic bolero designs, these will be perfect for you. These are done in the basic crochet stitches, with no additional frills or embellishments. You only need to know how to do the slip stitch, single crochet, double crochet, and half-double crochet to be able to make these patterns. The patterns call for worsted weight yarns, so you won't have any problem finding materials for them.
Crochet Bolero Patterns: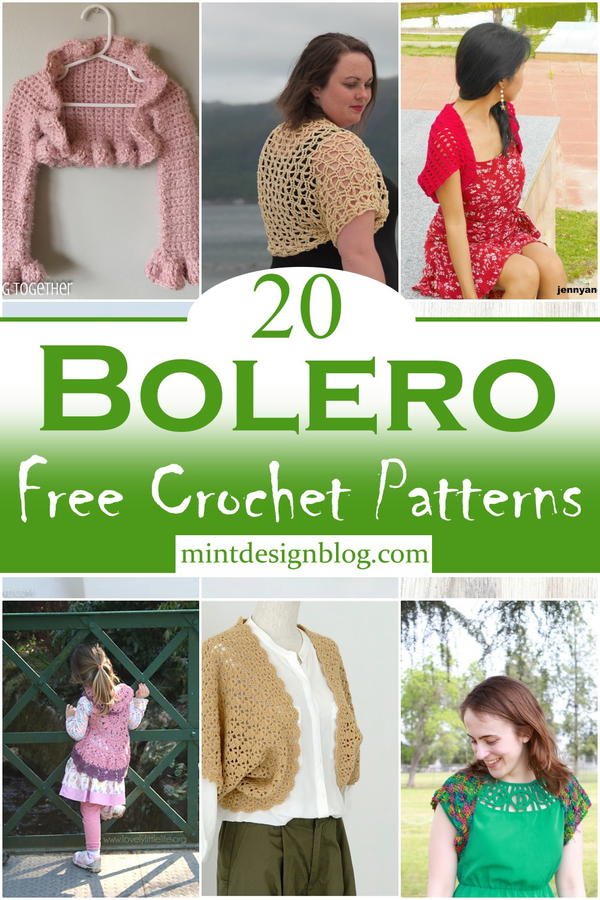 Crochet bolero patterns are versatile and can be worn on many occasions. They are perfect for those late spring and summer evenings when the air is chilly and you may need an extra layer. A crochet bolero is also a great piece to have in your wardrobe for your fall and winter wardrobe because it can be worn over a sleeveless dress or shirt to keep you warm and stylish. You will find that crochet bolero patterns are easy to follow, so you can make one for yourself or a gift for a loved one. Here are 25 free crochet bolero patterns in various styles and sizes! Use them individually or as inspiration for creating your own unique crochet bolero pattern.
Motif Bolero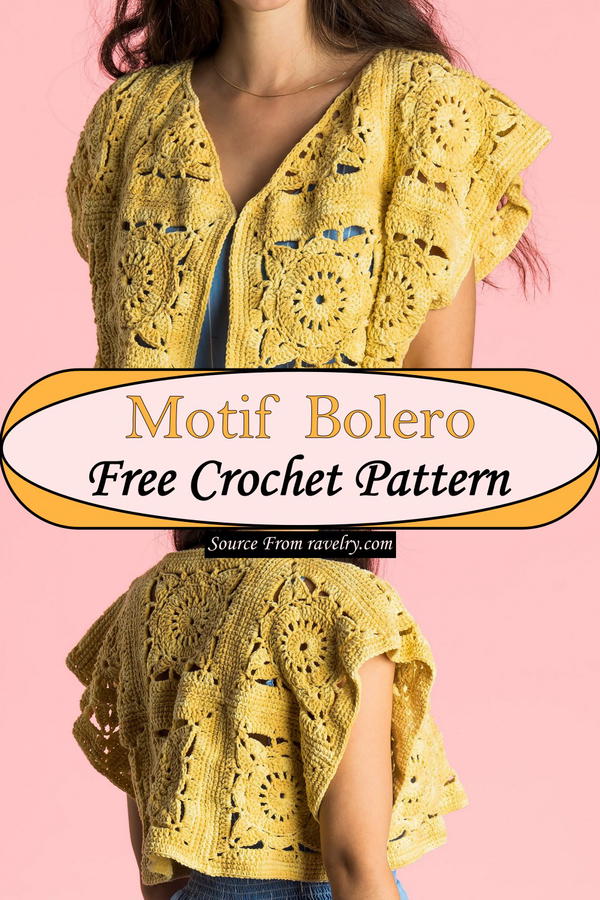 When the weather turns hot, you'll want to reach for the Motif Bolero ―― because it's so cute and comfortable! The crochet bolero is worked in the round, in motifs and half motifs featuring double crochet. Use it as a layering piece over a summery dress or simple top.
Wrap up your summer in a crocheted bolero worn over a sleeveless shirt or tank top. Worked in the round and then seamed, Motif Bolero is styled with short sleeves, a scalloped shawl collar, and an allover texture created using motifs and half motifs. This open-fronted bolero will be a wardrobe staple as warmer weather arrives. Designed to showcase Angel Cake colors, the motifs of cotton yarn coordinate with every look.
Apricot Bolero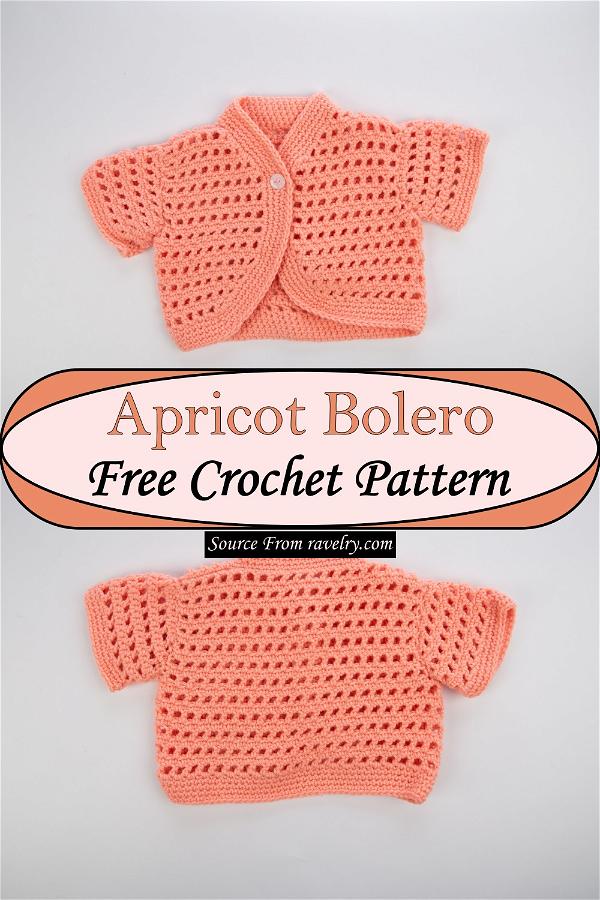 Whether you're dressing up for a special occasion or have post-holiday sales to hit, this bolero is the answer to your closet conundrum. With its easy-to-wear silhouette and versatile hue, it's essential that'll take you from daytime to nighttime in one easy step
This Bolero is an everyday essential. Wear it when you're on the go and if you don't know what to wear, just throw it on and present a stylish look. It's great for lunches with friends, job interviews, casual meetings, and even formal events. It's versatile so you can use it in a variety of ways and the Apricot color works well in almost any outfit.
Mum and Me Bolero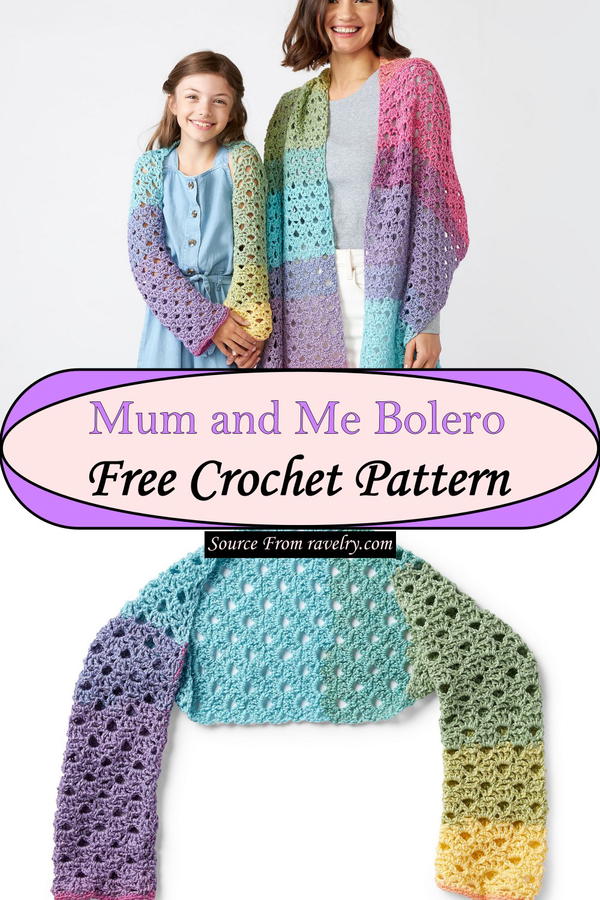 Crochet this darling bolero and shawl set for both mom and her adorable little one. A delightful pattern for beginners, the Mother-Daughter Shawl and Bolero is easy to follow if you know how to work single, half double, and double crochet stitches. Beginners will also gain experience working different rows simultaneously, carrying a color from one row to another. Also practice your scalloped edge skills, too. This is a mega-cute ensemble that makes getting ready for spring so much fun! Mum and Me Bolero is a crochet pattern that features a double stitch roll with its yarn giving you a cute matchy-matchy look while keeping you nice and warm during colder seasons.
Makena Bolero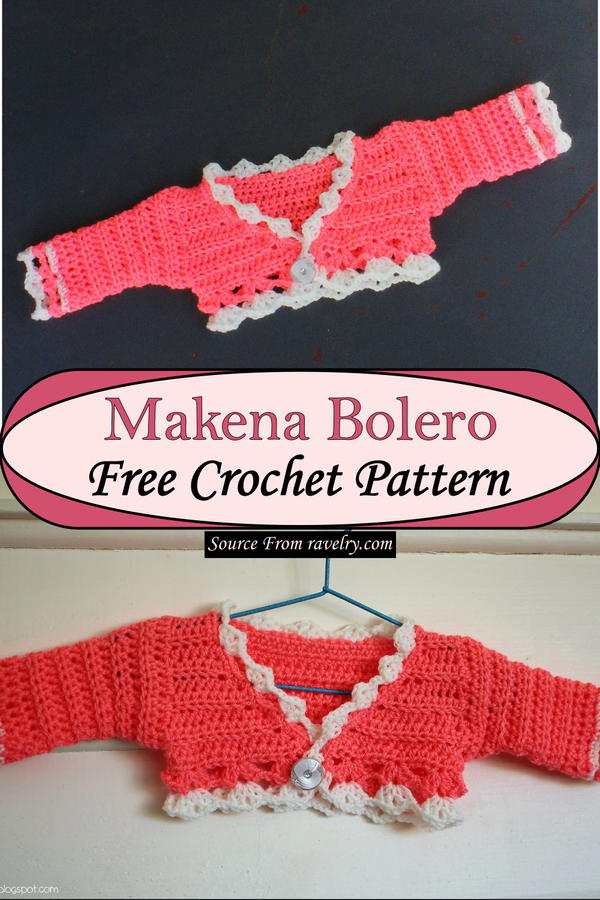 This bolero or shrug is worked back and forth from the bottom up. It's a very simple design, worked mostly in stocking stitch, with the only shaping for the sleeves – the front and back are split at the underarm – and little short-rowed cap sleeves. It's all in one piece with just two seams to sew at the end. Worked in cotton yarn on larger needles, it works up very quickly, so it should knit up easily within an afternoon. The pattern covers sizes zero to 3 months (3-6 months) and is suitable for boys and girls.
Dots and Dashes Bolero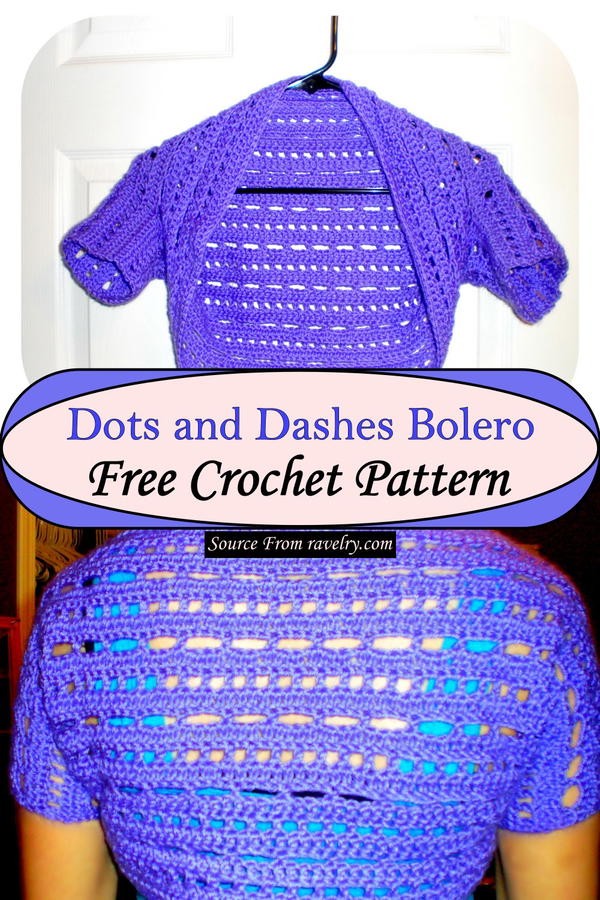 The perfect summer shrug or bolero jacket to add to any outfit! Dots and Dashes is a fun bolero jacket pattern that you can easily adjust to fit any size. Perfect for evenings by the fire, over a tank top or t-shirt on a summer night, or over your favorite blouse to add a little extra style to the office. This is a super easy pattern that you can adjust to fit any size this is a quick project with no shaping and simple construction, yet the result is stunning: A gorgeously draped, oversized shrug or bolero jacket! Pair it with jeans and a tee or a little black dress. It's sure to be your new go-to wardrobe staple this summer.
Emerald Pools Bolero Jacket
The Emerald Pools Bolero Jacket crochet pattern is the perfect layer for the warmer months! This elegant bolero is crocheted with Lace Weight Silk Yarn, and sized to fit as a light jacket over your favorite tank top on those breezy summer nights! Every knitter deserves at least one unique piece in her closet - and this bolero jacket is just that! The simple lace pattern is easy to follow, leaves plenty of room for creativity, and the lightweight yarn makes it a perfect spring/summer layer.
The Kensington Bolero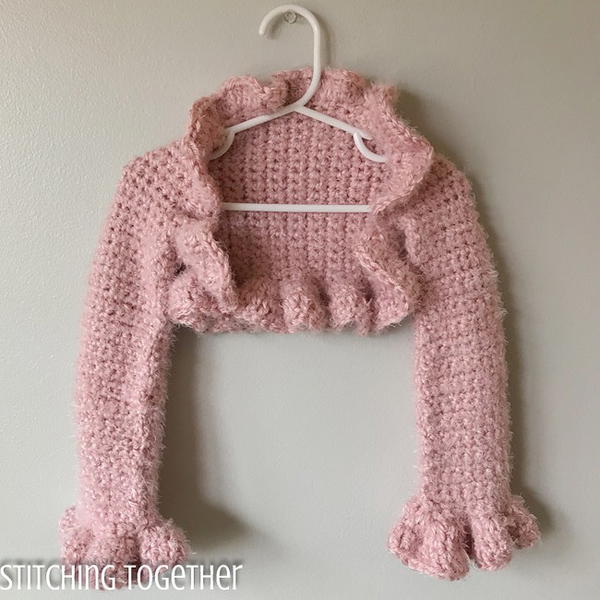 The Kensington Bolero is the perfect solution for a cool summer evening. This free crochet pattern is a great choice as an easy project to keep you busy during vacation or while traveling. No matter how you travel – whether it's by plane, car, train, or ferry – crochet will always bring comfort and joy to your life! This crochet bolero pattern is available in sizes two years to 14 years
Dalia Bolero
The Dalia Bolero is a wardrobe essential. It is lightweight and comfortable and can be worn over a shirt or turtleneck. This beautiful bolero is a great layering piece. It can be worn over most blouses or a sweater for extra warmth and fashion. The front features interesting details, such as the front buttons and the crocodile stitch pattern. It will keep you warm on cold days, or nights out.
Sunday Afternoon Bolero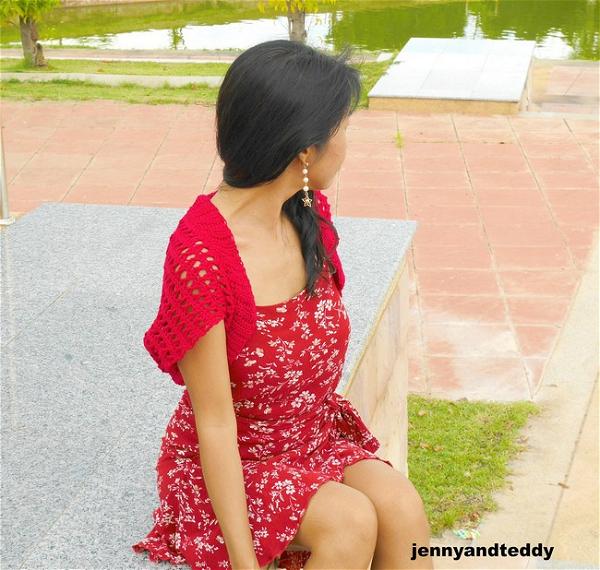 Sunday Afternoon is a great beginner's bolero with detailed photo tutorials, sizing information, and helpful tips to ensure your garment turns out beautifully. This simple top-down seamless bolero is worked in one piece and then seamed at the end with optional button closure. Whip up this easy bolero to have on hand in your closet for rustic elegance. Make it to layer over tees or tanks on chillier days.
Easy As Pie Bolero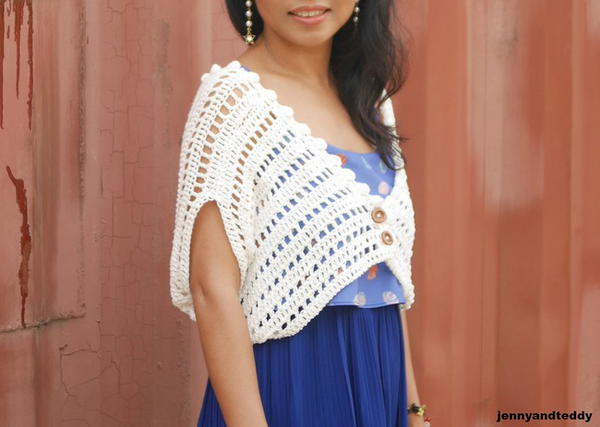 The Easy as Pie Bolero features a simple lace hem that makes this piece airy and light enough for warmer days. The buttons and buttonholes are optional and can be added for a more personalized touch. This is an intermediate-level pattern, but very easy to do if you know how to chain, single crochet, double crochet, and half double crochet.  This easy crochet bolero is great for family pictures, any holiday, or just a date night out on the town. Pair this easy crocheted bolero with a cute top and jeans or leggings.
Faux Real Bolero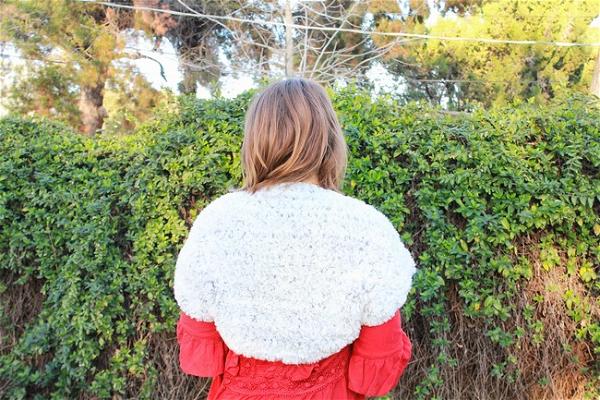 Have you seen pieces of fur that have been turned into oversized sweaters? They're so cozy and warm! You can create your own faux fur crochet bolero with this beginner-friendly pattern. Made from Faux Fur yarn, it's one of the softest things you'll ever make! It may look like it's a piece of Faux Fur, but it's definitely made with yarn.
Faux Fur yarn is so cozy and has a look that's so hot right now. This square design is the perfect opportunity to practice your seaming technique and reap your hard work in style. With easy construction, this crochet bolero is great for any crochet level, too!
Springtime Bolero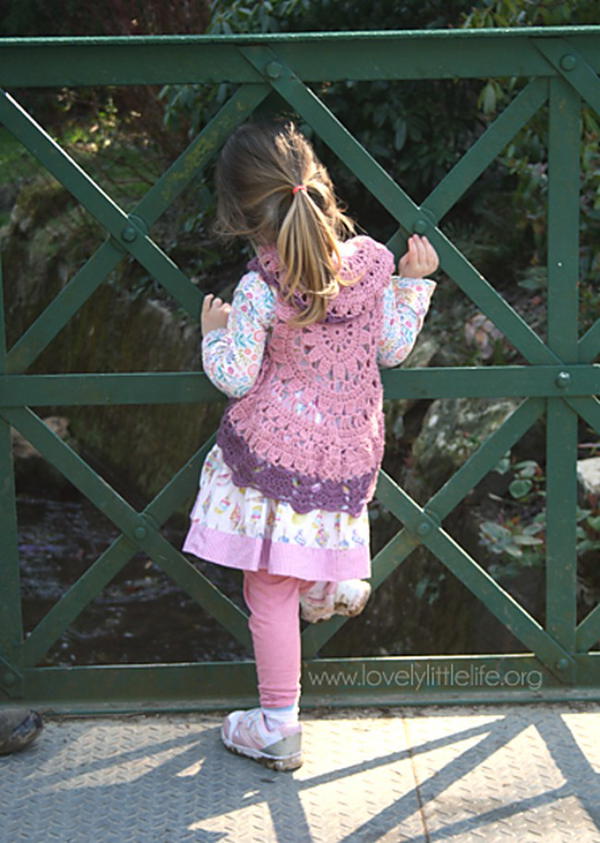 The Springtime Bolero is good for spring and summer days and fall when you want something a little different. You can make it in any color yarn that you desire. Also, because it's made to fit your child, you will only need one ball of yarn.
Light and airy bolero worked in a simple yet pretty stitch pattern. You can use any worsted weight yarn for this. This bolero is designed to fit sizes 2-7 years old with some growing room, so go up or down in size if needed.
Momo Little Bolero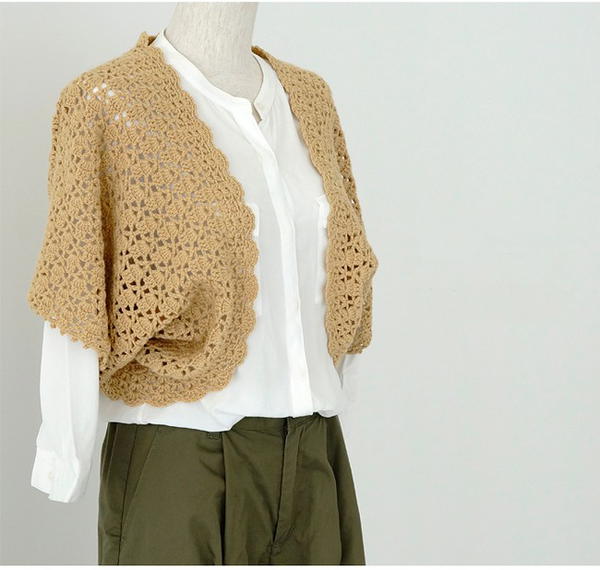 Worked from the bottom up in one piece, this bolero is done from cast on to side seam in a minimal amount of time. Designed specifically for use with Momo yarns, this bolero is cute and easy to crochet. The cast on requires almost no seaming! With its stylish lace pattern, fun colors, and fast speed, this bolero is sure to become a favorite.
Shut out the cold with this timeless Momo bolero, an elegant and practical garment for women. You can wear this bolero at work or for social gatherings. The pattern includes wearing photos and detailed instructions with many helpful tips on crocheting it.
Sunny Bolero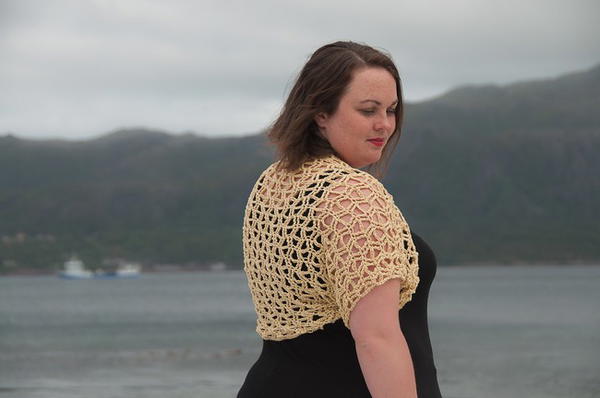 The Sunny Bolero might just be the perfect thing to brighten up your life. Or, why not try it on someone else. The Sunny Bolero is available in a variety of yarn weights and colors. Wear it over a T-shirt, blouse or sweater, over a dress or other top you like. It's a lightweight (and lighter to carry), easy piece that can be worn anytime. You will be looking fresh and fabulous in this crochet bolero. This free crochet pattern is easy to read, professionally written, and easy to follow.
Bolero Mariposa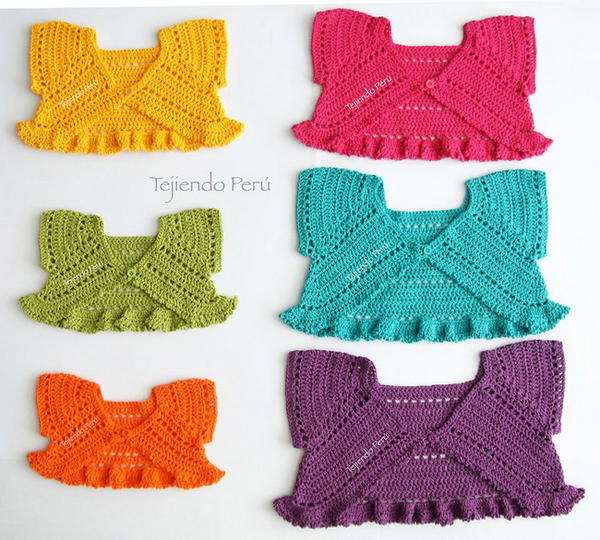 Bolero Mariposa is a free pattern, entirely handmade, original, and unique. We made them in 6 sizes (approximately for girls from 3 months to 8 years). Create these fun boleros for your daughter or granddaughter. Wonderful as a gift for an expecting mother as well. The bolero can be worn over a tank top or shirt in the summer and over her coat in the winter. These are easy to make and will smile on any child's face when they look down and see butterflies flying around.
Bolero Barcelona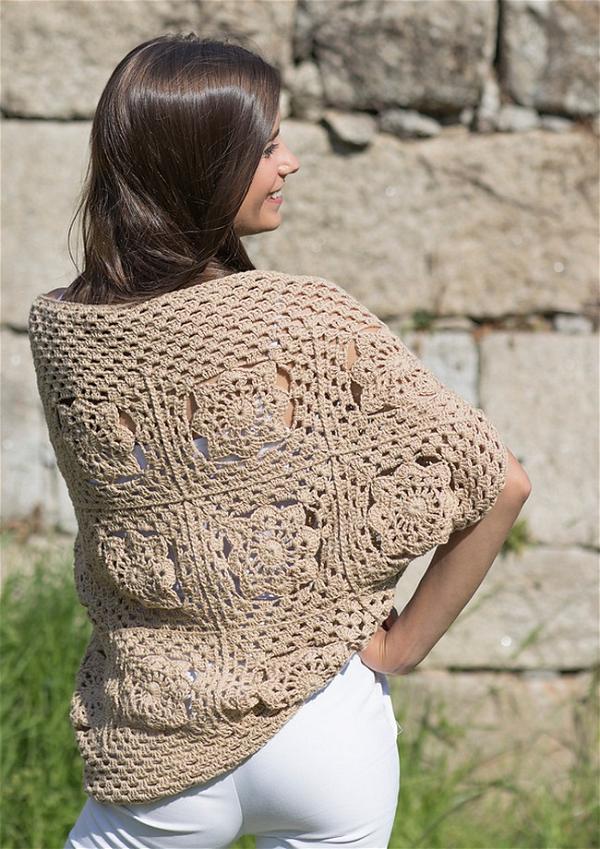 The Bolero of Barcelona is a loose, stylish cardigan with a modern twist. With the holes at the front and back of the sleeves, it is ideal for the office or your party outing. Made from a high cotton content yarn, with an extra soft and comfy feel! Versatile and easily paired with anything you want to wear! This lightweight Bolero is ideal for spring-summer days. It is worked from the top down in one piece without stitches at the shoulders.
Marine Blue Bolero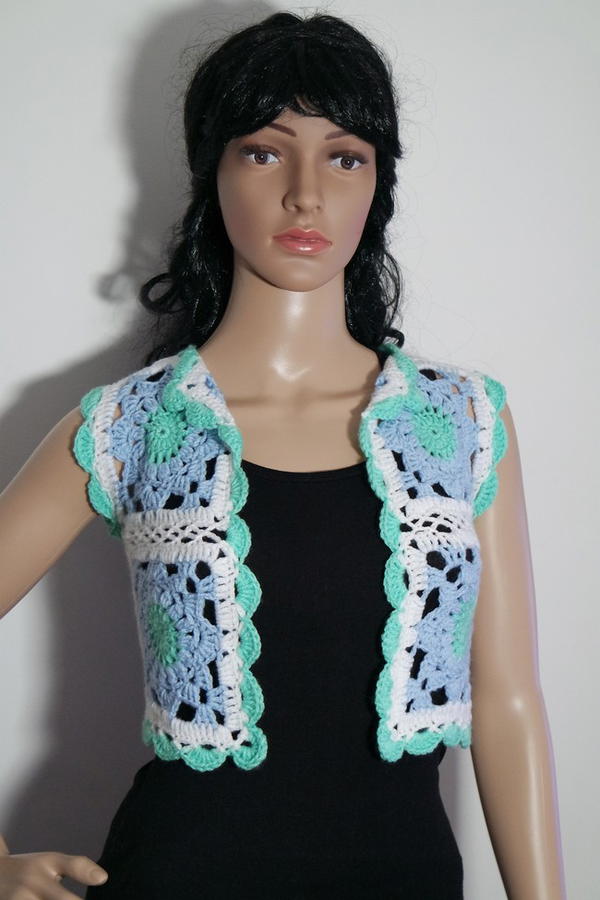 The Marine Blue Bolero is a basic crochet bolero with features such as a sweet puffed sleeve design, but it's made of Marine Blue yarn which has added sparkle.  This is a great gift project for you or your friends. The crocheted bolero features a unique lace inset in the front and back for extra detail, making the entire piece stand out from the crowd. Whether you're wearing it on its own or over a shirt and sweater, this bolero will add a sense of ease to your 'ready for anything' coat.
Orange Bolero Vest Jacket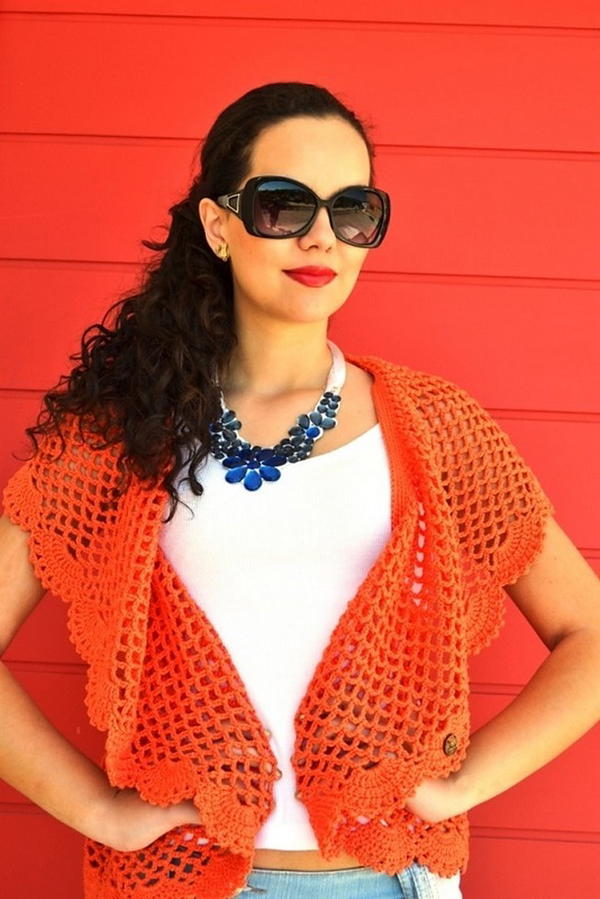 Show off your feminine side in this soft and bright orange bolero vest jacket. It features a beautiful crochet lace pattern at the top and has cap sleeves so you won't get too warm. It pairs perfectly with a variety of outfits such as skirts or pants. This Crochet Bolero Vest is an easy and quick project to make. The pattern includes step-by-step instructions on how to crochet the vest, as well as video tutorials. All you need is some yarn, some hooks, and some scissors
Heather Baby Bolero and Beret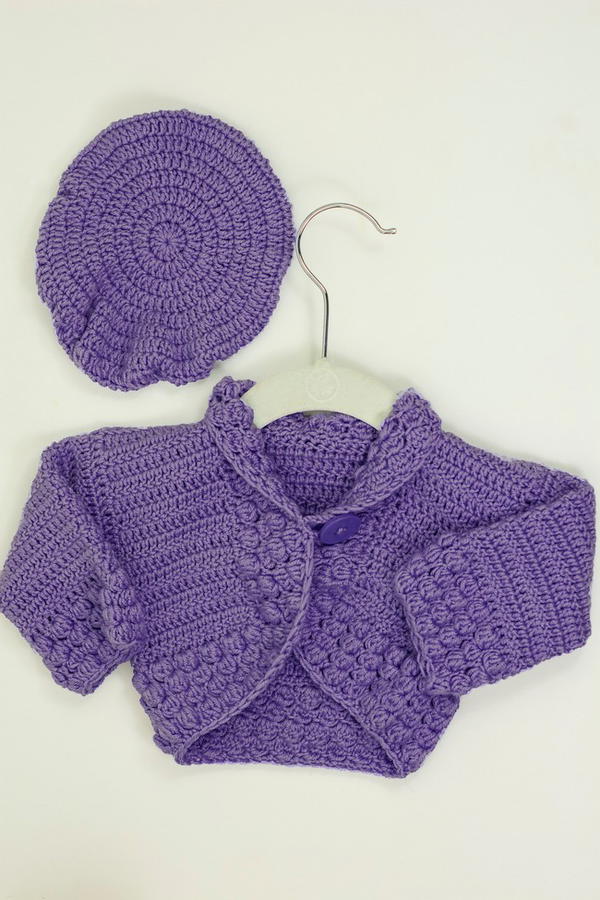 Wrap your baby in a layer of elegance with the special Heather Baby Bolero and Beret. Heather Baby is the perfect hat and bolero set to knit for a special little girl in your life. The bolero is suitable for a beginner knitter with an easy sleeve pattern. Put on a stunning hat by adding the elegant and fashionable beret, made with just one skein of yarn. This cozy heather purple bolero and matching beret is perfect to wrap around your growing baby.
Easy bolero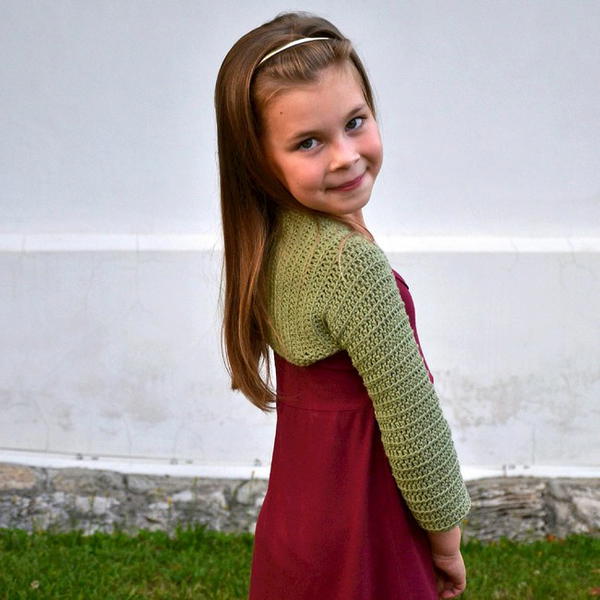 This easy bolero is the perfect quick little project for those who want to do something a bit more interesting than a basic scarf. The stylish and flattering shape accentuates your shoulders and chest, so you'll be wearing it whenever you want to give yourself a boost! The bolero is the perfect winter piece that can be worn over long sleeve t-shirts to keep you warm and stylish. This item is perfect if you want to get rid of that thick autumn coat or just feel like wearing a light sweater more often. Looks great with any outfit!
Bella Bolero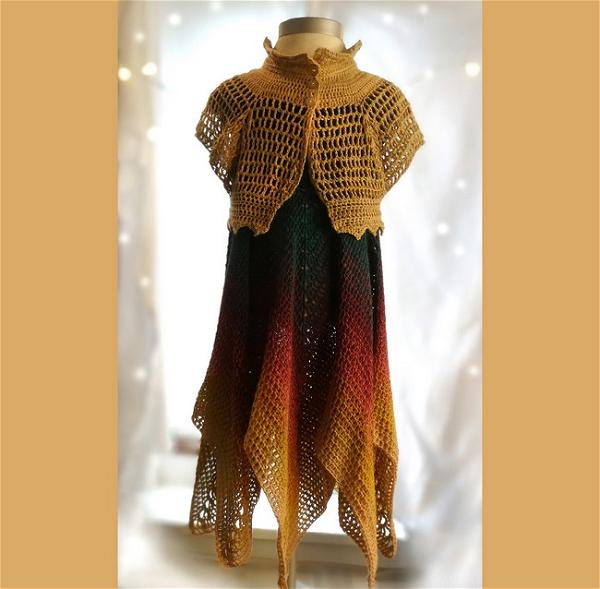 The Bella Bolero is a garment that is worked in the round, with a small part of the finished garment worked flat. The bolero is large enough to fit over a tee shirt or sweater without being too tight or restrictive. Two sizes are given, which depend on your level of shoulders: larger should wear a large wrap effect, and smaller should have an emphasis on sleeves and back drape. Pair with a basic tank or sleeveless summer dress for lunch at the beach or as part of a beautiful evening outfit.
Velvet Stars Bolero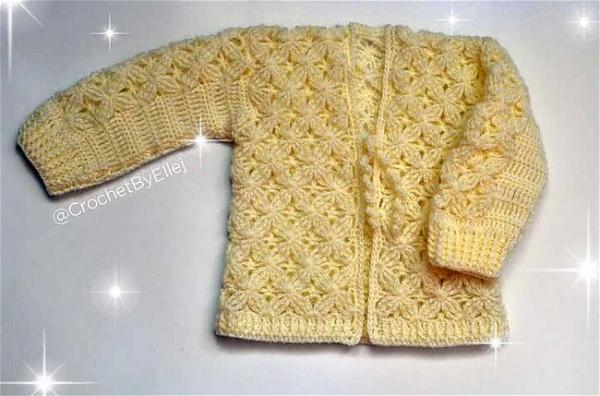 The sweet Velvet Stars Bolero is worked in heavy, drapey crochet cotton that will keep you warm on long autumn evenings. Cute, fashionable,able and unique example for you to try. Knitted in super soft velvet. Bolero is a great wrap to wear over vintage or new fashions for a little extra touch of glamour. Also looks great on its own as an evening jacket, over leggings and tights to keep warm, or a Summer dress with skinny jeans and boots.
Crochet Bolero Shrug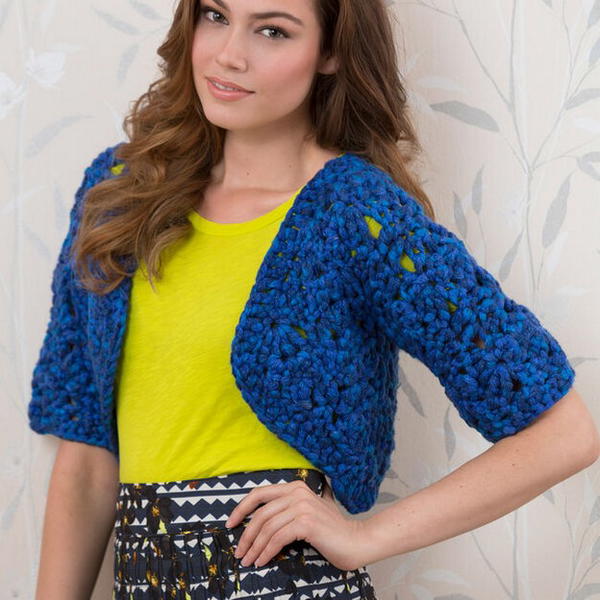 The Crochet Bolero shrug is perfect for any season. Knitted in super bulky yarn, it can be worn as a dramatic shrug over sleeveless tops or as a shirt in colder weather. It features oversized ribbed cuffs and bottom hem and a heavily textured fabric that gives it a unique look. A large hook and simple pattern stitches make this beautiful shrug accessible to most crocheters.
Crocheted with super bulky weight yarn, this bolero shrug will be a wardrobe staple. This beautifully colored yarn is highlighted with flashing iridescent thread, perfect for day or evening wear. Choosing a self-patterning color will result in a mirror image on each side of the shrug.
Fast Crochet Bolero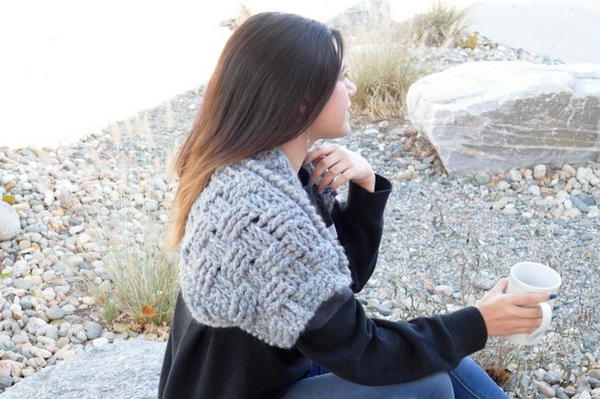 The crochet bolero is a classic style that adds warmth and dimension to any outfit. This pattern can work in one sitting and fits most body types. It is a great project for both experienced and novice crocheters; it can be worn over any sleeved top for an extra layer of style. This crochet bolero sweater pattern is quick and easy to make with a gorgeously textured stitch that you'll master in minutes. The size, length, and style are all customizable for your unique body shape.
Enchantée Bolero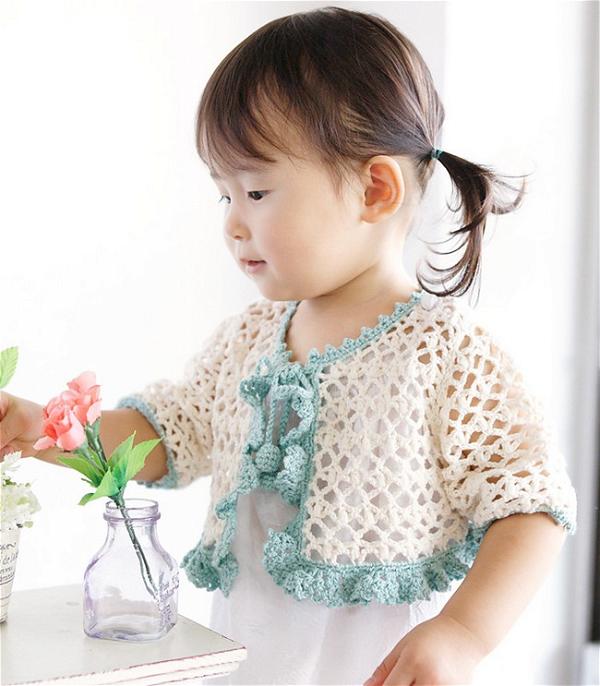 All eyes will be on your little princess when she wears Enchantée Bolero. This bolero will keep your little girl warm but in style, whether she's wearing it over a long sleeve top as part of her outfit or for extra warmth in colder weather. Whether you're a pro or just beginner with crochet; the Enchantée Bolero is the perfect project to learn new techniques on. The bolero features an easy-to-crochet, open lace stitch, and elegant details. The lightweight yarn can finish up in only one weekend; it makes a charming piece for little girls to wear as part of their everyday wardrobe.