Summer is the perfect time to enjoy a cute, cropped top. Whether you're headed to the beach or just out to run errands, summer styles are all about comfort, and what could be more comfortable than a crochet crop top? Great for layering and versatile enough to wear with anything from your favorite pair of jeans to a breezy skirt, this collection of free crochet crop top patterns has something for everyone. You'll find 25 Free Crochet Crop Top Patterns in this collection, from simple crochet tops that are perfect for beginners to intricate lacy designs that offer some exciting twists on the art of crocheting.

As warmer weather approaches, it's time to prepare your wardrobe for the changing seasons. If your closet is full of sweaters and long-sleeved shirts, you must put them away until fall. Luckily, so many adorable crochet crop top patterns are perfect for summertime! These styles are made with cotton yarn or thread, making them light and breezy enough to wear on the hottest of days. From casual tops that can be worn over a bathing suit to more dressy tops that look great with a pair of dress pants, there're 25 Free Crochet Crop Top Patterns for every occasion.
Here is a list of 25 free crochet crop top patterns we have hand-picked for you, so pick your favorite color and start crocheting.
Tips To Crochet Crop Top Patterns
Learn how to make a top with these free crochet crop top patterns. These are perfect for summer since they aren't long like a traditional shirt top.
Here are some great tips for crocheting crop tops:
Pick out a pattern that is just right for the season.
Find a color that looks great on you.
Crochet with yarn made from natural materials, like cotton or wool.
Make sure your hook is the appropriate size for your yarn.
Do not use too much yarn in one stitch (or row).
Do not pull too tightly on your stitches.
When sewing things together, ensure you know where each stitch goes before sewing it in place!
Keep track of all stitches by using stitch markers or counting them aloud while crocheting.
Benefits Of Crochet Crop Top Patterns
They are very easy and simple to work up.
These Crochet Crop Top don't take much time to complete as they are shorter than a sweater or cardigan.
The crochet Crop Top is lightweight and fun to wear in the summer.
Almost every beginner-level crocheter can try them as they have short and basic stitches.
You can pair them with shorts and jeans for a more casual look or wear them for formal events like weddings and birthday parties.
Crochet Zara Crop Top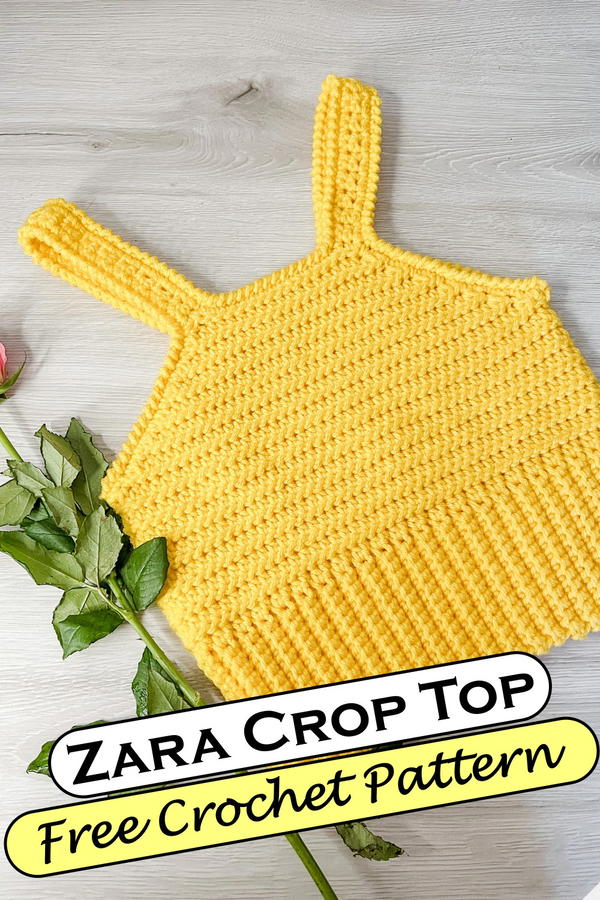 Crochet tops are everywhere! But not all crochet tops are created equal. Crochet this beautiful top, which is full of style and fashion. Style a romantic and modern look with the Crochet Zara Crop Top!  This lovely top features mustered crochet, a high neck, and a relaxed fit. Pair this top tucked in and high-waisted pants for the perfect beach cover-up or with cropped pants, heels, and a blazer for a brunch date!   Stitch it up in no time using only a few basic stitches.
Eternal Cable Crop Top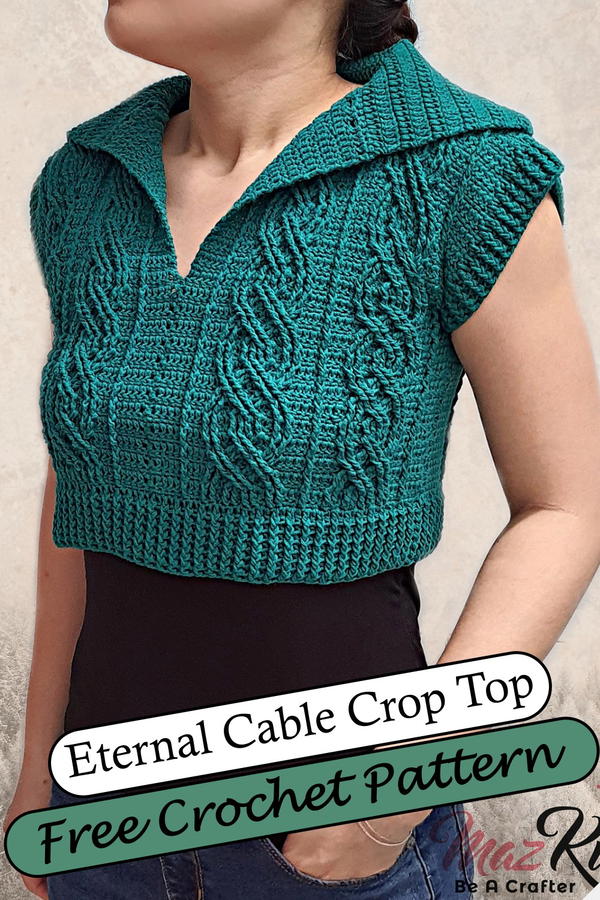 Inspired by timeless works of art, this crocheted sweater is a stylish new addition to your wardrobe. Layer this cropped crochet top over a tank and jeans, or wear it alone to show off your curves with the help of a matching skirt. This easy pattern can be made up in the afternoon and easily customized to your perfect fit. It features long sleeves, a V-neckline, and ribbed edging - incredibly versatile. Please choose your design or one of our suggestions to personalize it. This crop top is a great summer wardrobe staple and a quick and lovely project!
Crochet Medora Crop Top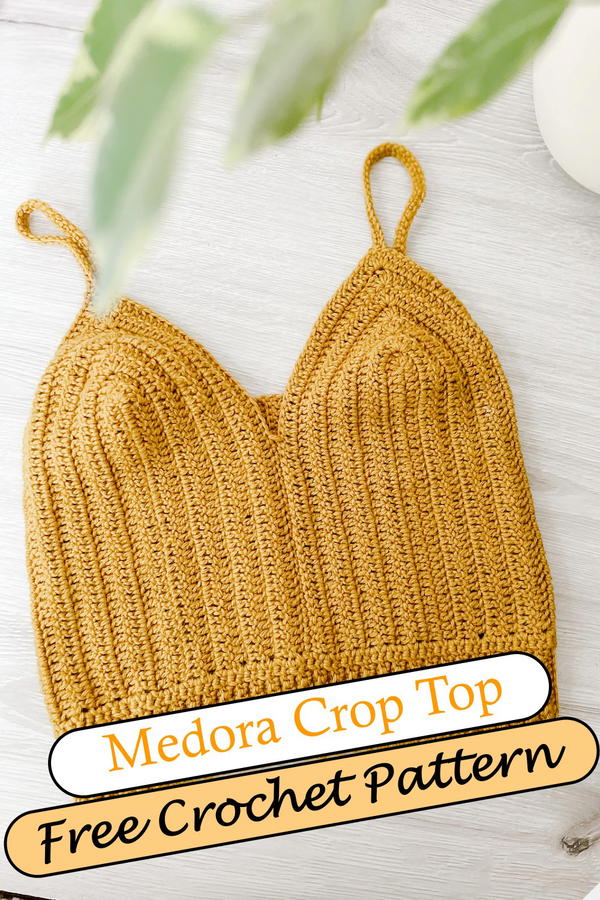 This Crochet Medora Crop Top is perfect for spring/summer. It is also a versatile design that can be easily adjusted to fit any size you require. It is ideal for all body shapes and sizes as you can easily add or subtract stitches to make it larger or smaller. This top works up quickly, so you can quickly make a few in your favorite colors. This pattern is a perfect spring/summer accessory and will look great with a pair of jean shorts and heels or your favorite pair of jeans. Try it with a blazer jacket and your favorite pair of denim jeans, wedges, or flats to dress it up.
Crop Top Fuchsia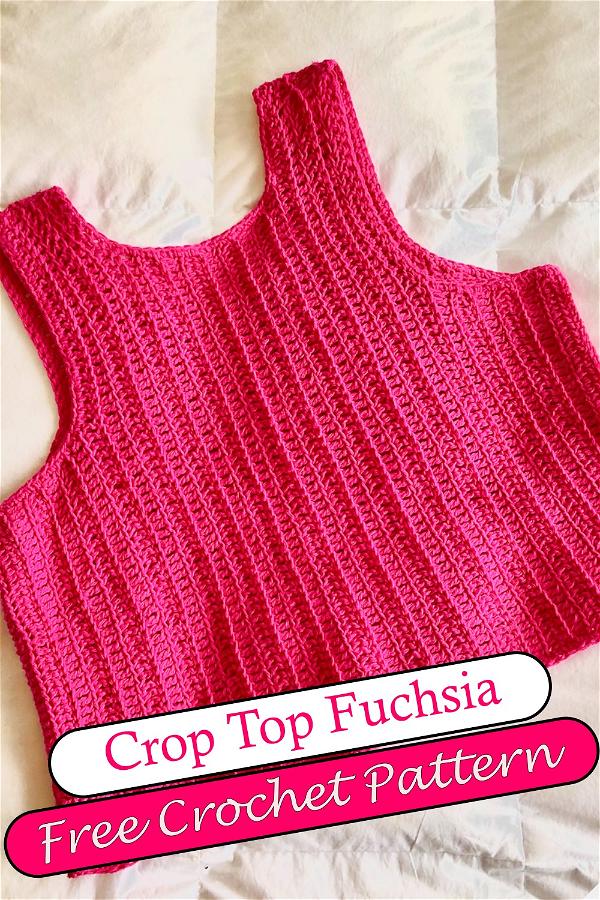 Dress your summer body with our Crochet Crop Top. Crocheted in a rich Fuchsia color, this crop top is the perfect addition to your warm-weather wardrobe. This crochet crop top features delicate lace detail and is fun for any casual outing. It's perfect with jeans or a maxi skirt for a night out. This crochet crop top looks great with jeans, leggings, or at the beach with shorts. This crochet crop top features a trim fit and button-up front. It is a lightweight knit fabric that stretches for maximum comfort and a figure-flattering fit.
Crop Top Puffy Sleeves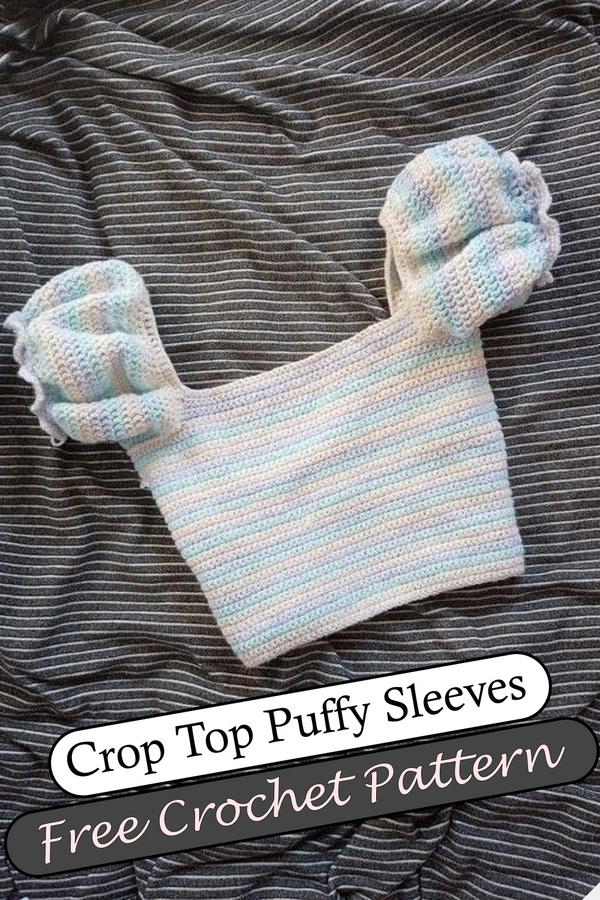 This crochet crop top with puffy sleeves is the perfect addition to your wardrobe for the coming summer; it is lovely and cool. Designed to give you that summer look, this crop top is all about the details - a beautiful crochet lace design and puffy sleeves for that elegant touch. It will look great with jeans or shorts on a night out in town. Wear with tights or jeans leggings to complete your look! This design is adorable, made of cotton with scrunchy bottoms at the waist; these are knitted pullovers. Soft and comfortable, these dresses are warm and elastic.
Lemon Lime A Crop Top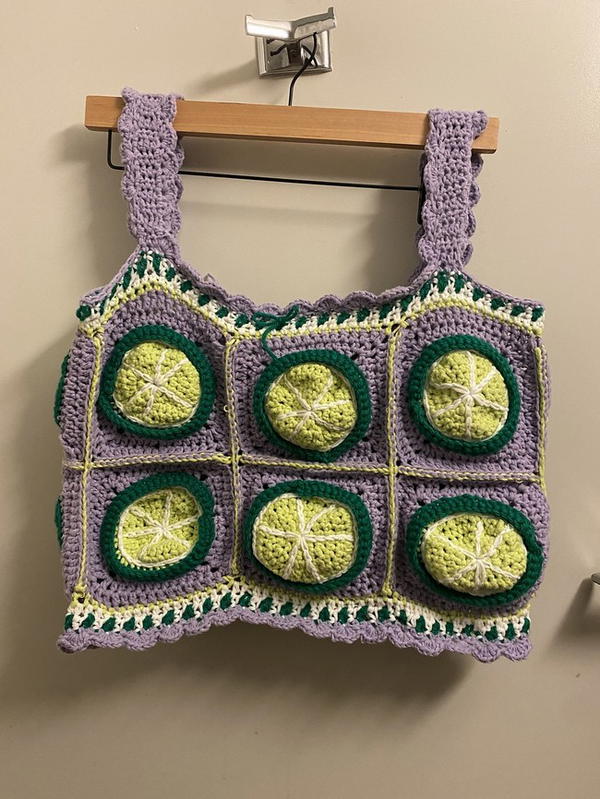 This crochet crop top by Lemon Lime is the perfect summer addition to your wardrobe. Across the front, dainty flowers bloom above three glittering jewels. This fun top's ruffled sleeves and scoop neck are made even more fashionable by raglan armhole seams and scalloped hem. The top works up quickly, as it features a rectangle crocheted in all one piece. If you are looking for a crochet pattern that is unique and pretty but also quick, then this is something you will want to try!
Amethist Short Top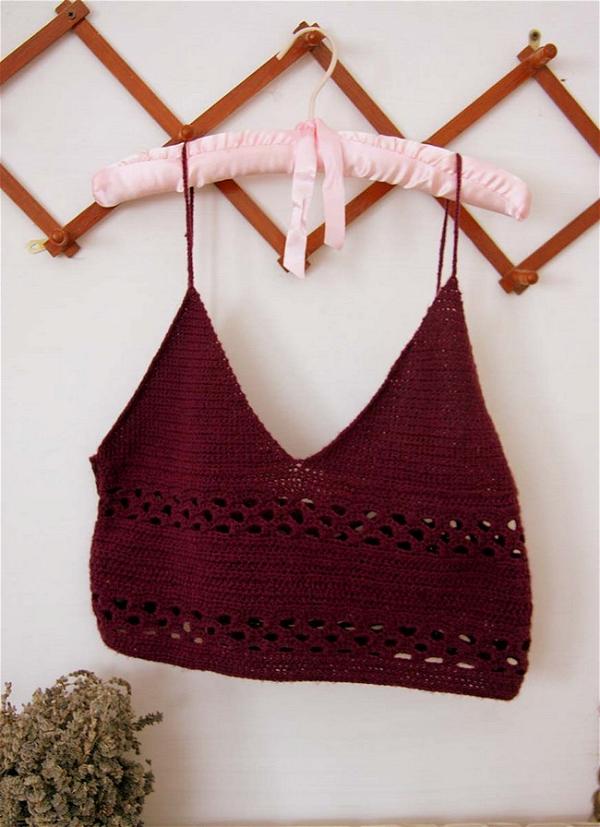 This crochet top is versatile, lightweight, comfortable, and easy to wear for the summer. It's a casual short-sleeved top made of a soft cotton blend with a double layer at the bottom with a crocheted design. It's been designed to make it as long as you like, which means that this top can be worn in multiple ways. It features a V neck, thick straps, and a semi-blouson back. It is also reversible for a fresh new look when you change your wardrobe for the day.
Granny Square Crop Top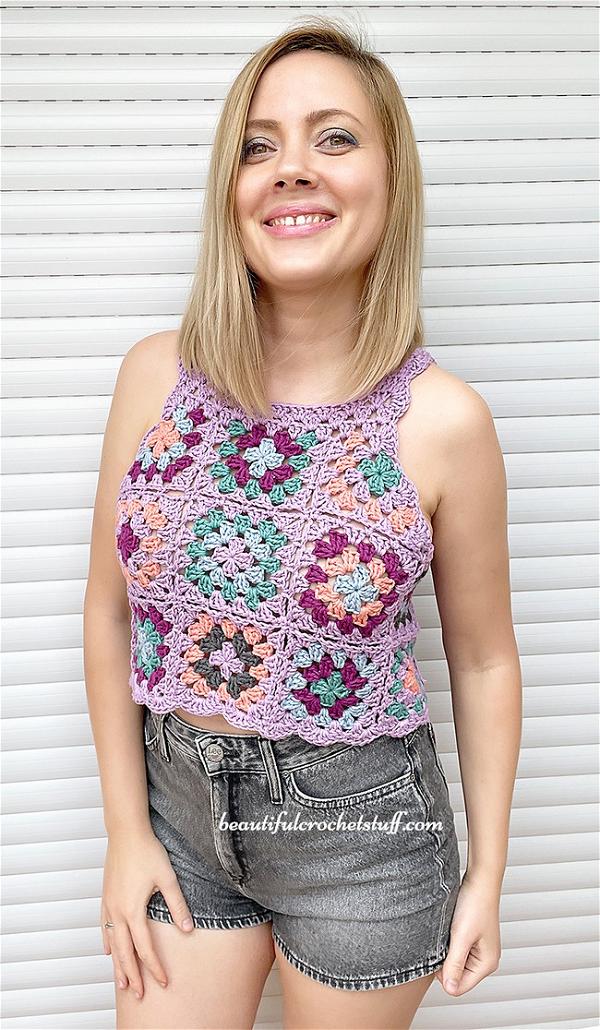 This Crochet Granny Square Crop Top will be an excellent summer update to any well-edited wardrobe! Stitched in the beautiful Haven colorway. The perfect project to showcase some of your favorite indie hand-dyed yarn; when you finish this top, you'll have a fantastic new garment that's bright and fun and ready for spring! It's also reversible, so you can choose which side of this crop top you want to wear. Throw this on with your favorite pair of jeans, add high heels and an oversized clutch, and you're good to go!
Tuesday Crop Top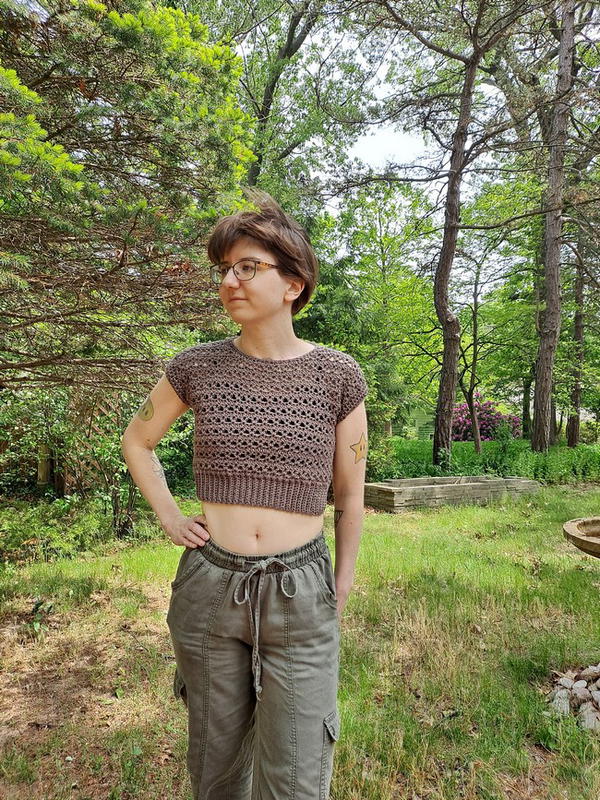 Crochet Tuesday Crop Top offers a fun twist on the traditional crochet crop top outfit. As you can see, it has a nice open back, and it works great with any pair of capris or shorts! This crochet crop top is the perfect way to show off your creative side. This super flattering, chic, and easy pattern makes a great basic crop top that can be worn with various skirts, shorts, and pants. The jersey fabric drapes nicely around your curves, while the crocheted material adds a stylish element that can easily be modified to create various styles!
Eucalyptus Crop Top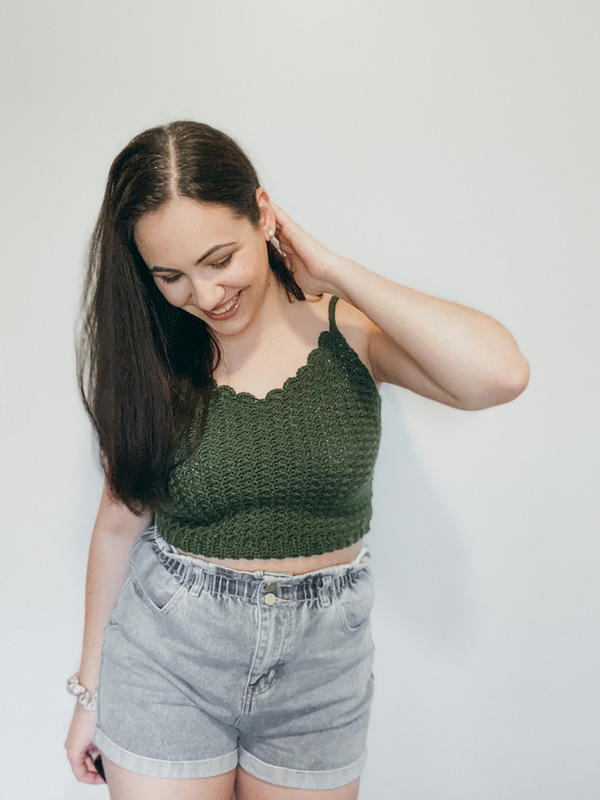 Crochet these fun, and easy Eucalyptus Crop tops for your next beach vacation or lounge around in one at home. This crochet eucalyptus top is excellent for the summer, made with a ribbed crop top and broad stripes that can be crocheted in any colorful, lightweight yarn. You'll love this crochet crop top to wear on a hot day. It's super soft and lightweight, perfect for air conditioning and beaches! The Crochet Eucalyptus Crop Top features a flattering v-neckline and boxy cropped top, mid-thigh length, and wide straps that tie around the neck.
Petrichor Crop Top
Crochet Petrichor is worked from the top down and features a lovely lace edging and a scooped neckline ideal for showing off your favorite necklace. Crocheted shell stitch is a favorite! This top is simple to modify. Make it a summer top for your little one. The crocheted bugle bead edge appliqués are optional but worth the extra time. Choose the neckline style you want and change the length of the sleeves and the body for more cute looks!!
Sunflower Crop Top
Summer is here, and this cute top will be the perfect addition to your wardrobe. This sunflower crop top is beaming with love! This top will brighten your summer look. Adorable crochet flowers on the front give you that hippy, flower child look! Pair with these high-waisted jeans and booties during the cold months or just shorts and sandals during the hot days. Pair it with shorts for a casual vibe, or dress it up with a skirt for a night out. The playful pattern and flirty fringe details add a little pepper to any outfit!
Shoreline Strip Cropped Top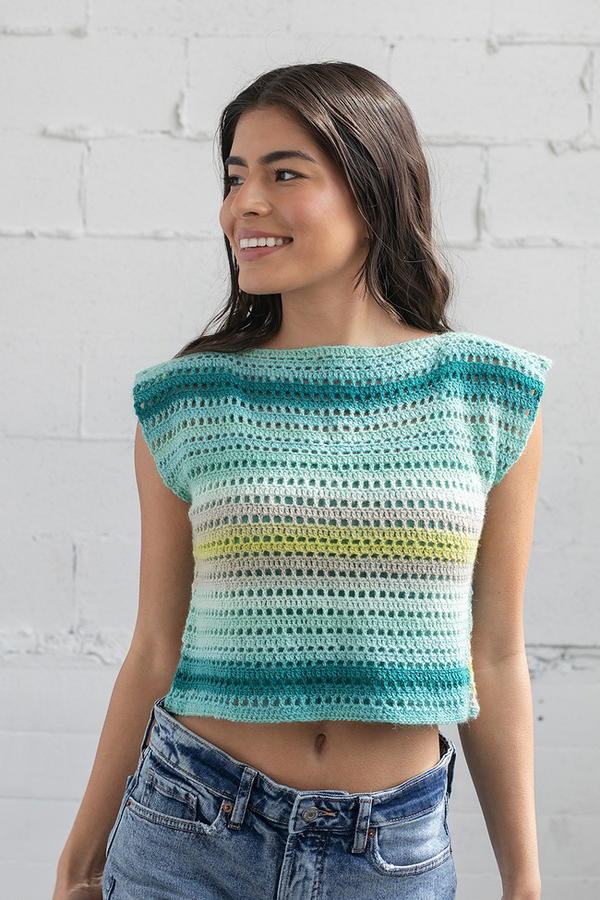 The Shoreline Stripe Cropped Top is a quick-to-crochet, beginner-friendly, easy garment. The front and back panels are worked flat and joined on the shoulders and sides using the Locking Mattress Stitch for a stretchy but stable fit. Make this super quick summer garment in any color combination you like. This easy-breezy top is just the garment to wear with a high-waisted skirt, pants or jeans, and sneakers or warm weather wedges. The soft colors of the Shoreline Stripe yarn are bright and cheery for someone who loves to be on the go.
Easy V-neck Crop Top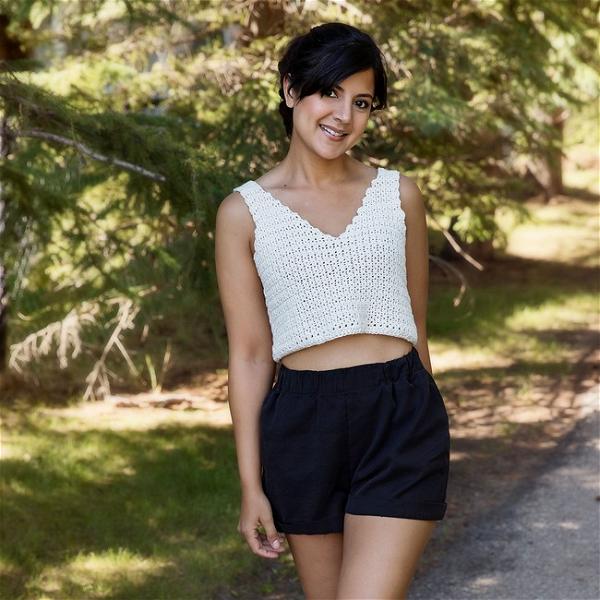 Beginners, don't be shy! This easy-to-make and super cute v-neck crop top is an excellent way for you to build your confidence with crochet. If you're bored of basic granny squares but not quite ready for colorwork, this pattern is the perfect way to get started on fun fashion accessories that are a little more challenging. This summer floral crop top will be your go-to, whether you're laying out poolside or taking in some sun at the park.
Vneck Ribbed Crop Top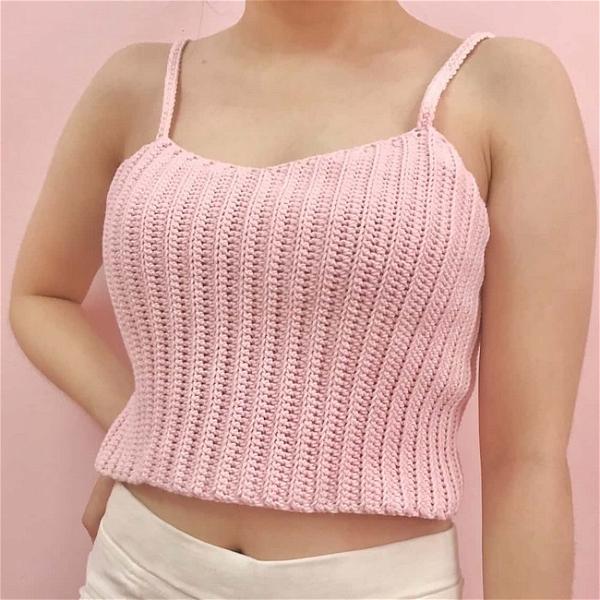 This Vneck Ribbed Crop Top is simple but stylish! Crochet detail is so cute and fashionable. This top is perfect for spring, summer, and fall! Wear this top with denim shorts, a skirt, and high-waisted jeans for a perfect spring look! Its soft material, square neck, and high-low hem make it ideal for any outfit. The crop top can be worn with high-waisted jeans, skirts, or shorts! This Crop Top is perfect for the woman that wants to look chic & casual.
Ellie Summer Top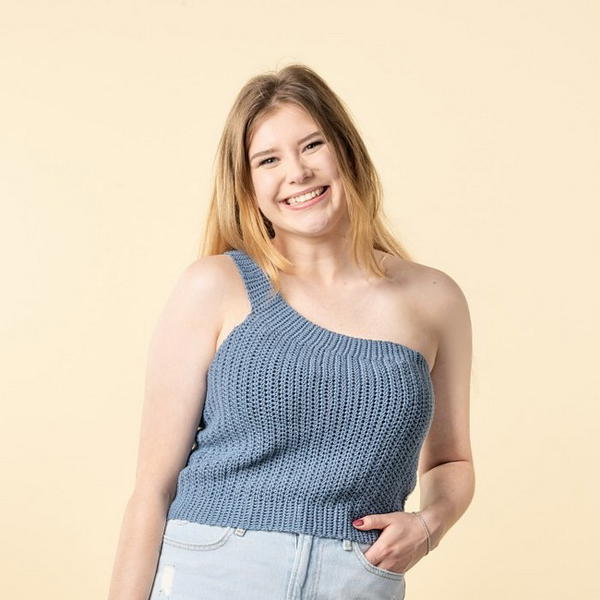 You'll love making and wearing this gorgeous, crocheted summer top. It's perfect for a hot summer day when you want to show off your handmade wardrobe. This form-fitting top fits right at the waistline and features a sweet, scalloped bottom edge. It's delicate and form-fitting, and the rainbow colors make it so cheerful. It's a showpiece in your wardrobe, mainly because you made it yourself! It is the perfect way to show off your skills and great taste!
Terracotta Ribbed Crop Top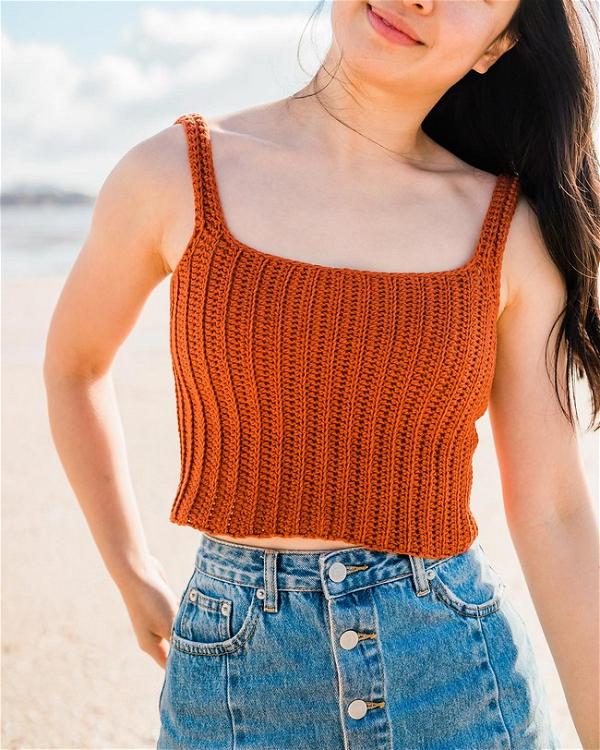 You'll love the modern and straightforward design of the Terracotta Crop Top. This super comfy crochet top pairs perfectly with jeans, shorts, maxi skirts, or over a swimsuit. A beginner-friendly pattern featuring only basic stitches, this project works up quickly, so you'll be able to make multiple tops that you can wear all summer long! The thick straps and broad, square scoop neckline make it the perfect top for pairing with shorts on those summer days when you want to spend some time out in the sun.
Velvet Crop Top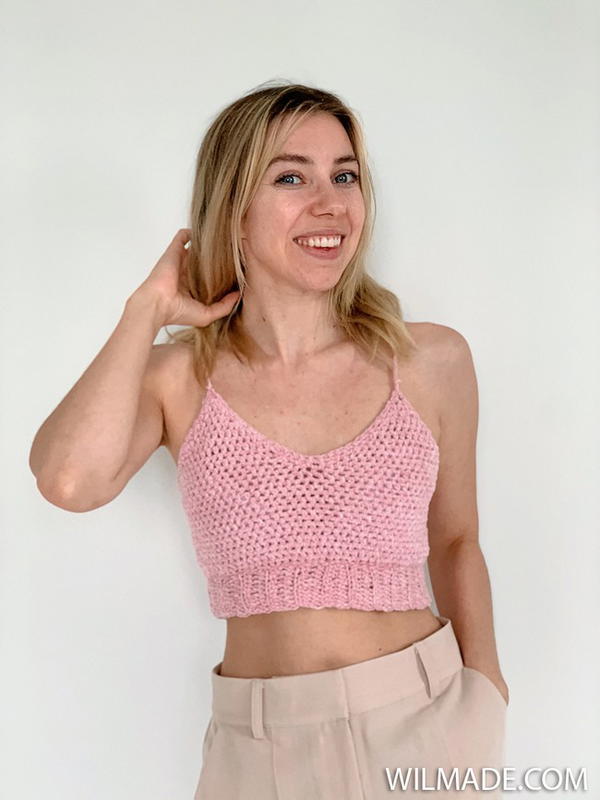 This sleeveless velvet crop top is embellished with feminine floral crochet lace accents. It is the perfect statement-making piece for the festival season. The slinky velvet lends a touch of luxury, while the crochet lace overlay provides some cover. Wear this flowy, feminine top over a camisole and pair it with high-waisted jeans or shorts to complete the look. This statement-making look adds a spark to your party or casual look. Perfect for the upcoming holidays!
Cropped Cross Tee Top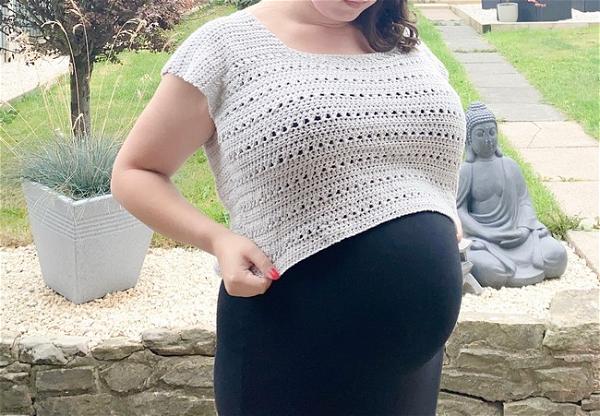 Crochet this cute cropped t-shirt for summer. It's perfect for wearing a pair of shorts or jeans, and it looks fantastic in crisp white. It has a light, airy feel, with loose crochet panels that add just the proper coverage. Worked from the top down in two pieces, with ribbed sleeves and neckline bands added to finish the top. It features a cropped fit and cross-back detail, pair with your favorite skinny jeans and ankle boots for a fashionable look. It will style up any outfit and feel super comfortable. Thia top is perfect for everyday wear.
Popcorn Top
Here's a popcorn stitch crochet pattern you'll have fun crocheting! It's a festive, fun-to-make top with a traditional popcorn stitch and mesh sleeves. The crocheted popcorn stitch border is attractively finished off with a bit of crochet hook trick. Mesh sleeves add to the simple silhouette of this timeless style. It works up quickly in a chunky weight yarn, making a great last-minute gift idea! This easy lace pattern is perfect for beginner and advanced crocheters.
Heart-Shaped Crop Top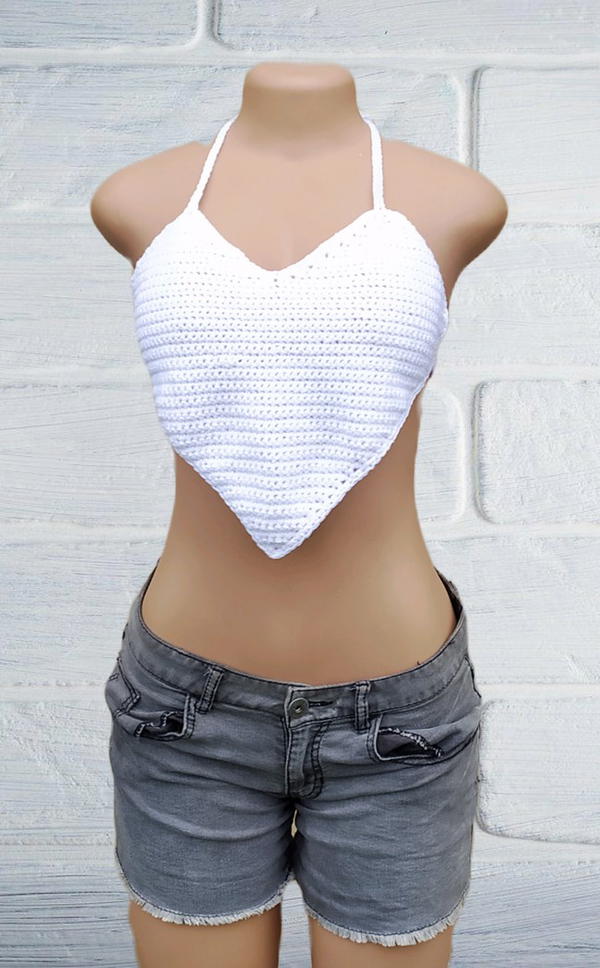 Crochet Heart-Shaped Crop makes a perfect spring top. This top is easy to crochet, with only stitches like the single crochet. It can be used when hitting the beach, going out to party on a hot summer night, or just to wear around the home. It is lightweight and very comfortable. The heart-shaped back is not just decorative; it also gives support and comfort. You can even use different colors to make a cute striped pattern on the top. It can be made in a few hours and worn over a swimsuit on hot summer days when you want to show off your beautiful belly button.
Daisy Tee Top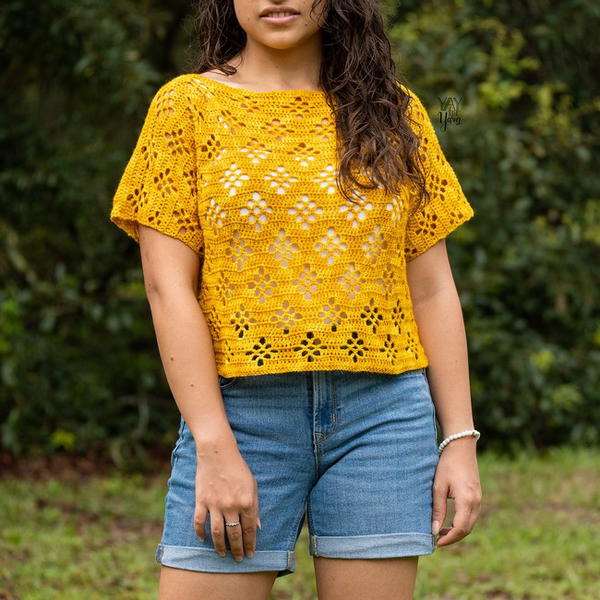 You'll love this crochet pattern for a cropped crochet top with tiny daisies all over it! This feminine lace tee is just the spring and summer top you've been looking for. This is a great crochet project for experienced beginners ready to take things to the next level. There's no shaping, so you can focus on learning the pretty floral lace stitch. On the other hand, this would be a great pattern for an advanced crocheter who needs to relax with something simple and beautiful.
Eden Crop Top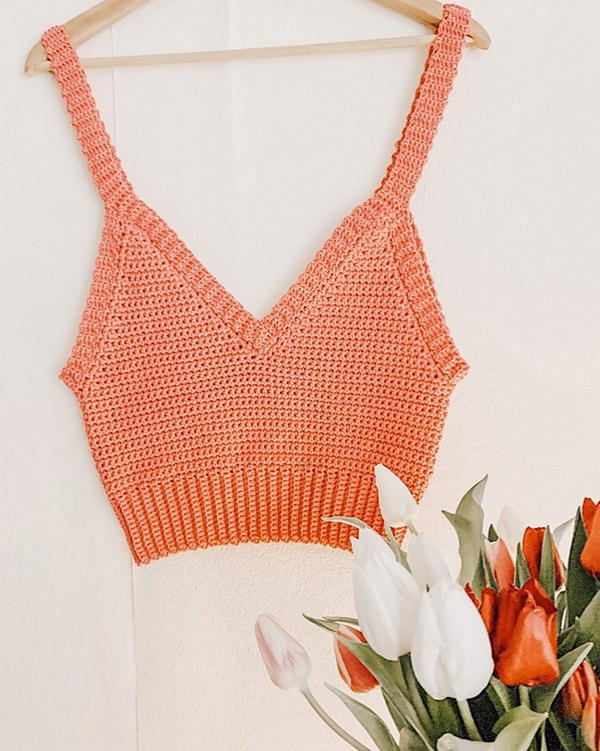 The crochet trend starts with Eden Crop Top! Crochet your way to summer style with Eden. This crocheted crop top is so soft and comfortable that you'll repeatedly reach for it. Worked in the round from the bottom up, this simple top is a perfect project for a beginner. The shelter is ideal from the weekend to the office or a night out! Be comfortable and stylish this season! It features a crochet front and solid back featuring adjustable spaghetti straps. You'll feel simply stylish in this understated, timeless crop top.
Simple Crop Top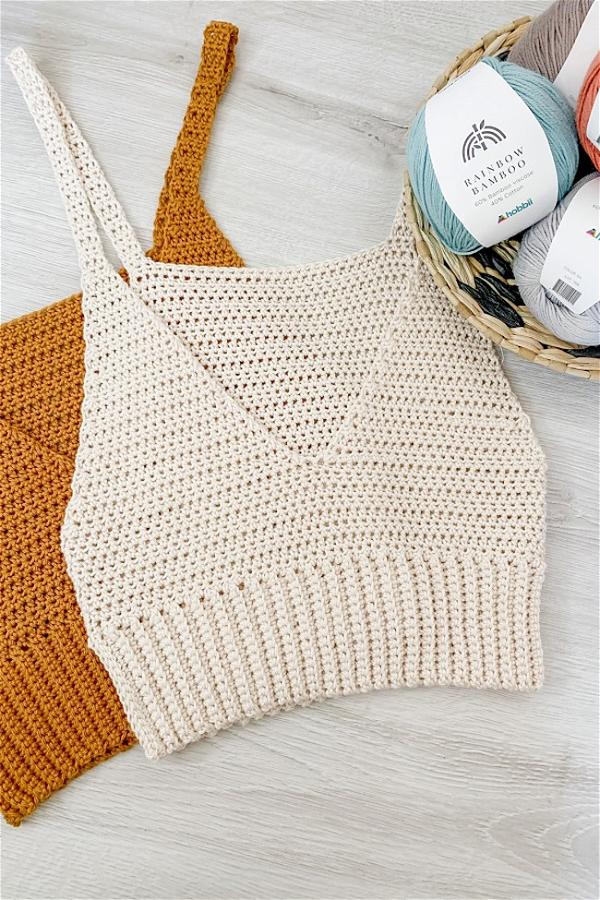 Crochet Simple Crop Top- perfect for the beginner crocheter, you can use cotton yarn or any type you prefer. This is an excellent pattern for the summertime, and the simple crochet repeats make it go quickly. Wear them with different pants and shoes. You can be more and more beautiful in your daily life. Whether you are a wife, a mother, or a lover, Crochet Simple will meet your expectation. Crochet this beautiful crop top for your following summer looks! Piece it with the free pattern or choose one of the color-to-crochet exercises to learn a new technique.
Stella Crop Top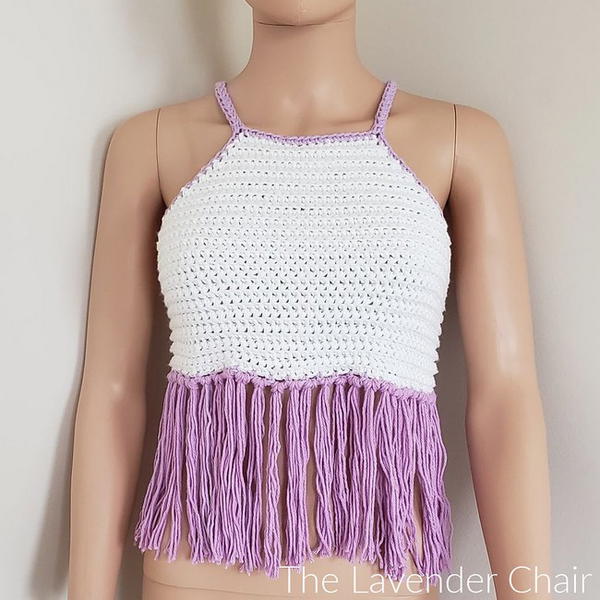 This Crochet Stella Crop Top is the perfect crochet crop for any casual summer occasion! This pattern consists of single crochet stitches and chains in alternating rows. You can change the size by adding or removing chains on the top of the shirt. The retro feel of this crochet top is eye-catching and fun. Pair with high-waisted jeans or leggings and lace-up stilettos for an easy-going summer outfit. The crochet gives it an extra edgy look that goes well with a laid-back outfit.