Choosing the right crochet shawl pattern is easy when you have this list of 20 free patterns at your fingertips. You'll find patterns for all skill levels and a variety of styles. What are you waiting for? Get started today with the perfect crochet shawl pattern.
Shawls are a great project to get you started in the world of crochet. They make a statement piece, yet shawls can be made with just a couple of skeins of yarn and a pair of hooks. Once you've mastered how to do the basic stitches, you'll find that making a shawl is actually quite easy. But there's no need to stop at one. Crocheting your own shawls is a wonderful way to express your creativity and individuality. You can choose any type of yarn you want and create something unique for yourself or for that special person in your life. If you're new to crocheting, check out our collection of free crochet patterns for beginners.
Crochet Shawl Patterns: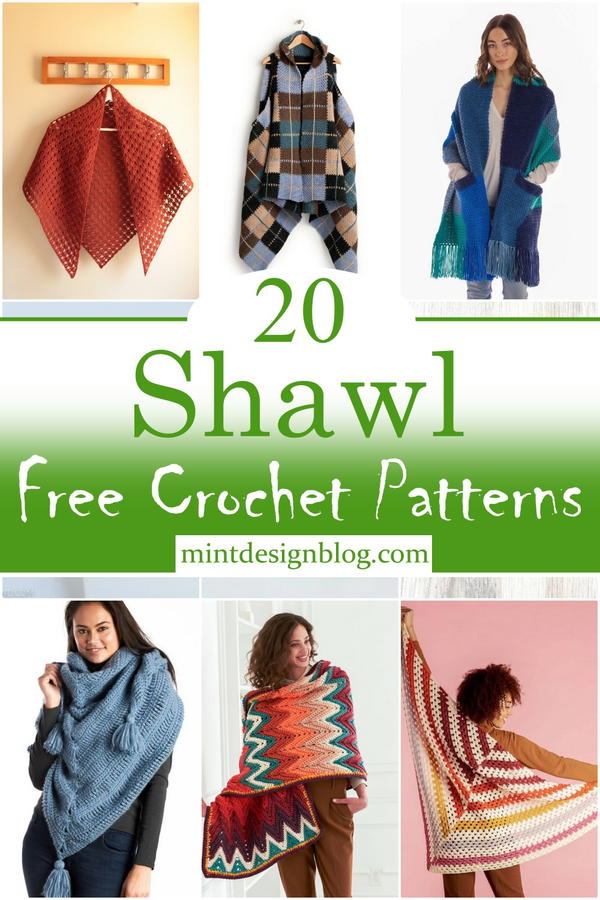 Crocheted shawls are a wardrobe essential. They're the perfect way of adding a splash of color and texture to any outfit. They can be the perfect size to throw over your shoulders when you want to keep warm on a cool summer evening or an ideal layer when it's cold in winter. Crocheted shawls are also a great accessory in the colder months. You'll find tutorials of Crochet Shawl Patterns on all the basic stitches you'll need to know when you're ready to make a free lace shawl pattern.
Quick And Cozy Crochet Shawl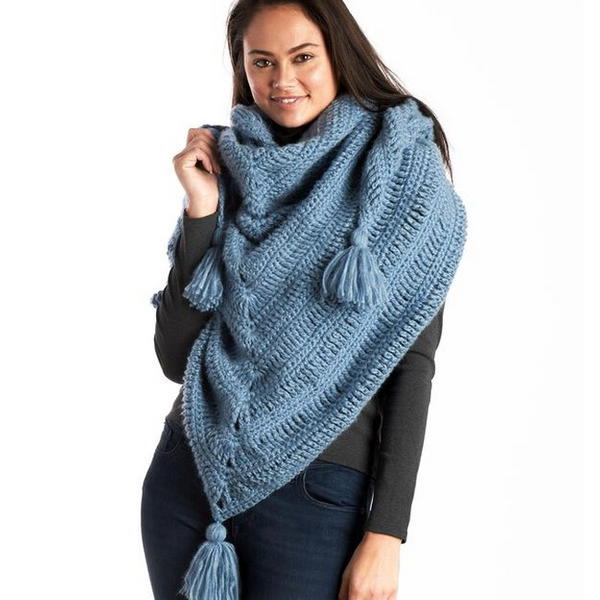 Adorn yourself with this stylish Quick And Cozy Crochet Shawl that you'll love to wear. Made fast and fun, this shawl is worked from point to wider edge using double treble stitches combined with single crochet and chain spaces. Measuring 63" wide by 39" deep, this ample layer of warmth is versatile for wearing long or wrapping around for a more gathered effect. It's an impressive gift if you can part with it.
This crochet shawl is made extra-special with a little added sparkle. The pattern includes instructions to make the shawl in solid, heather, or tweed colors and then embellish it with crocheted silver or gold beads. The result is an elegant accessory that you'll enjoy wearing all year long.
Triangular Crochet Shawl ​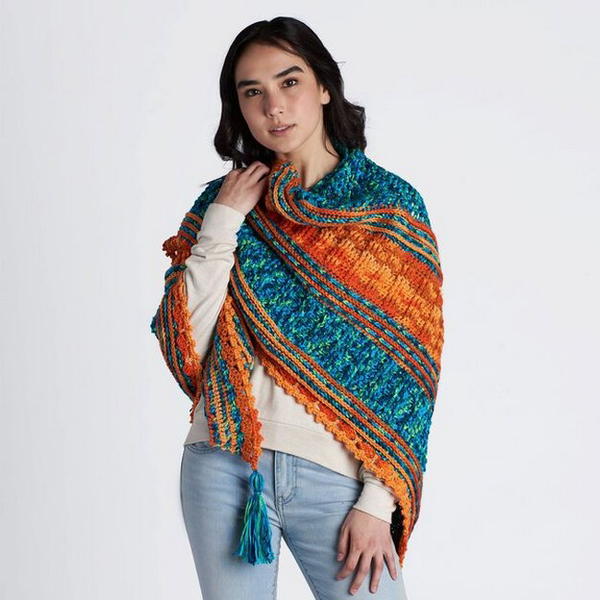 This Triangular Crochet Shawl is a great project for anyone who loves to create handmade accessories. The shawl is worked from the top down with increases on each row. This gives the shawl a triangle shape and makes it easy to adjust the size if necessary. The body of this crochet pattern uses the traditional shell pattern. This provides a timeless look that will easily blend with many outfits. To add interest to this crochet pattern, you can use two different yarn weights and three different colors. This will give you a striped effect as well as add visual texture.
The fringe on this project can be completed in several ways. You can simply cut strands of yarn to make tassels, or you can take it up a notch by braiding the fringe strands before adding them to the project. This is definitely one of those crochet projects that will be treasured for years to come.
Stripes Crochet Shawl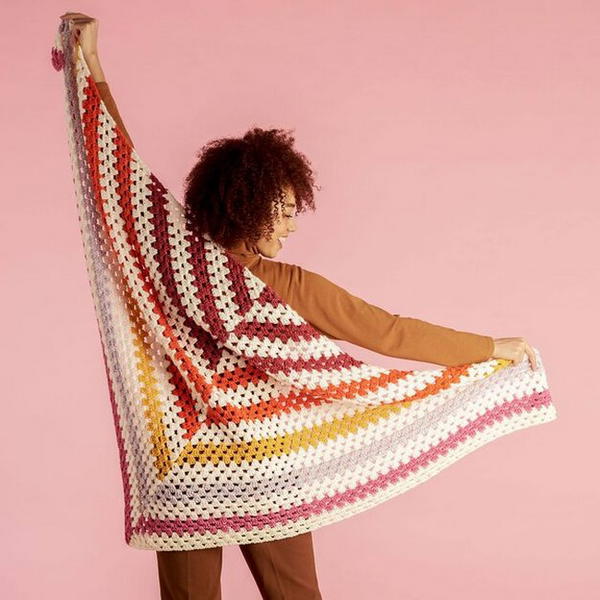 This Stripes Crochet Shawl is made of long, narrow strips of fabric, sewn together to form a tube. It can be worn in many different ways. The body wrap is the simplest design, and it is the most common type of shawl. The length of fabric required depends on the desired size of the finished garment. One yard of fabric will make a small shawl; five yards will make a very large one.
The shawl can be made by joining the strips with seams or by adding a border around the edge of each strip. The strips are usually cut from cotton fabric that has been folded in half widthwise so that the selvage edges are together to form straight sides and two parallel cut ends. If you want an exact number of sections for your pattern, use a ruler to measure and mark off that number of inches from both sides.
Color Block Pocket Shawl​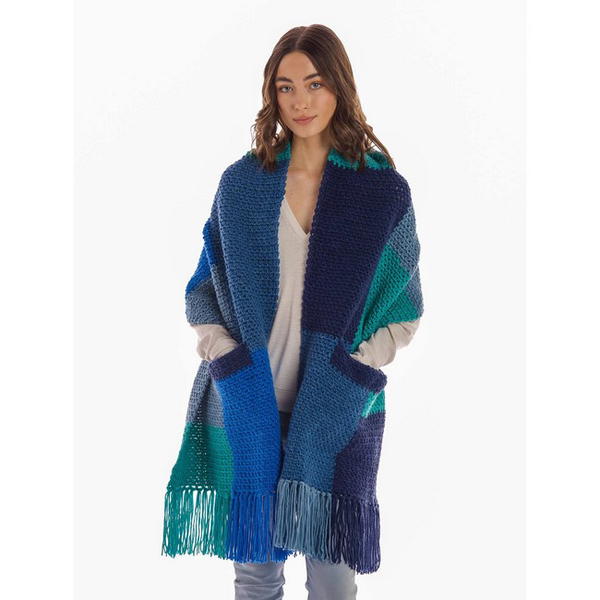 This Color Block Pocket Shawl​ pattern is really versatile. It works great with all kinds of yarn, so it's perfect for using up your scrap yarn. Just grab a few different colors and start crocheting. The pockets are also a nice touch, providing a handy place to store knitting accessories, cell phones, lip balm, and more. They're crocheted separately and later sewn onto the main body of the shawl.
Color Block Pocket Shawl​ can be made in any size you want. This example is made using Caron Big Donut O'Go yarn in two complimentary colors. One cake is used for the main color, while the second cake is split into two equal parts for contrasting accent squares. A total of six colors were used. You can easily customize this with your own favorite colors.
Zigzag Time In Crochet Shawl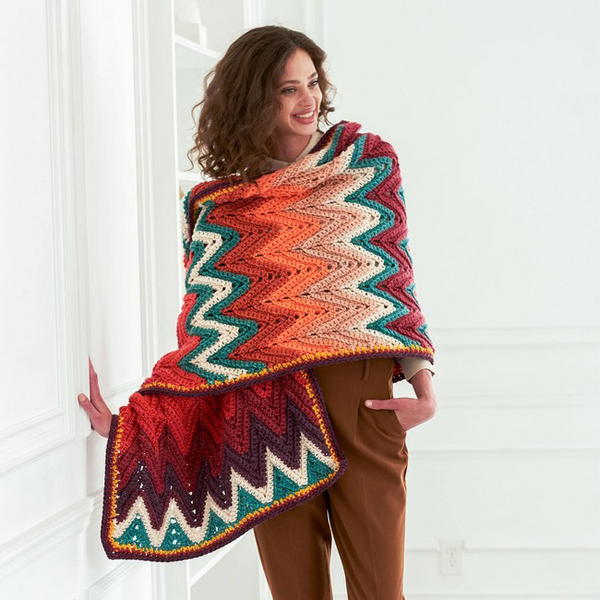 Shawls are a great way to show off your crochet skills. Zigzag Time In Crochet Shawl is perfect for you to try your hand at a new skill level. You will love the zigzag design and the switch to single crochet in the back loops. Crochet shawls are a great addition to your wardrobe.
The pattern uses Caron Cakes and as you can see in the picture, there are lots of color combinations that would all look amazing. You'll love the beautiful colors Caron has chosen for you! Choose a different combination of colors, or make it in just one color - either way, this project will keep you engaged. Increases and decreases create a dramatic shape. This pattern is a must-have for any crochet lover.
Blanket Dressing Plaid Shawl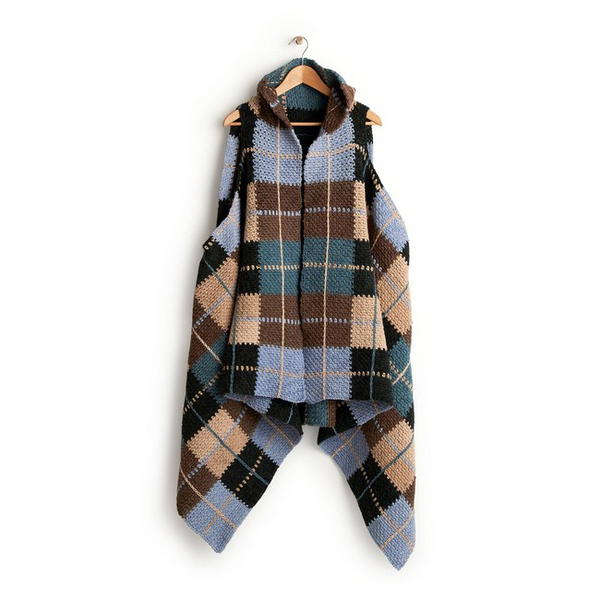 The Blanket Dressing Plaid Shawl is a classic addition to any wardrobe. It works as a great transitional piece, making the perfect accessory year-round. The Caron Big Donut O'Go is an easy but elegant pattern that has blocks of O'Go yarn that creates a beautiful design.
This free crochet pattern makes for a great blank canvas that you can match with any outfit in your closet. The crisp colors and neutral tones will help you transition this shawl into different seasons. It is the perfect addition to your coat or sweater collection. The size of the blanket makes it a great travel accessory too. Take it to the beach, on a plane, or anywhere else you want to add texture and color to an outfit. This crochet blanket shawl is perfect for beginners too! With detailed instructions and photos, this is an easy-to-follow pattern to create a beautiful fabric that will keep you warm in cooler temperatures.
Shawl Ombelle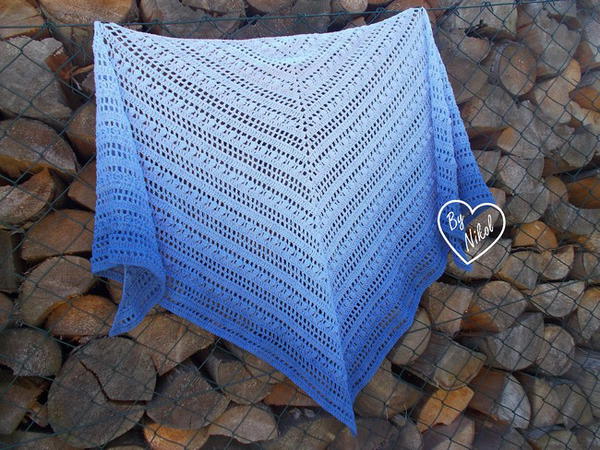 There's nothing like the feeling of a luxurious, handmade accessory. Shawl Ombelle combines nearly weightless yarn with elegant lace to create a lacy wrap that showcases your handiwork. The ethereal fabric is the perfect wrap for cool evenings and breezy afternoons -- and it's just large enough to fit over your shoulders and keep the baby close.
This is the Ombelle shawl crocheted in beautiful shades of lace. You can choose to use yarns in various colors to crochet it or use the same yarn in different weights or lengths to get amazing effects that vary from one shawl when you change your color selections.
Shawl de Verano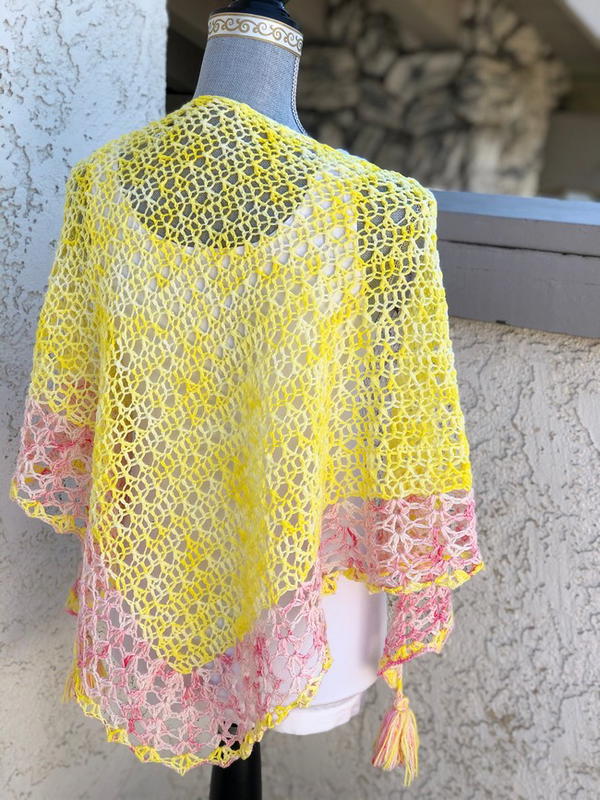 Summer always goes ahead, so it is always a good idea to prepare for summer evenings. This crochet shawl de Verano or summer shawl is the perfect accessory to cover shoulders and neck when it gets cool in the evenings. The pattern is super easy and you can crochet it in two days. It's perfect for crocheting beginners!
Crochet this Shawl de Verano and you will have unique work. It requires only two skeins of yarn, one left over to make other crochet pieces. It is perfect even if you are a beginner in crochet. And it is a very simple pattern with only four rows, so it is perfect for those who want to try something new.
Beatrix Shawl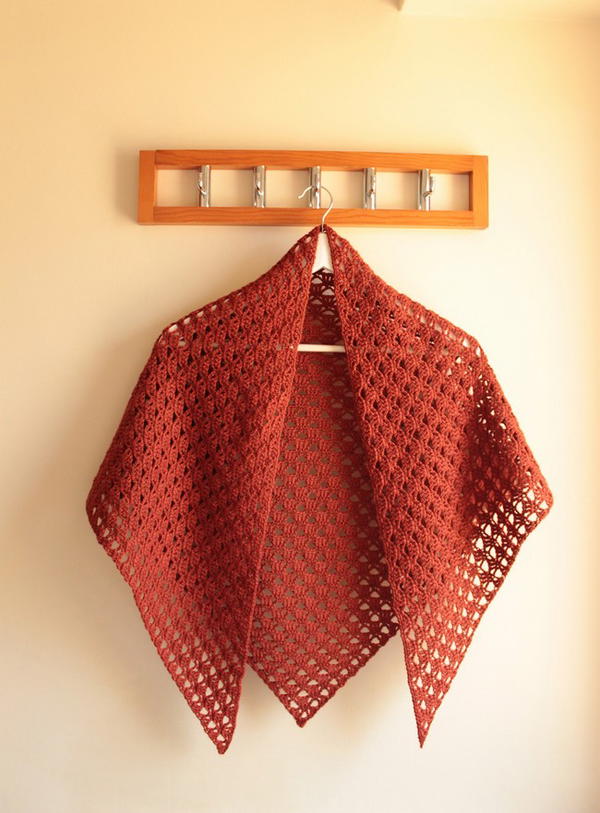 This triangular shawl is worked in rows from the bottom point up towards the widest edge. One side of the shawl is primarily covered in eyelet holes while the other side has a linear lace pattern that runs along its length. The asymmetric design allows you to choose whether you will be showing off your favorite yarns or enjoying a simple textured stitch pattern.
Shawls are worked asymmetrically from the bottom point up towards the widest edge. The shawl is ended with i-cord border running along the top, and with a garter stitch border on the second half of the shawl that works well as a button-hole band.
Quick and Easy Shawl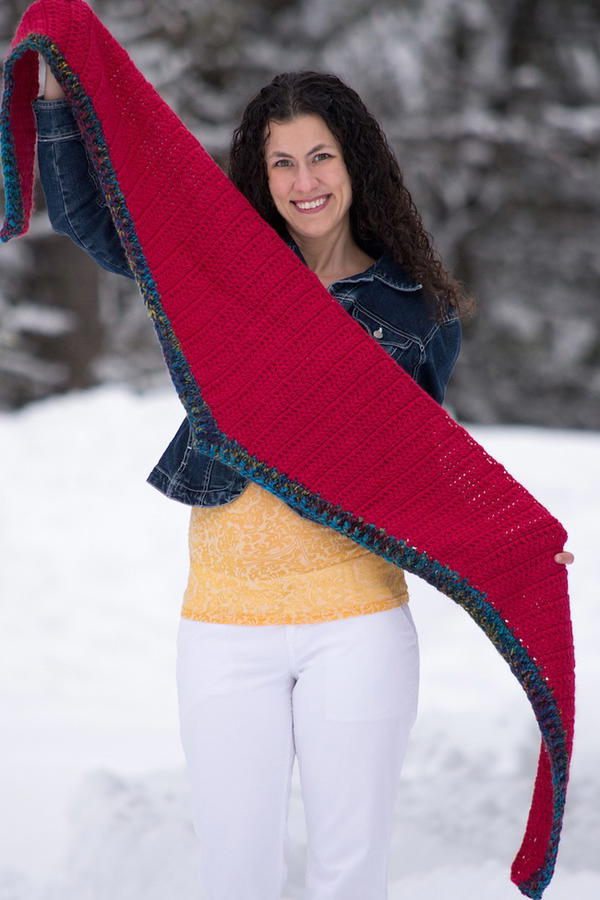 Need something warm to keep you cozy on these chilly autumn nights? The Quick and Easy Shawl gives your wardrobe a little spice this fall. This simple triangle shawl pattern works up quickly in a chunky yarn, perfect for the advanced beginner crocheter. Both instructions and charts are provided. This shawl doubles as a cuddly scarf when wrapped around your neck!
This easy triangle shawl works up quickly using only one skein of chunky yarn. The pattern is perfect for those new to the shawl-making process and who love a challenge. It takes a little more concentration than your basic sewn scarf, but it can be worn as a scarf or shawl and even wrapped around your neck multiple ways.
Crafty Pocket Shawl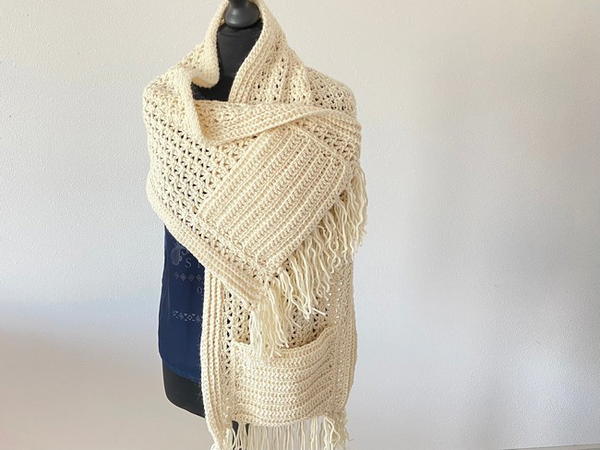 Crafty Pocket Shawl is a free crochet pattern for you. This vintage crochet pattern's design works as a shawl and a scarf. You can wear it as a shawl to keep your neck warm on colder evenings or use it as your daily evening bag. It is made of luxury yarns like wool, cashmere, and silk, so it is really soft to touch. The pocket shawl is a wrap that can be folded neatly in your coat pocket. The crafty pocket shawl is a nice way to make a gift for someone or to keep for yourself.
Pop Up Shawl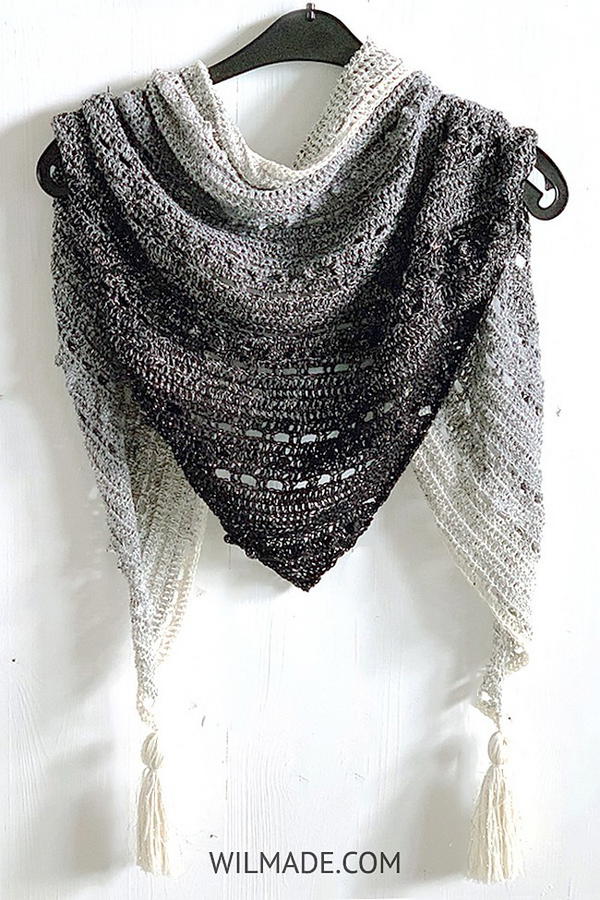 The Pop Up Shawl is a beginner-friendly triangle scarf that's worked bottom up. The secret to this shawl is the popcorn stitch: a single crochet stitch made of three stitches. Depending on your preference you can add as many or as few bobbles as you want to the main body of the shawl. For this project you can use any yarn weight that you want: I used a gradient yarn cake for that beautiful drape. It's a great project for beginners who want to make their first triangle scarf.
Shawl With Pockets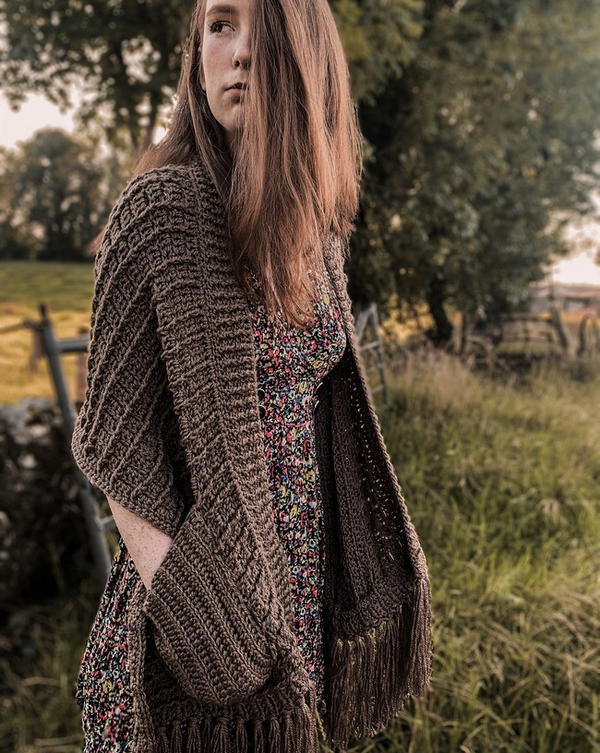 This shawl keeps you warm with a little flare to that basic t-shirt and jeans look. The pattern is best width-wise, so it starts with a chain row that ends up being the desired length of the shawl once completed. If desired, buttons or safety pins can best secure it into a triangle shape.
The crochet shawl pattern can be made in any size and height. Make it longer or shorter, wider or thinner, whether you use a strand of yarn to do so or just go with the flow of your imagination. The great thing is you can make it up to suit you.
The shawl on the Bias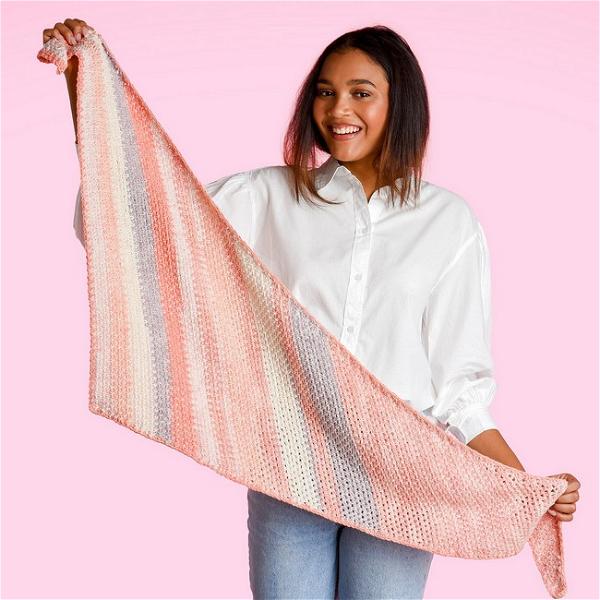 Start your crochet collection with the "Shawl on the Bias." It's fun to make and adaptable to any yarn and hook combination. Each row starts out with single crochet stitches, which transition into more eyelets as it moves toward the center of the work. The pattern will be easy to follow as you learn the different stitches. This makes it a wonderful beginning project for those just learning to crochet!
A soft-colored bamboo and cotton blend has a simple crochet shawl for summer, making it as comfortable as it is elegant. Crocheters know that Caron's Angel Cakes take color exceptionally well. The yarn comes in so many shades that you could make this design in almost any hue and have your own individual creation. We used just one skein of each shade, combined with partial skeins of the other colors, to create the easy center section and the border.
Teterboro Shawl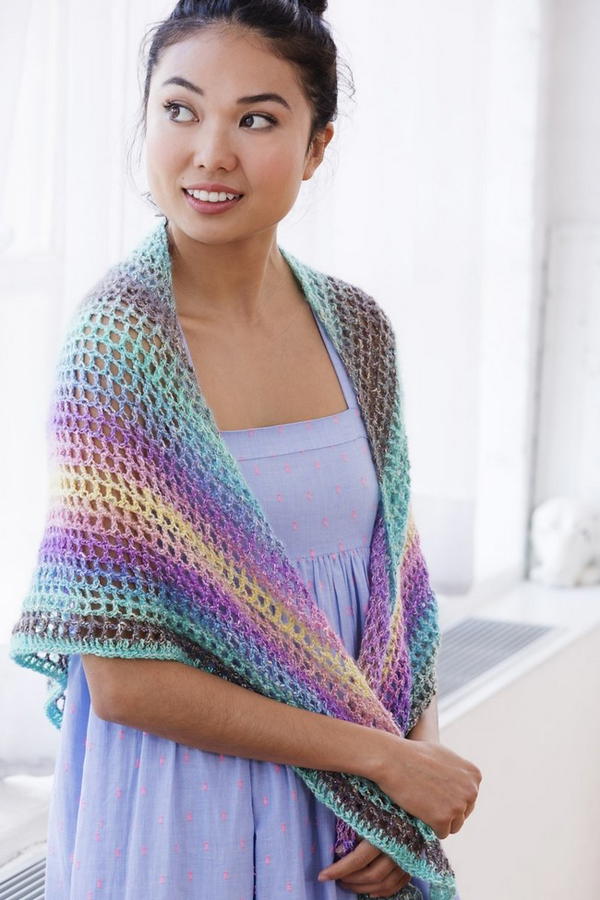 Teterboro is a top-down, seamless shawl worked in one piece beginning at the center back neck. The body of the shawl will work with increases along one edge. Shawls are simple shapes that work with a few basic shapes that repeat and overlap throughout the fabric, creating an interesting layered effect. This design will inspire the many beautiful birds living in our neighborhood and sing outside our window each morning. An easy-to-wear, feminine accessory for your wardrobe, this shawl will look great with a lovely yarn that evokes the feeling of peering out a window at the first snow on a crisp winter's day.
Shawl Norway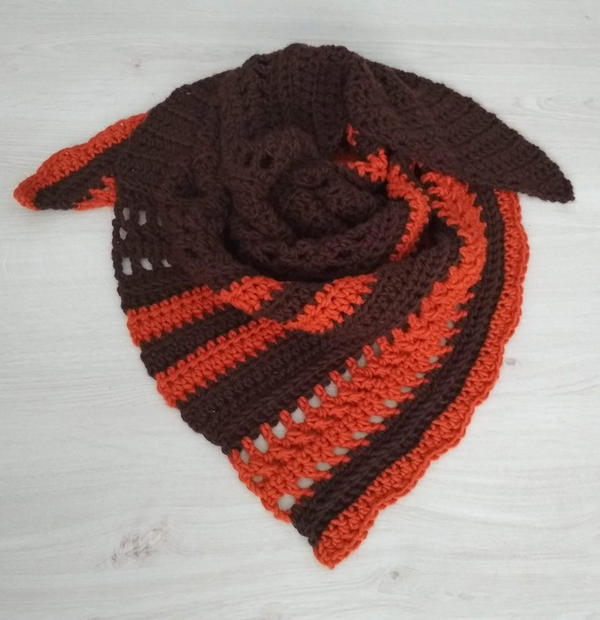 Your favorite winter accessory just got an upgrade this season. Shawl Norway, the original cable-ribbed fashion scarf, features a vibrant color palette that's perfect for the cooler months. The shawl will work best from 100% acrylic and has an anti-pilling treatment so it will look as good on your lap as it does wrap around your neck.
Shawl Norway is a cozy, lightweight yet warm cotton blend scarf with a fantastically soft, fluffy texture that keeps you perfectly warm for all-around winter comfort. It's also extremely eye-catching, bringing an artistic Scandinavian look to your look as well as warmth.
Shawl Fabin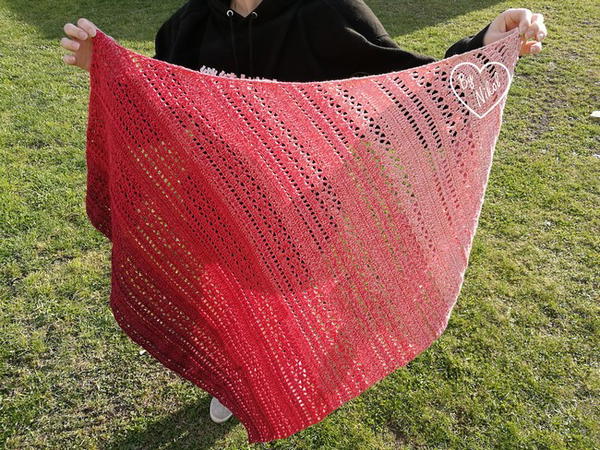 Sometimes we just want to snuggle into a cozy shawl, especially in cold weather and the Fabin Shawl is perfect for those days. Knit from the top down with the Sedge stitch. This Sedge stitch creates an interesting texture and it works up quickly. The Fabin Shawl is like a hug to wrap around yourself when it is cold out.
The Fabin Shawl is the perfect summer accessory. You can wear it under your jacket, around your shoulders, or just tie it as a bow at the front and add a belt to create an elegant look. It's so easy to make, and if you know how to crochet an edging, you will master this pattern in no time! The yarn used in the pattern is very soft, so you will be able to enjoy wearing the shawl even more.
Shawl Laguna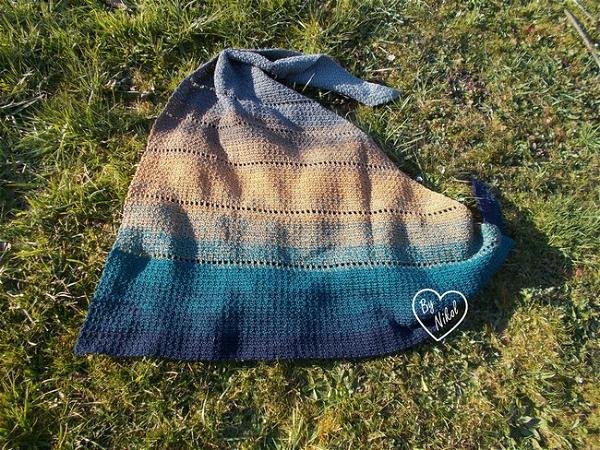 The wide border of this Shawl Laguna and the small spaced-out tassels give this accessory a touch of classic elegance that goes well with any outfit. Wear it under your jacket, around your shoulders, or just tie it in front and add a belt for an even more elegant look. The lightweight, chunky wrap will make your summer outfits more elegant. Worn around the shoulders as a shawl, tied as a belt, or wrapped twice as a scarf, this versatile piece will bring compliments to you all summer long.
Autumn Nights Shawl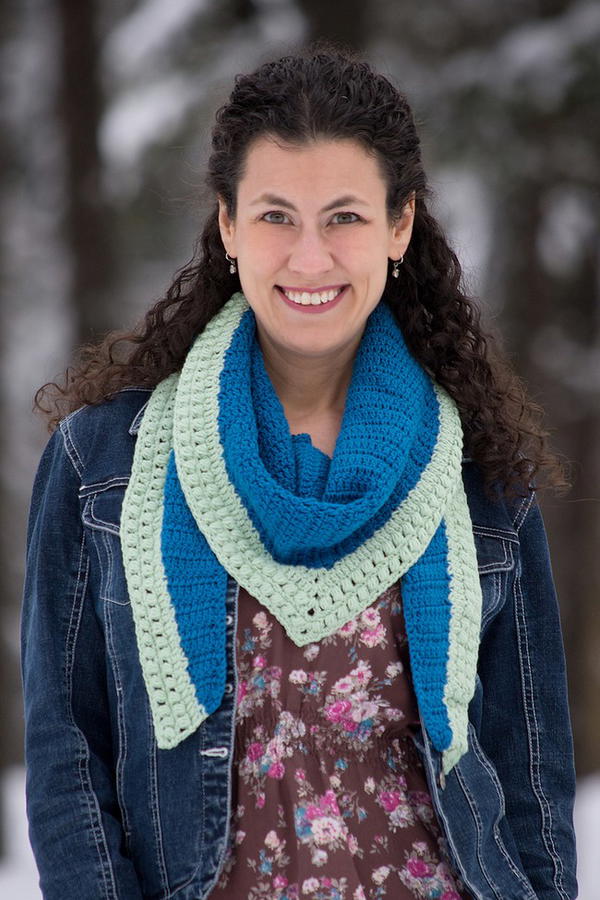 Autumn Nights Shawl is the perfect accessory for your autumn and winter wardrobe.   This shawl features a puff stitch edging that adds textured details and a decorative look to the shawl. It's also very easy to modify for different seasons. Just change up the yarn weight and hook size.
This shawl is great for showing off new yarns or using up scrap yarn. Autumn Nights can be great with any weight yarn and appropriate hook size. With a decorative puff stitch edging, you have some room to play around with your color choices or your yarn weight.