Many crocheters love to create their crochet pullover patterns just because they can! You can find free crochet pullover patterns all over the Internet. If you are new to crochet, you might want to start with an easy pullover pattern. Crochet pullovers are cute and fun to wear during the cold winter months. There are many different styles of sweaters that you can make, including cardigans, hoodies, dolman sleeves, v-necks, etc. Choose a design that matches your style and personality.
Crochet Pullover Patterns: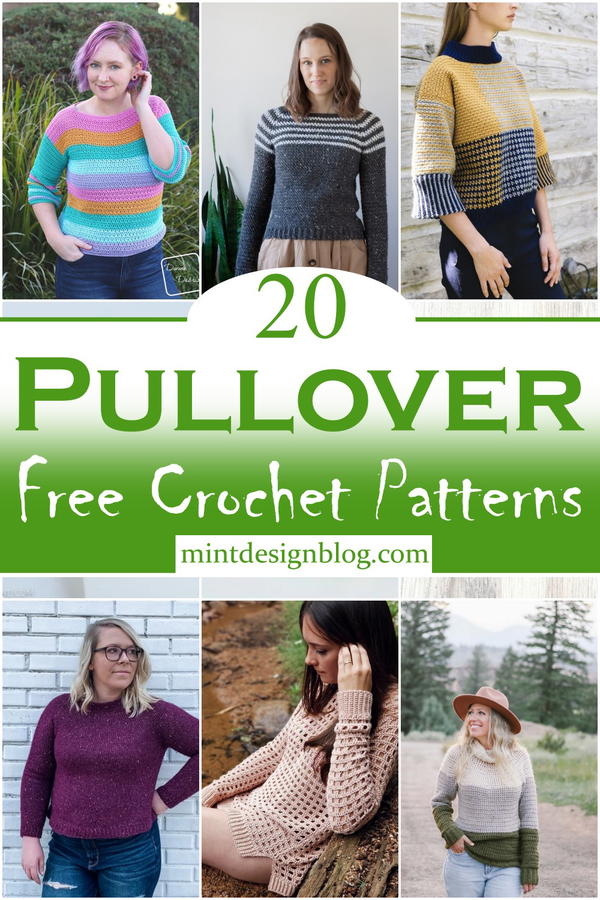 The transition from summer to fall is often the perfect time to refresh your wardrobe. You'll love this roundup of free crochet pullover patterns if you're looking for new crochet pullover patterns. From cowl neck tunics to cropped cardigans, you'll find a variety of stylish and functional designs. Here are some free crochet pullover patterns for easy wear-everywhere pieces that offer a modern look. These versatile designs are great for the fall and will transition easily into winter.
With these free crochet pullover patterns, you can be sure that you have a great look and wardrobe staple no matter what the weather throws your way. These designs are adaptable for various sizes so that you can work on them as your project. You can choose from various designs for crochet tops that are both stylish and functional. Wear them over t-shirts or blouses to keep warm on cool days, or dress them up to look great at work or an upcoming special event.
Snowbound Pullover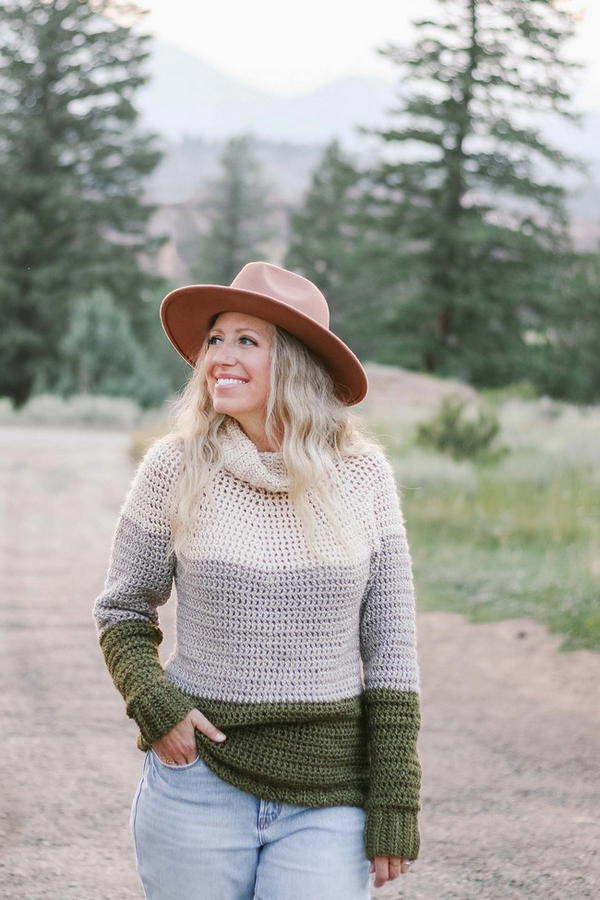 The Snowbound Pullover is a simple, crocheted sweater that uses chunky yarn to create a quick-to-work project. The textured stitch pattern creates a uniquely warm sweater without adding any bulk. You'll practice crocheting in the round and increasing as you work, while basic yoke construction gives this garment an easy fit that looks as great on everyone!
This is the perfect sweater to wear on a chilly evening walk. The Snowbound pullover has a relaxed fit and uses a single crochet yoke construction to shape the shirt. To make this sweater, you'll need to know how to crochet in the round, increase stitches, decrease stitches, and sew seams. You may want to leave the sleeves long for a cozy winter or shorten them for a more casual look.
Alix Pullover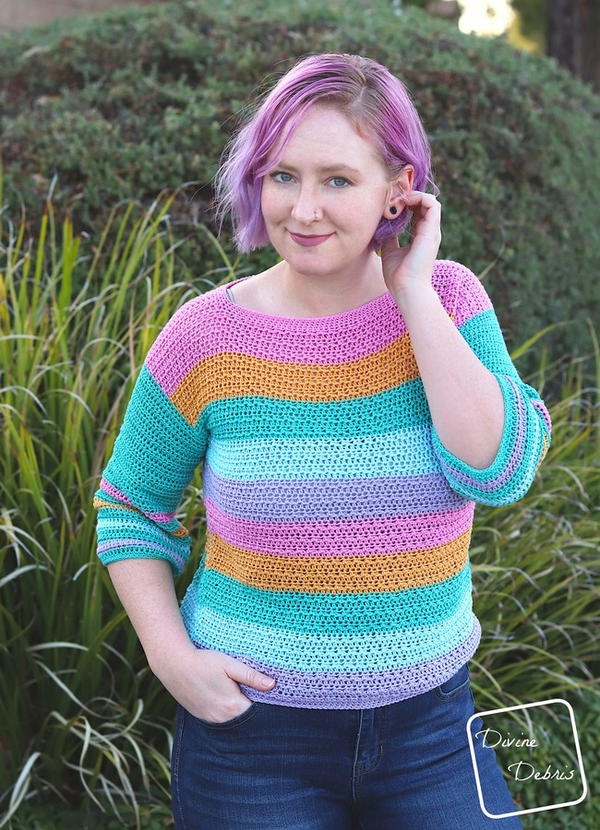 The Alix Pullover is a fun, easy, and lightweight transition sweater made in a fine weight yarn, perfect for layering on those early Spring days and late Summer evenings. The design is full of texture, color, and all the stripping you want.
The Alix Pullover is worked from the bottom up in one piece with raglan shoulder shaping. Increases at the front and back of the sweater create a wide waistband that is reminiscent of an A-line skirt. The yoke is worked from the top down, decreasing to form a lovely drapey opening at the neckline. The sweater is easily modified for length by adding or subtracting short rows before beginning the arm shaping and picking up stitches around the armhole edge.
Classic Tunisian Pullover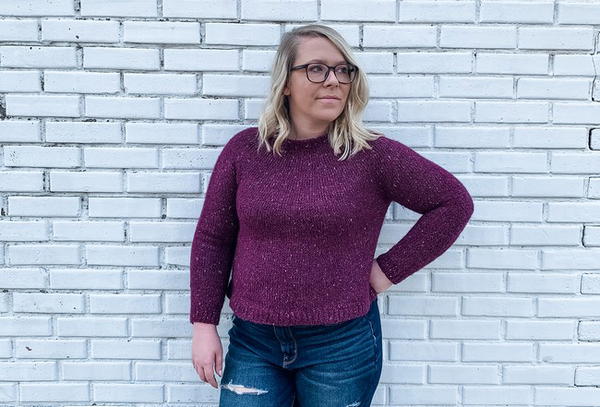 Tunisian Knitting offers a unique and interesting method of knitting that incorporates different textures and is ideal for simple colorwork. The pullover is worked in the round using a Simple Tunisian Stitch, a combination of knitting and purling. Since the fabric is so thick and warm, you may wish to line the garment with a thin knit or woven fabric. If you would like a slightly longer pullover, feel free to cast on more stitches.
Stillwater Pullover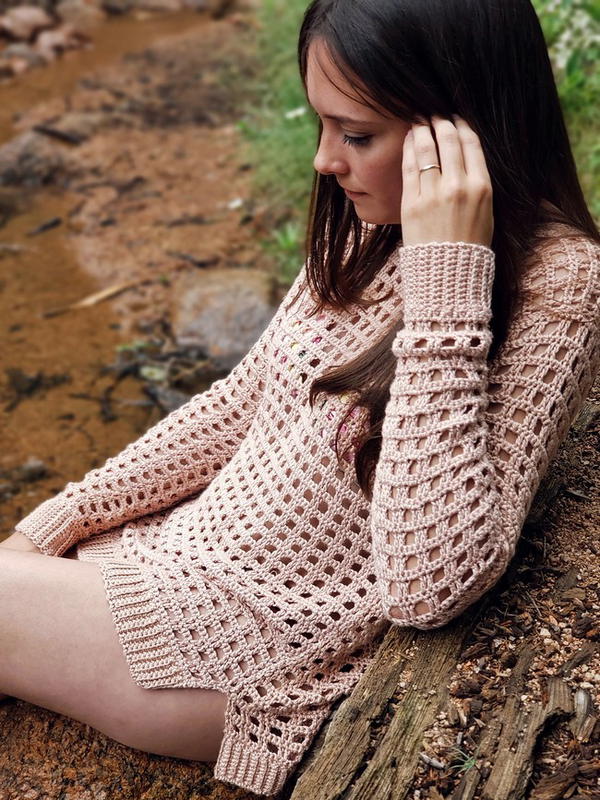 The Stillwater Pullover is worked back and forth in rows. The front panel, back panel, and sleeves are worked as individual pieces seamed together. Set-in sleeves and a shaped neckline make this pullover a comfortable, flattering fit on any body type. A versatile pullover will be a go-to basic for years to come. It is the perfect piece to throw over your bathing suit at the beach or wear casually with your favorite pair of jeans. The Stillwater Pullover was designed with ease in mind to fit both you and your style!
Blocked Cropped Pullover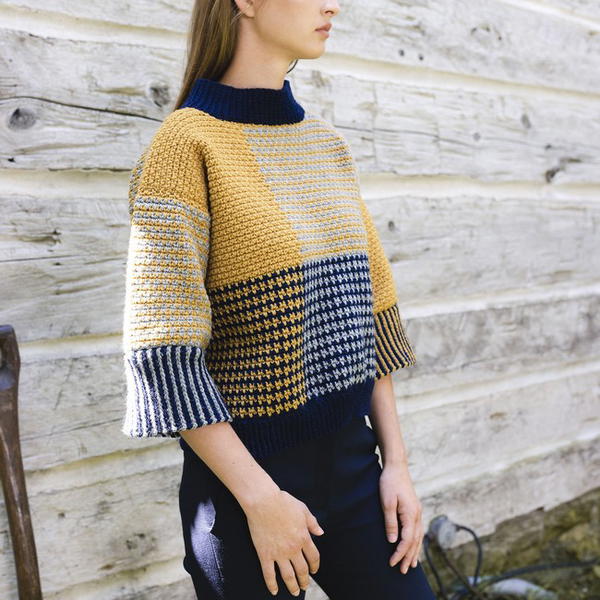 The crocheted piece will be a great addition to your wardrobe this Fall and Winter. It is done in the crochet moss stitch to create a tweedy texture in Patons Classic Wool Worsted shades. The easy fit is perfect for pairing under a jacket or cardigan or adding warmth on its own. You can use any yarn shade you like to create this stylish design!
Blocked is crocheted in a crochet moss stitch to create a dense, warm fabric. The crocheted moss stitch is worked with the right side facing you in purl bumps, and all wrong side rows are worked in double crochet. Blocked features color-blocked panels at the shoulders and front body - these panels will become a new favorite layering piece for Fall & Winter.
Ash Pullover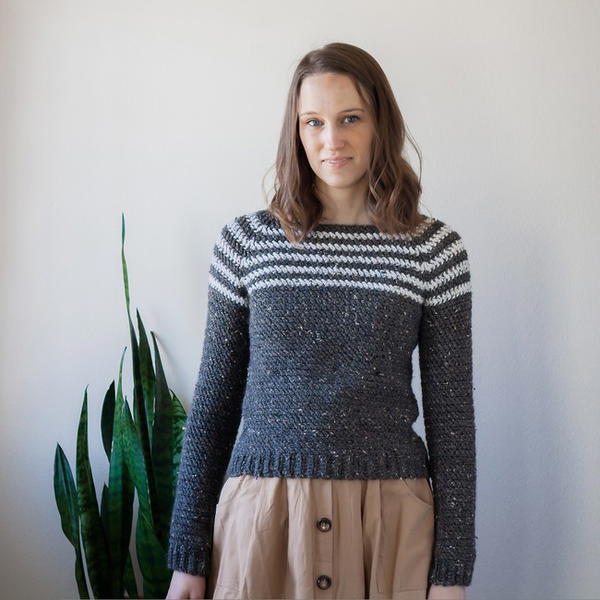 The Ash Pullover is designed with a round yoke and waist shaping to flatter any figure while still simple enough to work on all levels. The front and back are worked from the top down. Once you get going, it's an easy project to finish. There's no seaming or too many finishing touches that need to be done. Ash is a seamless pullover with a dramatic but straightforward yoke done in the Winter Ice Collection tones. The sweater is knitted top-down with raglan shaping to fit the contours of your body.
Driftwood Pullover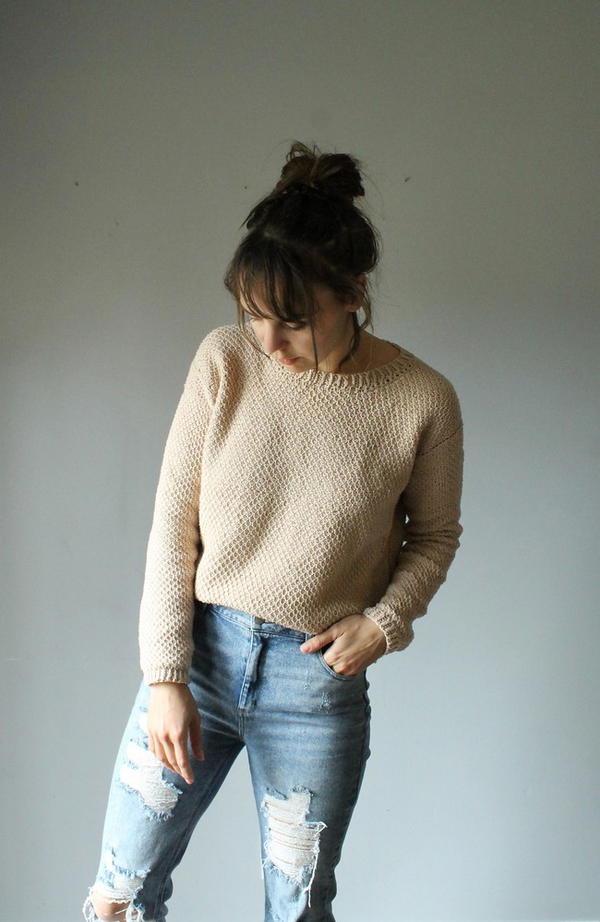 The Driftwood Pullover is an oversized, lightweight, boxy top. The Tunisian honeycomb stitch creates a beautiful texture, and the slip knit ribbing around the neck and bottom of the sleeves adds a feminine touch. It features a drop shoulder shaping for an effortless fit, and easy length options ranging from cropped to tunic length. It has great details that include row by row written instructions, color-coordinated sizes that are easy to follow, and color-coordinated crocodile stitch diagrams/example photos, so there is no confusion on how to make this pattern.
Pulmu Pullover
The Pulmu Pullover is worked from the top-down, beginning with the yoke. The body will divide at raglan shaping and work in short rows to accommodate the back neck. The sleeves will work in the round from a provisional cast-on, back and forth, from hem to cuff. Stitches are picked up along the back neck to create a contiguous edge for working the hood—work one larger needle size for sleeve and hood shaping. A single strand of heavy sport-weight yarn held double is used throughout most sweaters.
Rochester Pullover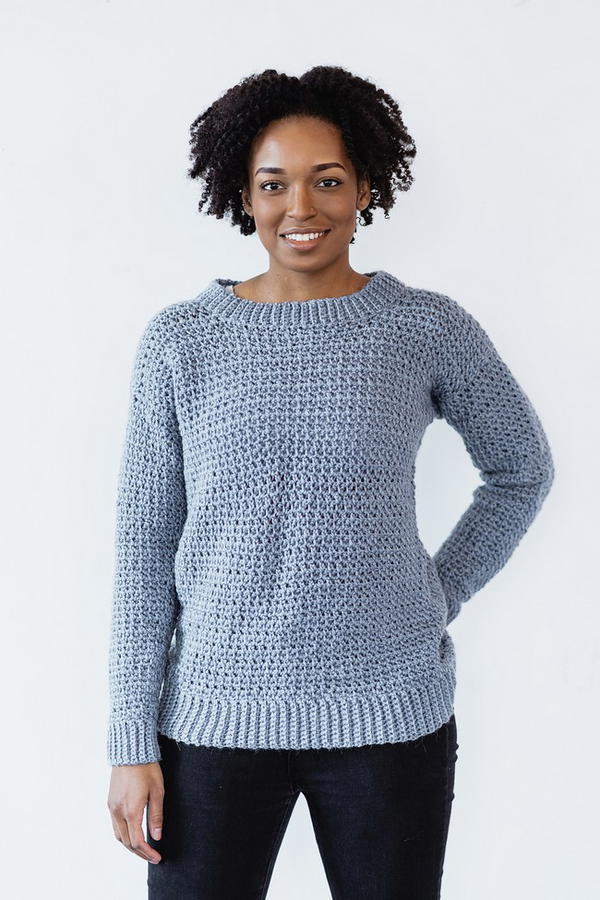 The Rochester Pullover will be your next favorite multi-seasonal staple. This oversized, lightweight sweater is a fun workhorse for cold-weather layering and milder spring mornings. The rib texture adds texture and drape, while the overall mesh pattern makes this sweater flattering for all body types.
This beginner-friendly sweater is the perfect combination of modern creativity and tried-and-true shaping. The three-quarter length sleeves look stylish on their own or layered over cardigans and coats, while the overall textured mesh makes this sweater flattering for all body types.
Sum Of Its Parts Pullover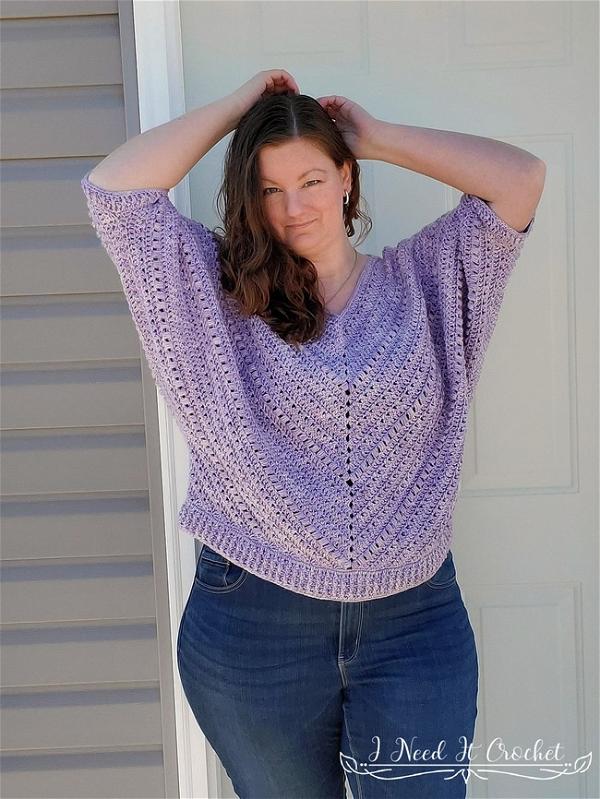 The pullover is a modified raglan with saddle shoulders. The piece-Y shaping at the lower edge of the sleeves and torso works by increasing at both edges of every row, giving this top its unique silhouette. The pattern has instructions to help you navigate the construction process to bring you a customizable pullover that you'll love wearing!
The simple design can be worn four ways and can easily be dressed up or down to fit in with whatever look you're after. This pattern will walk you through it step-by-step, whether you know how to knit or don't even know where to start.
Camper Pullover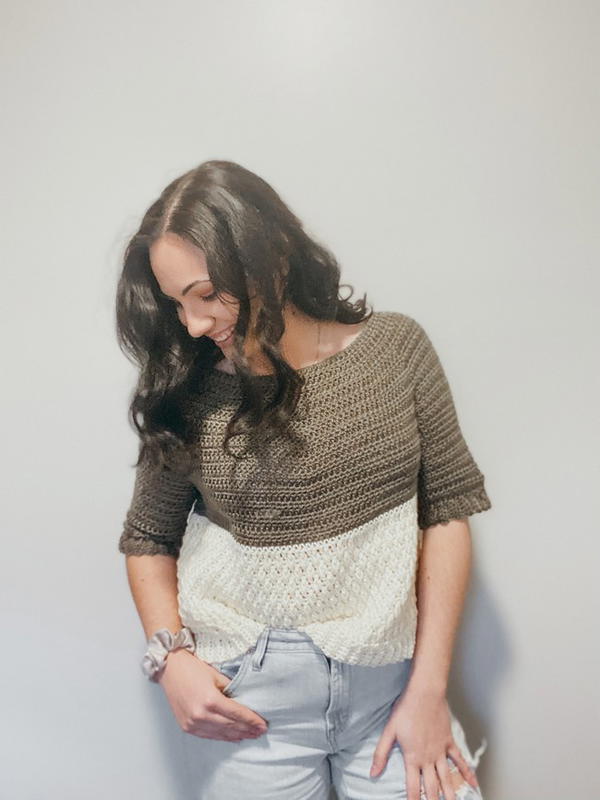 Don't irritate in the cold! With the Camper Pullover pattern, you can bring a stylish and warm pullover with you. This seamless sweater works top-down in pieces and bound off at the end. Next, sleeves will seam and be left open. The shoulder stitches are then grafted together if this is your desired look. Camper features a wide rib on the bottom will divide by an alpine stitch for simple texture contrast. Drop-down set-in sleeves contrast color stitching, crew neck, and rolled stockinette hem are simple techniques that can be used to make this piece shine.
Easy Peasy Pullover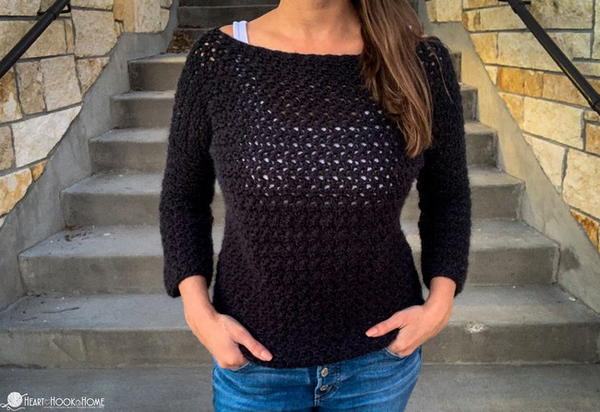 The Easy Peasy pullover is a free crochet pattern that makes for an easy introduction to basic crochet. The lightweight cardigan is the perfect layering piece for cool spring mornings and breezy summer afternoons. It looks great with jeans, leggings, skirts, or even shorts. The Easy Peasy pullover begins with a seamlessly ribbed body that works from top-down. The collar works sideway and then attaches to the body. The hems work in simple crochet and sew inside the garment.
Brentwood Men's Pullover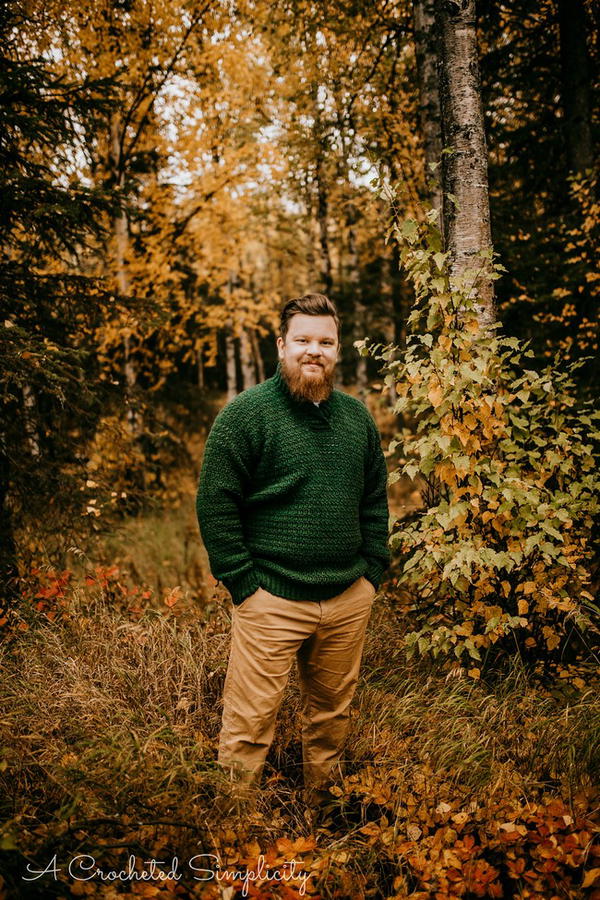 A pullover is a classic addition to any wardrobe. The Brentwood Men's Shawl Collared Pullover is a crochet men's pullover create from 100 percent wool and comes with a collar that can wear open or pull-up to protect you from the elements. Pair it with dress slacks for a dressier look, or pair it with jeans for a more casual vibe. Crafted with soft, lightweight cotton and featuring intricate crochet detailing, the Brentwood Shawl Collared Pullover can be worn for years to come.
The Pemberley Pullover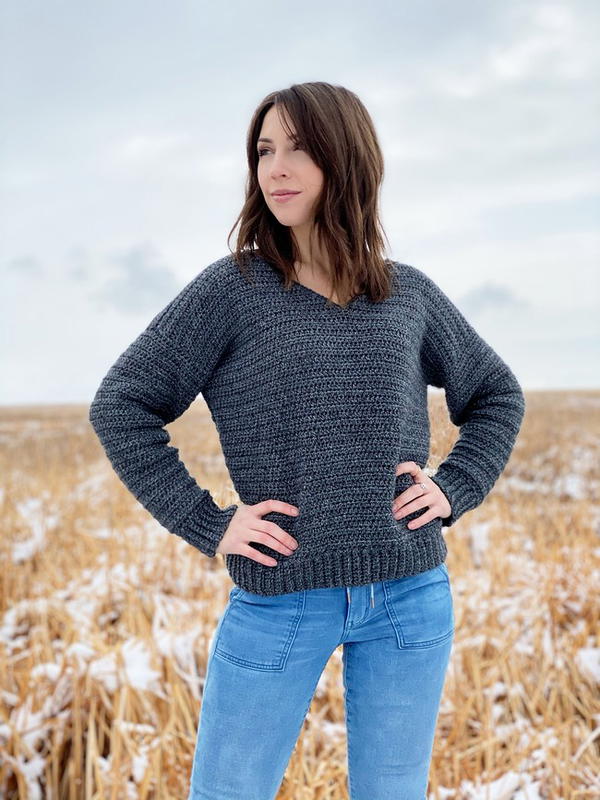 The Pemberley is a classic unisex sweater. It's a super soft, beginner-friendly V-neck pullover. This boxy and slightly oversized fit makes it extra comfy to wear. The ribbed detail around the wrists and waistband is flattering and feminine, while the high low hemline creates visual interest and hides extra tummy length.
The Pemberley Pullover has a classic and boxy fit with slight waist shaping. The bottom ribbing is noticeable at first, but it gives a pleasant texture once you get familiar with it. The stitch pattern is easy to follow and creates a simple modern look. It boasts beginner-friendly stitches yet still creates a refined texture, making it the perfect project for any skill level.
Pebble Creek Pullover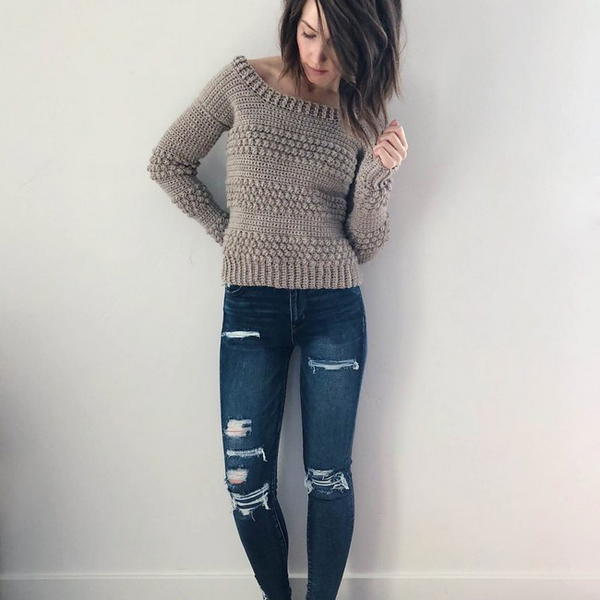 The Pebble Creek Pullover is built for comfort and made for warmth. It's fun to work up and has a textured dense stitch pattern but is still easy to wear. This top-down sweater features set-in sleeves and raglan shoulders for a custom fit and an easy-to-wear wide neckline! Perfect for a gift or just a treat for yourself!
The Pebble Creek Pullover is a classy addition to any wardrobe. The simple pattern, contrasted with the rustic body and subtle texture, creates a unique look. The set-in sleeves and raglan shoulders offer comfort while fitting. You will love this super-warm, textured sweater that's super simple to make.
Light Touch Pullover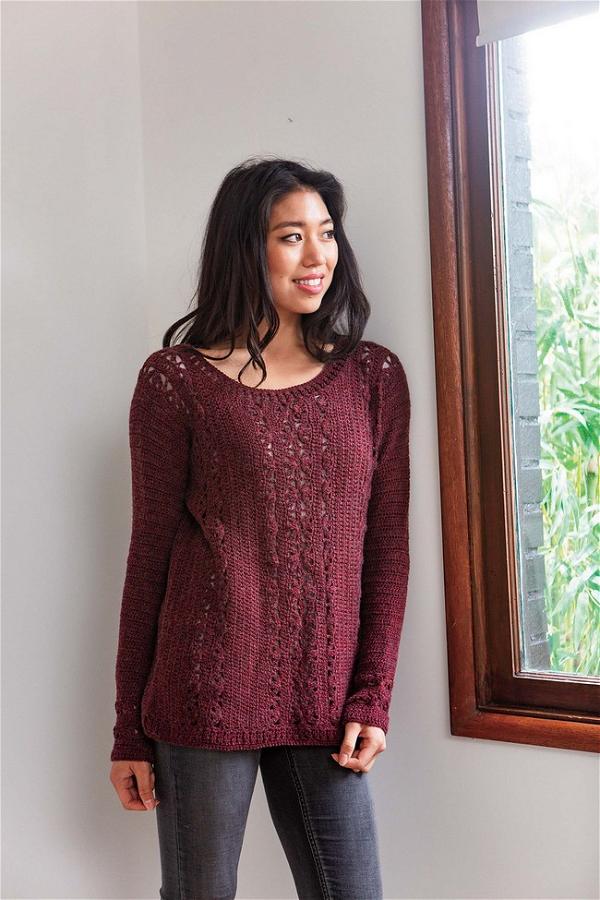 Light Touch Pullover is best to flatter women of all body types. The straight lines and gentle curve hemline are balance with the laced bottom edge and shaped sleeves, adding a touch of softness to the overall appearance. The yoke features a slight A-Line shaping, inspired by knit tunic garments of antiquity, which enhance the modern look encouraged by the widespread popularity of oversized sweaters. With its slightly elongated torso, the Light Touch Pullover will suit various types of torsos. The sleeve cap is slightly longer than the average sleeve cap, making it comfortable paired with high-socks or leggings. Details such as an open neckline, a flower appliqué applied using duplicate-stitch embroidery, and a cashmere yarn used for the main fabric make this garment fun to knit for yourself or a loved one.
Beach Day Pullover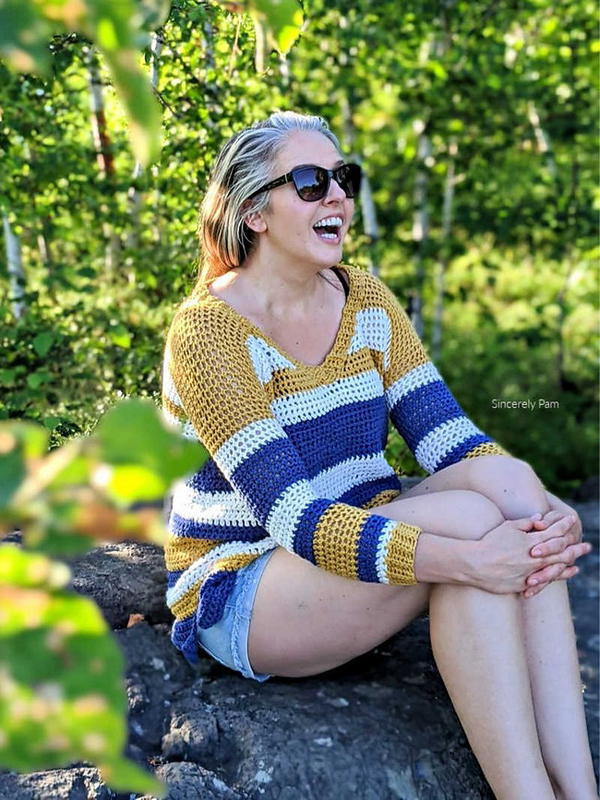 Beach Day is a light and airy pullover designed to look like a woven shirt. Its wide neckline, short sleeves, and small peter pan collar give it a casual, beach-ready look. Add an optional crochet edge for an interesting texture detail. The single crochet construction makes it a fast and easy project that an ambitious beginner can tackle.
The Beach Day Pullover Crochet Pattern is an easy-to-crochet pullover perfect for a cool summer day. The sleeves work with a dolman construction that provides a wide range of movement for your arms. The body of this sleeveless pullover features slip stitches to create a unique texture that you can use over the beach or with your favorite jeans.
Nautical Knots Pullover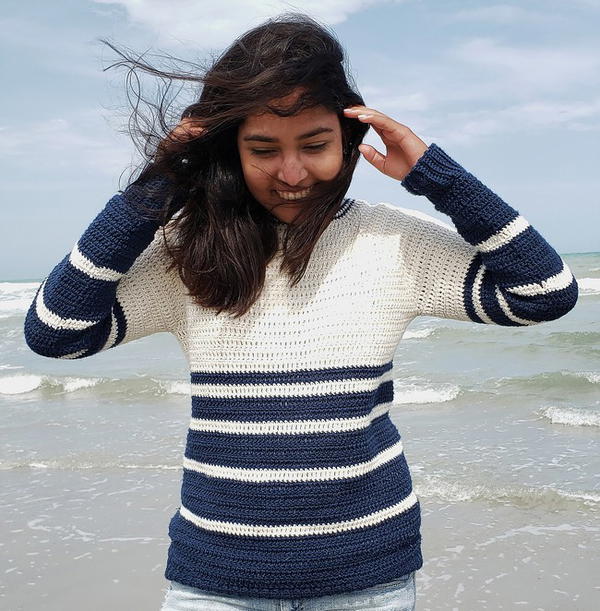 Combining comfort and design, the Nautical Knots Pullover is the ideal piece to strengthen your spring wardrobe. This pullover has a lightweight, and soft hand yet handles cool summer nights. The classic crew neckline makes it easy to pair with any top underneath,h while the open front panels create a nautical feel. Wear this pullover on its own, or dress it down with denim for a look that will take you from the office to any beachside patio.
Two by Two V-Neck Pullover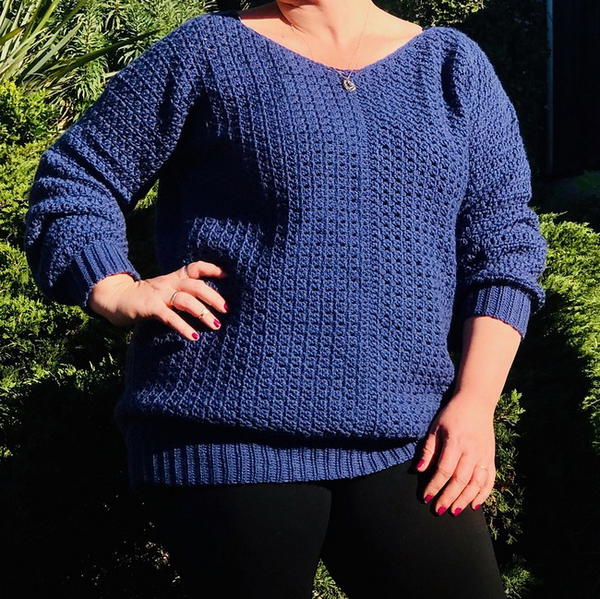 The Two by Two is a great sweater project. It works from two panels together at the side, with minimal sewing. The result is a truly oversized sweater that gives you extra ease and comfort. There are two sleeve options - one worked in the round, and the other worked back and forth in rows. This makes it very easy to knit because you can choose your favorite technique.
The oversized fit of the Two by Two pullover makes it an excellent option for layering. They were made with two panels, front and back, and they worked in vertical rows. Sleeves work as one piece from the body of the sweater. Worked flat to underarm and then joined in work-as-you-go crochet bind-off method to work each shoulder separately.
Ocean Pullover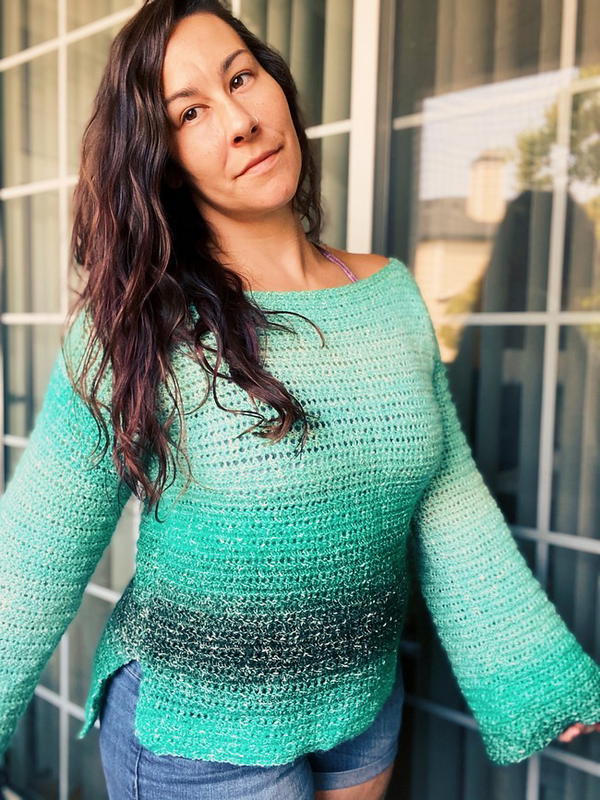 The lightweight sweater is simple yet super stylish. A boat neck and split high-low hem give it an attractive and flattering fit. Throw it over a bathing suit, or wear it casually over jeans for a laid-back weekend look. Make a splash wherever you go this season in the Ocean Pullover. Its boat neck and split high-low hem give it a new edge for the look inspired by life on the seas.
Sweep a hand along the ocean's surface, and you'll feel something silky and soft, like this sweater. With delicate waves printed onto it and a relaxed fit that keeps form without clinging, it has all the comfort of a tee but the texture of a dress.