Balloon Arch is an easy DIY project that you can do at home; It is a simple arch made of balloons and ribbons in different colors. The best thing about it is that it does not need any special tools or equipment and you can easily set it up anywhere. You need some balloons, ribbon, tape, or glue to get started with this project. You can decorate it with flowers or other accessories if you wish to do so. below is a list of 25 DIY balloon arch projects that you can DIY from home.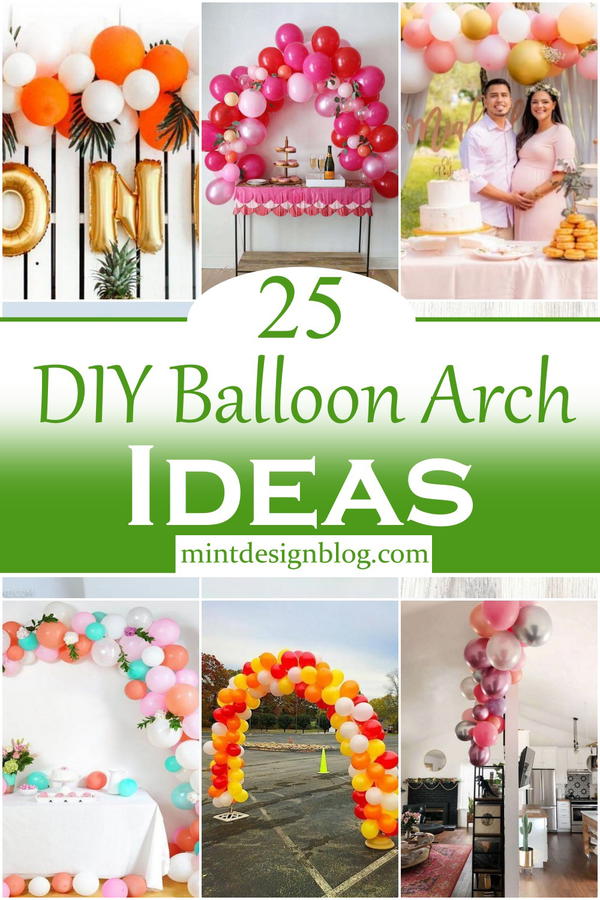 Balloons can be used to create beautiful decorations for your home or office. You can also use them as party favours for your guests to have something to take home with them after the event. If you're looking for an inexpensive way to decorate your outdoor space, balloon arches are a great choice! Using nails and hooks, you have to hang ribbons from your house's front door and then tie them together in a criss-cross pattern using tape or a glue gun. Here are some DIY balloon arch ideas that will give you some inspiration:
Here are 25 DIY Balloon Arch Ideas that will help you make a stunning arch decoration for your wedding ceremony and reception or many more things.
How To Make A Balloon Arch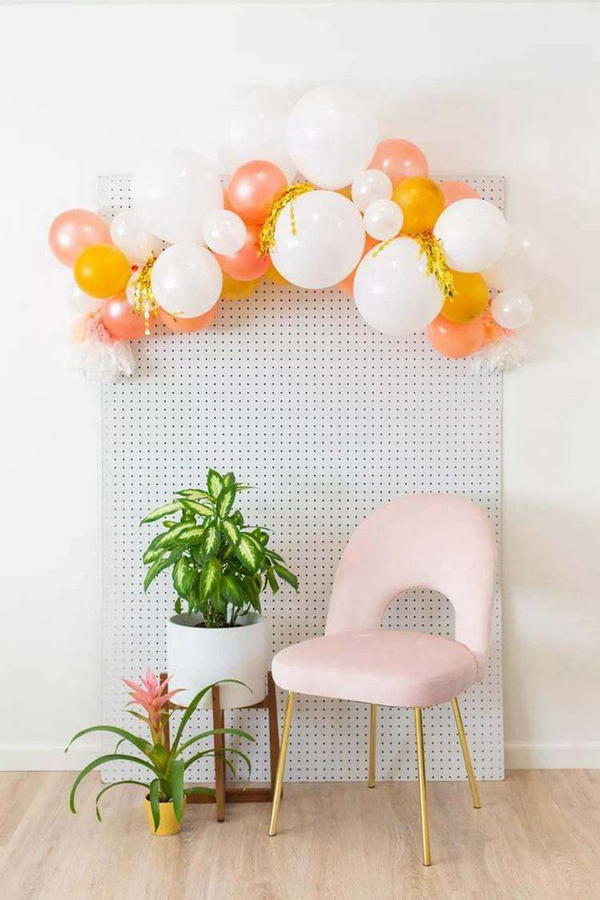 Making a balloon arch is an easy and fun project. It can be used for special occasions or as an everyday decor piece. The materials needed for this balloon arch include a hand balloon pump, thin beading wire, and latex balloons (of different sizes). The first step is to blow up the balloons and string them into the thin wire until you have a garland. Next, attach the hooks to the wall with nails, then attach the garland to them.
How To Make A Balloon Arch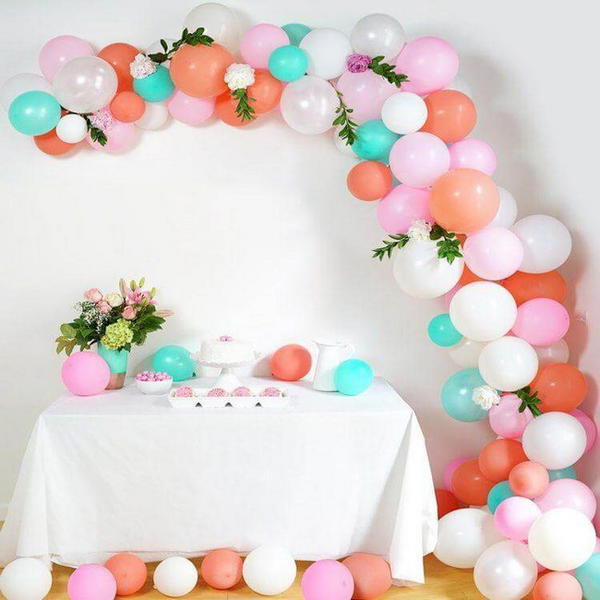 Balloon arches are a great way to add colour, shape, and texture to your event. Balloon arches are simple to create with this easy tutorial, whether you're using them for your wedding decorations or want to make a statement on your front porch. Tips on how to take care of the balloons and arch once it's assembled are included! Designing a balloon arch is easier than you might think. The materials you need are some balloons, scissors, and a little bit of creativity!
DIY Balloon Wall
Balloons are a fun way to decorate your home for any occasion. This DIY balloon wall is easy to make and can be done in less than an hour. So gather the materials needed for this DIY project, blow up the balloons, then make a cluster of balloons using a fishing line and attach them to the wall with hooks. Select a friendly colour theme based on the celebration or event for which this will be used, then dress up your room instantly with a balloon wall!
DIY Balloon Garland Tutorial
Balloons are a lot of fun at birthday parties, but you can use them to decorate for all occasions. Try making a garland out of balloons to add colour and sparkle wherever you hang it. It's easy to do with this DIY Balloon Garland tutorial! The DIY balloon garland is a fun and easy way to decorate your parties. You can use this technique to create any bouquet or centrepiece you want. Use it for Christmas, birthdays, weddings, baby showers, and more!
DIY Balloon Arch
Use this simple DIY balloon arch to add a minor extra character to your event. An essential part of creating an arch of balloons is making sure it's sturdy and can support the
balloon's weight
; don't be afraid to get creative with alternative methods of attaching them. And, for more durability, consider adding tape strips or covering each balloon with a self-sealing bag or wrapping paper before attaching them. You can keep this DIY balloon arch in your living room, bedroom, or under the roof of your house. The lightweight and no-sew design make it easy to install, move and store when not in use. No helium is required as well!
Easy DIY Balloon Arch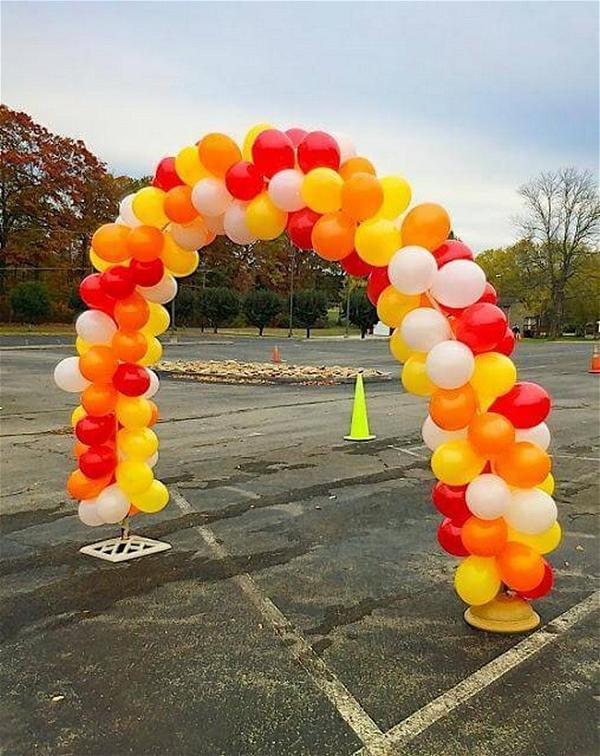 A balloon arch is a great way to show off your party decorations and easy DIY project. If you're making a birthday or anniversary balloon arch, choose balloons in your party's same colour scheme. Also, use consistent decorations, such as banners and streamers that match the theme of your event. Balloon arches are a popular decoration at birthday parties, weddings and other special occasions. It is a beautiful way to decorate the venue or even just a room in your home. It can be made very quickly with latex balloons and strings.
How To Make A Balloon Arch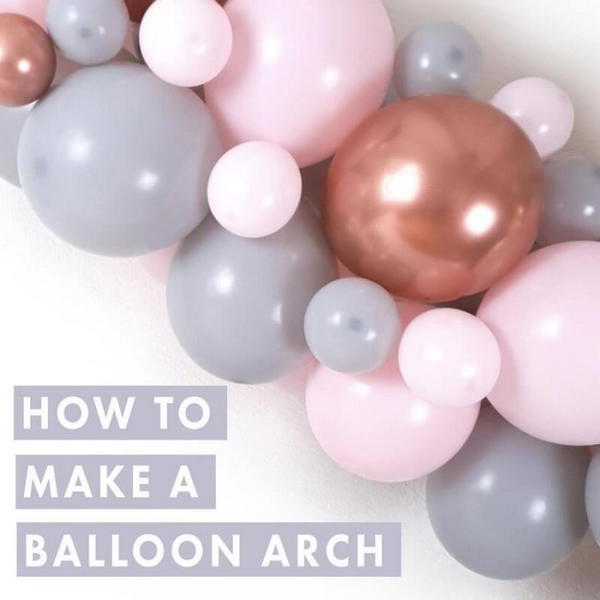 Balloons can be used for many different things and can decorate, create a unique look and make your party stand out. The balloon arch is something that will be the centre of attention. It's the perfect example of how balloons can be used innovatively. This balloon arch would be a great piece to decorate a photo backdrop or your home. It will also make a great addition to any party where an arch is needed. This arch is very easy to assemble and can be taken down quickly after the celebration has ended.
How To Make A Balloon Arch Without Stand
The balloon arch can be used on many occasions such as weddings, birthdays, and especially for the girly girls who become coquettes when you give them a balloon arch. You can have a vibrant arch to create a fantastic display in minutes, and even don't need a stand to make this balloon arch. You need pink and black balloons, a curling ribbon, and a balloon blower machine. This video will show you how to make a balloon arch without a relatively easy stand; it only needs some materials and a few hours of your spare time.
DIY Balloon Garland
This DIY wall garland is a simple project for hostesses with a vision. A hand pump, balloon tire, duct tape, and ribbon are used to create this simple but stunning wall decor. Use the hooks to attach them to the wall and assemble the balloons. Make sure to use a hand pump instead of an electric one. When you use an electric balloon pump, it takes more air to blow up and will pop your foil balloon. A hand pump can be found at any party store; it may look like a tire but has a nozzle attached to the end that sprays air into the balloon when you pump it up.
DIY Balloon Arch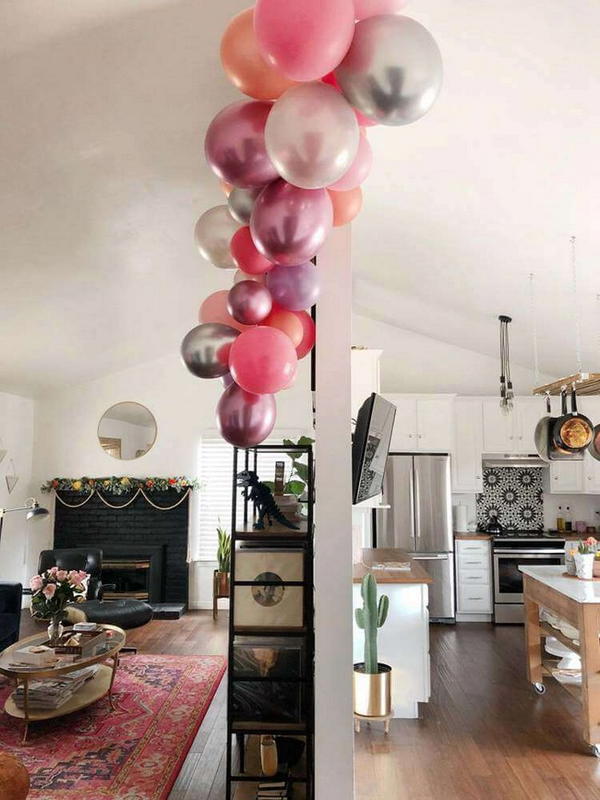 Decorate your party with a DIY balloon arch. This is a fun and straightforward way to decorate your party space. You need an electric gallon pump, a clear fishing line, balloons, a plastic needle, and tying tools. Blow up the balloons and tie them. Then cut the fishing line; cut as long as you want because the length of the fishing line will determine the size of your balloon arch. Start threading the balloons onto your fishing line.
DIY Floral Balloon Arch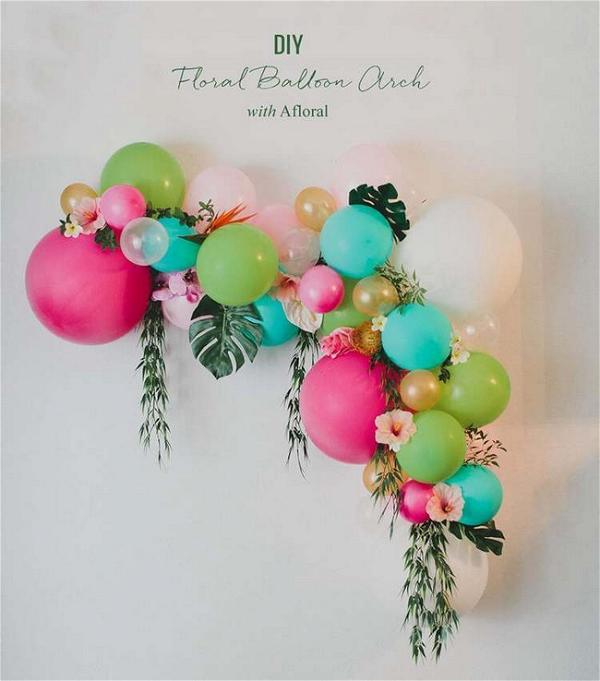 Are you looking for some beautiful DIY projects? Look no further! This tutorial will teach you how to make a beautiful balloon arch. You'll be making a flower-filled archway that's perfect for photo ops, parties, or anything else. This is an exciting DIY project to create an excellent arch for your party. It is simple, unique, and wonderful. The balloons seem to be floating through the air, creating a perfect effect for the wedding venue or party center.
How To Make A Balloon Arch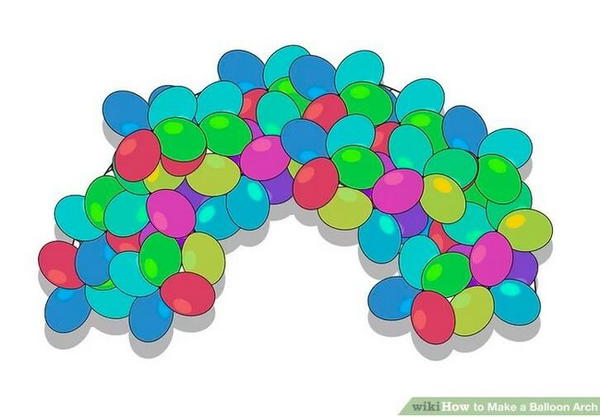 Balloon arches are a popular decoration for parties, weddings, and even graduations. To make a balloon arch of your own, tie clusters of balloons together with wire to form garlands that curve and weave into an arch. Choose different colours and sizes of balloons for a beautiful effect! To make a balloon arch, prepare all the different colours and sizes of balloons needed to create the garland. Blow up each balloon and tie them together to form clusters. Thread one bunch of balloons at a time along a thin wire until it includes a garland. Hang it in a doorway or across the top of a door, party tent, or archway for decoration.
DIY Outdoor Balloon Garland
You do not have to buy a garland for your outdoor party. With this DIY outdoor balloon garland, you can save some money and make something beautiful for your own home or garden. A garland of colourful balloons is perfect for making a statement at any party or event. This DIY garland is ideal for the garden or patio and can be used as a backdrop for photos to create a colourful display. When it's time to take it down, you can deflate it and store it away until next time.
Outdoor Balloon Arch DIY
Bring the fun and excitement of a whimsical birthday or festive event to your home with this DIY arch. Whether you're entertaining or just adding some festive flair to your yard, this DIY arch made with this Outdoor Balloon Arch Kit will do the trick. Our balloons' gorgeous colours and patterns make this arch a delightfully eye-catching addition to any party. Use the provided instructions and materials to create the stand, then arrange the balloons in any design. You can even move it around to change the scenery wherever you take it. This is a great way to decorate a backyard barbecue or provide that extra bit of festivity for your kid's special day.
How To Make A DIY Balloon Arch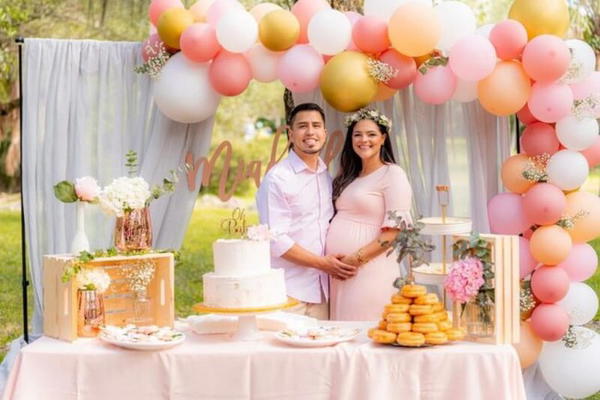 This DIY Balloon Arch is an easy and creative way to decorate your special event. The arch is made from balloons, fishing lines, and flowers. Attach the flowers to the balloons with a glue gun and connect them with the fishing line. Once complete, this makes a beautiful display that can be seen from afar. The Balloon Arch is the perfect addition to your wedding or party decor. This DIY tutorial shows you how to make one for any occasion. You will need an electric pump, fishing line, glue gun, balloons, flowers, and some ribbon.
How To Make A Balloon Arch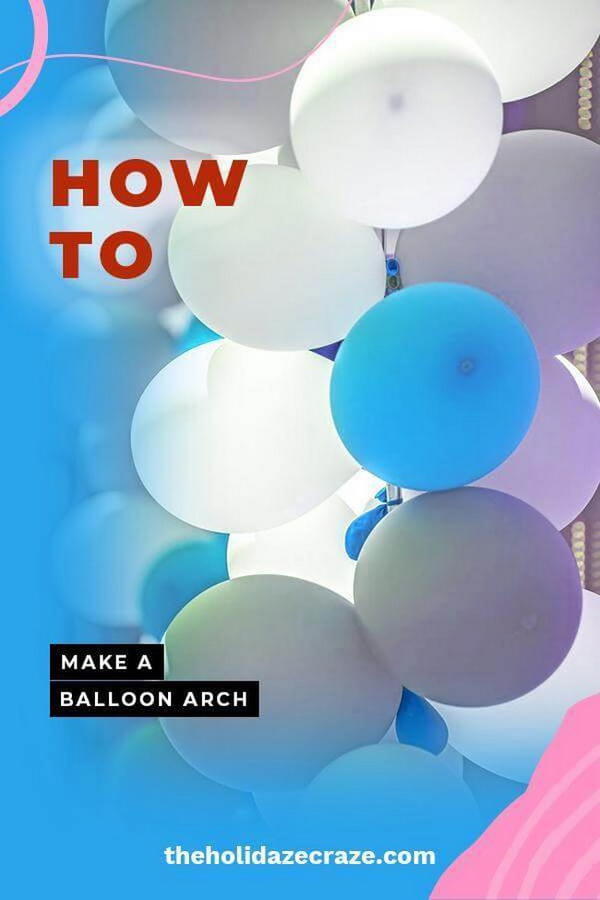 Making a balloon arch is not that hard. First, you need to draw and design the design you want in your mind, grab the necessary materials, and proceed with making one. This is one of the most popular DIY projects among DIY lovers. You can do it by yourself without any hassle, and with little money, you can create a stunning arch for the decoration of your party. The best part about this project is that it does not require much effort. Once you have successfully made your own balloon arch, now it's time to display it at home or win any occasion; make sure that you have all tools needed, such as the glue gun and everything that comes along with it.
How To Make A Fancy Balloon Arch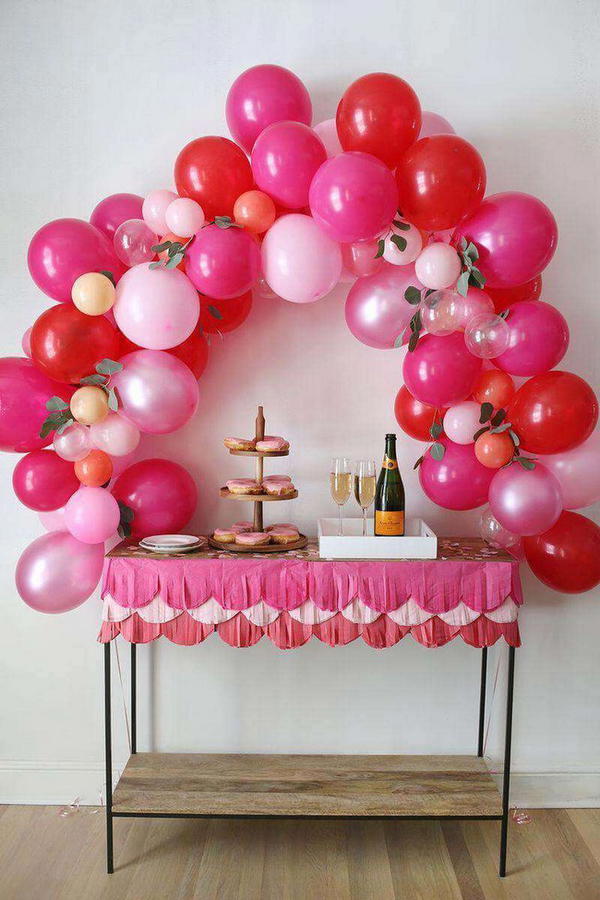 Learn how to make a fancy balloon arch to decorate any event like a birthday party or wedding. The materials needed for this project are balloons of bright colors like red and pink, a decorating strip, foil paper, and glue dots. Blow up the balloons with a helium tank, then tie the opening. Use scissors to poke holes on both sides of the decorating strip, then attach a balloon through one hole and another on the opposite side. Repeat this procedure until you finish all the balloons. Decorate your party with these fancy balloon arches by hanging them in different areas in your venue.
How To Make An Easy Balloon Arch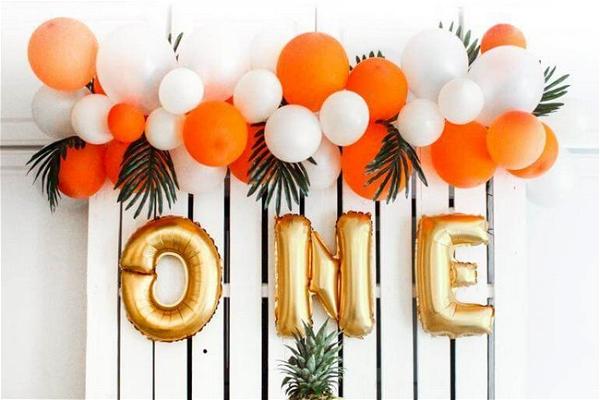 A balloon arch can be a fun and exciting centrepiece for any party. This simple design will work well in any kid's room or next to the fireplace. It uses three different sizes of balloons to create an eye-catching effect. It's easy to make, the materials are inexpensive and readily available, and it can add just the right touch without taking away from your other decorations. This guide shows you the complete process of making it.
 5 Dollar Tree Balloon Arch
If you love the look of balloons on a birthday or anniversary, but hate the price tag, this 5 Dollar Tree balloon arch is the perfect alternative! Create a beautiful arch for your next party or special occasion! This eye-catching garland can be used both indoors and out. Inflate the balloons and tie them together in two wraps four calls together to form a cluster. String the clustered balloons through the fishing line to create a garland. Watch this video to learn more!
How To Make A Balloon Garland
DIY your own garland and decorate it for various occasions. This easy-to-follow tutorial shows you how to make a balloon garland using just a few tools and supplies. You can make it a lot easier on yourself by finding a long enough table, clamped down at both ends and connected with poles to make a stand for your balloon garland. This video tutorial shows you complete step-by-step instructions and follow-up steps.
DIY Balloon Garland
Make your own garland with our DIY Balloon Garland kit. It's easy: blow up the balloons, tie them, take the rushing line, and start making the garland. Curve the garland into an arch once it is done and design it with flowers and foliage. This garland can be used anywhere; make a grand entrance to your party, add some character to your home decor or create a romantic atmosphere in any room of your house. This video will walk you through the complete procedure.
DIY Organic Balloon Garland Tutorial
This is an easy and inexpensive way to make a fun garland for your child's birthday party or baby shower. You need one hand pump, balloons in two different sizes, ribbon, and an hour. You can also use these as decorations for a housewarming party or a simple party at home to add more colour! Learn how to make a garland by connecting balloons with ribbon. This is a fun and easy way to decorate any space!
Mini Rainbow Balloon Arch DIY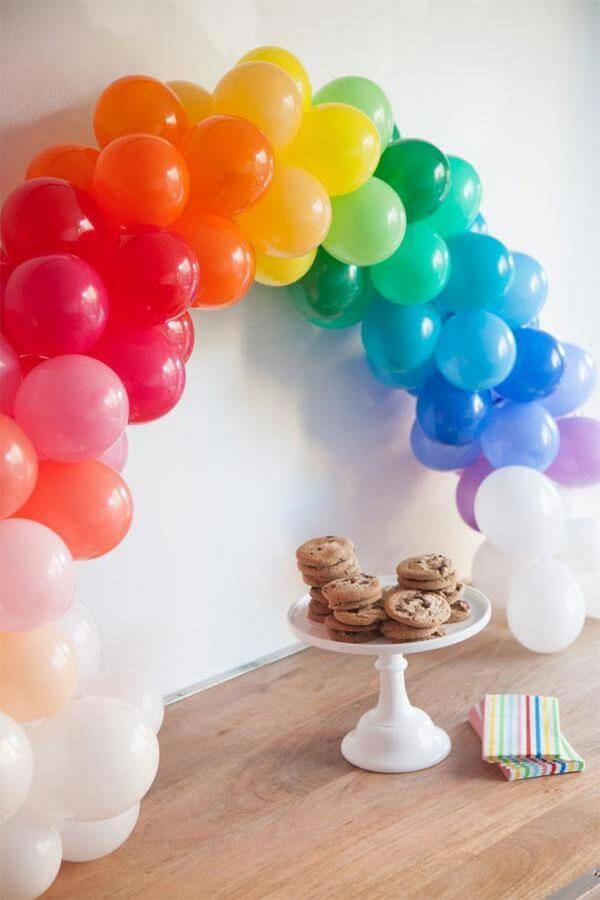 A rainbow balloon arch is an excellent decoration for any event; You can make it simple, and it can be customised to match your theme. A handheld pump inflates the balloons into different sizes, where the colourful part comes from. Once finished with the rainbow arch, you can add it over a doorway or stick it on the wall for decoration purposes. Use this guide to learn how to make this Rainbow Balloon creation for the perfect rainbow birthday party decor, wedding colour theme, or just for fun!