The DIY birdcage veil will be a great choice for brides who want something different in their wedding headdress. Many crafty and creative brides would love to make their own piece accessory they can call the most important piece in their wedding attire. You can use many techniques to make a homemade birdcage veil. The most common method is to purchase some mesh and a wire. If you want something more creative than the typical birdcage veil, here are some easy-to-follow DIY Birdcage Veils Ideas. These customizable DIY Birdcage Veil projects are a simple makeover of the traditional birdcage veil you commonly see at weddings. They are trendy and contemporary and can also be customized according to your taste with different fabric choices, colors, and decorations.
DIY Birdcage Veils Ideas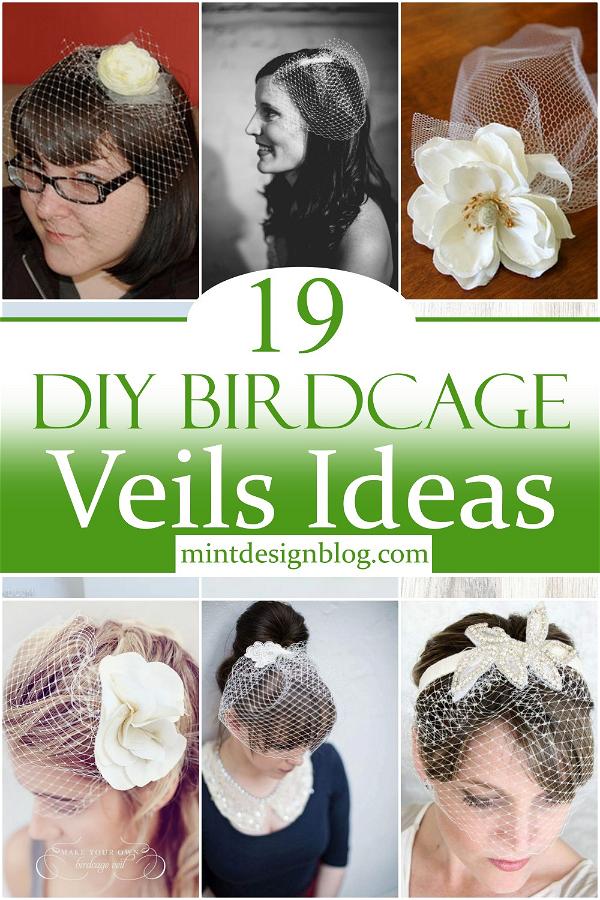 There are tons of DIY ideas to choose from when making a birdcage veil, but these DIY Birdcage Veil ideas are some of the most popular. These veils come in varied designs; there are ivory, gold, and silver, among other color options. You are sure to find one based on your style preferences. While purchasing a birdcage veil may be your only option, you also have the opportunity of making a DIY birdcage veil if you cannot find what you want from stores near you. They are easy to make and just take a few tools and materials for the making process. Just take a look at these ideas below!
Easy To DIY Projects:
We provide a list of different DIY Birdcage Veil designs so you can create one yourself. If you do not want to spend money on buying one, simply make your own and save money. Making a DIY birdcage veil is easy and fun. And the materials you will need for these projects are cheap and easy to get. Creating these birdcage veils is perfect if you love making home decor pieces and like experimenting with new things. We will show you how easy it is, with only a few tools and materials you can get from your home.
Uses:
The purpose of DIY Birdcage Veils is to create a lightweight, strapless and easy way to wear a veil. Birdcage veils are not just for brides and proms. They can be used for any special occasion, such as a night out or an elegant date. Birdcage veils offer an affordable alternative to more expensive veils and can be made in under an hour. They can be used as a standalone piece or combined with other accessories and worn casually or formally.
How To Make A Birdcage Veil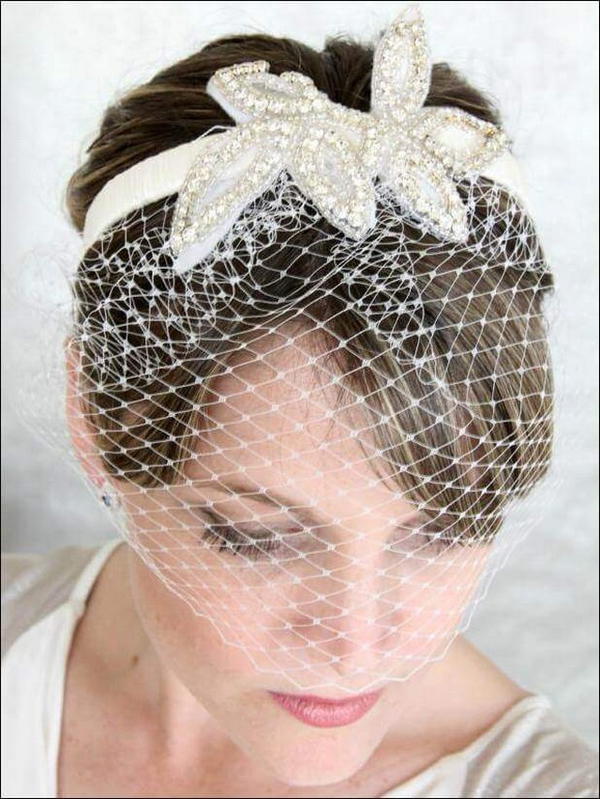 To make your own birdcage veil take 6 inches of ribbon in length and cut off the ends. Place the ribbon at the back of the headband, and wrap it around until it forms gathers. Sew 60 threads on top of each other on the fabric, then stitch the headband to hold the gathered tulle together. Measure a large piece of tulle and cut it out with fabric scissors. Apply glue to the edges of rhinestone in a random pattern onto scrap fabric, sandwiching an inch between them and letting them dry overnight. Once dry, place onto the headband and stitch through both layers of tulle whilst laying flat. Finally, add the remaining rhinestones to your veil!
DIY Birdcage Veils
DIY bridal veils are a great way to add something special to your look on the big day. French netting is perfect as it has a vintage feel, giving some added detail to your wedding dress. It is also very lightweight and comfortable, unlike many other wedding veils, which are much heavier. This tutorial shows you how to make this beautiful birdcage veil at home – great if you're on a budget or have seen beautiful birdcage veils in stores but have not been able to justify spending over $100 on one! You just need to take your time measuring, cutting, and sewing so that everything fits perfectly before you make it onto your head.
Birdcage Veil Tutorial
Use an extra-wide ivory French net to make a veil for your wedding. Determine the size of the veil and trim it accordingly. Create a birdcage veil with the help of this DIY. Measure your head and determine the size of your veil. Then cut the fabric so it is large enough to go over your head but small enough to fit into a birdcage. Sew around the edges, leaving a gap at the bottom to place on your comb. Add rhinestones to give it a little sparkle, and voila!
DIY Bird Cage Idea
To make this Bird Cage DIY, take an empty bird cage and spray paint it according to your liking. After that, paint the edges of the net in your favorite color. Now take a small hair comb and paste one end at its center to create a stand. Next, glue one end of netting to that headband while keeping it balanced on your head. In another stylish way, measure the length of your headband and cut out a ribbon with its size. Glue a faux jewel on top if necessary. Then apply glue underneath the ribbon so that when you place it on your head, both the jewels and headbands will look synchronized!
Wedding Birdcage Veil
This diy wedding birdcage veil is a quick and easy project that will add immense beauty to your wedding look. The first step is to wrap a piece of tulle around the base of a stylish metal comb, then sew down the ends to secure. Once you're sewed, begin gathering the edges of your tulle. Once you've secured all four stops, even out the gathers and attach veil netting to the hair comb. This DIY birdcage veil will add elegance and style to any bridal ensemble.
Making A Birdcage Veil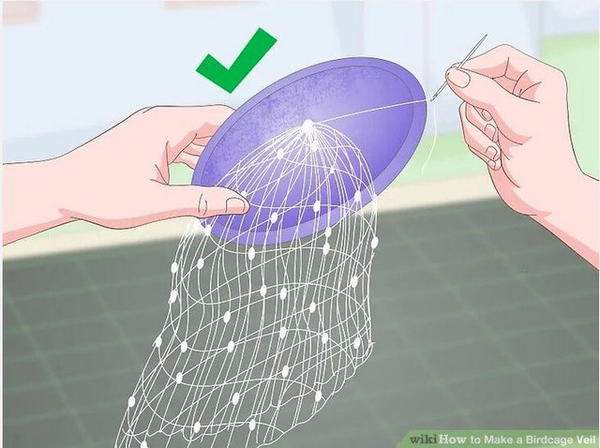 To make a birdcage veil, you need a veil material with fairly wide mesh, like milliner netting. Make a metal comb and wrap a strip of lace around the teeth of the comb to the end. Sew up the top edges with stitches to form gathers and sew them tightly together at the leading edge of the comb before attaching your chosen embellishment, such as a bow or fascinator base. This veil is a perfect addition to any bridal look and can be worn in many ways. Without instructions and guides, the average person would have trouble making this veil, even though it's made from a very simple design.
Birdcage Veil 9"
Dress up your wedding day look with our DIY Birdcage Veil. This delicate, feather-like accessory is great for brides who are looking for something more subtle than a full veil. With just a few sewing steps, you can create your own veil by measuring your head circumference and following the easy step-by-step instructions in the tutorial. Make sure to show off your new creation with a charming fascinator like our Cameron flower hair accessory.
You can also see DIY flower bouquet ideas for weddings.
Birdcage Veil For Brides
Some brides like to prefer DIY projects instead of store-bought accessories. You can create a birdcage veil using tulle or fishnet, and it won't take much of your time. First, take a rectangular piece of fabric, preferably tulle or fishnet, and fold the big end at a corner forming a fan. Next, tie this fold with a thread and cut out the excesses. Sew edges inside, then attach brooch or any accessory that you want. At last, add some crystals and sew them to tulle at the back. Then place felt cloth with white or black color at the rear beneath clip and hide pin under it.
Simple Birdcage Veil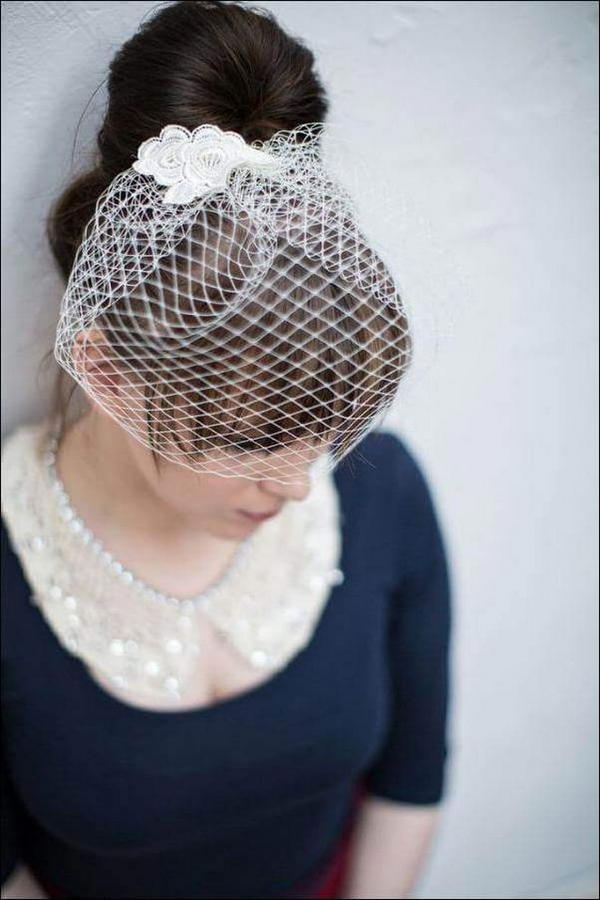 This beautiful birdcage veil is sure to complete your look. It's easy to make and will add a fun pop of color. You'll need tulle, lace, a hair comb, a needle and thread, and a glue gun. Twirl the tulle around each tooth of the comb until the end. Cut a piece of tulle slightly larger than in the middle, then gather it together and sew it onto the comb with a needle and thread. Cut out a piece of lace in the desired length and attach it with a glue gun to complete! Both simple and romantic, this project is perfect for brides who want to add a little drama to their wedding day look.
DIY Birdcage Veil
This birdcage veil would be a great addition to your existing accessories. Enrich your bridal look with this unique piece with a simple lace design and stunning flowers and leaves. To make this, you will need an old hat net or Russian veiling, crinoline, feathers, and beads. The best thing about this is that it is beautifully handmade, and since it's made from scratch, no two pieces will ever be the same. So get ready to create your own piece using the instructions provided.
Do It Yourself Birdcage Veil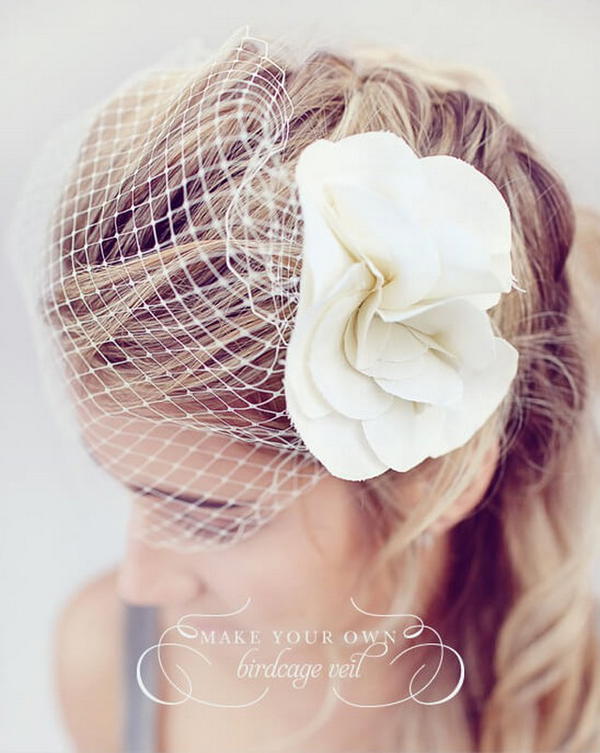 There are so many ways to wear a veil. This DIY birdcage veil is one of the most approachable and easy ways to create a loop for your hair or on a wedding gown. All you need to do is get some flowers and then cut them into small petals, stitch them together and add fabric as your base. We like to use tulle as our base because it makes it stronger and more manageable than just plain fabric alone. If you love the look of a birdcage veil but don't want to spend hundreds of dollars for one, this DIY tutorial is for you. It's easy, inexpensive, and made from cruelty-free materials!
Birdcage Veil Tutorial
With shop-friendly directions, you measure your head circumference and add four inches, then cut the French or Russian netting to that size. Start with the first square of your veil, and secure each with a knot. Continue in this fashion around the veil until you're satisfied with how many panels you want. Even out your gathers by gently pulling on each point of the gathering until it is even with the rest. Then prep a three-inch comb with tulle and sew it onto the veil.
DIY Veil And Fascinator
Try this simple guide if you love making your own veils but are a little hesitant to step into the DIY world. Creating a veil and fascinator is a simple and easy project; with only a few materials, you can make it in no time. The best part is that there are no rules; you can use your imagination to create any design or color scheme you like. Nothing stops you from reusing the materials later when the wedding is over. After finishing the project, it can be worn on special occasions such as weddings or formal events!
DIY Dior Veil Tutorial
To create this DIY Dior veil, you'll need a pair of scissors, an iron, and a few bobby pins. First, take a look at the measurement of your veil. Then fold the gauze in half and cut it into a semicircle shape. Next, take the two pointed ends and make knots twice. Finally, cut off the excesses and fix the ball of the knots together with bobby pins. This DIY Dior veil pattern is so easy to follow you can be sure that it'll be just perfect for you and your wedding day!
BIG Birdcage Veil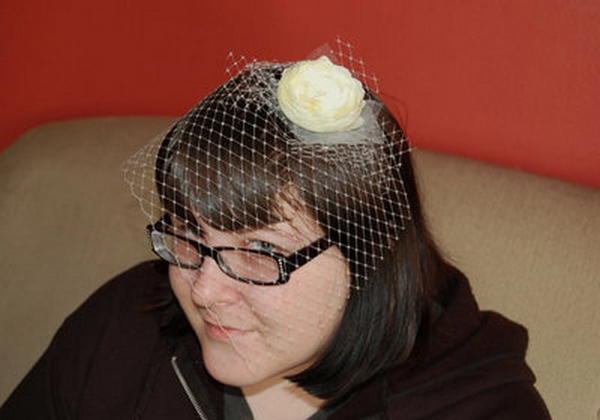 This tutorial is great for beginners, as it is quite basic. Measure your head & cut the Russian netting to size. Place a glue line across an angle of one end of the rectangle and stitch it along the line to form a dart. Then, using scissors, trim off all four corners of the triangle until it forms an "X" shape. Next, measure out four pieces of tulle and four pieces of Russian netting to create your flower shape. Glue pearls onto the center of your flower, add glue to one side of each tulle piece & start layering them up in an X shape until you reach the center.
Birdcage Veil Idea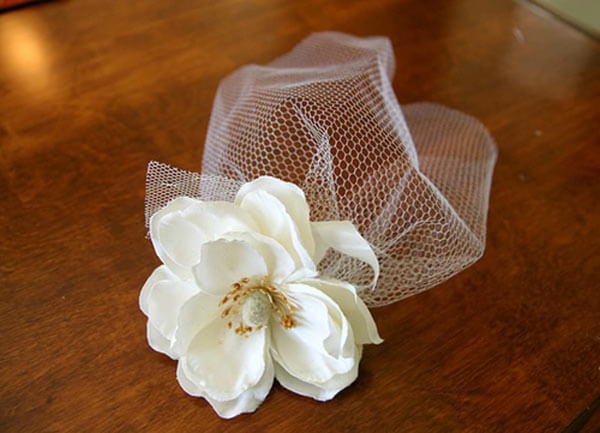 A birdcage veil is a classic bridal accessory that's still just as relevant as when it was first introduced. It's also fairly simple to make yourself at home, as outlined in our easy DIY guide. First, pick out your desired shape and size of the veil, cut the netting, and pin the fabric together for a perfect fit. Next, gather the edge of each side and sew the ends onto a comb. Sprinkle some bling on top with a silk flower. This veil's extremely lightweight and circular shape makes it ideal for tying into a cute updo with bows or securing around the crown of your head with a hair elastic.
Birdcage Veil DIY Tutorial
Make your veil stand out on your wedding day with this DIY project. To complete this sweet project, you will need a sewing machine, some tulle, ribbon, and feathers. You will also need small white flowers or feathers to sew onto the felt circle. If desired, add a brooch at both ends of the veil. Whether you're looking to accessorize your favorite wedding dress or create a completely new look, our Birdcage Veil DIY will help you do it. The curve along the width of this veil adds an awesome dimension that hits home for brides with long hair.
DIY Birdcage Veil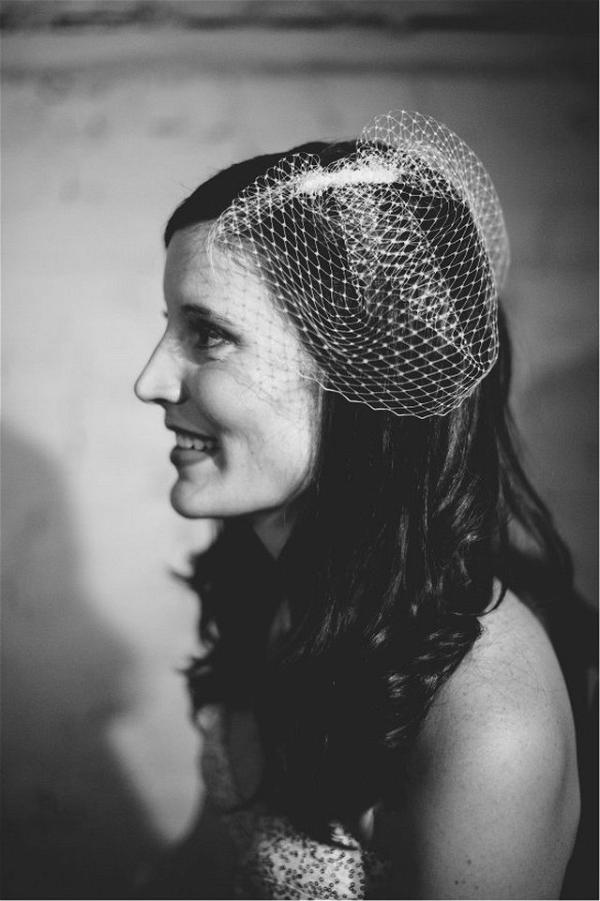 Add a touch of elegance and period to your wedding day look with this DIY birdcage veil. This DIY veil is easily made at home and attaches with simple ribbon ties. You can add the final touches by threading the needle through each fabric diamond to the end, gathering them enough to secure it with a knot. Then prep your comb by lacing it up or using ribbon, and secure the beaded end to the comb edge with tape or glue to keep it in place. You can use ribbons or lace for a more secure hold.
Wedding Veil For Brides
The wedding veil can be made from several materials. We recommend making your own veil at home as it is cheaper than buying a ready-made one. You just need some tulle fabric, lace trim, and spray adhesive to create a gorgeous wedding veil of your own. This DIY Wedding Veil is easy to make and affordable and will look great on your wedding day. The tulle fabric can be easily found in any craft store, while the comb and lace trim are sold separately. These finishing touches will make you feel like a bride!