If you love to do crafts or your little girl loves to wear bows in her hair, you have a growing collection of bows. You may find yourself storing them in a box or drawer and sorting through the mess each time you need a particular bow. A DIY bow holder is an excellent tool for your beauty and fashion collection. It helps you organise your hair bows, headbands, scrunchies, and other fashion wearables. It's also an excellent way to store your accessories for easy access when getting ready for school or work. Not only does it help you organise your stuff, but it can also serve as a decorative piece in your room.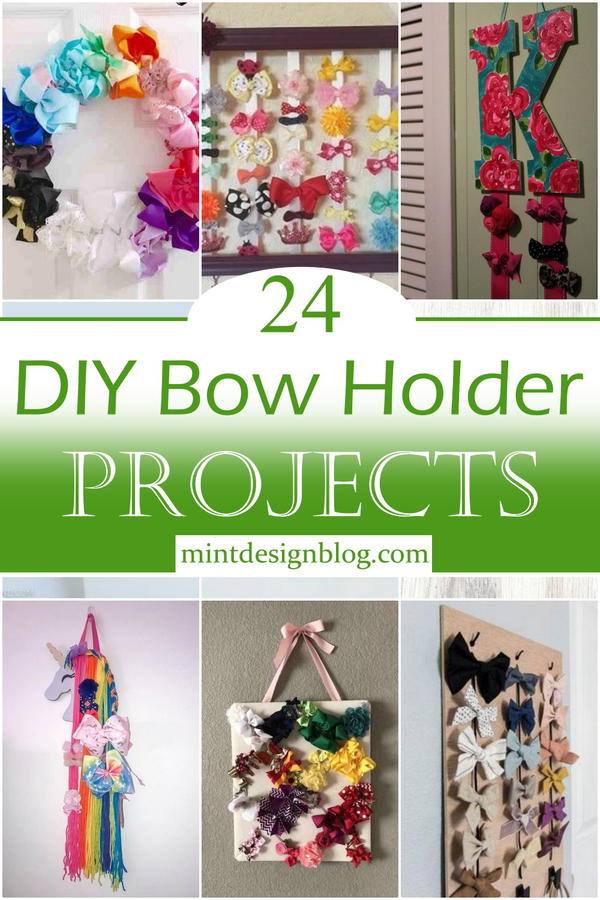 You can make these projects using different things like an old picture frame, a Barbie doll, a piece of wood or cardboard, etc. You can decorate these projects by painting them or sticking some beautiful paper. These bow holders can be made in any color and style according to your choice. So all the mothers who want to keep their daughter's bows organised, scroll down and check out these 24 DIY Bow Holder Projects. All of these projects are so simple and easy to make that you will be able to make them in a short time.
Here are 24 DIY bow holder projects that can be made in under one hour; these would make great homemade Christmas gifts for friends and family.
Benefits Of DIY Bow Holder Projects
DIY bow holders are a fun, simple way to organize your bows. Here are some of the benefits you'll get from using them.
1. They're easy to make
You don't need a lot of materials, and the process is pretty straightforward. And the best part? You can make them with your kids! It's an excellent project for bonding and spending time together.
2. They're customizable
You can use any colors or styles to match your daughter's room or personality. It's also a great way to practice different craft skills that you might want to learn, like woodworking or sewing.
3. They're inexpensive
You can make several with just one roll of ribbon to have different ones for different occasions—one for activities like ballet or dance class; one for play dates and parties; even one for school uniforms if they wear those at home too! And since they're made from ribbons that you already own (or may already have to lie around the house), it's a great way to save money instead of buying new supplies every time she changes her mind about her favorite color (girls do this often).
Simple Hair Bow Holder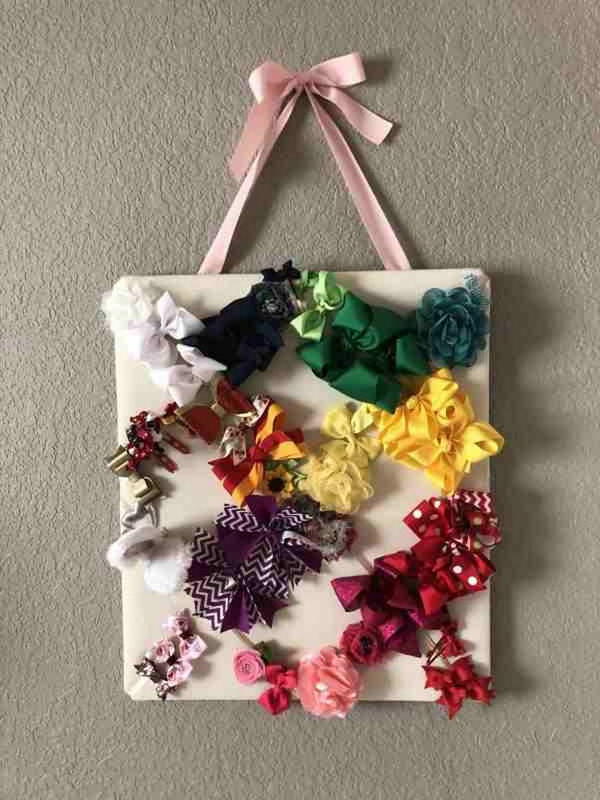 This bow holder is great for any age girl. You can organize them by color or size or in the order you want! You don't need to spend a lot of money to make your own. Use items around the house or your local craft store. First, place your fabric photo board where you want it to hang. Tape off the borders of the board and let it dry. Next, starting at the bottom of your photo board, take a piece of hot glue and wipe it across the backside of your hair bows. Stick them on, starting at the bottom and working your way up. Repeat until the entire photo board is covered in bows."
DIY Bow Holder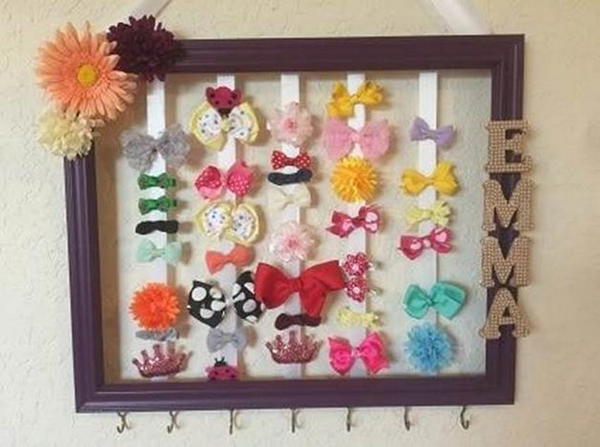 Love archery? But hate having to spend time tying your bow for practice? Well, we have a DIY bow carrier made just for you! Using a wooden frame with ribbons vertically, you can easily insert your bow with the ropes coming out. You can customize the front part with some letters as a name for your unique look. This bow holder can be easily made and hung in your room. You will need a wooden frame, ribbon, pearls, letters, and glue. Cut the frame into a size such that you can fit the letters. Then show off your newfound talent by making a DIY bow holder now.
How To Make A Hair Bow Holder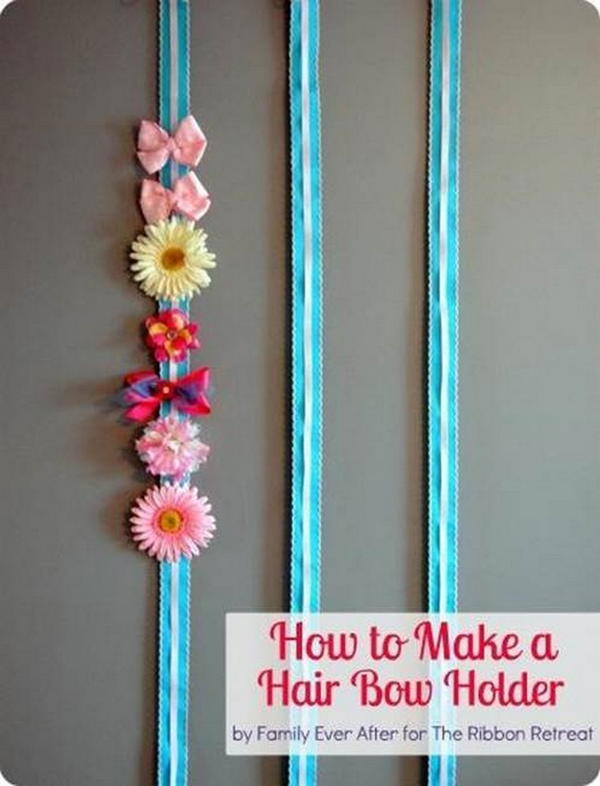 Here is a fun, easy, and cheap way to make a bow holder. You can put it on the wall and use it to store your little girl's hair bows. Now that your gifts are ready, you know that you have to wrap them. So why not try using double-faced scotch tape to stick the ribbon onto the present box. This is a great way to make and add a bow right on top of the present box. No need for an arm board or a glue gun.
DIY Hair Bow Holder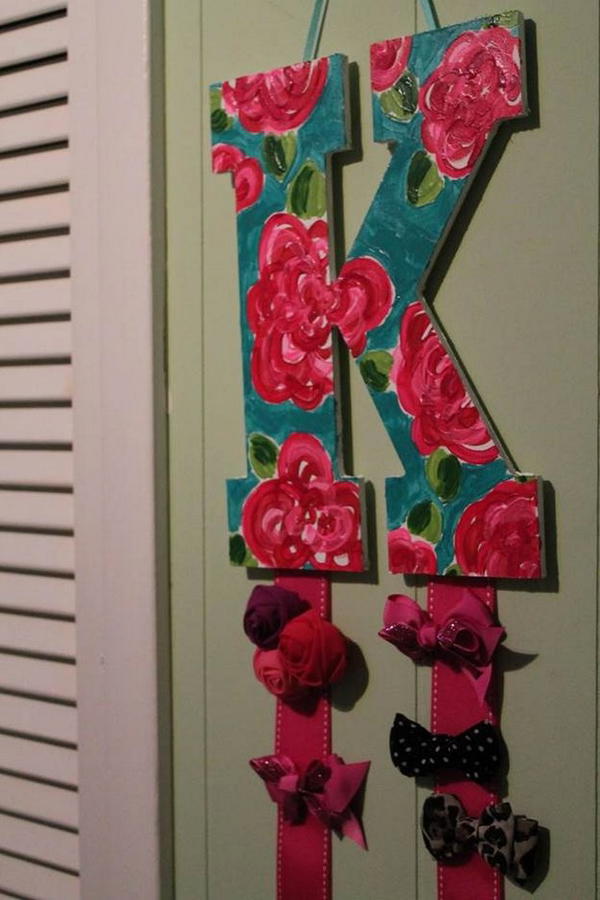 Do you have a little princess who loves bows? Are you looking to give her a cute and creative place to store all her hair accessories? This DIY Bow Holder is the perfect solution! It's simple, can be customized to match any decor, and kids love it! You will make an adorable keepsake for your daughter's room with this DIY bow holder that you can display her hair bows on. It is easy to make and will make a great addition to any room in the house. This can be made by starting with a white surface for the letter. Decorate your room with this easy wood pallet project and keep all your hair accessories together.
How To Make A Simple Bow Holder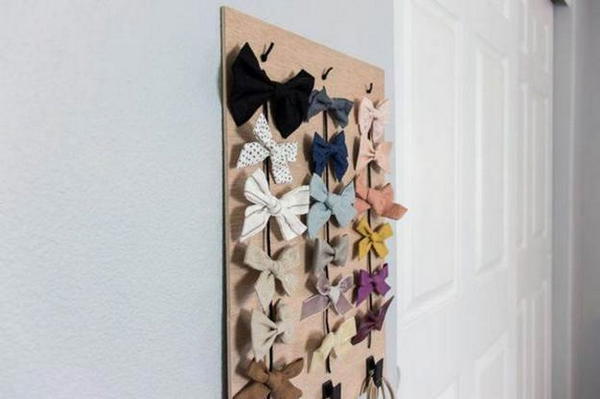 Are you looking to give your little princess a cute and creative place to store all her hair accessories? This DIY Bow Holder is the perfect solution! It's simple, can be customized to match any decor, and kids love it! You will make an adorable keepsake for your daughter's room with this DIY bow holder that you can display her hair bows on. It is easy to make and will make a great addition to any room in the house. This can be made by starting with a white surface for the letter. Decorate your room with this easy wood pallet project and keep all your hair accessories together.
DIY Rainbow Unicorn Bow Holder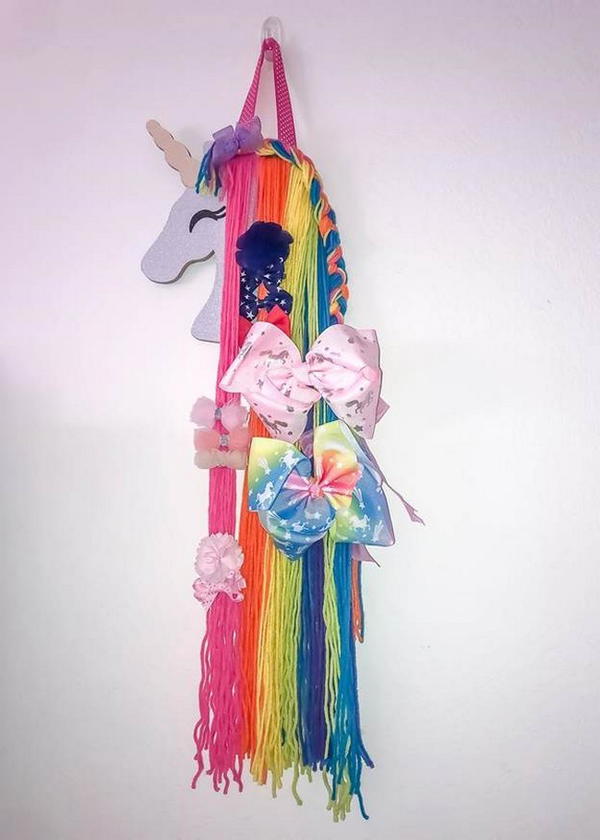 Create a rainbow unicorn bow holder and add a magical touch to your room. This is an excellent project for both children and adults. It's fun and easy to make, not just for Christmas but also for other occasions. Your kids will adore this cute little bow holder if you can make one. It's a gift that also includes the making process, so your recipient will know how much you enjoyed creating it for them. This can be made for kids of all ages. Any little girl would love to have this sweet creation in her room and would be proud to tell everyone that you made it for them.
$2 Hair Bow Holder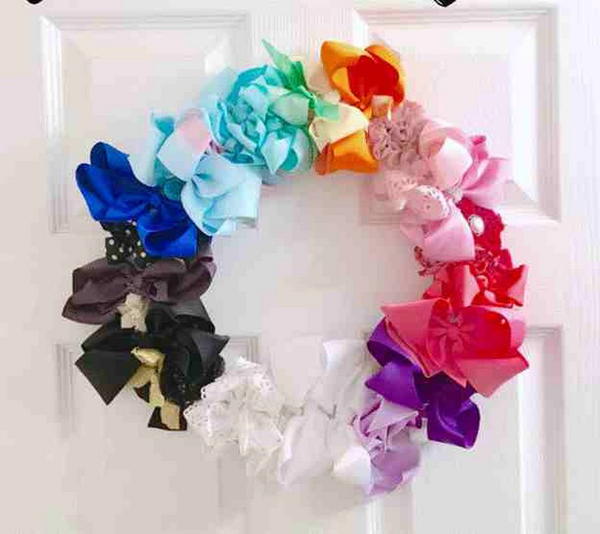 If you are tired of wallowing around your bow pile and want to do something nice with it, this is the best DIY idea! Find this little $2 makeover idea at weheartit.com, and you're good to go! This was done simply with things you might find around the house or pay less than $2 for at the dollar store. It's a fun little project that looks cute and is so functional. Take the 15 minutes during the afternoon to get some sun and enjoy the little projects that bring you joy.
DIY Bow Holder From Art Canvas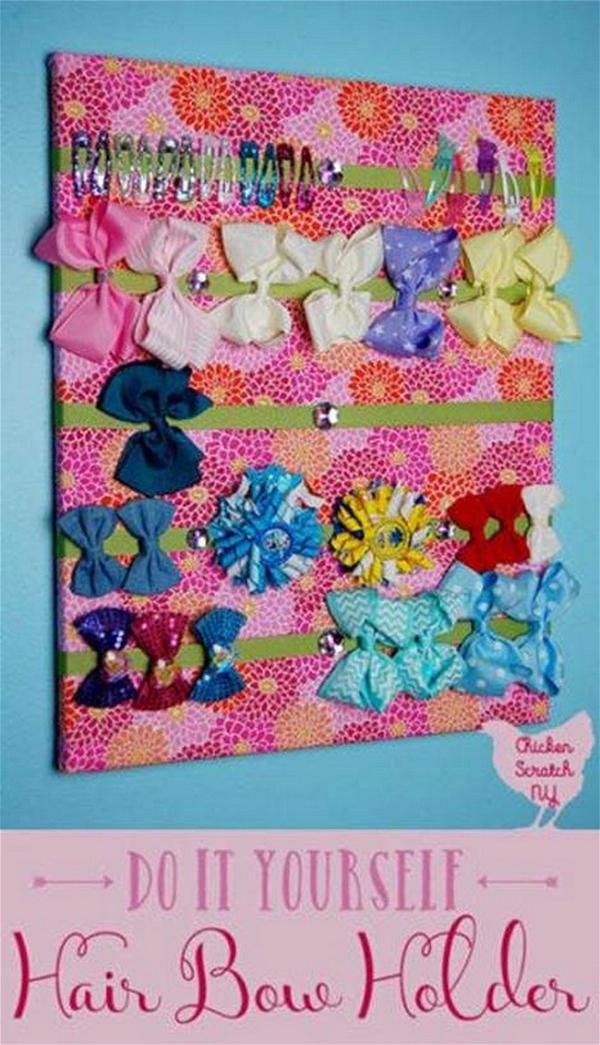 Take advantage of leftover space by storing your bows and hair accessories on this unique design, perfect for hanging in your closet or storing under your bed. It will hold all of the bows, clips, and bands you could need in a handy space-saving way. This step-by-step DIY project is about how to make a bow holder from an art canvas. A bow holder made out of an art canvas can be a beautiful addition to your décor, especially if the art canvas has a painting you like. The bow holder can be hung on the wall or used as a decoration piece on the chest of drawers or under the table. This DIY bow holder from an art canvas is so simple to make, and she'll love showing it off to all of her friends.
DIY Bow Holder Under $10
Have trouble finding a perfect place for all of your hair bows? Look no further; this inexpensive DIY project will have you on your way to organizing your accessories in no time! This DIY Bow Holder is easy to make, especially if you already have ribbon scraps in your stash. It makes a cute piece for your bows and can also hold other hair accessories. Add this cute yet straightforward storage piece to your craft space. Purchase a wooden "A" frame. Paint the front of it and attach a hook. Then, cut stripes of colorful ribbon and attach them to the base. Use the bow holder to store all of your adorable hair accessories.
DIY Hair Bow Holder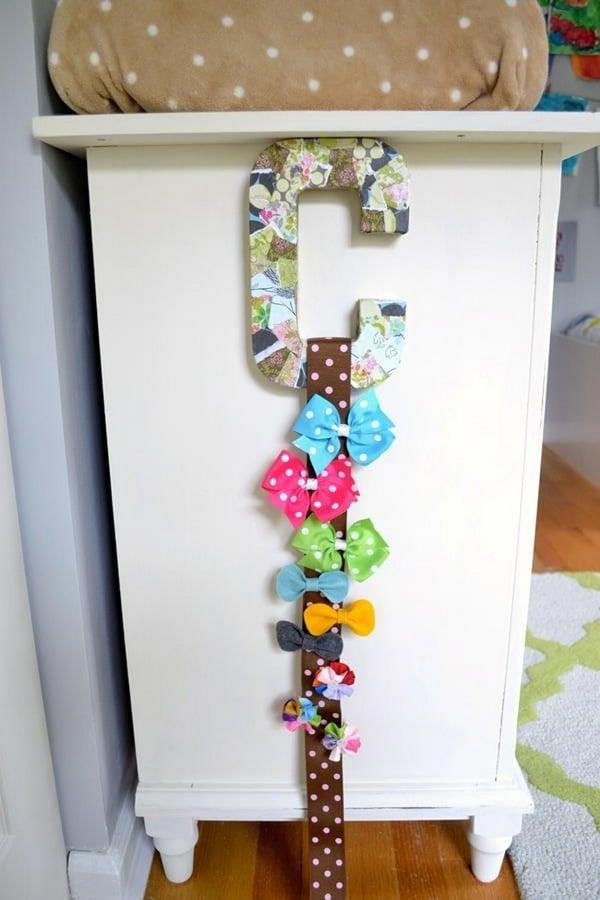 Here's a fun and easy DIY for anyone who loves to make handmade gifts. This Hair Bow Holder will save you some sanity when getting ready in the morning and keep your hair accessories organized while travelling. All you need are these items, Mod Podge Tiles, Ribbon, and a Letter, plus an imagination! This project is easy to do, and best of all, your kids will love being part of the process. It's the perfect gift for crafty friends who love making things out of ribbon.
DIY Cheap Bow Holder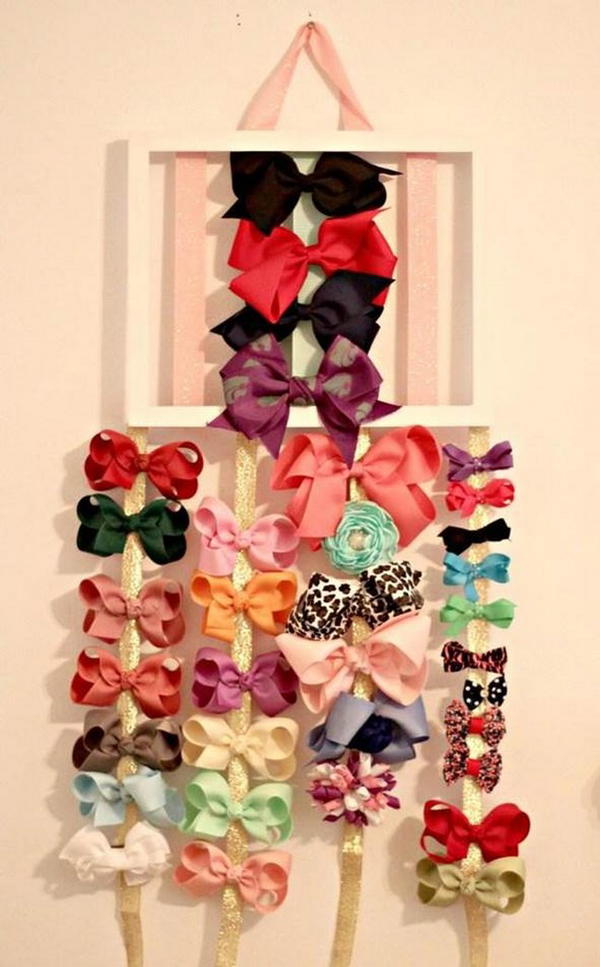 This bow holder is not only to organize your bows but also to display them. It's cheap, easy to hold, and easier to decorate! The complete package is under $2, making it disposable. You will never have to look for a bow as this DIY bow holder can be left on the wall or just be carried around inside your house. You need a wooden or plastic frame, some colourless ribbons, and add-ons to make it more fashionable. However, if you love it, you can make more with the same theme for different rooms in your house.
DIY Frame Bow Holder
Do you have an antique frame lying around that needs a decorative touch? Or perhaps you want to display your daughter's artwork? You can make one in no time at all! This frame bow holder is an easy project that costs almost nothing. It also has multiple uses, as it can be used for a picture frame or art in a nursery. The procedure is simple. Just gather some ribbons and an old frame, paint it in stripes and glue the ribbons onto the top and bottom of the frame. Take an old frame and turn it into a crafty bow holder for your wall. This cute DIY project is great for displaying all of your favourite hair accessories. And voilà – your decoration is ready!
How To Make A Tutu Bow Holder
The DIY arrow and bow headband is all you need to make a tutu bow holder. Use these ideas and creations as inspiration for other DIY projects. This tutu bow holder has many colors, giving you and your daughter options. This is a simple DIY tutu bow holder that everyone can do. You can also add ribbon or tulle or even lace at the bottom. The possibilities are endless to make this one yours. It is a unique and valuable accessory to your child's room. It will spice up your child's room and organize his costumes perfectly. This tutu bow holder will add an element of playfulness for the youngest ones, who will love it very much!
DIY Baby Bow Holder
Check out this DIY hair bow holder for moms who have lots of bows and bands. This cute accessory can be attached where you want it to be easy, and whenever you need it, it is light enough for you to carry around. It has great colors and features that will attract all your attention, and it is beneficial when you have a bunch of bows and hair accessories to keep them tidy and organized. It is a perfect combination of decoration, utility, and space-saving. This piece is easy to attach to the wall using screws; it is simple and practical!
Low Budget Bow Holder
Want a bow holder on a budget? This is simple to do. This is a bow holder that is amazing as it is cheap. It's made out of cloth hangers and ribbons. Use the coat hanger pole to strip down your favourite patterned ribbon and glue it in place, so there's no flopping around with your favourite hair accessories! Simple but can be fancy; all one needs are cloth hangers, plastic bottles, scissors, tweezers, or anything that picks up small things and ribbons. Suspend this on your wall, and you have an adorable bow holder on a budget.
DIY Hair Bow Organizer
Your kid loves to play with their hair bows and hairpieces? Has your house lately been taken over by these due to that? Given that this DIY Hair Bow Organizer can help you solve the issue, say no to it. As a result, whenever your kid is playing, then there is where you can store the whole lot for them. Sew a beautiful hair bow organizer to keep bows and hair accessories in one place. It works well with lace, ribbons, tulle, and other fabric on the bottom to cover the pattern but nothing beats adding your touch for personality's sake. This doesn't only look great but also makes it easier for you to access them.
DIY Arrow Hair Bow Holder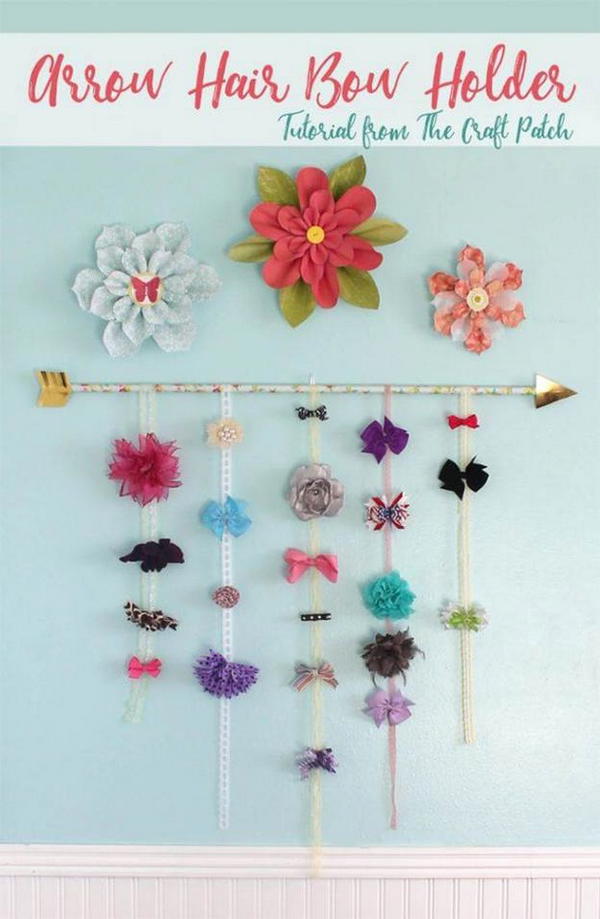 Notice a bow is scattered around on the floor? Don't worry. This DIY arrow hair bow holder will solve your problem! It makes an adorable little holder that is easy to use. You can pose it anywhere you want. This hair bow holder is the perfect gift idea for the DIY enthusiast. The project is simple enough to quickly adjust to fit any color or theme you want, giving you a fantastic way to display your collection of hair bows. The finished project utilizes a wooden dowel, which gives a clean and modern look to display in any room in your home.
DIY Cloud Bow Holder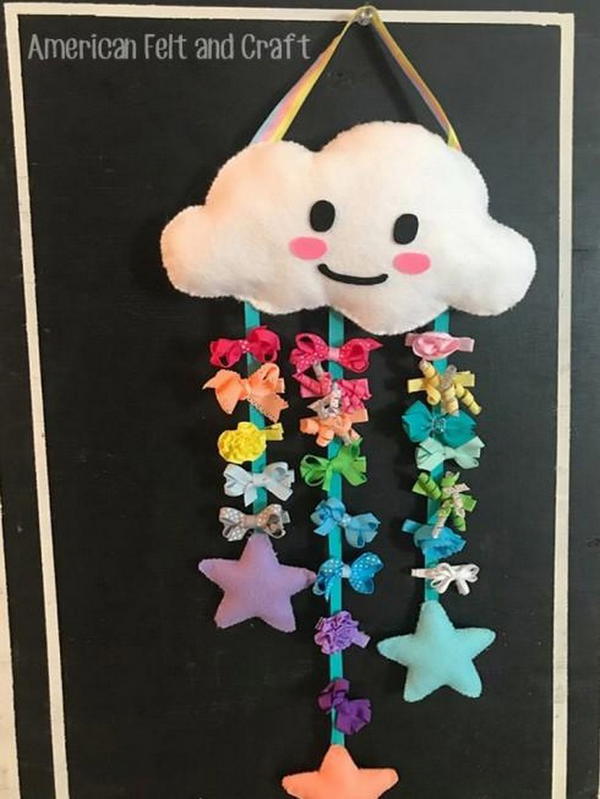 Have you ever wanted a glowing cloud-shaped bow holder for your hair? Turn heavenly dreams into reality with this DIY cloud bow holder. You can start with an essential felt base in white and add some fun shapes, embellishments and ribbons to amp up the festivities. Perfect for any celebrations or season, it will surely get you shining bright. Stuff the cloud with a strip of white fur and finish it off with colorful ribbons hanging at the bottom. These fabric cloud bow holders are easy to make, light to carry, and great on your mini wall. It will glow after exposure to light, so take it with you anywhere if you plan to make some sweet memories during the day.
DIY Hair Bow Holder Made Easy
Have a collection of your child's bows? Make it more comfortable to find the one you need with this DIY tutorial for making a hair bow holder. Designed to hang over the door, this frame can be customized to fit your décor and make it easy to put each bow ~ in its place. Once you have a DIY Hair Bow Holder, hang your bows conveniently and be proud to see them. Keep the bows updated with new ones for years, and have a gorgeous piece in your room. Darlene is here with the materials you will need to make this one for yourself.
DIY Glam Bow Rack
Do you have bows for your hair? How about for your lovely girl's or boy's hair? This DIY Glam Bow Rack is easy to make from things you probably have at home. You can make it yourself with no cash needed and make it better than the expensive one you see in the mall! It helps you organize the bows in an excellent, cheap, and pretty way. Now you have a unique handmade gift your child can truly appreciate. It's unique, different, and they will always be the only person to have it since now you made it. And who knows...your precious little girl might become a prominent designer one day, and this will be a great piece of art on her walls!
DIY Easy Bow Holder
DIY Easy Bow Holder is meant to help hold the bow in place! So easy to make as long as you keep your mind open to it. It's great if you're on a budget and would like a simple yet handy gift for the bridesmaids. If you are someone who would enjoy getting a centrepiece but don't want to fork out lots of money, this bow holder is a great way to make an inexpensive, stylish centrepiece with an elegant appeal. You can gather some tulle, wrap it around a board, and tie it on the tip. Gue gun can be added for extra support. You can also bring your ribbons and attach them to the tulle for a little extra something. Lovely tulle and ribbons are all that you need for it.
Jersey Knot Bow Hanger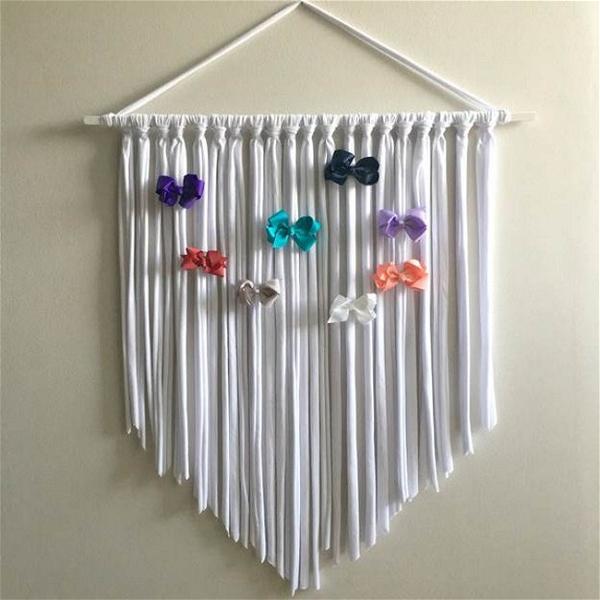 The Jersey knot is the new way to hang your bow. Slide the notched PVC pipe over the bowstring, insert an arrow and pull up! No more broken tips or dented arrows! Also makes a great gift! This simple bow hanger is an excellent alternative to buying an expensive wreath for your front door for the more romantic couple. Attach a white piece of PVC pipe with your fabric strips and make a hook for hanging. It's ideal for the couple that likes to be adventurous and try new things, or for anyone who wants something different! This can be used for a standard size window by hanging from the top, but you will need two rods if you have a large window and want to tie curtains on the sides.
DIY Headband And Bow Holder
Let's make your princess dreams come true with this DIY Headband and Bow Holder. Cut out a frame to look like the top part of a pretty dress, then decorate it as you wish. Adding bundles of tulle to the base in bows, ribbons, and flowers is a super cute way to display her pretty headbands. Beautiful and valuable, this do-it-yourself headband and bow holder is an excellent solution for little girls who have a collection of clips, flowers, and headbands. Perfectly functional and adorable, this bow holder will easily hold all your daughter's hair accessories.
Hair Bow Holder DIY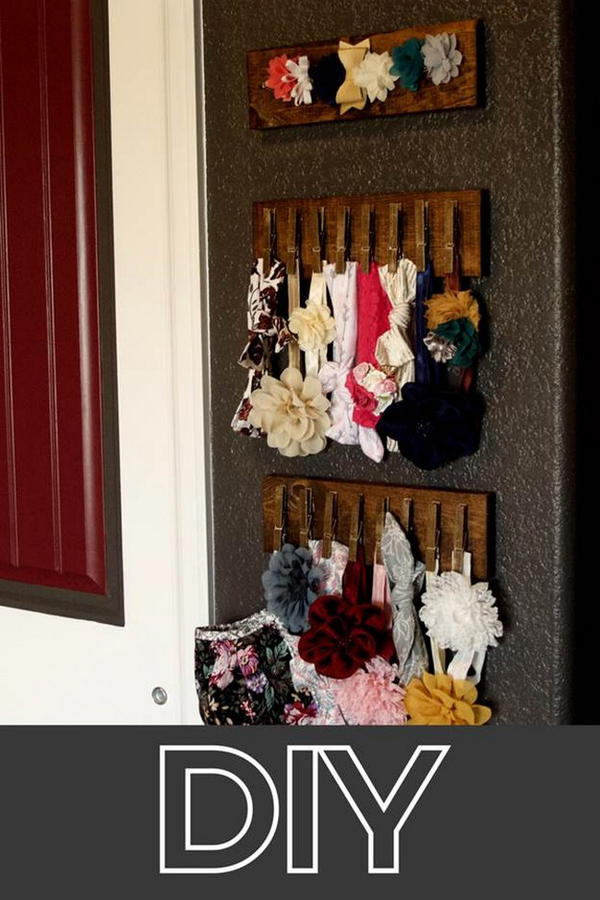 This will be a unique and innovative way of storing your headbands and hair bows. Every time you need one, you can easily see which one is. This will take care of the problem of misplacing these items. You may wonder why this would be an excellent gift for children. It is because kids love personalized gifts. This organizer will be versatile and handy for any age group. Arrange and cut the ribbons according to their different colors and material, thread them through holes drilled in the wooden frame and glue them on cardboard. Your girl will love this dreamy hair bow holder!