A DIY burlap wreath is a perfect alternative for those who adore Autumn's harvest decoration. Take a look at our exclusive gallery, offering you a variety of ideas to try. Even though they are made of simple, inexpensive materials, they can be a great upholstery detail for your front door, and indoor and outdoor spaces. These DIY Burlap wreaths are lovely for both indoors and outdoors. If you want to make your burlap wreath, I am sure you will love our ideas of 15 magnificent DIY burlap wreaths. Whether you are looking for patriotic, country chic, traditional arrangements, or seasonal wreaths, this collection will always be the perfect option!
DIY Burlap Wreath Ideas
Here are some DIY burlap wreath ideas for your home decor. They bring an inspiring presence to your house and enhance the decor of the room. Such wreaths can be placed on the front door or some other decorative place of your choice to give a stunning look to the house. These DIY Burlap Wreath Ideas are among the easiest to make and are super impressive when complete! You can use any fabric with a rustic look, just the plain jute yarn, or any other supplies up to your wish. DIY Burlap Wreath Ideas will look great in your home or as a gift. Effortlessly stylish and so much cheaper than store-bought!
How To Make A Burlap Wreath:
This wreath is so easy and very affordable. You can make a few to hang around your front door or a few to hang on each family room door to welcome those who visit. This would also be great as a Thanksgiving wreath to hang on all of your front doors. There are many great things about this burlap; it is cheap, comes in various colors, and you can still use it after the holidays for other craft projects. The supplies you will need to make this wreath include: Burlap scissors, a glue gun, glue sticks, floral wire, and a wreath.
DIY burlap wreath :
All you need to make this beautiful wheat wreath is burlap, pine cones, a bunch of different size jute rope, a glue gun, and scissors. Follow the simple steps below to create your very own DIY Christmas decor for doors or walls. It takes less than 15 minutes to make. Perfect for fall parties and Thanksgiving decorations. Use burlap ribbon to personalize your decoration by writing your family name with paints, markers, or acrylic paint pens. Give it away as a gift or enjoy it at home!
Christmas Red Truck Burlap Wreath:
In today's video, I will show you how to make this fun Christmas red truck burlap wreath. This is super easy and cute. Let's get started! This Buffalo Plaid printable vinyl is so easy I made two of these cute Christmas wreaths in just an hour. It is so easy and will look beautiful in your home! This easy project will be perfect for your door or as an added decoration to any room. This wreath will make a great gift idea too!
Red Burlap Noel Wreath:
This wreath is huge. It is made out of 10 yards of red burlap, various sizes of mason jars, and three different types of moss (foam, plastic and dried). I used fall colors on the 'stars' to add contrast. I also added apples, cranberries, and some black felt for depth. This rich red burlap wreath is hand-constructed with care to make your home warm and inviting this holiday season. The ruffle trim gives the wreath a festive seasonal appearance, while silk greenery adds contrast and interest to the beauty of the red fabric.
DIY Red Burlap Christmas Wreath: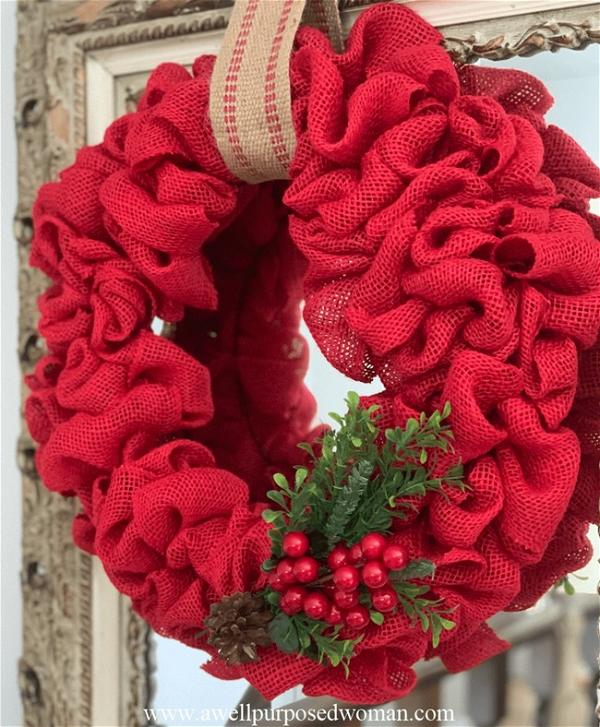 Are you looking for an easy-to-follow DIY (do it yourself) on how to make a red burlap Christmas wreath? This superb DIY piece will be the best choice for you. Creating your own burlap Christmas wreath is fun, easy, and cost-effective. This tutorial will teach you how to make a red burlap wreath with red wire, berry clusters, and other decorations. Burlap Christmas wreaths are very durable and super easy to make. Follow this tutorial to learn how to make your own red burlap Christmas wreath in less than 10 minutes.
How To Make A DIY Christmas Burlap Wreath: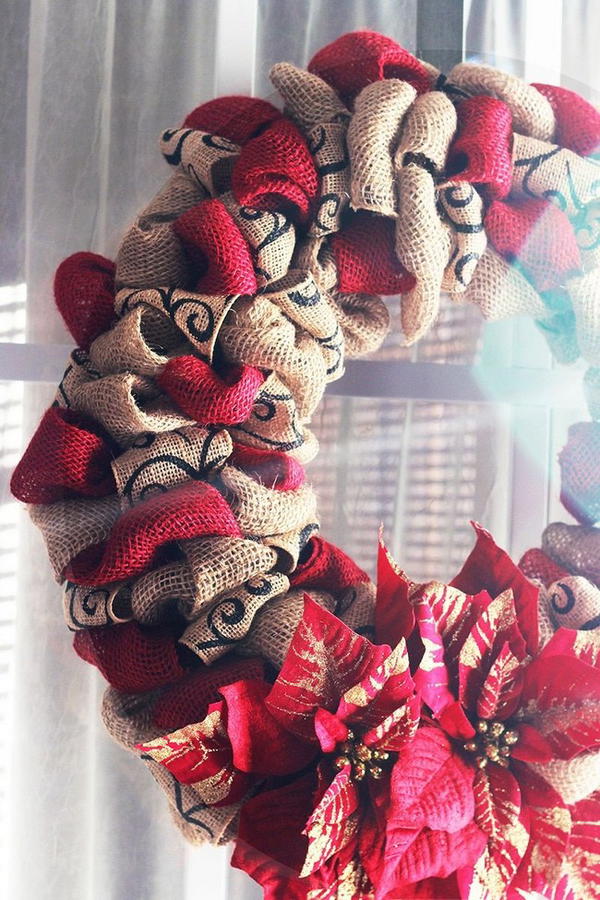 This Christmas Wreath is so fun and easy to make. We are using ribbon, fabric, twine, and burlap. It will surely bring the holiday spirit to your home decor! Whether you're decorating a house, a store shelf, a storefront, a school entrance, a fireplace mantel, or any place you want to create a beautiful centerpiece or wreath, this is the tutorial for you! The holidays are always fun and hectic because we always want to do so much to make our home look amazing. We love giving big gifts, we love hosting Christmas dinner, and we love doing our holiday baking.
How To Make A Christmas Burlap Wreath: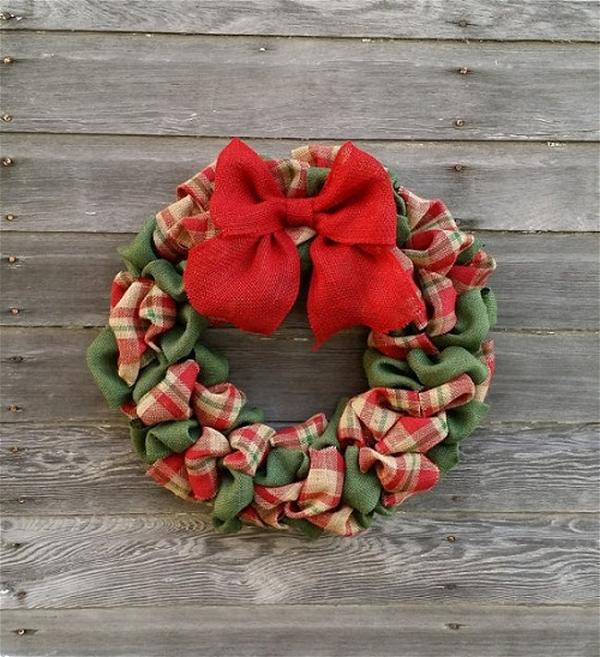 A Christmas burlap wreath adds that antique rustic charm to your home décor. If you're looking for home décor ideas to decorate for the holiday season, try making a Christmas burlap wreath to enjoy your celebration with family and friends. A Christmas burlap wreath is surprisingly easy to make, and remember that these can be reused as long as you like. And as with most DIY projects, the fun part of making a Christmas burlap wreath is in the preparation and hands-on crafting! This is an inexpensive way to get a beautiful home décor for this festive season or any other occasion.
DIY Burlap Christmas Wreath: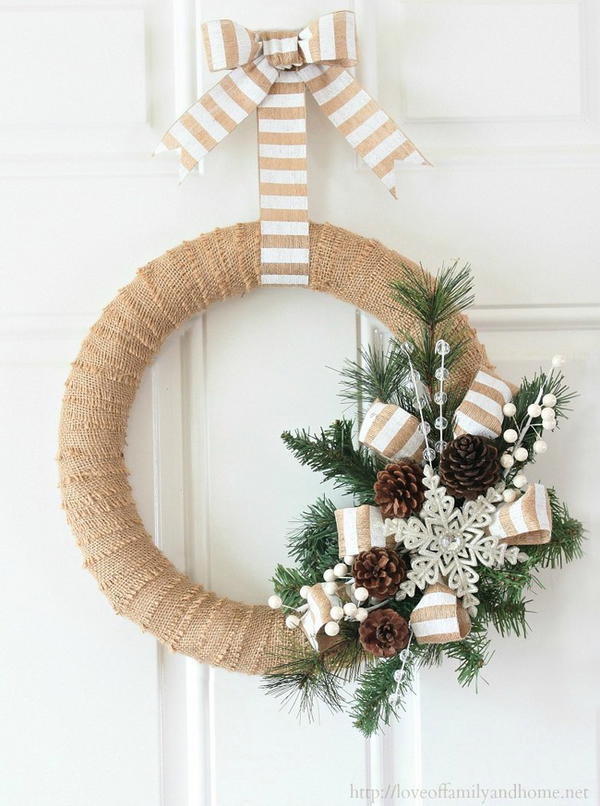 This burlap wreath looks so pretty in our entryway! It was very easy, requiring no special skills. We also saved money buying less expensive materials that still look great!" This is an easy and quick DIY burlap Christmas wreath for your home. This easy-to-find-no shop idea was super to accomplish and could be successful with a little selection of leftovers from your past holiday celebrations or could maybe be used throughout all year long. It will be a superb DIY piece, and you'll surely admire making it.
DIY Rustic Christmas Burlap Wreath: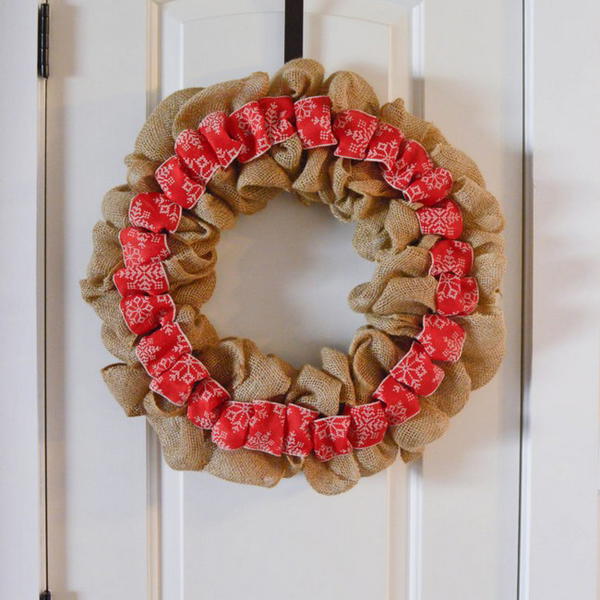 This project is budget-friendly and super easy to make! It's great for those who don't know how to sew and only know a little about natural fibers like burlap. This burlap wreath is all about the rustic DIY holiday decor, and I hope you love it as much as I do! It's super simple to make with just a few supplies that you probably have lying around the house, and it only takes a little time to complete. This burlap wreath is much sturdier than one made from fabric, but it's just as beautiful. It's perfect for rustic, country-chic Christmas trees or a simple accent piece for any room during the holiday season.
Christmas Wreath: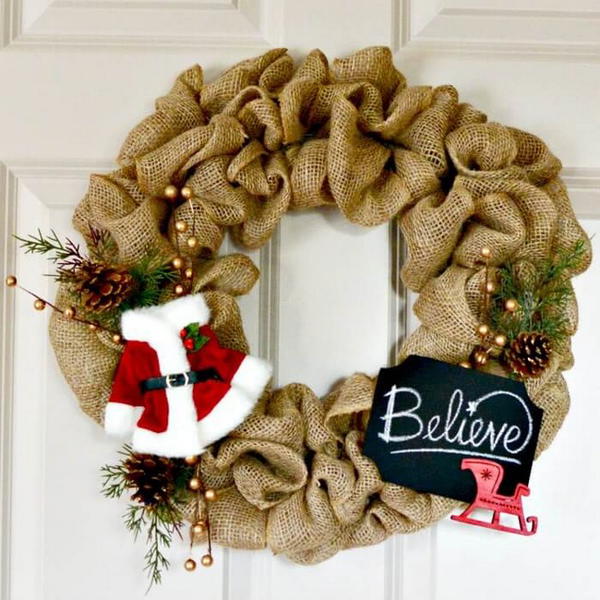 Burlap Wreaths are all the rage right now! They are so cute, and you can get so creative with them. This festive one is fun to make and is the perfect addition to your holiday decor. Burlap material is very inexpensive too. This wreath would be amazing on any door, on a mantle, or an easel at your entrance. This burlap wreath is a great way to add a festive touch to many settings, from the front door to the family room. Whether you're looking to have something handmade or want to save a few dollars by making it yourself, this burlap Christmas wreath is the perfect addition to your Christmas decor.
Burlap Wreath Red White And Blue Patriotic Decor: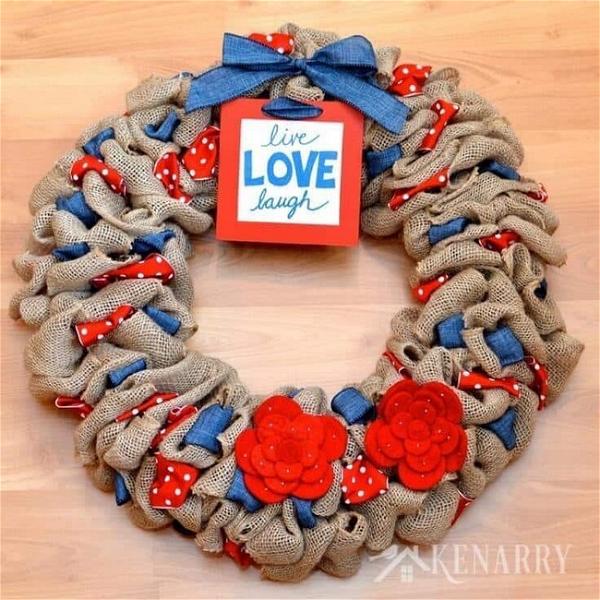 Get inspired to make a burlap wreath to celebrate the 4th of July. Burlap Wreaths are surprisingly easy to make. All you need is a few supplies, including a burlap to make a wreath, ribbon, wire flower embellishments, and a hot glue gun. Don't worry if you don't know how to wire wrap or florist wire; you can learn how here! It has an accent ribbon overlaid on the burlap that lends itself to rustic folk house decor and school room theme decoration. This red and blue decoration can be displayed indoors on the front door, mantle, on the wall behind your sofa at home, or in your dining room.
How To Make A Monogrammed Wreath: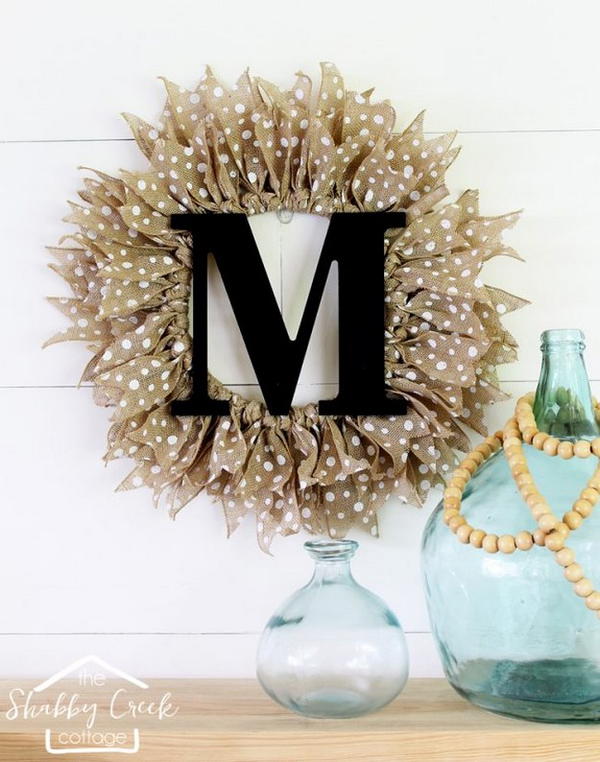 Are you ready for some farmhouse wall decor inspiration? Ah, yes! The fall season is our favorite! Between the crisp air and all of the holiday festivities, we can't get enough. This burlap wreath tutorial is so easy to follow, you'll have your DIY wreath hanging on your door in no time at all! We're making everything from wreaths to garlands. And we're getting crafty with burlap. Are you ready to make your own custom monogrammed burlap wreath? Let's do this!
How To Make A Wreath: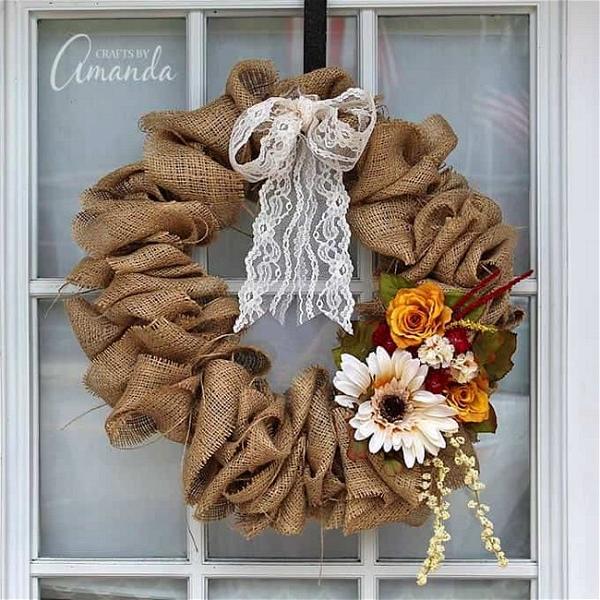 Hey folks! It is finally Fall, so what can be more perfect than decorating for that beautiful season? I wanted to create something that has tons of curb appeal for my front door. I love how beautiful wreaths are for your home's exterior, but I don't like to spend a lot of money on decorations. That's why I came here with this superb DIY burlap wreath for you. They are so inexpensive to make, and they add character to any front door, So without wasting any time, put your hands on this superb DIY craft.
How To Make A Burlap Wreath: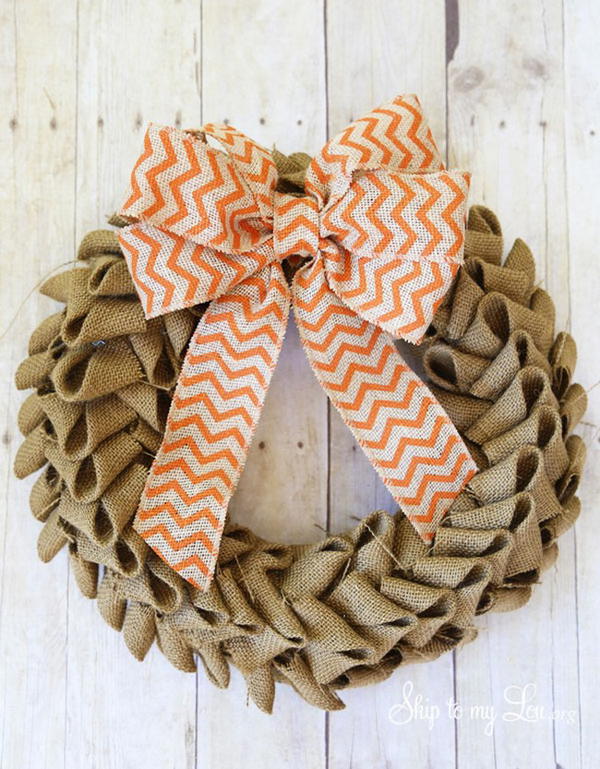 Burlap wreaths are beautiful decorations for your home. This burlap wreath idea is really easy to make, and you can change it up to give it a different look by adding embellishments or seasonal colors. And what better way to get seasonal decor than by creating your burlap wreath? Our tutorial will walk you through how to make your burlap wreath for fall, complete with instructions for attaching some tasty smelling cinnamon sticks along the outside. It will be a superb DIY piece, and you'll heartedly admire this burlap wreath's creation.
Christmas Wreath Woodland Bird House: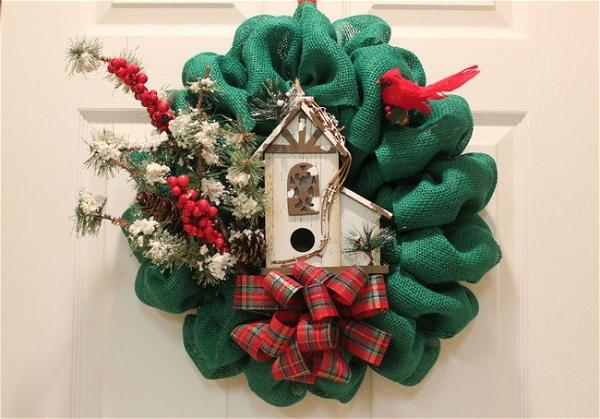 If you are looking for a handmade decoration for your Christmas tree this year, this DIY Burlap Christmas Wreath is the way to go. It's done in red, white, and green plaid, with pops of blue. The tutorial will show you how to make it out of the most traditional Christmas decor materials, woolen burlap. However, you don't have to limit yourself to the wreath form shown in the tutorial. This process can create cute decorations for any holiday or occasion, not just Christmas. All you need is some imagination!