A DIY candy dispenser is a fun and useful way to enjoy your candy. It can be made with any material, but in this case, we are using wood. This guide will explain to you how to make a wooden candy dispenser that is easy to use and looks nice. These dispensers are great for kids and adults, and they can be used to store other things besides candy. They are also nice gifts, especially if you're giving them away during Christmas or Halloween. You can also make it as a birthday present or housewarming gift!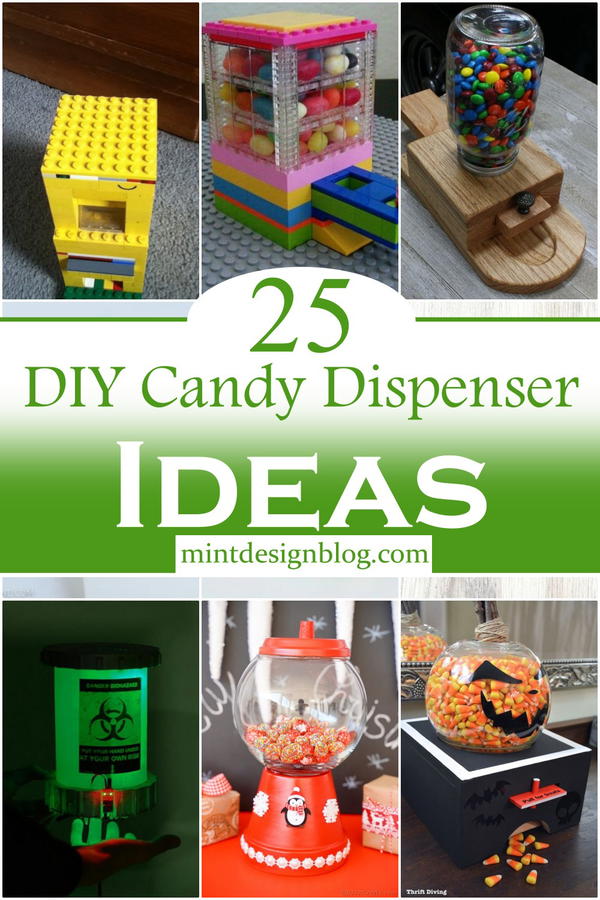 The candy dispenser projects are arranged in increasing order of difficulty, with the simplest at the beginning and the most complex at the end. They range from the usual cylinder made of cardboard or plastic to a cube with a rotating lid, which requires some manual skills to make. So, if you are looking for a project that will not require much effort - just look through our list and choose a suitable option. There are many ways to make candy dispensers, but we chose 25 ideas that can be done with everyday items found in almost every home!
These 25 DIY candy dispensers feature multiple different designs so kids and adults can pick a project that's right for them.
Advantages Of DIY Candy Dispenser
DIY candy dispensers are a fun and easy way to keep your kids occupied during the holidays or any time of year. If you're looking for an alternative to buying mass-produced candy dispensers from the store, you may want to consider building your own.
The advantages of DIY candy dispensers are numerous:
You save money. DIY projects cost much less than store-bought items, and they're more fun to make!
You can customize them to fit your needs. Build one with a coin slot or build one that dispenses candy when you turn a crank – there are no limits on what you can do!
You can make them as big or small as you like. Want an enormous dispenser that holds a pound of M&Ms? Go for it! Want something smaller so it doesn't take up too much room on the countertop? That works too!
You can make a unique candy dispenser for your kids that you won't find elsewhere.
It's fun to create something with your child and watch their reaction when they see it working!
It's a great way to teach them how candy works while keeping them busy during
Tips for a DIY Candy Dispenser:
You can use a variety of materials for your DIY project.
A used bottle can be the starting point of your candy dispenser.
You can use your old gumball machine to create a new candy dispenser.
The first step is to remove the clear plastic globe and lock, but make sure you keep them safe as they will be used later on.
Use a glass jar or a tin can to store the candies.
It can be any size depending on how much candy you want to store inside it.
Now place the glass jar inside the gumball machine and use hot glue to hold it in place.
If you do not have a gumball machine, then get an empty cylindrical container with a lid and attach a funnel on top of it. You can also make one using cardboard or plastic.
How To Make A Candy Dispenser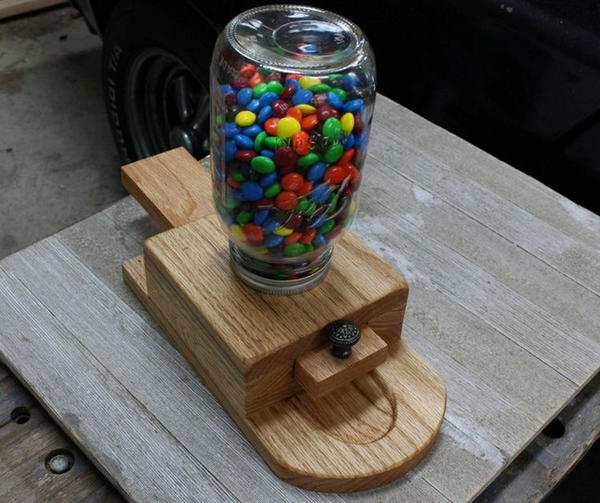 Most candy dispensers are either large and expensive, or small and impractical. Here's a simple guide on how to build a candy dispenser perfect for parties, holidays, and special events. The kids are going to love this candy dispenser that you can make using a mason jar and other readily available products. It's fun as well as functional, so you could keep it on the counter so you can grab a sweet treat when you need one. This DIY project comes together with a little time and effort, but you'll love the results.
Desktop Candy Dispenser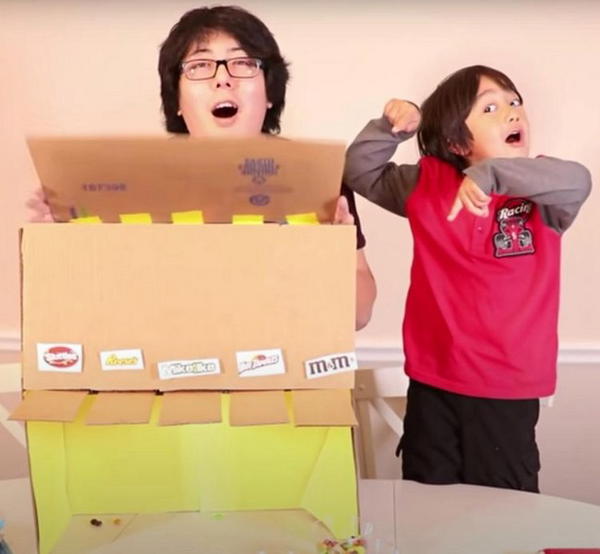 Don't you think it's awesome to control how your candy dispenser spat out? Now, with this DIY idea, you can become the boss of your own DIY candy dispenser. With a few building tools and a lot of candies to choose from, the candy dispenser will be for your enjoyment. Gather your materials and slice the cartons or cardboard in rows into equal sizes then glue them together by applying glue all around the edges of each cardboard to make sure that it sticks. Then place small paper-friendly strips on the edges so that they can stick well on the dispenser server. Lastly, decorate your dispenser server with either stickers or colored papers.
Candy Dispenser For Halloween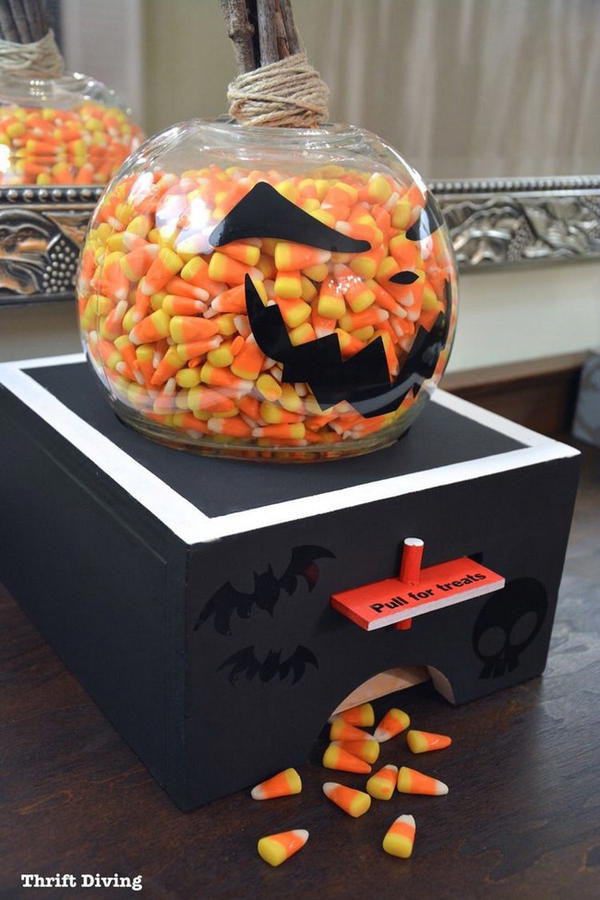 If you think a funny face on a pumpkin is enough to scare small children and pets, combine it with a creepy-moving candy head for an even scarier Halloween decoration. This DIY project is a lot of fun, and you don't have to be a serious crafter to do it. To get started, grab an old thrifted fishbowl that you can upcycle into your own special candy holder. To make your own candy dispenser for Halloween, all you need is a thrifted fishbowl, a saw, a platform for the bowl (wooden plank), a jigsaw, power drills, paint, and of course candies.
How To Make A Wood Candy Machine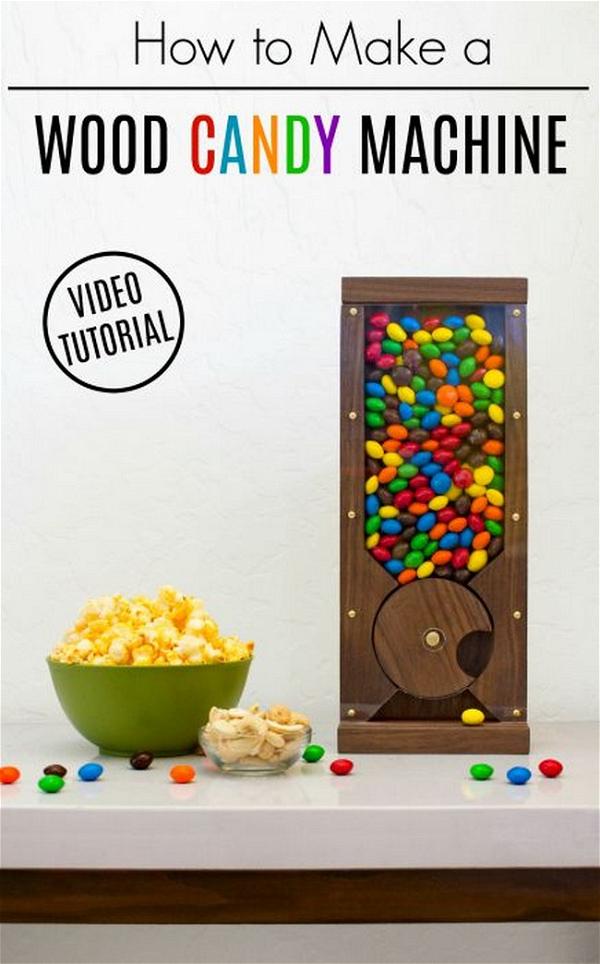 The best part of this DIY wooden candy dispenser machine is the fact that it is reusable and can be used for a long time. You can use it as an icebreaker at parties, and you don't have to buy candies every time you need one. This DIY candy dispenser machine only requires a sheet of plywood, 2 screws, and cotton in order to run. It is a perfect handmade gift idea that can be given to anybody. This machine can meet all of your sweet cravings. You could make this machine yourself. The whole process is not that complicated and easy to do.
How To Build Candy Dispenser
Building a DIY candy dispenser for the kids this Halloween? Don't fret about making multiple trips to the store. Just follow the instructions in this guide and you'll have a finished product in no time. All that you will be required to do is pull the lever, and your favorite candies will fall out at the bottom of the box. This project will not only help you prevent all things sweet, it can also turn into a fun family/ friends activity.
How To Make Gumball Candy Dispenser Machine
How to make a gumball candy dispenser machine? This is a step-by-step procedure to make a gumball dispensers for kids that you can make at home. A gumball is a small round ball with many different flavors, most of them are water-based, but there are also some synthetic gums available. The best thing about gumballs is the flavor, so these can be used for making DIY gumball candy dispenser machines for kids and for parties. You will need plenty of cardboard boxes, transparent plastic sheets or cartons, and liquid gummy or glue.
How To Make Candy Vending Machine
Candy vending machines are all right and fun but are very costly. This candy vending machine is a simple project that can be built at home with a little bit of time invested in it. Just like the ones found in stores, these machines can be employed to sell candies, gumballs, or loose knickknacks. All you need is to gather the materials such as small sticks, rubber bands, and cartons and a liquid glue such as white glue. With this machine, you can earn some money by selling candies in your community.
DIY Candy Dispenser
A candy dispenser is a fun DIY project that could save you money and time. It's also a great way to reuse old boxes and make something new out of them. It's even possible to add some fun details like stickers or drawings to the dispenser. The best part is that your kids might love it! All you need is a piece of cardboard or carton, which will be cut to specific sizes, and you can have your very own DIY Candy Dispenser. This easy-to-build toy will save you money and time as well. Your kids will have a blast decorating the dispenser with stickers. It is just as fun to build it with them.
9. How To Build A Candy Machine
Looking for a fun activity to do with your kids? Build this fun DIY LEGO Candy Machine. It's simple and the more Lego bricks and candies you have, the more fun this activity becomes. Plus, it looks so adorable sitting on your table and is perfect to give as gifts! This Candy Machine is the easiest way to inject some fun into your children's parties. The kids will absolutely love bringing this DIY candy dispensing machine home. This toy is great for birthday parties but also for gatherings like playdates, picnics, sleepovers, and more.
How To Make A Gumball Candy Machine
Have you ever thought about how to make a gumball candy machine? Well, gumball candy machines can be made easier with the waste plastics that are given away freely all around us. Gumballs are spherical balls of flavored, sweetened, chewy polymer or elastomer that are used in small toys and vending machines. You can basically make a gumball candy machine by yourself and it won't cost you much either, you will just need some plastic bottles, a few cups, glue and it's all done. You can even use the gum you have to get this gumball candy machine running and let the kids go gaga with their favorite colorful candies made of plastic.
How To Make Multi Candy Dispenser
This multi-candy dispenser is a great DIY project for both children and adults. This can be used to decorate the kids' room or your own room. This dispenser will be so useful in terms of putting all the sweets that you can possibly think of in it, such as chocolates, candies, and many more. You can easily make it with items that can be found in your house. It is easy to assemble and if you ever want it to be disassembled, you can just do that too.
Candy Dispenser From Paper
Let the candy be dispensed from a cup or soda bottle with paper. This DIY candy dispenser can be made using paper-based materials like paper cups, plastic soda bottles, scissors, and of course the candy you are about to dispense. This DIY project can surely put a smile on children's faces and who knows, it could encourage them to create more innovative projects.  Anyone can make this cheap, easy candy dispenser, perfect for any young child looking to experience candy dispensers.
DIY Christmas Candy Dispenser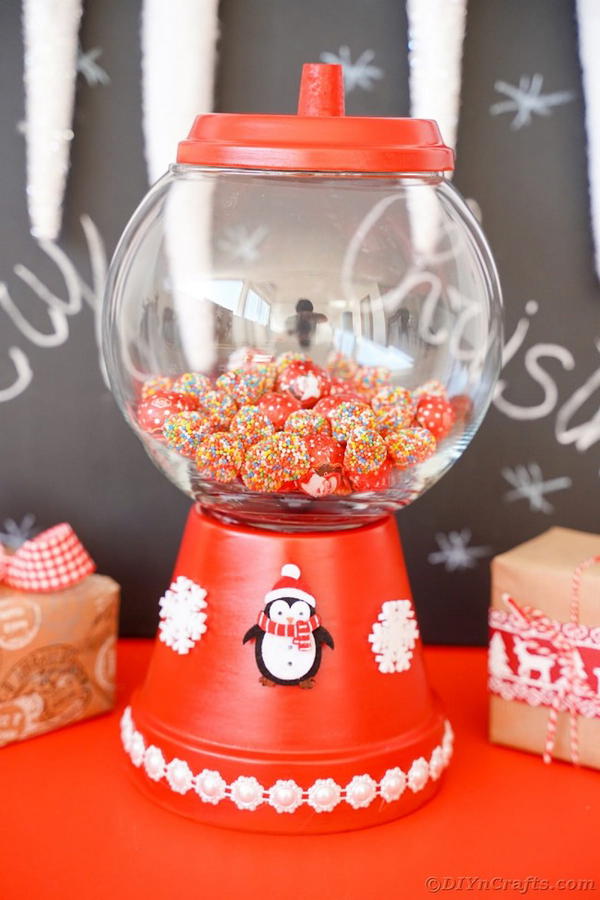 Create a unique DIY Christmas Candy dispenser in the shape of a gumball machine. It's a great way to show your flair for the practical and cute. It is particularly easy to make and will have you get creative with upcycling. It is both practical and cute. You can place it in your entryway, on your coffee table, or in your kitchen for greeting guests with a tasty treat. Upcycling never got sweeter than this! Give some new life to a neglected flower pot sitting in the garage, or on the porch using a fresh paint job and decorations. A fresh coat of paint and a few decorations, including some small pinecones, will make it look great anywhere!
DIY Simple Candy Dispenser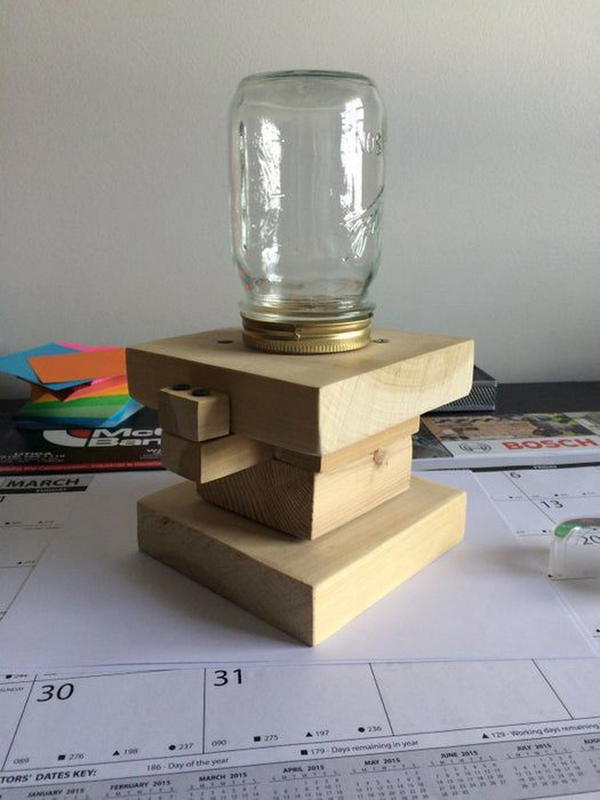 This DIY project is easy to do and, even more importantly, will be fun to do. DIY Candy Dispenser has a clear top so you can see when it is empty, a metal mason jar top that screws in place, and candy goes everywhere. You probably already have all of the things you need for this project! Materials like plywood and a mason jar top with various candies are easy to get. Just fill up the jar and start dispensing. Great for parties or just to add an extra bit of fun to everyday life.
Lego Candy Dispenser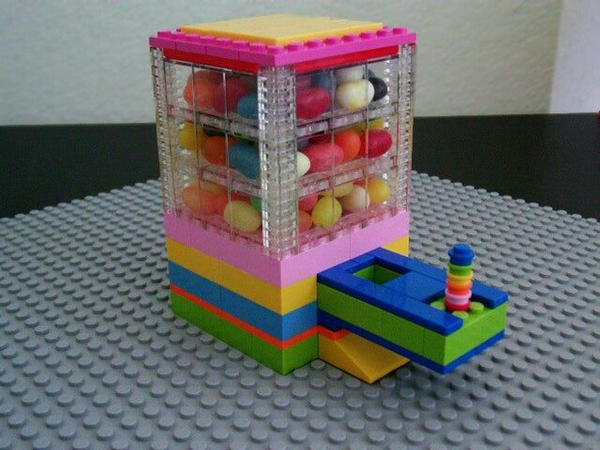 This LEGO candy dispenser is a simple but super fun and impressive DIY to make. The slider-style dispenser is activated with a simple sliding mechanism that cocks the candy dispenser when moved. The sliding action also makes it easy to clear out the barrel of any jammed candies. The lid on the top of the candy dispenser has an easy-release feature so you can quickly pour out candy without having to take off the entire lid like with some simpler models. The candy dispenser is designed to unlock easily, with a simple twist of the lid it unlocks, and then with a little push, the candy comes out.
Halloween Candy Dispenser
This Halloween Candy Dispenser will become the star of your Halloween party! If you love Halloween, you'll love this project. This is a great invention for those who are impossible to surprise or just want to have the most original party. It's really easy to build too, even if you never used Arduino before. All you need is a few pieces of hardware and piping, which are included in the kit. Once programmed, the machine can not be manually overridden by guests and will grant them a sweet or sour surprise!
Cardboard Candy Dispenser
If you love candies, then a candy dispenser will be the perfect gift for you. A lot of parties and celebrations frequently require this kind of dispenser to pass on sweet treats to guests. You can also find them in cafes and bakeries, but unfortunately, they are expensive. What if we tell you that your ordinary cardboard can be transformed into a multi-candy dispenser? It is possible with the help of some tools and instruments like a stapler, knife, and ballpen. And instead of paper buttons, use knobs to adjust the flow of candies.
Making A Candy Machine
You will be surprised to learn that you can make a fairly accurate candy dispenser of your own for much less than spending your hard-earned cash on the store-bought ones. All you need is the right equipment, a handy person, and woodworking skills to create this DIY Candy dispenser. This DIY Candy dispenser is another perfect gift for kids who love to have candy whenever they like. This manual candy dispenser can be made from materials available such as wooden blocks, metal mason jars, and a few nails. It has a very simple setup, which anybody can build in an afternoon. Everything is just drawn out there and then it gets right to the point of setting it up. It's as if you're building a machine with your eyes shut!
How To Make A Wooden Candy Dispenser
This candy dispenser will help you get rid of those unwanted sweets. The drawer gets pulled out slowly, one piece at a time, so the kids have time to enjoy them. It can be customized like any wooden project. You can paint it and even recover the wood if it dulls. The great thing about this candy dispenser is that it helps your kids to understand that candy is something special; not cheap sweets that they should just wait for Mommy and Daddy to eat.
DIY Triple Candy Dispenser
This DIY Candy Dispenser Furniture is a delicious decorative piece that will look great in your kitchen. This triple candy can dispenser doubles as a decoration piece and storage. This candy dispensing center consists of three containers for placing candy, sugar, salt, etc. This multi-dispenser can be created with regular materials such as plywood, Mason jars, drills, sticks, glue, nail sets, and hammers. These are ideal for home decorations like a candy dispenser table or multi-candy dispenser furniture, or something more unique like a DIY candle with an added bonus of dispensing candies!
BMO Candy Dispenser
BMO (Bean Machine Operator) is a character from the popular cartoon Adventure Time. The BMO Candy Dispenser is an interesting mechanism with which you can enjoy your candy. One of it's features is that if the candy bowl becomes too low it will stop dispensing candy until more has been added and it's full again. The candy bowl is monitored by a micro controller. This feature along with the karate chop feature make this a pretty unique candy dispenser.
Candy Dispenser Bot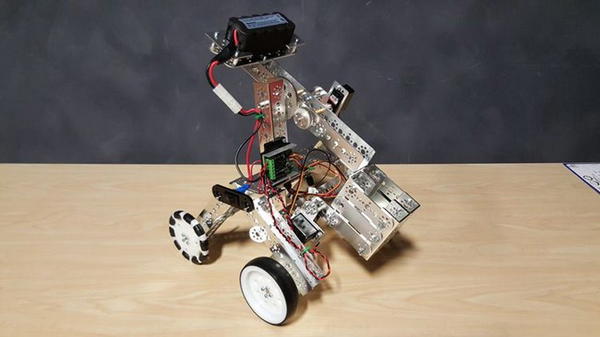 Build a Candy Dispenser Robot and watch as your friends and family get filled with delight! Tetrix Max base pedestals move in all directions, acting as the perfect foundation for this sweet robot. The candy hopper housing is also powered by Tetrix Max gears and motors, permitting you to focus on preparing the assembly of the candy payload dispenser plate, complete with a wheeled cart base.
Couple a candy dispenser with a robot and you've got some real fun. It's great for parties or when you just want a little something special all your own. Use it as a type of commercial promotion (Trade shows, Storefront windows, the like). Many flavors can be used including fruit flavors and others to create visually stunning effects.
Lego Candy Dispenser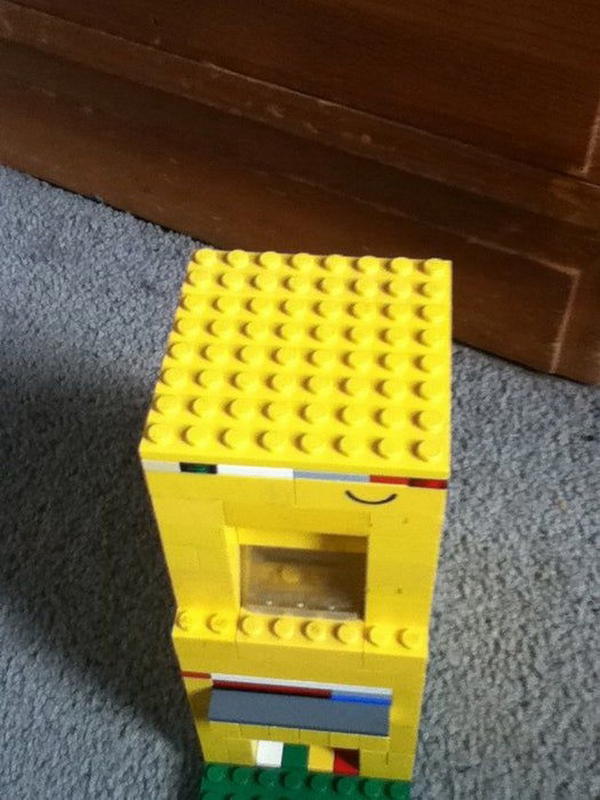 If you love candy, especially Classic Lego candies, then you will absolutely love this easy homemade Lego Candy Dispenser. This is an amazing way to share your candies with friends at a party or just have them handy on your desk while sitting at work.  It is an awesome project that involves no glue, no tools, and no power tools. All you need are Legos and an empty paper towel roll. It's easy for kids to make and even easier for them to transport. The best part? It's definitely going to help you get rid of the extra Halloween candy!
Lolly Candy Dispenser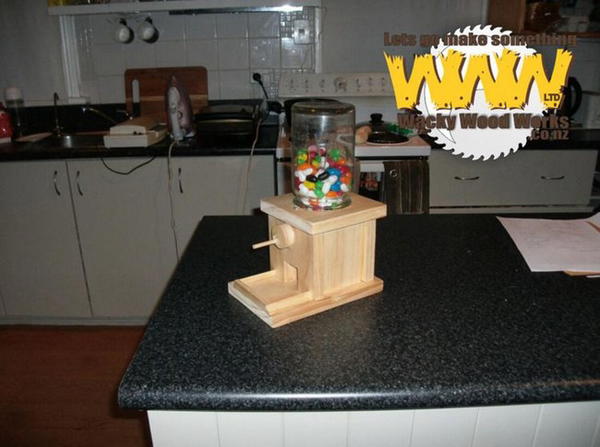 A lolly is a delicious, hard to resist treatment. So why resist? Make your own using this little candy dispenser maker. Make a lolly dispenser with your kids and see what fun you can have. The materials are easy to come by and the process is simple to follow. How does it work? Press down on the handle, and watch as your favorite sweets come out bit by bit. Not only will you have endless amounts of fun making lollies, but you can also enjoy them with your family and friends! This project is a great way for kids to improve their fine motor skills, and get creative.
How To Make A Candy Dispenser From Cardboard
Do you know the candy dispenser that you can buy at the store? By making your own, you will be able to make one dispenser as long as you want. It is unique, useful, and cost-saving. If you have time, it will not take much effort to make one homemade candy dispenser.  Building a candy dispenser made out of cardboard is a great project to do in your free time. It requires only basic craft skills and tools. The dispenser is helpful for kids of all ages, as it can be filled with candy or small toys that would make satisfying sounds as the dispenser rotates when you turn an attached crank.