Here are 28 DIY chair cover ideas to help you spruce up your dining room or kitchen chairs on the cheap! Chair covers are a great way to add a personal touch to your dining room or even add elegance and a festive feel for special occasions. Chair covers come in various styles and designs, so you can make them suit your needs and desires. It is possible to use chair covers for all sorts of functions such as weddings and birthdays. These DIY chair covers ideas will show you how to use everything from inexpensive paper bags to plastic tablecloths to create a stylish new look for your dining room chairs in no time.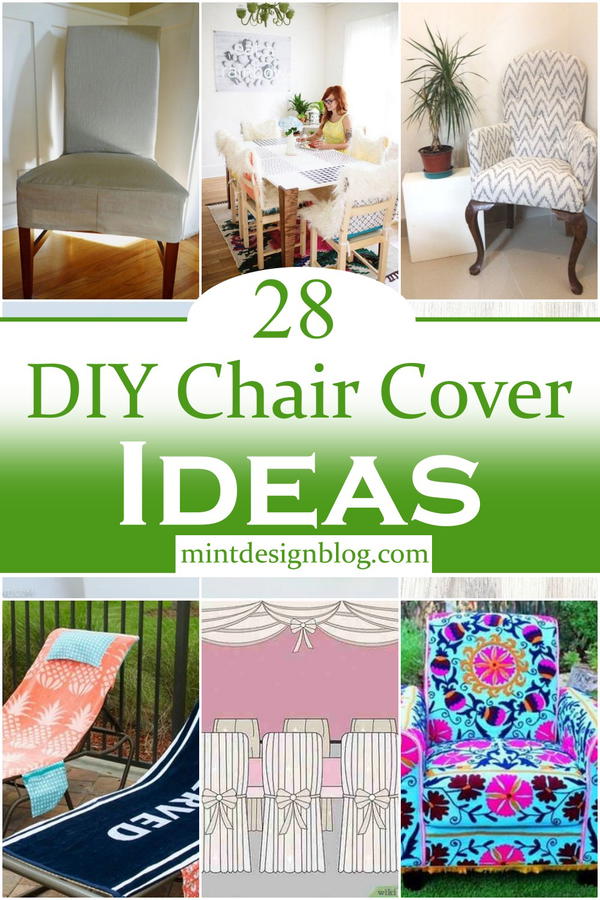 Chair covers are easy to make and you do not need many tools to do so. The most common cover is a slipcover. Slipcovers are more ideal for chairs that have square or boxy cushion arms. You will also need a sewing machine to create these slipcovers. Sewing your chair covers is a fantastic way to spruce up your home, and using the right materials means you won't have to break the bank when you do it. You can make chair covers for any occasion, from a wedding to a cozy night at home. If you want some ideas on how to give your chairs a completely new look, why not try one of these 28 DIY chair covers ideas that are easy to sew yourself.
DIY Chair covers are a great way to add a personal touch and decor charm to your home, so make your own chair covers with the help of these 28 DIY chair covers ideas.
Materials and Tools:
The fabric of your choice
Sewing machine
Sewing pins
Measuring tape
Scissor
How To Make Arm Chair Slipcovers For Less Than $30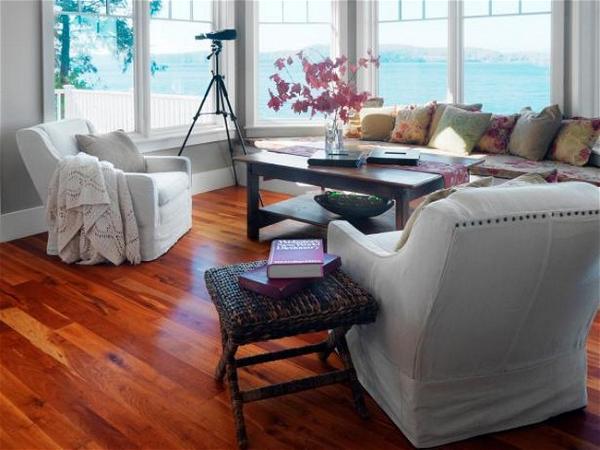 Do you have a favorite armchair around the house that you'd love to put a slipcover on, but you don't want to spend hundreds of dollars having one custom-made? If you have armchairs that need a facelift, you can easily make slipcovers yourself. These are custom-made to fit your chairs and are easy to sew. Your local fabric store has many fabrics that are perfect for this project. It all has to do with using some easy-to-find fabricating materials that can be picked up at any fabric store and then sewing them together with your favorite color of thread. You'll also be able to get creative and make unique ruffles or frills along the edges of your armchair cover, so it stands out in your living room or wherever.
Skill level: easy
2. How To Make A Slipcover In 5 Minutes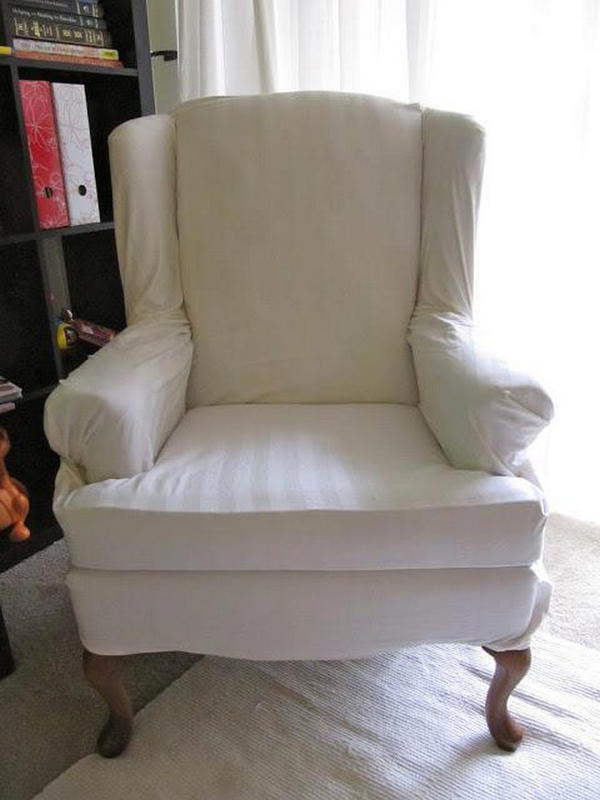 If you have a chair at home that needs a new look, then you should try to sew your slipcover. Sewing a slipcover is very easy and it will save you a lot of money if you do it yourself.
If you want to make your slipcover, it may take a little bit of time. You will need to measure the chair, take it apart and then sew the slipcover. The amount of time it takes will vary on how many chairs you are covering and how much sewing experience you have. You are going to need some corkscrew pins to hold your slipcover in place. These are easy to find at most supermarkets, department stores, or home improvement stores.
Skill level: advanced
3. DIY Old Chair Transformation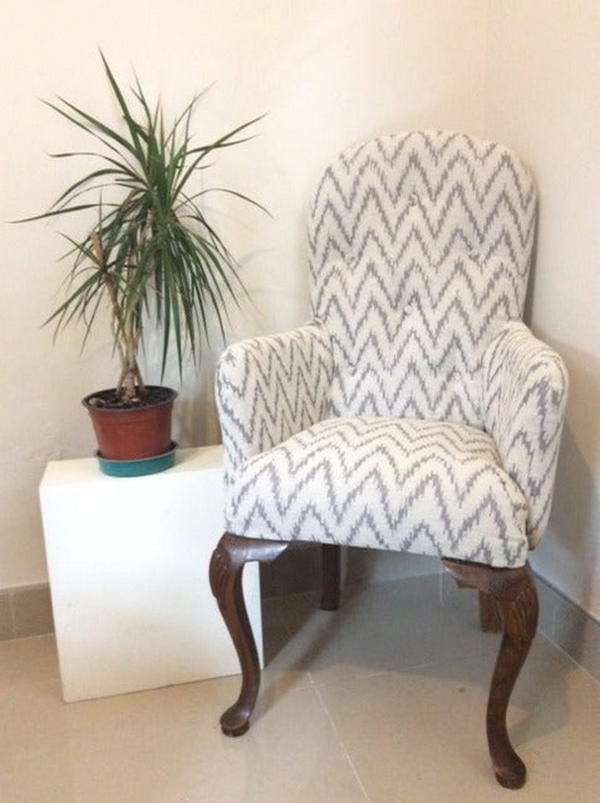 One of the best ways to spice up your home décor is to revamp your furniture. A new set of furniture may be expensive, so why not try the DIY way? You can go for a simple paint job or try some more complicated tricks.
The simplest way to give your chair a new look is by covering it in fabric. You can easily match the fabric with your existing décor, as there are many colors, patterns, and textures that are available in the market. Some types of fabrics are also easy to work with and maintain. It is easy to find a fabric that suits your needs and personality.
Skill level: advanced
4. How To Make A Chair Cover
There are many kinds of chair covers to make. You can make a cover for the wingback chair, armchair, dining chair, and more. If you look for a dining chair cover, you should think of the best material to use. This DIY chair cover looks simple if you measure and cut it carefully. Before making the cover, you need to measure your dining chair first. Measure from the top to the bottom and divide it into several sections. Then, you can cut each section separately based on your measurement. You can't deny that the chair looks so adorable with this cover. It is easy to make and inexpensive too. The striped fabric used to make the skirt area makes it perfect.
Skill level: simple
5. DIY Chair Cover Using Pillow Cases
If you have a chair that has seen better days, then it may be time to give it a new lease of life. Why not try making a chair cover?You can take an old pillowcase to make a chair cover. If you don't have an old one, you can use a new one altogether. Cover the chair with it to see if it nicely fits well.
You can choose whatever color or design you like for your chair cover. You can select an appropriate fabric and cut out two equal parts of the fabric according to the size of the chair. Now, put them together and sew them in such a manner that they fit your chair nicely.
Skill level: moderate
6. How To Make A DIY Slipover
Slipcovers are a great solution for used furniture that is still in good condition but needs a face lift. Instead of throwing out chairs or couches that have outdated upholstery, cover them with new slipcovers to create a fresh new look at a fraction of the cost of new furniture. The process is simple and you will be pleased with the results. The slipcover will give your room an entirely new look for very little money. This project is a great way to get a more custom look with your chairs. And if have a chair with an attached seat cushion, you can still use it.
Skill level: moderate
7. How To Make A Slipcover For A Chair
The best way to make a slipcover for a chair is to turn it into a one-piece slipcover, which is actually quite simple. All you need to do is cut a large piece of fabric that will fit over your chair.
Once you have the fabric, sew up the sides and back. Make sure that your piping is nice and neatly tucked in, because if it's not, it will look very sloppy. Making a slipcover for your chair is not as hard as you think. You don't need the sewing skills of a professional to create an attractive and functional cover for your chair. You can use a piece of lightweight fabric, or you may have an old sheet that would be perfect for this project.
Skill level: advanced
8. How To Make A Chair Cover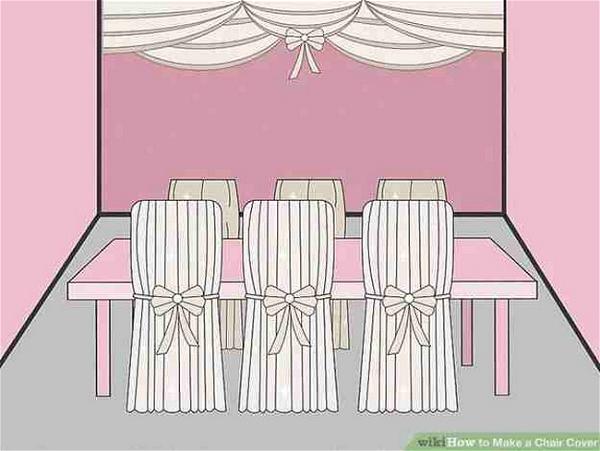 For a dining set, you will need to cover the entire chair with the same fabric. The first step is to remove the seat cushion from the chair. Wrap them around the fabric anIf you have an old chair, you can transform it with a few touches of creativity. If you also want to beautify your dining room and you have decided on the idea of ​​making a chair cover,the first thing you should do is determine if you want to cover only the seat or the entire chair (with the back). The choice will depend on what style you want to impart to your home and the fabric that will be used.You can choose any type of fabric that suits your decorating style as well as budget. Leather is also a good choice, but it's more expensive than other types of fabrics.
Skill level: easy
9. DIY Simple Chair Cover Tutorial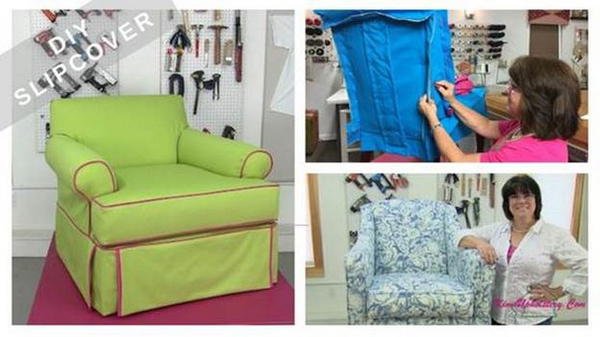 With a few simple sewing skills and about an hour, you can make a custom chair slipcover for your dining room chairs, but you can use the same method to make covers for kitchen chairs, bar stools, outdoor chairs, or any other type of chair. This tutorial will show you how to make simple chair covers with a fabric panel in the back and fabric ties in the front. This design is perfect for dining room chairs that have visible legs in the front.The great thing about this project is that it can be used to make a slipcover for any kind of chair.
Skill level: easy
10. DIY Dining Chair Slipcovers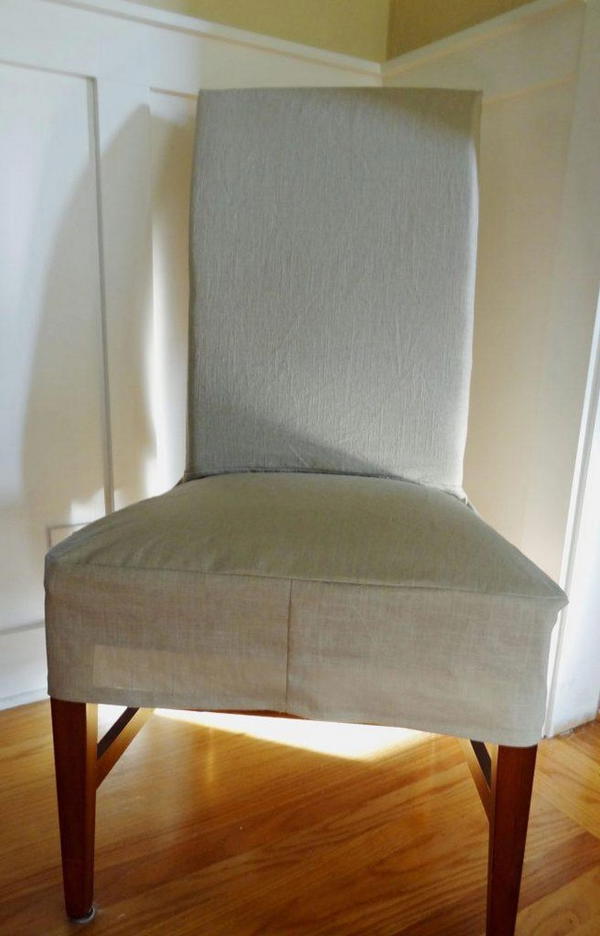 You don't always have to do a lot of work to give your dining room chairs a fresh look. You can simply create a slipcover and put it over the existing chair.
The best part about this type of slipcover is that it's not permanent. It's easy to make and easy to remove when you're ready for something new. This is the perfect project for anyone with a few hours to spare and some fabric on hand. Slipcovers are not only an affordable way to give your dining chairs a new look but they can be quickly removed for cleaning.
Skill level: simple
11. DIY Pool Chair Covers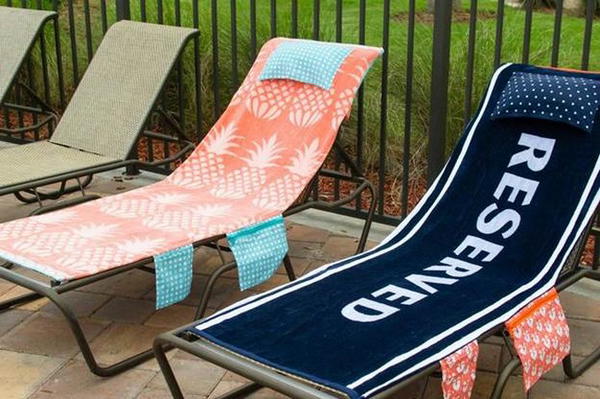 Have you ever wondered how to add some life to your pool chairs? Have you tried making pool chair covers? If you haven't, then you should. Pool chairs are not the most exciting things in the world. They can be boring, but they don't have to be.
The pattern is quite easy, and it is a quick project. It is easy to take off and put on, so you can use it during winter or while cleaning the chair. The best part about this project is that it is simple to make and doesn't require any sewing skills. A fabric that is resistant to water is ideal for making this cover.
Skill level: advanced
12. How To Make A Chair Covers Without Sewing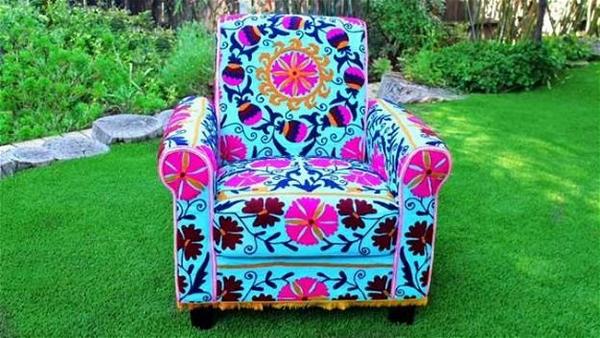 A chair cover is an elastic cover that is placed over the original chair covers to add color, design, and interest to the room. Due to the nature of the elastic covers material, you can use a chair covers without sewing it. This is convenient if you have limited sewing skills or time to dedicate to a long sewing project. These simple-to-make slipcovers don't require any sewing at all. Learn how to make a chair or sofa slipcover and you'll have a fashionable look in minutes! No need to reupholster that old sofa; these easy-sew and no-sew slipcover tutorials will show you how to make a sofa slipcover or couch cover for an instant, budget-friendly room makeover.
Skill level: advanced
13. DIY Faux Fur Chair Covers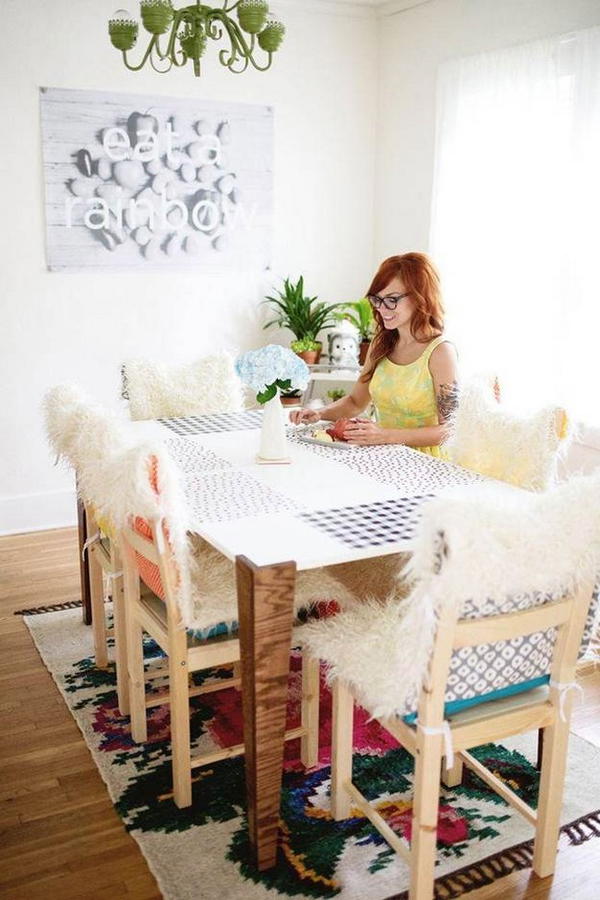 Elevate your home with these DIY Fur Chair Covers! This project is great for customizing the look and feel of any chair. You'll love how soft these covers are, and everyone who sits in your chairs will too. Simply measure your furniture, add some furring strips, staple into place, and then stretch on your furry covers and trim to fit!Add some luxury to your home with these comfy and fluffy DIY faux fur chair covers. Sitting on this soft, luxurious cushion is like sitting right on a cloud you've been looking for the perfect solution to brighten up your chairs at home or in the office, this is the one for you. Give your chairs a new look with these faux fur chair covers. These easy-to-install covers come in some colors, from classic to vibrant, neutral to bold. They are perfect for creating a new look for your dining room.
Skill level: advanced
14. How To Make DIY Slip Covers For Chairs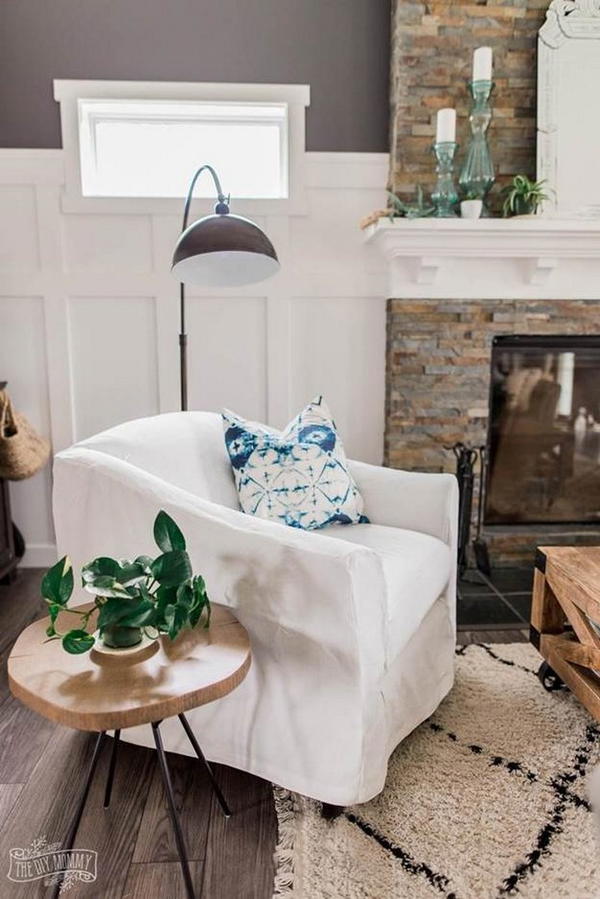 Is the fabric on your dining room chairs looking a little worse for wear? Instead of buying new chairs, try making your own slipcovers to give them a fresh look. In precisely three hours, you can transform any chair into a beautiful piece of furniture. The rich colors add a designer touch to this mid-century modern chair, but you can customize the fabric pattern and color to fit your home decor. Personalize your chairs and protect them from spills and wear them at the same time. These DIY slipcovers are tailored to fit, easy to make, and the perfect addition to any decor style.
Skill level: advanced
15. DIY Christmas Chair Covers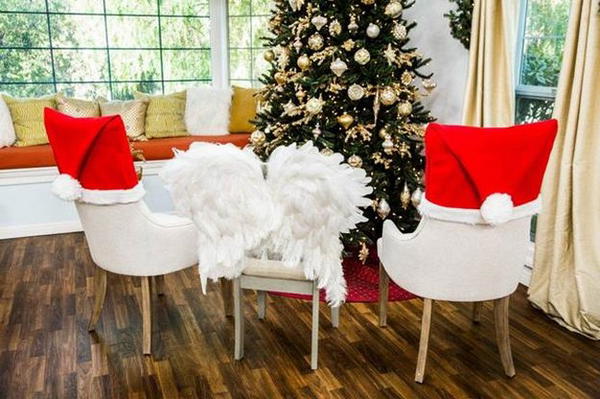 Chairs are mostly welcoming with back support that you can lean on, however, sometimes the chair designs could use some more variations to distract from its function. They could make for a better visual effect if dressed up in festive colors or Christmas stocking covers that fit into the atmosphere of the holiday season. Chair covers come in many different colors and patterns to match your dinnerware or party theme but can also come in handy to hide worn or faded chairs. This chair covers are great for Christmas decoration. The material is soft, durable and machine washable. Use these Santa chair covers to decorate the chairs of your house during Christmas. If you would like to make the house special for Christmas, then nothing could be better than these covers. It will definitely be a hit at your party.
Skill level: advanced
16. DIY Chair Makeover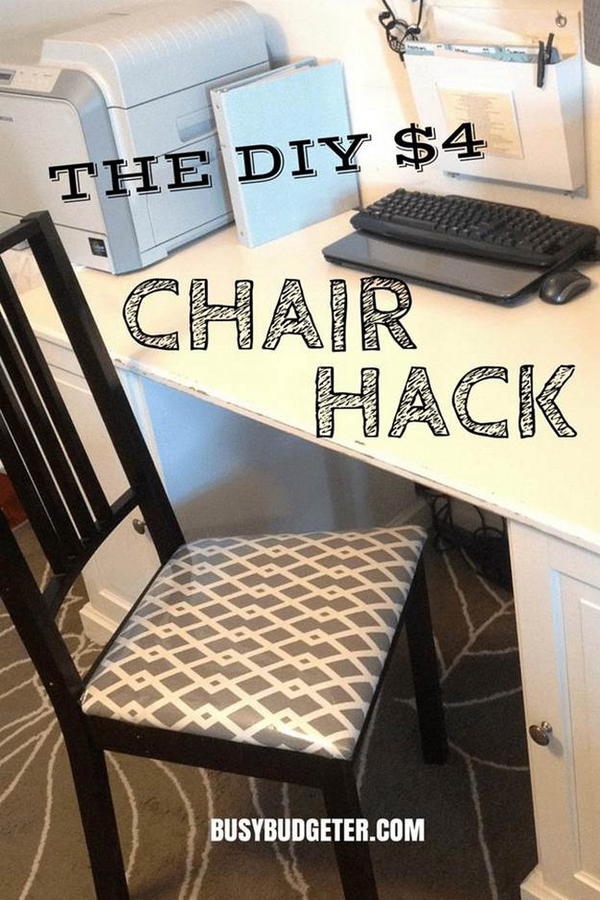 This is a quick and easy way to add some character and cheer to your dining room chairs. The best part is that you can switch up the look of your seat covers at any time, meaning endless design possibilities are at your fingertips.Give your kitchen chairs a quick, inexpensive DIY makeover. It's easy to update a set of dining room chairs with paint and new hardware (for the seat bottom). Leave them as-is for an elegant, classic look or give them some panache with a patterned fabric. It doesn't seem like it should make that much difference but paint can go a long way on outdated furniture.
Skill level: advanced
17. DIY No-Sew Minecraft Creeper Chair Covers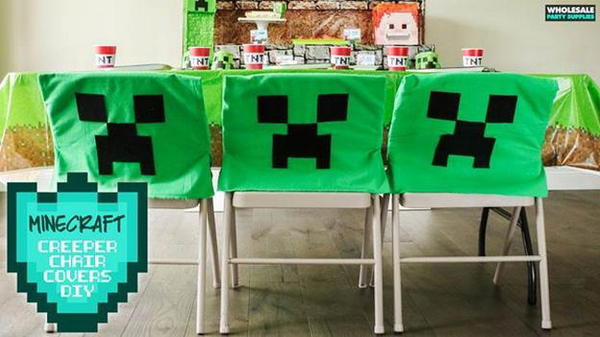 DIY No-Sew Minecraft Creeper Chair Covers are a great way to get your little one excited about the big event. You can turn even the most boring chair into the perfect gaming chair for your pixel party. They're so easy to make that you can buy some plain white or green tablecloths that coordinate with your other decorations and personalize them with a marker as a simple activity for your child and their friends. The Minecraft Creeper Chair Covers will help you dress up your child's favorite school chair. Your child will love taking their seat, with the fun and whimsical green creeper design.
Skill level: advanced
18. DIY Denim Chair Covers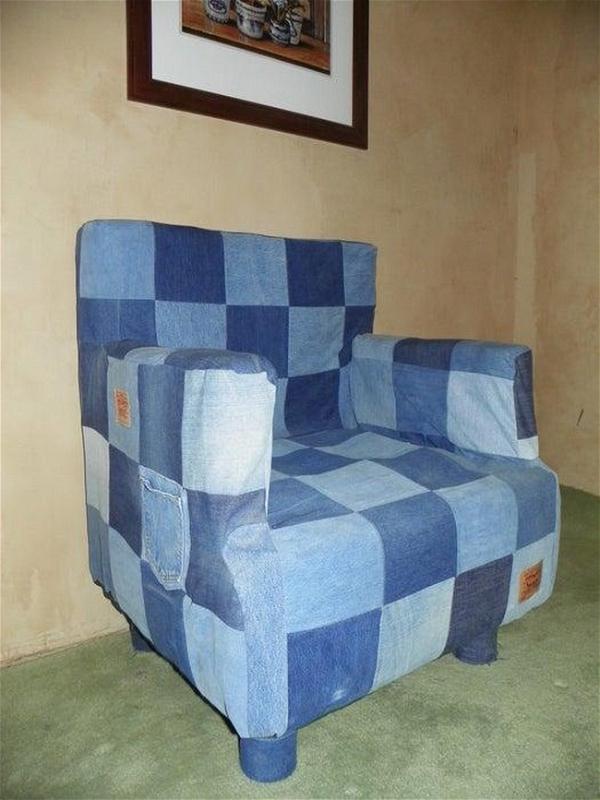 Get a fresh new look with the DIY Denim Chair Cover! Give an old chair a new look and make dinner time fun with this easy slip-on cover featuring classic blue jean pockets.When you want to update your chairs, but don't want to spend a ton of cash, consider these DIY covers. With an easy-to-clean fabric like denim, you can keep these covers looking great for many years to come.Transform your kitchen, dining room, or deck chairs with these cute and simple do-it-yourself chairs covered with denim. Easy to slip on, these will give any chair an extra splash of color and protect your favorite furniture pieces.
Skill level: advanced
19. How To Make Folding Chair Covers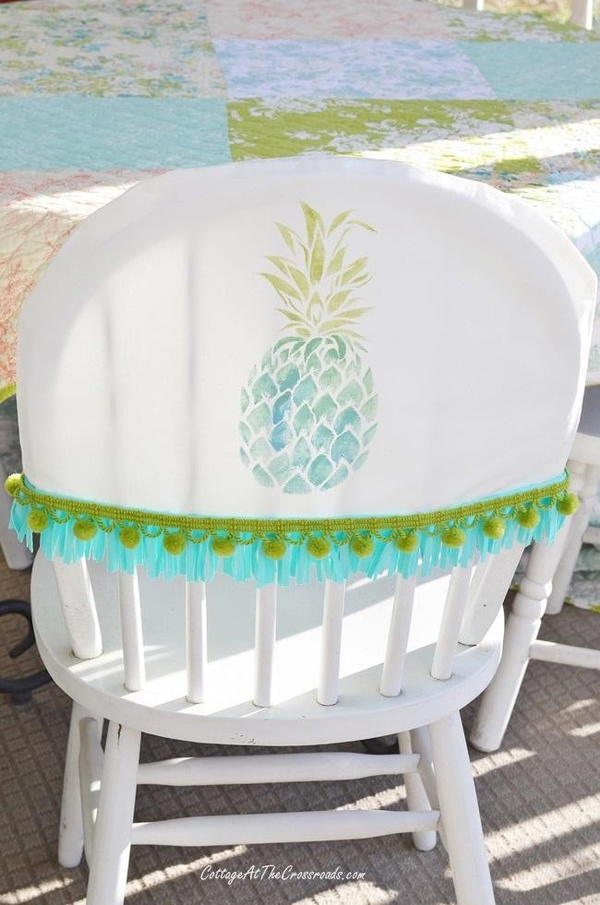 If you have a cherished folding chair collection or you're just looking to make some generic chairs look a little bit nicer, it's pretty easy to give them all new seating with some fabric. To make these folding chair covers comes together in a matter of minutes and requires just a few materials. This easy DIY will dramatically upgrade your chairs, whether you're using rented folding chairs for a wedding, baby shower or birthday party. There are many ways to incorporate your party theme into the decor. And these DIY folding chair covers will be a perfect fit. They're quick and easy to make and can be washed if the food fight gets a little out of hand.
Skill level: advanced
20. Wingback Chair Slipcover Tutorial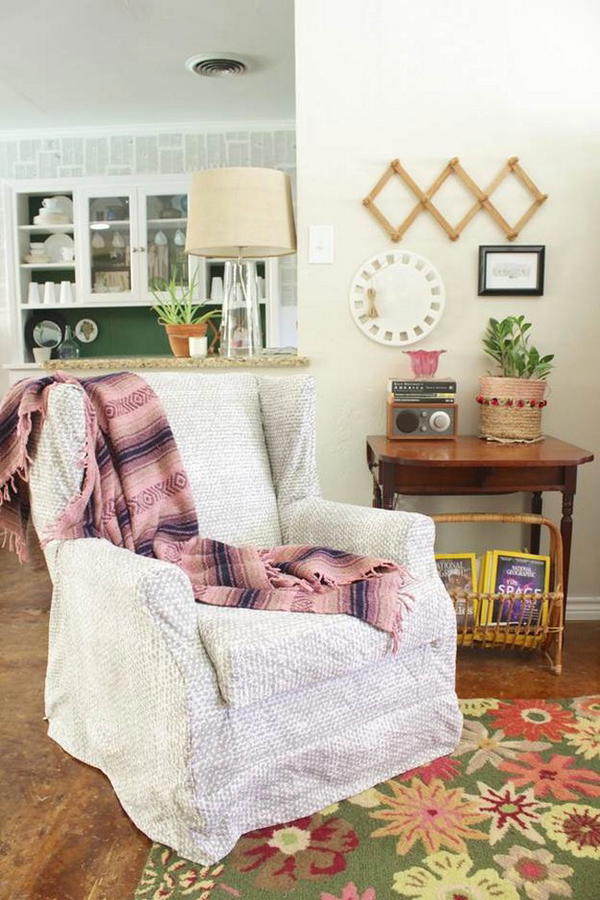 A slipcover tutorial that starts with washing and drying the slipcover fabric. After a continuous stich is made along the elbows, the skirt can be cut to length and pleated corners created. The final step is creating an overlap to hide the pleats on the back side of the chair. This method of sewing a slipcover for the wingback chair is perfect if you're just looking to spruce up an old piece of furniture. It's also a great way to get a room ready for your holiday guests in a very short amount of time. When you want to give your room a fresh look, one of the easiest ways is with a new slipcover. Watch as you turn a dated wingback chair into something modern and fresh using fabric and basic sewing techniques.
Skill level: advanced
21. DIY Santa Hat Chair Covers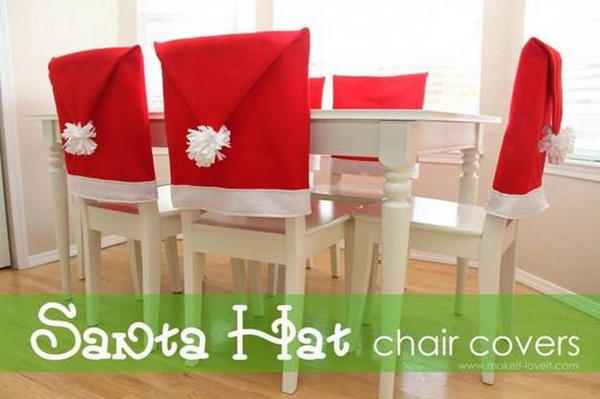 The DIY Santa hat chair covers are perfect for your party. the red covers are easy to attach and detach to chair legs. A high-quality and inexpensive way to add style and fun to your Christmas party.Make your party pretty with these Chair Covers , all made from 100% cotton and printed with traditional holiday designs. These are also great for a festive dinner for two, or as décor for dinner parties and gatherings.Celebrate the holidays with charming chair covers. Red felt and white fluffy trim are shaped into classic Santa hats that make a merry addition to your holiday decor. An easy way to add holiday cheer to dining chairs, these covers easily slip over chair backs and sit lightly on seats for comfort, with a non-slip backing material for a secure fit.
Skill level: advanced
22. DIY Pocket Chair Covers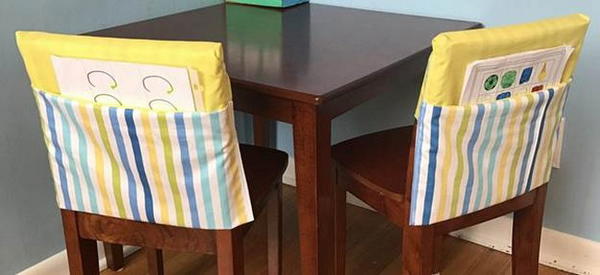 DIY Pocket Chair Covers easily slip over folding chairs, transforming them into a sophisticated focal point for your wedding or event. Choose the perfect fabric to coordinate with your venue or choose one of our delightful patterns for the perfect pop of color. Each cover features two convenient front panels that fit over your chair, and three ties sewn into each side to keep it in place. Pocket Chair Covers are machine-washable, wrinkle-resistant, and very long-lasting. Custom dyeing also available. The pockets can be filled with a variety of decorations, from holiday greens and florals to balloons or fairy lights.
Skill level: advanced
23. DIY Leather Butterfly Chair Cover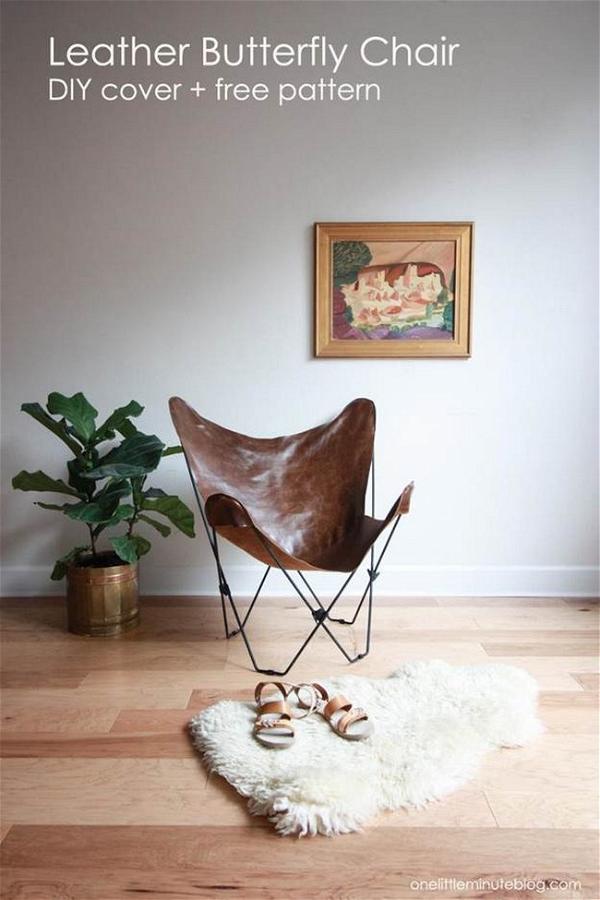 Upgrade your butterfly chair with this beautiful natural leather cover. No sewing required. Simply wrap the straps around the frame and buckle in place. The Butterfly Chair is a unique piece of furniture. The chair was created by combining traditional native leatherwork and wrought iron from workshops. Over time it has become an international icon, used in everything from TV show sets to university lecture halls, and is still incredibly popular today for its comfort, style, and versatility. Design your chair with this DIY leather butterfly chair cover. Make your chair even more comfortable with a seat cushion in your choice of fabric type and color.
Skill level: advanced
24. How To Make Chair Cover
Making chair covers can be a fun and rewarding pursuit, but it often needs the right kind of equipment. If the chair you need to cover has no arm rests or is not too high and wide, you won't need to worry about any of the following. This is a great DIY tutorial on possible ways to make your chair covers. The directions are in a step by step format, that is easy enough to follow. There are several different types of materials used in making the covers. Some are more formal, and some are made for a more casual look. This article features tips and tricks to help you plan every step of your chair cover sewing project.
Skill level: advanced
25. Farmhouse No Sew Chair Covers
This Farmhouse No Sew Chair Covers do away with sewing and allow you to easily transform your dining room chairs. The easy-stretch material fits most standard dining chairs for instant makeovers without the hassle of sewing. Farmhouse Chair Covers dress up an old chair in no time at all. No sewing required. Just wrap and tie! Cover fits snugly to look like a custom slipcover. Use with a skirt or without as a simple seat cover. Protects furniture from pet hair and scratches, too. Quickly update your dining room chairs with this easy No-Sew Slipcover. Simply drape it over your chair and secure it in the back with the attached ties. Remove when company comes over, or toss in the wash to keep your chair looking great all year round.
Skill level: advanced
Parson Chair Slipcovers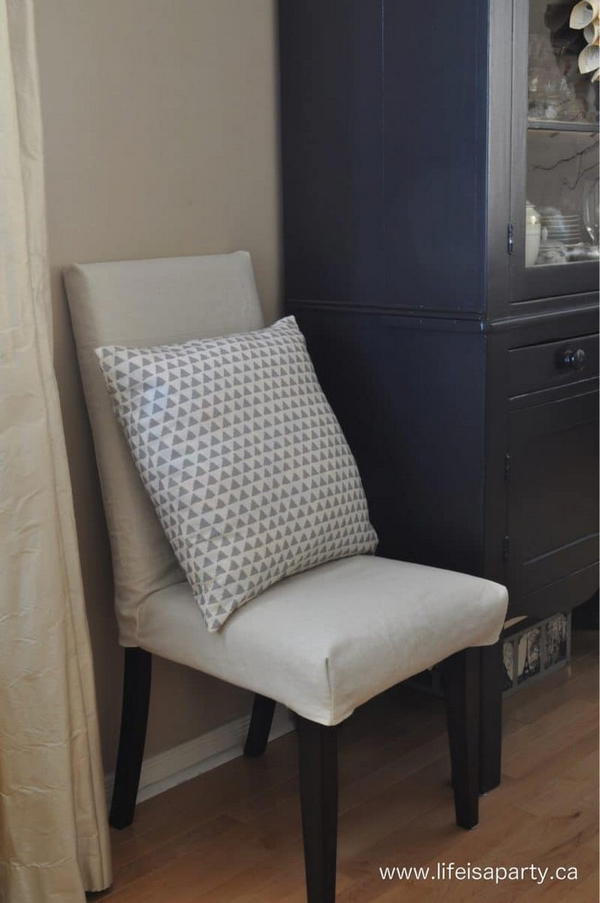 These attractive Parson Chair Slipcovers not only protect your furniture, but also give your home a fresh look. Perfect for hiding rips, tears and stains on your existing parson chair. It create a casual look with a comfortable feel, with a D-ring neck closure for comfort and ease create a casual look with a comfortable feel, with a D-ring neck closure for comfort and ease. Each Slipcover is designed to fit over a Parson Chair and features an elastic band at the bottom hem to keep the slipcover in place. Choose from a variety of fabric patterns to suit your home decor.
Skill level: advanced
How To Make A Slipcover For A Dining Chair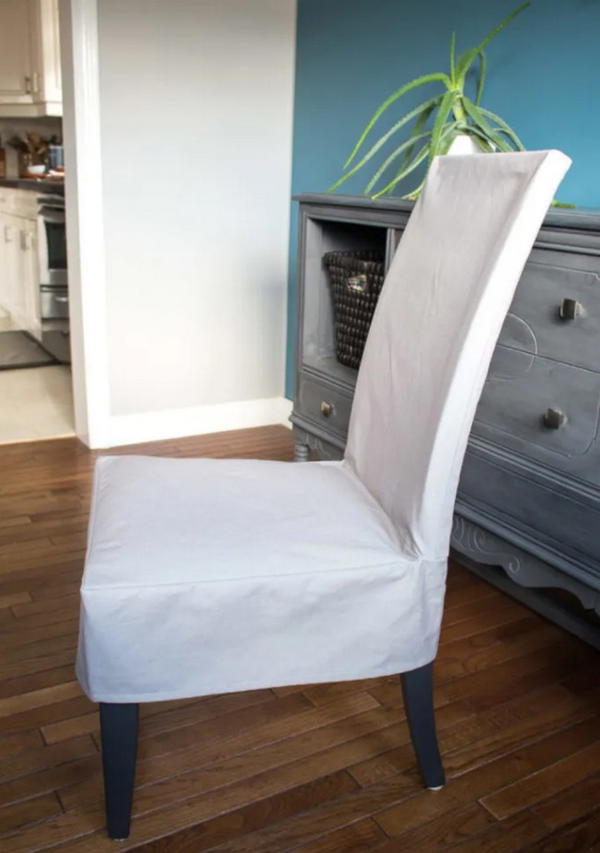 Autumn and winter are on their way, and you're adding touches of cozy plaid to all of our favorite spaces. Take your next gathering to a new level by draping your dining chairs in this seasonal palette. Making custom slipcovers for your dining chairs is a great way to elevate your table beautifully and affordably. If you have a beautiful set of chairs that just don't match your new table, or if you're ready to refresh the look of your existing furniture, a chair cover may be the solution you've been seeking. If you want something that's going to fit like a glove and not move when someone sits down on it, here is how to make a slipcover for a dining chair. It will take time, but even novice sewers can create an attractive and durable slipcover from the fabric of their choice.
Skill level: advanced
How To Make Chair Back Slipcovers For Dining Room Chairs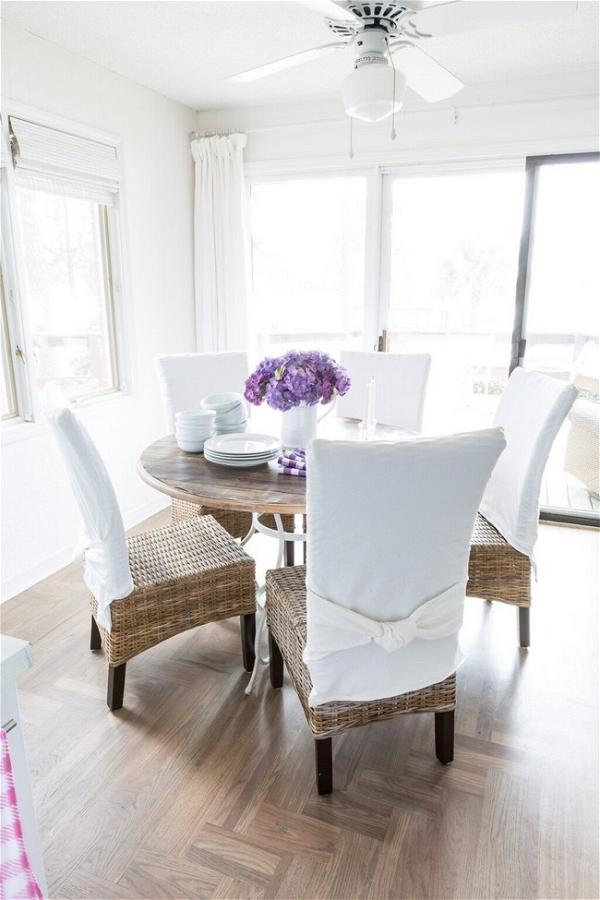 Vintage chairs from a flea market can be updated with bold fabric, modernizing their look and protecting the old upholstery. It's not difficult to make chair back slipcovers for dining room chairs, especially when you use sofa cushions for patterns and padding. Chair back slipcovers can completely change the look of your dining room. They're inexpensive and the perfect way to freshen up your space for Spring and Easter. This is an easy sewing project that can be accomplished in a few hours. You will save time and money by making your slipcovers for dining room chairs to protect and update tired, faded covers in good condition. These custom-made slipcovers require no sewing machine, just a stapler!
Skill level: advanced
Conclusion:
DIY chair covers are an excellent option for people who want to change the look of their dining room chairs without spending too much money on new ones. You just need some fabric and some sewing skills to make your covers! You can transform old chairs into new ones with this easy DIY chair cover idea. There are many ways to creatively cover chairs: from altering the existing chair cover to making new ones from scratch or re-purposing fabric from a clothing article. Either way, you'll end up saving money and time -and if you make a new one, it can even be a fun project for you and your kids.