DIY corsets are made for that perfect hourglass-shaped body. An opened corset works on any size as long as it's a tight fit and closed. Corsets last for years with the proper cleaning and care. Around the world, famous celebs wear this fashion trend and are seen in red carpet events wearing these. If you are looking for corset ideas, we've got what you're looking for. There are 24 DIY corset ideas among the many corsets tutorials, and with them comes plenty of images. This collection includes step by step directions on how to make your corset, and you will even learn about some different fabric options that you can use.
Do you want to look attractive but also want to remain modest? A DIY corset accords with your desire. That's because it's soft and flexible. But it still hugs your body, making it look more attractive. And who doesn't like looking attractive? So if you are looking for ideas on how to make a DIY corset, take note of these 24 DIY corset ideas so it will be easy for you to make your own. With just a few materials scattered around the house, you can make your make-up artist corsets at home!
Corsets can be casual, attractive, and even somewhat out there; these ideas will provide you with 24 DIY corset ideas that you can make yourself!
Tools and Materials:
Sewing machine
Iron and ironing board
Scissors
Paper for making your pattern
Pins
Measuring tape
Fabric
Lace trim, ribbon or any other decorations you desire
How To Make A Corset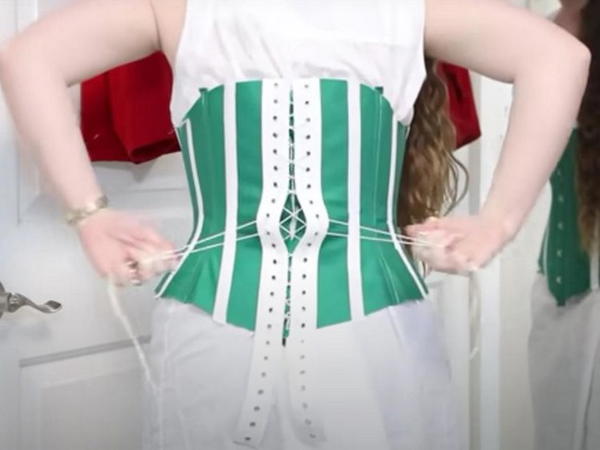 Are you looking for a how to make a corset tutorial? This article will guide you with detailed pictures and steps to allow you to make your first corset. Corsets are known to be very attractive and are loved by many women worldwide. In some cases, making a corset seems a bit difficult. If you are well-versed in sewing, you can quickly sew your corset. You can easily create your corset by following the instructions given in this tutorial. With all the easy to follow steps and professional tips given here, you cannot go wrong! Everybody can make a fabulous corset.
Skill Level: Intermediate
Sport Mesh Corset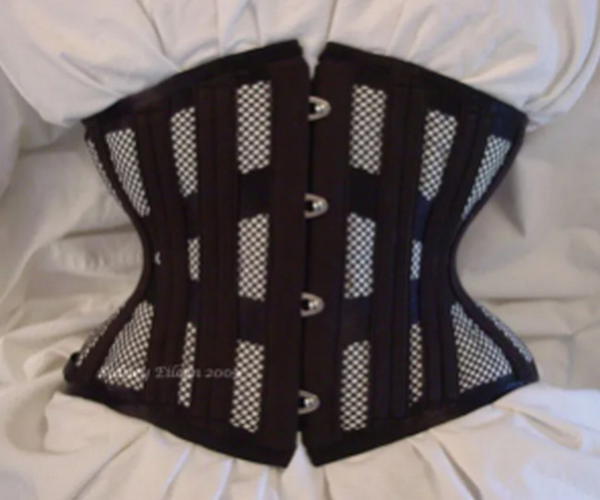 Traditionally, corsets are made by lacing up the back with a sturdy material like twine. Although not all corsets are meant for waist training, it is a fact that wearing a corset generally does make you feel more secure and confident in your figure. However, if you would like to give it a try but have always been intimidated by the thought of lacing up the back, this corset guide will show you how to make a mesh corset using synthetic sports mesh. This guide will help you to design a corset using sports mesh. Sports mesh is more suitable for corsets than regular craft mesh due to its high strength and flexibility.
Skill Level: Beginners
How To Make An Adult Corset Without Sewing
Whether you want to wear this corset as a costume or wear it while doing any activity, this tutorial will help you make one. All you need include an old fitted t-shirt, duct tape, and scissors. After getting these materials, put on the t-shirt and ensure it fits very well; you must pin it inward. Then, ask someone to wrap the duct tape around the shirt until you get its desired constriction. The next step is to cut off the excess duct tape. The ability to create a DIY piece of clothing has become a favourite challenge. Now you can create your adult corset without sewing. This makes a great gift or addition to any costume.
Skill Level: Intermediate
DIY Corset Tutorial
A corset top is a very fashionable and unique way to change your outfits. It adds a touch of class, style and elegance to any outfit you wear. Making a DIY corset top is pretty simple and easy if you have the right tools and materials. The first thing is to get your pattern pieces. Here is a simple DIY tutorial that allows anyone to create their corset tops for pants, jeans, skirts, etc. The tutorial uses a sew-on ribbon and elastic band, but you could also cut a piece of ribbon and glue it to the Spandex using industrial glue.
Skill Level: Experienced
How To Make A Corset Top
The free corset lesson first covers the tools you need to make a corset since it's not as simple as finding a pattern and sewing it together. We'll be reviewing how to measure, cut, and sew a strapless bustier top that is sure up away attention in any room you enter. It will also help create curves or hide some if you desire. All of the details are covered to allow you to efficiently complete your project, which looks like a lot of work. This strapless top is one of the easiest projects you can make. It's an effortless combination of a corset top and a tube top, perfect for wearing on any special occasion or as a swimwear coverup.
Skill Level: Experienced
How To Sew A Corset With Bra Cup
Have you ever thought about making your corset? If you have and want to know how to make a corset with bra cups, this tutorial is for you. This tutorial contains a complete guide for bustiers and corsets with instructions on making them. These patterns include bras, camisoles, and one garment that has been drafted. This article will not be only about corsets but also about bra cups and how to sew them for good breast support. It will cover the different parts of your corset, what you will use for the sizing, and the controlling part with a good understanding of how a bra supports the breasts.
Skill Level: Beginners
How To Make A Corset
This video tutorial will walk you through three methods for making a corset. Although the corset used in this video is a one-size pattern, you can make it fit any size with some adjustments. The first method is the easiest to do and requires minimal supplies, making it the best choice if you are using a fabric that has not been cut into before. You need a pattern and some cotton fabric to make a corset. This tutorial is a great way to initiate your journey into the world of corsetry because there is no sewing or pattern reading required in this video.
Skill Level: Begginers
DIY Corset Tutorial
Learn how to make a corset with this DIY Corset Tutorial. It is an effortless but professional looking DIY gift that you can make by yourself. There are all the materials and patterns you need, and be sure to wrap them with organza and ribbon ties or any other trimming you can think of to dress it up! It also comes in handy for concerts or other events where you have to dress up. This DIY corset is much easier to make than you might think. As long as you have a sewing machine, basic sewing skills, and time, you can make this corset in any size and colour. It is a good pattern for those beginning to get into sewing. Not only is this DIY corset tutorial a great way to learn how to make a corset, but it is also enjoyable and rewarding.
Skill Level: Beginners
Corset Top Tutorial
Women wear corset tops as an upper-body garment that is laced and can be tightened to fit the bodice or waist. This kind of top is usually associated with gothic fashion. A corset top is perfect for women that want to look elegant, at the same time attractive, as well as feel comfortable inside their clothes. It's inexpensive, simple to make at home and nowadays, you will see a lot of variations of this classic design. In this tutorial, you will be able to learn how to create a corset top with straps that go over your shoulders. It's easy once you get the basics down, and this top is perfect for a night out and steampunk costumes.
Skill Level: Experienced
Underbust Corset DIY
This corset top is uber cute and super simple to put together. It has two pieces: the front and the top back. You can make this top with a long or short sleeve. The only thing you will need to make your Corset Top are your sewing machine, materials, and creativity! Making a corset is super easy with this tutorial. The first thing you need to do is attach the lining to the fusible interfacing. To do this, place the back of the corset with the wrong side facing you on top of the fabric. Place the fusible interfacing on top of it and trace an outline of it with chalk. Then, cut along the chalked line before placing it onto your ironing board.
Skill Level: Beginners
DIY Corset Belt
Are you looking for an easy DIY project? It would be best if you tried this corset belt. You need some Jean or any fabrics you're not using anymore, scissors, and pliers to make it. You can use Jean or any fabrics you're not using anymore to make this corset belt. To tie the corset in the middle, you can use ribbons, bands, shoelaces, or anything around. The materials needed to make this corset belt include some eyelets, scissors, and pliers. You don't need any skills to make it, and anyone can make it! Please see below for the step-by-step instructions on making your own DIY Corset Belt!
Skill Level: Intermediate
Duct Tape Corset DIY
Make your own Duct Tape Corset DIY by following these simple steps. You can wear this at bachelorette parties and even as a dancewear dress. This corset is perfect for rocking at a music festival. Your friends will surely wear these too! You are about to learn how to make a corset out of clothes. If you have an old shirt, you can use that for this project. Please take off the shirt and cut it up on the sides. Start taking all pieces and folding them towards the middle until they almost disappear. Using the glue method, you will use duct tape to wrap each side of your waist. You can put one piece down first and then cover it with another.
Skill Level: Begginers
DIY Corset Underbust
This DIY underbust corset is the perfect piece to bring you back to the glory days of the Victorians. This underbust corset is a sure-fire project that will bring out your inner seamstress from its simple draft to its beautiful construction. Don't be intimidated by the history of this garment because this is all about you and what you want. It would be great if you had a bias, net materials, chains, sewing machines, and scissors to make this underbust corset. Start drafting from the underbust, and you're good to go. This corset has four parts, making eight parts with the back. DIY Corset Underbust is a step-by-step guide to making your corsets. You will learn the sewing technics and design elements of making a custom underbust corset.
Skill Level: Intermediate
DIY Victorian Corset
You need a better and more expensive fabric, fully lined with sturdy material, to make a Victorian corset. It is primarily black or dark blue. The corset is designed rectangular, but it has a lower front curve to accentuate the chest. The piece of metal boning underneath the fabric is called a busk. You can also use steel bones if you think the busk is uncomfortable when seated. In this video tutorial, you will see how to draft and sew the pattern of a Victorian corset to have that classic look and its tips and tricks through our presentation below.
Skill Level: Beginners
19. DIY Easy Wrap Corset Belt
Try the DIY Easy Wrap Corset Belt. This stylish belt is a must-have to add a little sensuality to your wardrobe. This corset belt can fit any body type and size with only two waist adjustment holes, unlike a traditional corset with too many adjustments. And there's no tying it in the middle, either! You will appreciate the intermediate level difficulty of this tutorial because it makes a beautiful corset belt with a finished look. However, it would be best if you sewed on a boning and snap button to make the corset beautiful. You do not need a unique sewing machine foot to sew on the boning. But what you will learn will also help you make a complete corset in future projects.
Skill Level: Experienced
20. How To Make A Victorian Corset
The Victorian corset has a wide waist front component made from just four pieces cut on the fold of your favourite fabric. The materials needed to create a corset include acrylic fabric, thread, boning, lace, charm and other accessories like buttons. It's pretty straightforward to put together and can be worn as is or lined for modesty. You can also add a bustle to this corset, giving your natural figure a full, rounded shape throughout the day. This guide will teach you to use standard drafting techniques to draft a pattern for an excellent Victorian corset. The corset will be drafted from high-quality cotton fabrics and stitched together.
Skill Level: Begginers
Corset For Business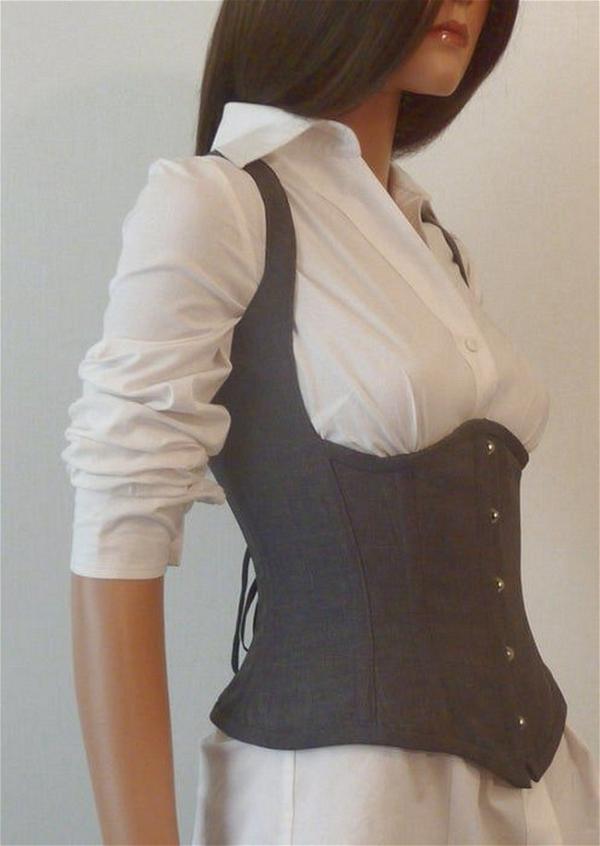 There is nothing wrong with looking fashionable at the office or wearing a corset to an event. People will not like that they will give off a desperate need-attention vibe. Regular corsets are only designed to be worn for one day. This project is perfect. You will achieve a professional look while wearing it, plus you will also feel confident and comfortable. This never-ending summer corset features steel boning and a fully-reinforced busk. This is the only corset pattern you can use to create full bust corsets and waist training corsets simultaneously. It is perfect for waist training at home to get the hourglass figure without buying expensive custom-made corsets.
Skill Level: Intermediate
Corset Drafting And Sewing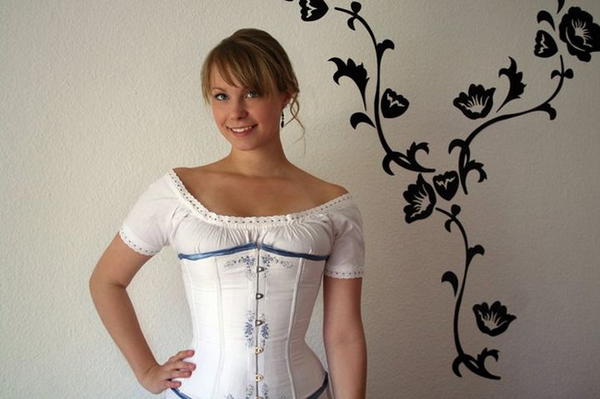 You can make your corset for dress-up, fun or sexiness. A great feeling and you can customize the size based on your body figure. You will have to draft the pattern yourself, the most challenging part of this project. After drafting the pattern, you can cut out the fabric and sew the corset together at home. This guide will provide easy steps to go through all these processes with instructions. This pattern drafting guide for the corset is a fun project for sewing lovers. The corset should be sewn by someone who has some experience in sewing, but even a beginner can learn to make the corset following this guide.
Skill Level: Begginers
Safety Pin Corset DIY
The safety pin corset is a simple way of making an effective lace-up corset with some basic supplies you can find around. This technique of safety pin corset can be used to adjust a loose blazer and make it look better and fit on you. The number of safety pins you need will depend on the size of the corset. This technique is exceptionally clever and straightforward and uses cheap and valuable supplies that you can find around the house. These corsets are easy to make and quick to create in any style, from vintage pin-up to more modern styles. We'll teach you how to make one, step by step.
Skill Level: Begginers
How To Sew A Corset With A Basque
Corsets and basques are the ultimate in shaping undergarments for bridal and everyday wear. Whether you want to create a specific fit for special garments or change your look from time to time, this video will show you how easy it can be. Start with a few simple steps, such as calculating your waist measurement, ordering supplies, and setting up the comfort lace before starting the more problematic aspects of making a corset and then shaping a basque. Techniques covered include fitting adjustments, interfacing choices, bone placements, boning length sizing methods, corseting training, lacing methods, placement of straps and fastenings, modesty panels and more!
Skill Level: Experienced
DIY Corset Top
Corsets have a long history and have been popular clothing for hundreds of years. If you're unsure what you are looking for in a corset top, the above description will hopefully help you find one that suits your body type and personality. Do you have a beautiful top, or maybe some blouses, that do not fit very well on you? Bring them out. Let's turn them into a corsage top. The first step in turning the top is to cut off the front and back helm; they should be kept somewhere because you need them later. There are many ways to make the boning channels. Traditionally, boning channels are made by taking flexible tubing and rolling it around inside of your material. But for this project, we decided to use a piping cord because it can be sewn into holes and will stay in place much better.
Skill Level: Intermediate
Zipper Corset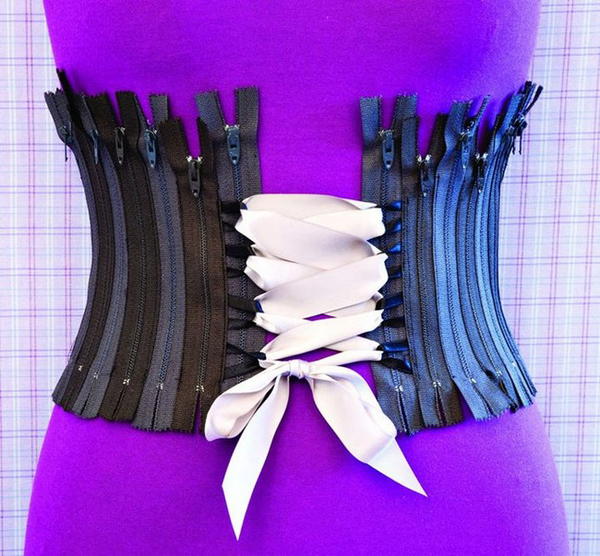 Zipper Corset is a good choice for you to start sewing zippers. With this design, you don't need any complex process to take apart the zipper. It's easy and simple when that is needed. You can make a perfect corset with unique decoration. However, there's no instruction on how to make a lining inside. You need to study that part by yourself. This step-by-step guide will lead you through the process of making a zipper corset yourself. Your skill level doesn't need to be an expert; you can make this if you can operate a sewing machine and follow instructions.
Skill Level: Beginners
Kimono Corset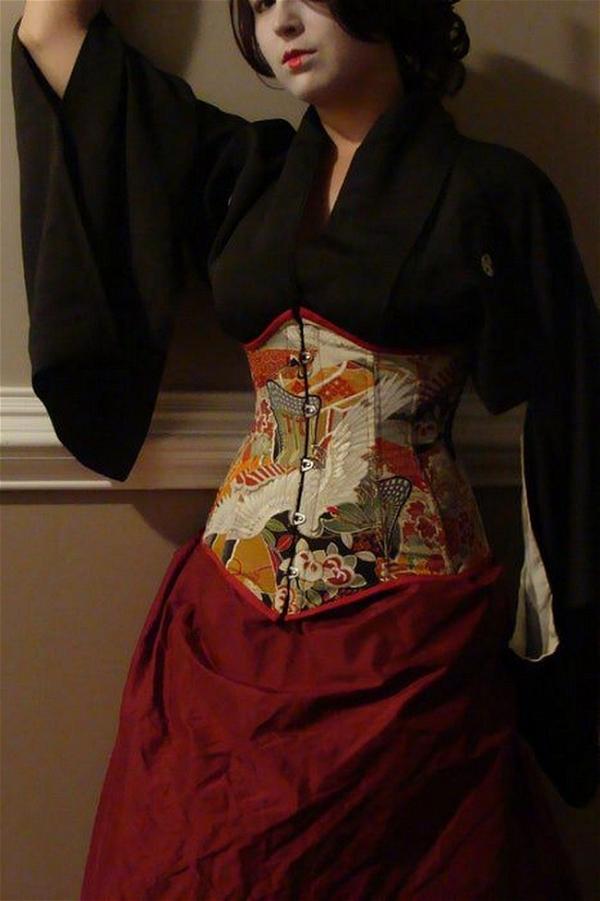 Boning is not just for corset clothing anymore. You can make some simple boning to put in a simple dress or pair of pants. The solution is inexpensive and works wonderfully. The ties must be cut into the right size and shape, though. Before doing this, you should have a sewing idea of how long it should be, what size it needs to be, and how wide it should be. You can determine these by looking at your other clothing with boning materials. Though they can be expensive, you can use many things to make your corsets stronger and hold themselves together. In this article, we used cable ties, which were cheap and effective. This corset is great for customers who want a cheap alternative to boning but are still looking for a good fit.
Skill Level: Experienced
Simple Corset Tutorial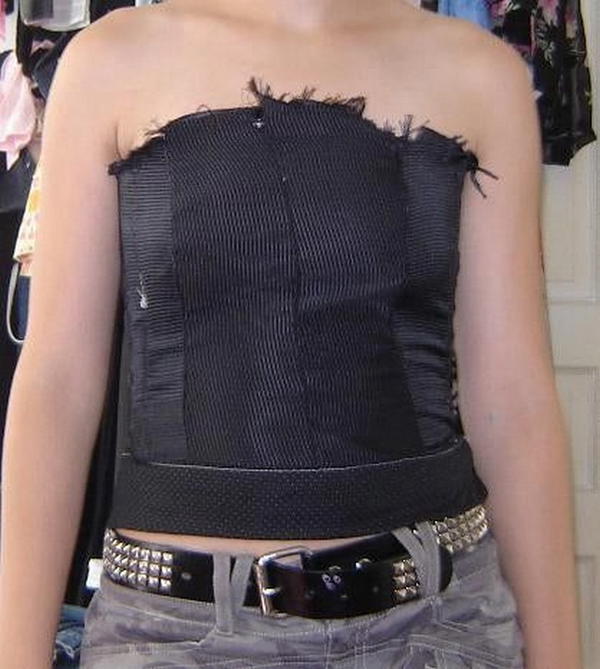 It's easy to make a corset! This tutorial will guide you through the basics of making a corset. This pattern is a relatively easy but time-consuming process, but ultimately you will have a basic idea of how to make corsets. You can start here by understanding the materials and the patterns before beginning. Then you can start on your creative sewing adventure. Measure the shirt you want to use for the basis of your corset and cut it out. You will only need about half of it, so save the other half later. You can also use a pillowcase instead of a shirt if you feel it would be better. While this is not a self-binding pattern, its dimensions are that of a small corset. The tutorial explains the process of making corsets from scratch.
Skill Level: Experienced
Conclusion:
Are you ready to look fabulous while also boosting your confidence and self-esteem? These 24 DIY corsets are the perfect solution! You'll need various supplies, but once you've found them, all your new figures will be worth it. These corsets are functional; they are made to support the wearer's back. All listed supplies should be pretty easy to find in local stores.