Here are DIY dog bowl stand plans that you can follow through and make for your furry friend. Did you know that eating out of plastic, ceramic, or stainless steel bowl could cause health issues? We all know dogs have sensitive noses, and smell can trigger their appetite, but there are more things you need to know about how this material can affect your pets. Thanks to this guide below, we have gathered some useful DIY dog bowl stand ideas that are easier to construct and have positive consequences on your dog's life.
There is no doubt that your dog can be the perfect friend. They stand by you in good and bad times, are cheerful and well-behaved, and are a perfect partner for your healthy lifestyle. The only little problem is that the dog bowls are not always where you want them to be or are afraid that various things might hit them. Dog bowl stands are always ideal for solving this situation.
DIY Dog Bowl Stand Ideas
DIY Dog Bowl Stand Ideas is the ultimate guide for creating an artistic dog bowl stand. A stylish stand that will add an undeniable touch of character to your home decor. There are minimalist and modern designs as well as concrete and wooden ones. There are many designs to choose from that can be colored according to your pet's taste, or you can build an original stand combining two or more materials. Below are some DIY dog bowl stands ideas that will surely inspire you! But whatever you choose, a dog bowl stand is a must-have for every pet owner!
How To Build A Dog Bowl Stand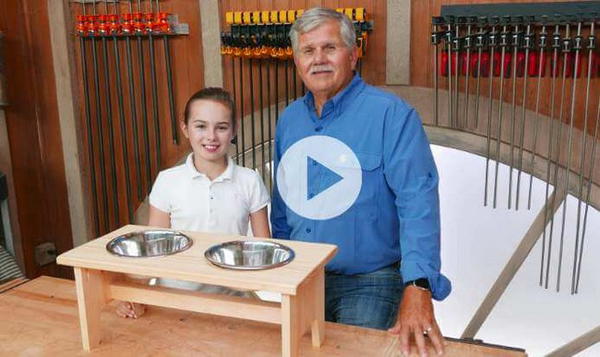 If you own a pet dog, you must have one in your home, and taking care of their food and water is an important task. Why not make the job easier with this simple DIY dog bowl stand? There are tons of tutorials on the net to build a dog bowl stand. I've one more to add to the list. These are simple dog bowl stands that can be put together in 10 minutes. The total cost is under $10, and all you need are some basic tools like a drill and a saw.
DIY Oak Dog Bowl Stand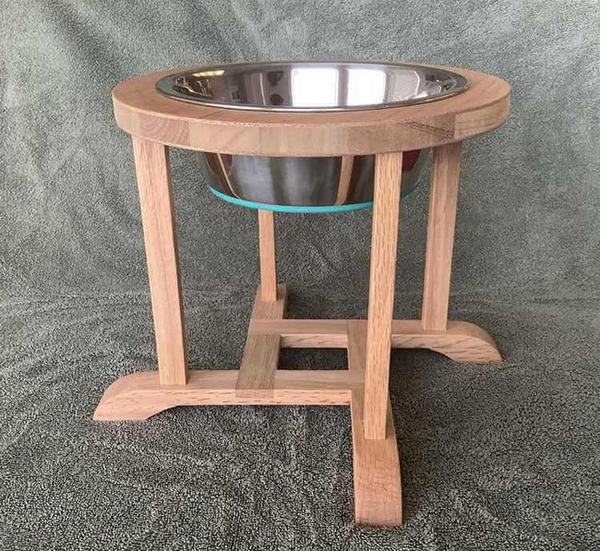 Let us now design and make a DIY Oak Dog Bowl Stand that could serve your dog as his feeding stand. Cut the wood pieces in preparation since you want to glue everything together. Assemble the pieces to have a beautiful stand for your dog. This wooden dog bowl stand is perfect for medium to large dogs, and the magnificent oak wood will surely comprise the interior, making it look warm. You must assemble all pieces, then paint or stain with colored paints or stains; after that, you may present it as your home interiors decoration.
DIY Pallet Wood Dog Bowl Stand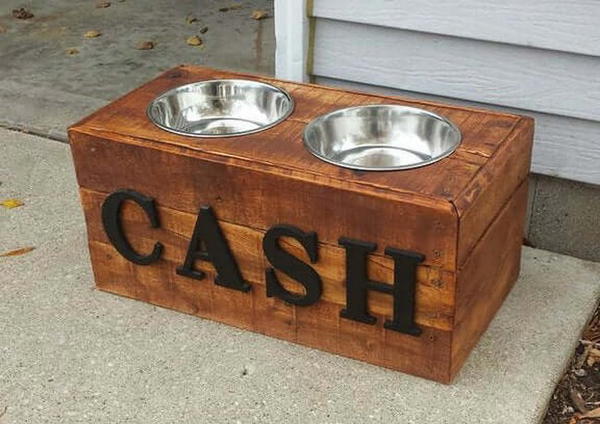 Pallet Wood Dog Bowl Stand is a perfect DIY project that looks great in any home decor. Made for keeping food and water in each separate bowl for your pets, this is a classy and easy way to keep your pet independent and organized. This build took an afternoon or less to complete. You will need a power drill, a circular saw, sandpaper, brushes, and basic hand tools such as a jigsaw and miter saw. There are many options, such as painting it using latex-based paints or staining it using colorless stains.
DIY Concrete Wood Dog Bowl Stand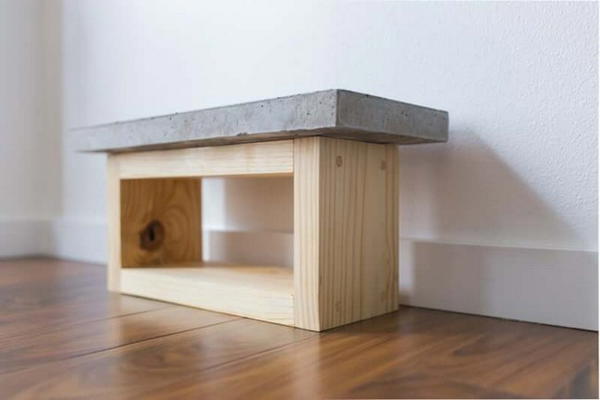 The concrete bowl stand is made using wood and concrete, so it looks like a platform where you can place your dog bowl and take them off at any time. Create a great platform to hold your dog bowl on these DIY concrete and wood dog bowl stands. The dog bowl stand is made using supplies that are easy to find at any store, making it super affordable to put together. In addition, the stand has three areas where it can be placed to allow the water, food, and treats to be seen by the dog.
DIY Dog Bowl Stand
Here's a simple and adorable dog bowl stand. Get several bowls, pallet wood, drill bit, and saw to create this pet bowl stand. You can add extra embellishments or paint them to beautify the look, and you can use either new bowls or old ones. The kind of wood used in the pallet will depend on how you want to paint it. Pallet wood is popular for many DIY projects like this one, as it's very sturdy and looks rustic.
Dog Bowl Stand DIY
Are you tired of dog bowls on the floor? This project uses an old clock kit from the thrift store and do-it-yourself wood paneling. It is a very simple project to assemble and make alive. First, cut the parts to size on your miter saw and drill the holes in the bottom of the paneling. Then assemble and paint to your taste. We used a cool whip lid with acrylic paint to finish this as it was very cost-effective and easy. This easy-to-follow woodworking project details the steps needed to build a simple, laminated pine dog bowl stand and porch.
Modern DIY Wood Pet Bowl Stand
The wooden bowl stand is your pet's personalized buffet. As you can see, you need some supplies to make it: pine wood, wood glue, jigsaw, sandpaper, wood stain, and paint. They are all really easy to find at [DIY store name]. First of all, cut the top and leg pieces to suit your dog's size. Then cut a hole on the top and sand it to eliminate splinters from coarse sawing. Glue the top piece together. After glue the base together, assemble it generally, then paint and serve your pet.
DIY Dog Bowl Stand For Puppies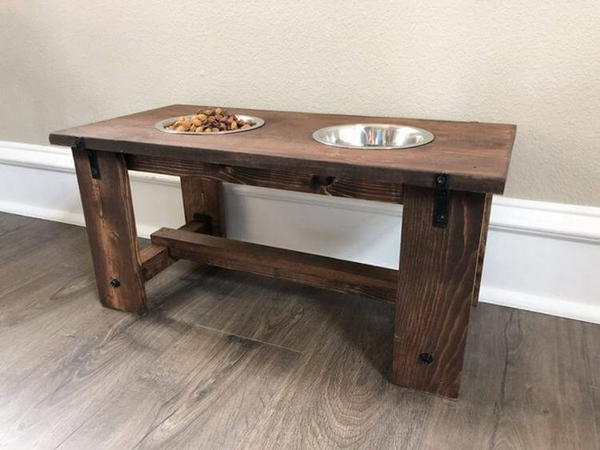 This dog bowl stand is very easy to make. If you prefer nice-looking stands, then this idea is great for you. It is compatible with different sizes of dog bowls nicely and will attract your pets at an angle of first sight. You cannot find a better way to keep your dog wet meals away from other foods inside your house. The materials to be used for this project are commonly available at home, and the tools needed are very basic. The piece's dimensions are determined by the size of the bowls you want to place on it.
DIY Simple Dog Bowl Stand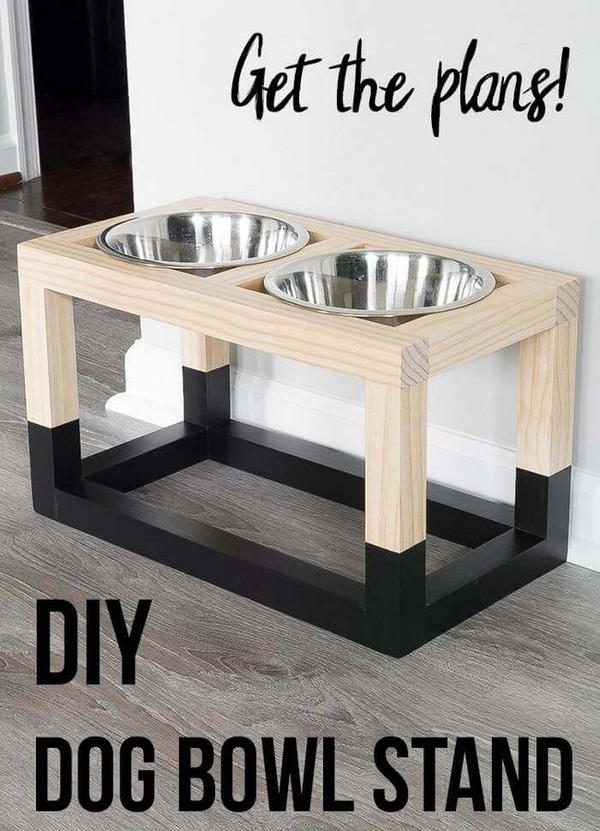 The Dog Bowl Stand is a project you can build for your furry friend using commonly available materials at a low cost. It requires no special tools or expertise and can be crafted in 30 minutes or less to provide your dog(s) with a lovely, easy to clean, and use stand for their food and water bowls. The DIY Simple Dog Bowl Stand is made from 5 pieces and some bolts. The stand comes with a video showing you how to make a stand, step by step. I also added a quick link to purchase the wood online if you don't have any wood.
Dog Bowl Stand DIY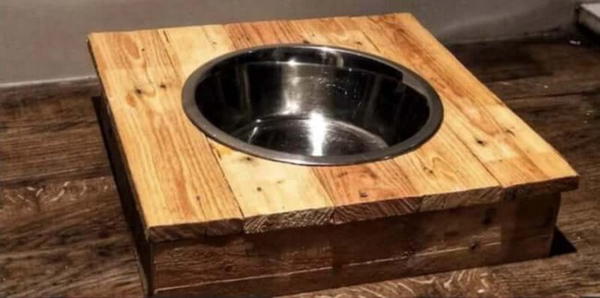 This Pallet wood dog bowl stand is a fun and easy-looking project for your home that serves as a pet feeding station, water fountain, or some decorative accents. You can build this wooden accessory using only three reclaimed pallets and one dog bowl with minimum tools in no time. Even if you don't have any experience in building stuff, after reading the instructions and watching the instructional video, you'll be able to build this outstanding wooden piece yourself. Our pallet stand fits our two large metal bowls perfectly, but if you want to be able to adjust the height, just cut the planks down to size.
DIY Dog Feeding Station
Build this dog feeding station with your own two hands by following these easy-to-follow step-by-step instructions. This project will sport a decorative ledge on top and a concealed drawer that you can use to store food and other items. The bottom portion of the feeder is made with a painted plywood base that features two feet to prevent it from sinking into the ground. At the same time, the tabletop wooden structure is supported by metal drawer slides, which are screwed into existing holes inside the tabletop section.
How To Build A Dog Dish Stand
This Dog Dish Stand is an excellent project for those handy with tools. If you have a few pieces of wood lying around, this could be a great crafty gift idea to create and make. The Dog Dish Stand could be used for other things such as a plant stand, planter, bird feeder, or even candle holder. It has many vast uses when it comes to its versatility. This is why we call it the "all in one" project. You can build this dog dish stand using the tools available in your workshop. A table saw a circular saw, a drill, and an appropriate screwdriver are all you will require to build the base. You may build two bowls with some wood sheets for your puppy and take them home as a gift for its owner after decorating the second bowl.
How To Make A Dog Food Bowl Stand
Assembling dog food bowls is something we all need to do. And when you have small dogs as I do, you need something that will hold up to any weather. This is why I have designed this triple dog food bowl stand. It features a piece of wood slapped with four legs, three bowls, and a jigsawed where it goes together. Then polyurethane. This easy-to-do project is an elegant way to display your dog's food bowl. Smooth out the entire structure and protect it from everything mother nature offers. Now get some building done!
DIY Dog Food Station With Storage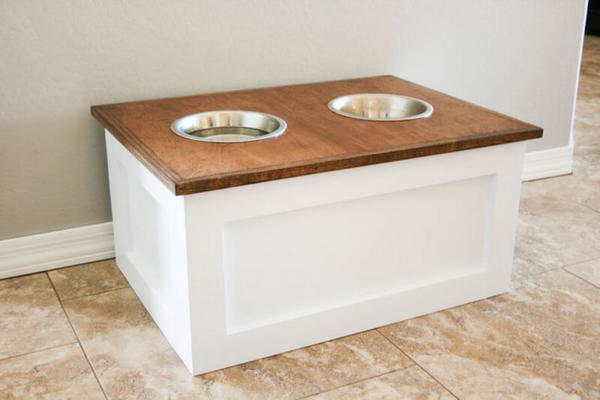 This is a DIY dog food stand that has been designed to look like a three-layered wedding cake. Since you will store the dog food in it, you should ensure that the food is fresh enough and easy to get out of it. So think of the type of food you feed your pet and design from there. This can be made from any material as per your choice, although plywood would be a better option as it will last longer. The DIY Dog Food Station With Storage has two levels – the top level for storing dry food and the lower level for placing bread or water. You can follow this tutorial to make your own Dog Food Station With Storage for your pet!
DIY Dog Bowl Holder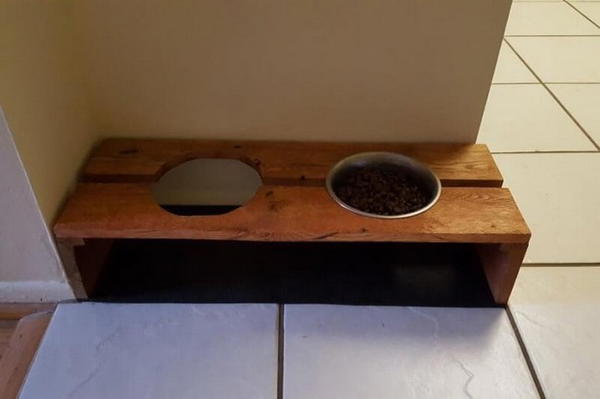 The plans are fairly simple, and you can do what you want to the wood and stain it how you want. This bowl stand will hold the largest dogs' food and water bowls without a problem. The support boards should be cut out 24" long, so they don't hang off the edge of the stand. This project could easily be modified to build a bigger bowl stand or different size bowl holder. The dog bowl is necessary, and placing one on a pot stand or countertop is easy and cost-effective. With these simple steps, you can have yours too. With the right supplies, you can create a wooden bowl stand for your pet in under an hour.
DIY Industrial Dog Bowl Stand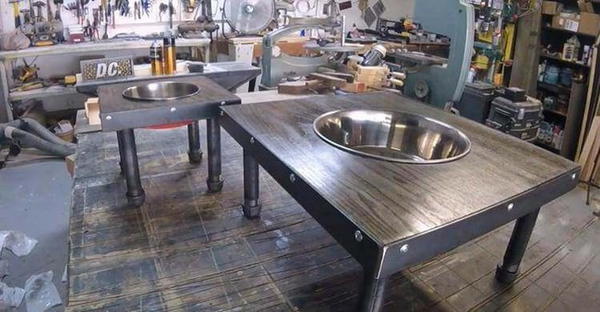 This DIY industrial dog bowl stand was inspired by a need for one myself and the fact that I'm cheap! I didn't want to spend over $100 on something that could be made for under $20. The industrial dog bowl stand measures approximately 14 by 14 by 23 inches. The bowls are stainless steel and are welded to the stand; the frame of the stands is made from metal pipes and metal flanges. This project uses no screws, so everything is easily taken apart for storage when not in use.
DIY Dog Feeder
This special custom—the made dish is wooden columns and wooden dowels, nails, urethane, square wooden poles, and a paintbrush. The square pole is put at the bottom of this stand, a dish to hold water or dog food. You can assemble and make the frame of this stand. Paint with your favorite color and polish this paint on it. This stand can also be made of steel or any other material according to your choice. You can use this stand not only for dogs but it can also be used for fish tanks.
DIY Raised Dog Feeding Station
Since your pet is so important to you, why not make their eating experience comfortable? Design a dog feeding station with drawers underneath, made of pine wood. Create the raised platform from pine wood, too. If you want, you can include an elevated feeder bowl on top of the feeding station to give your pet a view from above as he eats. The purpose of this dog feeding station is to allow anyone to build a raised dog feeding station with two bowls in between two drawers where they can keep their dog's food and treats so that it doesn't get spilled around their house or destroyed by other animals. This also gives them more privacy since there are only holes on each side of the box for the bowls and not on top for them to stick their head out of.
DIY Dog Bowl Stand
DIY Dog Bowl Stand is a great way to feed your dog without having to bend over or pick the bowl up each time. This stand is made from pine boards and can be painted in any color. The design is adjustable, allowing your pet to eat at a raised or ground level, depending on its comfort. There are many variations of this design on the internet, so feel free to borrow parts from different plans to make the best DIY Dog Bowl Stand for your pup. This project also helps keep your pet's food away from curious felines and out of prying kids' reach Danger-free, poison-free, pollen-free, and splinter-free!
DIY Raised Dog Food Bowl Stand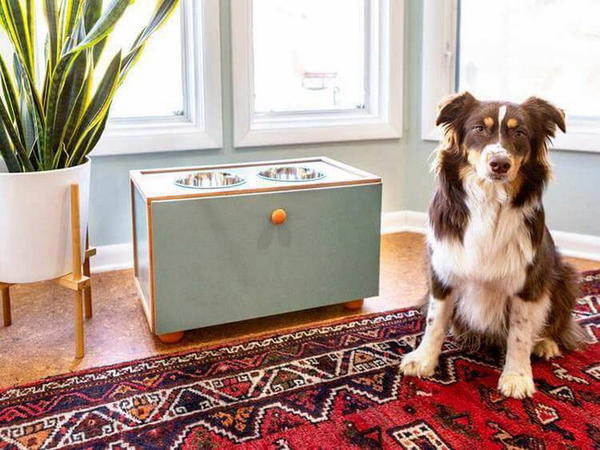 It wouldn't be good if our pets could no longer stand up straight. Eating from a higher bowl will ensure that your pets will still stand straight and won't strain their neck. With our DIY raised dog food bowl stand, you can create this sturdy yet lightweight bowl holder for your puppy. The best thing about this is it can also be a helper in maintaining the cleanliness of his bowl. The dirt and dust won't fall in his dish anymore when you have this up on elevated surfaces. Make sure that whatever you choose to place on a proper or stable surface.
DIY Dog Bowl Stand
This dog bowl stand is perfect for holding 3-5 pet or kitty bowls at a time and is designed to look kind of like a tower. I built mine in an afternoon using 2x2s, but you could make this puppy out of any material, including plywood, MDF, or hardboard. Keep in mind that people with pets may want a wooden piece for sanitary purposes and to avoid the risk of rust from a less ideal metal. The size of this dog bowl stand is customizable to make it fit your particular pet food containers.
DIY Dog Bowl Stand for Less Than $20
There are many reasons why you might consider using elevated dog bowls. Some dogs have medical conditions work better with a change in diet or lifestyle. But it's more likely that your dog needs to catch a slight break from time to time. An elevated dog bowl stand can give your pup a height advantage while he eats, which means he'll be less likely to accidentally chow down on a bunch of water in his food bowl or gobble down his treats too quickly.
DIY Dog Bowl Stand
This dog bowl stand is a fun way to create a small space that your dog feels comfortable in while eating. This table makes it easy for Ted to have food and water right beside his bed without any hassle. The DIY dog bowl stand is a clever way to make your dog more comfortable while eating without a struggle. The parts use in the project are available at any hardware store.  Some simple tools and glue will need to make the stand, but it's very easy once you get it!
See More DIY Projects For Animals:
DIY Cat Scratching Post Ideas: Protect your furniture and keep your feline friends entertained and active with DIY cat scratching post ideas that you can easily make at home.
DIY Cat Wheel Plans: Boost your cat's fitness and fun with our DIY Cat Wheel plans – easy-to-follow steps for building interactive cat exercise equipment.
DIY Squirrel Feeder Plans: Attract and nourish local wildlife in your backyard with these simple and effective DIY Squirrel Feeder Plans that will delight your furry friends.