What do girls (no matter how old) love to play with the most? Dolls of course. They are always fun and interesting for kids. So when you have a daughter or a granddaughter, it is your duty to make her happy. The great thing about dolls is that there are so many options for them as well. But today we will talk about dollhouses. A dollhouse is not just an object where your daughter can store her beloved dolls, but a place where she can actually live them and create their own story. And when you build it yourself, it is much more special. If you don't know what kind of dollhouse to make, then here are 22 DIY DollHouse Ideas that you can use to inspire yourself.
Children love playing with their dolls but you do not want to buy the expensive ones in the market. An ideal solution is to get the dollhouse made at home. The homemade dollhouses are not only durable but also look very pretty. You can make these dollhouses out of any material that is available at home, like cardboard boxes, paper bags, cardboard tubes, etc. They are easy to make and you can customize them according to your preference. The best part about making a dollhouse at home is that you can be as creative as you like and make it match the decor of your child's room. There are several ways in which you can make one from the following 22 DIY DollHouse Ideas in which each one has its own charm.
Check out these 22 best DIY dollhouse ideas that will leave you yearning for some serious dolly playtime!
Tips To DIY Dollhouse Ideas
The perfect dollhouse is just a few steps away and with these easy DIY dollhouse ideas, you'll be the envy of your neighborhood! You can make your dollhouse as simple or as elaborate as you like.
Here are a few ideas to get you started.
Use an old dresser or table and turn it into a two-story house. You can create a living room on the bottom and a bedroom on top, or use it as a bunk bed.
You can also use an old bookcase and turn it into a house by adding windows, doors, and even shutters.
One of the best things about making your own dollhouse is you can use almost anything to decorate it. You can paint the walls in bright colors, add wallpaper to give it some personality, and make custom furniture pieces to bring it all together.
If you want something more rustic, try using reclaimed wood with some texture such as barn wood or driftwood. On the other hand, you can use leftover wood from an old project. If not, you can find it at most home improvement stores for fairly cheap.
You can also use some old wooden planks from pallets or crates to build your house from scratch.
Benefits Of DIY DollHouse Ideas
Dollhouses are fun to create
You can learn from your mistakes and improve your creation
Create a luxurious dollhouse for the Barbies
Children can enjoy hours of playtime
DIY dollhouse ideas will teach you how to be resourceful
You can make different types of dollhouses yourself
It allows you to be more creative and productive
Help your daughter develop fine motor skills
A great way to spend time together
You can use stuff from around the house
Can help you improve your creativity
Dollhouses are a cool hobby
DIY dollhouses save money
DIY dollhouses will help you de-stress/relax
How To Wire A Dollhouse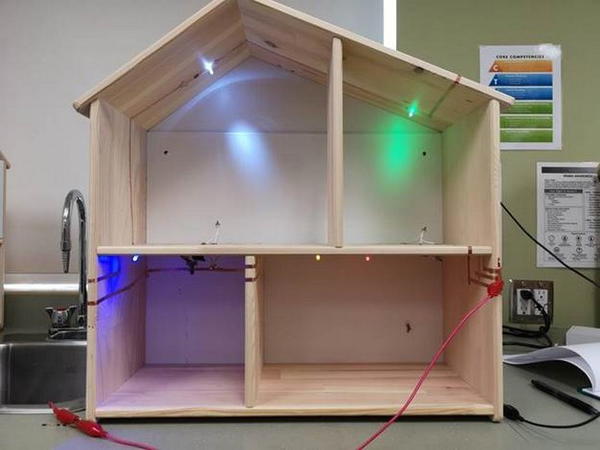 Make your very own dollhouse with these helpful tips. Different construction methods include using resistors, parallel circuits, switches, and copper tape to illuminate the rooms with LEDs or regular bulbs. For a three-dimension look and feel, you can use thicker wires to place roofs on the buildings and connect them with copper tape. The LED bulbs will look best if you place them below the roofline. Of course, it is also possible to add an extra floor in different styles and colors as long as it fits into the pre-made dollhouse.
How To Build A DIY Dollhouse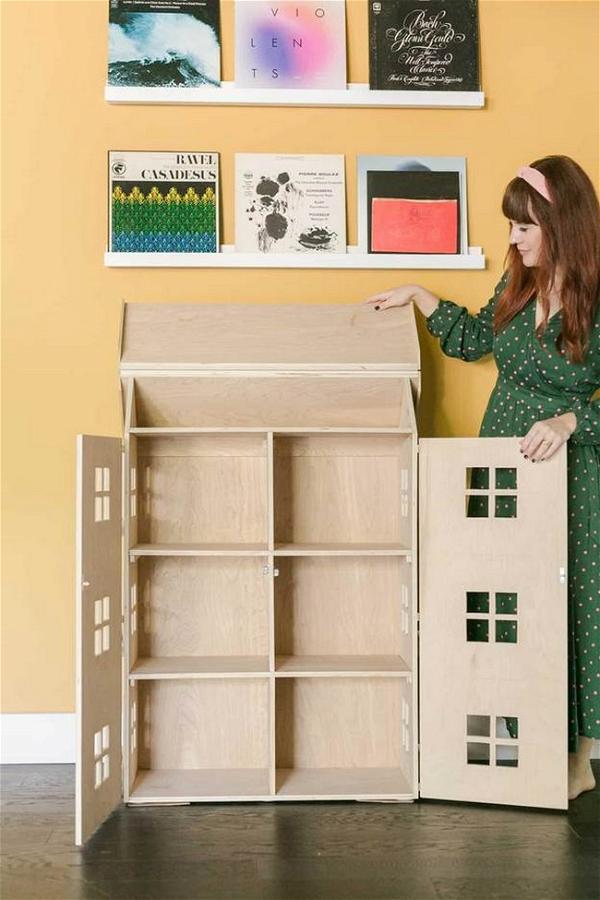 Summer is fast approaching and your child will be out of school soon. This is a good time to start a project with your child. Building this DIY dollhouse will keep them occupied, creative, and learning as they complete it. It's recommended that you work on this project together as you bond with your child. This will be made easier by the fact that assembly only requires glue. It can be built on a budget using readily available materials. It is simple to put together, and if the kids get bored, you can have it finished up in no time. Your children will love making or helping make this DIY dollhouse.
How To Build A DollHouse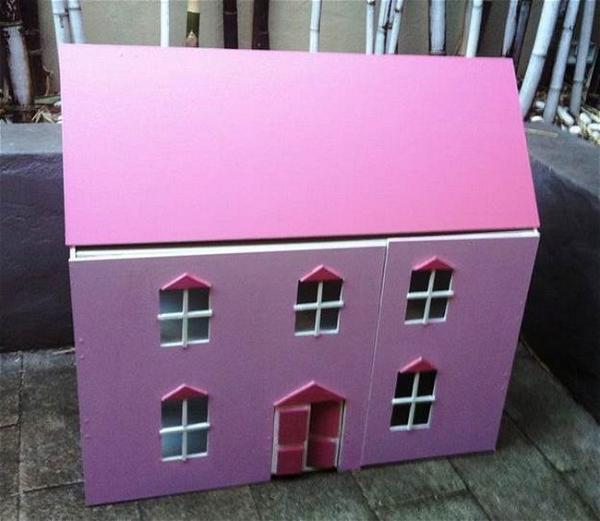 In building your dollhouse, you need to consider what kind of dollhouse materials will be used in building the different rooms. A jigsaw is handy for cutting out window and door frames from plywood or a sheet of Masonite. You should also have a circular saw for cutting the wooden floorboards and wooden door panels. Sandpaper can smooth any rough surfaces that have been scrapped by the blade of the jigsaw or when finishing off edges with a chisel.
Shoe Box Doll House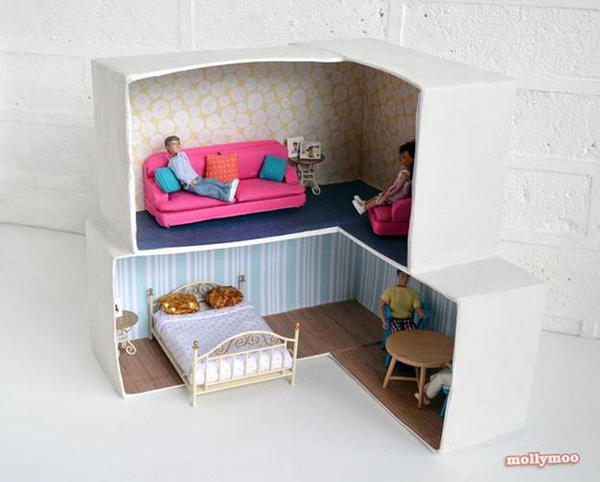 By using a box of your choice, you will be able to make your small child's room absolutely unique and beautiful. Quick! Your little one has turned into a toddler, and now they want to play with dolls! You go to the market and buy everything your little girl might require – furniture, outfits, and accessories. And why not turn an old shoebox into a dollhouse? All that's left is glue, paint, ribbons, and colorful tissue paper. Create an atmosphere in which your little girl will be happy in her own kingdom!
Homemade Dollhouse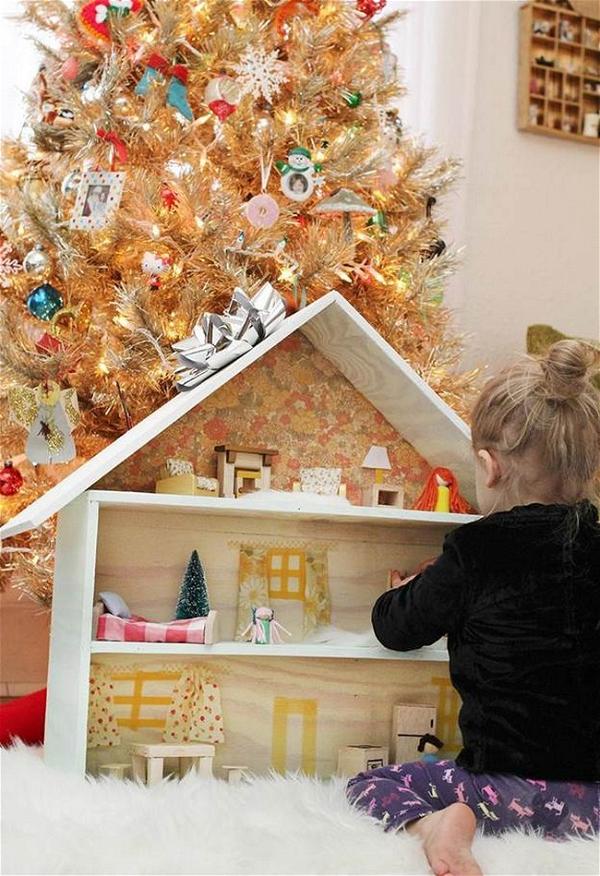 Make a dollhouse for your kids that looks like the one in their own dreams; this Homemade Dollhouse is great for projects and can be made very easily at home. With this DIY dollhouse, you can make a wonderful gift for Christmastime and your kids will love it. You just need to add your own touches to personalize your house to look like you want. You can paint the walls or change their color, add windows, a door, a roof and even finish the interior with little furniture if you want.
DIY Doll Dog House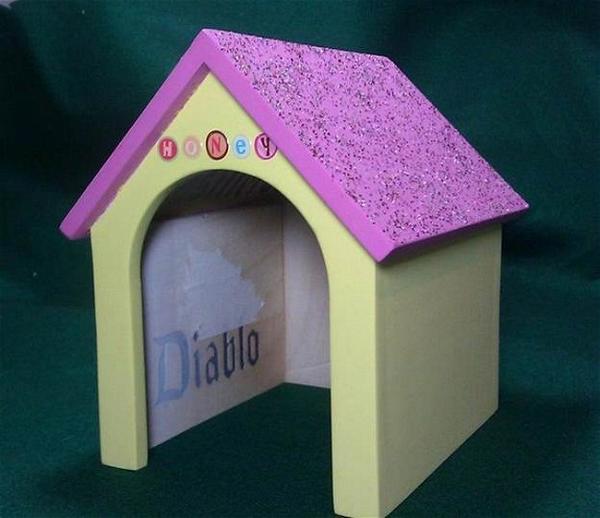 Don't let your kid have a sad Christmas! Surprise them with their dream toy. This is a DIY dollhouse that can be made from recycled materials. You can make it from an old wine box, craft or hobby skills, and recyclable items. For the door, the only thing you need is to cut a square piece for it, the size of this depends on the size of your wine box. For the wallboards, use craft paper if you don't have plywood or MDF in your home. Glass beads make excellent shingles for the roof and you can add dangles as well.
DIY Halloween Doll House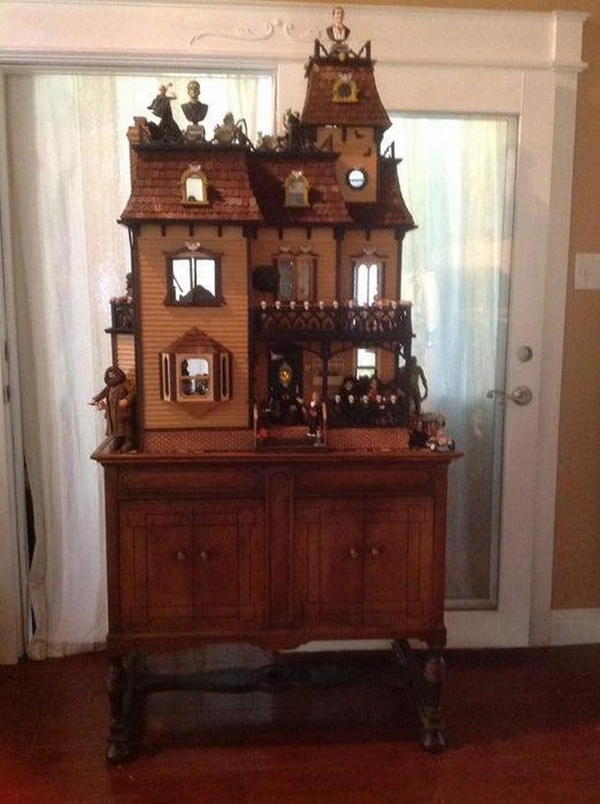 Halloween is a very spooky time of year. One way to catch this creepy feeling and to make things even more scary is by creating your own creepy dollhouse for the dolls you already have. This spooky dollhouse for Halloween is the perfect decoration for your home. In only a few simple steps, you can have a new dollhouse that will frighten your friends and family. This DIY craft project is simple to do and inexpensive as well. You only need cardboard, glue, and paint sticks to get started.
How To Make A Fold Away Doll House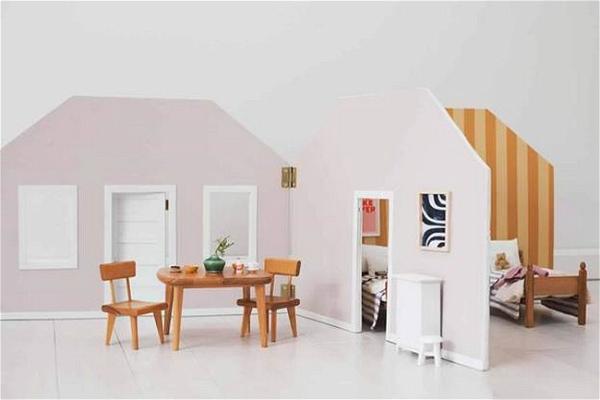 Ideal for your little princess, this cute and adorable DIY foldable dollhouse is easy to make and fun to use. When playtime is over and the kids get tired of tidying up their dollhouses, create a foldaway dollhouse that they can put together easily and takedown just as quickly. Just cut out the shapes on plywood, sand them smooth, paint, then assemble. You can let your kid do it with you as her/his project for the day/weekend. It is an ideal project for a parent who thinks their children are ready to make the transition from cardboard boxes to something a little more fun.
DIY Dollhouse From Crates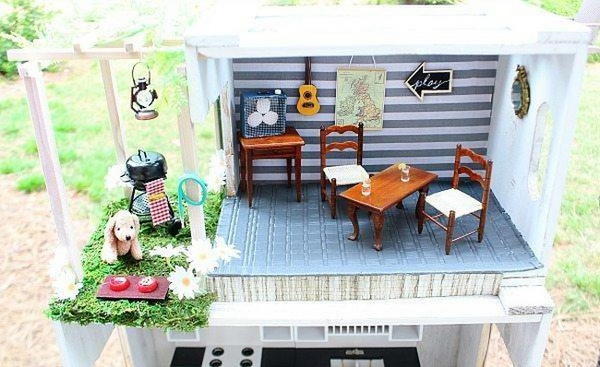 If you are not in the mood to spend money on presales and delight some of your children with amazing DIY gifts then crates may easily help you with this. These crates can be used in many ways such as nursery trays, storage containers, dollhouses, coat hanger racks, rain boots stand, etc. The only thing that you need is some skills and tools to make your work more attractive. It's so nice to see your kids use their imagination and come up with something that is totally unique and innovative. This do-it-yourself dollhouse from crates will help your kids learn how to create and be productive from a tender age.
DIY Miniature Cardboard Dollhouse
Budget limitations? Don't want to spend a lot of money on a toy that will be discarded in a few months? Cardboard construction is your answer! This attractive dollhouse is made of cardboard, paint, and household items for design. It's colorful, attractive, and can last for years without breaking. Children will enjoy hours of fun with this little house. It is a great project to make and present to your children as an extra special gift. It is not all that difficult to make, but it will surely be appreciated and keep your kids happy all the time.
$37 Thrifted Doll House Makeover
Turn a thrifted dollhouse into a beautiful home for your kid's dolls with this makeover. You will need a lot of paint to refurbish an old house. Creating a dollhouse sounds like an overwhelming task but it is so much easier than you think. You only need around $37 to buy a lot of wooden pieces, paint, and other accessories that would make your dollhouse look as beautiful as the one featured. This dollhouse looks very modern and it's easier for the kids to keep it tidy since the furniture and toys are smaller.
DIY Dollhouse Plan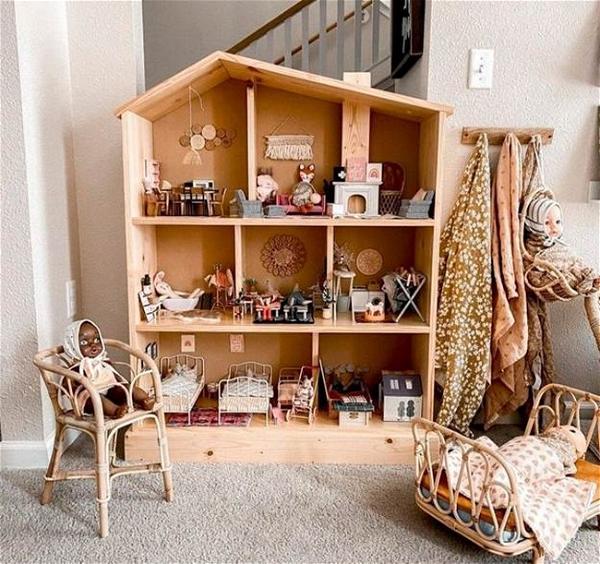 You have come across a new DIY dollhouse plan where everything is in detail. It is an open door with a bedroom. You can decorate it any way you like! It's almost as fun to make your own dollhouse as it is to play with it. A special gift as a present to someone creative. You can use this as part of home decor and make it yourself. Based on a standard dollhouse, the only difference is the color and objects inside. You can have full control over its content and come up with your own things for storage. Just remember, creativity is the key.
Cardboard Box Dollhouse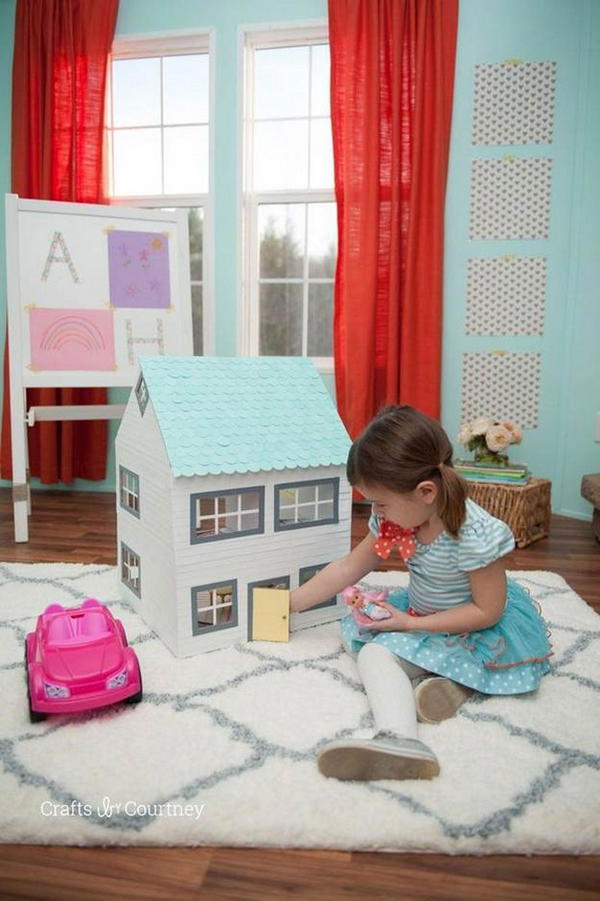 If you like to make your own things then you will love making this cardboard box dollhouse.  It is a popular trend these days to make dollhouses, however, a lot of people are against the idea of cutting and working with wood. The following represents how you can make a cardboard box dollhouse. If you want, you can paint it afterward or add wallpaper for the house's interior. You can then attach the windows, doors initially, then other partitions, and the roof accordingly. This DIY is for all of the 'do it yourselves out there. It can be made out of materials that everyone has in the house or can be bought cheaply at a dollar store.
How To Make A Pink Cardboard Dollhouse
A dollhouse is a must-have item for every girl. Making a pink cardboard dollhouse can be a challenging task to do since it will have different parts. You will also need resourcefulness if you happen to run out of your materials. Furniture, decorations, and other stuff are needed to complete a dollhouse so you should know how to make them. If you have some leftover materials, you may use those for this project instead of buying new ones. A DIY dollhouse is not a big task at all. Every girl between the ages of 4 to 16 will just love it.
How To Make A Doll House In A Shoebox
You have a used shoebox, and you are wondering what to do with it? That's great because the words that follow will walk you through the process of transforming your used shoebox into a beautiful dollhouse. It is very easy, and fun and would be an amazing fit for parents looking for DIY projects to keep their kids busy this holiday. With your old shoebox and a few basic materials, you can create this adorable dollhouse. It's a great way to play pretend with your kids and encourage their creativity and craftiness.
 DIY Fairy Castle Doll House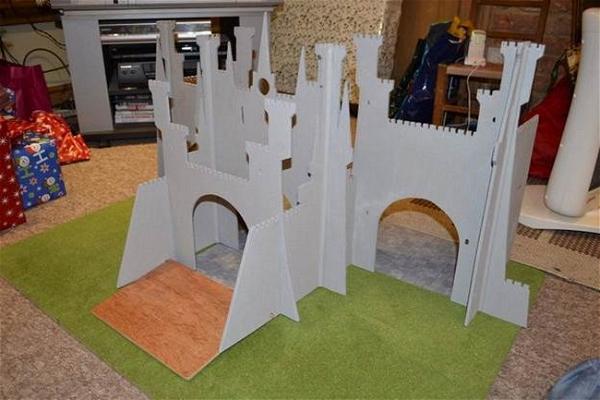 This DIY Fairy Castle Dollhouse is one of the most loved items by children. It can be used as a fully functional dollhouse, complete with a flippable room or a castle. Enjoy planning and creating your very own miniature fairy castle dollhouse with the help of a step-by-step instruction manual. Perfect for beginners, this detailed guide will walk you through every aspect of assembling and decorating your own fairy castle dollhouse. Plus, it's collapsible for easy storage.
Easy LED Doll's House Lighting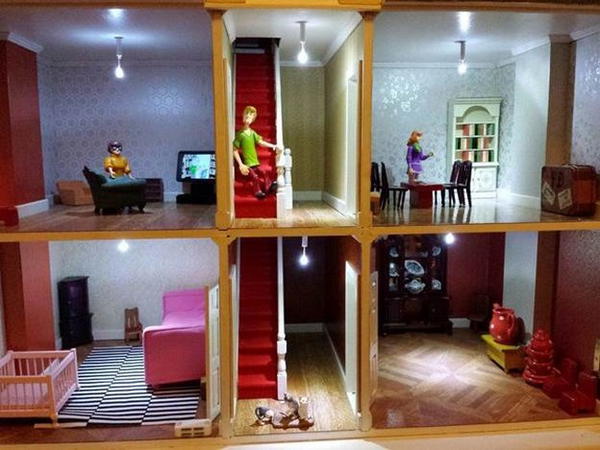 It is possible to create your own dollhouse but it will be such a tedious and time-consuming job to make, and it takes a lot of materials to create a dollhouse that looks like the real one. Make your house look real with the LED lights inside. However, there are now ways how you can improve the look of your dollhouse by installing led lights inside the house. This way, you can have more variation in terms of the look and feel. It gives you a wonderful experience when playing with the dolls in the house.
DIY Doll House With Cardboard Box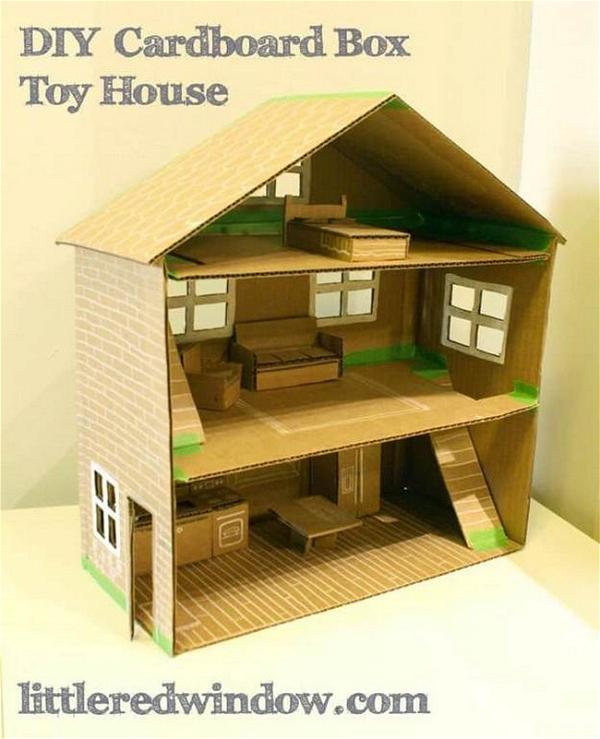 IF you want to cast a spell of Cute, nothing beats a handmade cardboard house. It's quite natural that you'll want to give your child a dollhouse. But, it takes a lot of money just to buy one. This is when you should have this DIY dollhouse with a cardboard box. It's really not expensive to make and also you don't need to hire any carpenter or contractor at all. Just take some old carton boxes and paints, and your project is done.
DIY Collapsible Dollhouse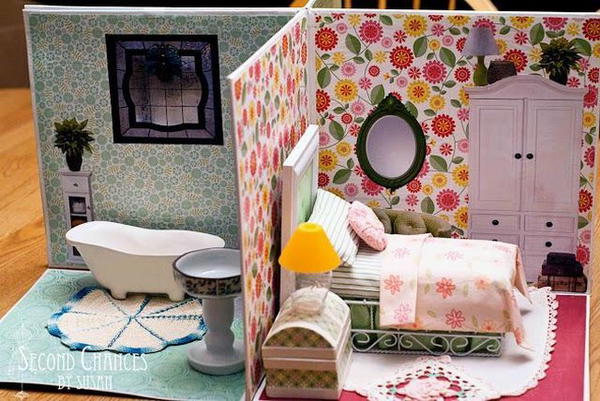 Now you can create your collapsible dollhouse with this tutorial which is great to get you occupied for Christmas. This DIY dollhouse was made unusually, not like the typical three-ringed binders version. Instead, the designer used thrifted double album covers. The female figure silhouettes found in the album covers were cut out to create custom windows and doors in this cute structure. The designer also used wrapping paper for her dollhouse's interior walls, which will be a perfect addition for the children who would love to play with this dollhouse model.
Pink Fairy Cottage House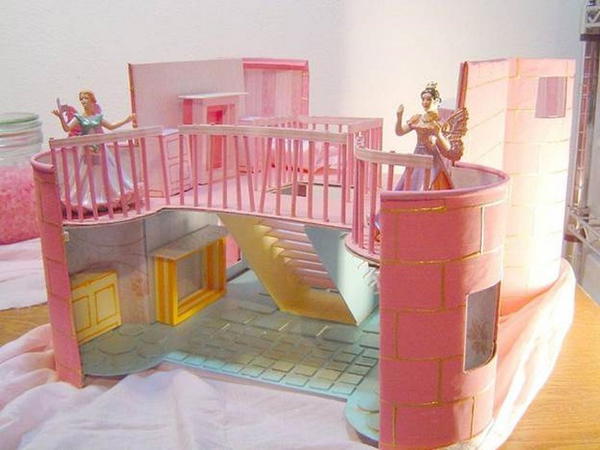 This is a cottage house and it can also serve as a fairy house, as it has everything you need. The second floor is an attic that can be reached by a ladder made out of a strip of paper. There are transoms or windows on both sides from where streetlights can be seen. It looks great and provides comfort for your little tiny friends. It's like a grand pink fairy cottage for a little girl to play in. It's easy and simple to make that every child could do it. The materials needed are very common things that can be found in your house or yard.
How To Build A Wooden Doll House
This dollhouse can be built by any child, as long as they have adult supervision. It takes a lot of time and cares to make this dollhouse look like it came from the store! All of the supplies you need are available at your local hardware store, so remember to bring your shopping bag. You will need to use heavy equipment for this. Set out your divider pieces and trim them to the shape you want to use. Cut a doorway in the front part of your house with a jigsaw. Sand your wooden dollhouse down and paint it with a paintbrush.
Building A Simple Wooden DollHouse
You will need heavy equipment to move the wood around for this project. Place your 2"×4"s into position and cut them to length with a saw. Then, place precise cuts into the wood using a jigsaw and sand wood to smooth any rough edges. Finally, the place felt pads on the bottom of each leg so that the unit is stable and safe for children. The design of this doll's house is customizable. It can be made in any color or theme you want and be given as a gift to children or friends.