Have you ever dreamt of creating your own hot air balloon? If you are an enthusiast DIYer, why don't you try this project and give color to your dream? The hot air balloon is one of the most relaxing and romantic crafts. It is not just a crafting activity but also helps to provide a wonderful experience for you and your family every year. It will be great fun with kids, especially when they can fly their balloons. DIY Hot Air Balloon is one of the easiest ways to get a creative experience, joy, and satisfaction among kids because it has no specific rules, guidelines, or models to follow. Whether you need an excuse to blow up a balloon or cause indoor sculpture, these DIY Hot Air Balloons are loads of fun. They will provide you with a creative outlet and give your kids something to talk about at school.
DIY Hot Air Balloons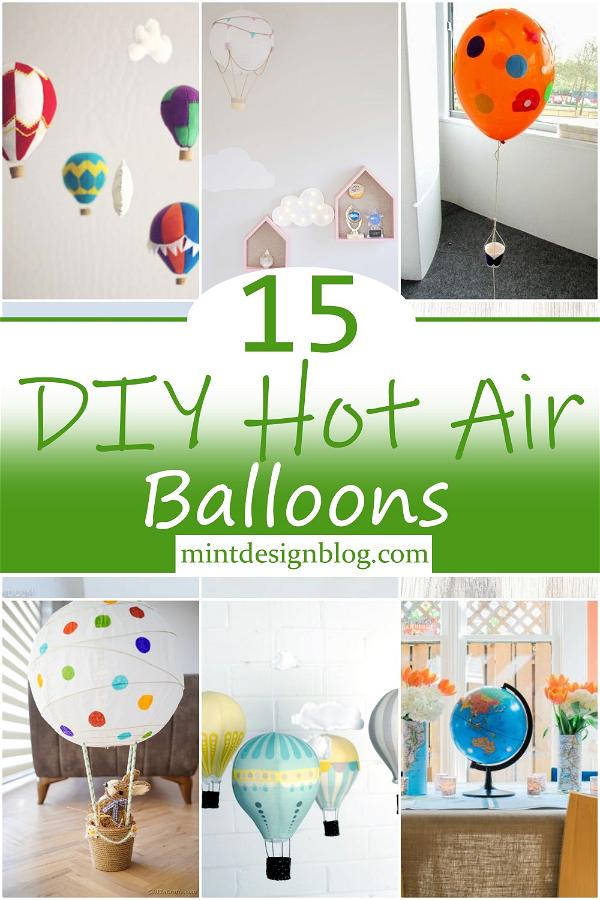 No Professional Skills Required:
If you want a fun weekend project with your kids, we highly recommend trying one of these DIY Hot Air Balloon projects from professionals. It might seem like a lot of work to make the perfect DIY hot air balloon, but these projects are so easy anyone can create one. You just need to follow the simple instructions, and you will have your own hot air balloon in no time at all. You can put your imagination into it and make something fun and beautiful. Try one of these DIY Hot Air Balloon projects and see if you get lucky!
Uses And Scope:
Hot air balloons are objects that are very majestic and beautiful. If you have a flair for arts, crafts, and mechanical engineering, then the perfect project to try is to build your own DIY Hot Air Balloon. You can either use this as an art project or as a first step in learning how to build and fly your own hot air balloon. Through resourcefulness, imagination, and simple tools, you can create your own hot air balloons and make your kids smile with awe. Making these DIY Hot Air Balloons can be an educational activity as well as an entertaining one!
Hot Air Balloon Decorations Idea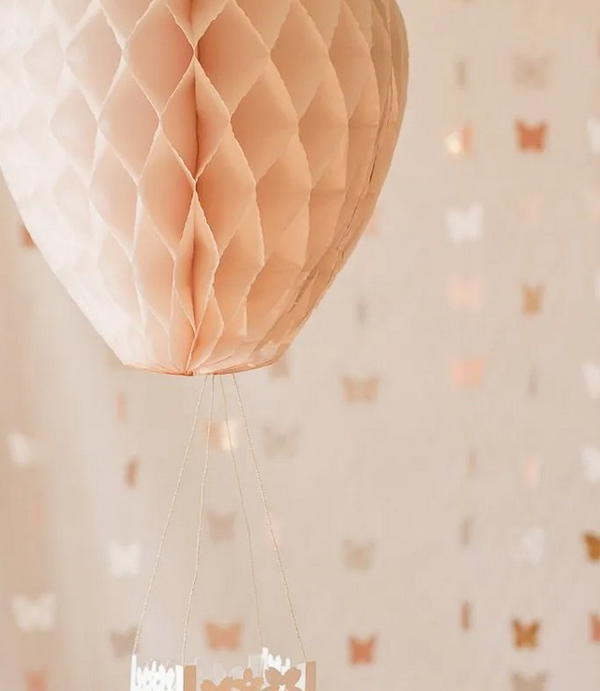 To make this balloon, you only need cardstock, honeycomb tissue balls, stickers, and glue. For the shape of your balloon, follow the shape of a balloon on the cardboard side of the tissue ball. Make a basket out of a paper cone that is large enough for your balloon to sit inside and trace the petals of a flower on the edges of it. Attach these petals onto the basket with tape or hot glue and secure it with ribbon. Cut out small slits in its walls so that it looks like lace.
How To Make A Hot Air Balloon With A Plastic Bag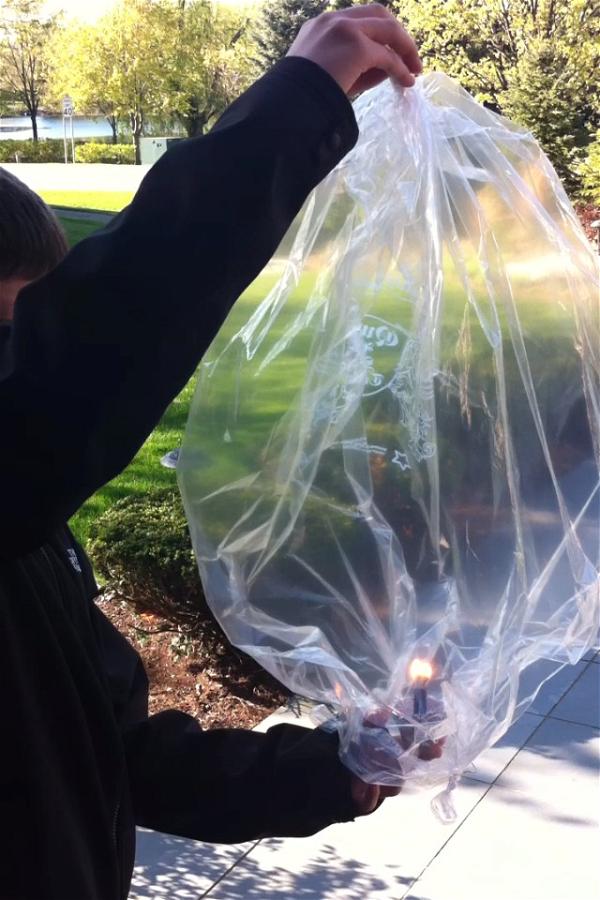 This hot air balloon is an attractive and fun decoration for any kid's birthday party. To make this balloon, you will need a large plastic bag and some supplies, which include glue, wire, aluminum foil, and birthday candles. First, tie four spots on the bag at equal distances to ensure it remains secure even when hot air fills. Then cut the wire into two pieces and bend one end that goes in to hold a candle. Glue your cup into place, then add your candles. Use staples or tape to attach the wire handle and rubber bands to keep it from becoming tangled while not in use.
DIY Hot Air Baloon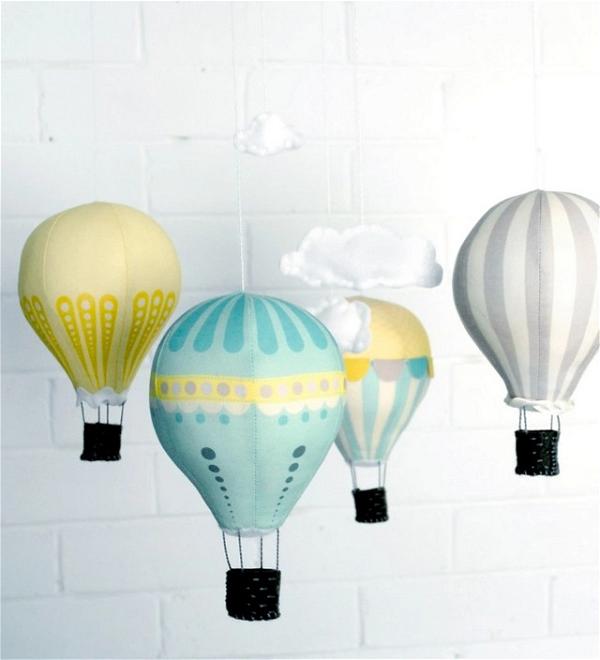 Treat yourself or a loved one to an adorable hot air balloon DIY project. You can choose the colors and patterns you want, then add clouds and stars. Decorate the base with ribbons and trimmings to make it extra special. You can make them as unique decorations or construct them together to create an even more impressive display. A selection of different shapes and colors means you can put your own creative stamp on the finished piece. Give this out at parties, weddings, and other social gatherings.
Cute Hot Air Balloon For Easter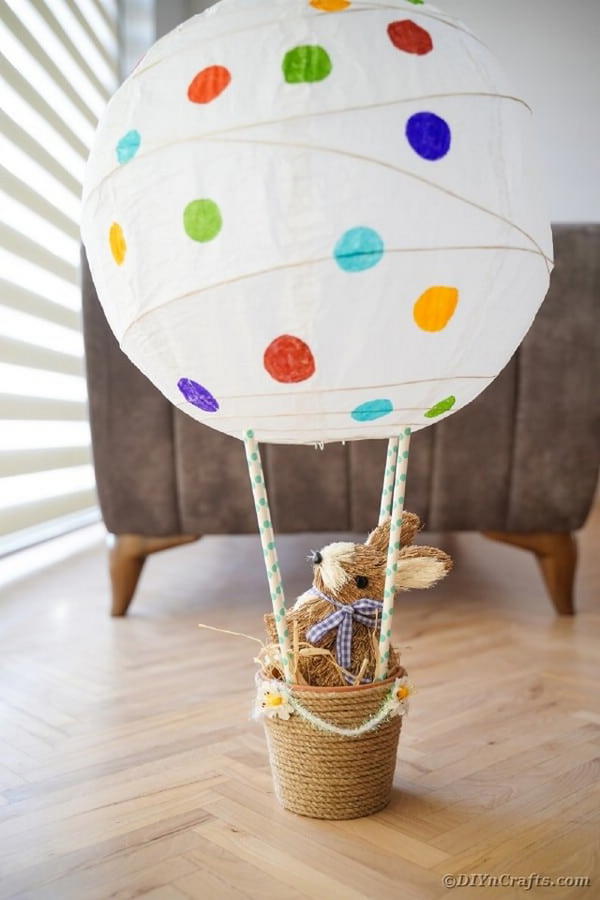 Great for any Easter, spring party, or children's event, this hot air balloon is sure to please. The main body of the balloon is made by covering a large flower pot with white tissue paper and then painting polka dots on it. The bunny is suspended from the top of the balloon by colorful paper streamers that match those on the curtains. It is decorated with circles cut out of colored paper and attached with glue. Trim these circles if they are too big, and get creative!
Hot Air Balloon Tutorial
Are you looking for a DIY craft to keep the kids occupied over the weekend? Try this delicious hot air balloon project. This tutorial will teach you how to make your own DIY hot air balloon. The craft is made from multiple colorful balloons and a smaller balloon to create a unique effect. You can also use additional accessories like larger balloons and baskets to give your creation a more professional feel. It is quick and easy and requires only a few tools. The kids will love making them, but be careful not to fill them with helium, as some colors can't handle it!
How To DIY Hot Air Balloon
This hot air balloon decoration is a great decor item for your room. The idea is to use a pump to fill the balloons and tie them to a large cardboard canopy. Use glue to connect the smaller balloons together and strap them onto the big carton. Once done, you can drape crepe paper streamers over the carton to make it look more attractive. This DIY hot air balloon is easy to make and will look great in any room or on the shelf at home. You can use it as a prop for photos or display. Let your kids create their own!
You can also see: DIY Balloon arch ideas
Hot Air Balloon Craft
This is a fun and easy-to-do DIY balloon craft you can do with your child. You need to inflate the balloon first, then put a basket on top of it and glue white paper towels around it, ensuring they stick well. Allow it to dry. Paint the entire balloon once dry and attach some ribbons at the bottom as suspenders. This craft is perfect for kids who love balloons and adventures. Use a party balloon and some paint to create your hot air balloon!
Hot Air Balloon With Candles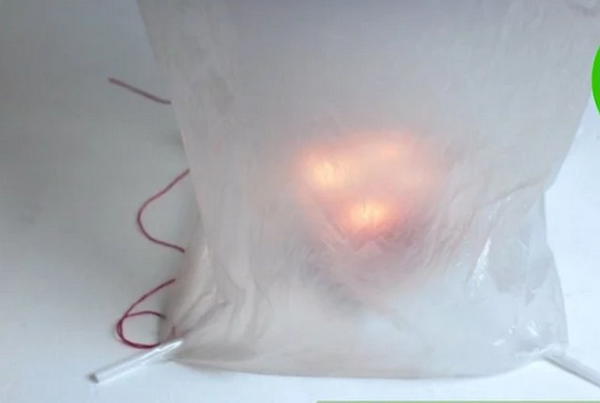 This tutorial on making a mini flyable hot air balloon is very easy and useful if you want to give it out as a gift or sell it. If you want to make one yourself, all you need is a plastic bag, some candles, a piece of aluminum foil, a straw, and a hot glue gun. There are also some optional items like paper towels or napkins for filling up the inside of your balloon. This is going to take about 10 minutes of your time, and in no time, you will have your own flying hot air balloon ready for flight.
Hot Air Balloon Centerpiece
A centerpiece that resembles a hot air balloon uses balloons of different colors and sizes. The base is made of a cup, which looks like rising air currents. It is decorated with roses and flowers. Constructing this centerpiece is fairly simple, but it can take some time if you are making it in bulk. You will need different kinds of balloons that come in large quantities. A container must be secured to serve as the base for all the balloons scrambled together. The garland is made of all these balloons, which are kept together by sticks or wires when assembled into one big piece. Finally, fill the container with roses and other decorative items like flower petals and leaves.
How To Make A Hot Air Balloon
The hot air balloon attracts a lot of attention. It is something you have never seen before, and you usually come running when you see one. It is a great way to market your product or business. This hot air balloon is one of the most popular hot air balloons. It is based on traditional hot air balloons but with a few technological upgrades that make it safer to fly and easier to land. As the name implies, these balloons are filled with heated air and do not require an engine like gas or diesel-powered planes. We will take you through the steps of making this hot air balloon that can fly high above the sky, maybe even a bit too high for some. It is recommended to get ready before starting.
Hot Air Balloon For Decoration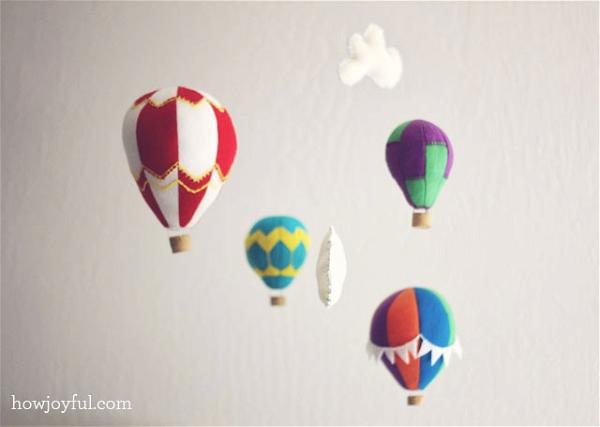 This fun DIY project is an easy way to create a festive decorative piece. Make several at once to create an entire array of hot air balloons. Each balloon requires only two parts and is easy enough for an afternoon craft session. Add your basket or string up several with ribbon to hang from the ceiling, or simply set them on a tabletop. The DIY hot air balloon is easy to make and can be customized for your specific needs. Make it a team-building exercise or just for fun; let these balloons fly or hang around in style.
Hot Air Balloon Kit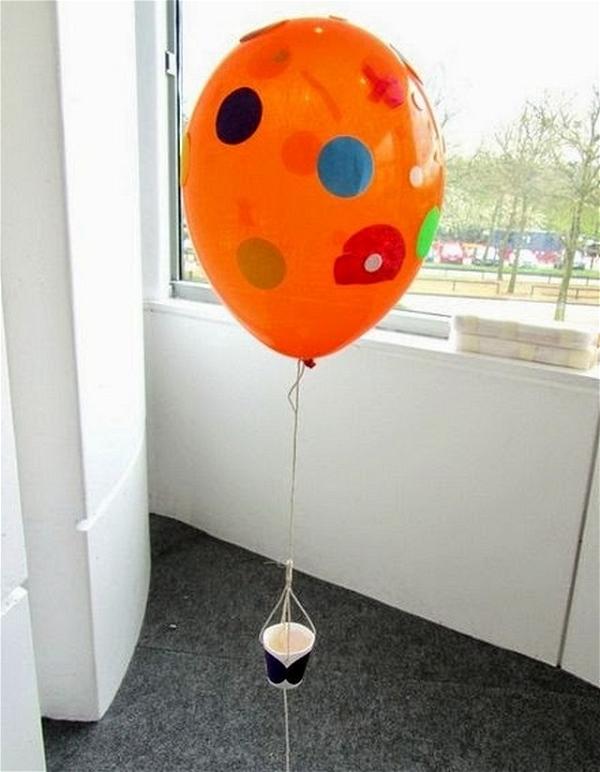 This is a fun project you can do with your kid and end up with a cute display. You will need an actual balloon, a foam cup, colored paper, some glue, and some thread. To start, fill the balloon with helium and add your decorations to the outside. To make your basket, cut a piece of colored paper large enough to cover the bottom of the cup. Glue it down and allow it to dry completely before proceeding. Use the hole punch tool to make four holes in the cup's center. Thread your string through these holes, then tie one end of your string on top of the balloon sling inside the cup height below where you want it ultimately positioned above the ground. It will act as a decent balloon weight, plus adding it to your home decor will be an admiring activity for kids.
Hot Air Balloon Centerpiece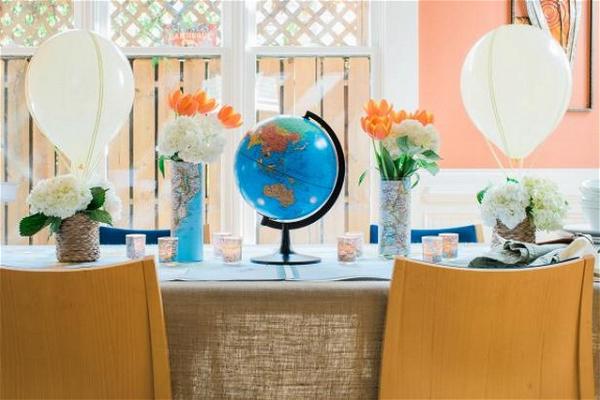 To make this centerpiece, you must prepare the foam, flowers, and dowels first. Attach the balloon to the basket with ribbon and then start adding decorations. First, attach the flowers as they are relatively light compared to greenery, which makes them easier to hold. Make sure that every decoration is fitted tightly to stay in place. Finally, fill the basket with something heavy if you do not want to tie it with ribbon or if it is really light. You can do this by filling it with rocks or sand.
Make Hot Air Balloon For Home Decoration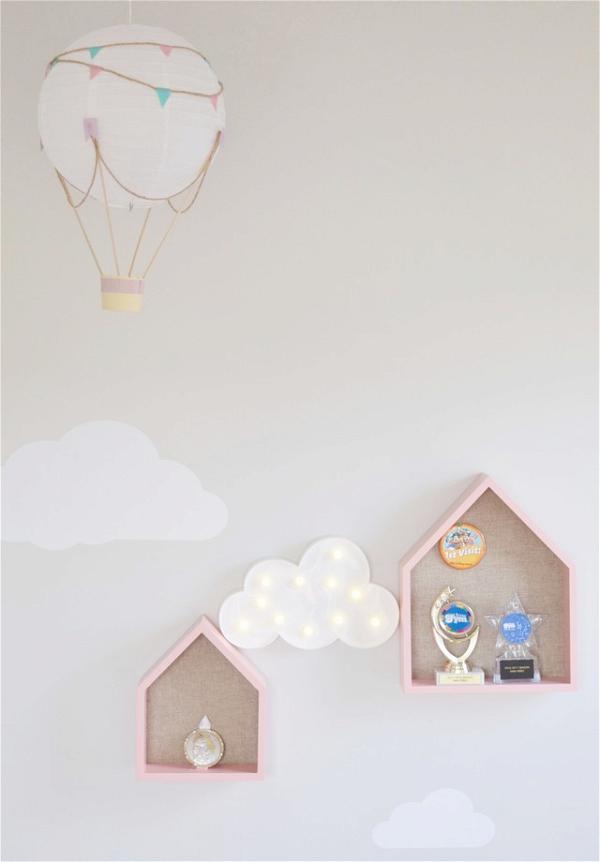 Hoist yourself up on a flight of fancy! This DIY hot air balloon decoration is perfect for dreamy decorations for your home or to bring some light to winter blues. The idea is simple: enshroud your paper lantern with twine and then decorate it with a paper basket tied to the top, making it easy to hang up wherever you want, lightweight style without the heavy lifting. With this DIY hot air balloon decoration, you can give your home a classic look. It's easy to make and will look beautiful hanging in any room.
How To DIY Hot Air Balloon
A DIY hot air balloon is an easy decoration to make that can be used for your home. This hot air balloon provides a colorful look and brings pleasant childhood memories. The process of making this balloon is quite simple, and it shows you how to make a DIY hot air balloon in just a few steps. You will need a hula hoop, some dowels, glue sticks, 210ft twine, a glue gun, and a basket. This is one of the easiest to make DIY hot air balloons with low-cost materials.