Jewelry boxes are a perfect accessory to keep your precious ornaments safe. A DIY jewelry box is something that you can make at home, and you can use it to keep your jewelry. It will be an excellent addition to your dressing table or any other place in your house where you want to display your jewelry. You can give it as a gift to someone else. These 24 DIY jewelry box Ideas are lovely and thoughtful gift ideas. A jewelry box isn't something everyone needs, but it is certainly something that many people want. Even if they don't wear a lot of jewelry themselves, they still probably have at least one piece of sentimental value that they cherish.
DIY Jewelry Box Ideas And Storage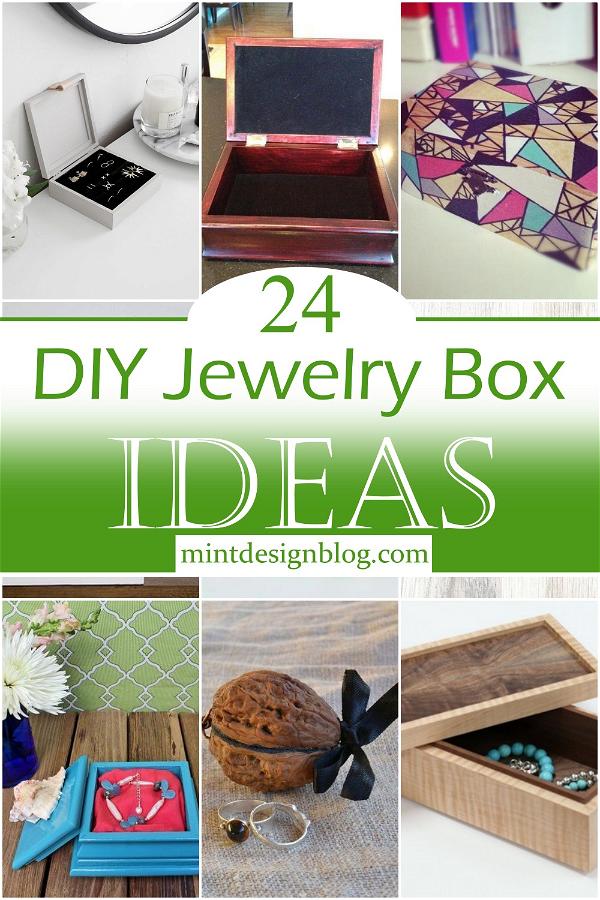 Many people like to wear jewelry every day or even every hour but don't want to invest in an everyday ring or necklace because they want something special for when they go out. They are available in different sizes and shapes. You can find them in the market made of wood, leather, cardboard, glass, and plastic. If you want to make one yourself, then look at these DIY jewelry box ideas that will help you do it with ease.
These 24 DIY jewelry box Ideas are lovely and thoughtful gift ideas for your friends or girlfriends. Take a look at them; you will make someone happy with these beautiful handmade jewelry boxes.
Materials and Tools:
Jewelry box
Colorful paper
Wooden beads
Hot glue gun
Scissors
Decorative items
DIY Jewelry Box Tutorial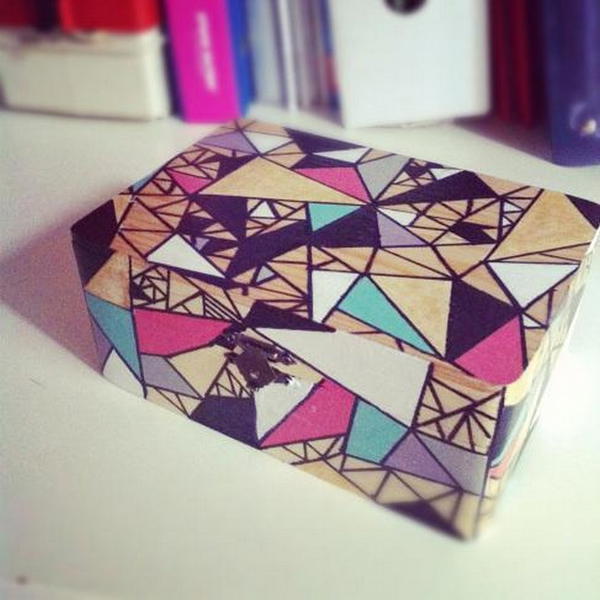 This marbled jewellery box is one of the easiest projects you can do with a cigar box. This project involves using the paper-maché technique, which is done by using some cheap materials. A cigar box is used as the primary material; handy and easy to find. It is a perfect design to gift for birthdays or bridal shower parties. This DIY jewellery box will look beautiful to display your jewellery or even as a decorative piece. It is a fun project which can be done without real pain or hard work. As no one said, creating was always easy. There are many skills and ways to learn, and this is just one idea to get you started.
Skill level: Simple
DIY Marbled Jewelry Box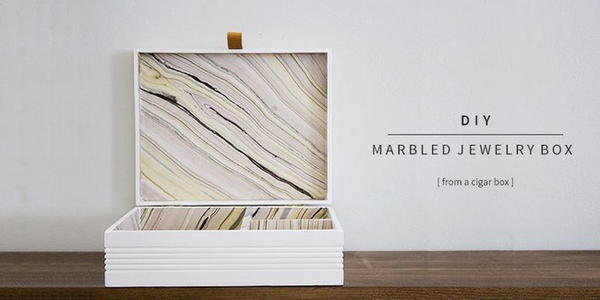 This stylish DIY Jewelry box kit is perfect for storing all of your favourite jewellery. This high-quality Marbled Paper will give your projects a great look. Each colour comes with a different beautiful pattern, and you can use these stamping papers to decorate your gift boxes, cell phones, invitations, etc... Many people start with wood, but this project is about painting fabric for a box. Marbled boxes are cute, and you may have seen them before. It's time to learn how to make one yourself. Create your own marbled paper jewellery box from fun marbled paper. Celebrate your creativity with this simple project for kids of all ages.
Skill level: Easy
3. DIY Ring Storage Box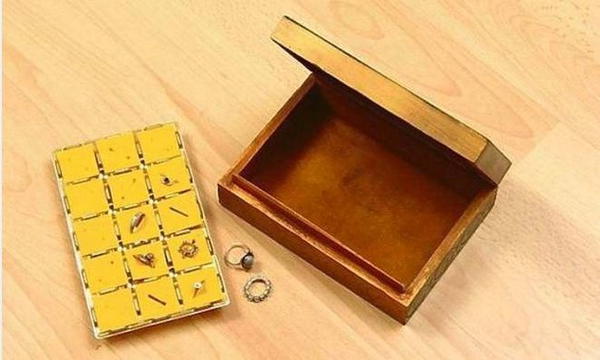 With this DIY Ring Storage box, you can easily beautifully arrange your favorite rings, accessories, and earrings. You can store as many or as little as you want in a small transparent box without neatly scratching them. This DIY Ring Storage Box can easily fit anywhere in the house. So easy to make and use. If you wear your rings every day, they might get scratches with time. It keeps them looking nice not only for yourself but also for the people who see them. It is so easy to do, and it is great because you can personalize it with whatever color you want.
Skill level: Simple
Handmade Jewelry Box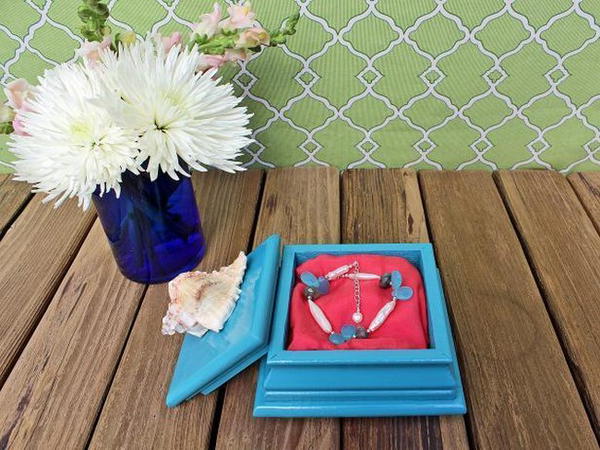 A handmade jewelry box can be used in your dresser and can be a gift to your loved ones. A fence post cap makes an excellent, not-easy-to-forget enclosure for a soft fabric. The handmade jewelry box is an excellent gift for those necessary in your life, whether it be family, friends, or anyone whose affection you seek. Not only affordable to buy but also easy to make with minimal tools. Create this exquisitely handcrafted jewelry box for mom on Mother's Day using a fence post cap. It is a great homemade gift idea, create this from scratch, and it will stand out.
Skill level: Unique
DIY Jewelry Box
This jewelry box will sparkle and shine with the reflective colours of the materials. Any sparkles or embellishments you decide to use in the DIY jewellery box are how to make a jewellery box in various shapes according to your style. It's straightforward, amusing, and the most crucial part is that you can make it by yourself. As a matter of fact, by using some decorative materials, you could make an impressive jewellery box. Create this stunning jewelry box for your friends and family members, and show off your craftsmanship! The method is simple yet so impressive.
Skill level: Simple
How To Make A Small Jewelry Box
A small jewelry box can be a fantastic gift for anyone. Making one is quite simple, mainly if you use helpful techniques. You can use This jewelry box as a gift to show the love of the person giving it to you. If a person is fond of making things and has crafty hands, this project is suitable for them. Making this jewelry box is a straightforward job. You need some time to do it because it depends on how detailed you would be. You will have a simple time doing it if you have the proper tools.
Skill level: Easy
 How To Make A Jewelry Box From Cardboard
This project is the perfect craft to do with your kids! It's straightforward, and you'll be able to customize the finished product according to your preferences. A jewellery box is also a great thing to have. It is easy because you only have to make a box out of cardboard and later paint it with your favourite design. You can make this cardboard box for jewellery at home without any hassle. If you want to avoid the task of cutting out each piece of free cardboard, this method will be your go-to approach. It's simple, meagre cost, and comes together in about a few minutes! The results are pretty decent for the time you put in.
Skill level: Beginners
DIY Cardboard Jewelry Box
Making a cardboard jewelry box is easy, yet making it look nice is hard. If you want to learn how to make a handmade jewellery box but do not have enough money or do not have the skills and skills, then this one is for you.DIY Cardboard Jewelry Box is excellent for gifting, and even if you are not a professional, your friends will be happy with the effort you have made to make them such a delightful gift. It is inexpensive and easy to make. With this jewellery box, you can store your things safely and stylishly. It's super helpful for people who want to store their precious items, especially on the go. Not only that, this fabulous DIY project is super easy and inexpensive to make.
Skill level: Intermediate
DIY Jewelry Box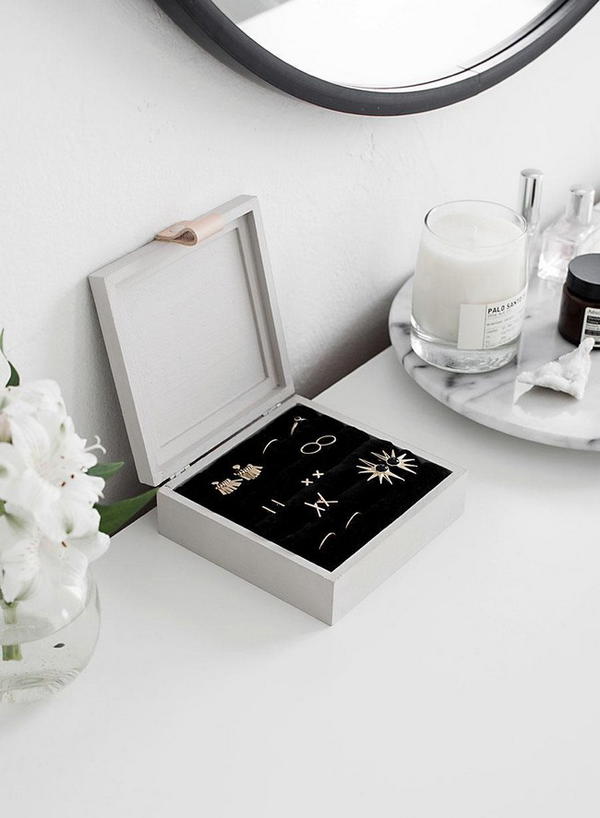 Jewelry is an integral part of your life. You can make a jewellery box to safe-keep your valuable rings and jewellery pieces. To make a beautifully shaped and decorated jewellery box, you can use different materials. Cover the inside of the box with velvet or any soft material according to your choice. It will surely impress your relatives and friends who see it for the first time. This DIY jewellery box is straightforward to make. This Diy box is a perfect present for the upcoming Valentine's day or simply as a gratitude gift to your wife or mother on their birthday.
Skill level: Intermediate
DIY Simple Wooden Jewelry Box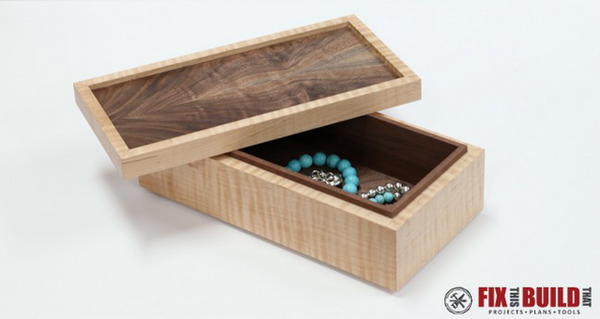 This project is a simple but nice-looking jewellery box. It does require a small amount of work to make. A finished box has been included for those who don't have time to complete the whole project. This Jewelry Box seems to be an elegant present for your friends or loved ones. This project is simple in design and easy to build. It is made out of simple material. The total money used for this project was lower. The style and the shape make it very beautiful and unique. These are just enough items for a man to start his jewelry collection or use as a ring holder for his wife.
Skill level: Beginners
DIY Jewelry Box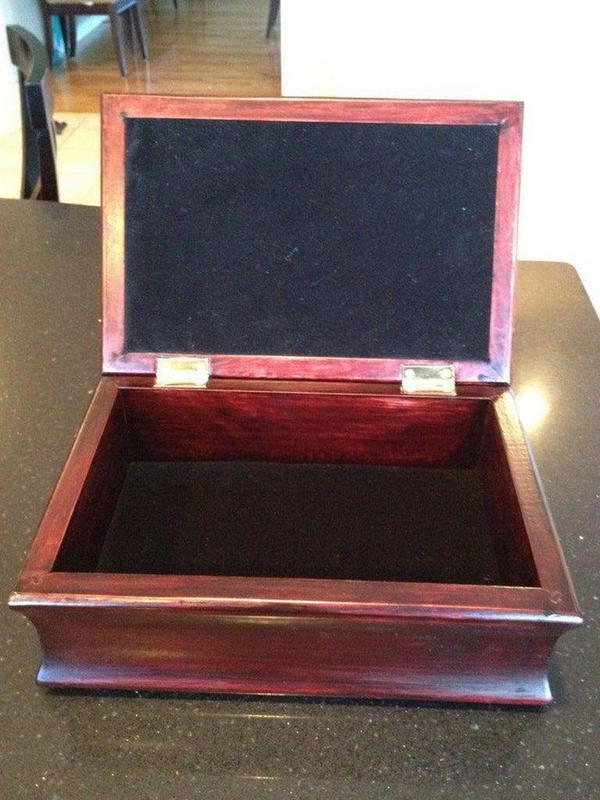 This simple DIY jewellery box can be a perfect gift for your lady. It has velvet inside, and the look is gorgeous. The tutorial requires you to have some woodworking skills, but it is not too tough to complete. And then, with some bit of decoration, you will get an excellent piece of jewelry box. The DIY Jewelry Box is designed to make a beautiful storage case for all of your fabulous accessories; it keeps everything organized and, at the same time, allows you to admire it from every angle. You can make a jewellery box at home that looks great and functions well. You will need some experience working with wood.
Skill level: Experienced
DIY Walnut Jewelry Box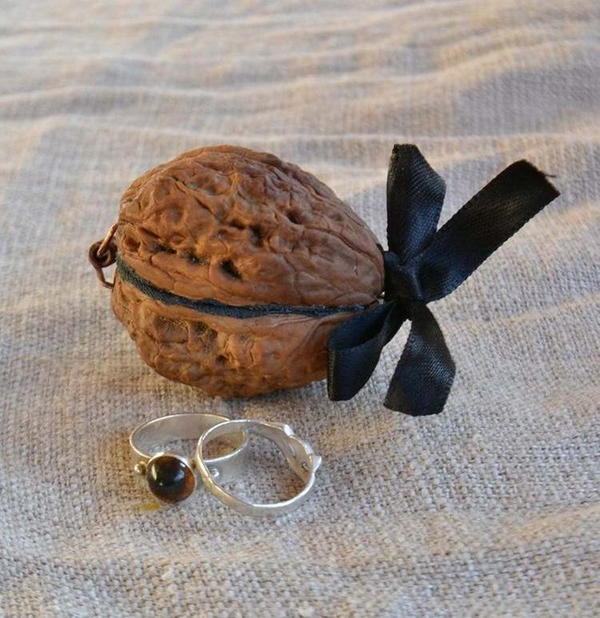 This walnut jewellery box is something you could make at home with the help of some friends and a lot of effort. The idea here is to give it a handmade, DIY feel. It will ensure that your customers will love the feeling of making something out of nothing, that something that is unlike anything they would have ever seen before. Just use your creativity and imagination and go from there. This DIY jewellery box is created using a simple woodwork technique. It can be made using any inexpensive hardwood, given that it's of good quality. The benefits of this fun project are that it gives your child an opportunity to create and work on their ideas and make them see how their idea turns out to be.
Skill level: Beginners
DIY Paper Jewelry Box Gift
This paper jewellery box is a creative and straightforward do-it-yourself project that you can make for your crafty friends, especially for gifting. This project is a stylish and creative idea for decorating your wall, gift-wrapping, or even personal gifting to your special one. The DIY paper jewellery box is super easy to make, and it has only a simple process. It is made from paper and other materials. It's beautiful and delicate. You can use it for storing or displaying jewelry. It's the ideal gift for your loved one. The thing that makes the pieces unique is that they are just made out of paper but have the shape of any object, such as a vase, jewelry box, and other things.
Skill level: Experienced
How To Make Wooden Jewelry Box With Drawers
Making a wooden jewelry box with drawers requires a lot of patience and the utmost attention to detail. In this particular project, it's essential to have the woodcut at the right size for everything to fit correctly. You also have to make sure that the cuts are straight to correctly glued together. A wooden jewellery box with drawers is a traditional gift item. Making it in your garage or backyard can be fun and straightforward if you keep it together. You must know what tools, which sandpapers and glue should you use. It requires a lot of time to make one piece correctly and look perfect.
Skill level: Beginners
How To Build A Simple Jewelry Box
Woodworking craft is one of the most popular hobbies. It can be challenging and enriching. And if your goal is to build a simple jewellery box, you will be excited to know that it is affordable! You need wood cut out into sizes you desire, nails, glue, and a hammer if you're good with your hands and like to build things. A simple, affordable way to store jewellery. This article shows you the exact cuts you need to make for this project. It even includes a template and measurements. The process was so easy and used only essential tools. It is quite a practical DIY guide for woodworkers who want to make some furniture or household decorations at home.
Skill level: Intermediate
17. Traditional Jewelry Box DIY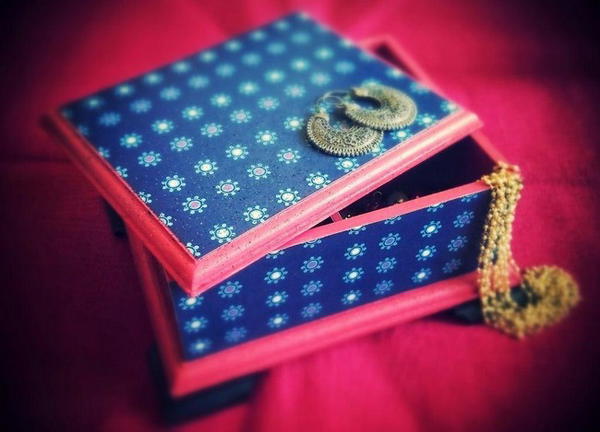 Why pay for an expensive handmade jewellery box when you can create your original jewellery box at home. All you need is some hands-on fun and vivid colours of your choice. It is an example of a traditional jewellery box. It's straightforward to make, and you can save money compared with purchasing in markets. The materials are all gathered from the local store. This traditional jewelry box is made of solid materials, and the lid and bottom can be removed. It would help if you had a wooden box, glue, and paper to make the pretty ornament. It is best to choose papers with a different color. If you want to decorate the box's lid, use blue paper to create a pattern like an ocean wave.
Skill level: Beginners
DIY Book Jewelry Box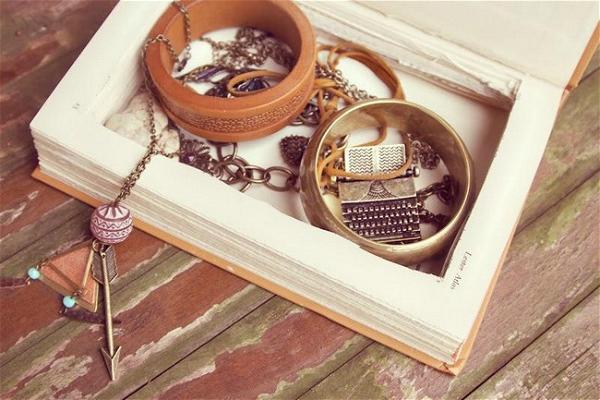 This book jewelry box is part of the make-it-yourself book boxes series. This tutorial will find simple instructions on creating a jewelry box using an old book. The steps in creating this jewellery box are straightforward, so even beginners can try it. All you need is an old book and a few essential crafting tools. Don't discard those old books because they're headed for the recycling pile. Put them to good use again. The DIY book jewellery box is a perfect project to do in your free time. It's an inexpensive way to make something you could gift or keep for yourself.
Skill level: Experienced
DIY Mod Podge Wooden Jewelry Boxes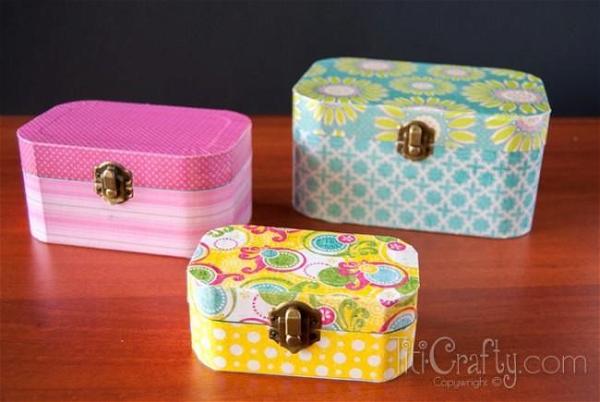 The DIY Mod Podge Wooden Jewelry Boxes are the perfect way to decorate your room, closet, or jewellery. When you open the lid of these boxes, you will find out how convenient they are. You can store rings, bracelets, cufflinks, necklaces, and other accessories. And if you are a jewellery collector, these boxes are very much attached to you. The DIY Mod Podge Wooden Jewelry Box is a great way to craft one of the unique gifts for someone special. Firstly, you can ensure that your box is clean and free of loose bits of wood or other debris.
Skill level: Intermediate
20. DIY Wooden Jewelry Box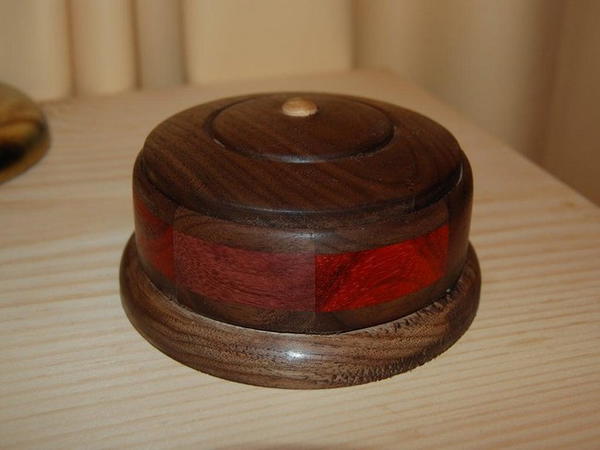 A DIY jewellery box that you can create using various shaped wooden blanks. It looks great, filled with necklaces and bracelets. This project is a great way to practice many different woodworking skills, including gluing and planning. This DIY wooden octagon box project uses geometric lines to suit different tastes. This jewellery box can fit small items and is suitable for decorating your bedroom or office. It is the perfect gift for that special someone in your life or for the young craftsman who wants to learn how to do a wood project. It is a great way to promote fine motor skills, creativity, and agility.
Skill level: Beginners
Beautiful Jewelry Box DIY
It is a wooden jewellery box. It has many compartments, and it can be a gift as well. A beautiful and classic jewelry box that can be gifted at Christmas or on any special occasion. This project is a multi-purpose box that can be used to store anything related to jewelry like earrings, necklaces, and more. This box is shaped in the form of the lower case letter V. Every wooden box worth keeping is made beautifully in shape, looks, and color, and this makes an impression on the heart of the person who will be receiving it as a gift. This one is not an exception at all.
Skill level: Experienced
How To Make A DIY Jewelry Box
Making a DIY jewellery box is super easy. All you need are some materials, some of your precious time, and the measure of your skill. It is a straightforward way to get something beautiful and unique. The best part is that you can easily modify the design and make it according to your preferences. It is an enjoyable project, and it's perfect for those of you who want to do something enjoyable with the kids, DIY enthusiasts, or create the perfect gift. If you're looking for a quick and easy way to keep your earrings, bracelets, necklaces, and more in order, this is the DIY project for you.
Skill level: Beginners
DIY CNC Jewelry Box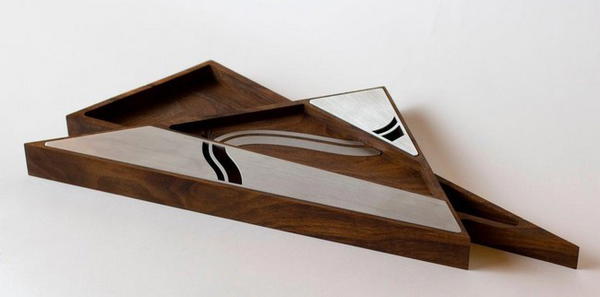 This project is a handmade CNC engraved jewellery box design that can fit rings and other jewellery accessories. It's DIY meant, so the files are simple enough to cut with a cheap CNC router. The tools used in doing a project like this are standard and straightforward. A DIY kit made to create a modern jewelry cabinet in wood, aluminum, and brass. It consists of a complete set of ready-made parts and hardware needed to assemble the cabinet. It is a great way to get started with CNC woodwork without spending huge bucks to buy all of the sophisticated devices.
Skill level: Intermediate
How To Build A Wooden Jewelry Box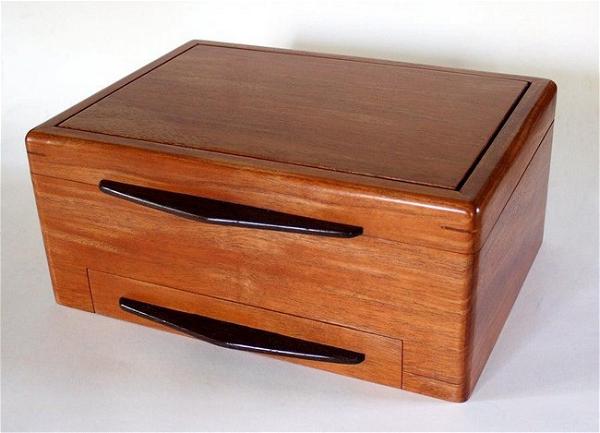 A wooden jewelry box is an excellent accessory for your bedroom or dressing area, a slight touch to help you put your life into perspective. This one was made using finger joints to attach the sides and front, adds drawers to organize jewelry, change, and rings better, and attaches earrings to watch components more quickly. This DIY tutorial makes it easier by providing a list of the required materials and tools in advance. Stained, polished for smoothness and decoration, and given an appropriate finish, your wooden jewelry box will stand out and be cherished for years to come.
Skill level: Beginners
DIY Bracelet Storage Box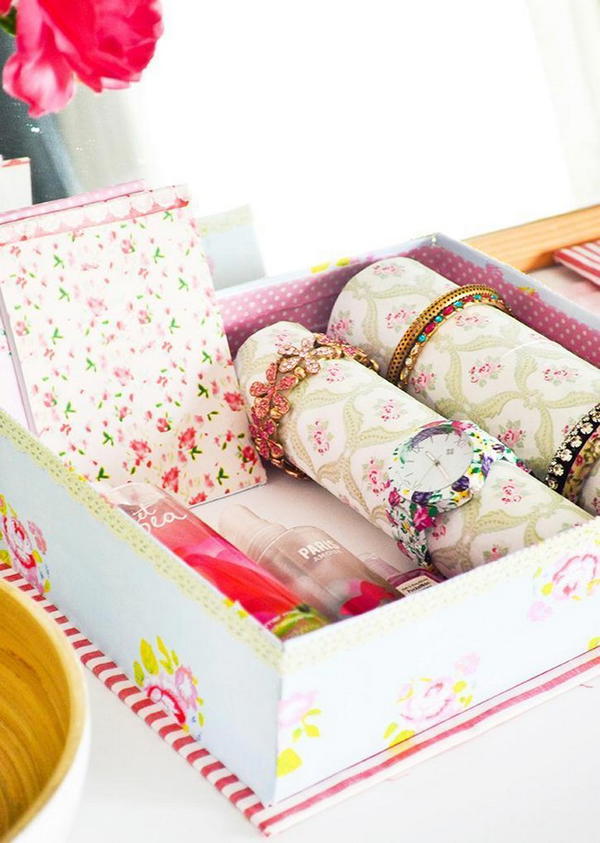 This DIY bracelet storage box is economical, practical, and easy to make. It's very posh indeed. You can use the storage box for watches and bracelets. Start by using an available cardboard tube or a cardboard roll (the size of your jewelry). Duct-tape the ends to seal it. Then cover it with cling wrap to tidy things up and make your store-bought jewelry look beautiful! If you are artistic, you can use spray paint to give that pop of colour. After creating your jewelry, the product will be stored and protected in our elegant box. (It is made by yourself) with cling wrap around it to keep your jewelry free from dust.
Skill level: Beginners
Conclusion:
Jewelry boxes keep your jewelry safe and protected. But you can also make it a decorative piece of your room or a gift to your loved ones. There are many DIY jewellery box ideas and designs that you can try at home to make your jewelry box. You can use old boxes, bottles, glasses, cans, etc., to make your creative jewelry box. The best part about these DIY jewelry boxes is that they will help keep all your valuable jewelry pieces in place and keep your room more organized. These boxes are not very hard to make, and most of them are pretty simple and easy to make.