Leather is an incredibly classy material that looks great and ages well. Unsurprisingly, this smooth, durable material is often used to cover books, especially those that are a bit more personal and important. While you can buy leather book covers at almost any bookstore or office supply store, making your own can allow you to customize your style. The process is pretty simple, too—you must gather the right materials and tools, then use them to create your unique book cover. Once you have all of your supplies together, you can get started on the fun part! Check out these DIY Leather Book Cover ideas for the basic steps of working with leather. They're great for gifts, and if you have a large collection of books in your home, they can add visual interest to the room.
DIY Leather Book Cover Patterns

You love books. You love leather. So why not combine the two? There's a good chance you have a few favorite books that you'd like to make stand out just a little more, or maybe you want to try your hand at working with leather for the first time. These leather book cover ideas turn your favorite book into a work of art. Make your own customized book cover using a personal photograph, fabric, or adhesive vinyl. Here are fifteen DIY leather book cover ideas to get your creative juices flowing! Add a decorative leather cover to any book with these 15 DIY ideas. The best part? They're all relatively easy to make!
Benefits Of Leather Book Covers
There are many benefits of DIY Leather Book Cover ideas that you should know about:
Save money: This is the most obvious benefit of Leather Book Cover ideas because it will help you save a lot of money. You won't have to spend hundreds or even thousands of dollars on custom-made book covers when you can easily make them home with little effort.
Customize your books: Another great thing about DIY Leather Book Cover ideas is that they allow you to customize your books in any way you want. Many different types of customizations are available today, so if you want something specific, there is no reason you shouldn't get it!
Have fun making them: One thing that helps make Leather Book Cover ideas so popular is allowing people to have fun making them!
Faux Leather Paper Notebook Cover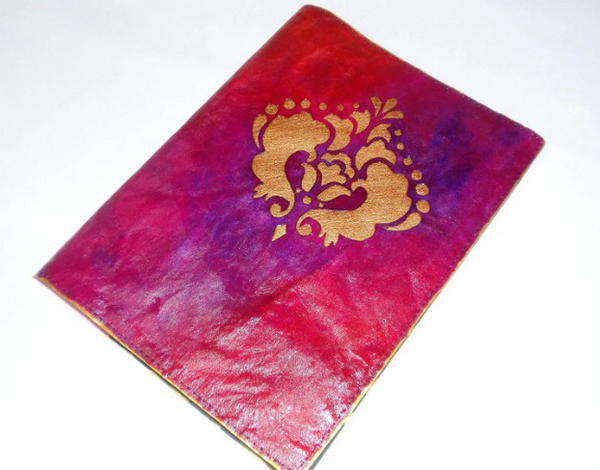 The DIY Faux Leather Paper Notebook Cover is inexpensive and eco-friendly to protect and personalize your favorite notebook. With this DIY kit, you'll receive all the materials you need to make your own ultra-customized notebook cover in minutes. Perfect for your daily planner, notebook, or journal, this DIY faux leather paper notebook cover is the perfect way to protect and show off your favorite book. This simple, versatile project is easy to complete in under an hour and can be repeated in different colors or prints for a custom look every time.
DIY Sketchbooks + Journals + Notebooks + Book Cover Crafts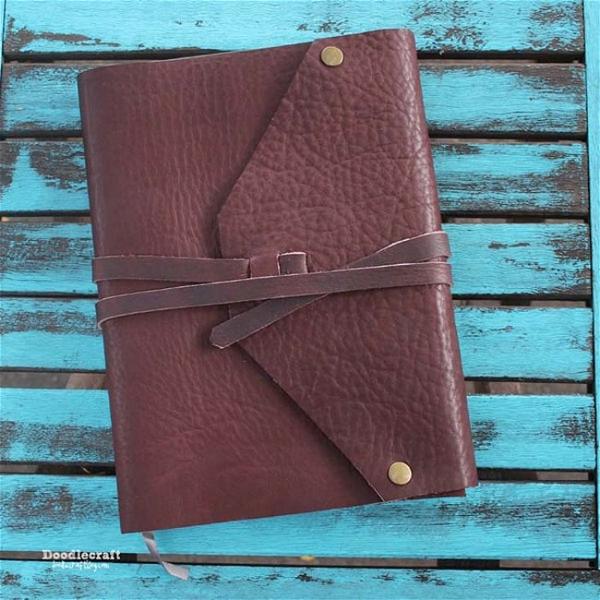 These are fun DIY book cover crafts you can make with your kids. If you love sketchbooks, journals, and notebooks, then you will love this collection of easy-to-make DIY Sketchbooks, Journals, and Notebooks that can be customized. The perfect heartfelt gift for mom or dad (take a look at the Father's Day printables), plus great gifts for Birthdays or Christmas gift-giving. They are so versatile; they can be used for many different things! This is a great craft to do with kids or as a gift for someone special. You can customize notebooks with iron-on vinyl and give them the perfect heartfelt gift!
DIY Leather Notebook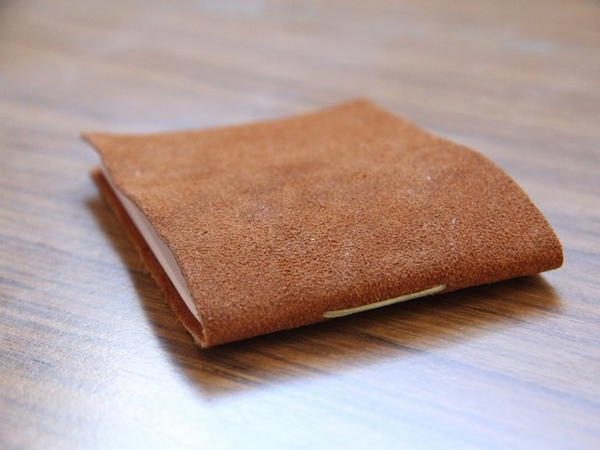 Need a notebook for your chem lab class? Create your own custom leather notebook, complete with a nice soft cover. This is an easy weekend project, perfect for beginners. Once you have the supplies, you will have some extra time to create new designs and mix up the look as much as you want. The templates are easy to use and give you a professional-looking result every time! This personal-sized notebook has a stitch-bound cover, so it folds back flat on the table to write, sketch or make notes.
Faux Leather Book Cover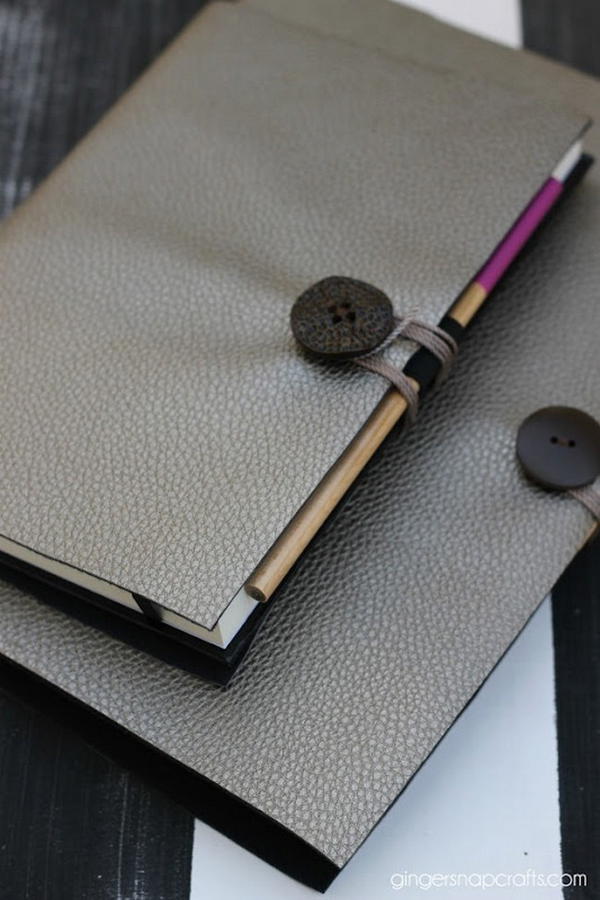 The perfect gift for book lovers and readers, our DIY Faux Leather Book Cover is a great way to add interest to any cover. DIY Faux Leather Book Cover features a faux leather cover with slits for three-ring binders at one end and an elastic closure strap. Make your own faux leather book cover. Styled like a classic diary, this cover can be used as a journal or notebook. Creating a faux leather book cover is an excellent DIY home decor project that will last a long time and make your journal look professional. This project works best with lightweight, smaller books or notepads.
DIY Leather Journal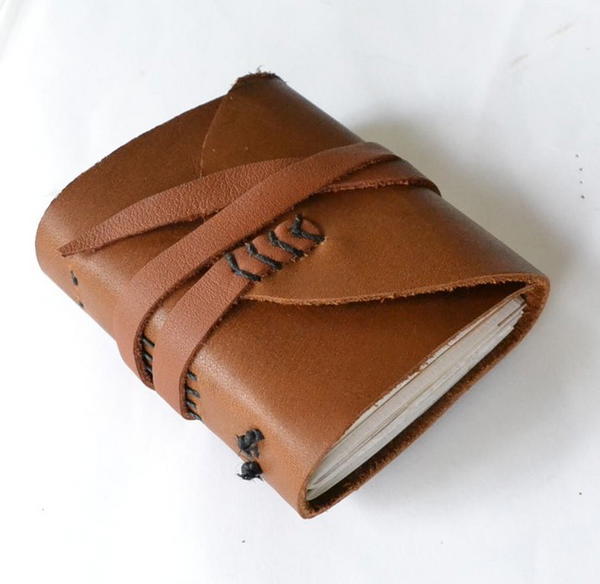 With this DIY Leather Journal kit, you can improve your writing skills and have something to use for years. The instructions will walk you through the process of creating the journal yourself, from choosing your leather, cutting out the cover design, and staining it to make it look just right. You'll also be able to personalize it with whatever kind of decoration or artwork suits your taste. Once you're finished with all this, all you need to be left is writing! With a unique look and feel, this leather journal is perfect for writing down your thoughts and ideas. A truly personal gift for yourself or someone special that you know will be cherished for years.
DIY Leather Bound Journal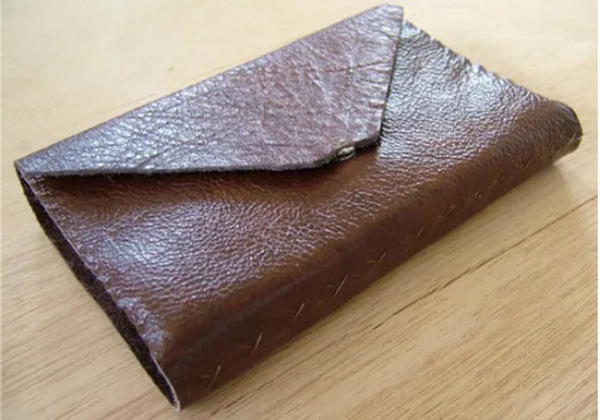 Want to enjoy a handcrafted journal while you travel the world?  This DIY Leather Bound Journal has a solid leather cover made from premium materials, a soft interior, and high-quality paper. Add a personalized touch to your journal with this DIY Leather Bound Journal. Paint, stencil and add words of your choice to make a unique gift for anyone on your list. It has a hard front cover, which means you can use it again and again for years to come. Its thick natural wooden book block adds support and durability, making this the perfect gift for anyone who loves to write or doodle!
Leather Notebook Cover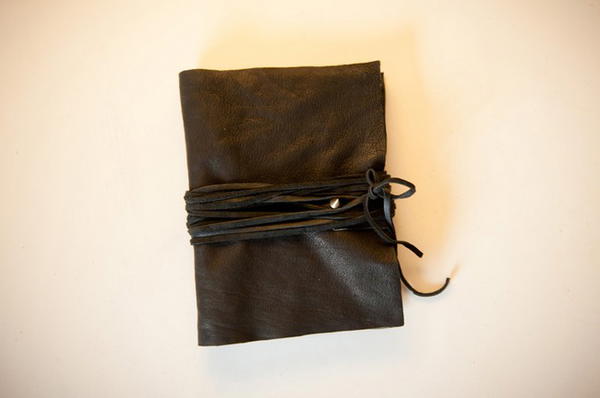 If you love leather and notebooks, this DIY Leather Notebook Cover is perfect. It doesn't matter if you are a beginner or an experienced leatherworker; this project is pretty easy to make. Upgrade your notebook with our DIY Leather Notebook Cover, featuring a minimalist design and a sturdy magnetic closure. Made from premium full-grain leather, the cover is accented with contrast stitching and an elastic band to keep the contents of your notebook secure. This handcrafted notebook cover can be used for a journal entry, note-taking, or anything you need to keep track of. Great DIY gift idea too!
Leather Journal Cover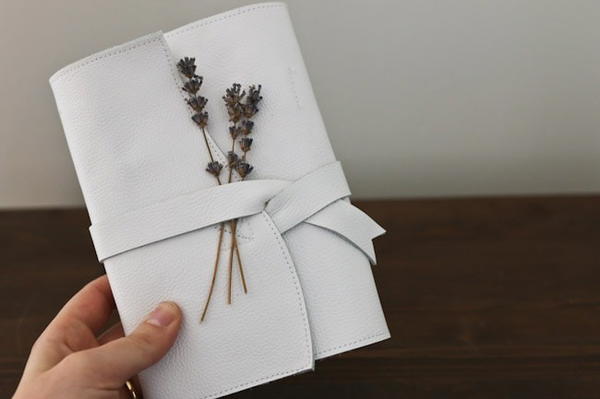 This leather journal cover is easy to make but looks like it came from a high-end boutique. The leather is distressed for an aged look. A magnetic clasp keeps the cover in place and acts as a pen holder when opened up. You can easily make this journal cover by hand or use a machine sewing technique. This leather journal cover is the perfect project for a beginner. All you need to make this lovely leather book cover is a piece of scrap leather, a hole punch, thread, and a needle. The leather is soft and smooth, with a vintage look that will only get better with age.
How To Make A Homemade Leather Journal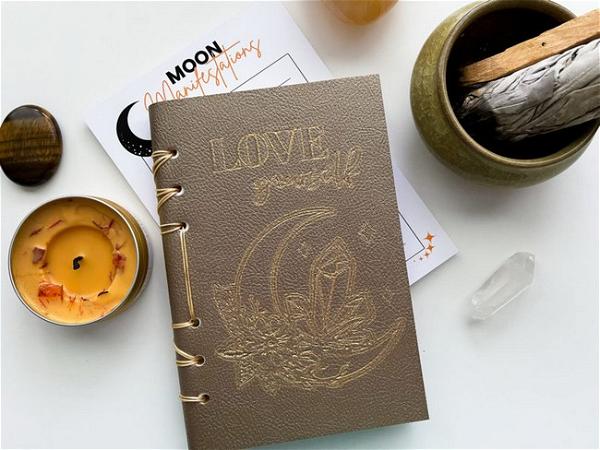 If you love creating and want to start documenting more of your ideas and thoughts, this leather journal will be your new best friend. Plus, if you enjoy getting inky, there are a ton of markers out there that are safe for use on leather. This is the perfect basic leather journaling kit. Whether looking for the perfect gift or just a new hobby, this leathercrafting guide will have you crafting your unique leather journals in no time!
How To Make Distressed Leather-Wrapped Books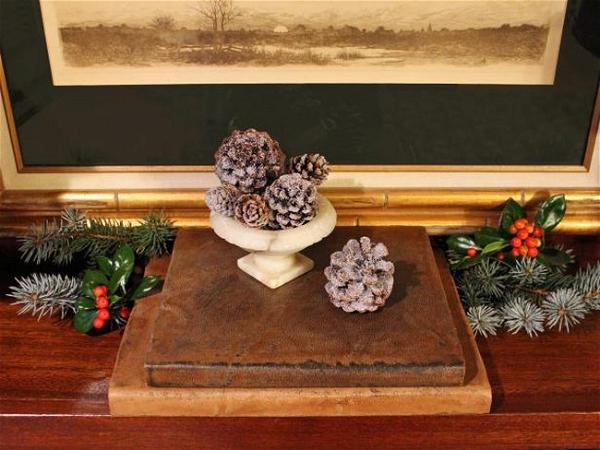 The easiest way to craft a book is by making it look like it's been through many expeditions. You can distress it with tools like sandpaper or scraps of cloth, but there are other ways you can achieve the same result. Leather wraps perfectly around any hardcover book and gives it an antique look that only improves with age. This distressed leather book box is a great way to showcase your favorite novels. This article will show you how to make these beautiful book boxes using very little woodworking knowledge.
How To Leather Bind A Paperback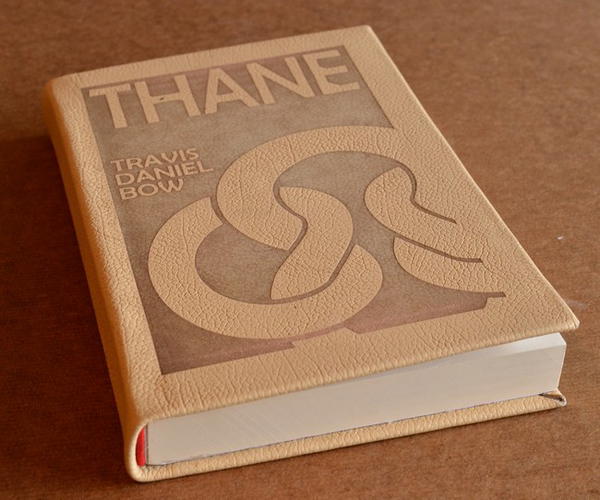 Learn how to leather bind a paperback book with this step-by-step guide. This is a super project for beginners, as it isn't too difficult, and the results are impressive! Make your own custom leather-bound book for the perfect gift for any occasion. This easy-to-follow tutorial explains how to make a leather-bound book from start to finish. Learn how to make your own unique books for all occasions. This is a great tutorial for beginners who want to learn basic sewing skills, or for expert artisans looking to expand their knowledge and skills.
DIY Leather Notebook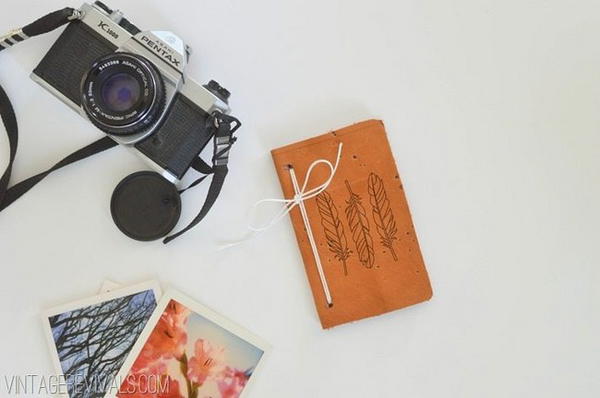 Looking for a place to write down your thoughts and organize your day? You've found it. This DIY Leather Notebook is perfect for organizing everything in your life, whether work or personal. A notebook is not only cute but also holds a lot of stuff. A perfect fit for all your ideas and notes. A unique style that everyone will love! This leather notebook is a great gift for anyone working on their dreams, starting new businesses, or for those looking for a stylish alternative to traditional notebooks. Each notebook includes individual pages with lines and grid paper.
A Homemade Traveller's Notebook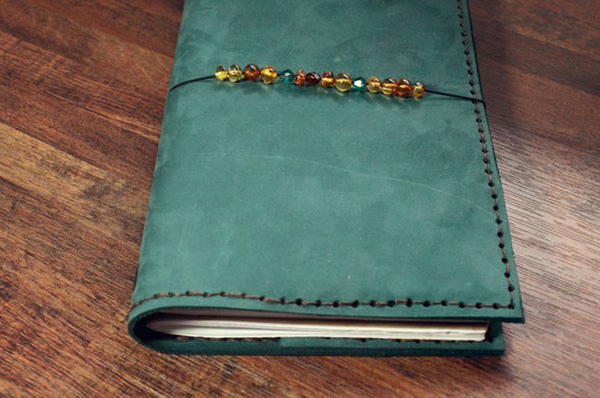 If you're looking for a fun and easy DIY project, then this is the project for you! This Traveller's Notebook is the perfect way to keep all your important travel documents in one place. It's also a fun way to get creative with what other items you can add to it. So grab your favorite supplies and get ready for this crafting adventure! Everyone loves a traveler's notebook, and this DIY version is made from materials you'll find around the house. You can transform a binder spool into a functional and fun carry-anywhere notebook with a few simple stitches!
How To Make A Leather Notebook Cover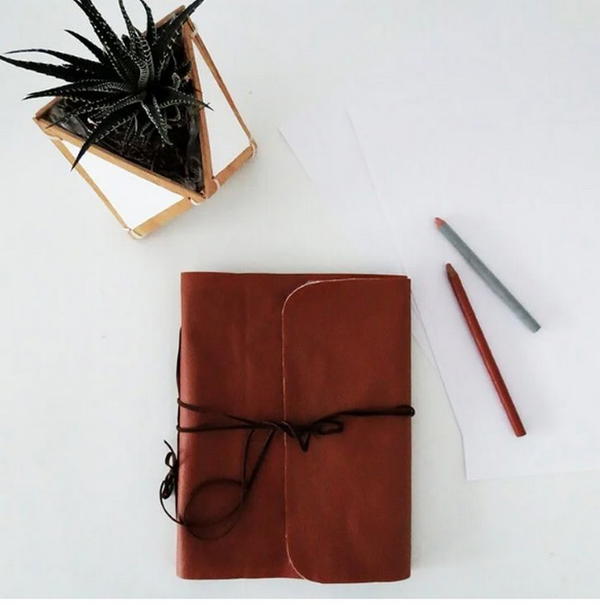 This DIY leather notebook cover tutorial is perfect if you've been looking for a stylish way to personalize your notebook with a custom cover. Whether for school, work, or carrying around the house, we'll show you how to make one in just a few simple steps. Making a leather notebook cover is a great way to keep track of your thoughts and ideas, especially if you like to travel. You can use either hardcover or a softcover journal for this craft. This notebook cover is easy to make, and you can add as much embellishment as you like!
How To Make A Leather Notebook Cover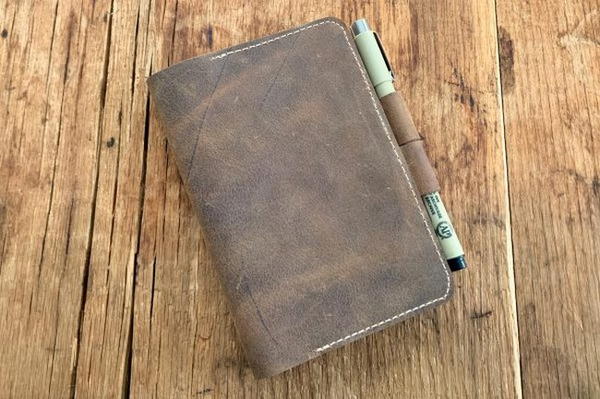 Want to get that rustic look yourself? Make this leather notebook cover, and you can achieve that look. This project is so easy, and even a beginner can make it! This leather notebook cover will make you look like a pro. Crafted with premium leather, our notebook cover can be personalized to suit your style. The notebook cover is equipped with an expandable file pocket for additional storage. It has a sturdy design for extra durability and protection against wear and tear.