Bring some color to your kitchen or home office with DIY memo board ideas. The perfect wall decor for showing off your family's latest photos and notes in an organized way, they make a great gift too! Chances are you have seen a memo board in someone's office before, but did you know they can be made at home? They are great to use in your office if you have a whiteboard or corkboard and don't want to pay as much money as buying a custom one. You can make these out of many different materials, including wood, paper, cardboard, and more.
DIY Memo Board Ideas

DIY memo board ideas can be as simple or complex as you want to make them. Some people prefer to purchase their own corkboard, paint it white, and then use the pins and pushpins they already have. This is very economical and works well for the average family. Other people want to create a more decorative piece for their home, and choose to paint their own frame in any color that they desire and decorate it with pretty scrapbook paper or contact paper. A memo board is a great way to organize your office or home. It allows you to pin up notes, reminders, and pictures you don't want to lose.
This post will show you 25 DIY memo board ideas, They are also cool looking and don't cost very much to make yourself.
Wire Mesh Pin Board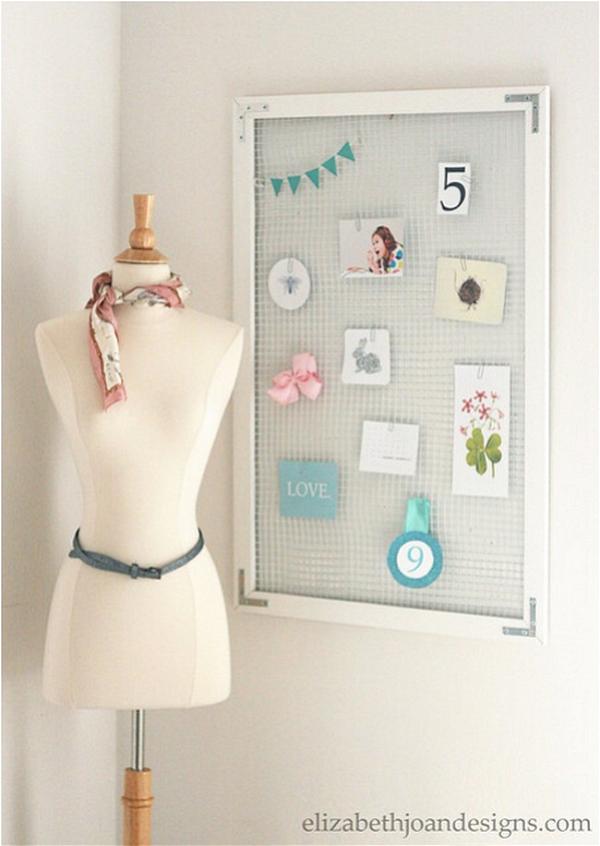 This wonderful pinboard is an all-in-one, tiered system that allows you to keep all of your pins, stickers, and pictures organized. This pinboard can be used creatively in any room of your home where you want a clean, convenient and easy way to display photos or other decorations. The simple yet elegant Wire Mesh Pin Board is the coolest way for your daughter to show off her favorite photos. She can pin whatever strikes her fancy - drawings, artwork, and fun pictures of friends. Or, use it to organize things like school papers, birthday party invitations, and photos from vacation. This versatile pinboard is a great way to brighten up any wall and give yourself or a loved one a place to start getting organized.
Skill Level: Expert
Tools:  hand saw and miter saw, screwdriver
Supplies: white spray paint, hardware cloth, paper clips, screws
DIY Metal Wall Grid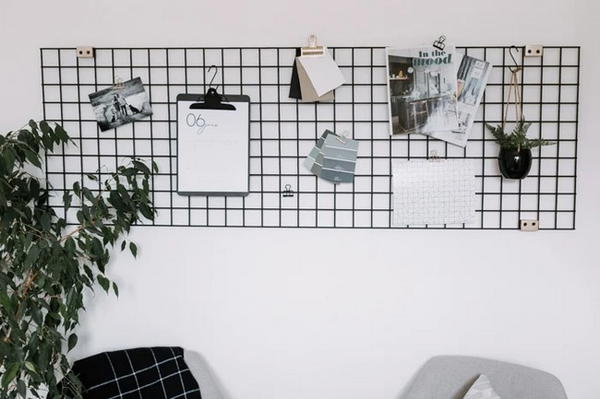 Create a unique display for your personal belongings with the DIY Metal Wall Grid. Hanging pendants or groupings of rings and jewelry, the curvy grid casts shadows and can be used as a display for anything you love. The grid is made from steel and is welded together by hand for a rustic modern look. It works like a picture frame so it can be used either horizontally or vertically. It has a special steel pipe sleeve on each end which slips over the pipe to create a tight metal grip. This metal wall grid is a simple and affordable solution for maximizing storage at home. It's easy enough for a beginner to put up, but even the most pro can appreciate its classic, no-nonsense look.
Skill Level: beginner
Tools:  screwdriver, hammer, drill
Supplies: Flat lack spray paint, aerosol primer, glided brass spray paint, binder clip, S type hooks, Pine Board, screws
Dollar Store Cork Board Makeover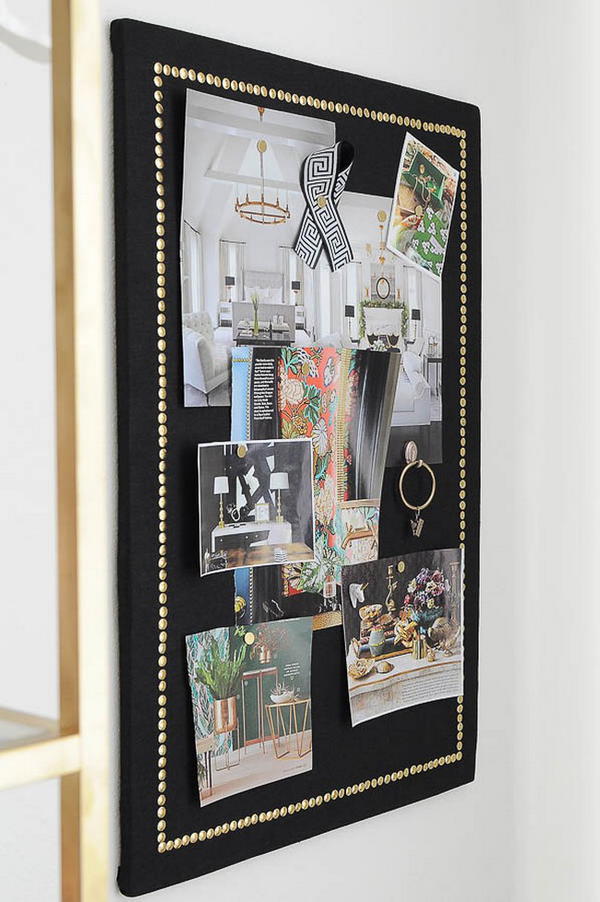 Save money, get organized, and have fun in the process. What a great way to complete those last-minute Christmas gifts, enter a craft fair, or just organize your workspace. all you need are several sheets of cork, inexpensive paint, and stickers. These boards are a great way to add some style to your entryway. Don't pay big bucks for custom framed cork boards. The Dollar Store Cork Board Makeover shows you how to turn a dollar store corkboard into a stylish decor piece with just a few simple alterations. They make awesome classroom bulletin boards that are super easy on the eyes and pocketbooks! Have fun and makeover a Dollar Tree corkboard into this amazing transformation!
Skill Level: expert
Tools: Stapler, Scissors
Supplies: foam core board,  black craft paint, gold push pins, black linen fabric, Masking tape or painter's tape, glue stick, poster mounting strips
Acrylic Floating Frames 

The best projects start with, what's on the board? Inexpensive overhead transparency, a corkboard, or the latest in modern technology…an acrylic floating glass frames Create beautiful acrylic floating frames in a variety of sizes and colors, that place your prints and photos on a different level. DIY an elegant-looking acrylic floating glass frame using a Cricut Maker, some vinyl, and craft supplies. The frames make a very elegant gift for brides or for yourself. These acrylic floating frames are the perfect way to present your art or photos on your wall. Each frame is made of clear, see-through acrylic and recessed into the wall for an ultra-modern look. This product does not include artwork or photos.
Skill Level: beginner
Tools: 
Scissors
Yardstick/Straight Edge
Dry Erase Marker, scrapper
Cricut Weeding Tools
Cricut Maker
Supplies: 
Acrylic Floating Frame from Art to Frames
Cricut Standard Grip Mat
Pink Permanent Vinyl
Gold Adhesive Foil Vinyl
Matte
Anna Griffin Floral Vinyl
Cricut Portable Trimmer
Strong Grip Transfer Paper
Dry Erase Memo Board + Free Laundry Symbols Printable Poster
This listing is for a dry erase memo board set, with a laundry symbols printable poster. Let your walls be your new laundry room! A dry-erase board is a perfect surface for making lists, keeping up with notes, reminders, grocery shopping lists, etc. The memo board is used just like a corkboard, you can pin lists to it using pins or magnets! This version has a black background, with large white magnetic areas so that you can make a list of items and erase it off again to make room for more. Bring some organization to any room with this handy memo board! This board is great for hanging on the wall in the laundry room or in the closet. It's durable, easy to clean, and comes with a dry erase pen with extra erasers as well as our new Printable Laundry Symbols.
Skill Level: beginner
Tools: hammer, drill, glue
Supplies:  a piece of glass, dry erase board, nails
Bicycle Memo Wheel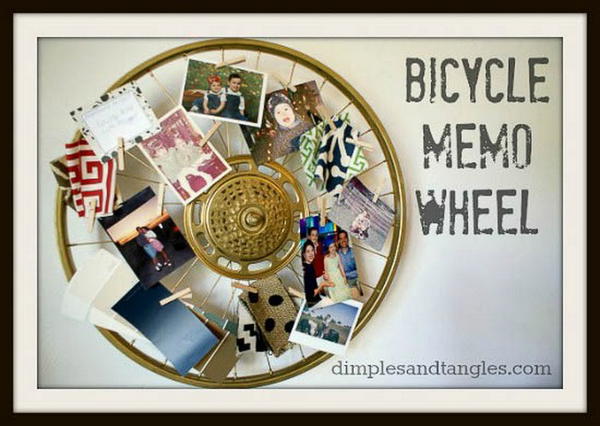 This is a memo wheel DIY project that you can use in any way, such as a bicycle wheel memo holder, wall decoration, bicycle decoration, etc. This Memo Wheel comes with an exciting design and gives you a unique memo board with a vintage look on your wall. Easy to install, this bike memo will be your perfect match for filling up your busy life, such as keeping your important notes, memos, reminders, pictures, and so on. You can mount your favorite photos/pictures onto the bicycle wheel and show off or keep your favorite or family pictures in your bedroom or hallway. You can use it as a framed artwork or even set it up to display inside or outside of your home. A picture or a memo placed on a bicycle memo wheel could be a distinctive decoration everywhere in your house.
Skill Level: expert
Tools: drill, hammer
Supplies: axle, block of wood, nails
Office Shelf Organizer And Message Board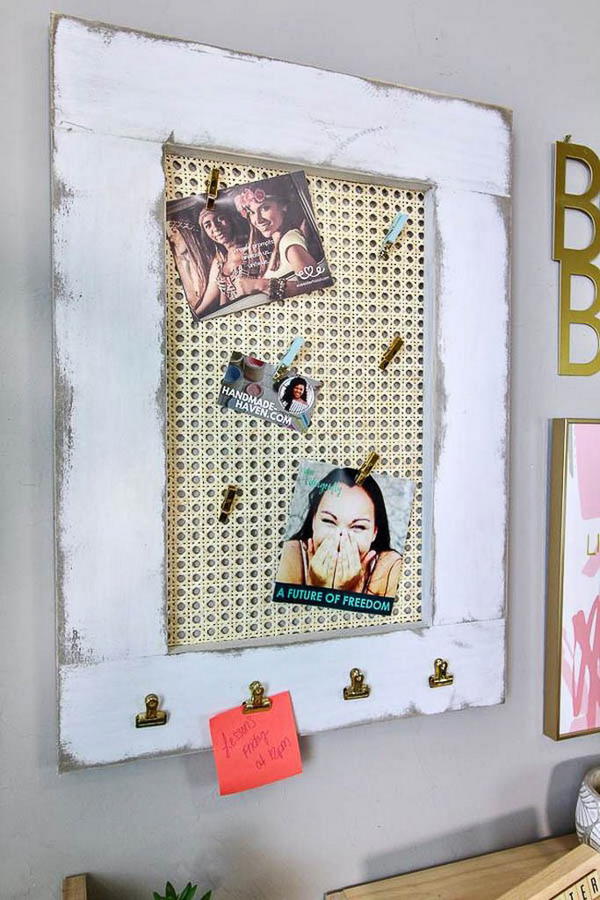 The Office Shelf Organizer and Message Board, in tan or black frame finish, is an attractive way to help organize your office supplies and keep them at hand. It has a narrow profile that allows easy access behind it when papers and files are stored. The message board can also be used for posting memos. Keep all of your office supplies organized and easily accessible, while maintaining an uncluttered look by using this shelf organizer and message board. It provides storage for all sorts of items while a dry erase surface allows you to jot down messages or appointments right on the unit and move them around as needed. With a convenient and uncluttered surface on the desk, you can store your pencils, pens, and paper clips in this stylish shelf organizer and message board.
Skill Level: beginner
Tools:  drill, hammer, spray paint
Supplies: wood,
Fabric Covered Bulletin Board Makeover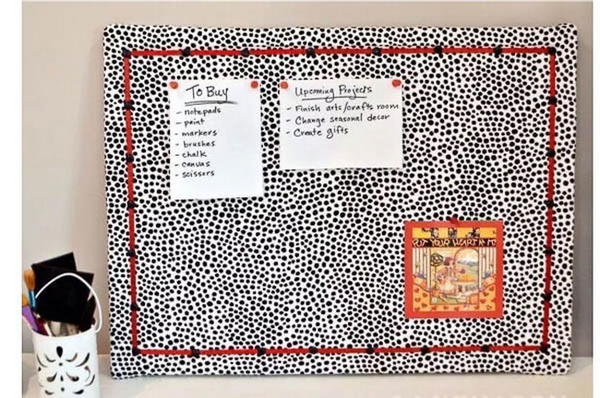 The kids are back in school, which means it's time to organize that classroom. Rather than spend big bucks on all-new supplies, try this fun DIY project to convert an ordinary corkboard into a special bulletin board with the help of upholstery fabric, accent ribbon, and Mod Podge. This easy DIY project is quick, inexpensive, and totally unique. You can cover an existing bulletin board with fabric! Fabric is an easy way to dress up an existing piece of office furniture, like a bulletin board. These boards are simple to makeover and can easily be done in less than an afternoon. Fabric-covered bulletin boards are a great way to add some character to your cubicle! First, wash the cloth. Then, iron it over the bulletin board facedown to ensure there are no wrinkles. Add pushpins for visibility, or use double-sided tape for a more permanent display.
Skill Level: expert
Tools: 
Scissors
Light duty staple
Supplies:
 bulletin board
 Marimekko Pirput Parput Black Upholstery Fabric
Multi-purpose spray adhesive
Black upholstery tacks
Thin red ribbon
DIY Glass Dry Erase Board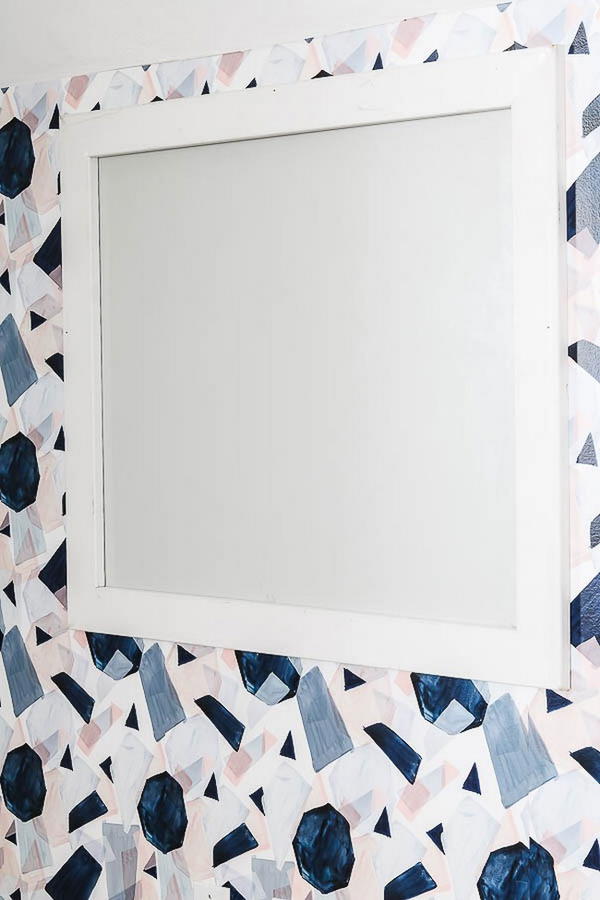 Never buy another whiteboard again! Our DIY kit of four glass panels, reinforced acrylic, and magnets allow you to create your own custom glass dry erase board! Great for planning family vacations, hanging photos on the fridge, or organizing baking ingredients. Create a unique look by hanging your personalized glass panel on the wall and surrounding it with unique objects. Redo your space! Whether you want to add a new feature to work from home more effectively or just want something original and unique for your kitchen, this DIY glass dry erase board is the perfect addition. This inexpensive project is easy to make with wood and a piece of glass, two household items that you likely already have.
Skill Level: expert
Tools: drill, hammer
Supplies: axle, block of wood, nails, glass
Command Center Board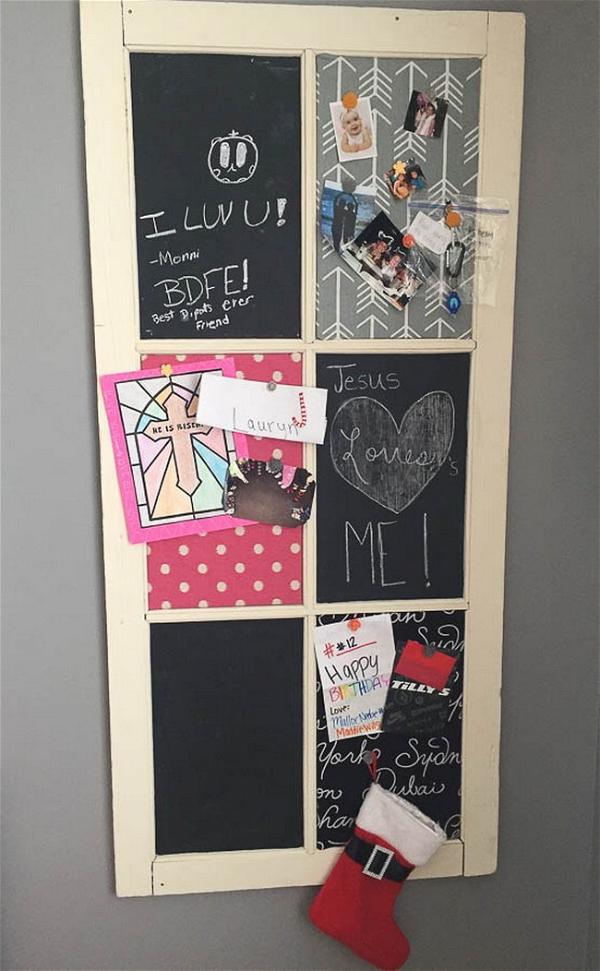 An erasable bulletin board that allows you to keep to-do lists, appointments, and reminders all in one place. The Command Center Board is a wonderful way of displaying some of your favorite pictures; perfect for any room in the house. This board will turn any ordinary piece of wall into a lovely centerpiece that could fit any décor that you have going on. It can be used as a picture frame holder too! Command Center Board features a folding frame made of poplar with a laminate finish, four corner pieces on which post-its can be written and later repositioned, and two magnetic strips on the back of the frame that allow it to stick to any metal surface This item is so versatile it can be hung up in an office, children's room, or conference room. It's perfect for a variety of other uses including hanging artwork or even for planning out your garden!
Skill Level: expert
Tools: saw, hammer, black spray
Supplies: nails, screws, wood
Functional Organization Board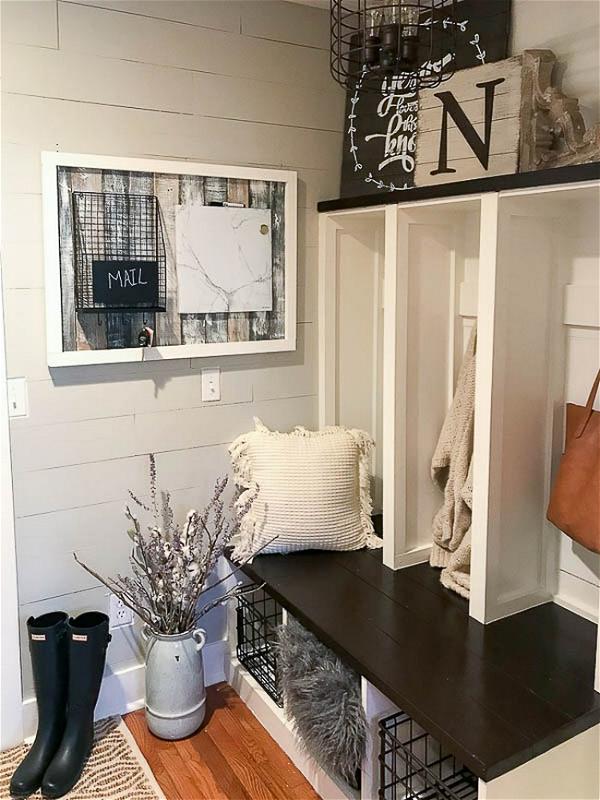 This functional organization board is just what you need to keep all of your papers, notes, schedules, etc in order. You can also use it to write down a grocery list, or jot down a quick memo. It can be wall-mounted or placed on a bulletin board. Its simple yet versatile design and bright colors are sure to please both the young at heart and collectors of all ages. All the quotes are written really nice and it is a functional artboard to serve in your daily life. The Board easily hooks onto the top of your desk to help you stay organized. Keep track of homework assignments and upcoming events with the included magnetic cork board and dry erase calendar. Three different functional organization boards for you to snag! Use them for keeping your papers, notes, schedules, etc in order. Just print them out and laminate them if you like.
Skill Level:
Tools: hammer, Nail gun, nail filler paint
Supplies:  pallet boards, nails, dry erase board, corkboard
Repurposed Tray Message Center
These Repurposed Tray Message Centers can serve multiple functions in your home. Turn it into a message center for the mail, workspace for the kids, or a simple creative workspace for you. The Tray Message Center is larger and deeper than our Repurposed Brick Message Centers. The Trays make a great place to temporarily store your cups and glasses during movie night. A beautiful, handmade product! This repurposed tray message center displays a photo or artwork inside the lid and has a space for a greeting on the bottom. A beautiful alternative to an ordinary lamp or a bulletin board, this message center is created from a repurposed tray. Perfect for light and bright spaces, it's a great way to add personality and color to any home office or child's room.
Skill Level: expert
Tools: drill, screwdriver, hammer
Supplies: hooks, nails, screws, glue
DIY Cork Board
Don't buy a new corkboard. Save money, and make your own! This DIY corkboard looks professional and is easy to assemble. It's made from cork, fasteners from your local hardware store, washi tape, and painter's tape. A convenient ruler tool will allow you to make it the perfect size. You can choose between either a horizontal or vertical format when you build your own corkboard. This product features a budget-friendly price tag, too! This board is a fun, affordable way to decorate your home and personalize your space. Make a statement just by adding some photos, postcards, and inspirational quotes. The pre-drilled holes make it easy to hang on the wall anywhere you want to take over the room. Enjoy this adorable corkboard to keep track of all your plans, deadlines, and events! While you're at it, decorate your home with the unique designs this unique cork board will provide to you! It has never been easier to make your very own DIY corkboard.
Skill Level: expert
Tools: drill, screwdriver, hammer
Supplies: hooks, nails, screws, glue
Faux Zinc Magnetic Memo Board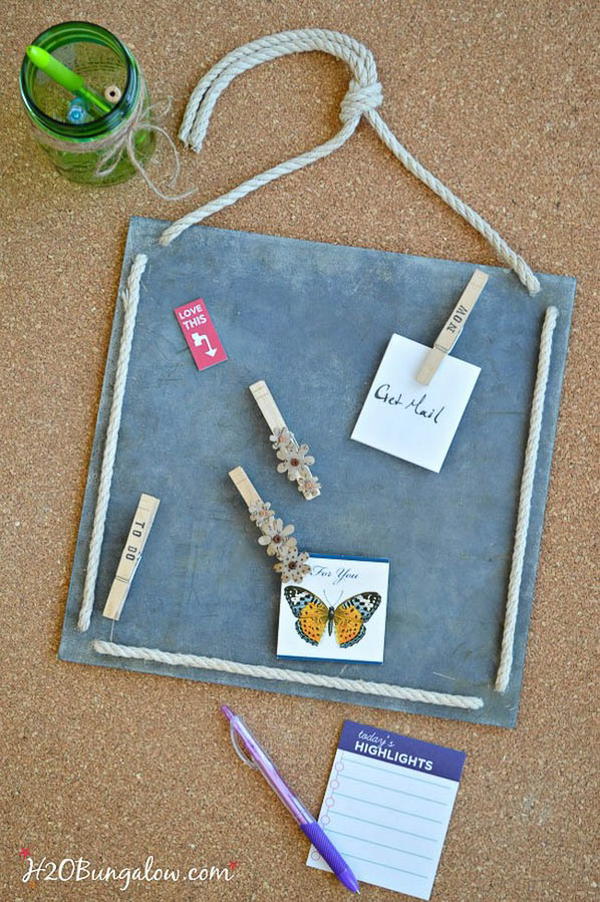 Looking for a unique way to display your family's schedule? The Faux Zinc Magnetic Memo Board will make a perfect addition to your home office or kitchen. A clean and simple frame, with a rustic look, this memo board will help keep you organized from day today. This sleek and sophisticated faux zinc magnetic memo board allows you to keep things neat and tidy in your home office. Ideal for storing notes and memos, this magnetic board allows you to display photos, artwork, cards, and other bits of paper that might otherwise get lost. For those who can never remember when the next family or business appointment is or what they need to do to prepare, this whiteboard is a must-have.
Skill Level: expert
Tools: drill, screwdriver, hammer
Supplies: hooks, nails, screws, glue, rope
Hexagon Cork Memo Boards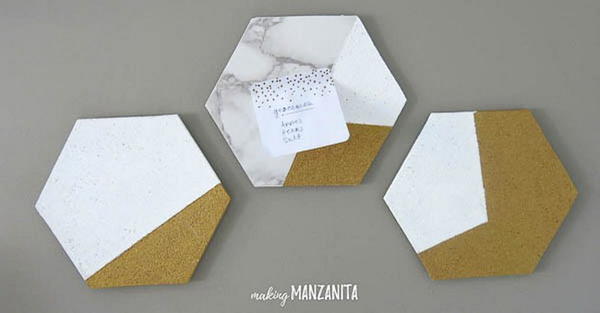 See the world through a new lens with our stunning range of Hexagon Cork Memo Boards. With a stunning mix of traditional and modern designs, they're the perfect way to keep track of work, long-term plans, and day-to-day lists. Encased in a solid beechwood frame, these boards are topped with a hexagonal cork surface, with a black or white border for easy note-taking and for helping to prevent over-writing. Whether it's an office memo board or an original alternative to the traditional pinboard – this elegant design will give any wall décor a personalized, creative touch. Transform your bedroom, office, or dorm into a stylish workspace or display area. These DIY hexagon cork boards are so simple to make and full of personality. These boards would look great in your cubicle at work as well!
Skill Level: expert
Tools: drill, screwdriver, hammer
Supplies: hooks, nails, screws, glue
Family Command Center 
This Family Command Center comes loaded with organizational tools that help you keep your family organized and on task. Features include a corkboard, post-its, and a chalkboard to jot down ideas and reminders. Memo boards are great for families. They make verbal and written communication easy, providing a place to post household information, reminders, and other messages that everyone can read. All three sizes of boards are perfectly sized, with coordinating hooks to attach them to the wall all in the same layout so it can be used as one whole command center or different spaces can be used separately, where each member of your family may want to post their own notes and reminders.
Skill Level: beginner
Tools:  screwdriver, hammer, drill
Supplies: Glided brass spray paint, binder clip, S type hooks, Pine Board, screws
DIY Memo Board from A Curbside Find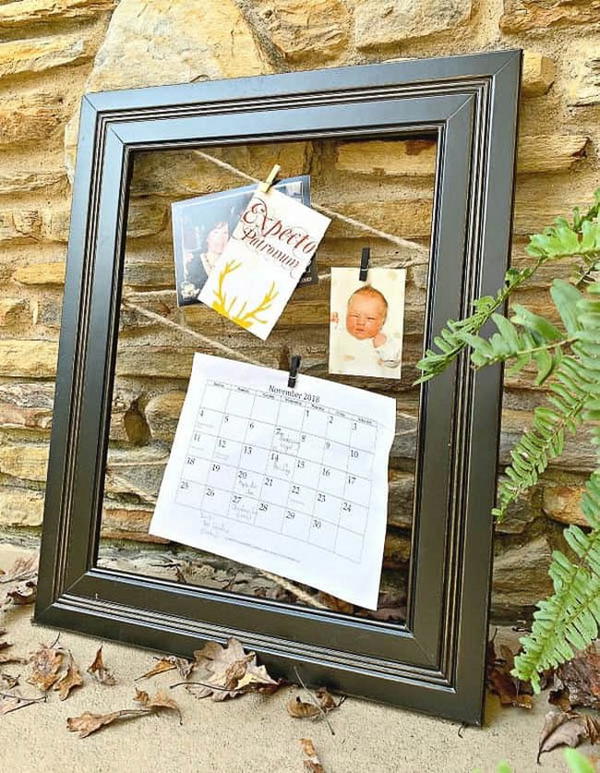 Repurpose an old map or vintage print into a unique memo board to hang on your wall. The DIY Memo Board from A Curbside Find is a face-lift for an old thick stump or log. You found an old log or stump outside, but it needs a little help to become a memo board fit for your home. With just a few simple steps you can turn your old log into a stylish memo board that will last for years and years. Pair this DIY memo board with a decorative frame and frame a piece of art to beautify your home or office!
Skill Level: expert
Tools: drill, screwdriver, hammer
Supplies:  nails, screws, glue, rope
DY Simple Memo Board for the Office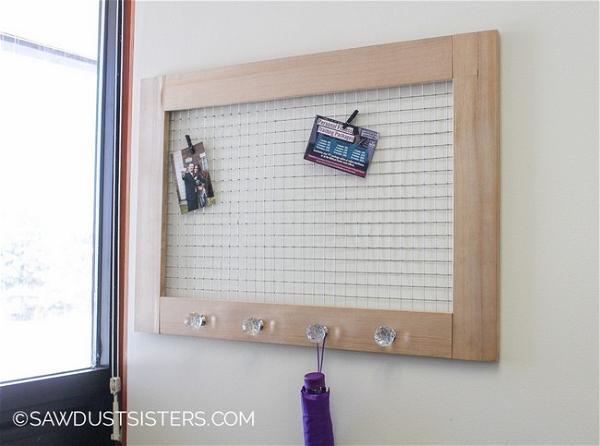 Your mother told you not to put a nail on the wall of your house—unless you have this DIY Simple Memo Board for the Office! This clever device hooks onto any wall or door are easy to load with sticky notes and make everyone's home or office more efficient. This Board is an attractive, easy to clean cork tile that can be used as a message board in offices. It has a smooth surface, making it perfect for writing or displaying messages. Serve up office improvement ideas. This Memo Board is perfect for posting notes, messages, and reminders. Best of all, the dry erase surface allows you to easily remove them, so important information isn't stuck on your wall forever.
Skill Level: expert
Tools: drill, screwdriver, hammer
Supplies: hooks, nails, screws, glue,
DIY Memo Note Pad from Scrap Wood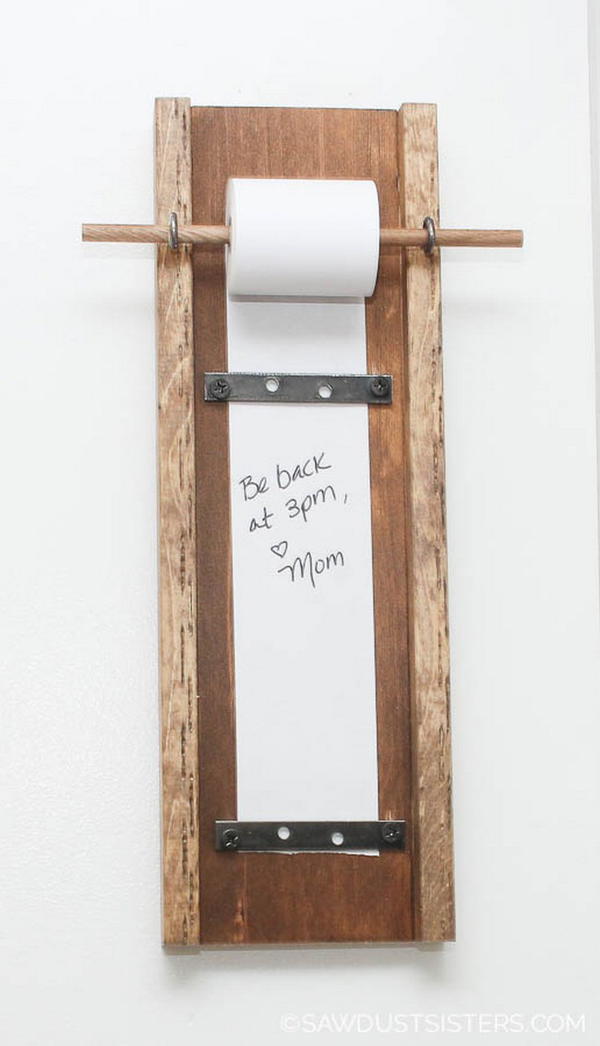 This DIY Memo Notepad is a cute and clever way to leave a little love note for your friends, family, and even for yourself. This project makes a great gift for the list-maker in your life, and it's a great beginner woodworking project! With all the good intentions in the world, sometimes it's easy to forget. This DIY memo notepad is a creative way to leave yourself a note, whether it's writing your weekly grocery list or simply saying thank you to a friend who's helped you out that week. It makes a great gift for the list-maker in your life and---super easy to make!
Skill Level: expert
Tools: drill, screwdriver, hammer
Supplies: hooks, nails, screws, glue,
DIY Mail and Key Command Center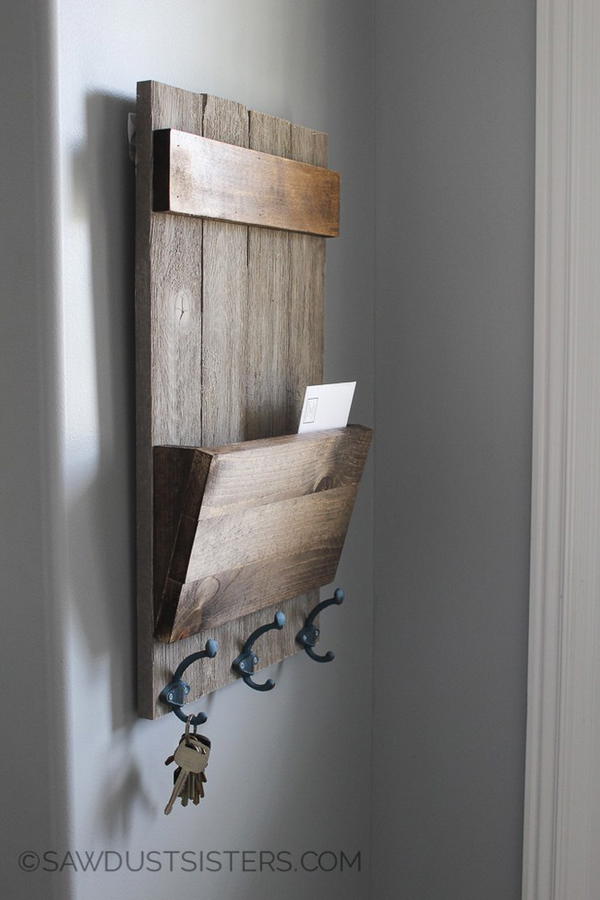 Optimize your "in-box" and get organized with this easy DIY project that mounts on a wall by the front door. This handy mail-and-key command center keeps keys within reach, eliminates lost mail due to pockets or purses, and is decorative enough to leave up all year-round. This mail and key command center is the perfect solution for anyone who wants an easy way to locate their keys or for people who need a great gift idea. With a wall-mounted mail holder, you can now place your mail into one place so you know where it is instead of all over the counter. The key command center helps you find your keys quickly without having to search through drawers or shelves.
Skill Level: expert
Tools: drill, screwdriver, hammer
Supplies: hooks, nails, screws, glue, rope
Framed Magnetic Board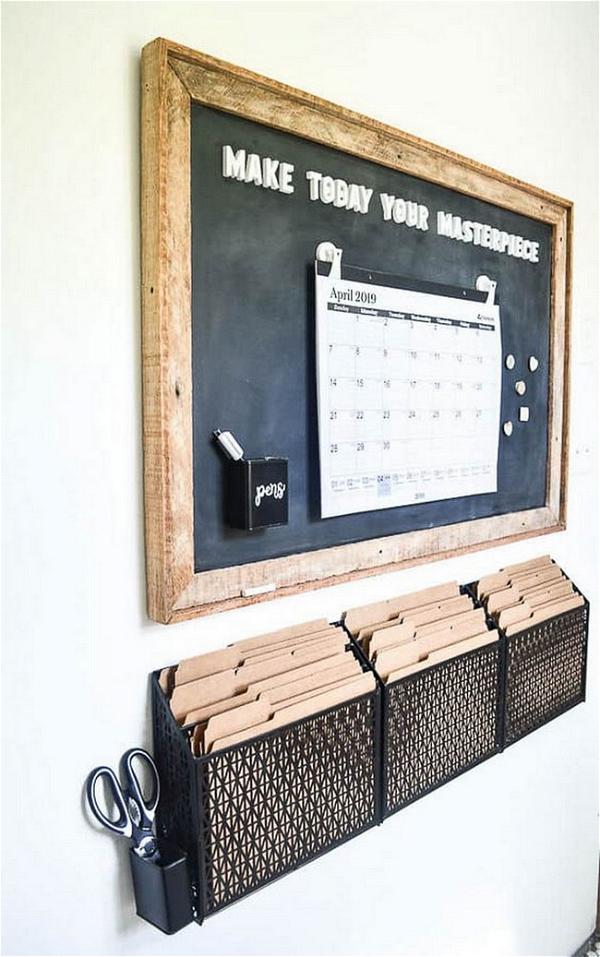 For a beautiful and practical way to keep your home organized, try this Framed Magnetic Board. This dry erase board can be mounted on a wall or placed on a refrigerator, where its frame keeps it from slipping out of position. Featuring an elegant black finish with a white frame and mounting bracket, this magnetic board is compact. These Magnetic Boards allow you to create a variety of fun projects using magnetic frames. Use the included magnets or add your own creative touches to create scenes, signs, and more. The super-strong magnetic backing attaches securely to the surface that you want your creation to be on
Skill Level: Beginner
Tools:
Supplies:
Black metal primer
Black chalkboard paint
Spray adhesive
 wide wood strips
Wood Glue
 Nails
 plywood
Galvanized metal sheet
Kids Memory Board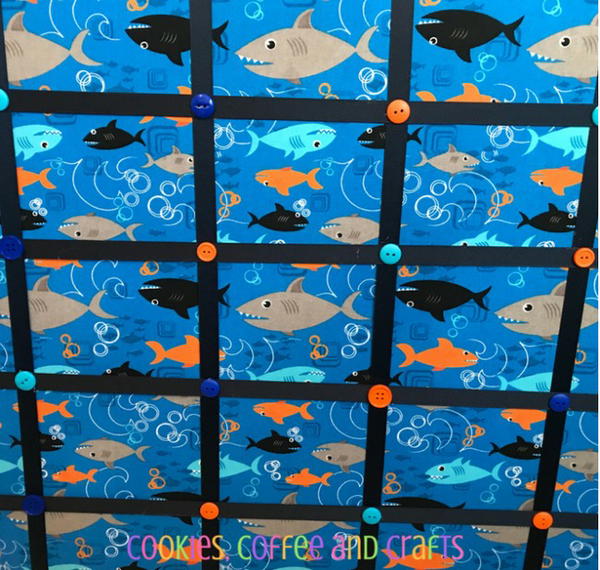 Introducing a simple yet very useful product for parents. This Kids Memory Board helps your kids learn, play, and have fun. It's simply colorful, light-weight, and durable plastic, with built-in hangers (sturdy wire hangers) that allows you to hang it on any door or wall – inside or outside. This is much better than a conventional collage made with expensive photo paper, glass, and wooden frames. It also gives a cozy look to your children's room. By encouraging creativity, this kid's memory board will help children explore their imaginations and develop their artistic skills. It is sure to be a hit while traveling or at home and makes a great gift for multiple occasions.
Skill Level: beginner
Tools: Hot glue gun, Elmer's spray glue,
 Supplies: cork bulletin board, ribbon, Poly-Fil, Shark Material Buttons
Man Cave Message Board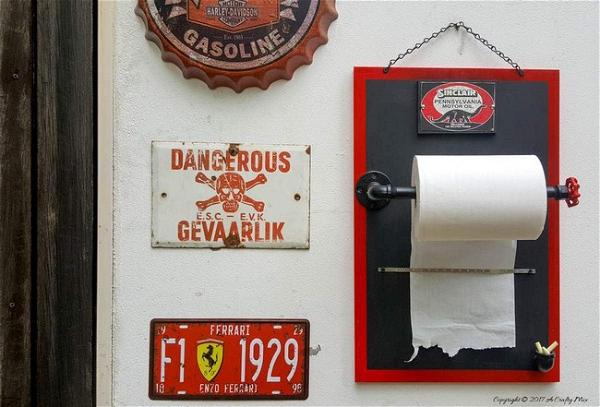 Survive the clutter and keep yourself organized. This wood-framed bulletin board is crafted from real wood and has a gorgeous mahogany finish. The ever-expanding collection of key hooks can be used for hanging gloves, tools, keys, or whatever else you need to keep nearby. Man cave message board is a fun repurposing project. This message board will be such a great addition to his man cave space. This message box is an awesome addition with some of the same decorating principles that we use with our manly man caves. With finger joints holding together the frame, and a beach scene painted on the back panel to reflect that love for being out on the water, this handmade gift will bring any room alive with adventure.
Skill Level: Expert
Tools: Drill, screwdriver, masking tape
Supplies: Galvanized pipe fittings, screws
Gold Dry Erase Board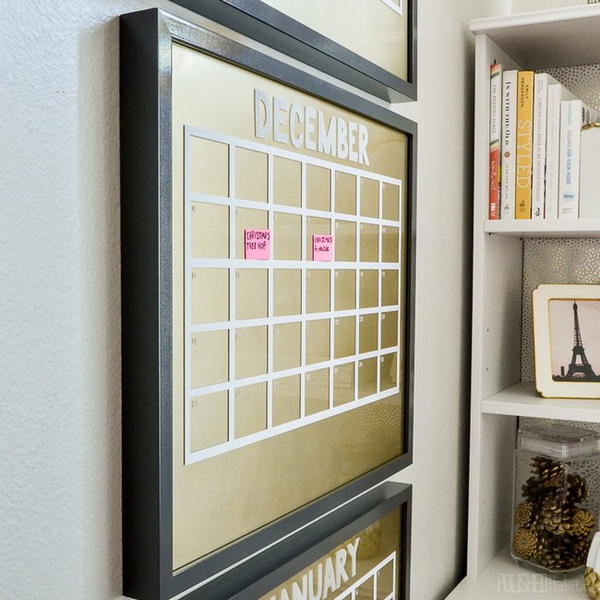 Have your own writing and doodle space when using this Gold Dry Erase Board. Transform your room into a personal office. Turn a picture or poster frame into a stable, moveable, and erasable dry erase board. You can use plexiglass that is sprayed as the final surface, it makes them lightweight and fun. Spray paint can be dramatic with some special effects on glass. It has a convenient square or rectangle shape and is perfect for any home, office, or college classroom.
This board can be mounted on the wall with the included hardware, or used as a stand-alone display easel. It has a smart design that features an attractive gold frame, a magnetic gasket hanging a door, and a convenient storage tray for keeping your markers and notepads close by.
Skill Level: Expert
Tools: saw, drill, hammer,
Supplies: Glue, wood, black spray paint
Framed Cork Board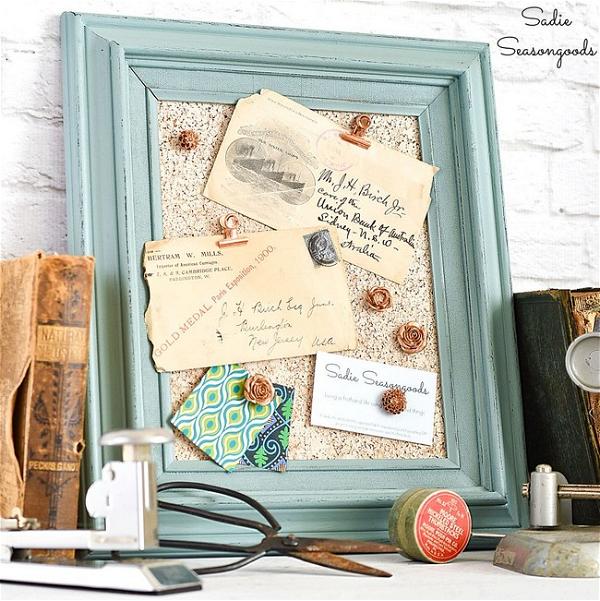 Notice your walls are missing a little something? Let the Framed Cork Board fill that void with its meaningful message and rustic charm. The Framed Cork Board features a beautiful frame, gold lettering, and a hanger on top to easily mount to your wall. Hang it in your kitchen or living room in a place you'll see it every day, and wish your back 'in good health' each time you pass it. You can prop it up on your counter with another decor, like in the photos above. The corkboard allows you to display a collectible plate or photograph—or simply write out your grocery list. It's so versatile, you'll find yourself using it all around the house!
Skill Level: Expert
Tools: saw, drill, hammer,
Supplies: Glue, wood, blue spray paint
Conclusion
We believe in the power of encouragement and can't imagine a better place to display uplifting quotes, photos, and artwork than on your walls! We're excited to give you new ideas for decorating with DIY memo boards. A DIY memo board is a perfect way to organize the important things in your home and give them a place of pride on your wall. They're also helpful for wrangling small children. For a weekend family project, choose a simple design, such as this fashionable frame or old wooden shutter doors, then work with your kids to personalize it with words, photos, or whatever other items appeal to you.
If you like simple DIY ideas like these are sure and join the sawdust sisterhood, and never miss a post. As a subscriber, you will have access to a resource library with free plans and printables!