When you have a moss wall in your home, it can add a touch of nature and beauty. Moss wall art is becoming more popular in the home decorating market and there are many different options available. If you want to create your own moss wall, there are several easy ways to get started. Some people want to make their own moss wall art because they don't want to spend a lot of money on it. Others want to see what will happen if they use some of their old clothes or fabric scraps that they have lying around the house. Whatever the reason, there are plenty of ways to make your own moss wall art that doesn't require buying expensive materials or paying someone else to do it for you.
DIY Moss Wall Art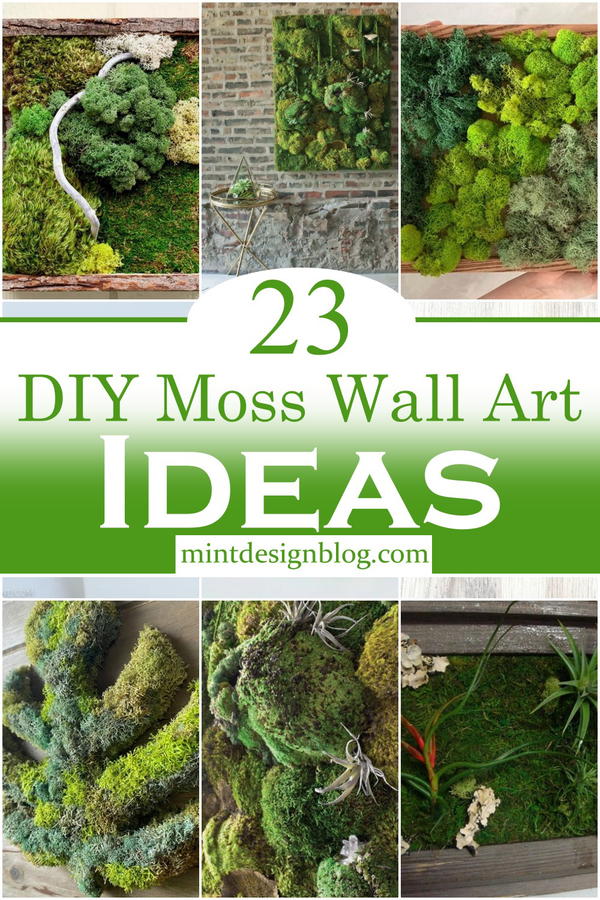 Moss is a great way to add texture and interest to your home decor. It can be used as a decorative element or even as an accent piece. You can use moss in different ways, such as covering walls, floors, ceilings, and furniture. Moss is also very easy to care for so you don't have to worry about it dying on you. There are many different types of moss that you can choose from, but if you want something unique, try using moss wall art instead. And if you like the idea of using moss in your home, here are 25 DIY Moss Wall Art ideas that will make it easy for you to create your own at home!
These 25 DIY moss wall art ideas for beautiful decor at home will make your indoor and outdoor place look just amazing.
What do you need?
Moss, which can be found at garden centers or online. You'll also need glue and water. In addition, there are many ways you can use moss, such as adding it to a frame or painting with it.
How do you make it?
It's really simple! Just mix up some glue and water in equal parts, then spread it over an area that's been cleaned with rubbing alcohol or another solvent (such as vinegar). You're ready to start applying your moss after letting the mixture dry completely—usually around two hours.
Benefits Of DIY Moss Wall Art
DIY moss wall art is a great way to add a unique decorative element to your home. Here are 5 benefits of DIY moss wall art:
It's easy to make
You can personalize it easily
 It doesn't cost much to make
You can use it for any season of the year
It adds an unusual and interesting element to your decor
The most significant advantage is that it's easy on your wallet! Another benefit is being able to display your creativity by adding other items like leaves or twigs for texture, making each piece unique every time!
How To Make A Faux Living Moss Wall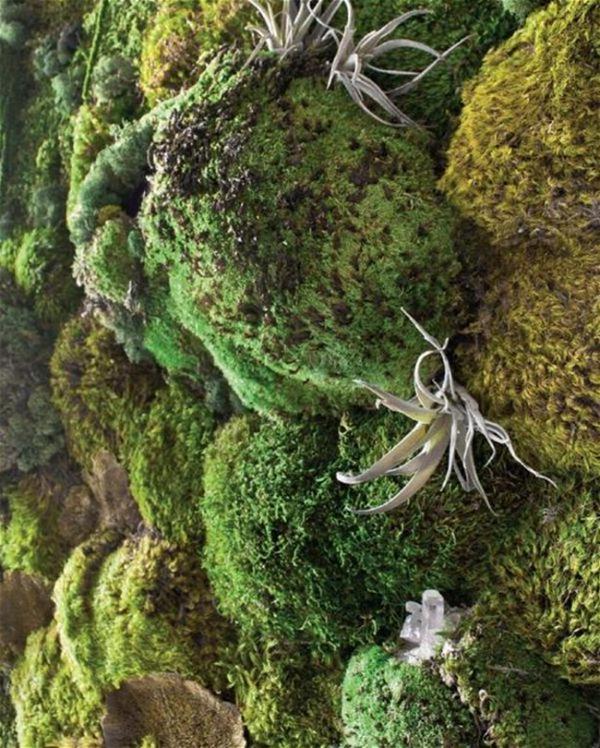 Liven up your walls with a beautiful and realistic moss wall. This project can be completed in just a couple hours and is completely customizable to fit any space. Learn how to make a living moss wall. It looks beautiful, it sounds amazing and it is easier than you think. You may have admired the beautiful green moss walls on social media or television programs and have thought that you could never have one of your own. You may have assumed that they are too difficult or expensive to build.
Preserved Moss Wall Art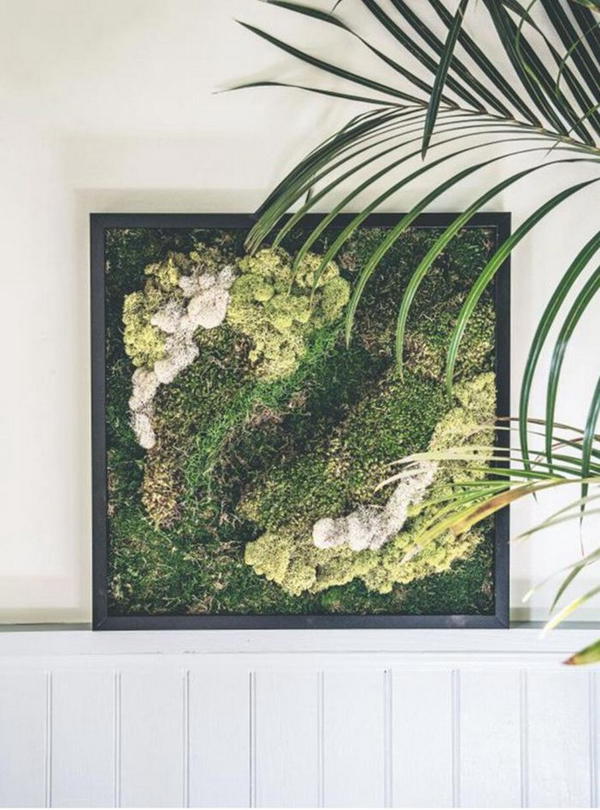 A unique piece of art for your home or office. Each preserved moss wall art is a one-of-a-kind design. Preserved moss wall art is a beautiful and exotic addition to the décor of your home. Recommended for indoor use only in relatively damp environments, such as bathrooms or hot tub rooms, it requires no upkeep beyond misting or handwashing every few months to keep its color fresh and vibrant. A wonderful alternative to traditional framed artwork!. It helps you make them without spending much and shows you how to preserve them properly.
How To DIY A Preserved Moss Wall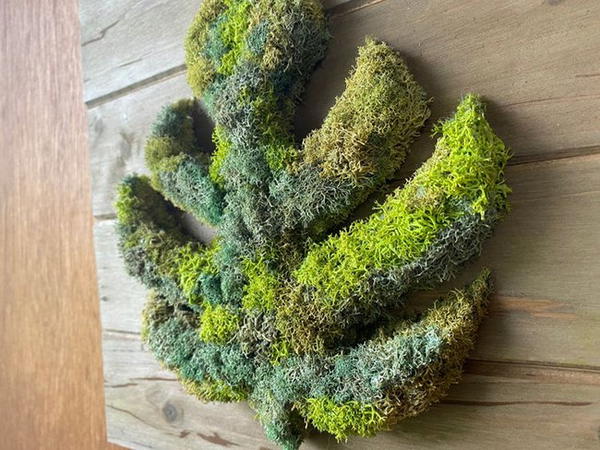 If you're into sustainable living and decorating, Moss Wall is the new thing you cannot miss. This tutorial shows you how to create a moss wall and mounts the moss onto your wall in easy steps. You might be interested in this post if you want to bring some plants inside to give your home a fresh new look and a homey feeling. The preserved moss is an excellent decorating material that helps create a natural green oasis, which will hardily survive without being watered or being placed in the sun.
How To Make A Moss Wall
If you love those living wall designs that you saw in showrooms and in magazines, but don't want to go through the effort of creating one on your own, consider using pre-made moss panels. These are easy to install, and they give all the beauty of a living wall without the hassle. This tutorial and video will guide you to achieve a moss wall. The quality and the beauty of this room decoration are equal to what an expert can make. It's time to give your wall a new look. You can use these moss panels to give your wall an entirely new look. They are easy to use, you only have to attach them to the wall and enjoy a green look.
Making A Moss Art Wall
Wall art is expensive, it just is! But if you think about it, what a blank wall needs is a unique conversation starter, right? Something that can be done by yours truly and will surely become an eye-catching piece in your space. Well, the answer to all this need lies in the beauty of nature, moss! Yes, you read that right. Moss can not only beautify your garden but with a little creativity and hard work, it can also transform your blank walls like magic! In this video tutorial, you will be learning how to make some easy moss wall art designs and ideas that are sure to add charm to any space they are put up in. You can customize the size and shape to fit your space, and with just a few simple steps your piece will be ready to install and enjoy!
DIY Moss Art Wall
DIY Moss Art Wall has simple designs but looks so beautiful and in nature. Moss is unique because it can really catch your eye and be one of the first things someone notices when entering a space. The good news is that it's actually pretty easy to create the art yourself. This one is done by adhering the Moss with glue to a board and then adding real moss inside the art design. Gather some sheets of sheet moss and materials for the frame! These are some pretty cool designs and are often used in wall decor for restaurants. It's a great alternative to avoid watering any real plants, plus a fantastic accent piece for your home!
Easy DIY Moss Wall
Do you have a blank wall that needs some love? With just a few easy-to-find materials, you can easily transform any empty wall space into a DIY moss wall for your home, no green thumb required. Add a touch of nature to your home with this moss wall art DIY project. Using a few odds and ends you likely have on hand, and a stop at your local craft store, you can create several pieces of moss wall art in practically no time! This project is perfect for renters who can't paint their walls and anyone searching for simple yet impressive decor ideas.
Huge DIY Moss Wall
If you're looking for a cheap way to decorate your empty walls, this moss wall art tutorial is perfect for you. If you're more of a plant person than a painting person, this DIY moss wall is the solution. It might be the perfect idea for home decoration, but it could also suit garden parties or any other event where decorations are required. It is a really large and beautiful moss wall art that reminds you of medieval times nature art. You certainly are not in medieval times anymore but are in time to make this pretty moss wall art for yourselves, friends, family, or for an auction.
Preserved Moss Wall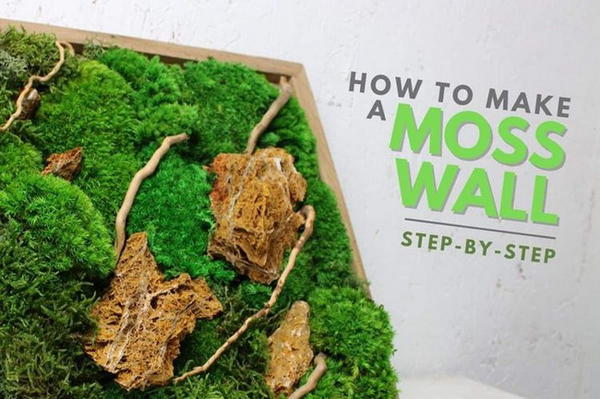 If you love Mother Nature, then you will absolutely adore this DIY arts and crafts tutorial on how to preserve and make a wonderful green moss wall art at home. This is a colorful and beautiful tutorial that will take you through the steps of creating this amazing artwork out of dried-up mosses. Moss wall art is all the rage these days and is a simple, inexpensive way to add a natural element to your home. Preserved moss, however, can be a little tricky to use. This tutorial will walk you through everything you need to know about using preserved moss and creating an artistic moss wall in your space.
Mini Self Watering Moss Wall
Do you ever want to create a Moss wall but are afraid it will be destroyed and die because of the lack of water? Well, this terrarium will allow your moss to grow with ease and design by allowing water into your moss wall while adding great life to your home. Or If you love moss walls and want one in your home, but are having a hard time maintaining them and keeping them alive, we've found the solution for you. This Mini Self Watering Moss Wall makes it easy to nurture your moss wall with automatic waterings. And with its submersible pump and gooseneck light, there's no need to worry about tangled wires or downtime.
How To Build A Moss Wall
A Moss Wall is a wall of moss, foliage, or even multiple layers of objects that create an attractive landscape. Turn any wall into a living garden with this moss wall kit. Moss has been used to clean the air in homes, offices, and other spaces for generations. Simply place it on any indoor wall, water it once a week, and harvest the benefits of oxygenating plants while beautifying your space. Tutorials show how to make each moss structure using different materials and techniques. From the basic raised bed moss wall to the sophisticated layered planting in a frame, each step-by-step video shows viewers how it's done. This beautiful screen capture demonstrates the reusable screen dozing border included with this landscape design.
DIY Moss Art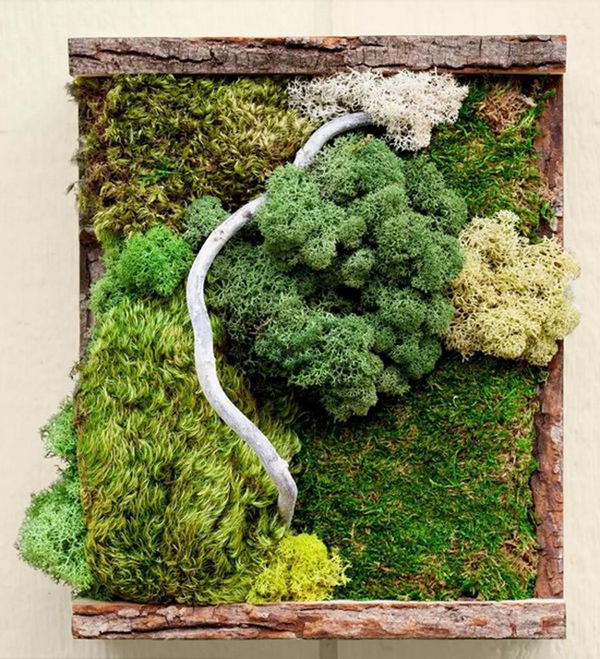 Take the black out of your home decor by adding a touch of green. Give your home or office a slice of the wilderness with this handmade moss wall art. These pieces bridge the gap between framed wall paintings and nature, and never need watering, so you can enjoy them with minimal maintenance. These unique pieces are made using artificial mosses that have been carefully preserved to make each piece look great for years to come. Make your own masterpiece with this DIY moss kit! Like a painting, it looks good on a wall but is much easier to create and care for.
DIY Living Moss Picture Frame
A living moss picture frame is important to any living moss wall art. Moss is arguably one of the most popular elements of natural décor right now, and living walls are simply breathtaking to look at. However, they aren't exactly budget-friendly, but that doesn't mean you can't have your own masterpiece. It will take some time and effort, but we are here to tell you that it is not only possible – it is totally worth it! This is a pretty cool way to decorate your house or room and express yourself through art.
How To Build A Moss Wall Terrarium
You should know that most plants need well-drained soil, but moss needs damp and acidic conditions to grow, you can make your soil by mixing sand and peat in equal parts. Create a show-stopping moss-planted wall. Adds a natural element that's easy to maintain. See how we constructed this hanging moss planter. Plants can purify the air, which is especially beneficial for apartments and offices in the city. If you get tired of its composition or planter shape, simply prune the plants and make a new piece of living art to suit your home's evolving style.
How To Create A DIY Moss Wall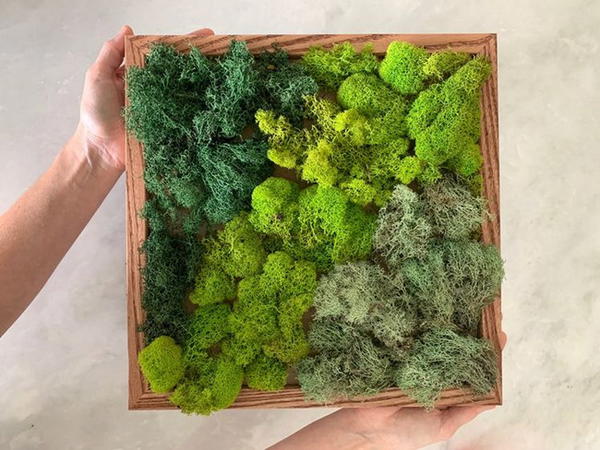 Moss is a decay-resistant plant that thrives in shady areas with lots of moisture. You could raise a moss garden indoors if you have the right conditions. Bring the outdoors in with a stunning vertical wall garden. With just a few materials, this wall art is easy and cheap to make. Try growing moss on your wall for a fun and relaxing craft activity. The hassle-free way to create one is to use a framed moss wall—they're ready to hang as soon as they arrive at your door! They also add color and texture, plus they can mask any flaws on the wall behind them.
DIY Moss Wall Art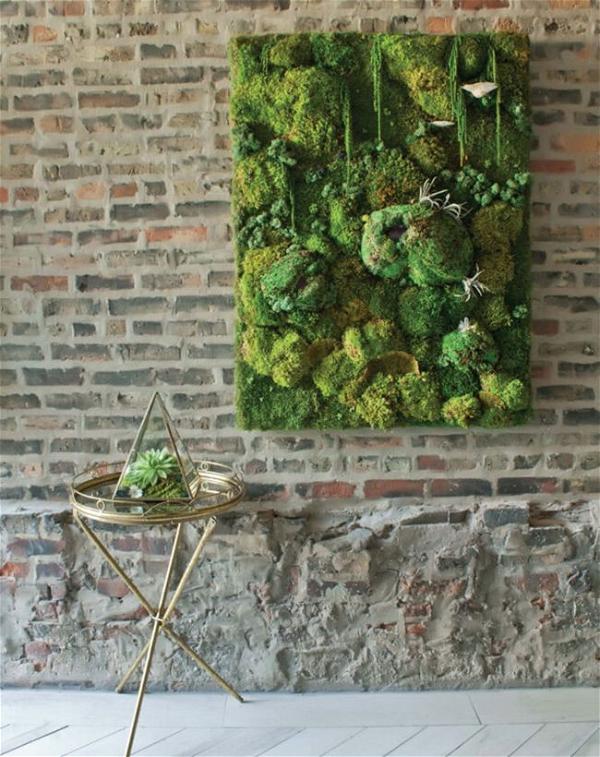 This kit can be used to build a moss wall art and hang them on your wall. Add a bit of cheer and warmth to your living or working space with this beautiful and refreshing DIY Moss Art. The sample pack contains everything you need to make your own green wall art. Hang it on the wall and watch it grow as you water it daily. It comes with everything from the moss wall art frame, soil, liquid starter, and other required tools that make it easier for you to shape it in any form.
DIY Moss Wall
Are you considering painting your wall with greenery artwork? You can do this using the best green (moss) paint or creating a moss wall art! Moss wall art may look complicated to make but it is actually not. It is a simple project that requires basic supplies, which are easily accessible. This DIY moss wall art is a great way to bring some nature indoors. With just a few supplies and minimal handiwork, you can create this beautiful depiction that will decorate any room in your home.
DIY Moss Tree Wall Decor
This DIY Moss Tree Wall is a perfect addition to your home. Each piece is handmade with real reindeer moss, so no two are alike (the fun of DIY), and makes it the perfect wall accent. The best part? You can customize it with the colors of your choosing. This is a wonderful way to add a touch of nature and color to a blank wall. As it requires few materials, it can become a weekend project with friends! This wall art DIY is quick to put up and you'll be so pleased with the result. After all, who doesn't want a little moss in the house?
Moss Wall For Aquarium DIY
Looking for a unique aquarium design? A moss wall is beautiful and easy to implement with this kit! Suction cups allow you to attach the moss to the background net and allow it to grow out. Put your creative skills to the test, and create a stunning moss wall for your aquarium at home. These walls look fantastic in living rooms, bedrooms, and patios, creating a calming atmosphere for you to enjoy daily. You can do this with anyone in your family, making it an excellent family project.
You can also see: DIY Aquarium Light Ideas
Moss World Wall Art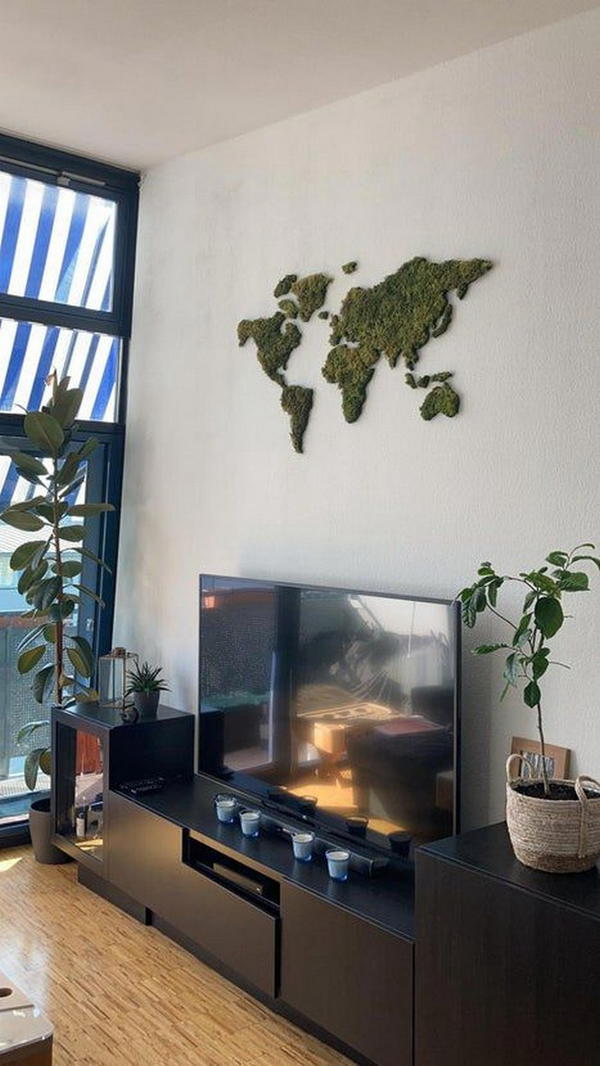 The Moss World Map kit is a creative and beautiful project for any nature lover, crafter, or DIY enthusiast. It goes way beyond framing moss in a box: it's a unique journey that can be started by anyone with minimal tools and experience. This is not just a DIY art project, but also a creative indoor decoration that can brighten up your home by adding a natural element in the form of green mosses. No elaborate tools are used, simply use mosses, wood, hot glue, and scissors. In minutes you will have created stunning wall art that adds some nature to your indoors.
Living Wall Art
This is a single spread of moss for wall art, it creates a beautiful scene of nature within your home and in whichever color you choose. Add life to your walls and floors today by ordering from various living products. Preserve your walls in the bathroom, and add an artistic touch to your space. Here is a DIY project to create a beautiful, delicate piece of wall art that shows nature in all its beauty. With some simple adhesive tiles, you can create this gorgeous wall art for less than the cost of a typical mosaic tile.
Moss Map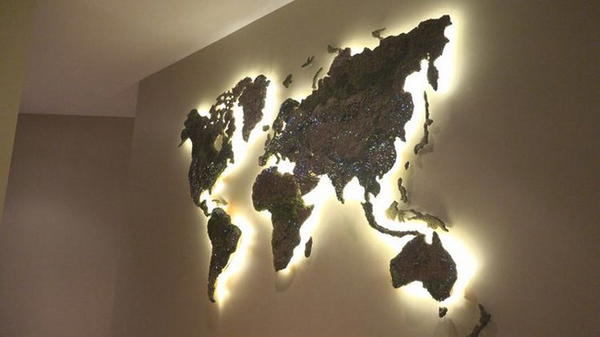 Moss is incredibly versatile in that you can glue it to almost any indoor surface and make an amazing vertical garden. One popular project is making a moss map or world. Learn more about this DIY project, and make your own moss map at home. This wall art idea involves using natural, preserved moss, lights, and a little creativity to create an eco-friendly world map with lights that glow up at night like cities. The end result is a beautiful, nature-filled scene celebrating the world around us. This is a simple, affordable, and great project!
How To Build A Frame For Moss Art
Building your own moss wall frame is quite an easy task, it does not require any sort of special tool or extra help from a professional. Moss wall art is becoming popular because it complements the colors of the walls, makes a room look refreshing, and adds a little bit of color when construct with plants that have different shades. This becomes important for people who live in apartments or condos and do not have enough space for real plants. You can create a deeper frame for your moss wall art by simply sanding down the sides of the plywood. This will allow more space for you to attach the moss overhang.