If you are looking for necklace DIY ideas, you have come to the right place. In this post, we have collected the best of these ideas, and most of them are simple enough that you can make them quickly. Now, whenever you want to buy a new necklace or gift it to someone special, there is no need for you to run towards a jewelry shop as you can create one yourself. These DIY Necklace Ideas will give your creativity a run for its money! These simple and easy ideas will encourage you to create your own beautiful, unique, and affordable pieces of jewelry that you can wear every single day.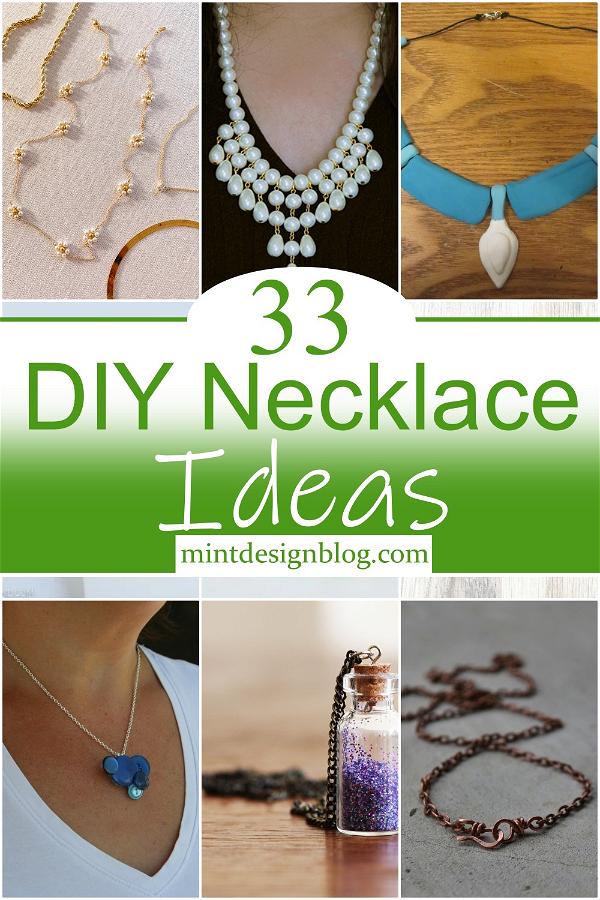 When it comes to gifts for a special occasion, there are so many choices out there that it can get overwhelming. But one item that always goes over well is jewelry. There are many reasons why people like to get and give jewelry: it's pretty, fun, and a simple way to express affection and show someone you care. But buying jewelry can be expensive and time-consuming. So here are some DIY necklace ideas you can customize based on what you already have in your closet! There's an endless variety of materials you can use to make necklaces, so choosing one that matches the recipient's style is easy. And if you already have the home supplies, they're affordable and easy to put together.
Make Your Own Necklace With The Following Supplies:
-A length of chain or cord. You can use any chain that you have lying around, or you can buy a new one.
-Beads and other decorations. These could be anything from plastic to gold-plated and even real gemstones! Please choose your favorite ones and start stringing them on your chain.
-A clasp, if you want one. This keeps your necklace closed when it's not worn, so it won't get tangled up in other things or fall off when it gets pulled on (or maybe even eaten by a pet).
Tips To DIY Necklace Ideas
If you're looking for a fun way to accessorize, try making your own necklace. Here are some tips on how to do it:
Find a necklace you like and take a picture with your phone. Then, use that picture as a template for your own necklace design.
Choose the beads or stones that match the color of your dress or outfit.
Decide how long you want the necklace to be—you can make it as long or as short as you want!
Glue each bead onto the string using hot glue or jewelry glue (make sure it's safe for the material). You will probably have to trim the ends of the line after gluing each bead on so that they don't stick out too far from the rest of the necklace when finished being worn around someone's neck (if this happens).
Make A Stylish Necklace Using Stone And Tassel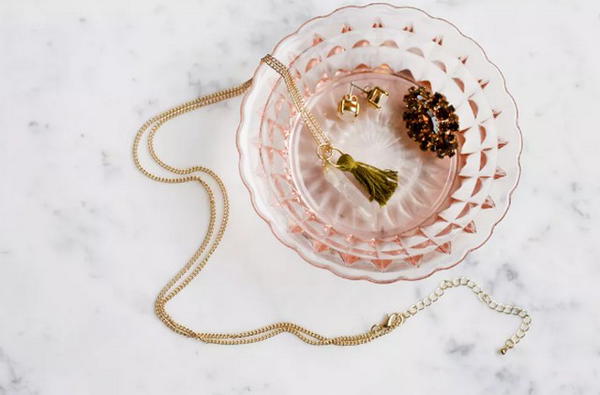 This necklace is a stylish accessory that anyone can wear. Make it with materials like a wooden skewer, necklace chain, and a bead cap. Each stone has its own meaning and energy so be sure to choose carefully. Attach the bead cap to the stone with a wooden skewer, then hang your new necklace around your neck. The chain is a beautiful accessory that should be worn as often as possible. To make this necklace, you will need materials like wood and stone skewers, beads, and a bead cap. Please choose your preferred material carefully because each one has its meaning and energy. Then, attach the bead cap to your stone with the skewer.
How To Make Paracord Cross Necklace
This simple paracord design uses less than ten feet of paracord. It's great for beginners looking to practice their knot-tying techniques. The procedure involves tying a common "T" pattern with one strand, then using the other to tie knots over and through it. This Paracord Cross Necklace is made from paracord and can be used for any occasion. The soundest part is that you can use two colors for two different looks or choose one color to make a simple design. With such a crafty necklace, everyone will ask you where they can buy one!
Easy DIY Necklace Idea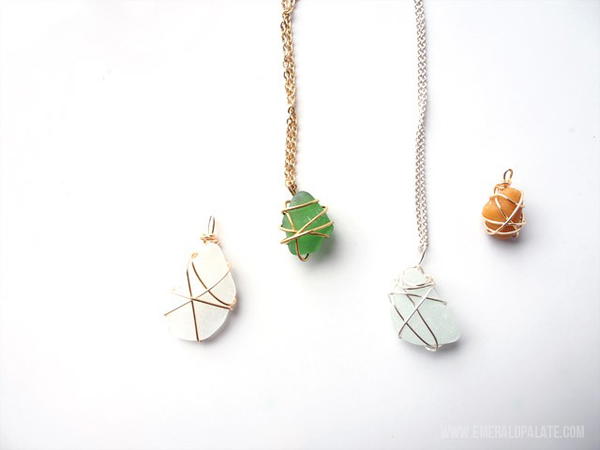 This DIY necklace is made by weaving a wire into the chain links and wrapping them around stones. You can use various colors and textures to create a unique piece that is truly your own. This is a very easy tutorial, and it's a great way to recycle old items into something beautiful. Get a wire, make a loop at its end, then place the circle on the edge of your stone. After this, hold the wire and the stone in one hand while winding the wire around your rock. Finally, take the chain and pass it through the loop to complete your necklace!
DIY Tumblr Choker Necklaces
These DIY choker necklaces are easy to make and give you the perfect excuse to wear a statement necklace daily. Get creative with these DIY Tumblr choker necklaces. These collars can be made from any material you like and are very easy to make. Take a long shoelace, glue it to the silicone board, and wound thin wire around it to get a stiff rectangle. Attach this to lace, and you have yourself a stylish choker necklace. They're made from simple materials you probably already have around the house and can be finished in under an hour.
Make DIY Necklace Under $15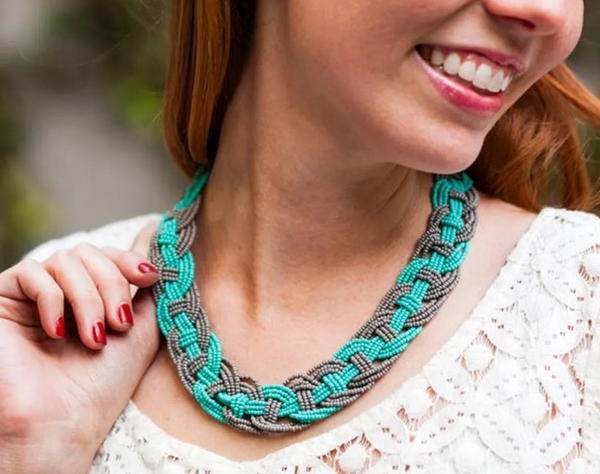 A perfect DIY project to keep busy on a sunny summer afternoon, this necklace features colorful seed beads woven together with a silver cone. This necklace is the ideal statement piece for any outfit. Show off your creative side and make this DIY Woven Necklace yourself. It's easy to do; follow the step-by-step instructions, and you'll be on your way to creating an original masterpiece. The result is an elegant yet simple design that will go with any casual or dressy outfit. This DIY requires no special skills, just a nose for beautiful color and a wearing knack.
Daisy DIY Necklace Chain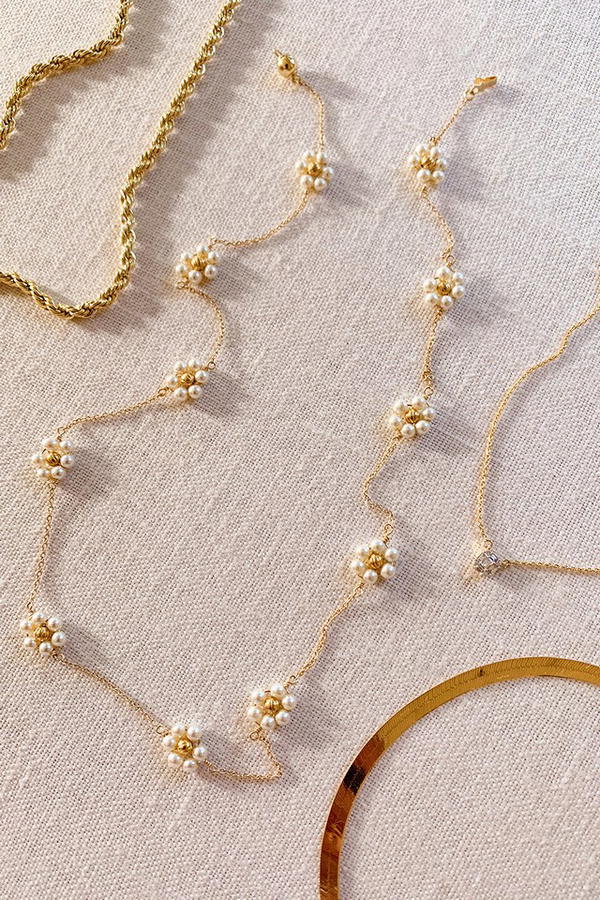 Make the perfect gift for your girlfriend, niece, or daughter by making this DIY Pearl Daisy Chain Necklace. It's gorgeous and elegant and will look stunning on any occasion. Start by cutting the chain into small fragments, or you can get a fragmented chain. Then make a loop with the wire and pass the fragmented chain into the circle. Take some beads to the wire and make it into a close loop. This necklace will be a treasure for years to come! This easy DIY project is great for beginners or anyone who wants to make a fun statement piece. You only need three tools and can make this necklace in under an hour!
DIY Necklace For Beginners
Do you want to start making your own jewelry? Learn how to make a necklace with this easy DIY tutorial. Pearls have been a sign of prosperity and elegance for women over the years, so it is no wonder that a simple pearl pattern makes such a classic and elegant piece of jewelry. Making your own necklace out of pearls can be very rewarding, relaxing, and fun! You only need a few materials, including some seed beads, a pearl, jump rings, and a clasp. Attach the beads patterns, and you're done! All you have to do is attach some jump rings at each end of the thread and attach it to the lobster clasp.
Handmade DIY Necklace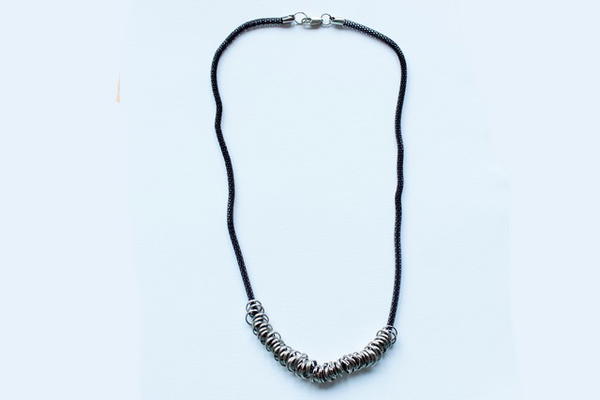 This DIY necklace idea is easy to make, and you can choose any color. It's a fast, simple project that will make a statement without breaking the bank. Good things come from simple materials. Please make your own Necklace at home with this tutorial. The secret to any good necklace is a great string, and our DIY Necklace kit comes with everything you need, plus instructions! Get creative and make something uniquely yours. Create this gorgeous DIY Necklace out of copper craft wire and make it as long or short as you like; plus, it's easy to wear for casual or dressy occasions.
DIY Rice Pearl Necklaces
A Rice pearl necklace is a very easy and fun-filled DIY you can try your hands on. It is a beautiful necklace that will make you look super gorgeous with all eyes on you. Rice pearls have always been a popular choice for jewelry because of their natural beauty and luster. You can purchase rice pearl necklaces at your local craft store, but making them yourself is always more fun! The materials needed for this project are:
Jewelry-making kits.

A bead-smith needle.

Nose pliers.

Glass seed beads.

Jade beads.

Bead crimp tools.
With this easy guide, you can make natural-looking DIY jewelry with delicate pink and ivory clay-made pearls and semiprecious beads. This is a perfect gift for friends, family members, or yourself!
DIY Necklace Beads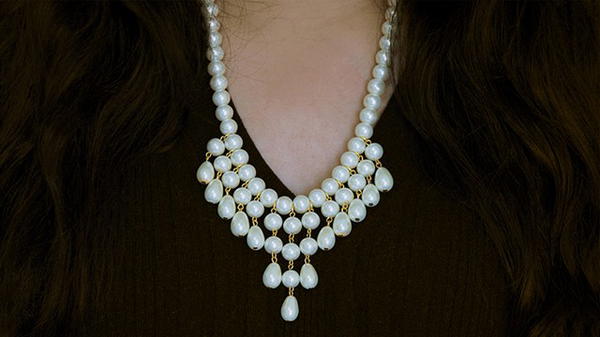 A fun way to wear beads is on a gold chain. This tutorial will show you how to make a necklace with beads. This is good for those who are going on their first date and need a gift for the person, even if you have a special day or occasion. You can use any shade or style of the bead and loop them onto the wire in whatever order you like. After finishing, tie the lace back together with a knot and cut off any extra wire. Then attach a lobster clasp to both ends, and voila! Choose from your large array of beads to get started.
DIY Simple Necklace With Pendant
This is an easy and simple DIY necklace. You only need an inch of copper wire, a stone, and a plier. Making your own jewelry is a great way to express yourself and is also not very difficult. You can create a beautiful necklace with some simple tools and supplies. This necklace features a stone pendant that you can buy at most craft stores and copper wire, pliers, and other basic supplies. Cut the wire and find the middle to bend it with the plier. Twist the copper wire around the stone and leave a small local sheer where you can attach the pendant chain. . This necklace is also very simple, but you will get so many compliments on it because of the deep colors and creative design.
Lava Stone Necklace Idea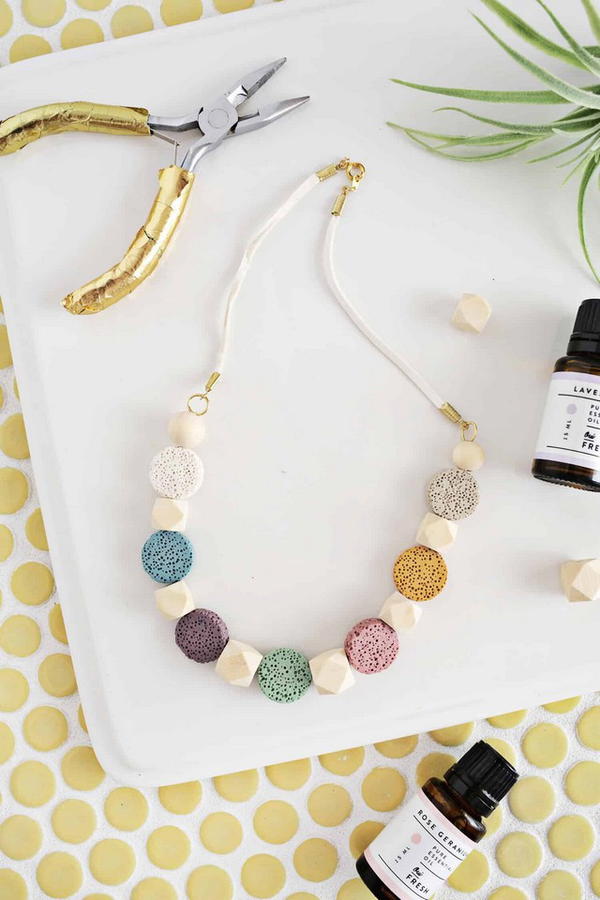 Add some exceptional style to your look with this DIY Lava Stone Necklace. You can use any handmade or store-bought lava beads to make your own necklace. Bead wire makes it easier to arrange the beads into your chosen pattern. Pass your chosen cord through both jump rings, and you're ready to wear! The lava stones are durable, yet they're lightweight and delicate. Choose any colors of beads, create a pattern of your choice by sliding them onto a wire beading wire, then loop the ends together with a silver jump ring. Then attach a second jump ring at the other end of the beading wire and thread on your preferred chain length.
How To Make A Pearl Necklace
If you are a female who loves great and beautiful accessories, this pearl necklace is what you need. It is elegant, not to mention that it keeps you in style! This necklace is unique and beautiful; it has a way of ensuring your elegance. It is made from pieces of pawns, swing chips, and nylon wire. Start by tieing the wire around the clasp, then thread the beads through the wire until you reach closure. Made of genuine freshwater cultured pearls, this necklace will transcend trends and ensure your elegance for years to come. Whether you're shopping for your marriage day or looking for something to show off on any other occasion, this pearl necklace impresses you.
How To DIY A Necklace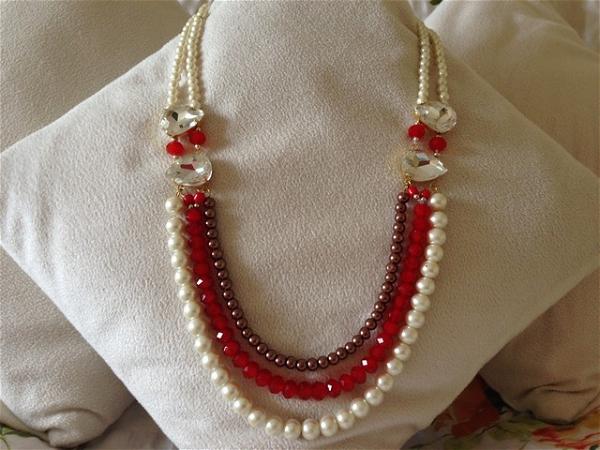 Beading is a craft you can do with many different types of beads and materials. You can make the beads by hand or purchase them pre-made from your local craft store; both will work equally well. This is the easiest and quickest way to make a necklace with beads. You need wire cutters, pliers, and several different colored beads to give it an attractive look. To make this necklace, there are only a few steps required. Assemble each color of beads into separate words and put them together as you go along. Once you have finished, you now have a new necklace to wear. Beads can be assembled in random order and are simple to string together with wires.
DIY Beaded Necklace
Get creative and make your own pearl necklace. This DIY beaded necklace is sure to get you all sorts of compliments. You can also use this project at a sleepover party or as a gift! The beaded necklace is a staple for every woman who likes to accessorize. This DIY will get you started with beads and thread and show you how to attach the clasp. Make sure to get a grip that compliments your pearls and wrap up your masterpiece! This necklace style is perfect for summer and fall. The colors contrast each other well and make an interesting combo.
Bottle Necklace Idea To Make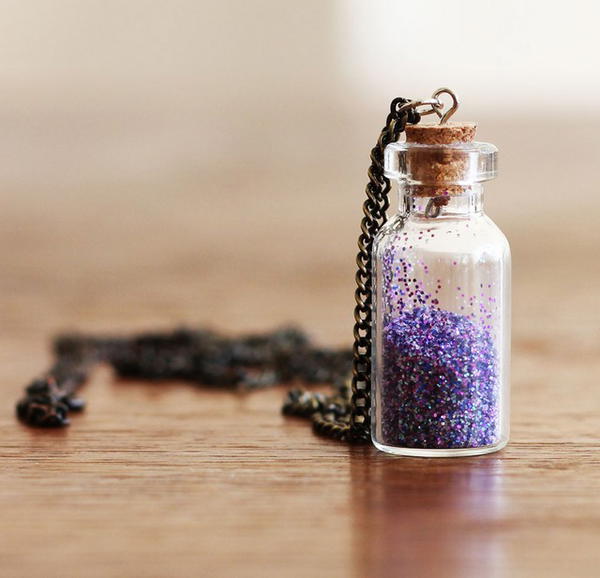 The DIY Bottle Necklace is an inexpensive and easy way to add some style to your outfit. It's composed of tiny, rough bottles of different sizes and shapes filled with colorful glitters. You can easily make this piece by mixing up the bottles you want, adding glue to a piece of wire, and then placing it through the cork at the top of the bottle. It is a great gift idea. The wire serves as beads, and the tiny bottles are perfect for adding some color to your outfits.
DIY Pearl Beaded Necklace
Wish to make your own beaded necklace? You can readily do so using a few simple materials. This beautiful DIY beaded necklace is a perfect gift for any occasion. You can wear this pretty pearl necklace to any formal parties, casual events, or even to work, and every time it will be noticeable because of its uniqueness. The soundest part is that you can experiment with different colors and styles to create a unique trend that only you can pull off. The tutorial will teach you how to make a pearl beaded necklace with straight or zigzag wires, depending on your desired result.
Pocahontas DIY Necklace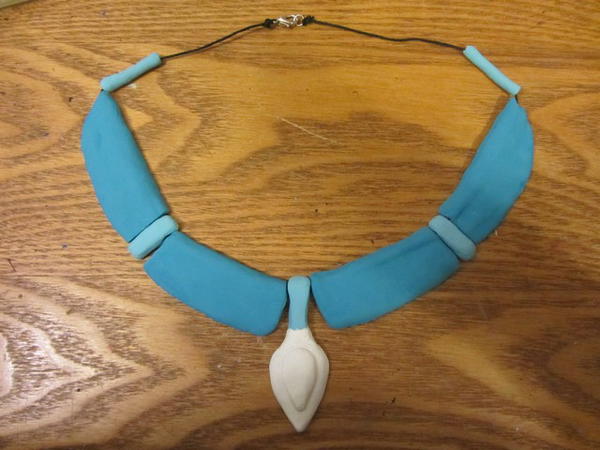 This DIY necklace is made from a paintbrush, cocktail straws, and clay. The finished product has a rustic look that's perfect for dressing up or down. This simple DIY Pocahontas necklace is a fun, creative way to express your love for this classic Disney film. This easy tutorial involves painting an acrylic paintbrush, making a clay necklace, and then stringing it onto a necklace cord along with a clasp and chain. This project can be placed at the top or middle of your art wall, adding a pop of color by day and lighting up with an LED candle by night!
Easy DIY Necklace For Beginners
At a beginner level, this DIY Necklace is very easy and fun to make. You only need a few tools, materials, and supplies. The beading thread acts as the base for this necklace, and you will add various beads onto it using the seed beads one by one. Once you are done and have added all the dots for your lovely necklace, attach a clasp to close it up. This is a very easy DIY project you can wear while you learn how to make other necklaces! You can use your creativity to create the shape of your chain and add your favorite elements, such as pearls and crystals.
Cheap Brass Necklace Idea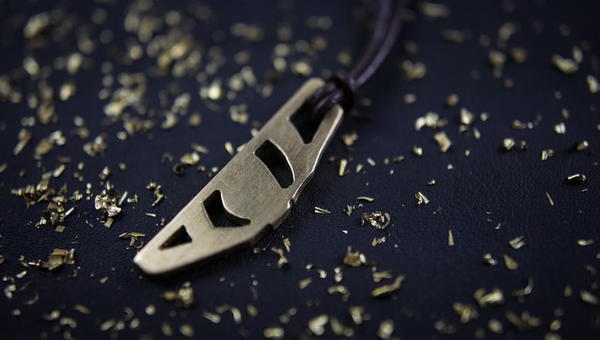 This DIY brass necklace is easy to make with the right materials and tools. All you need is a thick block of brass, leather cord, cordless screw, metal saw, and a metal file. Drill the design you want on the thick brass, then cut it out. File all the edges of the structure after cutting it out. Then, attach the leather cord to it, and your beautiful necklace is ready! This necklace is a fun weekend project requiring no power tools. It's great for leather cord lovers and metals enthusiasts out there. This brass necklace is a perfect gift idea for mom, sister, or best friend.
How To Make A Pearl Beaded Necklace
Pearls are such a unique way to add a touch of elegance to any outfit. They are simple yet classic and can be paired with almost anything in your wardrobe. This project will teach you how to make a pearl beaded necklace using common materials found at any craft store. This beaded necklace is a simple way to add a luxurious touch of sparkle to your look. The easy step-by-step tutorial shows you exactly how to make a Pearl Beaded Necklace. This little pearl beaded necklace is perfect if you're looking for something simple and elegant.
How To Make A Wire Name Necklace
This necklace is a cute and romantic way to show your love. Making a wire love name necklace is easy. Use a sheet of paper as a template to curve the word, then attach it to a chain. This is a one-of-a-kind gift you can make for someone you love who proves they are always there for you. It's great for Valentine's Day, weddings, and anniversaries. This beautiful love-name necklace will add a personalized touch to your favorite outfit. This wire-cut word necklace is the perfect addition to any business, casual or fancy.
DIY Necklace Clasp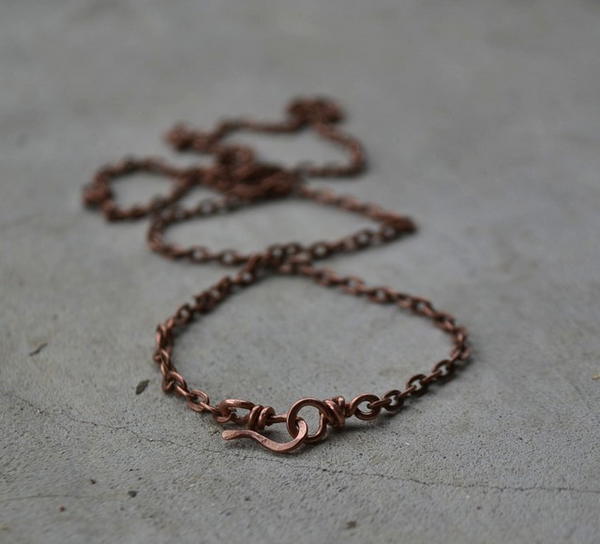 Make your own stylish and unique necklace clasps from copper wire; these are so easy to use, fun to make, and can be used for any necklaces. The materials needed for this project include long pliers, round nose pliers, files, and wire cutters. Cut a long strip of copper wire, then shape the hook. Make a loop at the end of the wire. After the theme is done, attach the clasp, and you're good to go! This DIY necklace clasp is easy to make with the right tools and materials. Cut a long strip of copper wire, then shape the hook. Make a loop at the end of the wire and attach the clasp; you're good to go!
DIY Necklace
This stunning necklace is easy to make once the materials are complete and you have basic knowledge of bead making. The materials include beads, needles, nylon wire, thread, and pearls. This necklace turns out to be very stylish and will fetch you compliments every time you wear it. You can make it a time-saving project in just a few hours. This beaded necklace is simple and easy to make after the materials are complete. The materials include needles, nylon wire, or you can use cord, thread, beads, pearls, and the like. The pearls are strung on nylon wire which can then be dipped into polyurethane resin to keep them safe! It's a perfect gift idea for someone special in your life.
Button Necklace to DIY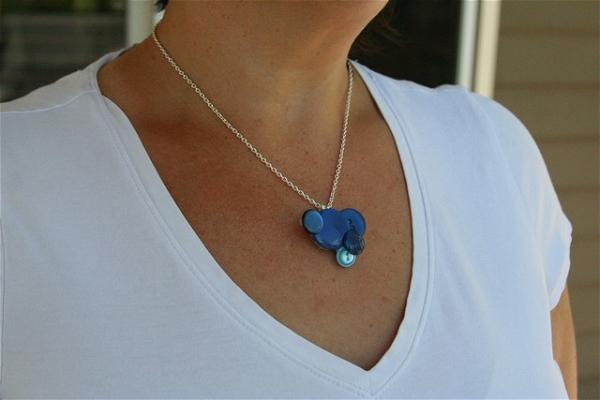 Gather your materials and create a fun button necklace to wear or give as a gift. The process is simple, but the result is brilliant. This simple DIY Button Necklace is a great project for anyone who likes to wear unique jewelry. All you need are some old buttons, some embellishments, a glue gun, and a chain, and you'll have a stylish new necklace in no time! You can get creative with your button necklace by choosing different patterned bottoms or even using buttons with DIY sentiments. Make your own necklace with these materials and a little bit of creativity. Your style will shine through with this DIY Button Necklace that you can make yourself.
DIY Beautiful Necklace
This DIY project is perfect for all ages. This necklace looks beautiful, mixes textures, and makes a statement. It can be worn in any season, age group, or event and is so easy to make that you'll want to make more! Create a beautiful piece of jewelry from scratch with the help of this handy DIY kit necklace. It includes materials for creating a basic choker with a beautiful silver diamond flower extender chain and an eye-catching clasp closure. Appropriate for both beginners and those already familiar with jewelry making, this kit makes a fun and personalized gift for someone special
DIY Necklace Pendant With Birthstone
This DIY fingerprint necklace is a great way to memorialize your loved one, whether it's a child that has passed or another member of the family who had a special birthstone. It is a wonderful way to incorporate the memories of motherhood into your jewelry collection. It's a unique way to celebrate and cherish your family's unique beauty while keeping your loved ones close to your heart. Make a fingerprint birthstone necklace with polymer clay. This DIY fingerprint birthstone necklace is simple but makes an amazing gift for yourself or a friend. Working with polymer clay is satisfying and makes for a beautiful piece of jewelry.
How To Make A Crystal Necklace
This simple technique allows you to create your own beaded necklace in under 30 minutes. Turn a thread loop into a beautiful piece of jewelry that will liven up any outfit in seconds. The key to creating this crystal necklace is using a needle, thread, pearls, and beads. This crystal necklace is sure to add some sparkle to your everyday wear. You'll learn how to make this simple beaded design using a needle, thread, pearls, and beads. The method uses a simple bead pattern that beginners can easily understand and can learn how to create luxurious designs of their own in no time flat!
How To Make Beaded Chokers
This beaded choker is beautiful because of the different colors of beads used. It's a quick, easy, and fun project to make for yourself or as a gift for your friends. Making your own fashionable and the unique beaded choker isn't difficult. You can create one yourself by following the simple steps in this article. Evaluate the materials you'll need and make a list before you begin. It is better to gather all the required materials before starting your project. This beaded choker is beautiful because of the different colors of beads used. It is easy to make and looks great on almost all necklines.
DIY Necklace Holder Idea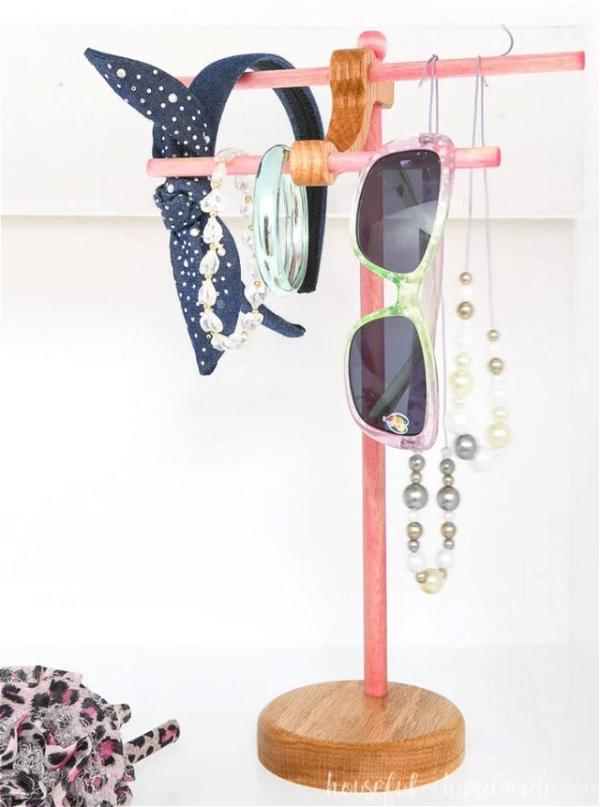 This DIY necklace holder is a fun and practical way to display your favorite necklaces. The dowel length will determine the size of the base, but you can get creative with the design of your holder by changing up the materials like paint, stain, or even paper. It is the perfect way to organize your favorite necklaces and bracelets. Carve out of a single piece of wood, this necklace holder is easy to put together and can be customized with any design you choose. Get creative and create this necklace holder that perfectly fits your style and personality!
How To Make A Silk Thread Necklace
This DIY necklace is the perfect addition to your wardrobe. With complete instructions on creating your own handmade silk thread necklace, you can choose any colors and beads you want! This project is beginner friendly and simple enough for anyone to do. This beautiful silk thread necklace looks good on any outfit. The materials needed to make one include wool, jhumka caps, pearl beads, and jump rings. Once the materials are gathered, tie the three together with a jump cap and repeat this process until you have made as many strands as desired.
DIY Chain Necklace
This DIY chain necklace is fun to incorporate your favorite colors and shells into a unique accessory. This choker-style necklace can be made in any color of your choice, and if you're looking for a different look after you've finished the necklace, utilize your imagination and add other elements. Make it your own by adding something similar to this necklace with our chain and shell combinations, including different colors, textures, and materials. Variety is the spice of life, and that applies to this DIY necklace. The double-layered chain allows you to wear it long or short, depending on the occasion. You can even make it into a choker. It's up to you!