The kitchen is the busiest room in your house. Whether you are cooking, preparing food for your family, or cleaning up to keep it tidy, paper towel holders come in handy. And with the DIY projects we've listed here, you'll want to keep one in every house room. There are many ways to create a paper towel dispenser or holder for your kitchen. Some are wooden, some plastic, and some have quirky designs that fit any kitchen's style. If you like to sew and cook, you'll love this list of 25 DIY paper towel holder projects to make your home tidier without breaking your wallet.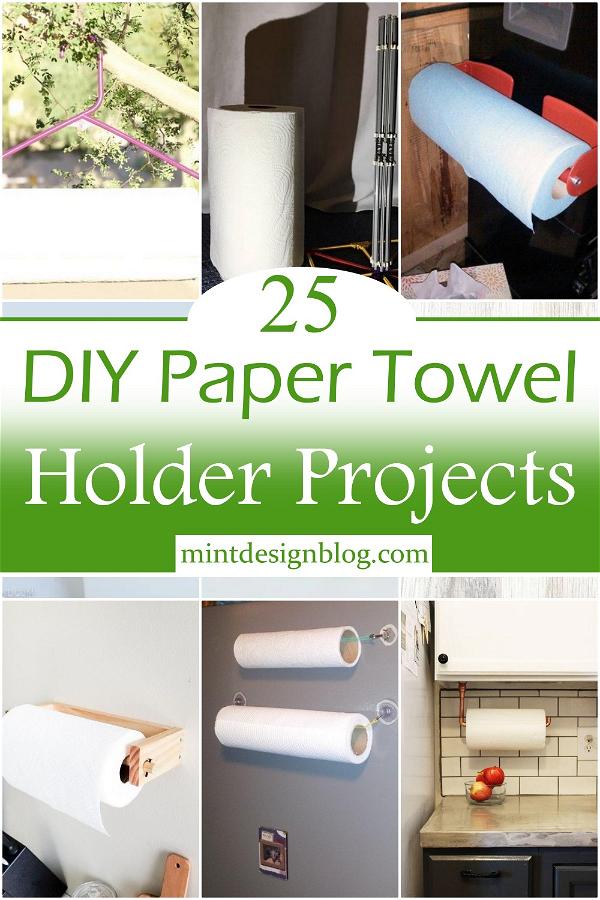 A paper towel holder is an accessory that can be easily overlooked, incredibly when busy in the kitchen. Although people use paper towels for various purposes, the primary purpose for which it is used is to clean up small spills. While it is an excellent idea to have a paper towel holder in your kitchen, these holders are often very expensive. Below is a list of some DIY Paper Towel Holder projects that you can make from the comfort of your home. These projects are cheap and straightforward, and they will also help make your home look more elegant.
The top 25 DIY Paper Towel Holder Projects listed that can be made at home easily and do not cost a fortune.
You Can See: 25 DIY Towel Rack Ideas To Organize Your Bath Accessories
Farmhouse Paper Towel Holder DIY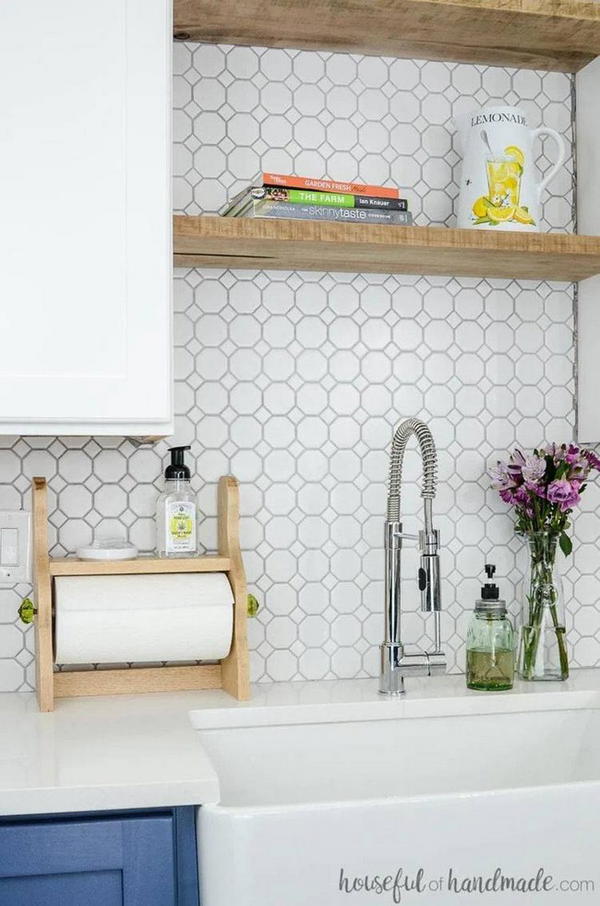 When you want to go for a farmhouse look, you can try making this modern farmhouse paper towel holder. A long horizontal paper towel holder will match your countertop and give you easy access to it. The decorative knobs on the side of the board are optional; you can use a different item instead of them. A couple of items are needed to assist in this project; Drill, Kreg Jig, and Minwax weathered Oak stain. These supplies will give your project a smooth finish. Go through this guide to learn more!
DIY Easy Paper Towel Holder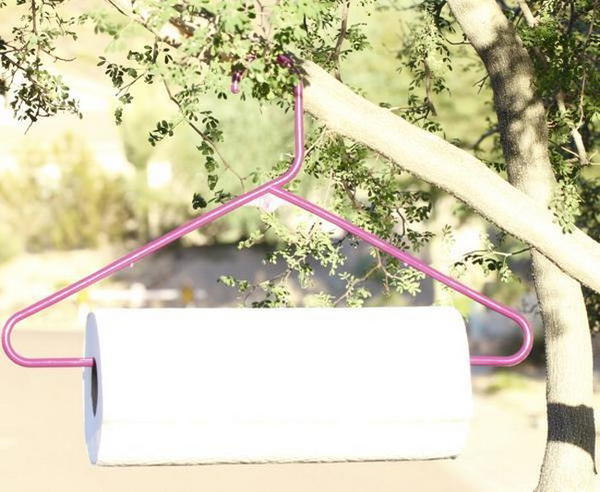 This paper towel holder is a perfect way to stay prepared while you're on the go, and it's also got a ton of nifty uses around the home. It will look cute in your kitchen and keep your paper towels handy and off the floor. Perfect for the camper who likes to be organized, there is no excuse not to wipe your hands clean when you're eating outdoors with this bit of gadget on hand. Use this guide which shows you the complete step-by-step instructions.
Paper Towel Holder With Shelf

This paper towel holder is an adorable piece of décor and serves essential purposes. Designed like a shelf with space for paper towels, it keeps your roll handy when you're in the kitchen. It's also perfect for keeping your things neat and orderly. It is designed to sit on your countertop and is made of wood, comes in different colors, and is suitable for small spaces. It is simple and easy to assemble as well.
Under Cabinet Paper Towel Holder DIY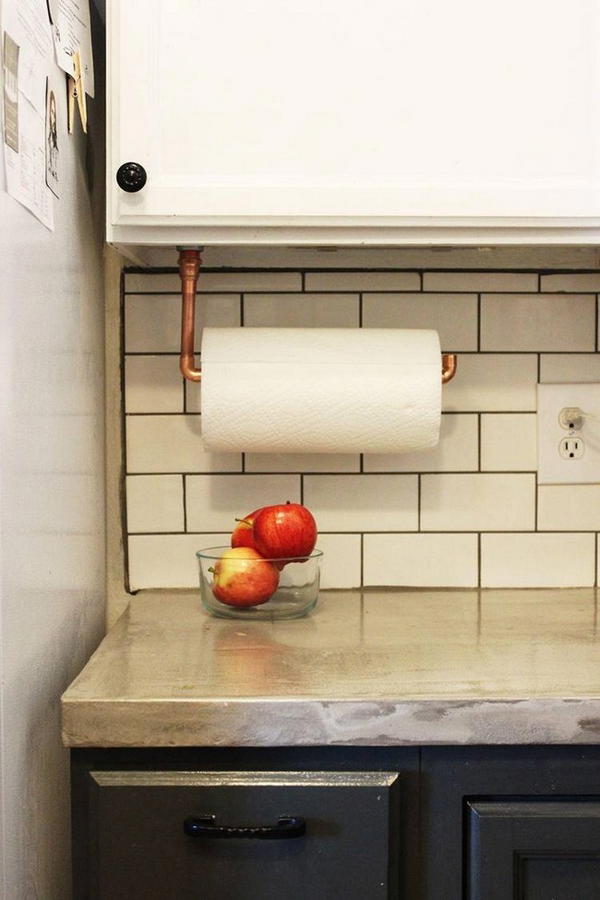 Do you need to add a stylish and easy under-the-cabinet paper towel holder? Well, this stylish DIY project is exactly what you need. This project is excellent for beginners and will be fun to share with your friends. A cabinet paper towel holder is a great way to keep things organized and neat. Depending on your speed, ability, and equipment availability, you can be finished in under two hours. Many of you will have seen these paper towel holders floating around the internet and wondered how you could make one yourself. Now you can do with this easy-to-follow, step-by-step guide.
Making A Paper Towel Holder
Do you always have a hard time looking for a paper towel whenever you need it? This super-easy paper towel holder is the answer to that problem. Made out of scrap lumber and mounted on the cabinet where it sits pretty and beautifully, it can be accessed whenever you want. You'll never have a hard time finding a paper towel again. This video tutorial will guide you while making the paper towel holder so that you can save your money, time, and effort.
Paper Towel Holder DIY
DIY Paper towel holder ideas are easy to do when you have a little patience, creativity, and basic knowledge of tools and materials. The ideas here prove that making towel holders is fun too. These holders are an essential, simple, and practical home item. They can be made in numerous ways, and now you will have the chance to see a few different methods. For example, this short video clip shows you how to make a DIY paper towel holder easy and even at home.
How To Make A DIY Paper Towel Holder
The DIY Paper Towel Holder is the perfect way to make your kitchen more efficient by keeping a roll of paper towels close and readily available. You can make a DIY paper towel holder at home that you can then hang in your kitchen or any place around the house and do away with those tissue boxes and messy hand towels. This step-by-step video tutorial will walk you through every detail of creating your own paper towel holder. This can also be made with other paper towel sizes for smaller rolls.
DIY Paper Towel Holder Using Recycled Cardboard
This DIY Paper Towel Holder project is so cheap and straightforward that you'll wonder why more people don't make one! Recycle thrift store items and spray paint a little gold to give this holder some style and add rustic charm to your kitchen. You'll need some tools to make it, like an Exacto knife and tape, but that's all you'll need. This towel holder is perfect for anywhere in your house. Ready to hang paper towels in your kitchen? Watch the video tutorial to get started!
DIY Wooden Paper Towel Holder
DIY Wooden Paper Towel Holder is a basic design that works great in any kitchen. This project requires only standard tools, and the whole process is relatively easy. The wooden paper holder is perfect for a small space, looks nice, and it's not expensive! The good thing is, even though this looks like a big project, it isn't. Even someone without experience in carpentry may try to make one. Use this guide to learn more.
How To Make A Paper Towel Holder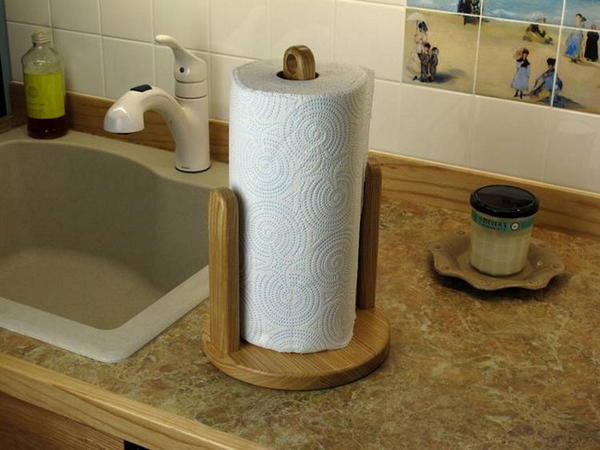 The paper towel holder is a simple do-it-yourself project. It can be used in any house room, especially the kitchen. Your family will wonder how they ever survived without it in no time at all. If you decide to give it a gift, your recipient will think you spent a fortune on it at the local boutique. It's so easy for anyone who takes a slight interest in DIY projects. This design is perfect for holding and organizing your towels when needed and out of the way when not in use.
DIY Magnetic Paper Towel Holder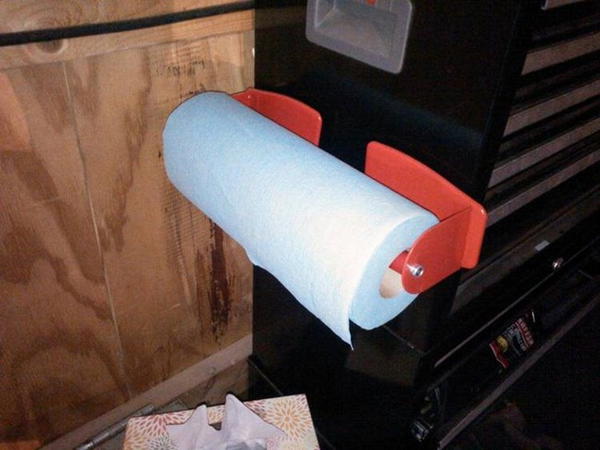 To create your own DIY Magnetic Paper Towel Holder, you need some essential tools and a little creativity. Choose the type of wood that you would like to craft your holder with. When that is done, measure out the dimensions of your plywood. Make a frame; this will help you fit it snug in the corner of your kitchen. Decorate it with a design or choose pieces already ready to go in the market. This guide shows you complete instructions and follow-up steps.
DIY Bungee Paper Towel Holder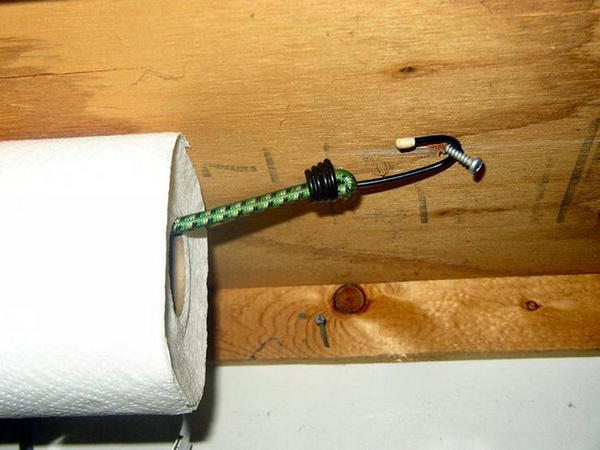 The DIY bungee paper towel holder is a simple and easy Do It Yourself project that can be built within minutes. The system includes a couple of nails or screws and a bungee cord to hold the roll of kitchen towels in place. According to one's preferences, the cord is attached to the wall using some nails or screws. After that, the guests for any party will find it very useful. This guide will walk through the complete steps of making it.
DIY Paper Towel Holder
This paper towel holder is a simple task for those interested in metal arts. Accessorize your bathroom with the elegant addition of a handmade paper towel holder that stands out from the rest. Use a 1" pipe and screen roll from your local hardware store to make your own roll of decorative paper towels, or use your favorite design! This simple project doesn't require any welded experience, so you'll love how easy it is to create! This video will walk you through the complete follow-up steps.
How To Make A Paper Towel Holder From PVC
A towel holder made from PVC pipes is an excellent alternative to the store-bought varieties. The best part about making your own is being able to customize the design and length of the towel holder. Pick up a few supplies, and you'll soon have a decorative bathroom accessory that looks better than most store-bought paper towel holders and holds more towels, too! Watch this video tutorial which shows you complete step-by-step instructions and follow-up steps.
Easy Paper Towel Holder DIY
Making a paper towel holder is a good idea that saves space, and this video will show you how. This paper towel holder has an excellent design and will surely add a way to your room's appearance. This is an effortless project. Depending on your tools, you'll spend about 2-3 hrs making this toilet paper stand. It's sturdy, looks nice, and will save you time every time you need a paper towel. The instructions are well laid out and detailed enough for anyone who likes crafting to make it without trouble.
DIY Wooden Towel Rack
This fun wooden towel dispenser is perfect for the bathroom or to hang in the kitchen; this is classic but nice to hold one paper towel or two towels at a time. It can be quickly built at a low cost if you have the necessary tools and materials. This is something that everyone with the minimum skills can accomplish in an afternoon. You can save money on paper towels by using this. Watch this video to learn how to make it easy.
How To Make A Paper Towel Holder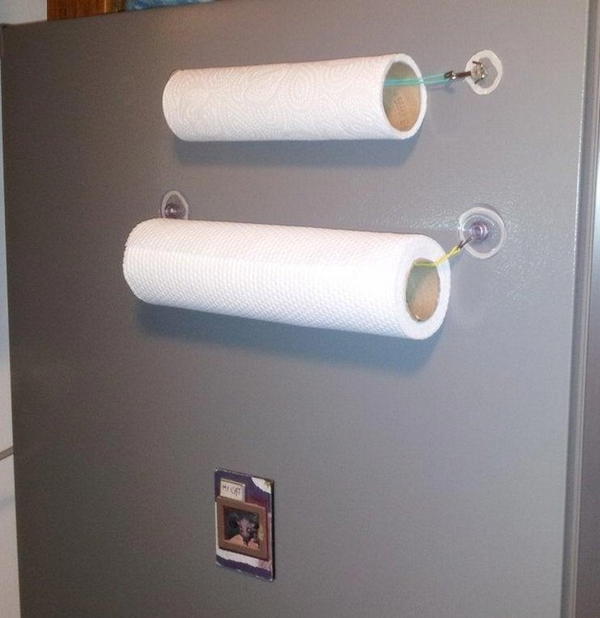 Here is the easiest solution to store paper towels in a kitchen. First, get two nails and hang them somewhere you like, then take one rubber band and put it over these two nails. Finally, hang a roll of paper towels on a rubber band loop. It is much easier to store paper towels when you even keep the roll vertically. Use this ingenious idea to eliminate the large and bulky stand-up paper towels. It will save space in your kitchen or kitchen cabinet.
DIY Knex Paper Towel Holder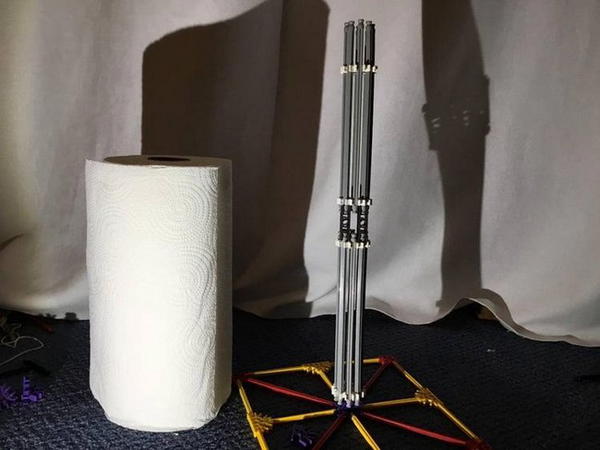 This DIY Knex paper towel holder can perfectly fit your modern home decor. Build a paper towel holder that's sturdy, functional and fun. It takes just a few hours, but it's not complicated and requires no special skills; look at the picture for a breakdown of what can be done. Assemble this decorative family heirloom, adjust it to fit your bathroom decor and enjoy the convenience of paper towels in reach when you're ready to use them! Use this guide to learn more!
DIY Pallet Wood Paper Towel Holder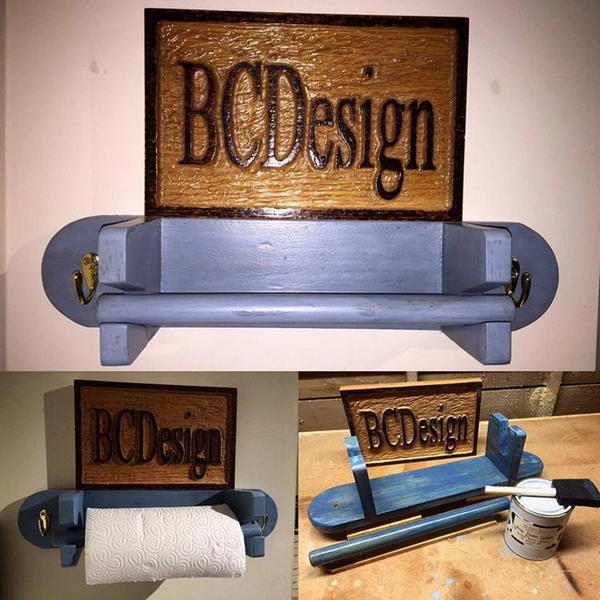 This DIY Paper Towel Holder is the perfect project for crafters and woodworkers alike. Using pallet wood and hand tools, you can transform a simple piece of lumber into a stunning holder for your roll of paper towels. With your materials in place, cut your woods, then cut out slots for the dowel. Mark, cut, and drill the backboard. Mark and drill mounting holes, mark hook position. Attach side pieces.... you can go through this guide for further steps.
DIY Industrial Pipe Paper Towel Holder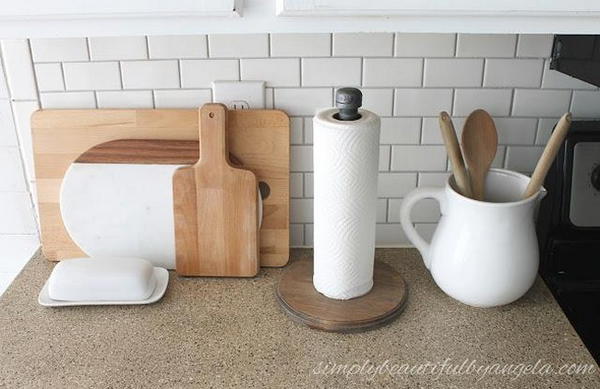 This DIY Industrial Pipe Paper Towel Holder is a good home decorative tool. This vertical paper towel holder can also hang bowls and plates if you want to know how to make this design as in the picture; there are only a few simple steps to create an innovative and convenient paper towel holder that fits any decor and comes in a variety of sizes. You'll get professional results with little or no previous experience; be ready to get your hands dirty! You may need certain materials that are available everywhere. Take your paper towel holder beyond the wall by following our step-by-step guide.
DIY Paper Towel Holder
This DIY Paper Holder will make a great addition to your home. It is simple to make, and it just requires a rope and beads. You will have no problem making this. Your kids can also help you out in creating this paper holder. The materials are cheap and easy to find. You can use beads that fit your taste and color. This product aims to give comfort in using paper towels and make an excellent decoration to your home.
DIY Macrame Tissue Holder
This unique DIY macrame project makes for a beautiful homemade gift for the Holidays or any time of the year. It's something that individuals in the crafting realm tend to make for their homes. Watch this video tutorial. By the end of this video, you will have learned how to use one of the oldest arts to make and decorate your house. The materials are easy to find at any craft store, and you can create different designs with other materials such as ribbon or rope.
How To Make Paper Towel Holder
Utilize that empty paper towel roll around the house for this super easy and basic DIY project. Depending on your holder's overall look, it will determine how you decorate it. For this first example, we will give you a couple of ideas to get you started. This project is super easy and essential, perfect for anyone starting with crafting and carpentry. This video will walk you through the complete procedure and follow-up steps.
Paper Towel Holder DIY
Are you looking for special gifts for someone, or do you want to surprise someone with some new abilities that you possess? Then look no further; this project is your ultimate destination. All the instructions that you need to build this great life-changing Paper Towel Holder DIY are just a click away. This video guide will help you in a very easy way, which doesn't require any tools or experience from your side of yours.
DIY Paper Towel Dispenser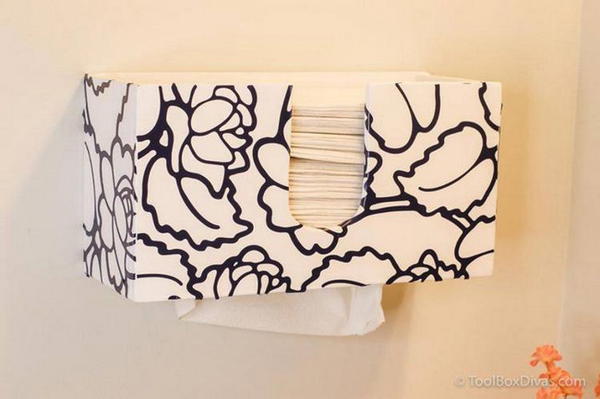 This DIY paper towel dispenser is the perfect addition to a kitchen, craft room, or office; this DIY paper towel dispenser is made from c-fold and multifold paper towels. It is easy to create, requiring only a few simple steps. This dispenser may be used with any paper towels such as Bounty, Viva, or Charmin. This is a quick and easy, cheap way to get your paper towels organized and ready to use. It's great for the kitchen or bathroom and is 100% recycled materials. Use this guide to learn more!