When you have dozens of sunglasses, you have to be strategic about storage. Sure, you can toss them in a drawer or on your dresser, but that's not ideal! Many sunglasses are delicate and should never be bent, so they can snap while stored in a place without decent support. Similarly, your lenses can get scratched and ruined if you don't store them properly. Instead, find the best way for you to store your sunglasses with a DIY sunglasses holder. Whether you collect a variety of sunglasses or have one pair that you love, you'll need an excellent way to store them.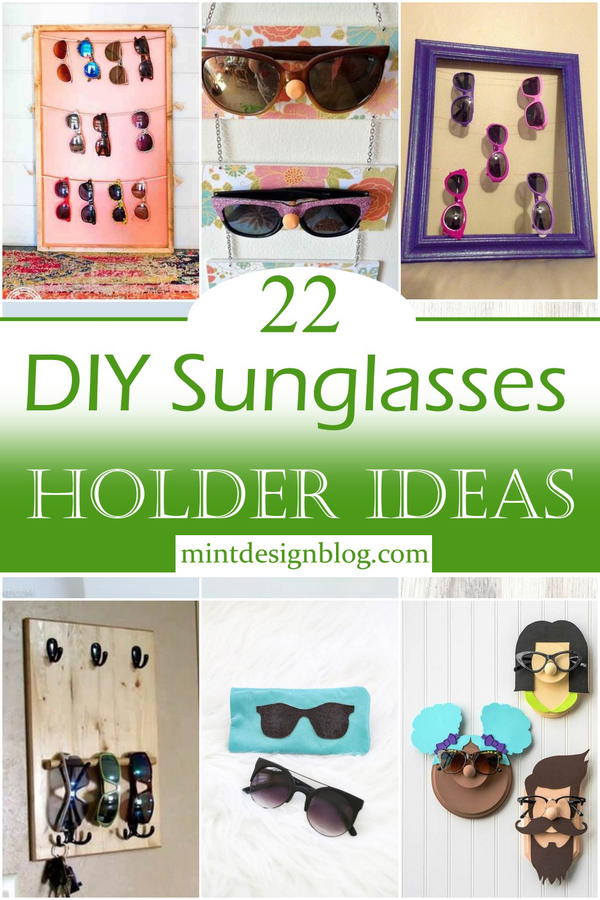 Sunshine and sunglasses are just the right items that you need to make the entire summer sweeter. Imagine how it would be if those sunglasses became less available because they were lost? Such things may happen and more if you don't have enough pocket spaces where you can put them. These DIY sunglass holders are made with a wide array of materials. Some are classic, like wood; others are unique and unexpected, like a corkboard. This collection includes DIYs for making a sunglass holder for your car, in the house, or by your bedside. Also included are various styles to suit every personality and decor. In this tutorial, you will see 22 DIY sunglasses holder ideas. It would help organize your accessories and reduce the mess around, especially if you have kids at home.
These 22 DIY sunglasses holder ideas are very relaxed and the perfect ways to keep your favorite shades handy, organized, and stored in style.
Tools and Materials:
Wooden dowel
Ribbon
Scissors
Hot glue gun and glue sticks (or wood glue)
Drill or hammer and nails
Wood stain or paint
How To Make An Organizer For Sunglasses
Looking for a sunglass organizer? Try this one out. It has a stylish look that would befit your room wall. With eight holes, it will indeed serve your purpose. Making an organizer for sunglasses can be an excellent idea. You might already have this idea on your bucket list, but you don't know what exactly to do. What you need is a simple tutorial to walk you through the process. This tutorial will help you understand how to make an organizer for sunglasses. Out of many DIY projects, this sunglass organizer stands out as one of the best. The small wooden nail heads used to hang the sunglasses make it look exquisite.
Skill Level: Experienced
DIY Sunglasses Holder Frame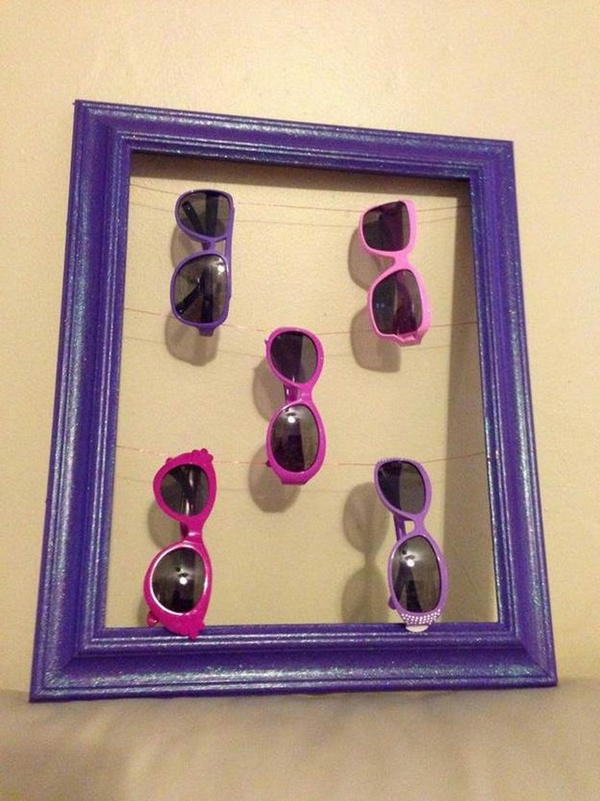 There are different ways you can use your old picture frame for something new. One of the ideas is to turn it into a sunglasses holder frame. Suppose you have never attempted to do any DIY project before but would love to have your sunglasses organized and displayed attractively. In that case, this is a beautiful craft idea to get started with. The tutorial is easy to follow and won't cost you too much time and money. It's enjoyable and easy to do, and the result is something that you can put on your nightstand or desk and use as a fantastic centerpiece.
Skill Level: Experienced
Sunglass Rack From A Piece Of 2X4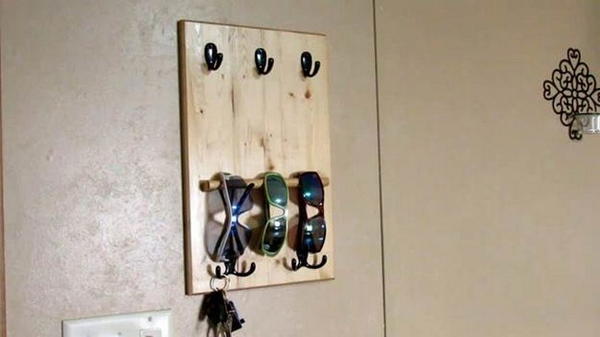 Have you ever bought a frame for sunglasses and found that your sunglasses don't fit? If so, you know how frustrating it is to find a place to put the sunglasses when you aren't wearing them. Solve that problem with this easy-to-make sunglass rack! This wooden rack can hold many different styles and sizes of glasses and hold other things like caps or keys. Put this little gem anywhere in your home; it deserves its place. It is an easy-to-follow, step-by-step tutorial that will show you how to make a practical and straightforward wooden sunglass rack from a single piece of 2x4.
Skill Level: Beginners
DIY Sunglasses Holder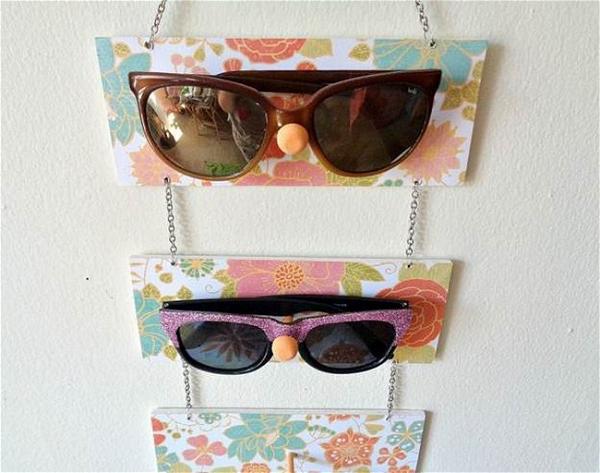 A DIY sunglasses holder doesn't take long to make and will protect your sunnies. In this tutorial, you will see how to make an easy sunglasses holder using upcycled materials and a pretty piece of flower-covered wire. The brilliant colors of the flowers are sure to catch your eye as you reach for that perfect pair of shades. Keep your favorite shades close by with the DIY Sunglasses Holder. Transform any wall into a chic display using this step-by-step guide. With eye-catching colors and patterns, this eyewear holder provides a pretty place to keep your shades.
Skill Level: Intermediate
Leather Sunglasses Holder DIY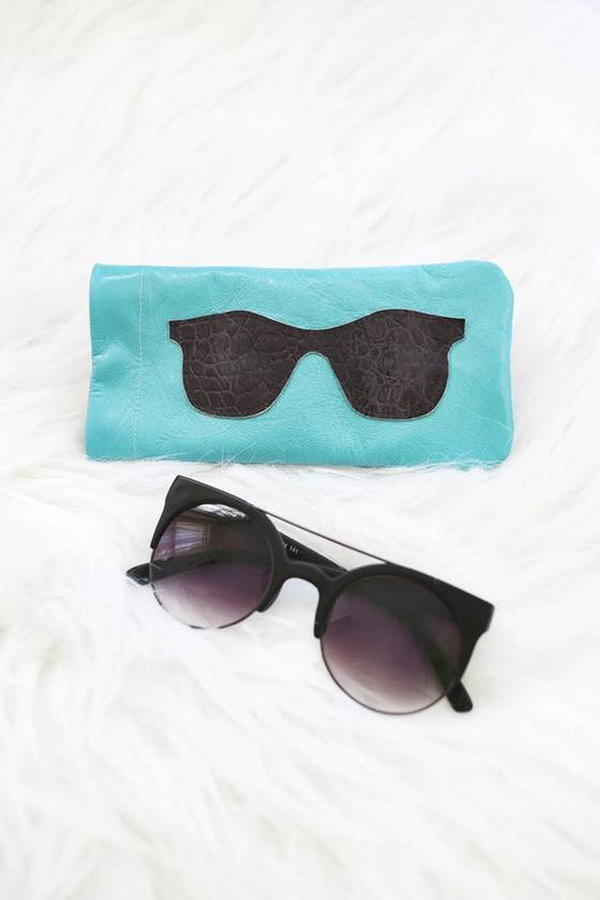 The sunglasses holder is an unusual little bag that protects your precious sunglasses. The leather straps and alligator pattern make it a fashionable item, giving it a stylish look. You can use this eyewear holder as a case for traveling or for keeping dust away from your expensive shades. This DIY project will help you keep dust off your sunglasses and tuck them safely inside a leather case that you can carry around. It is an easy project to make with leather and a few other materials. You need to follow my instructions and get everything prepped before you start. The result is a clean and minimalist sunglasses holder that has been handmade by you.
Skill Level: Beginners
DIY Sunglasses Holder With Fun Faces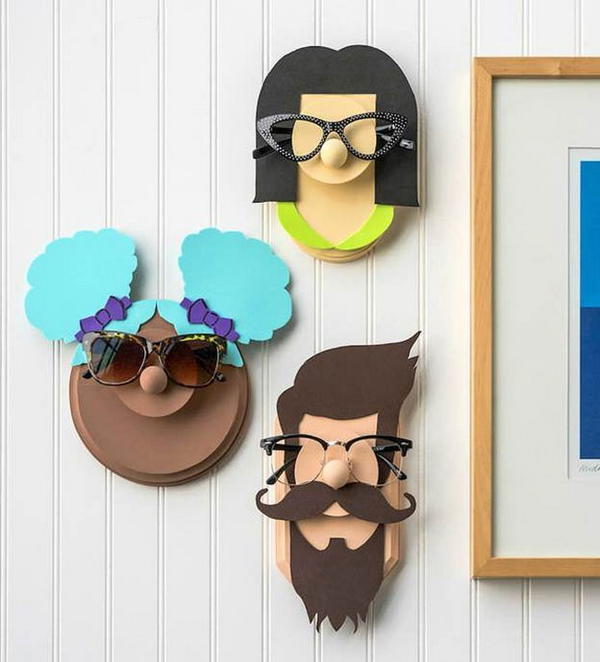 DIY sunglasses holder with fun faces will spice up your simple interiors with a creative item. This furniture piece can be put on the wall, but it's more recommended to be placed on the floor. The idea of the sunglasses holder is straightforward – it's a box having two compartments for storing your favorite sunglasses. Also, it features cute wooden faces resembling aliens. Just paint them to bring out their cuteness, and you'll love having your sunglasses stored there. This sunglasses holder will surely make your house complete. Imagine placing this on your table or hanging it on your wall. Your guests will love the cool sunglasses holder with adorable faces on them.
Skill Level: Intermediate
DIY Sunshine Sunglass Holder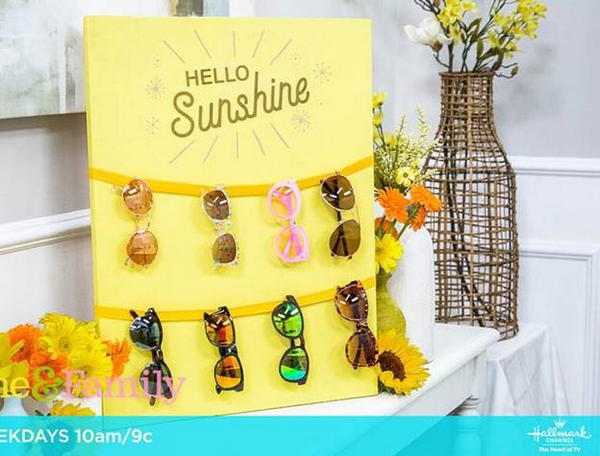 This DIY Sunshine Sunglass Holder is a great way to organize your sunglasses and bring some brightness into your room. With the yellow background, this sunglass holder would look perfect on a sunny day while outside, but it would also work well in a bathroom or any other room with room for this DIY project. It features an excellent sun graphic and several tabs that hold the sunglasses. It is easy to make yourself and can be made with little time and patience. If you have trouble keeping your sunglasses in one place, this DIY sunshine sunglasses holder is the thing for you. It comes with everything you need to make it and will bring a little sunshine into your room.
Skill Level: Experienced
DIY Sunglass Holder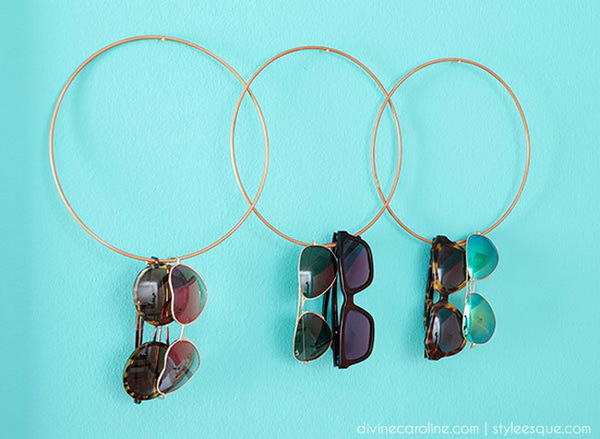 If you love your sunglasses but hate how cluttered your coffee table is, then this DIY project is something you will enjoy. The procedure is so easy that anybody would be able to put together this piece with ease. All you need are pieces of wooden rings and spray paint to make the sunglasses holder and wall art. This summer, end up with a multifunctional accessory to keep all your sunglasses organized by making this simple DIY sunglass holder with wire hangers. Paint the hangers gold, nail them to the wall, and hang your shades on them using the loops for an easy way to organize all of your sunglasses.
Skill Level: Experienced
DIY Sunglass Holder Wall Display
Create a stylish wall display for your sunglasses. This DIY sunglasses holder has three sections that can hold up to 3 to 4 sunglasses each. Hang it on your bedroom or laundry area wall to see the beautiful prints outside the glasses. Its modern style and the pink background will be practical and add a touch of colorful accent to your living space. DIY sunglasses holder wall display is just what you need. This sunglasses holder is easy to assemble with all the tools and materials on hand. It will look great in any bedroom or even in a study room.
Skill Level: Experienced
Renter Friendly DIY Sunglasses Holder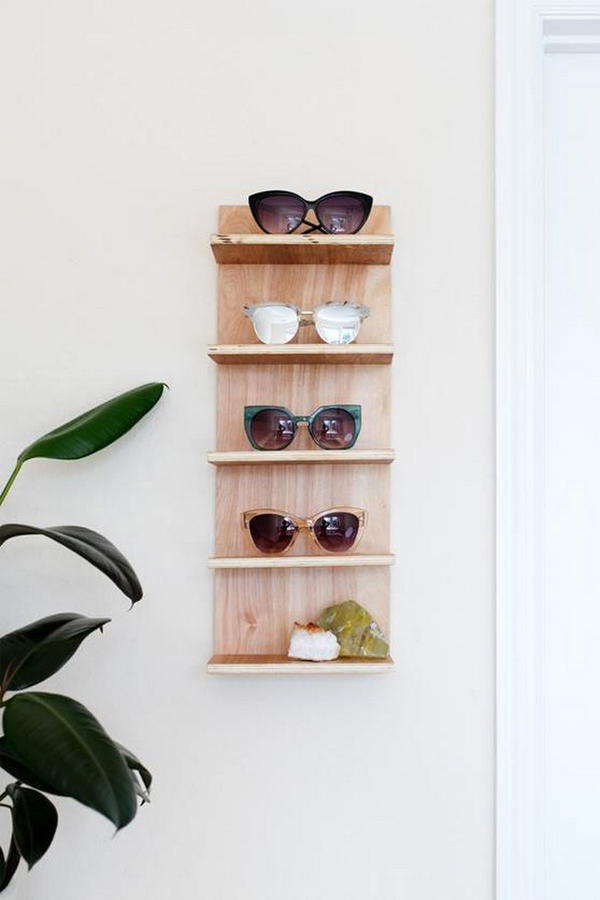 You will be amazed at how this Renter Friendly DIY sunglasses holder can organize your home or apartment. This wooden frame has shelves perfect for storing up to 5 of your favorite sunglasses. It looks great, but it is super convenient and easy to hang anywhere. This wooden sunglasses holder has small holes at the edges. The shelves are used for storing your sunglasses. This decor is unique for the house, especially for the living room or the bedroom. This project is excellent with your family and friends of all ages. It can serve as a unique decoration at your home and give the character to the room depending on the color you choose.
Skill Level: Intermediate
DIY Sunglasses Organizer With Wood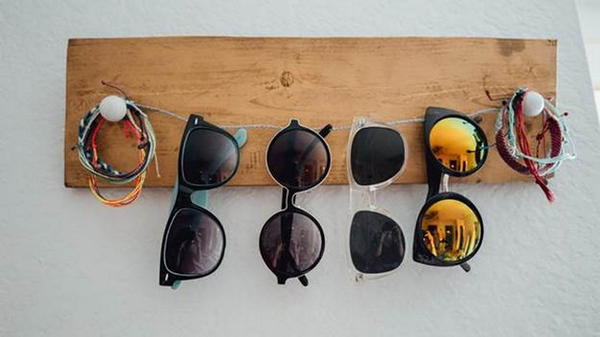 This organizer is perfect for storing your eyeglass, sunglasses, reading glasses, and other similar accessories. It is made of wood and wire mesh, and it is lightweight and easy to carry. The simple design enhances the setting of a rustic home while also adding an extra dose of style. Now that you know how to make this organizer, your sunglass collection might feel less chaotic and more organized. So, now you can enjoy and use your sunglasses freely without being overwhelmed that you tossed them at the bottom of your drawer or your bag. Get inspired by these impressive yet straightforward projects and enhance your home decor with this fantastic item.
Skill Level: Beginners
Easy Sunglasses Hanger
Easy, inexpensive, and practical. This frame with hooks is an adjustable photo frame with a mirror attached to the back that you can adjust to accommodate any sunglasses, including small, medium, and even large glasses. With this sunglasses holder, you no longer have to worry about your glasses slipping behind the cabinet or on the toilet tank where your kids can easily play with them. It is the best place to store glasses and sunglasses! So you will never feel irritated or annoyed for not knowing where you put your glasses after taking them off. It is a perfect solution for keeping your eyes protected during sports, playing on the beach, doing house chores, and nighttime reading!
Skill Level: Experienced
DIY Rotating Glasses Display
Who doesn't love glass? It's the most versatile material you can use when inventing and this DIY rotating glasses display is a perfect example of how it can work wonders in everyday life. Owners of glasses certainly know what a pain it can be finding them when they are needed right away. So keep your glasses where you need them most, with this floating shelf displaying them like sculptures on a rotating plinth. This rotating glass display is made mainly from wood. It is a fun project to do at home. This display cabinet was made by placing two by fours together and attaching a pole through the middle of them. Glass shelves can be cut and hot glued to the wooden poles to rotate around them.
Skill Level: Intermediate
DIY Eyeglass Display Board
Do you have a "thing" for trendy eyeglasses? Do you wear an eye-catching pair of glasses, but other people steal them? Eyeglasses will be placed onto a frame and attached to a display board that is horizontally mounted to the wall. The display board can fit multiple pairs of eyeglasses so that you can group your eyeglasses! If you are looking for a way to display the eyeglass that will be easier for you and other people to be a part of the trend, here is a simple DIY eyeglass display board tutorial. This tutorial will learn how to make a wooden eyeglass display board. This versatile design can be used as table decor, wall hanging, or free-standing easel.
Skill Level: Experienced
Pallet Sunglasses Holder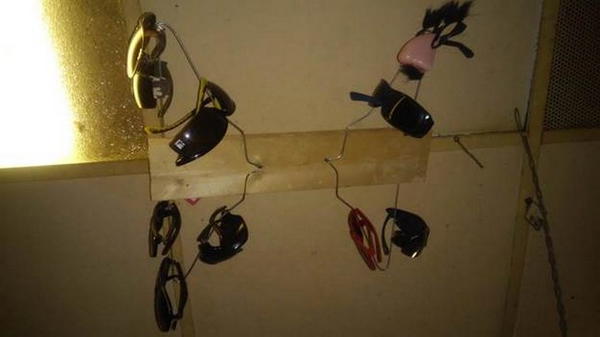 So you have a bunch of sunglasses that don't know where to go anymore or are they always getting mixed up. Let's get them off the table and dresser, shall we? You need a couple of essential tools, pallet wood, and an old rusty hanger! This DIY sunglass holder is crafted from pallet wood and two iron hangers. Using wood glue to hold together the two iron arms, you can also use screws, but be sure to pre-drill the holes into the wood first. At the same time, this isn't the prettiest. You should probably check it out. Yours might come out looking a whole lot better after improvisation.
Skill Level: Experienced
DIY Sunglasses Organizer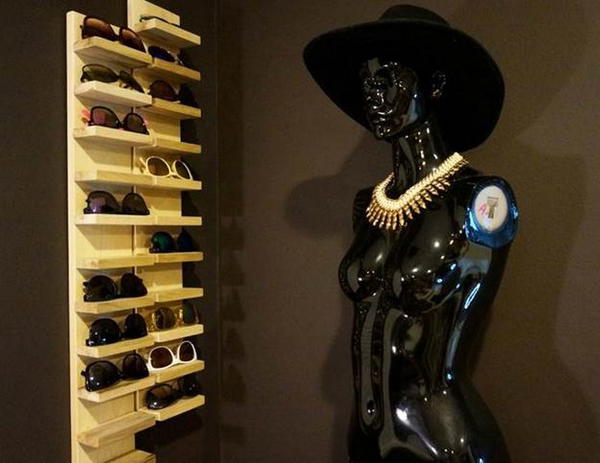 This DIY sunglasses organizer is much more than an ordinary sunglasses holder. This particular one is hung on the wall for ease of access and to add to its beauty. So you can use several DIY projects to make this piece in a particular color or shape. Put sunglasses in style with this DIY sunglasses holder. It is made of wood, and it is hung on the wall. They will also be kept safe since they are not lying on the table or being kept in handbags at a time when they might get crushed or broken. It can hold around 20 pairs of glasses. The construction requires the use of woodworking tools.
Skill Level: Beginners
DIY Sunglasses Organizer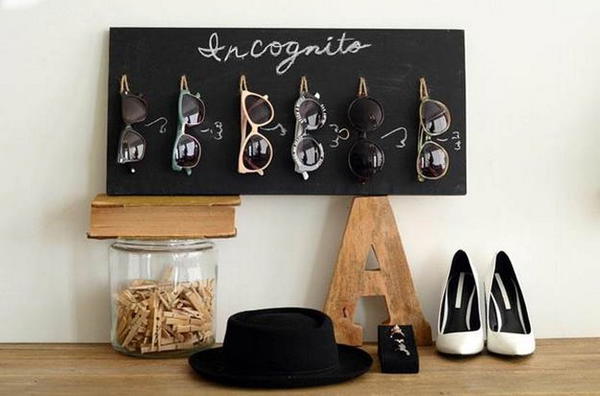 If you're like sunglasses, you've got a lot of sunglasses, and it can be tough to keep them organized. This DIY project will help—even if you have a few pairs! The organizer features twine that wraps around the mini-chalkboard, allowing you to hang the organizer on a hook or coat rack. And the best part? Grab any piece of paper, and write your sunglasses' size on it using chalk! You can use this as a guide when putting your glasses away after use. Hang this organizer on a wall or door, and voila! Your glasses will be in a neat little row, ready for use.
Skill Level: Intermediate
DIY Framed Sunglasses Holder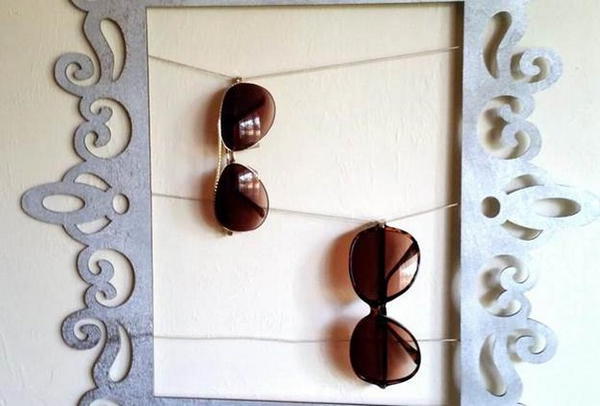 This DIY sunglasses holder is a must-have for those who appreciate wood features in their home! Made from reclaimed wood planks and featuring little hardware buttons to hold your sunglasses in place, all you need is a little paint, and you are good to go! This framed sunglasses holder will be the perfect addition to any fashionable home. So you can use this sunglasses body to get a fabulous and stylish look, and it is easy to use too! You can put your sunglasses in the main sunglasses space, and it will stay secure; no more losing them in a drawer or lying around. Enjoy & happy crafting!
Skill Level: Experienced
DIY Sunglass Holder
Looking for an easy way to store all of your sunglasses this summer? This simple sunglass holder project is a great way to try something new if you love DIY. It's the perfect beginner project—to make a sunglass holder so that you won't need a lot of power tools. It's easy to learn how to build an easy DIY sunglasses holder for your bedroom or entryway. This sunglass holder is handmade from high-quality pine. So you can brighten your shelf space with just a tiny amount of material by adding that finishing touch. It's made to hold up to 8 pairs of sunglasses at a time, so you'll always have an easy time finding them when the sun comes out.
Skill Level: Beginners
21. DIY Hanger Sunglass Organizer
Ingenious and straightforward, this DIY sunglass organizer uses a hanger covered in fabric to make an attractive home for all your sunglasses. In a video tutorial, you will go through the process step by step and answers any questions you may have. Whether you own ten pairs of sunglasses or 100, this DIY hanger sunglass organizer is a great idea. Spend some time covering a hanger with fabric to protect your glasses from getting scratched. Then, hang it up to see which pair you want each day. It's also a great way to save money and use something around the house instead of buying some expensive sunglass organizer.
Skill Level: Experienced
DIY Sunglasses Holder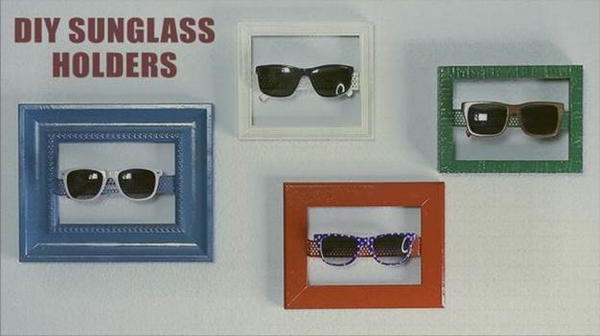 With these sunglasses holders, so you can be more creative! Sunglasses of all sizes and colors are expensive, and most people do not have the money to purchase a few pairs. With these DIY sunglasses holders, you can make sunglasses holders of your favorite color or the color you like the most for a few dollars. So you can find items that are commonly used at home. You only need to spend a few dollars on ribbons to achieve this colorful project. Have fun making your sunglass holder with this DIY tutorial. This project is great for organizing sunglasses, protecting them when you travel or adding an exciting design to your home decor.
Skill Level: Beginners
DIY Sunglasses Holder For $5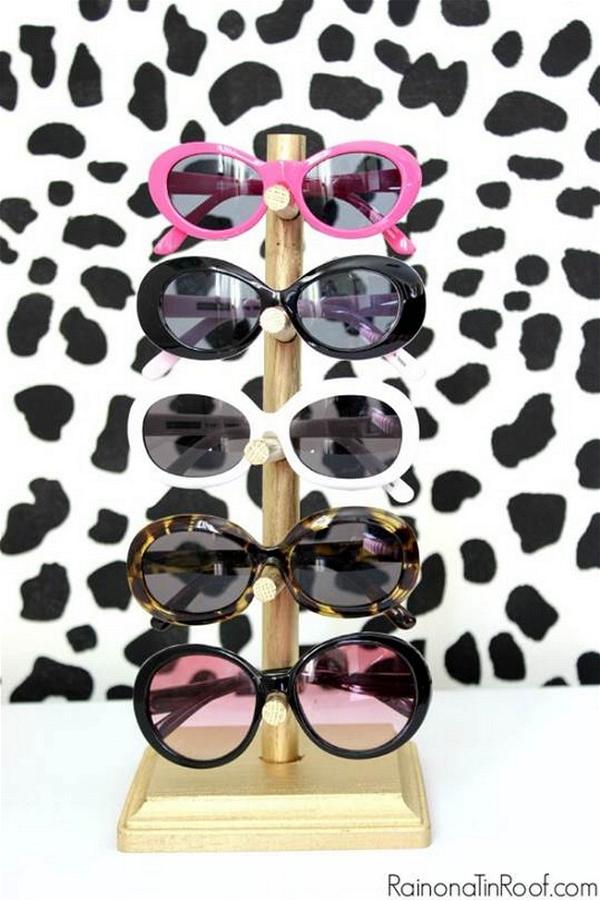 You can easily make a sunglasses holder just like this one for just $5. It isn't only the cheapest one out there, but it also looks the best. No one else will have a holder like this hanging on their wall. Plus, it has some weight to it, so it isn't likely that you were going to knock it over with your fancy prescription sunglasses resting in it. The four little hooks are what hold up the sunglasses while still giving you the option to hang them by the arms or on the earpieces where they belong. It isn't a DIY that requires advanced skills. The whole project takes about 30 minutes and requires no special skills.
Skill Level: Experienced
Conclusion:
This collection brings you 22 DIY sunglasses holder ideas. The best thing about these DIY sunglasses holders is that they is cheap, cheerful, and entertaining to make. You only need a few simple tools and not much time to make these trendy holders. The ideas included in this post will help you find the partners for your sunglasses and help you organize your accessories besides always keeping them safe and handy.