If you are a sword lover, you must be aware that swords are quite expensive, especially the good ones. But what if you know that it is possible to make your own sword using easily available things around your house? Yes, it is absolutely possible; here, we are going to tell you 23 different ways you can make a DIY sword at home without any difficulty.
DIY sword Ideas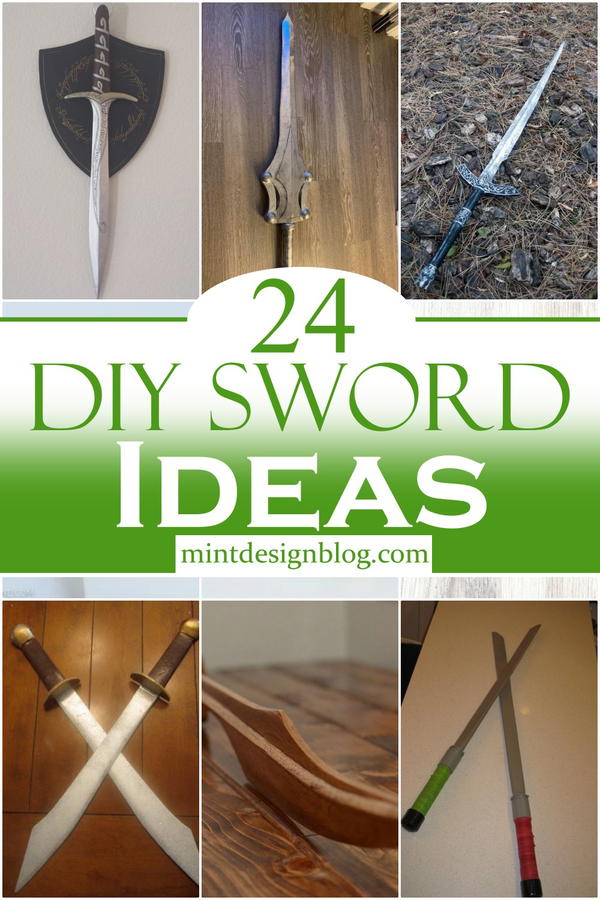 These days swords are only used as decoration, and people love incorporating them into their home decor. If you want to make your own DIY sword at home but don't know where to start, you don't need to worry because this article will provide you with the best tutorials on making this at home without breaking your bank. Swords are becoming popular art used in homes and offices. It is a perfect gift for your loved one. However, they are expensive. Why opt to buy when you can make it yourself? The 23 DIY sword ideas below will take you through the process of making a sword from scratch or customizing an old one in the comfort of your home.
Here's a list of 23 DIY sword ideas that will help you create spectacular swords you can use in jousts and mock battles or hang on the wall as artwork.
PVC Training Sword DIY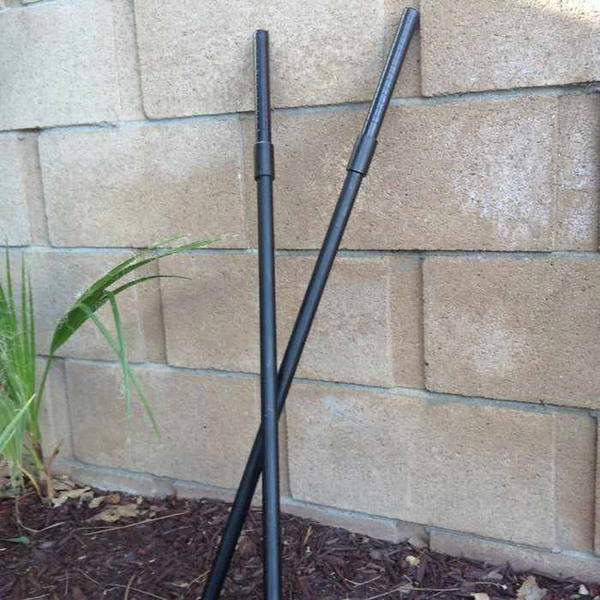 The PVC Training Sword DIY is a great choice for those who have kids that love the Age of Discovery. This sword is great for use in both training and gameplay. Not only does it make a great decoration piece but it can also be used as an accessory in creative play fun as well. PVC training swords can be created in a few minutes, the result is an easy-to-construct weapon that is a perfect substitute for your sparring gear.
Kendo Inspired Training Sword DIY
The kendo sword is inspired by the samurai sword, but it can be easily made at home. This item is a great addition to your collection of weapons or if you want to display it on your wall. All of the necessary things you need to make the kendo sword are easy to find and inexpensive. The most important thing to remember when making this sword is safety so be careful using sharp objects for young children who live with you or anyone else who cannot handle dangerous gear. In this video, you will see step-by-step instructions and follow-up steps!
Halo Covenant Energy Sword DIY
Are you a fan of Halo video games? Most of the game's weapons are fictional, but if you're looking for a real-life remake of one of its iconic weapons, build your own Halo covenant energy sword. It requires some crafty skills with a blade, and some glue to make it look realistic, but devoted fans will be happy to know that it works just like a battle-ready sword. In this video tutorial, you will see the step-by-step instructions and follow-up steps.
DIY Light Saber / Sword for kids
DIY Light Saber / Sword for kids can be made using a pool noodle and a few pieces of duct tape that are readily available everywhere. However, the finished saber gives you a fun way to practice your force powers. The pool noodle is what makes the sword strong enough to withstand your child's aggressive play without breaking. With the tools and instructions, you can build your own DIY lightsaber/sword for kids. This is really easy to make and looks cool. Make this for making some birthday celebration or for some other family fun activities.
Fire Dancing Sword DIY
The Fire Dancer's Sword is a DIY project that can be created using simple materials. This project involves building a Kevlar wick, which produces flames when it comes into contact with fuel. Start by creating pine cones wrapped in aluminum, place half of the metal onto the end of the handle, and bolt them together. this video includes the step by step instructions. These instructions will guide you in crafting a mesmerizing fire sword, sure to have your friends in awe and inspire your creative flame within.
Gladiator Sword DIY
The DIY Gladiator Sword is a project that will be sure to wow the crowd. From the sharp blade to the handle guard and pommel, this sword has it all. Produced from sturdy wood pieces, it can be used for recreation or display. With its polyx blade, this sword is guaranteed to please anyone interested in playing warrior of medieval times. In this video tutorial, you will learn how to make a Gladiator sword with step-by-step instructions and follow-up steps.
DIY Garden Sword
This DIY garden sword is surprisingly simple to make; you only need a few basic tools and materials to accomplish the task. And it's quite cheap too—a cost of around $50 will suffice. All you need is bamboo, epoxy resin, spring steel, a bored blade, and a sharpening stone and steel, and don't forget patience and hard work! this video guide will show you how to create a very real sword that looks and feels like the real deal.
Paper Sword DIY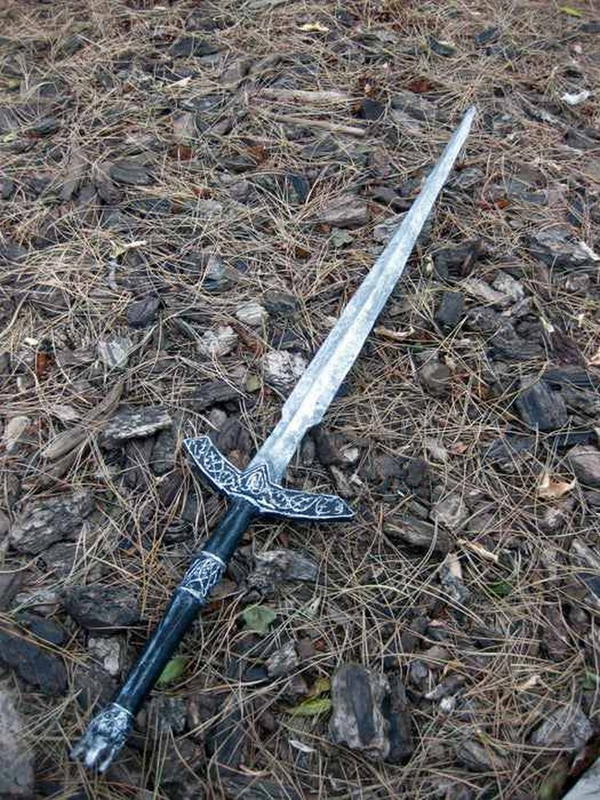 The amazing Paper Sword DIY is so much fun to make it will keep you occupied for hours. Paper Swords are some of the coolest weapons you can make. They look so real and they are completely safe. Paper swords may not be as strong as the real thing but they look just like the real thing. It is easy to make on your own and you can even customize it. Here is an instruction in this guide that will take you through the process of making a sword straight out of paper.
Wooden Leonidas Spartan Sword DIY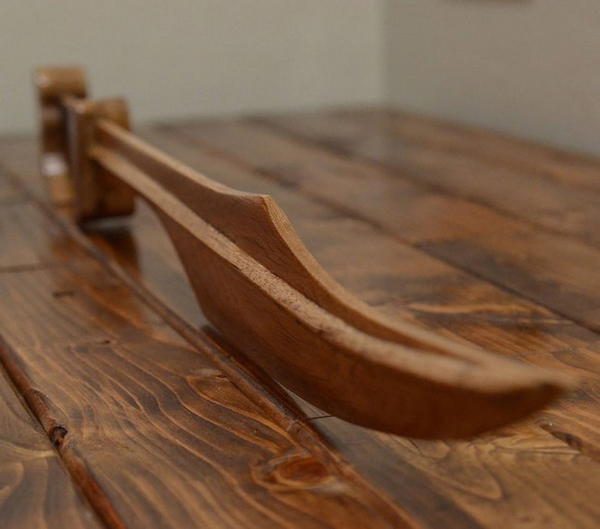 The Leonidas Spartan sword is a very easy woodworking project. It is great for beginners. The steps are easy to follow and the instructions are easy to understand. It should be easy to build after you print out the pattern and make sure you have plenty of wood, wood glue, leather, scroll saw, circular saw, sander, and clamps. This DIY project is for anyone who wants to learn about how to make a sword. It is inexpensive, does not require any skill, can be done in 5 hours, and it will look great.
Mini Sword DIY
This DIY mini sword is an easy, original, and fun project to do. The basics you need include a nail, anvil, torch, drill, sandpaper, and a file. Mini Sword DIY is an educational DIY kit. You can learn the method of forging a sword. The appearance of Mini Sword DIY looks like a real sword, but the measurement is small. It's very small but with great function. Moreover, it became the best gift for children and adults. Follow the step-wise instructions in this video to complete this project successfully.
Origami Sword DIY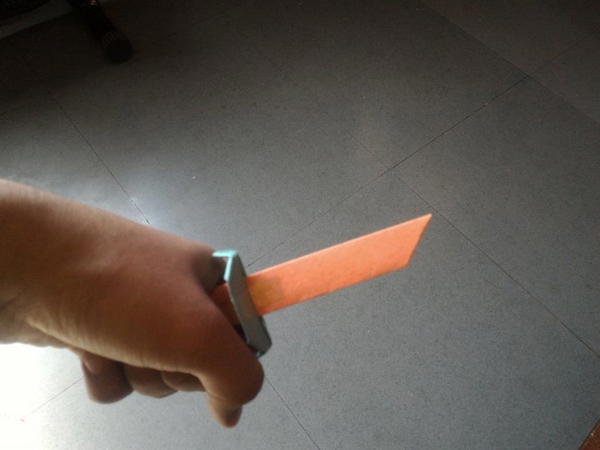 This DIY origami sword is a pleasing and simple job that requires three materials, scissors, sell tape, and origami paper, ranging from 3 to 6 inches, and can be done using only two pieces of paper. This is a child's craft toy. You can make it at your corner or at home. This craft is so much interesting. But the sword that is made from sellotape only is not a real one. Today, in this guide, you will learn how to make an artificial sword from sellotape.
Bilbo's and Frodo's Sword DIY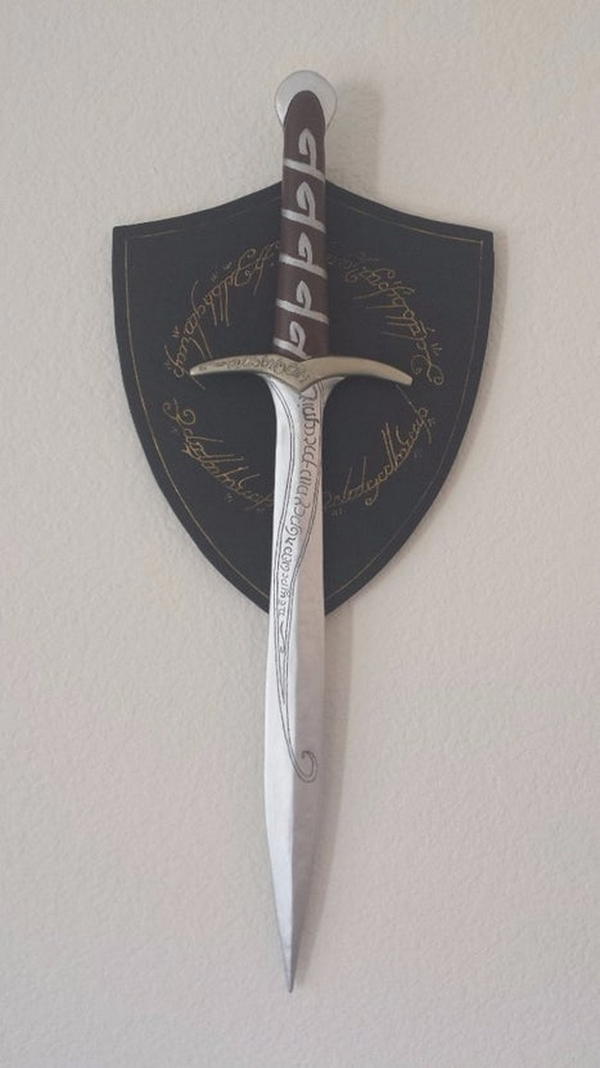 Bilbo's and Frodo's sword is a very popular weapons for The Lord of the Rings fans. Its design is awesome! In this DIY, you're going to make Bilbo's and Frodo's swords. This is a fun project for any Lord of the Rings fan. To give your sword an authentic look, you start by tracing Bilbo's sword. The blade of the sword is made from clay that's been carved and then sanded down. The handle is made from wood with a foam base. In this guide, you will learn, How to make one easy even in your home.
Shulk's The Monado Sword DIY
You must be tired of seeing Shulk wield the same sword in battle, so why not celebrate the series by building Shulk's iconic weapon yourself?! You can build your own Monado, a sword capable of striking even weaknesses. Work with a foam core base, then craft together the blade to form something truly amazing! Are you ready to build your own Shulk's The Monado Sword? By following this easy step-by-step instruction in this video, you will create a foam sword that lights up.
Gamora Sword DIY
The Gamora Sword DIY is great for cosplay and display, its materials are cheap and easy to acquire. Here is an easy-to-build Gamora's Sword out of cardboard which you can find in the packing material of your new television. After giving it a metallic look and following a few other steps, you can get an amazing weapon that will make your friends drool, allowing beginners to craft this item. All you need is cardboard, masking tape, silver spray paint, and Elmer's glue. Watch this video tutorial to learn more!
Zuko's Dual Dao Swords DIY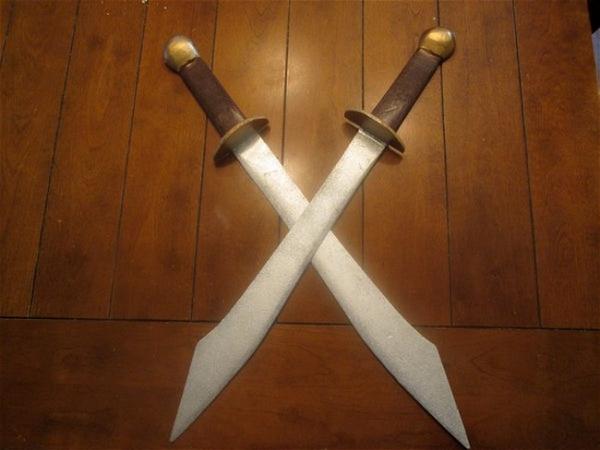 Zuko is a dual Dao swords DIY project. It's a one-handed sword made of three pieces of wood. The handles are hardwood while the blade is plywood. It's an easy project to create. In fact, once you've gone through the steps involving cutting, etching, and painting, you'll have your own sword. With this, you can practice your Martial arts skills in style! Build your own Zuko's Dual Dao Swords with these easy-to-follow instructions. This DIY requires a band saw, wooden glue, and sandpaper.
3. He-Man Power Sword DIY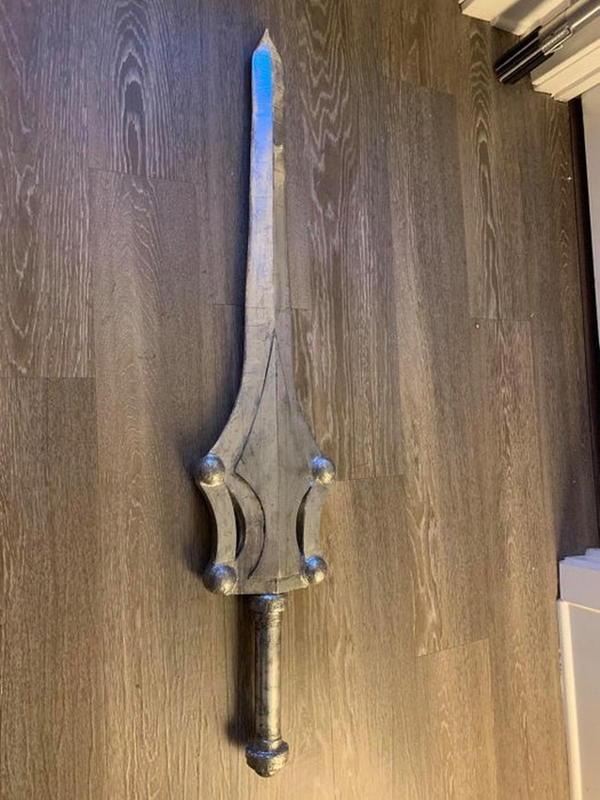 Make your own He-Man sword and stand up to evil using this quick, easy, and affordable project. For this project, you can use any colors you like. Once you are done, you can finish it off with a coat of epoxy, and some paint for a more professional look! This simple He-Man sword is quick and easy to make, accessorize with your own accessories for even more fun. With a little bit of time and care, you can create your own battle sword.
4. Links Master Sword From Legend Of Zelda DIY
This DIY is making a Master Sword from The Legend of Zelda. This is a foam weapon construction, based on the Master Sword featured in The Legend of Zelda. With this DIY, you will be ready for any adventure that comes your way. Your new sword will take the form of Master Sword from the game. As long as you have this trusty sword in hand, nothing can stand in your way. This tutorial will guide you along with the various steps in creating the sword.
5. Mine Craft Sword DIY
This DIY Mine Craft Sword is a fun craft that you can make, If you love Minecraft then it's time to make your own sword. This DIY activity is fun to make. All you need are a few materials and some creativity! Create your own Minecraft Sword using paper, cardboard, and spray paint. Just print and cut the template, glue it to cardboard, color the sword, and then you can battle creepers, skeletons, and other mobs in real life! Follow this easy step-by-step tutorial to make it easy.
6. Duct Tape Sword DIY
The Duct Tape Sword is a really fun and cool sword that can be made using duct tape only. It is totally your imagination that decides the final design of the sword.  If you love to create something from scratch, this DIY is for you. This particular sword was made from common materials found every day in an average household. The materials began with duct tape and ended with foam tape. This sword measures three feet long, and it is capable of dishing out effective battle blows. In this tutorial, you will learn how to make it easily with little time and effort.
7. Umbrella Samurai Sword DIY
Turn your old umbrella into a samurai sword! It is a project that will require a bit of thought and preparation. You need to wear gloves to protect yourself from dirt when collecting the materials. Begin by unscrewing the umbrella handle and screwing the steel pipe inside. Cover the steel using the old black jeans. Place clothing inside the pipe for it to bulge. Sewing skills would come in handy while fixing the handle on top of the sword. watch this video to learn more!
Lord of the Rings Wooden Sword DIY
This Lord of the Rings wooden sword DIY is easy to make and will look great on display. This sword has a belt-sander bevel and is painted with acrylic spray paint. This is the perfect gift for any fan of The Lord of the Rings, create your very own sword, just like Aragon's in the movies. This video tutorial will make you learn how to create a realistic wooden sword that looks rustic. You will need some basic woodworking skills, a glue gun, and a belt sander.
Sturdy Ninja Sword DIY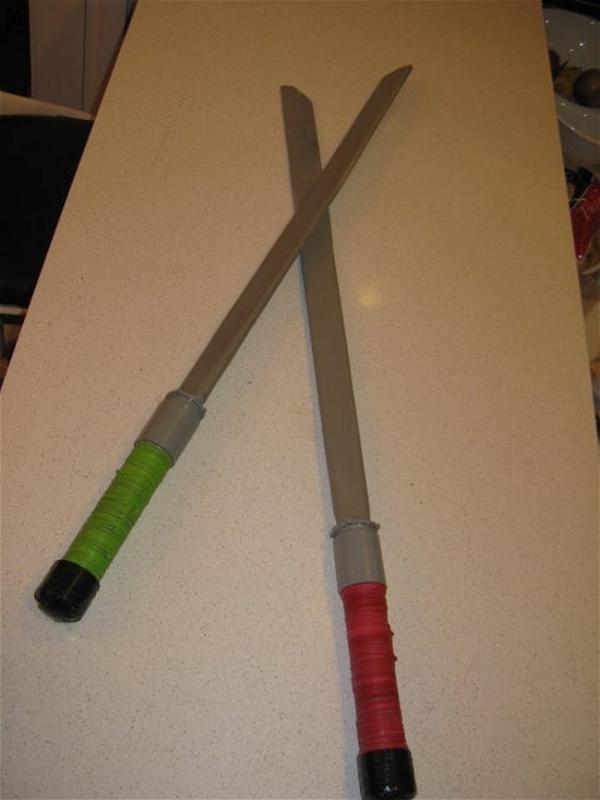 The Sturdy Ninja Sword DIY will transform you into one of the superheroes. Gather some materials at home and let's start making your own ninja sword. This ninja sword is easy to make, and fun to play with. You will have a great time making your own tough sword out of PVC pipes. Moreover, it will be more environmentally friendly if you already know how to recycle household materials. It only requires simple materials, such as PVC pipes, end caps, and couplers. and a few steps in this guide that you can follow easily.
DIY Wooden Two Hands Sword
This DIY wooden Two-Hand sword is a great tool to use for cosplay, Halloween costumes, and more. Wooden swords are less expensive but they require more time and patience. You can modify your sword to look as real because you have the complete freedom to create whatever you want. These are not swinging swords. They are for decoration only, but there is a feeling of strength when you hold one in your hands. The step-to-step instructions in this video make it an easy project that doesn't require you to be crafty or artistic.