Space is an important factor in the bathroom. You want to make sure that your bathroom is functional and organized but, of course, you also want to make sure that it looks good. A toothbrush holder is a simple way to help you store toothbrushes and reduce clutter. Toothbrush holders are a quick fix for small bathrooms or even large ones. You can find toothbrush holders at most stores, but they might not look as nice as the ones you could make yourself if you have creative skills or a bit of time on your hands. The point of this article is to give you some ideas for creating your own DIY toothbrush holder. Here are the 27 DIY toothbrush holder projects that will help you keep your brushes organized.
DIY Toothbrush Holder Ideas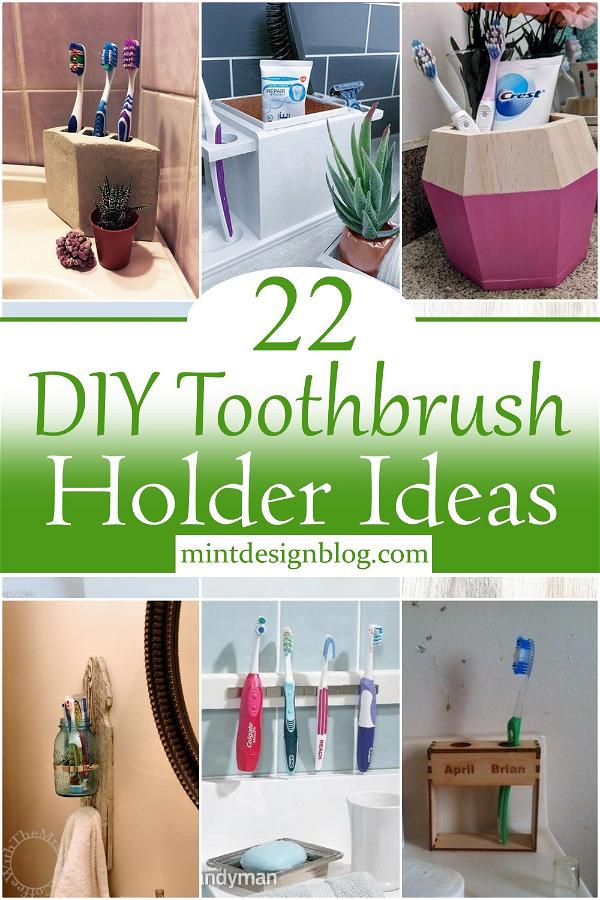 Most of the time, we just leave our toothbrushes out on the bathroom counter, but that leaves them open to dust. Dust mites can build up in that environment, causing some medical issues. Toothbrush holders can keep your toothbrushes safe and clean. It's not only neat but also a great tool to improve your daily dental hygiene. If you don't have enough space in your bathroom or are looking for some creative ways to bring a pleasant change to your bathroom, then it's time for some DIY projects here.
In this article, we have collected 22 DIY toothbrush holder projects that will help you solve any space issues you might be having in your bathroom.
How To Make A Personalized Toothbrush Holder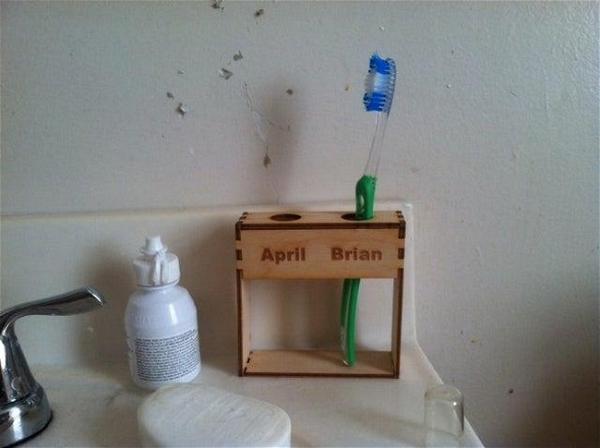 Toothbrush holders are important in the bathroom to organize our toothbrushes. But they can be a little boring with all the same colors and designs. So why not get creative by making your own! When two people have the same type of toothbrush, it is hard to tell them apart. For many families, they want to create a customized toothbrush that stands out. Fortunately, you can create a personalized toothbrush with some simple materials and tools. Decorating with craft projects is a great ways to show off your personality and add some of your own personal touches. In this article, we will share with you one such craft project that is pretty simple to make but looks fantastic when complete.
Clothespin Toothbrush Holder DIY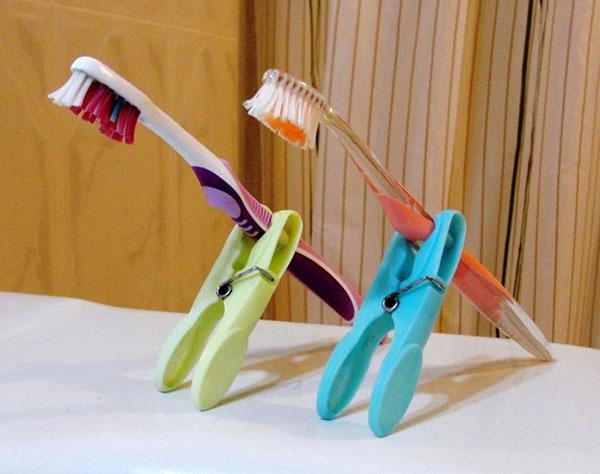 Brushing your teeth is easy enough to do in the morning, but storing your toothbrush without losing any bristles can be a hassle. The simple and cheap clothespin-toothbrush holder solves this problem by saving space on your countertop. This is a toothbrush holder hack that is easy to make at home with basic tools. It uses only a clothespin and toothbrush, so it's cheap and cost-effective. It's time to get creative and improve the look of your bathroom. This is a fun and cheap way to quickly make a toothbrush holder for your bathroom. It's really easy and makes your bathroom look pretty cute if you're into the rustic look! The directions are simple and easy to follow, even for people without a lot of crafting skills.
Toothbrush And Towel Holder DIY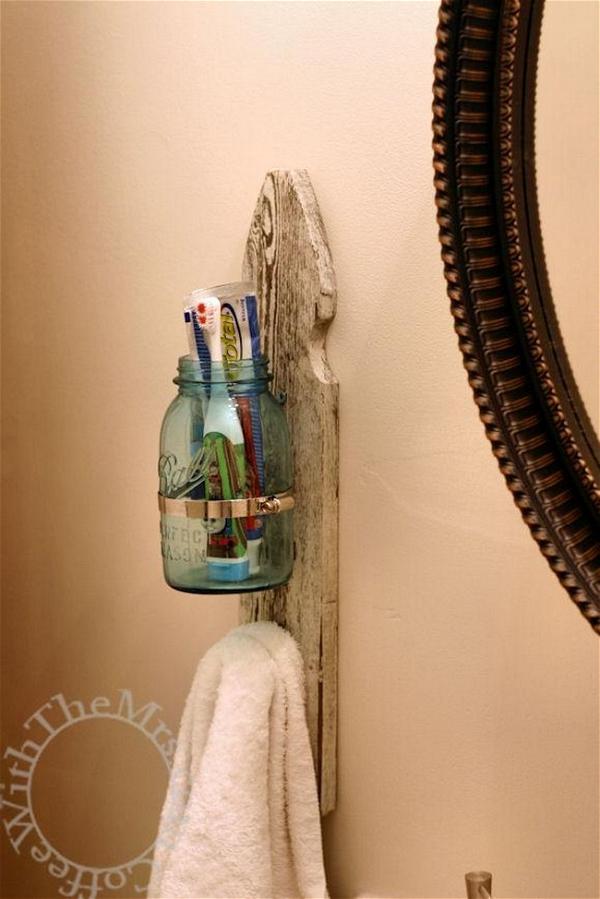 There are so many different ways to create a creative way to store your toothbrush. If you have teenagers, this DIY project is perfect for them. You will really love the rustic style mason jar and towel holder. Your bathroom decor is going to look great with these two items. This Rustic Bathroom Wall Décor is super quick, easy and cheap to make. All you need is a mason jar, a ring clamp, and a wooden plaque. The only tool required here is a drill, but all you need is a screwdriver for the ring clamp.
Wooden Toothbrush Holder
Toothbrush holders are always a good choice if you want to keep the bathroom spic and span. The wooden toothbrush holder looks great, and it can reduce the presence of germs in your bathroom. You need to first cut out the right size of wood, sand them to make them smooth, and then add varnish or paint on them before you assemble them together.
With a few simple steps and the right tools, you can have your own DIY wooden toothbrush holder to store all of your family's toothbrushes together without any fear of them spreading germs. Perfect for storing toothbrushes that use disposable bristles, this holder has a test tube-like resemblance and is guaranteed to add style and personality to your bathroom.
Cement Toothbrush Holder DIY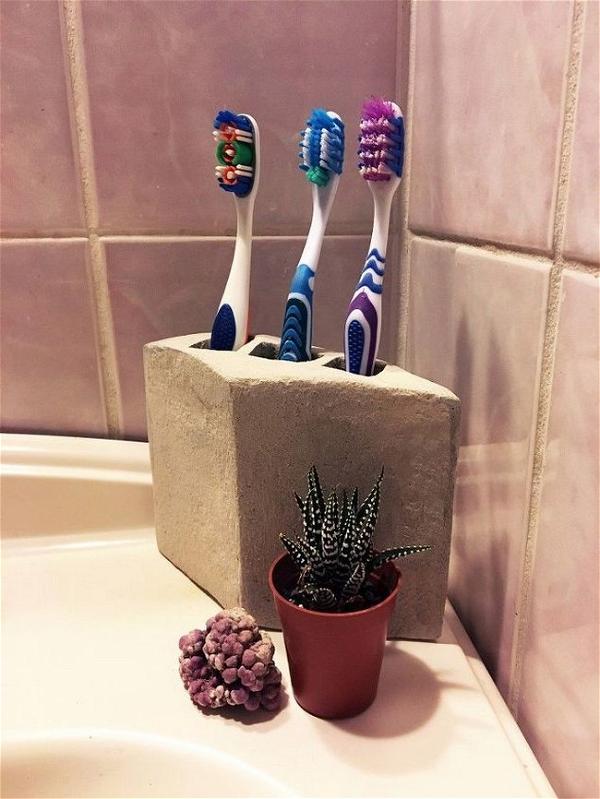 The concrete toothbrush holder is a great project if you're looking to make your own personal bathroom item. It allows you to utilize whatever you want on the outside of the holder. Maybe a rock, or some cool finish material. The inside can be lined with plastic so it always stays fresh. This cement toothbrush holder is pretty straightforward. Follow the instructions and you will have no problem making it yourself. Do not expect to get a perfect brush holder the first time around. Practice makes perfect. The Cement Toothbrush Holder DIY article will help you become a pro at making beautiful toothbrush holders.
Toothbrush And Toothpaste Holder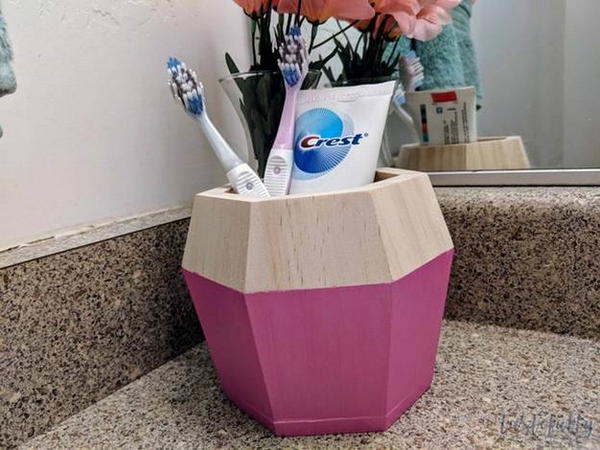 The hexagon toothbrush holder is a practical but pretty container to store several toothbrushes and also hold your toothpaste, so that you can have everything together. With its bright and fresh colors this toothbrush holder will give more color to your bathroom. The hexagon toothbrush holder is an original idea for DIY gifts, you can use it for presents or give if of your creations as a gift to someone you love. This toothbrush and toothpaste holder is so easy to make, you don't need any advanced skills to get started. There are not many materials needed, or steps involved. This DIY project can be completed in less than an hour, as it is quite a simple project.
Cute DIY Toothbrush Holder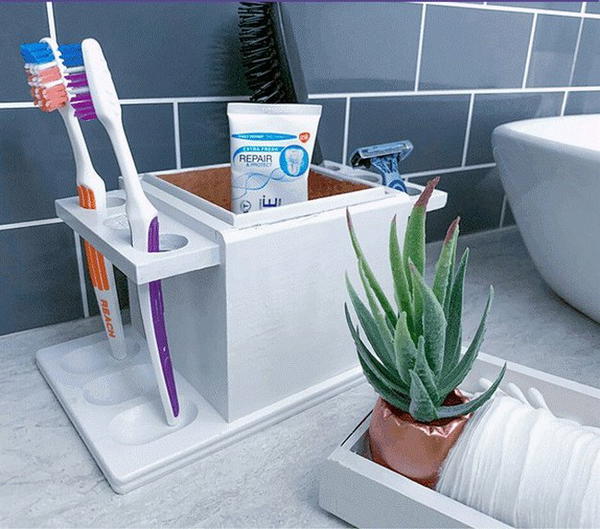 This is a fun and easy DIY craft project that you can make for your own home or for someone else as a gift. It will surely brighten up any bathroom! It also makes a great gift for friends who are also do-it-yourself (DIY) enthusiasts. You'll have fun making this cute DIY toothbrush holder, and you'll be proud to have it on your bathroom countertop. This is a fun and practical way of storing toothbrushes. With this holder, you can display your toothbrushes at their best.
Magnetic Toothbrush Holder DIY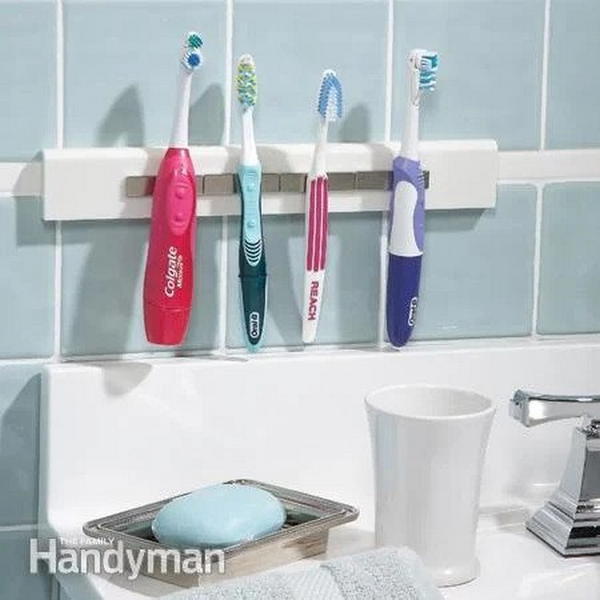 Can you imagine that you would be done with making your own magnetic toothbrush holder almost in an instant? This is possible to do with the most important thing that you need for this project—a pair of neodymium magnets. Magnetism has a lot of practical uses but keeping the toothbrushes in place is one of them. Toothbrush holders are practical, provide a neat storage solution for toothbrushes, and could make a home more attractive as well. The only thing is that they aren't free. In this DIY project, the creator shows how anyone can make a magnetic toothbrush holder. The project is simple enough to do with just a few tools, so this magnetic toothbrush holder has quite an appeal.
DIY Toy Toothbrush Holder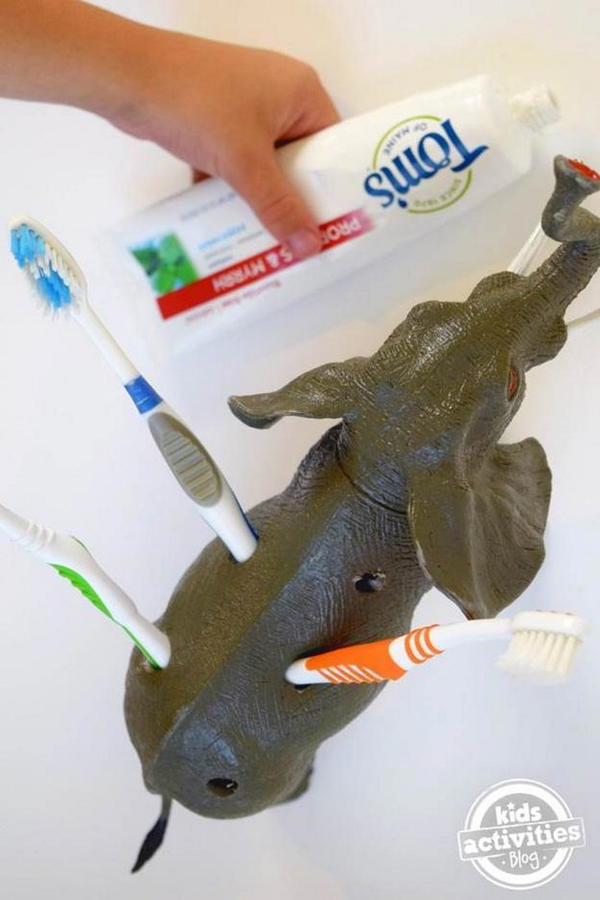 If you have children, one of their favorite toys is a stuffed animal. What if you could turn that toy into a brush holder? It's so easy and inexpensive, it's something you simply have to try for yourself. The DIY Toy Toothbrush Holder is made using a kids' toy box with the help of a few simple tools. No woodworking knowledge is required so this makes it a great project for more casual DIYers. The toothbrush holder can be painted in any color and customized as you like!
Mason Jar Toothbrush Holder DIY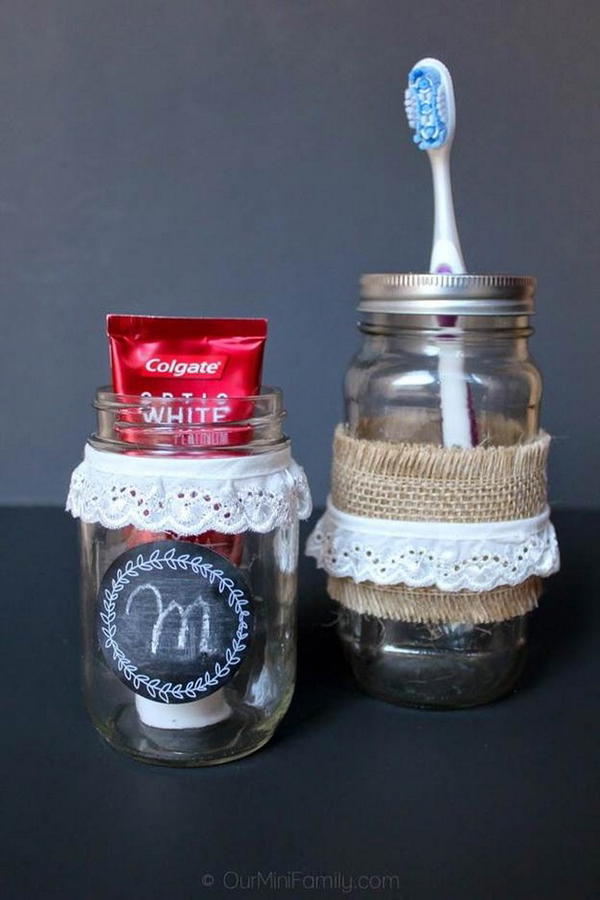 Learn how to make this simple and cute mason jar toothbrush holder. It's a perfect way to organize your bathroom and a great gift idea! Create perfectly clean toothbrush holders out of ordinary mason jars with this useful DIY project. Not only does this tutorial show you how to turn those plain and boring mason jars into a work of art, but it also shows you a simple way to achieve the final piece of your design! For those who need new toothbrush holders, or for those who want to spice up their bathroom, these easy DIYs are great.
Upcycled Toothbrush Holder DIY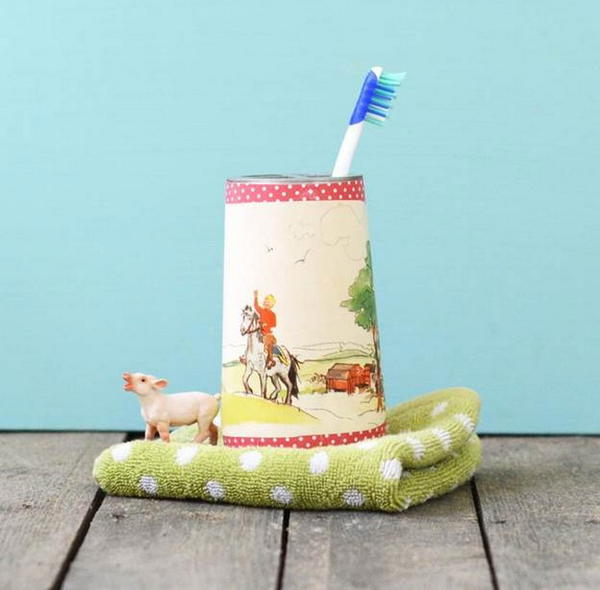 If you have a shiny, beautiful stainless steel toothbrush holder in your bathroom, but feel like adding something new to your bathroom, this Upcycled Toothbrush Holder DIY project should do it. You will only need a few materials and tools in order to bring something new and wonderful into your boring bathroom. Use a little imagination and these step by step instructions to transform it into a super cool toothbrush stand that's fit for any bathroom. Give it as a gift or use at home to display your favorite accessories. It's easy, fun, and surprising how you can dress up something so simple with just a few touches from items you might already have in your home.
DIY Mason Jar Toothbrush Holder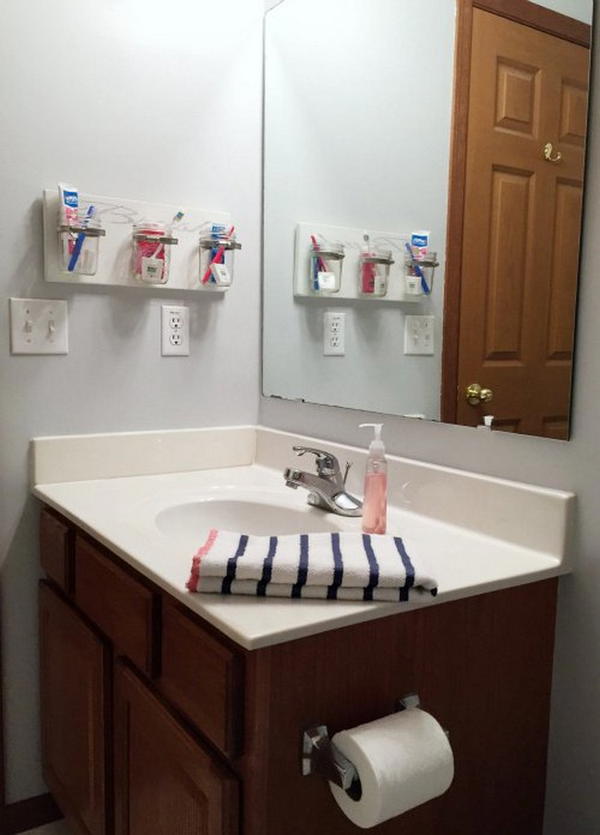 Mason jar toothbrush holder is a convenient solution to store toothbrushes that can be hung on the bathroom wall. You will need mason jars, adhesive hooks, and a saw to cut out the lid. This homemade idea is easy to do and saves space in the bathroom. You don't need to spend a lot of money to give your bathroom an instant makeover! This mason jar toothbrush holder is a great DIY weekend project and with a little bit of paint, you can give your bathroom a fun, fresh look.
DIY Electric Toothbrush Holder
Do you hate when your countertop gets cluttered with lots of makeup and skin care products? Make a simple but stylish toothbrush holder that will help keep everything organized. This DIY electric toothbrush holder uses wood and a few other materials, so you can make one with little fuss in just a few minutes! The instructions in this tutorial are easy to follow and with the help of the tools that are used, you will be able to create the holder in a matter of minutes.
19. Painted Mason Jar Toothbrush Holder DIY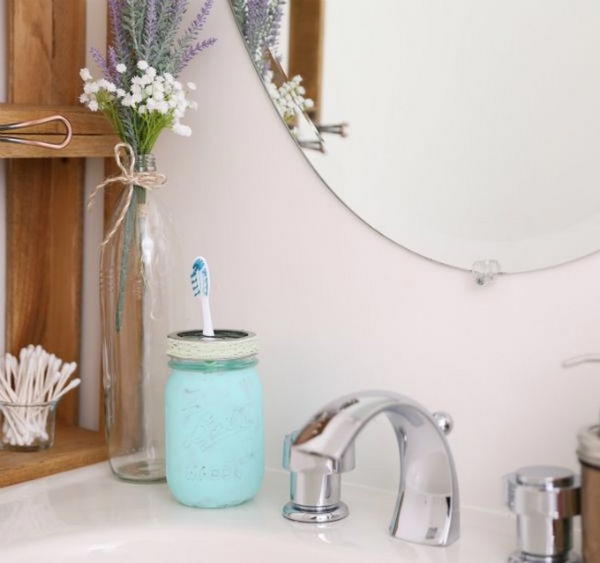 Tired of toothbrushes lying around the sink, strewn about in murky water, and slowly degrading into a rubber mess? Mason jars are awesome. First, empty them. Next, line them with a bit of fabric. Then add rubber sealant to the bottom to prevent mold. These steps only take a few minutes, and will definitely be worth it. With just a few supplies you already have on-hand, this step-by-step tutorial takes you through the steps to make your favorite little brush holder! This project is perfect for beginners looking to make something fun, but also easy to take on the go.
DIY Toothbrush Holder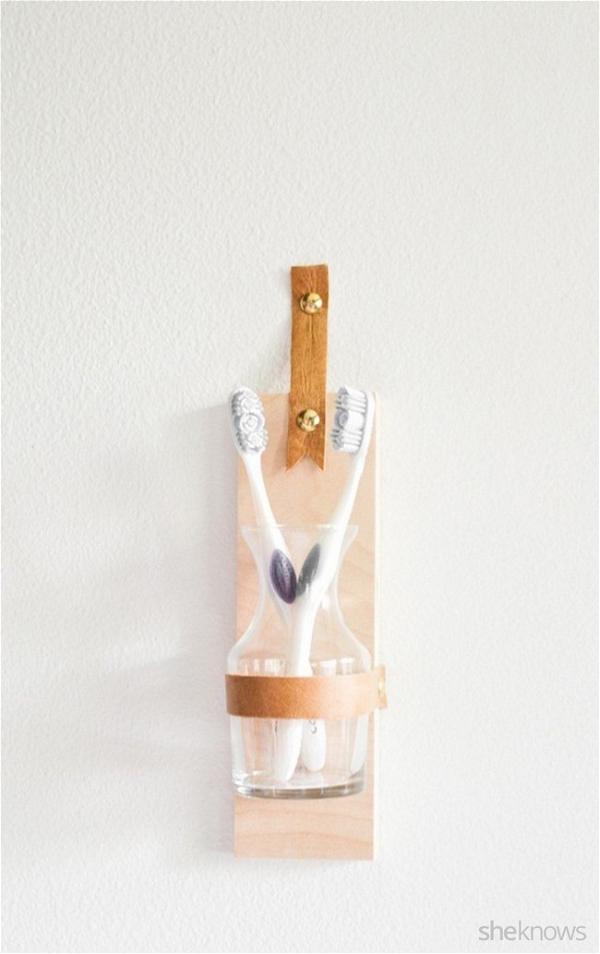 This DIY toothbrush holder is so pretty and useful. It's just perfect for any bathroom. You can make any variation you like for your home, it's really easy to make and nice job with the glass vase. You can try to do the same in your next weekend. This vase toothbrush holder tutorial is perfect for anyone with limited storage space, and a great way to repurpose some of the glass vases that end up collecting dust on a shelf. Let's get started!
PVC Pipe Toothbrush Holder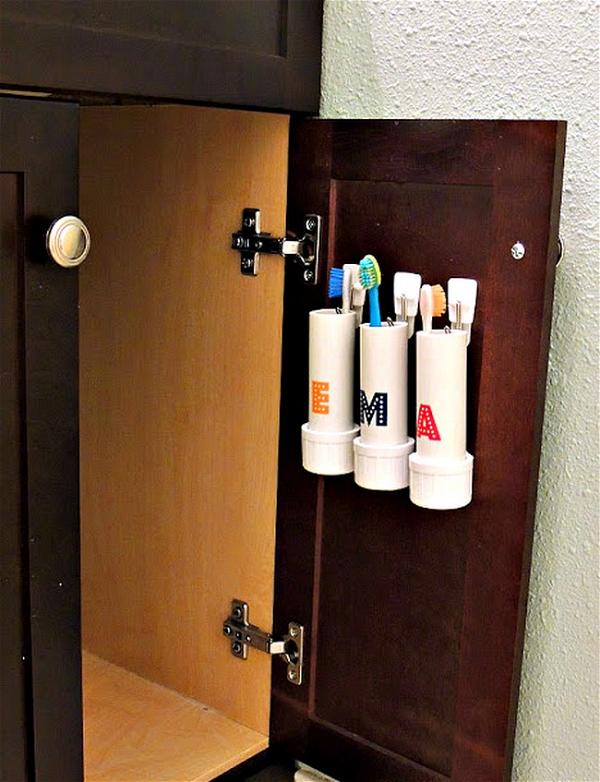 The fabulous thing about this toothbrush holder is that it can be adjusted depending on the size of your bathroom. The finished picture might be a little bit more complex than expected, but the making process is absolutely easy and simple. You will need a drill and a PVC pipe cutter for this tutorial. However, if you don't have them don't fret. You can always buy the necessary tools at any local hardware or home improvement store, but the steps will be fairly similar. You can also visit any arts and craft stores that might be nearby to find them.
DIY Wrapped Toothbrush Holder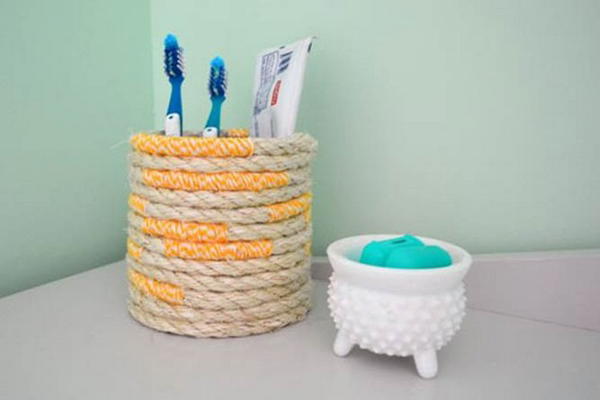 This DIY Wrapped Toothbrush Holder design is easy to make and you can use whatever type of material that you want. You will need twine or rope, and some sort of cup or container. To get started, first measure the size of your cup and then cut your twine accordingly. Make sure that there is enough length to allow you to tie a knot at the top of your cup as well as provide sufficient space to hang your brushes. Every bathroom needs an organized toothbrush holder. With this DIY wrapped toothbrush holder, you can store up to 5 toothbrushes and 2 tubes of toothpaste! Choose from a variety of sizes. It is perfect to take along with you during vacation as well as rearrange your bathroom that is in need of extra storage.
3. DIY Dinosaur Toothbrush Holder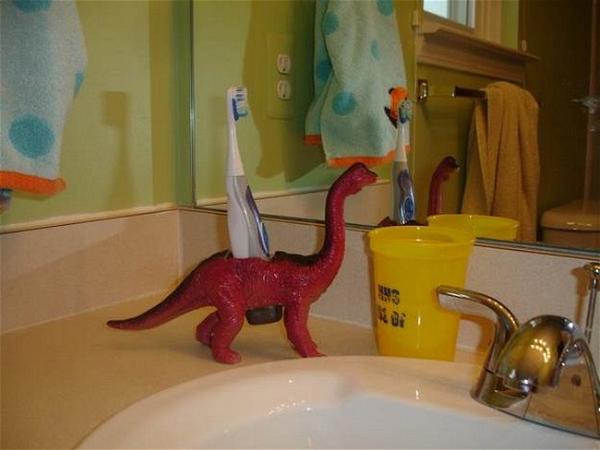 A toothbrush holder is an important thing for your family. You can make a DIY dinosaur shape toothbrush holder for your kid. It has multi-functions and could be a good gift for friends and relatives. Let your kid lead the way through their imagination, with this DIY Dinosaur-shaped toothbrush holder that will be a fun and cute addition to any kid's room. They will have fun designing their very own bathroom facilities. Replace the dinosaur with other animals or superheroes to create a unique look for your kids.
Concrete Toothbrush Holder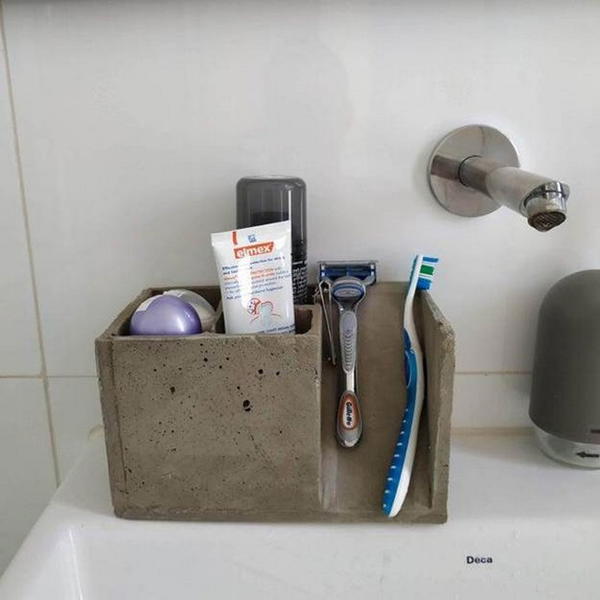 Have you ever wanted to make your own concrete toothbrush holder like the ones that are sold in stores but are too pricey? Then this project would be a great decoration for your bathroom. It has a rustic and modern style. Just follow the easy steps below, and in a very short time, you will have this wonderful piece of art.
Customize your bathroom space with the Concrete Toothbrush Holder. This unique design is bound to be an attention grabber. The kit comes with all the hardware, simple step-by-step instructions, and tips on how to add color. All you need is a little do-it-yourself spirit!
Personalized Toothbrush Holder DIY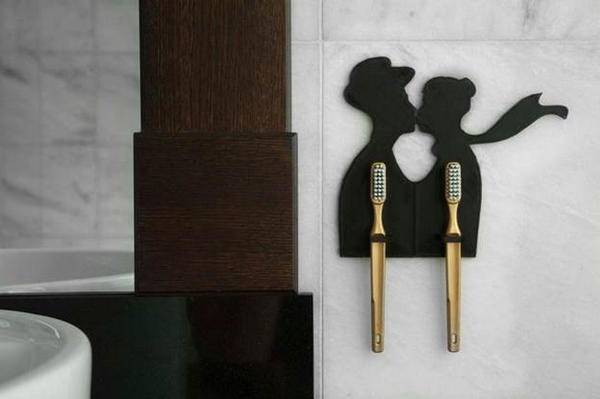 This Personalized Brush Holder is an easy, inexpensive project that you can do with your significant other. This Toothbrush Holder is a fun little project to make for yourself or as a gift to a loved one. In this tutorial, we will show you step by step how to make your own custom Toothbrush holder and add a special touch to it by adding glass gems and names into the holders with sharpie markers! If you want to try this wonderful project, you can visit the link below for the tutorial. Tips are also included in order for you to make a really good toothbrush holder that is useful and beautiful.
6. DIY Toothbrush Holder With Bottle Cap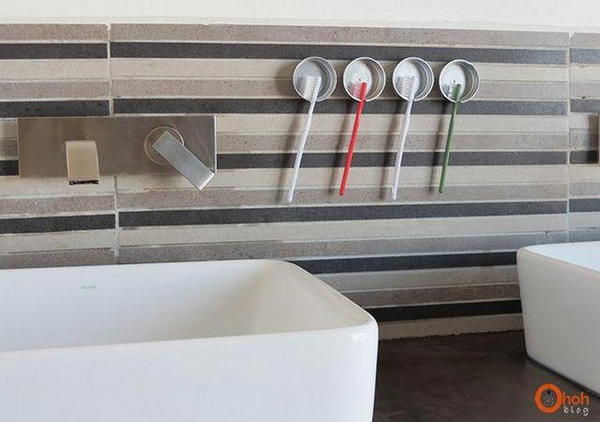 This toothbrush holder can be made from recycled materials, bottle caps, and a PVC tube. You will also need around a bottle cap and some silicone to make the cap waterproof. The featured project is sure to be a talking point when visitors come around. So don't hesitate and get ready for a new idea, start making your own toothbrush holder today! The best part about this DIY project is that you don't need any wiring, plumbing, or gluing parts. It is just a simple assembly of bottle caps and popsicle sticks with toothbrush holder dividers. The dual-purpose bottle cap will not only store your toothbrush but will also look super cute on your bathroom countertop.
DIY Electric Toothbrush Holder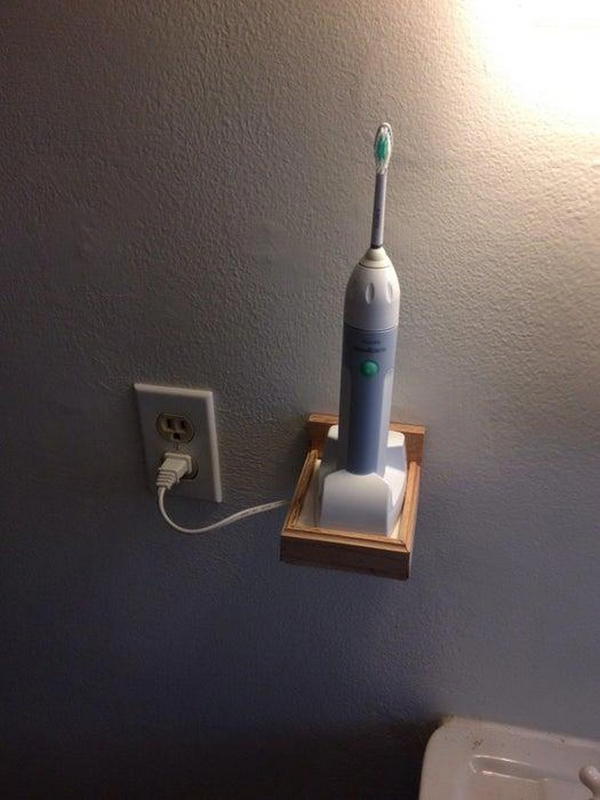 If you love your electric toothbrush, but hate the flimsy case that is holding it and instead of it falling over and breaking, why not put something strong to hold your toothbrush with so that you will be able to use it for years to come. The DIY electric toothbrush holder will help to keep your electric toothbrush clean and dry. The small holes along the sides of the project allow water to drain and air to circulate, making it a good place to keep your toothbrush.