DIY hemp bracelet patterns are an easy, fun craft suitable for all ages, and a unique way to add style and flair. Learn how simple it is to make your own jewelry with these free patterns and tutorials. They're easy to wear, easy to pack, and easy to use to keep the sun off your arms when you're enjoying the beach, camping, or on a sunny day at home. You can customize them in so many ways with beads,  charms, and more beads. Making your own hemp bracelets is one of the easiest crafting projects you can do, so it's a great way for kids to learn how to craft as well. It's also a fun activity for adults to do together, like with friends when you're hanging out or with family on vacations. And since hemp is inexpensive, making tons of bracelets won't drain your bank account.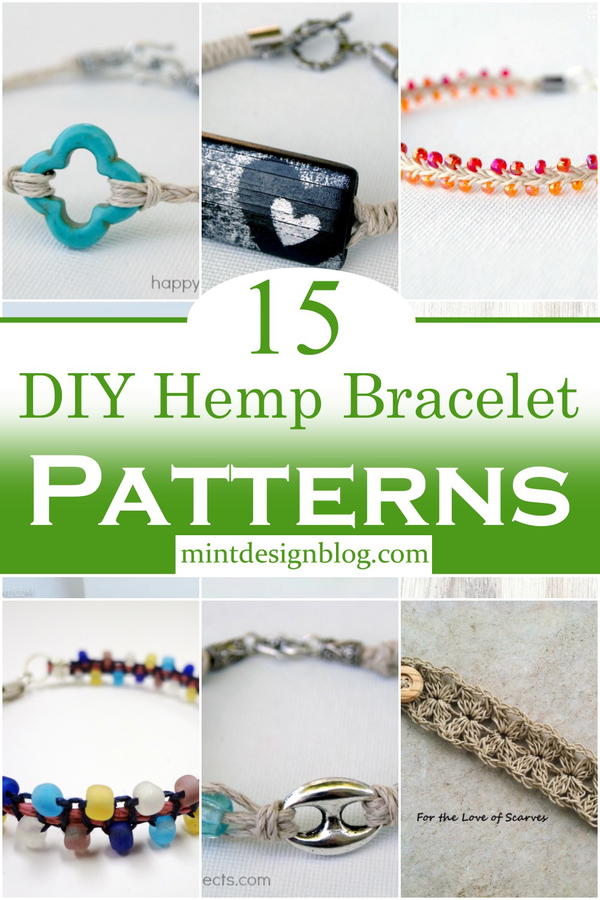 Hemp is one of the most versatile fibers and is a great choice for jewelry-making projects. It is a solid and durable material that can be woven into bracelets, belts, and other accessories. It can still be dyed into patterns and designs despite hemp's toughness. Hemp is ideal for creating jewelry because it is cheap and easy to work with when you want something simple or natural. Even the people who don't care for hemp as a fabric can appreciate the looks of its products. In addition to hemp bracelets, you can also make necklaces, earrings, keychains, zipper pulls, and more out of this popular material. If you like these DIY bracelet tutorials, we highly recommend checking out these complete tutorials on how to make your own hemp bracelet!
If you're looking for a new bracelet, but don't want to spend a lot of cash on it, check out these fabulous 15 Hemp Bracelet Patterns that you can make yourself.
Tips To Make Hemp Bracelet Pattern
Hemp bracelets are a great way to show your love for the Earth. Not only can they be made by hand, but they're also easy to make and can be made out of anything from hemp twine to hemp T-shirts!
If you're looking for a great summer craft, a Hemp Bracelet is just what you need.
Hemp Bracelets are a fun idea for kids' parties or even as a gift.
Hemp Bracelets are one of the easiest crafts you can make at home. All you need is some string or twine and a few beads.
This is an easy project that anyone can do. It's perfect for beginners, but even experienced crafters will enjoy it.
You can make these bracelets with any kind of string. They look great in hemp, cotton, or jute twine, but you could also use embroidery floss or yarn if that's what you have on hand.
Materials Needed
Hemp bracelets are a great way to include the popular trend of hemp accessories in your outfit. They're easy to wear, and they add a subtle style that looks great with almost anything. Many people choose hemp because it is eco-friendly and vegan, but anyone can wear these bracelets. If you're interested in making your own, you'll need some materials. These are pretty basic, so you don't have to spend much:
Hemp cord – this comes in various sizes, so you can use as little or as much as you want for a bracelet. A thicker size will be easier to work with for beginners.
Beads – any beads will do for this project, so pick out your favorite styles!
A button or bead – will be used at the end of the bracelet to fasten it together. It doesn't have to be anything fancy, just something that will fit through the loops of hemp cord at the end of the project.
Scissors – you'll need these when you're finished!
Intricate Cuff Hemp Bracelet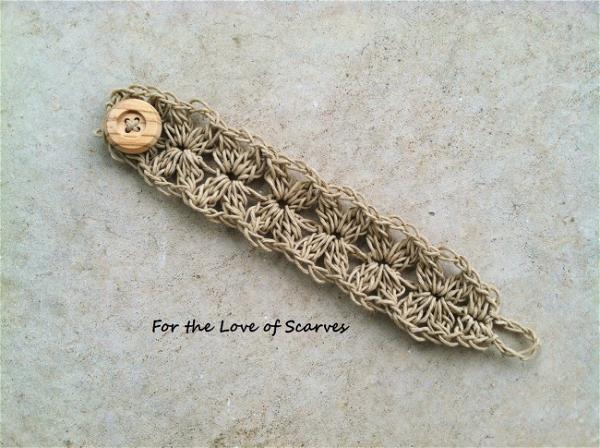 This beautiful bracelet crochet pattern is an Intermediate Level piece that teaches you how to create this intricate and eye-catching work of art. This is definitely a pattern that will take you a while to finish, but the effort will be worth it! The results are stunning. There are not many intricate patterned bracelets that stand out like this one-of-a-kind piece. Just like the basic Hemp Knot bracelet, but with a more complex look. The perfect gift for your crafty friends.
Knotted Hemp Bracelet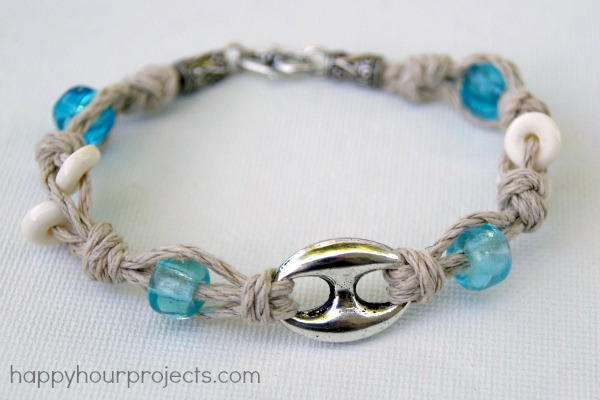 This is an excellent tutorial if you love hemp bracelets but are not so keen on braiding. It shows you how to create knotted bracelets that are just as beautiful and vibrant as the braided styles. This bracelet is super easy to make and surprisingly works with a lot of different types of outfits. This tutorial is a great bridge between hobbyists and jewelry designers. There's just a touch of advanced technique to it, but nothing overly difficult or time-consuming."
Bamboo Tile and Hemp Bracelet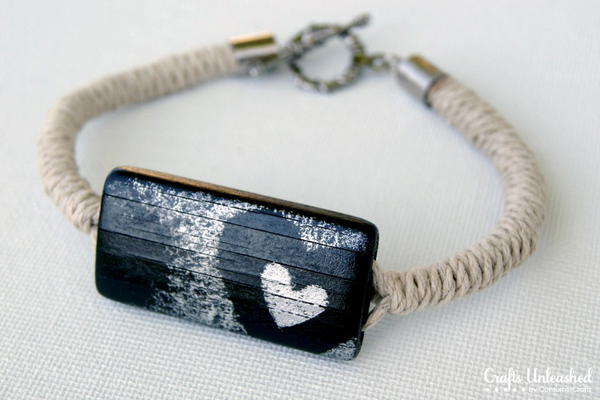 Here's a perfect project to wow your friends! This handcrafted bracelet has a great relaxed look that's very versatile. And it's fun to make: by varying the thickness of the hemp, you can create a thick, rounded bracelet like this one, or a simple flat braid. The bamboo tile accent piece adds an extra touch of style for an elegant, nautically-inspired look. It is an intermediate-level project with a fun, unique look. The finished bracelet is a beautiful blend of environmentalism and fashion.
Hemp wish Bracelets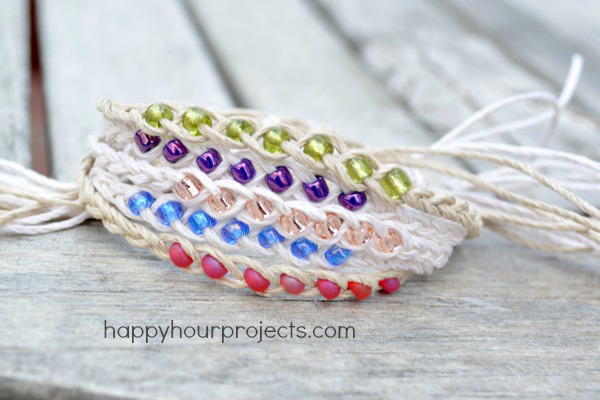 Express yourself and stack up against your style with this bracelet-making tutorial. Braided hemp (or other waxed cotton thread) with a button and loop clasp adds to the minimalist look. These bracelets are easy to make, whether you are making them for yourself, friends, or even as a party project in which kids can participate. You can use these bracelets to wish someone a happy birthday or anniversary or just give them as gifts. They're also fun to wear on your wrist, so you can wear one every day if you make a bunch!
 Sliding Hemp Bracelet
Bracelets are a great way to accessorize your outfit. This Sliding hemp bracelet may look difficult to make, but it's actually fairly simple. In this step-by-step tutorial, you'll learn how to make a cute hemp choker with multiple strands. The sliding clasp makes it easy to put on and take off, and the beads that adorn the bracelet will add some stunning color to your outfit. This bracelet works great with multiple strands of hemp – You can mix up different colors, textures, and beads to customize your own look.
10-minute Hemp Bracelet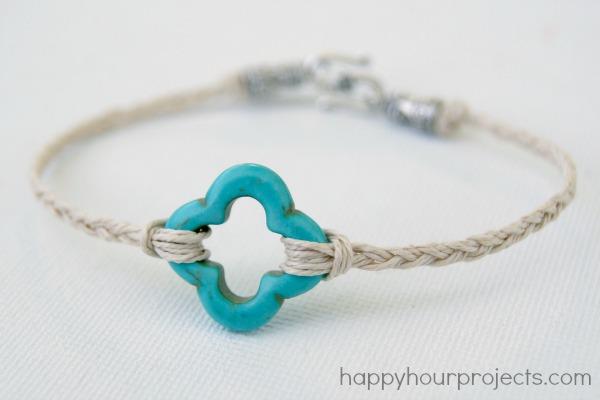 Make your own hemp bracelets in only 10 minutes using this simple weaving technique. You'll need a mixed bag of beads, hemp twine, scissors, and spring clamps to keep the bracelet in place while you braid. This hemp bracelet is a great project for beginners (or experts who need something quick and easy). The bead with a hollow center makes it easier to add more beads without having to unpick knots. This project makes a great party activity or craft day at school! Kids can practice fine motor skills by learning to tie knots and form braids and becomes a fun way for kids to express their creativity
Simply Beaded Hemp Bracelet

This bracelet pattern is a great, stylish knotting technique between beads. Aren't the ceramic beads on this hemp bracelet just gorgeous? Ceramic beads and hemp make a pretty, natural look. Combine them with a pattern like this one, and you have something really special. You will love this Simply beaded hemp bracelet pattern that is easy to make and wear. You can make it in under an hour with a little practice. These beaded hemp bracelets are great for beginners because they only require a handful of supplies and you can easily swap out the beads in this pattern to use ones you already have at home.
Dual-color Beaded Hemp Bracelet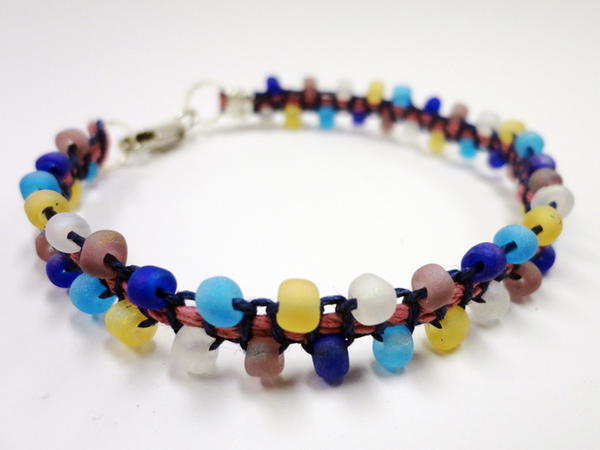 An easy way to spruce up your favorite summer look is by adding a double-wrap bracelet. This one uses two different colors of hemp, but you can switch out whatever beads you like. It uses two different colors of hemp to make it look more vibrant. This is a great look for casual days or for adding a finishing touch to your outfit on more dressed-up occasions. With just a few beads and knots, you can create an inexpensive fashion accessory. Using two different colors of hemp is a great way to spice up a simple beaded look.
Bead and Hemp Summer Ankle Bracelet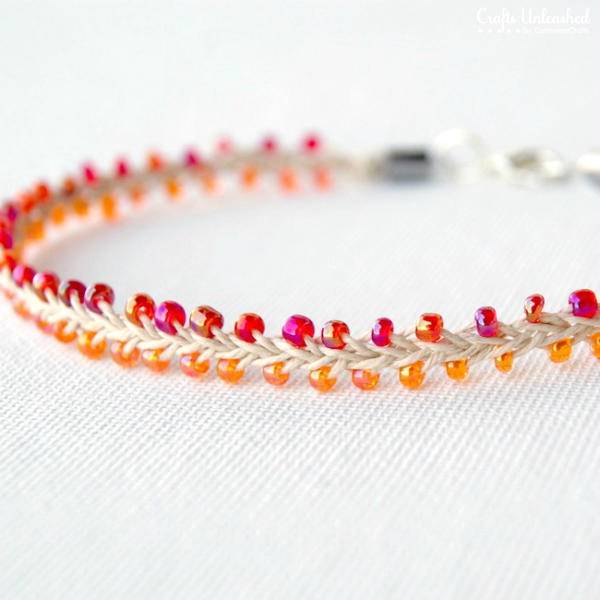 A beautiful, fun anklet to mix and match with your favorite swimsuit of the moment! This woven ankle bracelet, made of hemp and bright beads, is an artful way to bring color and sparkle to your summer look. You can show off your ankles with this beautiful and colorful ankle bracelet that features beads, hemp, and a macrame adjustable clasp. The eco-friendly hemp cord is handwoven and very comfortable Save your money and avoid buying a new bracelet every summer that you lose as soon as you get in the pool. This will last for years
Hemp Button Bracelets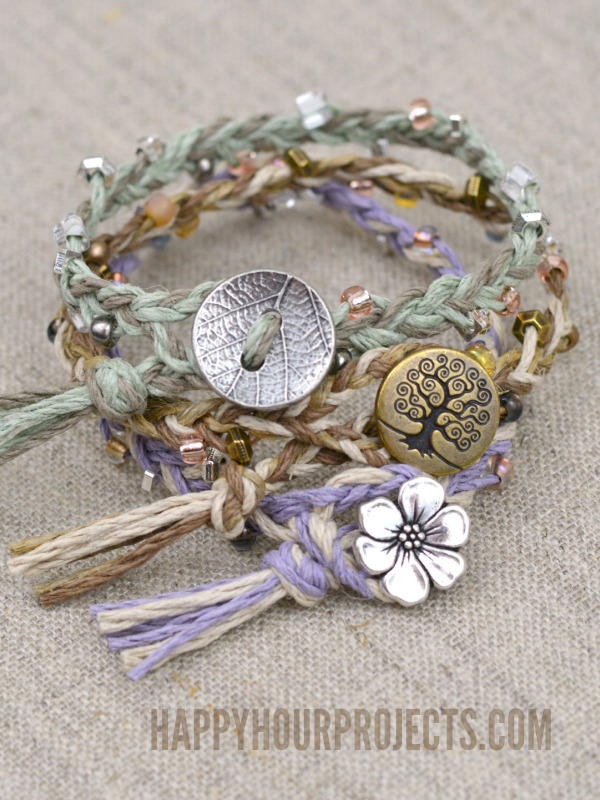 Inspired by the beauty of nature, this woven hemp bracelet uses a combination of bright beads, a glass button clasp, and a nature-themed charm. This lightweight bracelet has an adjustable pull tie to fit any wrist size, so it's perfect for anyone looking for a nature-inspired design. These bracelets easily snap onto your wrist, making them easy to put on and take off. This bracelet is full of nature's elements, combining button clasps and beads with hemp. Wear it alone or stack it with your other bracelets for a cool mixed media look.
Simple Braids and Beads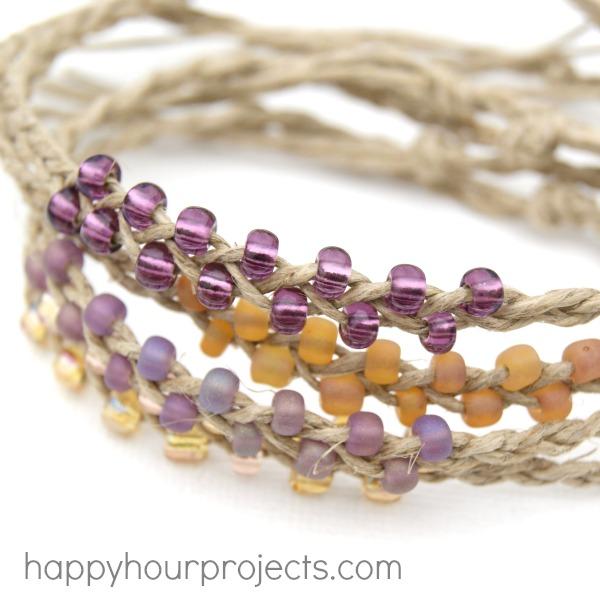 The best part about these bracelets is that you don't need a ton of supplies, and the simple designs are a breeze for beginners. It can be made in about five minutes, even by beginners. All you need is some hemp twine, beads, and scissors to make awesome bracelets! This quick and easy tutorial doesn't take much in the way of supplies, making it perfect for camp crafts, girls' nights, teens – well, it's a project that's pretty much suitable for everyone. They are a great summer camp craft or party activity for teens and tweens, and they make wonderful gifts as well.
Lacy hemp Bracelet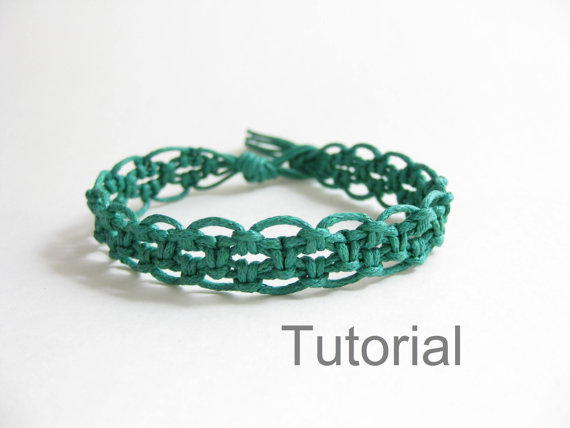 If you want to get started making jewelry with hemp, bracelets are a perfect place to get consistent results with minimal cost. This tutorial guides you through the process of making this intricate-looking lacy hemp bracelet. A big knot at one end and a loop at the other make it removable! Using a common hemp cord, and an easy knotting method, this bracelet can be worn by men or women alike! Using a common hemp cord and simple knotting method, you can make this gorgeous macrame bracelet in under 30 minutes and for less than five dollars! Follow along with this tutorial, and you will be able to make this accessory yourself in 30 minutes or less.
Two-colored woven Bracelet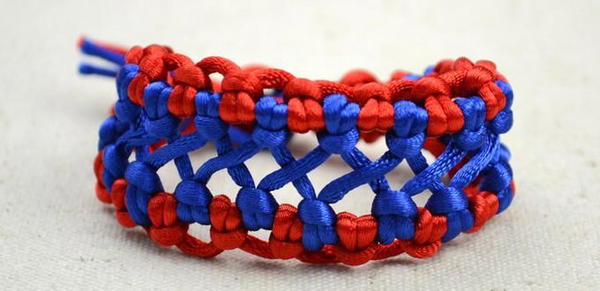 A two-colored woven bracelet can be a great way to add some color to your style, or it can even be used as a friendship bracelet. To make a two-colored woven bracelet you'll need two different colors of hemp. The size will depend on how many times you need to wrap the cord around your wrist. Keep in mind that when braiding the hemp together, both colors will be shown throughout the bracelet. Try using different colors of hemp on both sides of your bracelet for a neat look!
Leather cord Hemp weaving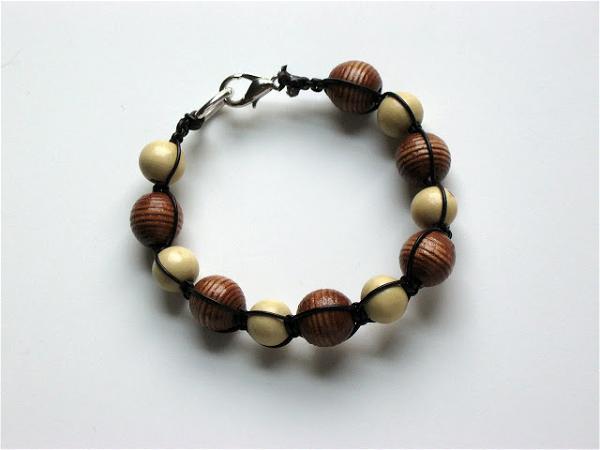 Try making a necklace if you're a hemp jewelry lover and find yourself itching to make something different rather than just more bracelets. Woven bracelets are so trendy right now. So why not try out the same techniques with a leather cord instead of hemp? Leather's thinner, giving your finished product a sleeker look, while still keeping that same earthy feel. Plus, it's a bit easier on your hands, so you can make more. More for you, more for friends! Leather cord is also fun to wrap around wood or other sizes of stone beads as part of your design, where they fit more snugly than they would over thicker hemp.
Embroidery Beaded Hemp Bracelet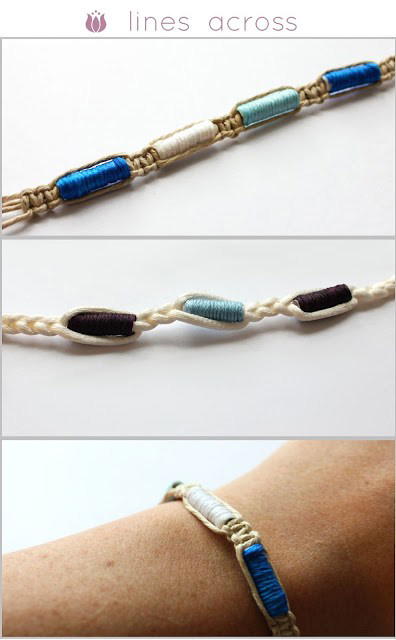 Bracelet weaving and bead embroidery are both relaxing crafts that you can take anywhere. And if you bring along the right materials, you can transform your simple bracelet into a beautiful new piece of jewelry. "Follow the tutorial to weave a simple hemp bracelet, and learn how to add beads you make using embroidery floss. Add extra beads if you like. You can wear this bracelet on its own or with other bracelets, bangles, and watches." This bracelet features a durable hemp cord, embroidery floss beads, and wooden beads.