Consider these tie-dye design ideas if you want to create a splash or add some color to your wardrobe and home decor. From t-shirts and wall art to how-to tips, this article has everything you need to learn about easier and more complicated tie-dye patterns.
Tie-Dye folding technique is a classic method to create a slightly retro vibe. Tie-dye is one of the most iconic wavy images out there, and it's also one of the simplest to create. You can use fabric paints to make a tie-dye shirt or use the same painting technique on your wall. With these quick and easy instructions, you can learn how to DIY tie-dye design! Whether you choose to go with a large design or something more subtle, tie-dye is always in style.
When the weather warms up, it's fun to break out; that colorful summer might be hard to get paints, but the idea of tying dye is that you use a rubber band to tie off a section of fabric. You then dip it into your liquid dye and take it out randomly. The color sometimes ends up messy, where the beauty of random comes in. Try these advanced tie-dye patterns for the whole family if you're ambitious!
Tie-Dye Patterns And To Learn Folding Techniques!
Denim Pants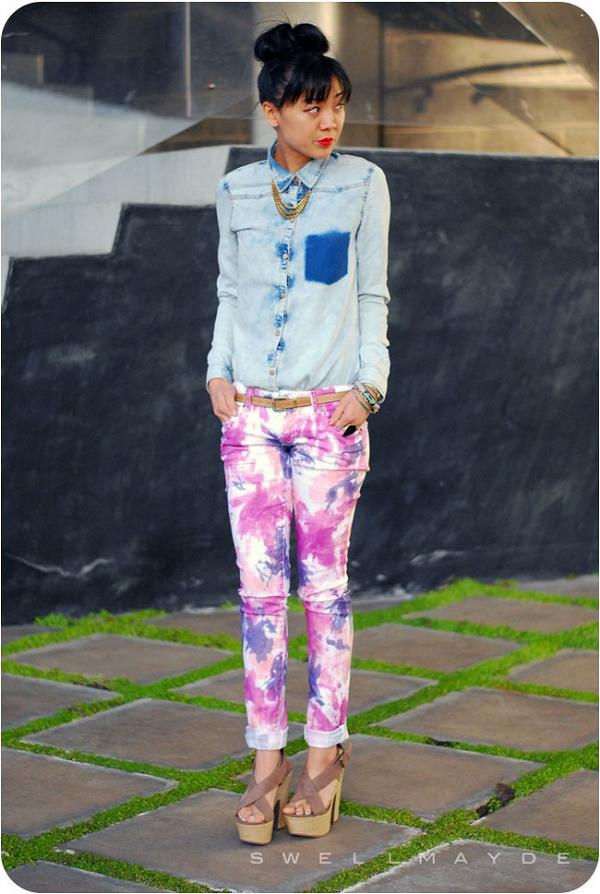 If you love our rock & roll pants but wish you could make the ultimate statement by making your tie-dye version, you're in luck. We grabbed our sewing torches to end up in these su[erb admirable tie-dye pants. They'll be great to turn your regular denim into something sophisticated and unique. This tutorial will take you through all the steps to create these bright pants for yourself or as a gift! You can go with different colored options for this tie-dye design. The sky's the limit to creating your own swirly tie-dye denim pants!
Jean Shirt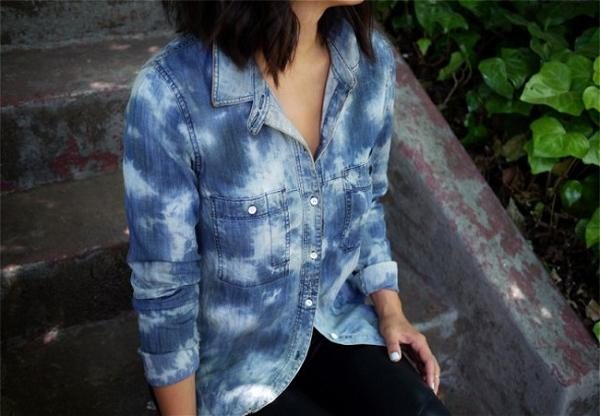 Looking for a new way to be stylish!? Look no further than the tie-dye Jean Shirt. Whether you want to jazz up your date-night outfit or make a dressy outfit more casual, this denim shirt allows you endless possibilities! The vented sleeves have an adjustable button cuff as well. This garment has a loose-fitting silhouette with nobody darts so that it will have a little extra ease in the chest area. This shirt is designed for women who love the look and feel of a button-down shirt but don't want to sacrifice the comfort and ease of wearing a t-shirt.
DIY Fold & Clamp Tie Dye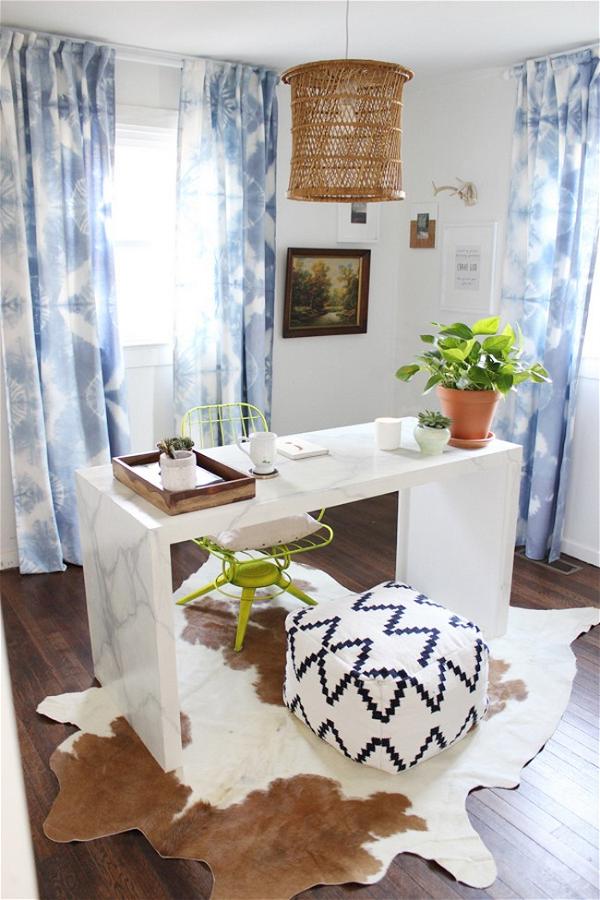 DIY Fold and Clamp Tie Dye provide an easy-to-understand method to achieve great results. By adhering the fabric to a flat surface (such as a plastic table or even cardboard), We then stretch and clamp the material to ensure that every fiber is saturated evenly. This process allows you to layer your dyes to create depth and dimension. Then go ahead and fold it up and head inside! This technique is _simple, fast & fun_ and _gives you a great result._  It's a perfect _tutorial for anyone looking to create a great set of tie-dye curtains or sheets in a short amount of time.
Bed Sheets
Throw a splash of color into your bedroom with these bedsheets. We will admit that we're excited about these sheets. After seeing the tie-dye trend online, we knew we had to do it justice in an easy way. These sheets are a fun and simple way to add a little personality to the most used room in the house. With four colors available and eight sizes to choose from, they can work with any bed you have. No need to be a professional painter or artist to create the look of tie-dyed sheets. You can easily achieve this look at home with a few simple steps.
DIY Shorts Tie Dye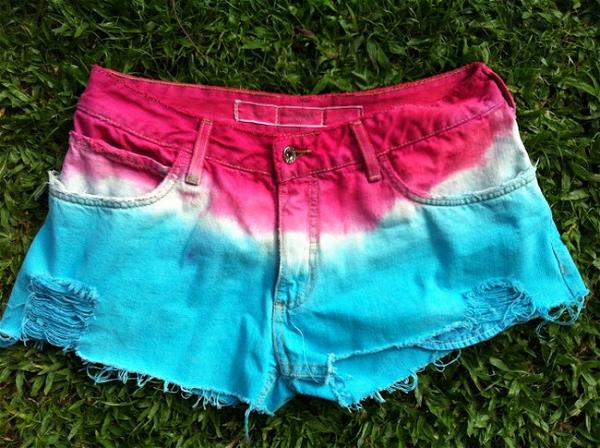 Bulky, faded beach shorts can be boring and hard to pair with any new outfit. With this quick and easy DIY project, you will be done in no time (seriously). You can easily create a fun and unique design by using just three simple dyes, a friend, some salt, and a few other things readily available around the house. This is the perfect project to adapt your old denim shorts into something new! Perfect for festivals and bohemian activities, you'll be able to create a new type of wardrobe without breaking the bank.
Maxi Dress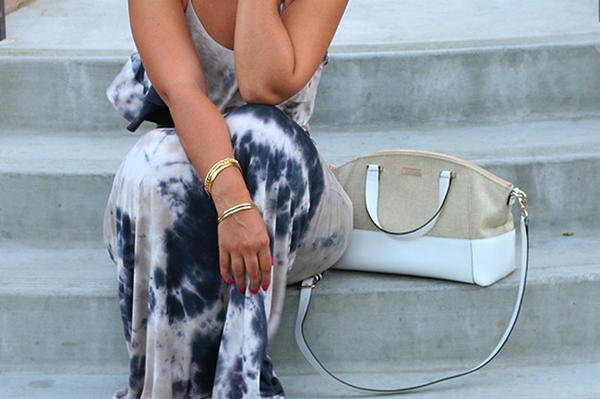 The maxi dress is back and bolder than ever! Not only do our tie-dye experts want to teach you how to take your favorite maxi dress from ordinary to extraordinary, but we're also giving away a gorgeous Maxidress for you to DIY with! To enter, follow us on Instagram and like this photo. The bleach will fade over time, but it would be better if you didn't have white marks on your dress after washing. Next, grab your dye of choice and apply it generously with a paintbrush or sponge in a circular motion so that the dye doesn't pool up in any one place. Let sit for about 30 minutes for primary color, then about 1 hour for a light wash-out look.
With Ice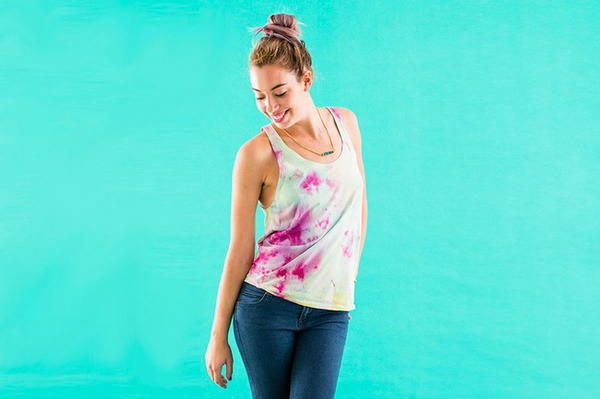 Make tie-dye shirts without the hassle of setting up a workstation. This seamless collection of fabrics lets you create fantastic tie-dye t-shirts using ice. Creatively mix and match to create amazing results. This set makes a perfect gift for anyone who wants to be creative and save time and effort. It is also a cheap alternative to tie-dying since you don't have the expense of buying dyes, and you can use items you already own.  There is no end to what items you can dye with this method, ranging from paper, fabric, and even wood!
Ombre Dress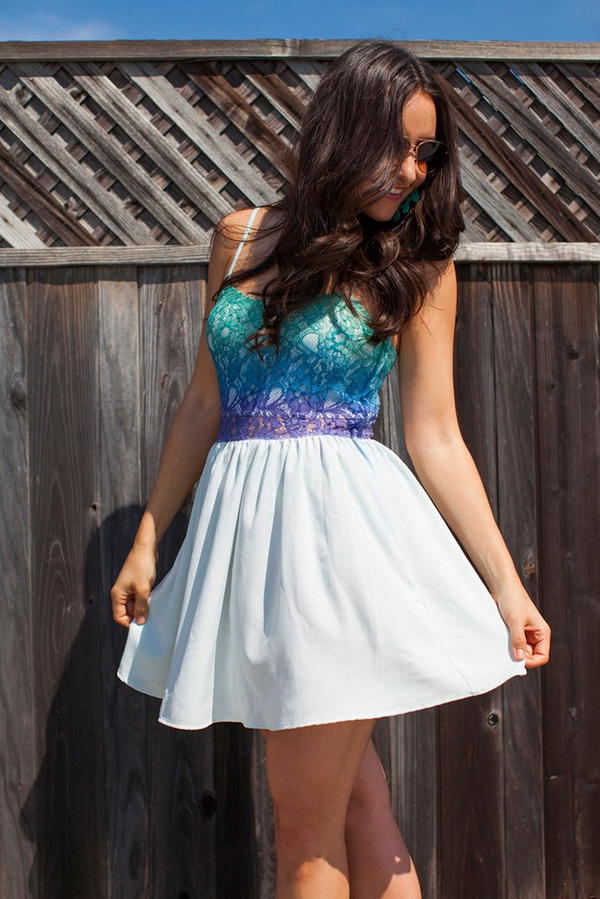 Creating an ombre effect on a dress shirt is as simple as dying the fabric. This craft project only takes one step: dip-dyeing! Learn how to dip-dye your shirts using dark blue dye, and follow this tutorial to create a unique and custom look. Frayed hems will never be in style, so revamp your old dresses and make them more versatile with this simple hemming technique. You only need a sewing machine and a little extra fabric to create an ombre-style dress like this one.
Table Linen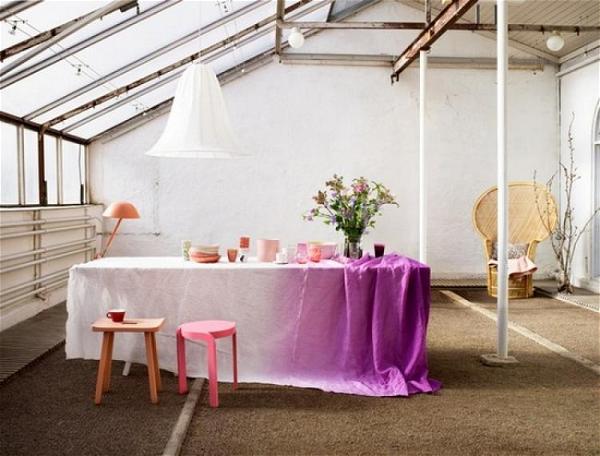 This stylish dip dye effect is easy to achieve by combining four shades of blue, green, and yellow. If you're in a hurry and don't have the time to follow this step-by-step tutorial, dip the linen in a single color for an affordable yet sophisticated look. Dyeing a tablecloth is very easy. You just fill a large bucket with water and add the dye - the color and quantity you add will determine the final color of your table cloth.  The more water in your pot, the lighter the dye.
DIY Tie-Dye Headbands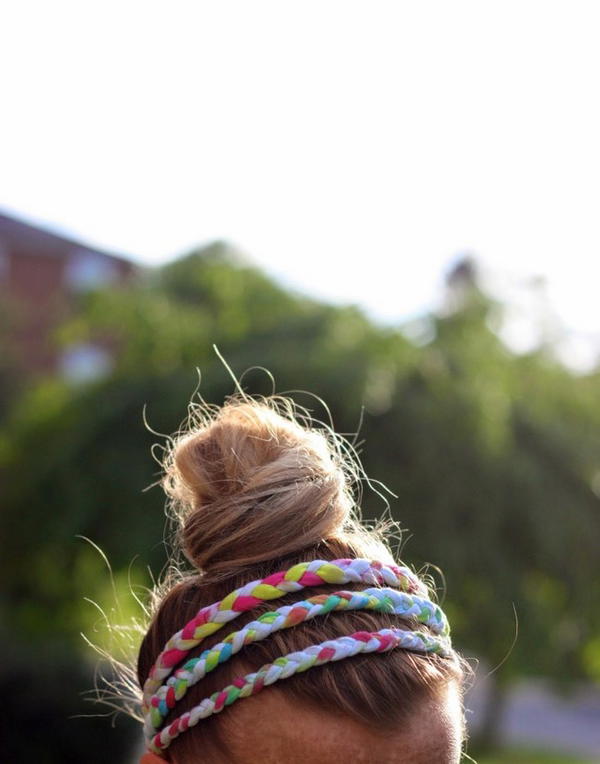 Tie-dying headbands is a project that is so easy and fun. I'll show you the results of three different tie-dye headband tutorials, how to take off your die without damaging your item, and an easy way to tie-dye with a silicone baking tray. They can be so much more for the actual person wearing the headband- How about a gentle reminder not to text and drive, a great tool in self-control at the buffet table, or a positive saying that helps kids cope with the ups and downs of everyday living?
DIY Tie Dye Tights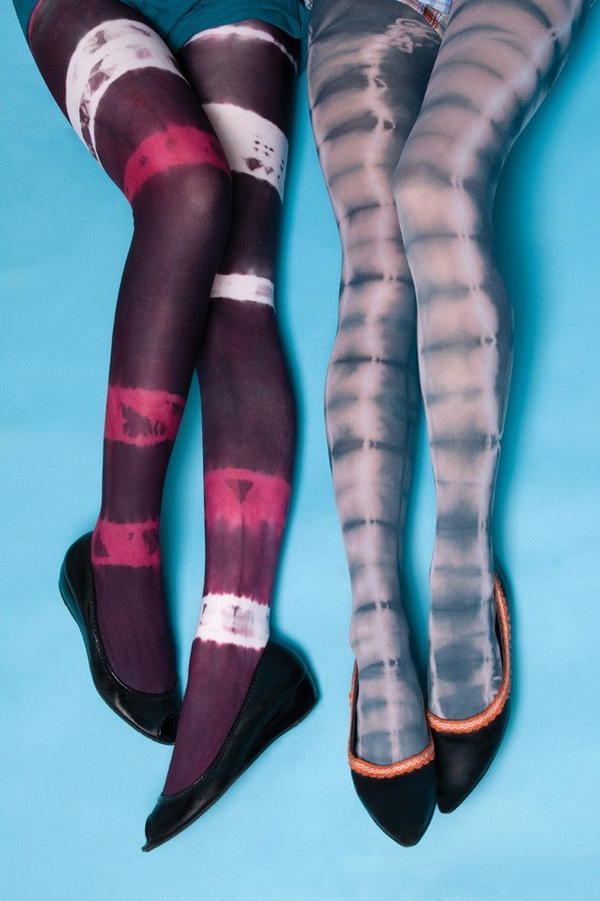 Transform your plain tights into a head-turning DIY project tonight! Tie-dye is the latest trend in fashion, with highly saturated colors and large-scale prints being the order of the day. You can create a similar effect on any color of tights. Pick your brightest color and tie-dye your tights tonight! The colors shown are intended to make various shades of pastel, but there are plenty of tips on achieving brighter hues. Mix warm water and powder dye to the desired color. Let the solution soak through the tights and into the fabric for one hour.
DIY Tie-Dye Socks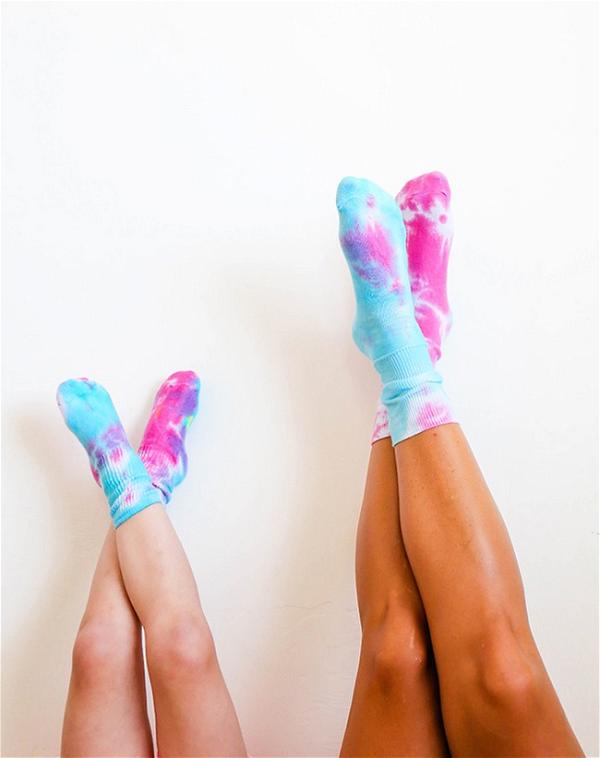 You can make a pair of Tie-Dye Socks in just minutes! The instructions are easy to follow, and you can create fun designs by varying the lengths of your colored ribbons! Different colors and lengths make each sock unique. This is an inexpensive craft to do with the kids or give as gifts! These socks are perfect for keeping you cool and comfortable all summer long. They're a great choice for your next big road trip or just lounging around the house!
DIY Tie-dye Pillow Cases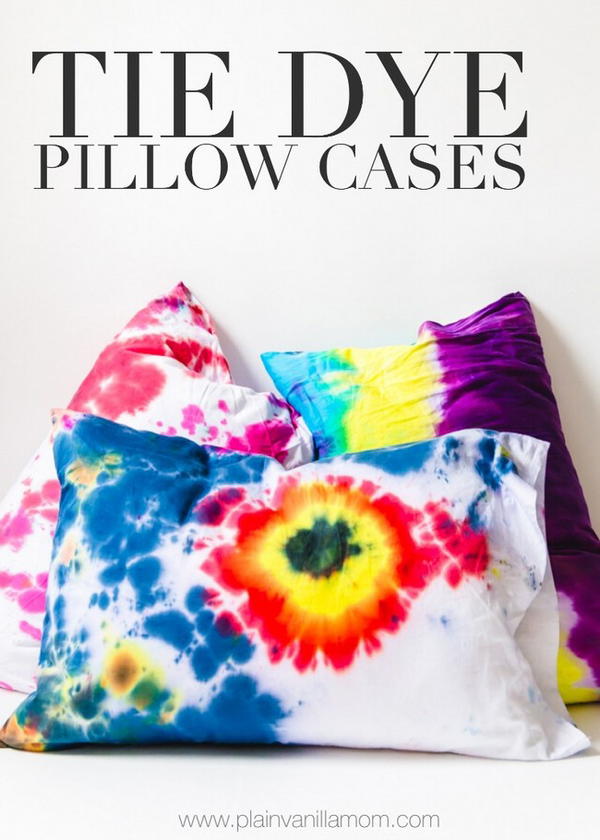 Do you have tie-dyed shirts and pants but nothing to parade them on? These DIY pillowcases are the answer. This fun and the inexpensive project can be done in just a few steps. Follow along with the tutorial below for a brighter duvet or room decor in no time at all. Get the same great results with hundreds of color choices and original designs, plus learn two new techniques you can use again on clothes, scarves, and more. Tie-Dye your DIY pillowcases with this easy-to-follow tutorial.
DIY Tie-dye Furniture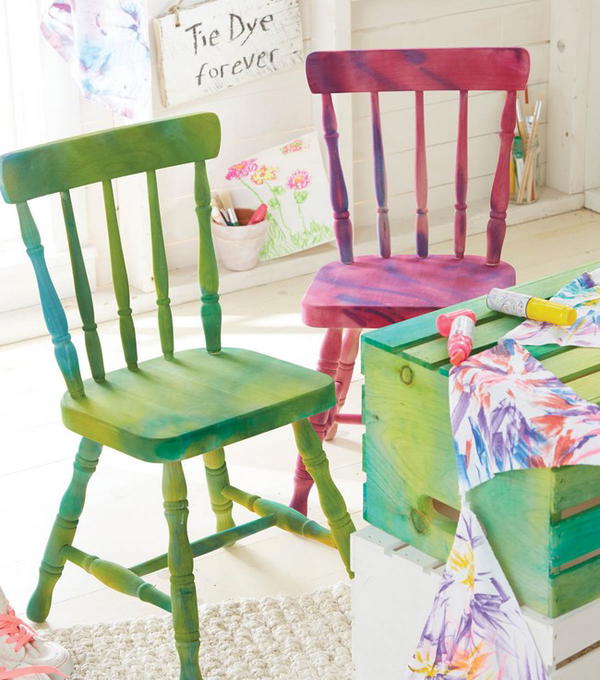 With its eclectic style, tie-dye furniture is a fantastic way to make a room stand out. These pieces are a great starting point for your tie-dyeing adventure, from our woven rattan sofa, featuring bright splashes of color, to our graphic rug with a traditional tiger-stripe pattern; these pieces are a great starting point; for your tie-dyeing adventure! You can recolor wood pieces you already have or find cheap ones on Craigslist. This guide will show you how to give your favorite old furniture a splash of vibrant color and rustic charm.
DIY Tie-dye Watermelon Tee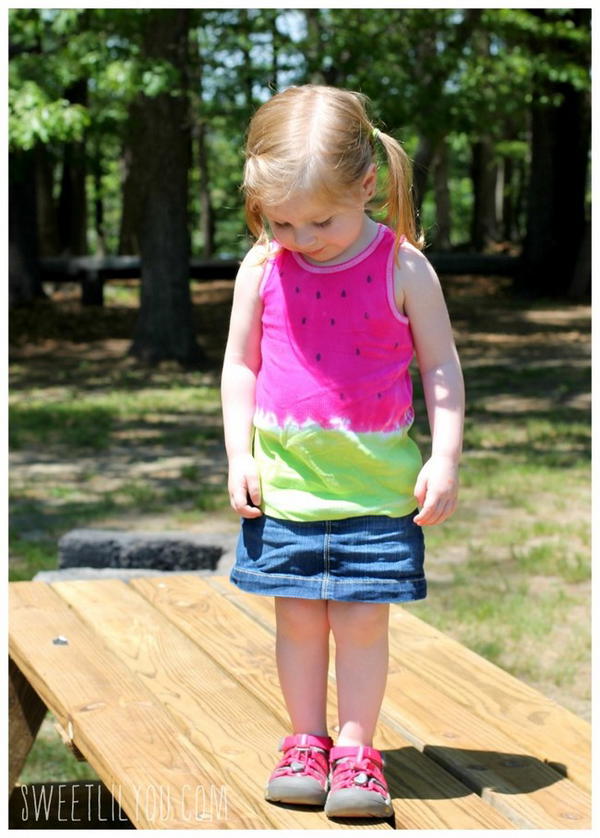 This DIY Tie-dye Watermelon Tee is an awesome, easy-to-wear spring and summer tank top. It's a simple design utilizing tie-dyeing, one of the hottest trends this season. This project is fun and easy to wear, so grab your decorations and make a statement without needing to buy anything new! We use a tie-dye design to create unique, colorful tops that are ideal for anyone who likes to take part in activities like festivals and music festivals or wants a fun shirt.
DIY Tie-dye Folding Techniques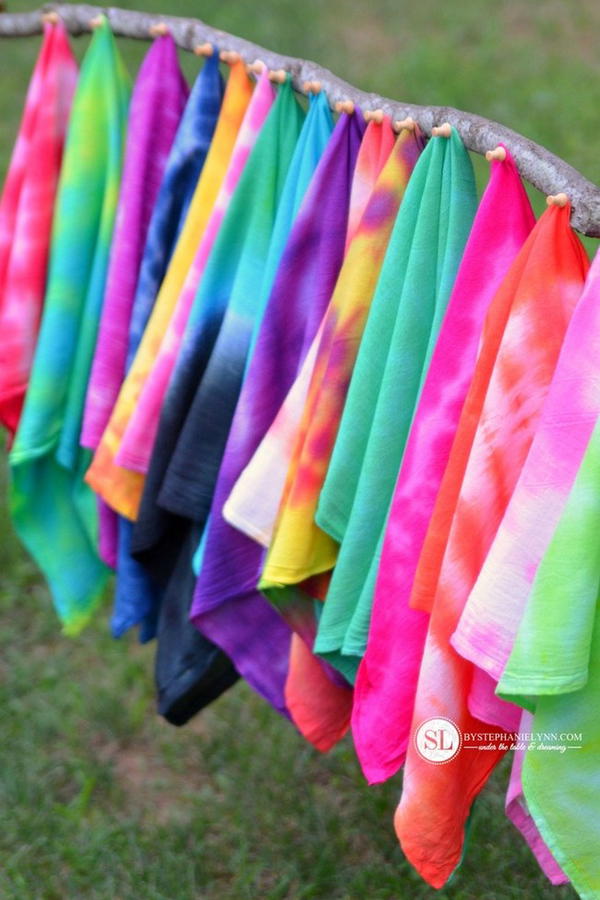 Sometimes, getting started can be difficult with so many tie-dying kits out there to choose from. It can be hard to always get your ideal result from the wrong packet of dye ruining your carefully folded shirt to the chaos of tie-dye supplies everywhere. These simple folding techniques will give you a fool-proof way to start with a perfect square every time. Because most of the time, when you're starting, the folds are too loose and sloppy, making the piece almost unusable. But with this tutorial, you'll learn a few tricks on how to fold your T-shirt so that your design is crisp and tight.
DIY Tie-dye Rainbow Cake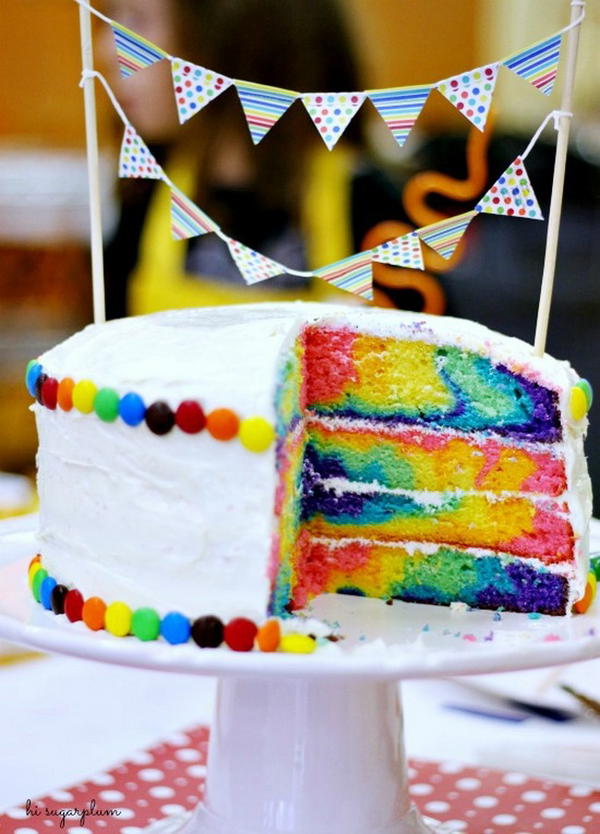 Rainbow Cake is a food dye-based recipe that creates a tie-dye effect in baked goods. It is simple to prepare batter that you can use to make cupcakes to ice creams. If you know the gift recipient enjoys tie-dye apparel or accessories, check out our sister tutorial, Tie-Dye Rainbow Scarf, for other fun DIY ideas! When it's baked, cut the cake into pieces, then let your imagination run wild, creating gorgeous tie-dyed swirls on top! Be sure to check out our video tutorial above to get the step-by-step instructions on making this fun party idea.
DIY Tie-dye Swaddle Blankets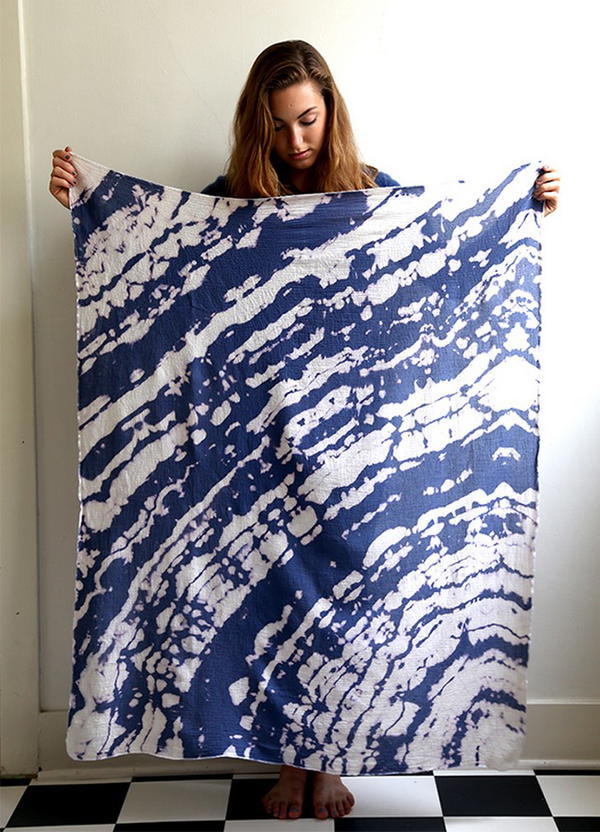 This adorable swaddle blanket features an all-over tie-dye print, perfect for little ones who love bright colors! The DIY Tie-dye Swaddle Blankets are easy to make using tons of different color combinations. They're an excellent project for baby showers or new mommies on the go! These blankets are easy to do and can be made in less than 30 minutes. They're also completely safe to use, as there's more space between the fabric and the baby's skin than with a regular swaddle blanket.
DIY Tie-dye Shoes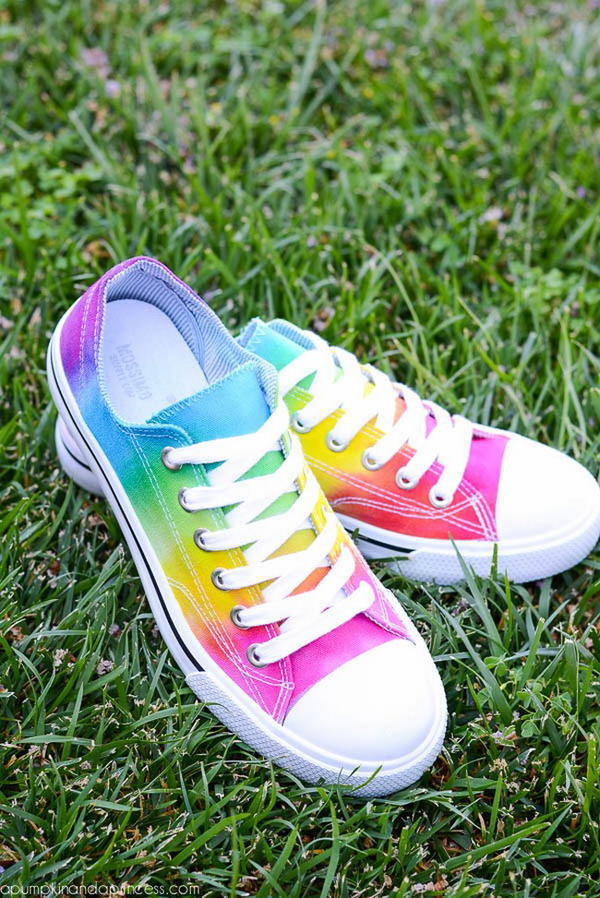 Have a favorite pair of shoes that could use a little panache? With this step-by-step guide, anyone can learn how to make their favorite sneaks look cool with some Tie-Dye! You'll need just a few materials and an afternoon to create something truly one-of-a-kind. In this book, you'll learn how to prepare the shoes, draw designs, and tie-dye the shoes into works of art. Whether you opt for a simple pattern or your custom design, these DIY tie-dye shoes will add some color and flair to any outfit; this tie-dye design will always be amazing.
DIY Tie-dye Drop Cloth Curtains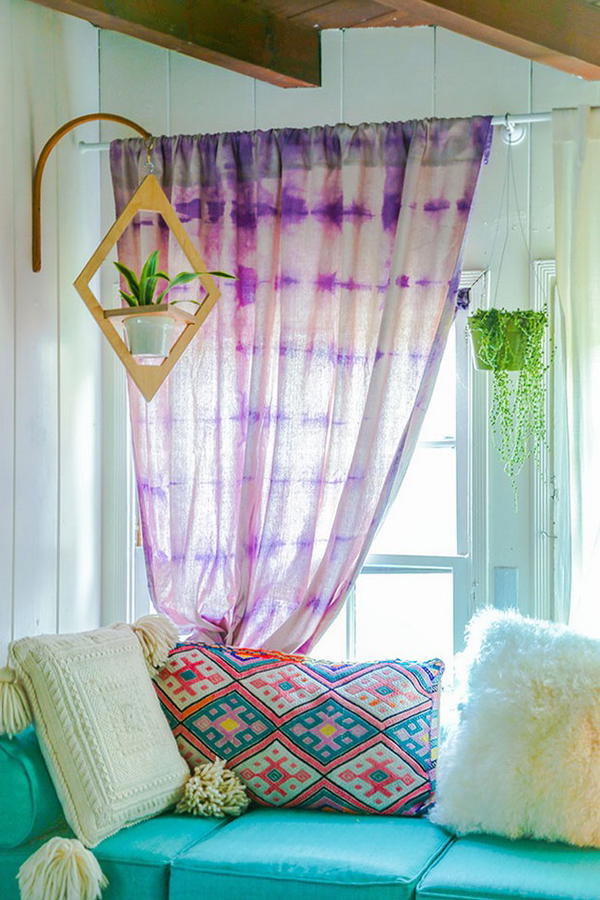 This tutorial teaches how to turn simple drop cloths into tie-dye shabby chic curtains. The natural texture of the cloth makes it a great material for curtains! These curtains are really easy to make, and because they are so quick, you can make a set for each of your rooms or even your patio. They are perfect for throwing up on a string in the backyard for a fun picnic under the sun or lining a bedroom window. Use them to hide messy craft supplies, create your room partitions, or dress up an entryway!
Table Runner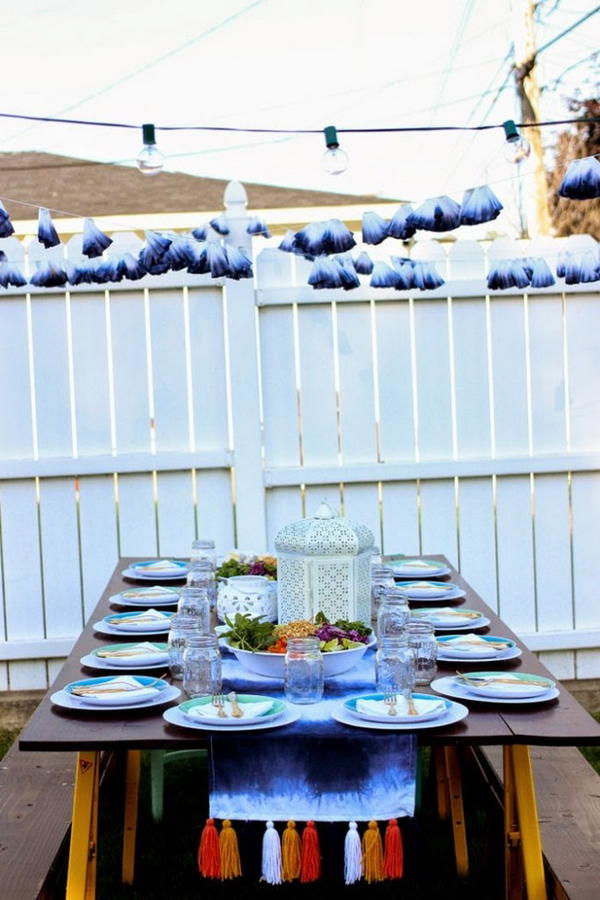 In the market for a table runner? This DIY tie-dye table runner does not disappoint! You'll find cute party inspiration, awesome tips on how to tie-dye your fabric, and a video tutorial that shows you precisely how to make this table runner! Your tie-dye table runner is one of the easiest and most unique table decorations. Create one unique design or develop a system of colors and designs to use in different rooms throughout your house.
Postcards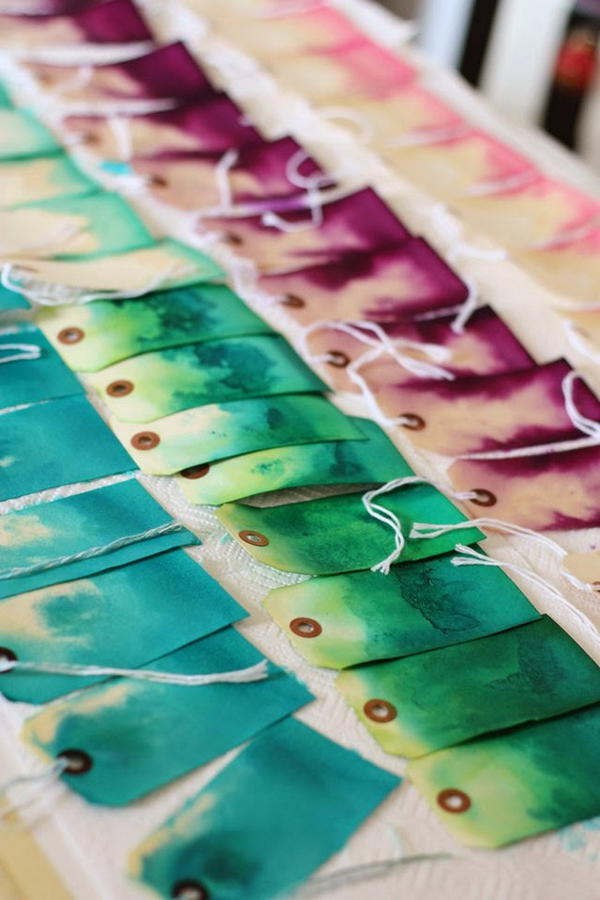 In the market for a table runner? This DIY tie-dye table runner does not disappoint! You'll find cute party inspiration, awesome tips on how to tie-dye your fabric, and a video tutorial that shows you precisely how to make this table runner! Your tie-dye table runner is one of the easiest and most unique table decorations. Create one unique design or develop a system of colors and designs to use in different rooms throughout your house.
Place Mats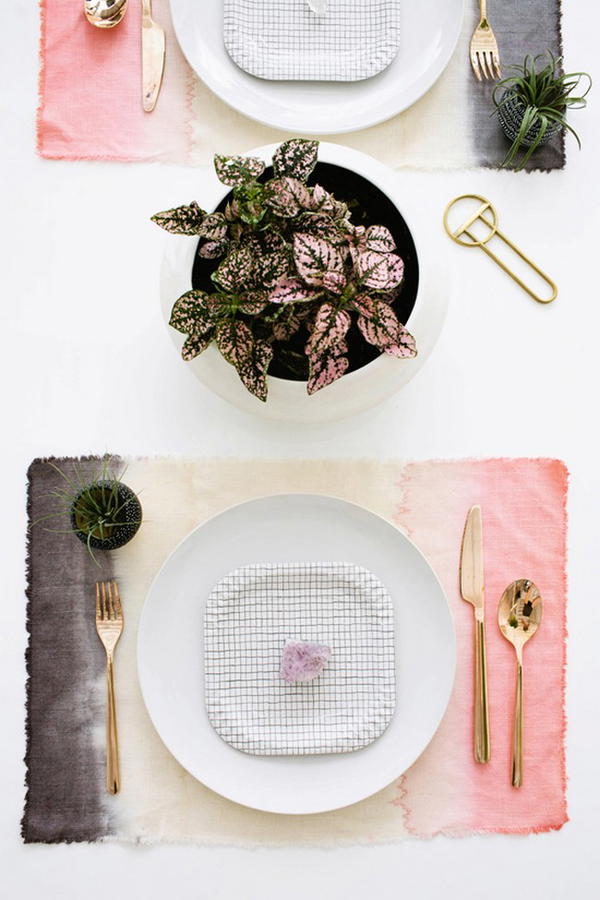 A bright, spunky table presentation is a surefire way to get your family gathered around for the meal, especially on the busy night before school parties and recitals. While you're at it, opt for a creative placemat. Mix and match with our different patterned bowls, plates, and napkins to create a spread that is as unique as you are. Another option for our new collection of placemats is this color block set. This design will make the perfect addition to any busy kitchen or coffee table!
Shibori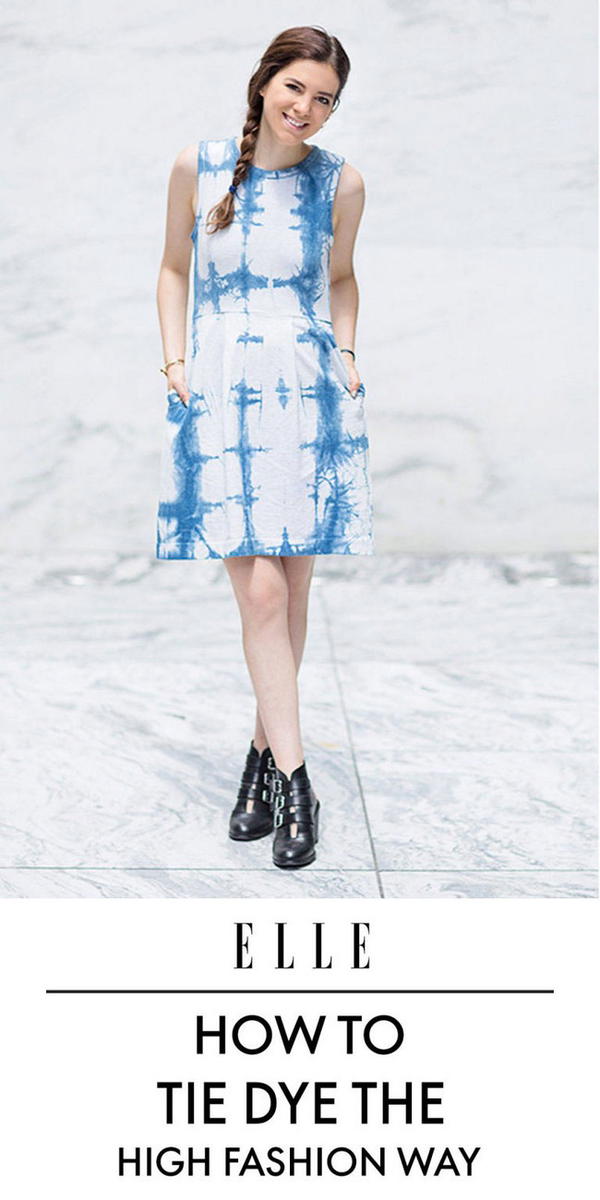 High fashion isn't that far away. Learn the process of shibori-style tie-dying in this two-day workshop, and transform clothes, scarves, and other items into stunning one-of-a-kind outfits. Master the basics of dyeing technique through a comprehensive lesson, then choose your colors and enhance your design at one of our worktables. Come back on the last day to finish your dress and see the natural beauty of Shibori unfold before you.
Ombre Scarf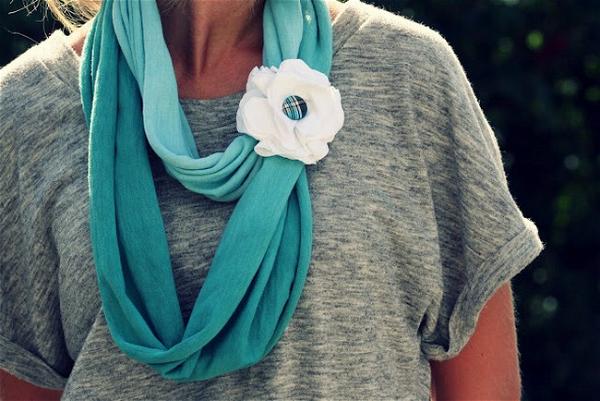 Tie-dye is all the rage (thanks to the hipsters and their bizarre beards), but have you seen a tie-dye tutorial that creates an ombre effect? If not, look no further because this tie-dye tutorial has you covered! This scarf knit pattern features three different but similar shades of grey, which gradually get darker as you move from start to finish. From color to color, your hands will soon be fiber art pros. This results in an ombre effect- gradually changing colors that blend beautifully into one another, and I hope you'll love this garment.
(via)
Ice Cream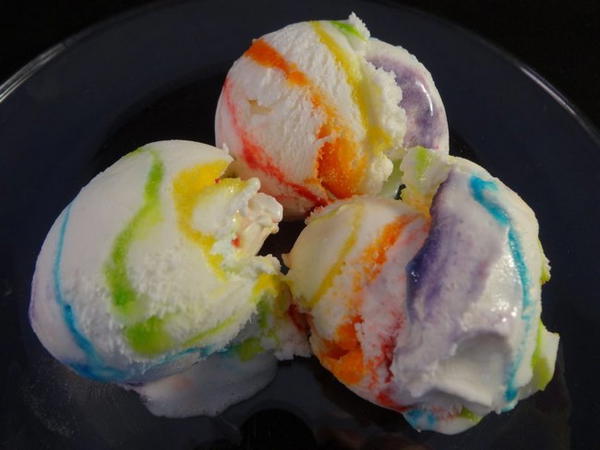 Create all sorts of colorful sprinkles on top of your ice cream. The video above will show you how to create a rainbow perfectly, tie-dye swirls, or any other design that you can imagine on top of your next scoop. So take your favorite vanilla ice cream and swirl on our delicious frozen yogurt and fresh fruit syrups. You choose your colors. It's Rainbowlicious! I request you to let us know what kind of creations you come up with!
Baby Blanket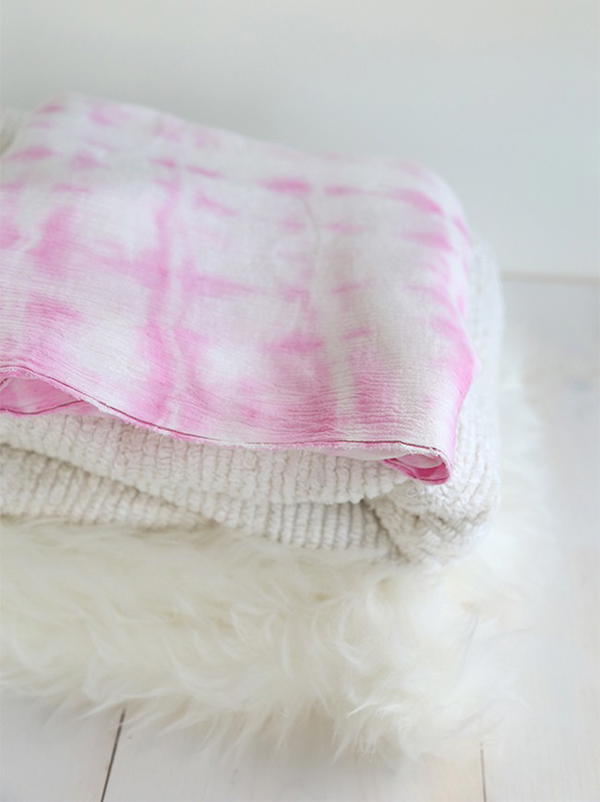 The Perfect Baby Blanket has been created to help you make a more feminine version of an already fantastic blanket. You will begin with one of the classic blankets and then use crocheting techniques that aren't complicated or hard to learn. It will be easy to create a beautiful blanket as you go through the instructions. This beautifully knit baby blanket is so soft, warm, and cuddly your little girl will sleep under it every night! And with this darling pattern, you can choose to add row of hearts for a girl or go without for a more masculine look.
Button Up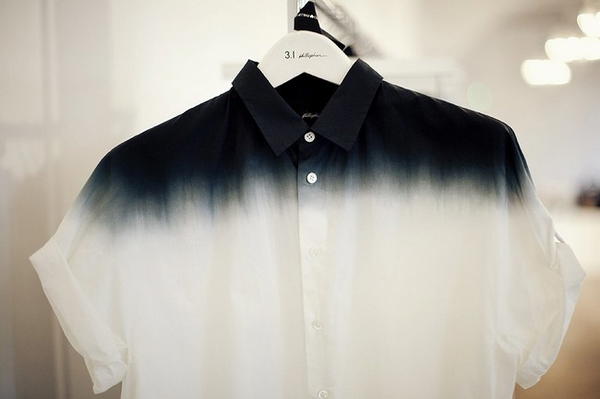 Make your shirt your own with these stylish DIY tie-dye button-ups by Button Up, an original Ruche concept exclusively available on our site. Like our Tie-Dye Shirts, you can create one-of-a-kind looks that range from subtle to bold shades of color. Kick-off summer by adding some color and creativity to your look. You can use some old t-shirts or ones you got at a thrift store, but if you want to know how to make tie-dye shirts (or any piece of clothing).
Galaxy Ice Cream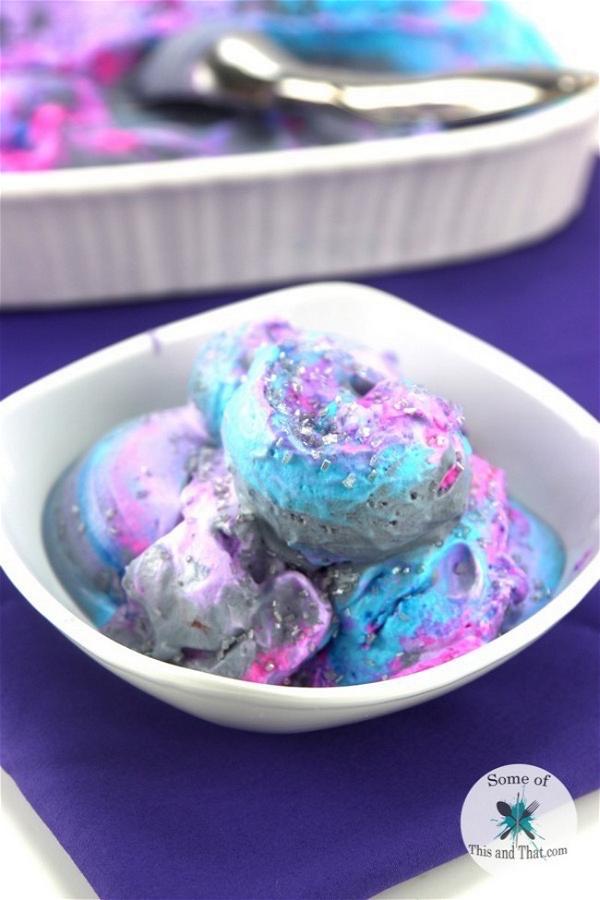 Toddlers and adults will love this new twist on the popular tie-dye look. Create tie-dye ice cream by using food coloring to color your favorite store-bought ice cream! It's deliciously simple to do and so much fun; you'll create new colors every time you make it. Whether you serve it at a party or have it as a special treat in your own home, you will love this cute galaxy tie-dye masterpiece. I love the look of edible galaxies, and showing you how I made this was so much fun! I even recorded the process so that you can see it all step by step too.
Throw Blanket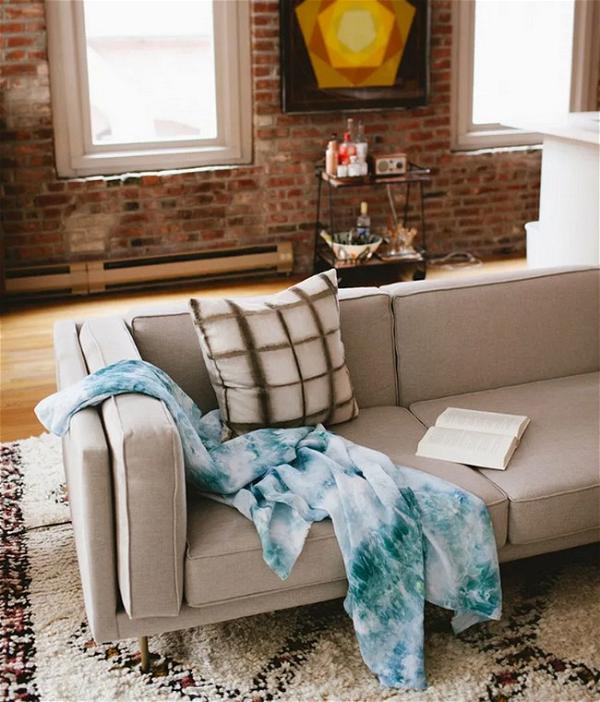 It's a throw blanket that ties dye. It includes ice too. Tie-dying will be most successful when the material is dampened. Using bright and contrasting colors, encircle the item in rubber bands at even intervals. Add about two tablespoons of salt to three cups of hot water, and stir to dissolve. Submerge the item into the water, ensuring it stays damp but not sopping wet. Leave in the sink overnight or until the material is blue and your picture is completely set. In minutes you'll have your very own tie-dyed masterpiece!
Ombre Tank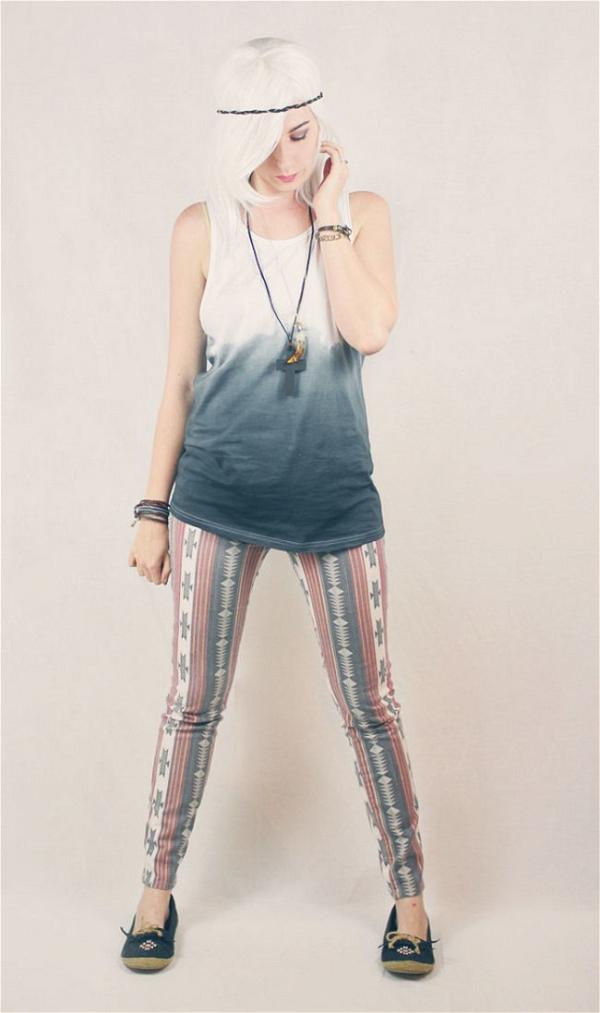 Ombre adds an artistic feel to anything. These DIYs are so popular - they add flair to your tank tops with little work involved. Choose a few shades of your favorite color and give them a different ombre effect on each one. This simple look has a fair amount of dimension and creates an artistic feel that many DIY'ers enjoy. In this tutorial, I will show you how to create your ombre tank top in just a few steps!
Rainbow Socks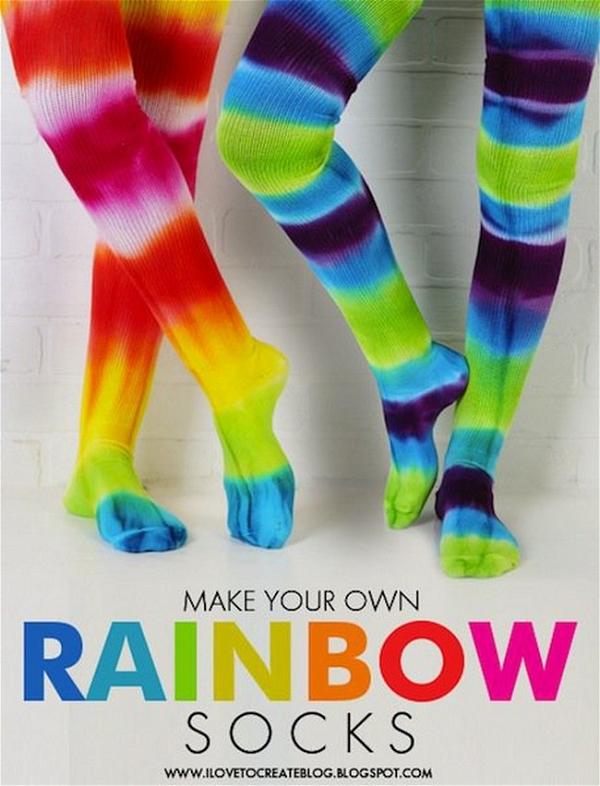 Tie-Dye Tutorial Rainbow Socks How to Make the Rainbow Tie Dye. Are you ready for our latest tutorial in Timmy's tie-dye series? We will show you how to make a rainbow-colored tie-dye sock that kids can do independently with minimal assistance. The color combinations are endless - the only limit is your creativity! You've got a bunch of gorgeous tie-dyed socks when you're done! Every time you pair rainbow socks with every outfit you wear–whether it's a skirt, shorts, pants, or even just shorts underneath a pair of overalls–you're making a statement about your commitment to happiness!
Ponchos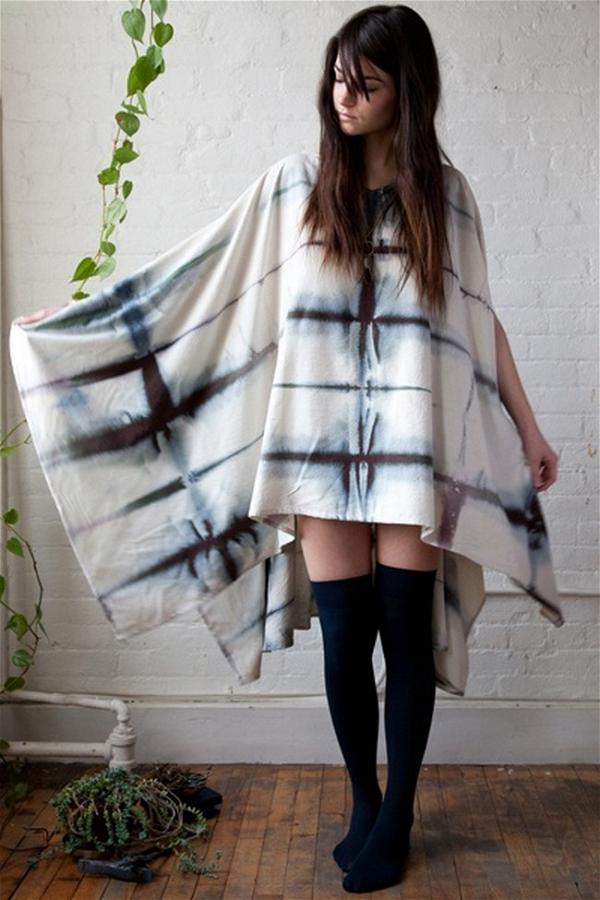 Inspired by tie-dye and boho chic, this trendy poncho is a great DIY project fit for all sewing skill levels. Ponchos are fun and full of sunny personalities -- this poncho is no exception! We discovered our inspiration for this design over, and we just had to take the leap and get started on this colorful piece. Early summer and late spring are transitional seasons causing an abundance of rain showers, and this poncho is an excellent addition to your wardrobe. It will keep you dry and give you an opportunity to show off your tie-dye skills,
Minnie Ears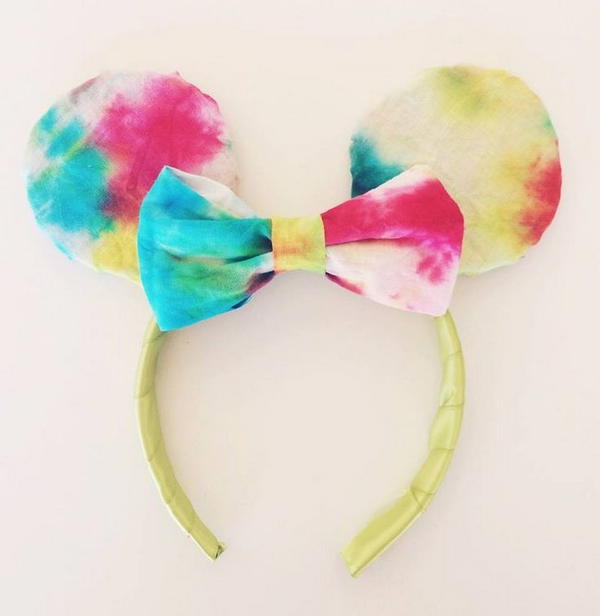 New (and old) Disney fashionistas will be lining up for this headband tutorial, found on the Disney Style website. The Minnie ears headband is a popular fashion accessory at Disneyland in California and Disney World in Florida. This style is particularly cute with a bit of vintage kick. All that you will need to complete this 60s inspired look is a pair of Minnie's ears, fabric strips, and thread.
Cupcake Cones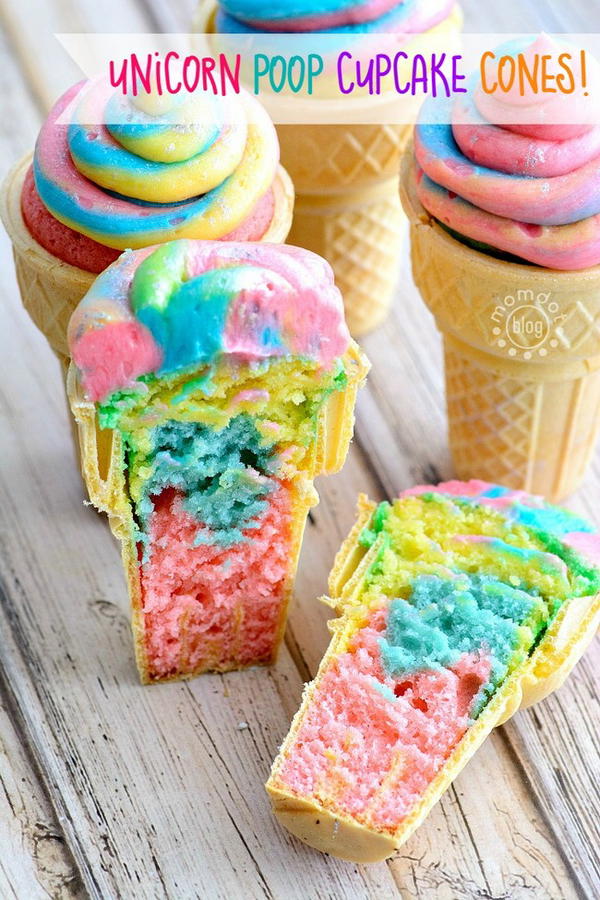 If you are an avid cake decorator and your mind has always wandered towards decorating cupcakes, you can make your own edible DIY tie-dye cupcake cones. It will only take a few simple materials, and you'll be on your way to making the most talked-about cupcakes in town. So make some simple cupcake cones, add some frosting, and decorate them to your heart's content with sprinkles or whatever else tickles your fancy. In this tutorial for Cupcake Cones, learn how to make delicious baked cones that work great for ice cream and a variety of beverages.
Tea Towels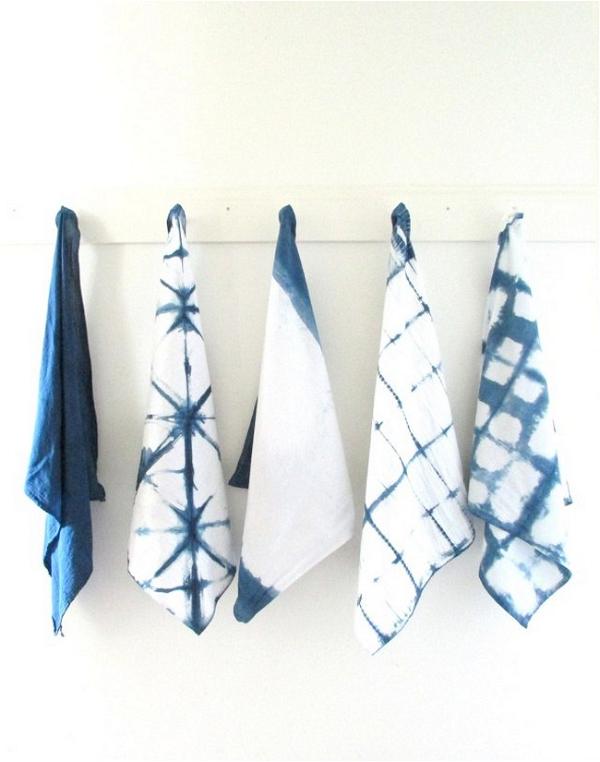 Our tea towels are made of highly absorbent, durable cotton. They're strong enough for every day and soft enough for drying delicate dishes. The 100% cotton terry weave is an attractive option. Personalize with our designs to match your kitchen decor. They make great gifts! These tea towels are an ideal, easy-care housewarming gift or meaningful addition to anyone's kitchen. They make unique and affordable personalized gifts or even a nice surprise for yourself!
(via)
Tie Dye Tents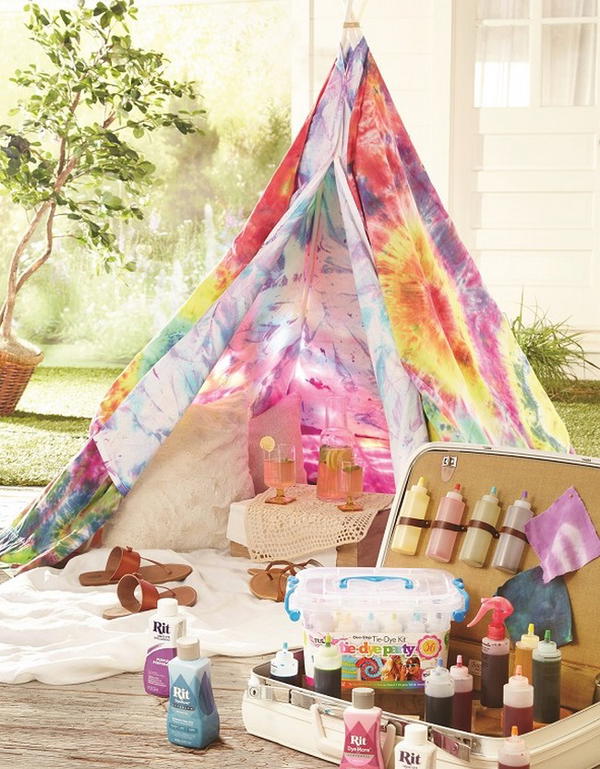 Add a touch of colorful creativity to their reading corner with your child's very own tie-dyed teepee.  We have so many fun tie-dye ideas you and your little ones will find it hard to choose just one. Our guide includes step-by-step instructions that are perfect for kids 5+, but at the end, we share some tie-dye tips for the little ones too. Brighten up a corner of your child's room with this versatile Reading Tent. This space will allow them to read and play independently, but it's also the perfect spot for friends to hang out or additional sleep space.
Tie-Dye Indigo Scarf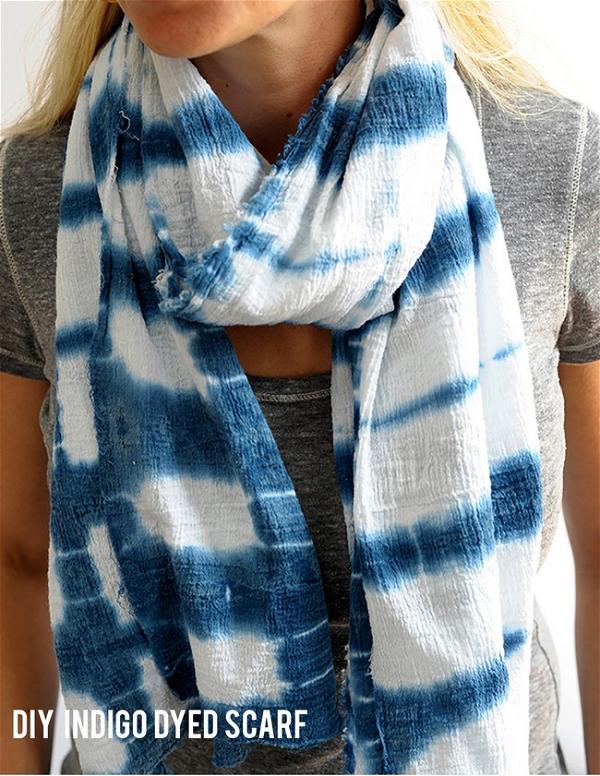 The Indigo Scarf is the perfect accessory to keep you warm while traveling this winter. We use indigo dye to hand-dye these scarves, giving each one a unique look. This scarf will wear beautifully and develop a distinctive character over time. We create this beautiful scarf by giving it a simple tie-dye process and pairing it with quality yarn. It is stretchy yet soft and will fit all head sizes and hairstyles. The frayed ends allow it to be unique while not being too much.
Tie-Dye Maxi Skirt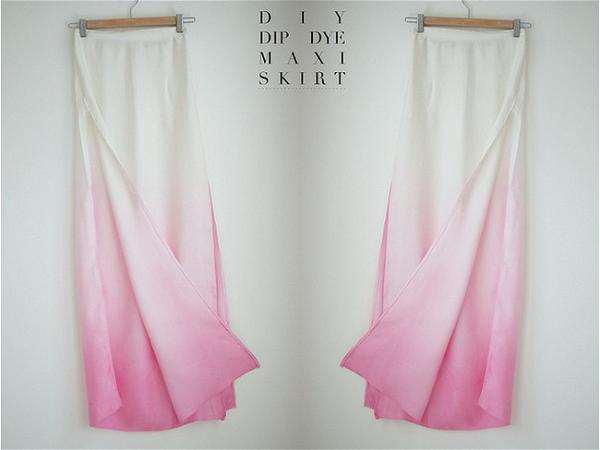 Our Tie-Dye Maxi Skirt is a short tie-dye maxi skirt made of a soft and breathable lightweight polyester fabric. The skirt is dipped dyed to create the beautiful tie-dye pink color and is great for summer. Featuring a flattering skirt, thick elastic waistband, hidden pockets, and just enough dip dye to make it POP! This maxi skirt has been dyed using vibrant dyes that have not been tested on animals. This skirt will cover you, from picnics and pool parties to festivals and happy hour. With its adjustable elastic waistband, flowing material, and super soft feel, this skirt is your go-to piece for various summer events."
Tie-Dye Leopard Spotted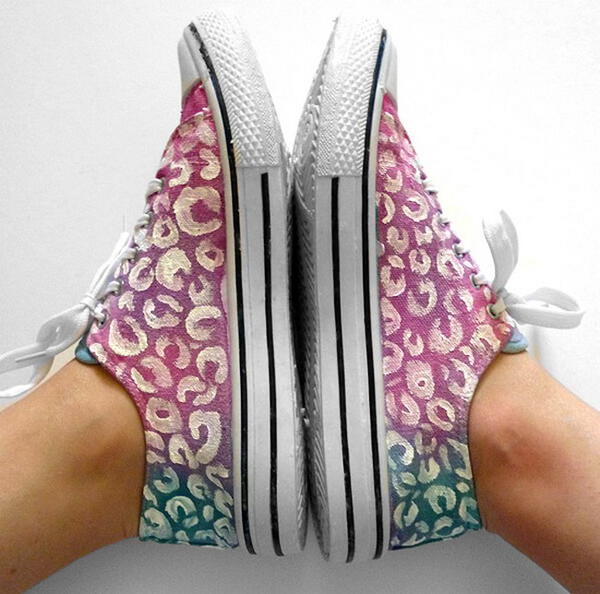 Introducing the Tie-Dye Leopard Spotted case from Speck. This versatile case protects your iPad or iPhone (both included with the case). It has a slim profile to fit in tight spots and a textured, tie-dye leopard skin print that catches your eyes. Open frame corners allow the iPad to be propped up on pillows, hands, and other surfaces – complete your style statement with this awesome DIY! To guarantee a perfect fit, cutouts have been made in all the right places.
Tie-Dye Natural Dyes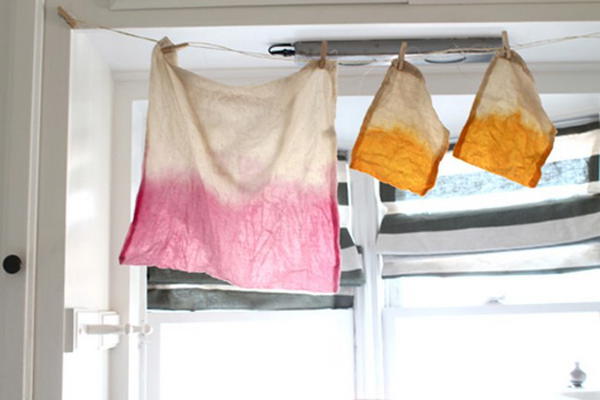 We'll start with a brief history of natural dyeing and then jump right into how to dye with plants and stuff you probably have right in your backyard. The recipes are really simple, plus you can use them repeatedly (so dyeing duds costs much less than getting it done professionally). You'll need minimal supplies, but there are a few things you might not already have on hand, so we've included the reader's digest version of both the shopping list and where you can buy all these necessary items.
Tie-Dye Easter Eggs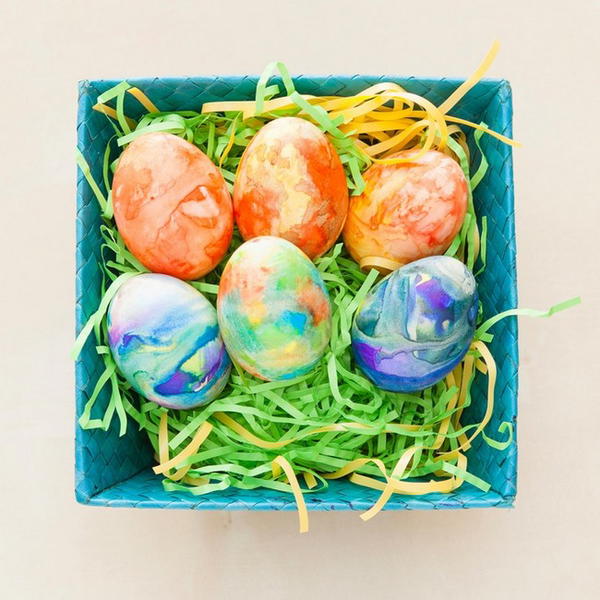 Are you ready for an Easter egg hunt like no other?! A homemade tie-dye colored egg hunt! This great idea creates hours of fun for your children and all of your family and friends too! If you are like me and have a hard time getting the design to come out on store-bought eggs, I have created a step-by-step guide to show you how easy it is to turn plain old Easter eggs into beautiful tie-dye eggs. It's a fun way to bring a little springtime color into your home without being too overwhelming and will look great in any modern space.
 Tie-Dye More Scarves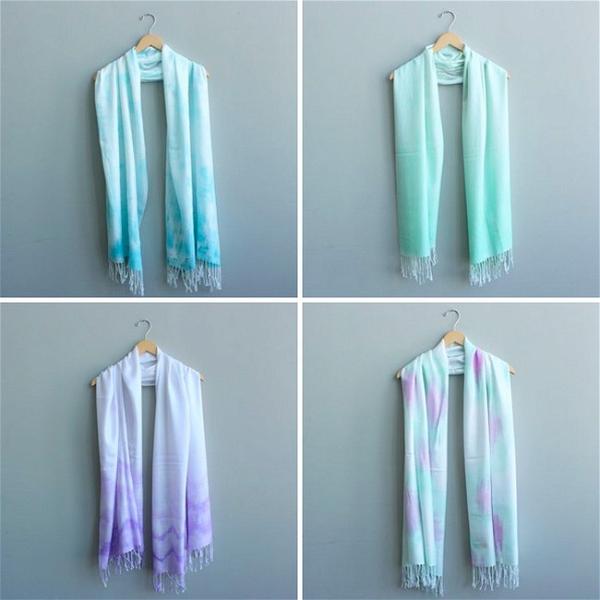 The Tie-Dye More Scarves Collection is now on! With its tonal tie-dyed look that can be worn with almost any outfit, it's easy to see why this collection is a must-have. We love how easy it is to make these scarves and how many different ways to tie them. Create one for yourself or a loved one! It's not just the surfboards and the sunshine that gets us into that summer groove; the brightly colored sweaters and scarves do. We love this collection of vibrant prints, adding texture to summer days and warm evenings in the city.
Tie-Dye T-shirt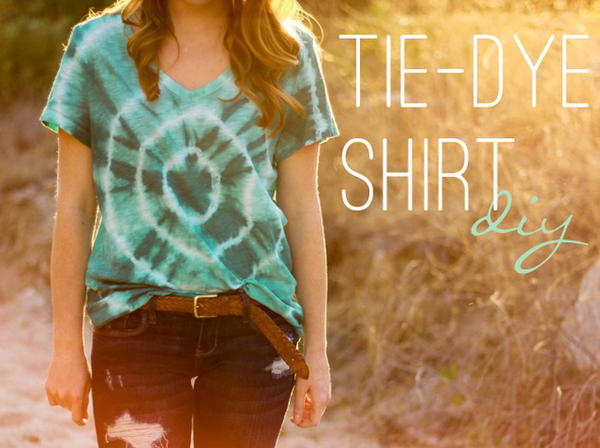 Greet the day with a burst of colorful energy in this tie-dyed t-shirt, a fun and unique way to express your individuality. The design is complemented by a crew neckline, short sleeves, and a custom woven label on the left chest. Wear your masterpiece proudly with this vibrant tie-dye t-shirt! Made from 100% cotton, this stylish garment belongs to you and you alone. Let everyone know you're a true original with this simple and stunning design.