When you are going to welcome a new member to your family, nothing can be more exciting than this. The first step is to buy some baby stuff and baby clothes. You won't even need to worry about the crochet patterns for your baby as we have brought here a collection of 35 Free Crochet Baby Cocoon Patterns that will rock your nursery! These little cocoons will not only serve as the best security blankets, but your infant will also look too cute in them! They are super easy to make and work up so fast! You can also go with the crochet hats and booties to make some matching sets for your infants.
There are many reasons why you should crochet baby cocoons. Firstly, baby cocoons are adorable, and secondly, they keep babies warm and comfortable. You can make all kinds of patterns for the cocoons with the help of crochet baby cocoon patterns. Also, these cocoons are easy to make and don't take much time. If you have a newborn or are hoping for one soon, you should try these 35 free crochet baby cocoon patterns for some fantastic designs! You can also go with the different themes for these cocoons, like Halloween, Christmas, Thanksgiving, etc. Using different colors and prints, you can quickly bring a unique touch to these cocoons and make them look stunning! So, get ready with your crochet hooks and start crocheting these cozy cocoons!
These fun and unique 35 Free Crochet Baby Cocoon Patterns will keep your hands busy and occupied for quite some time!
Tips To Crochet Baby Cocoon Patterns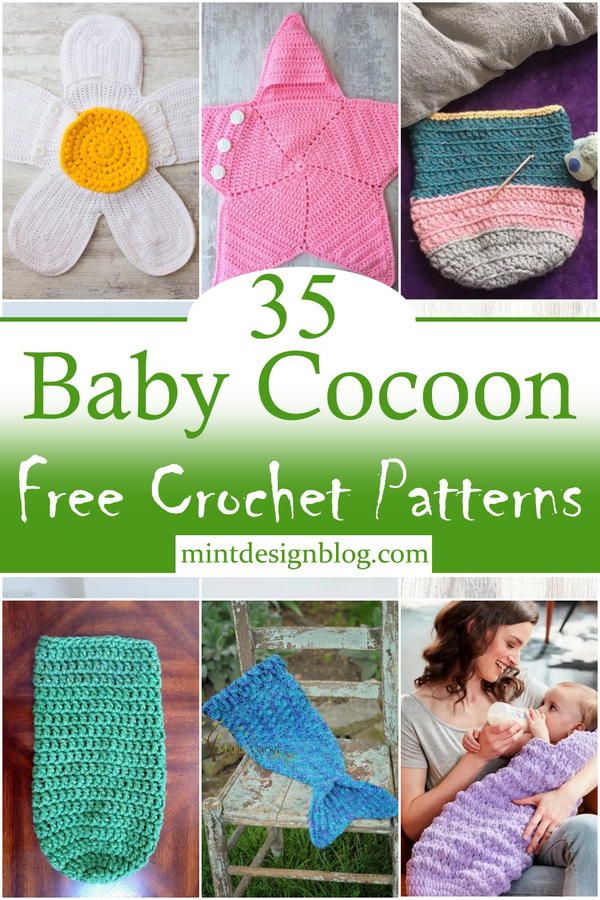 Crochet baby cocoon patterns are perfect for moms who want to swaddle their babies in a snug and warm little sack. You can make a one-size-fits-all pattern, or you can design your own.
Here are some tips for creating a great pattern that will make all your friends jealous.
Make sure the yarn is soft.
Baby skin is delicate and sensitive, so you must choose a soft yarn to keep your baby comfortable. The last thing you want is an itchy little thing that can't sleep that cause of the irritating material of its cocoon.
Choose the right hook for the size of yarn.
A big hook will create big stitches, which will make the cocoon too big for your baby. A small hook will create tiny stitches, which will make the cocoon too tight for your baby. You'll need to match up the right hook with the suitable yarn to get a result that fits just right!
Pick a color that matches your nursery decor.
Even if you don't plan to use the cocoon in your nursery, you'll want to pick a color that matches it, so it looks nice when hanging on display there!
Advantages Of Crochet Baby Cocoon Patterns
Crochet baby cocoon patterns are a great way to ensure your baby is always comfortable. The cocoon will protect them from the cold weather and make them feel like they're back in the womb!
Here are some of the benefits of using these patterns:
They can be used for newborns or toddlers up to three months old. These patterns are perfect if you have a new addition coming into your family or want something special for someone else's child.
There's no need to worry about getting the right size because many different sizes are available online. You can choose one that fits perfectly around your child's body without having any problems with it being too big or small.
The pattern can be used on any type of yarn, so if you don't have any at home, try going out and buying some that work well with what you already own!
These are great projects because they take up less space than traditional blankets, which means less clutter when travelling with little ones who need more than just clothes to keep warm during the cold winter months.
Baby Cocoon Crochet Pattern Bernat: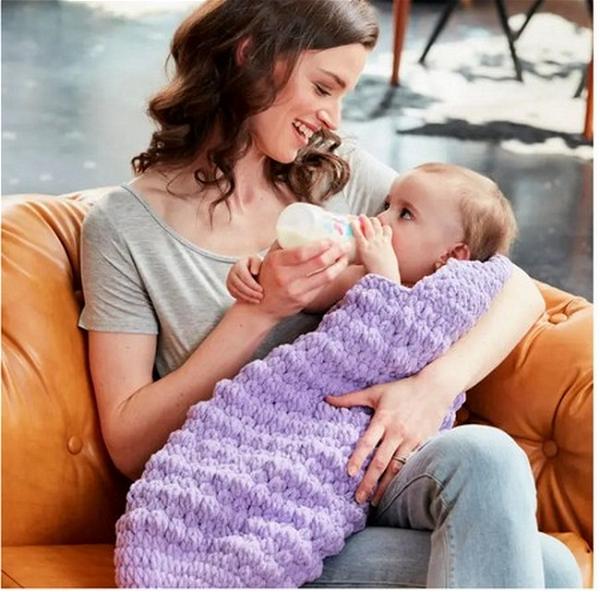 This crochet baby cocoon is made to fit a small/medium-sized baby roughly one year old and up. It's beautiful and perfect for keeping your little one warm and cozy when they need it the most. The softest merino or alpaca yarn shows off the gorgeous bobble stitch in this crochet baby pattern, but you can use any type of worsted weight yarn or other yarn of similar weight for this crochet baby sleep sack pattern. These crochet baby cocoons are super soft and warm, perfect for making your little one feel warm and comfy. This one is perfect for a snug newborn baby boy or girl.
Yarn: Bernat Yarn
Hook: 6.5mm
Gauge: 4″
Size: 21″ x 26″
Skill Level: Easy
Other Materials: stitch marker
Crochet Cabled Baby Cocoon:
This simple little cocoon is the perfect baby project for a little one who loves to be wrapped up in a blanket. This textured baby cocoon pattern uses simple stitches to create texture and visual interest. It has a knitted look when viewed from afar, with detailed cables that twist around the length of the cocoon. The pattern gives you the option of making either a straight skirt or adding an i-cord edge for a folded finish. What a great gift this will make for a new baby, and what a cherished keepsake this will become as the baby grows! Make this cozy cocoon for a baby shower gift that will be cherished for years to come.
Yarn: Willow Meadow
Hook: 5.0mm
Size: 8.5″ x 20″
Other Materials: tapestry needle, stitch marker
How to Crochet a Baby Cocoon: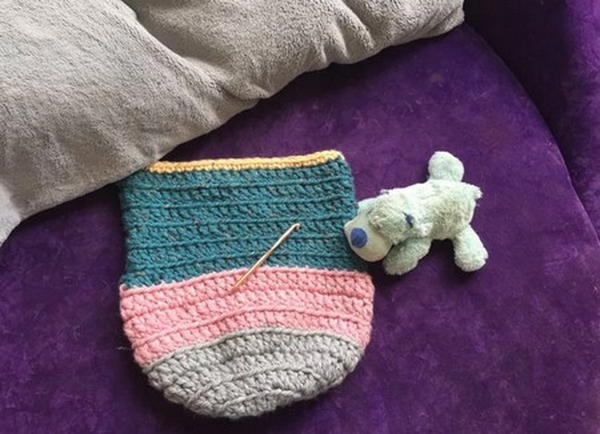 Are you looking for a pattern to crochet a baby cocoon? Crochet is a unique hobby, and if you have never tried it before, I'm sure that you may be trying to find the perfect pattern to start with. It's the perfect way to use up your old yarn and start from scratch with something new and beautiful. If you're looking for an adorable project, using these instructions on crocheting a baby cocoon is like making a Christmas gift that you can start working on today and give to someone up to six weeks after Thanksgiving.
Yarn: Bulky Yarn
Hook: size K
Size: XXS – XL
Easy Peasy Crochet Baby Cocoon: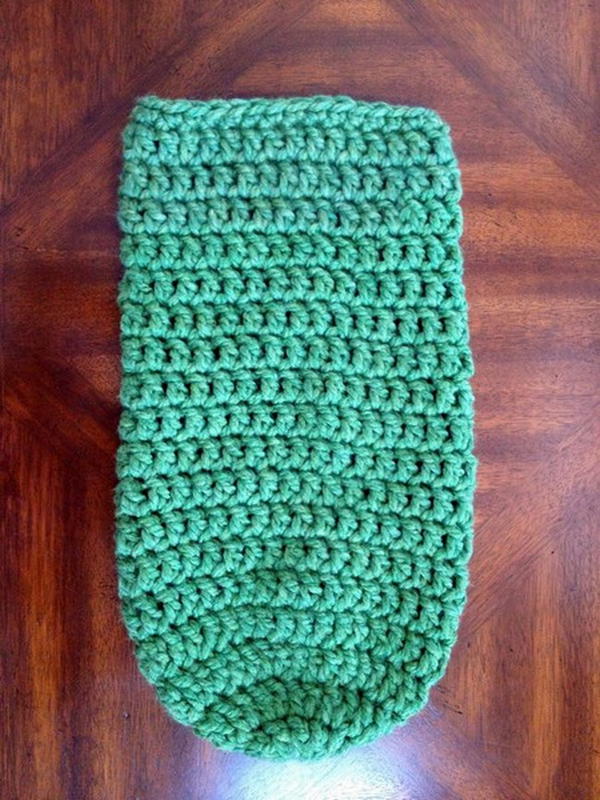 This free crochet pattern is for a baby cocoon that has multiple uses. It's perfect for keeping a baby warm and snug on cold nights or can be used as a practical car seat cover to protect against the elements or conceal a car seat while breastfeeding in public. The holes around the neckline allow you to tie ribbons into bows, ensuring that everything stays in place and making it easy to use the cocoon as a cape. This is the perfect crochet project for beginners and those with advanced skills.
Yarn: Lion Brand Yarn
Hook: size N
The Daisy Flower Crochet Cocoon: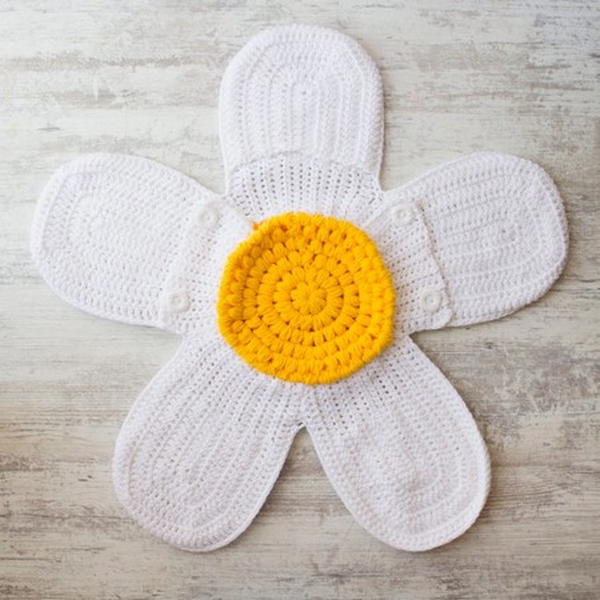 This Sunflower crochet cocoon is a free pattern that will help you create a fun and decorative nursery accessory. You can make one in an evening or two, so it's a great item to include in your baby shower gift. The flower shape will let everyone know that the baby girl inside it is cute and sweet! It's only made from two-round petals, and this lovely pattern creates a giant cocoon for baby girls aged 0-3 months. Your little one will need something like this during those first cold nights!
Yarn: Lion Brand Yarn
Hook: 8.0mm
Gauge: 4."
Size: 1-12 months
Skill Level: Intermediate
Other Materials: stitch marker, button, sewing needle, tapestry needle
Crochet Cuddly Cocoon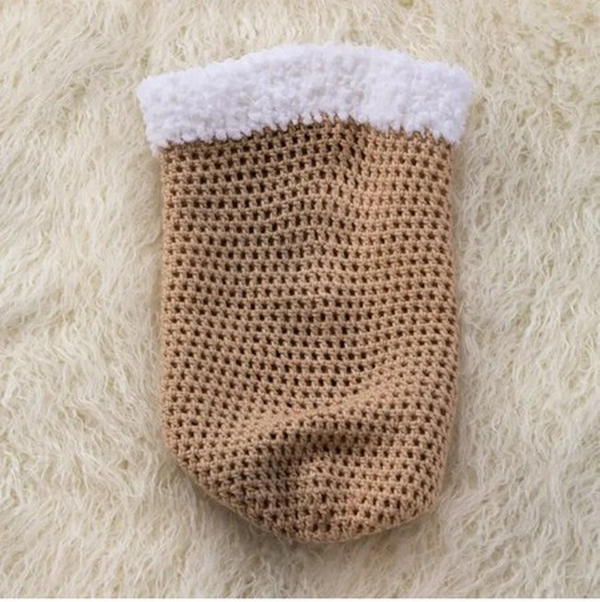 Are you looking for something special to crochet for a baby shower? Or are you looking for a cute gift for someone you love who has just had a baby? This pattern is perfect for those occasions. This is a fun project to make while watching TV or waiting on your child to finish something. Instructions are written out, and also, there is a photo of the pattern to help you finish it correctly. This comes in handy when making items for this special little one as you can make it any color or size you like. Buy some soft but washable yarn for this project and get started!
Yarn: Red Heart Yarn
Hook: 5.5mm
Gauge: 4″
Size: 18″ x 20″
Skill Level: Easy
Other Materials: stitch marker, yarn needle
How to Crochet Baby Star Cocoon: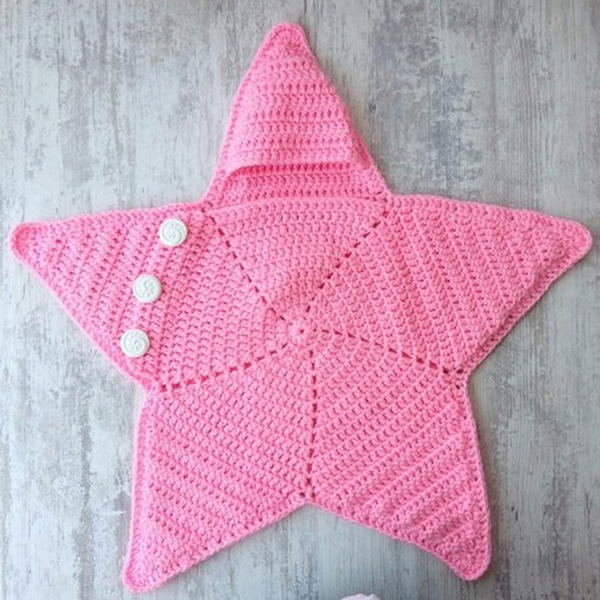 This crochet baby cocoon pattern creates the perfect shield for your little one in cold weather. Wrap your little one up cozy and warm with a cashmere-like blanket that is much lighter than a blanket but just as effective to keep them protected from the weather. The large shield can also help you create the perfect fit for comfortable movement while sitting in your car seat. This is the ideal companion pattern to our best-selling, traditional plush baby lovey pattern. This pattern features an oversized shell that can be rolled over on itself to create a tight little bubble around your child when it's time to nap or go to sleep.
Yarn: Red Heart Yarn
Hook: 8.0mm
Gauge: 4″
Size: 8-12 months
Skill Level: Intermediate
Other Materials: tapestry needle, buttons, scissors
Crochet The Merry Mermaid Infant Cocoon: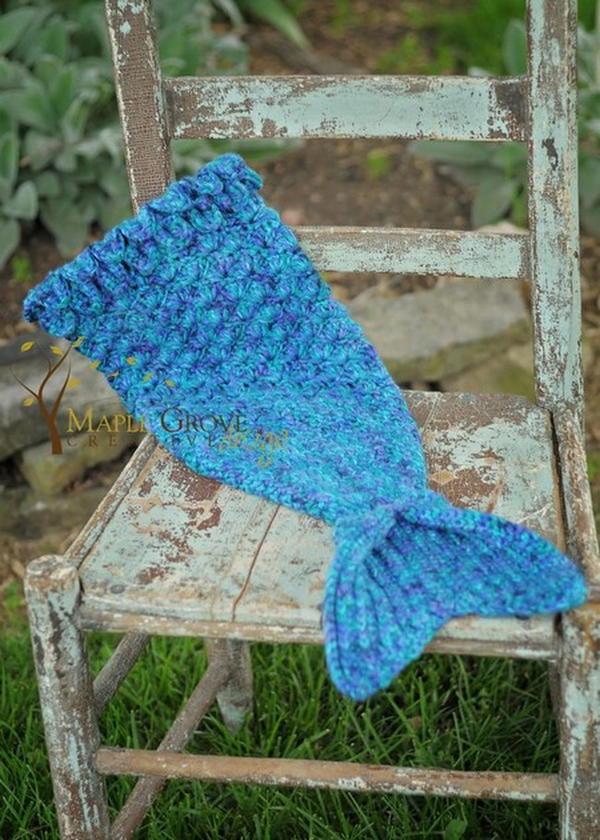 Have fun this spring with this quick and cute crochet pattern. This little mermaid cocoon is perfect for a baby girl or to wear on an upcoming spring picnic date. The crochet pattern is easy enough that novice crocheters can try it out, and experienced crocheters will love the quick project. This cocoon features a crocheted shell, complete with a fancy shell necklace detail in a simple double crochet stitch and a ribbon tie at the top. It is a beautiful work of art, and it can be used in floor decor, window decor, and it can also be used for infant boys or girls and baby shower decoration.
Yarn: Caron Simply Soft Yarn
Hook: size J
Gauge: 4."
Other Materials: yarn needle
Crochet Tulip Hat and Cocoon: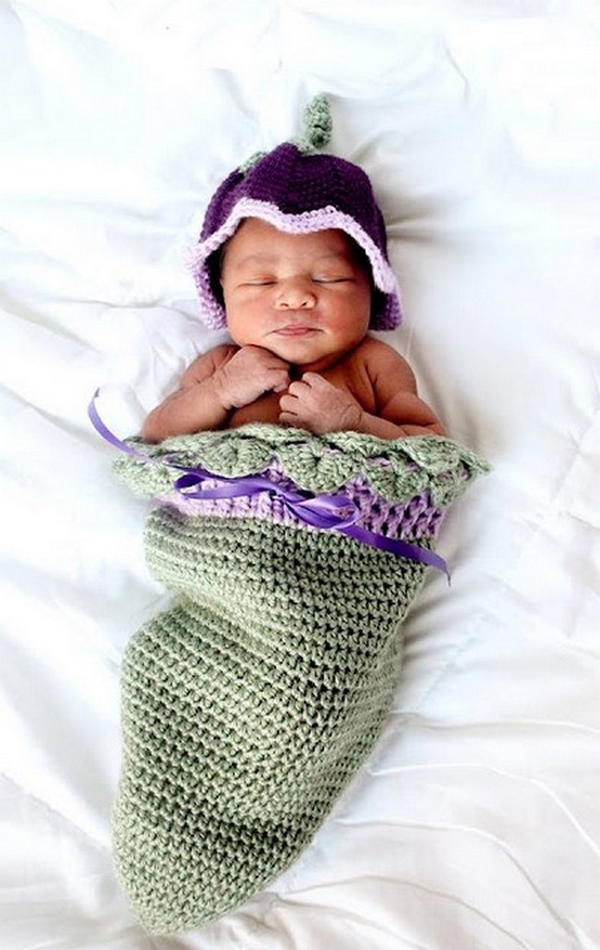 With this easy crochet pattern and step-by-step instructions, you'll have the perfect gift ready before they know it. Your crocheted tulip hat is so quick to make that you can even make several of them to give away as gifts. Your little nephews and nieces can have a unique crochet hat that showcases your love for them. This is a very easy project and great for beginners. The only tools you need are a pair of scissors and yarn. Crochet baby cocoons are also a cheap alternative to store-bought products that keep your little ones warm during the cold months.
Yarn: Caron Simply Soft Yarn
Hook: size H
Mermaid Cocoon: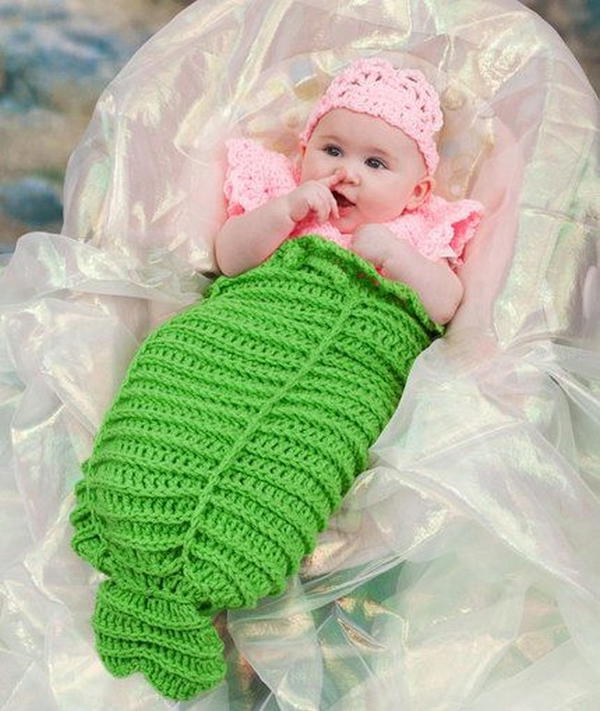 Cuddle up with your little mermaid! This soft cocoon for babies and toddlers provides comfort, warmth, and fun. Keep your baby warm and comfortable with a cute and informative crochet mermaid cocoon. The arms and legs - shaped like marine flora that'll protect your infant from wind and scratchy materials - are thick and soft for ultimate comfort. It's one of the most exciting baby blankets you can also find _and_ a unique baby shower gift. It's a great alternative to large blankets and even stroller/car seat covers that could suffocate your little one.
Ladybug Baby Cocoon: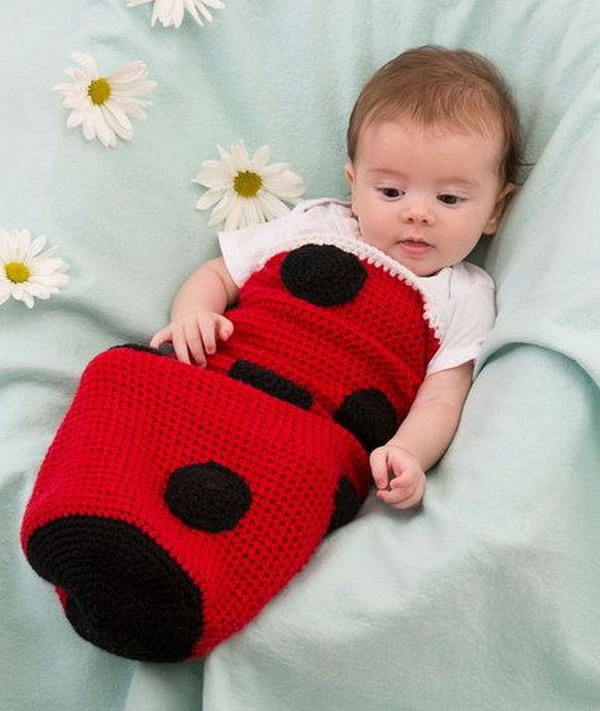 No new parent wants to worry about their child rolling off of the bed or getting tangled in blankets. Cocoons can help prevent these things from happening by coaxing your infant into a safer sleep position and protecting the head and face. This Ladybug Cocoon can be made in either 100% cotton flannel (recommended for warmer climates) or a cotton/stretch terry combination, which is ideal for cooler climates or indoor use. After you make one for your baby, you'll want to make one for every little guy or girl you know!
Baby Cocoon: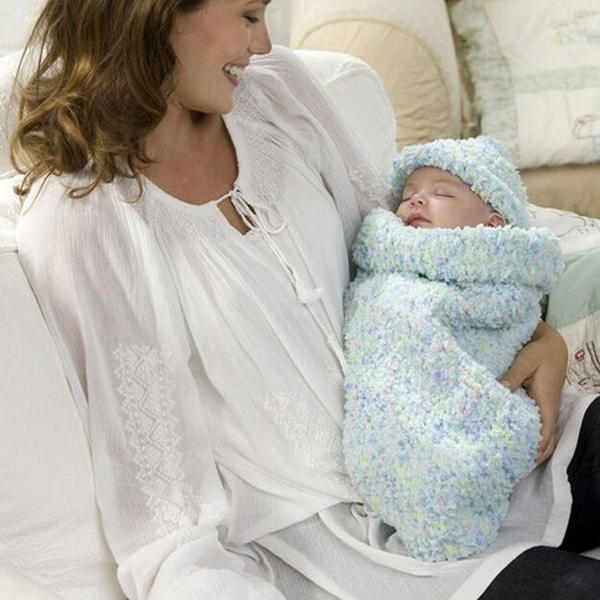 This bold, visually appealing creation is a show-stopper at baby showers. The wonderfully soft texture of this must-have item for the baby lovers in your life helps newborns feel calm and secure. Easy to care for, this cocoon will become a favorite blanket and travel item for many years to come. Knit in the round from the top-down, it's an excellent stash buster when worked in the same color. This newborn item is a fun way to start learning new stitches and techniques while giving an opportunity to use your creativity to make something unique.
Bernat Baby Cocoon And Hat: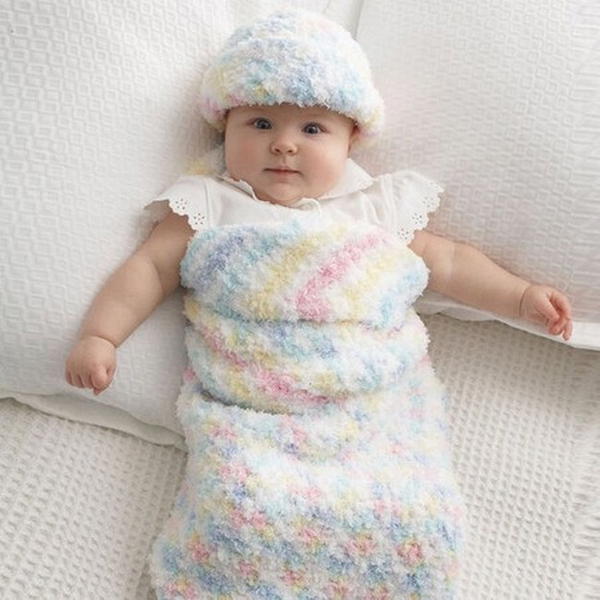 The Bernat Baby Cocoon And Hat set will keep your little one warm and happy. Featuring Bernat Pipsqueak, a super-soft acrylic yarn in bright and pastel shades, this cozy cocoon and hat set is the perfect way to keep your little one warm and snuggly. Basic crochet skills are all you need to make this pattern. With a combination of single and double crochet stitches and detailed instructions on changing color patterns, this cocoon and hat are easy for beginners to tackle and fun to create. Worked using the super-soft and oh-so-cozy Bernat Pipsqueak yarn, you'll have complete creative control over your finished project.
Swaddling Cocoon Crochet Pattern: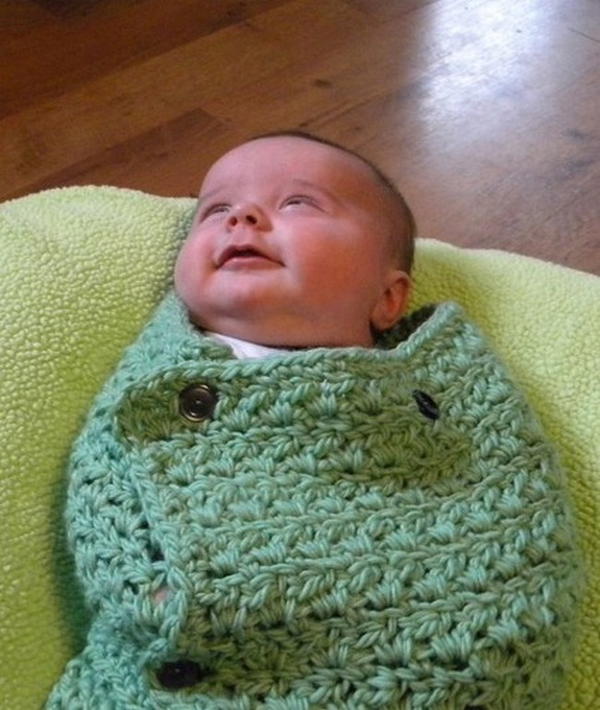 Don't you love baby cocoons? This cocoon helps safe swaddle an infant baby so that she feels snug and comfy during the period of incubation. It can be used as a sunshade, play mat, and outdoor blanket in the hot summer. It is delicate enough to be used as a stroller or carry cart cover. Later on, it could be a baby car bed, nursing cover, or dress-up costume. The project has a simple stitch of the basic crochet pattern. It is so easy even beginners will learn to crochet quickly and make this nifty baby cocoon right away.
Yarn: Patons Yarn
Hook: 9.0mm
Gauge: 4″
Size: 0-6 months
Skill Level: Intermediate
Other Materials: yarn needle, stitch marker, buttons
Crochet Snuggle Bug Cocoon: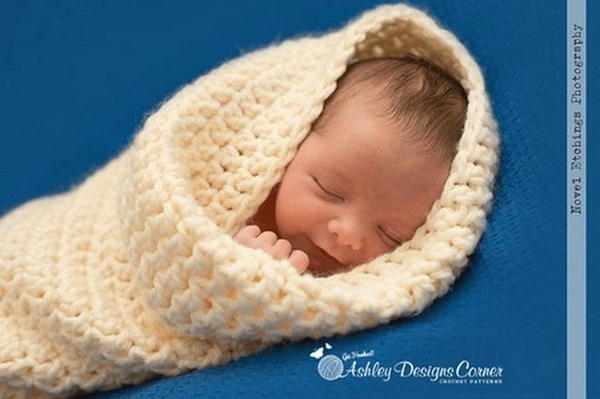 The Snuggle Bug Cocoon is a crochet blanket designed to be the perfect size for little ones. The project uses a worsted weight yarn, so it is soft and warm but will still drape over the body and look beautiful around the shoulders. Enjoy extra warmth on a cold winter evening with a stylish crocheted snuggle cocoon! Crochet it in either a single color or in colorful tweed tones to add extra pizzazz. Get cozy by the fire, wrap up in your snuggly creation on the couch, or use it as a play blanket for your little ones. The possibilities are endless! You can even crochet just one half and make a comfortable neckband for your baby!
Yarn: Chunky Weight Yarn
Hook: 9.0mm
Gauge: 4″
Size: 20″ x 22″
Other Materials: tapestry needle, scissors, measuring tape
Crochet Snuggle Cuddle Cocoon Pattern: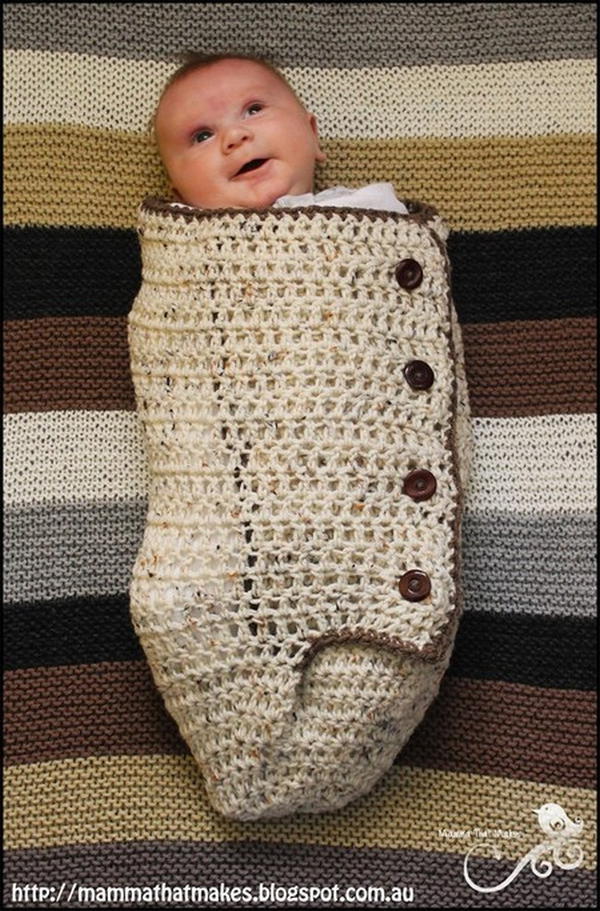 Do you remember how special it felt when your mom wrapped you up in one of those warm blankets? It's even better when you make it yourself. This crochet snuggle cocoon pattern is easy to follow and looks adorable on babies, toddlers, and adults alike -- the perfect blanket for all ages! Suitable for the whole family, this snuggle cocoon pattern consists of 3 sizes and has a beautiful rose-leaf motif, making it unique. This crochet cuddle cocoon pattern is perfect for keeping your little one snuggly warm in these cold winter months – and easy to turn into a toy for a friend. Make a bunch up as gifts for your newborn friends, or get started on one today to welcome your little one into the world!
Yarn: Red Heart Yarn
Hook: 6.5mm
Size: newborn – 3 months
Crochet Baby Cocoon:
Have a new baby who adores being in the house all day long? This adorable crochet baby cocoon pattern is just what you need to make your little one feel secure and comfortable. This crochet baby cocoon pattern is created with the raspberry stitch, which gives this product a unique texture, and it's perfect for working with thicker yarn. The best part about it is that it won't be challenging to do this once you become familiar with the pattern. The texture of this product can't be any better than you expected - the unique raspberry stitch gives that granny touch and will make your item truly special.
Yarn: Lion Brand Yarn
Hook: 6.0mm
Crochet Baby Owl Cocoon and Hat Set: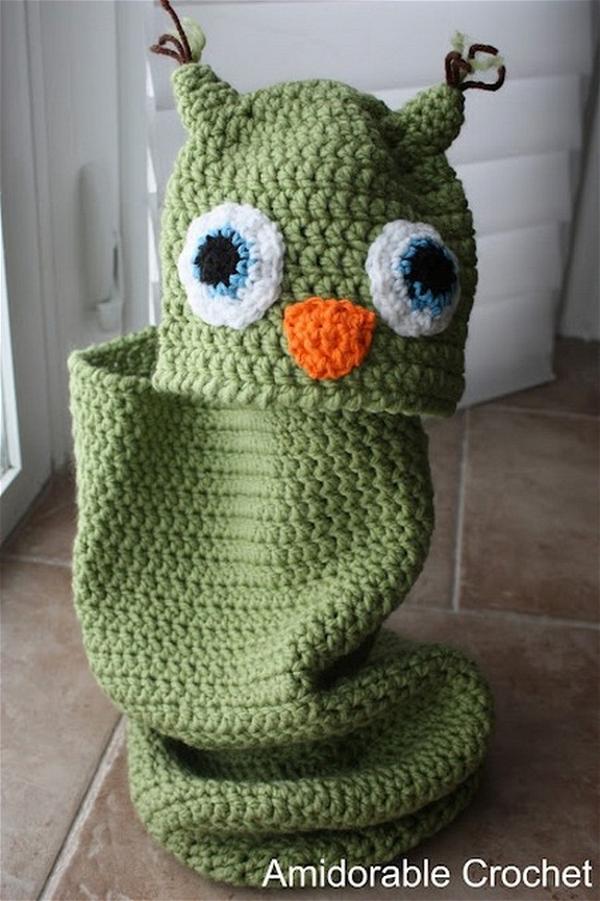 Crochet this beautiful baby owl cocoon and hat set! This pattern is so fun and easy that you can even make it a gift. 🙂 It's also super cute and great if you're learning to crochet/knit. The cocoon can be made as a throw to fit any size baby, and the hat has an adjustable strap to fit any head size. You can crochet it singly as a baby cocoon or with as few or many chains to make a gorgeous cape for an older child. It's very easy to customise this pattern to make it your own!
Yarn: Chunky Yarn
Hook: 6.0mm
Baby Cocoon Set For Gift: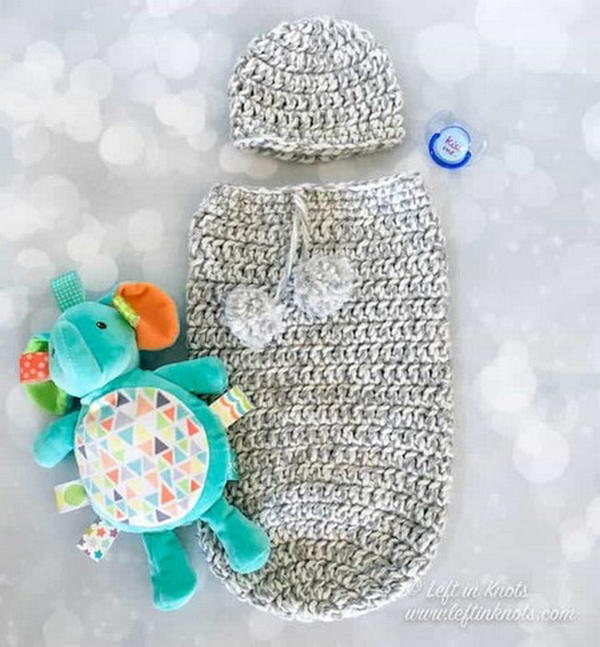 What a perfect gift for a baby; you will be sure to make all the new moms in your life very happy. The design of this crochet cocoon pattern is unique and feminine. It also works up quickly, so it's a great last-minute baby shower gift to make. You will love this luxurious baby cocoon set, designed to keep your newborn's feet warm and provide them with a cozy feel while they lay on the go. Baby can play, sleep or hang out comfortably in their baby cocoon while you have your hands free and a happy little one.
Yarn: Bernat Softer Chunky Yarn
Hook: 6.5mm
Gauge: 4″
Size: 9.5″ x 15″
Other Materials: pom maker, yarn needle, scissors
Crochet Basic Button Up Burial Cocoon: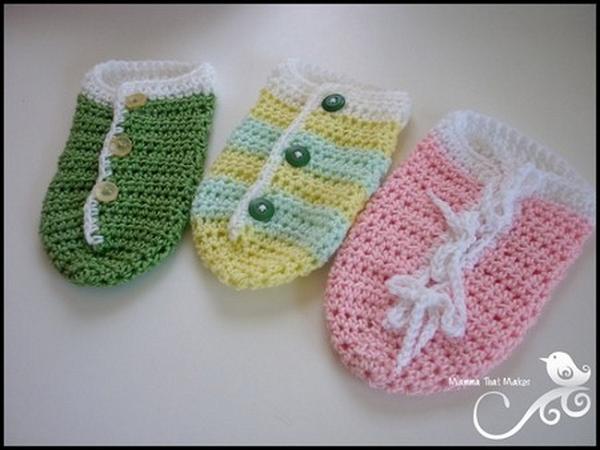 Look cute and keep warm in Crochet Basic Button Up Burial Cocoon. This tomboy outfit is simple to make with fingering weight yarn and simple crochet stitches. It's luxurious and warm, perfect for those cooler nights. The design allows you to tie it in many different ways to use it, whatever the weather. Casual and relaxed, it doesn't make stuff away quickly, but there are plenty of ways to layer or tie it if you have a more petite frame so that when you have a bulky jumper on, it doesn't look silly on you. Whether you're going on a winter vacation trip or need to protect your arms from flying insects, this burial cocoon will do the job!
Yarn: 8ply Fingering Weight Yarn
Hook: 4.0mm
Other Materials: needle
Crochet Layered Crocodile Stitch Cocoon: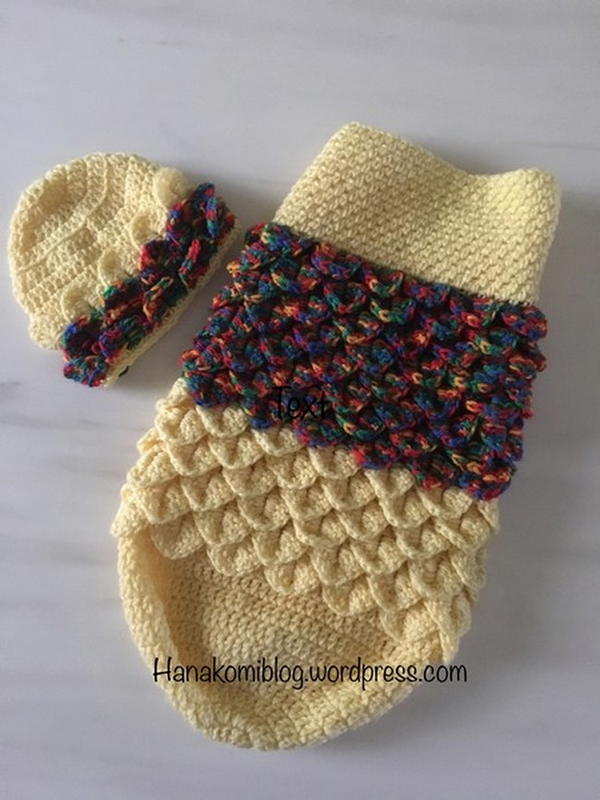 Get swept away by this luxurious, cozy scarf. Crocodile stitch is a great way to show off some of your favorite yarn. If you've never tried it before, now's the perfect time to learn! A crocheted cocoon for a newborn baby is something necessary but also pretty and cute! It's also usually crocheted in a soft yarn with big needles for the fine mesh (e.g., mercerized cotton). Here you'll get a different approach – this is an easy project with a bit of a twist, using a thicker yarn and smaller needles. The result is fast and cozy, perfect for keeping any kid warm!
Yarn: 8ply Yarn
Hook: size H
Size: 18″ x 18″
Snuggle Cuddle Cocoon Crochet Pattern: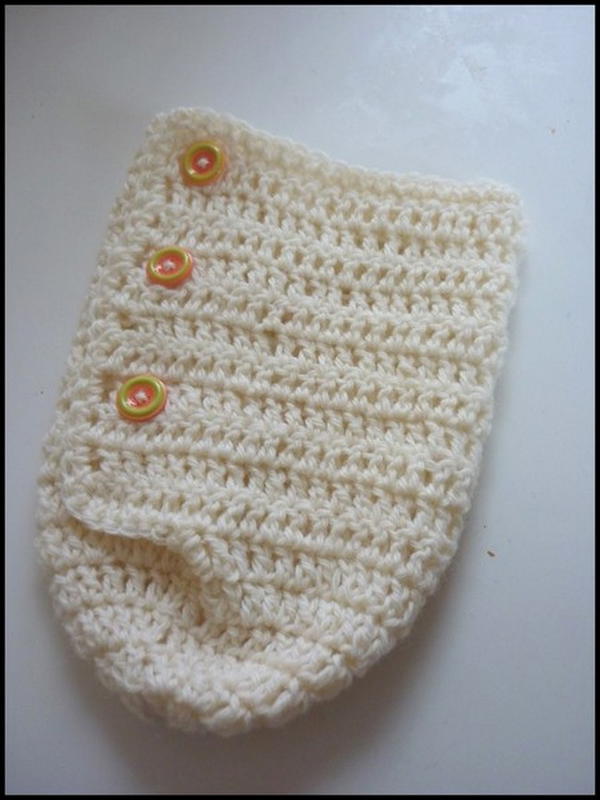 With this Snuggle Cuddle Crochet Cocoon pattern, you can make a cozy cocoon just for the little one in your life. It works up pretty quickly, so you can make several to keep on hand if their current one is getting worn out. They'll love snuggling up in this cute cocoon and feeling like they're in their little world! Perfect for tossing over your little ones' stroller or crib for a cozy nap when you're out and about. They'll love it! This pattern is quick to make and can be great for those gift baskets you've needed to make or even a baby shower present – boy or girl!
Yarn: DK Weight Yarn
Hook: 4.0mm
Other Materials: 3 buttons
Crochet Snowman Cocoon: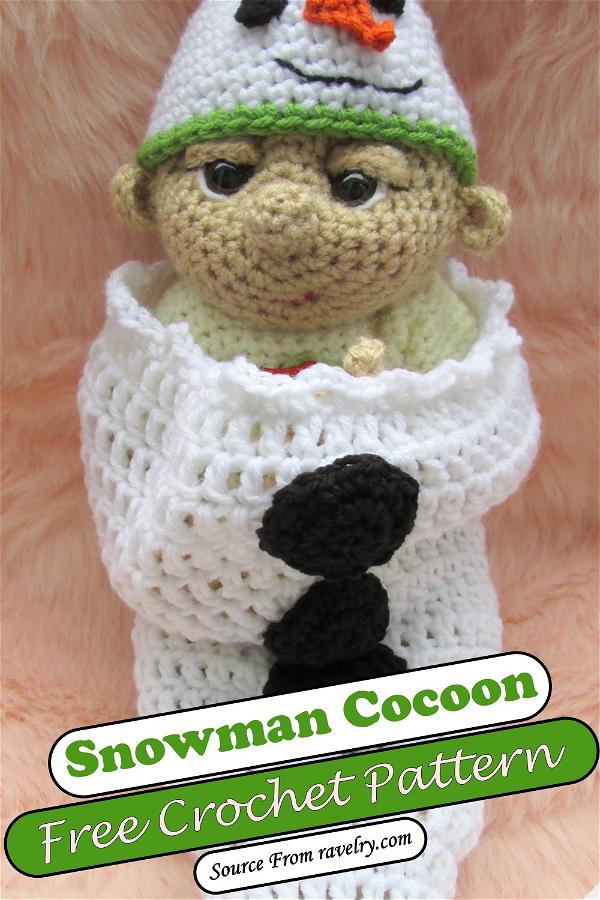 This crochet snowman cocoon pattern is a cozy gift for children and a little bit of holiday snow magic for everyone else. Our snowman cocoon makes an adorable decoration for your nursery, a snugly Christmas-themed crochet cushion for watching cartoons with hot cocoa. Warm your child with a crochet snowman cocoon. The yarn used is in worsted weight, easily adaptable to all levels of crocheters, with a Crochet Snowman Cocoon pattern that can keep everyone snuggly and warm on cold Autumn nights. Best of all, this fun crochet pattern is quick and easy to make.
Hook size: 5.5 mm in I size
Yarn: Worsted weight
Crochet Snowman Ear Muff Hat and Cocoon: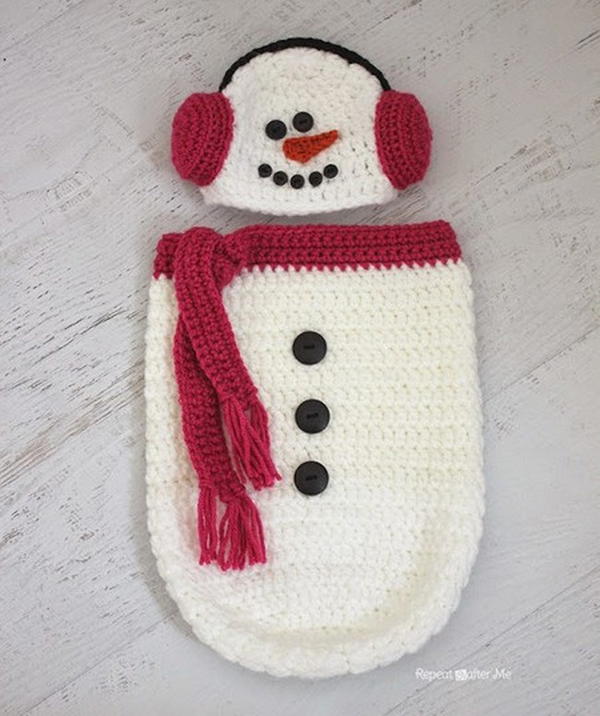 This hat is an excellent pattern for newbie crocheters, and at the same time, it can even be an excellent addition to your collection of crochet patterns. It will be perfect for the coming winter, warm and cute. It is made mainly in double crochets, with some single crochets for detailing. Your little one will keep cozy and warm in this adorable Crochet Snowman Ear Muff Hat and Cocoon pattern. Great to crochet for any age, this super-soft set is unique and fun to wear, with button closure and drawstring toggle. The crochet snowman ear muffs are great as winter infant accessories or can be worn alone as a simple hat.
Yarn: Loops & Threads Yarn
Hook: size H
Size: baby – adult
Other Materials: tapestry needle, fiber stuffing, buttons
Crochet Baby Chick Infant Cocoon: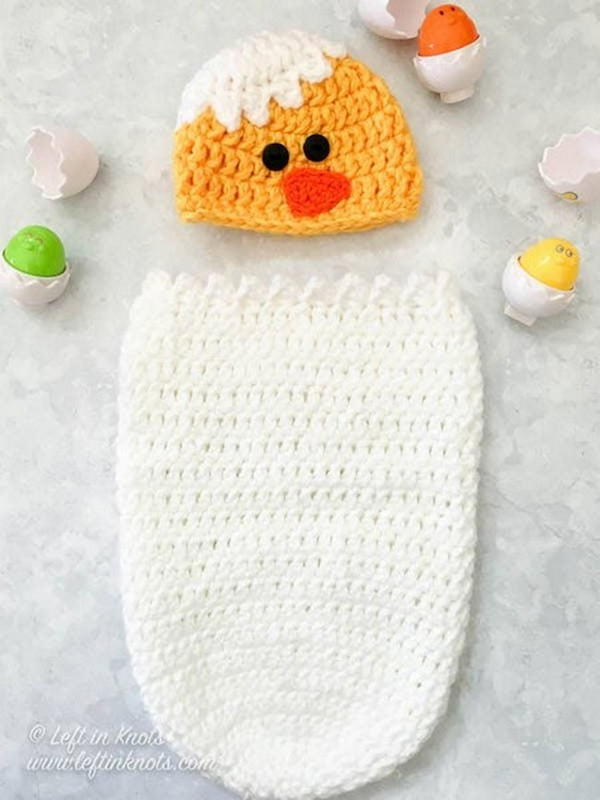 Crocheting an infant cocoon is a welcome way to bring a baby gift that offers extra warmth and comfort. This pattern includes the basic crochet baby chick cocoon template and photo tutorials for different finishing techniques used in this project. Here you can learn how to crochet a small stuffed animal with a body, face, wings, legs, and tail. There are instructions for that technique if you would like to make the eyes from yarn instead of buttons. It's lovely to knit up in your favorite colors. With the crochet baby chick pattern, you will create a little cocoon that your baby can wear to keep warm in their sleep or under a jacket or sweater when they feel like it.
Yarn: Loops & Threads
Hook: 5.0mm
Gauge: 4″
Size: 5″ x 6.5″
Other Materials: yarn needle, buttons, scissors
Crochet Plaid Baby Cocoon and Hat Set: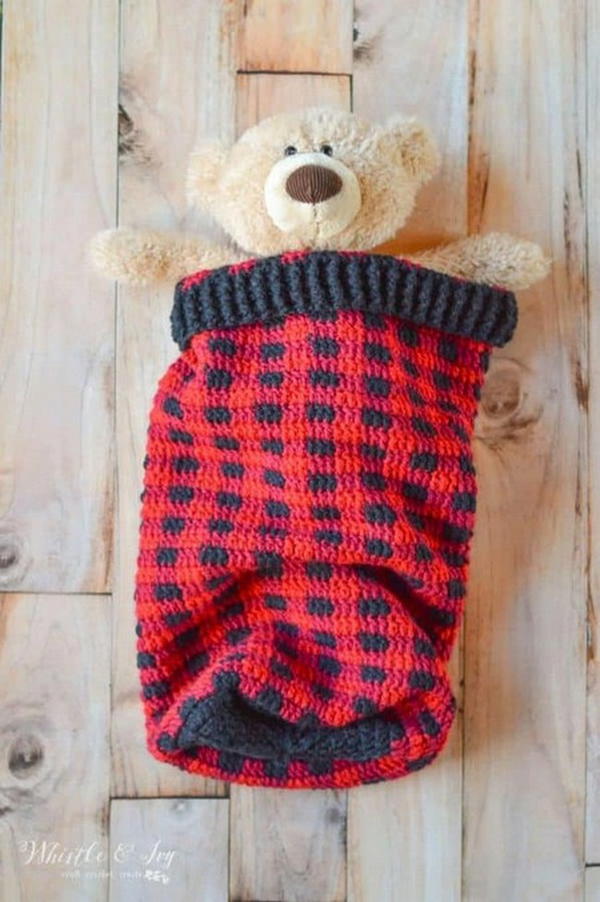 This Set is such an adorable new baby gift! What a cute idea! Crochet plaid adds a fashionable touch! This pretty plaid afghan is simple to crochet and can be made up in about a couple of hours, depending on your hook size! This uses worsted weight yarn, with instructions for sizes newborn-6 months, 6-12 months, toddler, and child. The hat and cocoon keep your little one warm, while the sweet ribbon bow can be tied to keep their hands tidy. Use up all your leftovers with this project - it even uses bits of yarn from larger projects you may have made.
Yarn: Lion Brand Yarn
Hook: size H
Gauge: 4″
Size: 20″ x 21″
Other Materials: Darning needle
Crochet Newborn Baby Cocoon: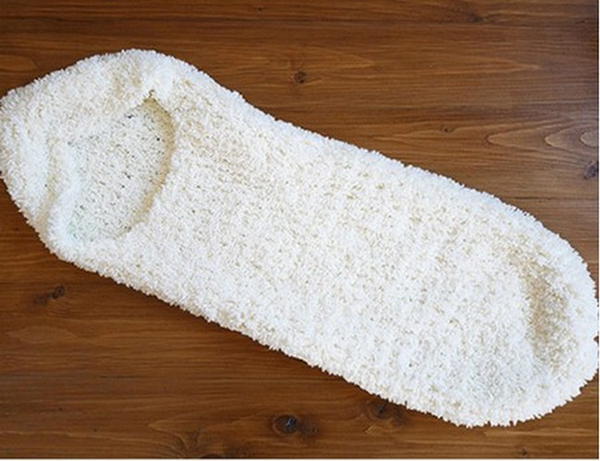 This pattern is for a lovely and straightforward crochet newborn baby cocoon. There is plenty of room for your precious little one to grow and be held snugly in the cocoon as you carry it around. The white with little circles used in this pattern is perfect for either a girl or a boy, so there are no worries about picking the right color. This crochet pattern is very versatile as it works with any yarn and any hook size (adjust the number of rounds to get your desired cocoon size).
Yarn: Kartopu Anakuzusu
Hook: 8.0mm
Gauge: 7″
Size: 9″ x 26″
How to Crochet a Baby Cocoon In 1 Hour: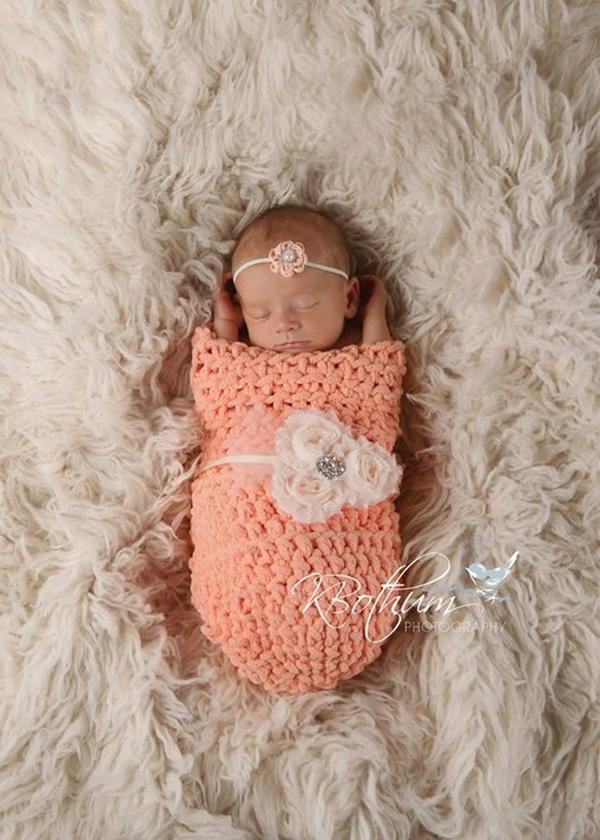 What to do after you've had a baby? How about something that will make your baby look unique and pretty? These are the best crochet flower cocoon tutorial & patterns! This is a great crochet pattern! Not only can you make the flower baby cocoon you need, but you can also crochet this floral headband with a matching set. Make one for a photoshoot with your lovely baby girl, or gift it to family and friends. The flower ornaments may also be created in various colours to match different outfits, so this is a great crochet gift idea for a special little girl.
Yarn: Bernat Baby Blanket Yarn
Hook: 11.5mm
Other Materials: tapestry needle, stitch marker, flower stash
Crochet Baby Sleep Sack Pattern: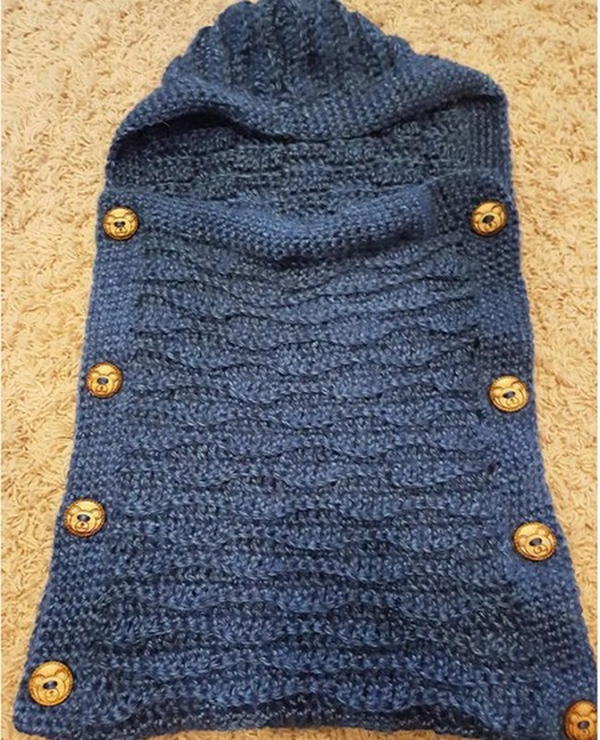 Crochet baby sleep sacks are available in various colors, designs, and fabrics. Some are even reversible in the front, while some are more expensive and stylish than others. Make your own stylish, crochet baby sleep sack to keep your baby warm and cozy. This free pattern is written for three sizes and can be used for every size, from a newborn to a bigger size. The free crochet pattern discussed here is straightforward to make – crochet a rectangle and join it together to form a hood and both sides! The instructions are straightforward, and if you know how to make single crochet or magic ring, you will be able to get the work done quickly.
Yarn: Lion Brand Yarn
Size: 0 – 6 months
Other Materials: buttons
Crochet Crocodile Stitch Baby Cocoon:
Get ready to use your crochet hooks for this fun family project. One of the most impressive projects, this Crochet Crocodile Stitch Baby Cocoon is a definite winner when showing off your mad skills. This fabulous pattern will guide you step by step and get you to start crocheting immediately. You only need some basic knowledge on how to use a crochet hook, and you'll be able to create one for yourself and your loved ones too! Made with a baby in mind, you can easily adjust the size of this cocoon based on the size of your little one--talk about easy! Make it as a present or keep one for yourself--you know you want one!
Yarn: Stylecraft Special DK
Hook: 4.0mm
Gauge: 2.5cm
Size: 22cm x 31cm
Crochet Spring Flower Newborn Cocoon: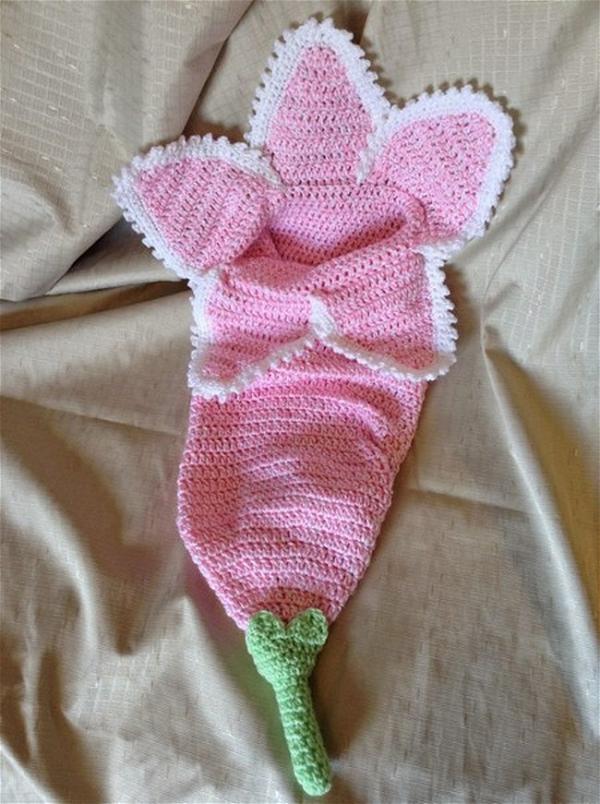 Sending this baby blanket to a friend or relative who just had a baby girl? Then she will for sure fall in love with this cute crochet blanket. Made by hand, this colorful blanket would warm your little girl's room. Crochet Spring Flower Newborn Cocoon is a blanket complemented with floral designs on top of it. It also has a hood to keep the baby warm and cozy. This little blanket can be a perfect baby shower gift for parents who have a girl. The little one will use it for some time since crochet baby bunting patterns have been in for quite some time now.
Yarn: Bernat Softer Baby Yarn
Hook: 5.5mm
Other Materials: tape measure, scissors, yarn needle
Textured Baby Cocoon Crochet Pattern:
This adult-sized necklace is elegant and straightforward, perfect for everyday wear with jeans or your favorite dress. The textured motif makes the necklace stand out, giving it a unique appeal and look. This textured baby cocoon is perfect for keeping the little one warm and cozy. It's quick and easy enough to make as a last-minute gift or as a gift for when you expect the new addition! The pattern is suitable for all levels of crocheters with some basic crochet knowledge, including how to create a slip knot, how to chain, how to double crochet, how to join new yarn, and creating the magic ring.
Yarn: Caron Simply Soft Yarn
Hook: size H
Other Materials: buttons
Crochet Practical Thick Baby Cocoon: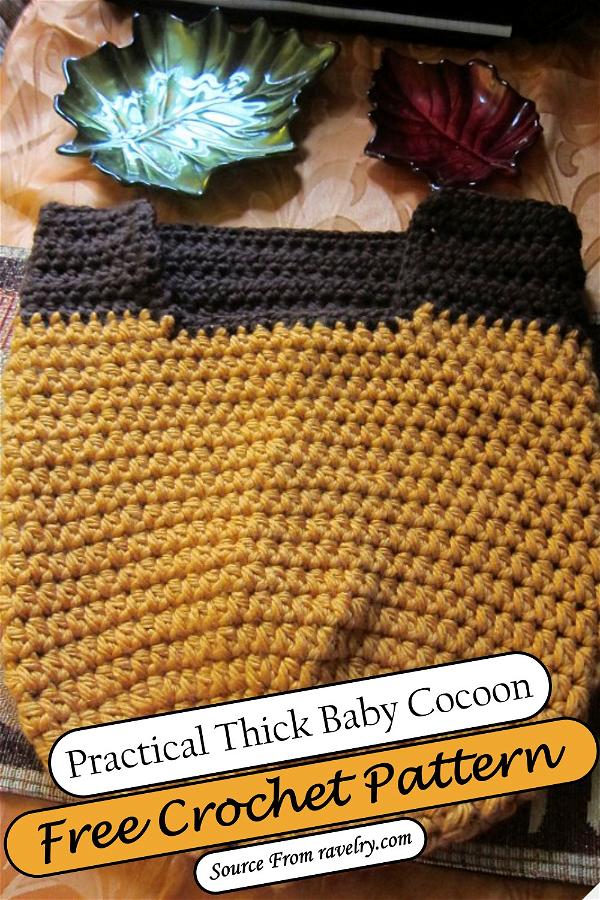 If you want your baby to stay cozy and keep them warm, then this incredible Crochet Practical Thick Baby Cocoon is what you are looking for. Made of wool, this cocoon is soft and comfortable. Moreover, it has a cute pattern that makes your baby look adorable. This project comes in handy during the cold winter and keeps your little princess safe during the summer heat. This is the easiest way to wrap your newborn baby during cold nights without any risk of choking. Being warmer and more lightweight than acrylics or any other material, Wool yarns provide maximum comfort for your tiny baby.
Yarn: Lion Brand Yarn
Hook: 6.5mm
Crochet Striped Baby Cocoon: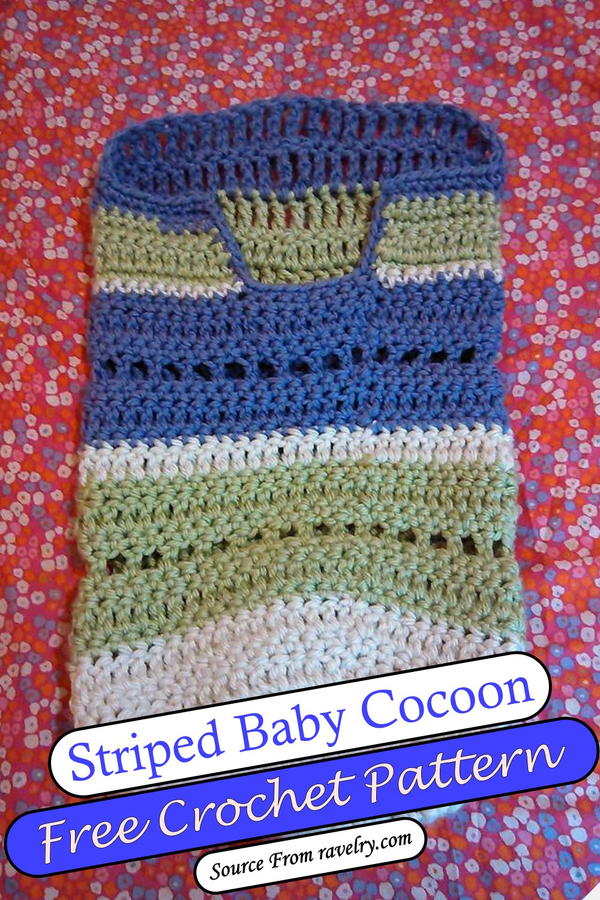 Here's an excellent pattern for crocheting baby cocoons and sweaters in one piece. This method is excellent for experienced crocheters since it allows them to create something exceptional with as many colors as possible. As you work, do your best to keep the tension even to prevent holes from forming and make the robe look consistent. When it's cold outside, your baby needs an extra layer to maintain body temperature. This cocoon is easy to make and will surely keep the baby snug and warm. Choose bright, contrasting shades of yarn for the best effect. Also, work with four or five different shades for a funky look as pictured.
Yarn: Lion Brand Yarn
Hook: 9.0mm
Gauge: 10cm
Size: newborn, baby
Other Materials: tapestry needle
Crochet Succulent Pot Baby Cocoon: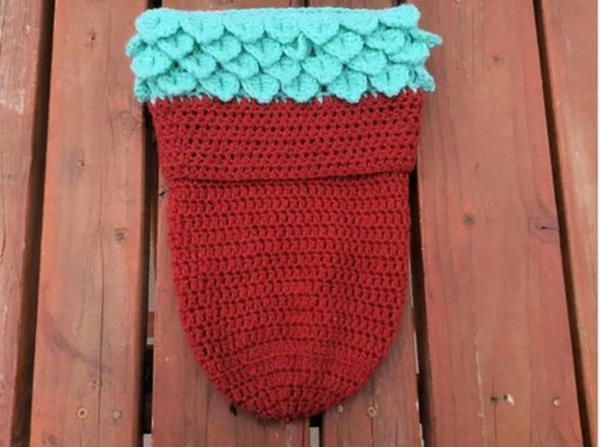 Crochet is a unique and cozy hat for the baby! This newborn hat pattern includes many well-thought-out features, including a flip-up brim, construction that allows the hat to be made in advance, and a buttonhole and button or snaps option to make hat removal easier. Make this adorable hat when you'd spend waiting at the doctor's office or sitting on the sofa! This crochet baby cocoon is a gift that will be treasured forever. Give it to a new baby or make a few in advance – they always get loved right away! It was inspired by the trend of making succulent terrariums inside little takeout containers.
Yarn: Red Heart Yarn
Hook: size H
Size: 10.5″ x 16″
Other Materials: tape measure, yarn needle, embroidery scissors