Crochet Yoda Baby Patterns are adorable and the perfect cuddle buddy for any Star Wars fan! If you want to crochet your own Yoda, these free patterns are a great start! There are 25 different crochet baby Yoda patterns for you to choose from. These cute little guys make wonderful gifts and keepsakes. If you're a Star Wars fan, you're going to love this! Many creative people have been busy creating their versions of Baby Yoda, and here are some of the most popular ones that we've found around the web.
These patterns allow you to crochet your own Yoda. There are many different ways that you can customize your Yoda. You can use different colors, yarn weights, and even change the eyes to make it look just like the Yoda character from Star Wars. What makes these crochet baby Yoda patterns so much fun is that there are so many ways that you can take these characters and make them into something unique.
They are very simple to crochet, and you will love the finished products. The Crochet Baby Yoda Patterns you find in this article are easy enough for anyone to crochet, even if you have never picked up a hook before! They are also very quick, so if you need a fun gift idea or even a fun way to pass the time on a lazy Sunday afternoon, one of these Baby Yoda Patterns is perfect for you!
Crochet Baby Yoda Patterns: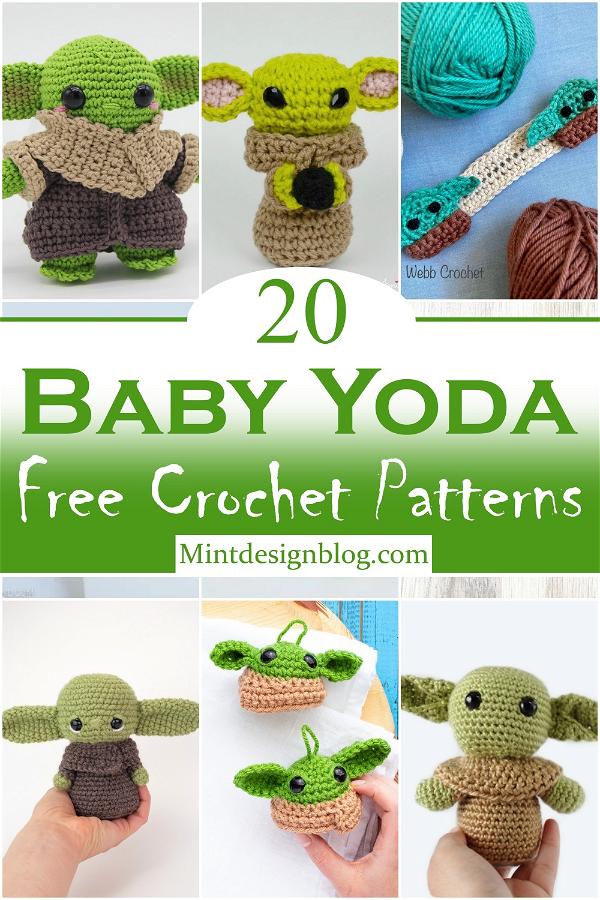 Today, we will be sharing some free crochet Yoda amigurumi patterns with you so you can crochet your very own baby Yoda amigurumi. One great thing about these patterns is that they are easy to use and understand. They are excellent at making it easy for you to follow along with them. These patterns also come with pictures to see what the item looks like before you finish making it. The only thing left to do is get your yarn, hook, and fingers ready and start crocheting!
These are the cutest crochet Baby Yoda patterns that you have ever seen. Keep reading and find the one that will be perfect for your next project.
Crochet Baby Yoda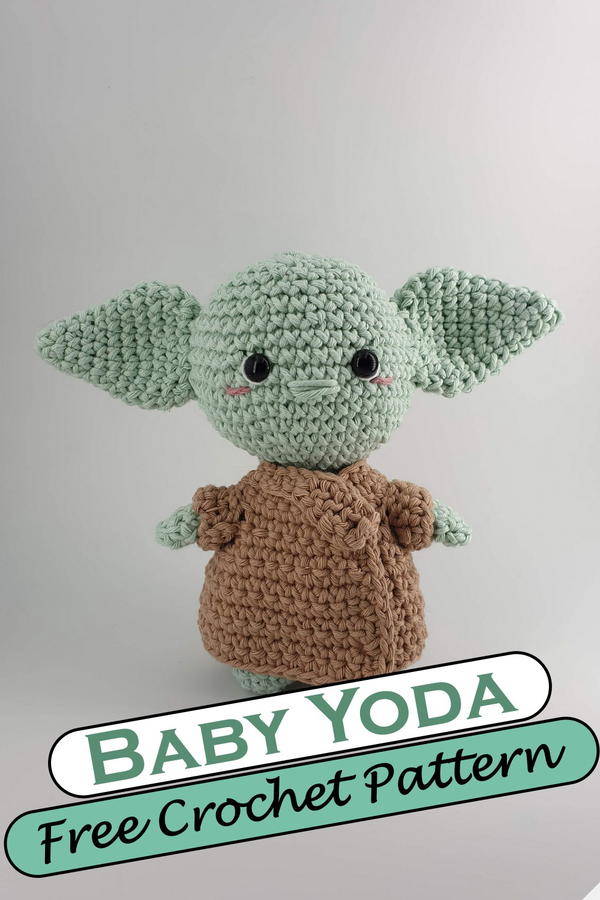 Make your own crochet Yoda amigurumi baby and have your own Star Wars character. This little guy is great for decorating, gift-giving, or fun! The pattern has multiple pictures to help guide you through each step. This adorable little thing will be a great decoration for parties or a gift for someone special. This pattern is specially designed so that beginners learn new techniques easily, so go ahead and have fun! Add this Baby Yoda amigurumi to your collection! The perfect addition for anyone who loves Star Wars and crochet, and who also happens to be expecting a baby. Be sure to add it as a decoration in the nursery or as a gift.
Baby Yoda And Bassinet Toy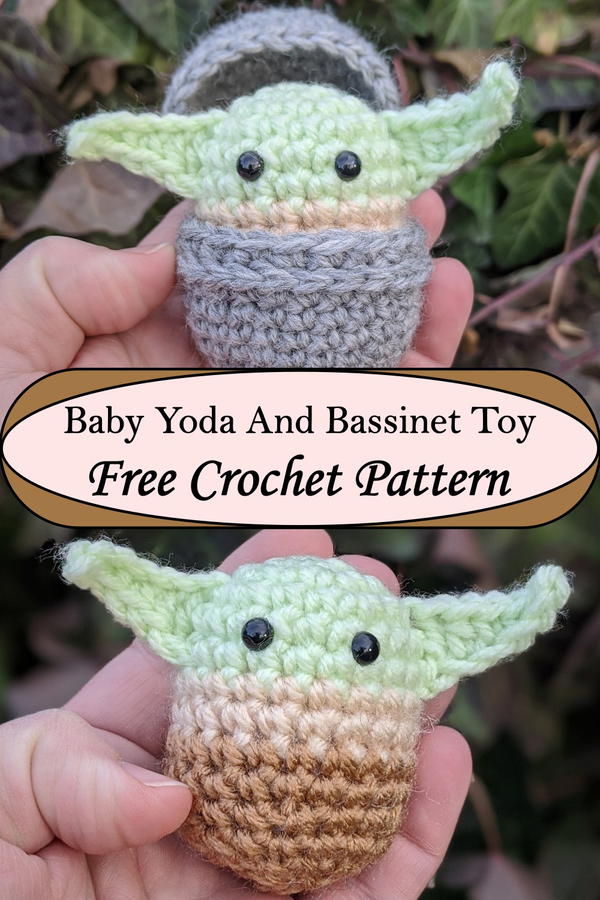 This is a fast, easy pattern to make Baby Yoda for your favorite child or inner child. The perfect gift for the Star Wars fan in your life. This is a pattern for a Baby Yoda that fits into an adorable bassinet. You can use this as a real or papercraft project or as an ornament for your yule tree. The top of the bassinet fits snugly over the bottom like an egg, so there is no sewing involved after you've assembled it. Make one for an Easter basket gift or Christmas tree ornament!
Amigurumi Baby Yoda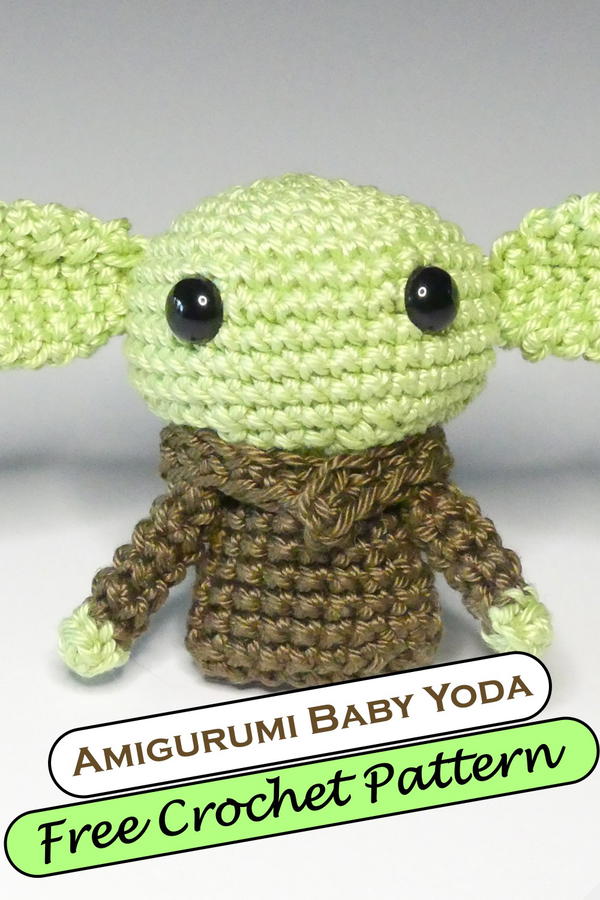 Take your Star Wars obsession with you wherever you go with this free amigurumi pattern for Baby Yoda. This doll stands 2.5 inches tall, making it an ideal keychain or decoration for any desk or rearview mirror. The pattern is also easily adaptable to make a Grog if you prefer it rather than a Yoda. The Amigurumi Baby Yoda and Grog pattern are easy to read, with clear instructions and step-by-step photos showing how to create the doll. All materials used are readily available in your local craft store, and you could also opt for supplies online or at a craft fair if desired.
Baby Yoda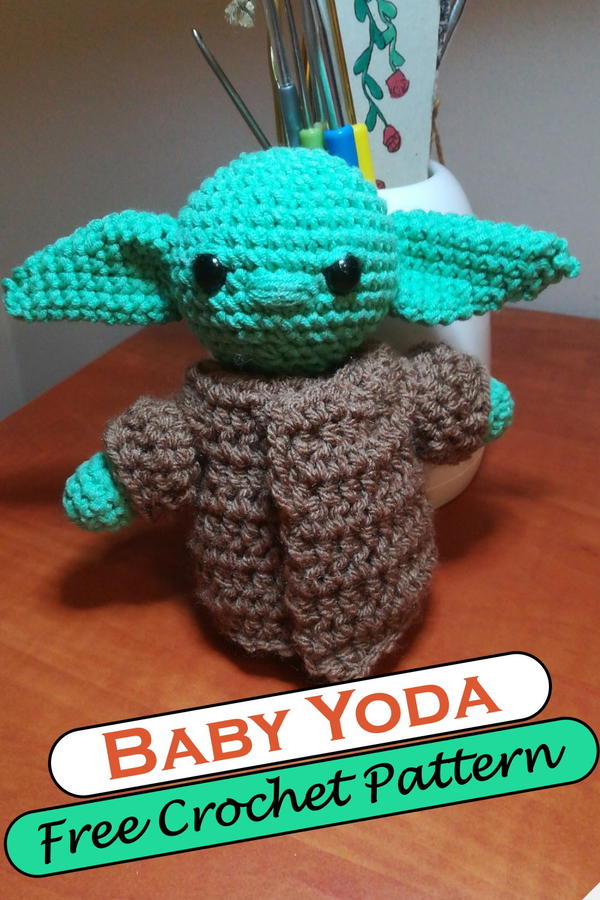 If you are a Star Wars nut like me, this will be the perfect toy for your little one. It will be the cutest, littlest baby Yoda you can imagine. This small plush is easy to make and great for making gifts for all of your friends who are obsessed with Star Wars. This little guy is sure to be a favorite when crocheted out of ultra-soft yarn and stuffed with a cotton filling. He's just under 15cm tall and small enough to fit anywhere but still big enough to be cuddled when needed! It's a wonderful project and can be finished in one day. This baby is less than 15 cm tall and can stand on its own
The Alien Child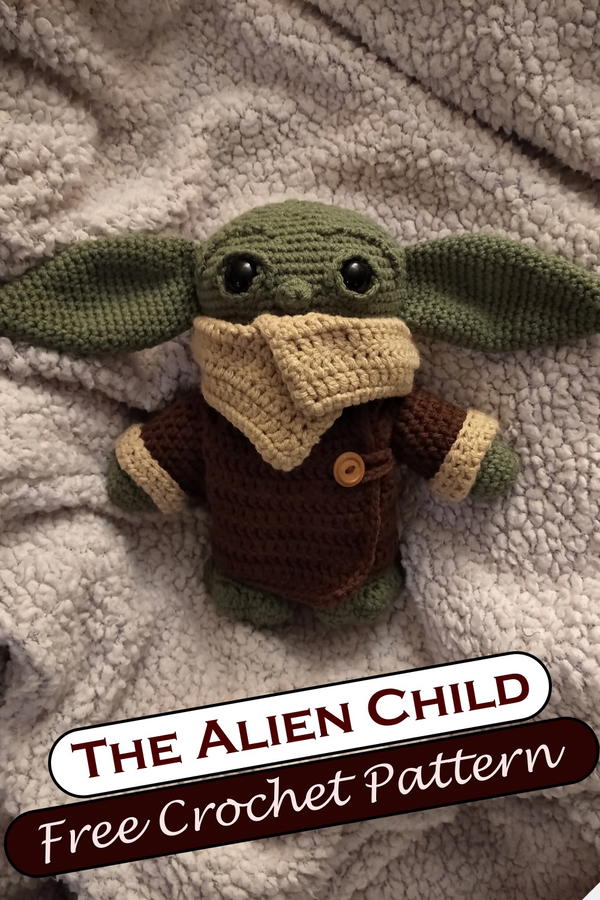 This is a fun and easy way to show your child just how much they mean to you! This crochet baby Yoda pattern can be crocheted in 3 different sizes. The smallest uses Bernat Super Value, the medium uses Bernat Super Value, and the large uses Bernat Amazing. It is up to the individual which size they will make with their chosen yarn. I have provided charts for the face where you can place your own choice of eyes and mouth depending upon which size you are making. This pattern also assumes that you are familiar with making amigurumi-type dolls.
Yoda Security Blanket
Yoda is made using a front and back loop only single crochet. You can use a variety of yarns depending on the look you want to achieve- softer colors will produce a thicker fabric, making him feel even more snuggly! Be creative! Mix colors for new looks! The pattern is written for specific colors, but it is up to you to decide what works best for your project. The small size makes a perfect baby blanket, great for the crib or stroller. It's also easy to carry along in a purse or bag for any Star Wars fan.
Baby Yoda Amigurumi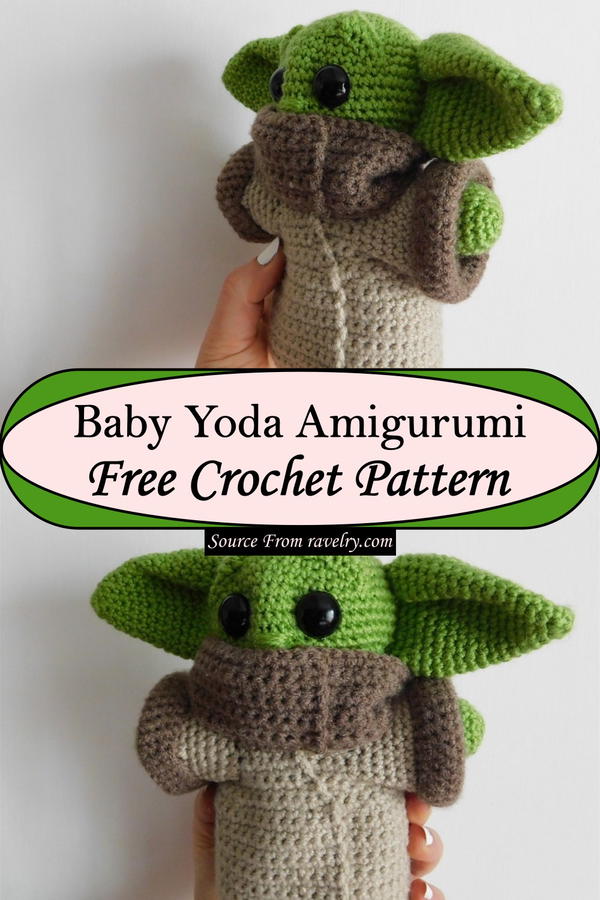 This pattern is an easy-to-follow, step-by-step set of instructions that will help you create your own Baby Yoda. Line-by-line instructions are written for every round and every stitch, with material lists and additional photographs that help visualize exactly what you need to do for the project. The Baby Yoda pattern is ideal for beginners trying their hand at amigurumi crocheting. The clear, easy-to-follow instructions offer full-color photographs that help you visualize how the pattern works. You'll love the adorable finished product!
Baby Yoda The Child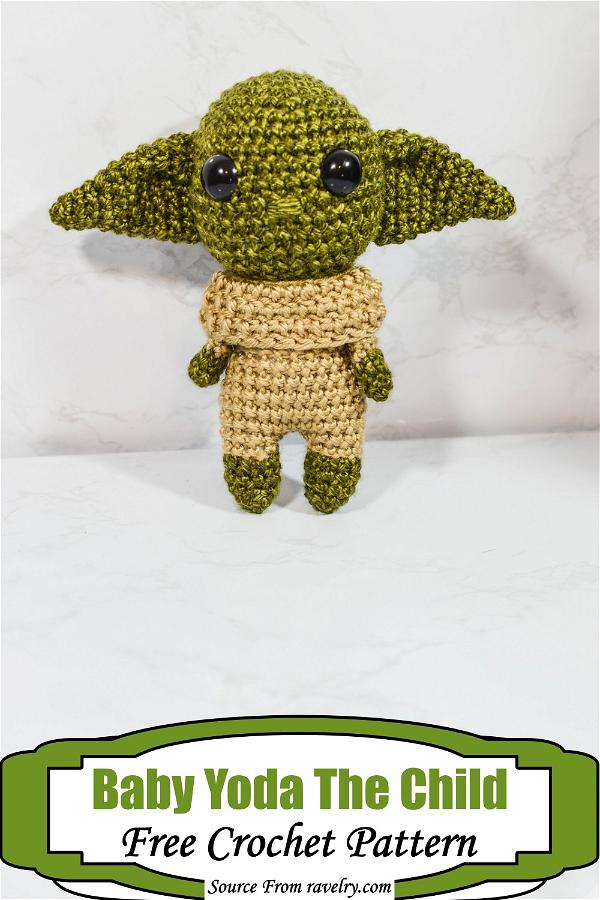 This pattern is ideal for beginning amigurumi crocheters, as it offers clear instructions and full-color photographs. Baby Yoda, The Child, makes the perfect gift for any Star Wars fan and can be given as a baby shower present or placed on your shelf to keep watch over operations. The crochet craft skills you learn from this pattern apply to other projects. The Baby Yoda, The Child, will give you the practice you need to create your patterns and get them just right.
Crochet Baby Yoda The Child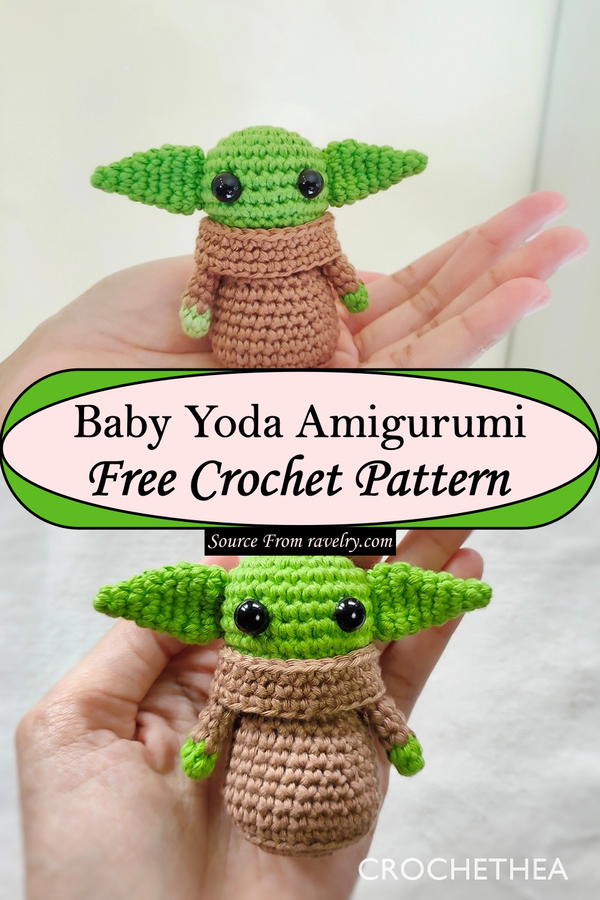 Crochet Baby Yoda is a simple pattern to make and is perfect for novice crocheters. Yoda's head is stuffed with fiberfill instead of being made of a solid piece. This makes Yoda softer. The ears are separate pieces, and the feet are made from yarn. The pattern was designed using worsted weight yarn; however, you can choose any yarn and hook size to achieve your desired results. Crochet Baby Yoda is an adorable crochet project. It's perfect for beginner crocheters who would like to take on a new challenge since the pattern is very clear, easy to follow, and, best of all, the finished product is adorable.
Baby Yoda Keychain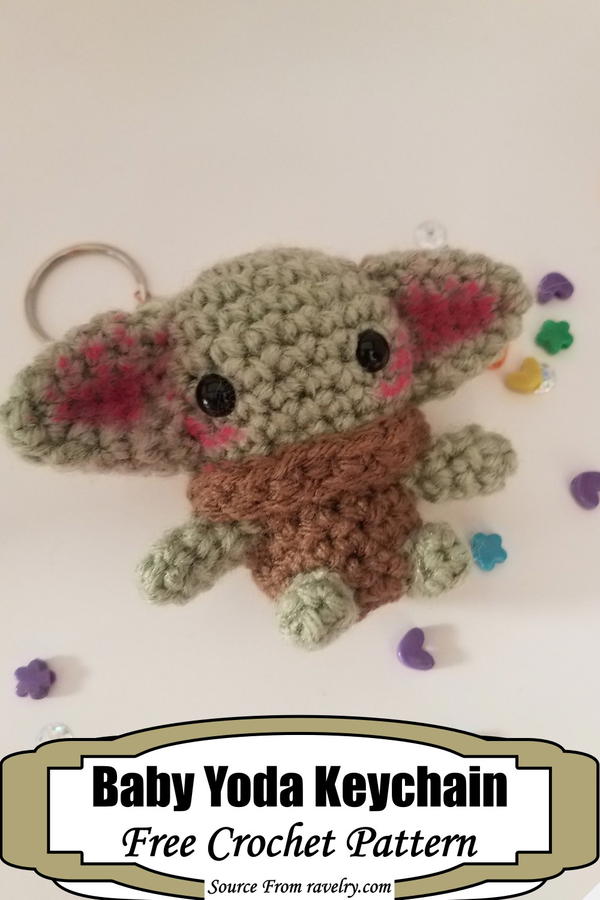 This keychain is a great project to start with if you are learning how to crochet amigurumi or stuffed toys. It's a simple pattern, and you could use scraps of yarn to make your own Baby Yoda.
Crochet this adorable Baby Yoda Keychain perfect for any Star Wars fan! The video tutorial will help you visualize how the pattern works so that you can easily complete it. The fun and the easy-to-follow pattern will help you learn new techniques quickly.
Tiny Baby Yoda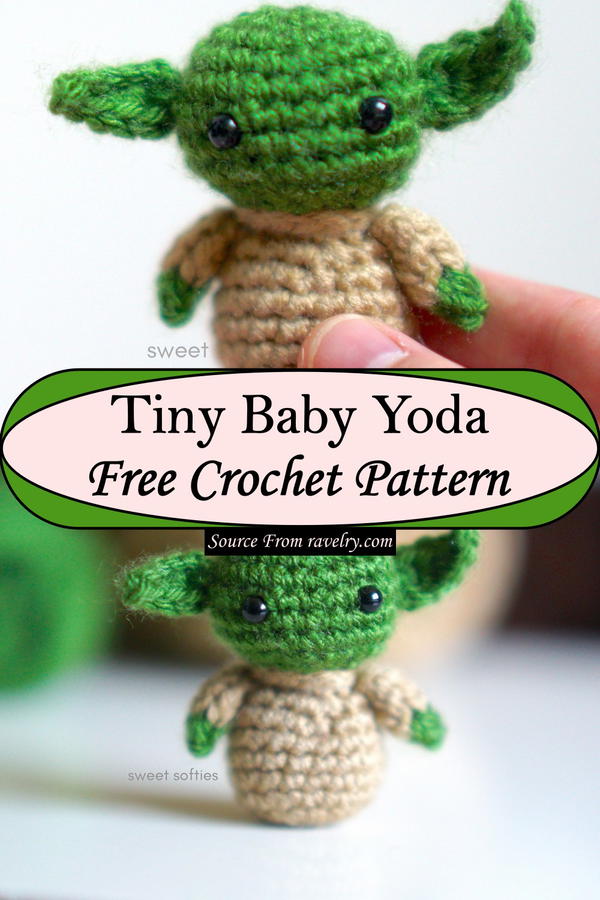 This pattern is for a chibi-style amigurumi crochet doll. It's very quick to work up and makes a great last-minute gift for Star Wars or Mandalorian fans for the Christmas holiday, such as stocking stuffers, birthday presents, or more. They also make great party favors for Star Wars-themed events or for selling at craft fairs.
Crochet this mini Yoda doll! He's easy to crochet and is the perfect gift to make for Star Wars or Mandalorian fans. This pattern is beginner-friendly and requires basic knowledge of working in the round on a small diameter circle.
Baby Yoda Ear Saver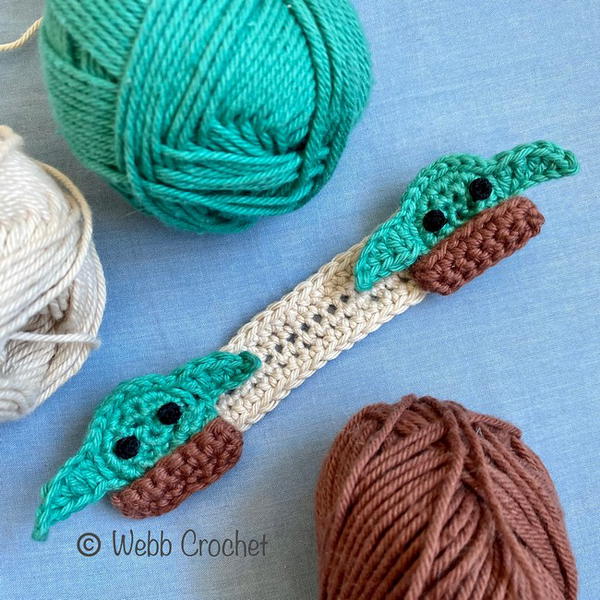 Crochet, this adorable Baby Yoda Ear Saver is perfect for any Star Wars fan! The fun and the easy-to-follow pattern will help you learn new techniques quickly. Before creating your Jedi master's ears, please learn crochet basics such as crocheting around a post and circle embellishments. If you are struggling with any of those techniques, we have included links to free tutorials.
Baby Yoda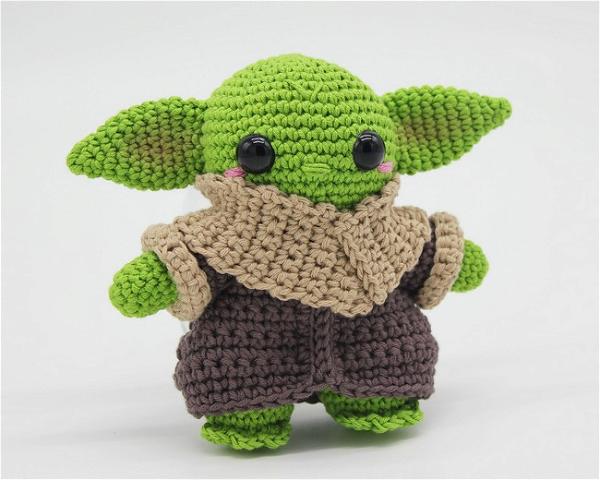 Make your own crocheted Yoda for your baby! Using the round head and arms from a baby doll pattern, stuffing it with polyester fiberfill, and throwing in some ears and eyes, you'll have your own little Yoda that can ride around on your back while you're out. This is a crochet pattern for all the star wars nerds who want to bring their favorite characters home. Follow the instructions, and you will have your very own baby Yoda in no time at all.
Crochet Baby Yoda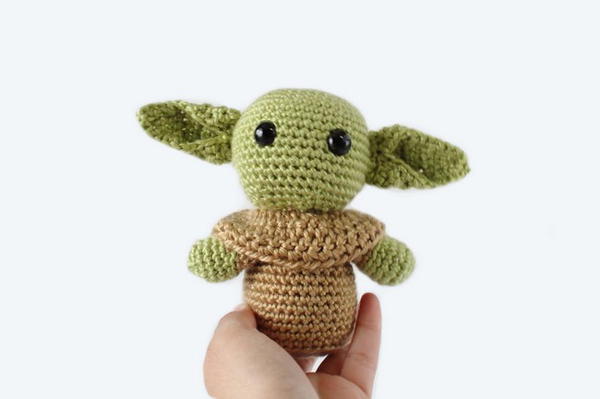 Baby Yoda has been crocheted to help you have a great time with your baby. He also helps bring a smile to your face every time you look at your little one. If you are expecting a new addition or already have one, this toy will be a popular hit in your home.
This amigurumi pattern is written for both beginners and advanced crocheters alike. Details for reading the pattern with abbreviations and techniques are included in the first few pages, and plenty of pictures. A few extra notes and several other crochet patterns to tackle at the end once you've mastered baby Yoda! So don't be intimidated by this adorable dude; give your first amigurumi a try!
Best Baby Yoda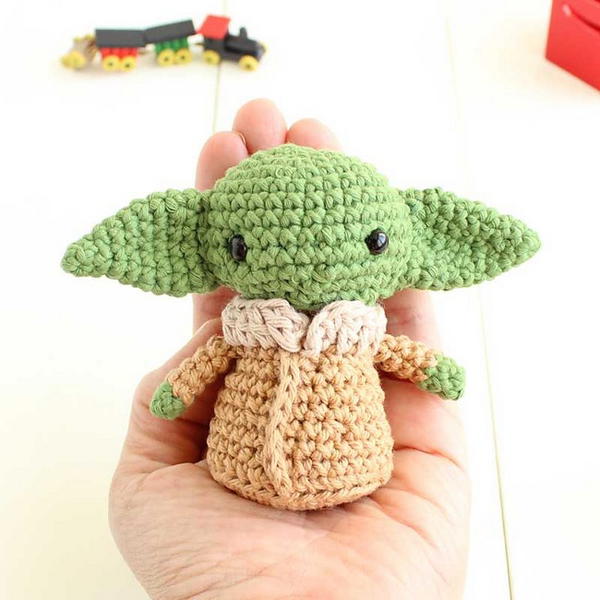 This adorable Yoda Amigurumi Pattern is the perfect gift for any Star Wars fan. The eyes can be embroidered, or you can use safety eyes to ensure that they will last through whatever else your little one throws at it. This is your pattern, whether you are a baby or a knitter who enjoys creating small knitted characters! The finished product will not only make any Star Wars fan giggle with delight but look just like the little green, head-waddling guy all your kids love!
Grogu Baby Yoda Ball Ornament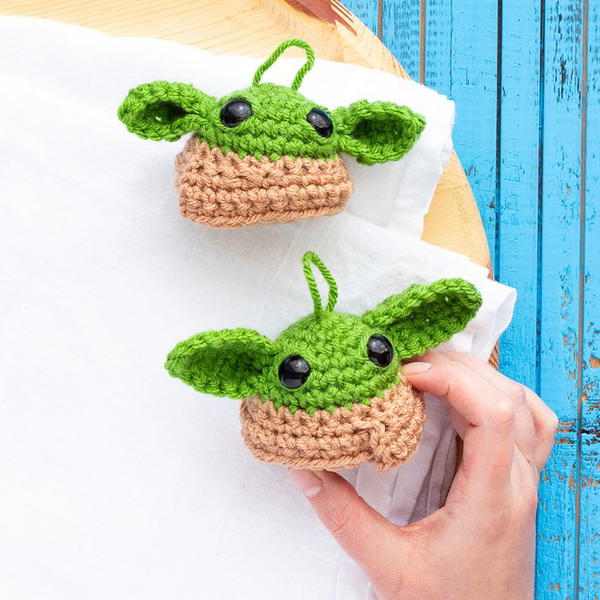 Crochet your own baby Yoda from Star Wars! This miniature crochet version of everyone's favorite little green Jedi Master, who many believe is the child version of Yoda, is adorable and the perfect addition to your Christmas décor. As with any craft, there are always more options than can be covered in one video.
This crochet pattern is written for those with little experience with crochet, but the instructions are detailed enough that those more experienced might have fun crocheting this. It works up quickly and is made using worsted weight yarn.
Baby Yoda Space Pod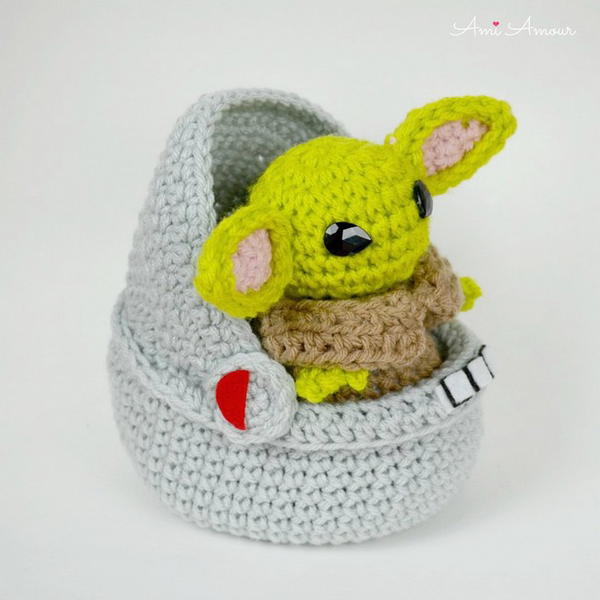 Inspired by Star Wars, this crochet Baby Yoda amigurumi pattern will have you creating an adorable character for your favorite little boy or girl. This project is perfect for those who want to try their hand at crochet for the first time. Yoda and his space pod will make an excellent baby shower gift!
You will learn to make a baby Yoda with an included crocheted pod in this crochet pattern. The instructions are easy to follow, and the result is a fun amigurumi! It makes an excellent gift for any Star Wars fan.
Baby Yoda Inspired Fan Art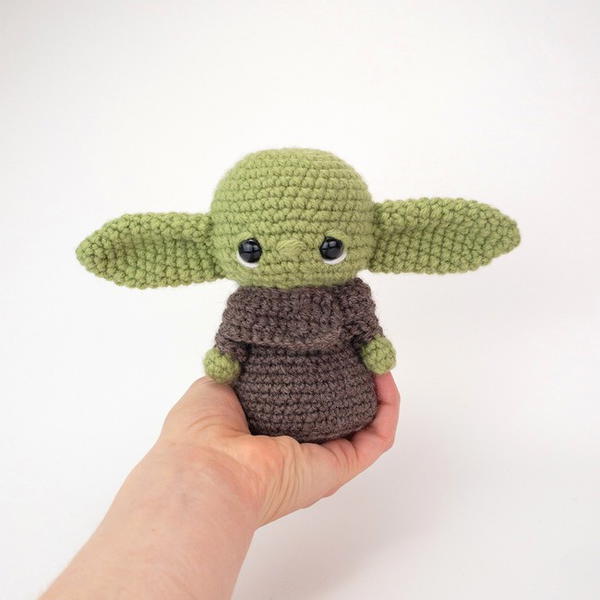 Baby Yoda Inspired Fan Art is a fun and easy project that you can make in just a few hours. It's perfect for late-night crocheting while watching your favorite science-fiction show or to give as a gift to one of the many die-hard Star Wars fans in your life.
This pattern includes detailed instructions on crochet and assembling all the parts to make a large baby Yoda-inspired alien. The head is removable to pose him in different ways, and there are also small claws on the fingers and toes attached by crocheting into chain stitches.
Baby Yoda Amigurumi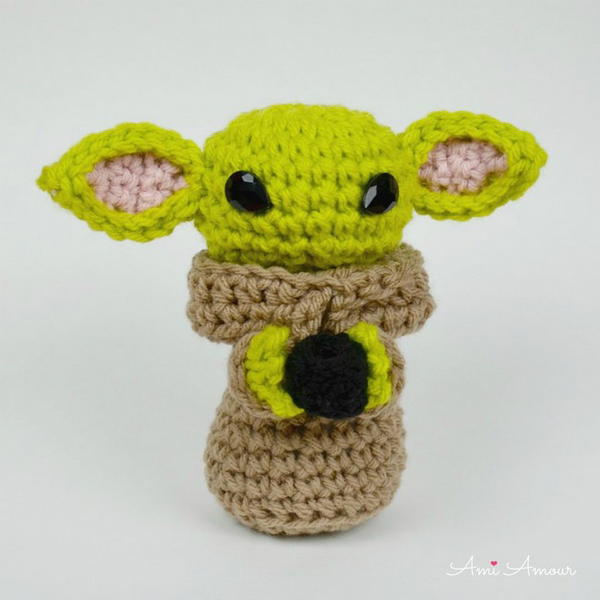 Inspired by the love for Star Wars, this little Yoda is made with baby yarn for a super-cute baby gift or to keep as a pet. It's a fun and easy no-sew project that you can make in just a few hours. This pattern includes step-by-step instructions with plenty of photos to help guide you through each part if you have difficulties with any stitches or techniques required.
Mini Baby Yoda Amigurumi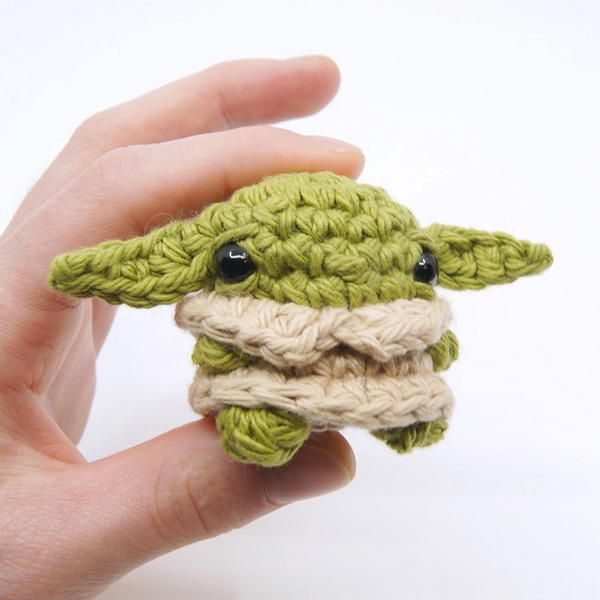 Whether you're already a Star Wars fan or think the idea of crocheting Mini Baby Yoda Amigurumi is cute, We hope that this pattern encourages you to give amigurumi a try. It's important that people who crochet can see how much fun it is to make something cute, rather than just utilitarian items like hats and scarves. This pattern is simple enough for beginners to tackle but has enough interesting elements to keep more advanced crocheters entertained.