When it comes to crochet designs, there are endless options available. Crochet dishcloth patterns are a quick, easy and fun way to add a little color and style to your kitchen. These patterns also work up quickly, making them perfect for gifting as well. These crocheted dishcloth patterns featured in this collection range from seasonal styles to cute animal designs and everything in between, but all of these designs are easy and fun to make. Crochet dishcloths are a fun, inexpensive, and useful project to take on. These crochet dishcloth patterns will help you use up some of your yarn stashes. You'll love how quickly they work up and how cute they look hanging on a hook or drying in the sink.

This collection of 20 Crochet Dishcloth Patterns includes a variety of crochet patterns like lace, granny square, ripple, textured, bobble stitch, and more. You can use any worsted-weight cotton yarn to make these dishcloths. If you do not have cotton yarn then you can easily substitute it with acrylic yarn as well. These pretty little things will not only make adorable accents to your dinner table but will also add a touch of fun personality to your kitchen decor scheme with their colors and shapes. These crocheted cuties will also make wonderful gifts for any occasion. They will be loved by all age groups from kids to adults.
Check out these 20 Crochet Dishcloth Patterns and choose your favorite. Each one is unique and beautiful in its own way.
Tips to make DIY Crochet Dishcloth Patterns
DIY Crochet Dishcloth Patterns are so simple and fun to use, but they can be hard to make. Here are some tips:
1. Use a hook that fits the yarn you have chosen. A hook that is too large will result in a final project that is too loose, while a hook that is too small will result in an overly tight fabric with splotches of unattractive holes.
2. Keep your stitches even and fluid—if your stitches are uneven, the finished product will be uneven and lumpy.
3. Remember to create a border for your dishcloth if you want it to be square or rectangular instead of round.
4. Make sure your work is not too tight—you want to be able to scrub without it ripping apart!
Uses of Crochet Dishcloth Patterns
-Crochet dishcloths are washcloth patterns
-Use them to remove grease or grime
-Great for traveling
-Can be used as a face towel, washcloth, and even an oven mitt
-Skills to Make different designs
-Use it to make your own dishcloths
-Make fun gifts with crochet dishcloth designs
-They look much cuter than store-bought dishtowels
-You can make them in an hour or so.
-Great skill builder
Importance of Crochet Dishcloth Patterns
The importance of crochet dishcloth patterns is undeniable.
Crochet dishcloths are a wonderful addition to the home. They add color and create a soft texture against the skin that is pleasant to use. As an added bonus, they are environmentally friendly since they can be reused and will not end up in landfills.
Dishcloths are a staple in the kitchen and are often used to clean everything from dishes and countertops to sinks and tables.
They come in a variety of materials, such as cotton, linen, and hemp.
They can be used for cleaning or decorative purposes.
These easy and fun projects will help you get ready for guests, set the table in style, or simply liven up your kitchen.
They're better for the environment and don't leave a mess like paper towels
Dishcloth Karo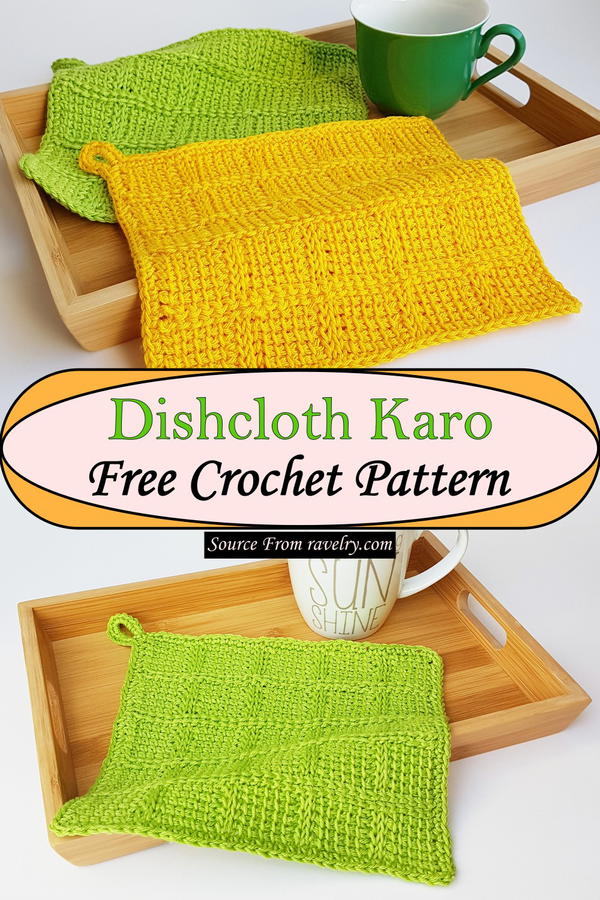 This crochet dishcloth pattern is perfect for kitchen decor. This crochet dishcloth is made in baroque style. The pattern "Karo" includes three different Tunisian stitches for a lovely texture: the Simple Stitch, the Knit Stitch, and the Reverse Stitch. Perfect for practicing these stitches. It is also a practical tool for visually seeing the stitches for both left- and right-handed people. Whether you want to dress up the countertop or update your kitchen linens, this set is a must-have. The handmade dishcloths are perfect for drying glassware and dishes, cleaning countertops, and soaking up big spills.
C2C Color Fade Dishcloth
Looking to start stitching with Corner to Corner (C2C) or want to add some color to your kitchen? This Crochet C2C Color Fade Dishcloth has you covered! With a loop on one corner, this dishcloth is practical and adds some pop of color to your kitchen. Brighten your kitchen with this crocheted dishcloth. You'll work through color changes for a gradient effect and basic stitches for a simple yet colorful dishcloth you can use or share!
Tunisian TSS Dishcloth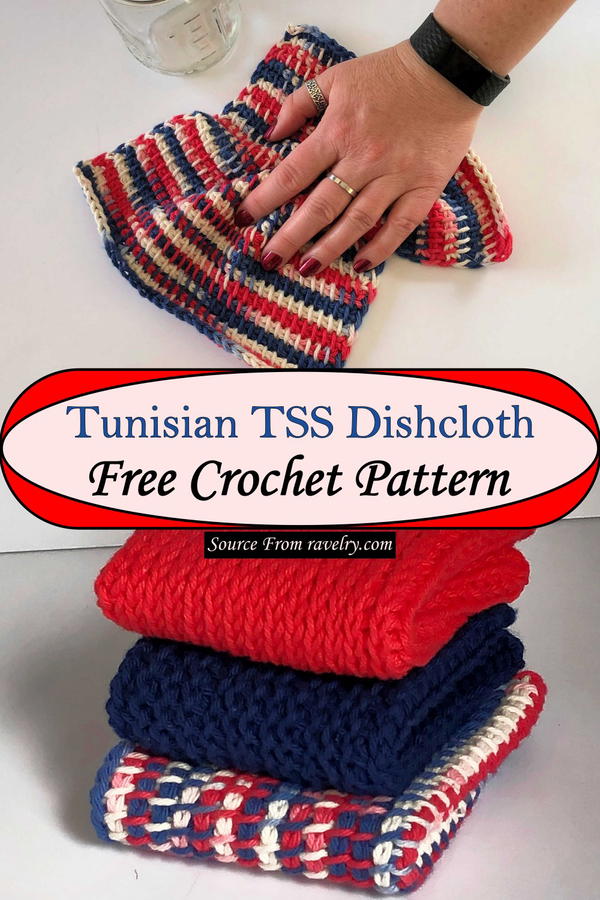 This Tunisian stitch dishcloth is the perfect size for all of the dishes around the house and offers a bit of variety over plain old stitches. It is a fun stitch to learn and adds some new flair to your crochet projects. This crochet Tunisian TSS Dishcloth will work magic, and find its greatest use in the kitchen. It is the perfect choice for all your dirty dishes, pots, and pans. The textured surface of this dish towel makes it perfect for scrubbing those stubborn messes! This simple crochet dishcloth is super stretchy and absorbs water amazingly well. It's great for washing dishes and for bathing babies as it is incredibly soft and easy to rinse.
Dishcloth Washcloth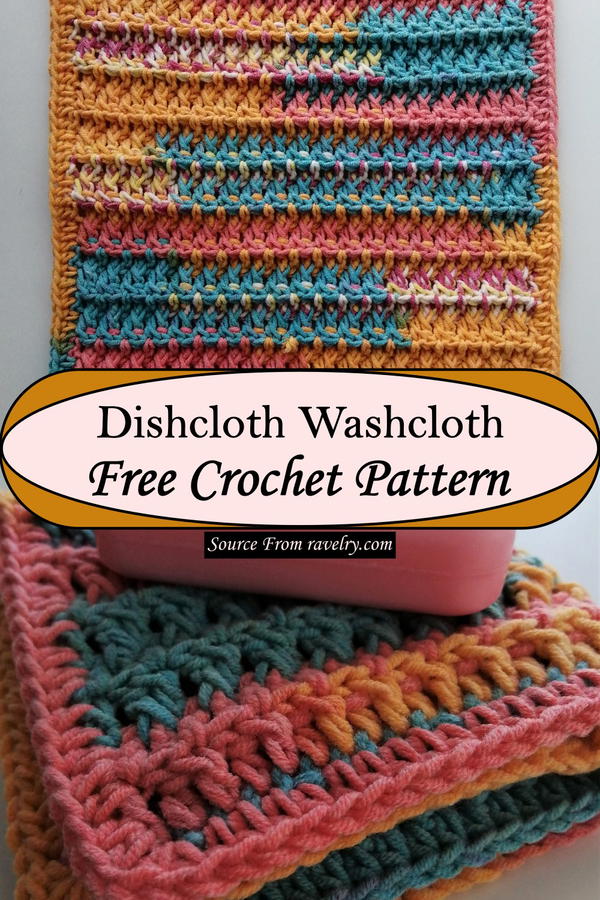 Whatever your concerns and needs, the Crochet Dishcloth Washcloth is a solid solution. A great addition to your household or to give as a gift to friends or family. This is the easiest dishcloth washcloth pattern. You can use it to make a super quick gift, or to brighten up your kitchen. Crochet your own using any cotton yarn you have. It's really straightforward and quick to do, each row is the same, so no need to be checking the pattern constantly. This dishcloth is perfect for cleaning, but it can also be used as a facecloth. This pattern is really easy to follow and can be done in any cotton or cotton/acrylic yarn. It will take you no time at all to finish this project. Happy crocheting!
Dishcloth Sampler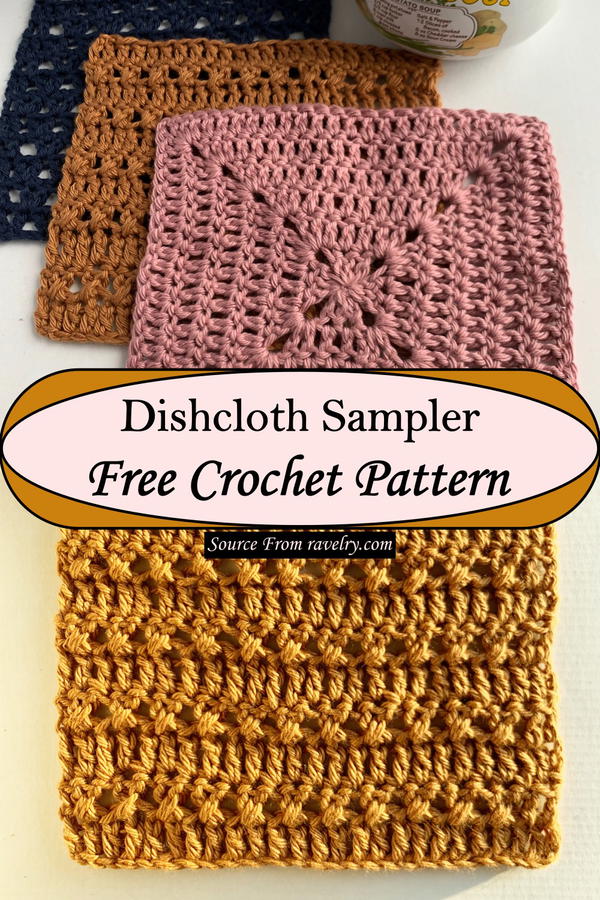 Everyone needs a dishcloth! If you are able to crochet a double crochet stitch, then you are on your way to creating beautiful Crochet Dishcloth Sampler. This sampler is for beginning crocheters, or for those of you who want to get better at the basics. These patterns use a very little color, as well as minimal counting and shaping-- it's really more about learning new stitches and using them to create different looks. These simple patterns are made using the very basic double crochet stitch and can be easily modified to make different-looking washcloths that are still functional and pretty.
Spread The Dishcloth Joy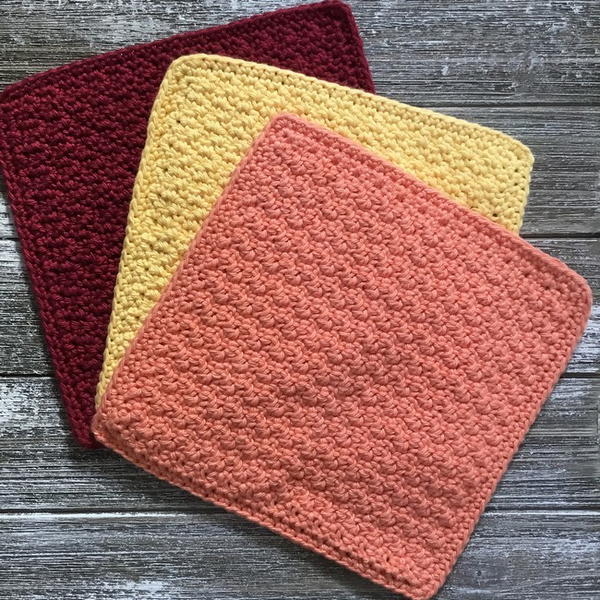 You will love this easy crochet dishcloth pattern. Make a set for a colorful hostess gift or just because. Whichever way you choose to use it, the Spread The Dishcloth Joy pattern is a fast and fun project that will have you wanting to make them as gifts for everyone! This is a great beginner project to get comfortable with single crochet and chain stitch. To customize your dishcloth, use the crochet hook size that is recommended for your cotton yarn. For a thinner cloth, you can use a lighter-weight cotton yarn (or even acrylic) with smaller hook size.
Textured Dishcloth x 3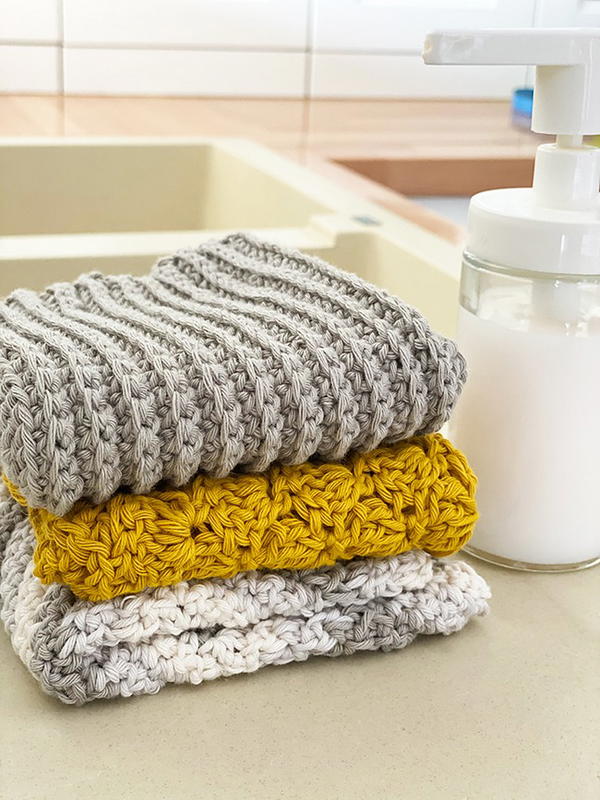 Artfully hand-crocheted using 100% cotton and sustainable, eco-friendly practices, these Textured Dishcloths are perfect for wiping down counters, drying dishes, and everything in between. Each cloth is unique, with its own special character, but all three feature the same stylish textured stitch design. The textured crochet pattern adds beauty to their functionality and allows the dishcloth to gently scrub plates and pans, or simply be used for drying your hands on those special nights when you break out the cloth napkins. These versatile dishcloths are machine washable, so they can be tossed in the washer and dryer over and over again maintaining their lovely appearance for years to come.
Spin It Dishcloth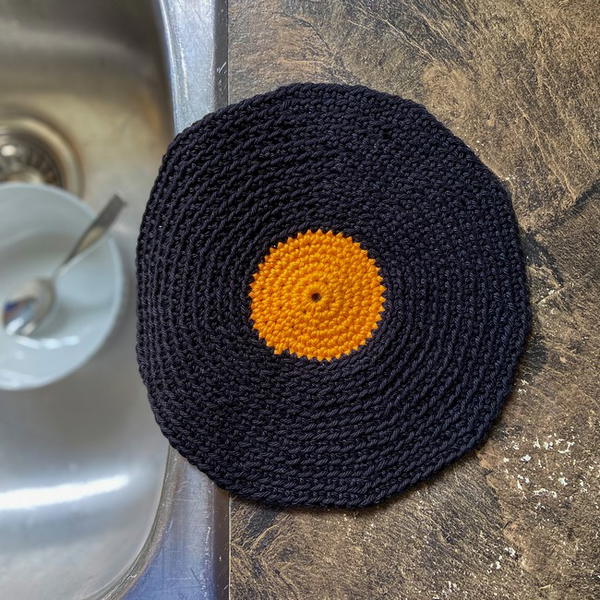 The Spin It Dishcloth is inspired by vintage vinyl. By working stitches into the back loops and crocheting in the round, we create a texture and look that is reminiscent of a classic black vinyl record. Complete your kitchen with this dishcloth and a matching set of dish towels and potholders. This dishcloth has the look and texture of a classic black vinyl record. Work stitches into the back loops and crochet in the round to create this unique design, perfect for cleaning up messes around your kitchen. You're sure to feel like making a splash when you hang this crocheted dishcloth in the kitchen.
Winter Waffle Dishcloth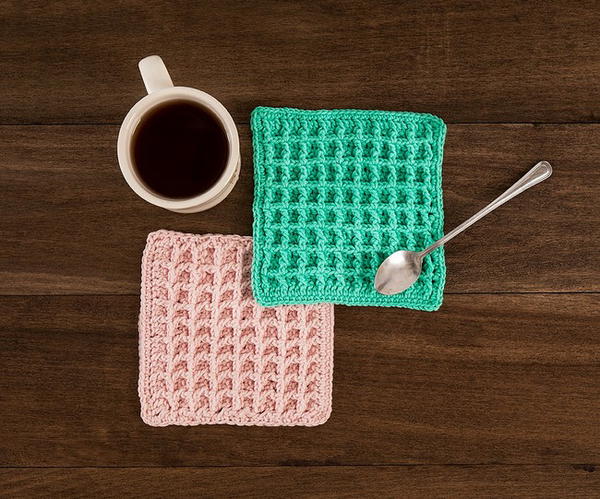 Love dishcloths? Then try your hand at the Winter Waffle Dishcloth! This fun and easy kitchen accessory is great for a hostess gift or stocking stuffer! The Winter Waffle Dishcloth is a square kitchen or bath cloth that is worked flat. It's a quick gift to whip up one or more for a hostess gift or a stocking stuffer,. A mixture of Double Crochet and Front Post Double Crochet adds texture and grit with a soft Single Crochet border. A mixture of Double Crochet and Front Post Double Crochet adds texture and grit with a soft Single Crochet border.
Coffee Bean Dishcloth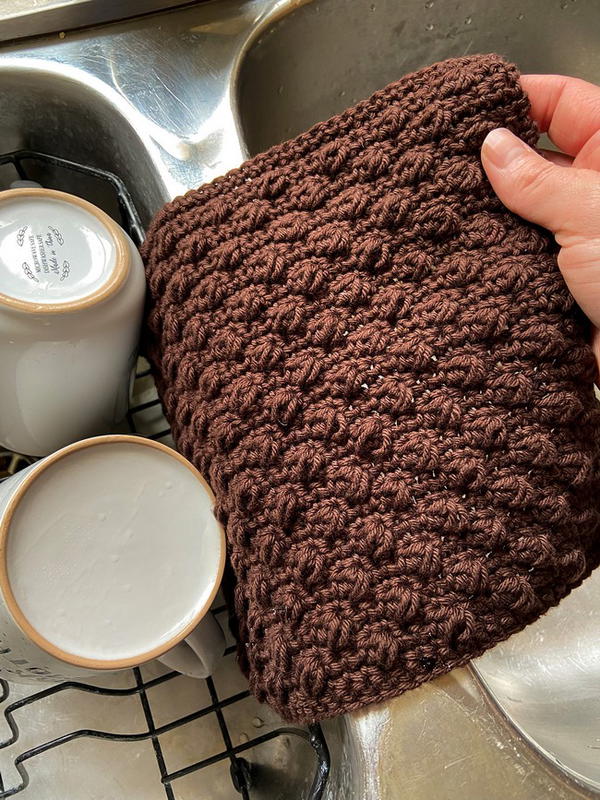 Crochet your way to a fresh cup of java with this free dishcloth pattern. This pattern is a crochet dishcloth inspired by the texture of Coffee Beans. It uses a combination of stitches to create a softly textured surface which is equally at home with slightly scuffed dishes as it is adding a bit of style to your kitchen décor. These coffee bean dishcloths are fun to make and wonderful for winter gift-giving. The pattern is designed for beginners and gets you practicing a variety of nice basic stitches. These are also great stash busters!
Thermal Stitch Dishcloth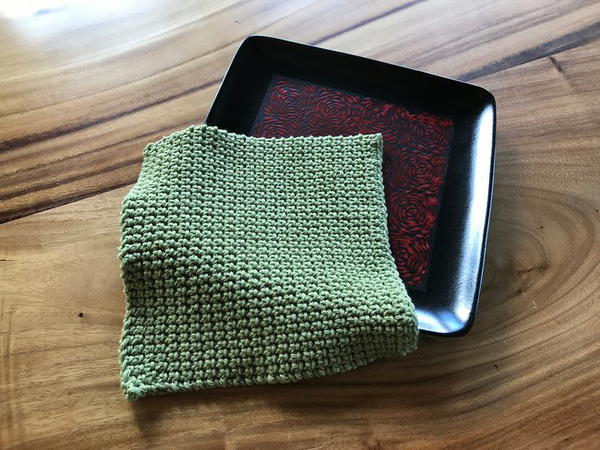 A great quick example of how to do a double-thickness crochet stitch. This Crochet Thermal Stitch Dishcloth is made with a double-thickness crochet stitch involving basic stitches and increases and decreases. This is a great way to show off your favorite yarn. Use it as intended or add ruffles to the edges to make a crocheted blanket. The crochet Thermal Stitch Dishcloth is very thick and absorbent and will add a nice touch of color to your kitchen. The thermal stitch has a woven look that is achieved by crocheting through both sides of the fabric.
Freshly Squeezed Lemonade Dishcloth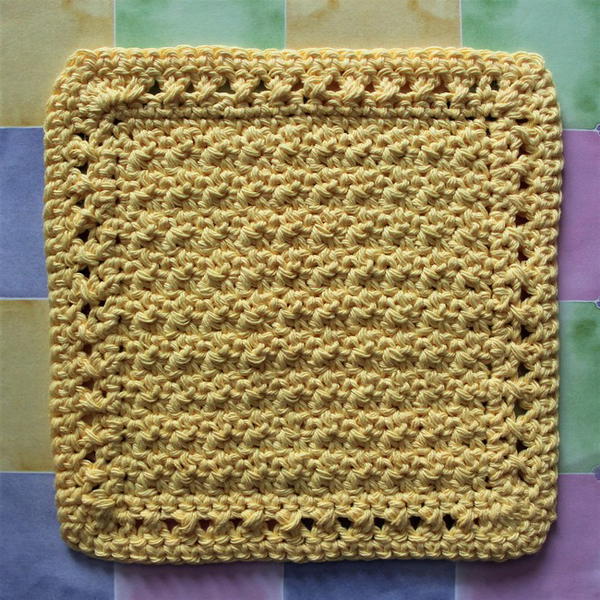 If you love pretty home decor scraps and simple stitches, you'll love this colorful dishcloth. The center uses a double stitch to create a beautifully textured look while the border is created using simple crossed double crochet stitches. Make this in your favorite color and add some pop to your kitchen or powder room!
A vibrant yellow lemon dishcloth will brighten up your kitchen decor. You can use this to wash dishes, pots, and pans, or as a face/body cloth in your bathroom. The pattern is easy and works up rather quickly. Just crochet yourself a set of a few of these and have them handy to give away as gifts.
Whispering Pines Dishcloth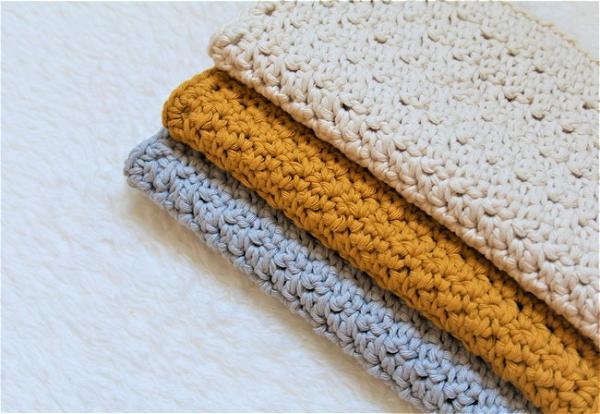 If you're looking to crochet a dishcloth, this classic pattern is perfect for practicing and improving your crochet skills. It's an easy pattern to follow, and once you have it down you can easily add or subtract rows to increase the size of the dishcloth. Crocheters love cotton yarn for dishcloths because of its strong and sturdy texture; perfect for scrubbing those pots and pans. Crochet these Whispering Pines dishcloths for a sweet addition to your kitchen decor. These are perfect for spring gifting and quite fun to make. This bright and lively dishcloth crochet pattern is perfect for washing or scrubbing your dishes and counters in the kitchen.
Cobble Stitch Dishcloths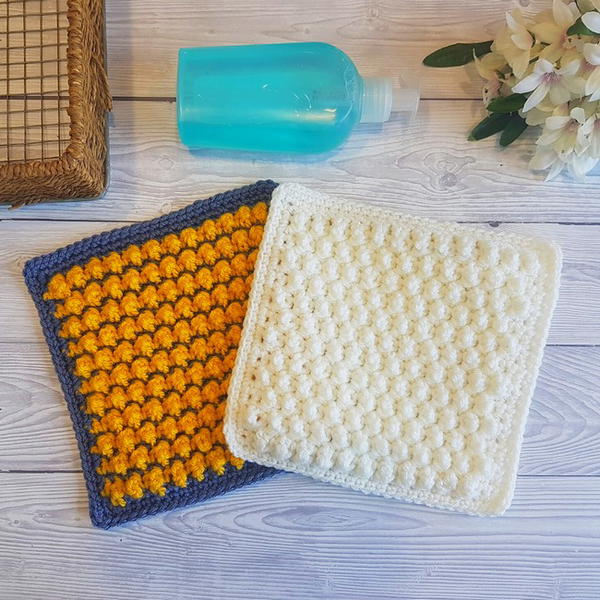 Looking to learn a new stitch? Grab your leftover yarn and make these quick crochet dishcloths. You can make them in multiple colors using leftover yarn from larger projects, or just one color to match your kitchen color palette. Try a new stitch with this beginner-friendly pattern for Cobble Stitch Dishcloths. Make them in multiple colors using leftover scrap yarn from larger projects, or use just one color to match your kitchen color palette. They make great gift sets paired with your favorite handmade soap. These durable dishcloths are double-sided and create a fun bumpy texture that is great for cleaning.
Daisy Wheel Dishcloth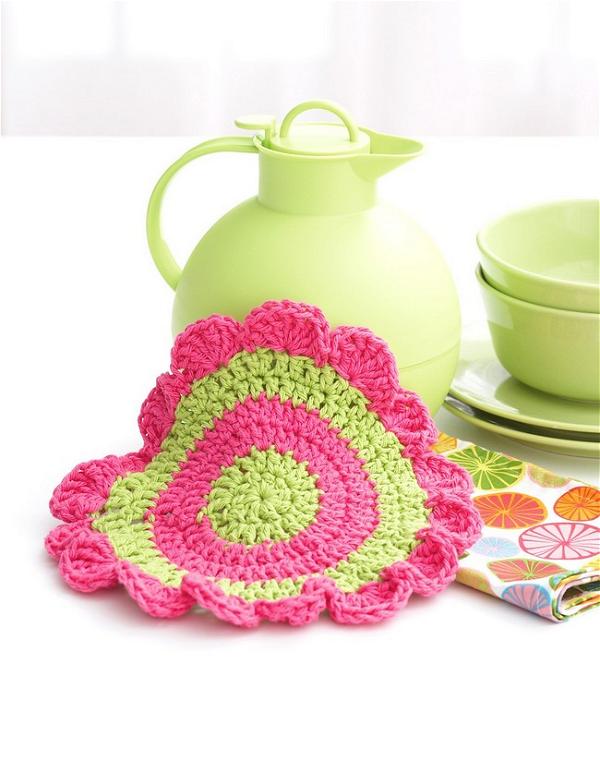 Become a creative force in your kitchen! This crochet dishcloth features delicate, petal edges. A great way to boost your hub hobby. Piece together this pretty dishcloth with a circular pattern to brighten up your kitchen! To brighten up your kitchen, these crochet daisy wheel dishcloths featuring delicate petal edges are a must-make! Crocheted from Bernat Handicrafter cotton and your creativity, this dishcloth is sure to get your domestic side buzzing. This 100% cotton cloth features delicate petal edges and tons of color combinations. Add some character to your countertops with this easy-to-crochet project.
Cobblestone Stitch Dishcloth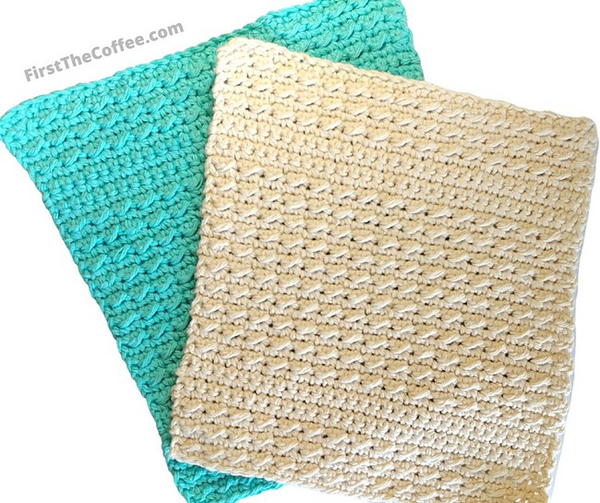 Looking for an easy, quick, and fun crochet project? You've found it! This light-textured Cobblestone Stitch crochet dishcloth is a great project for the beginner and the experienced crocheter. It's a relaxing, rhythmic pattern that lets you tune out and get lost in your hooking. The classic cobblestone stitch pattern is worked with alternating post stitches to create a beautifully textured crochet dishcloth. Use up your stash of cotton yarn with this fun project! This dishcloth is made from a pattern of alternating single and double crochet stitches that resemble cobblestones on a country road. You can make it in any color, thread, or yarn you like. It makes an ideal hostess or house-warming gift, great for wedding showers, too.
My Favorite Dishcloth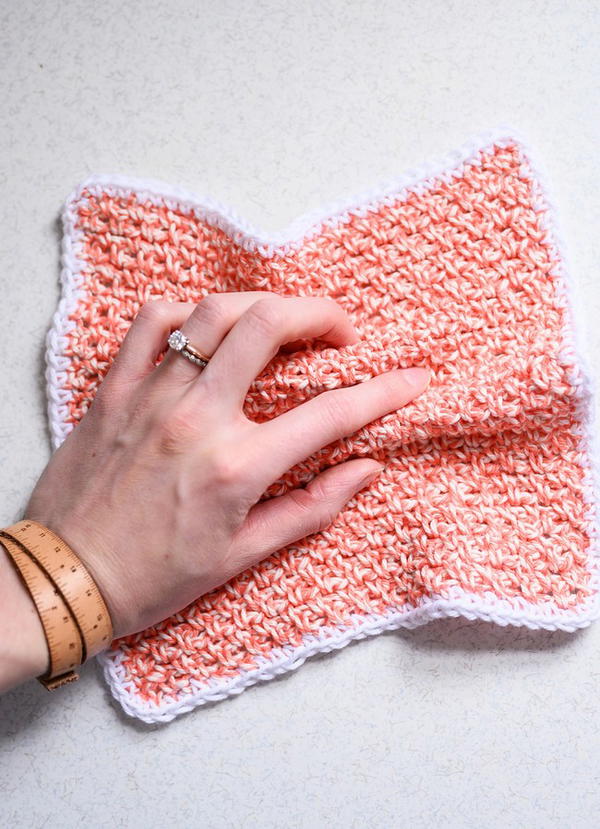 This pattern is fun, easy, and addicting to make. They'll be a cheerful addition to your kitchen, made to be loved and used for years. After making them for friends, family, and teachers over the years, this is my absolute favorite pattern. It's designed to be loved and used for years. These would make a perfect housewarming gift for someone or a Mother's Day present for that special mom in your life. It's fun, easy to make, and comes in a range of sizes for any skill level or project. You might just find yourself addicted to making these!
Roma Dishcloths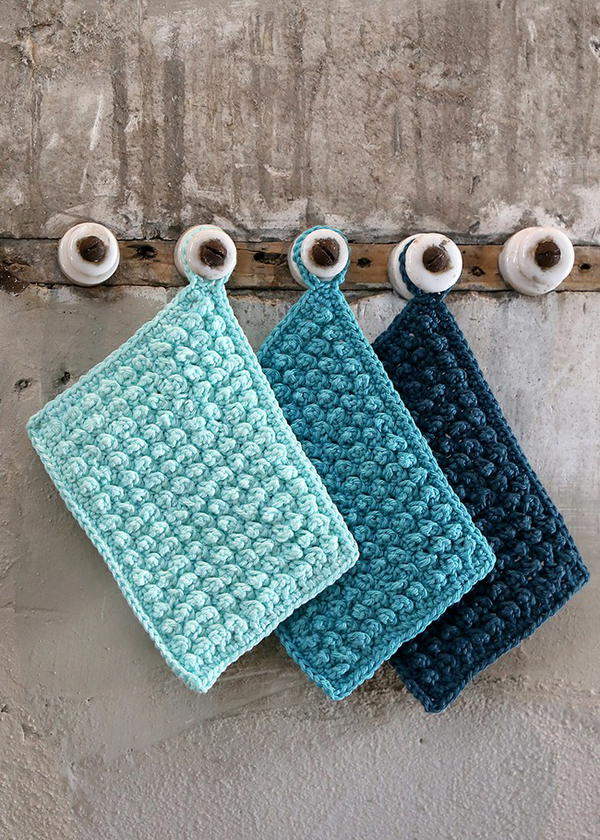 Dry your dishes in half the time and save paper towels with Roma reusable, environmentally friendly dishcloths! These super absorbent cotton dishcloths handle all of your cleaning tasks including drying, washing, and shining. Reuse these dishcloths for a quick, eco-friendly cleanup anywhere. Giving you a fresh, clean cloth every day for your kitchen and household chores. Roma's thick and thirsty dishcloths can be used to dry, wash and shine all your dishes, countertops, cookware, or anything else around the house. These versatile dishcloths are good for just about any household cleaning task and can be used repeatedly before requiring a wash. They'll quickly become your new favorite kitchen tool.
Modern Stripe Dishcloth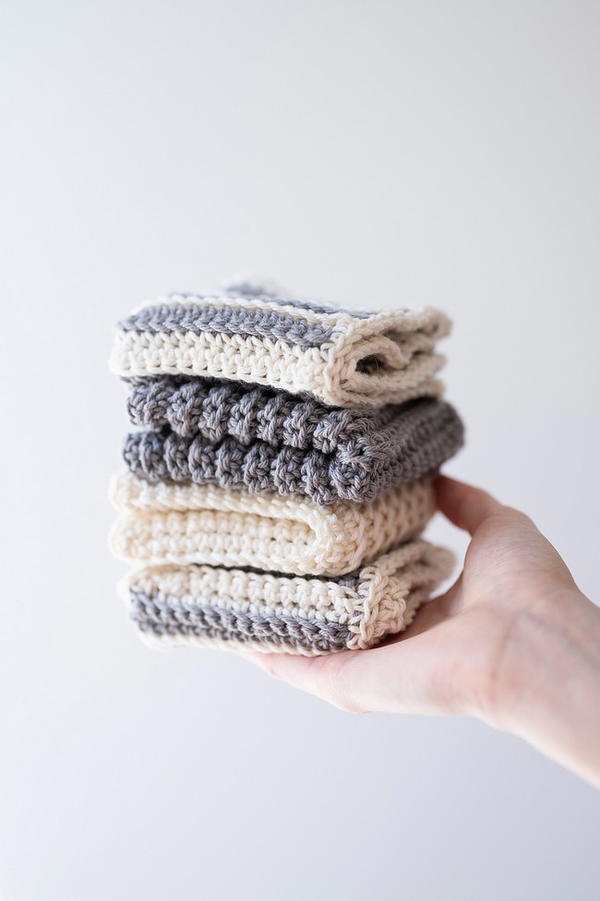 If your kitchen needs a little freshening up, then this pattern is for you! This pattern combines classic crochet ribbing, easy stripes with no extra ends to weave in, and a modern feel that will freshen up your kitchen. It's the perfect project for beginners looking to learn a few new techniques. It has a modern feel that will freshen up your kitchen.
This free knitting pattern is a Modern Stripe Dishcloth. It's the perfect project for beginners looking to learn a few new techniques. A simple knit and purl stripe alternates with a chevron stripe for an easy-to-knit, fun, and stylish dishcloth. With three fun variations, this set of dishcloths will brighten up your kitchen. Easy stripes with no extra ends to weave in and a modern feel that will refresh your space.
Picot Dishcloth & Towel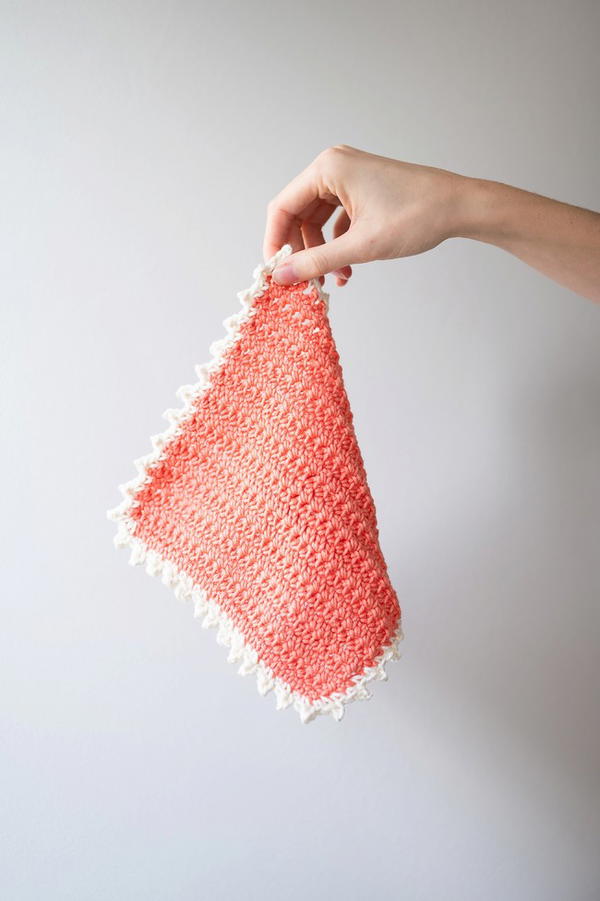 Freshen up your kitchen with the Picot Dishcloth & Towel! Made from 100% cotton yarn, this fun and easy crochet pattern is great for beginners to try out a few new stitches and makes a relaxing project. Make a stack for every occasion in your favorite colors, or start a new holiday tradition of crocheting them for your family and friends.
Add a touch of color and pop of picot to your home with these dishcloths! The Picot Dishcloth & Towel is a fun crochet project for beginners. You'll love using this worsted weight cotton yarn to make a stack of them, or to give as gifts.