Crocheted doilies are always a beautiful addition to your home decor, and they're more accessible than you might think. With some basic crochet skills, you can make one yourself in no time. This 20 Free Crochet Doily Patterns collection will give you many styling options, from simple geometric doilies to more intricate floral ones. The most basic crochet doily pattern calls for just two stitches: a chain and a slip stitch. Start with single crochet and add another row of chain stitches until you reach the desired size. Before crocheting, make sure your yarn is held tight enough to secure the stitches on the needle.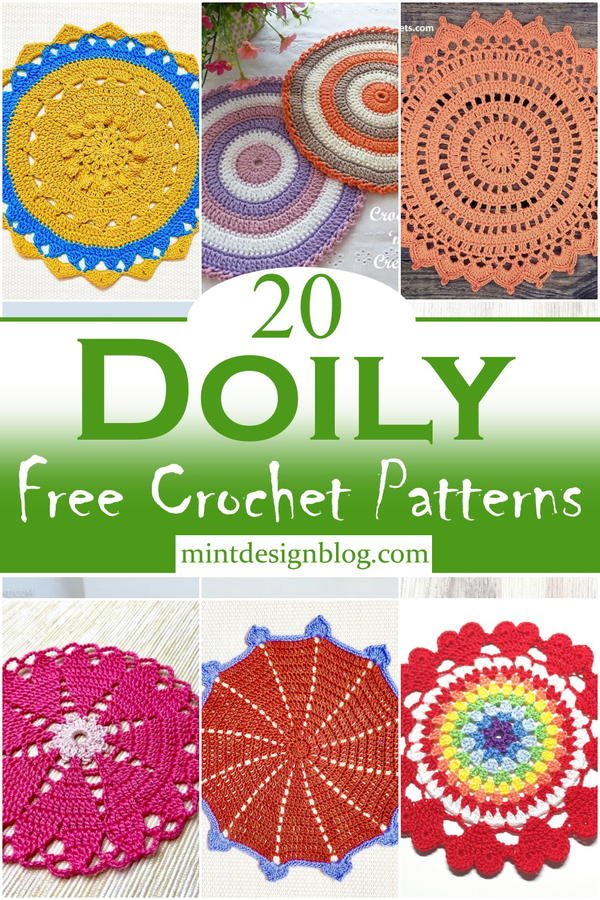 With this collection of free crochet doily patterns, you'll learn how to create gorgeous floral designs from simple geometric shapes and use single crochet stitches for different textures without leaving much room for error. You'll also learn to jazz up even basic shapes with interesting stitch patterns, like Irish Crochet Stitch and Celtic Crochet Stitch. Once you get comfortable making doilies, you'll be able to experiment with different colours and yarn types! You can create stunning colourful designs using contrasting colours or new shades of
This list of 20 Free Crochet Doily Patterns will show you that by giving you wonderful doily patterns for all skill levels.
Tips To Crochet Doily Patterns
Here are some tips for getting started:
Know what you're looking for—do you want a doily with a specific motif, or are you looking for something in a particular colour?
Look at as many different crochet doily patterns as you can find.
Choose a pattern that works with your skill level: if you're just getting started, it's probably better to start with a more manageable project than to take on something challenging right away (you'll have time for that later!). If you're more experienced, try choosing one that will be hard enough to keep your interest but not so hard that it overwhelms you.
Get out your materials and tools—you'll need yarn (or thread), hook size appropriate for the pattern being used, scissors and stitch markers if needed.
Start in the centre and work out to see if you are making the doily symmetrical or not.
If you are using a pattern, try to ensure all of your curves are going in the same direction.
When starting a new row, use a different colour yarn to tell where one-row ends and another begins.
Keep your stitches close together to prevent holes from forming in your doily.
To keep your doily flat, increase stitches on one side and decrease stitches on the other side of the doily, adding 2 or 3 extra stitches each time you increase or decrease stitches.
Uses Of Crochet Doily Patterns
Crochet doily patterns have been around for hundreds of years, but you may be wondering what precisely a doily is.
A doily is a small decorative mat, usually made of lace or cotton. You can place it under a vase or other object to protect your furniture from water damage.
The most popular use for crocheted doilies is decorating windows and tables at weddings, parties, or other events where there will be lots of people coming in out all day long.
They add an extra touch of elegance that makes everything look more beautiful, especially if you have white tablecloths on the tables!
Crocheted Doilies are not only useful but they are very easy to make as well.
Crochet doily patterns can be used in many ways Like for napkins, cups, and tablecloths at special events.
Use the doilies as a wall hanging or frameable piece of art
Eve Mini Doily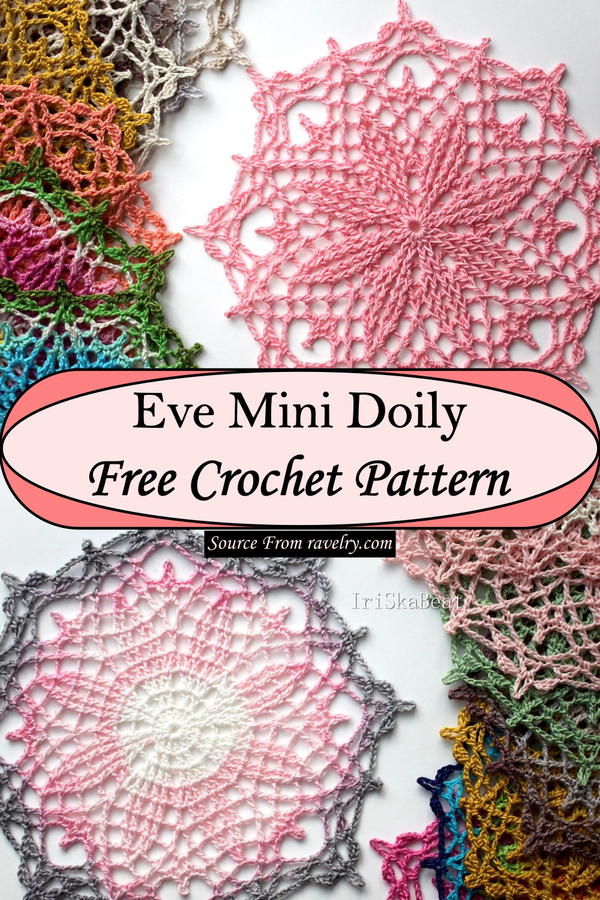 Crochet Eve Mini Doily is a free crochet pattern that you can use to create your own adorable mini doily dishcloth. The mini doily has a vintage look and would look so cute for spring or Easter decorating! This easy to knit style will work up quickly and make any outfit or accessory an elegant addition. These doilies may also be made in other sizes for different uses! This mini doily is perfect for decorating or crafting. You can use it as a place setting, a coaster, or embellish whatever your heart desires!
Lilac Coral Doily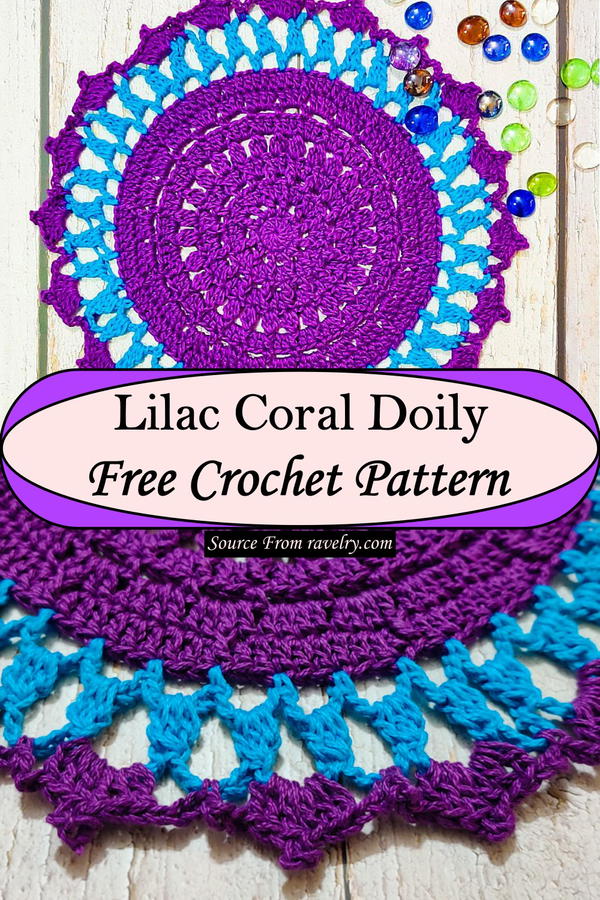 Crochet Projects are the best way to use up your leftover Yarns. This Lilac coral doily would be perfect if you love colorful and cute decor ideas. The pattern for a beautiful lilac coral crochet doily can be used as a table mat, placemat, table runner, or a wall hanging piece. The size of this doily can be altered according to your choice. Fundamental stitches are used; hence it would also be a massive beginner-friendly project. They would also make fantastic gifts for your loved ones.
Doily Plant Mat
If a doily were not too constricted by traditional society, it could get down in the grass and shake its stuff. This summer, let's let the plants have some whimsy with a doily plant mat to brighten their day! Everyone will want to put on their granny glasses when they see this beauty. Because this pattern is designed for any yarn and any hook, you can use stash leftovers to crochet these little beauties bright and beautiful! Put your doily craft on display with these doily plant mats. The openwork design of these cuties makes a perfect summery crochet accent for your inside garden.
Ruffled Mini Flower Doily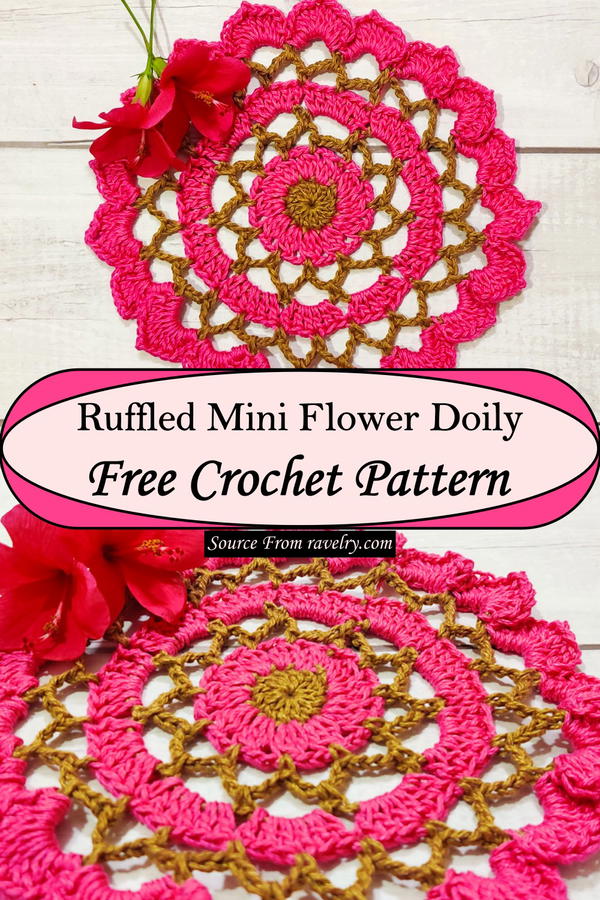 Making this Flower Doily is a great way to learn to crochet Doilies. It incorporates basic Crochet stitches and is great for those learning how to use the Crochet Hooks. The stitches used and the pattern to work this flower-themed doily is straightforward. The basic crochet stitches are all you need to master to make these beautiful squares; hence, they are an excellent project for beginner crocheters. So go ahead and give it a try in your next leisure time.
Oval Flower Doily Table Runner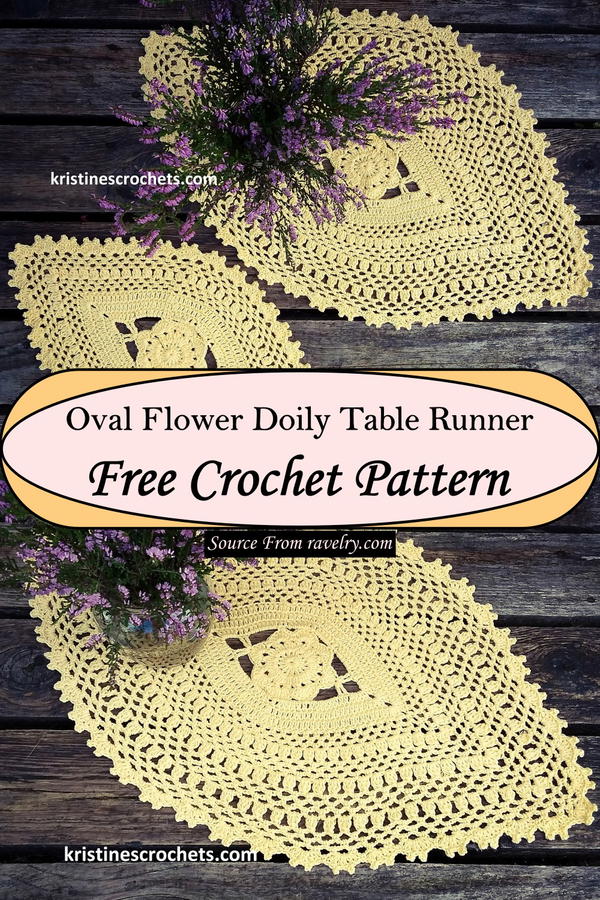 The Crochet Oval Flower Doily Table Runner is the perfect addition to any kitchen or dining table, or you can use it in front of a fireplace hearth. This floral doily is an excellent project for beginners, and it won't take long. You can even use leftover yarn to create this beautiful/floral doily! You'll love the look of this crochet oval doily table runner when it's on display on your kitchen table or dining room table. Show off your crafting talents by making one for your home or as a handmade gift.
Vintage Pink Doily Placemat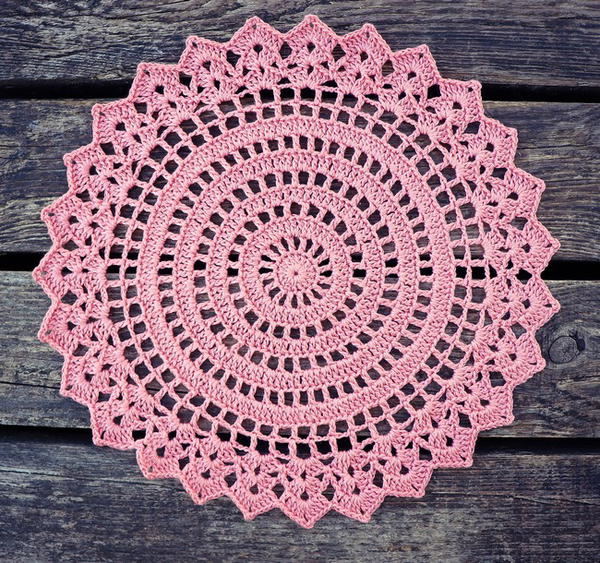 Crochet Vintage Pink Doily Placemat is absolutely adorable and incredibly handmade. The crochet placemat set includes one table runner and one mat for the table. It can bring a youthful feeling to your room. In addition, when you have a party, delicious food and drink will be more refreshing if they are memorable pieces of art. It will be the perfect addition to your home, whether it's for you or a gift for someone special.
Beginner Friendly Doily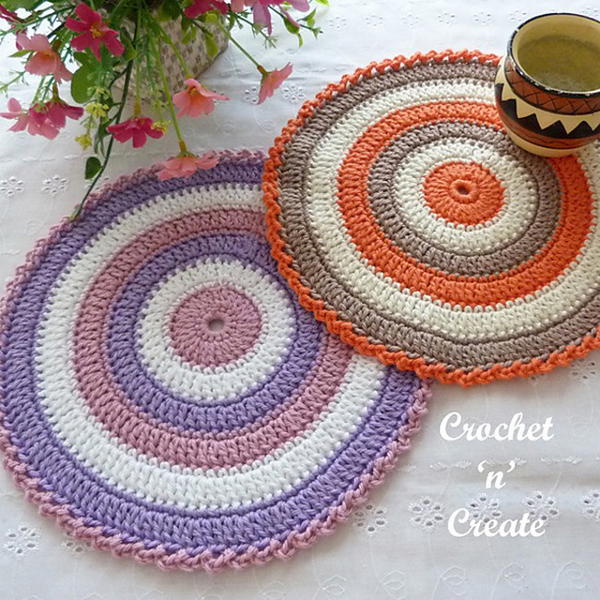 Learn to crochet a classic beginner doily pattern! This four-round doily is created with basic crochet stitches that are perfect for beginners. You'll learn how to crochet a circle in the round, work single and double crochet stitches, create shell stitches, etc. This listing is for one lovely handmade crochet doily in pale beige colour. This crocheted doily is a perfect addition to your country's home decor. Use it as a centerpiece for your table and place your flower vase on top, or hang it on the wall as wall art. Perfect for beginner crocheters, this lovely doily will brighten any home decor.
Etela Doily
The Crochet Etela Doily has a vintage look and feel. An authentic crochet pattern with a border pattern is a piece to add beauty to your decor. Traditional doilies are great for decoration but can be a challenge to complete. This pattern is just perfect for the beginner, but with its advanced stitches, it is also satisfying even to those who want a more intricate project. The openwork lace edge of this Etela doily will make it easy to spot on your table at dinnertime, and the bright citrus colours and soft white background make it fun and summery!
Decorative Doily Placemat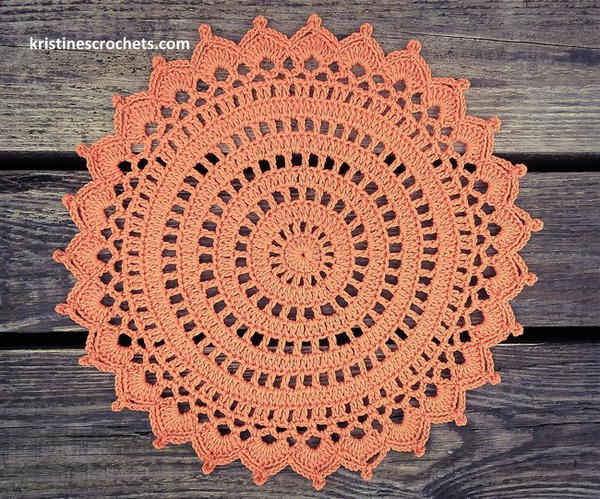 Crochet Decorative Doily placemats will add pizzazz to your table. They are easy and quick to make, great for beginners. This crochet decorative doily placemat adds a unique flair to your table setting. The lightweight package is an easy way to bring some homemade warmth to your mealtime routine. You'll love this crochet decorative doily placemat, perfect for spring, winter and fall. It would be an ideal addition to your Easter table or a Thanksgiving tablescape. Create a unique atmosphere on your dining room table or a coffee table surrounded by a grouping of candles and books.
Star Doily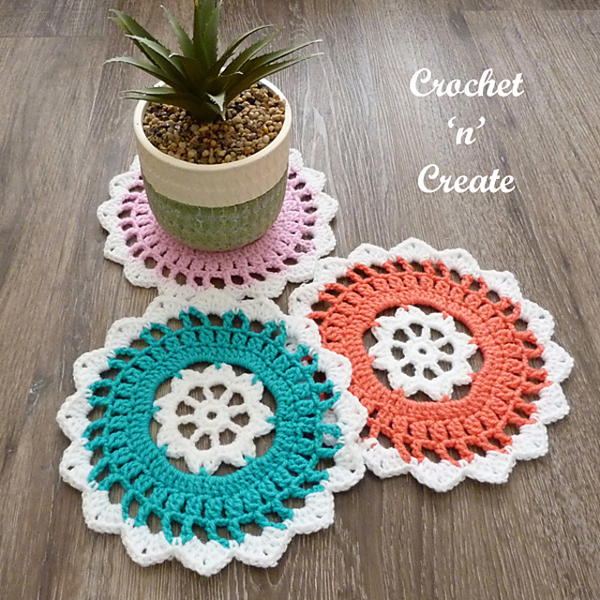 Turn your doily into a decorative, functional placemat for any occasion. This doily is a beautiful, fast and fun crochet project. Crochet a beautiful and valuable decorative placemat using this wonderful crochet pattern! This placemat is beautiful and functional, whether you're serving breakfast in bed or tea time with friends. The Soft cotton yarn is perfect for highlighting the detailed crochet pattern. The matching wooden ring adds a touch of elegance. Whether serving tea, coffee, dessert or drinks, this lovely doily placemat will set your table with style. It looks great in any house room, especially as an alternate doily for the kitchen table.
Amber Placemat Doily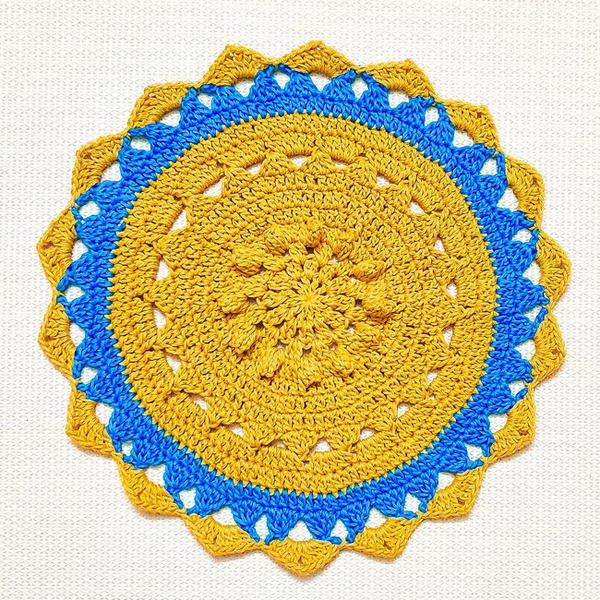 Crochet doilies are the most versatile projects you can make. There are so many design and shape options to choose from. Doilies are a lovely way to add a personal touch to your home. This crochet placemat doily is made of 100% acrylic yarn material, ideal for home decor projects and at-home crochet making classes. Amber Doily Placemat is made by using a vibrant shade of amber colored yarn. This placemat has a pretty design that combines double crochet stitches and front post double crochet puff stitches. You can make this doily in a different colour combination that you wish to suit your taste. This crocheted placemat doily is a perfect gift for those special occasions: weddings, newborns, or holidays.
Rainbow Doily With Hearts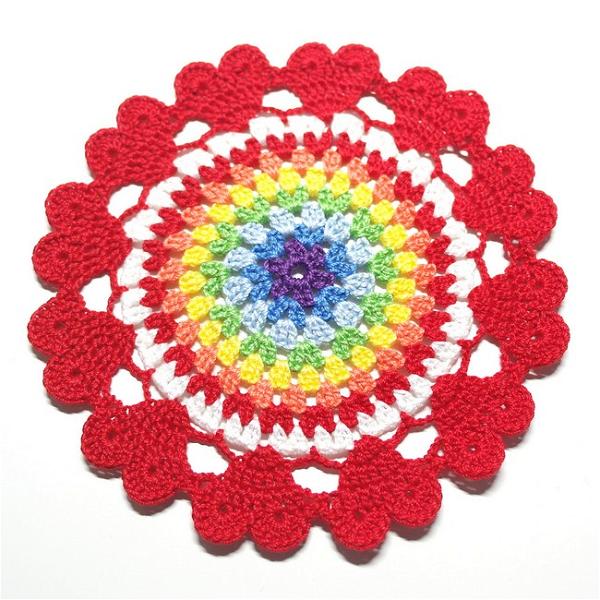 Through this crochet pattern, you will learn how to make a beautiful doily made with six strands of acrylic yarn. This doily is a unique craft project where you crochet wavy lines in different shades of bright colours. . Use the Colors shown in the photo or choose your favorite colors...or go wild and make it for any special occasion and surprise someone! It's sure to brighten up your space as it adds texture and colour. This is also a lovely gift to give someone special on Valentine's Day or any other occasion
Hearts Doily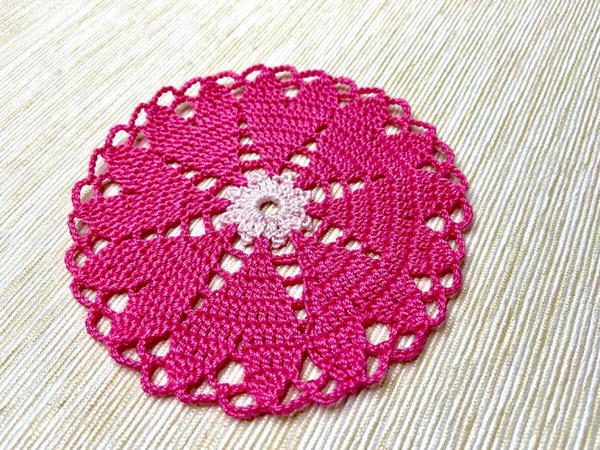 This doily can be used to decorate the table or as a gift. Crochet this intricate doily that pays homage to the French style of lace-making. Start with a basic heart pattern, then move towards the centre to create thickly textured hearts. Whether you make this for yourself or give it away as a gift, you may enjoy the accomplishment of creating something beautiful. You can use this doily as a centrepiece on your dinner table or frame it and place it somewhere in your home!
Pinwheel Swirl Doily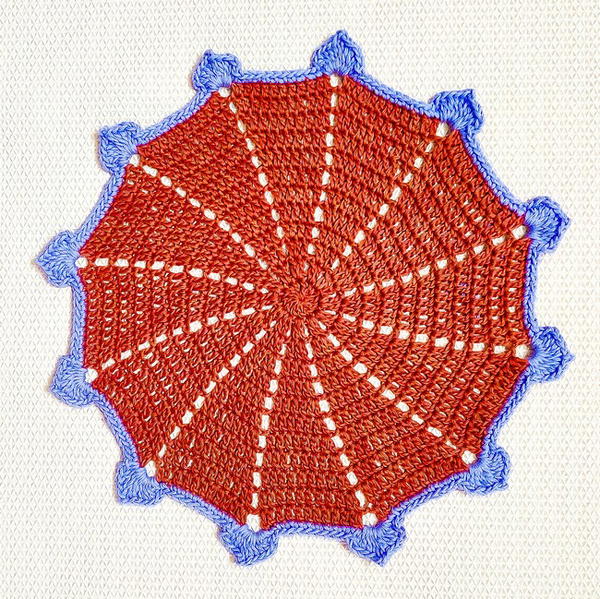 This pattern makes it a great doily to use on your dining table and decorate your home. These ombre pinwheel crochet swirl doilies are perfect for you to make and give as gifts to your friends and family. They are great housewarming gifts too. However, the size of this lovely doily is not limited by size. You can easily crochet it in any size you like. The pattern is straightforward to follow, and you will enjoy crocheting each round of these pretty pinwheel swirl doilies. These colourful doilies can be used to decorate your home. They'd also make great gifts. You can make these in any colour you like.
Lilac Coral Doily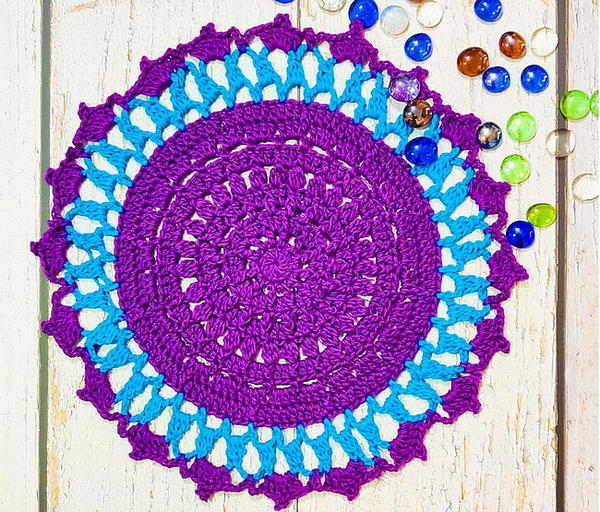 Crochet Lilac Coral Doily is a classic work of crochet that can be used at home, right in your living room. Not only that, you can even present it to your loved ones as gifts. This crochet doily is a fantastic work with basic stitches and doesn't need any complicated techniques to complete. This project is especially great for new crocheters who want to learn how to do colour changes. This doily would make a generous welcome gift, a cheerful housewarming gift or a special birthday gift.
Crochet The Amara Doily Pattern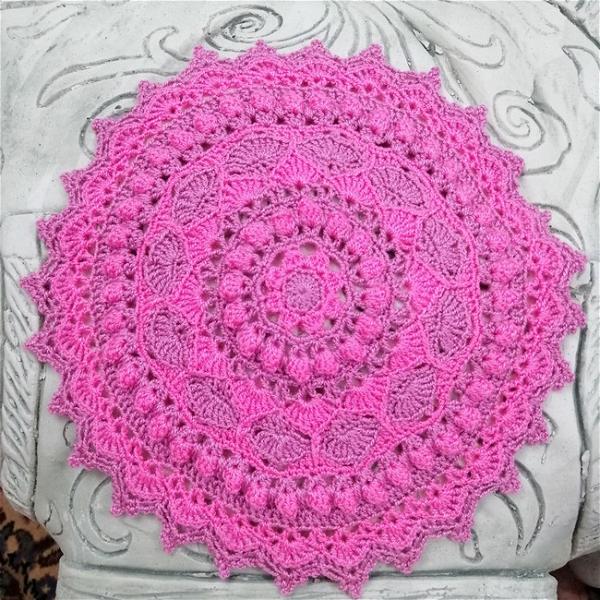 The Amara doily is a crochet creation that comes with a fantastic texture. It can be used for various purposes. Making home decor items is always a good idea because some people love appreciating and valuing handmade items. This pattern will be a great addition to your home décor. You will gain skills and knowledge of crochet when you make this doily, but it will all come quickly because the crochet pattern is wonderfully made.
Cheerful Summer Doily Pattern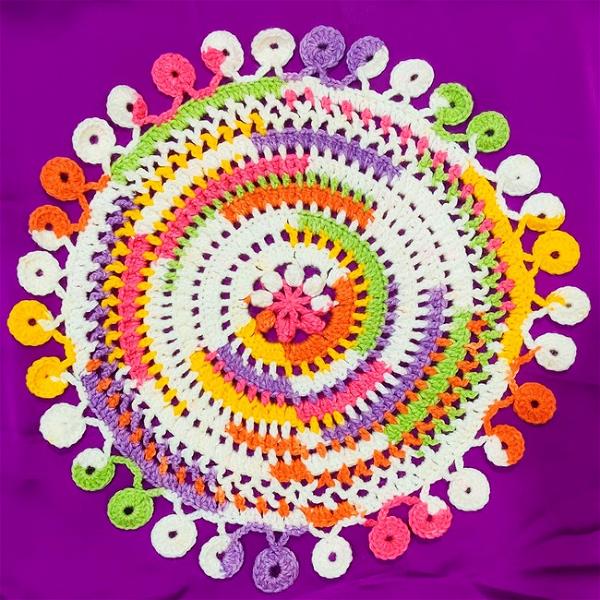 Not only is it cute and cheerful, but this Crochet Cheerful Summer Doily Pattern also serves a purpose. It will protect your tables and decorate your space. You can also place this crochet table runner in front of your kitchen sink to add colour to your kitchen and keep your countertops clean. Your home will be brightened up with this gorgeous, doily pattern. This crochet doily pattern uses soft yarn to make your space colourful. The bright colours will make your mood brighter, creating magic in every corner of your home.
Free Crochet Sunflower Tablemat Doily Pattern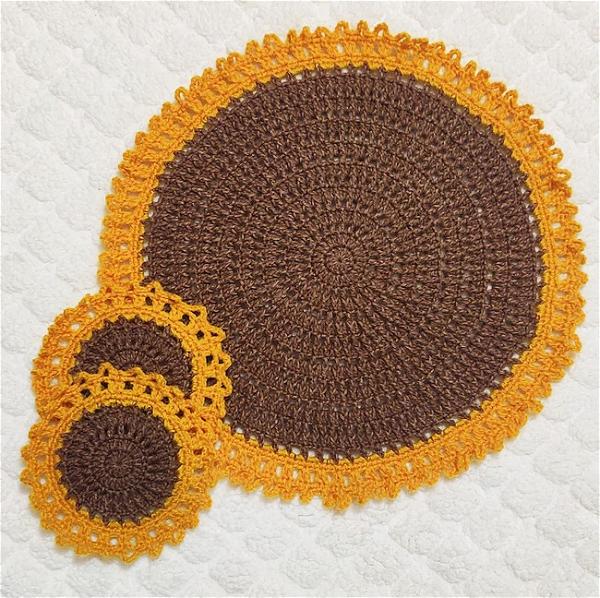 This crochet pattern is for the Sunflower Tablemat Doily and Butterfly Tablemat Doily. Both motifs have many size options, so you can make them as small or large as possible. You can utilize a single colour yarn or multiple colours to highlight the different petals. It's also possible to mix both doily patterns to create a set of more enormous Sunflowers. These yarns are just suitable to decorate your home during the summer holidays. Moreover, you can use these free crochet sunflower tablemats as coasters to protect your furniture from moisture while serving the drinks.
Holly & Lace Doily Crochet Pattern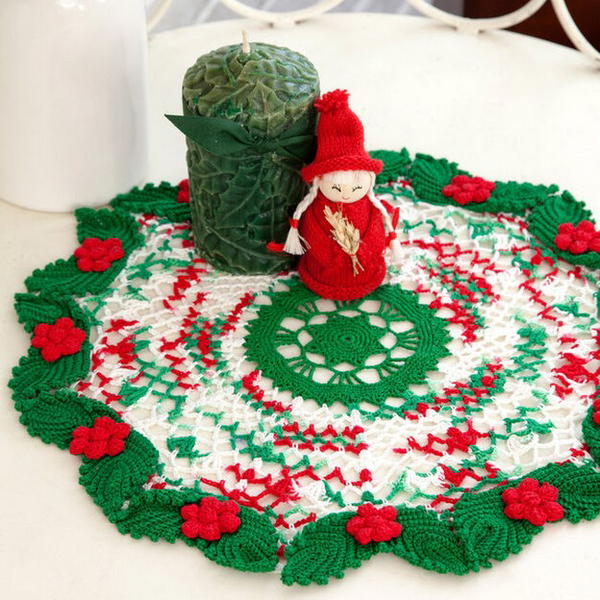 Looking for an easy way to add a pop of Christmas colours to your home? Create this DIY doily easy crochet pattern that is worked in the round to be done very quickly. This doily crochet pattern is made of slip stitches, and it has a very classic look. It's gorgeous and vintage! The flower pattern has plenty of opportunities to customize with different coloured yarns. It looks perfect for a simple table centrepiece or a doily/table runner for an accent piece in your home for simple decorations. This pattern will do great on the table at Christmas dinner or even as place-mats for your holiday dinner.
Rose And Lace Doily Crochet Pattern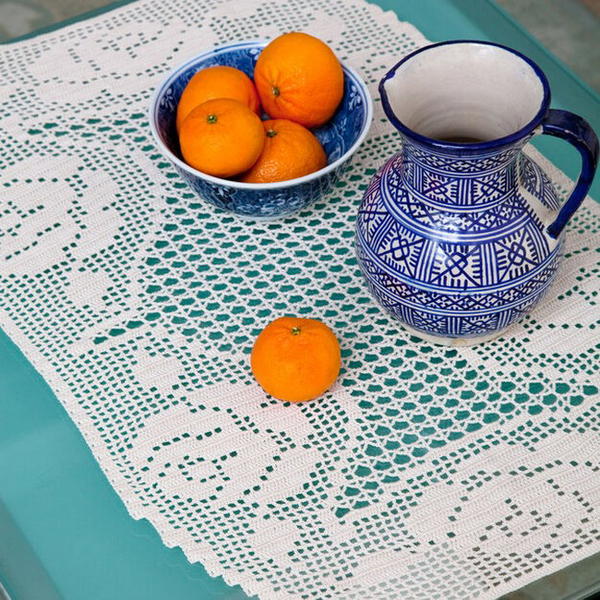 Rose and Lace Doily Pattern Add elegance to your home while unraveling this unique doily pattern. Crochet a doily lace and add elegance to your home while unraveling this unique pattern. This doily can also fit perfectly on top of buffets, dressers, and tables. It's amazing how your home can look so beautiful when you customize it with crafts like this one. This can be a DIY project for the whole family to customize their rooms with.