If you've looked at any free crochet octopus patterns online, you probably noticed that some are for hats and blankets. But, here, we will tell you how to make impressive crochet octopus patterns with minimal effort concerning your needs and taste. Some are for children's toys, and some are for decorative home items. Crocheting an octopus is a great way to practice basic crocheting skills like working in the round, increasing and decreasing, reading a crochet pattern, and changing colors.
Crochet Octopus Patterns For Beginners
The anatomy of an octopus is very simple, so if you're looking for a challenge, check out these free crochet patterns for a more complex critter! Have fun learning to make your octopuses! Crochet Octopus patterns have taken the internet by storm, and these little guys have become quite popular among crocheters. This is not surprising, as creating one of these cute creatures takes a lot of skill and patience. A new craze, octopus crochet patterns are part of a larger trend in the crafting world.
Crochet Octopus Patterns

Crocheting an octopus is now an easy task. It requires a lot of work and dedication to complete one of these projects, but the results are always worth it. From making the base to sewing on the suction cups and adding eyes, crocheters must carefully follow each pattern to ensure that their octopus looks like the original. The most popular octopus crochet pattern is the amigurumi-style octopi. These little buddies are made out of several different colored yarns, which allow them to stand out more and look more attractive. Many different types of octopi can be created from different types of yarns with different stitch patterns.
Octopus Ice Cream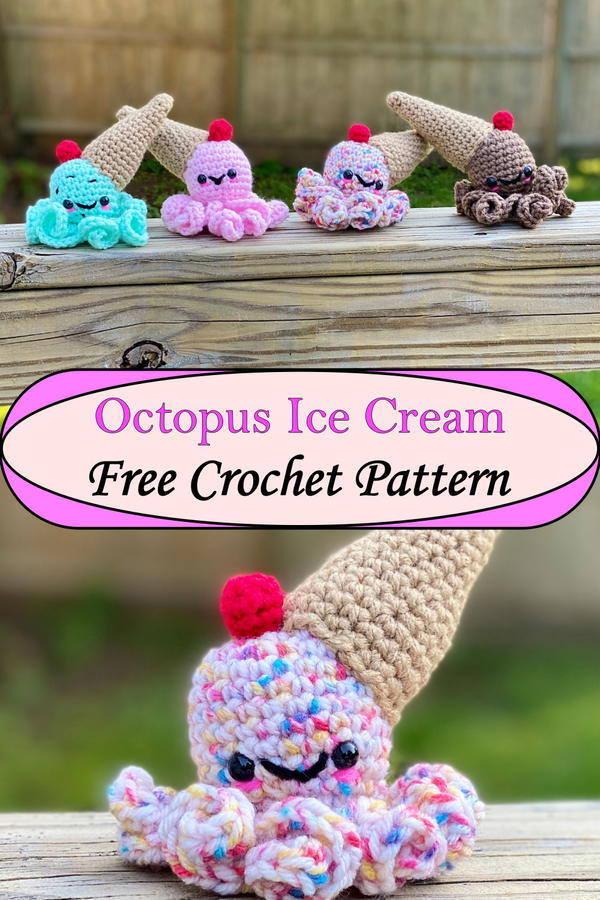 These adorable and unique stuffed toys are the perfect summertime gift for anyone who loves octopuses, sea creatures, and ice cream! The cuteness of the ice cream cone cap and sprinkles on this plush doll adds a special and playful touch to your room or collection. This stuffed animal is excellent whether you're looking for an awesome birthday gift for a friend or family member or want to show somebody how much you appreciate their sweet tooth. This octopus ice cream is incredibly adorable, plush, and soft. It's the perfect combination of food and animal--and it makes a great conversation piece.
Mini Octopus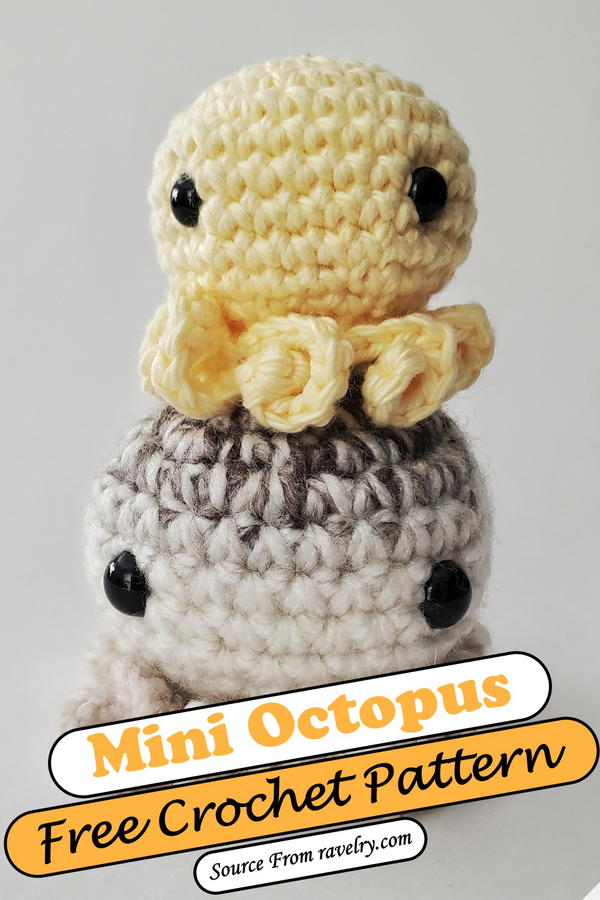 The Mini Octopus is a super quick project that works up fast and makes a fabulous little gift. Use it as a beach bag charm, stuff it with an ornament, give it a gift, or hang it from your rearview mirror for a quirky decoration! The Mini Octopus can be customized for any occasion, as well. Change the color to match any holiday or season, make it bigger or smaller by changing the gauge, and switch out materials like cotton for wool for a completely different look. The possibilities are endless!
Tiny Scrap Yarn Octopus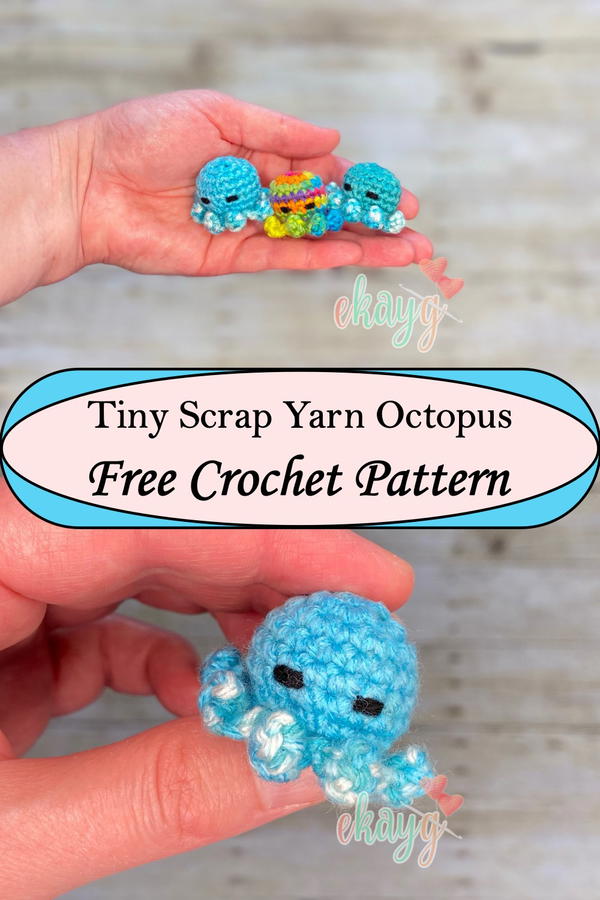 Make a tiny scrap yarn octopus with this fun and the simple pattern! This is a great beginner pattern for those new to amigurumi, as he is made in one piece, requiring no sewing of body parts or attaching of arms or legs. All that would be needed is stitches for the eyes. Tiny scrap yarn octopus makes an adorable keychain or handheld toy. It may be used as a handheld toy or keychain. The finished octopus measures approximately 4 inches in diameter, making it the perfect size for small hands. The eyes are embroidered onto the face with black embroidery floss.
Otis The Octopus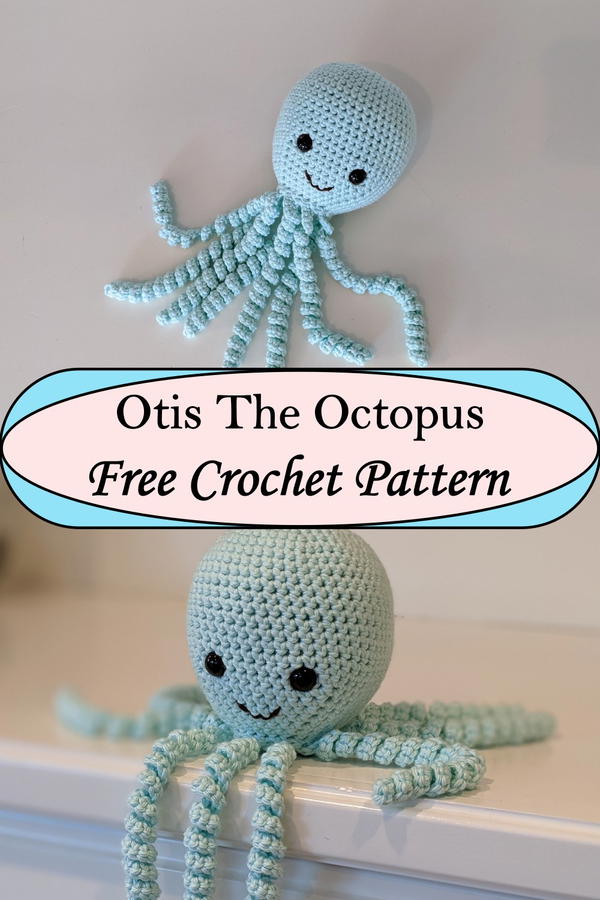 This bright and fun Octopus would be a great addition to any child's playtime. The tentacles are easy for children to weave their fingers through and hold on to, while the bulky body makes it a great cuddle toy. This fun little Octopus is easy to crochet and makes a great beginner project. Made using a size G hook, and I Love This Cotton yarn; it's one piece that you don't have to sew together or attach parts. That makes it the perfect gift for any occasion; baptism, baby shower, birthday present, or simply because you enjoy handmade gifts!
Blue The Dumbo Octopus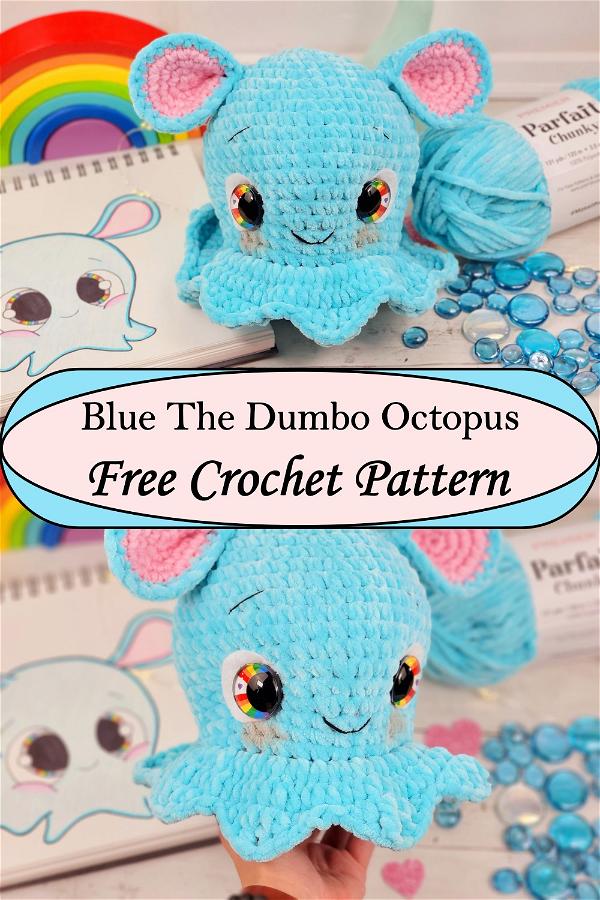 The Blue The Dumbo Octopus crochet pattern is very cute and easy to make. You can complete it in a day if you know about crochet. This pattern will provide you with instructions on creating a full octopus and then some. You are not only going to create the octopus but also her house and blanket. The blue octopus pillowcase pattern is a decent option for you to try this season. It's sure to make you feel satisfied, fresh, and comfortable when you sleep with it or put it on your bed.
Reversible Octopus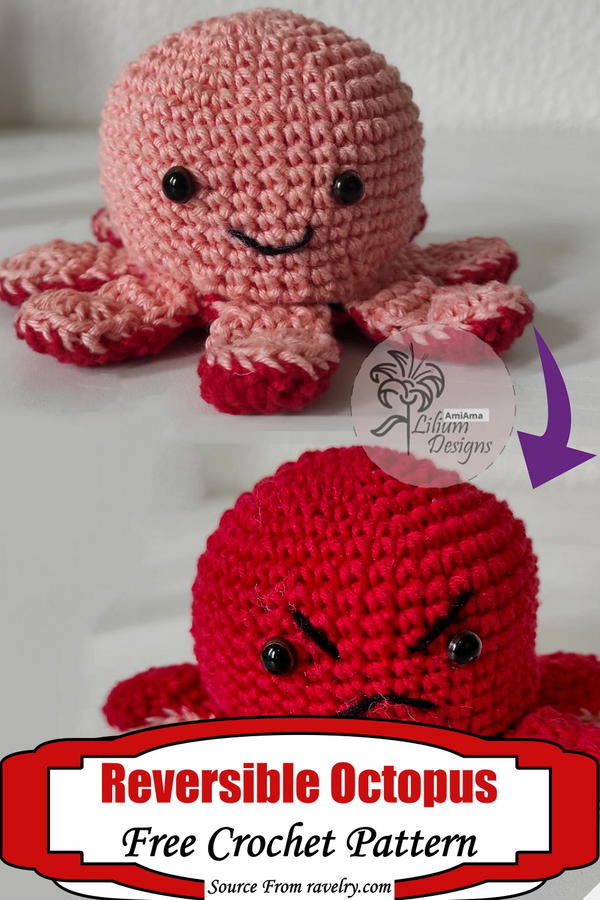 Crochet souvenir toy can make different reversing Octopus figurines with two kinds of beads head and two kinds of mouth. The reversible Octopus pattern shows your mood without saying a word. A HAPPY octopus is one with a pink body and red legs, while a SAD octopus has a red body and pink legs! The reversible Octopus easily turns his head to face in whichever direction you want. Crochet the Octopus using whatever colors you want! His face looks great in either red or pink. Simply turn him inside out, reverse the yarn, crochet his face and legs, so they are the opposite color, then flip it back over.
This Crochet Octopus is a fantastic gift idea all children will love. . Each unique octopus will quickly become a source of hours of fun. Make up your personality and characteristics; every child will think this octopus is the funniest they have ever seen. With patience and a little yarn, you can create something unique and fun!
Reversible Mood Octopus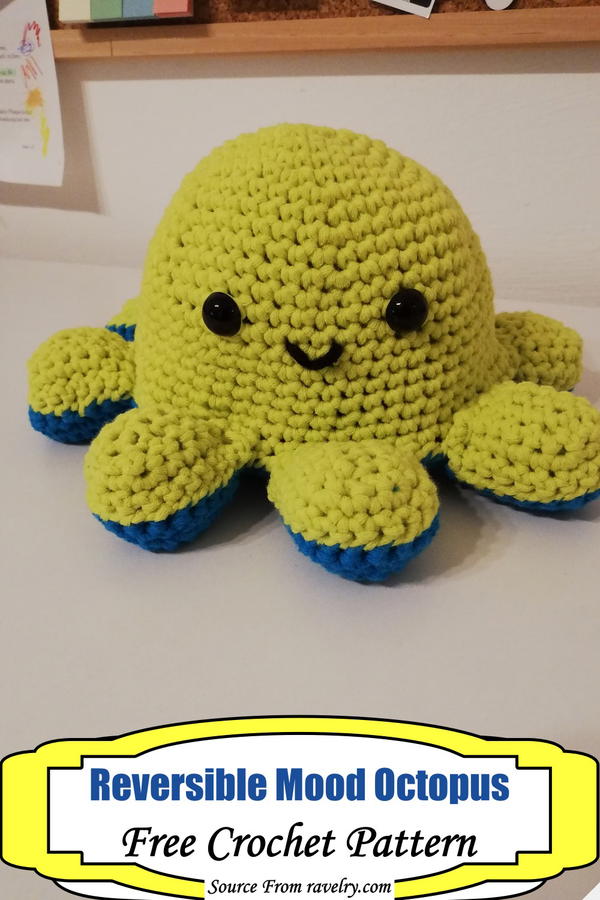 This tiny little creature responds to your moods by changing color! This pattern works up quickly, is easy to customize, and will keep your mood buoyant all day long. Like the elastic band on your favorite pair of blue jeans, this Octopus is a cheerful addition to any outfit. You can use any yarn and corresponding hook size you want, the worsted weight yarn. It makes a wonderful keychain, bag decoration, or hair accessory. This is a very easy pattern and can be made with any yarn in any gauge. The best part of this pattern is that it makes one smiling and one sad mood octopus match your mood.
The color octopus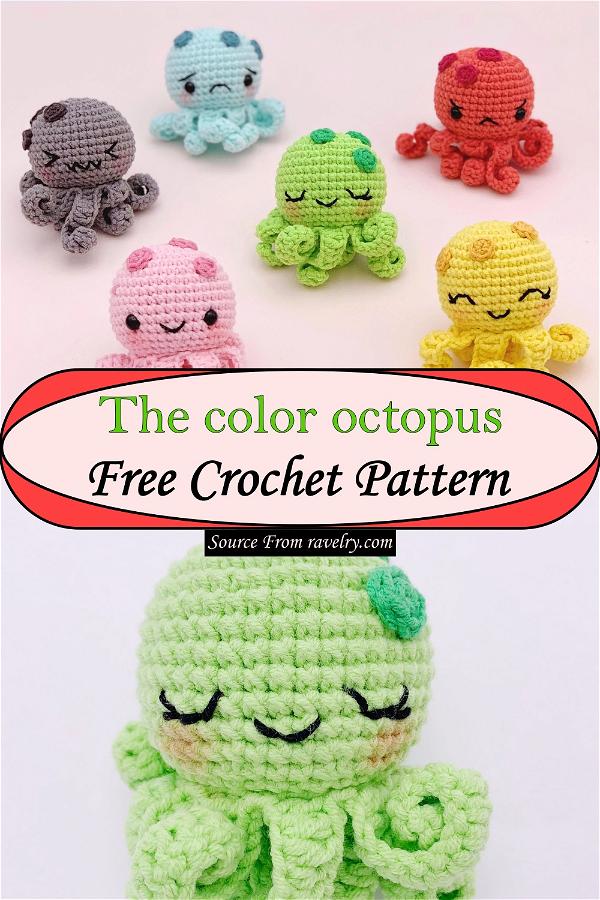 This little octopus works cutely with any clothes. Give one to a friend, let your kids hug it, or let it guard your phone while you are not around.  A small gift will impress your friends and visitors and let them remember you as the creator of this toy. The pattern is very simple and similar for each chapter, so the process goes quickly! You can use these cute creatures for decorations for special events or give them away as a gift.
It will take you less than one hour to finish one octopus. They are very easy and fun to make, and you can use them as a key chain or leave them around the house on your desk or in your car. The Bigger Carry-On stuff sack lets you take this fun octopus everywhere. It is also a great gift idea for children and adults alike.
Octopus Cupcake Amigurumi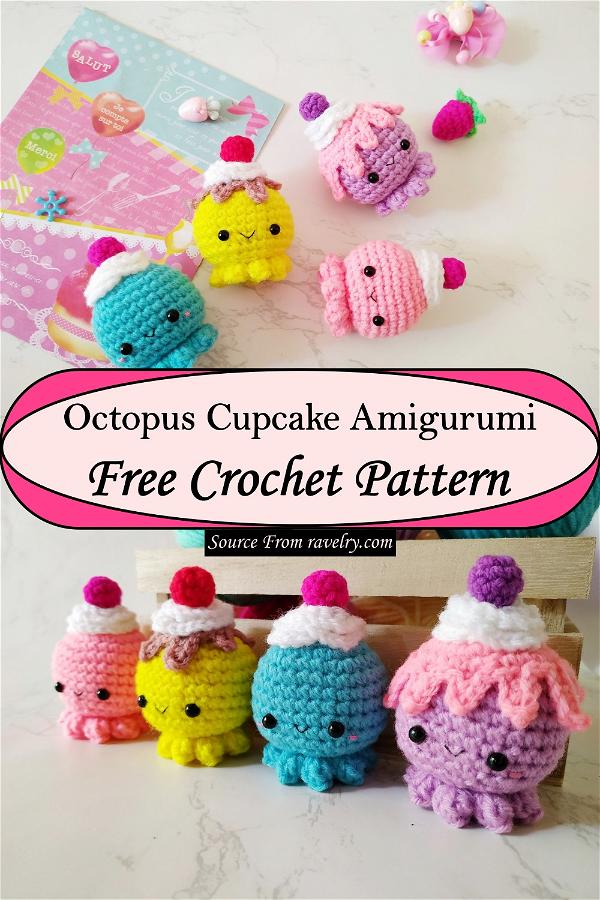 These sweet little amigurumi cupcakes are just waiting to be your friend! With just a few stitches of yarn, you can make an octopus and fish (or a crab) and serve up some sweet ocean treats. These would also be great for birthday party favors or gifts for anyone who loves tasty sweets. Make an entire batch in the colors of your choice! You will never want to eat another octopus cupcake after seeing how adorable these crochet creations are. Octopus Cupcakes are two different variations on a basic cupcake amigurumi – one with an octopus and the other with a fish. These sweet morsels of crochet art will bring out the kid in you, whether for a party or just for fun!
Funny Octopus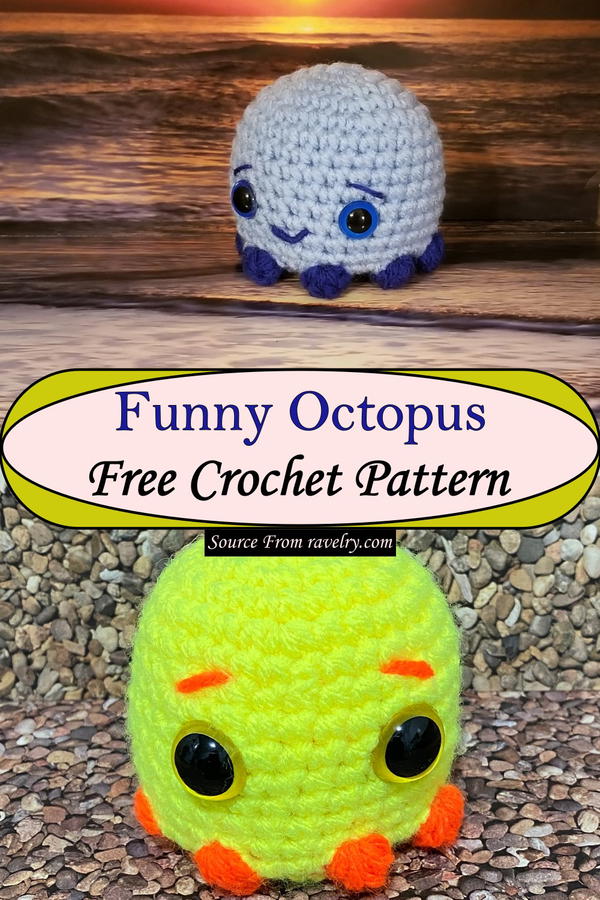 Cuddle up with this adorable stuffed toy. Its soft yarn and cheerful colors make it a hit with any little one who enjoys playing with stuffed animals. The unique octopus design will spark conversations about sea life, the difference between ocean creatures, and why its legs are so short. The soft fabric makes it easy to hold and hug. Great for babies and toddlers. Give someone you love a fun toy that they'll play with for hours. The soft yarn and fun colors will entertain your little ones as they cuddle up with it. Great for babies and toddlers, this octopus is also very popular with younger children learning to talk and make animal sounds.
Little Octopus Stuffie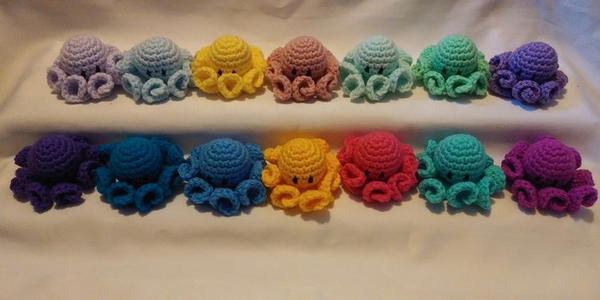 This stuffie is named Little Octopus for a reason. This little octopus is quick to work up into one solid piece. You can make a cute toy for all ages or even use it as a quick stress reliever. Because of its simple shape, It's little! And it's made with a relatively small amount of yarn, so it works up in an hour. It makes an excellent choice for beginners.
The little Octopus Stuffie is worked from the bottom to the head, so you don't need to join any part; stitches are picked up for making holes for the face and tentacles, worked in the round, and then joined. This is perfect since lots of us have scraps in our stash and no time to use them anyway. It is knit mostly in the round but with a couple of stitches on every row flat to make the tentacles easier.
Giant Octopus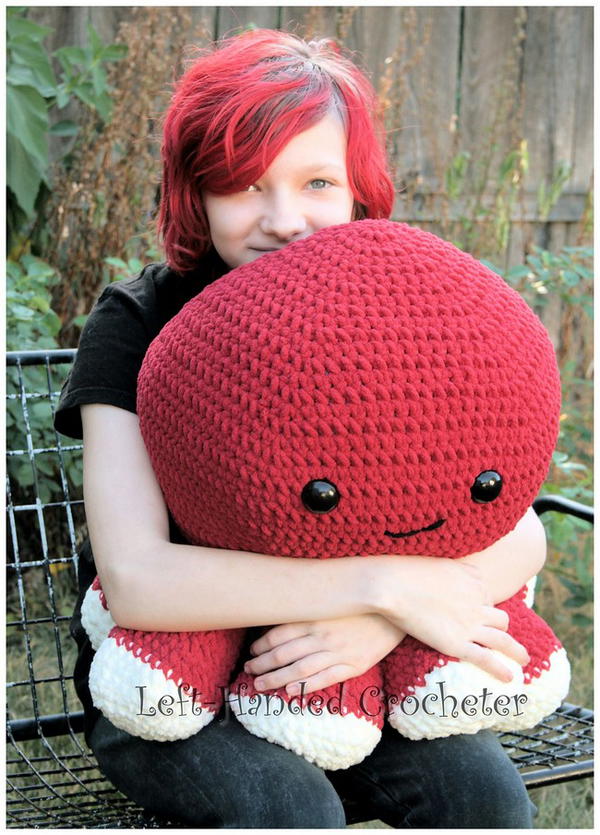 The Giant Octopus is big enough to use like a mini-pillow and huggable enough to be a full-sized one. It's a perfect project for any skill level, as you can crochet in rounds or use single crochet stitches, so the legs and body are easy to attach. This giant octopus is made with  Blanket Yarn and requires roughly two pounds of poly-fil stuffing. No muss, no fuss; the legs are created in continuous rounds without stitches to finish them off, making assembly go faster. This pattern includes both written and charted directions for every round of tentacles. The technique also makes it easier to get the tentacles on and look right. This is a very friendly creature and would be great as a child's toy or a decorative plushie that can be used as a decoration or a huggable pillow.
Preemie Octopus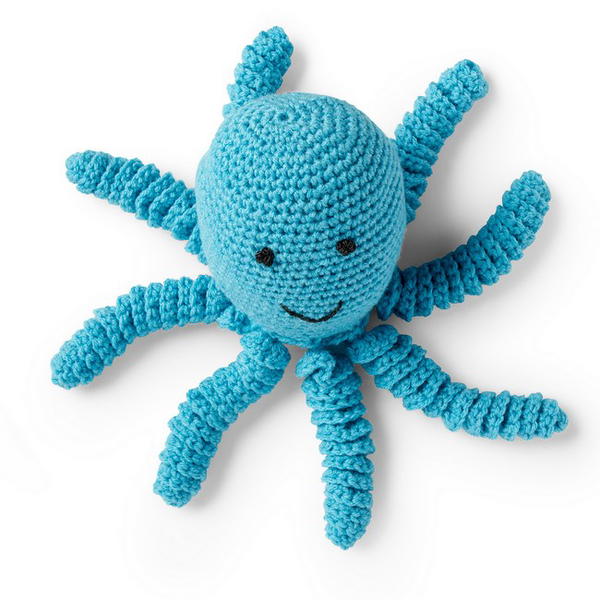 Childlife's Preemie Octopus isn't just cute; it can also soothe preemies! This Preemie Octopus is a great stuffed toy for babies 0-3months and has a measuring tape so you can record the baby's height. Crocheted using cotton and wool blend yarn. Sure, you can cuddle with a fluffy stuffed animal, but this little guy is more than that! Studies have shown that babies who cuddle a toy octopus in their incubators are less likely to pull at their monitors and tubes. This Preemie Octopus is super simple to make, using just single and double crochet stitches. Preemies are so tiny! This little guy is just the right size for them. The tentacles are special, though. The double crochet makes them soft and snuggly.
Amigurumi Octopus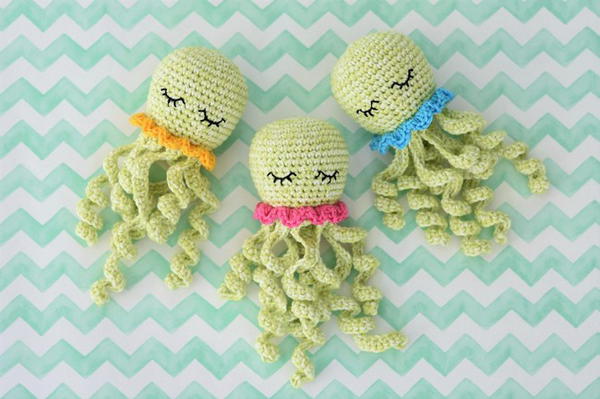 Amigurumi Octopus is a beautiful and quick knit. The squishy features of the amigurumi make him a perfect gift for your favorite ocean lover or a classroom decoration for an ocean unit. Working with this bit of octopus is not more difficult than working with a big one. It may sound a bit awkward, but you will see how simple this pattern is - only basic crochet knowledge and skills are needed when you finish it. After finishing the body and head in one piece, the tentacles are crocheted separately to achieve ruffles, while the eye(s) can be just embroidered or left blank. This sweet little amigurumi makes a perfect decoration for your home or a wonderful special friend for your children, not to mention that it makes an adorable gift too!
Amigurumi Octopus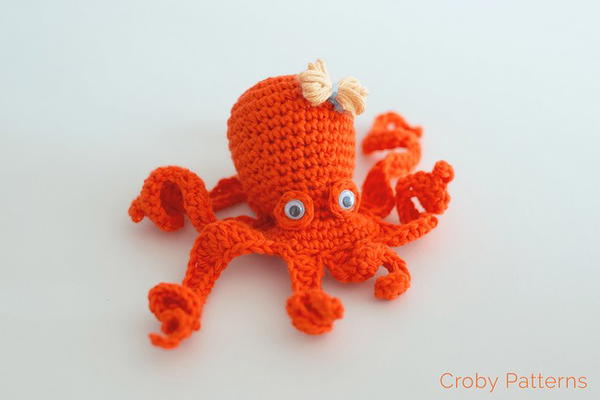 Raise your hand if you love amigurumi. Raise your other hand if you love octopi. Put your hands together for this adorable stuffed octopus! This Amigurumi Octopus is not only cute, but he will make a great addition to any child's playtime! The octopus is worked in continuous rounds and joined to give a seamless look. The arms and legs are attached by sewing them onto the body first and then stuffing the body. It's easy to make with those leftover yarn bits in your stash. You'll make the perfect little companion for any age and an adorable decor piece. This is a cute amigurumi octopus to keep as a decoration and stuffed toy for your little one. With cheeks as puffy as the clouds, you can't help but love this little guy. It's quick to make, and you can use whatever yarn color you like.
Tiny Octopus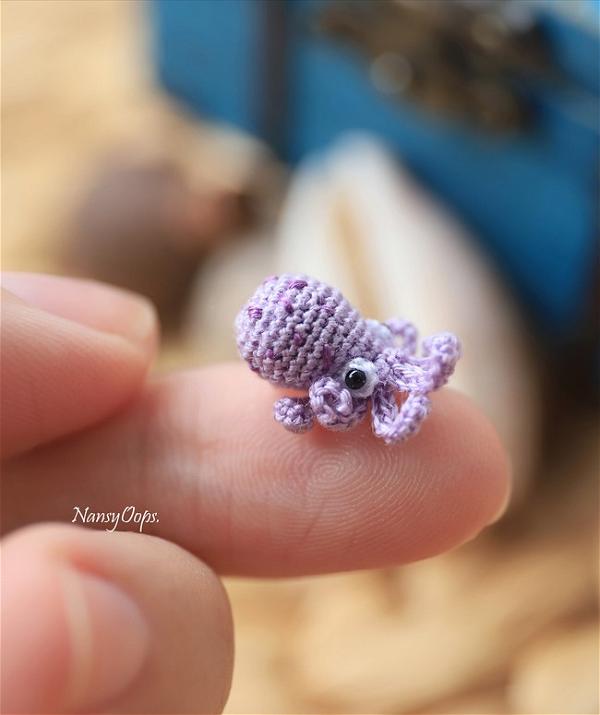 This tiny octopus is a perfect gift for babies, toddlers, and kids. It can be stitched in less than an hour with basic crochet skills. This tiny crochet Octopus is a perfect gift for babies, toddlers, and kids. It can be stitched in less than an hour with basic crochet skills. Its tentacles are interesting to grasp and fun to play with. The pattern is written so that you can easily customize the pillow shape and size without affecting the outcome of your project. Perfect as a gift or for yourself to keep on your desk.
This easy peasy pattern can be worked up in less than an hour. Makes a perfect baby shower or new mom gift. Use bright colors to highlight it or use one color as the sample uses. It is also cute to stack several together or hang them. Make one as a gift for your little one, hang it on their wall for decoration, put it in a bowl, make a cute centerpiece, or just keep one on your desk for decoration!
Dumbo Octopus Amigurumi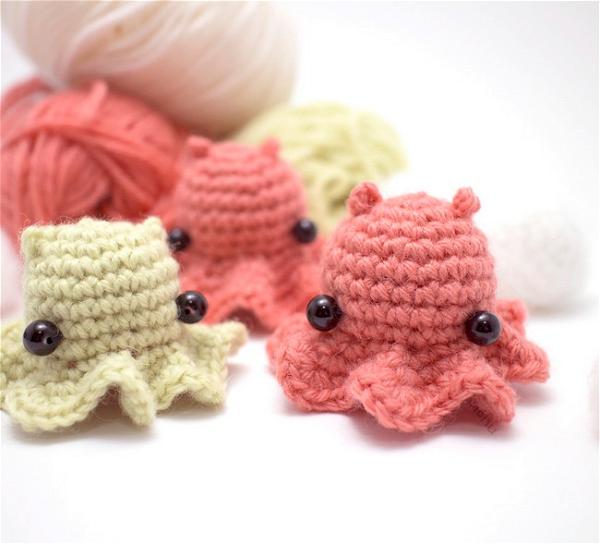 Be it a baby shower, birthday, or any other significant event, gifting a cute baby toy will always make the day memorable. This one is a perfect example! Super cute baby octopus with floppy ears and large eyes. He has two legs with suction cups to stick on some flat surfaces. It is also an excellent toy for kids who will love its cuddly softness.
The Dumbo Octopus Amigurumi is a fun little gift for your loved ones. It doesn't make much difference whether your skills are for boys or girls - this will appeal to one and all. Dumbo Octopus is a super cute and cuddly octopus meant to be a best friend for admirers! This cute little amigurumi doll is a great way to have someone hug you if you're feeling down. This adorable item is the right crochet pattern for children, which they would love to have as their playmates.
Octopus Squish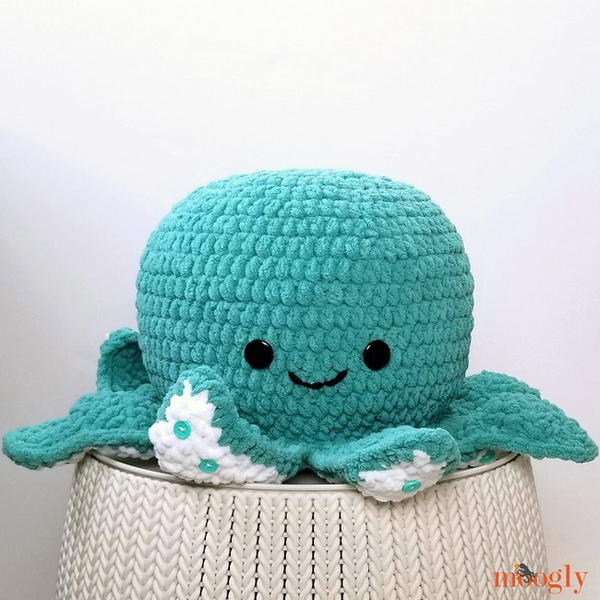 Octopus Squish is a handcrafted crochet toy. Perfect for little ones to cuddle and squish the tentacles. The Octopus attaches easily to a car seat handle, stroller, high chair tray, or baby carrier handle with small loops provided on the octopus body. The lightweight, the soft toy can be thrown into your day pack while traveling as it takes up minimal space, has a handy loop at the ends of each tentacle to clip onto something, and it doesn't matter if it gets dirty or wet - just chuck it into a washing machine!
If your little one loves playing with lightweight toys that are easy for them to grasp, the Octopus Squish is ideal. The squishy, squidgy tentacles are a wonderful sensory experience, great for encouraging little budding tentacles to explore their imagination. This crochet Octopus Squish is squishy and squidgy, with tentacles that can be squeezed and yanked. Any child who loves mess-free sensory play will love this octopus. The bright colors and patterns on its head are lovely and eye-catching and make this toy an attention-grabbing addition to any baby's collection of playthings.
Octopus For Preemies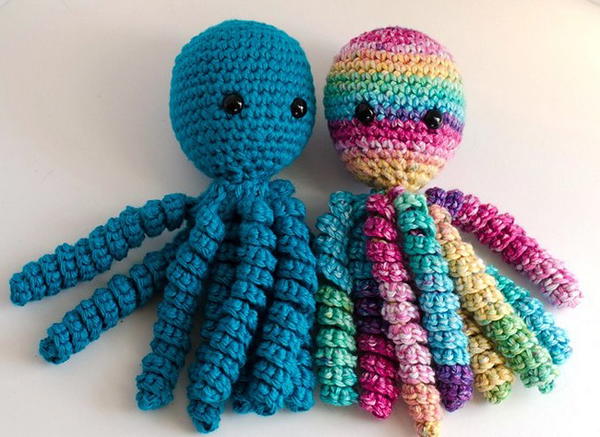 The Octopus for Preemies is crocheted in a quick and easy pattern. It is simply constructed with no adornments. The octopus has eight arms to snuggle an infant's face or hold onto a finger and sturdy legs that help stand-alone on hard and bumpy surfaces since some babies like to play with their toys while lying flat on their back. Octopus for Preemies is a quick and easy crochet octopus pattern. With little stress on the novice crocheter, a handful of techniques, and just one stitch, you can make one of these adorable octopuses in no time. They're the perfect baby shower gift and simple enough for children to enjoy making.
Giant Plush Octopus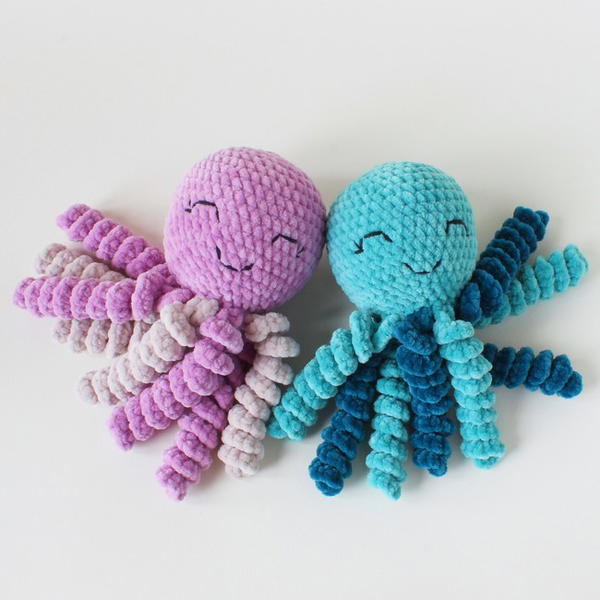 Giant Plush Octopus is a super soft and fluffy stuffed toy. It will be your gentle friend for a long time. This big octopus will become an indispensable and inseparable part of your home. Its super soft fabric, bright colors, and cute design will bring joy to everyone – adults and kids alike. This means that you won't need to buy many expensive toys for your child, who will tire of them in a few days anyway. The Giant Plush Octopus from Furls is an excellent gift for anyone who loves sea life or wants to surround themselves with some fun. Your child can snuggle with the octopus whenever he wants and enjoy the company of this lovely toy – no batteries required!
Ivy The Vibrant Octopus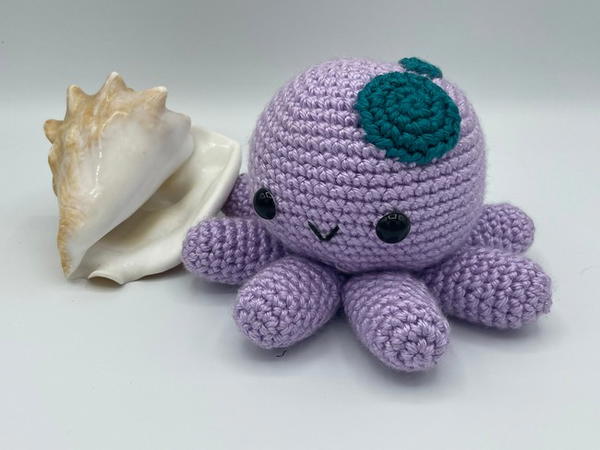 Create your seaside-themed crochet project with a stunning Ivy the Vibrant Octopus! Perfect for beginners, this bright and colorful pattern can be made up in just one shade or an array of different colors. The beautiful tentacles are created using a combination of simple stitches, including double crochet, trebles, slip stitch, and chain stitch. You can make Ivy the perfect size to suit your little one's room with different sizes to choose from! Ivy, The Vibrant Octopus, is a fun make that's ideal for nautical-themed nurseries, playrooms, or children's bedrooms. With just one ball of each shade, you can create the perfect room decoration in shades to match your décor, or pick the shades you love and let Ivy take center stage!
Inky The Octopus
Inky the Octopus is a classic amigurumi toy that is soft and squishy. Crocheting Inky will provide a wonderful opportunity to practice making amigurumi pieces with basic crochet stitches, such as single and double crochet, increases, decreases, and slip stitches. Inky the Octopus is a unique crochet toy that makes for a great cuddle buddy! Inky's leisurely tentacles and basic crochet stitches make it easier to make and assemble than other amigurumi toys. Whether you're looking for Christmas presents to make or something fun to crochet for yourself, Inky makes a great gift! Make this adorable Inky The Octopus for a fun and fast sewing project for children or adults of all ages--great for gift giving. This pattern comes in various sizes to make just the right octopus for your special little one.
Round Plush Octopus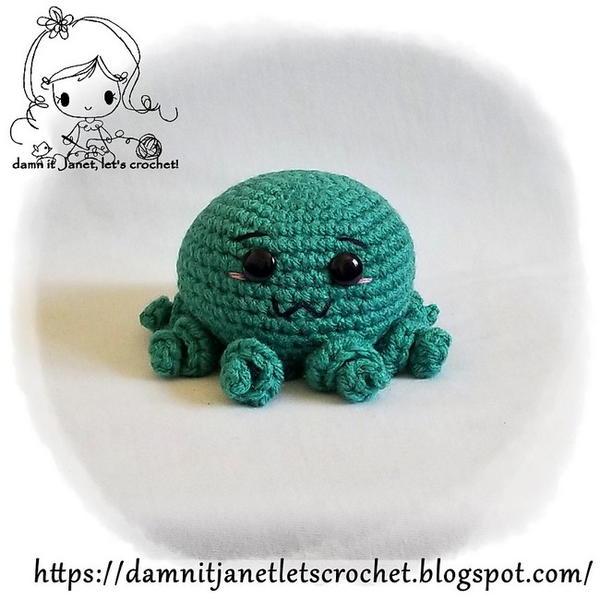 This round plush octopus is a unique crochet piece. It does not look anything like any other plush octopus that you see. The toy is fun to play with for the whole family, and children will love its unique shape. People will comment on its shape and develop creative ideas of what it could represent. The toy will give you some peace from your younger children as they are naturally drawn to it and want to play with it. This round octopus is one of a kind! It can be used as a throw pillow or cuddle blanket for kids or adults. You can make this toy if you know how to do a single crochet and can follow color changes.
Osmond The Octopus
The Osmond the Octopus baby comforter is a quick-to-work pattern that results in one adorable baby blanket. It's a great snuggle buddy for your newborn The Osmond the Octopus baby comforter is a quick-to-work pattern that results in one adorable baby blanket. It's a great snuggle buddy for your newborn Here is a little sweet thing that is quick to do but is also really effective! The Octopus comforter has a flat hood and legs to cover little heads and ears, keeping babies cozy and warm. It is lightweight and can be used as a pram cover, a car seat blankie, or even a crib blanket. If you want to make it a bit smaller, just stop when you think it looks right – the only limit is your imagination!
Octopus Hand Puppet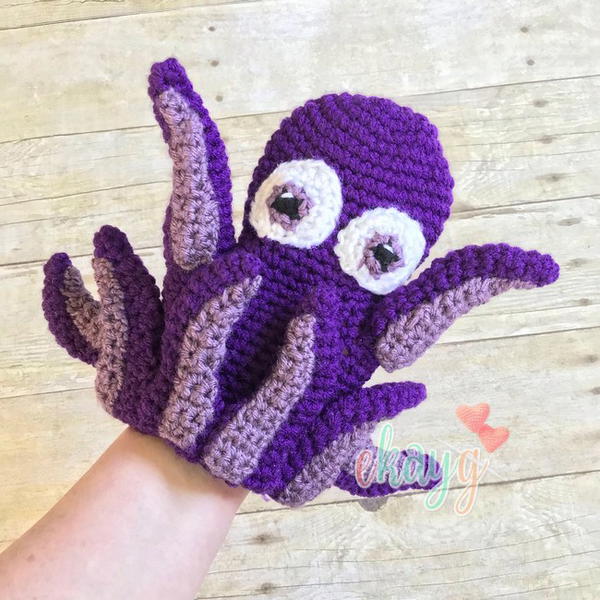 It is introducing a new pattern release of the Octopus Hand Puppet! This octopus is one of the cutest creatures under the sea! It is worked in a spiral for a seamless construction and is quick to put together. The size you can make can fit from a child to an adult, so it is perfect for playtime but could also be used as a decoration if made larger. It's a friendly little octopus puppet! You made this guy using a simple crochet technique that lets the stitch design shine through. The tentacles are made longer than the body so that you can position it to lie flat or curl up in long loops, depending on how you choose to style your body.
Crochet Octopus
Are you ready to dive in and create a cute little octopus? We'll be crocheting it up using basic stitches, such as double crochet, slip stitch, and single crochet. Increase in total to make an extra-large squid. This cute little guy will be a great addition to your squid collection! You can make several other crocheted critters, and you can come up with tons of ways to use this pattern to make your octopus. Crochet this octopus for your sea-life collection or a gift for a friend! Enjoy the free pattern and have fun on the high seas. This crochet octopus is a quick and easy free pattern that you can use to fill your home with tentacles of adorable sea life. Made in bulky yarn, it's a fun stash-buster and makes a beautiful present.
Handy Little Octopus Hand Sanitizer Keychain Cozy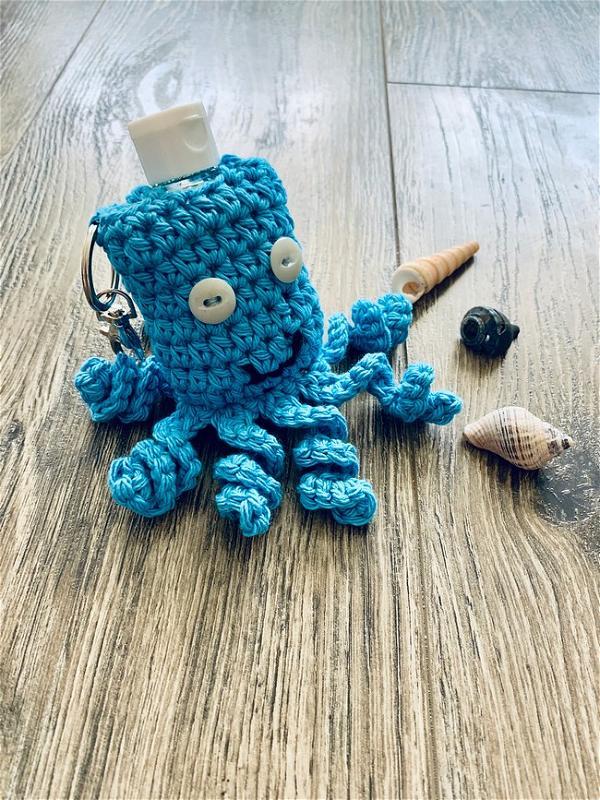 Hands are harbors of nasty germs and bacteria. In other words, they can make you sick! Don't risk making your friends or colleagues sick by shaking their hands. Protect them from nasty germs with Handy Little Octopus! This darling little guy is worked in one piece from tentacles up, so there is no sewing. Travel-size hand sanitizer bottle is ideal for toting along on trips or outings when handwashing facilities may not be available. Dishwasher safe; simply air dry after cleaning. It is great for keeping your small hand sanitizer handy. It's also a cute, quick project that you can make for yourself or as a gift for someone else.
Amigurumi Octopus No Sew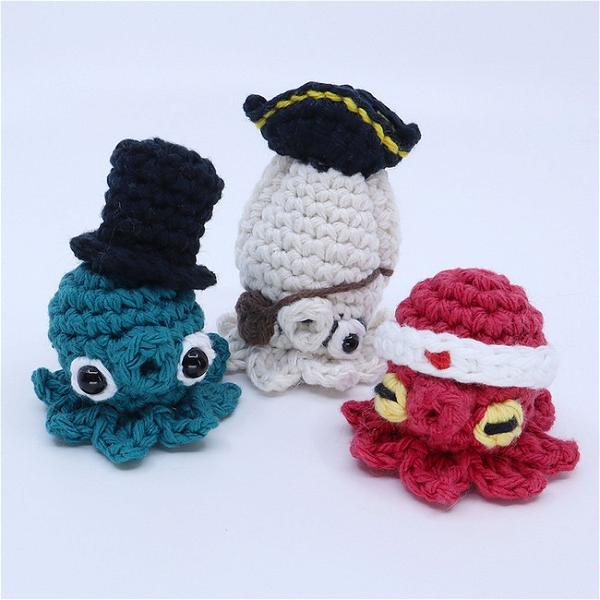 Are you excited to show off your new crochet skills? Great! This pattern is great for beginners who want to conquer the art of crochet. With clear and concise diagrams, you will learn the basic stitches used in amigurumi while crafting this adorable octopus. No sewing is required, as all pieces are crocheted together throughout the entire pattern. Have fun! It is made with small amounts of different colored yarn, so this pattern can be used for any size you desire. This pattern allows you to create many small octopi. The possibilities are endless. You can also edit this pattern and sell your finished products.
Octavia The Octopus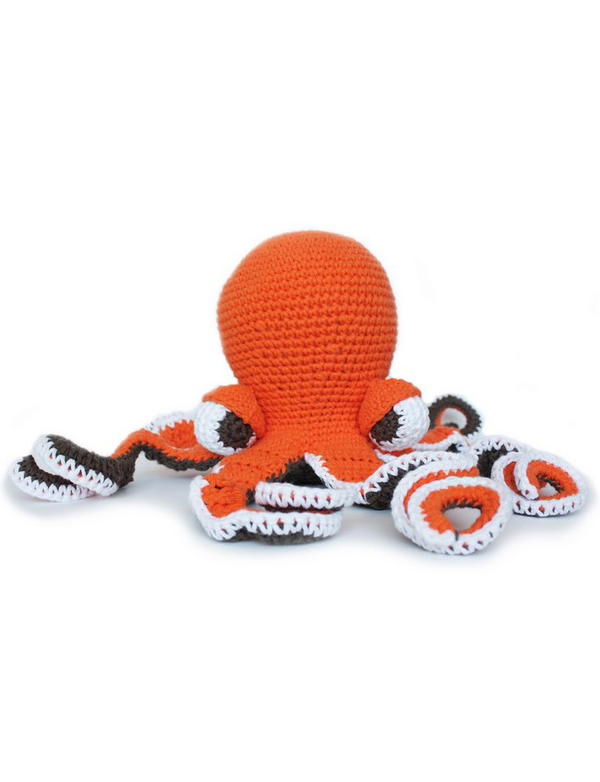 Octavia is a cute and unusual amigurumi octopus. This little octopus is crocheted from the top down and uses decreased stitches to shape the body. Tension in these decreased rows can be adjusted by prolonged work, accentuating his curly hair or working more loosely to achieve a fluffier appearance. Its body is worked from the top-down, but instead of making a long oval, Octavia is completed by working in rounds and then joining to form an hourglass shape. She has eight tentacles, each with just four rounds for small suckers and two larger ones for her big eyes. After shaping the tentacles, the beads can be added as you crochet to make them rounder, larger, or more colorful.
Reversible Moody Octopus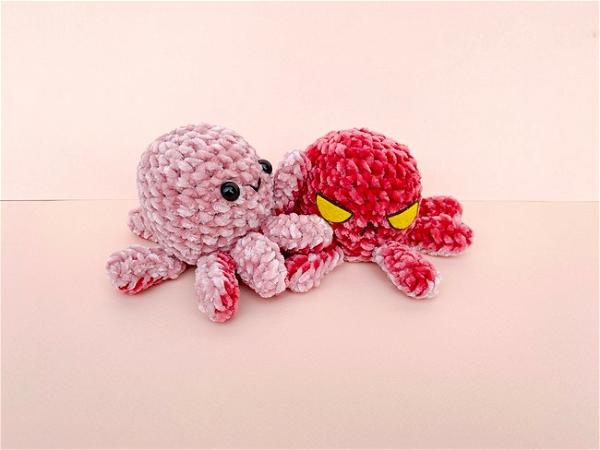 Reversible Moody Octopus! So cute and fun to make, a great project for beginner crocheters. Make a cute and happy Valentine's Day gift - the Reversible Moody Octopus!. This is a great project for beginners, as it only uses basic stitches. The Moody Octopus is a great beginner piece because it uses simple techniques such as single crochet and decreased stitches to create shape and form.
Make this reversible Moody Octopus from just two skeins of yarn and a few simple sewing supplies. These are great, but two could be a fun addition to your favorite stuffed animal collection for creating a unique reversible plush. The other great thing about this hat is that it is knit in the round and has no seams; it would also make a great baby shower gift!