Crochet panda patterns are one of the latest ideas and trends in people's minds. They're made with a careful and creative approach so you can't resist falling for them. When you make these animals yourself, you'll learn more about their characteristics and make them to your own demands.
Are you looking for an easy, free and cute crochet panda hat pattern? Here are some free crochet panda hat patterns for everyone! Crochet these fun pandas with the help of our step-by-step tutorials to show your love for the bear in winter.
Crochet Panda Patterns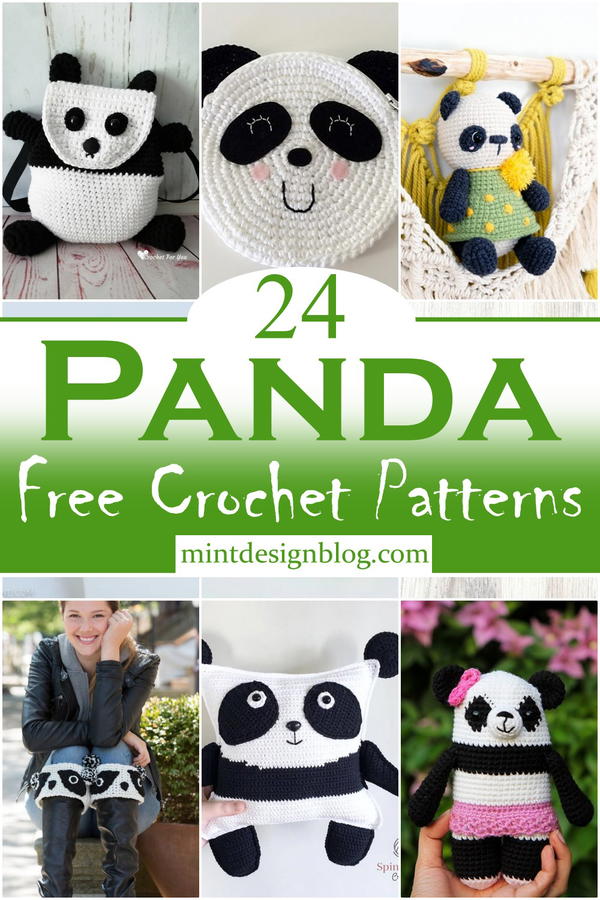 A sense of gentle and exquisite, the pandas are cute and lovely and are loved by most females. The crochet panda patterns can help you to make big changes to your home décor, transform this ordinary living room into a pleasant place, it will be great gift-giving accessories to add to your friends' special days. These unique crochet panda patterns will be a free activity for your hands to spend some time when your mind is relaxed or tired.
These unique crochet panda patterns are such a wise investment for the holidays, great for the season of giving. The varied and diverse designs will put so much life into your home and add function to your everyday activities with your kids.
Red Panda Amigurumi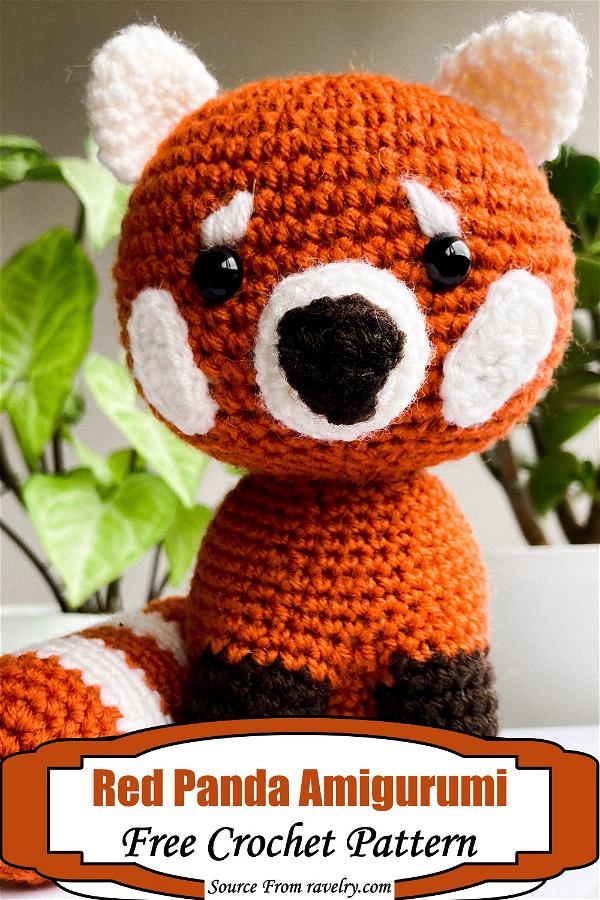 Crochet this mini Red Panda amigurumi with me! The pattern includes detailed instructions with step-by-step photo tutorials and helpful tips to guide you along the way. The Big Red Panda loves bamboo, playing in the trees, and relaxing in his tree cave. His life is simple but sweet!
Crochet is a little red panda, he just wants to hug all day long. This is one of the cutest animals you have ever met! This Red Panda will soon become your best friend. He's so cuddly and cute. I guarantee that you will not be able to put him down once your friends get a hold of him!
Small Animal Collection Panda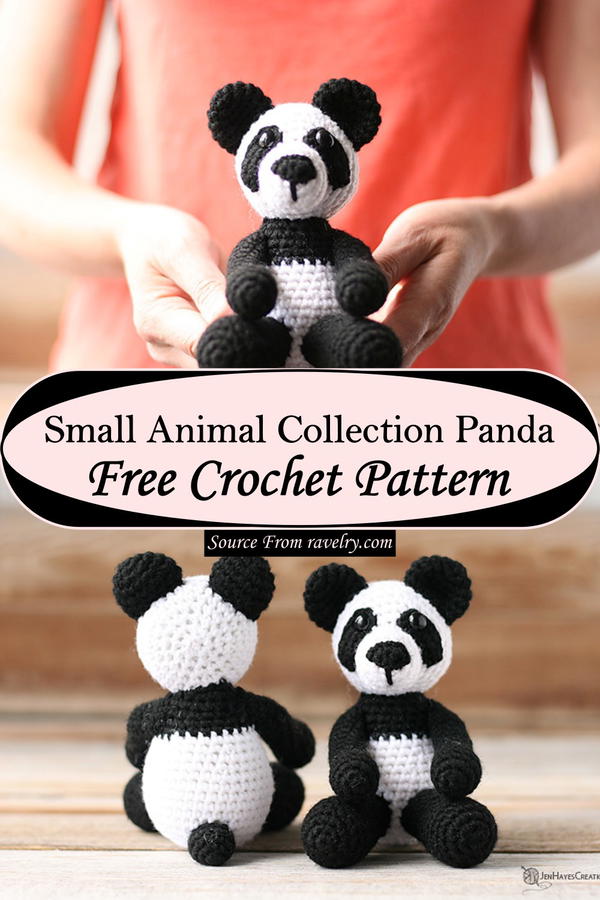 This little panda is curious, playful, and always looking to see what's going on. He is small enough to carry around with you and durable enough to be a favorite playmate. His furry body and paws are irresistible to touch! The Panda is easy to make and a lot of fun to play with. Perfect for kids age 3 and up! He is a great friend to have and loves to spend time playing with you.
The panda is a cheerful and cuddly collection of animals designed to be similar in size. Each animal is detailed with their own character and name with adorable features for you to enjoy! Who knew collecting animals could be so much fun?
Crochet Panda Sleep Mask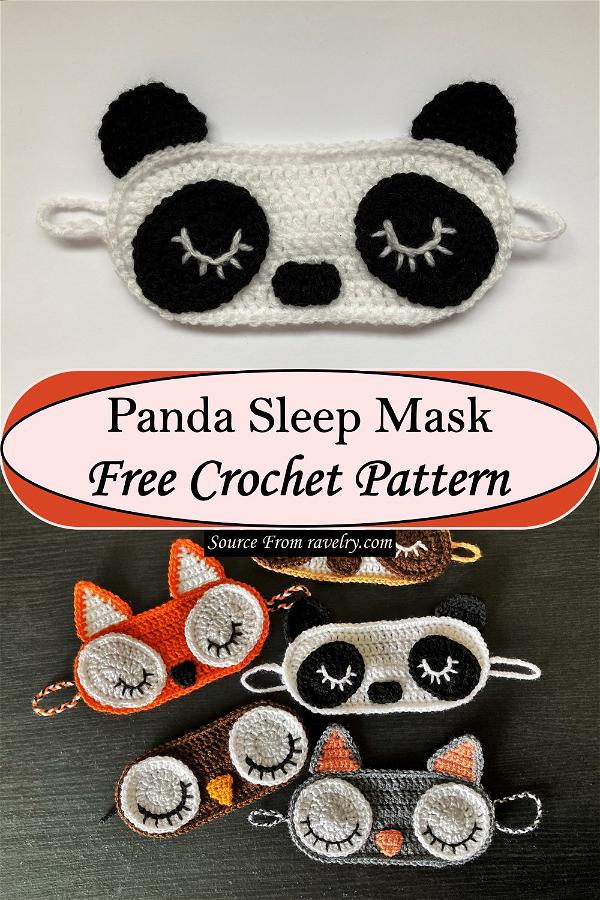 You'll fall fast asleep with this crocheted sleep mask snug against your eyes, perfect for on the plane or on an evening in front of the TV. It's easily adjusted by adding more rows at the top to make it work for larger or smaller faces. Depending upon the weight of yarn you use, you might need to use felt or another material for the eyes so that they are not too heavy for your face - try out different weights of yarn and different materials to see which works best for you. For the nose and mouth, just a simple single crochet stitch will do the trick.
Crochet Little Panda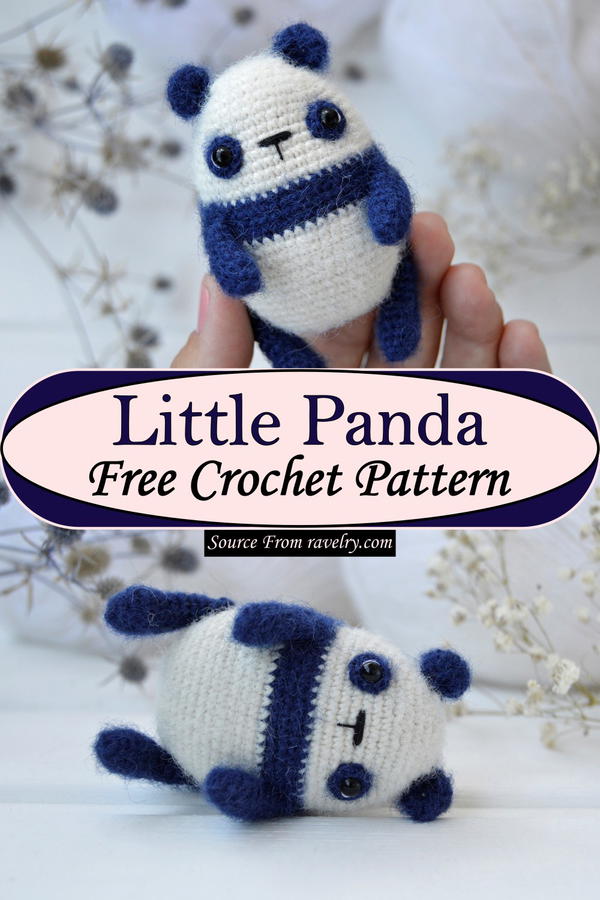 This little panda amigurumi is crocheted with Drops Safran and Drops Alpaca black and white yarn. You can choose other yarn with any color. It is an easy pattern with a photo tutorial. The Panda will be beautiful hanging on a Christmas tree or as a present to your loved ones. It is a fast pattern to crochet, it uses simple stitches and techniques: single crochet, increase, decrease, double crochet, back loop, front loop, slip stitch.
Bear And Panda Puppets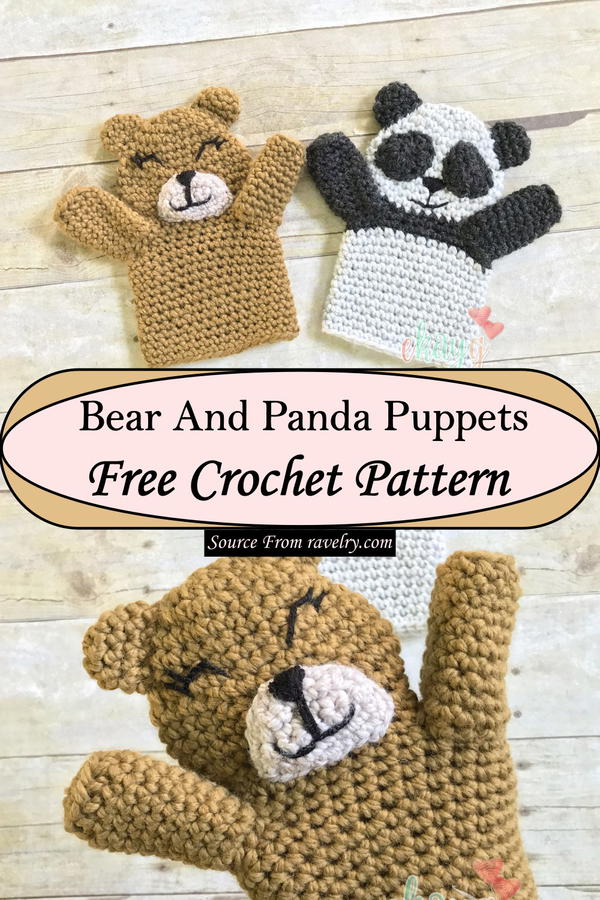 Bear and panda are the classic teams, and they're ready to join your child in interactive play. They're a fun contrast – Panda's made from powder-soft yellow yarn, while Bear is worked up from a brown variegated yarn with pops of white. Sewn together with simple sewing techniques, these two are fast to make and ready for hugs!
Bear, the big cuddly panda, and Panda, the cute little bear cub are the classic friend team. Together they're ready to join your child in interactive play. Sewn together with simple sewing techniques, they are first made into felt toys and then worked up as plushies.
Polly The Panda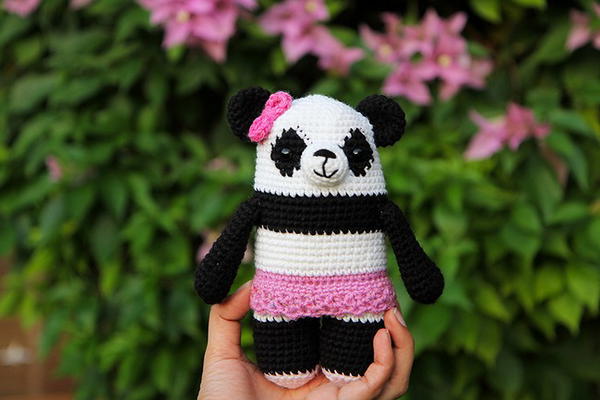 Check out our newest free pattern and the latest addition to our Juna Collection–Polly the Crochet Panda! This new free pattern is absolutely darling, she's so lovable with her simple lacy dress and bow. She'd be a great gift for your favorite little girl, or she's super sweet if you want to keep her as a decoration in your home. As with our other patterns, this one works up fast and is perfect for last-minute gifting needs!
Start your holiday crocheting with this adorable Panda pattern! She's easy to make and would be perfect as a Christmas decoration around the house--and don't forget all of Polly's friends, we're sure you'll want to stitch up a whole zoo!
Snuggly Panda Lovey
This blanket is made using the c2c moss stitch and would be a great gift for a little boy or girl. It's soft and snuggly, and sure to bring warmth to any child. Each piece is crocheted in worsted weight yarn, and sewn on after it's completed.
This special blanket will keep your child warm and cozy. You can make it any color you'd like, in a baby or child size, or even use a beautiful baby blanket pattern. This blanket will delight your little one. You can use any size you like and recreate the pattern in any color or style. Or you can use a standard baby blanket pattern
Panda Lee C2c Square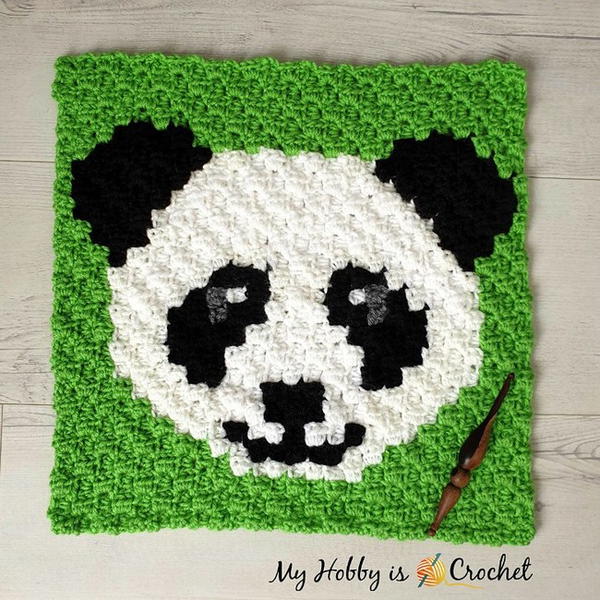 The C2C (corner to corner) technique allows you to make cross stitches using simple knotting techniques and no really straight of a sewing needle! Creating a C2C cross stitch is as easy as pie and the end product is always beautiful. This addictive art form has been around for ages, but this easy-to-learn technique has taken C2C Art to a whole new level, no pun intended. While this method is a bit unconventional, it is definitely a fun way of stitching up a pattern. The end result is always worth the extra effort, and it's sure to impress friends and family alike.
Crochet Panda Backpack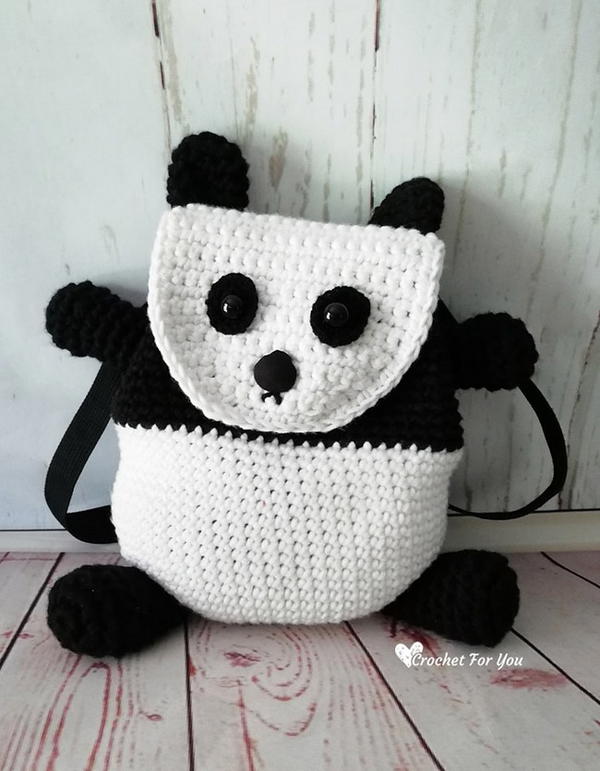 Here is a quick and easy Crochet Panda Backpack Free Pattern that is fun to make and gives you an excuse to use up some leftover yarn. This little panda backpack is also the perfect gift for a baby shower with its white paws. The head and face of the panda are made of fabric, so it is so soft!
The Crochet Panda Backpack Free Pattern is here! This little backpack is so cuddly and cute. Make it to take as a gift for your nephew or to give as a baby shower gift. Show your enthusiasm for pandas and show off your crafting skills with this unique, easy-to-follow panda backpack pattern! This is the perfect gift for a baby shower!
Pudgy Panda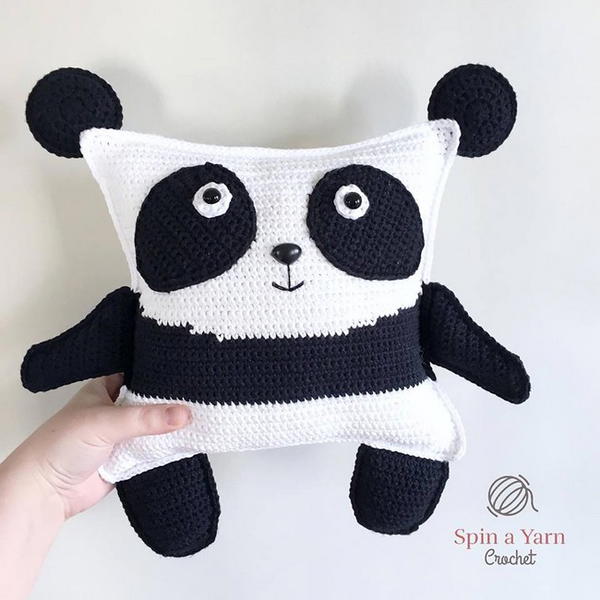 Free crochet pattern to make a little panda plushie, using a flat piece of double knitting weight yarn (about 50g), and a 3.5mm hook. This panda would be great for kids to play with and is also super cute as a decoration for your home. There is no right or wrong way to make this little panda, so you can use a pattern of your choice and make it wholly your own; the ears are simple to make, but the head and body are more detailed.
Panda Boot Cuffs
There are many boot cuffs patterns out there, but most of them have very similar forms. The difference between them is just different cute expressions. If you are looking for something more creative and stylish, then this panda boot cuffs pattern will be a better choice for you. It can become your own favorite and cherished item in your wardrobe. The soft feeling of the yarn and the cuteness of the panda will make this pair of boot cuffs loved by all.
The superb crochet panda boot cuffs pattern can keep its character up even when you're wearing it. Recently, boot cuff has been the most fashionable trend on the street and this pattern makes the trend even hotter!
Vested Panda Ornament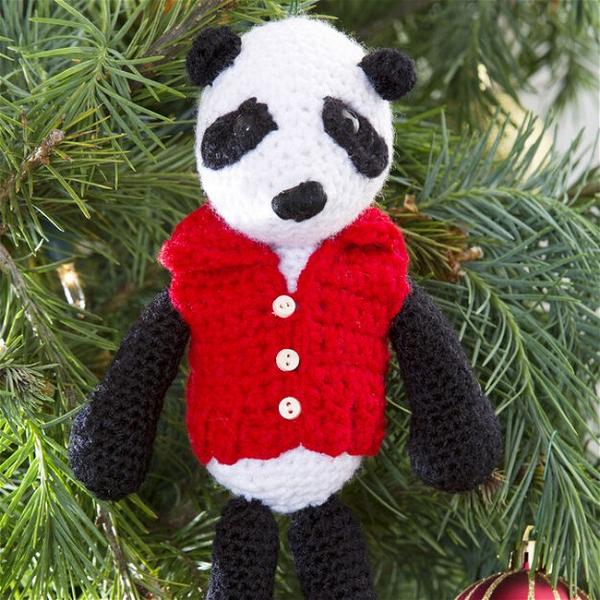 Looking for a beautiful and adorable crochet panda dress? You will learn about this adorable backpacker bear. This crochet panda is perfect for your child as a friend or a playmate. It also comes with fantastic stitches that you can use to make marvelous-looking vest templates for other crochet animals such as bears, tigers, and raccoons.
This crochet panda ornament is looking just fantastic! With the vest and cute smile, it will be a great home decoration for your family. Make it for your friends for gift-giving, or as a stash-buster project by using different design ways; this pattern is truly a versatile one.
Crochet Panda Purse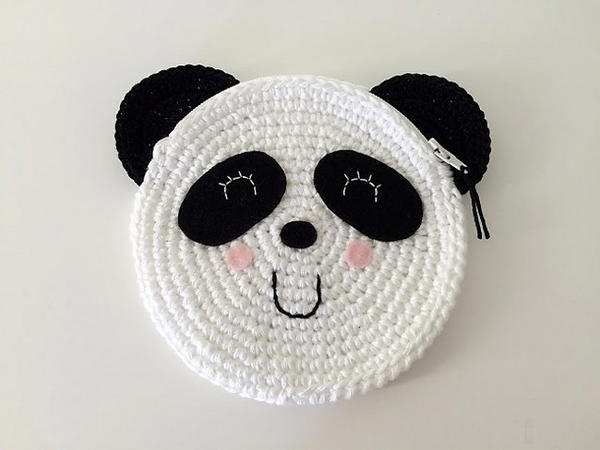 This Crochet Panda pattern is the perfect alternative to a store-bought purse. You can keep your essential items along with your day today, and make your own one-size crochet panda. This pattern uses simple neutral colors and intricate textures to add a little fun.
Gorgeous Crochet Panda Pattern gives you a stylish way to tote all of your daily-use items. You could use a different color for the body of this Bag, but this one works well. Attach eyes and nose with a yarn needle right over the working surface, and attach ears with a matching color of yarn, stitching through both layers all around. The perfect purse pattern!
Little Panda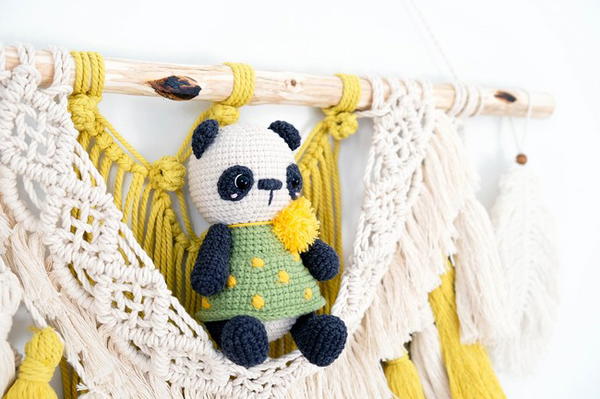 Little Panda is really cute because of its smaller size and softer stuffing. Everyone will admire these two adorable pandas, especially kids. The fabulous crochet threads are just what you need to make this pretty pair. Make them a great handmade gift for your beloved children. They can play with it all day, other than carrying them in their arms and hugging them.
The smaller size and softer stuffing are sure to make this cute panda everyone's favorite. Use your imagination to create a unique-looking panda while making this adorable little friend. Turn the pair of crochet pandas into a set of wall clocks, and they will be your children's best decoration.
Amigurumi Panda Bear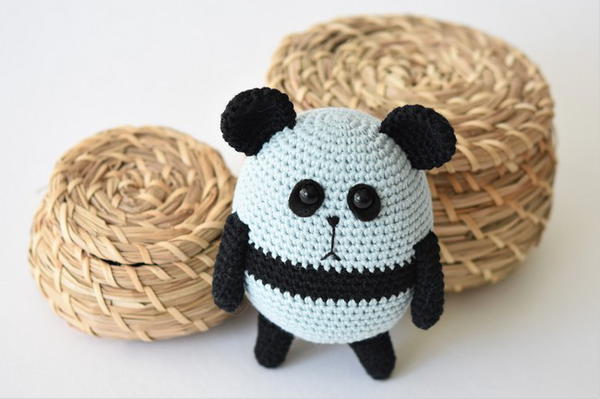 Need a simple but cute crochet pattern for your child's collection? This Amigurumi panda bear is ready to meet your requirements. Made from sport weight yarn and colored grey and black, this amigurumi pattern will be the most adorable toy for your little darling. You can adapt this pattern when you have extra time at home or simply want to make a handmade gift to a friend. The shining safety eyes and admirable texture will make this pattern your favorite one. Moreover, it is easy to customize the size of this pattern based on your own preferences.
It will be an awesome handmade toy addition to your kids' toy collection. This Panda Bear Amigurumi Crochet Pattern, which is in grey and black color is easy to make and can be an excellent gift for your sons too. The adorable crochet pattern will always win your heart.
Osito Crochet Panda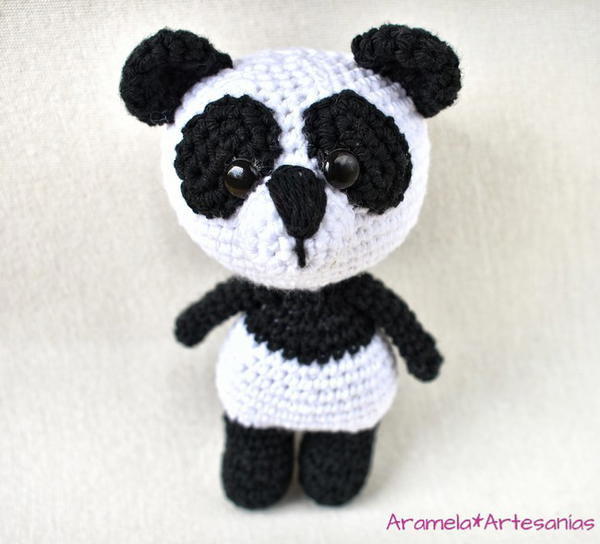 Crochet an Osito Crochet Panda and make it a beautiful decoration for your child's playroom or bedroom. Ideal for including in your favourites list, this adorable panda amigurumi comes with the wonderfully playful, snuggly pine tree standing and holding a birdie on the left hand. The hanging design of this panda will be an added advantage while playing with it. It is made using soft-to-touch stuffing material, making it even more pleasant. You will love crocheting over it and giving it to a kid too to add more happiness in his playtime.
From the author, who loves to play with crochet hooks, this adorable and unique smaller-sized panda is something that will get your attention. You can give it to a friend, or let your kid add it to his favorites list. Even you will want to crochet more for the coming days and nights.
Bonnet Panda Chaton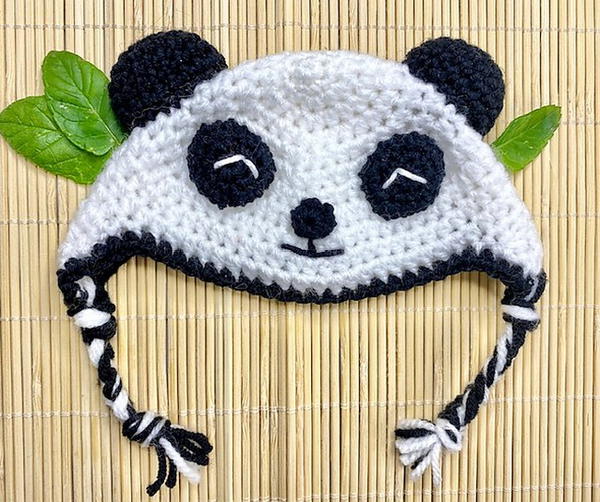 Adorable and absolutely lovely - this bonnet panda cap for your kitten! It is a perfect gift that will certainly bring you and your beloved pet closer. Its incredible texture and the hanging tassels on both sides make this adorable cap an excellent choice if you are looking for an accessory to give your cat a cool look while keeping it protected from cold.
Complete your kitten's image with this adorable panda cap! Its black and white colours, as well as its hanging tassels, charm the heart of all animal lovers. You can customize this cap's size and use it to make cute facial expressions on your funny pet!
Firefighter Panda Amigurumi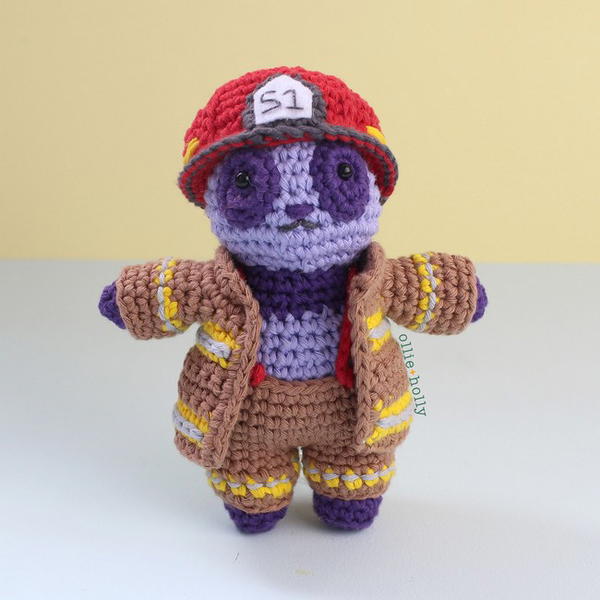 This hand-crocheted firefighter panda amigurumi pattern is very fun to make. The instructions are given for a simpler design and adorable addition to your child's toy collection. You can also make it a single crochet piece and then make the removable vets separately to add a superb touch. Make sure you have some cotton fabric pieces of brown maroon red and white, white cotton, and dark brown colored buttons.
Pocket Panda Free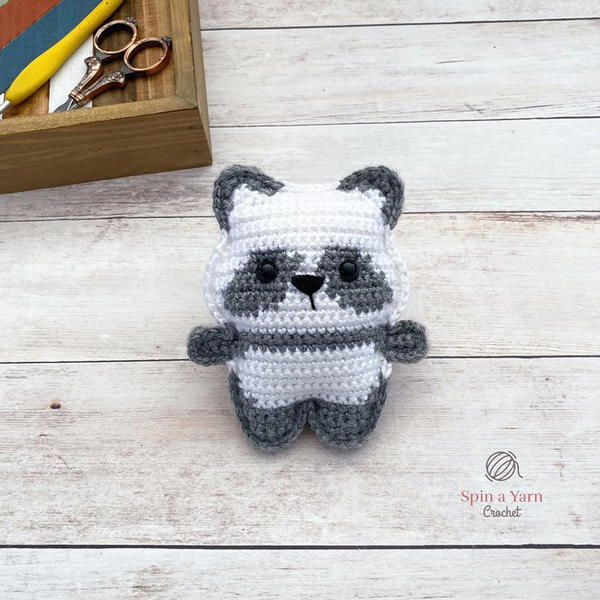 This pattern is for a miniature panda who will be your best friend and make you smile every time you see him. His adorable smile and the natural colour of his fur will create a positive aura around him. His belly is filled with safety eyes and stuffing; it turns this crochet amigurumi into a toy for children. Why not give it as a gift to somebody you love?
This pattern shows you how to make a little panda friend. His belly has safety eyes, making him ideal for kids. This pattern is easy enough for a beginner but still looks great when completed. This stuffed panda pattern is so adorable! The stuffing and eyes add to the toy's personality and make it fun to play with. It makes a beautiful gift.
Panbat or Panda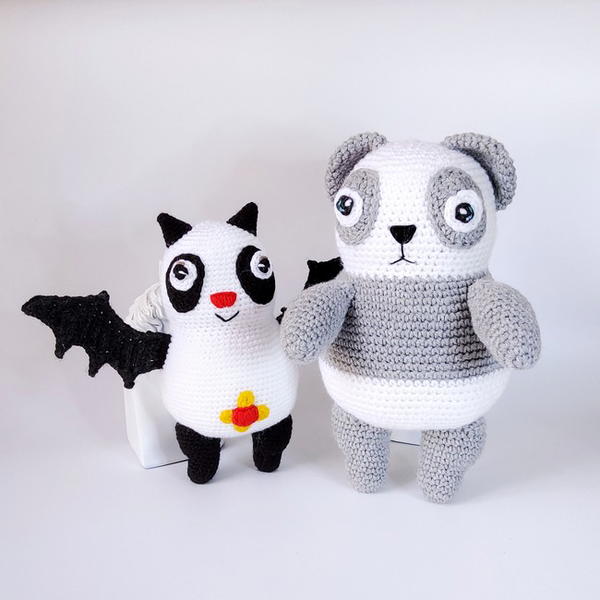 Crochet a panda for your child's toy collection. This pattern is versatile; you can even make it into a toy bear or a baby doll. It will definitely be one of the treasured favorites of your young ones. Crochet this baby panda toy for your favorite little one. The pattern is versatile; you can make it into a teddy bear or a baby doll too. Soft and cuddly to touch, this will definitely be one of the treasured favorites of your young ones.
Panda Chieko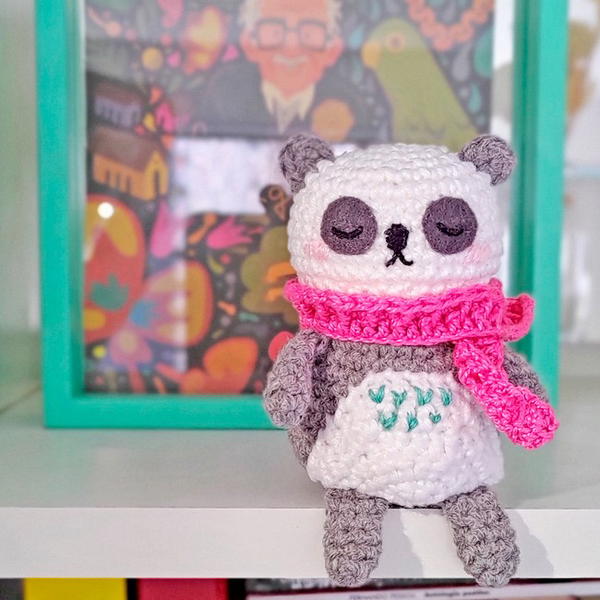 This adorable panda amigurumi is a sweet little gift to make for all your friends who love cute furry animals! Panda Chieko stands out with black and white patterns. He has large round eyes that are simple yet very effective. If you love making amigurumi that is easy and quick, this pattern of Panda Chieko is suitable for you!
Wanna give someone a cute handmade gift? This little panda is the answer. Chieko stands out with his round eyes, zig-zag tail, and black & white pattern. He's so cute! If you love making amigurumi, you'll love this pattern.
Panda Bear Tissue Box Cover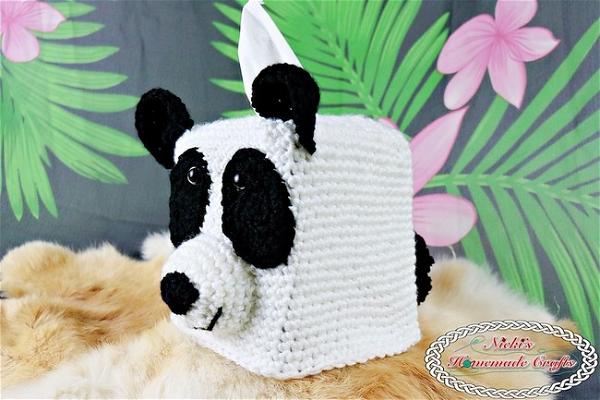 Who doesn't love watching the King of the bears, Panda Bear in Kung Fu Panda? If you are a fan like me and enjoy the cute little panda bear, wouldn't it be fun to decorate your house with an adorable panda bear print tissue box cover? This tutorial is easy and quick. You don't need to be a talented sewer or an experienced hand cutting out all those pieces. Just take your time and piece together this sweet little panda bear.
Panda Applique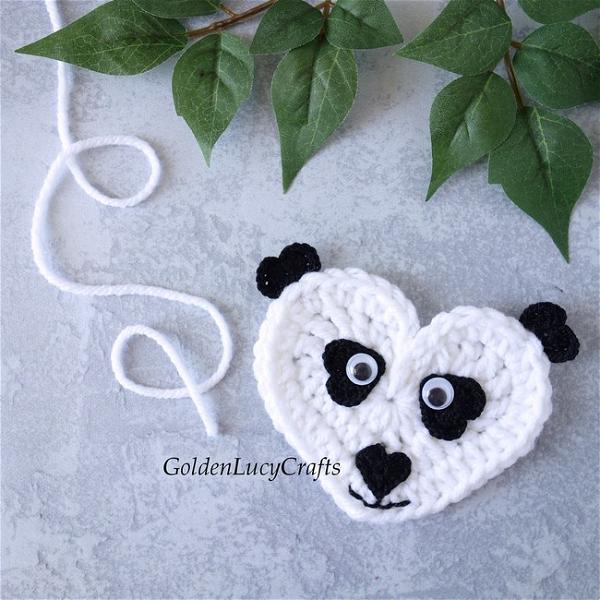 This cute crochet applique is the perfect gift for a loved one. The face, eye patches, ears, and nose are made from heart shapes! Cute, fun, and easy to make. Give it as a decorative item or use it as a part of your apparel. Perfect for children's wear and accessories such as bags, hats, shoes, and many more! The Panda applique is a perfect addition to any crocheted garments or accessories. The pattern incorporates a repeating base heart pattern that forms the face, ears, and nose of the Panda.
Red Panda Tail Wrapped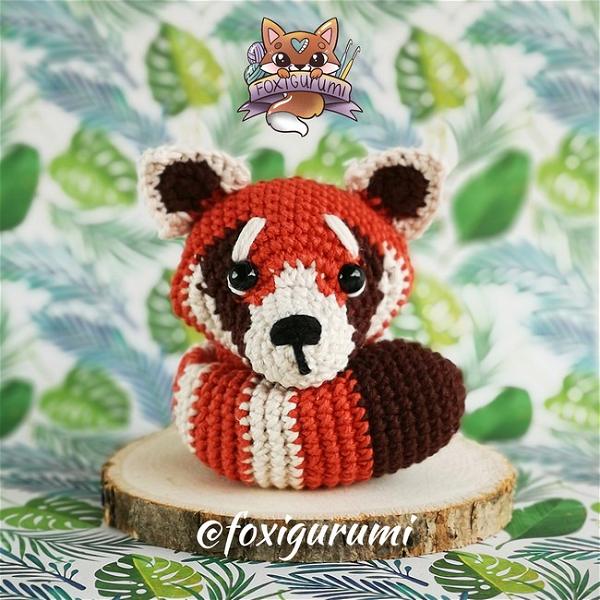 This pattern is a personal test and change from the original, this Red Panda won't be bigger than palm size, with only one hook and two or three colors of yarn. Step by step picture tutorial is easy to follow. This pattern could help you quickly to catch your hand when you are confused about getting started on your first project. This handy pattern helps you start crocheting your own red panda in no time. Crochet with simple stitches and familiar techniques, you'll have this guy finished before you know it.