Is there anything more comfortable than a pair of warm, homemade slippers? From pretty to practical and every style in between, these 20 Crochet Slipper Patterns are sure to inspire. Whether you're looking for a gift for someone special or just want to treat yourself, these slippers will keep your feet cozy all season long! They are quick and easy to make and a great way to use up odd bits of scraps leftover from other projects. Crocheted slippers add a difficult step but are the best handmade slippers to last a long time. They're pretty, too! These are mostly easy-to-crochet slippers that can be completed in one day as a great last-minute Christmas gift idea!

Slippers are a great way to use up leftover yarn and make something useful. These free crochet slipper patterns are perfect for beginners and will ensure your feet stay toasty warm all winter long! This collection of crochet slipper patterns features slippers in a variety of styles, Cozy Sock Slipper, Leftover Yarn Slippers, Luxe Loops Slippers, and even Twin Peaks Slippers, etc. The great thing is that they don't take long to make, and you can put them on as soon as you finish knitting them! It is a very easy project, and it only requires simple stitches. You'll love the wide selection of patterns in this collection! Crochet slippers are such a fun project since they only take a little bit of yarn and crochet up so quickly.
Tips To Crochet Slippers Patterns
If you love the comfort of handcrafted footwear, consider learning to crochet slippers. It is not difficult to make a pair of slippers, and there are many free patterns available on the internet. Read these tips to learn how to find and use crochet slipper patterns.
Find a pattern that suits your skill level. If you are just learning to crochet, it is best to start with a simple pattern until you get used to the techniques required. It is also helpful if the pattern includes clear step-by-step instructions along with diagrams or photos.
Choose a material you like working with and practice making your stitches with it before beginning your project. You will be more successful when using yarn or thread that is soft enough for your hands and eyes but not so thin that you cannot see the individual stitches.
Crochet slippers are worked from the bottom up, so start by making a chain approximately four inches longer than your foot length using half double crochets (hdc). Be sure to include an extra stitch in your chain length to account for turning at the end of each row, then turn and place one hdc in each stitch across until you have reached the desired width.
Benefits Of Crochet Slippers Patterns
-There are many advantages to knowing how to crochet slippers patterns
These free patterns can help you become more independent and save a lot of your money.
Another benefit is choosing the right pattern and making them fit your needs.
Crochet slippers can extend your wardrobe options.
Crochet slippers are made with complicated techniques.
These slippers offer different benefits compared to regular ones.
Crochet slippers help you relax and stay comfortable while walking around the home barefooted.
You can personalize them.
You can make for gifts your friends and family.
Get cozy and stay warm in your crocheted pair.
The slippers have excellent traction on most floors.
Cozy Sock Slipper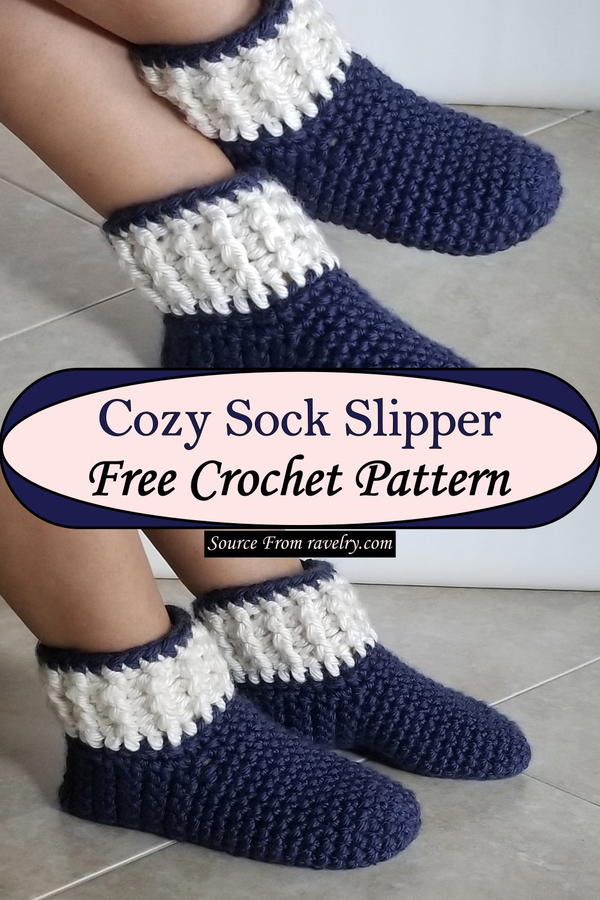 Cozy your toes with this sock slipper pattern, great for those times when it is just a little chilly inside. Pick your favorite team colors and make a pair of these comfortable warm socks for yourself or for a friend. It is perfect for when there is a chill in the air. They will keep your feet feeling warm and looking cool while protecting your floor from getting dirty. This tutorial shows you how to make these fun-to-wear sock slippers using the Lion Brand Yarn Hometown color yarns in San Diego Navy and Houston Cream.
Leftover Yarn Slippers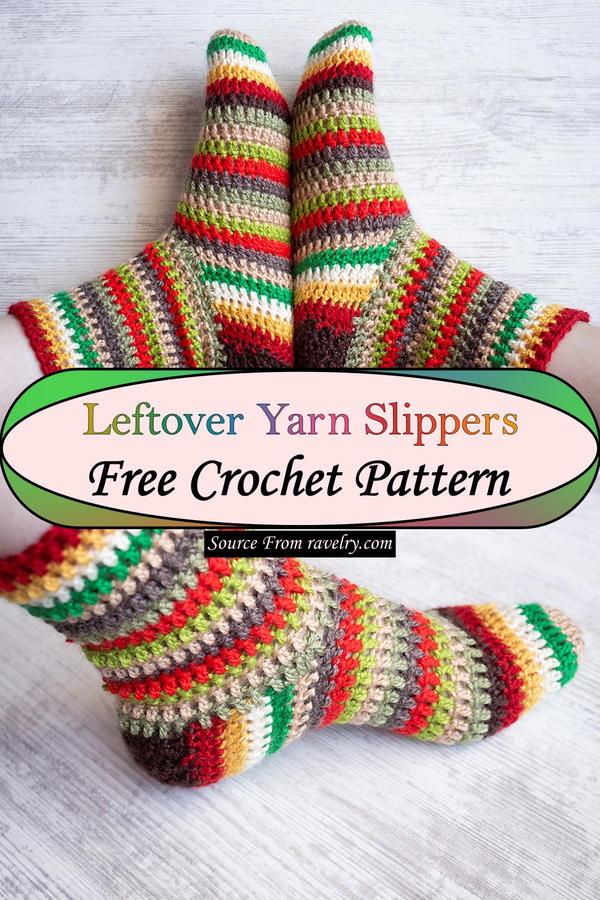 Are you looking for a gift for that special someone? Or do you just want to make yourself something cute and cozy? These slippers are not only easy to make, but they are a great way to use up odds and ends of leftover yarn. Chances are you've got plenty of leftover yarns and scraps in your stash, so why not put them to good use by making a pair of these slip-on crochet slippers? They are warm and comfortable to wear, but they're colorful too. This crochet pattern makes comfy slippers for the entire family and uses just a few yards of that leftover yarn you don't know what to do with.
Animal slippers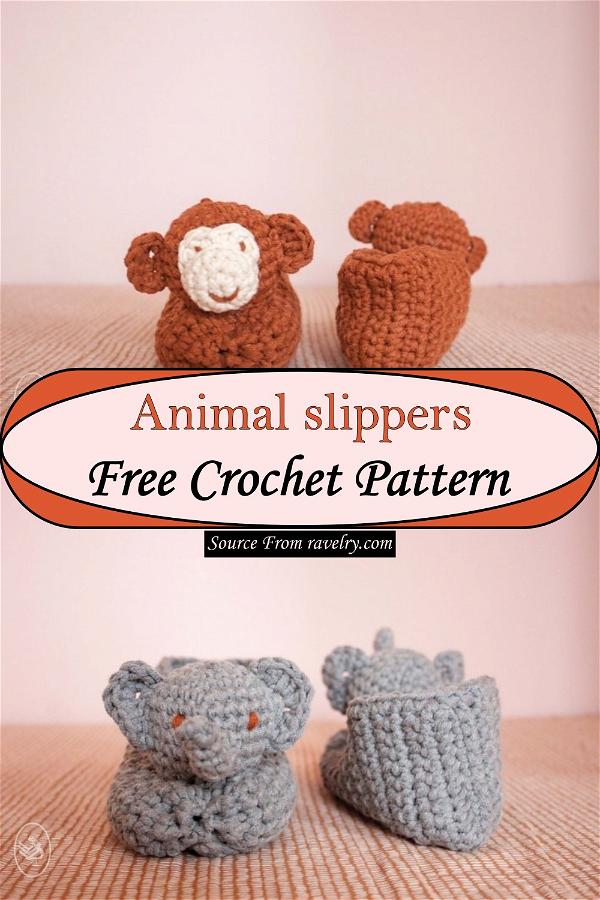 These adorable slippers are great for adults and kids. These adorable crochet animal slippers are so cute to wear around the house. The elephant and monkey heads make them extra special. These slippers can be made in any size. They would be wonderfully made with your leftover worsted weight scraps. Suitable for beginners! They are perfect for women, men, and children. These cute crochet slippers can be worn as slippers or shoes. They are perfect for home, garden, or even the beach! These slippers look wonderful if you use soft yarn and make them in less than one hour.
Slippers For Him Tommy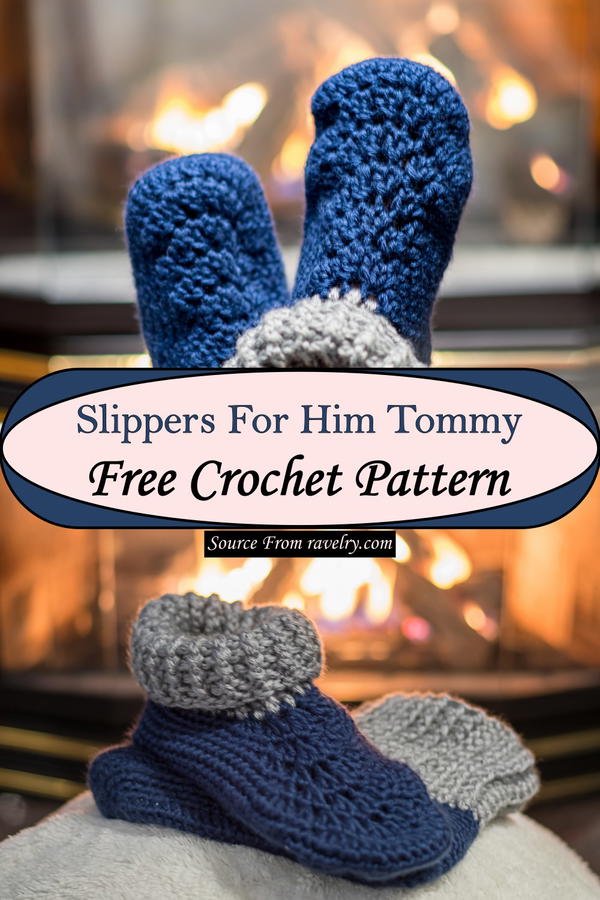 The Crochet slippers For Him Tommy are made with 100% wool and are insulated against the cold. The given slippers are the perfect gift for Christmas because of the stylish wool blend; they'll be excellent for keeping your feet warm. Soft and lined for extra comfort when you walk, this hand-crochet slipper will keep your toes cozy in every season. They are easy to slip on and comfortable to wear with a thick, plush sole that absorbs impact as you walk. Made from a cotton-wool blend. Sturdy and cozy, these one-of-a-kind slippers are perfect for the indoors, but sturdy enough for the outdoors. These slippers will keep your feet warm even on those freezing cold winter nights.
Luxe Loops Slippers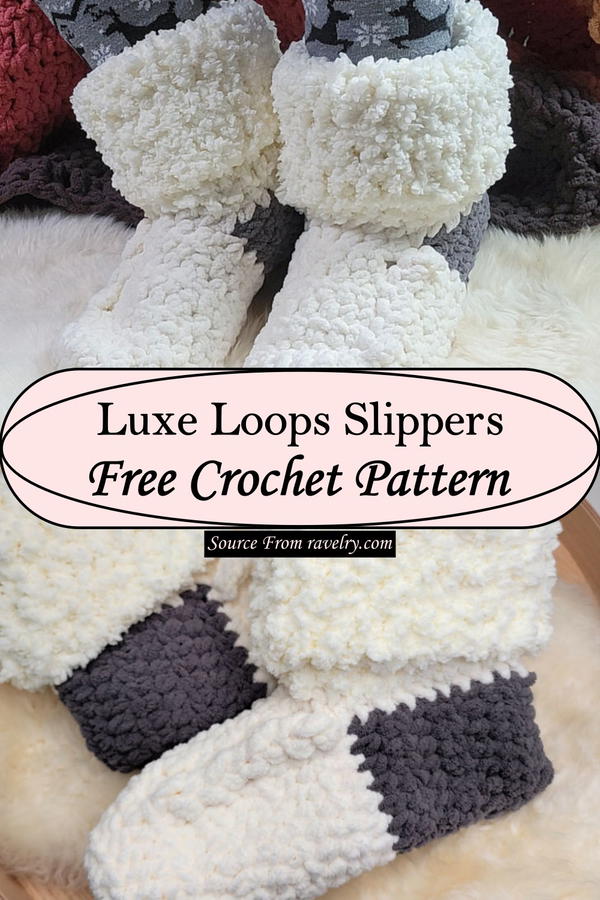 Your feet deserve the best, and these slippers are just that! With a luxurious plush feel and cute loops, these slippers will keep your feet cozy all winter long. These slippers make a great gift set with a matching headband! Designed to fit most feet, these slippers are the perfect cozy accessory. Easily customized for different foot sizes and shapes just by changing the stitch counts and row/round counts. Great for kids through adults too! These slippers are ultra-plush and cozy - and quick to whip up too! The best part about them (besides their softness) is that they are completely customizable to the size of your foot in length, width, and height. They're top-down, so you can work on them as you go and adjust for a perfect fit.
Kids House Slippers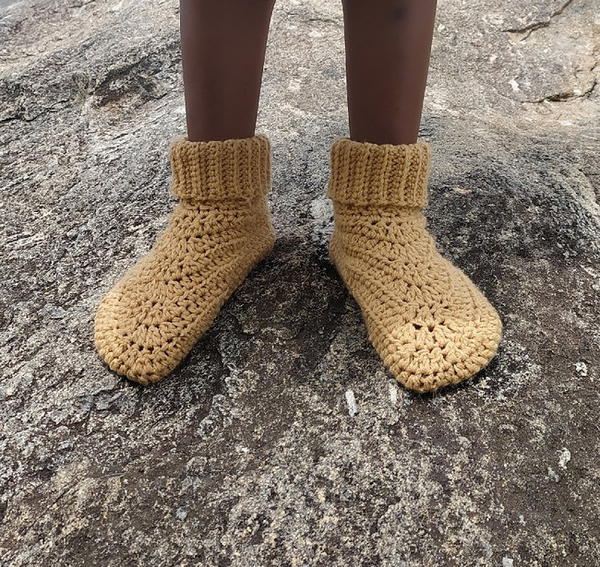 Your feet will stay toasty and warm when you wear these kids' crochet slippers. They are great for use at home or carrying backpacks during the colder months to protect from cold floors when visiting friends. In this pattern, you will receive a step-by-step tutorial on how to make these Crochet Kids House Slippers. You need to know the only stitches you need are slip stitch, single crochet, half double crochet, and double crochet. Easily customizable by adding or decreasing the number of increases made in the sole. It is a very detailed pattern with many explanatory pictures. The foot has a very sleek shape as it is worked sideways with no seams in the front or back of the foot.
Hedgehog Slipper Socks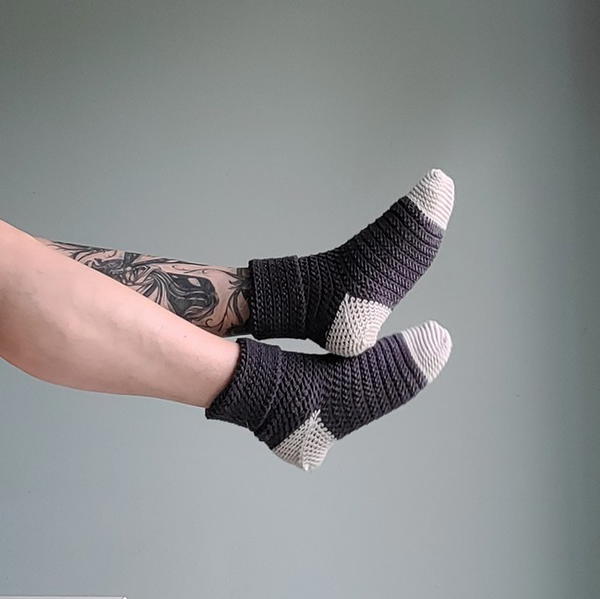 Learn to crochet socks in no time with this fun and addicting crochet slipper sock pattern. Slip-on these cute and cozy hedgehog slipper socks, made from the softest polyester fabric. The hedgehog image is printed directly onto the socks so it won't fade or chip away over time. Sublimated socks are warm and stretchy for a comfy fit, with plenty of cushioning in the soles for relaxing around the house. Crochet a pair for you, your friend, and all your friends! It's almost instant gratification for any level crocheter. The best part is that no one will believe you made these cute crochet socks yourself!
Fuzzy Slippers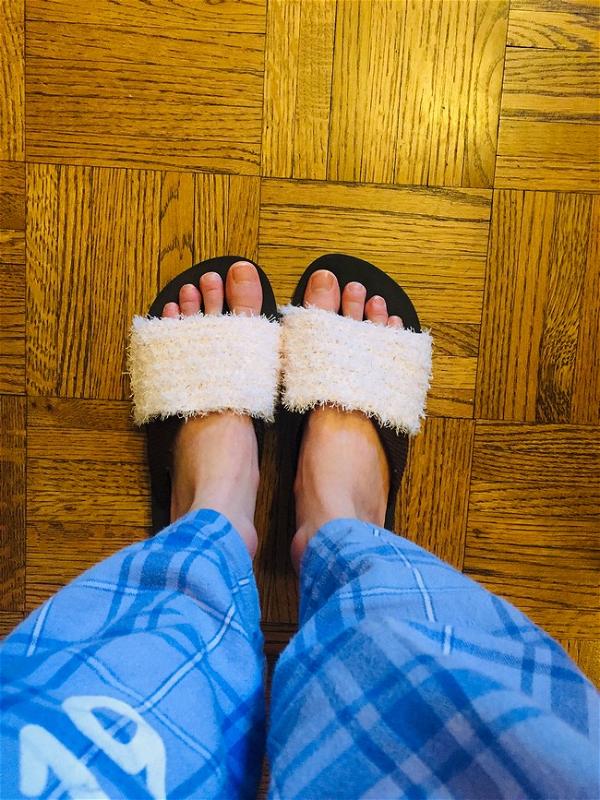 A lot of moms like to wear fuzzy slippers, and you can really get creative on these. You can make them in all colors, and they'll love them. These slippers are the ideal last-minute gift for a special Mother's Day present for your mom or wife. Make them in her favorite color and she will practically live in them all winter. These fuzzy slippers are easy to make as they are made from a flat pattern, single crochet, and double crochet, making them perfect for beginners!
Reggie Slippers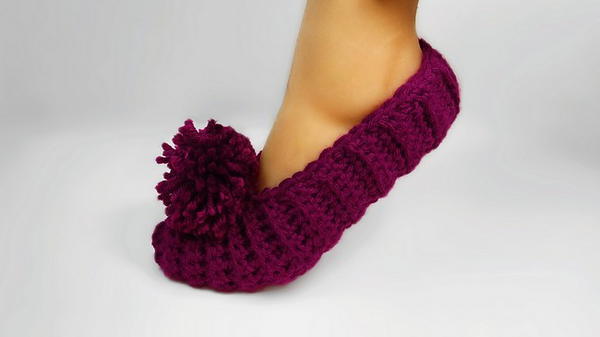 EASY Crochet Slippers are cute and comfortable! These crochet slippers for beginners will keep your toes warm and toasty. Plus they are super fast to create! You can work up a pair in about an hour. These gorgeous fast and easy booties are perfect for beginners. You can work up a pair in no time at all! The best part is that you will be able to keep your toes warm on those chilly nights! Make them for yourself, family, and friends in no time! These slippers will keep your feet warm and make the perfect easy gift.
Lace-Up Slippers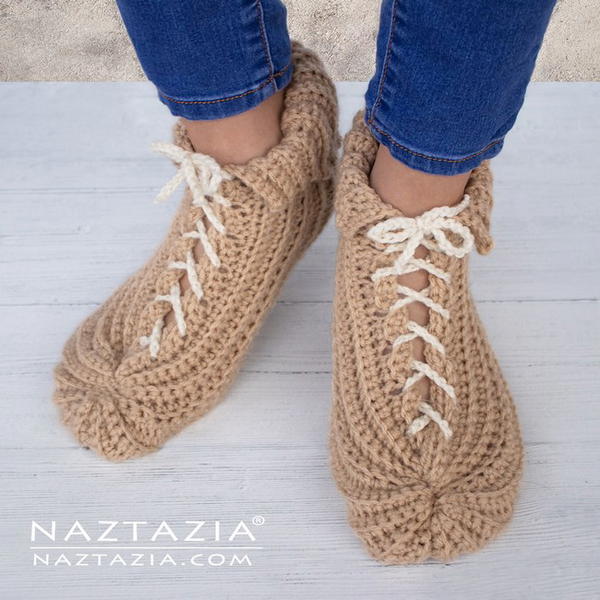 Slip into these cute crochet slippers and keep your toes cozy on chilly mornings. These slippers are simple to make and perfect for lounging around the house. You will have no problems crocheting these slippers if you can single crochet. You will love the convenience of these slip-on crochet slippers. No more tying and untying; just slip on and go. These flats are the perfect house shoes to wear around the house or garden, these flats are an instant classic. Wear with jeans or a dress for a casual look. Make them as a gift or for yourself! You will love their beautiful design and the fact that they have no seams!
Spooky Slippers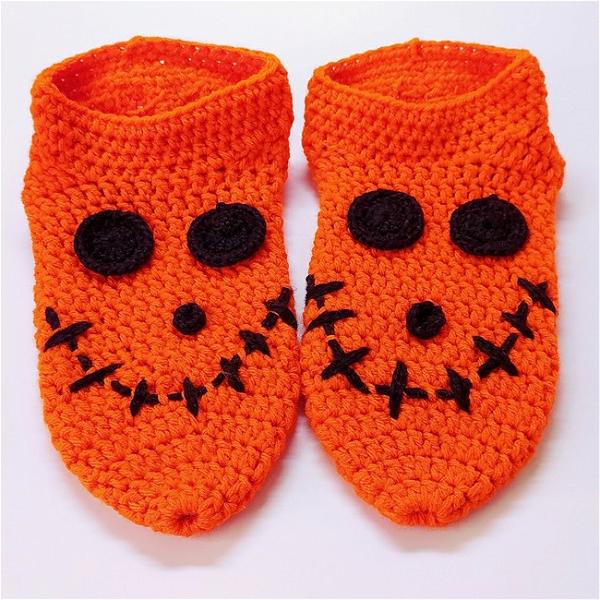 Get in the Halloween spirit with these Crochet Spooky Slippers! Halloween is just around the corner and you know what that means – fun costumes, Trick or Treating, decorating your home with pumpkins and jack-o-lanterns, and of course, filling up on all of your favorite Halloween candy. These adorable slippers are crafted from a soft fabric and feature a spiderweb design on the sole accent. They will keep your feet warm while looking awesome! Perfect for slipping on after a bath or shower. The crochet pattern makes these slippers very soft and flexible, which makes them easy to wear around the house all day.
Everyday Unisex Slippers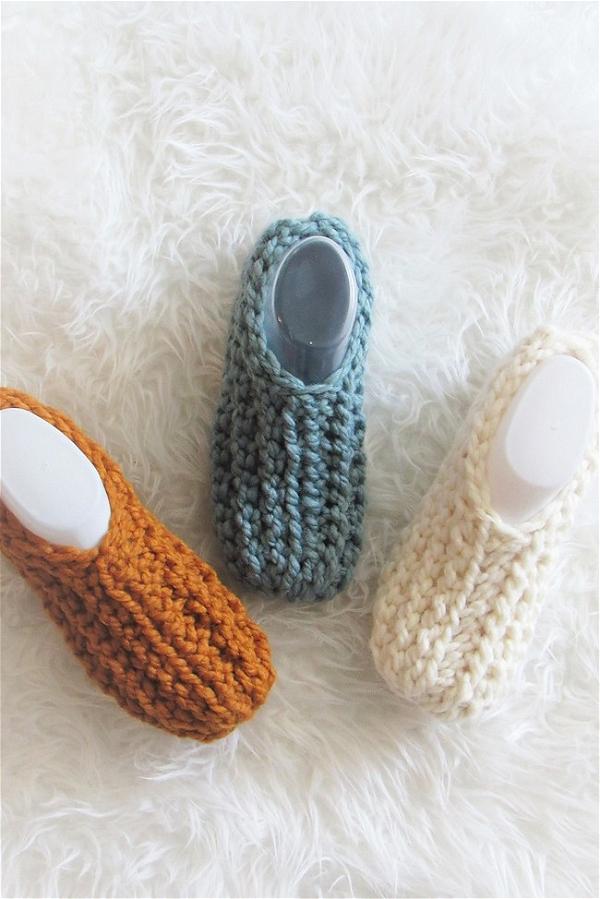 These simple little slippers are the perfect comfort for chilly days. Stay warm at home wearing these comfy, cozy Everyday Slippers. These slippers are designed with a cotton fabric upper and a flexible, durable sole for all-day comfort. This crochet unisex slippers is a perfect gift for your loved ones, or even yourself. It is hand-made with soft acrylic yarn to be like walking in the clouds. The tension is loose to give it that slouchy look but still be comfortable.
Crochet Adult Slippers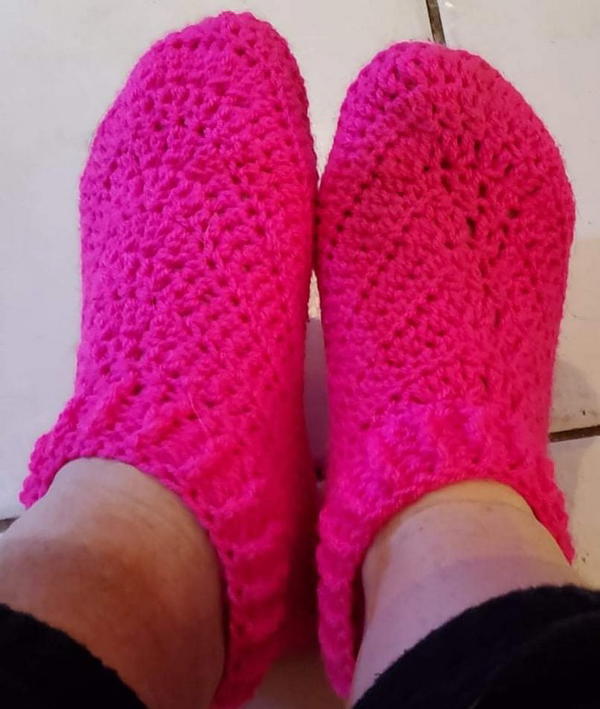 Stay comfortable in these warm and cozy slippers. These adult slipper crochet patterns are perfect as a gift to yourself or someone you know because they are easy to make. It's beginner-friendly as it makes use of simple crochet stitches. Made with simple stitches and a wool material of your choice, these slippers are the perfect addition to the home or a fabulous gift for the cold months. Choose your favorite colors, get hooked and create these beautiful, cozy adult slippers today! These are worked flat so they are easy to make and use regular crochet stitches.
Summit Slipper Socks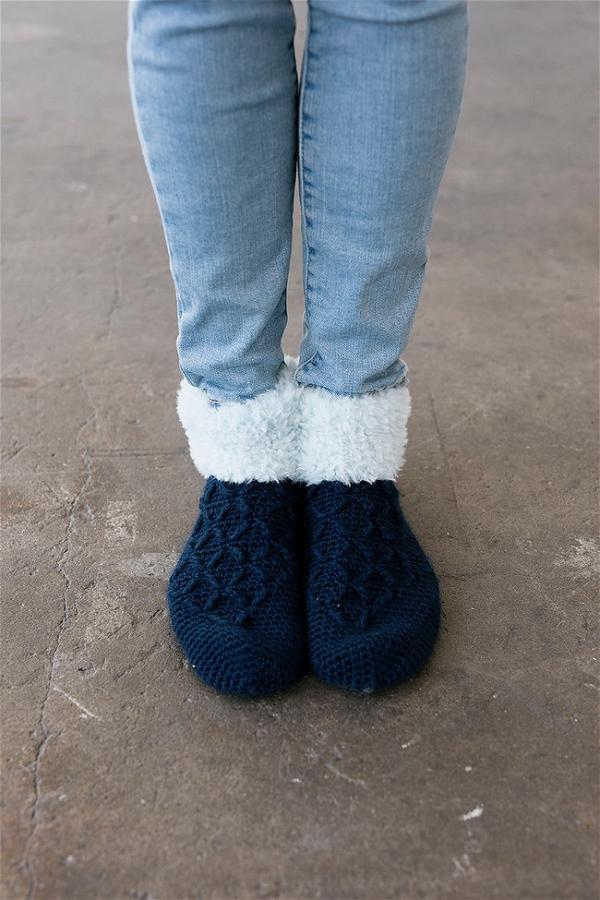 The Summit Slipper Socks will keep your feet cozy and warm during those lazy weekend mornings. The wide faux-fur cuff around the ankle and a textured lattice detail down the toe add a touch of luxury. These crocheted slippers are made with cables and post stitches and finished off with a sewn heel before being topped with a furry cuff. It's time to get cozy with these luxurious slipper socks. Worked in unjoined rounds from the toe up, then worked in turned rows to form the sides of the foot and heel, this project is designed for an intermediate crocheter to work up quickly.
Twin Peaks Slippers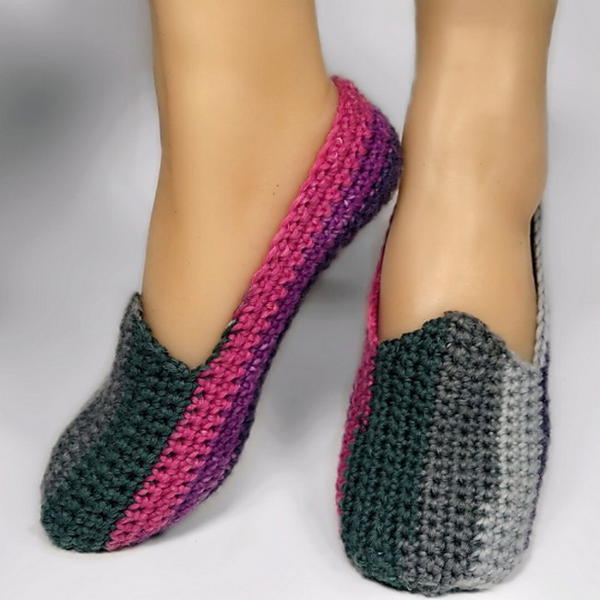 Get ready to tackle your first crochet project with these beginner-friendly slipper socks. The easy single crochet stitch and simpler shaping will have you cozying up in no time. They're comfortable, functional, and fancy-free! These cute and cozy crochet slipper socks are perfect for keeping your tootsies warm at home. The pattern is worked entirely in rows, and you only need to know one basic crochet stitch – the single crochet. They make a wonderful gift for yourself or a friend! The simple construction allows you to create color combinations that are uniquely your own – making these slippers fun for any occasion!
Arabella Slippers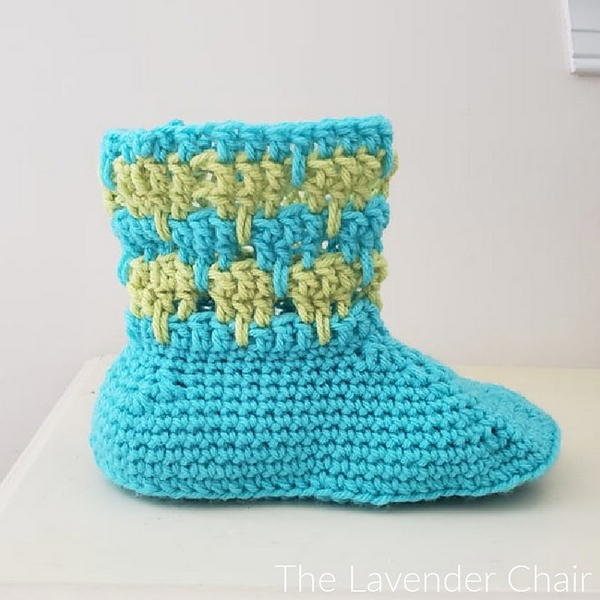 Do you look for a gift for your mother, sister, or girlfriend? Look no more. These handmade crochet Arabella slippers are perfect for winter. Beautiful, soft, warm, and non-slip. Add a pop of color to your wardrobe with these beautiful slippers. Crocheted with colorful yarn, these cozy house shoes will keep you toasty this season. Soft and elegant, these Crochet Arabella Slippers are cozy and comfortable. They're perfect for relaxing around the house. Keep your feet feeling toasty warm in these gorgeous crochet slipper socks.
Peppermint Stripe Guest Slippers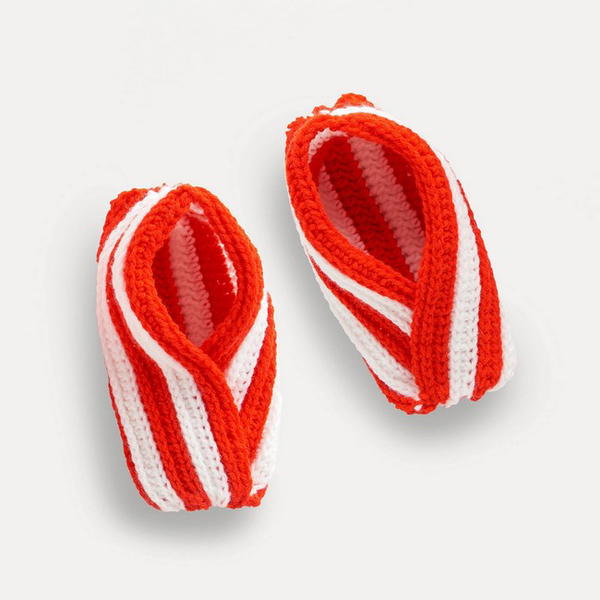 Crochet Peppermint Stripe Guest Slippers are just the thing to make you feel cozy and festive around the holidays. Make these cute and cozy cuffed slippers as a last-minute gift this holiday season. They're perfect for staying warm during winter break, traveling to visit family, or wearing around the house on that grumpy morning when you haven't had enough coffee yet! Crocheted from easy-care Soft Yarn in festive holiday colors and embellished with simple peppermint stripes, this is a fun and easy pattern for beginner and advanced crocheters alike.
Coffee Bean Slipper Socks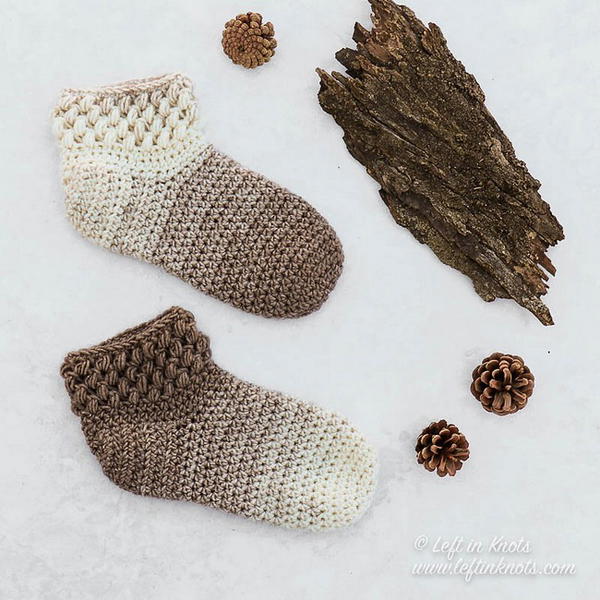 This crochet pattern will fit most adult women's feet. It is a great beginner project for those who want to create a crochet bean stitch pattern accessory. Add these slipper socks to your fall and winter wardrobe. They are perfect for lounging around the house on cold winter days. They also make a great gift for friends, family, and teachers. These ankle cuff slipper socks are made in the bean stitch, adding a little texture. These have the right amount of coverage, so they aren't too hot to wear inside. They would also be super cute with jeans peeking out.
Slipper Boot
Crochet is a wonderful craft and the styles you can work up are endless. This slipper boot pattern is easy enough for crochet beginners to create, yet stylish enough that it looks like you spent a lot of time on it. Paired with a pair of joggers and an easy tee, it's perfect for relaxing at home. It's a refreshing little item that you can make from one panel. Made using the back loop single crochet stitch, with a little spice added by faux fur pom poms, this is one of those patterns that will be gratifying to see your accomplishments.
Chukka Slippers on Flip Flop Soles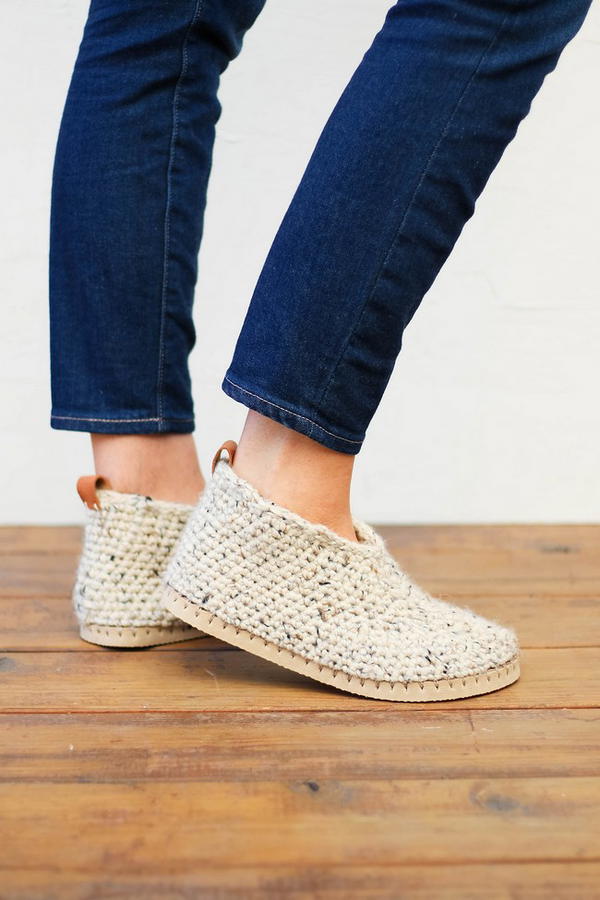 Get ready to nurture your inner cobbler, and bring some joy to your feet! With the comfort of handmade slips and the functionality of actual shoes, these chukka-style slippers with flip flop soles are your little slice of heaven that you get to take with you. You'll use nothing but single crochet stitches and inexpensive flip flops to create a perfect pair of cozy and comfy house shoes with a durable bottom. Embrace the challenge and walk away with a fabulous new pair of slippers! Bring the comfort of handmade slips plus the functionality of actual shoes to your feet with these chukka-style slippers.