When you come to the hats, you find very prevalent variations in crochet hats, and slouchy hats are undoubtedly one of them. They are the favorite of everyone because they aren't significantly affiliated with any particular season or weather. You can use them according to your needs and choice in winter or fall. The superb given collection of crochet slouchy hat patterns is full of unusual and exciting patterns to make. Crochet slouchy hat patterns are quick and easy to make. Here you will find some of the most beautiful, stylish, and amazing crochet slouchy hat patterns that you have ever seen. These slouchy hat patterns also have gorgeous, unique designs; they are amazing.
Crochet Slouchy Hat Patterns: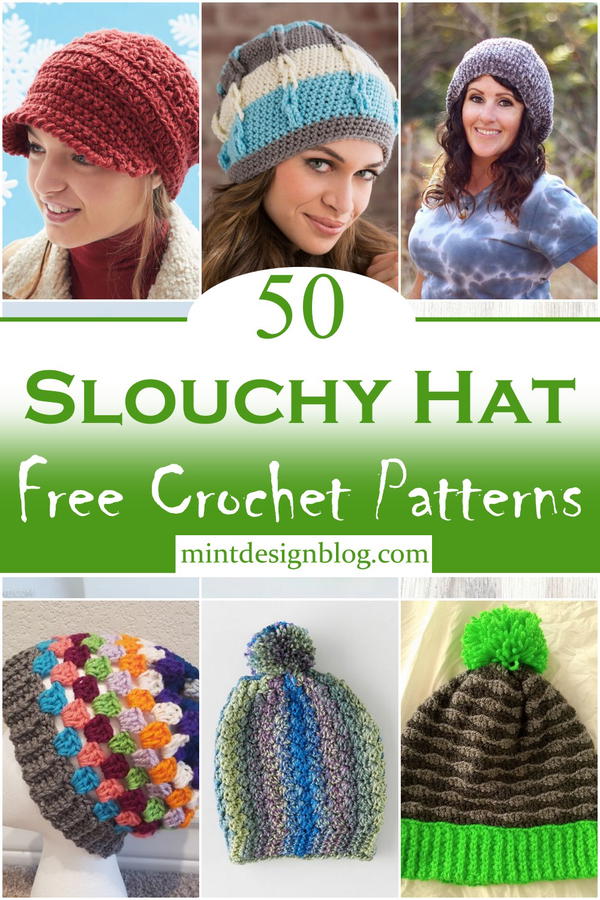 These crochet slouchy hat patterns look so tempting and charming that you cannot resist them. It can be worn by a baby, toddler, school-going kid, teen, or adult. The most common feature of a slouchy hat pattern is its asymmetrical sides. They also have one or more straps. Crochet slouchy hats look extremely adorable on anyone. The crochet slouchy hat can easily match all your favorite outfits. You can either wear it with a t-shirt, blouse, and jeans or complete your casual look by adding a pretty scarf and colorful beads to complete the stylish outlooks during the fall, winter, and spring seasons.
These Slouchy hats are one of the most popular patterns for winter. If you're tired of wearing a knit hat that isn't your style, or if you want to get creative with some warm cotton yarn, try making a slouchy crochet hat instead. There are many variations of this type of hat, including beanies and berets. The following free crochet hat patterns come in several styles, so you can make a range of hats to match all of your outfits.
How to Crochet Quick Gift Slouch Hat
This gift is the perfect addition to your holiday outfit or a quick last-minute gift idea. Whether you're looking for something fun to make with scrap yarn or need a hat in a pinch, this slouchy hat is sure to please! The Quick Gift Slouch Hat features an easy stitch pattern that works up quickly and produces a cozy, slouchy finished product. Pair it with a scarf, mittens, or a pair of ear warmers for a unique, quick gift. This pattern includes sizes Plus Sizes, Women's Medium, and Large (22" head circumference), which fits almost everyone.
Crochet an Easy Slouchy Hat Tutorial
If you're looking for a quick and easy crochet hat pattern that's great for beginners and beyond, this one is perfect! It's super soft and slouchy, so it is the perfect winter hat to keep your head warm. This Crochet Quick Gift Slouch Hat is easy to make, but it looks fantastic! And best of all, I will show you how to make it with a simple pattern and lots of photos. This slouchy hat is great for any occasion - from a gift for your mom or grandma to a last-minute stocking stuffer.
How to Crochet Slouchy Beanie for men
This slouchy beanie is the perfect accessory for cold weather, and it's addictive to make! You will want to make this beanie in all kinds of different colors. It works quickly in an easy-to-understand pattern that even beginners can follow, so sit back and relax while crocheting. It makes a great gift for father's day, Christmas, or for men who like to dress casually. The pattern is easy to follow and makes a huge difference in how your project turns out. You'll love it!
 Crochet Slouchy Hat- Stepping Texture
This hat is quick and easy to make in about 2 - 3 hours; This is an easy-to-follow pattern. All you need is knowledge of basic stitches such as Chain, slip stitch, single crochet, and half double crochet. This slouchy hat is a fun and easy crochet project. It uses just one 100g ball of bulky yarn and works up quickly in just one evening! The textured stitch makes it visually interesting while still being a quick project. The pattern is suitable for beginners as well as more experienced crocheters.
Easy Slouchy Crochet Beanie Tutorial
Learn how to make your own beany with this easy crochet beanie tutorial. It's great to wear in any weather, and you can make it in any color you like! This Slouchy Beanie crochet pattern is a quick and easy project that allows you to try a new stitch in the round and learn some basic crochet techniques. The design was inspired by the slouchy beanies popular for fall and winter wear.
Slouchy Twist Beanie Hat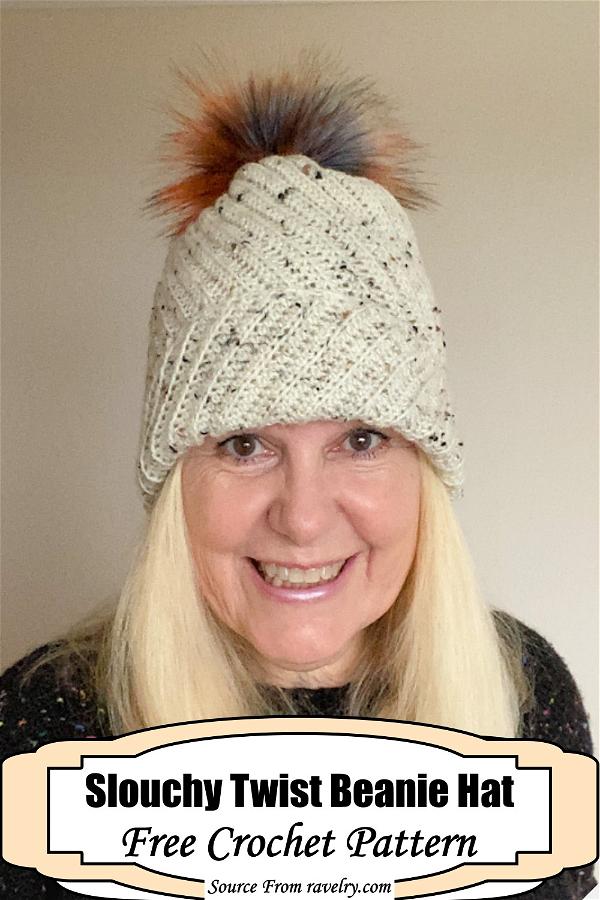 Cozy up this winter with the Slouchy Twist Beanie Hat. It is a simple, fast, and fashionable crochet pattern that can be customized in many ways! The rib-type ridges travel diagonally around the crown for a new look in crochet hats. You can use cotton yarn or any other type of yarn or thread. Use this beanie to keep your head warm or as a stylish accessory; make different color combinations to match different outfits!
Watch this tutorial for step-by-step instructions on making this Crochet Slouchy Beanie Hat using a simple, easy-to-follow pattern. We've included lots of quality photos to help you along the way too. It is a Perfect stash-busting project and ideal for those who like slouchy beanies versus the classic beanie.
Easy Slouchy Hat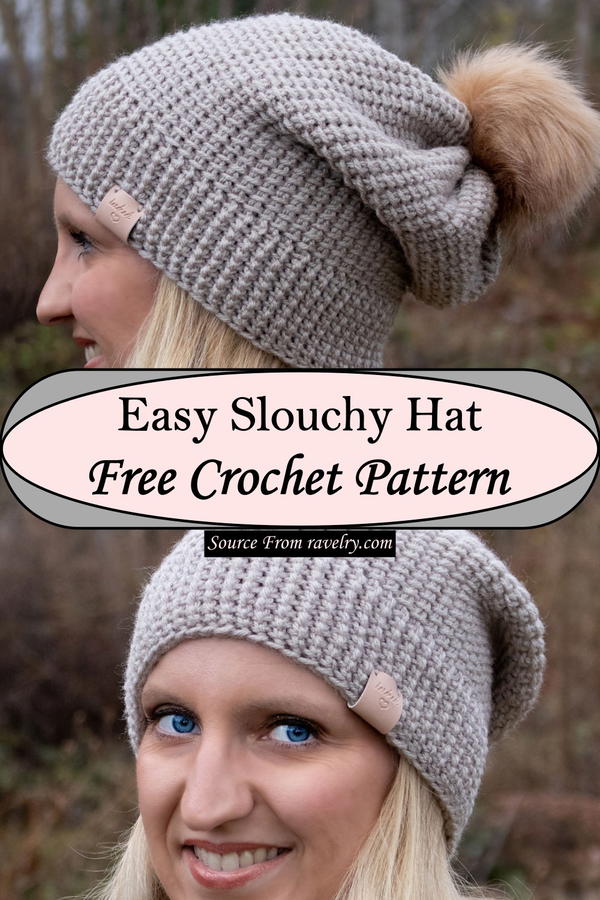 Looking for a warm winter hat that looks stylish too? This pattern will show you how to crochet a slouchy easy beanie hat that works quickly in Tunisian crochet! Perfect for wearing during the wintertime or keeping your ears warm in the fall and spring. With bonus tips and pictures included, you will be able to create this beanie hat with ease. This slouchy crochet hat is great for beginners. It only uses two stitches and a simple shell pattern. This pattern includes instructions on crochet Tunisian Simple Stitch and Tunisian Knit Stitch. Use it as an everyday hat or for fall fashion.
Mermaid Slouchy Hat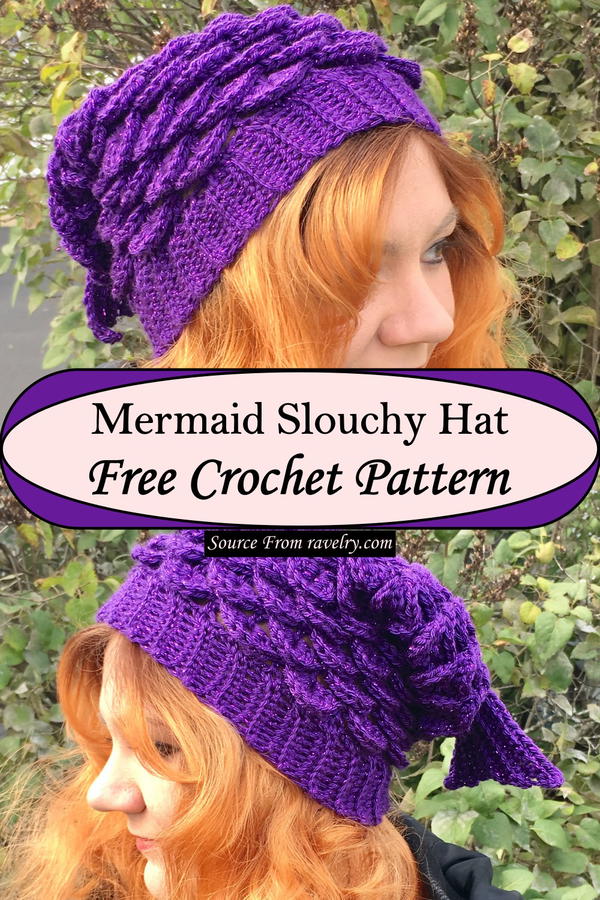 The Mermaid Slouchy Hat pattern is available in both adult and child sizes. The pattern comes in one size, but it has instructions on making the hat fit any head circumference. It's easy enough for a beginner yet exciting for an experienced crocheter. Whether you're looking for new crochet patterns for babies and toddlers or simply a creative project for yourself, this collection has something for everyone. This hat is made with a bulky 100% Aran yarn and is fun and easy to make. It is warm and cozy and makes a beautiful gift for family or friends.
Spiral Slouchy Hat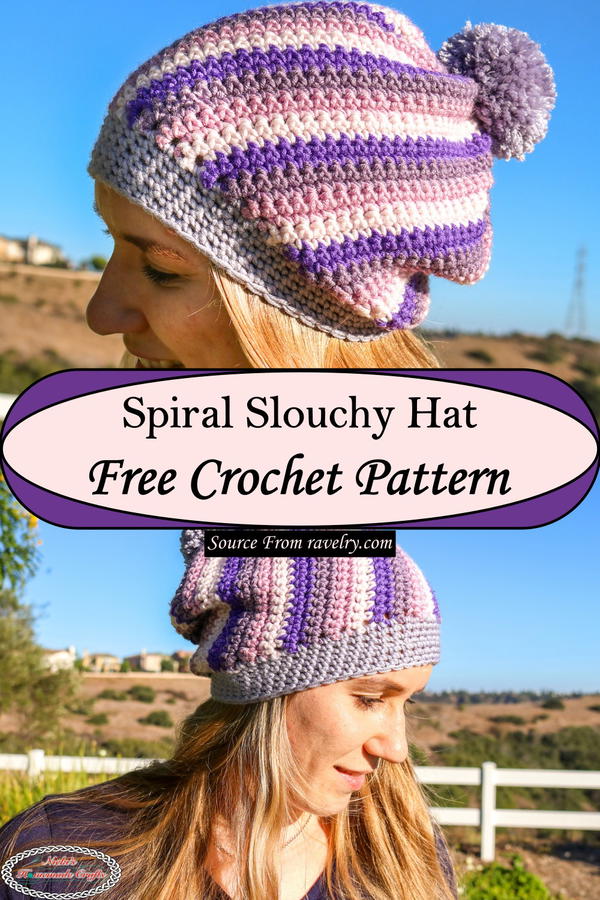 The Spiral Slouchy Hat is perfect for beginners as it only uses single crochet and has unique spiral detailing. The pattern also includes tips on adjusting the size of your hat if you need a different size than what is provided. This beginner pattern works up super fast using worsted weight yarn, and it only uses single crochet stitches.
This hat also looks great with many different types of decor as the slouchy design has no right or wrong side, so you are free to wear it on whichever side is most flattering. This hat is beautiful and versatile because it has different sizes to choose from, and you can wear it as a slouchy beanie or a regular beanie.
Slouchy Pumpkin Beret
This is a beginner-friendly Slouchy Pumpkin Beret Pattern with a fun pumpkin color combination perfect for fall and great for the whole family. It looks great with any outfit and is a beautiful gift for anyone born in autumn or just for fall fans. This super easy-to-make hat works up in no time and looks amazing! It's a great way to show off beautiful new yarns and the perfect project for getting into colorwork for the first time. You've made so many color combinations of this hat that it was hard to choose.
3 Ml Slouchy Beanie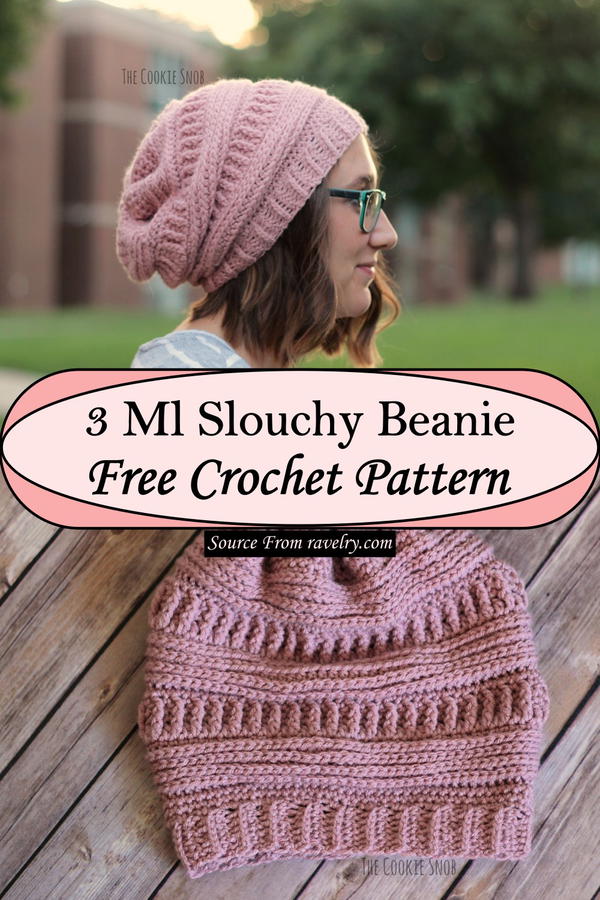 The Slouchy Beanie is a stylish and straightforward beanie that works up. A single row of simple puff stitches makes this hat look simple, but it is sure to turn heads. It is also an excellent beginner pattern or a great one to whip up when working with a limited yarn supply, as the motif can be repeated repeatedly. This snug is worked from the bottom up, in rows. It features a wide brim to keep your ears warm.
The pattern is easy to follow and suitable for beginners. This quick-to-work-up is easy enough to become a go-to pattern in your wardrobe. Crocheted in a soft worsted weight yarn, this hat is an excellent accessory for any season. This hat is designed to fit snugly but slip over your ears and stay on your head – even if you have a ponytail. The rolled brim looks great paired with jeans, a white t-shirt, a tank top and loves pants.
Slouchy Hat Beany
This Slouchy Hat Beanie is adjustable so that it will fit all heads. And the best thing is, you never have to share one hat with your friends because you can make several of these at once! This pattern currently includes instructions for sizes newborn through Adult.   This beautiful crochet Double Slouch Beanie Beach Hat is a great fashion accessory. It will keep you warm and stylish at the same time because it's very interesting looking while keeping your ears and cheeks cozy on cool mornings. The Slouchy Hat Beany project is simple to make with super soft yarn and beautiful flower applique. This fun style can also be worn with pigtails or braids.
Rainbow Slouchy Hat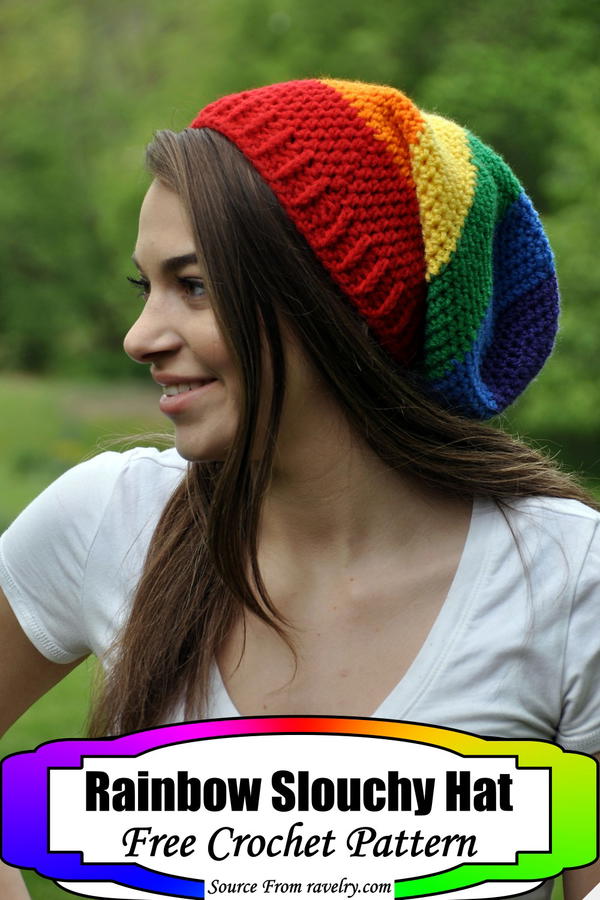 Dress up your casual look with this trendy crochet hat. This hat features an open weave stitch that gives it a super soft feel, and the multiple colors keep it interesting. Rainbow Slouchy Hat features an easy-to-work, several-color traditional granny square motif surrounded by a lovely and feminine colorwork heart band. It is crocheted from the bottom up, so you can mix and match colors and work with your favorite shades without worrying about what will appear around your hat's crown. This hat can be made larger or smaller by using different yarn weights and hook sizes.
Slouchy Beanie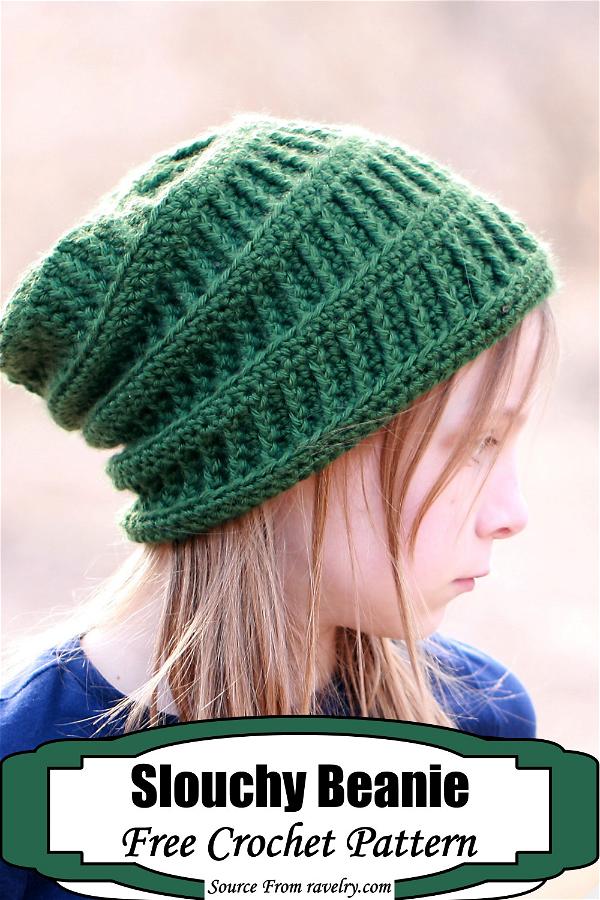 The fashionable and versatile wool beanie will keep you warm in style throughout the season. The oversized look makes it perfect for layering under a coat or jacket on colder days. It also looks great just on its own when the temperature gets warmer. Made of warm wool, it's perfect for any day of the week. You can wear it slouchy or cuff it on edge for a more fitted look. This beanie hat is also quite loose-fitting and oversized so you won't have to worry about messing up your hairstyle. Slouchy beanie made from warm Marino wool. Perfect for any day of the week.
Snowfall Slouchy Hat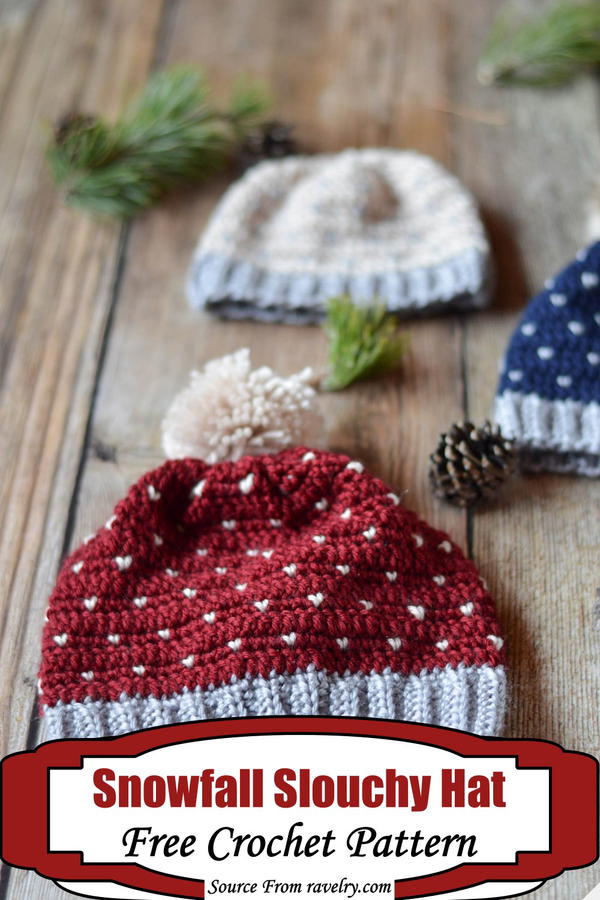 This pretty slouchy hat has a "snowfall" color pattern that looks like knit. It is made from lightweight and flexible fabric that is great for almost any season. The soft brim will keep ears warm, and the amount of slouch in the hat keeps it fabulously on-trend. The hat is knit from the bottom up in the round and is easily resized to make a hat for any age. You can see other sizes and yarn choices in the pattern notes. This Snowfall Slouchy Hat is fun, colorful, and feminine with its tiny flowers. Knit in the round for a seamless texture; it makes a beautiful gift for anyone that needs a cute hat.
Pop Of Color Waves Slouchy Hat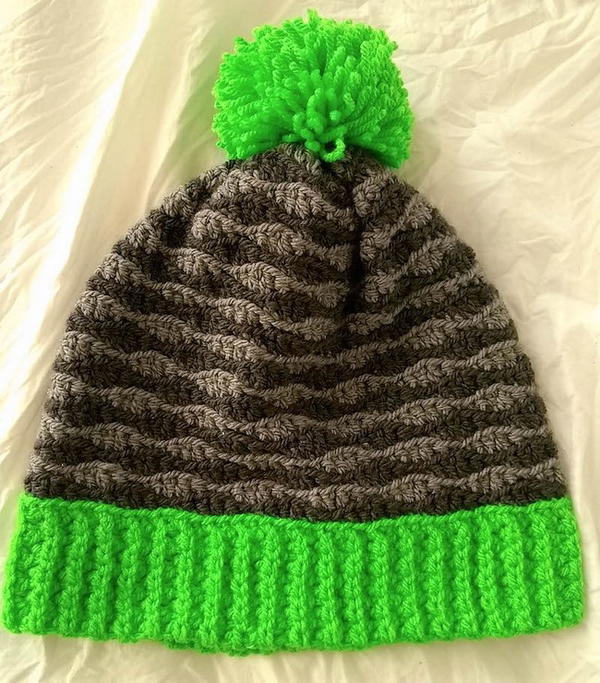 Show up at the beach or pool in this Pop Of Color Waves Slouchy Hat. Everyone will get jealous of your amazing style! Make a fashion-forward statement with this bright and bold summer hat. This slouchy hat is made with 100% cotton yarn, making it comfortable to wear and fun to show off! The stitch pattern is fairly simple and easy to remember.
It is versatile and elegant, and it can be crocheted in multiple sizes. You can wear it on mild temperatures or cold winter days, and the result will be perfect either way. This super easy hat is a gift for anyone in your life, from family and friends to teachers and neighbors. It can be made from soft pastels to vibrant brights and looks great on men and women alike.
Sheridan Ridge Slouchy Hat Crochet Pattern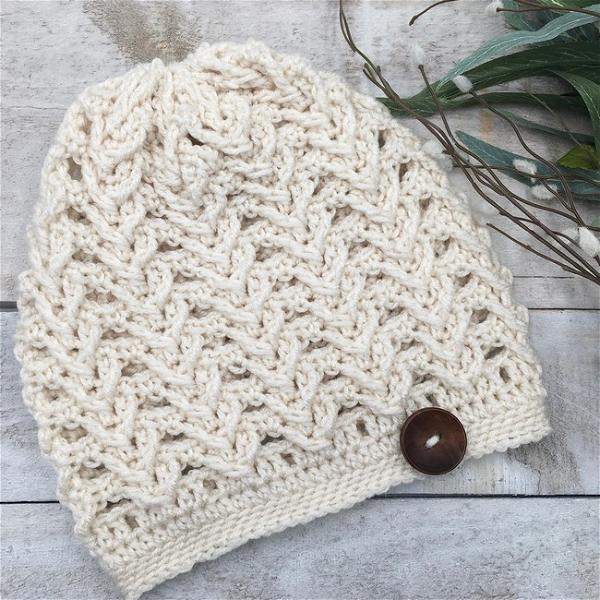 The lovely spring crochet hat pattern has a soft textured look and design. You will love the simplistic style of this crochet pattern, which allows you to stock up on several crochet hats for your wardrobe. The best part about it is that you can make more than one crochet hat in just hours with minimal materials. This crochet slouchy hat pattern is brilliant and easy to crochet.
It has a simple stitch look which gives the beauty of a design pattern. This hat pattern is a perfect choice for your spring accessory. Whether you're looking for a warm fashion-forward winter design or just something cute and casual for everyday wear, you're sure to find something in this roundup that will catch your eye
Crochet Stripe It Slouchy Pattern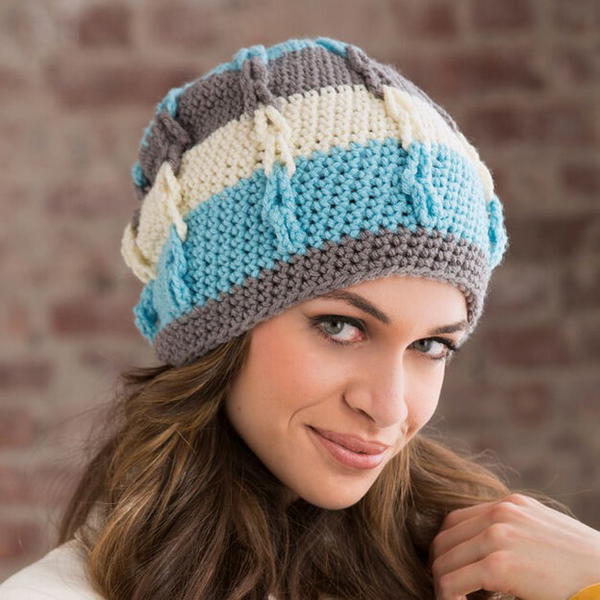 Lose yourself in a world of crochet. Crochet this stunning hat to create a casual fit that is perfect for colder months or for enjoying a beer on the patio while watching your favorite team win! This pattern is easy to follow, allowing you to create the most comfortable fit for any season. Crochet Stitch is an ideal hat to make, as it is made with a combination of half double crochet and chain stitches. Lightweight and warm, your look will be pulled together in no time! The Crochet Stripe It Slouchy hat pattern captures the look of layered cables with a simple zigzag effect. The result is a stunning multi-colored patterned hat with subtle stripes.
Crochet Slouchy Peaked Hat
This beautiful Crochet Slouchy Peaked Hat Pattern is one of the best crochet projects, and it has amazing and delightful details in its fancy design. Fashion this cute crochet slouchy peaked hat with a nice design and exquisite stitch texture. This pattern is very sophisticated, soft, and elegant, which will add a lot of charming luminosity to your style. The hat pattern is pretty easy to follow, so we are sure you will enjoy it! It's created with a lovely stitch texture to give it a contemporary twist. Crochet Slouchy Peaked Hat Pattern to give a dramatic luxury look with your look! Give us a try today and make yourself one of the most stylish hats of the season! It will be perfect for any special occasion! Don't miss out on this opportunity to own this gorgeous yarn crochet hat pattern!
Seemingly Slouchy Hat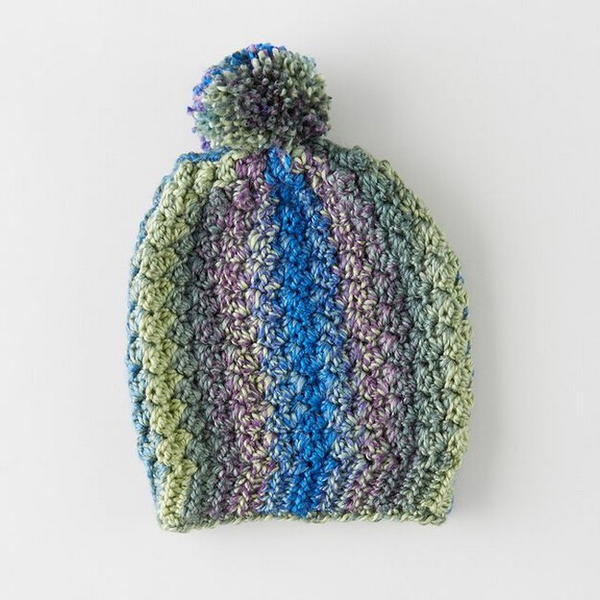 Seemingly Crochet Slouchy Hat Pattern is designed for those who want to do some crochet work with any soft yarns to make a cool hat. The thread should be elastic, and the hat should be slouchy enough to fit any adult. This Seemingly Slouchy Crochet Hat Pattern allows you to create countless variations with different colors. You can choose the two colors suitable for you with your favorite style and fit, and the big pom on the top makes it more charming. As the name implies, this hat is slouchy in style and loose. The pattern is clear enough for anyone who wants to try it, even a beginner.
Herringbone Crochet Slouchy Beanie Pattern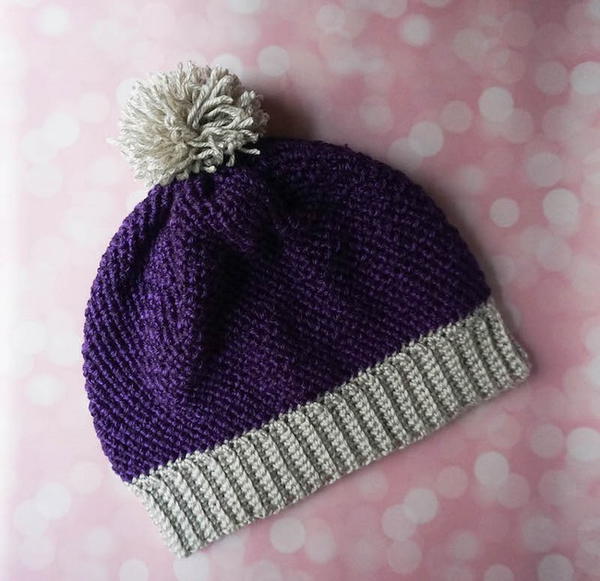 Working with super bulky yarn, the Herringbone Slouchy Beanie is a fun pattern to make and wears warmly. It's crocheted from the top-down, so you can try it on as you go to see just how slouchy you like your hat! Try a bright, contrasting color for an extra pop of style. Herringbone Crochet Beanie is a gorgeous piece of fashion headwear that will make you look different and warmer. The herringbone pattern makes this beanie hat fade away from traditional crochet beanies and gives it a stylish look. It can be worn by men, women, and kids as well.
Crochet Velvet Slouchy Hat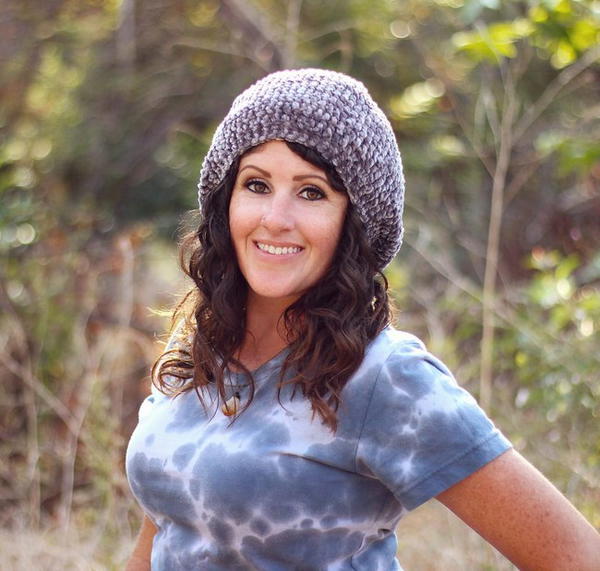 The Velvet Slouchy Hat Crochet Pattern is a straightforward and simple approach. Designed in particular with you in mind, everyone in several colors may love it. Crochet Velvet Slouchy Hat Pattern is so comfy, cozy, and stylish at the same time that it's suitable to make both adults and kids. Loved by all the women out there, this is your pattern. The quick-to-make design will be loved by all the women out there. It can be used as gift ideas, of course! The design includes crochet stitches that you can master quickly and modify if your chosen yarn is thicker or thinner than the worsted weight. Make the hat shorter, or make it longer by using thicker yarn. You can even substitute your favorite yarn color to have a better look.
Colorful Slouchy Hat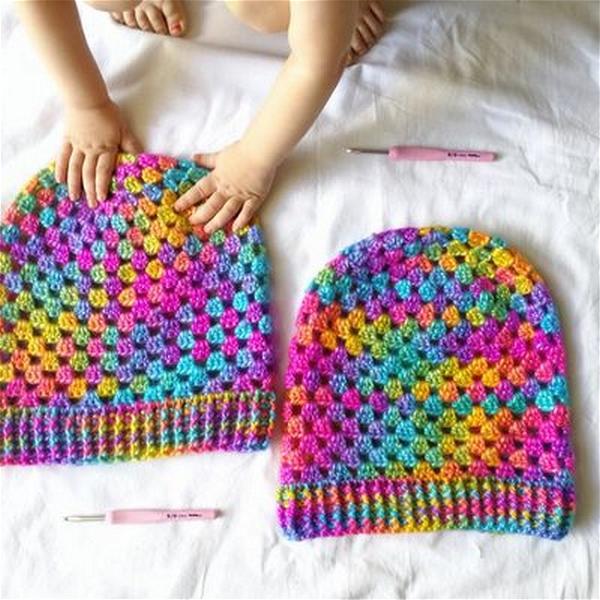 Do you want a colorful, stylish hat? This slouchy hat is for you. Yes, the color of this slouchy hat is amazing, and the design is stunning too. You will love that it has an airy texture due to the holes created by working in rounds, which makes this project perfect for spring, chilly days, and nights. You can wear it no matter where you go because it will groom up every simple dress and make you look so stylish!
The hat looks complex but is quite simple and easy to make! You will use a circular knitting method that makes ruffled edges on the top. This hat is perfect for s, spring chilly days or nights as it is airy and warm at the same time. It's a comfy but elegant item to wear with your dainty dresses or casual outfits. It's also soft enough to be worn in your hair during the day.
Slightly Slouchy Spring Hat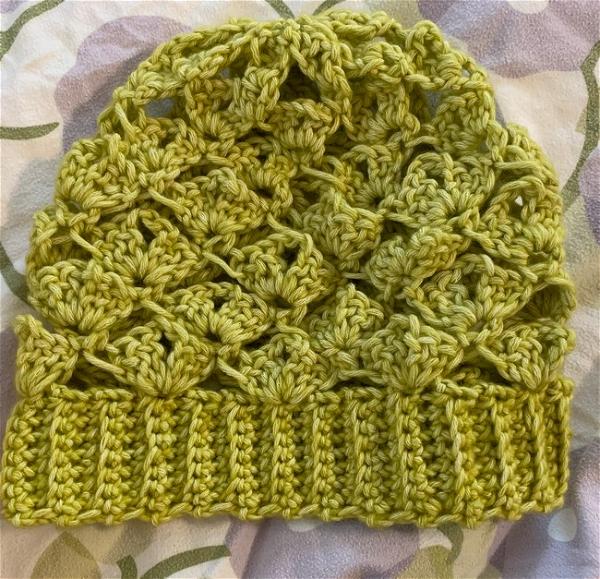 Are you looking for a pattern of hat that is quick, easy, and a little bit slouchy for Spring? Look no further. This slightly slouchy spring crocheted hat will be perfect for the early Spring season or if you just want to make something that is warm but not bulky. The Slightly Slouchy Spring Hat will make you the best accessory for your spring season. It is created with cotton yarn and acrylic, giving you warmth for this chilly season and making you more fashionable on the street. This slouchy hat uses crochet stitches and is knitted using cotton and acrylic. This hat is perfect for you if you love crocheting and knitting project that easily get done in no time.
Easy Breezy Slouchy Hat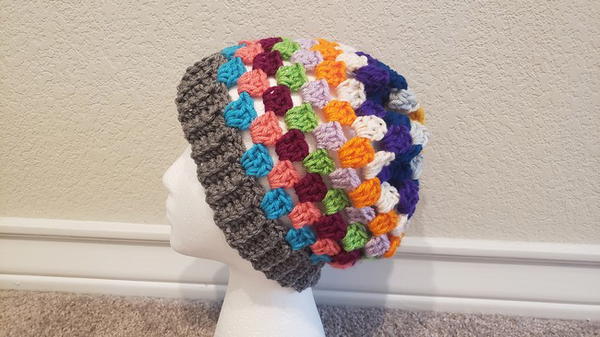 It's a beginner-friendly crochet hat; you can also work on different smaller-sized projects and then stitch them together on a crochet band to make this gorgeous hat pattern. The stretchy texture of this pattern makes it suitable to use for anyone's head. It is a simple beginner-friendly pattern, and you can also work on different smaller-sized projects and then stitch them together on a crochet band to make this gorgeous hat pattern. Create an excellent hat pattern with an easy-breezy crochet slouchy beanie hat; you'll surely love its superb texture and stunning looks. Use attractive colors, create a great work of art, & then stitch it all together on a crochet band.
Dashed Crochet Slouchy Hat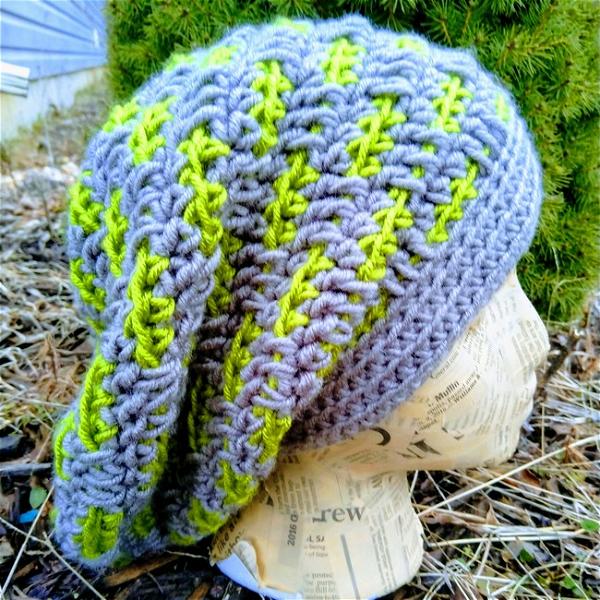 This crochet slouchy hat pattern certainly will be perfect for anybody without any doubt. The combination of pastel color and slouchy texture makes it different from others. This slashed crochet slouchy hat pattern will surely get your money's worth. The dashing texture and the trendy color combination will surely make you love the hat. The great thing about this hat is that it can be used by adults and children alike. This crochet hat pattern is meant to fit all ages and is fun to make. This is a slouchy texture that has a dashed pattern and is also made with worsted weight yarn so that you can work up quickly.
North Shore Crochet Slouchy Hat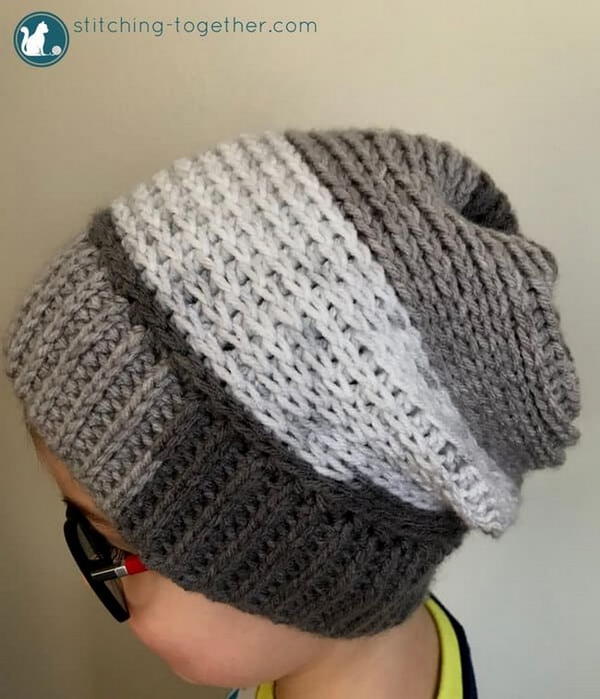 The North Shore Crochet Slouchy Hat pattern will surely be your favorite, especially for children's use. This crochet slouchy hat pattern is absolutely an excellent article of winter wear. Perfect for sending warmth to your head on a cold day, the slouchy design will bring you a youthful feeling. Work it in rounds, firstly at the brim of this hat, and then for the upper section; the border of the hat is not too slouchy, so measure your forehead circumference carefully and make it in a bit smaller size than your forehead circumferences to get a comfortable fit. This fabulous slouchy hat features a revolved neckline at the top and waist-length, so you can decide if you want it to look like a cowl neck scarf or a comfy turtle neck sweater on your head!
Sugared Plum Crochet Slouchy Beanie
Nothing can be more suitable than this sugared plum crochet slouchy beanie if you want your winter to be cozier. This hat pattern is easy to make and has a lovely scalloped edge that makes it appear rosette-like. The fluffy texture of the fabric and softness of the yarn used in this hat pattern ensures warmth and comfort even on chilly winter days. You can also design your color as per your personal choice or your liking. A perfect project to keep your head warm and cozy while you're out and about or lounging at home. This free crochet pattern begins with crocheting the base of the hat and works in rounds; it also provides a diagram on how to get the right fit.
easy crochet
Crochet Slouchy Hearts Hat
Use this crochet slouchy heart's hat pattern to create something sure to show off your love of crochet. This hat is best in a solid color with a unique design and modern style. It is easy to range in size, but the featured pattern is written for an adult. For a smaller or larger size, use smaller or larger hooks than the one used in the featured pattern. Crochet yourself a new fashionable hat with this heart-shaped crochet pattern. With the right size crochet hook and yarns, you'd be able to make changes to it easily by making it smaller or bigger. The pretty crochet slouchy heart's hat pattern is a must-have accessory for your winter wardrobe. This free crochet hat pattern will make you look sophisticated and stylish!
Straits Cabled Slouchy Hat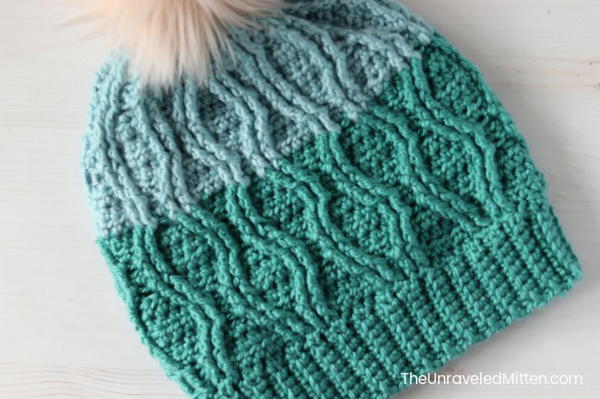 Slouch Hat Pattern Crochet Slouchy Hat Pattern This gorgeous crochet slouchy hat is ideal for the cold season! It is made with a worsted weight yarn, so it is thicker than other types of hats. The best thing about this crochet slouchy hat pattern is that you can add the pompom to create a chic and adorable look. The post stitches look more impressive, plus a pompom was added at the top portion of the hat to make this gorgeous slouchy hat. It is an excellent option for winter days, especially when you want to protect your ears from cold. You can wear them as it is or add a pom-pom to make them look more adorable. Please work with the worsted weight yarn for making this gorgeous crochet slouchy hat; the pompom can also be crocheted by working two rounds.
Crochet Around The Block Slouchy Hat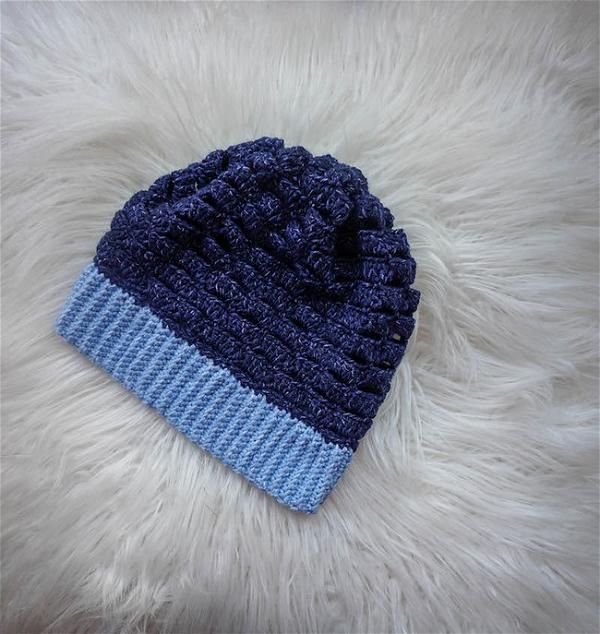 Crochet this beautiful offset crochet slouchy hat pattern and put it into use in such mild weather. Because of the texture of the beautiful block stitch, the air can penetrate your head very quickly, making it more comfortable while wearing. This is one of those crochet hat patterns that will look good on a girl. This crochet slouchy hat pattern will be great to wear during spring days. It is designed with a block stitch texture and a cool color combination. In addition, it has an open space that can provide excellent ventilation, and there's no need for a lining for this pattern. But be sure to use a worsted weight yarn and a crochet hook when making this elegant crochet slouchy hat pattern.
Big Pom Slouchy Hat Pattern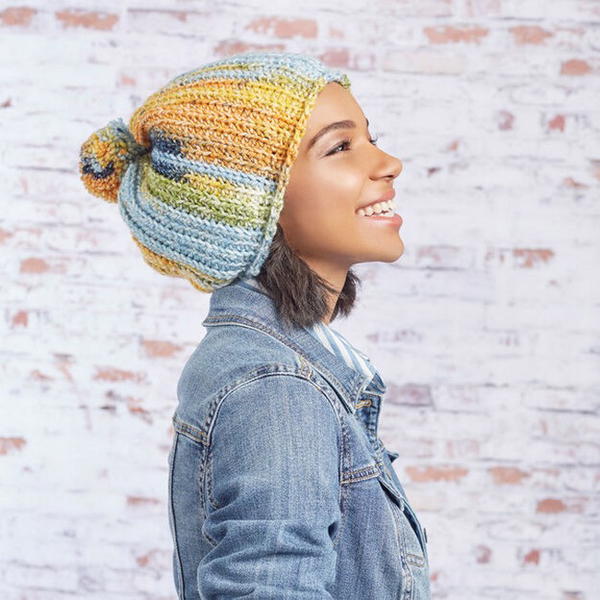 Love to crochet on the go? The new Big Pom Slouchy Hat pattern is the perfect project for your travels! This hat can be easily customized to fit most adult sizes, soft and warm. So grab this travel-friendly hat project, and let's get going! This Big Pom Slouchy Hat Pattern makes the perfect seasonal or holiday gift for anyone in your life. Suitable for most adult women's sizes, it's easy to crochet, so even a beginner crocheter can create this cute hat. Try this more straightforward boho-inspired crochet slouchy hat pattern to add a gorgeous accessory to your winter wardrobes! The Big Pom Slouchy Hat is an adorable free crochet pattern that will make a great gift for anyone on your list!
Celtic Winters Slouchy Hat Crochet Pattern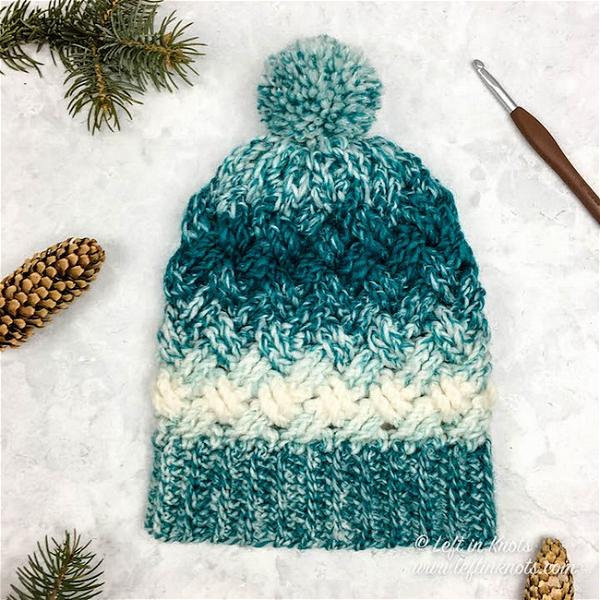 When you have a unique design, it is quite an achievement. It takes time to understand the pattern and what is written in the tutorial. When you do it, you will be able to make a beautiful hat that has its personality. The Celtic Winters Slouchy Hat Crochet Pattern will be your choice, especially if you want this type of hat. It even showcases uniqueness by bringing in different stitches and combinations of textures and colors, making it more interesting. There are many beginner crochet hat patterns, but this pattern catches one's attention. This slouchy hat is not just ordinary with its unique twist. You can bring out your creativity and invent something as varied as possible. It may be hard work to finish it with your bare hands.
Plaid Slouchy Hat Crochet Pattern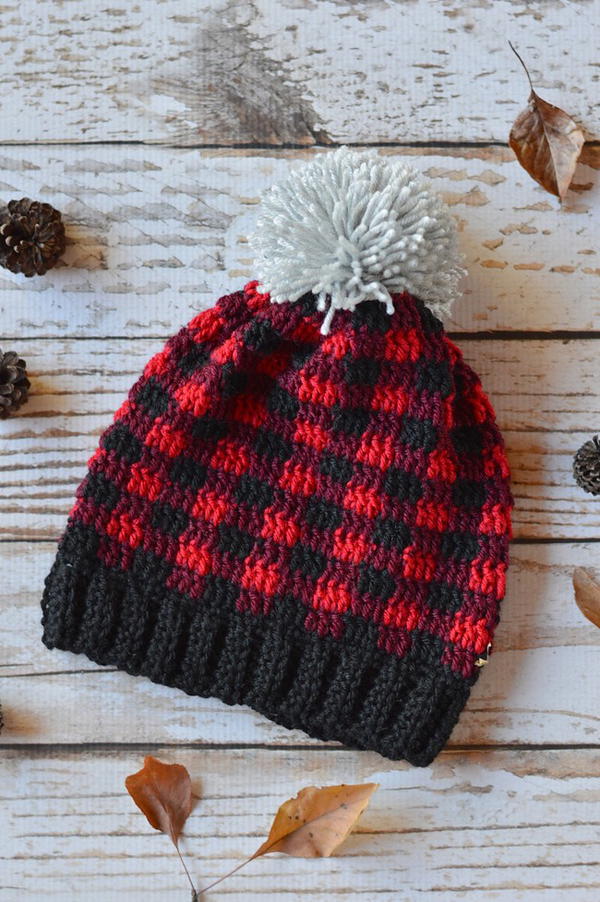 Customize it easily according to your hat's size or for whom you are making it. The white pom on its top makes it more attractive and gorgeous, and the black stripes on its brim give it a personalized touch. This pattern is uniquely designed, and it has a classic design. This crochet plaid slouchy hat pattern has a lovely color combination, but you can change its color according to your choice; its red and black color makes it beautiful, more delicate, and the most demanding pattern for everyone. This is enjoyable, and everyone will love to make this pattern; once you start crocheting it, you will see how it will complete easily and quickly.
Crochet Color Block Slouchy Hat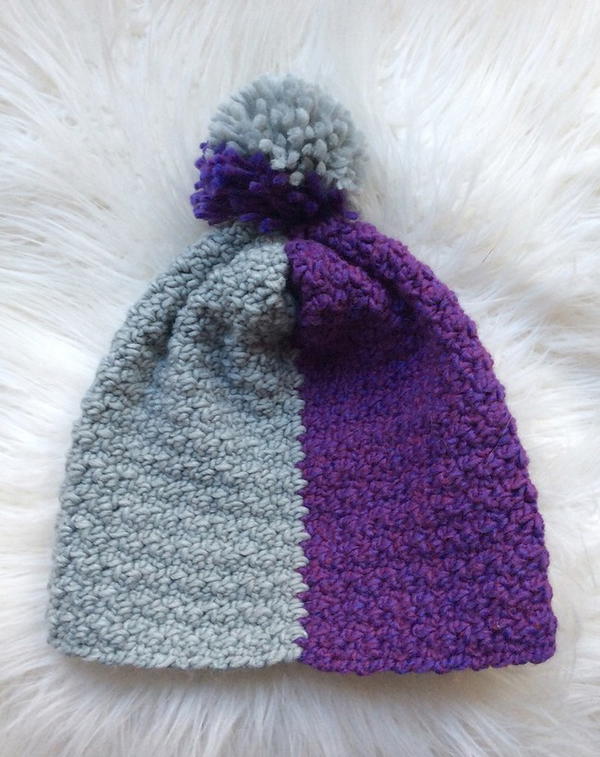 Crochet this Color Block Slouchy Hat Crochet Pattern for your loved ones. It is best for babies to toddlers and kids, and it can be easily customized for different ages. This is a very easy and basic pattern, suitable for beginners too. The stitches used in this Pattern are simple like single crochet, double crochet, chain, and slip stitch. The Pom at the top of the hat increases its beauty. The bright and beautiful colors of this Crochet Color Block Slouchy Hat will keep you cool during the hot days of summer. This top is crocheted separately and then sewed together to finish. It is a free pattern you can use to make one for your little girl or boy and adults. Enjoy it!
Crochet Twist 'n Shout Slouchy Hat
If you want to look stylish yet simple and elegant, crochet this stylish twist 'n shout hat. Crochet this easy slouchy hat with the soft and chunky yarn. Crochet this style of hat for yourself or any head size. Don't be afraid to get creative and mix up the color combinations. The simple crochet pattern gives this headpiece a unique look while maintaining the simplicity of design. This hat is crocheted in the round. It features an attractive faux-fluffy pompom on top and looks too cute with a purple-colored yarn. So grab your hook and some fuzzy worsted weight yarn and start crocheting now! There will be no difficulty in making it, as it's easy, portable, and fun!
Crochet Coffee Slouchy Hat Pattern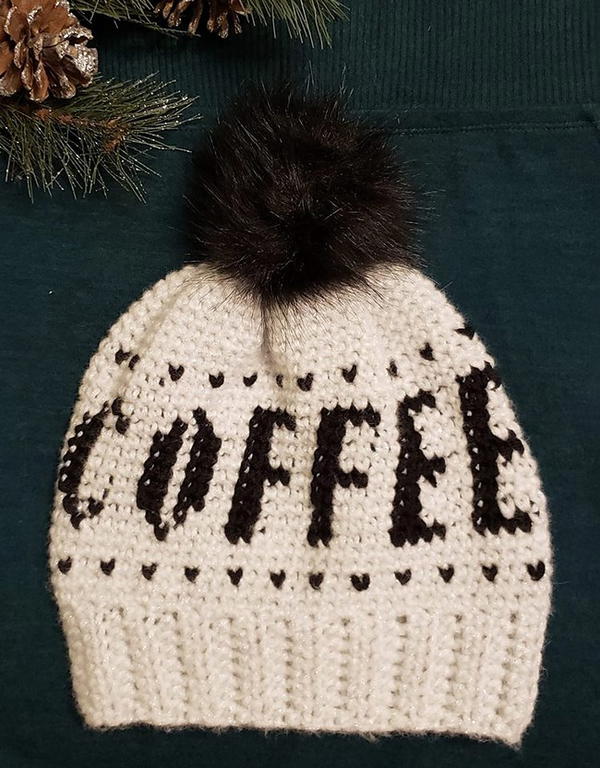 Add this crochet coffee slouchy hat to your wardrobe today, and you'll be glad you did! It is so easy to make, and you'll love the texture of this hat as it will keep your head warm while looking cute at the same time. Crochet this comfy and stylish coffee crochet slouchy hat pattern to add a sophisticated look to your winter wear. You'll love to add this pattern to your favorites list because of the strikingly soft color and the cute faux pompom on the top. You will love making this cute and comfy coffee crochet slouchy hat pattern! It features a stunning color scheme and a stylish faux-pompom on top. This adorable hat makes the perfect accessory for a casual day out, whether shopping with friends or visiting family.
Flower Motif Slouchy Hat Pattern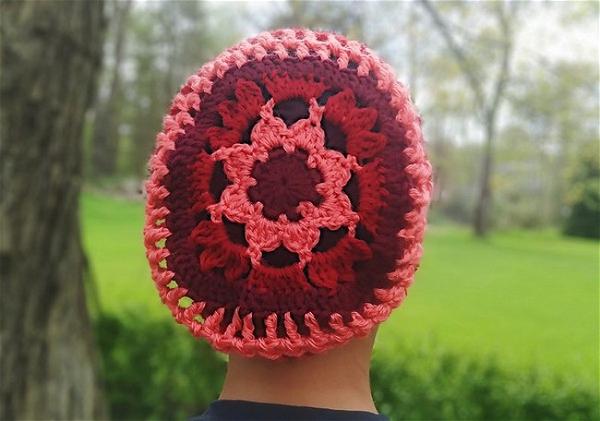 Get this crochet flower motif pattern and give some uniqueness to your friend's life? You'll love creating this easy crochet hat because of the softer texture and the unique combination of 5 different shades. It's a perfect way to keep warm during those cold winter days. The flower motif slouchy crochet hat pattern is creative and modern with a soft texture and an exciting combination of different shades. The pattern is suitable for any type of yarn with a stitch definition.   A slouchy crochet hat pattern will always make you look fashionable, and this Flower Motif Slouchy Hat is also a perfect choice for those of you who are fashionistas. Make it yourself and surprise your friends with such a fantastic beautiful hat like this one.
Quick & Easy Slouchy Beanie Pattern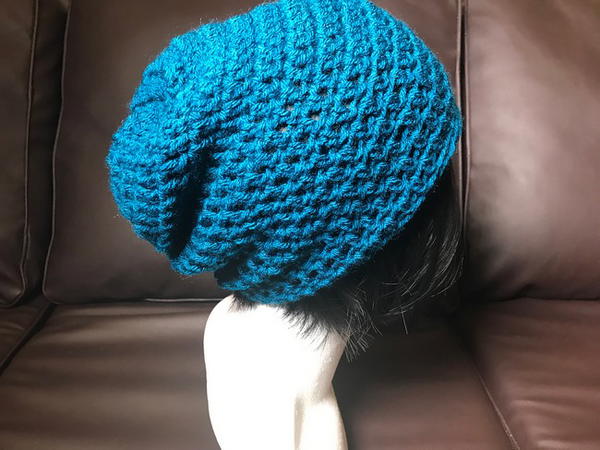 Here's a crochet hat pattern that gets you started making a slouchy beanie to keep warm even if the weather is mild. The pattern can be used with bulky weight yarn and a crochet hook. If you are a beginner, this easy slouchy hat pattern will show you how to crochet an excellent and warm crochet hat. It's simple with bulky yarn and includes step-by-step instructions in American terminology. It takes approximately 9 hours to create this stunning beanie with basic stitches. The Quick & Easy Slouchy Beanie is a stylish and quick way to have your crochet project completed. This pattern is easy to make for beginner crocheters and very useful for holiday gift-giving.
Color Tour Slouchy Hat Pattern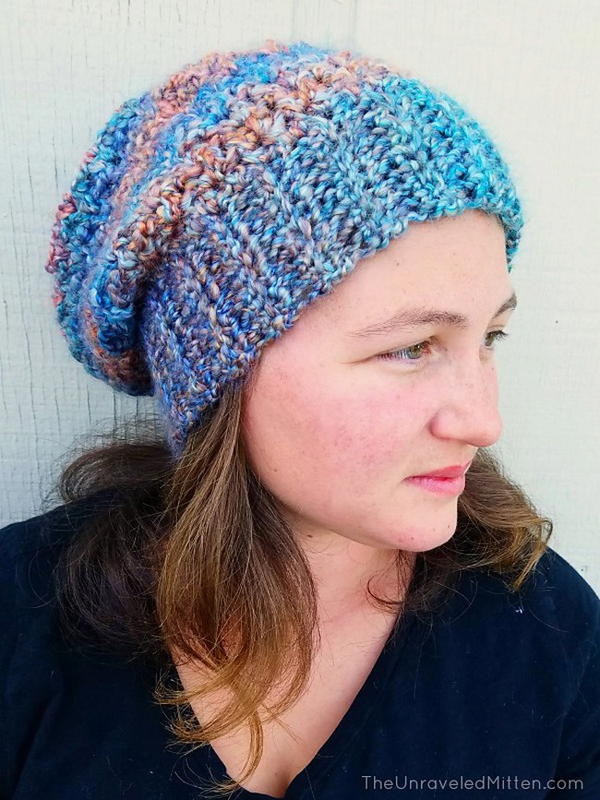 This color tour slouchy hat pattern is designed to match your winter collection. Crocheted in a soft and warm yarn that lends a cozy feel to the hat, this design will complement your wardrobe this season. It's also an easy project, making it ideal for beginners. You'll be surprised at how quick and easy it can be to create an accessory that will make you look good even on the coldest day. The mix of colors and the blend of colors give it an adorable and fashionable look. You can make this hat quickly with minimal experience, and the materials are very affordable. If you are looking for a gift, this slouchy hat is perfect because you can easily adjust it to the size of your loved one.
Crochet Arctic Paradise Slouch Hat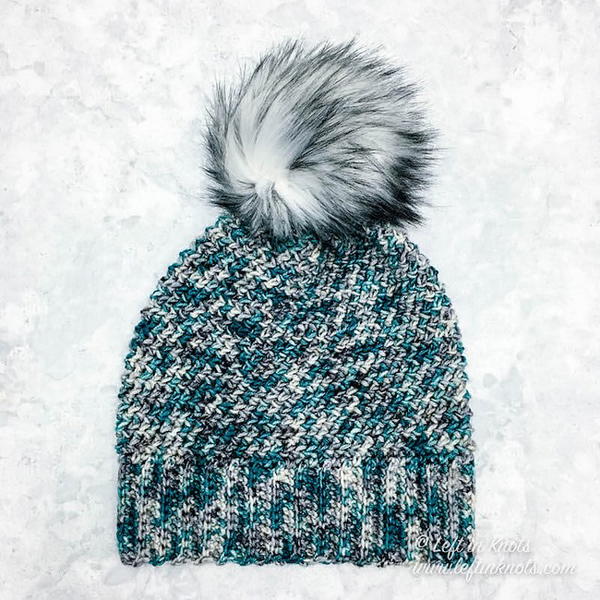 Looking for a fashionable crochet hat that will have you feeling arctic fabulous? This slouchy beret is crafted with the herringbone HDC stitch and topped with a fluffy faux pompom. Worked roundly in a single skein of worsted weight yarn, this hat features a fabulous texture that makes it easy to wear all winter long. Work with a single skein of worsted weight yarn to make this fabulous crocheted hat. Its wonderful texture and the fluffy faux pompom on top make this slouchy hat a superb accessory. This single skein project would be great for last-minute gift-giving this holiday season.
Sheridan Ridge Slouchy Hat Pattern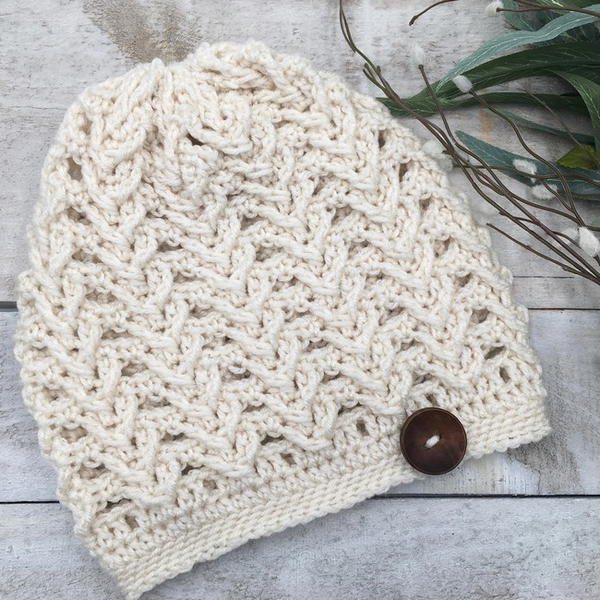 The Sheridan Ridge Slouchy Hat Pattern is the right crochet pattern to invest in if you want to update your simple hat collection with a stylish hat for yourself and accessories for the whole family this winter. The superb texture of this crochet slouchy hat provides comfort, warmth, and extra style. The button added to its front will provide a convenient fastening point and a charming addition. What more can one ask for? Beautifully crafted from a yarn hook with a stunning texture, this crochet hat pattern is excellent for your wardrobe. The button on its front will add a touch of style to it.
Monteverde Slouchy Hat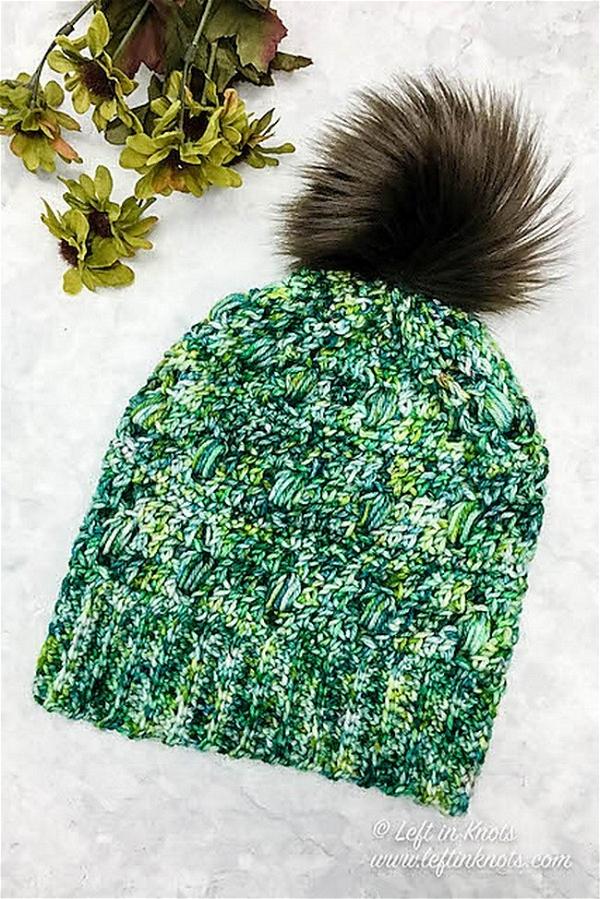 You should buy this Monteverde Slouchy Hat: This Monteverde Slouchy Hat will be the perfect choice to make a super cute and excellent addition to your winter wardrobe. It is so cute and fashionable. This slouchy hat will be the perfect choice to make a super cute and excellent addition to your winter wardrobe! Made of acrylic, it is so cute and fashionable. You can use this slouchy hat with any wear for a flawless, sophisticated look. It is available in many color options, so you can pick up this hat to show off your style and flair.
Cherry Blossom Slouchy Hat Pattern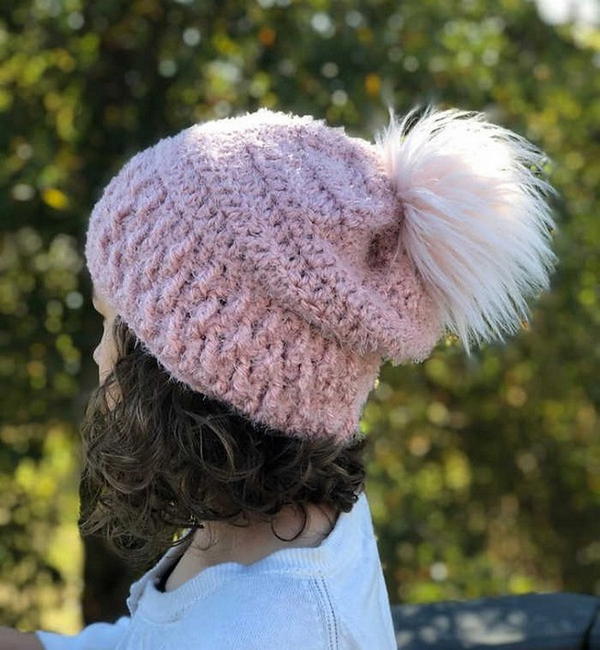 This slouchy hat pattern is easy to follow. Fluffy cherry blossoms are worked in beautifully. It has a pompom on top, making it extra cute and sophisticated. This is a lovely cherry blossom slouchy hat pattern. Here we come with a cute thicker texture, and it is still the same lovely cherry blossom we love. This hat pattern can satisfy you. In addition to the cherry blossoms on its top, this hat also has a pompom, making it more beautiful and practical. It is also easy to make. Why not start your knitting right now if you like this hat pattern? This lovely hat would make a great gift for your friends, kids, and everyone special to you.
Perpetual Posts Slouchy Hat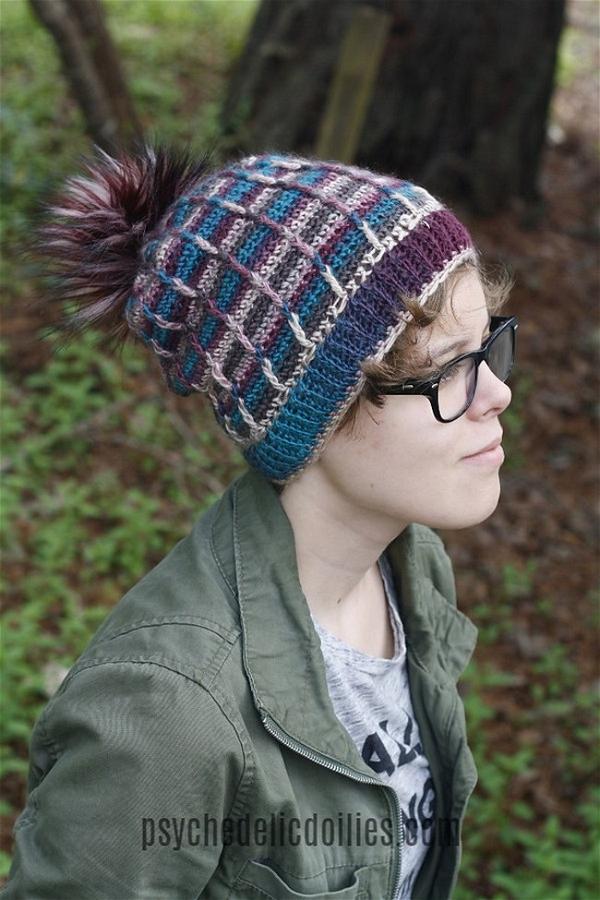 Fear of Cold! Wear this fabulous Free Perpetual Posts Slouchy Hat Pattern and be free from being afraid of cold. It will stylize your look and keep your head and ears warmer without sacrificing personality. Its fur faux pop pom has increased its beauty and makes it more charming, grabbing everyone's attention. It's easy and a great beginner-friendly crochet beanie hat pattern! Make this quick and easy crochet beanie in your favorite color for a quick but fashionable look of the season! This quick and simple crochet beanie is the perfect project to warm up your head and ears this fall. Its fashionable faux fur pom adds a pop of color to any outfit while keeping you warm without being too bulky.
Alpine Ridge Slouchy Hat Pattern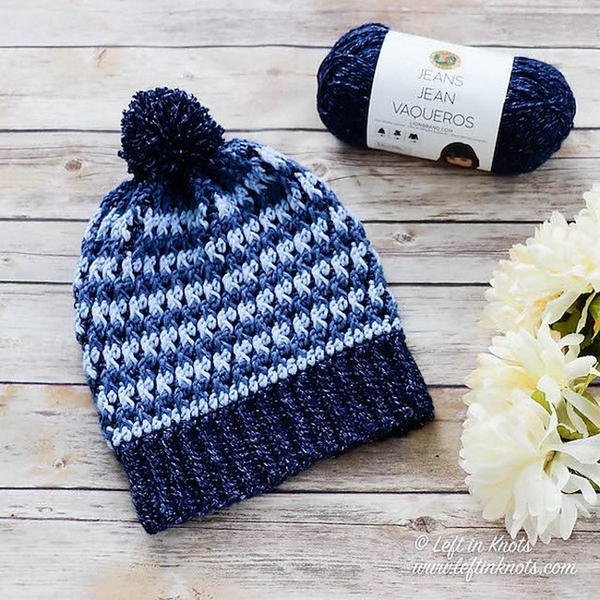 Alpine ridge slouchy hat is an exquisite and striking pattern; the crochet stitches are lovely, complete, total, and mesmerizing and have created an outstanding piece that you can wear with any outfit. This slouchy hat is easy to make and will attract everyone's attention and compliment you among your friends. The best part of this pattern is that it works up quickly, and by using your favorite colors in the yarn, you can make it as elegant as you want.
Slouchy V-stitch Hat Pattern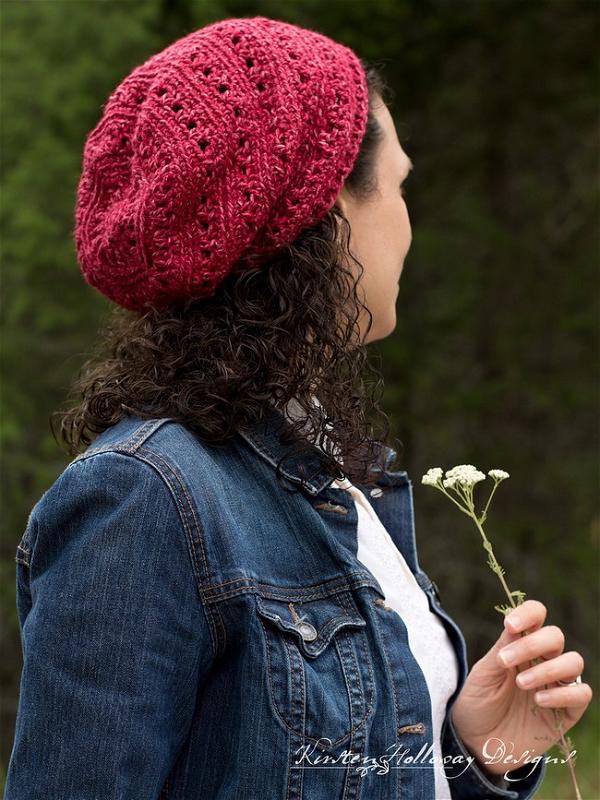 If you are looking for that ideal hat pattern that can be as great as the one seen on its cover, stop by here at Caron. This Slouchy V-stitch Hat Pattern is the perfect answer to your search. Get this easy-to-do project and enjoy wearing it out at some friends' place. You certainly will agree that there is a very easy and fast way to get you a cool, stylish-looking hat. You need just some basic materials such as high-quality worsted weight yarn in the color of your choice, any pair of size 5 mm crochet hooks-metal or plastic (whichever you prefer), scissors, a needle for sewing, and stuffing for filling. This whole process shouldn't take more than an hour.
Crochet Slouchy Beanie Pattern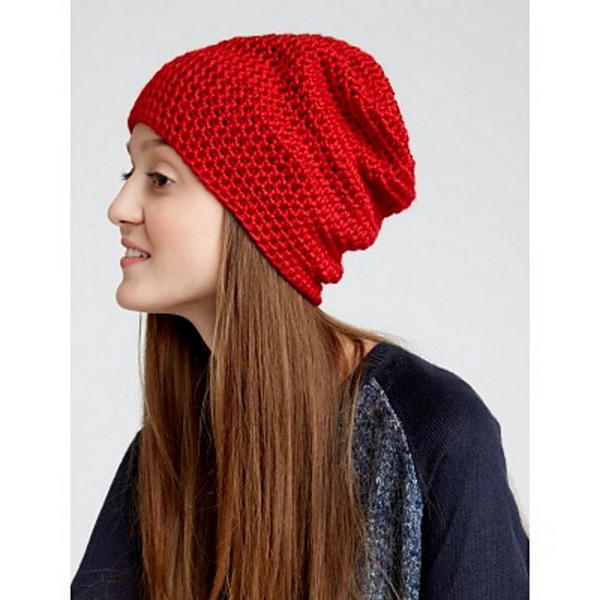 Crochet a stylish hat and make a bold look with this Free Crochet Slouchy Beanie Pattern. This model is thick and will keep you feeling warmer on cool winter days. It's comfy and relaxable to work on any teenage girl's head. The yarn is also easy to find. Whether you're new to crochet or a more experienced crocheter, this tutorial covers everything you need to know to make your cozy slouchy beanie. It's super easy to follow with clear instructions in a friendly tone that will have you wearing it all winter long!
Take A Hike Slouchy Beanie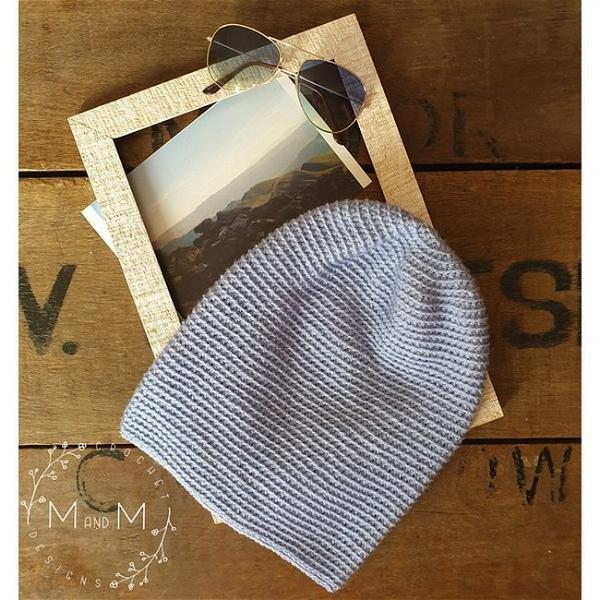 Crochet Take A Hike Slouchy Beanie Pattern will be a perfect accessory for the fall and winter. Take a Hike Slouchy Beanie Pattern will be a unique accessory for your child. This little hat will keep your boy warm during the fall and winter days. Your little one will be ready to go hiking or other outdoor activities once he wears this beautiful hat. Grab your hook and some yarn now! It is fascinating to work up; you only need to know the basic crocheting skills, and then you will be able to start the pattern. With a little bit of attention, you can do this without further guidance.
Going Places Slouchy Hat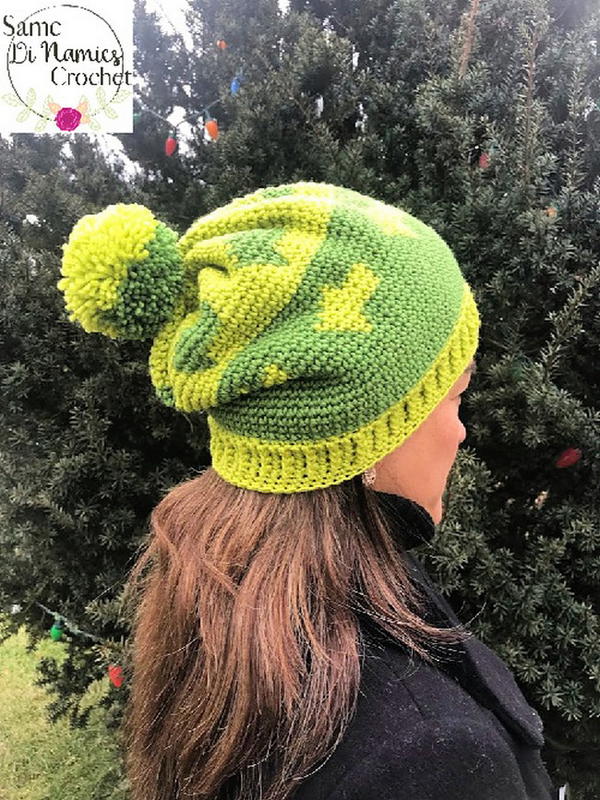 This slouchy hat is made in a beautiful lace stitch and can be created with any yarn, from fine lace to bulky tweed. You can make this hat in any size and accent it with buttons or pompoms to match your style; wear it turned up, down, or sideways with the brim for a different look each time you wear it. One size fits most, but don't worry if you prefer a smaller or larger hat; the open back of this hat can easily be customized using a larger hook and thicker yarn, then folded to create a smaller hat.