A simple way to apply your creative side to home decorating is to make your own canvas frames. You'll be adding a pop of color and a unique flair to any wall or doorway that needs some attention while saving money and allowing you to flex your DIY muscle. In this regard, here are different examples of DIY Canvas Frame Ideas that are very easy and cheap to build. These DIY frames are easy to make and affordable; like other painting projects, they will give you great fun while building these frames. Simply choose a style and color scheme you like best, pick up some materials at your local hardware store, and go out and have fun! So get ready to decorate your walls with wonderful artwork using this DIY Canvas Frame Ideas list.
DIY Canvas Frame Ideas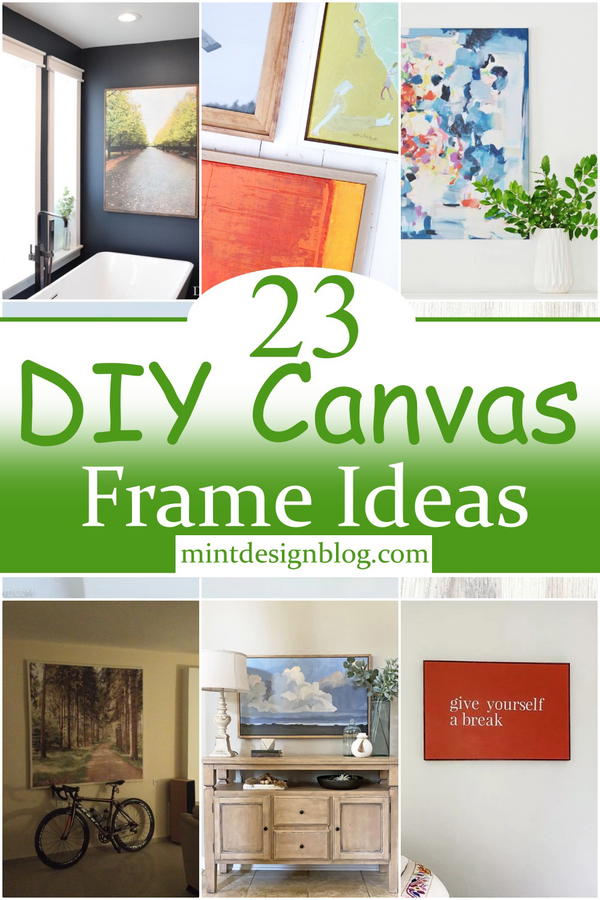 Given Canvas Frames are also a great alternative for someone who loves having personal art on their wall but have no idea where to get a custom framed canvas. The canvas frame ideas here are perfect for any room and add a great touch to your home. These are very easy and cheap to build. You will love the end result as they look so good, just like any expensive store-bought frames. So if you want to decorate your walls with an easy method, use these canvas painting frames in your next project!
Uses:
A nice and creative canvas painting is a good way to beautify your home. If you plan to add a new touch to your home decor, you should try these DIY Canvas Frame Ideas. You will have an amazing canvas painting and earn lots of appreciation from your loved ones and friends. According to some experts, frame wall hanging artwork in a bright color pattern can increase the energy level of the mind, help us concentrate at work, and keep us healthy. It is also believed that art provides excellent company in solitude; it keeps us happy when we are sad or depressed. So get started with these wonderful DIY Canvas Frame Projects right away!
Floating Canvas Frame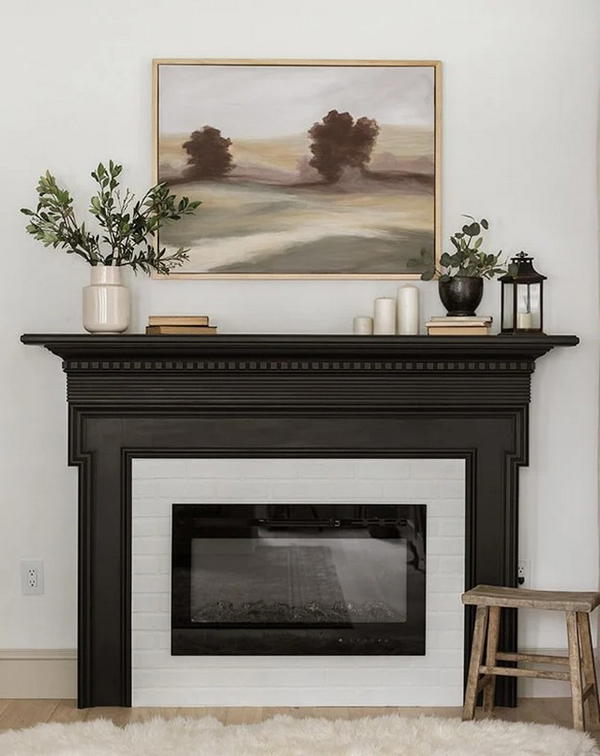 If you want to hang a canvas print but don't want to spend too much on a frame, this project is for you! We've found an easy tutorial that shows how to make your own $10 floating canvas frame. With some thin plywood, a few screws, and glue, you can get yourself one of these frames in no time. This project requires a little care in shaping the frame and adding accessories such as hooks for hanging purposes. But once you have it ready, it will look great.
How To DIY A Canvas Frame
In this video, you will learn how to make a canvas frame with minimal tools and, at the same time, make it look professional. This is an easy project that a beginner can try out. First, cut the four sides of a piece of plywood to the desired size. Then build a square frame by securing the corner joints with glue and screws. For the last step, bring in your favorite paint color, apply three coats and let dry completely between each coat. If you have an idea for a project that would look great on a canvas, feel free to follow the steps in this tutorial and start creating your own art!
Canvas Frame In Custom Design
This is a great project if you want to learn how to frame artwork using traditional framing techniques. The directions are simple, easy to follow, and well-explained. There are plenty of pictures included so you can see the process step-by-step. It is very simple and easy to understand, with no power tools required. You will be able to frame your picture or canvas in less than an hour without any power tools. It can be made in any size you desire.
Easy To Make Canvas Frame
Portable and timeless, these frames are great for displaying art and photos. Made with wood pieces, a miter saw straight edge, pencil, and the longest tape measure you can find at your local hardware store. This video tutorial shows how easy it is to get all the materials and tools from the hardware store, then set the miter saw to 45° and cut the pieces to length. After this, the next step is to assemble the frame and use a handheld planer to make the edges nice and smooth. This project is perfect for those starting with carpentry or wanting to learn basic woodworking skills.
30 X 40 Canvas Frame

This large wood canvas frame is a great project to try at home. This tutorial will teach you how to make a canvas frame from scratch with step-by-step instructions and pictures. The best part is that no prior experience is required to accomplish this project, and you can use these techniques in the future. The frame can be easily customized to fit your artwork, photographs, and memorable moments. The project comes with a tutorial guide that is simple and easy to understand.
Frame Canvas Painting
This video will show you how to use a jig saw to cut out the frame pieces according to the dimensions of the painting. It is important that the lines be straight and that all the pieces are at consistent distances from each other to fit together properly. After cutting all these pieces, you can begin laying them out on your workbench so they work together nicely. If you have time, watch the entire video to learn how to build your own wood frame from scratch.
Floating Canvas Frame Idea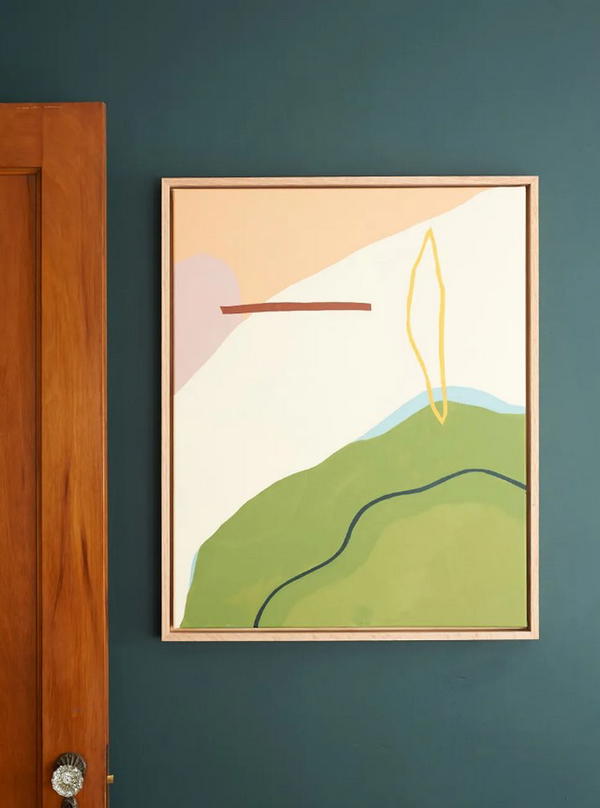 For this DIY project, you'll need a frame, canvas, glue, and a few other basic materials. Start by drawing the plans for your frame on paper. Then make sure you have the right size wood for your frame. Once everything is cut to size, assemble it together using glue and nails. This tutorial shows you how to create a frame that looks great and allows you to hang the canvas on the wall without additional hardware.
Large Canvas Frame
Creating a canvas frame from cardboard is not hard. The cost of building a large, sturdy frame is cheap as well. The first step is to cut large and sturdy cardboard strips into pieces and assemble them together. Then, paint it with any color you like. This will make the appearance so beautiful that it can be displayed on your wall or on top of your table. After it's confirmed error-free, paint it, and you're all done! Using the right material to develop this project with ease and accuracy is important.
DIY Floating Canvas Frame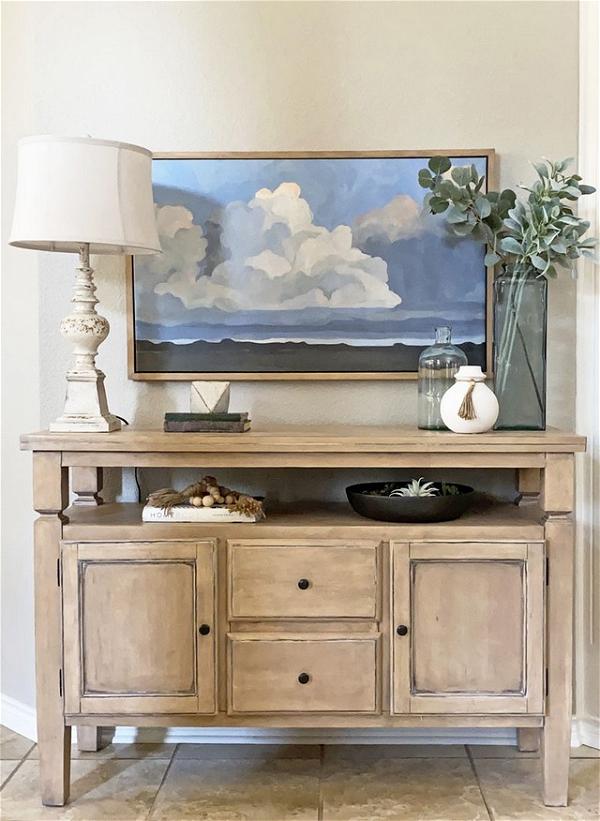 Floating frames are an attractive and popular decor item. Before you start the project, you'll need to gather the materials required to make a DIY floating frame for your canvas. The next step shows how to fold the fabric around the box. Once you get the basic shape of your floating frame, simply pull it tight and wrap it with tape at all joints. This instructable guide will easily walk you through the steps to building a floating frame!
How To Make Canvas Frame
This video shows you how to make a canvas frame without using any power tools. First, the creator started by getting all the materials together, including a 2×4 piece of plywood, a handsaw, and some glue. The first step was to rip the 2×4 plywood into two inches-thick sheets. Next, he cut four pieces at inches wide, followed by a 48-inch strip of wood for the bottom part of the frame. This kind of frame is really easy to put together and perfect for most canvas projects you want to hang on the wall.
Easy Canvas Frame Idea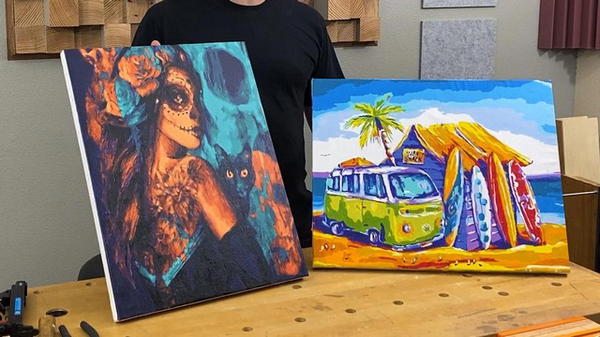 To attach your canvas to the frame, you must use corner brads. First, measure the space between each corner and mark it with a pencil. Then, take the corner brad and place the pointed end through the hole on its side. Make sure the sides face each other and hammer them in using a rubber mallet. Repeat this step until you have attached all of your canvas corners to their respective sides. This guide will help you frame your canvas and ensure it's ready for the next step — painting!
Simple Frame For Canvas
This wood frame for canvas is ideal for professionally displaying your artwork. This DIY project shows how to make a simple wood frame for canvas painting from a miter box, braces, and wood pieces. You will also need glue, a brad nailer, a saw, and clamps for the fitting process. The canvas must be clamped when you are gluing each piece using clamps so that it will hold together. Once this is done, all the sides of the canvas should be attached together, making it look like one piece.
How To Make A Canvas Frame For Wall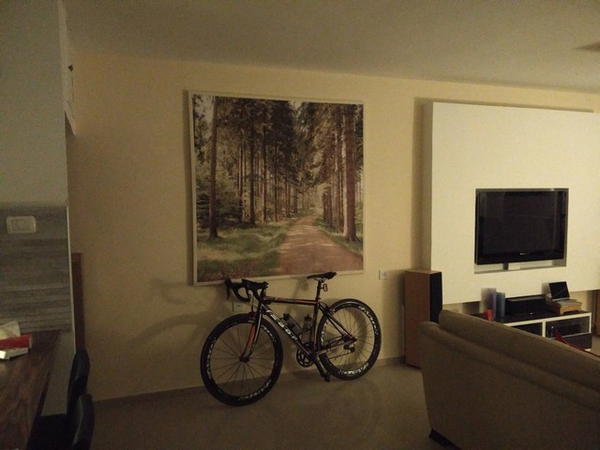 You will love this DIY canvas wall frame because it is so easy to make. Even if you've never made a frame before, it will be no problem for you to follow these simple step-by-step diagrams. You just need the right tools and materials, and it will take no more than a couple of hours from start to finish. You can hang these frames on your living room, bedroom, or office walls for a classic look that focuses on simplicity and functionality.
Easy Floating Canvas Frame
This floating frame is so easy to make that it may rival your best furniture DIYs. You don't need a lot of tools and experience because the creator explains how to cut the wood into pieces and assemble them into a frame. The color can be your favorite one or match with any colors of your room. You don't need to worry about painting because the creator explains step-by-step instructions on painting the frame. It definitely will be an amazing addition to your home interior design.
Frame Canvas Art Idea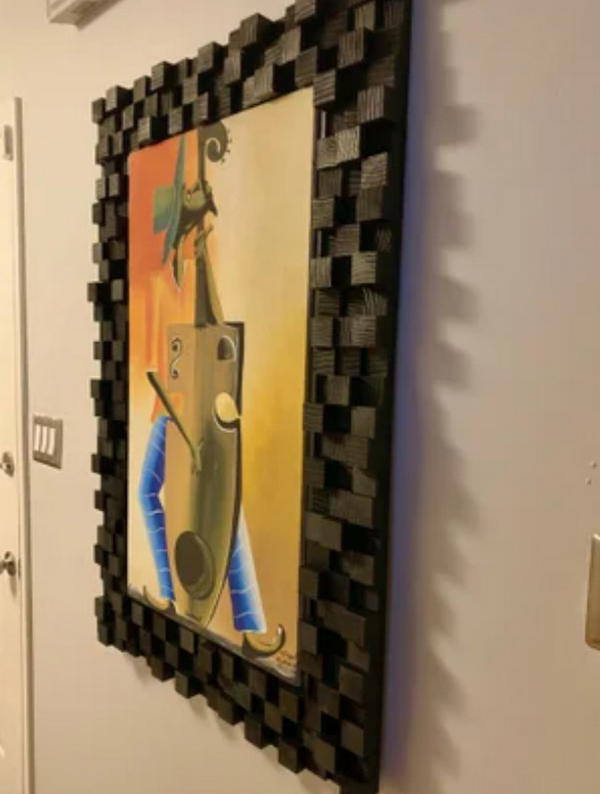 This tutorial will show you how to make a DIY Canvas Frame using common woodworking tools. This can be a great gift for any occasion; anyone would appreciate it. This DIY Canvas Frame is a great piece of home decor and will make your living space feel more like a relaxing getaway. If you already have your favorite canvas paintings, this frame is the perfect way to complete the artwork! Materials & Tools needed include wood, glue, screws, super glue, drill, tape measure, and miter saw. Check the affiliate links to purchase them at affordable prices.
Wooden Canvas Frame
Want to create your own wooden canvas frame? Well, this video tutorial will guide you through every process step. Assemble the frame on the table with glue and clamps. Next, fill any gaps or spaces left from the joints with wood filler. Give it a few hours to dry, and voila! You can now place your photo in this beautiful frame you created. It makes you feel like an artist when you walk into your room and see your art displayed in this eye-catching wooden canvas frame.
Floating Canvas Frame
Start by cutting all the pieces of lumber with a miter saw. Once that's done, you will want to lay them out on your drop cloth and trace around each side of the frame, add a little extra room for the screws and make sure to put the wood glue on both sides before you screw it together once both sides are attached use your scrap paper to make a pattern for where you will want to punch holes to mount your cards. This project is great for beginners and makes a wonderful gift.
Cheap Canvas Frame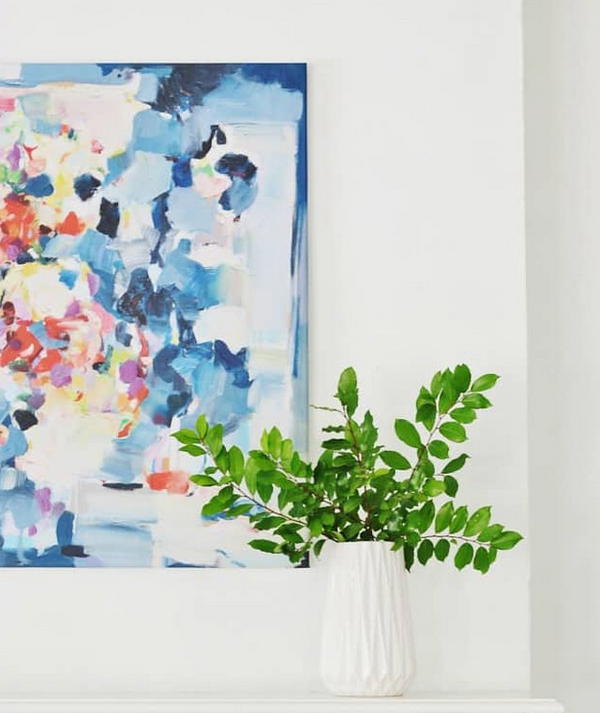 The art of framing a picture is a process that can make your canvas stand out among all the rest. We take a simple frame of about an inch or so in width and a height that is proportionate to the canvas size and then fix it on top of the paint we want to hang on our walls. To ensure that all proportions remain intact while selecting, we should use a ruler, pencil, or another measuring tool. This canvas frame is a simple structure you can make with your bare hands. The only tools required are a hammer, a hammer drill, and possibly a few nails.
Canvas Frame Tutorial
This DIY project is perfect for anyone trying to create a customized wall frame. The materials needed are a blank canvas, scissors, a staple gun, and spring clamps. Take your painting and spread it over the frame. After this, fix the painting to the frame using a stapler. Use a spring clamp to tighten the painting to the frame. With the right tools and materials, you can finish it in just a few steps. This is a great project for avid crafters or anyone who likes to keep artwork displayed but wants to change those paintings occasionally.
Oversized Canvas Frame Using Barn Wood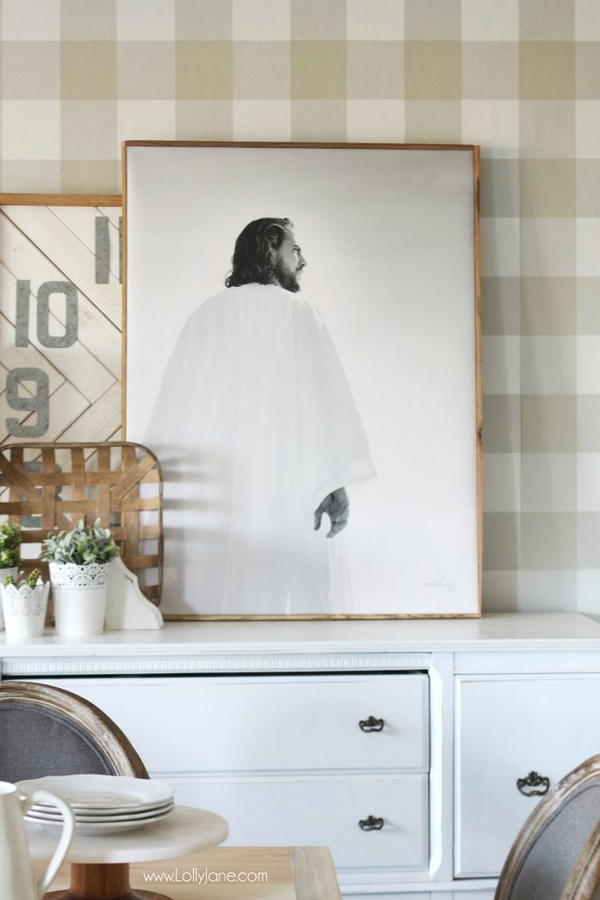 This DIY Framed Canvas Guide is designed for everyone who wants to make their own custom-framed art piece. The guide was made with three resources in mind: budget, time, and skill level. It provides comprehensive step-by-step instruction on how to build your own frame, pick the right supplies and place artwork in it. Whether you're a beginner or an experienced crafter, this guide will walk you through every stage of building your own framed canvas.
 Floating Picture Frame Idea
In this video, the creator gives you step-by-step instructions on how to make a floating picture frame at home. Start with a canvas painting, remove the old frame, and gather all of the materials needed for this project. It's fun and easy enough that you'll be able to build hundreds of these! It is a very easy project that can be done on the weekend and uses materials you already have around your house. In the end, they show it off with a painting they made on canvas.
Canvas Frame Art Idea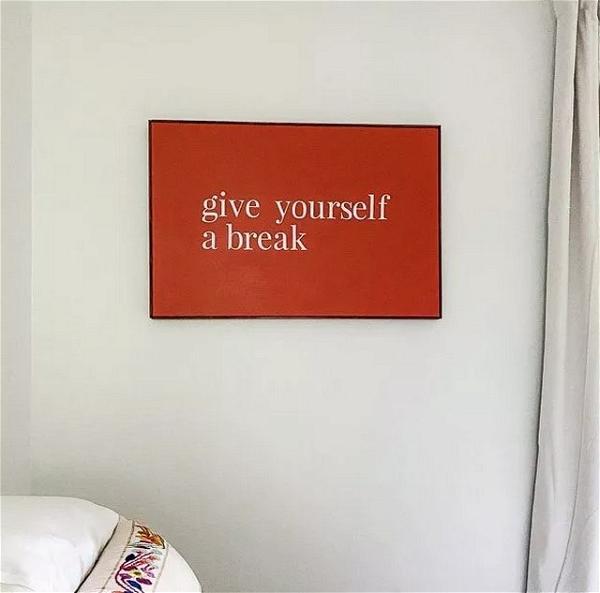 In this DIY canvas art with easy frame tutorial video, you will find out how to build a canvas frame. In the first step, open a Cricut design space and design the wording for your canvas artwork. Measure the size of your finished canvas artwork and use this dimension to create the measurements for making your frame. This DIY project is easy enough for beginners while still challenging enough for those who know their way around tools and materials.
Cheap Canvas Frame Idea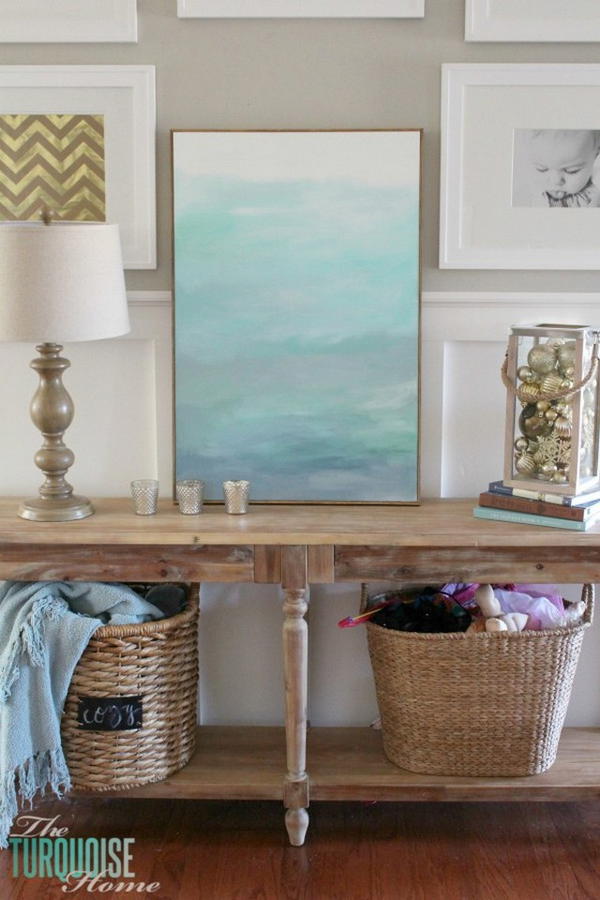 The process is quite simple and easy to understand. First of all, the size of your picture must be measured properly to know the exact dimensions required for the frame. Apply a saw over the wire mesh, then tie it with a nylon rope or twine. You must do this step to not press too hard on the canvas with your nails. Then lay down the first layer of nails at equal distances around the perimeter. After that, place another row of nails halfway between the original ones on top of them and repeat until they reach the corners and meet each other. This project is suitable for beginners as well as intermediate DIY enthusiasts.