Composting is an easy and effective way to recycle kitchen scraps and other organic material, turning it into nutrient-rich compost that you can use in your garden. Compost bins are a great way to store organic materials until they are ready to be turned into compost. Composting bins don't need to be expensive or difficult, so here are some of my favorite cheap and easy DIY compost bin plans to get you started. If you're looking to build your compost bin, this guide will help you create a DIY compost bin that fits your needs and is easy on your wallet. Whether you want to compost indoors or outdoors, there are plenty of options for every space and budget.
DIY Compost Bin Plans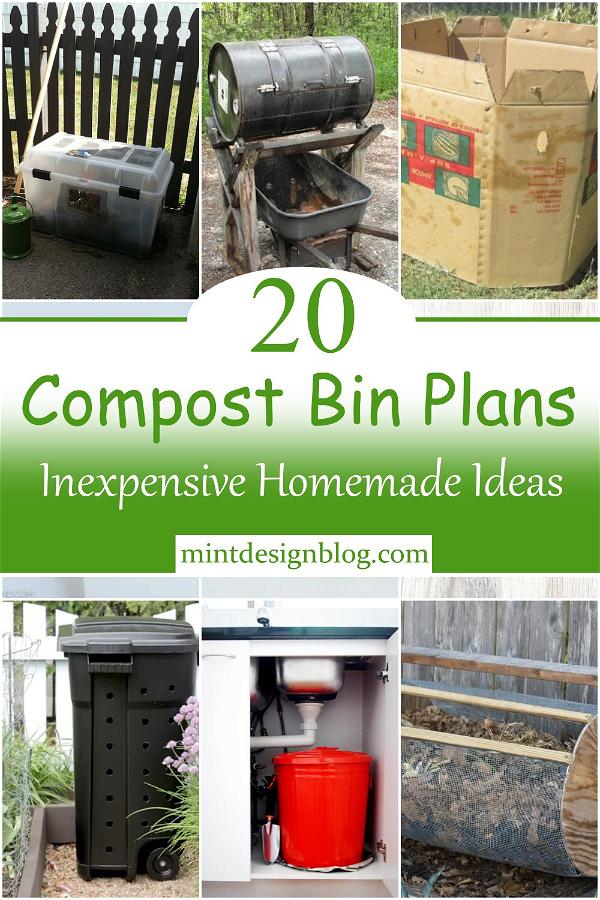 Getting started with composting is easy and fun. You can start with the basics, such as integrating a few potted plants and one or two indoor compost bins in your home or apartment, and then work your way up to a full-fledged system if you feel inclined to do so. Your compost bin should be about the size of your average trash can, keeping in mind that you'll want to turn it several times a month to aerate and mix it. Having more space means throwing in more scraps from large meals, like entire leafy lettuce or cabbage leaves. If you have a pile in your yard or garden, it is most likely sagging under the weight of food waste piling up around it. That is why we created this list of DIY Compost Bins that are easy and cheap to build at home!
If you are thinking more about composting, you will be interested to know that it is not complicated. Most people believe they need a large piece of land to create compost, but all you need is an unused corner of your backyard and some organic materials like grass clippings and leaves. Maybe you are new to composting or have been composting already, we have many ideas for DIY Compost Bin that won't cost you anything, and you can find all you need around the house.
Skills Required:
DIY compost bin Plans are usually the same; there is just a variation of capacity, which makes it difficult for some DIYers to make. If you're making for home usage or personal gardens and not using these compost bins for commercial purposes. Then all of our given DIY compost bin plans will be highly compatible for beginners, even novice DIYers too.
Uses And Benefits:
With this DIY compost bin, you can make composting easy and fun. A good compost system ensures that the correct decomposition conditions are met, allowing a large variety of materials to break down into nutrient-rich organic matter. This increases garden fertility improves soil structure, and helps to control pests and diseases. The compost bins vary in size to accommodate different amounts of organic matter over time.
If you're thinking of composting some fruits, there is no need to buy a compost bin as you can easily create one on your own. Easy to build, the DIY Compost Bin is a great way to get started with composting your kitchen scraps. All you need are a few items lying around the house, and with these steps, you will have your compost bin ready! These projects require minimal tools and materials and can be completed in an afternoon. Once assembled, it is ready to use straight away. The first step is deciding whether you are an outdoor or indoor composter. An outdoor bin should be placed in a shady spot away from direct sunlight and wind, while the indoor composters can be placed anywhere in your house.
DIY Compost Bin plan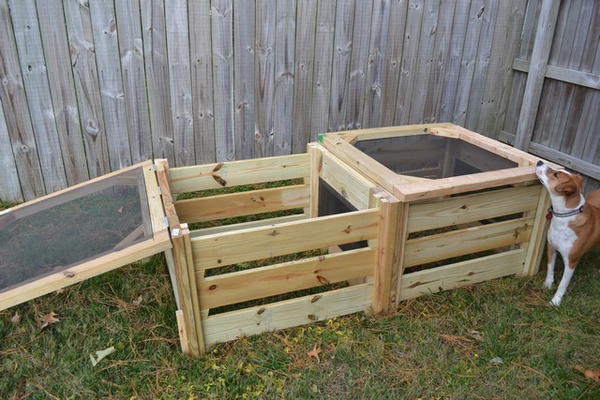 This two-in-one compost bin is an easy and inexpensive way to compost your kitchen scraps. This project uses standard lumber, which makes it easy to build with just a few tools. By offsetting the back corners of each bin and building them at identical heights, we can connect them to create a sturdy composting platform. It's built with more than looks in mind, though: We wanted it to be functional too. The bins are designed so that you can easily remove the front corner boards for access during filling or emptying.
Materials and tools:
2 x 4, 24 linear feet

2 x 8, 35 to 40 linear feet

5/4 x 6" decking, 40 linear feet

1 x 1, 40 linear feet

3" deck screws, a small box

2 ½" square drive, composite deck screws, a couple of small boxes

Six galvanized tee hinges

36" wide fiberglass netting or hardware cloth

Rubber spline (if you're using the netting), about 35 feet
Quick Compost Bin DIY With Pallet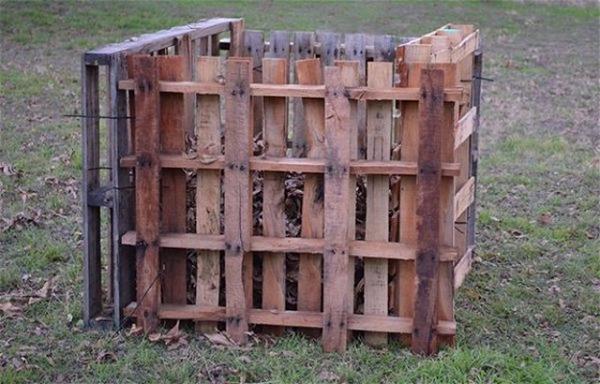 If you want a compost bin that will last, this pallet project is the one for you. You can start making it by cutting the boards with a band saw or circular saw. After that, screw as many planks together as you'll need to make it wide enough for your needs. Then, secure each one with zip ties every few inches. Finally, add soil and plant some flowers! Because there's no lid on top, you can easily add scraps as you go, so there's no need for bins or buckets inside your countertop.
Materials and tools:
Pallet boards 

Pack of zip ties (18 or more)

4 repurposed pallets

A helper (optional)

A band saw, or circular saw
How To Make A Compost Bin For $50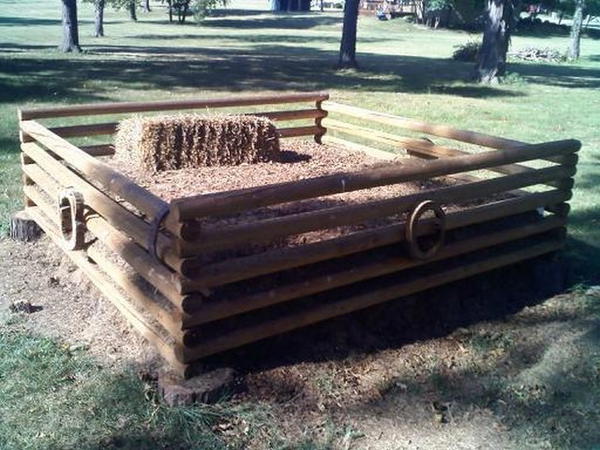 This Landscape Timber Compost Bin is an easy DIY project that can be accomplished on the weekend. Made from landscaping timbers, the bin takes about 1-2 hours to make and can hold up to 1 cubic yard of material. This composter looks gorgeous in your yard and helps you recycle food scraps and other garden waste into nutrient-rich compost for your garden or potted plants. Its size makes it ideal for a backyard or deck and only costs about $50 if you need to buy all your supplies.
Materials and tools:
25 landscaping timbers, each 8ft long

7/16 steel rods

8 ft by 8 ft composter

Drilling machine 
Build The Ultimate Compost Bin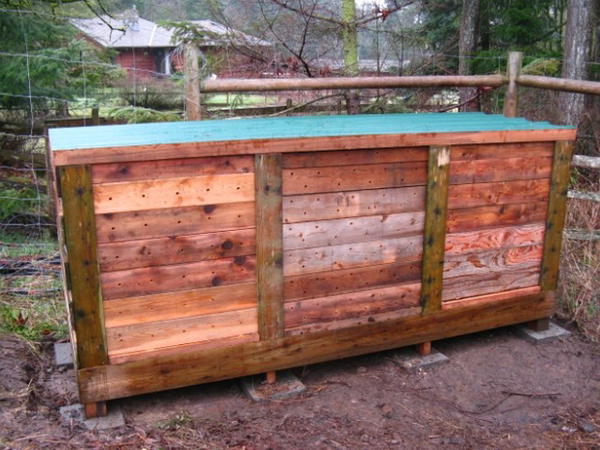 Do you ever find it frustrating to dump your compost every time? The Three Bin Compost Bin is here to improve your experience while out in the backyard. The first bin will have completely ready compost, while the second will still have half-ready compost that you can use when necessary. As you add more and make more compost, the third bin provides the perfect place to store them until they become ready. You can also paint yours with fun colors for an exciting look.
Materials and tools:
Some cedar posts

Pressure-treated wood

Some hardware cloth to rodent-proof the bins

A small number of assorted screws

Other bits and bobs
Homemade Compost Bin Idea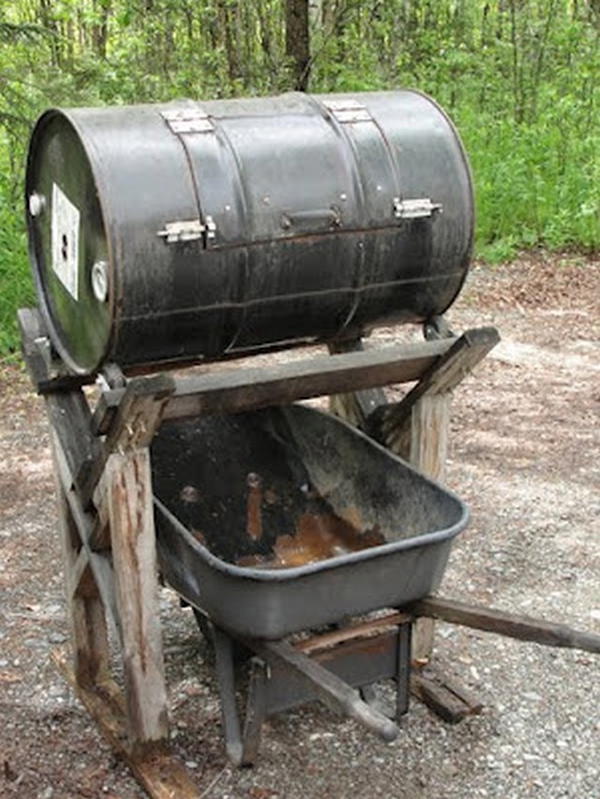 This DIY compost bin is perfect for organic home-gardening enthusiasts. The easy-to-follow tutorial, which includes a list of materials and step-by-step instructions, will take you through building your own composter in no time. Following the instructions in this tutorial, the builder, Marty, was able to come up with this beautiful outdoor composter. If you have all the materials listed, your composter will be ready in no time.
Materials and tools:
Steel barrel such as a 55-gallon drum

Two heavy-duty hinges

Four heavy-duty rollers

2 door latch locks

Three drawer pulls

Heavy-duty steel plate such as a straightened "L" bracket

Nuts & Bolts to fit all of the above

Cradle to the holding barrel

Flat black spray paint
Garden Compost Bin To DIY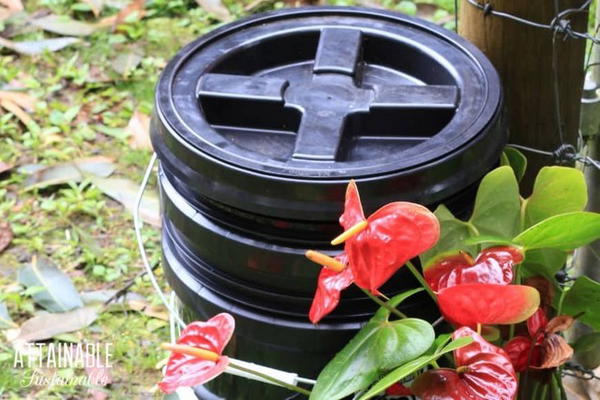 Keep your kitchen scraps secure and contained in this simple and inexpensive compost bin. If you don't want to spend much of your hard-earned money, this is the most cost-effective method you can use. All you need is a relatively new bucket and the undermentioned items. There is no limit on the number of worms you can house in your worm compost bin, but ensure you have enough space as they tend to multiply quickly. The bigger the worm compost bin, the better it should be.
Materials and tools:
Leftover kitchen scraps

Coffee and loose tea or tea bags

Human hair or fur from animal grooming

Cardboard and paper

Crushed eggshells

Suppose you have a bigger outdoor bin, bedding, and manure from chickens, rabbits, and other farm animals. Do not add a cat or dog poop.
Best Compost Bin Design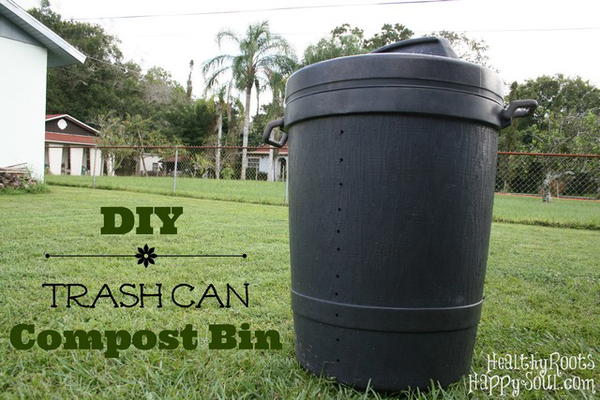 This trash-can compost bin gives gardeners a simple way to create an outdoor composter in any space. The plastic bin can be used indoors or outdoors and has the filter insert needed to keep odors down. To use it, simply drill holes in the sides and lid of an empty plastic trash can, add layers of soil and decomposing material (like chopped leaves or old mulch), and roll your bin from time to time, so everything is well mixed, and watch nature work its magic as your waste turns into nutrient-rich compost.
Materials and tools:
Trash can with lid

Drilling machine
See the post for more information.
You can also see: DIY Trash Can Ideas 
Outdoor Compost Bin Idea In Cheap Way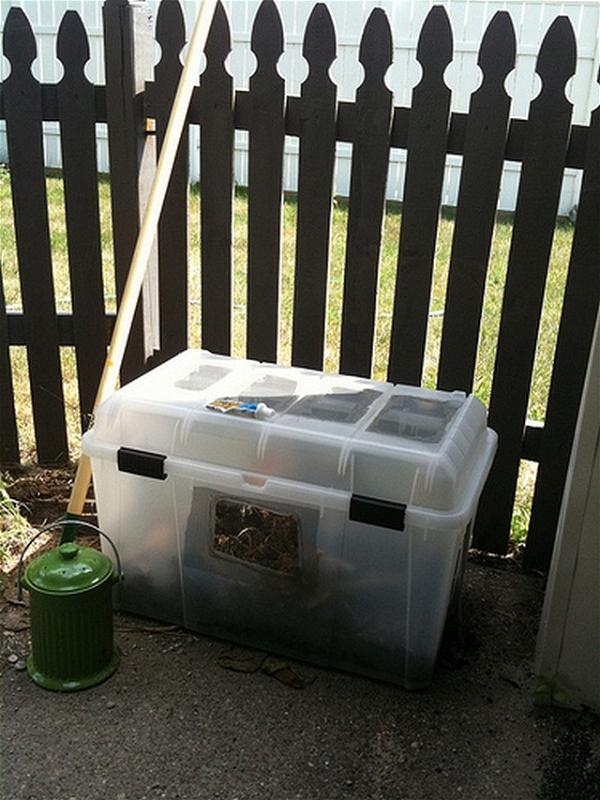 A plastic bin or a closeable container can be used for an indoor compost bin. Cut small holes in the lid and add drainage mechanisms, such as holes or slits. Line the bottom and walls of the bin with cardboard to absorb moisture from your compost. To prevent unwanted neighbors (rats, dogs, and other critters), use chicken wire to close the holes before filling your bin with scraps. This DIY plastic compost bin is easy to build, cheap to make using a plastic container, and can be made for less than $20.
Materials and tools:
A closeable container

Dremel Tool or Hand Saw

Liquid Nails

Screen

A hoe or something to toss your compost

A container to transport your scraps in
Build Your Own Kitchen Compost Bin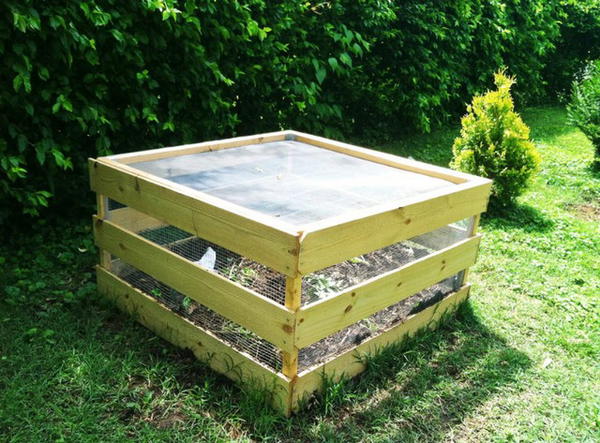 This wood compost bin is super simple and inexpensive to make. All you need are some fence pickets or wooden pallets, a drill, screws, and metal mesh. Drill holes in your bin's side pieces so air can flow through them. Screw the boards together using a Kreg Jig to ensure everything is secure. Add the metal mesh to your bin, then fill it with leaves and garden waste. The leaves should go all the way up to the top layer of wood slats before you start adding kitchen scraps like vegetable peels, coffee grounds, or tea bags.
Materials and tools:
Wooden pieces

Metal mesh

A hand saw
Recycled Compost Bin Easy Plan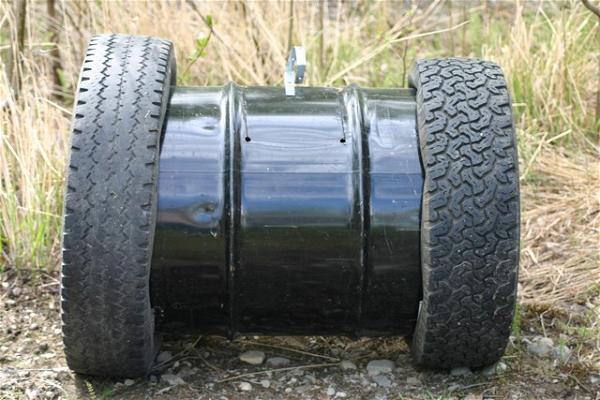 The tire and barrel bin are an easy-to-use, lightweight, and cost-effective composter. Its design allows for easy mixing of compost materials. The drum is constructed from galvanized steel for strength and durability, with a mix of old tires inside for stability and movement. As you roll the composter, it mixes up the compost and exposes it to more oxygen, speeding up the decomposition process. The unique design of this composter not only makes it look great but is incredibly functional as well.
Materials and tools:
An empty

Two tires

Drilling machine
How To Build A Compost Bin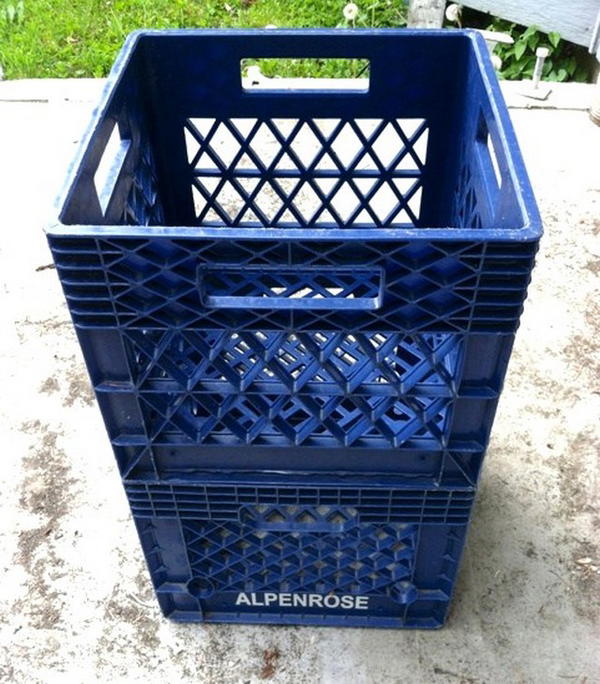 The milk crate compost bin is a great way to incorporate recycling into your gardening. You can either purchase an empty milk crate or use an empty one you may have found, but you will need to drill holes on it to improve aeration. This compost bin is easy and affordable because it can be made from an old milk crate that can be reused for storage purposes. You can find heavy materials such as stones that will help keep the lid firm.
Materials and tools:
Some milk crates

Weed blocker

Paper bags

A hot glue gun 
How To Start A Compost Bin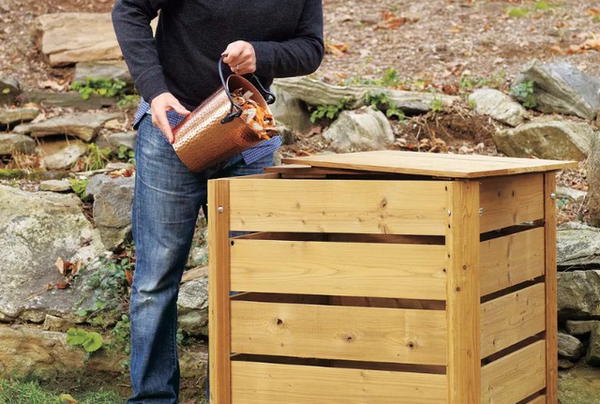 This plan is made so that the front panel can be slid off. It is very easy to assemble; for example, you can make a few adjustments or measure and cut parts yourself according to your measurements, or use your imagination and make any designs of your choice. You may also paint it according to your requirement. This is an amazing project for people looking for something creative with a low budget and easy-to-follow step-by-step instructions.
Materials and tools:
1x4 lumber

Circular saw

Gorilla Wood Glue

Drilling machine

Screws
Follow the steps to join the necessary parts
How To DIY Compost Bin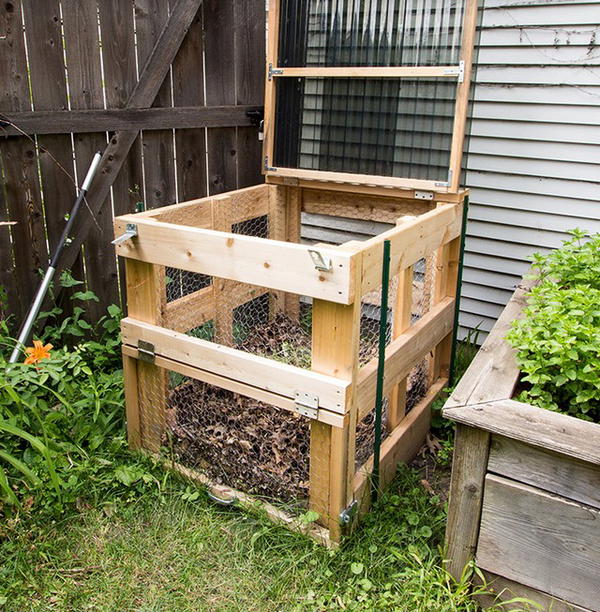 This compost bin will help you make the most of your food scraps and yard waste. Made from long-lasting, easy-to-find materials, you can build this bin quickly and easily with common household tools. This simple desktop compost bin is a great and eco-friendly option to turn your kitchen scraps into nutrient-rich compost. The wide opening allows you to add material without worrying about the screen getting clogged easily, and the base tray will keep your work surface clean. This design is great for use at home, in the office, or in small spaces.
Materials and tools:
15′ of 3′ tall hardware cloth

box of #8 1″ wood screws

Three ′ x 3′ corrugated polycarbonate panel

2 gate handles

Four 3-½″ door hinges

Four 3-½″ latch post safety hasps

Eight 2-½″ flat corner braces

2 3″ T-plates

4 4′ fence stakes

cordless drill

⅛″ drill bit

driver bit

staple gun and staples

carpenter's square

diagonal pliers

pencil

tape measure

fence post driver 
Your Own Indoor Compost Bin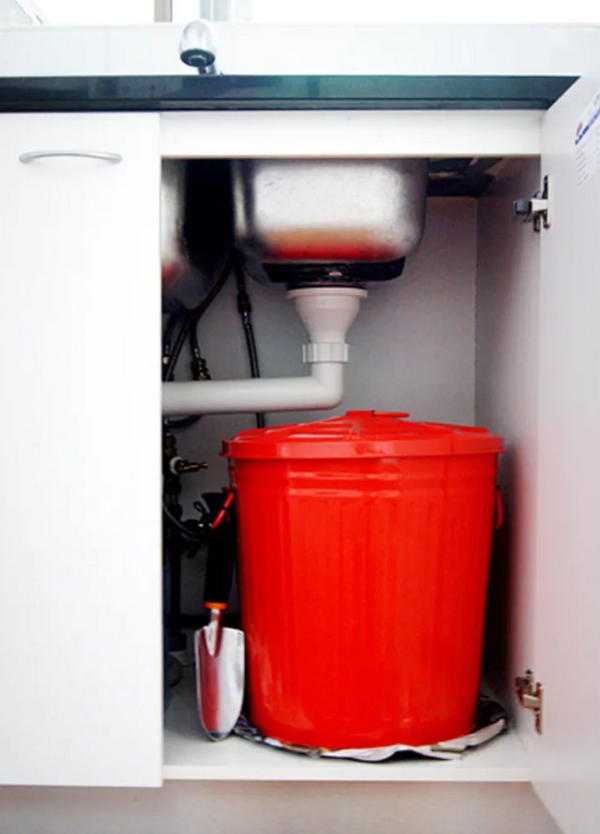 To keep your indoor compost bin odorless, ensure proper aeration and add materials like newspaper or peat moss, which will absorb the odors. Aeration is key in composting. It is a process of mixing the ingredients in your bin to ensure aeration, which helps decomposition by exposing each material to oxygen and moisture. If you notice that the pile does not break down and does not have an earthy smell, it needs more air or moisture.
Materials and tools:
A container to house your compost

A tray under your container allows room for spills, hopefully just dirt.

A small bag of soil

Some old newspapers for shredding

A drill

Hammer

Nail

Scissors.
In-ground Compost Bin DIY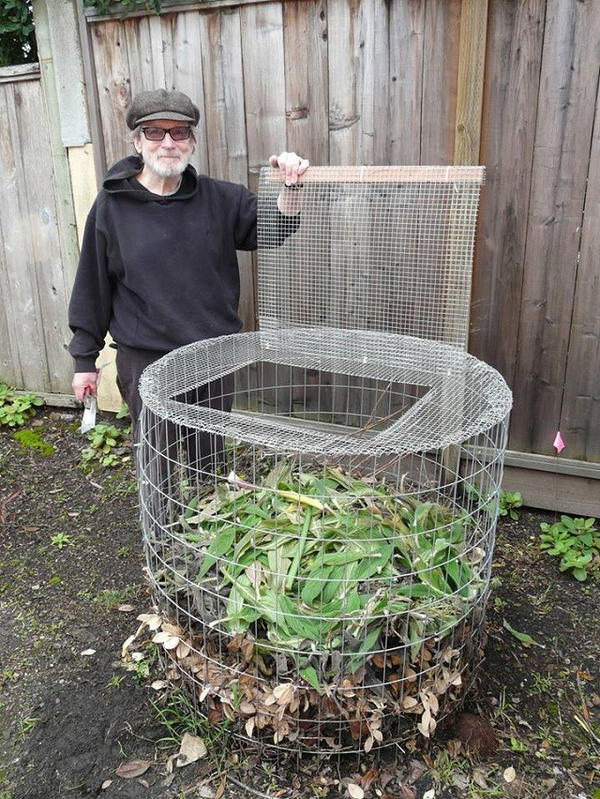 Mesh Mesh is a material made of metal wire that's woven into a fabric. It's often used to make fencing, gates, and other enclosures. You can find mesh hardware cloth in most home improvement stores. To build your bin, you can use regular wire fencing or any type of sturdy metal mesh. The main purpose of using mesh is to allow the compost inside to breathe while it decomposes so it doesn't start to smell.
Materials and tools:
Mesh Hardware Cloth

Cable Ties

Galvanized Welded Wire Fence

A plank of wood
You can also see: DIY pyramid planter ideas 
DIY Cedar Compost Bin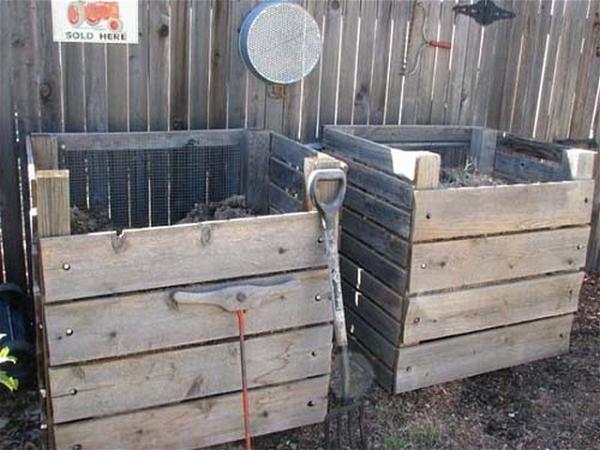 If you want to grow flowers, herbs, and vegetables in the garden, you will need a compost bin. And so far as choosing what compost bin to buy is concerned, there are many options, but how do you pick from the choices available? This cedar compost bin is designed with both function and aesthetics, making it stand out from other outdoor products. The bins have been engineered so that it's simple to clean and keep your compost pile aerated.
Materials and tools:
Cedar 4×4 posts

Cedar 1×6″ boards

A hand saw

Nails

Hammer
Cardboard DIY Compost Bins
We all have heard about the importance of upcycling, but many haven't tried it. It's time to make a change. This blog will teach you how to transform old cardboard boxes into stylish and functional storage units that fit right into any décor. It's possible to create new items rather than throw out old boxes in your garage or attic. This method is the best way to use those old carton boxes to make something new and beautiful.
Materials and tools:
1 x Cardboard bulk box

All food scraps

Weeds and yard prunings

Leaves

Newspapers and plain cardboard

A bit of soil
Rotating Compost Bin Plan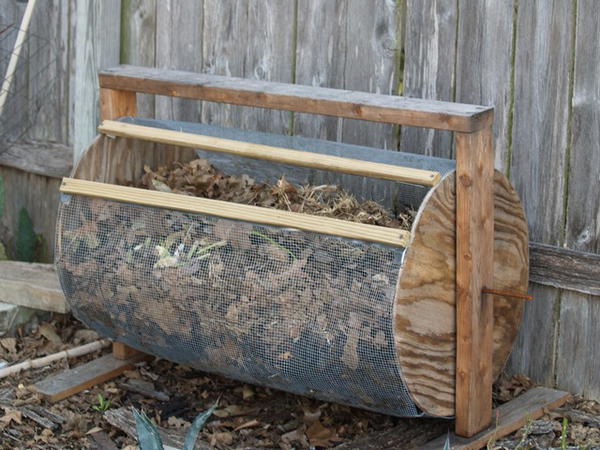 This drum-style compost bin is made from a sturdy woven wire mesh, so it won't collapse if you put your composted items in there. The wire door at the front of the bin allows air to pass through, which helps keep odors from being trapped inside. It also makes it easy to remove waste from the bin - and efficient while doing so. Follow the instructions provided to learn how to build this composter with materials that are found around your home.
Materials and tools:

2-Plywood 2' X 2'

Fence wire 3' X 62

1--2 X 4 X 92-⅝"

1--1 X 4 X 48"

PVC ¾" X 35"

49" Rebar

Nails, staples, glue

Measuring tape

Circular Saw

Sabre Saw

Drill

Hammer
Compost Bin Easy To DIY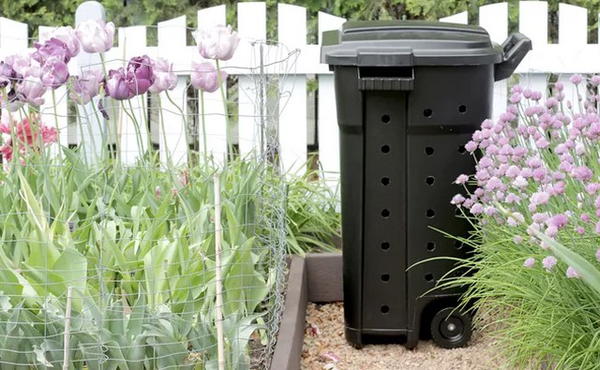 The Dustin Can Compost Bin is a great tool for organizing kitchen scraps into a compost bin. This trash can has a spacious 40-gallon capacity and comes with a lid that includes two holes for drainage, allowing you to collect liquid as your compost develops. The lid also comes with an adjustable knob that allows you to secure the lid tightly by wrapping around it with a rope -- this helps keep unwanted pests out of your compost pile!
Materials and tools:
Lidded, outdoor trash can

Power drill

Paddle drill bit
How To Layer A Compost Bin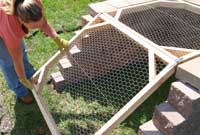 Concrete is an ideal material for a compost bin because it will not attract rodents and other pests. The shape of the bin allows for maximum aeration, allowing the compost to dry more quickly. This video will provide tips for constructing a good-looking structure that will serve you well for years. Block shows how to design your bin so you can easily add to it as needed. He also explains how adding insulation and roofing can save you time and money down the road by protecting your bin from rot and weather damage.
Materials and tools:
36 AB York Blocks

12 AB Dublin Blocks

20 Corner Blocks

17 Wall Caps

5-50 lb Bags Base Rock

3 Aluminum Angle Pieces

1.5 in x 36 in and ⅛ in. thick

9 Concrete Anchors

Square

Shovel

Hand Compactor

Measuring Tape

Circular Saw

Dead Blow Hammer

Hammer & Chisel

Safety Glasses