The potting bench is an essential part of any garden. It allows you to organize your gardening tools, keep your plants healthy and clean, and grow various plants. While most potting benches are made from wood, you can make your potting bench out of just about anything. This unique furniture piece will give your garden a nice touch while helping you stay organized and prepared for whatever you might need to do outside in the garden. Below is a list of 16 DIY potting bench ideas to get your imagination going.
Recycled DIY Potting Bench Plans

Potting benches are great for gardeners who want to organize their tools and plants for maintenance. A potting bench is also a wonderful place to relax and unwind after a long gardening session. You can stop looking for potting bench ideas because we put together this list of DIY potting bench ideas that will make the perfect addition to your garden. The best thing about these DIY ideas is that they're easy to build, and you probably already have most of the materials around your house!
Benefits of DIY Potting Bench Ideas
Cost-Effective: Building your potting bench saves money compared to buying a pre-made one.
Customization: You can design and build a storage bench that meets your specific needs and preferences.
Satisfaction: Completing a DIY project can bring a sense of accomplishment and pride.
Reuse and Recycle: You can repurpose old materials or items that would otherwise be thrown away, making it a sustainable option.
Improving Skills: Building a potting bench is a great way to develop your woodworking skills and knowledge.
Space-Saving: You can design your potting bench to fit into a specific area or space in your garden, making it more efficient and functional.
How To Build A Potting Bench SUPER EASY
If you have a small area where you can grow some herbs and plants, this potting bench is a must-have! This Potting Bench is designed to be a more compact version of your standard garden bench. It features storage space, making it great when you want to leave your gardening tools in one place and don't want them to take up necessary space. This project can quickly be built from scraps and is perfect for anyone looking for extra storage space next to their garden or patio.
DIY Garden Potting Bench
A great way to use up leftover wood, this potting bench is a perfect addition to your garden. With a durable, weather-resistant design and thoughtful details like storage space for tools and soil, this potting bench will easily last for years! Here is an easy-to-build DIY garden potting bench idea that anyone can do. This video shows how easy it is to build a perfect Potting Bench with essential tools and materials in just a few hours.
Potting Bench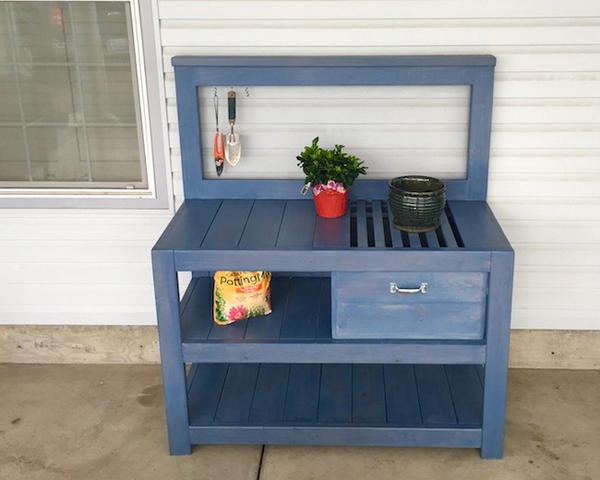 If you love gardening and want a place to store your tools and plants, this DIY potting bench is for you! Learn how to build it today with our step-by-step directions. This DIY Potting Bench will give you plenty of surface area to work on and will only take up a little space in your garden. From sawing, staining, and assembling to drying time and painting, the project should take about four hours to complete.
Farmhouse Style Potting Bench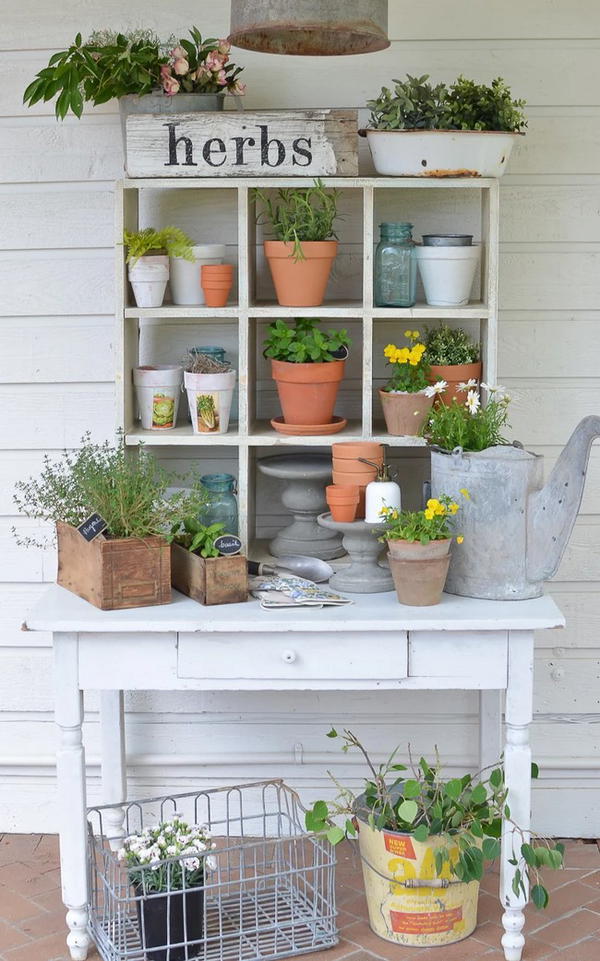 This Farmhouse Style Potting Bench is the perfect way to bring style and functionality to your outdoor space. It is an excellent project for newbie DIYers looking to add character and function to their yard. This superb furniture piece stores all your gardening tools, making them easy to access when you sit down to work on your garden. Follow the step-by-step directions in this free woodworking project and learn how to build a beautiful potting bench that will last for decades.
Potting Bench With Hidden Garbage Can Enclosure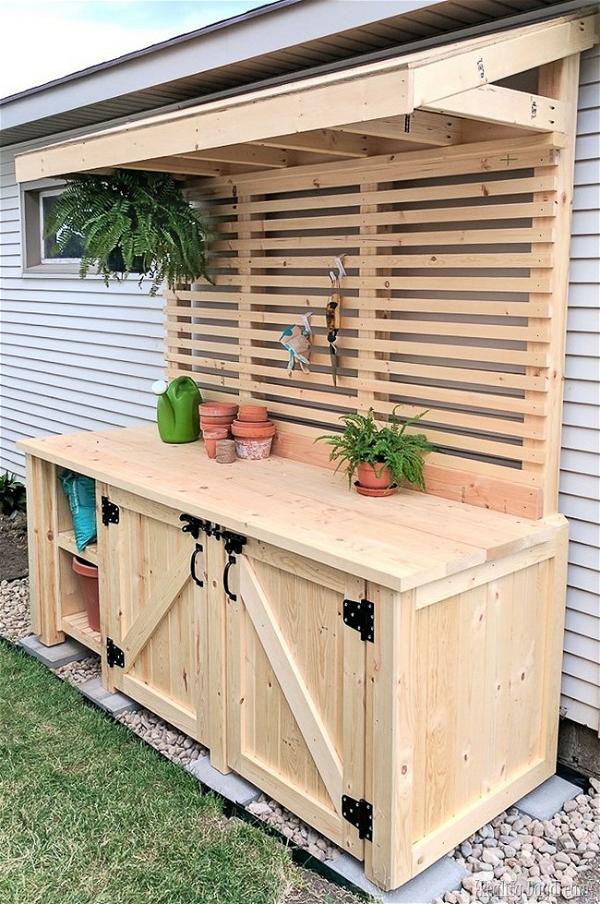 Container gardens are a great way to grow food right in your backyard. It's also a great way to ensure you control what goes into your plants and how they're cared for. Building your potting bench is a great place to start if you're trying to get into container gardening. This bench has plenty of space for containers and tools, plus a hidden garbage can enclosure that keeps smells out while the lid is closed. It is stackable, which will be great to use in a small space. This project is easy to complete by any DIY'er and would make a great addition to any home.
DIY Potting Bench using Fence Boards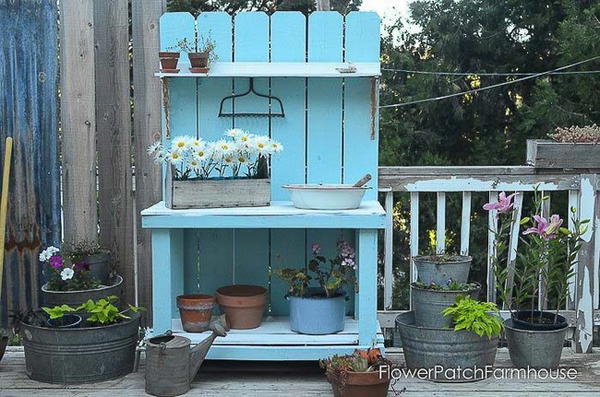 A stylish and practical potting bench can be built using fence boards. This DIY Potting Bench uses an old fence for the top, but any board that is large enough to support a person's weight will work just as well. The best thing about this project is that you don't need any power tools to put it together. This potting bench is a simple DIY project you can complete in one weekend. The best part? It only requires a few materials, and you can find them at any big box hardware store.
Potting Bench Plans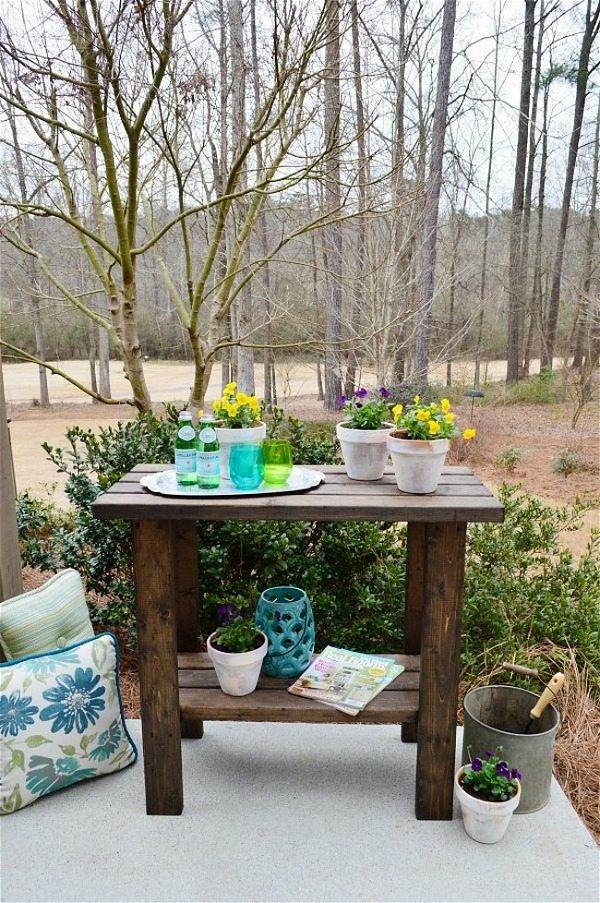 This DIY Potting Bench allows you to create your potting bench or storage for small garden tools. These plans are well-detailed, with dimensions and instructions to guide you through the build. The DIY Potting Bench is designed to fit perfectly in small spaces. They also include tips and ideas to customize your table to fit your needs. After this, you'll be able to add a potting bench to your garden or backyard without any problems.
DIY Farmhouse Cottage Potting Bench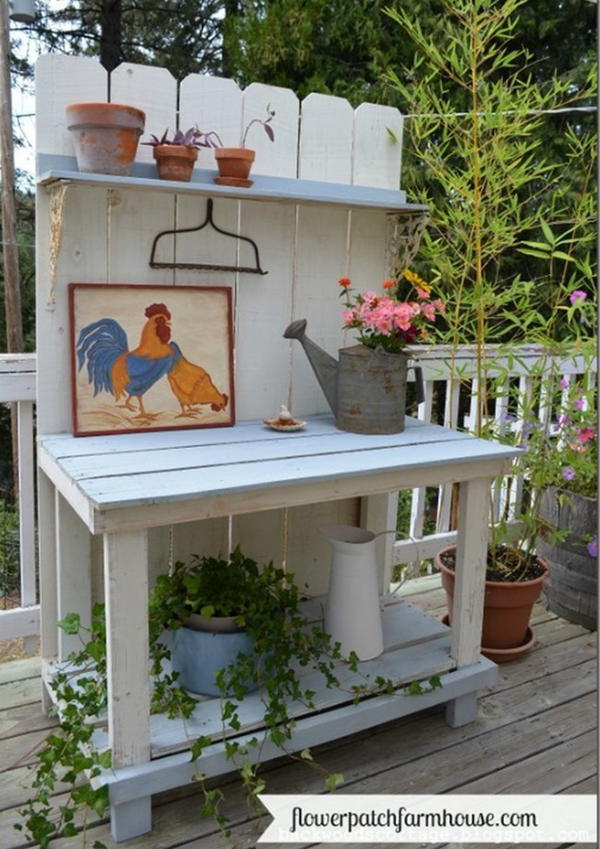 Need a potting bench to garden? This DIY Farmhouse Cottage Potting Bench is the perfect rustic accent piece for your yard. Use this free Potting Bench Plan to help you build a gorgeous garden bench that can double up as a potting table. This is an easy do-it-yourself project and the perfect way to make your garden or home look beautiful in no time! This quick and easy potting bench is ideal for use outdoors in your garden or even indoors. It is so customizable with all materials, so get creative and make it your own!
DIY Potting Bench with Sink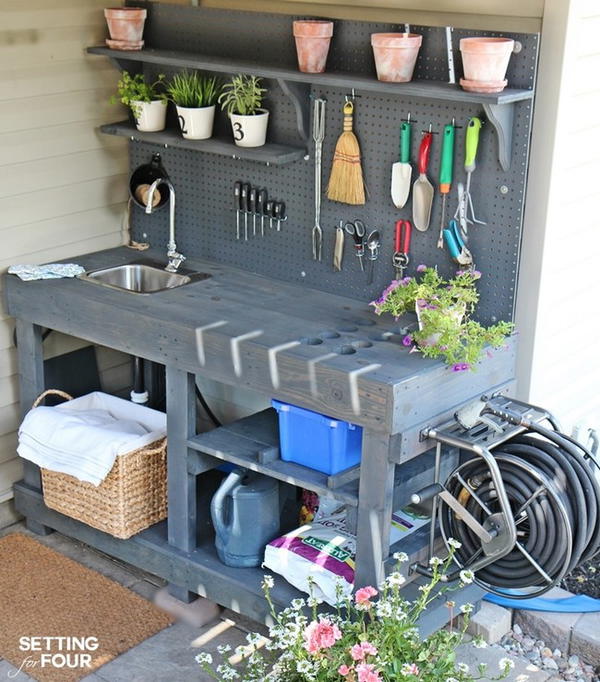 This Potting Bench With Sink DIY Project is one of the most complex projects in my garden. It's a large potting bench with a sink, requiring more skill than the smaller plans. This DIY project includes methods for constructing your own potting bench so you can easily plant seeds, transplant plants, and water. You'll also learn how to add a portable sink to stay clean and dry while working in your garden. You can build this potting bench out of any wood you like, even pallets, if you have them lying around. It's simple to do and looks great once finished!
How To Make A Gardener's Potting Bench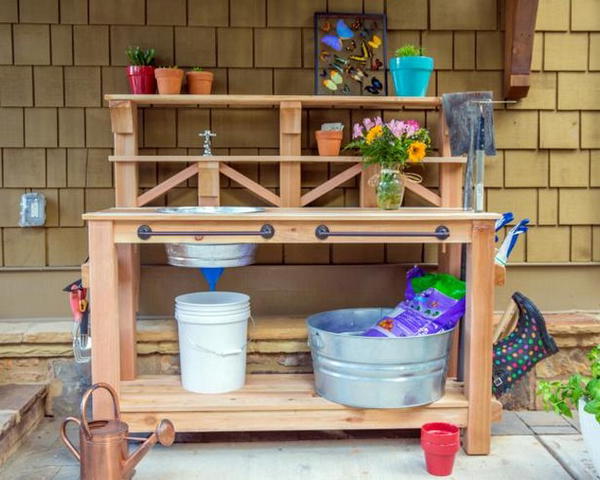 A potting bench is a garden necessity for all levels of gardeners. You'll want a spot to set your tools and equipment and space to work comfortably. The suitable potting bench can be a versatile and convenient tool that helps you finish your gardening work without stressing out. Build your potting bench and stock it with all the necessary gardening tools, like a shovel, trowel, and pruners. This garden project takes only two days and can be completed with simple supplies. The best part? It's built to last for years.
Farmhouse Potting Bench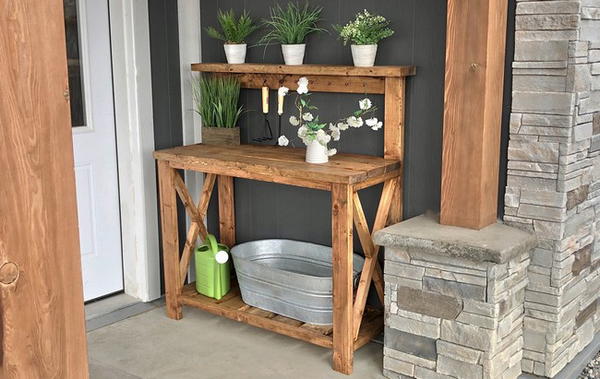 A potting bench is valuable when you have a garden and love to work in it. You can create your potting bench while helping the planet simultaneously. The materials used in this project are scrap wood and salvaged items from around the house. You can paint or stain the bench depending on your decor. It gives you more space to plant and arrange your goods on the go. It also has plenty of storage areas to keep tools handy, like drills and saws. This DIY project is so easy; anyone can make one!
DIY Potting Bench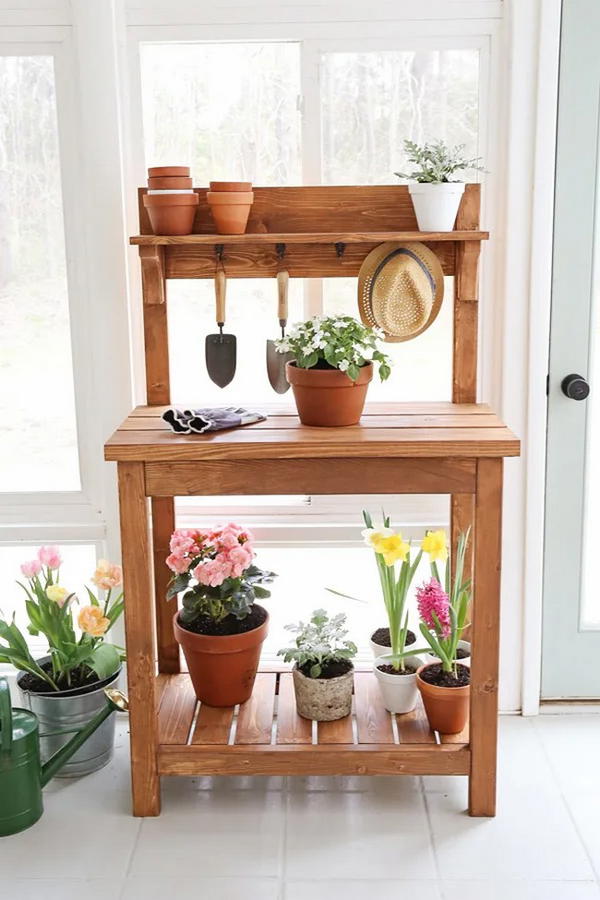 DIY Potting Bench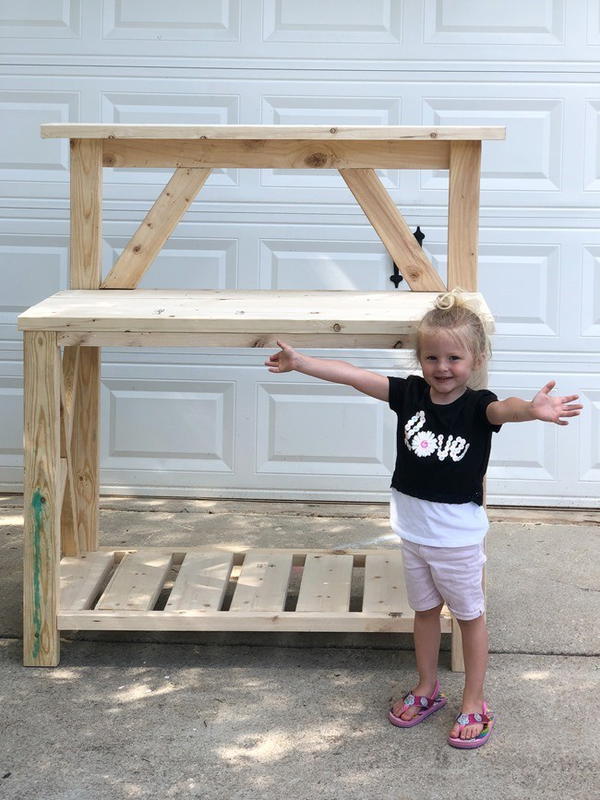 Suppose you want to grow indoor plants or flowers and want to save money on something other than an expensive easy planter bench. This simple and cheap DIY potting bench idea allows you to make your vegetables and fruits year-round, no matter the temperature outside. This is a perfect project for spring around the house or garden. Utilize every inch of space with this great little potting bench! This potting bench works excellent for gardening, but you can also use it as a workbench or outdoor bench for relaxing in your flower beds.
DIY Folding Potting Bench On Garden Shed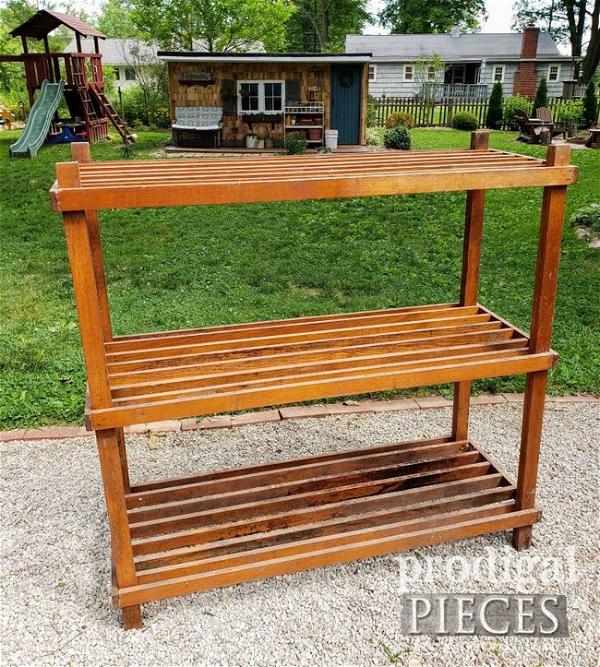 This DIY folding potting bench is the ultimate storage solution for garden sheds, workshops, and basements. It can store just about anything from food to gardening tools, making it perfect for anyone who enjoys gardening. The build is super simple, with only two frame sections that fold outwards on hinges, making the unit extremely versatile. You will love how easy it is to adjust the height to fit small children or tall adults! This folding potting bench is super sturdy, so it's also perfect for indoor use.
DIY Potting Bench with Sink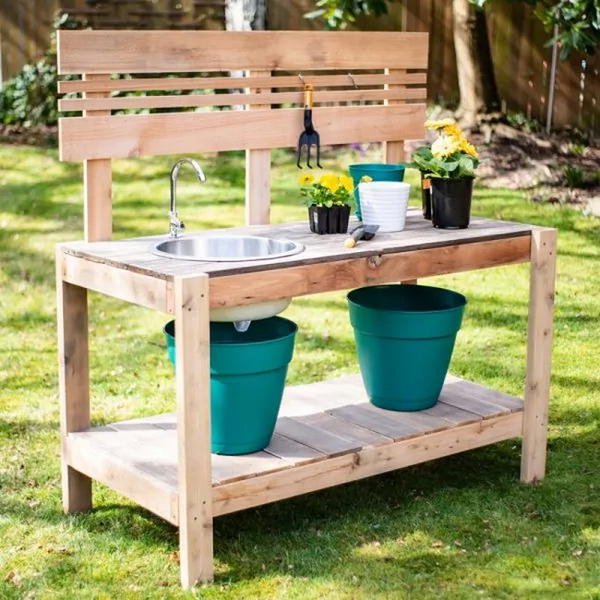 A potting bench with a sink is just what every home gardener needs to keep everything they need to work with a close at hand. This tutorial shows you a simple and economical way to build a potting bench for your garden. It's easy to make with essential tools; you can assemble it in just a few hours and then fill it with all your gardening supplies. Since this outdoor furniture will be located in the yard, it is essential to make it durable and weatherproof to withstand the elements.
DIY Potting Bench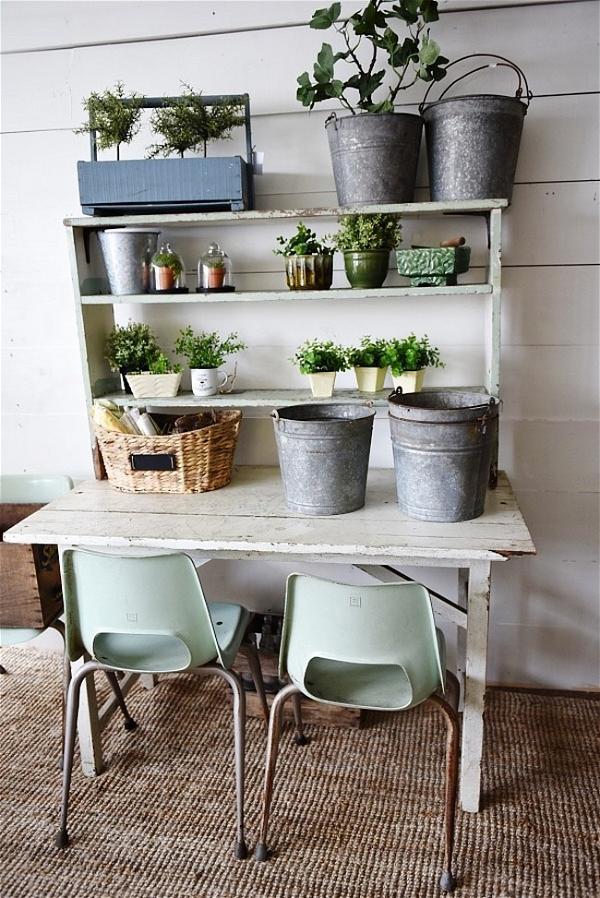 If you love spending time in your garden, you'll need a place to put all your tools. This tutorial will tell you how to build a DIY Potting Bench Idea with plenty of room for storage and optional shelves for additional storage. A potting bench can be a perfect place to organize and create a piece of beautiful garden furniture. With plenty of room for all your tools and supplies and some shelves so you can display your favorite pottery. This versatile DIY project will transform any part of your property into a place where you'll love to spend time.