The world has gone jewelry crazy, and if you love to wear every piece you own, you probably don't have enough storage space. The thing about owning jewelry is that it is so small and delicate and can get lost within a short period. And when it comes to earrings, they can be even harder to keep track of because they are so tiny. Here are 26 great ideas for DIY earring holder ideas that will help your store and beautifully organize your jewelry collection. You'll be able to see all of your pieces at a glance and never lose another one again!
DIY Earring Holder Ideas That Are Cheap & Easy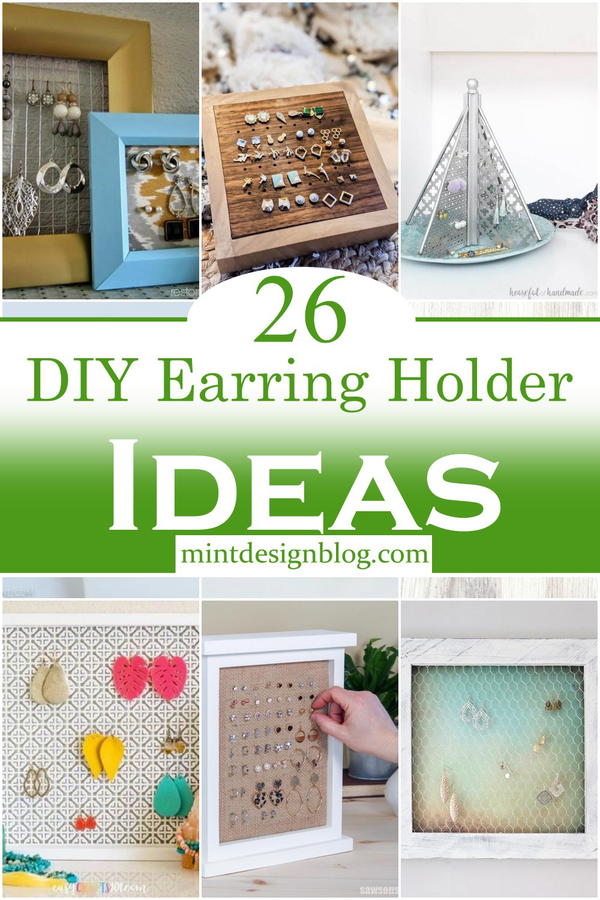 Do you have a lot of earrings and nowhere to put them? Whether your earring collection has taken over the bathroom counter, or you're tired of the outfit stealing an array of earrings on the dresser, it's time to create and wear an earring holder. From wall mount holders to cork board storage and more, we've got all of your DIY projects in one place. They are easy to make, and they save you time in the morning while you are looking for the right pair of earrings to match your outfit. There are many ways to make an earring holder. You can use wood, foam board, or cardboard, depending on what you have at home.
How To Make A Homemade Earring Holder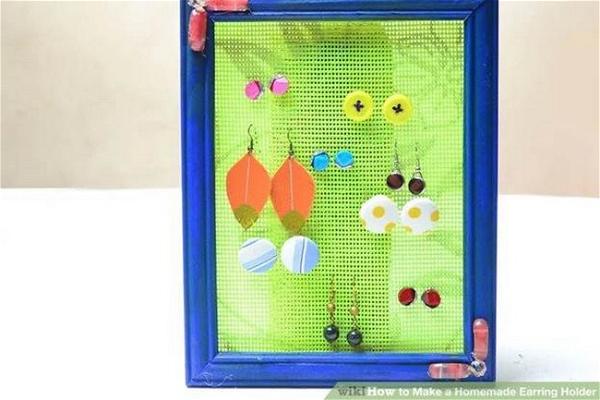 Earring holders are typically used to hold your earrings while not in use. Creating a homemade earring holder is an easy way to store your favorite jewelry pieces. This versatile project can be used as a container to place in your dresser or as a beautiful wall-mountable piece in your house. It helps you keep them organized and also protects them from getting tangled. They can easily be made at home, without much skill required. Spend a little time at home putting together this project, and your earrings will be organized and on display for all to see.
DIY Earring Holder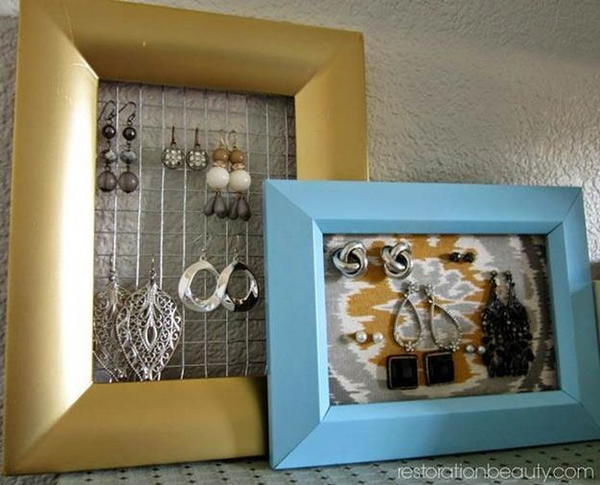 Are you obsessed with earrings? If so, here's a great DIY project that shows how you can transform your old picture frames into incredible earring holders. The supplies you will need to do this are just some foam board and silly putty glue. This earring holder will keep your countertops clutter-free, and it will help you organize your earrings in style. This may be one of the simplest designs for an earring display to make, and it's customizable to fit your needs. This design uses simple steps and is inexpensive. The best part of this design is that everything is reusable!
Easy DIY Earring Holder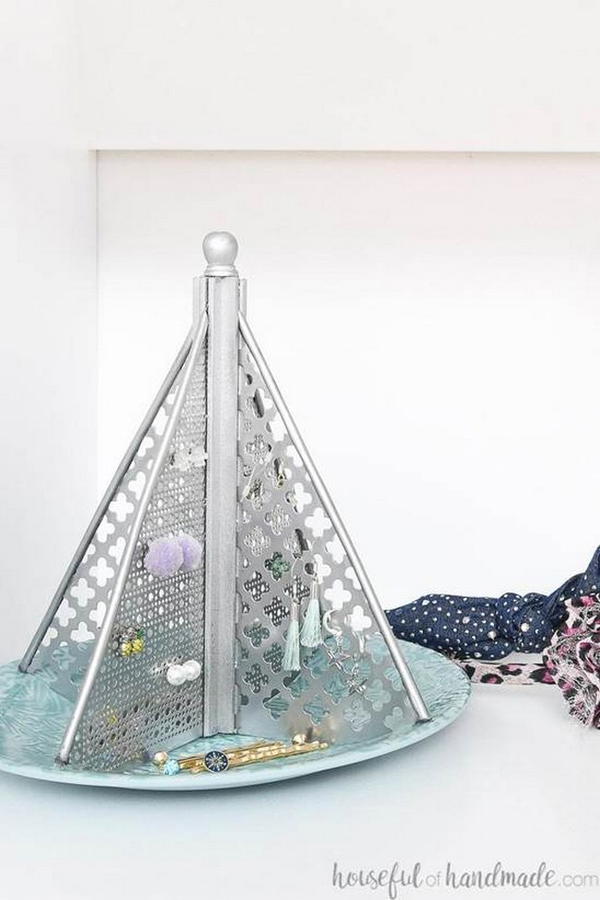 Are you tired of your earrings getting tangled all the time? With this DIY earring holder, all problems are solved. This is a pyramid with lots of holes so that your earrings will never get tangled again! This is an easy-to-make project, yet very simple and practical. It is very easy to make, small and portable, taking up little space. You can put it in your bedroom and arrange your pretty earrings. You'll like how beautiful it looks on your wall or wherever you decide to hang the pyramid.
2. Diy Jewelry Organizer
If you like a friendly and straightforward jewelry organizer, this DIY project will be perfect. This idea is super simple and perfect for beginners. You can find everything in your home needed to make this craft. The only thing you need is a measuring tape and time. By making this jewelry organizer on a sunny afternoon, you will come back home with some extra cash and save your time every time you make it. They can be used at home or work in the bathroom or desk drawer. They also make fabulous gifts for birthdays, Christmas, or other occasions.
3. DIY Earring Holder Less Than $3
Got a lot of pairs of earrings that you don't know where to store? This stunning DIY earring holder will surely become your favorite decoration piece in your room. It's not only gorgeous and stylish but also very easy to make! It is for kids to teach them the appropriate way of organizing their earrings. The earring holder you'll be making will not just be beautiful and practical, but it will also save your money because you don't have to buy any expensive earring holders found in fancy jewelry stores.
Wine Cork Earring Holder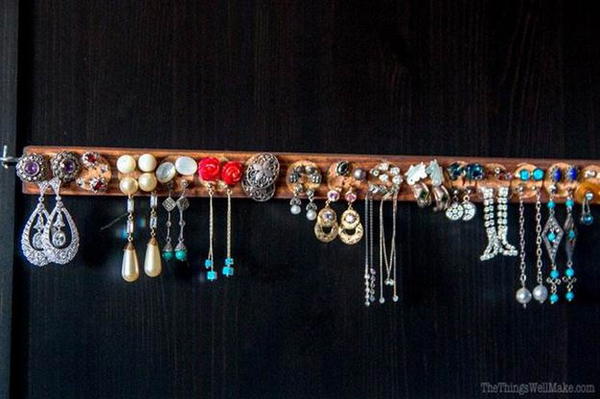 In this DIY project, you will learn how to make your own earring holder using wine cork and wood. This is another great project that is easy to make. It won't take much of your time. It is one of those projects that are quick and easy to complete. With this cork earring holder, you can now display your set of fancy earrings. It is a great way to display your favorite jewelry. Made with wine cork and wood, this project is also an eco-friendly craft and will get you organized in style.
Wire Earring Holder DIY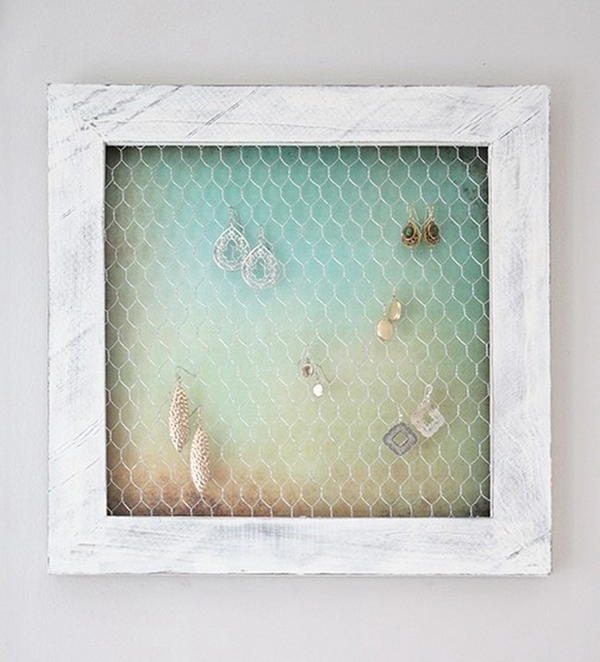 This handmade earring holder looks like something abstract. It is made of wood and metal wire, which looks different from your typical earring rack. This is a DIY project, so you will need some skills in woodworking to be able to complete it. The DIY earring holder is made of wood for a rustic-looking. They're relatively simple to make, and you will have lots of fun following this tutorial and putting together your DIY earring holder.
Easy DIY Earring Holder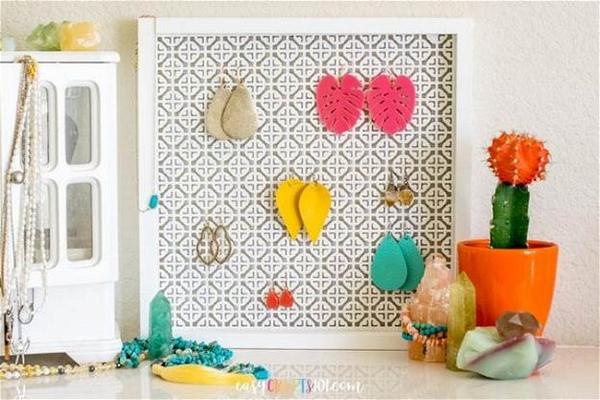 If you're the type of person who loves necklaces and earrings, you have to make this. Necklace and earring frames are a wonderful way to display your jewelry collection uniquely. This DIY earring holder is fun to make, and you can use it to display all your favorite pairs. Use a bright color of paint on the inside to contrast with the earthy tone of the tree bark. This earring holder is a simple storage solution for your necklaces and earrings. An easy DIY project, you can use scrap wood to create this. You will have the bonus that it's personalized!"
DIY Earring Holder Made From Wood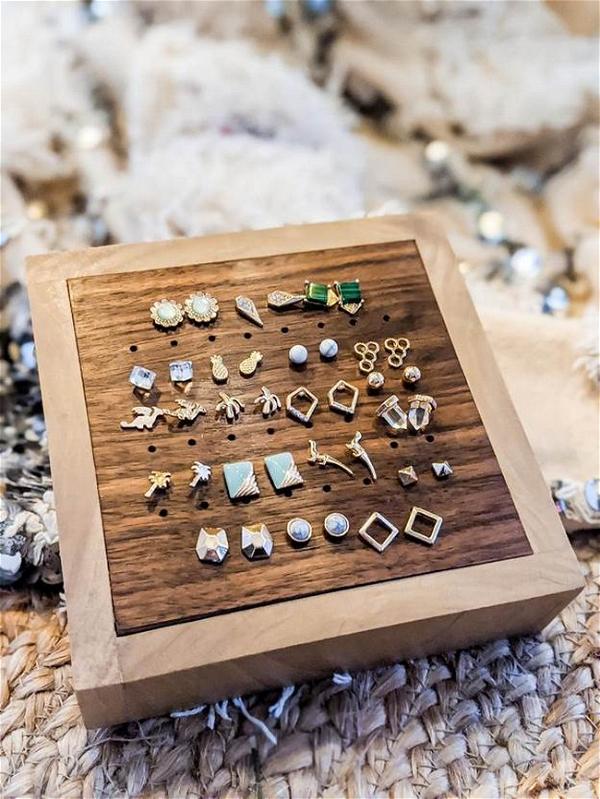 Are you looking for a do-it-yourself earring organizer? You should check this DIY wood earring holder. Though it can be made by "DIYers," it looks very handsome, so that worth your expensive time and money. Get your hands on some medium to good quality wood and make this amazing earring holder. You will need thin plywood, a circle cutter, an angle brace, a saw, and a hammer. It will be a great helper not just for earrings but also for other accessories. This wood earring holder project is a great gift idea for your sweetheart. A perfect design for teenage girls who love to hang their earrings.
Wood DIY Earring Holder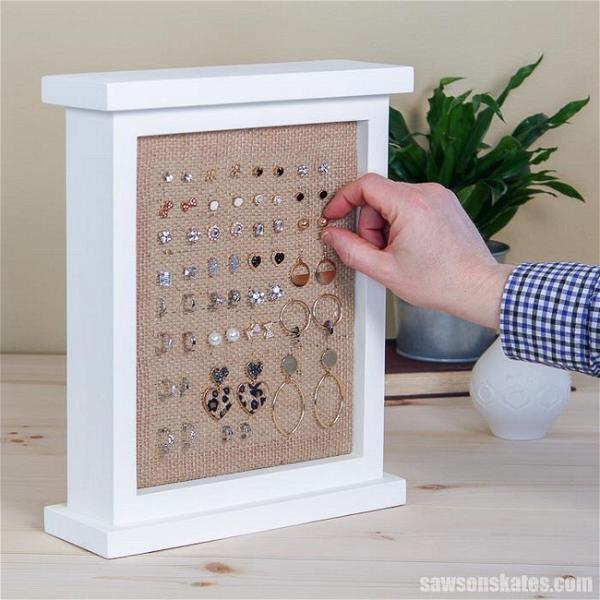 Now easily roll your earrings using this DIY wood earring holder. You may create a similar holder like this but this one is best suited for keeping your earrings from rolling away or getting lost. This DIY earring holder is the easiest and quickest way to keep your earrings organized. All you need to make this stunning wooden organizer is some wood, a drill, and your choice of stain. It looks like a large coaster, but the holes are quite bigger so you can fit many different types of earrings in it. Make an easy earring holder organize your earrings, bracelets, and necklaces while they aren't in use!
Easy DIY Earring Holder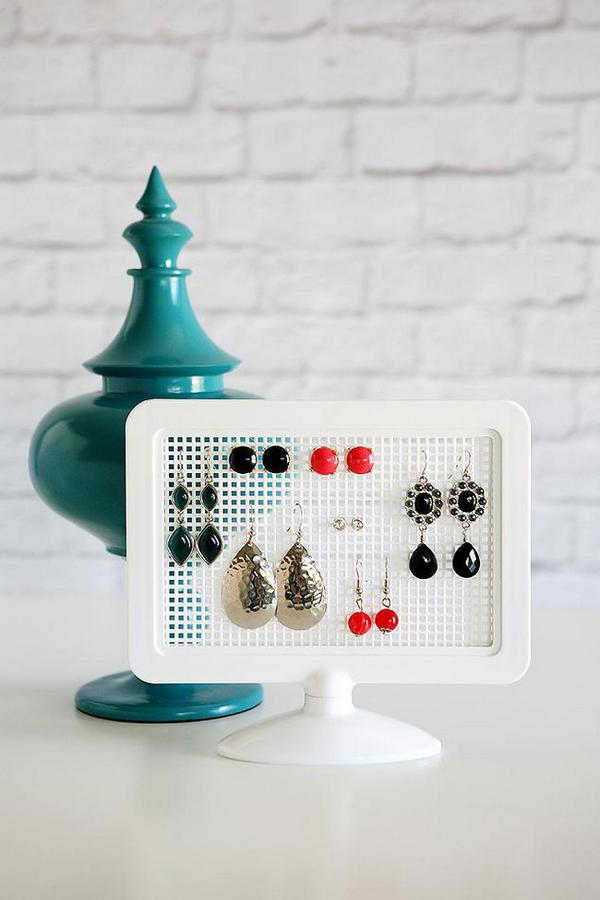 Want a unique DIY earring holder for your bedroom? This one will be easy to make and very inexpensive. It is made from what is available around the house easily. You will love how it matches the color scheme of your room and acts as an art piece to be displayed. It is practical, cheap, and effortless to make. It's perfect for your vanity/desk or wherever you store your accessories. Make this cool DIY earring holder and find your lost earrings instantly. This is a fun project that anyone can do with spare wood, a drill, and some screws.
DIY Earring Stand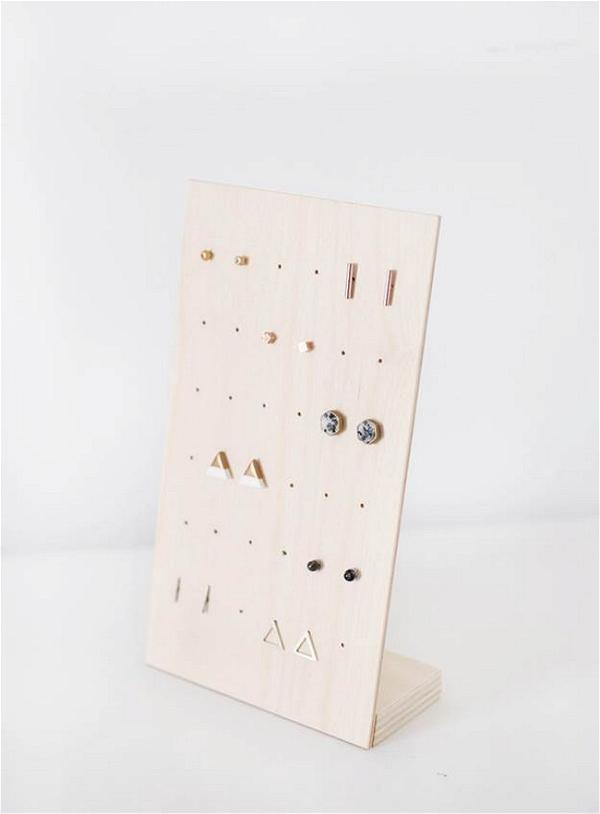 This DIY earring stand is amazing. You can easily build it by yourself. It looks so beautiful with the design and double colors on it. It is all wood, nothing decorative but useful; this DIY earring stand may be a solution if you want to organize your earrings and look nice in your bedroom or bathroom. It can save your space because it has many holes where you can put your earrings and store them right on the counter, so when you need an earring, you don't have to look anywhere. This one has many holes in the center and some tiny ones at the bottom.
Aluminium Sheet Earring Holder DIY
It is always thrilling to be different and unique when it comes to fashion. However, having unique earrings might not be enough. The purpose of this earring holder is to beautify a room and organize the scattered earrings, which promotes a healthy environment for earrings to live and grow. This is where the need for a unique thing that can hold your earrings comes in. All you have to do is to collect the required materials needed and follow the guidelines given meticulously. You will only spend less than an hour if you are an expert or a few hours if this is your first time.
DIY Framed Earring Holder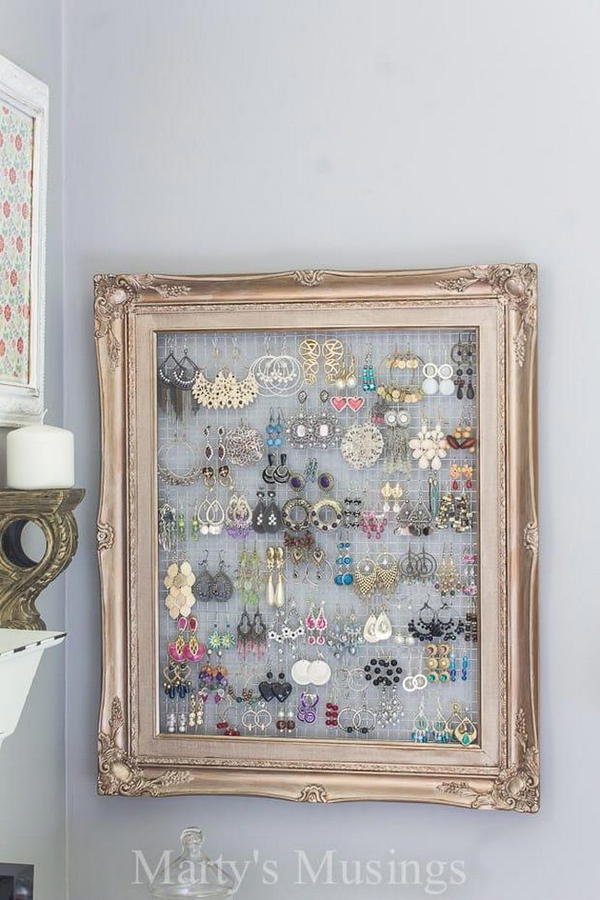 Don't lose your earrings again…make a stunning DIY framed earring holder to keep those earrings all organized. It is so easy to make, and it makes a stunning gift. You can use whatever frame you have lying around, but this one looks great and is an awesome price if you don't have one already. This DIY framed earring holder is a stylish yet simple way to keep track of all your studs and hooks. Just hang it on the wall (frames with masonite and sturdy canvas backing work best), and you've got a stylish earring display that blends into any room.
Small DIY Earring Holder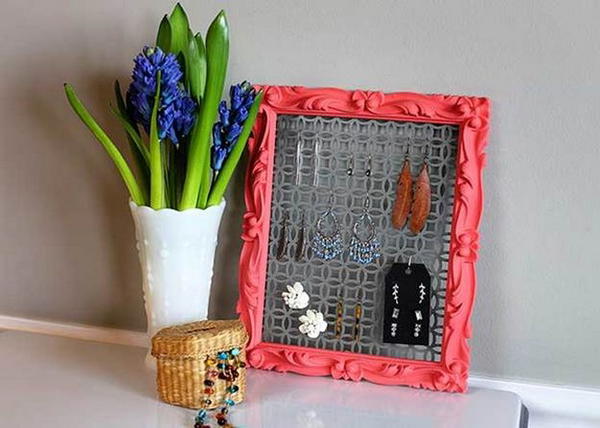 Are you tired of searching for your earrings in the same box every time? Would you like to have a small box with compartments for all of your earrings? You could make yourself one quickly. This Small DIY Earring Holder keeps your necklaces and earrings easy to find and tangle-free. It will help you organize your earrings in a very compact way. You just need a piece of cardboard, glue, and some yarn or string. Store all of your favorites, or pair it with this Bigger Earring Holder for an even bigger dose of organization.
How To Make An Earring Stand
Have you tried looking for your favorite earring in your jewelry box but had to dig through all of the other earrings to find it? Usually, there would not be one big earring box to have all earrings in one place. With this DIY stand, you will know exactly where your favorite earrings are, but it is so huge that all of your other pairs will fit into it. The best part is that it's made out of cardboard, so you're saving money on building costs. It is simple yet very creative and decorative, which could make it a very nice homemade fashion accessory piece.
DIY Picture Frame Earring Holder
It can be difficult to decide which earring goes with what necklace. A standard jewelry box isn't the best place to keep all your danglies because they tend to get tangled, and you'll never know when you might lose track of one. Make a picture frame earring holder! It's easy and creates a stylish way to hold all of your favorite earrings in a handy spot that's easy to see. This earring holder is great if you want to free up some table space and go for a bit of rustic charm in your room.
Acrylic Earring Holder DIY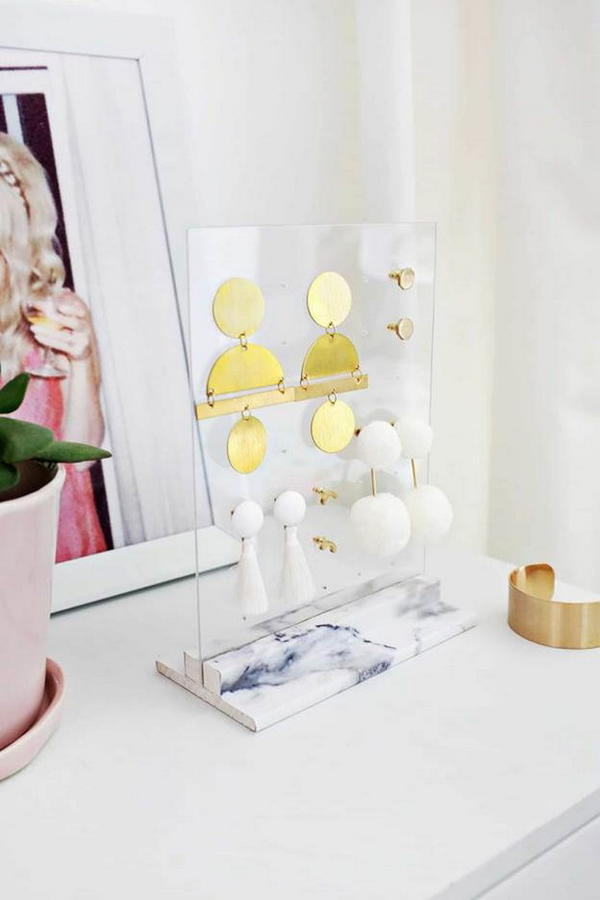 You don't want to spend a lot of money on acrylic earring holders. This one is the only thing you need and cost you nothing. You need glass (of course), varnish, and drumsticks. This earring holder is crafted from acrylic, with an excellent shape and design. The dark sequins and beads catch the light and reflect it beautifully, giving the piece a little sparkle. This type of earring holder is perfect for organizing your favorite pairs of earrings, or if you have lots, this might be the only place where your earrings all fit together.
DIY Velvet Earring Holder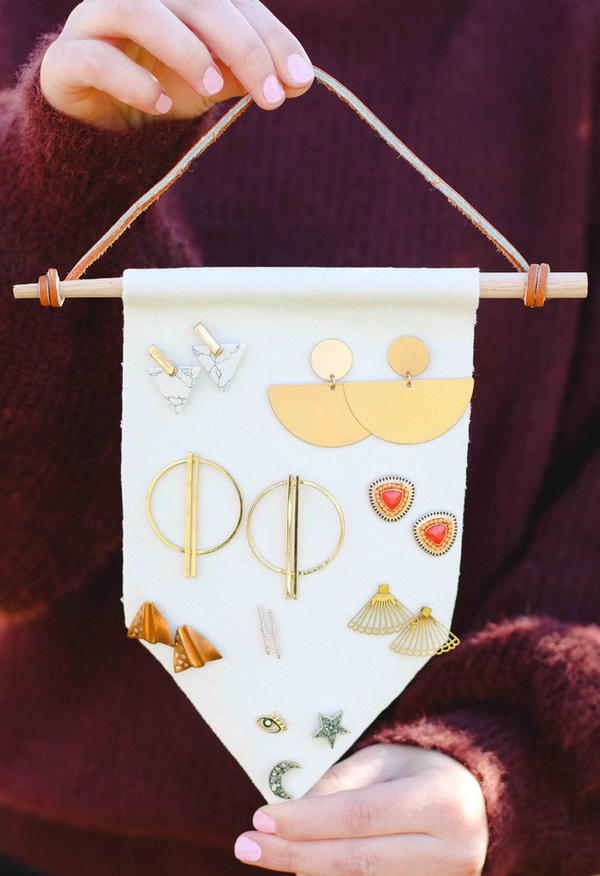 If you're looking for the perfect little gift to make for a friend, this do-it-yourself velvet earring holder is just what you need! Learn how to make this pretty velvet earring holder by following this easy DIY tutorial. The making process is simple, and your friends will be amazed by this thoughtful gift. You'll need a few simple items to get started and you can customize it to your liking. Showcase them on a beautiful velvet earring holder that you can make yourself.
DIY Rotating Earring Holder
You can really save money by using scrap wood that you might already have lying around. This is a great project to use up your leftover pieces without buying more supplies. This rotating earring holder is a great idea, and you can use it in any room in the house. It's even small enough to be kept in a desk drawer, which would make an ideal gift for someone who travels or just loves to have their earrings at their fingertips.
Easiest Earring Holder DIY
With a broken or missing hook, all your lovely earrings are sitting in their box cluttering up your dresser drawers, but this DIY earring holder is the perfect solution to that problem! You can make this quick DIY yourself without spending too much money on it. It is made out of a picture frame with a few additions. A little bit of twine creates the perfect spot for hanging long earrings, and the whole thing cost me just over $5.
Wooden Stud Earring Holder DIY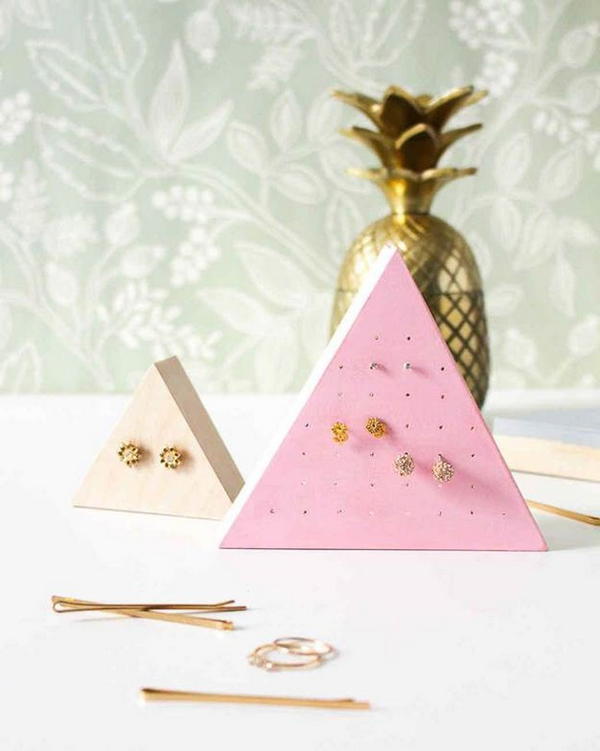 This is an attractive stud earring holder. Organize your jewelry in a beautiful way that adds decoration to your bedroom or bathroom. Make your home a fun place to be with this creative wooden stud earring holder. The simple yet elegant design gives it a unique look that will enhance the ambiance of your room. It features two spacious compartments and one compartment for studs. This two-in-one DIY jewelry box looks great on any window sill, bedroom counter, living room shelf, or tabletop - adding a special touch to your décor.
DIY Modern Earring Holder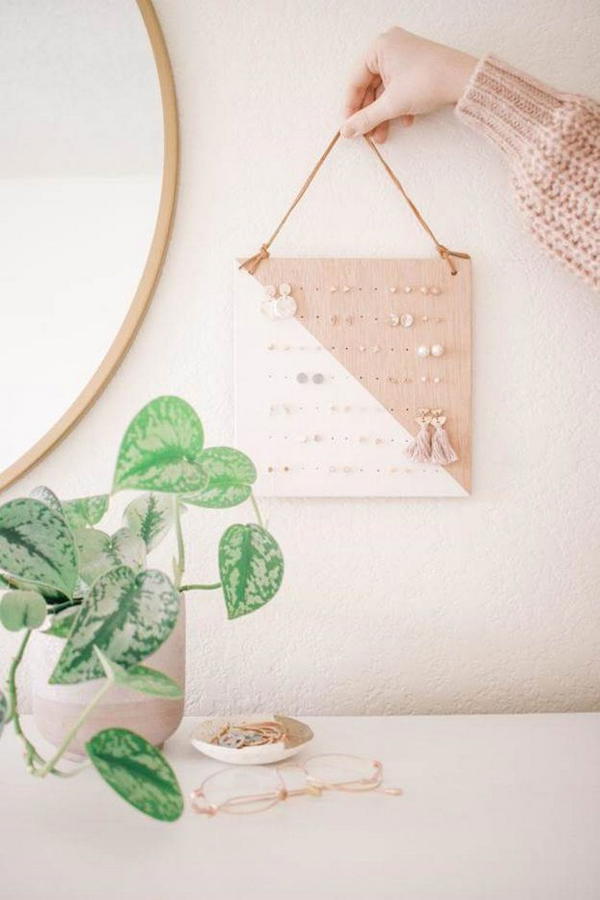 Modern accessories are the best way to add beauty and elegance to your home. One of these valuable accessories is earring holders. They add style to your appearance and store your earrings safely in your drawer. Making a modern earring holder is easy to do with suitable materials and tips. This DIY earring holder is the perfect way to store your earrings for convenience and home decoration. You can also use this project as a gift for a DIY enthusiast. This project should take an hour or less to work on.
How To Recycle A Cardboard Box Into An Earring Holder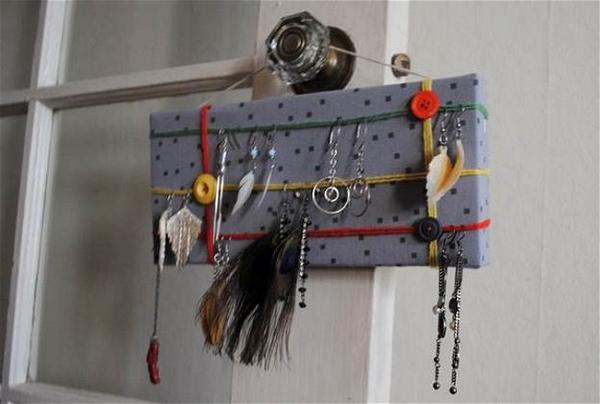 Cardboard boxes are easy to find, and they are free! You need to make your earring dangle, bend the earring wire, and attach it to the bottom right corner of the box. After you've done that, you can fold the earring holder inwards so that only the back layer is left. It's as simple as that, so you will have no problems turning your old box into a chic and handy storage solution for your jewelry. This beautiful jewelry storage solution is perfect for storing your earrings in place and organized while small enough to fit anywhere in your home.
DIY Wall Earring Holder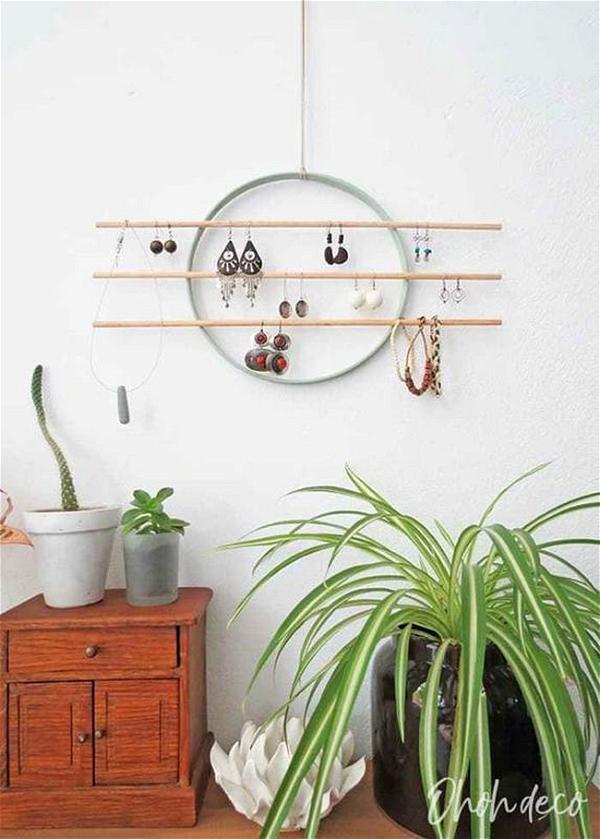 This DIY wood wall earring holder would be an excellent addition to any woman's wardrobe. Its simple design is great for holding several pairs of earrings, with enough space to organize even your longer hanging earrings. You can make this earring holder with a few tools, some screws, and some glue. You can hang it on the wall, stick it to the mirror or secure it behind your door. Make sure you measure everything carefully before starting and drilling at the right point so that the earring holders are precisely in line with the others.