Jewelry making has become a big trend in the crafting world. It is fun, but you can also make pieces that reflect your personality and style. But to get started, you need some ideas. We've compiled 47 DIY earring ideas into this post to give you some inspiration! Earrings don't have to be fancy or expensive. Many of the tutorials below are using supplies from the Dollar Store! Just because you're saving money doesn't mean you're sacrificing quality, though. There are many cute and trendy designs on this list, so there's something here for everyone, whether you're making them for yourself or as a gift for someone else.
DIY Earring Ideas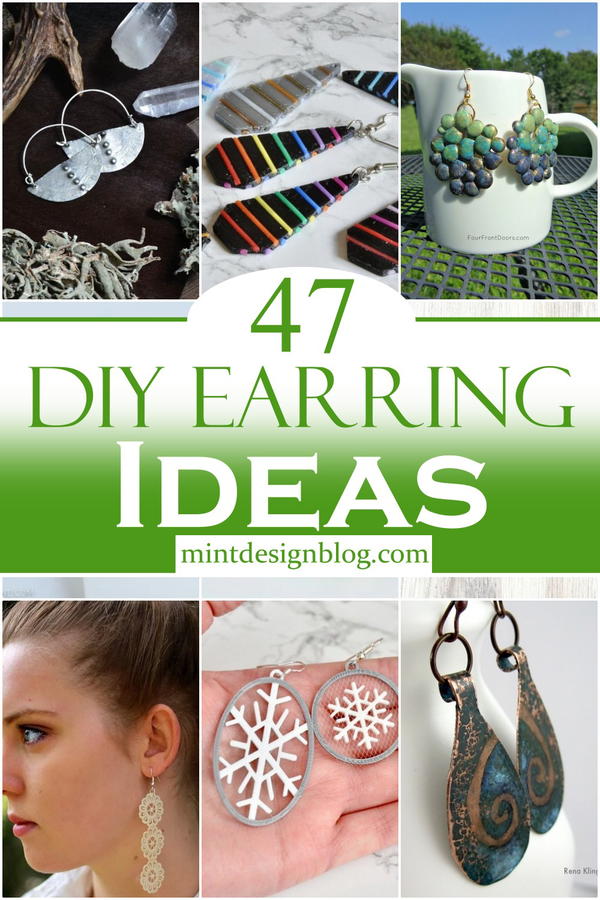 The great thing about DIY jewelry is that it's usually less expensive than store-bought items, so that you can make all of these earrings relatively cheaply. The other great thing about homemade jewelry is that it's unique, so if you want something that perfectly reflects your style or have a hard time finding the right design for you in stores, then making your earrings is the way to go. It's also a great way to add some accessories to your wardrobe without spending too much money. The best part is, it can be done in minutes and the materials are easy to find! So whether you are looking for a gift for a friend or just want to have fun creating something, these DIY earrings would be perfect for you!
Here are 47 DIY earring ideas that you can make stylish and nice-looking earrings to wear on various occasions and parties.
You Can see: 15 Simple DIY Hemp Bracelet Patterns For Summer
Benefits Of DIY Earrings
DIY earrings are not only fun to make but also wear. So, why do you need to make your DIY earrings? We will look at some of why you should learn to make your earrings.
You Can Experiment With Different Colors: Whether you want to match your color with your clothes or accessories, it is possible to have any color you want in your DIY earrings. All you need to do is buy the beads that you want and mix them up by using different colors. It is an easy process, and all you need are some simple tools and creativity.
It Is Cheap: DIY earring making doesn't require a lot of money. The materials used in making DIY earrings are quite affordable, and they allow you to experiment with different designs easily. As a result, whether you want to make a gift for someone or yourself, DIY earring making will always be the best option for you.
You will be able to get Earrings that match your face, shape, and color: Most people prefer handmade earrings because they can get a perfect match for their face shape and skin tone. They can also choose from different patterns that suit their taste.
DIY earrings are an excellent way to express your unique sense of style. Make sure all your friends know who made those fantastic earrings you're wearing—they'll be green with envy! Plus, when you give handmade earrings as gifts, they'll be treasured forever in the memory of the lucky recipient.
Basic Materials Required To DIY Earrings
You can make earrings out of just about anything, and you don't need any fancy equipment to do it. All you need is a few basic materials.
You will need:
A pair of scissors
A hot glue gun and plenty of glue sticks
Some sort of string or wire for necklace designs
Earring hooks or earring posts for post earrings
Low Budget Earrings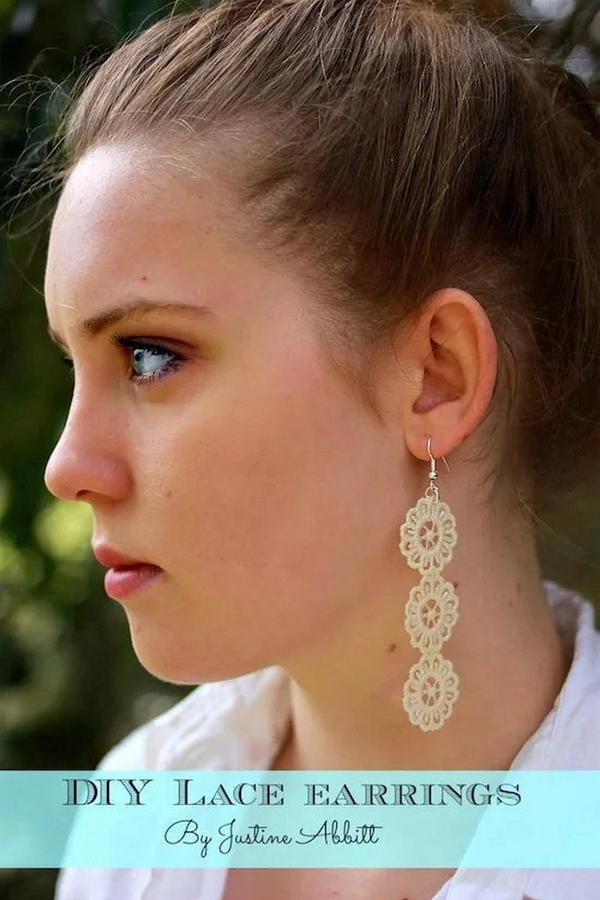 You may have seen people wearing drop earrings that are quite large and looks amazing. Now, you can make your own big hoops for a very low budget. They will look good at weddings or other special occasions. It may be the lace ribbon will become your DIY favorite, which gives you a whole new look and makes your lace more splendid. These earrings are fantastic, delicate, cute, and charming. It is a smart structure of flower-shaped lace and jump rings. You can make it from home easily, and you do not need much money to enjoy your handmade DIY earrings with your love.
DIY Beads Earrings

The DIY Beads Earrings are an item of fashion jewelry designed to be worn by anyone who loves earrings and cares about themselves. The steps for making this cute accessory are very simple, you can pick your favorite color and pattern or just freely design it. You can give yourself a present, or get some friends together to make a party of creativities. It is a kind of jewelry that reflects your personality and taste. These earrings are an easy and fast way to add a special touch of your own style to your wardrobe.
DIY Patina Earrings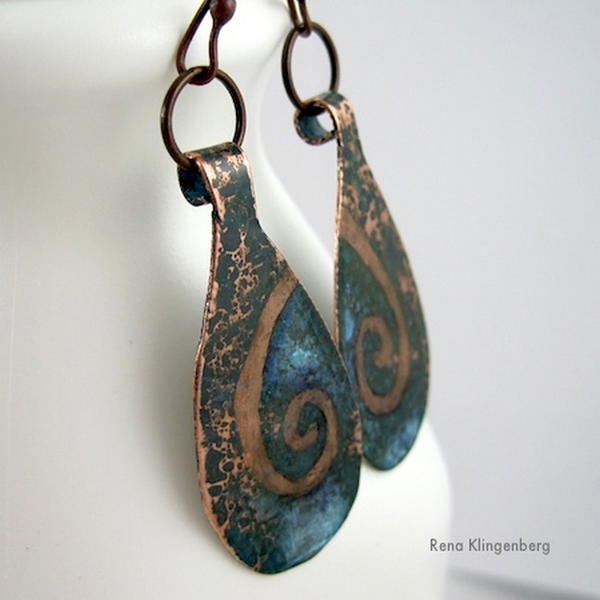 If you love handmade crafts and if you also want to bring something unique, unique, and exclusive to your wardrobe, then we have to tell you two words: DIY Patina Earrings. It is an easy-to-make and affordable craft idea, plus it is a good study of wire bending. These brassy earrings are created from a sheet of brass or copper. With a few simple tools, it is easy to create these beautiful earrings that can be worn on their own or stacked with other earrings.
DIY Hot Glue Earrings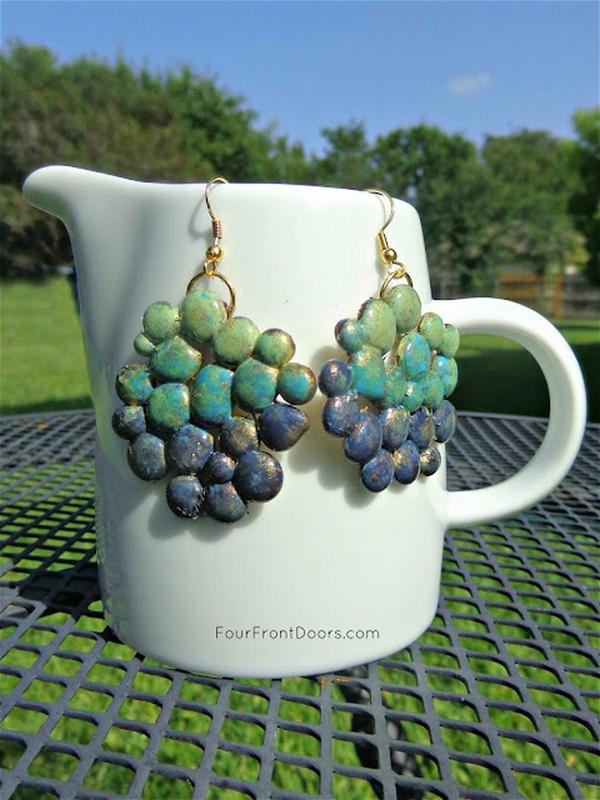 Do you want a unique and unique pair of earrings? This might be it. It is always fun when you're using something you already have and are familiar with to make earrings. These adorable and straightforward earrings made out of hot glue will sit pretty on your ear when you're going for a date. These DIY earrings are made from basic materials such as wood, hot glue, and other cheap beads or trinkets that can be found in any craft store. No special tools or skills are needed for this earring design.
DIY Ear Cuff Earrings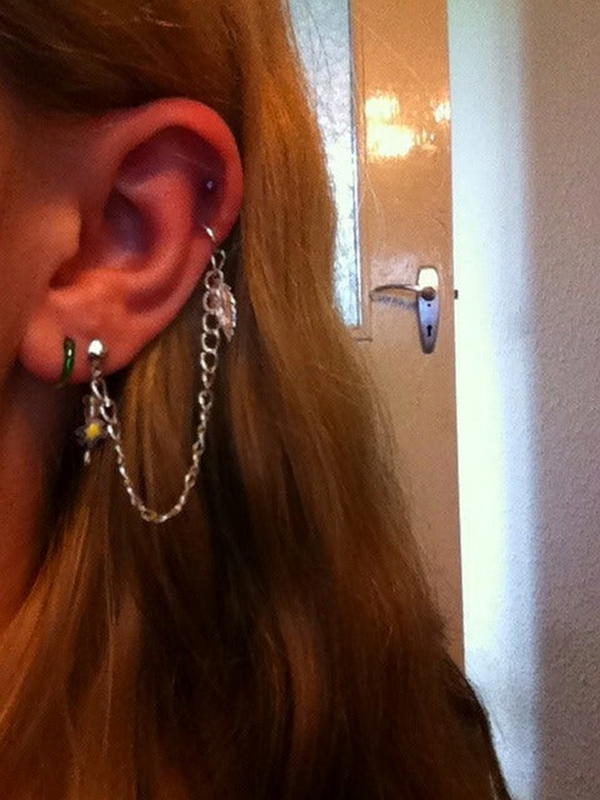 These ear cuff earrings are so much fun! You can wear them on any part of your cartilage. They allow you to close the clasp and stick them onto your ears so you don't have to pierce your ears but they would still hold like normal earrings. These are great for people who want to wear earrings on their ears but don't want to go through the trouble of getting pierced by a professional or for a DIY novice who would like to get into piercing their own ears but does not want to go through the months of healing periods. These are so easy to make and they look great on anyone! You can adjust them if they are a bit too big by bending the sides back or forward.
DIY Filament Earrings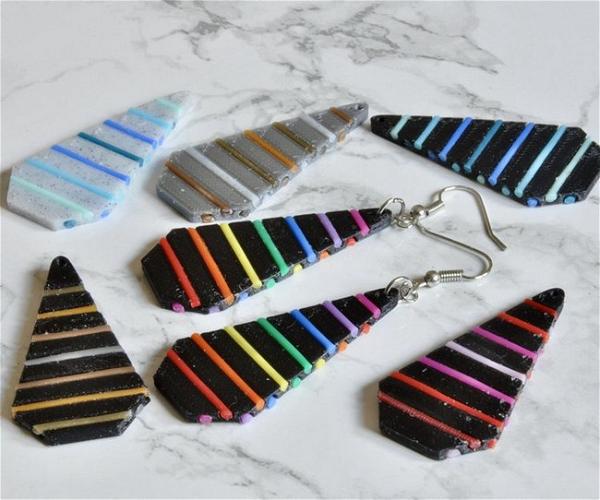 Did you ever get that feeling that your earrings don't match your clothes? Adorn yourself with matching earrings instead! You'll love these Filament Earrings. With a fun shape and geometric wood grain pattern, you can change it up with different colors of filament. Printed out with a 3D printer, you can create these colorful filaments for the perfect match for your attire. It's easy to customize so you'll never get bored! These are a great addition to your wardrobe for both casual and fancy occasions. You can even customize the colors and prints to suit your fancy.
DIY Snowflake Earrings
Looking for something fun to do this winter? These DIY snowflake earrings are an inexpensive and festive craft that you can do with your kids. They make a great gift, too! These snowflake earrings let you get creative with your designs and add a bit of winter magic to every outfit. You can download the pattern for free and then adjust it to fit any style, or you can use it just as it is without adjusting anything. The crystal-like shape of these earrings will provide you with a beautiful jewelry piece that everyone around you will enjoy looking at.
DIY Wizard Earrings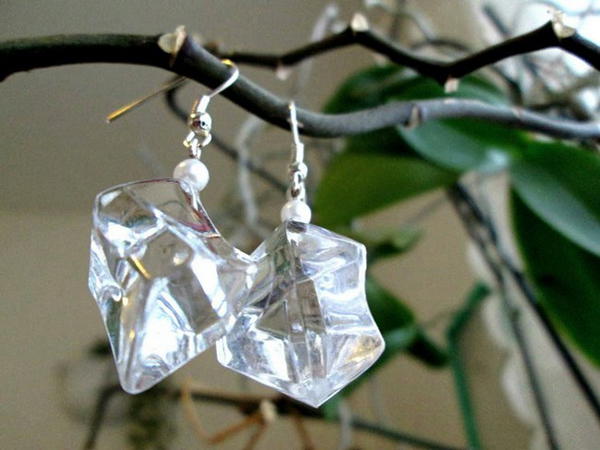 DIY Wizard Earrings are easy to make and great for beginners. If you have never done metal wirework of any kind, you will simply become amazed at what you can do. This tutorial gives you a simple way to work with a variety of different materials. Makes up to two pairs of earrings. They can be really useful for achieving a witchy, gothic-like look―and even a wizard look―that's so popular among young girls, teens, and adults alike. It's also a nice gift idea.
How To Make DIY Bow Hoops Earrings
These DIY earrings are very easy to make and they won't take much time. In addition to being a cool fashion accessory, these DIY bow hoops earrings will keep your hair away from your face. To make these DIY bow hoops earrings you need a few supplies such as hoop earrings, fabric, needle, thread, scissors, and a sewing machine. This is all you need to know to make this amazing pair of earrings. Cut fabric into a bow shape, glue it onto the earring hoops and add the thread for sewing them on your ears.
DIY Tassel Earrings
Do you love DIY things? Now it is time to learn how to make DIY tassel earrings. This beautiful earring is a very easy project to make and you can finish it in five minutes. You will only need some cord, scissors, and hoop earrings. Cut the cord into small lengths and tie it around the bottom of the hoop earrings. After tying trim the edges of the cord to make them uniform. This pair of earrings is not only fashionable but also inexpensive. Moreover, your friends will be very surprised when they find out that you made them from scratch. Come and try!
Easy DIY Wooden Earrings
Designing, creating, and wearing wooden earrings is a great way to express your unique style. Easy DIY Wooden Earrings is ready to give you ideas and inspiration for making gorgeous earrings by yourself. You can make them by only using a few supplies and some knowledge. You will learn how to paint wood for the pair of earrings, finish the wood, and make a beautiful design on the wood. Making your own jewelry is fun, easy, and can be surprisingly affordable.
Cardboard Earrings DIY
With a little care and attention, you can transform even the most basic of things into something special, a thing of beauty. That's what these Cardboard Earrings DIY will teach you how to do. With just a little bit of creative thinking and some detailed instructions, you'll be able to create your own spectacular cardboard earrings. You won't believe how little time it takes and how great the results are!  These easy-to-make Cardboard Earrings are a fun, creative, and inexpensive gift for her. . It's also an awesome craft project idea for tweens and teens! A fun and creative gift idea that can be made in less than five minutes, these cardboard earrings are affordable, easy to make, and really cute!
DIY Fabric Covered Wooden Earrings
Do it Yourself fabric-covered wooden earrings can be done in a fun and easy way. Transform a narrow piece of wood into a fashionable earring with a little help from scrap fabric. It is as simple as rolling, gluing, and cutting. These DIY fabric-covered wooden earrings make the perfect gift for friends and family or yourself! Materials used for making DIY fabric-covered wooden earrings are wood, needle, thread, wire hooks, and earring backs. The color of thread and wood should match with the fabric because if not then your earring would look funny.
DIY Simple Earrings
Glitter and sparkles everywhere! This earring will go well with any kind of outfit. These cute earrings are very easy to make and you can use different colors for the glass color and glitter. They can be enjoyed in casual and formal dressed up. These earrings are made using drug tablets with a hole in them. All you need is a pair of earring posts and that's it. The best thing about them is that they are totally free, with nothing to buy if you have a drug tablet at home.
Polymer Clay Marble Earrings DIY
Marble polymer clay earrings aren't going to be that expensive when made by yourself. There are some materials you need to have in place. The first one is polymer clay and the second one is white paper. A gold strip will make your earring impressive and attractive. Using different colors of clay will not only make your earring unique but also comfy. Make your own polymer clay marble earrings that can be worn to parties, or events with friends. You will feel like a professional designer trying to show off these earrings to your friends.
How To Make Flower Earrings
If you love to do arts and crafts, you will especially love these flower earrings. Bring out your inner artist with this simple DIY tutorial and make beautiful flower earrings. These are so easy to make and great for a beginner's jewelry craft! They are very easy to make and even easier to wear. With only a few materials, this is something that anyone can try. Fashionable and easy to carry, it suits for shopping and working. It a perfect for living a fashionable life!
DIY Beer Cap Earrings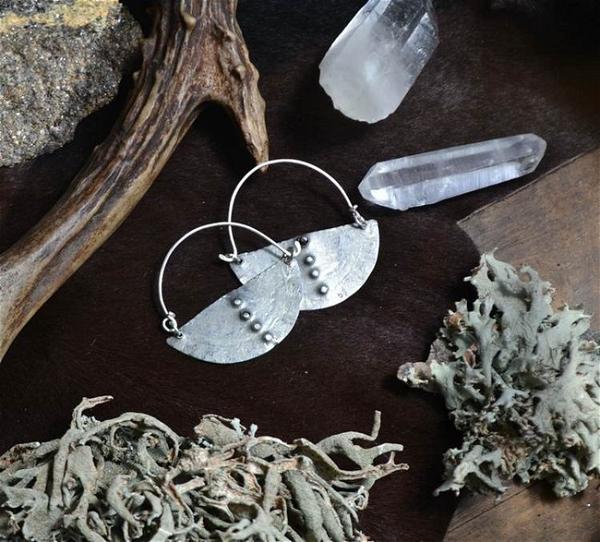 Collecting beer caps can get addicting, and before you know it, you have tons of them. Here is a unique way to make DIY beer cap earrings out of them. It is super cool and cheap. You can use the empty caps from your favorite beers to make them. It's a perfect DIY idea for craft lovers, especially for beginners. Just head over to your neighborhood craft store, buy some pliers and glue, and get ready for the fun activity that won't cost you much! This easy, crafty project can be accomplished after a couple of beers and works especially well on darker caps.
DIY Origami Earrings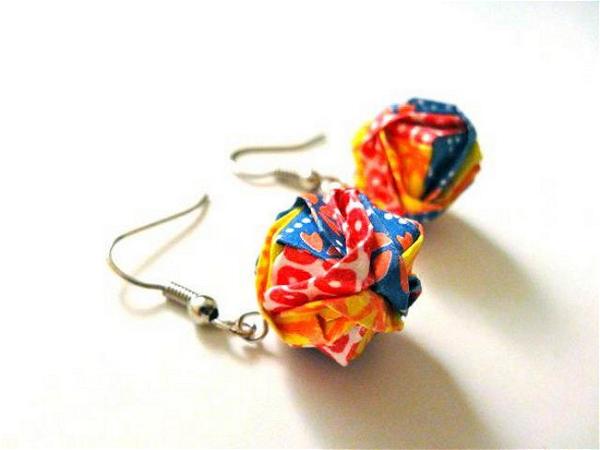 If you are a crafter, especially if you are into crafting paper items, you will love this DIY origami earring project.   Making DIY origami earrings is very simple. First, pick the colors of paper you want and draw a design on it. Next cut out the shape and make it as shown in the picture. Glue the small twig and stick it to your earring. Add color or glitter to it if you want to give a perfect look.  Crafts may be the way that people make handmade gifts for each other nowadays, but the great thing is it does not need to be something that takes days to complete.
DIY Clay Earrings
Clay is a wonderful, inexpensive medium for crafting earrings. Due to its malleable property, it made me think of using clay to make earrings. You can make many kinds of art with clay, such as figurines and vases. But have you thought about fashioning unique and personalized earrings out of clay? It is easy to do, and the design possibilities are limitless. The clay earrings are very simple to make. All you need is some hands-on experience handling clay, a smooth working surface, and access to a clay press machine. No professional techniques or tools are required. This guide will make it easy to decorate your home with these exquisite handmade earrings.
How To Make Earrings
If you love to craft, one of the easiest projects you could get started with is making your own earrings. Making your own earrings is only as fancy or complicated as you make them. All you need are a few materials, something to string the materials on, and a set of pliers to cut the pins and loops. You can choose to get it as simple and easy as you want, adding just a pinch of cute, or you can go all out with every bead you have in your jewelry collection.
How To Make Earrings In 10 Minutes
Do you want to make your own earrings? Will this tutorial help you in the process! in 10 minutes? You will have your very own pair of earrings. All you need is a little patience, some jump rings, and some beads, and in less than 10 minutes, you will have your own beautiful earring. It is easy to add a dab of glue to the bead and place it into the jump ring. Once it is attached, you can use your imagination and make your own designs. Rings are available in different sizes and designs for unique looks.
Crystal Earrings
Crystal earrings are beautiful and also fashionable. They are great for day wear or nightwear. The sparkling crystal blends well with any style, from elegant to casual. DIY crystal earrings make you look special and attractive. Glam it up by dressing your favorite dress with crystal earrings. While the design of the simple and elegant pair is impressive and eye-catching, the sparkling crystals in the glasswork easily catch the attention. Crystal earrings are a hot trend, and you can wear them with anything!
Electroformed Turquoise Earrings DIY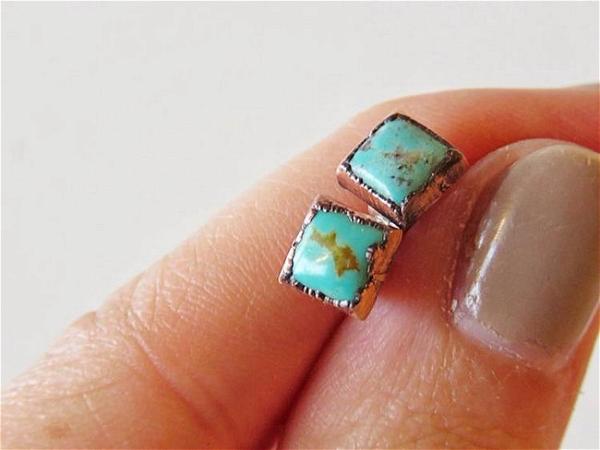 These gorgeous, handmade turquoise earrings are quality made with copper-plated for a powerful shine. They are perfect for everyday wear or for dressing up in a plain outfit! These turquoise earrings are made from turquoise and copper. The copper was formed when it was placed into a copper solution and the minerals were deposited onto the surface of the copper. Using electroforming the copper is coated with a very thin layer of copper that becomes non-porous and very hard, this allows my pieces to be used to make jewelry.
DIY Music Earrings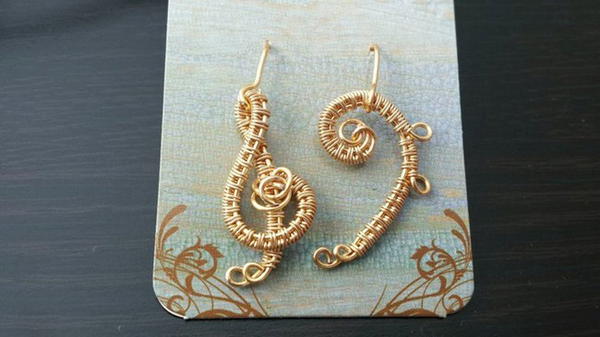 If you love music, DIY music earrings are the new trend to follow. It is simple and quick to make, you can use up your spare time from daily life if you have any such time. It is surprising and inspiring to think of the possibilities when it comes to personalized accessories that display your passions, whether it involves a sport, hobby, or life philosophy. Making your own music earrings is not difficult as you think. You will need gold-colored copper wire, a gauge wire, and pliers. The steps are easy to follow to create adorable music earrings.
How To Make Native American Style Earrings
Who doesn't love Native American-style earrings and jewelry? These beautiful American-style earrings can be made by threading seed beads into the fishing line. For a unique look in your wardrobe, this article will give you great directions on how to make this type of Native American style earring. This easy-to-make, yet simply beautiful pair of earrings are the perfect jewelry gift for you, or for any loved ones. Making American-style earrings is the easiest type of earrings to make with seed beads. It creates a wonderful-looking earring with not too much effort involved.
DIY Fabric Hoop Earrings
DIY Fabric Hoop Earrings are an ideal choice for your summer jewelry wardrobe. They are super easy to make and wonderful. You can make these gorgeous earrings by yourself in the comfort of your home, you will need only 3 to 5 minutes to complete the entire process. You need a fabric hoop, any color of your choice, glue, and scissors. These hoop earrings are so easy to make, and they're great for customizing any way you like. They're also super lightweight, so they add a bit of fun to your outfit without weighing it down.
How To Make Earrings With Beads
Add some color to your wardrobe with these bold and bohemian-looking earrings. This is an easy do-it-yourself jewelry project in that you can use a variety of materials to create unique designs! Creating earrings with beads can be both fun and rewarding. Besides earrings, beads can also be attached to necklaces, bracelets, and key chains. The first thing you need to do is gather the materials required for making the earrings. Then cut the chain into specific lengths using wire cutters.
DIY Easy Drop Earrings
Make these DIY Drop Earrings in just 5 steps! It's easy, quick, and doesn't require any special skills. Use your creativity and pick the earrings' color, beads, etc. These stylish DIY earrings perfectly complement any outfit, formal or casual. This process is quick and simple, and anyone can make them. Make these earrings unique with beads and colors of your choice! These stylish DIY earrings perfectly complement any outfit, formal or casual. This process is quick and simple, and anyone can make them. Pair them with other items from your jewelry collection to build your favorite looks.
DIY Clay Heart Earrings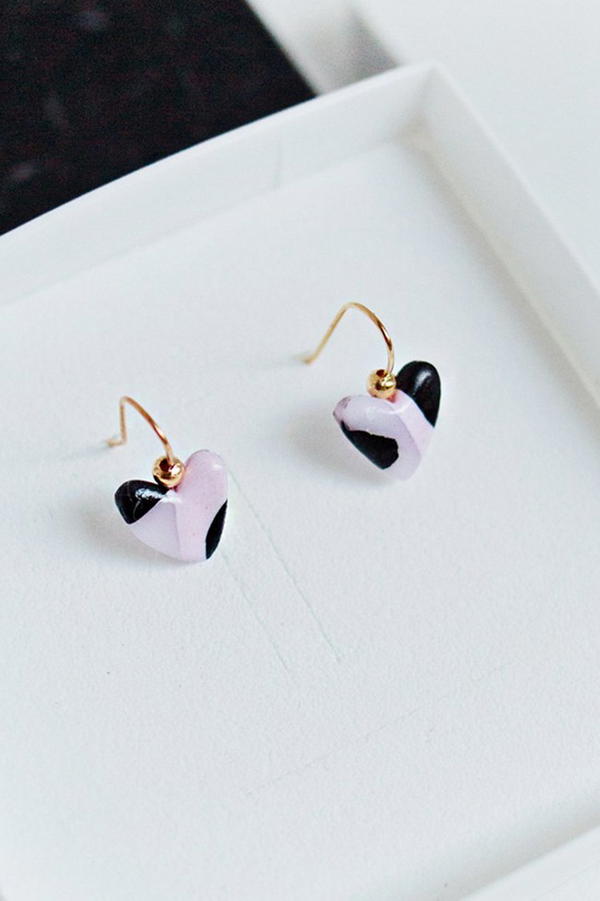 A new kind of DIY earrings, these polymer clay heart earrings are always in vogue. These lovely earrings are quick and easy to make and are sure to attract all the attention when you wear them with your favorite outfit. They are so cute you will not want to take them off. All that is needed is a few polymer clay colors and some patience. With these earrings, you can make a personalized accessory while feeling creative! These DIY earrings use clay for the base and decorations, so it's both interesting and easy to achieve the effect you want. Make your own unique pair of clay beads and make a big deal out of yourself.
DIY Tassel Earrings
Tassel earrings are very unisex. You can make them large or small depending on your preferences. 3 mini tassels per earring are enough to add some sparkle to any outfit. They can be worn with any casual or formal outfit. They are super stylish for the fall and winter seasons. The earrings are best paired with a wool hat, leather jacket, and long cardigan. Accessories such as rings, necklaces, and belts can brighten up your attire. Wear them during the fall holiday or date night.
How To Make Macrame Leaf Earrings
Macrame is very trendy because of its beautiful designs. Macrame is basically braiding and knotting strips of material with cords or similar materials to create patterns, shapes, and textures. It can be used to make jewelry, accessories, and other decorative items. There are a lot of ways to make macrame earrings. Macrame knot is a fun craft that you can do at home and with the simplest materials. All you need is a pair of scissors, a thin string, and maybe some beads for decoration too if you would like. Holding the string together by tying one end to another will reveal its true beauty after finishing. There are many ways to make macrame knots, but always making a perfect knot is the most challenging part.
Simple Dangle Earrings DIY
These super fun dangle earrings are the perfect easy project for any jewelry lover! The possibilities for design are endless, you can add fun beads, charms, and pretty much anything that you want. Make them as long or short as you want. They also look really stylish in person! These earrings can sparkle on your ears anytime you wear them. They shine so beautifully in the sun and make you feel more confident. The components of the earrings can be easily found in stores and online shops, but the only thing that's needed is your passion for keeping creating!
Drop Zipper Earrings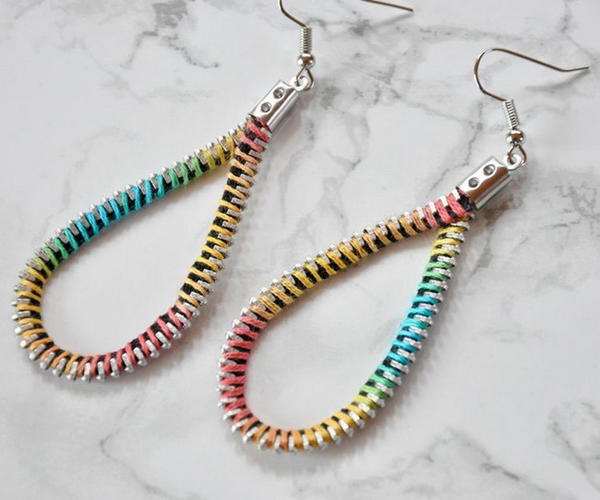 If you are a makeup addict, this is just the right thing to add to your accessories collection. Prepare the zippers for your project with this easy-to-follow guide. You'll learn about different types of zippers and how to cut them, as well as make earrings, add them to key chains or bags, and more. The materials and tools are inexpensive and you can use different kinds of zippers for interesting patterns. These earrings are in the category of simple jewelry that has the ability to jazz up any look. And even though it is simple, it is stylish. They can also make a unique gift idea for that special person who loves unique things.
DIY Celtic Knot Earrings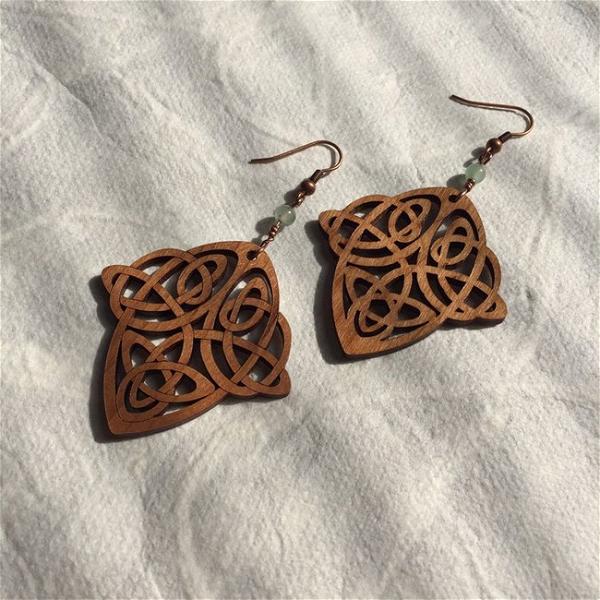 These beautiful Celtic knot earrings are a unique handmade gift to give or wear yourself. These DIY Celtic knot earrings are very easy to make as they are made with only a few wooden pieces, one copper hook, an eye pin, and two beads. This earring design is charming, but it looks intricate and complicated. However, they don't take much time or effort to make. This takes about 15 minutes to make, using some hand tools and beads for the finishing touch.
DIY Cardboard Earrings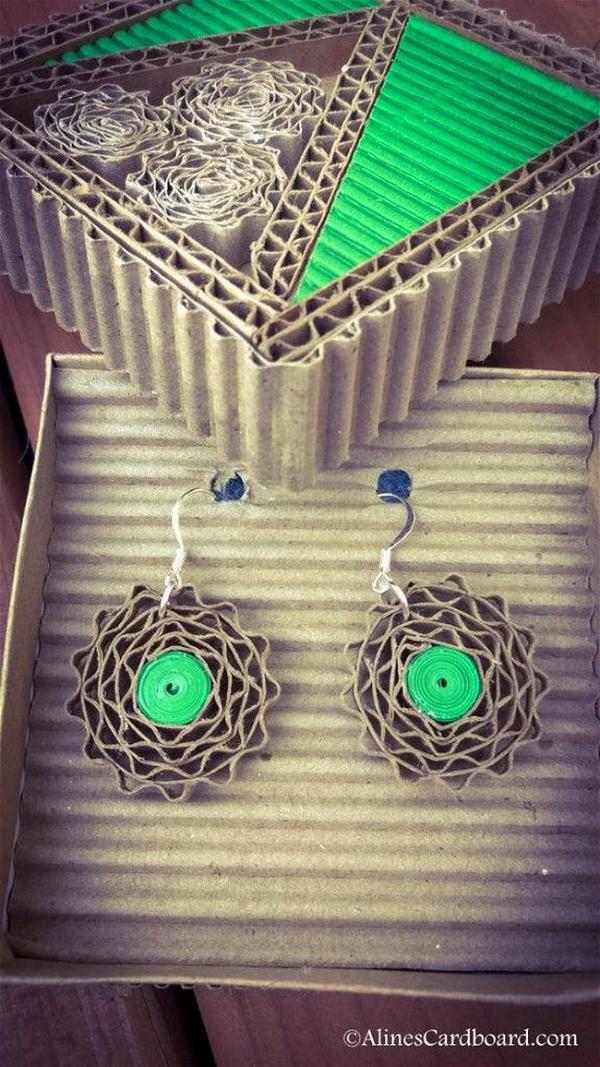 These DIY Cardboard Earrings are made especially for girls who love to look fabulous in everything. You can make these by yourself and not worry about getting bored if you have nothing to do. You need some spare time to make these earrings. They are really easy to make, and you can use your creative skills to make stylish earrings. They're lightweight and easy to attach. Just slide them into your ears, and you're done in no time. It's ideal for your daily look or a party. It would attract people's attention.
DIY Earrings From Fabric Scraps
It's easy to make homemade earrings from fabric scraps you have lying around, like leftover pieces of your clothing and leftover material from a sewing project. Use fun beads to add a touch of style, and try alternating colors for a geometric look. Once you finish the earring design, you can paint the fabric or use scrapbooking paint and then cut out the shape of your earring with cardboard before you start gluing. You could have one pair or a dozen earrings made from different fabrics at home.
DIY Rhinestone Earrings
Rhinestone earrings are an essential part of your jewelry wardrobe. You can give them out as a gift as well. But, if you have a more demanding taste, you can personalize your own earrings and make them unique. These earrings are very easy to make. It takes only 10-15 minutes. If you do not have rhinestone, then you can replace it with beads. The steps are as followed; cut the wire, tie a loop at both ends, attach the chain and rhinestone/beads, add the clasp back and twist the wire to get a nice knot here are your DIY Rhinestone Earrings.
DIY Simple Beaded Earrings
Elegant beaded earrings are an easy and affordable way to update your wardrobe. The best part about this project is that nobody will suspect you made these beautiful accessories yourself. These beaded earrings are so easy to make that you could make a pair in an afternoon and make them part of your evening out wardrobe. They look fabulous when worn with dresses or jeans and a shirt for a classy touch. You can buy all the necessary items in a single trip to your bead store. On that same trip, you could also purchase a pair of earrings and be on your way to creating your fun, personalized jewelry. How fun!
Boho Feather Earrings
Whether you like to make gifts for friends and loved ones or special earrings for yourself, take a look at this creative procedure for making Boho feather earrings. Boho is a trend that will never go away, and here's a fun way to add a bit of it to your wardrobe. Materials needed include gel press, vinyl, paint roller, cardboard, pencil, paints, gold chain, hooks, and peacock pearls. This template is perfect for anyone looking to make some boho-style jewelry for friends and family. This creates a gorgeous 3D effect when you layer the pearls over the painted earrings.
Multi-Color Tassel Earrings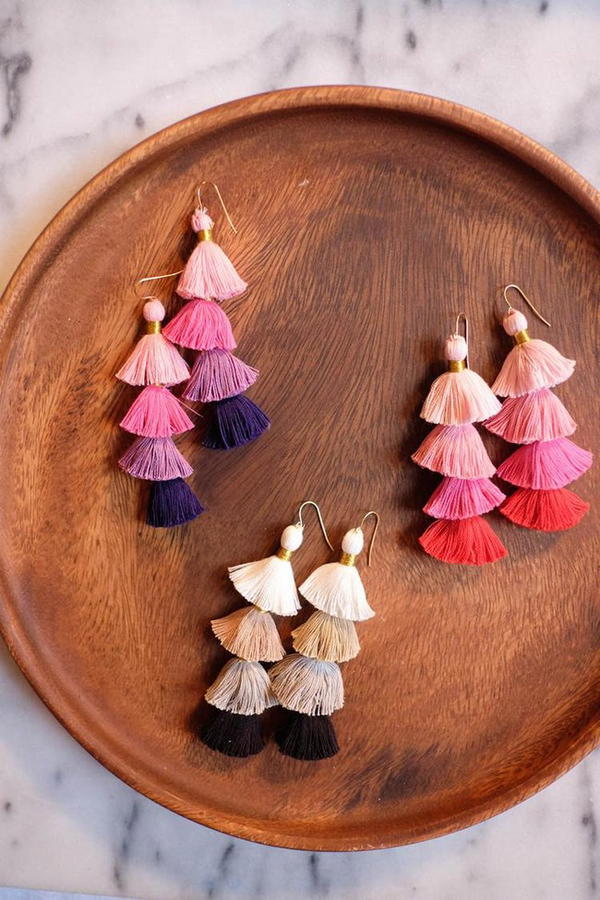 Making tassel earrings are easy enough to do and would make a great gift for that special someone! These DIY multicolor tassel earrings are irresistible; the fun color combo is definitely an eye-catcher. This is a beginner-friendly tutorial that anyone can follow. These earrings are a great way to stay on trend with this Fall's most classic accessories. Sandals, heels, boots, or flats, these wheat-colored tassels will compliment any outfit and make you feel like walking out of the pages of a high fashion magazine. So, let's get started.
DIY Earrings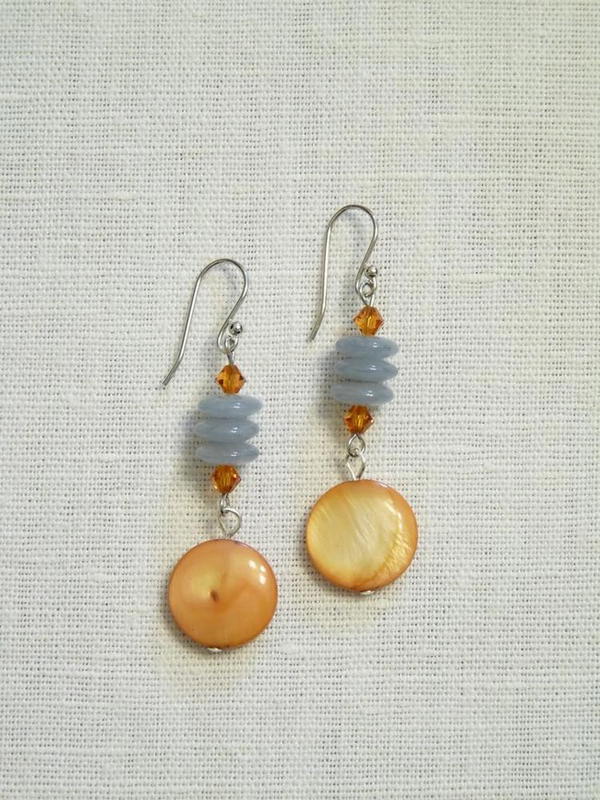 DIY earrings accessories are a simple challenge we love to accomplish. The easiest way to do this is to first make a loop out of the one flat seed bead. Then slip the loop through one of the eye pin hooks and then towards the back. Thread a donut-shaped bead, a Swarovski bead, and another donut-shaped bead into the flat seed bead. Repeat this process with the second earring. When it comes to attaching both earrings, take your needle nose pliers and curve each flat seed bead loop so they are parallel.
DIY Pearl Hoop Earrings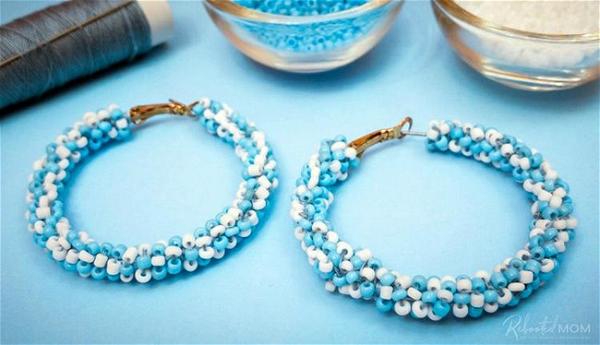 DIY Pearl Hoop Earrings are perfect for those looking for more creative ways to decorate their ear lobes. All you need to do is glue two different color pearls on the hoops. You can choose the colors of your choice, and you can use these earrings for weddings, parties, or any other occasion. These earrings are perfect for teenagers as well and you can use them for dance competitions, auditions, school functions, or anything like that. You can make a pair of these earrings with all your friends as it is a fun activity too.
DIY Box Stud Earrings
DIY Box Stud Earrings should be your choice if you prefer to wear unique and fashionable jewelry. Make your friends and family members jealous of your fashion sense. You can use different materials to make your excellent pair of earrings. The crafting procedure is easy, and you will find very few materials to purchase. They are among the cheapest earrings to make at home, and if you have any old classic video game cartridges lying around, you know what to do!
How To Make Rose Ring Using Wire
Are you looking for a unique present for your wife or girlfriend? Here's something that she would love to have. These rose earrings were made from wire craft, eye pin, and wire hook. The process is simple and fun; it's also creative and inexpensive. The tiny details of the rose can be fascinating to look at. In the end, you will have a unique accessory to wear on your ears. Feel free to change the color combinations for various styles and effects. Girls and women can wear rose rings. This also makes a nice gift for Valentine's Day, which will soon be here.
DIY Bottle Cap Earrings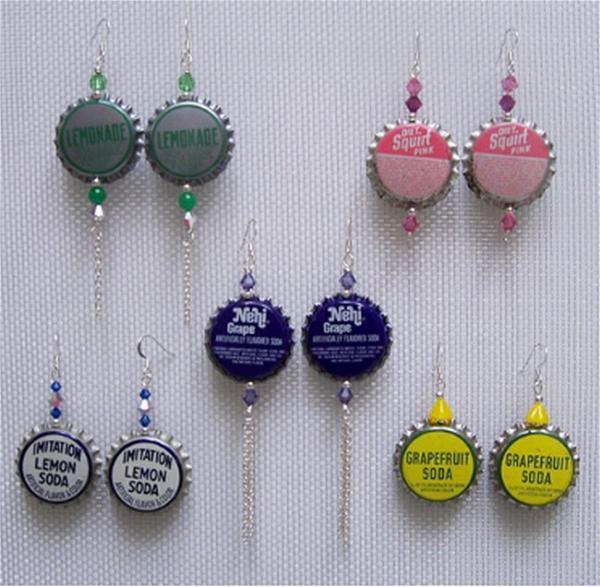 Earrings are the most overlooked accessory of all. They are usually drooped, hung from a string at the back, or shoved into a jewelry box. Now it is time to bring your earrings into the spotlight! Learn how to transform bottle caps into beautiful and wearable bottle cap earrings. If you love bottle cap crafts and jewelry, you'll love these earrings. With these bottle cap earrings, you can shape them any way you like. Whether you view yourself as a minimalist or just want to switch things up, these earrings are the perfect accessory for your wardrobe. They are cute and unique, which become your new favorites!
DIY Star Earrings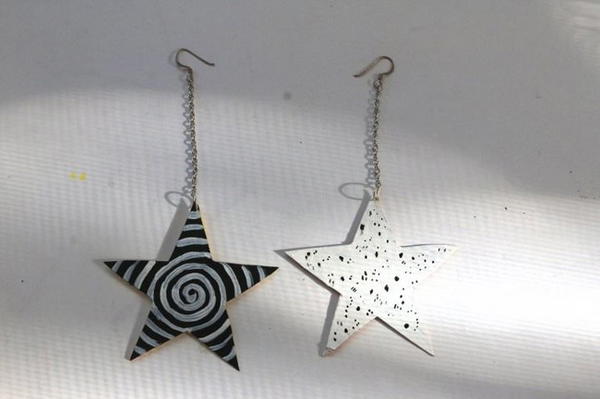 You and your kids are going to love making this one. With some basic materials and a little bit of creativity, you can create some really beautiful earrings! First off, cut out the star shapes from cardboard. You can either buy a star-shaped template or get a more artistic one with some help from your child. Then, you can use markers, paint, stickers, and many other things to decorate the stars. After that, use the mod podge to coat the stars and seal everything in. Let them dry and try them on for size!
How To Make Pearl Earrings
Pearl earrings are a great way to wear pearls as part of your outfit instead of just a necklace. Pearl earrings can be worn with a formal or casual outfit and they look great with a little black dress or when you wear jeans and a nice top. Making pearl earrings is very easy. You can make these pearl earrings even if they don't have a good sense of quality in the design. Make them match with your clothes or as an accessory in your wake.