Marbled paper is a beautiful, classic look that has been appreciated for centuries. Marbled paper was initially made using floating pigments on the surface of the water—an ancient art that can still be seen today in some traditional cultures. For this reason, marbled paper is sometimes called "watermarked" or "water." Even though you can buy premade marbled paper, there are various ways to make your own at home. If you're interested in trying it, here are some DIY marbled paper ideas to get you started. Transform ordinary paper into marbled paper with these DIY projects. You will be amazed at how easy and fun it is to create your marbled paper.
Unique DIY Marbled Paper Ideas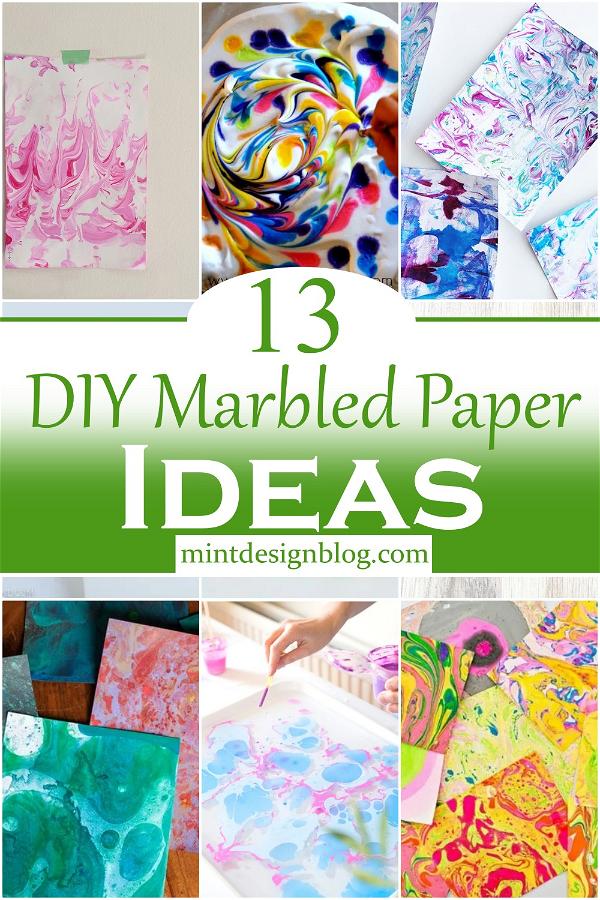 Marbling can create stunning patterns on paper and fabric, which is why it's one of the most popular techniques in DIY crafting. It's a technique that has been used for centuries, and if you're a fan of beautiful design, you've probably marveled at the intricate designs created by marbleizing. Now you can learn how to make your marbled paper with this list of 13 DIY marbled paper ideas. Marbling is an easy craft that anyone can do. It's fun, creative, and even relaxing—it's just like coloring, but with water and paint instead of crayons. Because marbleizing is so accessible to people of all ages, it's the perfect project for kids (and the kid inside you).
Benefits Of DIY Marbled Paper Ideas
Simple and easy to do
Perfect for a beginner paper crafter
Can be done with any paper and ink combination
Endless possibilities when it comes to marbling techniques
Great for making your decorative papers or gift-wrapping papers
How To Make Marbled Paper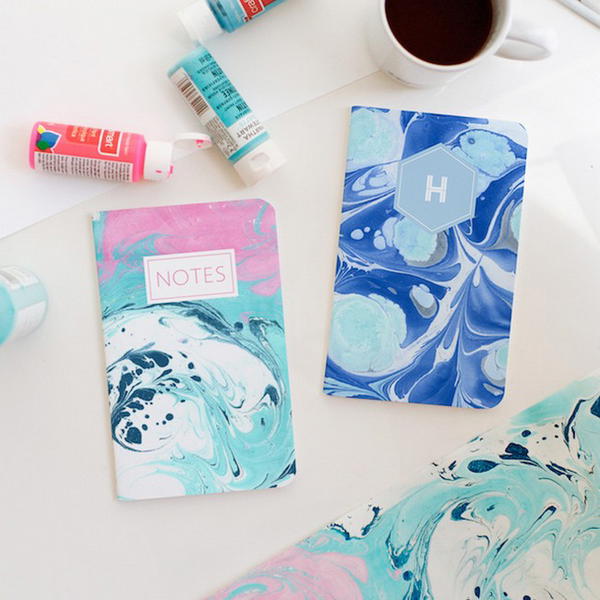 This DIY project creates a marbled paper perfect for decorating your home and office. You can customize your creation with a wide range of colors or create a marbled effect in one color to match any room theme. Learn how to create marbled paper using just simple ingredients. This DIY project is easy enough for the whole family to do together but exciting enough to be a hit at school or work still. This is a fun and easy project that yields stunning results. It's enriching, too — each marbled paper has its own unique pattern. As the water dries, it forms streaks of color that look like liquid for a beautiful effect on paper.
How To Make Marbled Paper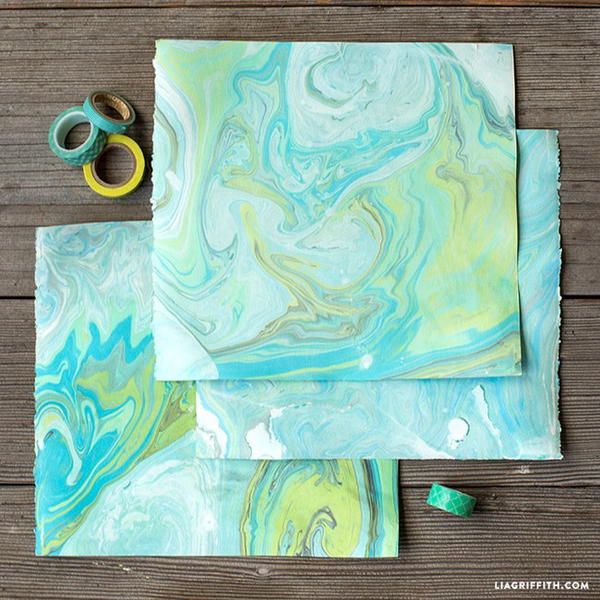 Marbled paper is fun, easy, and inexpensive to make at home. With just a few household supplies and an hour or two of your time, you can create a fantastic array of marbled color patterns. And the best part? You don't need any special skills or training. You need a little creativity and time on your hands. So grab some paper (color-type) and get started! This beautiful project can be used as gifts, cards, or just for making something pretty. Making marbled paper is not difficult; it is just about patience and following the steps carefully.
DIY Marbled Paper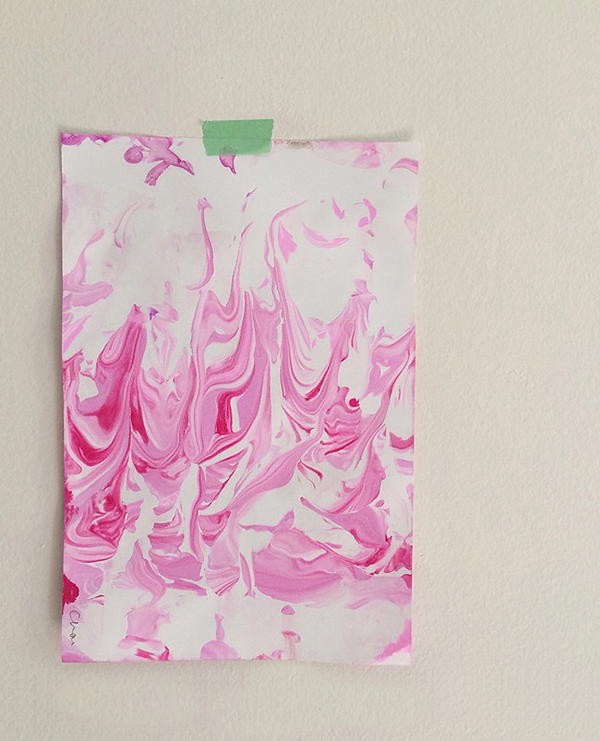 Marbling is easy and fun! This is an excellent project for kids of all ages. You can use the same technique to create stunning marbled art pieces, jewelry, coasters, and placemats. Your kids will love doing these beautiful marbled paper projects at home. The best part is that they smell good! Make your own marbled paper with shaving cream! You won't believe what happens when water, food coloring, and shaving cream are mixed. These projects create a unique textured look that kids love to create and adults love to hang in their homes.
How To Do Shaving Cream Marbling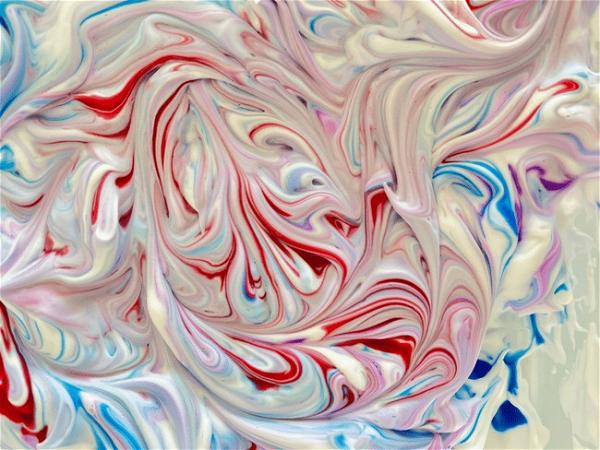 If you want to make your own marbled paper for crafts, let the kids experiment with this fun shaving cream marbling. Get inspiration from this DIY Shaving Cream Marbled Paper tutorial and create your own themed masterpieces. So easy and affordable, homemade marbled paper is a great way to make the most of your kids' creativity! Have fun coloring and experimenting with different paint colors, crayons, markers, or colored pencils to create an original piece of art. Using shaving cream and food coloring, you can make unique artwork that looks great on any wall in the house!
 DIY Marble Paper Tutorial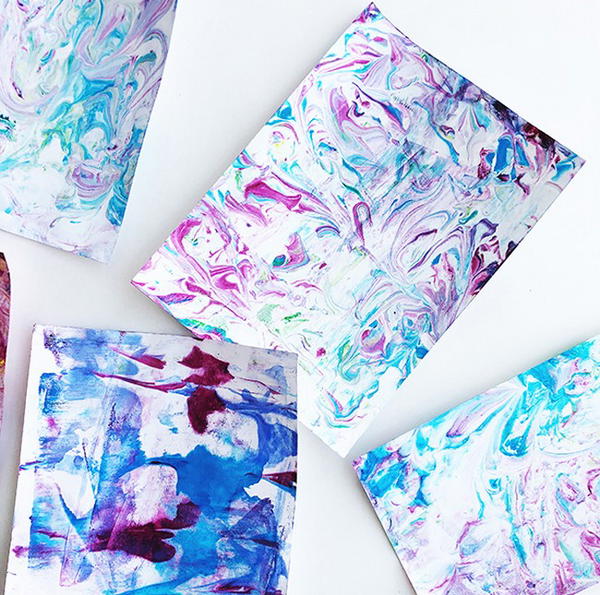 Liven up your interior spaces with this DIY marbled paper technique. You can create a gorgeous marble effect on any surface with the right tools and materials! Marble paper is a great way to create a fun pattern on printable ornaments, cards, and home décor. This DIY marble paper tutorial will show you how to marble paper with food coloring and alcohol for an inexpensive, easy craft that's great for kids! Learn marbling techniques to create bookmarks, gift tags, and Christmas tree decorations.
DIY Shaving Cream Marbled Paper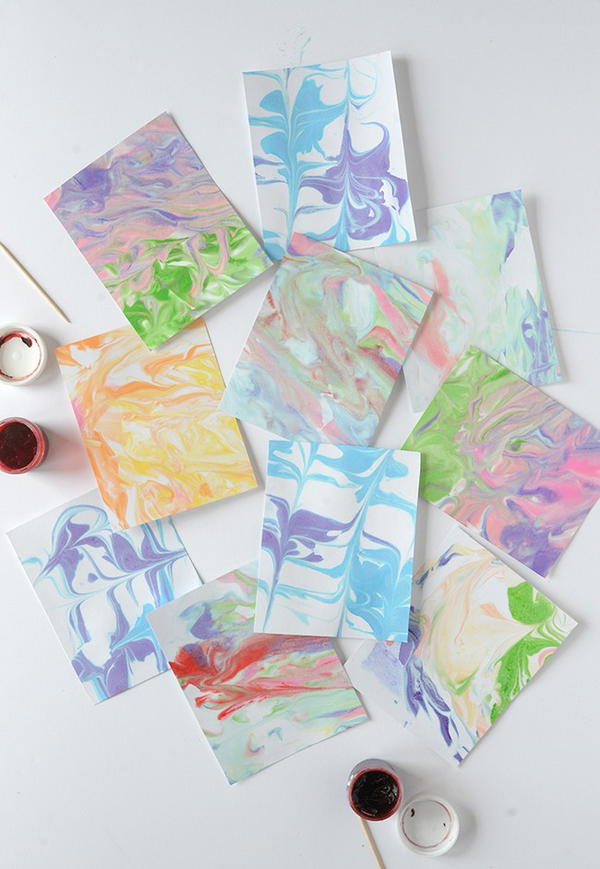 With no mixing or measuring, you can create marbled paper with just a few steps. Start with this simple DIY shaving cream marbled paper project. It's so easy; even a beginner can master it! This simple DIY craft combines the speed of shaving cream and paints with the artistry of marbling to create stunningly beautiful paper. With just two materials, you can make your own unique, marbled paper that you can use for scrapbooking, card making, or other arts and crafts projects. It is perfect for wrapping paper, gift tags, and more!
Easy DIY Paper Marbling At Home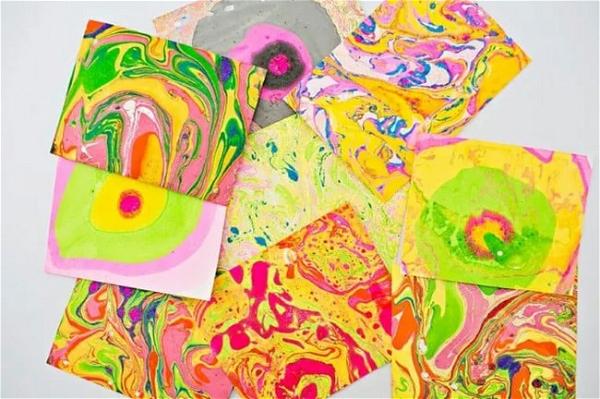 Learn how to make marbled paper at home with no expensive equipment. This simple but effective DIY marbling process works with any smooth surface on paper, textiles, and more. Making paper marbling is a fun and easy way to add a handmade, unique touch to your art, crafts, or home decor. It's so simple that you can do it at home with just a few basic supplies and homemade marbling liquid. This easy-to-follow tutorial shows you how to marble paper in various designs and patterns. You can also learn how to turn your marbled paper into beautiful bookmarks or greeting cards!
DIY Paper Marbling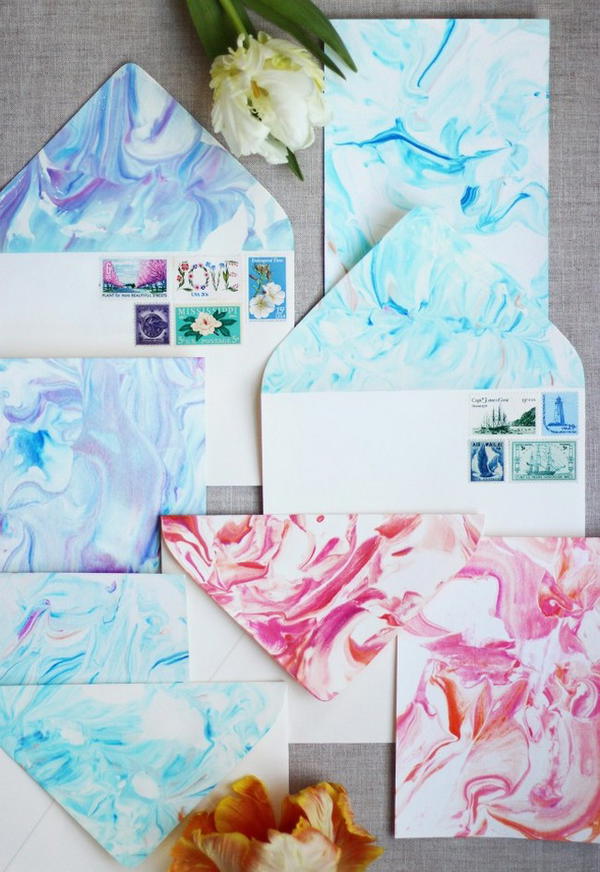 Get ready to dazzle your home (and yourself) with DIY marbling paper. You'll be able to whip up one-of-a-kind pieces in no time flat and make your house feel extra special. DIY Marbled Paper is a fun activity for kids, teens, and adults of all ages. It's an easy craft that yields stunning results. If you've never tried marbling paper before - now is the time! Marbling paper with food coloring and shaving cream is easy to do and lots of fun! This DIY video teaches how to marble a big sheet of paper. This method is surprisingly inexpensive, but the results are so pretty!
DIY Marbled Paper From Shaving Cream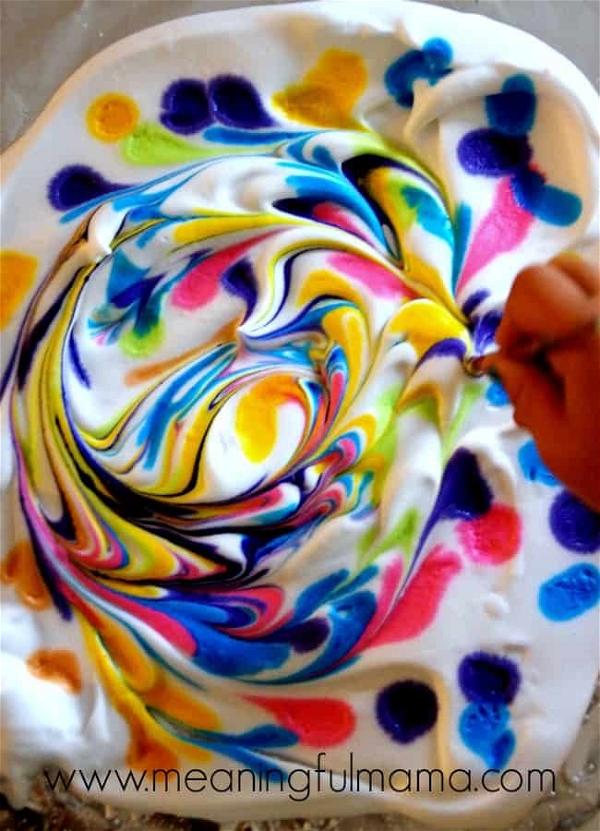 Shave cream is like paint, but better! The super-shiny marbled sheets in this project will make it seem like you have a fancy paper cutter in your home. This project only takes about 30 minutes, and the results are stunning. The marbled paper you can create with this technique is unique and beautiful. Your kids will love making this DIY marbled paper from shaving cream. They won't need any help from you, and they can use it as personal stationery afterward! They have to layer shaving cream with paint until they get the desired look, allow the shaving cream to dry, and then use a simple sponge to remove the excess shaving cream.
Marbled Paper Journal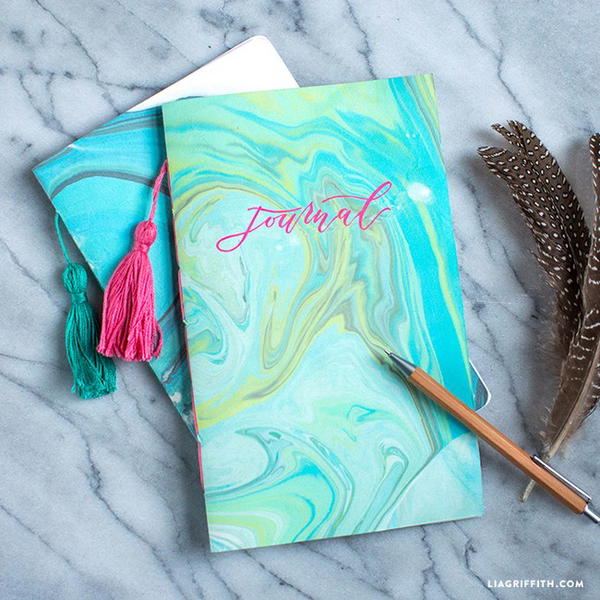 This DIY Marbled Paper Journal is an excellent project for those who like to do things themselves. You'll learn how to create an easily customized cover for your new book, including a fun technique for binding your pages. You can use this same process on almost any paper-based project that you'd like to give a unique feel. Make your own Marbled Paper Journal with this easy-to-follow tutorial. Whether you're looking for a high-quality cover or a perfect gift, this DIY marbled paper journal is the perfect project!
DIY Marble Paper With Oil Paints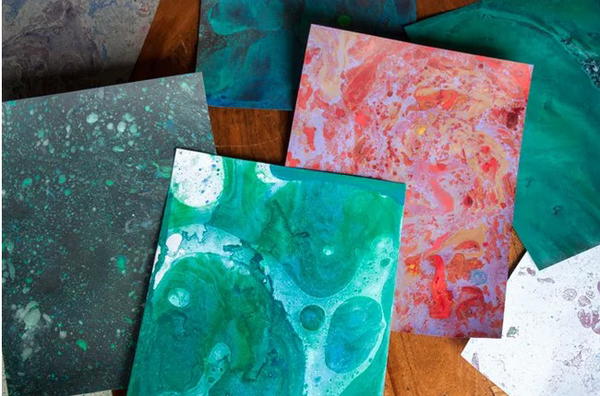 If you have been around for a while, you may remember that we have done a paper marbling post in the past. It is time to revisit this craft with some new techniques and products. This post will show you how to create your marbled paper using oil paints using different tools such as toothpicks, brushes, and sponges. Try your hand at the marbled paper with this easy DIY method. You can have marbled art from start to finish in just a few hours. Mix oil paint on waxed paper and toss it with inks. Then spread the ink on your page to create an abstract pattern. This technique is perfect for making cards, invitations, bookmarks, and gift tags!
How to Make Marbled Paper for Colorful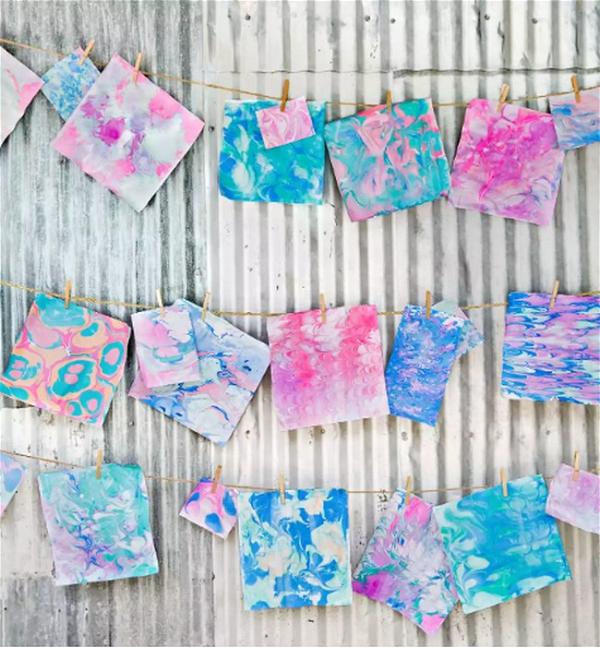 A few supplies and a bit of fine-line artistry are all you need to create this colorfully marbled paper. Colorful, textural, and fun to make – these DIY marbled paper projects make beautiful handmade cards and greetings. Marbled paper is one of the most popular DIY crafts, making it easy. All you need is some paint, water, a couple of cups or bowls, and some paper to start. Then spend a few minutes learning how to use the different tools to make a bold statement on your marbled paper. This can add some flair to your home decorating projects or make a great invitation for an upcoming event!
DIY Paper Marbling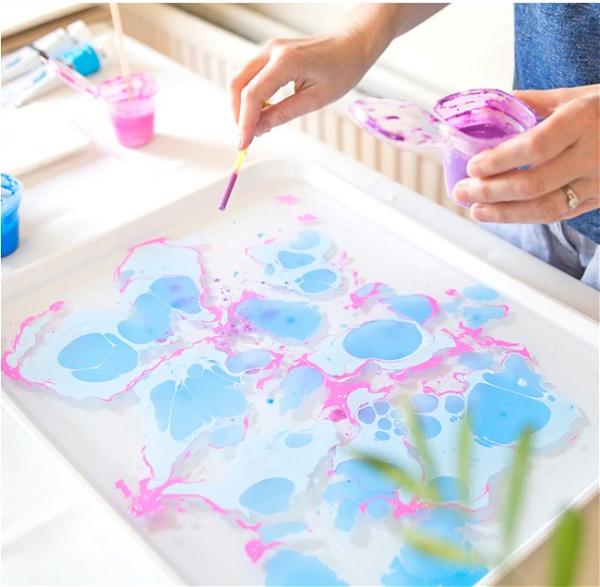 Paper marbling is an accessible and inexpensive art form. Do it at home on your kitchen table with a few critical pieces of kit, which can feel expensive. But it'll set you up for many future sessions, and you will no doubt want to do more after the first go! This is great fun and quick to do—it won't take long before you perfect your technique (or design new shapes!) to create beautiful pieces of art on paper. Whether you fancy a day at the seaside or plan months for your summer holiday, marbling is the perfect hobby to keep your kids (and you!) entertained.