Mirrors are a great way to compliment the style vibe of any room, but a framed art piece adds a sense of sophistication that also makes it special. Many people get put off by the high cost of having a framer make a custom mirror frame for them. The solution to this is to DIY your own mirror frame. With the right tools and supplies, you can create a custom mirror frame that will look great in any bathroom, hallway, or bedroom in the house. These are stunning 30 DIY mirror frame projects that you can DIY from your basement. You can choose between any of the following frame types: stained wood, metal, raw wood, painted wood, and frameless.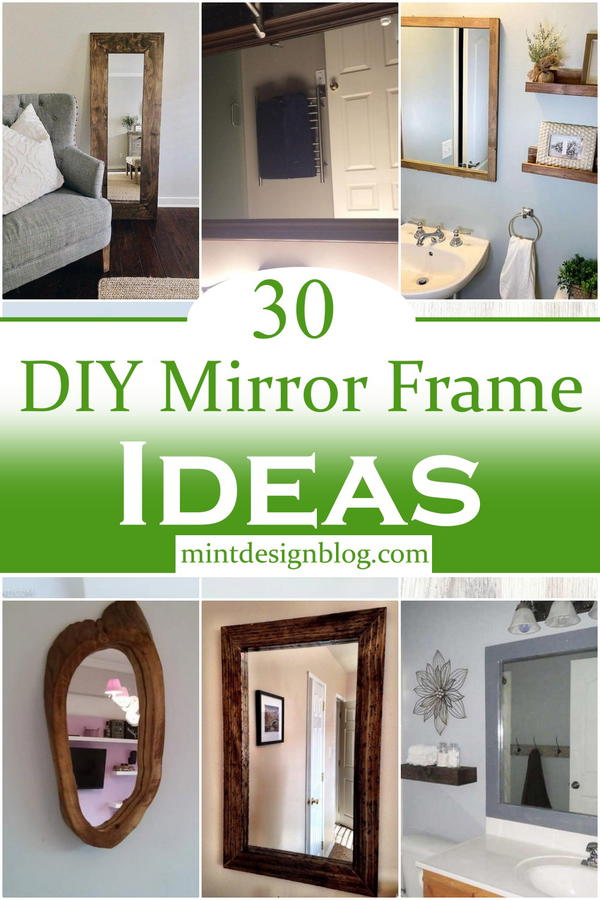 These projects are meant to highlight the beauty of your mirror rather than overpower it. The frame is designed to complement the mirror without drawing too much attention away from it. These DIY mirror frame projects are not only functional but also super stylish. Some can be done with recycled or repurposed materials, so they cost as little as possible. If you want to add a mirror to your house but don't want to purchase one from an expensive store, then you need to check out these ideas for making your own mirror at home. All these projects are easy to do by yourself and inexpensive as well! Just use them as a fun weekend project with family or friends!
Here are 30 creative DIY mirror frame projects that will make your bathroom or bedroom look so elegant and unique that you'll never want to leave.
Tips Followed While DIYing Mirror Frames
DIYing can be a lot of work, and there are many ways to get it wrong. Here are some tips that you should follow if you're ever considering DIYing your own mirror frame:
Make sure to read the directions for any tools you don't know how to use.
Make sure you have the right tools for the job–if you don't, buy or borrow them before beginning.
Use a tape measure to make sure everything is straight and level before committing glue or nails/screws into place.
If using power tools, wear safety glasses–even if they're not your prescription!
Measure the size of the mirror. Then measure the mirror plus an inch and a half on each side. This will be your inside measurement. Cut the outside edge at 45-degree angles, so it fits around the mirror when you are done.
Decide what type of molding you want to use. You can go with any kind: fancy, plain, or even scrap wood or tile for a rustic look.
Attach the molding to frame with glue, then nail it in place with small nails from a nail gun or hammer and nails.
Stain and seal the frame as desired after it is assembled to protect your project from damage and discoloration over time
Basic Materials Needed For DIY Mirror Frames
Mirror frames are the perfect way to add a bit of color and creativity to your home.
You can use a variety of DIY materials to create your own mirror frames, including paint, fabric, and even paper.
To create a mirror frame, you will need a few different tools and materials. These include:
Sandpaper
Paintbrush
Pencil
Ruler or tape measurer for measuring the size of your mirror (in inches) and its thickness (in millimeters)
Mirror Frame Template (optional but recommended!)
Benefits Of DIY Mirror Frames
Some people may think that DIYing is just for people who don't have any money, but it's so much more than that. It's about being able to feel the pride that comes from making something with your own two hands and a little bit of ingenuity. It's about the satisfaction of knowing you had an idea in your head and then seeing the results of seeing that idea come to life.
Here are a few benefits of DIY mirror frames:
They are cheap!
They're a great way to give old mirrors a new look!
You can make them in whatever theme you want!
DIY mirror frames are a cheap decoration idea
You get to do something creative!
You get to choose the style and material you want.
They are easy to make
You can save money from buying mirror frames.
The benefit of using mirror framing is that they reflect light and make a room appear bigger
You can create a custom-designed frame for your wall mirrors.
Mirror frames allow you to add personal touches outside of your
You can add a personal touch to your home with DIY mirror frames.
How To Add Wooden Frame To Bathroom Mirror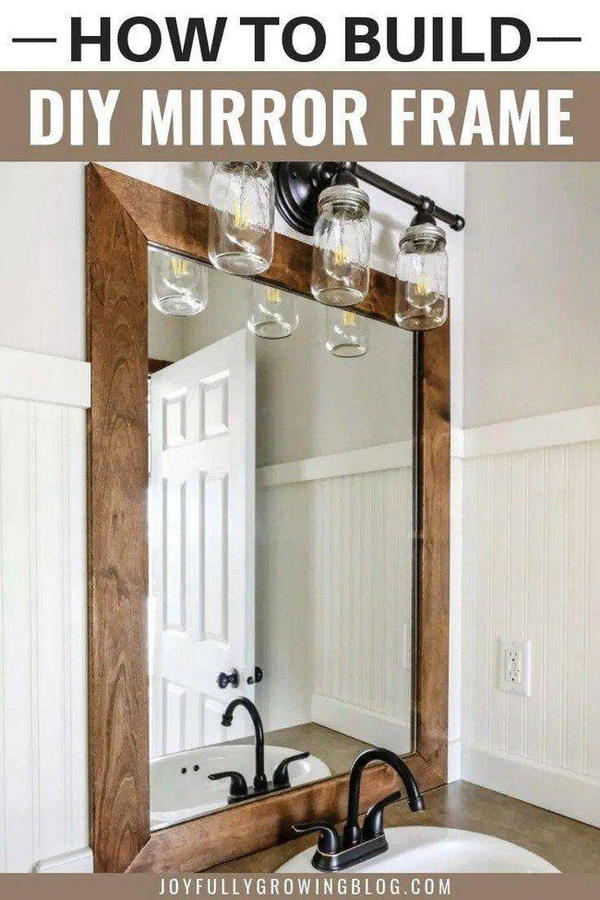 Save money on a custom mirror frame with this simple DIY project. Using everyday tools and materials that you can find at your local home improvement store, you'll learn how to make your own wood frame for under $20 in an hour! The first step is to find a mirror you like and remove it from the wall. Then measure the mirror, and decide on the width of the wood frame. Once you have added some new trim around the mirror, all that's left to do is mount it back on the wall!
DIY Custom Mirror Frame
This DIY Custom Mirror Frame is a fun project for the weekend and will add an industrial farmhouse flair to your living room decor. If you love the look of an industrial farmhouse mirror frame, this video will show you everything you need to build one yourself. When you're done, your mirror's new frame will be customized exactly to your taste and you'll have a sense of accomplishment that comes with any do-it-yourself project. If a DIY mirror frame isn't for you, this video will be informative for the next time you purchase something from the hardware store.
How To Frame A Mirror
Making your own DIY minimalist mirror frame is so easy and fun to do. Once you know how to frame a mirror, you will love it, especially when you see how much money you can save by doing it yourself. A plain, unadorned mirror can make a small space feel even smaller, especially one with a cold reflective surface. But you can easily fix that by dressing up your mirror. A pretty frame will tone down the chill and introduce warmth and personality into a room. This is a great way to update the mirror in your home.
DIY Mirror Frame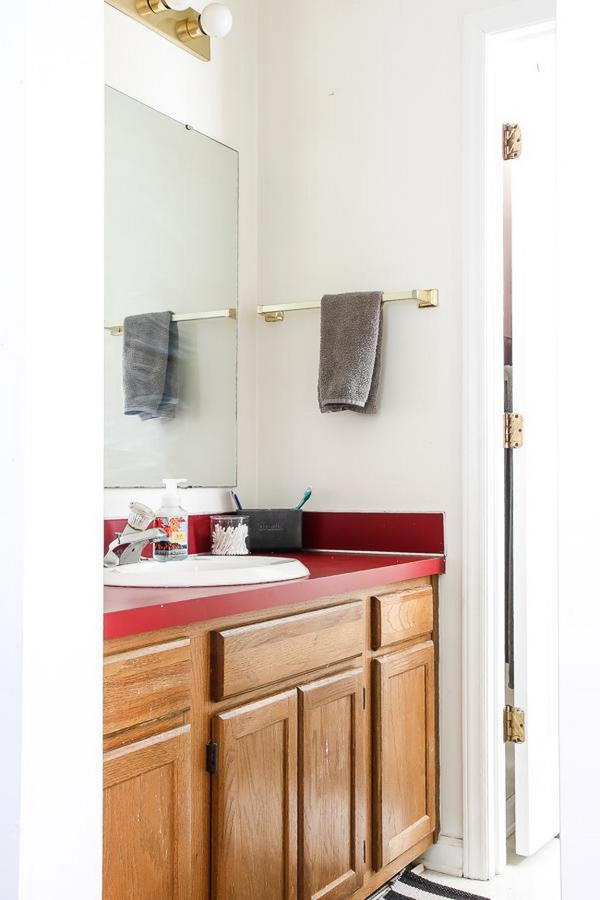 In as little as two hours, you can construct a beautiful DIY mirror frame that is sure to impress your guests and completely transform the look of your home. Constructed out of easy-to-find wood materials and simple tools you likely already have, this DIY project will make you feel like a pro craftsman. This tutorial shows you how to build a custom wood mirror frame to exactly the size of your existing bathroom or vanity mirror. The frame adds character and warmth that can enhance the existing style of any room. It will go from a boring builder-grade mirror to a stylish focal point in an afternoon!
DIY Stick On Mirror Frame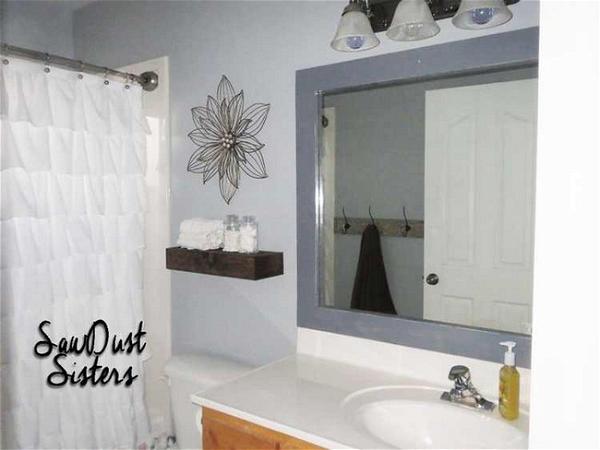 Give your bathroom a new look with this beautiful and pretty stick-on mirror frame! It is very easy to create, therefore it won't take you long. This decorative mirror frame can add the character you're looking for, without breaking the bank. You can create your decorative mirror frame with the one you want. Just upgrade your mirror or buy a new one and create a stick-on mirror frame for it. Add character to your standard mirror with this stick-on frame. Pretty, easy to make, and affordable, this project is an easy one to do yourself.
How To Build A Mirror Frame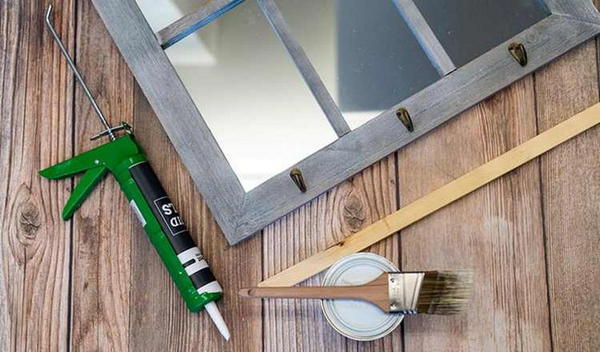 Building a mirror frame is easier than you think. Dress up that plain mirror in your home with this DIY project. With a few simple tips and tricks, you can transform a plain mirror into something special you will be grateful to have in your home. It's easier than you think to create a custom, high-quality accent piece that will be the envy of your family and friends! It's an easy project that only requires a few supplies. Before you begin taking the necessary precautions like wearing gloves and safety glasses.
DIY Frame For Bathroom Mirror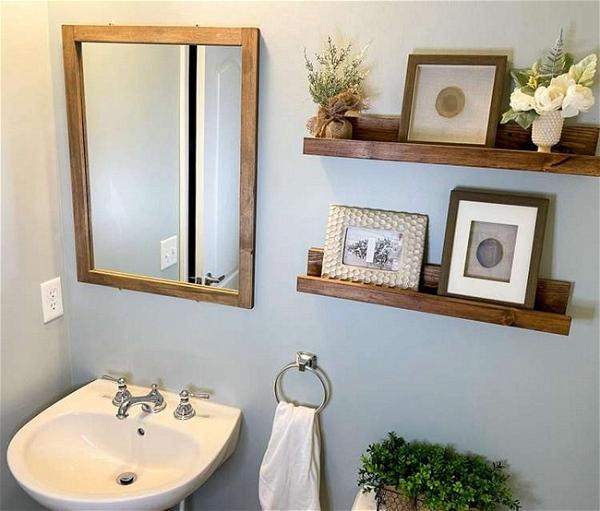 Quick, easy, and affordable it's never been easier to update your bathroom without replacing anything. Learn how to frame a large bathroom mirror and how to update a decorative mirror with scrap wood. This tutorial shows you how to frame a mirror with some gorgeous mirrored accents to make your bathroom look fancy but without the fancy prices. The effort is simple, and you will be amazed by what such a small detail can do for your bathroom. Dress up your bathroom mirror—instantly! Using just a few nails, pre-cut molding, liquid nails, and paint, you can frame your mirror in no time. Use wallpaper samples or decorative trim for a custom look.
9. DIY Modern Framed Floor Mirror
If you're looking for a fun, economical project that adds a lot of character to your space, this modern framed floor mirror is the project for you. You'll love the simple elegant touch this black and white mirror adds to your room. The modern design has a fun look and fits in with most any decor style. One of your favorite projects, this classic DIY adds such a unique touch to any home decor! This DIY will show you how to build a modern framed floor mirror that has clean lines and is super sturdy. It's also a fantastic way to add a touch of mid-century modern design to your home! It's easy peasy so let's get started.
How To Build A Frame Mirror
The Rustic Bathroom Mirror is a great project for a beginner woodworker who is interested in adding a touch of domesticity to their bathroom. With its natural materials and warm finishes, this mirror is perfectly at home above the sink in your master bath, or as an accent piece in any room of your house. Making a mirror frame from wood is a simple project, and with these tips, you'll be able to build a frame in no time. Get your wood ready, and then drill pocket holes before securing the corners with glue. After this, get your palm router set up, and route out the inside of the frame for a perfect fit.
DIY Wood Sunburst Mirror
The sunburst mirror will help to warm up the room and refresh. It makes a focal point for long-term enjoyment, and it comes at an affordable cost. The use of wooden popsicle sticks makes it one of a kind masterpiece. Get straight to work and have fun crafting with a DIY wood sunburst mirror using popsicle sticks.Making this spectacular DIY wood sunburst mirror is an artistic exercise. You get to use a creative design with an optimum finish. You can make this in your bedroom or living room and it will make your room really wonderful.
DIY Circle Mirror
Ready to craft a mirror that has been described as "a brilliant, ingenious idea"? This DIY project is fun, beautiful, and simple. This DIY circle mirror is perfect for adding some personality and style to your space on a budget. It will be so much fun to dive into creating this piece of art whether you are styling up a nursery, or hanging your new masterpiece in the bathroom or entryway. By making the frame into a circle, you've created a stunning decor piece for your home as well as a unique focal point in any room.
Textured Mirror Frame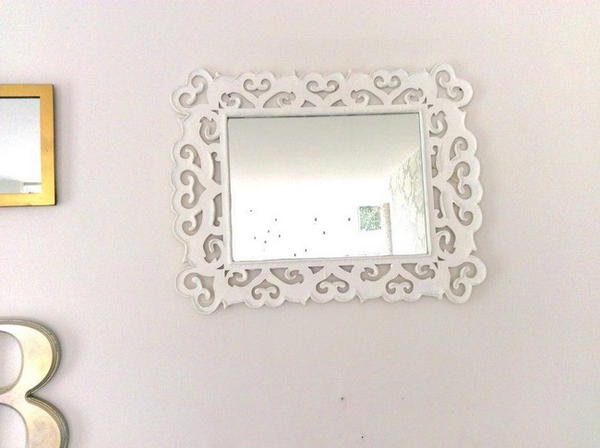 Do you want to create that expensive aesthetic look in your homes? This project is the answer. This wall mirror is a beautiful addition to any room. You can make a customized frame that beautifully matches your décor, and you can do it for a fraction of what you would pay for a similar-looking framed mirror in the store. Create your textured frame using a wooden laser cut frame, a mirror of the size to fit the frame, air dry clay, white glue, white paint, a small brush, and other common materials or items.
DIY Floating Mirror Frame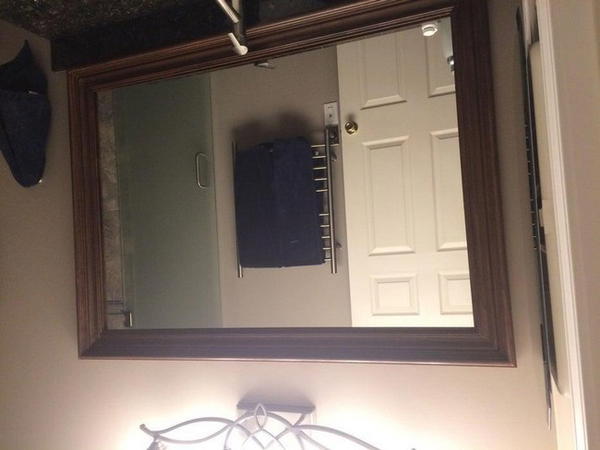 This DIY project is to give your bathroom a beautiful new look by framing your mirror. It is an easy and cost-effective way to create a unique piece of decor in your home. You can frame up your mirror at home and save you money. Buy a wood strip wider than your mirror, stain it and hammer some nails on it. Then bring out the spirit level and make sure the mirror is standing straight.
DIY floating mirror frame adds a touch of elegance with its modish look. Floating mirror frames are not just for the bathroom. They can be installed in the living room, hallway, and other rooms in your home. It is convenient to do the installation yourself.
How To Make A Large Mirror Frame
Making a mirror frame yourself is an easy way to add custom style to your home. This DIY project shows you a creative way to hang a large mirror on your wall. It is easier and cheaper than buying a frame. You can adjust the size of the frame to fit your mirror. This easy step-by-step process shows you how to create a wooden picture frame for your mirror using basic woodworking tools and a few inexpensive supplies from your local hardware store.
How To Build A Mirror Frame
Your mirror will look great when you frame it with wood. It's time to bring life to your old mirror as it's time to make a new frame for it. By making a frame for your old mirror you are able to give it that brand new look you desire. Learn how to build a wood frame around a mirror and get that professional look for your home. All you need are the basic tools for cutting and nailing wood together, stain and varnish, wood filler, and a few pieces of molding. You can have your frame done in just an hour or two, leaving plenty of time for drying afterward.
DIY Wood Mirror Frame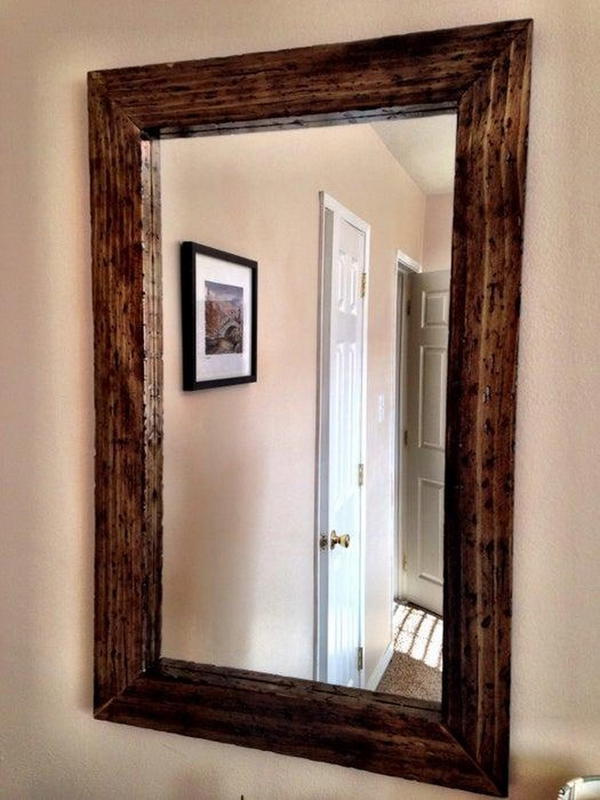 Uncertain about how to decorate your favorite living room wall? This DIY Wood Mirror Frame is fun and easy to make. Bring back the feel of simpler times and make your home very modern with this DIY wood mirror frame. By using materials from your local home improvement store it's cheaper than purchasing one from the store and makes a beautiful addition to any room. It will add a chic rustic modern accent to the space by attracting attention to an existing mirror on your wall or creating a focal point with a new one.
Log Mirror Frame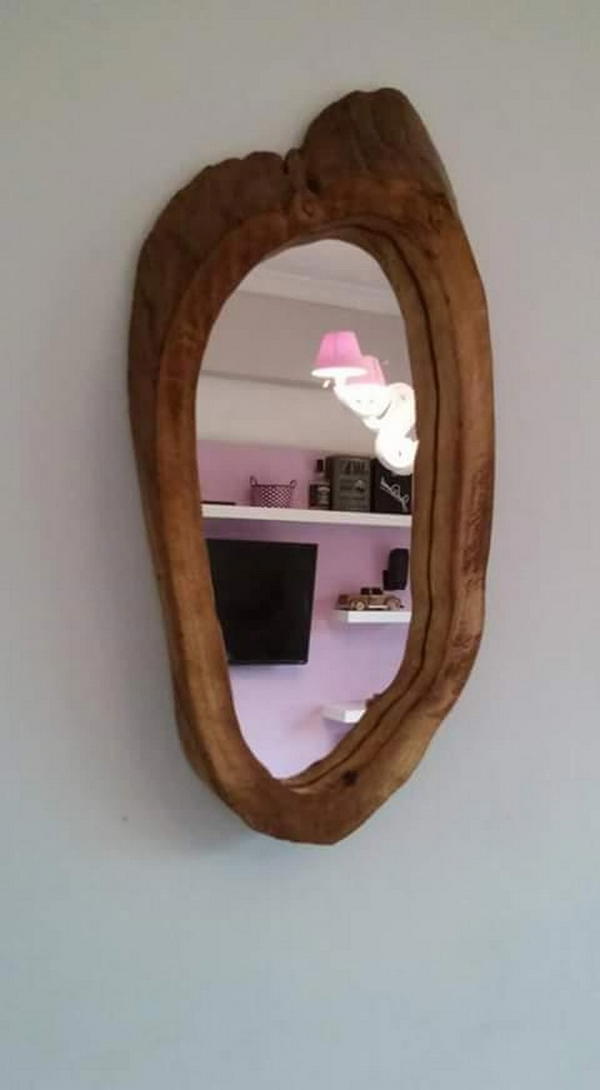 Add some contemporary rustic charm to your space with this DIY log slice framed mirror. This is as easy as it gets and with a few pieces of decor and a walnut log, you can change the look of an entire room. You will find it super easy to mount this Walnut Log Slice Mirror Frame on your wall. This mirror frame can be hung or stood at the wall. You can use any wood glue to hold the mirror together. You should get this beautiful piece in a few minutes since all you have to do is tie the leather strap behind the mirror and hammer some nails to mount it.
Mirror Frame Under $10
Dress up your bathroom mirror for under $10 with this beautiful DIY wood frame! This easy woodworking project has no screws, no nails, and it won't scratch your mirror. To change the look of a mirror, you don't have to buy a new one. Create a frame from wood to personalize the mirror and make it more decorative at the same time. A wood frame is easy to build even for a beginner. The only power tool you'll need is a circular saw or handsaw to cut through thick pieces of wood. Follow the simple steps in this tutorial and see how you can transform your bathroom mirrors with a pretty DIY mirror frame!
Ornate Mirror Frame
Sometimes you need to take those internal uglies and make them external beauties. That's exactly what this DIY Ornate Mirror Frame does. It hides your boring, ugly mirror with a layer of class and beauty. Turn an ordinary mirror into something special with this kit that allows you to easily create a frame of your own design. Bathroom mirrors are often standard and boring, and a wide frame can bring some unexpected flair to the space. With a quick trip to the hardware store and some wood glue, you'll be ready to start framing. Let's make this frame gorgeous!
Rustic Mirror Frame
If you are looking for unique and personalized wall decor, this DIY rustic mirror frame project is something that you can easily do on your own. Even if it will be your first time doing arts and crafts, this activity will not be hard at all. It is a quick, easy and cheap DIY project that will decorate your home. All you need to do is nail together this rustic frame for a mirror you have on hand and then hang it up. And, in just one day, you can transform any mirror into something beautiful.
Gold Frame Mirror Made Of Cardboard
Making a custom decorative mirror frame made out of cardboard can add beauty to your home. This tutorial will teach you how to make a decorative mirror frame with an easy-to-follow DIY guide. With a little bit of cardboard, gold foil, and paint you can create this vibrant piece for your home. You can create a vibrant decorative item for your home that is also environmentally friendly, saving you money. You can use this mirror frame to add a home decor accent to your living room or hallway. You'll be surprised at how nice the mirror looks and how easy it is to make - especially if you follow our guide step by step!
Mirror Photo Frame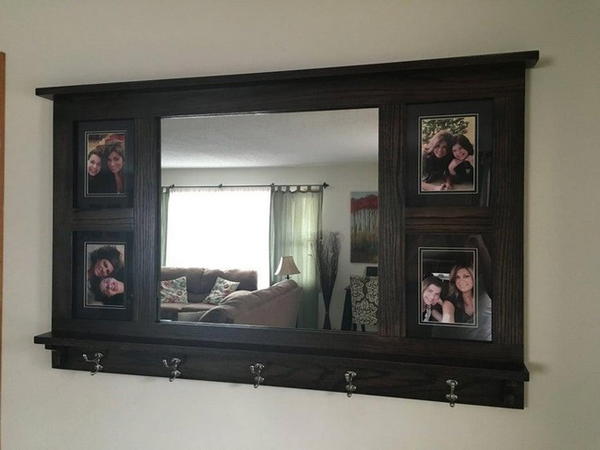 This is a lovely mirror frame as well as a picture frame. Kreg fasteners make it easy to align and secure the frame properly. Save money by making this one. This is a lovely mirror frame as well as a picture frame, it serves a dual purpose for your room. Make this beautiful DIY mirror frame to accent your decor. This mirror frame is designed to fit a standard 22"x28" door mirror that you can find at any hardware store. Add hooks under the shelf and you have a great storage rack for your keys, sunglasses, and more. You will enjoy the DIY and being able to show off your handy work in your home. Beautiful when finished.
Farmhouse Wood Framed Mirror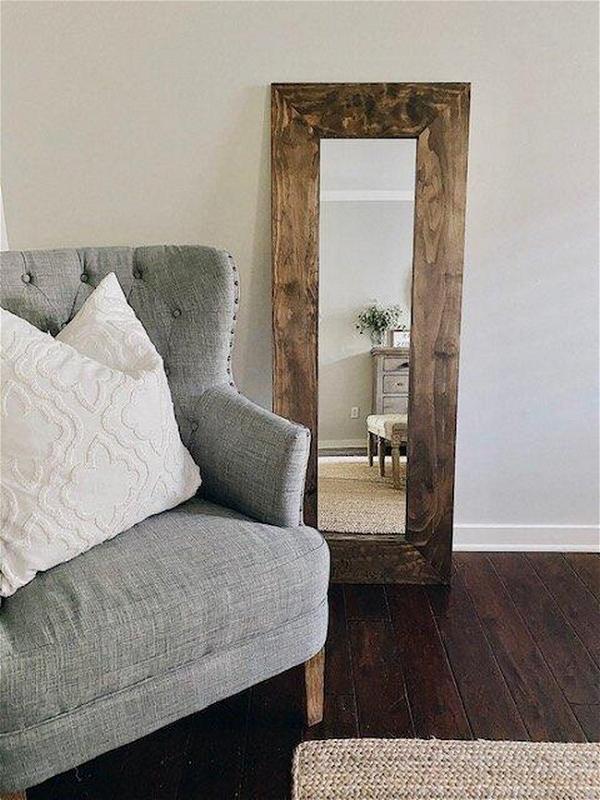 Mirror framing can add life to any room and its functionality is ever increasing with the advent of smart mirrors. It's possible to frame a mirror at home with tools you can get easily from nearby shops. It's neither time nor cost-consuming. So, why not have the fun? This project is relatively easy and inexpensive to make, but it has a big impact. Create a charming rustic mirror to add the finishing touches to your weekend home or farm. Learn how to build an easy and stylish DIY barn door-style frame for a farmhouse mirror.
Easy Mirror With Frame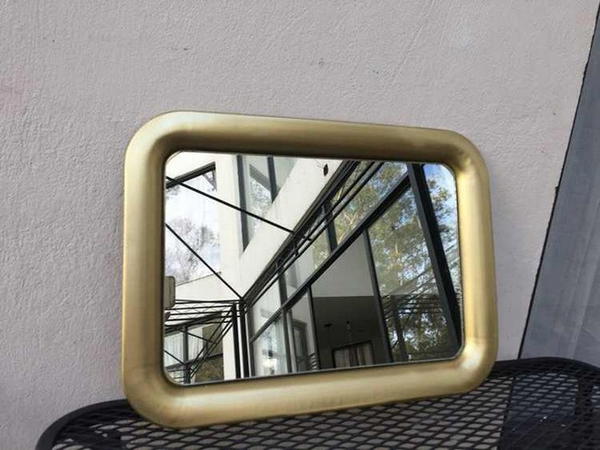 Mirrors can be used in any home. You can bring a new look to your small spaces with this DIY Mirror Frame. Adding the mirror to the frame makes a simple, cheap, and easy way to add some life to your room. It will add a great touch of beauty to your walls and space. Also, it's so easy to carry around if you're moving homes this summer! Decorating with a mirror is a great way to make any room feel more spacious and inviting. It's also window-like, letting light come in to brighten the space – and giving you a chance to spy on the neighbors across the street if you dare.
Large Mirror With Frame
Add a touch of elegance and sophistication to your bedroom, bathroom, or hallway with this DIY Mirror Frame! Made from wood and mirrors, the frame can be painted to match any decor. It's easy to use; just glue on the mirrors to create a beautiful edged frame. Your end results will come out really attractive and gorgeous. The DIY Large Mirror With Frame project is super affordable and easy. The instructions are straightforward and easy to understand, and the product is guaranteed to deliver a highly satisfactory outcome.
Entryway Mirror with Hooks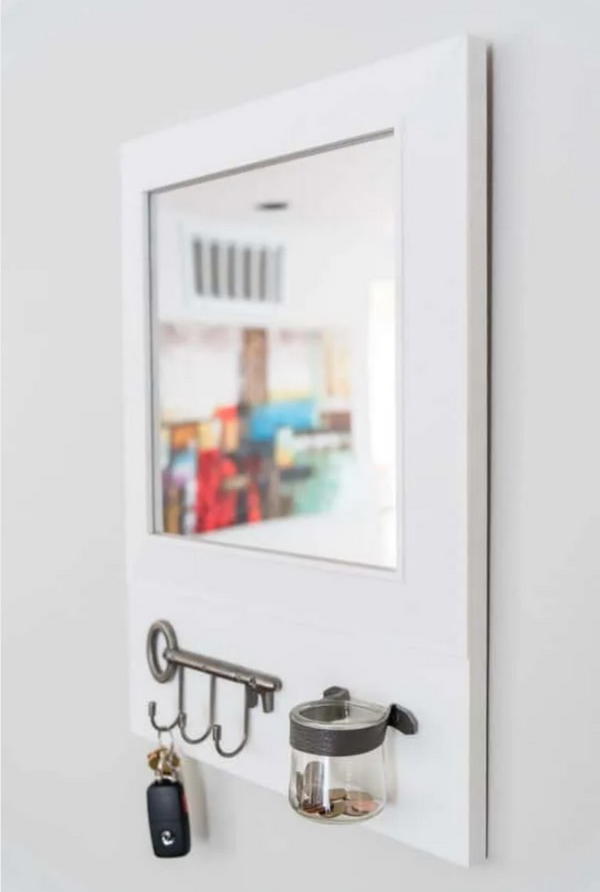 Makeup, keys, coats—you name it! This DIY Entryway Mirror with Hooks is the perfect addition to your entryway collection. Hang it with ease beside one of your Mudroom Towers to easily keep all of your workday essentials standing (and hanging) by. Mount it above your front door or next to your mudroom bench to get organized and put on the finishing touches before heading out the door. This timeless mirror comes with two hooks; use them for bags, purses, jackets, and more.
Wood Shim Sunburst Mirror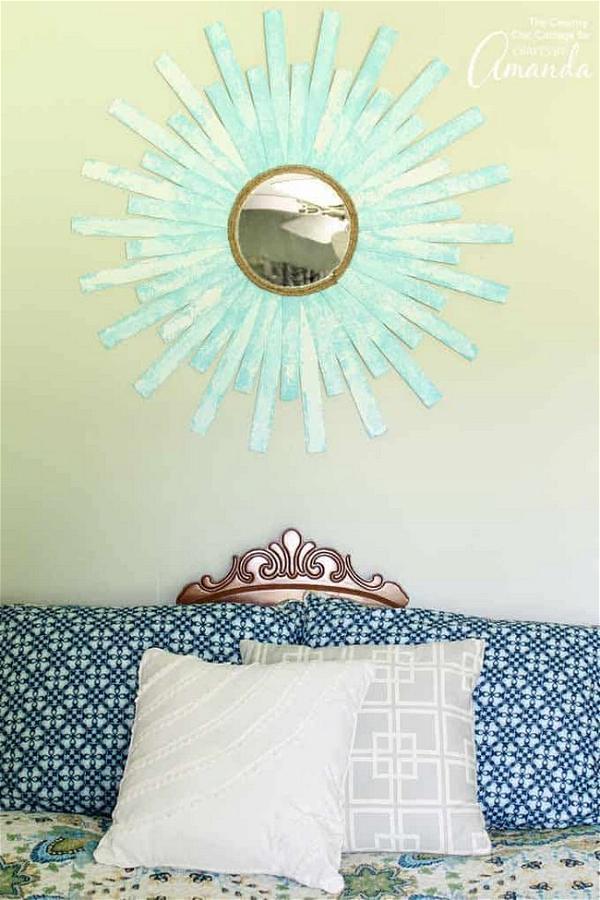 Handmade from a collection of reclaimed wood shims, this sunburst mirror makes a statement in any room. The unique design is both bohemian and rustic and can be displayed in a home or office. You could create a feature on a plain wall or let it reflect the light around your room. Feature this mirror in the hallway or above your mantel, it's perfect in any room of the house! This is a handmade mirror so each one will be different. This mirror would look great on a mantel or add style to a plain wall.
DIY Driftwood Mirror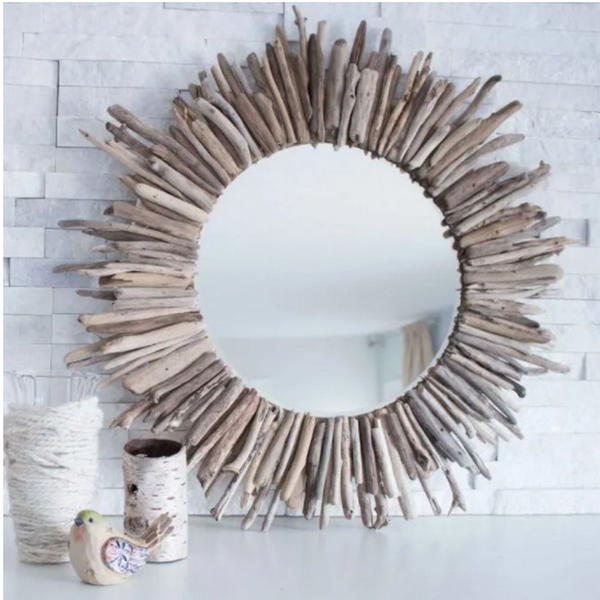 Create your own rustic mirror from driftwood collected during a beachside walk. Make your own stunning driftwood mirror to brighten up any room in your home. Using a beautiful piece of driftwood you can create an understated, rustic decoration with ease. Put your preferred piece of driftwood at the center of attention by creating your very own mirror. This project is suitable for beginners, producing a stunning and decorative feature for any room in your home that only takes a short time to complete.
DIY Thrifted Boho Mirror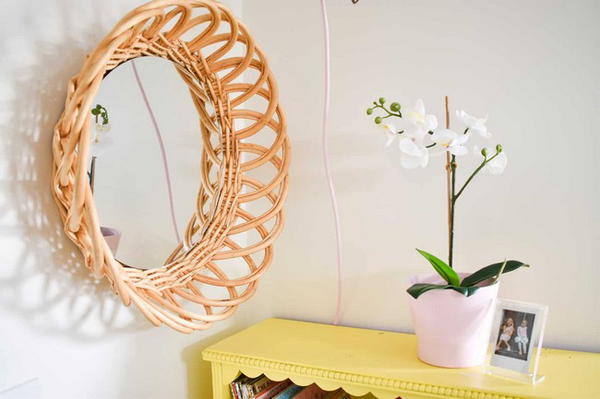 Learn how to make a DIY boho mirror that has a beautiful boho feel using thrifted materials and a few simple supplies! One of your favorite things about spring is changing up your space! Whether that's with fresh flowers, a new throw blanket, or a fun DIY project, it can be exciting to switch up the feel of your house. This DIY mirror is a super simple thrifted decor project that you can complete in just a few hours! It's the perfect way to upcycle an old mirror and use it as wall art or hang it above your vanity table.
DIY Stick-On Mirror Frame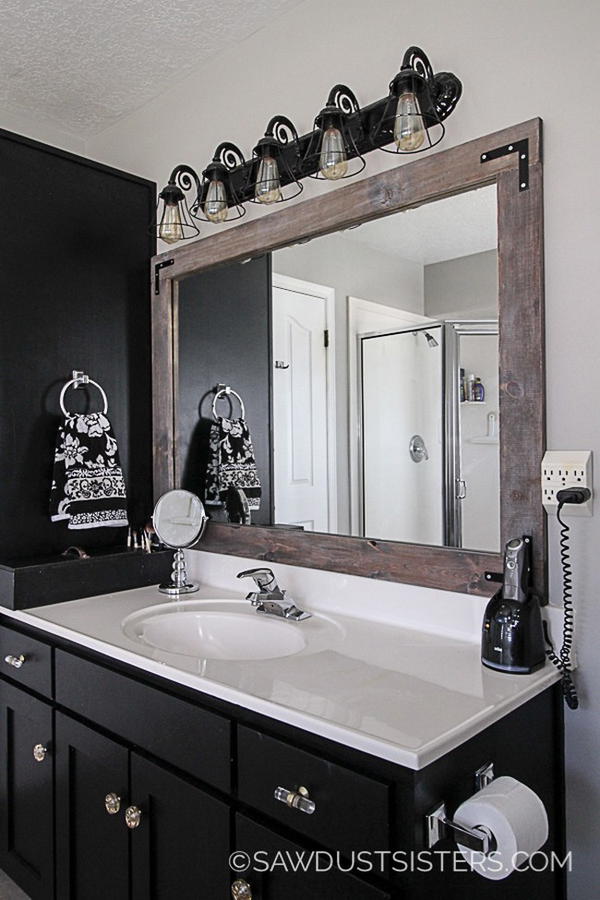 Mirror, mirror, on the wall – who has the easiest mirror frame of all? Give your space a DIY facelift with this peel and stick mirror frame. Easy to apply, it comes in two pieces so you can position it just right before you press it into place. Available in multiple finishes to complement your decor.
The Stick-On Mirror Frame is a simple, peel-and-stick solution for beautifying and personalizing your favorite mirror in minutes. This kit includes everything you need to create a sleek, high-end frame that looks like it was professionally installed.