Paracord is a strong, lightweight nylon rope that's used in outdoor survival kits and camping gear. It's great for a variety of DIY Paracord projects, including bracelets, dog leashes, hammocks, and more. Paracord has become popular for arts and crafts projects because it's so versatile. A small length of paracord can be used as a keychain or to hang your keys from your belt loop. The thicker sizes can be used to make belts, lanyards, and straps for backpacks. These are just a few examples of the different things you can do with a paracord. Some of these projects take a little time to complete, but they are inexpensive and fun to make. You will love how creative you can be with paracord. The sturdy materials are great for making things that you can use on a daily basis.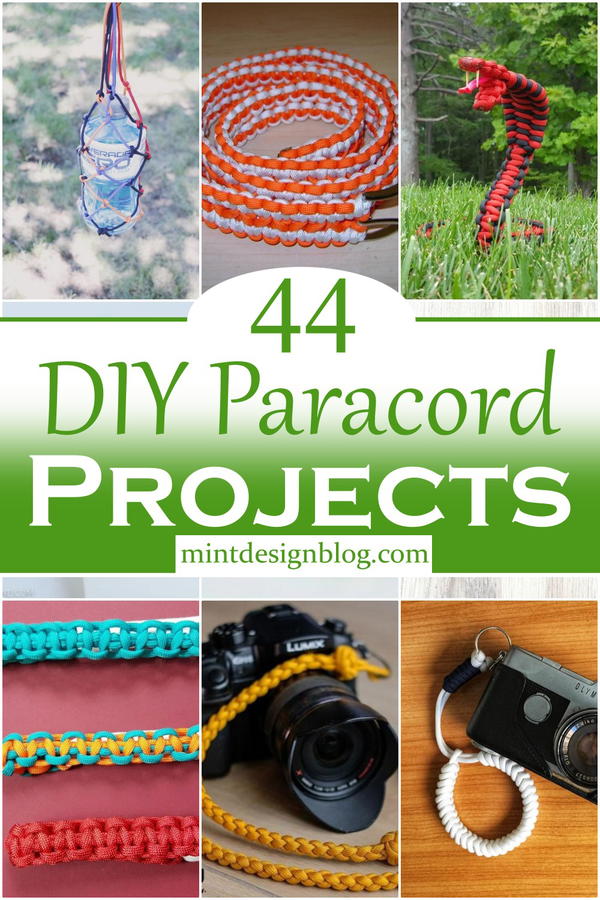 Looking for something fun to do? Paracord projects are great fun and they never seem to stop surprising us with their creativity, ingenuity, and diversity. Unlike other DIY crafts, paracord projects tend to have a longer life due to the durable nature of paracord. There are so many things you can make using paracord, plus they're cheap and sturdy. Crafting is a great activity that has many benefits from relieving stress to reducing the chance of developing Alzheimer's. It is a fun hobby and even better when you get to make useful things that you can use or give away as gifts. There are even some things in this list that the entire family will enjoy making together!
Tips To DIY Paracord Accessories
Paracord is a lightweight nylon rope that was originally used by the military. It's extremely durable, and can also be unraveled and used as a thread or fishing line in an emergency situation. Today, it's popular for making outdoor accessories like bracelets, necklaces, and other kinds of jewelry. It's relatively inexpensive to buy, and it comes in a variety of colors.
To make your own paracord accessories, follow these steps:
Make sure you have the basic equipment you'll need: paracord (at least 50 feet), scissors, and a lighter or candle to seal the ends. You may also want to have a tape measure on hand to make sure your bracelet will fit your wrist well after you've made it.
Decide what kind of accessory you'd like to make—bracelets are probably the simplest option. If you'd like to make a necklace or another type of jewelry, there are plenty of tutorials online that can help you out!
Make sure you have enough paracord—you'll need at least 50 feet for a bracelet. The length depends on how many items you're planning on adding to it.
Uses Of DIY Paracord Projects
DIY paracord projects are very useful.
DIY Paracord Projects have a wide range of uses.
Use it for camping and other outdoor activities.
Create bracelets, necklaces, and keychains.
Add it to a survival kit to use in emergency situations.
Use it for emergencies, hobbies, and decoration.
Make all sorts of outdoor gear and accessories.
Create fun jewelry out of paracord.
Fun ways to use DIY paracord projects.
Great for practical and useful gifts.
DIY paracord projects can save you money, time, and energy.
Some examples of DIY paracord projects are bracelets, belts, dog leashes, and more!
Use paracord for camping.
Use it in an emergency.
Used as a belt or accessory to your outfit.
There are so many DIY Paracord Projects out there!
DIY Paracord Basket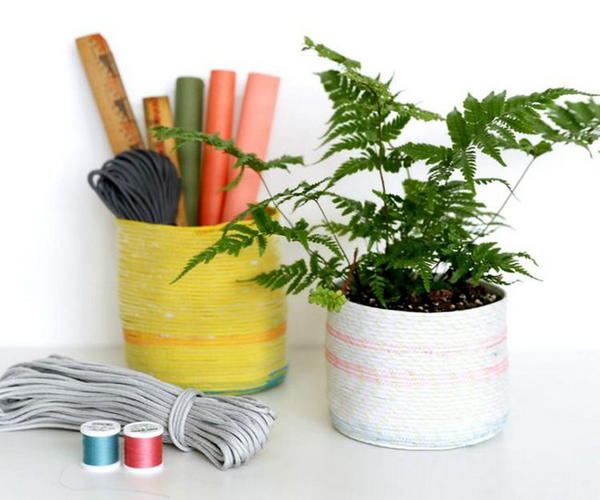 Make a DIY paracord basket as a gift, or to hold extra household items by wrapping paracord around a wooden hoop. It's up to you. Paracord DIY Projects are a great way to satisfy your need to craft while also being productive and creative. Once you are done, you will have an awesome paracord basket that you can turn into all sorts of different things such as flower vases, pen and pencil containers in your office, or anything else that would fit in it. Either way, this tutorial is good for any level of crafter and looks cool too - everyone will want to know how to keep their things in one of these trendy baskets.
DIY Paracord Snake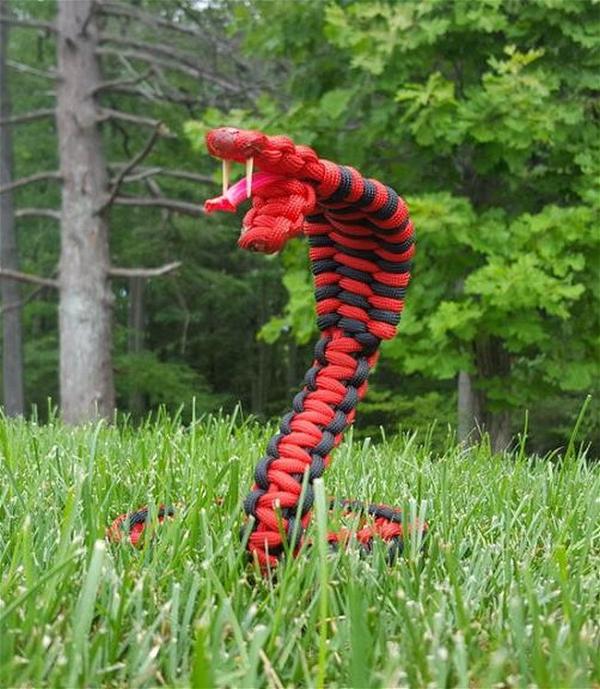 A paracord snake is a perfect starter kit for anyone who wants to add some DIY projects to their repertoire. This paracord snake is a creative way to keep birds, squirrels, mice, etc out of the garden. It can also be a great Home and Garden Decor for your home. This snake is great for indoor or outdoor use and makes an excellent decoration that won't have you chasing your pet around the house. It doesn't matter if you are a snake lover or not! This DIY project is pretty awesome. It's easy, cheap, and fun to make. You can easily make it in a few hours. It is easy to assemble with detailed instructions and images, making it fun and fast.
DIY Paracord Hammer Holder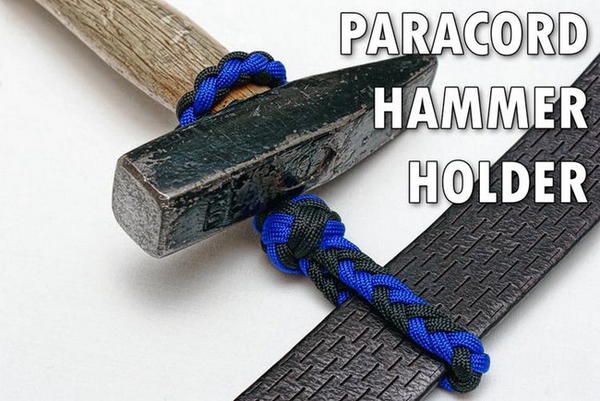 Do you remember how many times you lost your hammer while working? Never let that happen again thanks to this wonderful paracord innovation. This DIY project is sure to make your life easier while you are out doing some manual work. You can always easily find your hammer since it is always tied to your hand. Moreover, if your hammer ever falls due to a loose knot, you can pick the paracord not by your hand, but by its cover. To make it all you have to do is follow the instructions. It's simple to knot and cheap to make. For this project, you will obviously need a paracord and then tools like a plier, paracord needle, and scissors.
DIY Paracord Ring
This fun easy-to-weave paracord ring will add a funky vibe to any outfit. The making process is basic and easy. You'll be surprised at how quickly this Paracord Ring becomes one of your favorite accessories. It's great for everyday wear and adds a little bit of fun to any outfit. This is a fun and creative way to teach your children and teens patience, coordination, and creativity. And you can never tell your kids to get off the computer or put away their phones and do something productive when they're making these!
King Cobra Paracord Ring
The King Cobra paracord ring is a very popular and durable style of paracord survival ring to have on you as an everyday item. If you are going to make a paracord ring - then why not start out with the KING of paracord rings! Unleash your inner beast with this King Cobra Stitch Paracord Ring. The Cobra is the ultimate survival bracelet knot and now you can wear it as a ring. This ring is handmade with only the best quality supplies.
You Can See: 23 DIY Ring Box Ideas
How To Make A Paracord Cross
The snake knot is an amazing knot to use for crafting all sorts of things with paracord, like this cross. This is a moderately difficult project and will test your strengths with paracord, but stick with it and you'll have yourself a cool-looking cross to wear around. This can be the perfect gift for someone you love, so we'll show you how to make a paracord cross. Easily made from paracord, it can be a thoughtful and useful piece of jewelry. Create a beautiful paracord cross for yourself or a gift for someone special. Using the snake knot, you'll create an interwoven pattern suitable for beginners of this ancient craft.
DIY Paracord Belt
How better to hold your trousers up than with a paracord belt? They're very simple to make, and the only items you need to make one yourself is a pair of scissors and some paracord. This is a detailed tutorial on how to make a paracord belt. You will learn the skills and techniques you need to make a paracord belt with two colors. Making it is pretty straight forward and the belt you make will be a perfect fit for any wearer. The belt is great for camping, as the paracord is extremely strong and can be used in an emergency situation where you need some cordage. It's also great in case you have pants that fit perfectly except they are a little baggy.
DIY Paracord Camera Strap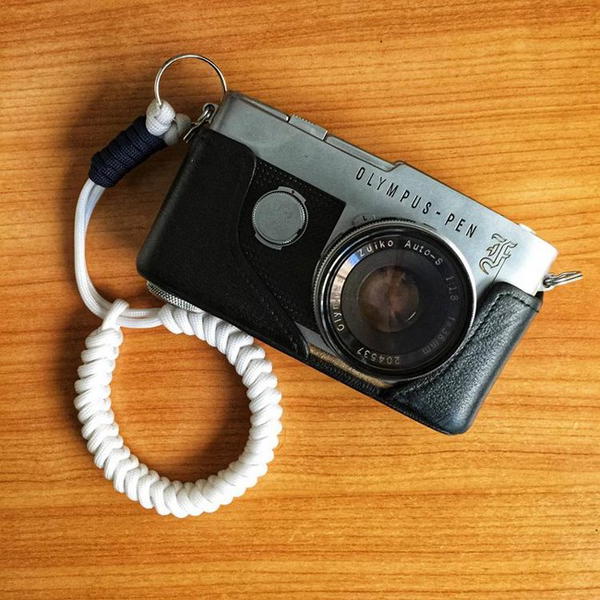 You probably know by now that paracord is an extremely durable and versatile material with hundreds of possible applications. This colorful cord can also be made into a DIY camera strap, replacing your old expensive strap perfectly. This DIY Paracord Camera Strap is the perfect, easy, and fun project for anyone looking for a way to bring new life to their old camera, or those looking to add a personal touch to the strap on their new camera. This project is perfect for the weekend warrior who wants to create something amazing.
DIY Mad Max Style Paracord Bracelet
This DIY is great for any Mad Max fan who needs to break out of the ordinary and make something spectacular. This Mad Max-style paracord bracelet is super easy to make, perfect as a gift, unique, stylish and you can use any colors you like. Also, while you're making this bracelet, you'll be learning how to braid or weave paracord which could be useful in its own right – because who knows when you might need to fashion a rope from scratch?
DIY Paracord Bracelet And Monkey Fist
Are you interested in making paracord projects for yourself, your family, and your friends? These projects are a great way to spend time with others and to create incredible gifts that people will love. If you have never made paracord projects before then this tutorial is definitely for you. It is aimed at beginners who need help with the basics of paracord crafting in terms of types of cord to use, tools needed, and techniques. However, if you already have experience making paracord projects and would like to try something new then give this video a shot!
DIY Quick Paracord Bracelet
This is a quick one-minute tutorial to make a paracord bracelet. If you have not tried making a paracord bracelet in the past, this is the perfect tutorial to start on. The best part: you can use these quick and easy-to-do skills to make extra money for yourself! The paracord bracelet is a great project for paracord enthusiasts and beginners. A stylish fashion statement that is useful and versatile, in cold or warm weather. Add two snake knots to your survival cord on either side of a buckle to make this bracelet. You can also add a side-release buckle if you like. The side-release buckle makes it easy to attach or detach the clasp.
Paracord Person Zipper Pull Keychain Tutorial
This paracord person zipper pull is a perfect personalized touch to your backpack, jacket, purse, and more! This zipper pull is so fun to make. Making DIY zipper pull keychains is a great way to add personalization and extra flair to your backpack, jackets, bags, or purses. This DIY tutorial shows you how to make a fun paracord person zipper pull keychain with paracord and a pair of split key rings. Just watch the video tutorial and follow along. The making process isn't as hard as it may seem. It basically involves a diamond knot and a snake knot. Feel free to replay the video if you are not understanding the process.
DIY Paracord Hammock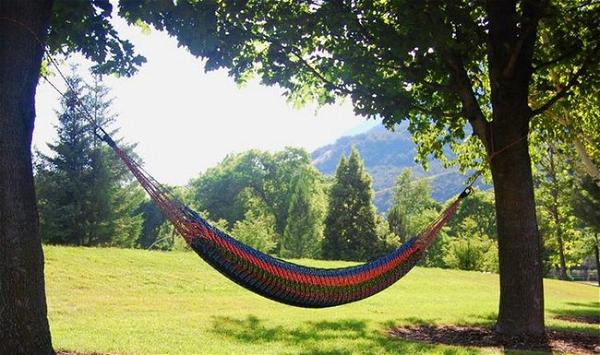 If you're going to be outdoors for the day, enjoy anywhere that is your favorite spot with this DIY Paracord hammock! Create an epic hammock for a lazy afternoon outdoors with this DIY paracord hammock tutorial. This project will cover the process of making your own paracord hammock, while at the same time providing some DIY paracord ideas. This is a great DIY paracord project to learn some new skills, and it doesn't require all that much effort or material. Don't buy another hammock from a store and carry that weight around when you can make your own at home with your favorite colors in no time!
DIY Paracord Headbands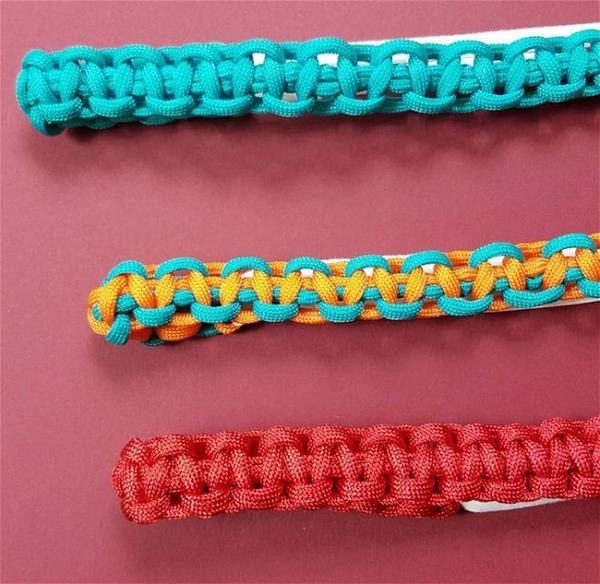 Making a headband out of paracord is cheap and easy. You can make it to fit any size head and there is a wide variety of colors to choose from. Create a variety of colors that can be worn all year round as everyday accessories. DIY Headbands are easy to make and inexpensive, perfect for older kids to make for themselves. It is a fabulous fashion accessory that adds volume and height to hair, adds style to any hairstyle, keeps the hair away from the face, acts as an embellishment when tied bandana style and who doesn't love how a matching accessory can transform an outfit?!
DIY Paracord Camera Neck Strap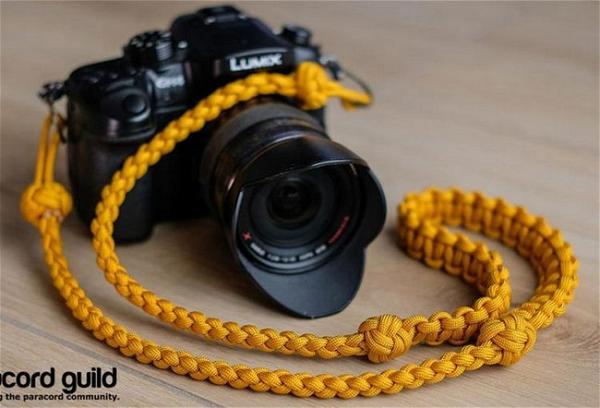 This is the perfect way to personalize your camera and make sure it's safe around your neck or strapped to your wrist. Want to carry your fancy DSLR safely? Do you want to keep your eyes at ease seeing where your device actually is? Camera neck-straps with distinctive bright colors allow quick identification, especially in crowds, and prevent neck fatigue because of their strong lightweight material. It is a wonderful way to carry your camera around. Unlike a traditional neck strap, this paracord version is much more durable and attractive. The DIY Paracord Camera Neck Strap is easy enough for beginners to make, yet advanced enough for a crafter to love.
DIY Paracord Water Bottle Holder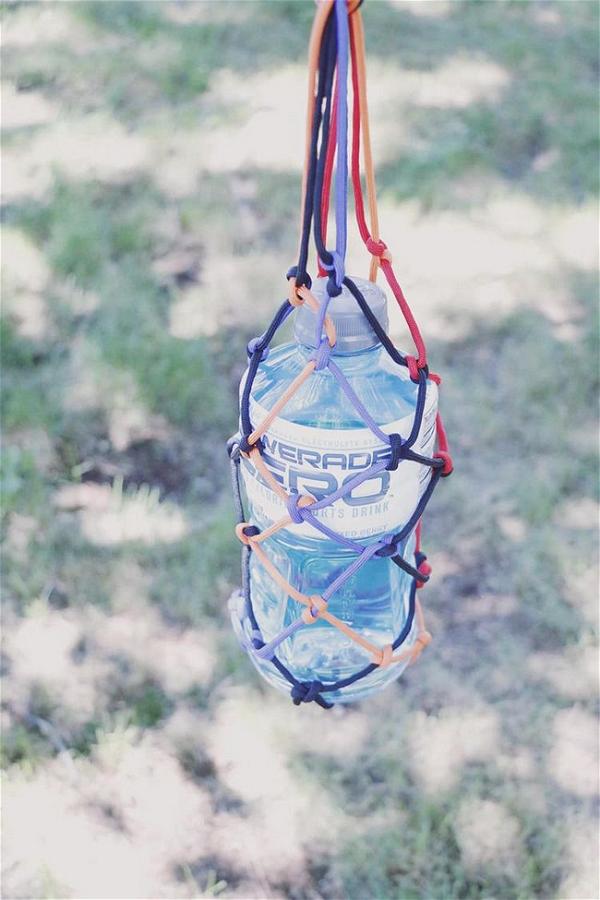 If you love splashing around outside, bring your water with you in a bottle that won't leak or break. This DIY paracord water bottle holder is made for active people who love being outdoors but also want to stay hydrated. You can also use the Paracord Water Bottle Holder as a carrier for sports water bottles. It is long enough to take most standard bottles. You can even adapt the pattern to fit your own water bottle so you never have to buy another bottle holder again!
DIY Paracord Keychain
These paracord keychains are a fun, easy, and inexpensive project to make. Not to mention they'll show off your style, so you can create one in every color combination you like. You'll find it's almost addictive - once you've made one, you'll want to make more! To make a paracord keychain, you need measuring tape. You also need some scissors and a lighter. Then, depending on the look of your keychain, hex nuts come in handy. Once you have your materials, measure and cut your paracord. Melt the ends of the cord with the lighter. Next, tie the overhand knot four times, five to ten inches away from each end of the paracord. Use hex nuts for an added bit of color. Finish by tying loops so you can attach keys. Now you know how to make it!
DIY Paraflat Man
This quick reflex turning action is often used by fidget toy enthusiasts. In the tutorial, the creator shows how to make a Paraflat man, a popular flat man twisty toy. The flat man starts off with a few twists and turns before the actual toy is created. Colors are added to enhance its appearance It will make your zipper pulls, pens, and knives happier than you'd think. It's easy to make, and cheap, and you can use almost any materials that you have lying around the house. Give it a try and take your creative collection to new heights.
Paracord Buddy Keychain Tutorial
You will love these super cute and simple paracord keychains! This is an inexpensive and fun gift, you could even make a ton of them to sell. Made them for fathers day gifts and they are a hit. They also make cool zipper pulls. This paracord buddy keychain tutorial is a fun way to fill your time at home or to hang out with the kids this summer! It isn't too bulky or large, so you won't need to worry about having your keychain weigh down your keys. Also, the keychain is easy to recognize, and you will never have trouble finding it in your purse.
DIY Paracord Lighter Wrap
Make your lighter look beautiful with this DIY paracord lighter wrap. It is a great way to make an everyday item more beautiful. To make this craft, you will need a lot of paracords and an empty cigarette pack. You can do this no matter what color or size the lighter is. Your friends will be amazed by the beauty of your lighter and will want to know how you did it. Use this paracord lighter wrap tutorial to make your very own paracord lighter wrap. It's a popular project, and it can be pretty fun. Be sure to use good materials and make one for yourself today!.
DIY Paracord Survival Belt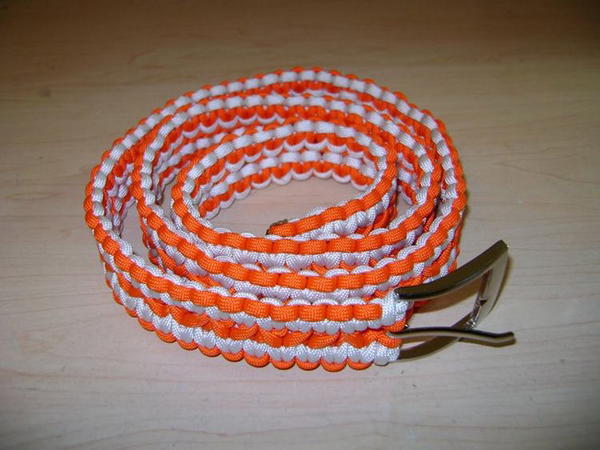 A paracord survival belt is something everyone should have, especially when the unexpected occurs. This one uses a double-cobra woven strap, which can easily be made longer or shorter to fit anyone. Needs no regular charge, nothing to break, and handy enough that you won't want to take it off. This belt turns a length of paracord into an invaluable tool that can be used for self-rescue in the great outdoors, or simply be worn every day as a fashion statement. It also makes a great gift.
DIY Paracord Survival Bracelet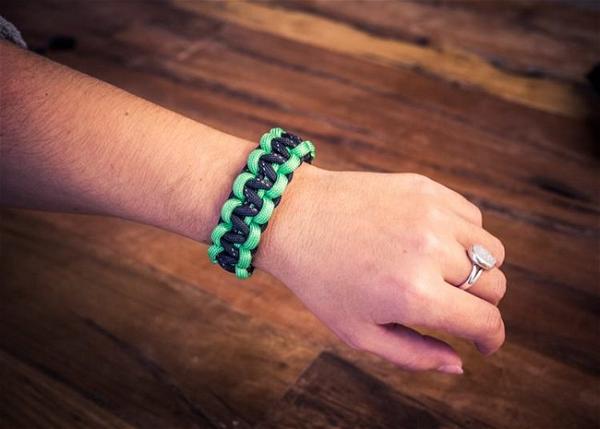 DIY Paracord Survival Bracelet is a necessary piece to always have on you and it's super easy to make. Made with just your favorite paracord, this bracelet can be styled as you like, and you won't have any trouble disassembling it when it is time to use the paracord. Assembling this bracelet is also very easy, although some experience in knotting and braiding craft projects would be helpful for beginners. With just a few simple steps and knots, you can create your own bracelet that will always be ready just in case of an emergency.
DIY Braided Necklace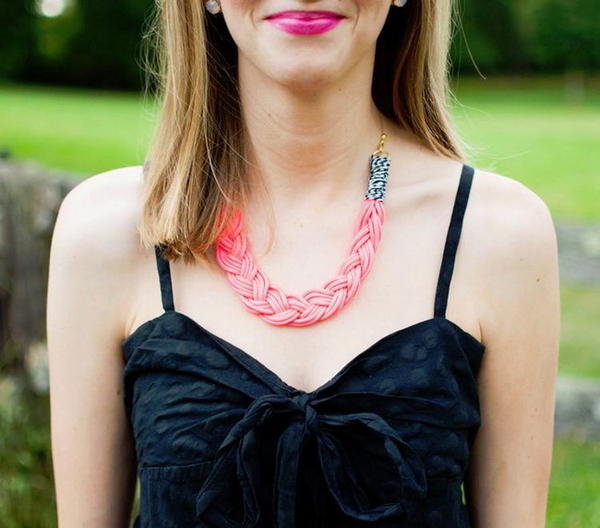 Learn how to make your very own braided necklace using this DIY kit! Add a pop of color to any outfit with this DIY braided necklace. Inspired by traditional macramé, this jewelry is braided from cotton cord and can be worn alone or layered for added dimension. Just a few simple jewelry supplies are all it takes to make BijouxBeads' braided leather necklace. With the help of this video tutorial, you can create this pretty necklace in a little over 20 minutes. Add a pendant or bangle and create your own unique look.
DIY Paracord Vase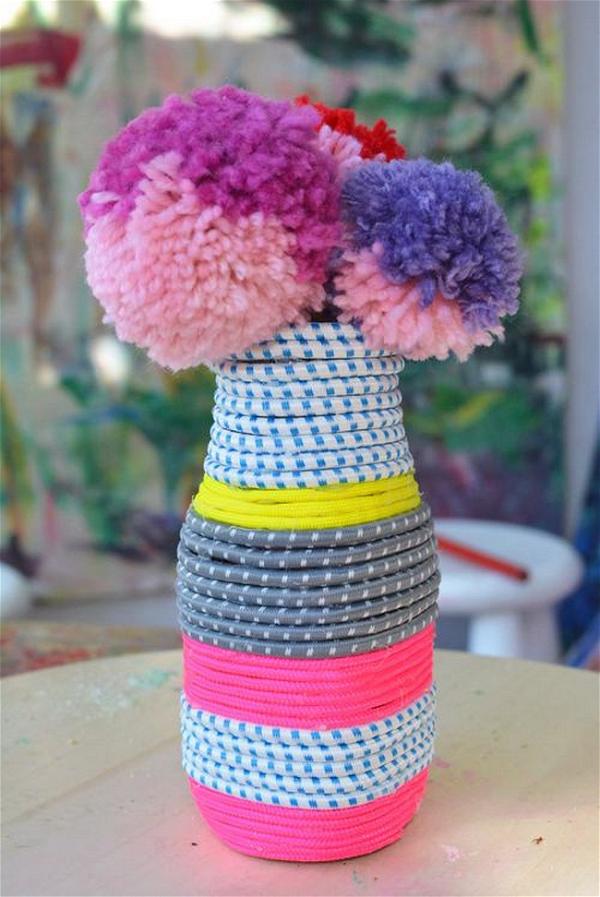 Paracord vases add life and brightness to any gloomy corner. It is a fun activity you can do with your children or friends. You can get creative with color combinations and patterns in addition to picking a unique vase to work with. Bring your flowers to life by redefining the vases that display them! In this tutorial, you will learn how to make a paracord vase: simple, beautiful, and unique. You'll create your own design, making the decoration of your home something completely unique. This is the chance to innovate with your interior decor! Assemble your supplies, and let's get started
DIY Paracord Slim Bracelet
This DIY paracord bracelet project is a thin-line Solomon bar variant. It is a really nice way to show off different color patterns in your materials, especially if you want to make them more colorful. The paracord bracelet is one of the most popular DIY survival bracelets. It has a number of uses including fishing lines, sewing thread, and shoelaces. The Solomon bar bracelet is a more advanced version. It is thinner, more attractive, and ideal for campers and hikers. The end result is thin and unobtrusive, yet still looks classy and there are some interesting twists to it so that it's not just a single line the entire time. This is a great bracelet for daily wear, office work, or even dressy occasions if you pick nice colors.
Paracord Heart Shaped Keychain DIY
This is quite a useful keychain and would make a perfect gift for someone you love. You can as well decide to make it for yourself. The making process is not so hard, some twists and turns and you are good to go. It is made of a paracord with a coiled tube that accommodates several keys. The Paracord has a heart-shaped front and the color spectrum makes it very colorful and admirable. It would be an excellent gift as a little housewarming present or a friend's birthday. This cute keychain is sure to bring happiness to the one who receives it!
DIY E.T Alien Paracord Buddy
Learn how to make an adorable little alien using paracord. This project is great for children who are learning to knot, or for adults as well! Makes a great keychain. Show your inner geek off with a fun and colorful paracord alien buddy. Inspired by everyone's favorite sci-fi creature, this paracord alien friend would look great in your car, on your backpack, or just hanging around your bedroom. For this tutorial, you will need a paracord, scissors, and some glue. Don't worry, we will show you how to use each and every one of them.
How To Make A Monkey's Fist With No Marble
A monkey's fist is not only useful but also an incredible way to show off your skills. Bring it to the next barbeque party, wedding, graduation, or any type of social gathering to demonstrate a cool knotting technique that anyone can learn from. Monkey fists have a lot of practical uses, from surviving in the wilderness to self-defense.
Nautical knots are usually used for sailboats and sailing because of their property to not jam or slip. Tying a monkey fist is one kind of knot we can use to make our paracord keychains. Not only that, but it's also the most popular type of knot that may vary in decoration.
DIY Paracord Wallet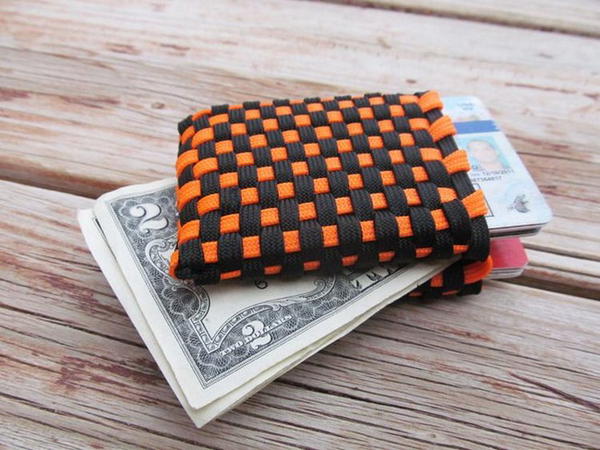 Use the simple design of this men's DIY Paracord Wallet to create your own wallet. Whether you want to make a one-of-a-kind gift or need a wallet that matches your own particular needs, whip up this paracord wallet in about an hour. This paracord wallet holds all your essential cards and cash. Use a flat iron to flatten out the cord, then weave and finish it off. Great as a gift for the outdoorsy guy, more technical guys will also delight in this homemade accessory.
DIY Paracord Bullwhip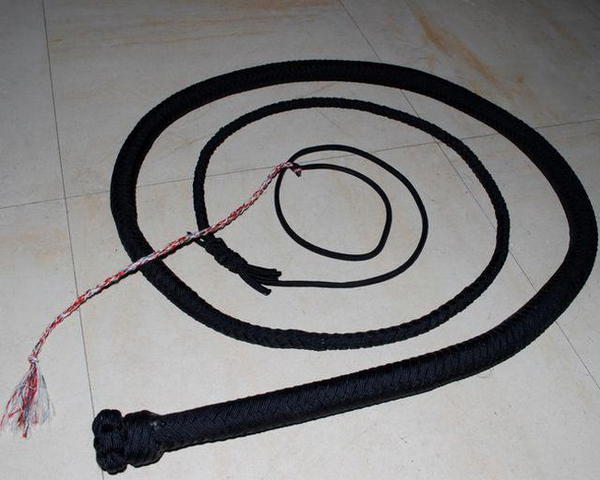 A paracord bullwhip is a great way to carry around a lot of rope without taking up much space. Generally, it's constructed in a similar manner to real whips, with a braided handle and a braided lash. The DIY Paracord Bullwhip is a fun hobby that wouldn't take much time. It requires minimal materials and supplies, like a piece of tape, rubber band, paracord, and some measuring tools! This bullwhip comes in a variety of colors so you can make one for yourself and your loved ones!
Paracord Wrap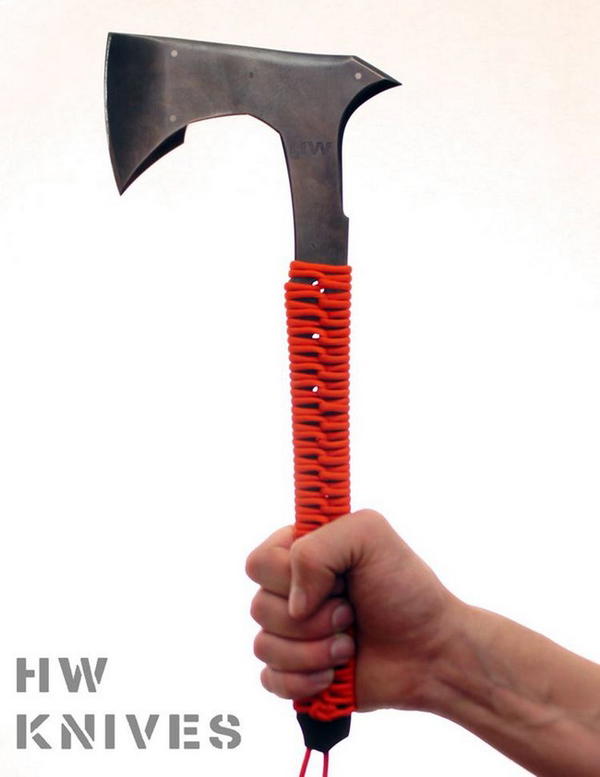 Paracord wraps can be applied to anything from knives to tools and make it easier to carry these items as well as add a level of flair that isn't achieved with a bare handle. This DIY tutorial focuses on making a paracord wrap for your ax, cutlass, or any tool that would probably need wrapping. These tools might feel heavy so this wrap will make the handle easier to grip. Making a paracord wrap will also help lessen the chances of dropping them while using them. This design is versatile and can easily be adapted for other tools.
Simple Paracord Bracelet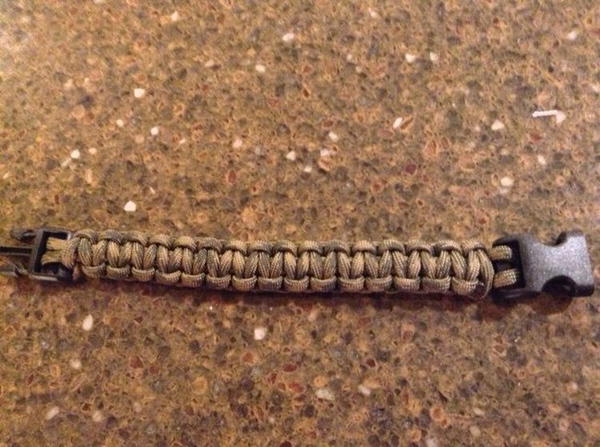 This Simple Paracord Bracelet is a great bracelet to wear. Not only will it keep you safe when needed, but it can fit anyone and is super easy to make. You do need some basic skills with a lighter, scissors, and the buckle, but the rest is easy! It is one of the most popular and simplest designs for everyday wear. The bracelet can be customized to fit any wrist size and is great for anyone who doesn't want to wear a watch or carry a phone but still wants to stay on time.
How To Make A Paracord Cube Ring
A paracord ring is a great item to gift to someone or wear yourself. It not only looks cool but it can also serve as an emergency survival bracelet. This video tutorial will show you how to make a paracord cube ring. Making this ring is fairly simple and only requires 4 colors of paracord. It is a fun and functional piece of paracord craft that makes for a perfect gift or costume accessory. These instructions will show you how to make a men's size medium cube ring using only seven feet of paracord. This project should take around two to three hours to complete, or longer if this is your first time making a cube ring.
DIY Simple Sliding Paracord Bracelet
This style of Paracord Bracelet is simple to make so we wouldn't blame you if you wanted to make one as soon as possible. It is also comfortable and won't cut into your arm like a cobra weave paracord bracelet. The best part about it is, it's one of the easiest paracord bracelets to take on and off. This survival bracelet features a simple sliding clasp for easy removal and a waxed paracord that can be used in many situations such as snare making, shoe lacing, securing gear, and much more. The most fun part about this project is that it only takes about 10 minutes and it can easily be made using things around the house.
How To Make A Paracord Rosary
Making a rosary could take some time but it is relatively simple albeit not straightforward. This tutorial will teach you how to make your own paracord rosary. This rosary design uses a standard 5-decade rosary pattern. The presentation starts with the materials needed, gives tips on how to weave the knots, and tips for beginners who want to try making their own paracord rosary. A paracord rosary is a meaningful gift for you or your loved ones. The process to create the rosary may appear daunting at first, but with this step-by-step tutorial, you will be amazed how easy it is!
DIY Paracord Dog Collar
Are you looking for a new collar for your dog? Well, this is an excellent DIY tutorial on how to make one. The paracord material used to make the collar makes it easy to clean and maintain. This results in a longer-lasting collar than most other materials. Try it out and enjoy your time with your beloved furry dog! Make a colorful paracord dog collar for your favorite furry friend using one of these easy tutorials! The paracord collar is durable and comfortable, so you'll never have to buy another collar again. Protect your dog's neck from scratches with this durable, colorful design.
DIY Paracord Watch Band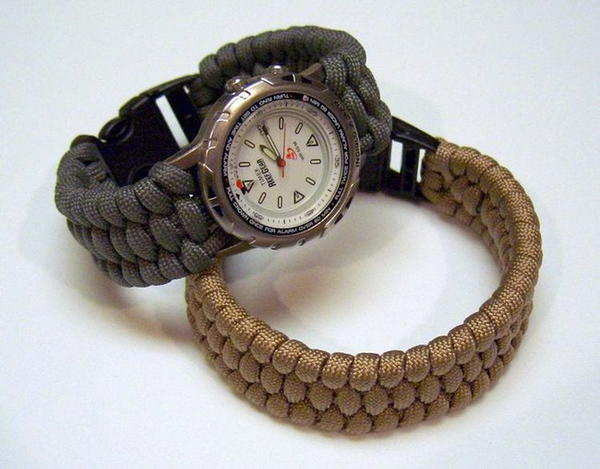 Looking for a great outdoor project? These DIY paracord watch bands are perfect for getting some fresh air as you work on adding a fun accessory to your collection. Paracord watchbands make great gifts because they can be custom-made to fit anyone's wrist size. People of all ages can make them, too! These paracord watchbands are easy to make and fun to wear. Make a few to match every outfit, or give to friends and family. Personalize your watch, or give it as a gift with this simple DIY paracord watchband. You can quickly make the project in your favorite color and size.
Paracord Baby Toy Clip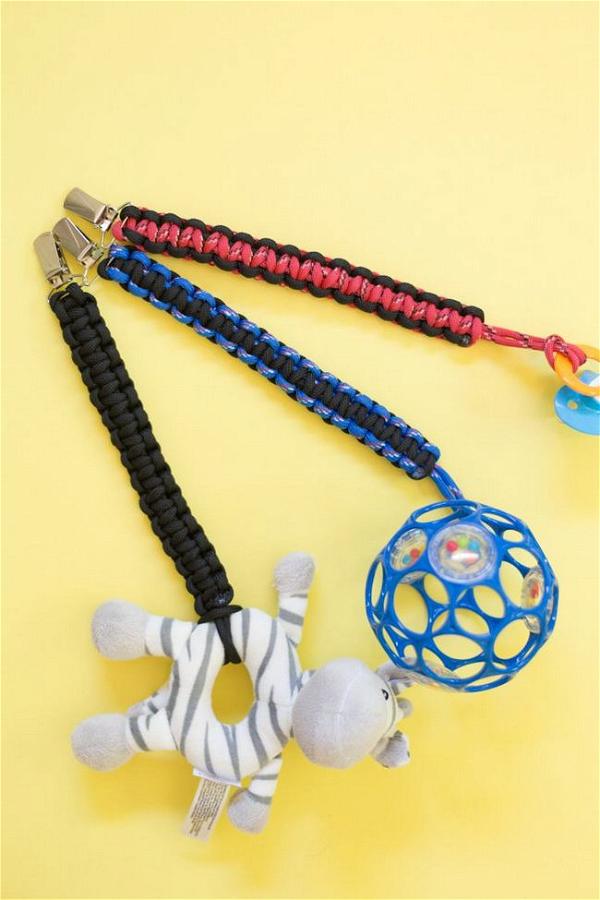 Make baby toys and teethers extra fun when you attach them to these colorful and unique clips. The paracord baby toy clip is great for keeping toys, pacifiers, and teethers handy at home or on the go! It can also be used to attach a cute little toy to a car seat. Make entertaining your little one easier with a paracord baby toy clip. Adorable and fun, this DIY clip is so easy to make, and it's such an interesting way for little ones to explore texture and color! These clips are compatible with most major pacifier brands but please make sure not to leave your child unattended with any clip.
DIY Paracord Woven Stool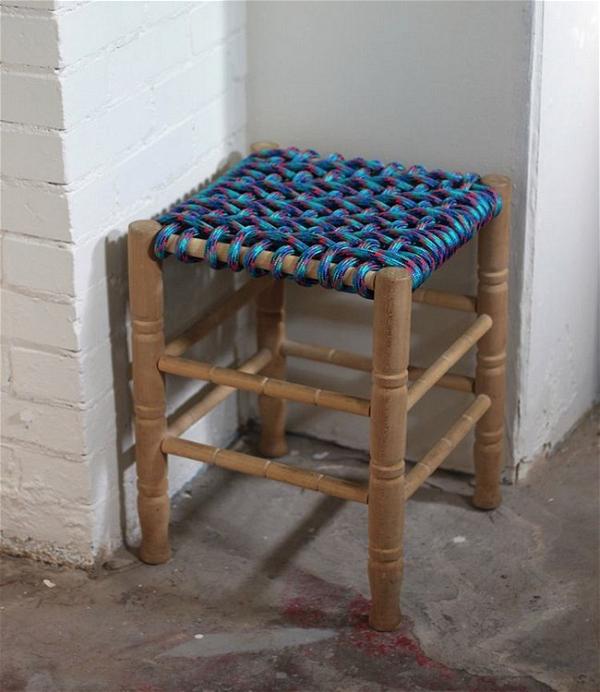 This DIY paracord woven stool is a fun and well-rounded project for anyone looking to get into hand-weaving. The project is small enough for a beginner but can be used to practice the large variety of weaving skills that are needed when making paracord products. It also uses simple, basic materials, so people can make it without having to buy anything new. It could also be made in any size, shape, or color! This is a very fun and easy project that even teenagers can help with. If you have a stool whose wooden top is falling off, try this project to give it new life.
How To Make A Paracord Pouch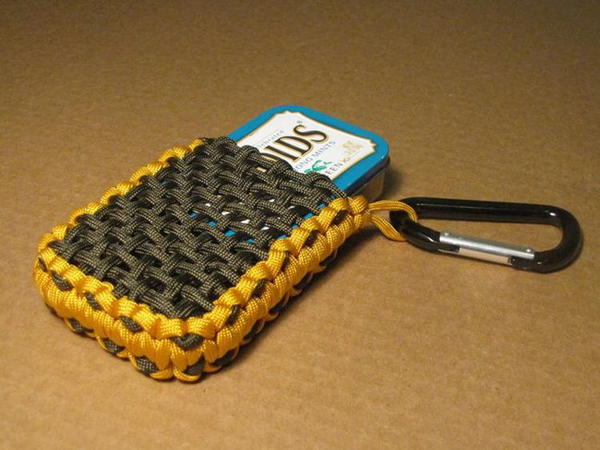 Make this useful Altoids paracord tin pouch! Pour some items into this lovely paracord pouch. It's hand-woven, roomy, and extra durable. It's a useful way to carry essential survival supplies in your pocket. Paracord is always useful and this pouch makes it easy to carry some of it around with you in your pocket so you are always prepared! This Paracord Pouch is not only beautiful, but it is also extremely useful. A perfect gift for anyone who loves camping and paracord crafts.
Paracord Bandolier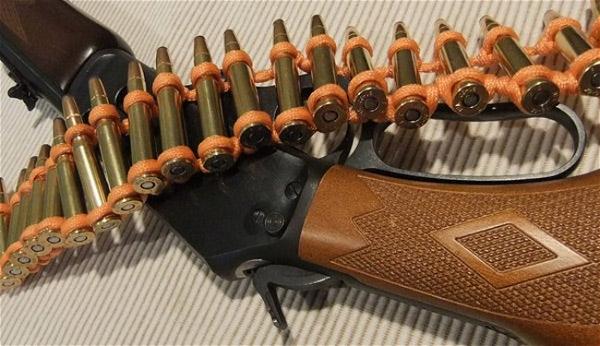 The DIY Paracord Bandolier is made for anyone who wants to make their own gun sling! A sling is an absolute must-have for any rifle and the DIY Paracord Bandolier fits that need. It comes without hardware, so you can add whatever fits your needs. The bandolier's material and buckle enable you to alter it at any time to achieve the perfect fit. So, whether you are looking to tie this paracord into a loop, a noose knot, or if you want to try your hand at tying a different knot, this DIY kit will keep you busy for as long as you need it to. This is a great project for the beginner Paracordist, you can use it for all kinds of craft projects, and it's a lot of fun to make.
Poseable Army Men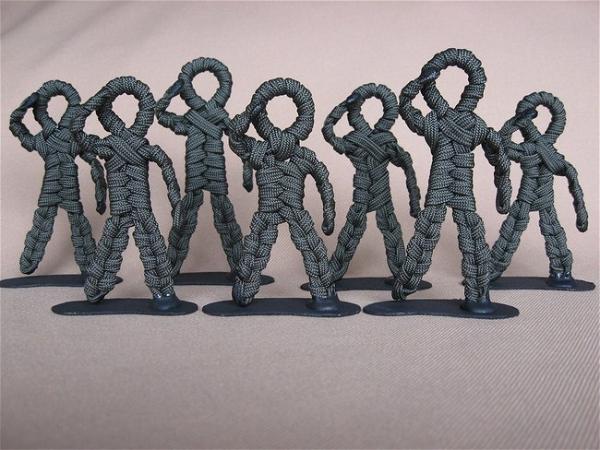 The original poseable paracord army man. Did you grow up playing with little plastic green army men, watching them march into battle or work as a team to attack a beach? These poseable paracord army men don't just sit around as those old guys did; they're ready for anything. Each can do all sorts of cool stuff, from dancing and scrapbooking, to chasing butterflies. The possibilities are endless! These original poseable army men had a different childhood than most little green army men. They were made into keys, zipper pulls, and even Christmas ornaments. Now those same army men are ready to find their new homes, where they can be used for anything from a keychain to backpack zipper pull.
Easy Paracord Drawstring Pouch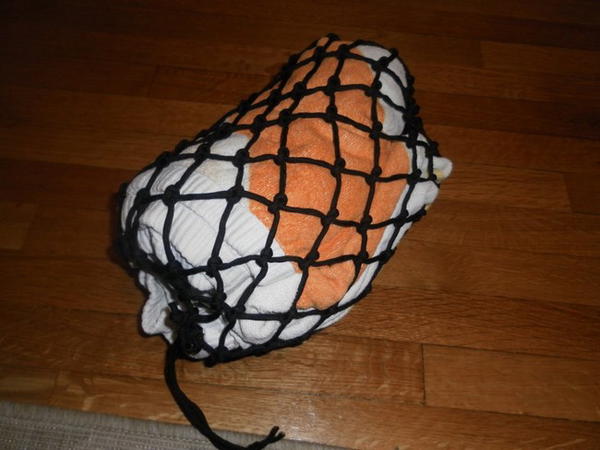 This is a pretty simple drawstring pouch that can be used to hold small items, crafted entirely with overhand knots. It can be made very quickly and easily with some paracord, but you could use any kind. This versatile drawstring bag was designed with the outdoorsman in mind. It can be used to carry a range of items, including electronics. The pouch has a rope-based shoulder strap and a paracord closure with a plastic buckle.
Multiuse Paracord Hammock in a Nalgene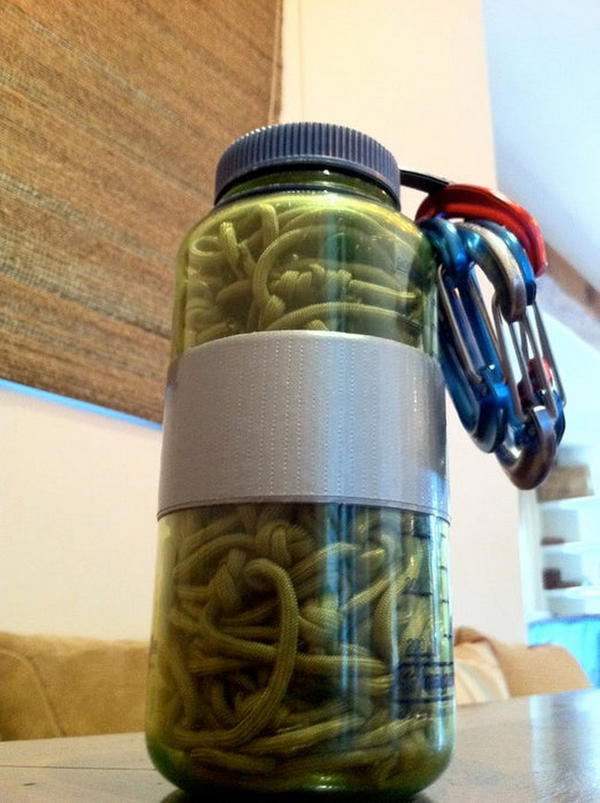 This product is the perfect addition to your survival kit. The paracord hammock can be used for multiple purposes. Can be used as a food net to keep bears away from food, a fishing net, shelter, and of course a hammock. Stop struggling with the weight and bulkiness of a traditional hammock on your backpacking trips. The Multiuse Paracord Hammock in a Nalgene is lightweight, comfortable, and compact - so you can enjoy it anywhere. It sets up quickly, attaches to multiple anchor points, and serves double duty as a tent or ground tarp. Now that's refreshment for the whole trail.