Why buy a pirate hat when you can make one for yourself with a few materials? There's nothing better than a pirate hat! These hats are so versatile and can be used for many different occasions. You can wear them as a costume or just a fun accessory for your everyday outfits. If you're looking for some cool DIY projects, here is a list of 22 DIY Pirate Hat Ideas to help you make your hat!
DIY Pirate Hat Ideas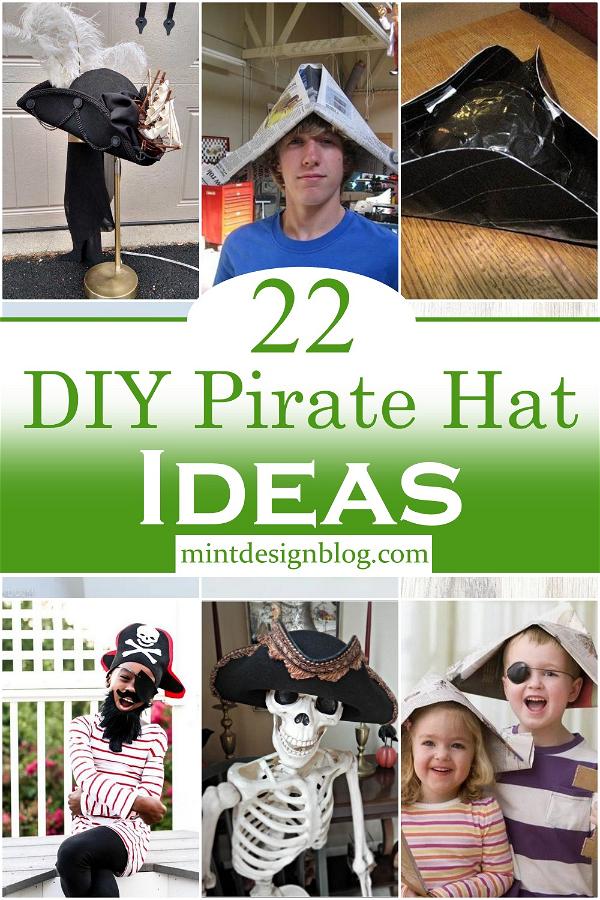 A pirate hat can make all the difference when you are in costume. It can take your outfit from boring and average to something that will leave your friends and neighbors breathless. Whether you want to be a swashbuckler or a weathered sea captain, every pirate has a style. You don't have to worry about finding one of these authentic hats sitting around in your closet either – they are easy to make yourself! You can get inspiration from the idea we have given below and make fun pirate hats for yourself. Your kiddos with minimal effort, The best part about making your hat is that you can make it exactly as you want, with no restrictions on what design or material it is made from.
While some are more complex than others, they will all help you feel like a true pirate. They have been divided into two categories: simple and complex. The simple ones can be made in less than an hour, while the complex ones will require several hours of work and some sewing skills.
How To Make A Pirate Hat
The pirate hat is the perfect accessory for your pirate costume. This DIY project is fun to do, and it's straightforward; All you need to do this DIY project is an old hat, food coloring or paint, pins, and a pair of scissors. Spray paint on the old hat inside and out and leave it dry. After the paint has dried off, food the edges of the hat, and you have your pirate hat ready for use. This DIY pirate hat allows you to have an authentic-looking pirate hat for Halloween or other occasions.
Gothic Pirate Hat DIY
It is an easy DIY project tutorial on making a gothic pirate hat. You need wool pieces, scissors, needles, and more ingredients. The hat looks great when it is finished, and you can wear it anywhere with your leather jackets or punk dresses. It's very comfortable to wear, too! And the most amazing part about this hat is it's cheap, and you can use a variety of materials to make it. The instructions in this video are very detailed and easy to follow, so even a beginner will succeed in making this DIY hat.
DIY Tricorn Pirate Hat
Whether you are dressing up as a pirate or love the look of the tricorn hat, you'll enjoy making this easy DIY. The materials used in this project are common around the home and relatively inexpensive. The pattern can make in any size needed, and the best part about this DIY pirate hat is that it does not require sewing. You have to cut out the pattern and glue it together. Once that's done, you will need to bend the corners of your tricorn hat to link closely like a real pirate's hat.
How To Make A Newspaper Pirate Hat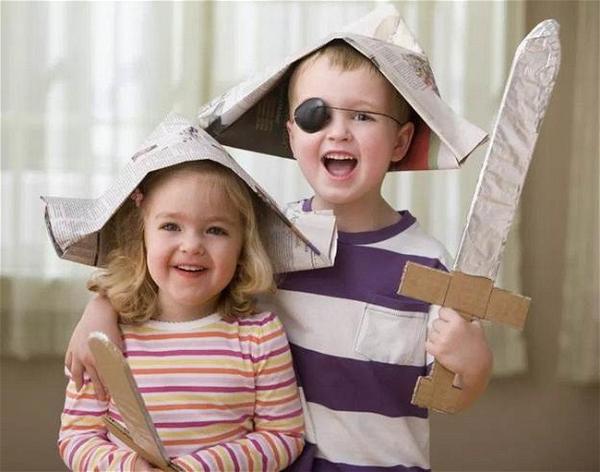 Making A Newspaper Pirate Hat is a fun activity for the children to do. They will enjoy making their pirate hat using newspaper and scotch tape. A pirate hat can complete in less time than other types of hats. Fold a piece of rectangular newspaper from top to bottom, then fold all the two upper corners of the newspaper down. Carve the hat's brim from the margin and pull it open.
5 Ways To Make A Pirate Hat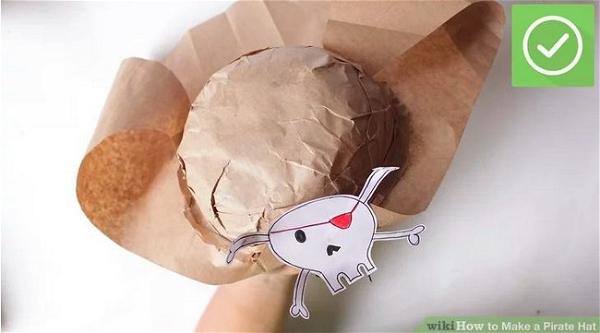 Everyone knows that a pirate hat is a must for any pirate costume. But you don't have to spend hundreds of dollars on one when making one yourself is so much more fun! This step-by-step guide shows you five options: a classic pirate hat made out of newspaper and poster board and a green felt hat with feathers and jewels. The best part about these steps is that they are all straightforward to follow so that anyone can do it.
How To Make A Foam Pirate Hat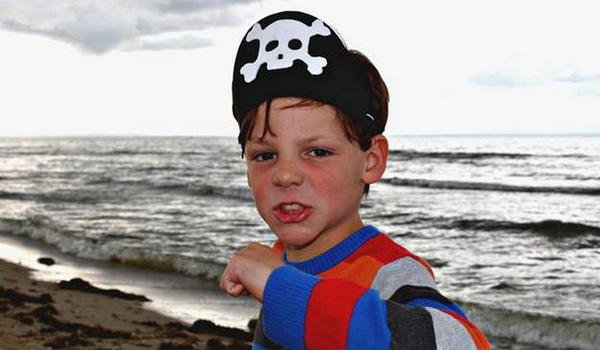 If you have a party coming up and your costume is almost complete, but you're missing a hat, this tutorial will help you quickly make your foam pirate hat. You will need to have elastic, a black foam sheet, and a white foam sheet. Cut out the hat's shape on black foam, then add crossbones on white foam. Add elastic to put it on like a headband, or put it on your head. A foam pirate hat is a fun costume accessory to wear. It doesn't take a lot of time or money to make one.
How To Make A Tricorn Pirate Hat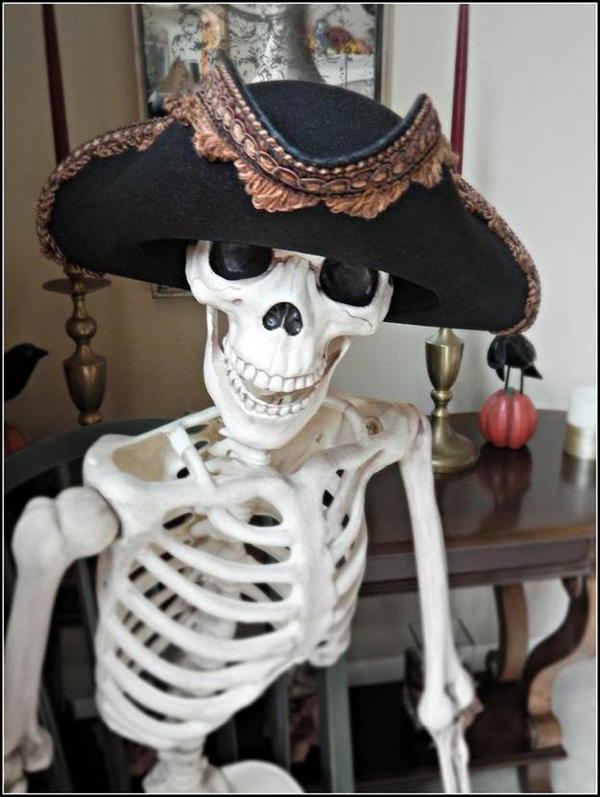 Tired of wearing the same thing as your friends? Want something a little different from everyone else? Well, then you need to make yourself a tricorn pirate hat. A Tricorn Pirate Hat is made from an already made hat, trim, ribbon, and pin. It is so simple that you may not even believe it until you try it out. Follow these simple steps, and your hat will be ready for wearing in no time; it also makes a fun Halloween costume addition.
Pirate Hat DIY
With this DIY project, you will create a durable pirate hat that can be worn for many different occasions. You will need a headband and felt (black, white, red). You can add some fur to the top for a more complex look, but it is unnecessary. This is a great project with your child or as a family activity. Your kids can be pirates with this DIY pirate hat craft for a day.
DIY Newspaper Hat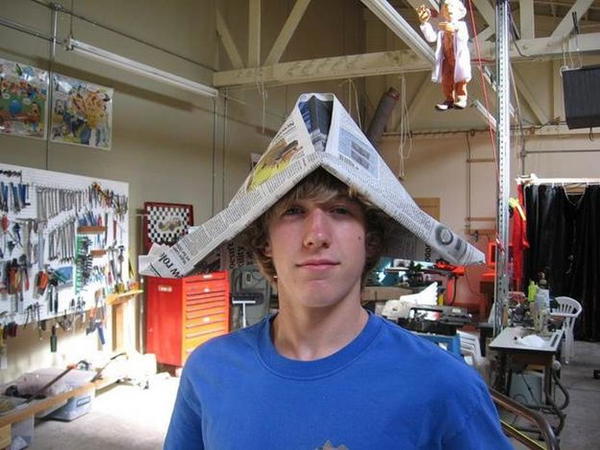 The newspaper Hat is a very simple hat; you don't need to spend much time making it. All you need is your newspaper and a pair of scissors. Cut out a square portion from the folded end and then cut out the Hat's brim from the bottom margin of the folded section. After which, you can fold the brim from the bottom margin to make it look like a hat. This is one of the simple and funny pirate hats for kids, which gives them immense fun as they pretend to be pirates.
DIY Pirate Hat Pattern
This DIY Pirate Hat Pattern is the perfect project that can be done in a short time. Open up your leatherworking kit and whip up some handmade accessories for all your pirate costumes! To complete this fun project, you'll need masking tape, a leatherworking kit, edge grooves, a hand cutter, and buckles. Trace out the hat's pattern on a fusible interface, then attach it to the leather using masking tape. Trim out any excess interface and hand stitch a strip of leather around the edges of the hat.
DIY Pirate Tricorn Hat
The DIY Pirate Tricorn Hat is a fun and easy project that you can make in just a couple of hours. These hats are great for beginning sewists or anyone just looking for a new accessory to add to their wardrobe. The tricorn hat is made with an old hat dyed black, decorated, and attached with a rope to hold its corner folds together. They can wear during Parties, Holiday celebrations, or any time you feel like being a pirate!
Best DIY Pirate Hat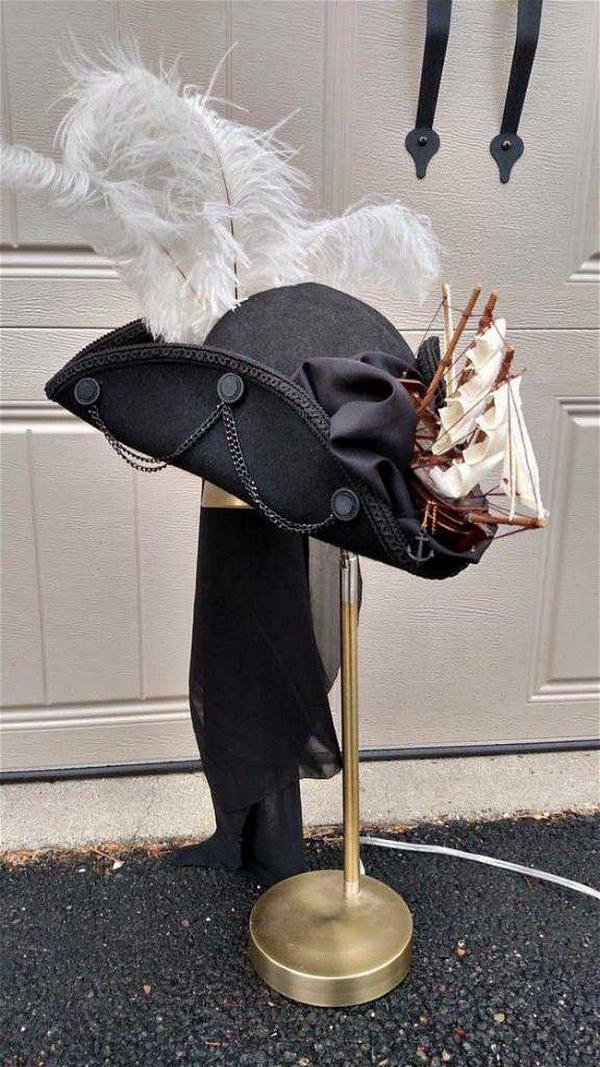 If you are planning to have a pirate-themed party, then this DIY Pirate Hat is a great accessory that you must have. There is no need for any bead or silk embroidery as all you will need are decorative buttons, sheer fabric, and black lining to complete this project. It will be a unique-looking item you will enjoy wearing when playing pirate games at home. The instructions for making this hat are also given so you won't be confused about how to proceed with the task.
Duct Tape Pirate Hat DIY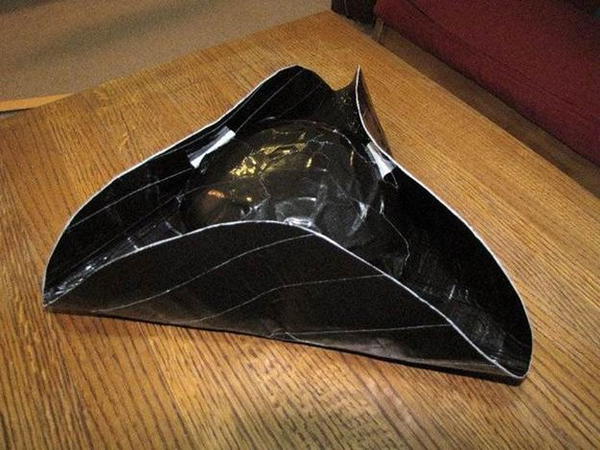 You can make your own duct tape pirate hat by following the steps below. First, attach wide strips of black and grey duct tape to a door frame to create the base for your hat. Next, add a layer of black duct tape over the wide strips and cut out a circle to form the top of your pirate hat. Wrap the duct tape around a bowl facing down (this will serve as the crown), then fold each of the tape loops into it and enjoy your duct tape pirate hat.
How To Make A Pirate Hat
 A pirate hat can make from simple household items and a bit of creativity; Cut out a strip of a black sheet to make the band of your pirate hat. Trace around these forms with a pencil and cut them out. Make holes in the center of each piece with the tip of a glue stick. Stick one end of a strip of double-sided tape through each hole and attach them to make the skull design on top of your hat. Then, stick the band around your head!
Quick DIY Pirate Hat
Don't you hate it when you run late for a pirate party and have not even got your hat ready? Here is a simple and fast idea to make a pirate hat for yourself. Use one piece of fabric to trace out a pattern of the hat you want, then cut two pieces from this. Trace and cut out this same pattern from cardboard or carton. Now line up these together and glue them together so that they are stuck.
How To Make A Pirate Hat Out Of Paper
The Pirate Hat is a classic icon of pirates and is always a part of Halloween and Carnival-themed parties. It is first necessary to create the pattern. Trace the design on a sheet of paper or poster board and cut out the design. You will need two copies of this pattern, so repeat this process for two copies of your hat. Once you have these two copies glue them together with the double-sided tape from an office supply store. Then use a black marker or crayon to draw on the skull symbol and viola!
DIY Paper Pirate Hat
If you are looking for a fun, easy, and cheap Halloween craft idea, this DIY Paper Pirate Hat is perfect! The only materials you will need are black sheets and white paper. You can draw and cut out two paper patterns of fat shape or one piece to be simpler. After that, make a long strip for the band and glue it around the hat pattern. Cut out the drawing of the skull and crossbones with pencils or knives on white paper, then paste it on the front of the hat. It's very easy to make!
How To Make A Pirate Hat With Paper And Fabric
Here is a simple and fast idea to make a Pirate Hat With Paper And Fabric for yourself. The hat crown is made by gluing pieces of newspaper cut out into triangle shapes to a cardboard sheet. Then, strip the edges of this circular shape down and glue it to a larger circle that will become the edge of your hat. Cover this in fabric, and bend over the edges. Wear it to dress up as a pirate or have fun playing with them.
How To Tie A Pirate Head Scarf
Looking for how to tie a pirate's headscarf? This video guide will show you how; You will need a piece of cotton material, preferably cloth or fabric, long enough to reach your collarbone. Take both ends of the cloth or fabric and fold them into small triangles. Make sure that your hands hold opposite ends to end up with an X shape when the two triangles meet on your face. It should look like a small square bow tie with tails going down at the back of your head occupied by chunks of cloth.
DIY Felt Pirate Hat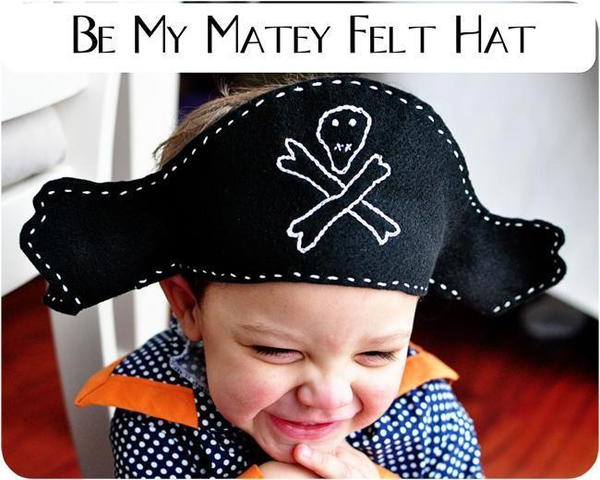 This DIY felt pirate hat is a simple and child-lovely felt hat. Make one for your little swashbuckler! This craft works best with children, who can be trusted with the materials, though adults could make it. The materials used to create this DIY are felt material, a needle, thread, and a pencil. It is also very simple in style, so you don't worry about missing any step for making this hat since it has no extra steps.
DIY Jack Sparrow Hat
 The DIY Jack Sparrow hat is one of the most customizable hats ever designed. This hat is made by bending the edges of the hat straight, then rolling it down and back to where it meets the brim. Despite its simplicity, some cool things to notice about this hat. The video shows you how to turn your hat into a Jack Sparrow hat and enjoy the same functionality as any store-bought one.
Origami Pirate Hat DIY
 Let's make a fun pirate hat together! You'll need black paper, white paper, a pencil, scissors and a glue stick. Fold-down the black paper over itself to make a smaller square, then fold that in half again. Use two halves together to make it twice as thick as regular paper and create an excellent hat shape. Unfold one of the halves, then fold their corners down to line up with the middle crease line.  When you visit the party with your friends, your kids will be popular with this hat!