Pom poms are not just for Christmas. They're easy to make and add a fun, whimsical touch to any room of your house. These DIY Pom Pom Garland Ideas add a fun and fluffy touch to your decor. Each project is unique, but they all feature the same basic idea - pretty pom poms held together with some string or yarn. Create a fun and festive garland for your next party! Use your pompom maker to create colorful, fluffy pompoms that you can use to do various DIY projects. Whip up one for yourself, or go in on making several of these pompom garlands with friends and family!
Best And Easy DIY Pom Pom Garland
We've all seen pom poms used as a decorative element on clothing, home decor, and craft projects. They're cute and fluffy, but what can you do with them beyond stringing them on a piece of thread? DIY pompom garlands are an easy way to add a fun and flirty element to any space, whether it's outdoors or indoors. You'll need plenty of pom poms along with some string or twine. Make sure the items you attach your garland to can handle the weight—if it's outdoors, pick a sturdy tree branch, or if it's indoors, measure how much weight the mantle or wall can hold.
How To Make DIY Pom Pom Garlands?
Who doesn't love a bit of pom pom garland? They're so easy to make and brighten up any room or party. You can make them in different colors and sizes, making them perfect for all seasons.
Here are some reasons why you should DIY pom pom garland:
They're cheap to make. All you need is some yarn, scissors, and the time to cut out all those little balls!
You can make them any size you like - from small ones hanging on the window sill to large ones around the Christmas tree.
You can use wool, cotton, or even novelty yarns such as fluffy velvet or sparkly string!
They're fun and addictive - once you start making them, you'll want to keep going until there's no more space left on your wall!
Materials For DIYing Pom Pom Garland:
Yarn (any color)
Pom poms (any color or size)
Glue gun and glue sticks
Scissors
Ribbon or twine to hang your garland
DIY The Perfect Tassel Pom Pom Garland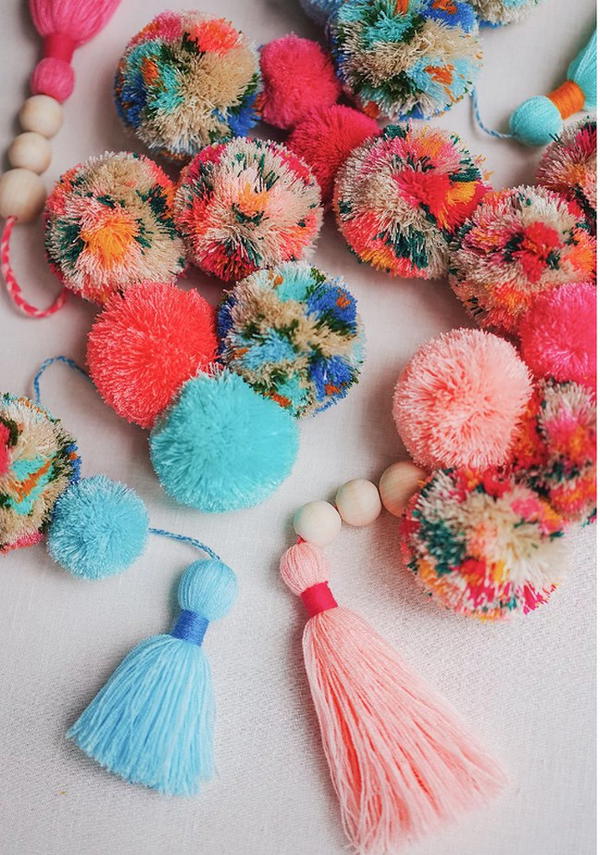 This is a great DIY project to make for Christmas if you are looking for a craft you can do with the kids or want to make something yourself. Make a Tassel Pom Pom Garland and hang it on your door. It will be the perfect garland for any festive occasion; this DIY garland is simple and fun to make. Hang them up as a statement piece, or use them to dress up your space! Spruce up your favorite space with this stylish garland. It's incredibly easy to make, and you can use any color of yarn you like!
DIY Pom Pom Tassel Garland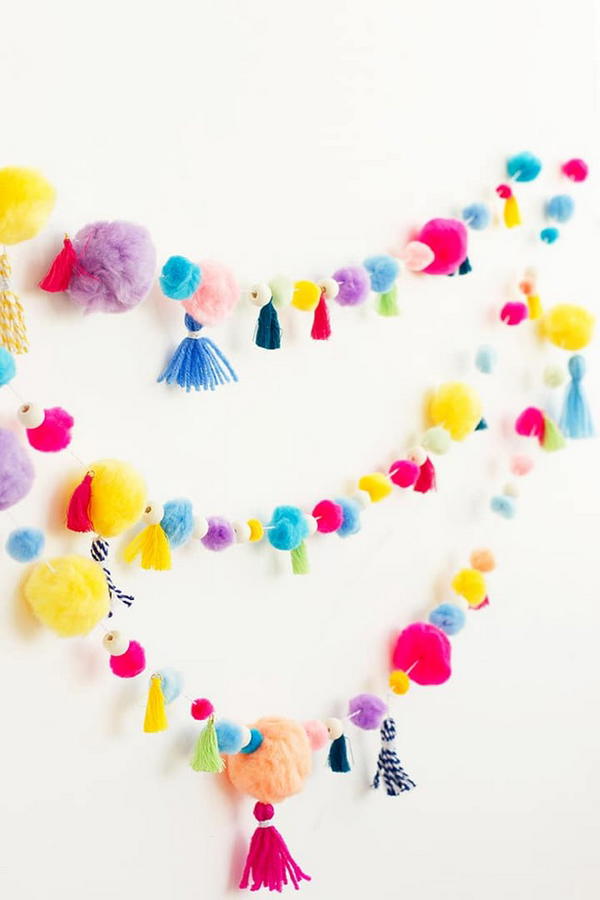 Tassels are the perfect embellishment for the holidays. They add glamour and sparkle to a room with little effort, and they can be reused year after year. If you're looking for a fun project, try making a garland of your own for next Christmas! Add sparkle to your party space and make this DIY Pom Pom Tassel Garland! Made with yarn pom poms, you can use any color or style of yarn you like. You can hang them from the ceiling or along a wall. They're fun and easy to make; the kids will love helping!
How to Make a Yarn Pom Pom Garland
Yarn pom poms are such a fun decorating accessory! They're great for adding bright pops of color and texture to your home. But remember that these can also be used for crafting, like making a cute garland. When it comes to DIY decor, one of the best ways to freshen up a space is with a garland. This yarn pom pom garland is fun to make and adds great cheer to any wall, mantel or table. It's also super easy; you only need two things: pompoms and yarn! This yarn pom pom garland is a great way to make a unique, colorful, eco-friendly decor that can be used year-round. It is easy to create, inexpensive, and will look great on your walls, doors, or even around your Christmas tree!
Yarn Pom Pom Garland Craft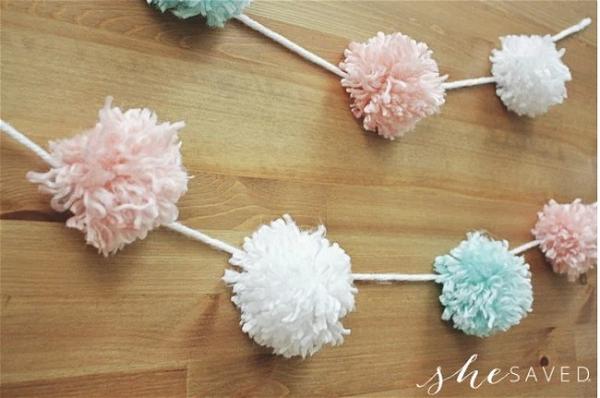 Pompoms are not just for cheerleading. This craft shows you how to use them in a garland to decorate your home, making it easy to create the perfect light fixture for any occasion! Learn how to make a yarn pom poms garland. The garland is perfect for decorating your home, birthday parties, or Christmas wrapping. This DIY yarn pom pom garland craft is so simple to make, and you can use up your leftover yarn or buy a few yard balls of new colorful yarn to get started! It's perfect for all ages and any room in your home.
Make a Pom Pom Garland in Three Easy Steps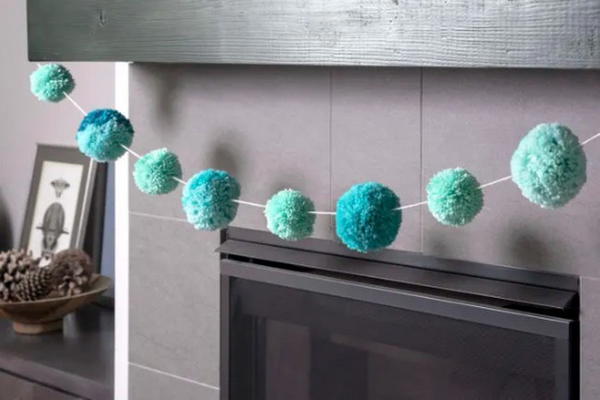 Have you ever made a pom pom garland? It's so easy and so fun! Pom poms are great for accessories and decor but also make a fun way of hanging indoors or outdoors. This garland works well with big or small poms and is great for parties, gifts, holidays, or every day. Follow these 3 simple steps to create your festive garland in no time! Gather your pompoms (and maybe a few spools of colorful yarn), and then follow this easy tutorial for making a fun and portable garland.
Giant Pom Pom Garland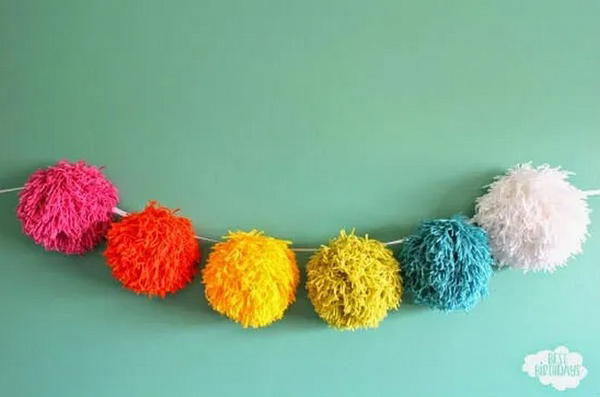 Enjoy the process of making this giant pom pom garland; it's a creative and fun activity for all ages. This garland is perfect for wrapping around your favorite vase or photo frame or for adding some springtime color to a mantle. It also makes a great decoration for a dorm room, playroom, or kids' bedroom. And don't be afraid to get creative. Make a statement this holiday season with this easy DIY pompom garland. This garland is super easy to make and is the perfect way to add a lovely sparkle to your home at Christmas time.
Festive Pom Pom Garland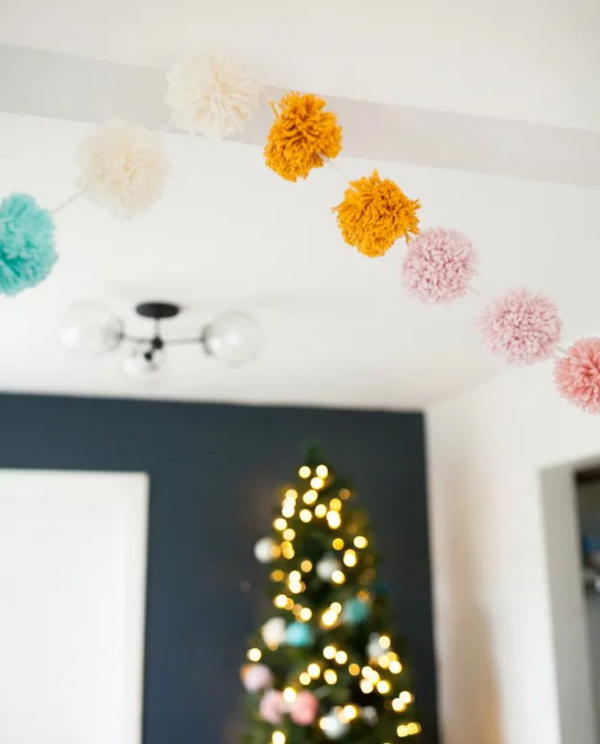 Create a new holiday tradition with this simple, festive garland. It's easy to make and perfect for any home decor style. Dress up your home with this DIY Festive Pom Pom Garland. With simple knots and care, it's easy to make and a great way to add a bit of Christmas cheer to any space. A creative and easy way to add style and festivity to any home. This garland is a modern take on the traditional paper garland and a great way to decorate your dining table, fireplace, mantle, or even hang around the Christmas tree!
You can also see: DIY Balloon Garland Ideas
Easter Pom Pom Garland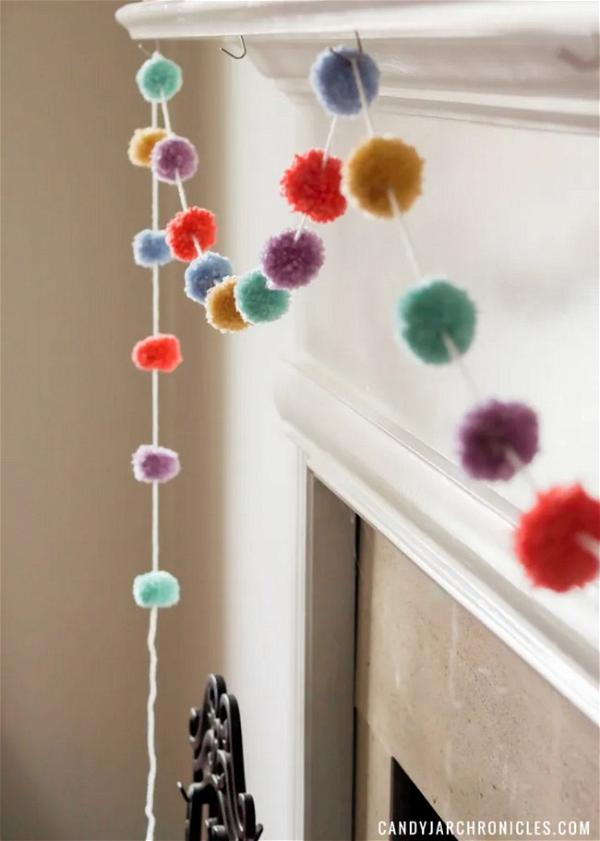 Give your home an Easter makeover with this pretty pom pom garland. Decorate mantelpieces, doorways, and other spaces with these fluffy felt balls on strings to create a super-cozy atmosphere. The bunnies are perfect for adding a little Easter spirit to your home. These colorful DIY pom garlands give your home a little Easter cheer. A fun project for spring, they're great for decorating Easter eggs, gift baskets, and more. This Easter pom pom garland is an easy yet festive seasonal decoration. Make one with your kids and DIY a few more to hang across your doorway, on the mantel, or the wall at different heights above a dining table. One of them will even be perfect atop a wreath.
DIY Pom Pom Garland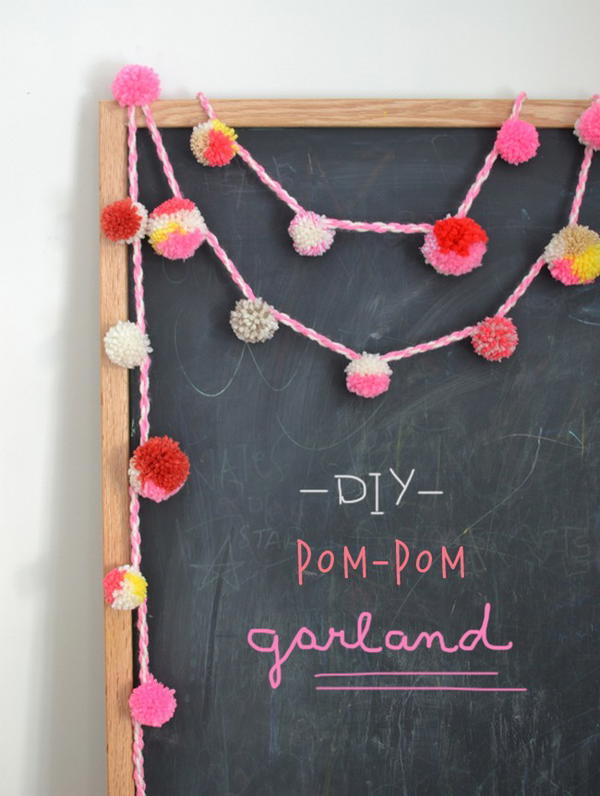 This DIY Pom Pom Garland is a fun and easy way to brighten your space. It's perfect for playrooms, kids' bedrooms, or anywhere else you want to add a little bit of fun. Make your own pom pom garland to decorate your room. It's an easy craft project and perfect for any occasion. Add some seasonal style to your home with this DIY Pom Pom Garland. With just a few simple materials, you can create the perfect addition to any wall, over a mantle or fireplace, or even use it as part of your holiday decorations. So easy and fun!
Learn How To Make A Pom Pom Garland The Easy Way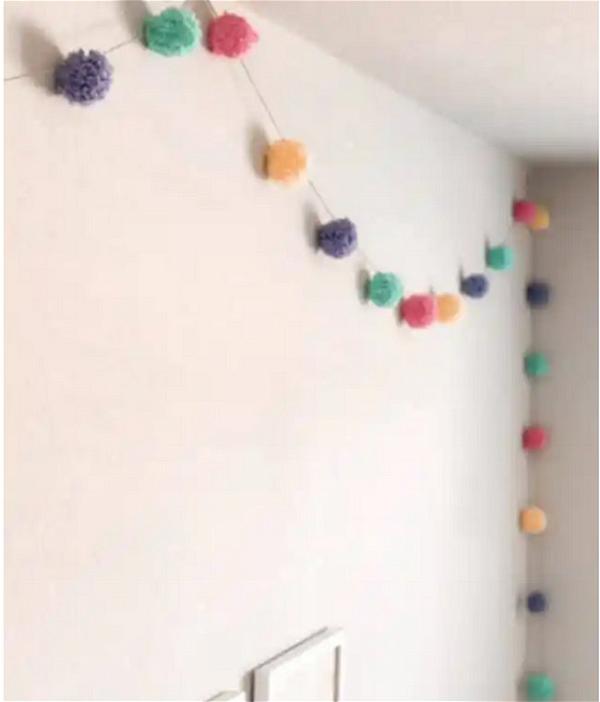 Learn how to make a pom pom garland perfect for Valentine's Day! This festive garland is perfect for your farmhouse or vintage wedding decor. Pompoms are all the rage right now. People are putting them on everything, from clothes to accessories to furniture. If you haven't jumped on this trend, here's your chance! This step-by-step DIY tutorial teaches how to make a Pom Pom Garland easily! Spring is here, so it's time to get spring cleaning. Make sure you're starting your spring-inspired home decor by creating this fun decorative arrangement you can make yourself.
DIY Pom Pom Garland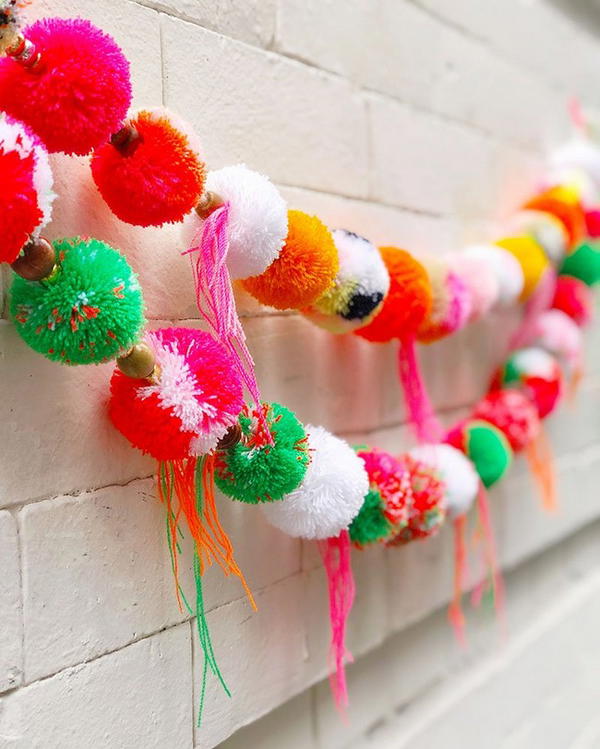 A super simple way to add some texture and color to your living space, this DIY Pom Pom Garland is so fun and easy to make. It features a large blue-and-white gimp trim, a string of pom poms in two sizes, and one spool of ribbon. All you need to do is use the ribbon to attach the pom poms. Make an amazing DIY pom pom garland in a variety of colors. This project is perfect for kids and adults alike! Create your own colorful garlands in just minutes with this DIY Pom Pom Garland. Start with an easy stitch to make a string of pompoms that are perfect for adding some festive cheer and color to your home.
Cinco De Mayo Festive Pom Pom Garland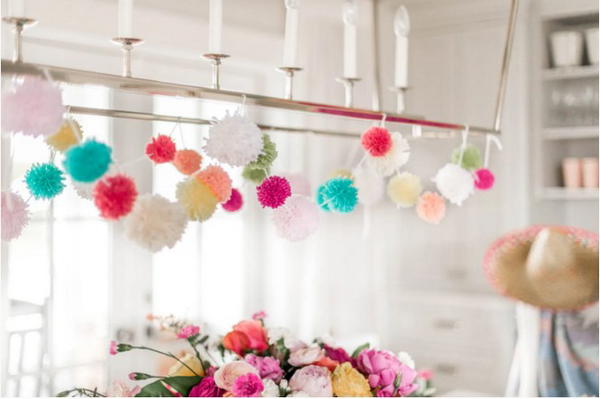 Help start your party with this festive DIY Cinco De Mayo pom pom garland! It's so easy to make, uses very few supplies, and can be prepped ahead of time. This DIY Cinco De Mayo Festive Pom Garland makes your home festive. You can adorn any door or wall in your home using chalkboard paint and a few supplies. Hang as many garlands together to make them as long as you want. Perfect for Cinco De Mayo or any summer fiesta! This garland is simple to make and only requires a few supplies.
Bunny DIY Pom Pom Garland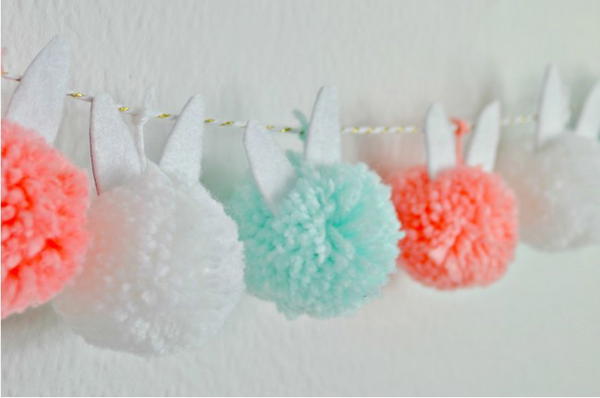 Transform your home with this DIY bunny pom pom garland! Easy to make and budget-friendly, this sweet project will add the finishing touch to your nursery or baby shower decor. Decorate your mantel or Easter table style with this DIY Bunny Pom Pom Garland. Each strand of this reusable garland includes a mix of pom poms, which are easy to arrange and remove. You can jazz up your home with this bunny DIY pom pom garland. It's a simple and quick project that involves tassels and pompoms, which means it can be done in minutes. The best part? It's great for any room in the house!
Make A Colourful Spring DIY Pom-pom Garland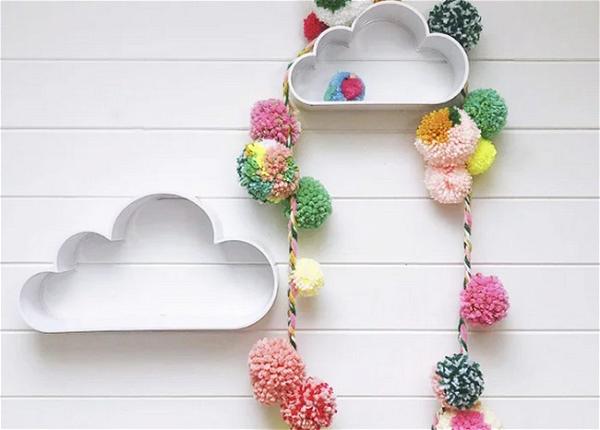 Turn a simple aisle runner into a bold springtime statement by making this easy and affordable pompom garland. Make a pretty pompom garland for your kitchen, bedroom, or bathroom using brightly colored yarn. It's perfect for brightening the space and makes an easy-to-make gift. Spring is the perfect time to bring new patterns and colors into your home. With a little effort and imagination, this DIY pompom garland will surely get you in the mood for Easter and its festivities.
How To Make A Tassel And Pom Pom Garland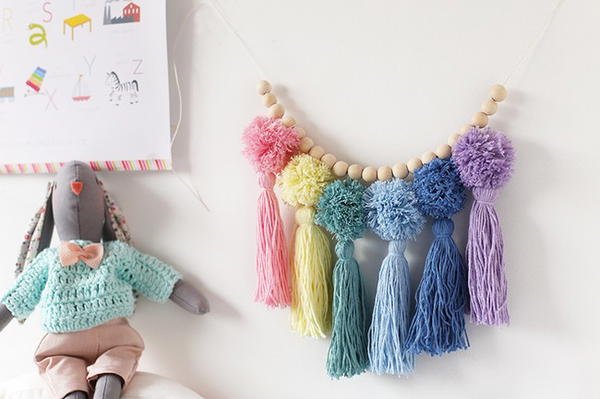 Tired of the same old garlands this holiday season? Make a few DIY Christmas decorations to bring a little sparkle to your home. This Christmas-felt garland is as easy to make as it is beautiful, and you'll have enough to make one for every room! Tassel is one of the easiest crafts you can make. Your kid will love it, and you don't need to worry about keeping them safe when you tell them to make a tassel. You can use different yarn colors to create different types of tassels or pom poms. This is a great way to make an inexpensive garland for any day of the year.