Making a shower cap is a simple task in your home. The caps are useful for keeping your hair dry after a shower or bath and for protecting your hairstyle from dyes and bleaches damaging to hair. That's why here we came with this series of DIY shower cap ideas; The best thing about homemade shower caps is that you can choose which fabrics and colors to use. Use some old pair of tights and make a cap that's unique to you. No matter what you choose, making your DIY shower cap will save you money, give you a custom fit, and allow for the ultimate comfort during your daily showers!
DIY Shower Cap Ideas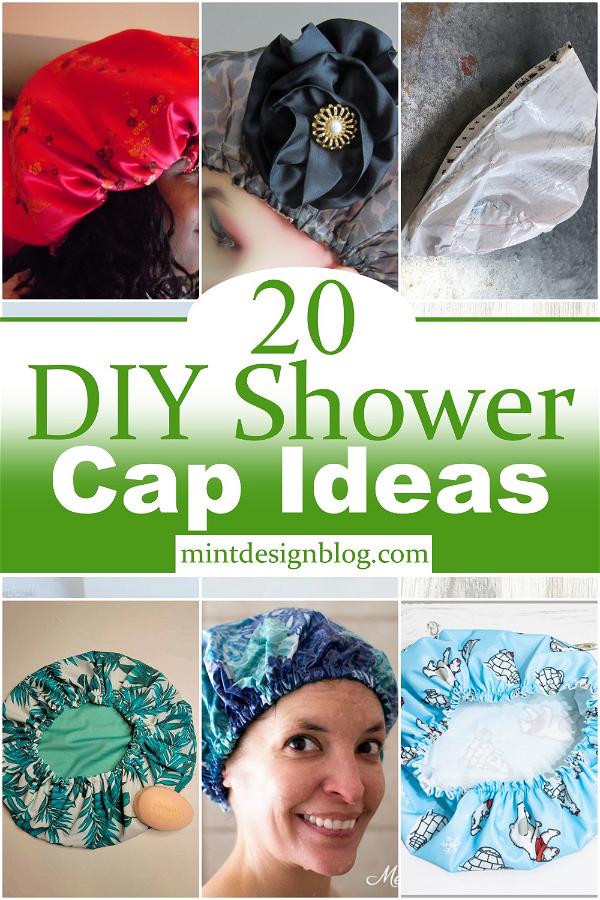 A DIY shower cap can be your best friend when you want to take a relaxing shower without worrying about getting your hair wet. This simple product is not only made of quality material but also trendy and modern. Shower caps protect your hair from getting wet, especially if you have long or curly hair and need extra protection. The following are some DIY shower cap ideas for creating a new one for yourself: These ideas are more functional than buying a new one from the market. You can follow these simple steps to create fun, awesome shower caps for yourself and your family members.
DIY Shower Cap Idea
This video will show you how to make this amazing shower cap. In this video, I will demonstrate how to make an adjustable shower cap out of an old t-shirt. The main thing you need is just a clean t-shirt, scissors, and elastic bands. This shower cap is made especially for men who want to keep their hair dry in the shower. It's also very useful for women trying to protect their hair from the effects of chlorine in swimming pools or those with long hair that takes a long time to dry.
Sew A Shower Cap
How To Sew A Shower Cap is an easy sewing tutorial that uses simple sewing techniques to make a stylish shower cap. Follow these instructions for making a shower cap for yourself or anyone else in your life. Use this great how-to tutorial to make the perfect shower cap for you! The shower cap is made of satin fabric, making it look attractive and fashionable. The steps are easy and can be completed by even a beginner in sewing.
Make A Shower Cap With Plastic Bag
This video guide will tell you how to make a shower cap for yourself. You may want to make a shower cap for yourself to keep your hair dry when taking a shower. This video will show you how to make a shower cap at home with plastic bags. It's quite easy and will take only a few minutes of your time. Your head will be thankful for this kind of protection! It's a wonderful and easy-to-make project for yourself or for giving away this valentine's day as a gift. It is made using a plastic bag, and you can use any plastic bag.
Homemade Shower Cap Tutorial
Make a shower cap for yourself using this tutorial. This shower cap is perfect if you want to save on water and keep the water in the tub instead of all over your hair. It protects your hair from soaking in shower water. Cut from plastic or vinyl, slides over your entire head while you wash or shave, and slip off when done. This tutorial will show you how to make one of these charming caps at home. You can use this tutorial even if you don't have a sewing machine!
Homemade Shower Cap Creation
A shower cap keeps all your hair and beauty products in order until you're ready to use them. This easy DIY shower cap is crafted from a standard plastic shower curtain and some ribbon, and it's pretty enough to use as part of any special-occasion outfit! This super-simple shower cap can be made with a single sheet of shower curtain liner. It's crafted from the same material as one of my favorite reusable shopping bags!
Best Shower Cap Idea For Women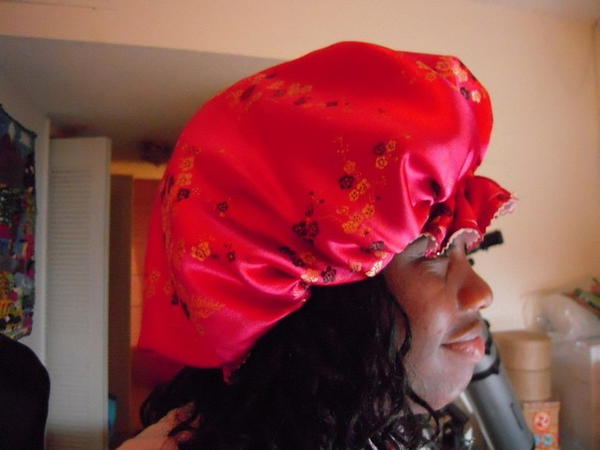 If you want to wear a shower cap in your hair, but don't like the huge one that looks like a helmet, here's a quick way to make a fun hat/headwear. This elastic shower cap is a quick and easy sewing project that will keep your hair dry while protecting your hairdo even in the hardest rain. It's perfect for riding a bike, running, or lifting weights at the gym. It can also be worn as a sun hat or swim cap. This easy-to-follow tutorial includes over 30 pictures and step-by-step instructions on how to make this cute shower cap.
Shower Cap Guide
This amazing shower cap is easy to make and a great DIY project for beginners. The tutorial contains steps with detailed illustrative images that are extremely helpful. It has an image gallery showing each step. Once you are done with the construction, you can wear it anytime by following the instruction guide in the tutorial. This is an easy DIY shower cap that will keep your hair dry in the shower yet provide you with full head coverage to prevent water from getting into your face.
Shower Cap Tutorial
This DIY Shower Cap Tutorial will teach you how to turn a cheap shower cap into a stunning, admirable shower cap. You can use this tutorial with any cheap shower cap and make it glamorous yet comfortable—step-by-step instructions on how to make the most beautiful & easy shower cap. You will fall in love with this DIY shower cap! Great for at-home hair treatments like protein treatments, deep conditioning, etc.
Shower Cap With Ribbon Rosette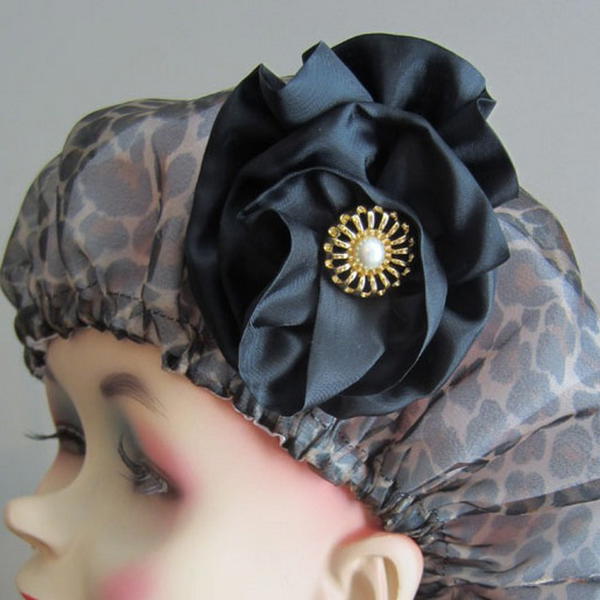 A shower cap with a decorative bow is a cute way to keep hair from getting wet. This pattern is quick to sew and easy to wear. Create a classic and comfortable elastic shower cap to wear during your showers. You can embellish it with fabric flowers, leave it as is, or add a pom. Perfect for everyday use and especially great during summer travel when you want to protect your hair from salt water, chlorine, or sunscreen products. Elastic band shower cap with a pretty fabric flower. Make it in your favorite colors.
Reuseable Shower Cap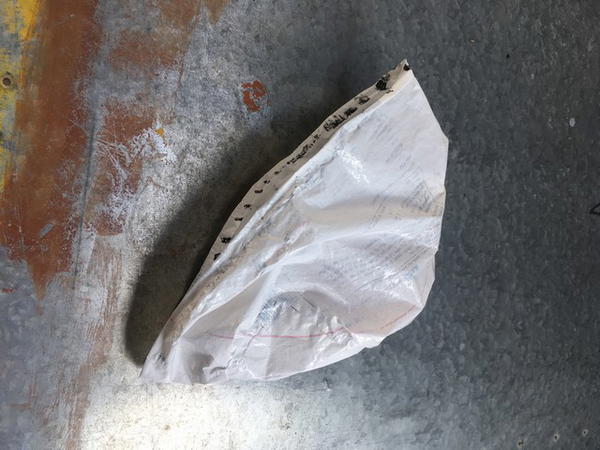 Are you tired of taking a shower and then worrying about your hair not being dry? Well, this reusable shower cap is perfect for you. It's made of a soft material that will be gentle on your head. With this compact size, you can easily store it in any part of your house. This cap can be worn to avoid wetting your head during showering. Wearing this cap instead of a towel would help save water and towels for better use! It's a great way to use up your stash of leftover yarns and adds a cute touch to any bathroom.
5 Minutes Shower Cap
This Shower Cap tutorial is a great thing to make for yourself, and it will only take five minutes. This DIY project fits most women. This easy sewing tutorial can be done in just a few steps. The materials are affordable; you only need an iron, fabric scissors, and a needle. You can make this shower cap for your family's use or gifting purposes! The only tools required are your fingers to bend the foam into place. In this Step by step tutorial, we will share all the secrets to making this beautiful Shower Cap DIY.
Plastic Shower Cap DIY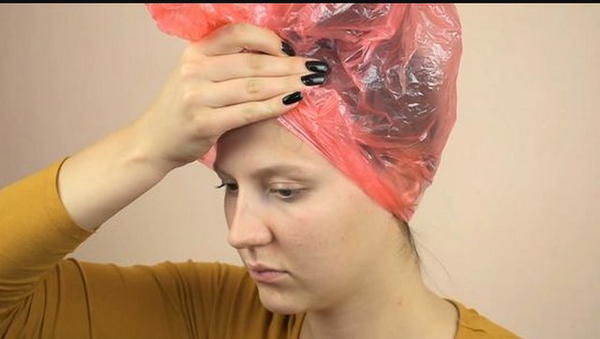 If you want to keep your hair dry when taking a shower, try using a plastic shower cap. This cap, made of transparent plastic, is easy to wear and comfortable on your head. It also has a convenient elastic band that allows you to put it on or take it off without difficulty or discomfort. Keep your hair dry and clean with the Plastic Shower Cap. Designed for women and men, this cap can be easily taken anywhere.
Make A Shower Cap At Home
The best way to keep your hair out of the shower is to wash it with a shower cap. Not only does this DIY shower cap help keep your hair dry (and your head warm), but it also has plenty of other benefits. From therapeutic to stylish, here are 11 reasons to try this shower cap. This charming shower cap will make you look gorgeous and unique in front of others. This shower cap is very comfortable and stylish and can be made at home. Make it with your hands by following the simple steps in this video.
Satin Lined Shower Cap
Take your bath time up a notch with this elegant shower cap. It will keep your head dry and clean and will surely add a touch of elegance to any bathroom. The Satin Lined Shower Cap is a wonderful way to add fun to your shower time! The smooth satin lining and softness of the vinyl allow an easy-to-make satin-lined shower cap that will keep your hair dry and frizz-free while you are in the shower. This cap is to be comfortable enough to wear all day.
DIY Women Shower Cap
If you have ever colored or highlighted your hair, you know it's important to protect the fresh perm with a trusty shower cap. But do you need to buy one? It's simple enough to make one out of household items like plastic wrap, Saran Wrap (aka polyvinyl chloride), and a rubber band. It's large enough to fit any head size and durable enough to last as long as you need it. It makes an excellent gift for friends or family members.
Shower Caps For Natural Hair
Making your shower cap can help reduce the damage done to your hair when using hot styling tools and help retain moisture. Here we'll show you how to make a shower cap for natural hair at home. Follow this how-to make a shower cap video guide, and you can soon be making your amazing shower cap at home. This crafty guide will teach you the easiest way to make a PVC Shower Cap in just 5 minutes!
Homemade Shower Cap DIY
This Homemade Shower Cap is a great craft project you can make to keep your hair dry while showering. The material is sturdy but lightweight and breathable. This easy sewing tutorial includes step-by-step instructions and photos. You'll love having this Homemade Shower Cap in your bathroom or as a gift for others! This shower cap can be made in a variety of different fabric choices. The finished shower cap has elasticized opening and ties to keep it secure on your head. It's perfect for washing your hair.
Large Shower Cap For Women DIY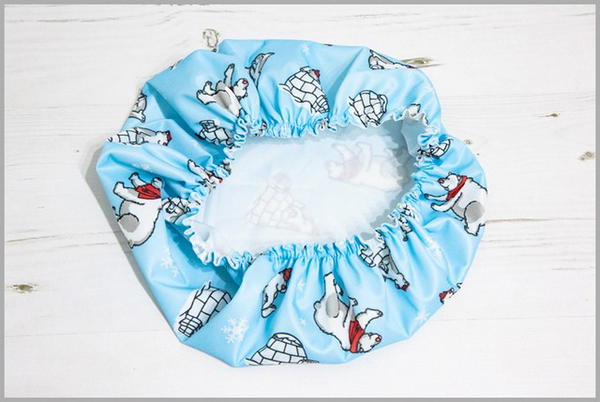 By following his easier tutorial, learn how to make a large shower cap that will fit most heads. It's very easy, even for beginners; even a novice sewer can also make it following some simple steps. You can use any material: felt, fleece, or flannel paper! This tutorial is so easy to follow. It is incredible how much the tutorial resembles the actual item to make a large shower cap for women.
Waterproof Shower Cap Idea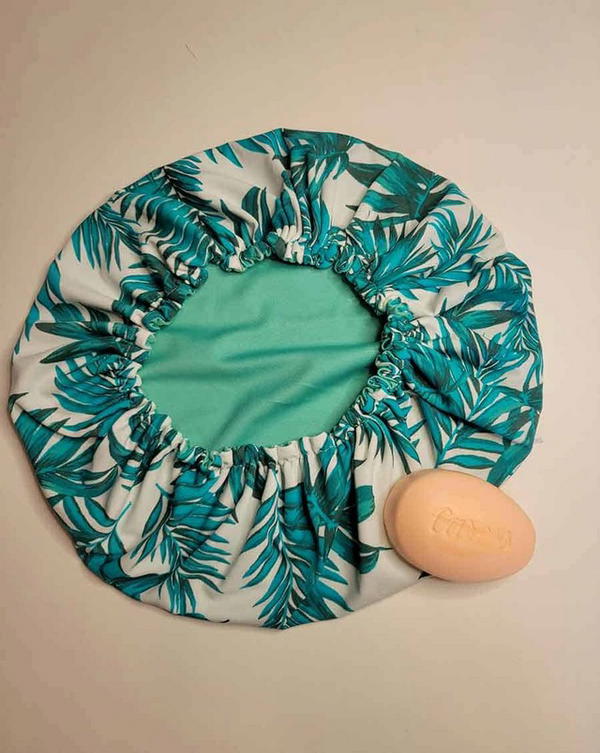 This DIY Waterproof Shower Cap Idea will help you keep your hairdo in place while you wash your hair. It's a fairly simple project, resulting in something you can use! Make this waterproof shower cap to protect your hair from getting wet while taking a bath or shower. It is made up of just two plastic bags and rubber bands. You can do this easy DIY project in just 20 minutes. It's simple to make and can be used time and time again.
DIY Shower Cap For Long Hair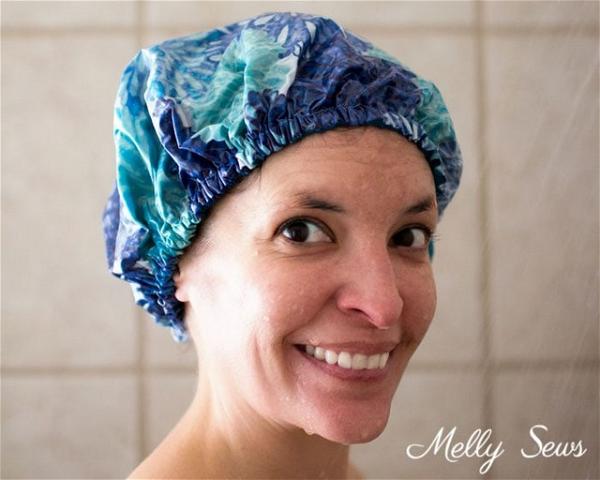 A shower cap keeps your hair from getting wet when you wash it. This can prevent split ends; unbeknownst to you, it makes it easier for water to get into your hair! Try making one of these beautiful and simple shower caps for yourself. The best part is it is easy to make, and you will learn how to sew waterproof fabric - this can even use as a scrub cap. This simple sewing project is one of our favorites because it's easy to sew, cute and useful! You can even use it as a scrub cap or as a headband when you're working out. Follow this tutorial and learn how to sew your waterproof shower cap.