Lighting is an important element of any home. It can make a room feel more inviting and can also be used to add an extra dimension to the look and feel of the space. If you want to improve the lighting in your home, consider installing under cabinet lighting. It's a great way to add illumination in those hard-to-reach areas such as under kitchen cabinets and behind furniture. Under-cabinet lighting is a great addition to any kitchen. Not only does it make the countertop easier to use, but it also adds a new level of style and sophistication to your kitchen. However, a lot of people have concerns about installing under cabinet lighting. They often feel like it's too difficult or too expensive. But luckily, there are many different options available for installing under cabinet lighting that can be as easy as plugging them in.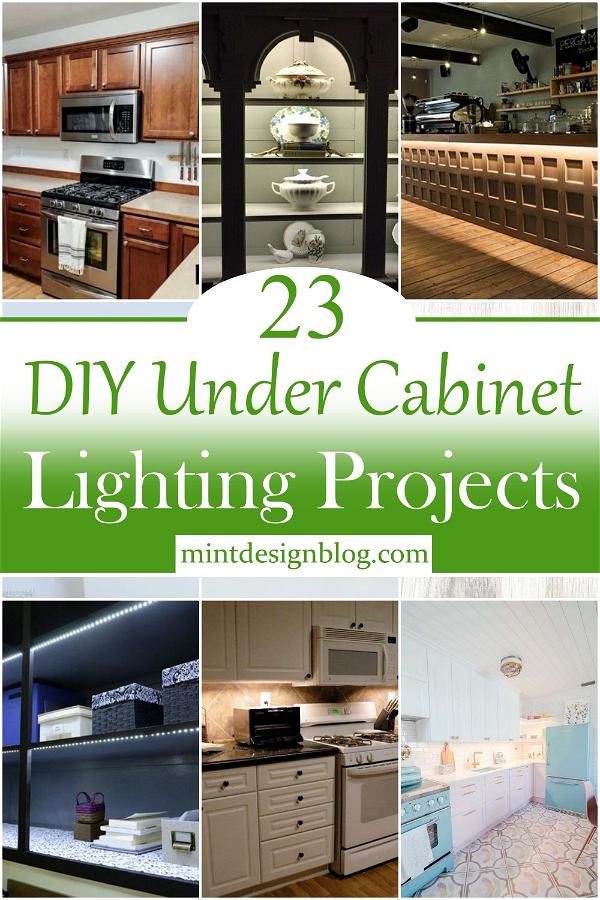 Here are 23 DIY Under Cabinet Lighting Projects, each with its own advantages and disadvantages. Fluorescent lights are usually the cheapest option, but they tend to be less energy efficient than other types of bulbs. LED lights are very energy efficient, but they take up more space than other types of bulbs because they're longer and wider than other bulbs. Halogen lights have a shorter lifespan than other bulbs and can be expensive to replace if they break or burn out prematurely.
Here are 23 DIY Under Cabinet Lighting Projects that will help you improve your kitchen counter lighting.
Materials Needed For DIY Under Cabinet Lighting Projects
DIY under cabinet lighting projects are a great way to make your kitchen stand out. Installing under cabinet lighting is not hard and can be done for just a few dollars.
LED tape light
Tape light power supply
Mounting channel
Mounting channel end caps
DIY Under Cabinet LED Lighting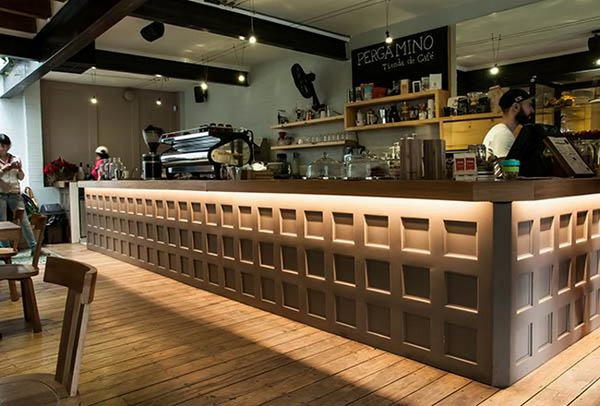 The DIY Under Cabinet LED Lighting is designed to look great as well as provide adjustable light. Turn your kitchen into a modern art gallery with our DIY under-cabinet LED lighting kit. This easy-to-install kit replaces existing fluorescent fixtures and gives your kitchen beautiful, energy-efficient LED lighting that lasts for years. With millions of color combinations and controls for brightness, scheduling, and modes, you'll never tire of showing off this art installation in your kitchen. You can easily customize the kit to fit your space, with a variety of accessories that are available. Installation is quick and easy, and it can be installed in new or retrofit locations.
SKILL LEVEL: EASY
Under Cabinet Led Lighting Using Led Modules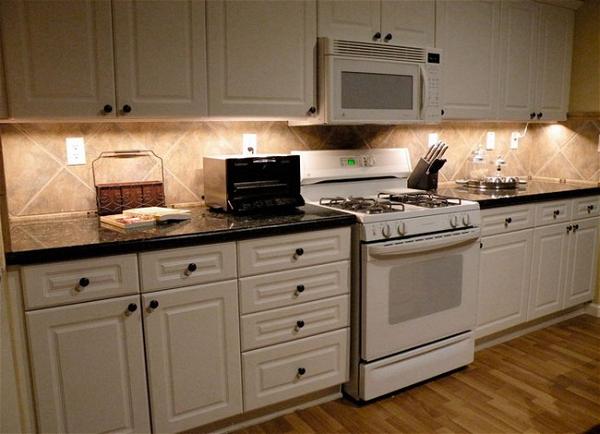 This Lighting Project is to show how easy it is to install LED Under Cabinet Lighting for your Kitchen, Home Office, or any other application where you need under cabinet lighting. The easiest way to get started with LED Lighting projects is to select a LED module that is designed to work with the cabinet you are installing under. These modules usually have an LED strip pre-attached to an aluminum heat sink designed for easy installation. The Heat sink will draw away the heat generated by the LED strip, allowing you to have a cooler and longer-lasting product.
SKILL LEVEL: EASY
Under Cabinet Lighting DIY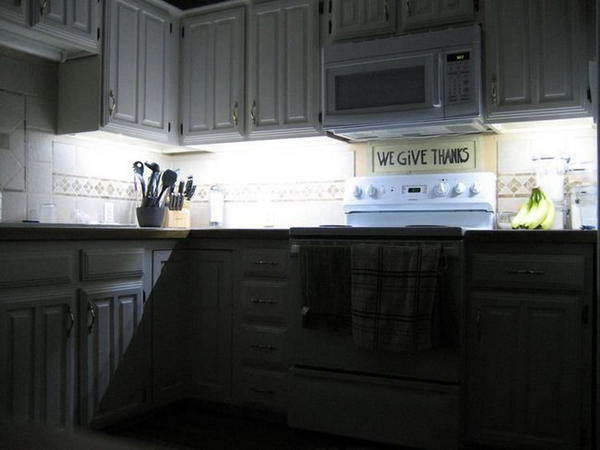 Add energy-efficient lighting to your kitchen with this kit from Service Mark. If you want your kitchen to feel as bright and inviting as possible, then under cabinet lighting is a must. It's not only helpful for creating ambiance but also gives you more task light whilst cooking. This type of office lighting comes in three main forms - tape or stick-on lights or tube/bulb lights. Whichever option you choose will depend upon the amount of worktop space you have available, and your budget.
SKILL LEVEL: EASY
DIY Under Cabinet LED Lights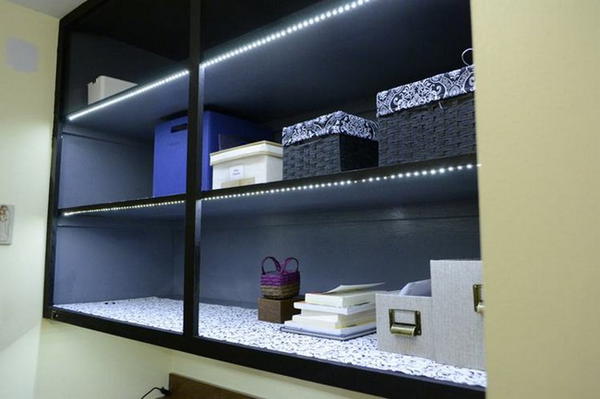 This DIY under cabinet lighting will create a beautiful illumination in your house. It is a great way to brighten up the dark corners of your home, and a very easy way to update any kitchen, game room, or other living space. The lights you install in your cabinets can completely change the atmosphere of your kitchen, and these DIY under cabinet LED lights are a perfect, budget-friendly way to bring something special to this often-overlooked space. Suitable for any room with cabinets—this LED lighting creates the perfect balance of brightness and ambiance without the hassle of heavy furniture and fixtures.
SKILL LEVEL: EASY
Easy DIY Under Cabinet Lighting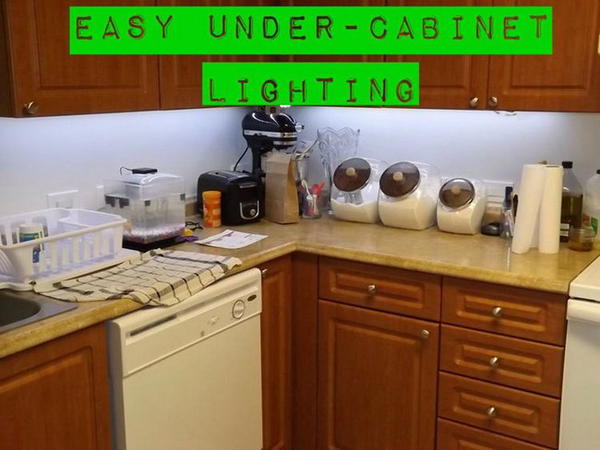 Make this easy DIY under cabinet lighting. Follow along to see how yours can turn out in your home's kitchen or bathroom space. First, you'll need to gather your materials and tools, then assemble the parts. This usually takes about seven hours, so if you're pressed for time, this DIY project might not be the one for you. But hey, you can always call in a handyman to assemble it for you. If you decide to tackle this project yourself, be sure to ask someone for help lifting the cabinets into place.
SKILL LEVEL: EASY
DIY Cheap Under Cabinet Lighting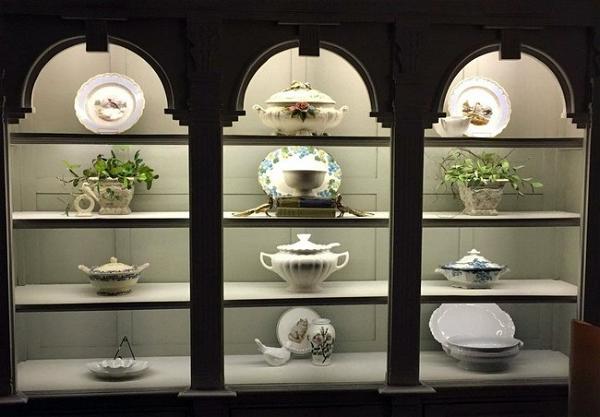 Brighten your countertops without spending a fortune on electrical work. Under-cabinet lights are an easy way to add ambiance, brightness, and warmth to your home. And by doing it yourself, you get to customize the size, shape, and output of these lights exactly how you want them. This fun DIY inexpensive (under $40!) lighting kit uses LED strips in motion-activated cabinets and can be completed with very little electrical work. The lights automatically turn off when the cabinet closes and on when it opens.
SKILL LEVEL: EASY
Kitchen Under Cabinet Lighting DIY
Changing your lighting to LED strips is one of the easiest DIY projects you can do in your kitchen. If you are trying to cultivate your culinary skills in a kitchen area with poor lighting, this tutorial will help you brighten up your countertops with an easy installation of LED under-cabinet lights. Check out the video to find out how to improve your kitchen lighting at night with this easy guide. You'll never have to worry about a dimly lit kitchen at night again. The lighting in this video seems perfect for meal preparation and cooking, so you might want to check it out!
SKILL LEVEL: EASY
DIY Under Cabinet Lighting
DIY Under Cabinet Lighting - How to install under-cabinet lighting. Make your own under cabinet lighting using cheap Home Depot stuff. Under-cabinet lighting is great for kitchen tasks, especially preparing and cooking food. This DIY under cabinet lighting project will make your cabinets look better than you could ever imagine. Not only that it is inexpensive but also easy to do. This can be done by two people in about two hours. If you have a wooden cabinet where you can just wire tie these lights straight onto your cabinet, then by all means go ahead and do that.
SKILL LEVEL: ADVANCED
How To Install Under Cabinet Lighting
This Under Cabinet Lighting Instruction Guide is a must-have resource for any homeowner looking to install any type of under cabinet lighting. Whether you're beginning your first DIY project or are a seasoned professional, we provide step-by-step instructions and a video tutorial to help you create the perfect underlit space.
This under cabinet lighting creates more than just ambiance. It's an indispensable tool for every cook since it illuminates countertops to make chopping and preparing foods easier and safer. Plus, it frees up space on your kitchen counters by eliminating the need for bulky lamps or light bars. If you're handy, you can install your own system in less than an hour.
SKILL LEVEL: ADVANCED
Kitchen Under Cabinet Lighting Under $50
This project is capable of saving you a ton of money. After installing this under the cabinet lighting in your kitchen, the lighting system is integrated with smart technology which will enable you to control its intensity via an app on your phone. The lights are energy-efficient and will save you money on your electric bill as well. They can be fully customized to your preference and needs. It is an inexpensive project you can do yourself without hiring an expensive contractor. It is easy to install and looks amazing.
SKILL LEVEL: ADVANCED
DIY Cabinet Lighting In 30 Minutes
You have all encountered that kitchen with the beautiful cabinets and fancy countertops but it is too dark to see what you are doing. With the addition of a few lights under the cabinets, you can brighten up your space plus improve the practicality as well! Lighting under your cabinets can change the entire look and feel of your kitchen. It is an easy installation and makes your kitchen look modern and contemporary. Here is an example of one of our DIY under cabinet lighting projects.
SKILL LEVEL: ADVANCED
DIY Upper And Lower Cabinet Lighting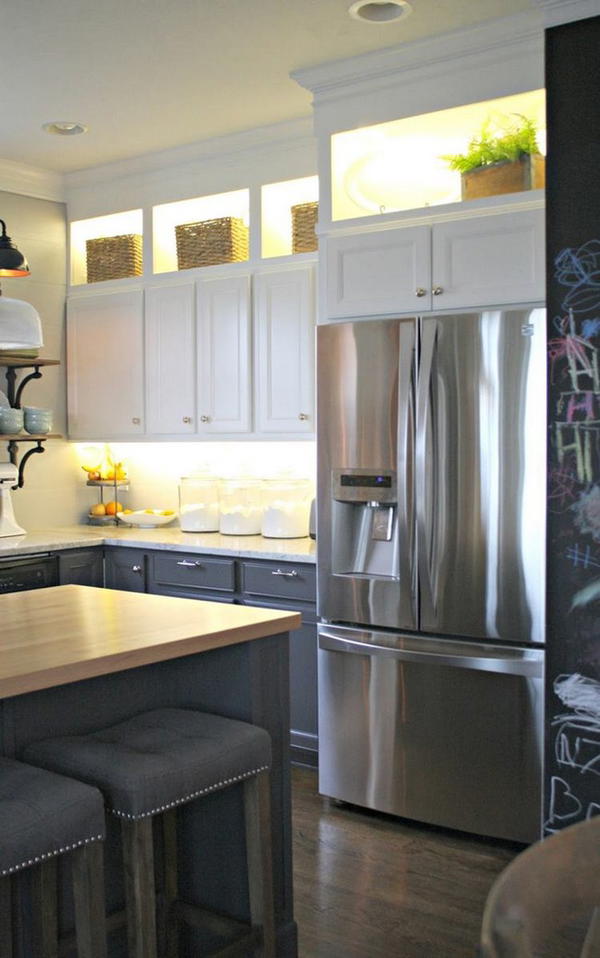 You will love looking at the lights in this kitchen! Both the upper and lower cabinet lights are LED strip lights. Easy to install and they put off a fantastic amount of light. Composed of rigid, high-output LED strips with a durable and easy to clean leather texture housing. A single power switch controls all of the lights, and they can be dimmed if desired. The flexible strips can be cut to fit perfectly along the inside edges of cabinets or closets. This easy DIY project is simple enough for anyone to do, and will instantly transform the mood of your kitchen!
SKILL LEVEL: ADVANCED
How To Make Under Kitchen Cabinet Lighting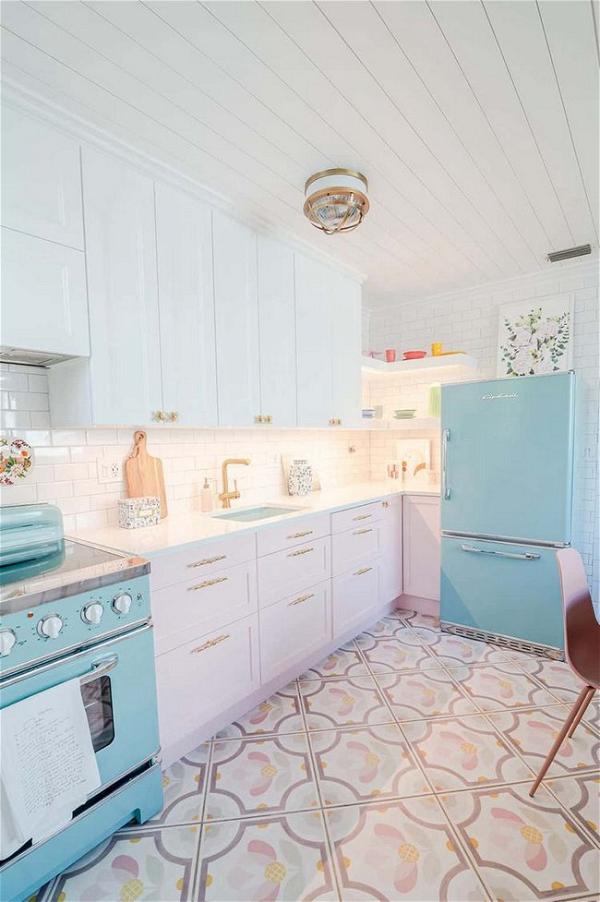 All it takes is a little more light. Adding a string of LED lights to your cabinets can create the perfect ambiance by turning dull and dark spaces into the focal point of your kitchen – the cabinets. They also help you prepare food and clean up safely, and there are plenty of ways to add lighting—the easiest being battery-powered stick-on lights. Under-cabinet lighting is a great addition to any kitchen. It's functional, helping you prepare meals safely, and it creates the perfect ambiance when you're entertaining.
SKILL LEVEL: EASY
How To Install Under Cabinet LED Lighting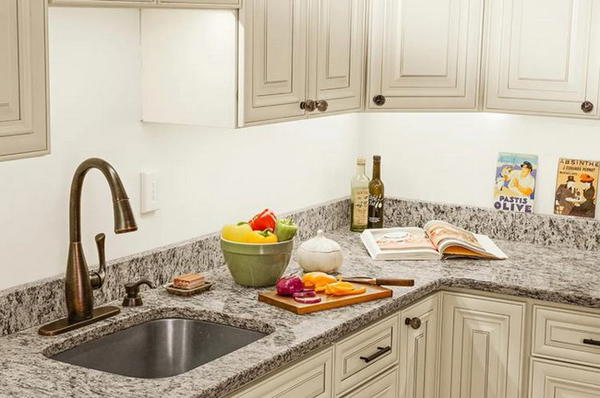 Do you want to add under cabinet lighting that you can control with a wireless remote? It's not as hard as it sounds. This expertly crafted wireless touchpad allows you to control your under cabinet lighting at the touch of a button. Featuring a sleek black finish and a small profile, the touchpad is made to be hidden behind cabinets or placed on the edge of a countertop. It's perfect for use in older homes where there isn't already an electrical system for under cabinet lights.
SKILL LEVEL: EASY
DIY Under Cabinet Lighting
Installing under cabinet lighting is one of the easiest ways to brighten a kitchen; it's also a simple DIY upgrade that will make a huge impact. If you work from home or cook often, you know how important task lighting can be. Under cabinet, lights are a must-have for any kitchen, and it's just one of many simple things you can add to your home to make life easier. This step-by-step guide is designed to get you through the process quickly and efficiently. It's simple enough for even an amateur DIYer to install, and at a fraction of the cost of most professional installations!
SKILL LEVEL: ADVANCED
How To Install LED Strip Lights
This is one of those projects for you to do around the house that will put a smile on your face. It is not very difficult, but it will require some skill with a couple of power tools. The end result makes it worthwhile though! For most locations, the best length of LED strip lights is the length of your room. You can either buy one reel of the non-waterproof LED strip lights or multiple reels of waterproof LEDs. The power required for each reel can be different depending on the manufacturer. Just make sure you have enough power adapters to connect to all the reels.
SKILL LEVEL: ADVANCED
How To Install LED Strip Lights Under Kitchen Cabinets
If you need some ideas on how to use LED lights, then you're in luck because this video will show you how to install them under your kitchen cabinets! This is a very simple project that can be done in about an hour or less. It will improve the look and feel of your kitchen by giving it a modern look. LED strip lights are your best bet for lighting up a workspace. They're easy to install, so your DIY project doesn't get bogged down in the trenches. In this video, you will learn how to install LED strip lights under kitchen cabinets, which is a great DIY way to improve the lighting on most workspaces in your home and add decoration as well.
SKILL LEVEL: ADVANCED
How To Install Countertop LED Lights
Kitchen lighting can be a difficult thing to get right, so many homes suffer from poor, inadequate lighting. Under cabinet LED lights like these OMLOPP countertop lights are perfect for providing additional lighting to your kitchen. This neat DIY will show you the steps required to install them correctly and safely the first time around. These lights have all the necessary hardware, but you'll need a few extra tools to get the job done right. Here are the basic tools: extra light bulbs, tape, screwdrivers (small and large), and a measuring tape. Note that you'll need 2 AA batteries to power the lights in "click mode
SKILL LEVEL: ADVANCED
Inexpensive DIY Under-Cabinet Lighting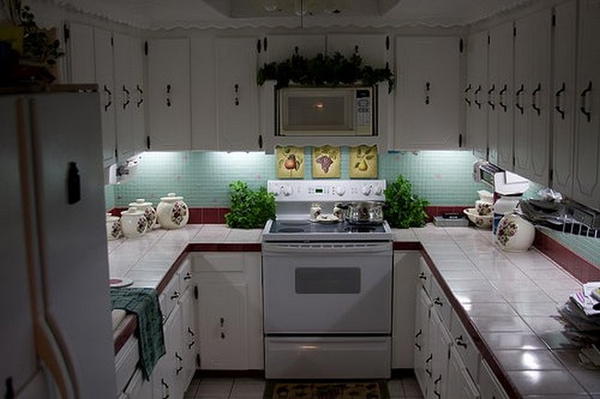 Want to wow your guests? Surprise them with lighting you've installed under your shelves or cabinets. Inexpensive DIY Under-Cabinet Lighting is here to dispel the myth that under cabinet lighting is difficult, expensive, and time-consuming. In fact, it's the opposite! The installation process is simple and will take you less than a couple of hours. The simple addition of under cabinet lighting can transform your whole kitchen, making it more functional and aesthetically pleasing. Plus, you don't have to spend a lot of time and money on this upgrade - it's easy to install yourself with this affordable product!
SKILL LEVEL: ADVANCED
DIY Under Cabinet Lighting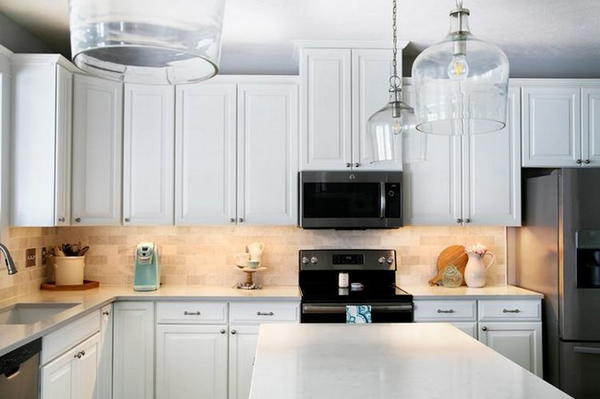 Easy-to-install under cabinet lighting lets you transform your kitchen in a snap. Give your kitchen a whole new look in minutes with this easy how-to project. You can make under cabinet lighting in your kitchen look like a pro designed it with these tips and tricks. First, you need to decide what you want your lights to do. Do you want them on all the time? The only way to accomplish that is to attach them directly to the electrical wiring that comes with the house. Do you want them to be on a timer? Then get yourself a timer that has a remote control on it.
SKILL LEVEL: ADVANCED
Under Kitchen Cabinet Lighting Idea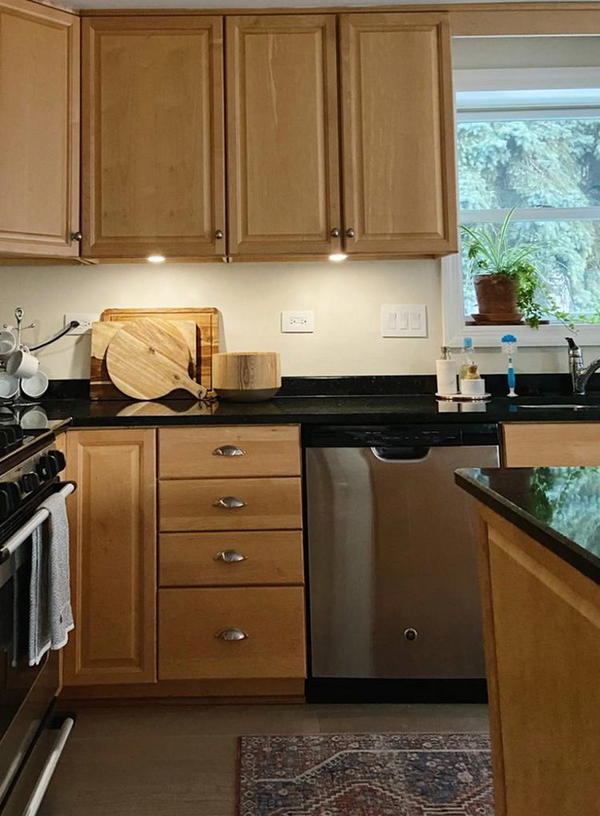 A great idea for your kitchen where there is no lighting. LED strip lights and some acrylic are all that's needed. Easy to do and produces terrific and practical lighting. Imagine how much more inviting and warm your kitchen would feel with a bit of lighting under your cabinets. This would be especially useful if you plan to use your kitchen for entertaining guests, for eating meals, and for warming up with a pot of hot cocoa on a cold winter's night. Under-cabinet lighting is an easy way to brighten up the task areas of your kitchen. They look especially great when paired with a beautiful backsplash.
SKILL LEVEL: EASY
Inexpensive DIY Under-Cabinet Lighting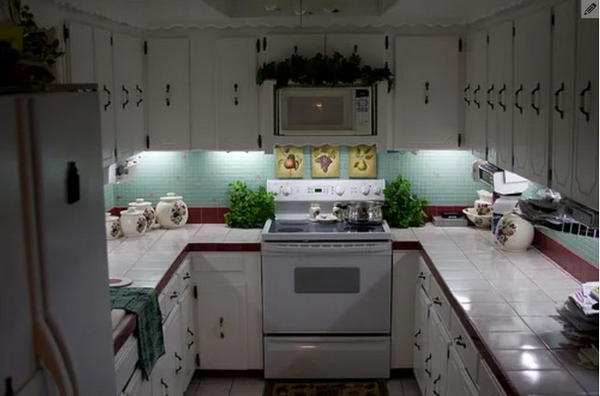 Under-cabinet lighting can improve visibility in your kitchen and it can look pretty neat. It doesn't have to be expensive, this is a fairly easy project that you can do yourself with the purchase of a few parts from the hardware store. There are many kit solutions to under cabinet lighting but they are rather pricey and involve ugly exposed fluorescent tubes. This solution is a DIY method that utilizes cold cathode tubes that are normally used in PC case mods and other high-tech projects. The kit looks great and sells for less than $50 including all the major components which you will see in the parts list.
SKILL LEVEL: EASY
DIY High Power Led Under Cabinet Lighting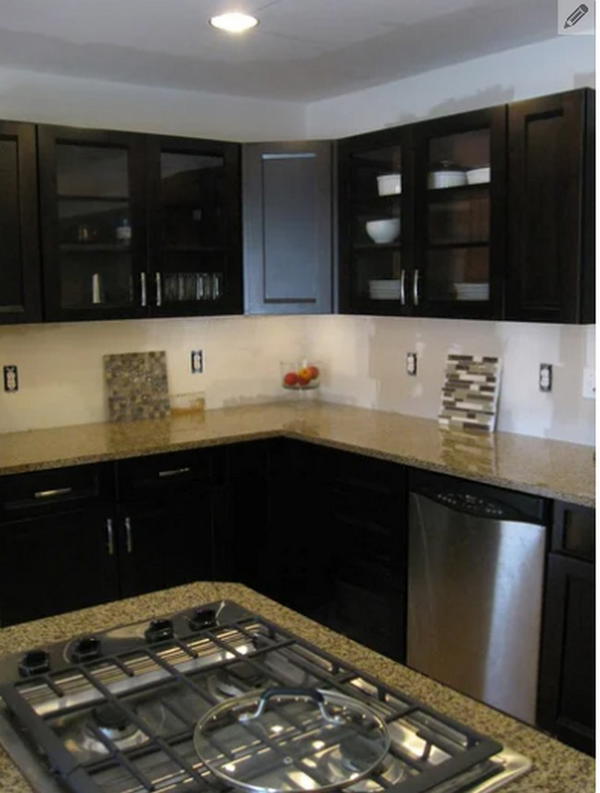 If you want to make your customers' dream kitchen an affordable reality, this low-cost DIY high-power LED Under Cabinet Lighting is your solution. With a total estimated material cost of under $120 for an average-sized kitchen, this is less expensive than most commercially available systems. But not only does it save money, but it also has better light output per watt than almost any other lighting system out there. This DIY under cabinet lighting is designed to look beautiful and professional, while also being easy to make and inexpensive. Create an easy DIY under cabinet lighting system in your bedroom, living room, or basement.
SKILL LEVEL: EASY
CONCLUSION
Well, there's no better time than now to save money and do a DIY under cabinet lighting project! If you want more success in decorating your kitchen, then add some under cabinet lighting. Putting it in the right place and spacing them evenly helps to properly illuminate the room. If you are looking for some ideas, check out the23 DIY Under Cabinet Lighting Projects.