Here are 22 DIY witch broom projects that you can make for Halloween. You can also use them as a decoration for your home. These brooms are easy to make and you don't need any special skills to make these brooms in your choice of colors and textures. These are not just the ordinary brooms that you see in most Halloween costumes. Some of these witches brooms can be used to clean your floors, others will look better when hung on a door or window, while some are just made to be held by the witch.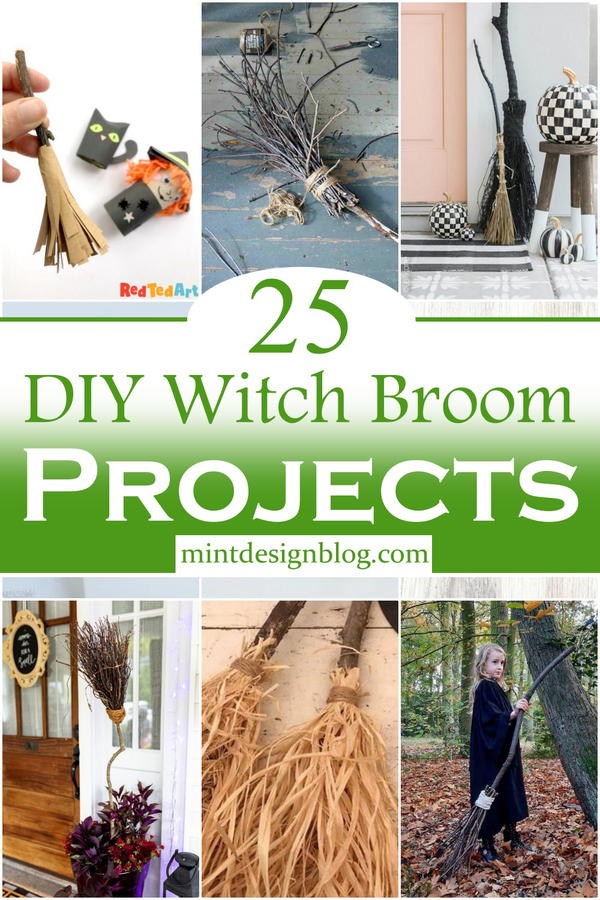 Try these DIY witch broom projects if you have an old broom in your garage and don't know what to do with it. It only requires ribbons, which you can tie around the broom straw and hang it to your wall. You can also use it as a decoration inside or outside your house or even in your car. These DIY witch brooms are made with feathers, which makes it look so cute and adorable. You can use this as a decorative piece inside your house or just put it on your porch for a more dramatic effect.
The 22 DIY Witch Broom Projects is a good resource for decorating Halloween in honor of the spirit of Halloween and other holidays.
DIY Witch Broom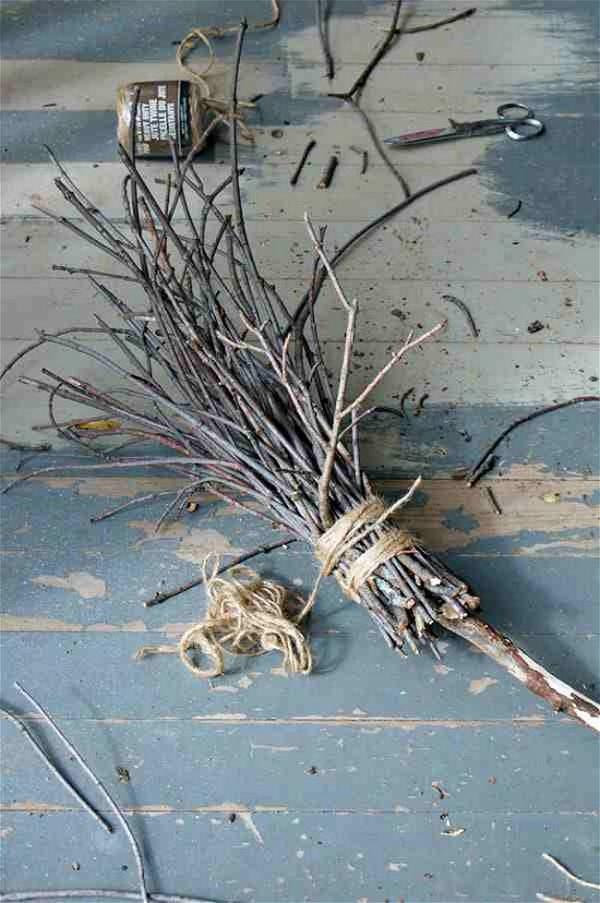 These DIY witch brooms are fairly easy to make. All you need is a long branch and lots of twigs for this. Begin by stripping the branch off the bark, cut off bumps and knots then wrap a thick elastic band around the bottom where you can comfortably insert your twigs till it is tight enough. This is easy to make and can be used for your Halloween outfit if you decide to dress up as a witch. This guide will show you how to do these projects with even no time.
How To Make A Witch Broom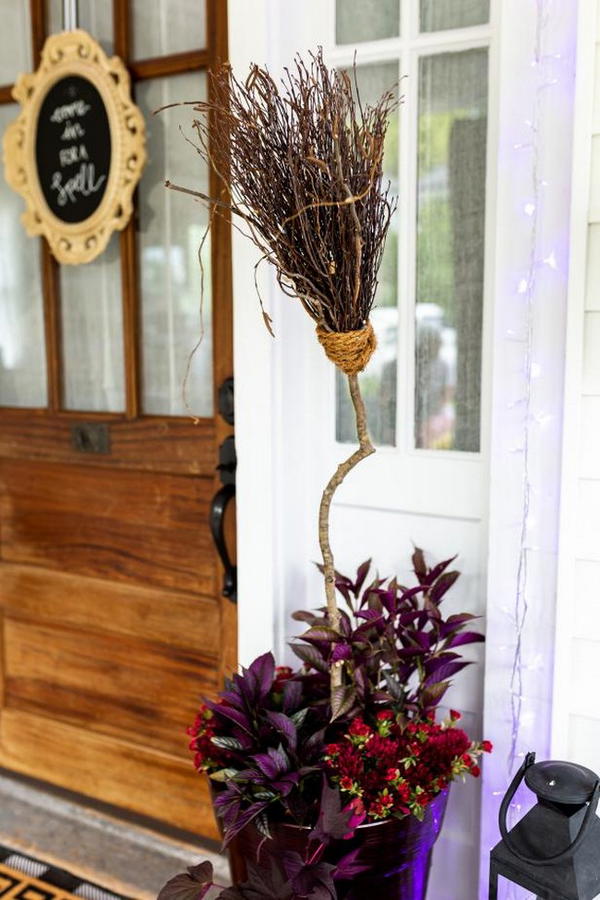 The witch broom is a great decoration for your Halloween party. Plus, you can use the materials to make pretty much anything else. For example, you can put it inside of an interior foliage arrangement. Or, you can tie them together and form a long garland. Use your imagination to come up with creative ways to use your broom. If you want to get a nice pagan look within your home or garden, then use weathered sticks to create this. In this guide, you will see how to make one.
DIY Witch Broom For Decoration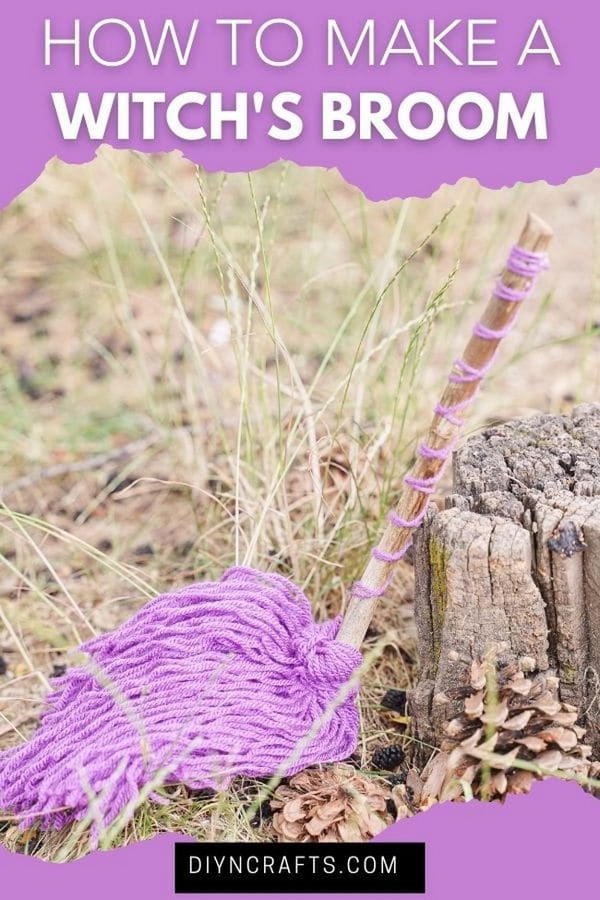 Witch brooms are one of the traditional Halloween decorations that you can hang on your front door. If you are looking for a fun yet inexpensive decoration, here is a DIY project, that is not just easy to make but also looks creative and can substitute the conventional ones made of twigs. You don't really have to spend a lot. Your friends or family will be happy if they see a funny broom which your efforts are put into.
DIY Witches Broom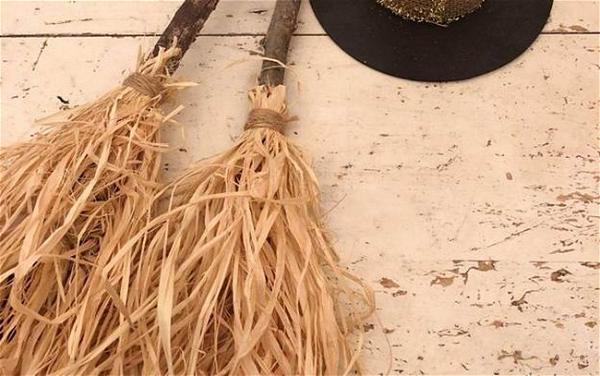 This DIY witch broom is super easy to make for Halloween. Perfect for a costume accessory or for display, this is made from raffia- the stringy plant material. Since raffia is fragile, you will need to make sure you glue it properly to the end of your stick before tying it off. Be careful because it can be very sharp! you will enjoy making this craft and find some cute ways to use it around your home or at a movie theater!
DIY Witch Broom Dollar Store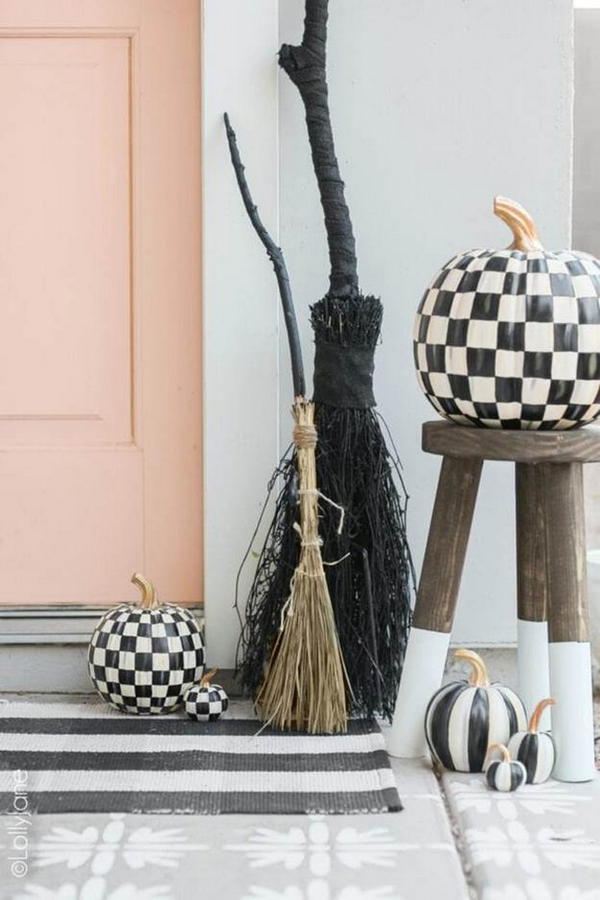 This DIY witch broom dollar store can be used as an add-on to alter the appearance of the scarecrow. The scrubby bin is cheap and inexpensive, It has some screws you can use to attach it onto the top of a pole to make it look like a broom handle. You know those lovely brooms you see at the Halloween or Christmas shops that are very expensive. Well, you can make your own with supplies out of a dollar store.
DIY Witch Broom With Tulle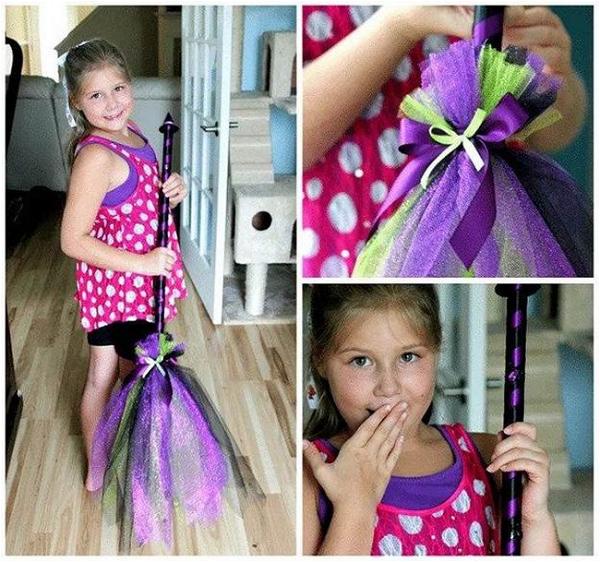 If you are looking for a really adorable witch broom, then this DIY witch broom with tulle is just right. Made of different colors of tulle pieces, you can give it to your child as a Halloween or dress-up accessory. To make this at home, all you need is a broomstick, satin ribbon, tulle of different colors, a glue gun, and a sewing machine. The DIY broom can also be used to decorate walls and to give a creepy effect during Halloween.
DIY Witches Brooms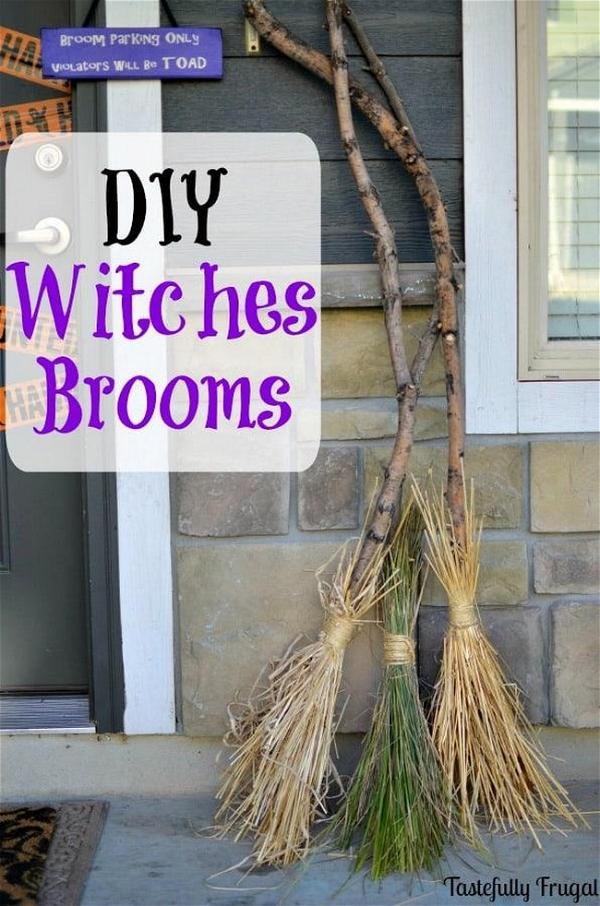 If you love to explore ideas for junk to turn them into something beautiful! This DIY Witches Brooms project is a great way to turn this into something beautiful for Autumn. Give yourself a second life by making this from the broom handles and tall grass around the garden. That's how you deal with unwanted stuff in your house, assemble them together and wrap them up with twine. This DIY is really fun to make and it will cost you next to nothing if you are gathering all the materials from your backyard.
DIY Glitter Witch Broom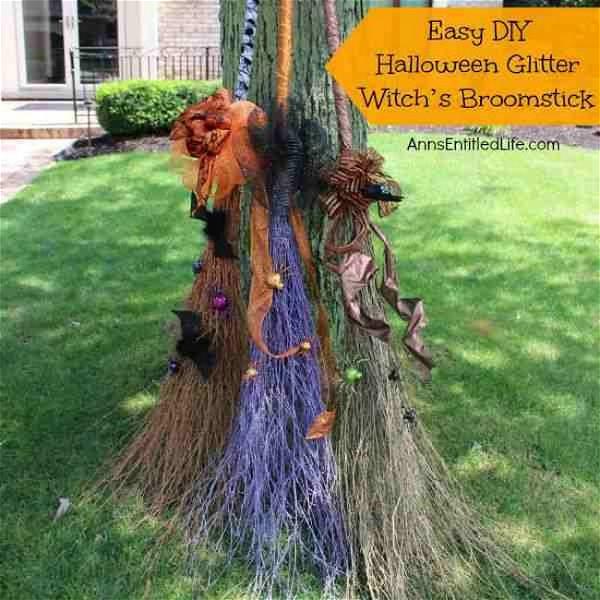 The DIY Glitter Witch Broom is a super easy DIY project that makes a great addition to your Halloween decorations this year! It's also a great way to recycle an old broom. If you are a DIY lover, then this would be a perfect craft for you. The cobweb brooms are cheap and can be purchased from any store. All you have to do is insert the handle and paint it with your favorite colors. You can make your own witch costume or other costumes with this broom.
DIY Sparkly Witch Broom
This excellent witch broom has been crafted using strands of artificial grass. You will need to tie this onto a long stem so that it can be transformed into a broom. Once this is done, you can then decorate your DIY project by adding ribbons, flowers, and other decorative objects to make it as fancy as you want. It can be easily made with the application of a few embellishments and strands of grass to any broom and withstand the festivities for hours.
DIY Witches Broom
Make your own fabulous broom for Halloween or any time of the year. You will need sticks, strips of raffia, a lighter or matches, and tape. This is a fun project for people of all ages, and won't take long, so gather your materials, cut a few sticks and make a quick witches broom. This will be a great addition to your day of tricks and treats! Just make sure that you have a wide variety for the kids so no one gets left out of the fun. You can make your own broom with this easy tutorial.
How To Make A Witch Broom From Old Newspaper
Make a Witch Broom From Old Newspaper and have a great time picking up leaves or decorating your home. There are many ways to make a broom depending on your materials, the process is quite easy. Take, for example, this broom, made not just from newspaper but also from milk cartons; it was made by spreading the glue all over the place first and then gluing the sticks together starting from bottom to top. This broom is a lot of fun to make. It's pretty easy and fun for kids to do. Requires only a few common items.
6 Foot Long Witch Broom DIY
Make a witch broom to use on Halloween. It has a zigzag shape and a curved edge on the stem. You can make it from wood you craft yourself or buy from the store. These are great for Halloween, witch or wizard costumes, or just an accessory to hang out at home. Perfect for parties, as a decoration in your home or to dress up a costume, 6 Foot Long Witch Broom DIY makes creating your own witch broom easier than ever!.
DIY Origami Witch Broom
This DIY Origami Witch Broom is just so beautiful and also easy to make with paper. it won't take you hours to make a witch broom. These cute little DIY projects are easy to do and fun for all ages. Create them for your next Halloween party or get-together, or just any fall holiday fun! The tutorial guides you step by step, follow the easy steps, and learn how to make this in no time..
DIY Witch Broomstick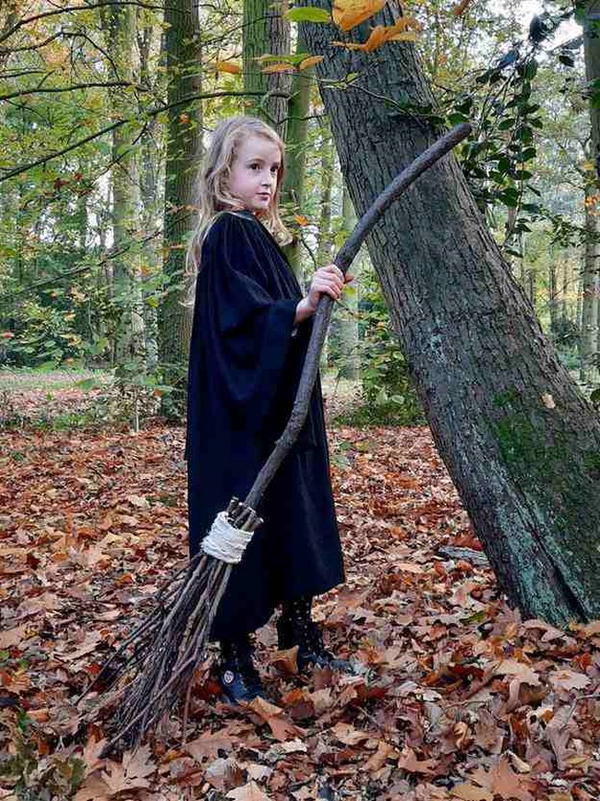 This is a DIY project that makes it easy for you to make this broom for witches. The steps are simple and with your own hands, you will be able to have the beautiful broom of your dreams! To build this, you need some material and tools. The first step is to organize all the material, hold the stick between your hands, and then tie the twigs into a simple knot. After that, glue two more sticks together. Then make a little broom for your witch.
How To Decorate A Witches Broom
Everyone is dreaming of Halloween, so if you are one of them, why not decorate your home with DIY Halloween decorations? A Halloween witch broom can be one of the best ideas. You don't have to buy it and spend a lot of money on something that is temporary. If you want to save money, but still have a good decoration for Halloween in your house, decorate an old broom yourself. The decorations can be made using artificial flowers, ribbons, roses, and petals. Glue them carefully to the base of the broom through the stick.
DIY Mini Witch Broom
This mini DIY broom is a simple but charming Halloween craft, perfect for whenever you need a Halloween decoration! You need to melt your glue onto the end of a stick and dip your yarn into the glue before wrapping it around. When you're done, bundle all of the strands of yarn together and secure them with twine. Be careful not to twist them too much; otherwise, they'll get tangled up. This mini-size makes it easy to pack into your bag and take with you wherever you go.
DIY Dollhouse Witch Broom
A witch broom decoration is essential for your dollhouse. If you want to properly decorate your house, then it should not be missing. You need to cut the stick and sand the edge. Then make scarves out of fabric, which still has the two ends connected. The sticks with the fabric are attached with glue. This witch broom is so easy to make you can assemble this project in a matter of minutes, make it yourself with this easy tutorial, and save money, too.
DIY Miniature Witch Broom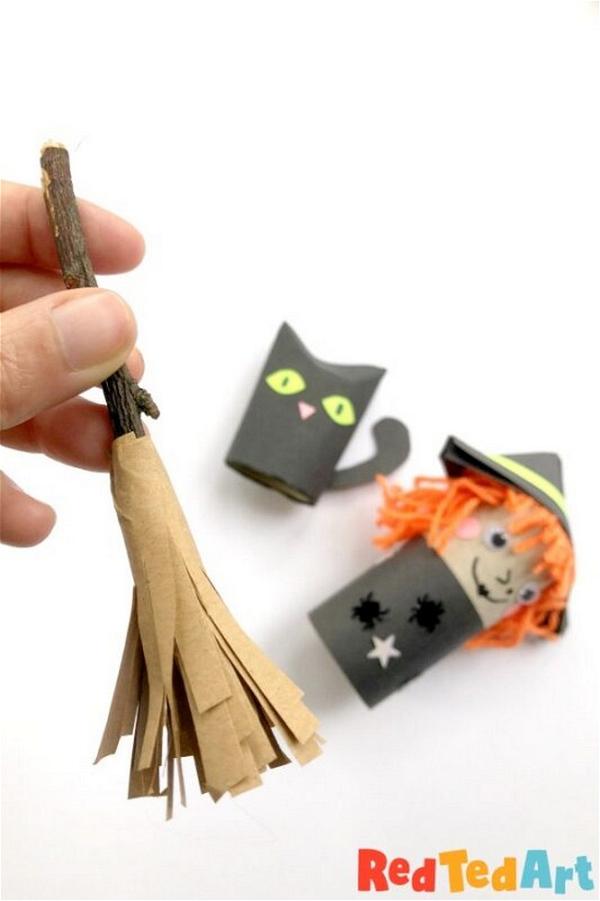 For Halloween or for decoration purposes, try the DIY Miniature Witch Broom. It is easy to make and takes a short time, this is made from brown paper so it's inexpensive too. You can also change the design of this broom if you want to vary its look. To make this DIY witch broom, cut two strips of brown paper. Fringe them and apply paint or glue to the end of the paper. Attach it to a stick. You can go through this guide to learn, how to make it.
DIY Mini Yarn Witches Broom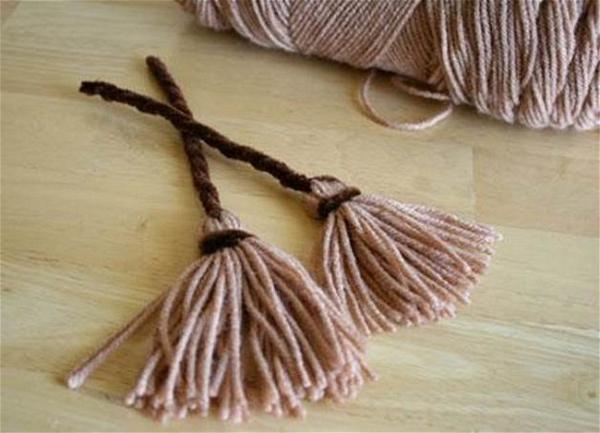 This DIY mini yarn witches broom will bring a little magic to your home. This piece is crafted in two different colored yarns. Fold the darker color into half and twist it, in just a couple of steps, a simple piece of paper can be transformed into a handmade design. It also has a loop where you can tie the other end of the broom. Take out your creativity and make this home accessory in your own style.
How To Make A Witchy Broom
DIY your own A Witchy Broom, It will also be fun to make, and it is easy to do. You can add some decorative items such as using moss, or ribbon to tie the broom off before you decorate with the twigs and branches. If you want to learn how to make this, you have come to the right place. Follow these easy steps in this video and you will have your own natural-looking broom for Halloween or for any occasion when you want to include a black cat and some magic into your festivities.